Last updated on November 18, 2023
When it comes to mapping and crafting an urban escape, there's truly nothing that matches the charm of a rooftop entertainment area.
These elevated environments offer a distinctive blend of tranquillity and sophistication.
The panoramic views and the fresh air create an ambiance that's perfect for unwinding or hosting memorable gatherings.
To assist you in optimizing your roof-top entertainment space, we've curated five invaluable tips. These insights are designed to turn your rooftop into an enviable entertainment oasis.
Table of Contents
A Fuse of Nature and Style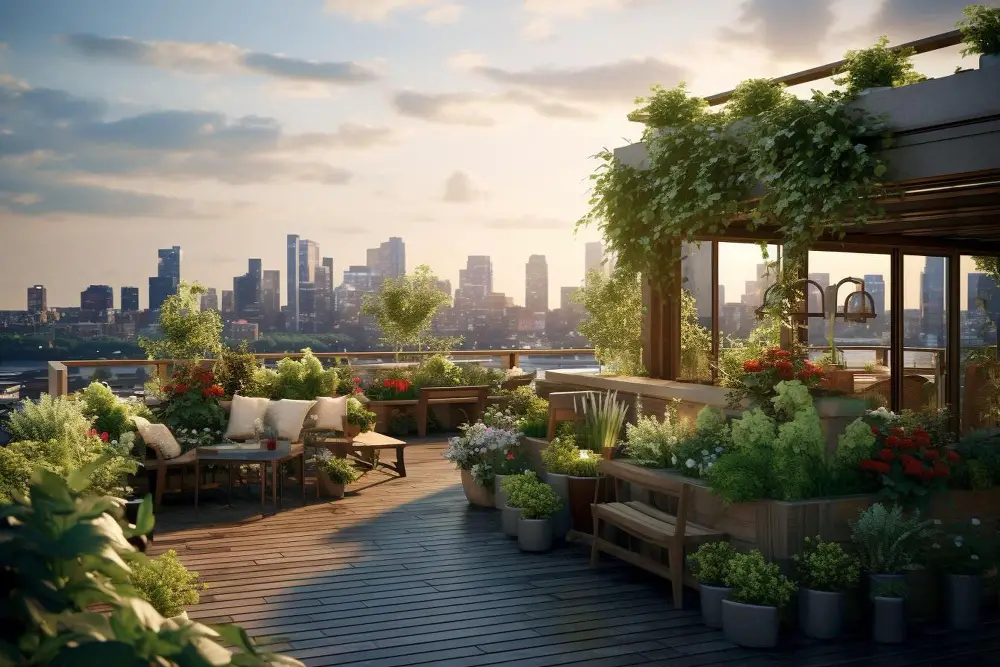 Transform your rooftop into a lush rooftop garden escape by integrating verdant elements into your design.
Incorporate carefully placed potted plants, vertical hanging gardens, and perhaps even small, low-maintenance trees.
These botanical touches not only infuse life and vibrancy but also enhance the overall ambiance. To create an enchanting evening atmosphere, consider draping fairy lights or adding an element of coziness with scattered lanterns.
For those cooler evenings, a fire pit could be the perfect centerpiece, providing warmth and a mesmerizing focal point to gather around with friends and family.
Additional Tip: Select low-maintenance, drought-resistant native plants for your rooftop entertainment area. Make sure to use effortless irrigation systems, ensuring your garden thrives with minimal care.
Elevate Your Comfort to New Heights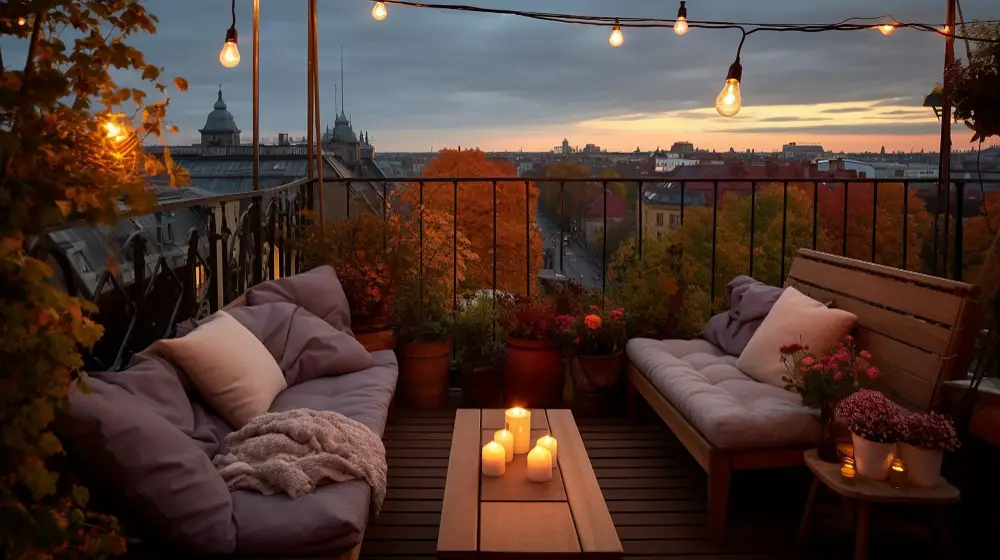 Transform your rooftop into a true extension of your living space by investing in comfortable seating.
The allure of a fire pit and ambient lighting truly shines when paired with a cozy seating area of comfy sofas and an extendable outdoor dining table set.
Choose plush cushions to enhance the comfort of your seating area and think about adding warm throw blankets for those cooler nights.
For added comfort, place outdoor rugs underfoot that match the furniture. These rugs not only offer a soft surface but also help define distinct areas for relaxation and entertainment.
Additional Tip: Opt for outdoor furniture designed to withstand the elements. Look for weather-withstanding materials, which can endure long periods outdoors without deteriorating.
Incorporate a Rooftop Kitchen and Bar Oasis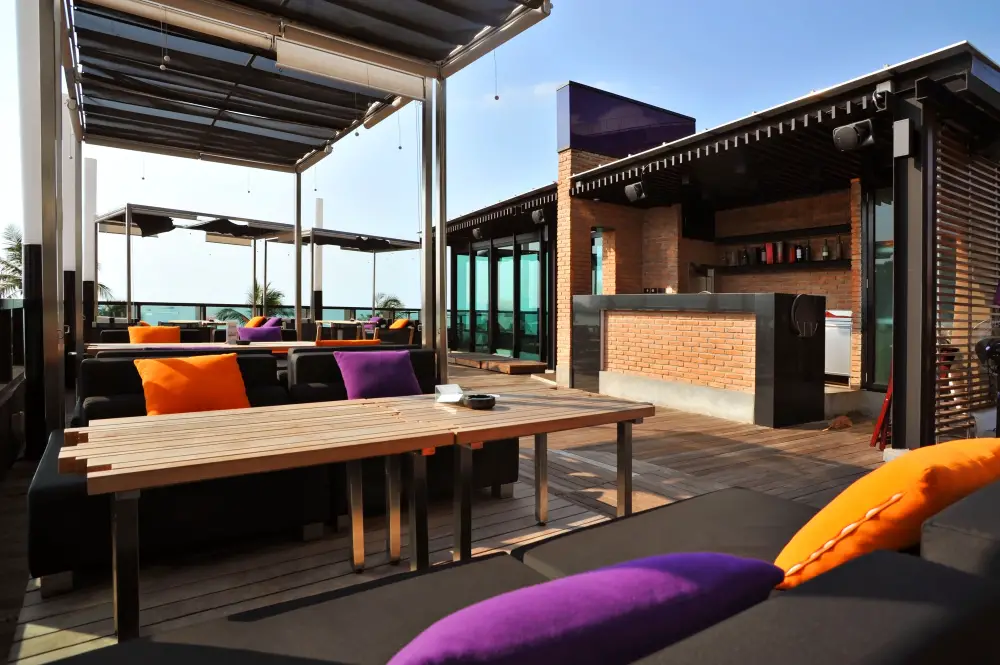 To truly enhance your rooftop entertainment space, think beyond the basics and consider adding an outdoor kitchen and bar area. This addition not only enhances the functionality of your rooftop but also takes your hosting capabilities to the next level.
Start with a built-in grill, which serves as the centerpiece of your outdoor kitchen. Opt for a high-quality model with multiple burners, allowing you to prepare a variety of dishes while enjoying the rooftop views.
A mini-fridge is a game-changer for keeping beverages and ingredients fresh and within easy reach. Stock it with your favorite drinks, condiments, and marinating essentials. Consider including a small sink in your outdoor kitchen setup for added convenience and easy cleanup.
Dedicate a section of your rooftop for the bar area, complete with a stylish bar counter and stools. Install shelves or cabinets to store glassware, cocktail shakers, and a collection of your preferred spirits and mixers.
By creating this outdoor kitchen and bar oasis, you add a touch of luxury to your rooftop. It's the perfect space to enjoy delicious grilled meals, create cocktails, and share memorable moments with friends and family.
Additional Tip: Complement the bar experience by installing outdoor speakers or a portable sound system to set the mood with music. For a cinematic experience, consider a weather-resistant TV or a projector and screen for movie nights under the stars.
Shade and Seclusion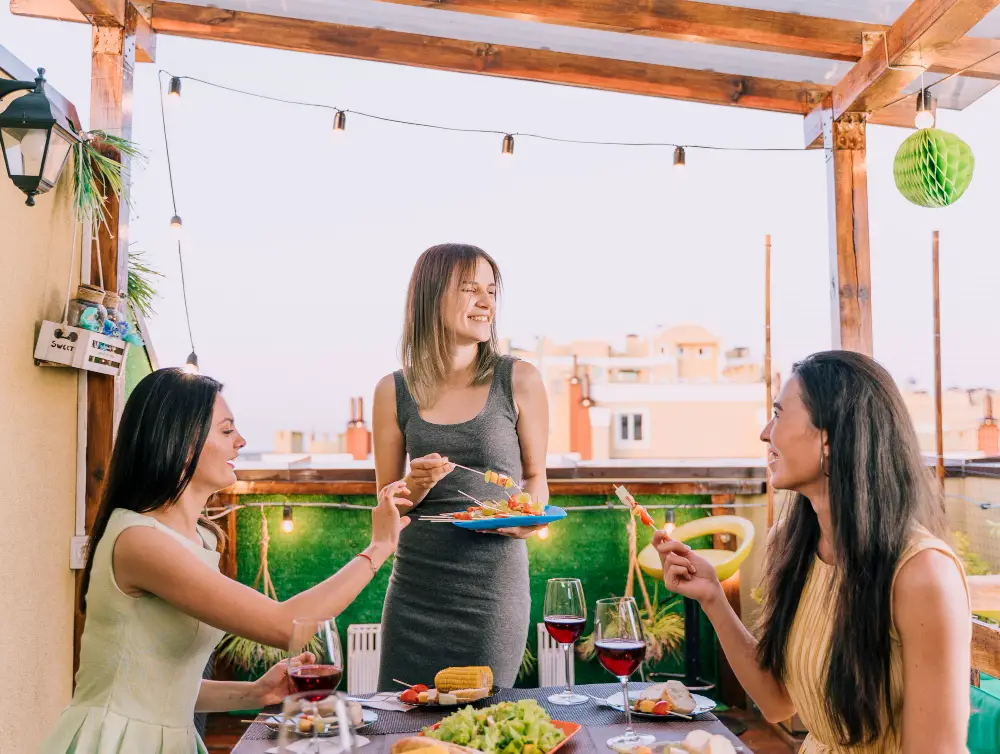 The importance of shade cannot be overstated, especially in regions with scorching summers.
When designing your rooftop entertainment area, strategic shading solutions can make all the difference. Consider installing retractable awnings, which offer flexibility in providing shade when needed and retracting when you want to bask in the sun.
Privacy is another vital aspect. Outdoor curtains in stylish fabrics can be hung along the edges of your rooftop space. These curtains not only offer seclusion but also an elegant, resort-like atmosphere.
Alternatively, bamboo screens provide a tropical vibe and create a natural barrier between your rooftop and the surrounding world.
By incorporating these shading and privacy solutions into your rooftop design, you'll ensure a comfortable and inviting space, no matter the weather or your location.
Additional Tip: Ensure your rooftop complies with safety regulations. Install sturdy railings and secure any heavy furniture to prevent accidents.
Climate-proofing and Storage
Transforming your rooftop into a year-round haven necessitates proper weatherproofing. Begin by selecting furniture designed to withstand the harsh elements.
This ensures your rooftop retreat remains inviting and functional even in less-than-ideal weather conditions.
For comprehensive weather protection, contemplate the addition of a sturdy canopy. These structures offer shade from harsh sun rays and shelter from unexpected rain showers. This extends the usability of your rooftop throughout the year.
Outdoor storage is equally vital. Invest in weatherproof storage boxes or benches to keep cushions, decor, and other rooftop essentials safe and dry during off-seasons. This protects your investments and streamlines the process of preparing your rooftop for the next season.
Additional Tip: Utilize vertical storage solutions to make the most of limited rooftop space. Enhance organization and reduce clutter by incorporating wall-mounted shelves, hanging planters, and intelligently crafted cabinets.
You may also like to read: