Last updated on November 28, 2023
Almost everyone has luxurious condo designs on their Pinterest mood boards. Thankfully, you can afford to pay for one, so you stand to reap the benefits of renting or owning your luxury pad. Beyond living in a beautiful, spacious home, you also get limitless design options with these types of apartments.
However, renting a luxury apartment is one thing. Decorating with high-end pieces is another matter. With creative ideas and the right decor, you can introduce exquisite textures and shapes into your condo. Keep in mind that your home should reflect elements of your personality. Think colors and themes that showcase who you are. 
Whether you're moving to a new home or redecorating the luxury condos for sale, there are many decor ideas available. Check out these luxurious condo design ideas for your next interior decor project.
Table of Contents
Beach Aesthetics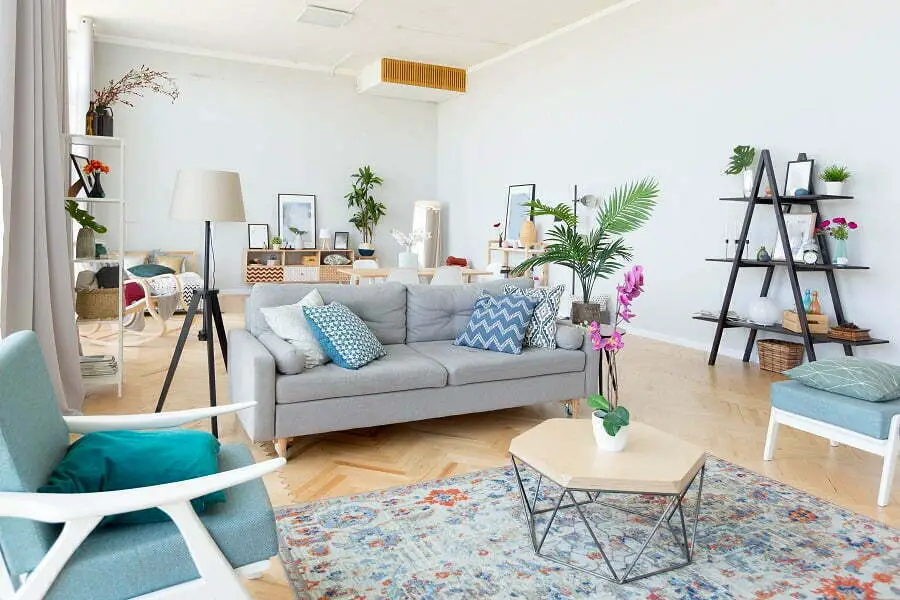 Summer makes the perfect season to move things around in your condo. Since the weather is warmer, many people open the windows to let in the fresh air during this period. How about reflecting this season in your condo decor?
It feels good to make your apartment look larger since there's a chance that you'll host some friends over during the summer. With beach aesthetic design, you may not need to hire an interior designer. All you need to do is imagine yourself at a beach home. Think pastel blue accents that bring back memories of the sea. Hang exquisite beach paintings and art for an added touch. Keep the curtains light as well.
Open Floor Concept
Open floor concept homes combine both modern and industrial architectural designs. These home styles maximize space and allow you to decorate without limits. Imagine living in a home without walls. Sometimes, your condo can do without physical boundaries. Consider removing the barriers between your living room and the kitchen to make the room bigger. Otherwise, install a half wall if you must separate both rooms.
Ensure the dining and living rooms have aligning furniture. Choose standout pieces since the sofa and center table takes the most attention.
Consider tones like white, beige, and gray for the tables and chairs. Have fun with accent pieces and light fixtures.
Loft Gallery Style
The 19th century ushered in the era of industrial housing as we know it. As more warehouses and factories moved out during the industrial revolution, artist​​s moved into these spaces to save cost. Thanks to artists like Andy Warhol, loft apartments boomed within the real estate industry, especially in major capital cities.
All over the world, people now associate apartments with high ceilings, wooden floors, exposed brick, and columns with the industrial loft living aesthetic. For a luxurious touch, introduce neutral tones in furniture design. Invest in tables and accent pieces with unique designs. However, maintain straight lines for an aligned look.
Retro Bathrooms
What's a western apartment without dull tiles? Typical condos come with regular porcelain that doesn't spell luxury. While it's easy to focus on the living spaces, your bathroom design can take away from the expensive vision you planned for your home. Add some color to your restrooms by switching up the accessories. 
From pastel walls to geometric tiles, you can elevate your bathroom from regular to luxurious with a simple makeover. The taps and shelves can do with gold accents. Artwork doesn't belong to bedrooms and living areas only. Hang something quirky if you can. Install vintage shelving, and don't forget to color coordinate. 
Mirrors and Glass Shelves
Mirrors help you peak at your cute outfit before heading out. However, that's not their only function. Beyond open floor plans, mirrors can also make your space look larger. If you have kids, the safest place to hang a mirror is the master bedroom. 
There are other creative ways to decorate your space with mirrors. Spruce up your entrance walkway with a circular mirror. Otherwise, you can place a smaller one above your accent table. Mirrors and glass shelves bounce off light and brighten up spaces with natural lighting. Glass shelves in your bathroom look more luxurious than wooden ones. These shelves are also easier to clean and maintain.
Full Drapes
Here's the thing, people hardly spot the curtains when they first walk into your home. However, they add a pleasant touch to the decor. The wrong drapes can put off the feel of your home. Opt for full drapes that match the wall paint.
During winter, thicker drapes can warm up your space. Otherwise, use darker drapes in the summer to keep out harsh rays of the sun. During moderate climes, use lighter curtains like white and beige to brighten up your space.
Elegant Light Fixtures 
There's nothing like waking up to a bright room on a sunny morning. You start your day with high energy levels. Natural lighting also adds a luxurious touch to your apartment. But you can't get natural lighting all the time.
That's where light fixtures come in. Beyond giving you extra illumination, they also beautify your home. Think about it, when was the last time you saw a modern house without light fixtures. From standing lights to minimalist chandeliers, there are many options.
You may also like to read: