Last updated on October 20, 2023
When spring arrives, many homeowners start thinking about spending more time outdoors. One way to enjoy the warmer weather is by building an outdoor kitchen. This type of kitchen is becoming increasingly popular, as it allows homeowners to cook and entertain outdoors in a comfortable setting.
An outdoor kitchen can be as simple or elaborate as you like. It is typically defined as an area outside the home where a sink, counter, and cooking surface are located. However, many homeowners choose to include additional features such as a refrigerator, oven, or pizza oven.
If you are considering adding an outdoor kitchen to your home, make sure it includes these six essential components!
Table of Contents
Invest in a Solid Frame and Countertop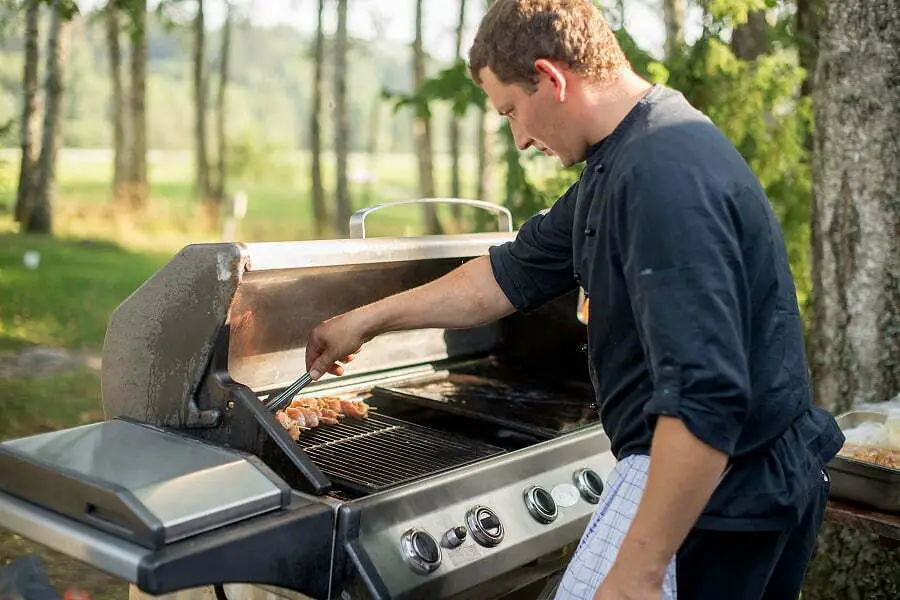 While you can create a basic outdoor kitchen on your own, it's often best to work with an experienced contractor who has access to the highest quality materials. This allows you to enjoy a sturdy and durable surface that won't crack or break down over time due to exposure to UV rays, rain, and other weather elements.
You need to consider materials, especially if trying to DIY an outdoor kitchen frame. Some cheaper materials, like wood, might seem like a good idea at first but wood is combustible and prone to weathering. The writers of the guide to outdoor kitchen frames suggest using metal or concrete. Metal frames are rust-resistant and can be powder coated in any color you like. They are perfectly suited for people who want to install their outdoor kitchen on decking. Metal frames are also somewhat lightweight.
Concrete frames are a good choice for people who want a really sturdy, permanent outdoor kitchen. Concrete is also moisture-resistant and will not warp or rot like some wood frames might. However, concrete can be very heavy, and installing one of these frames will definitely require professional help. These frames are only suitable for people who don't want to put their kitchen on an existing surface (e.g. decking).
Get Some Quality Equipment
If you are building an outdoor kitchen, chances are you enjoy cooking. Why not invest in some quality equipment to make the process easier and more enjoyable? Some of the most popular additions include a barbecue grill that can be fueled by either gas or charcoal; a smoker for those who love to slow cook their meats; and a pizza oven for making delicious pies at home.
Make sure the equipment you choose is weather-resistant and will stand up to the elements. In addition, be sure to consider how much storage space you will need. You don't want to run out of room for your pots and pans.
Power Up
If your outdoor kitchen is going to have a lot of appliances, you will need to ensure that it has the necessary electrical power. A professional electrician can install the appropriate wiring and outlets so that everything works properly without safety risks. It might also be a good idea to consider adding an automatic switch on your circuit breakers for these outdoor outlets so that they are always on when you need them. This can be quite a risky job so it is definitely best to leave it to the professionals.
Retractable cover
If you live in an area that is prone to rain or other weather, it is important to protect your outdoor kitchen from the elements. Consider investing in a retractable cover for your countertops and appliances so they can be easily covered when not in use. This will extend their life and ensure that they look like new long into the future. Even if you live in a generally dry place, a retractable cover can come in handy on those rare days when the weather turns unexpectedly. A cover can also keep you shaded from the sun on those hot summer days.
Enjoy Your Outdoor Kitchen Day and Night
One of the best things about having an outdoor kitchen is that you can enjoy it day and night! Make sure to install some good quality outdoor lighting so you can continue cooking even after the sun goes down. And don't forget about the ambiance! You can create a relaxing atmosphere with some tasteful string lights. This will also help when you have a party or guests over in the evening.
Somewhere to Sit and Eat
Finally, you will need somewhere for your guests to sit and eat their food once it is prepared. If you have enough space in your outdoor kitchen area, try installing a small dining table and chairs. If not, consider adding some bar stools so people can stand while they eat or relax on a comfortable outdoor bench after their meal is finished. Just make sure you keep that fridge stocked full of beers and sodas so your guests can stay refreshed.
An outdoor kitchen is a great way to add some extra living space to your home. By including these six essential components, you can be sure that your outdoor kitchen will be enjoyed by family and friends for years to come!
You may also like to read: