Last updated on November 26, 2023
For many people, decorating the outer space of their homes is quite a challenging task. No matter how much they try to be imaginative and think out of the box, they simply can't come up with ideas that would make the outside of the house stand out.
However, with the right kind of patio rug, you can surely hit the jackpot. Choosing the right kind of area rug for outside space can get a little tricky. This is mainly because there is a huge variety of carpets, which may confuse you.
Also, when it comes to anything that has to stay in the outdoor environment for an extended period, you need to ensure that it's resistant to the elements!
If you are looking for ways through which you can upscale your patio, here are some of the best area rugs ideas to opt for.
Table of Contents
Choose the Right Shape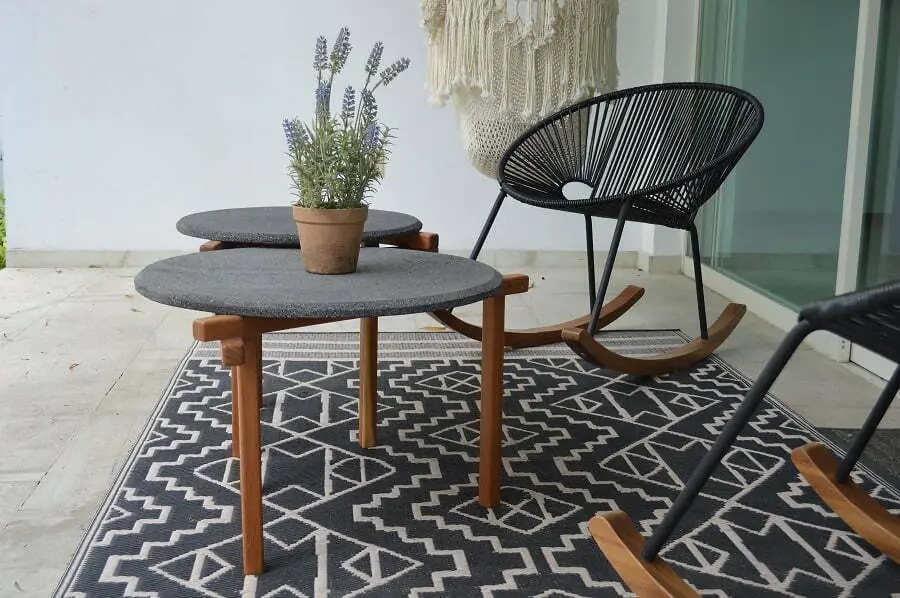 You need to be clear about one thing; an area rug doesn't necessarily have to be rectangular. There is no rule that you have to stick with the regular pattern of the rug being of the traditional shape.
Instead, when it comes to decorating the patio, you can think out of the box. For instance, if a round table has to be placed there, you can put a circular rug under it. A round, outdoor coffee table would complement the circular rug really well.
Just like that, you can opt for an irregular-shaped rug as well. If your patio is pretty dull and you want to add some personality to it, look into the aloha collection. It will surely give you something you will be able to spice up your patio with!
Selecting the Pattern
When selecting a pattern for the rug, you can do one of two things; either go for a design that matches the overall patio setting or opt for a completely different pattern that would stand out on the patio and is easy to clean.
Choosing a pattern is indeed fun! If you opt for the right one, it will give consistency and flow to the patio. If you are looking for a modern appearance for the porch, you should opt for basic colored furnishings like grey or white and go with a chevron rug to complement it.
Apart from this, if you have a pool next to the patio, you can surely place a striped rug alongside it. For natural wood furniture, a rug with some solid color, like rust or orange, would look great!
Rather than always 'matching' things up, you can also opt for the 'contrasting' technique. This way, it would get easier for you to add some personality to your patio.
Opting for the Right Material
If you live in a rain-prone area, you would undoubtedly be in two minds about the outdoor decor. You wouldn't want the whole space to develop mold and turn ugly. This is why being careful in selecting the right kind of material while buying the rug is necessary.
The most common choice for an outdoor rug is synthetic fiber. One major reason for this is the fact that it is mold resistant. If you put some extra effort into finding the correct material, you may even find one made of olefin. It is basically a polypropylene fiber that stays averse to mold in all kinds of situations.
Choosing olefin as the primary material for the outdoor rug you buy is a great option. It is quite a resistant material, and you won't have to worry about replacing it after some months. Besides, it is simply an affordable option. 
Complementing Decor with the Rug
Once you buy your first rug and see how stunning it is, you will want to complement your entire patio decor with it. Well, it'll be a great idea! Especially during the fall season, it will make you feel cozier as you sit on your patio and enjoy a cup of hot chocolate.
You don't need to be overwhelmed while doing so. Treat your patio like your indoor space and decor in the same manner. For instance, look for some comfy couches to place there with some pretty cushions. With the help of your rug and the complementing furniture, you can easily make the patio appear like a unit rather than separate items stacked together.
Ready to Upgrade Your Patio?
Whether you want to fully renovate your patio or just freshen it up a little, selecting a vibrant and lively area rug will surely spice the space up. Just be a little careful while selecting the material. If you choose the right one, it will stay with you for a lifetime. 
You may also like to read: