Last updated on September 27, 2023
A small apartment balcony is a luxury. Despite its limited space, you can create many cherished memories on the balcony enclosure. Imagine a sunny summer afternoon, relaxing with drinks and music from the radio. Later in the day, you can sit on the balcony, watching the sunrise with your loved ones.
Since you only have a tiny amount of space, try to limit your small balcony setup to only what's needed. Minimalism and sparse décor make more impact than cluttering it with pretty materials and décor that doesn't fit. As long as you're smart with the decorations, you will achieve a stunning apartment balcony aesthetic.
Here are some of the best simple small balcony ideas you might be able to use in your apartment condo balcony:
Table of Contents
Small Seating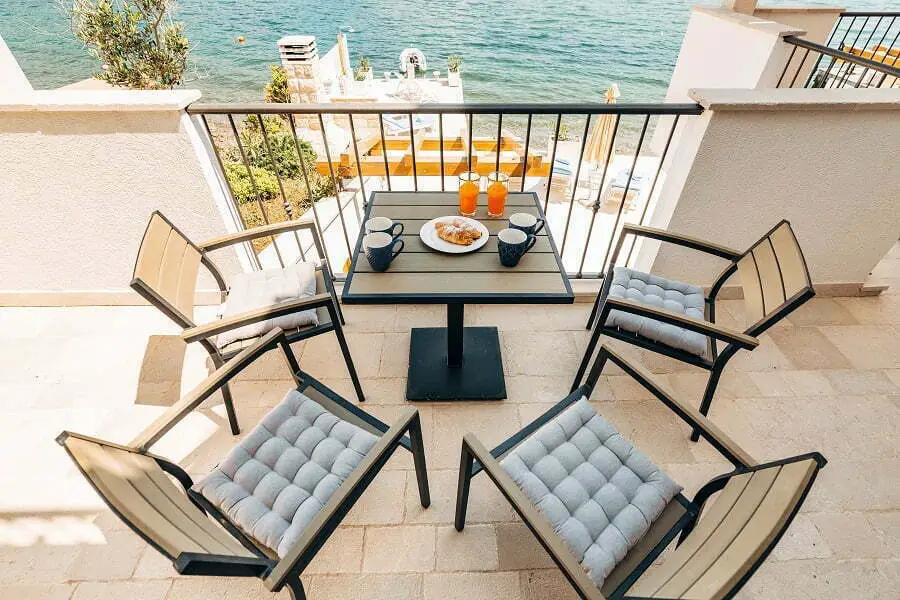 An apartment balcony should have some seating. These can be fold-up chairs, but those aren't consistently comfortable. A bench against the wall is a much better option. Stock your chair up with cushions and make it as comfy as you possibly can.
Dining Table
Just like fold-up chairs, a fold-down dining table can be removed or flattened when not in use. You're saving space without sacrificing an important part of the balcony experience. A table surface is important, whether you eat, chat with friends, or just hang out.
Add Balcony Flooring
A typical concrete balcony floor is uninteresting and impersonal. Lay out some personality with stylish balcony tiles. The balcony flooring is available in all sorts of styles, colors, materials, and looks. Interlocking tiles, balcony rugs, interlocking mats, or wood decking provide the trendy canvas you want.
Throws & Blankets
A throw or a heated blanket can be a major asset come evenings or on colder days outside. Balconies are meant to be used, but cold temperatures can keep you away. A toasty blanket, throw, or comforter will use your body heat to keep you feeling your best.
String Lights
A small balcony doesn't have lots of places to put lights in. A candle might be an idea, but it could topple in tight spaces with a bit of wind or getting bumped. String lights along the railing or even mounted by tacks or stickers against the background wall helps to add atmosphere without taking up any space. Thankfully, all sorts of string light styles and bulbs exist, so there is plenty of room for customization here.
Hanging Decor
You can transform a small balcony into any style without taking up any space simply by dressing it up in hanging decor. Create all sorts of rhythms and patterns with hanging plants, physical decor, glasswork, art, and more.
Privacy Panels
Privacy walls or a few privacy panels, such as lattice, can prevent others from peeking onto the balcony. It also adds some shade and gives a more intimate vibe overall. Privacy panels are manufactured in all sorts of looks or can be made at home from simple items like thin pieces of wood.
Under-Bench Storage
You can put any nonessential items in a small balcony away into storage. For storage options, try to put it somewhere, such as under a seating bench. The storage doesn't take up any more real estate than it has to, plus it goes well with your balcony design.
Start a Garden
A small plant garden is a fine way to use a balcony. You can grow herbs, veggies, and fruits like strawberries easily with small pots and plants. To save on space, a freestanding vertical planter works.
Matching Furniture
People use balconies for two main things – relaxing and dining. You need some furniture to do that. If you don't want to mix and match pieces, buying a small furniture set is a fast way to decorate. A weather-resistant wood or wicker is best for balconies to protect against the rain, wind, and temperature shifts to come.
Balcony Dishes Set
Invest in a specific set of plates, bowls, and cups for your small balcony. Make it feel special any time you go out there to enjoy the space alone or with friends. Keep these items inside. For extra points, try to find a dish set that matches the décor you have out there.
Geometric Shapes
Space is of the essence with a small balcony. If you're very artistic, there's a lot you can do by manipulating geometric shapes, either using geometric privacy screens or wall art mounted around you. Flat geometric shapes in your balcony flooring can also create unique patterns furthering you down the path towards a one-of-a-kind balcony setting.
Portable Trays
You will likely be bringing things onto and off your balcony. A portable wood tray is an easy addition that's just as functional as it is decorative. This way, you can load up your phone, food, and any other small items you're taking out there, and get it done all in one go.
Small Shelving
Make use of your vertical balcony space. A small freestanding shelf made from wood, glass, or even plastic can provide some storage space. It's also a place to garden. You can make it somewhere to keep books or use it as a drinks station and store your best alcohol there. Even a small balcony can look very luxurious.
You may also like to read: