Last updated on November 11, 2023
Unique boucle dining chair ideas can transform any dining room into a chic and inviting space, not just because of their modern appeal, but because they bring a sense of warmth and sophistication that few other pieces can.
Bouclé dining chairs are the epitome of comfort and style, making a significant impact in any dining space. These chairs, with their unique texture and plush feel, can be the perfect addition to your dining area.
Whether you're going for a minimalistic look or a more luxurious vibe, bouclé dining chairs can be the perfect fit. This article will guide you through various ideas on how to incorporate these stylish pieces into your dining room, from choosing the right color and style to pairing them with other furniture pieces.
So, buckle up and get ready to transform your dining space with the elegance and sophistication of bouclé dining chairs.
Table of Contents
Taupe Boucle Dining Chairs With Walnut Legs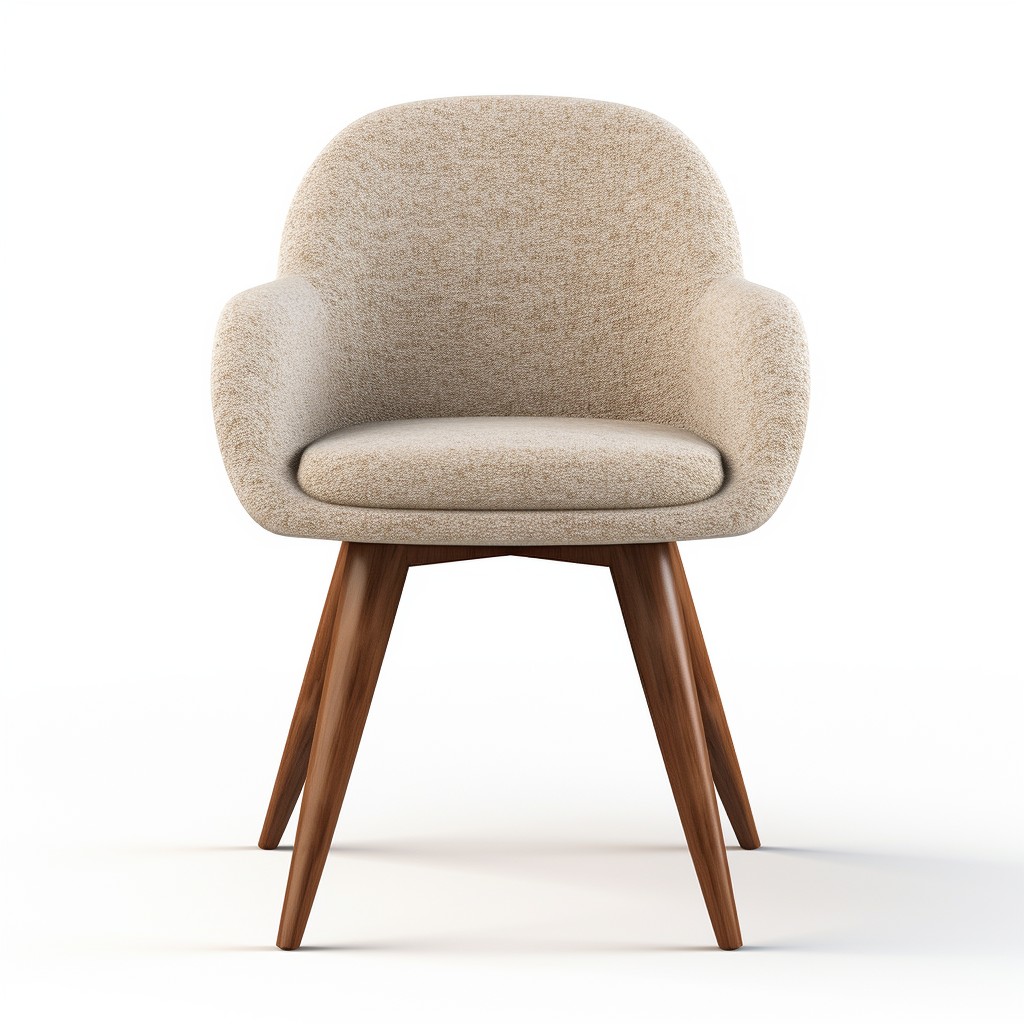 Exemplifying versatility, this seating option comfortably fits into both modern and traditional dining rooms. The warm, neutral taupe hue of the boucle fabric complements a variety of color schemes, while also providing a soft, tactile appeal. Enhanced by the durability of the tightly looped, curled yarn, it tolerates frequent use, ideal for family dinners and entertaining guests.
Walnut legs add a sturdy and stylish base to the chair. Their rich, dark tones establish an appealing contrast to the lighter taupe, creating a visually satisfying combination. Additionally, the grain of the wood introduces a unique, opulent visual texture with every piece being slightly different.
The design cleverly combines aesthetics and functionality: the rich walnut complements the softer boucle, while retaining a high degree of structural integrity to withstand daily use. So, whether it's for an occasional dinner party or everyday meals, this chair makes a chic and durable choice.
Boucle Dining Chair With Brass Accents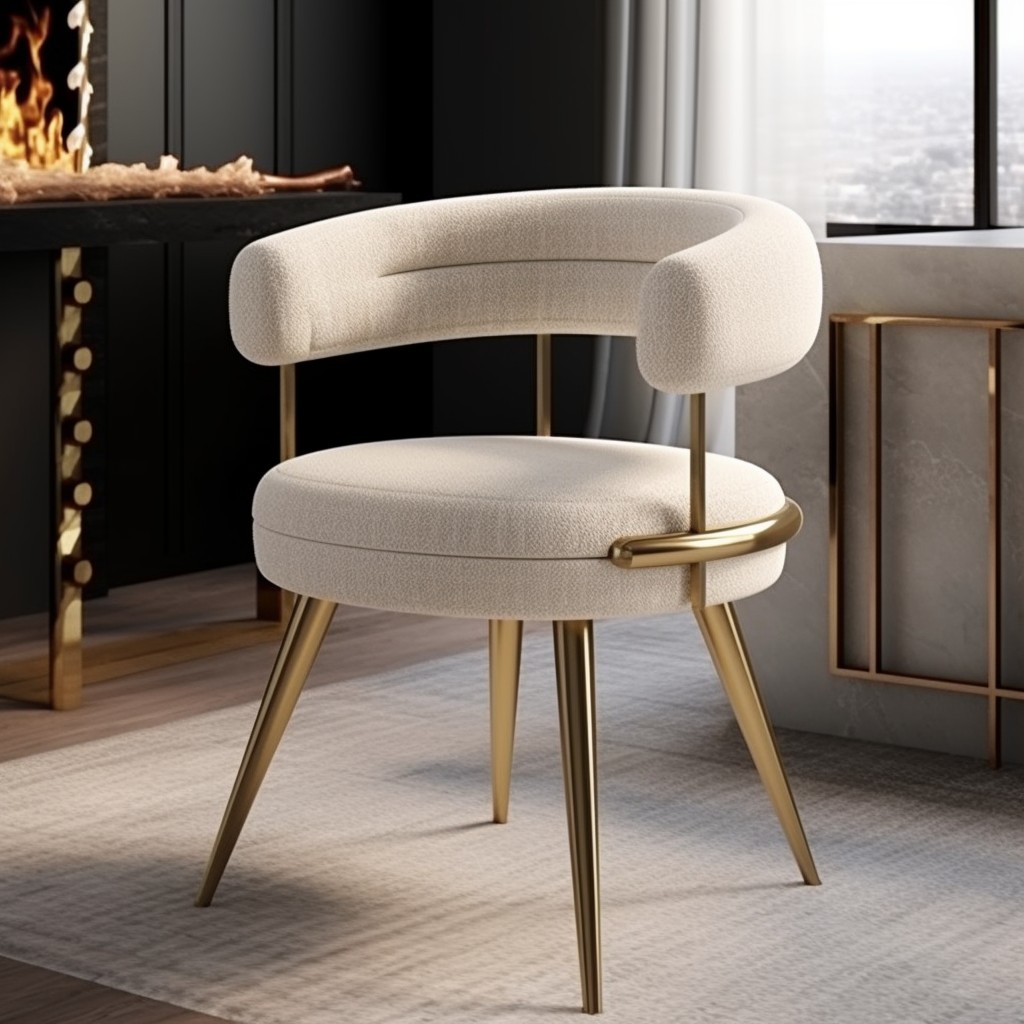 Brass accents add an elevated, glamorous touch to the boucle dining chair, complementing its textured fabric beautifully. These accents often appear on the chair's legs or frame, providing a pleasing contrast to the boucle's softness.
They play a huge role in bringing an element of shimmer, refining the overall aesthetics of the dining space. Moreover, brass accents are durable and resistant to wear, offering functionality along with style.
Incorporating them can bring out an exquisite blend of traditional and contemporary feel, suitable for various design themes ranging from ultra-modern to vintage.
Therefore, using these chairs can effortlessly add a touch of elegance to your dining decor.
Mid-century Modern Boucle Dining Chairs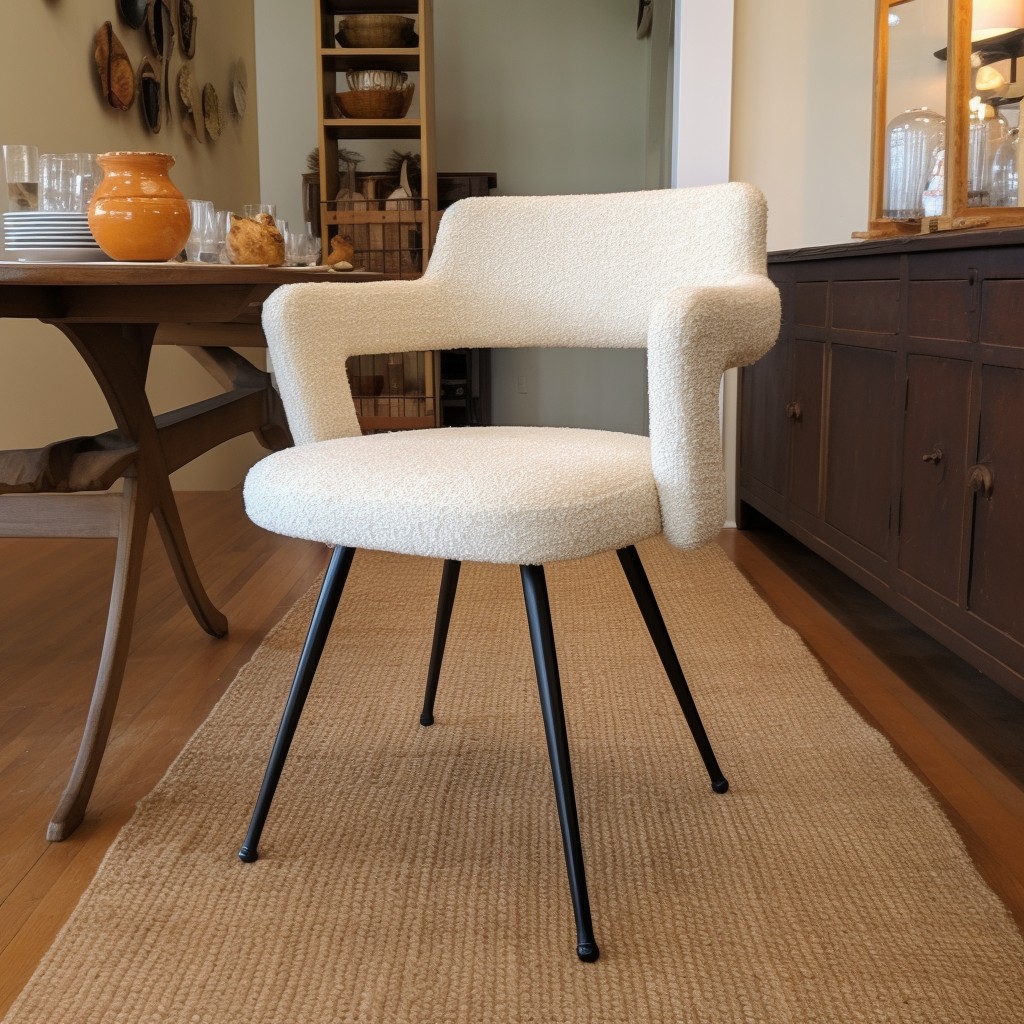 Paying homage to the post-war design era, these chairs are characterized by clean lines and organic forms. The tight, nubby weave of boucle fabric accentuates their elegant, simple curves. They bring a subtle hint of vintage charm without compromising on comfort and functionality.
Featuring tapered wooden legs, these chairs deliver a visually light and balanced aesthetic. The diversity they offer makes them a suitable choice for various dining table styles from teak mid-century pieces to more contemporary glass or marble tops.
As much as they primarily follow a minimalistic design language, bold colors like terracotta, teal or mustard can be incorporated for a statement piece. Moreover, their practicality is amped up by features such as removable covers for easy cleaning or adjustable height designs for added convenience.
Don't underestimate the power of these chairs – they do more than just providing a comfortable seat. They play a pivotal role in imbuing your dining space with a timeless mid-century edge.
Ivory Boucle Upholstered Dining Chairs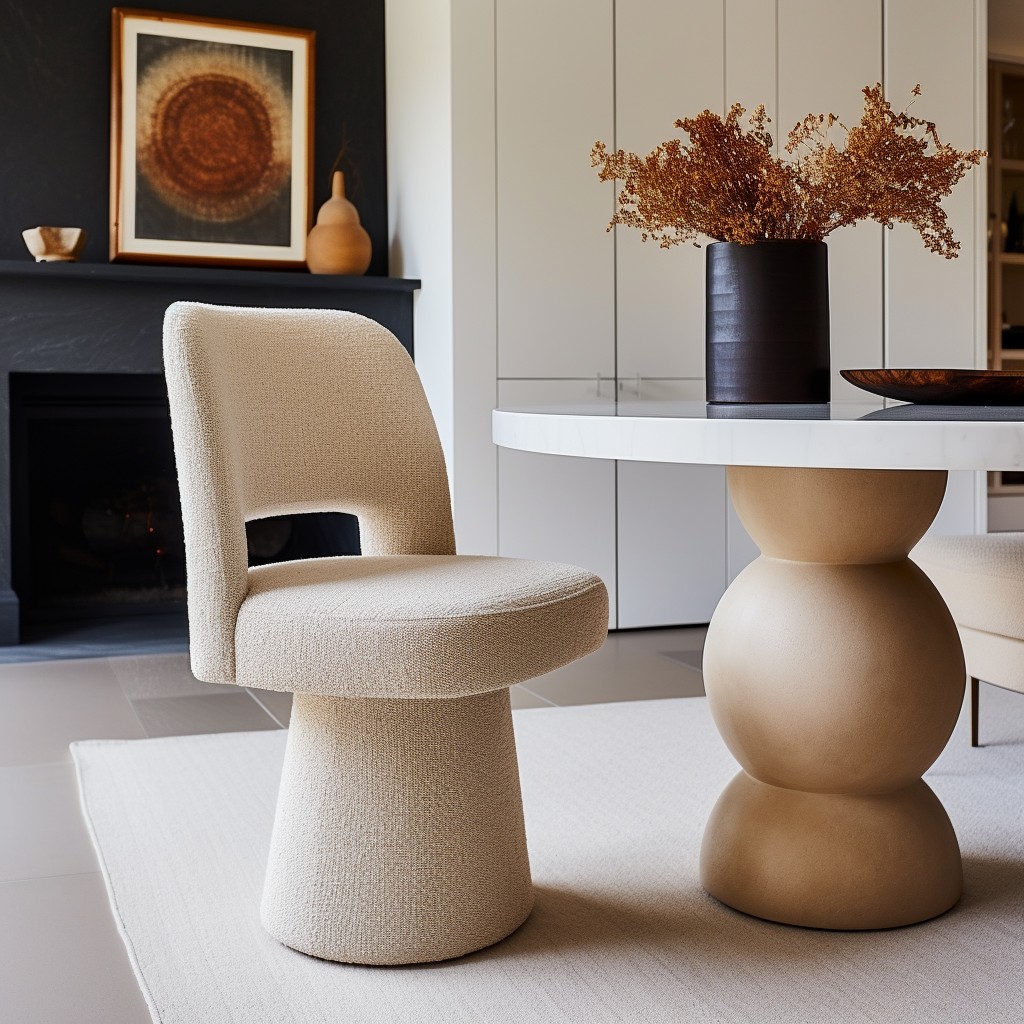 Opt for an instant injection of elegance to any dining space with Ivory boucle upholstered dining chairs. These sophisticated pieces prominently feature a soft, textured boucle fabric that adds a luxurious feel and look. The neutral ivory tone blends seamlessly with a variety of color palettes and styles, enhancing the versatility of these chairs.
1. Texture: The distinctive looped yarn of boucle fabric creates a unique tactile experience, as well as a visual depth enriched by the ivory, a color of sophistication and versatility.
2. Versatility: Ivory, being a neutral shade, mates well with virtually all other hues, allowing for effortless coalescing with existing decor.
3. Comfort: The cushioned upholstery of these chairs ensures ample comfort and support, making long dinner conversations enjoyable, not a chore.
4. Maintenance: Typically, boucle fabric is easy to look after, making it an admirable choice for spaces where spillages may occur.
5. Pairing opportunities: Accompany these chairs with wooden or glass tables for a timeless appeal, or go bold with a metallic dining table for a modern twist.
DO bear in mind to consider the chair's size, to ensure it fits under your table comfortably, and matches the table height appropriately.
Vintage-inspired Boucle Dining Chairs
Displaying distinctive characteristics of hallmark antiquity, these dining chairs give a nod to an era gone by while blending seamlessly with a host of modern decor styles. Their charm nods to nostalgic class, embellished with subtle design details like button tufting and gently curved backs.
Material: Often paired with hardwood or iron frames, these seats typically boast sturdy craftsmanship. Boucle's rich texture enhances the vintage vibe while offering sink-in comfort.
Colors: While taupe and ivory remain popular choices, upholsteries like deep greens or warm oranges can inject an old-school touch into contemporary settings.
Details: Delicate features like nailhead trim, cabriole legs or scrolled arms lend an element of sophistication. Meanwhile, distressed finishes can heighten the authentic old-world feel.
Placement: A vintage dining table sets the stage perfectly. Likewise, they can create visual interest when placed as end chairs in a contemporary setup.
Comfort: Despite their look, they don't compromise on comfort, often coming with plush padding and ergonomic designs for prolonged seating.
Remember, vintage-inspired pieces may showcase signs of slight wear or minor imperfections – these are seen as desirable characteristics, not flaws. When tastefully incorporated, these dining chairs can act as conversation starters while providing a comfortable seating experience.
Black Frame Boucle Dining Chair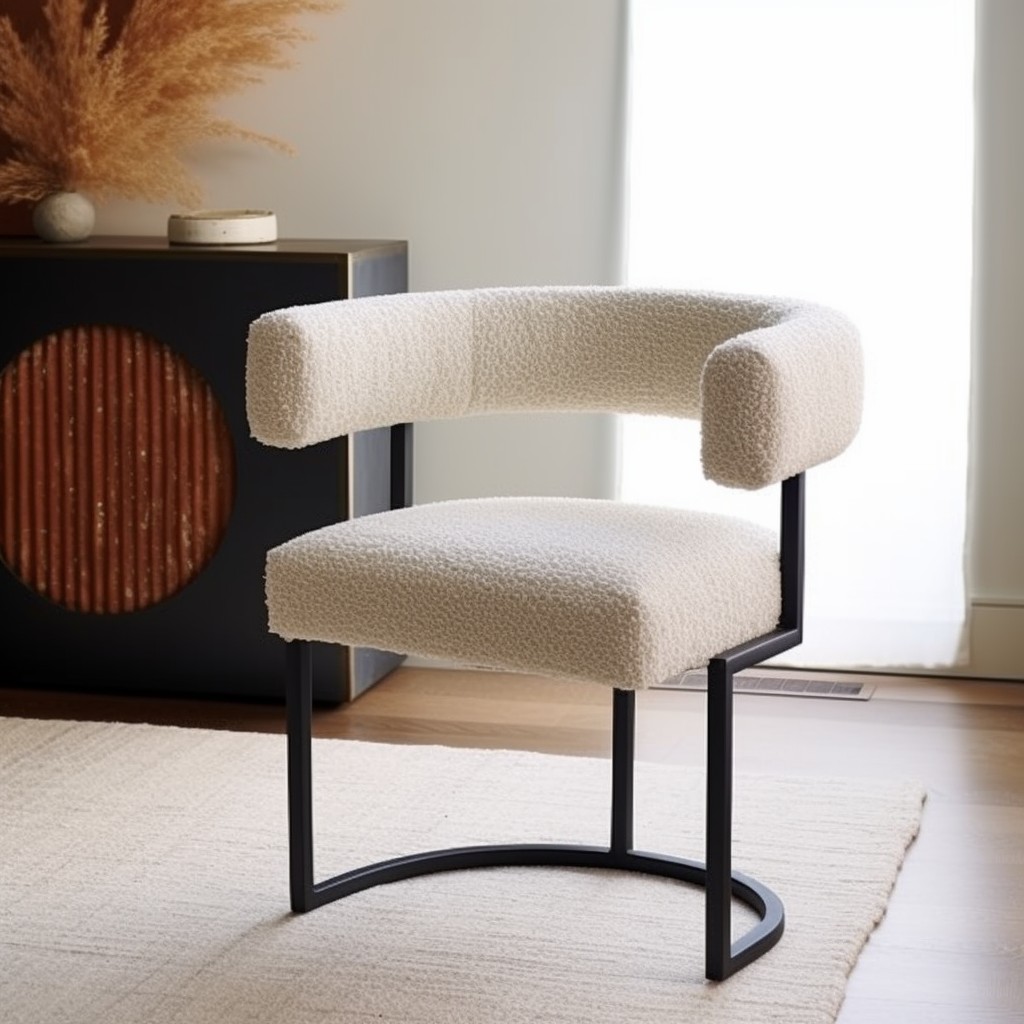 Posh yet practical, these chairs elevate any dining setup with a modern edge. The sight of a robust, black frame encasing the soft, plush boucle upholstery creates a striking contrast. Because of their neutral color palette, they can seamlessly fit into any home decor style, from modern to rustic. Consider pairing them with a sleek, glass top dining table or a rustic wooden piece to magnify their appeal.
Here are some key concepts to ponder:
1. Material: Composed of sturdy steel or iron, black frames offer longevity and are able to withstand everyday wear and tear. The supremely soft boucle fabric promises a comfortable seat.
2. Design: The black frame creates a boxy, geometric look, making these chairs apt for modern or minimalist interior styles.
3. Versatility: These chairs' neutral colors blend with different color schemes, whether you're aiming for a monochromatic look or a more vibrant palette.
4. Appeal: Their high-end look can enhance the aesthetic of your dining room, without compromising on comfort and practicality.
Armless Boucle Dining Chair Design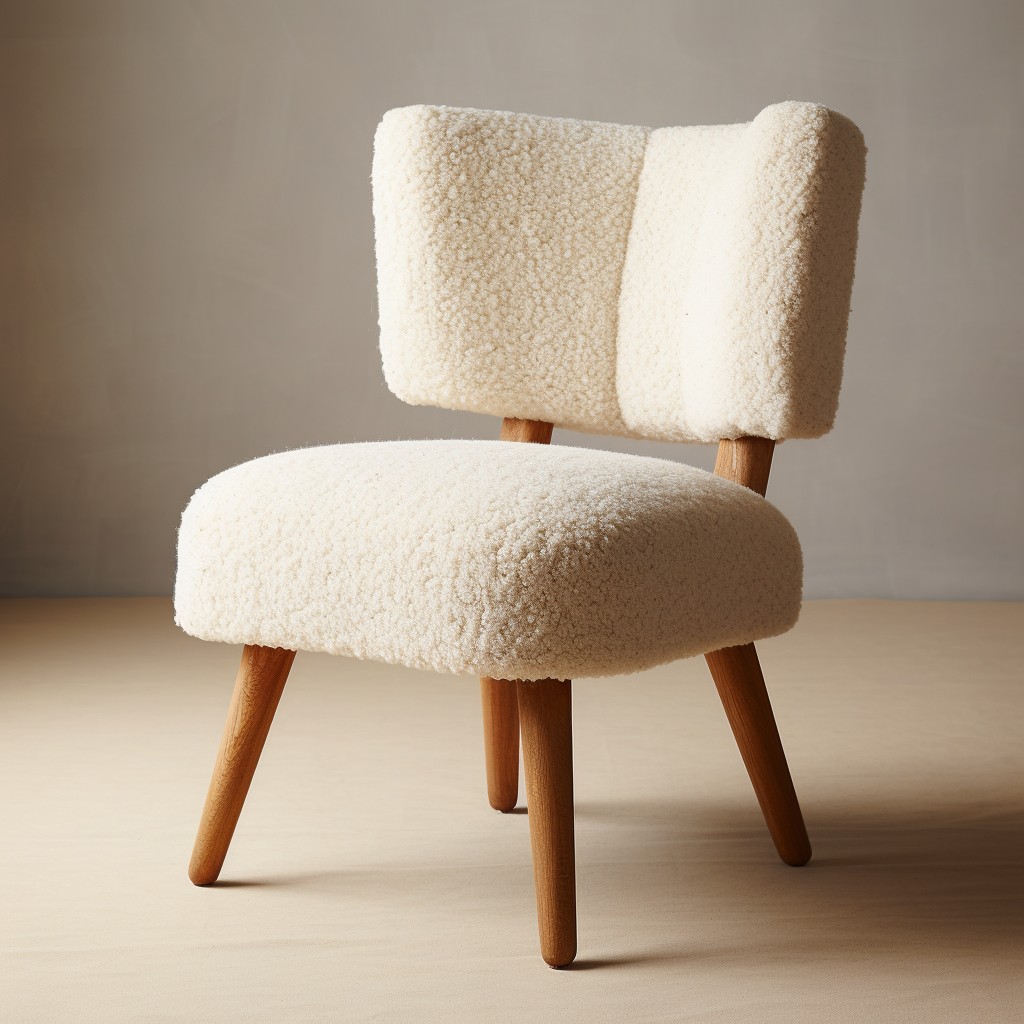 With the absence of arms, this dining chair design offers an advantage in terms of space. They can easily fit into narrower spaces and be tucked away neatly under your dining table. The lightness of boucle fabric combined with armless design adds an unimposing elegance to the dining area.
Consider these points:
Space Efficiency: Ideal for compact or smaller dining areas since they occupy less room.
Versatility: Can be paired with different table styles due to their simple structure. Works well with both modern and traditional table designs.
Comfort: Despite the absence of arms, a well-padded boucle seat ensures dining in comfort.
Aesthetic: Promote a cleaner, simpler aesthetic, allowing the boucle fabric to be the star.
Practical: Easy to maneuver, making them a convenient choice for frequently used dining rooms.
Remember, this type of chair may not be the best for those looking for arm support or for longer dining sessions. However, a well-chosen armless boucle dining chair can be both functional and a sophisticated addition to your home.
Luxury Boucle Velvet Dining Chairs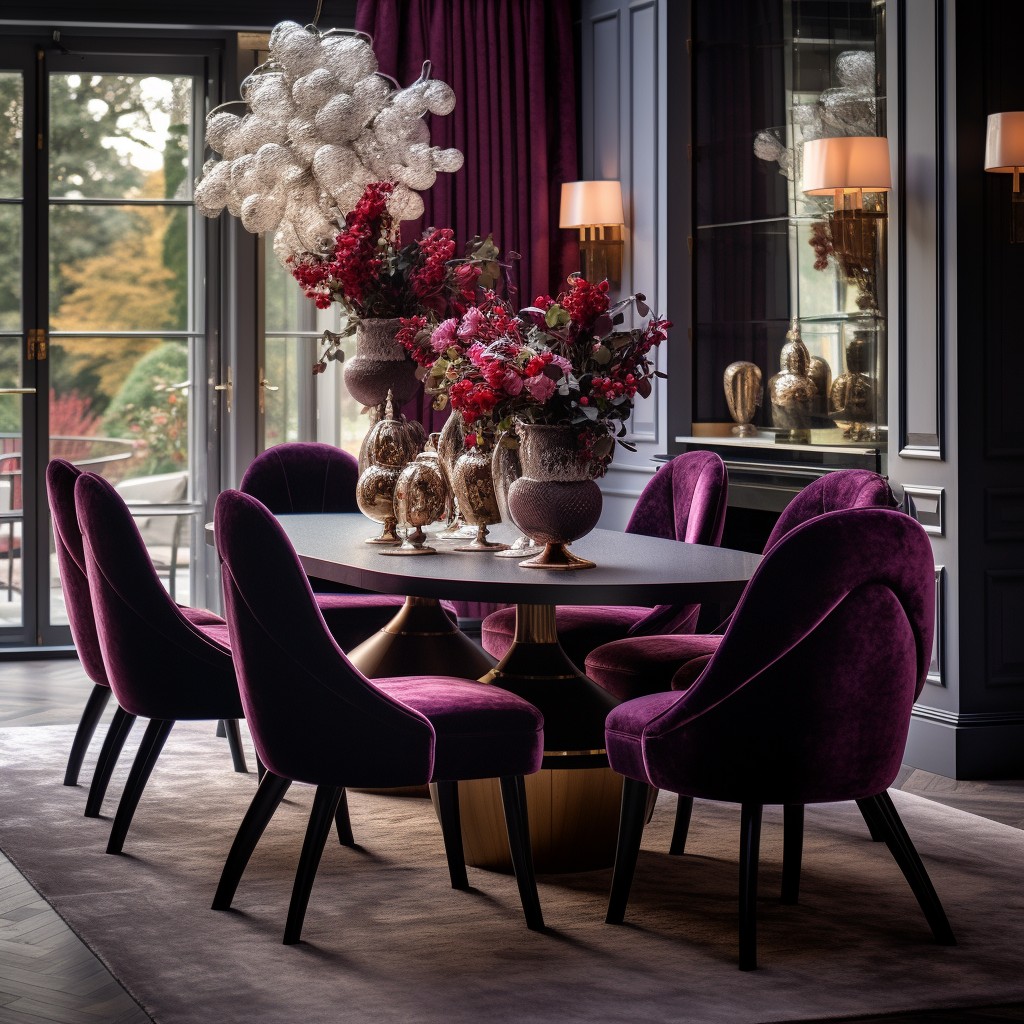 Delving into the world of elegant furniture, the enchantment of luxury boucle velvet dining chairs is twofold; they offer both supreme comfort and elegance.
Resplendent in their vibrant or muted hues and plush texture, these chairs serve as conversation pieces, adding a touch of opulence to any dining space.
Their anatomy is fascinating. The seat, usually encased in richly textured boucle velvet, provides an intimate seating experience. There's a certain allure that's relayed through their tactile richness, elevating mealtimes from mundane to grandiose.
The frame construction of these chairs is often robust, primarily using solid, polished wood or metallic legs. These provide not only stability but also weave in an aesthetic contrast to the soft, plush seat.
Stylistically, these luxurious chairs could either adhere strictly to modern design principles with clean, slick lines, or they could incorporate classic elements such as button-tufted detailing or nailhead trims. Choose what pairs best with your overall decor.
Remember, these dining chairs offer a superb way to express your personality and discerning taste, contributing to the overall ambience of the dining room. The inviting textures and grand appeal of these chairs make them not just furniture, but a cherished part of the dining ritual.
Industrial Style Boucle Dining Chairs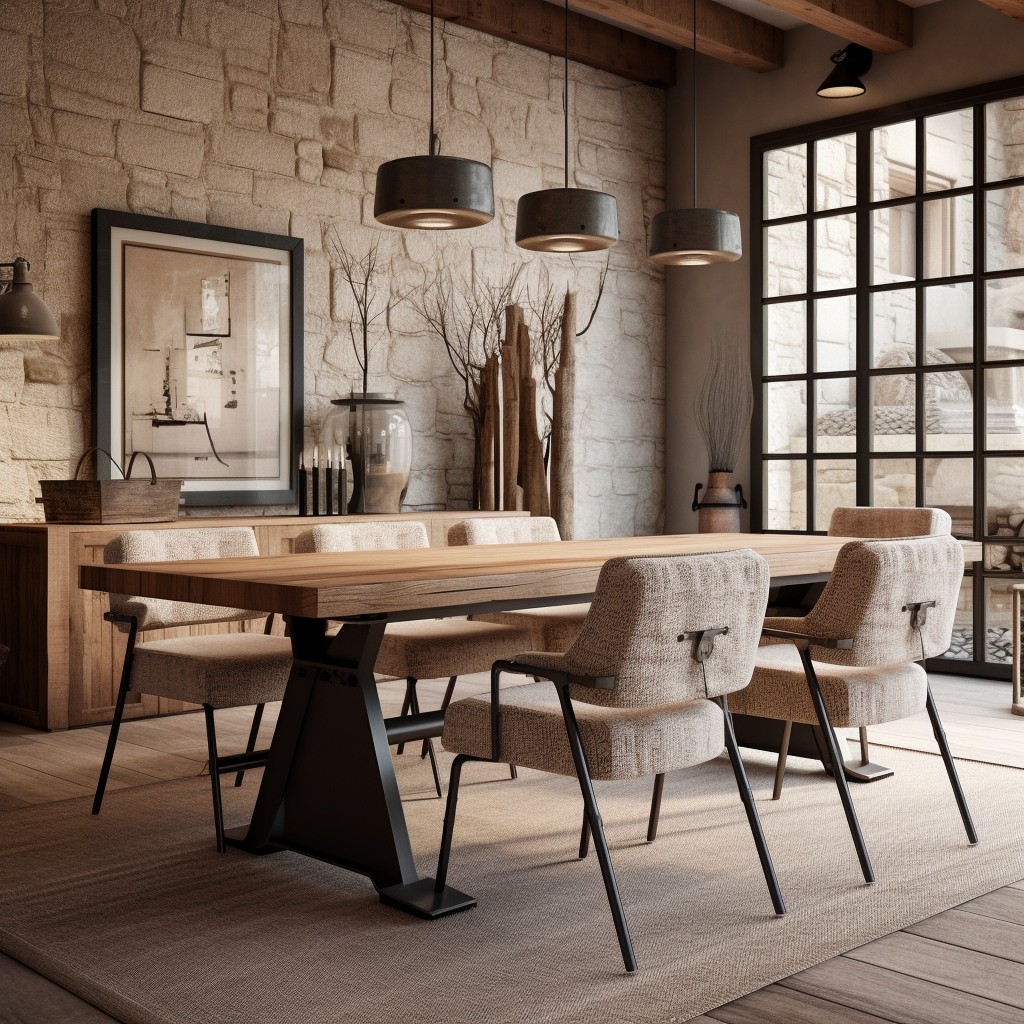 These chairs pride themselves in raw and edgy aesthetics. Key features include chunky metal framing, typically in black or gunmetal finish, which contrasts the plush Boucle fabric wonderfully well. This unrefined look borrows heavily from warehousing and factory settings, guaranteeing stand out appeal in your home.
These dining chairs usually flaunting a square or rectangular silhouette, a distinctive characteristic that maintains the architectural elements.
To keep in tune with its bare-bones charm, the material palette is intentionally limited. Mostly, warm tone Boucle fabric is employed to offer a tender touch amidst the hard-edged backdrop. This design choice ensures the balance between comfort and style, as it breaks the potential visual monotony.
Interestingly, these chairs don't veer away from embracing utilitarian functionality. Hence, expectations of sturdy build quality and durable wear are fully reassured. They become even more pivotal during large dinner parties and prolonged sitting sessions.
Industrial style boucle dining chairs match perfectly with rustic, modernist interiors or even minimalist settings. Their versatile design means they can seamlessly blend with different decor themes or, alternatively, not shy away from making a bold assertion.
Scandinavian Design Boucle Dining Chairs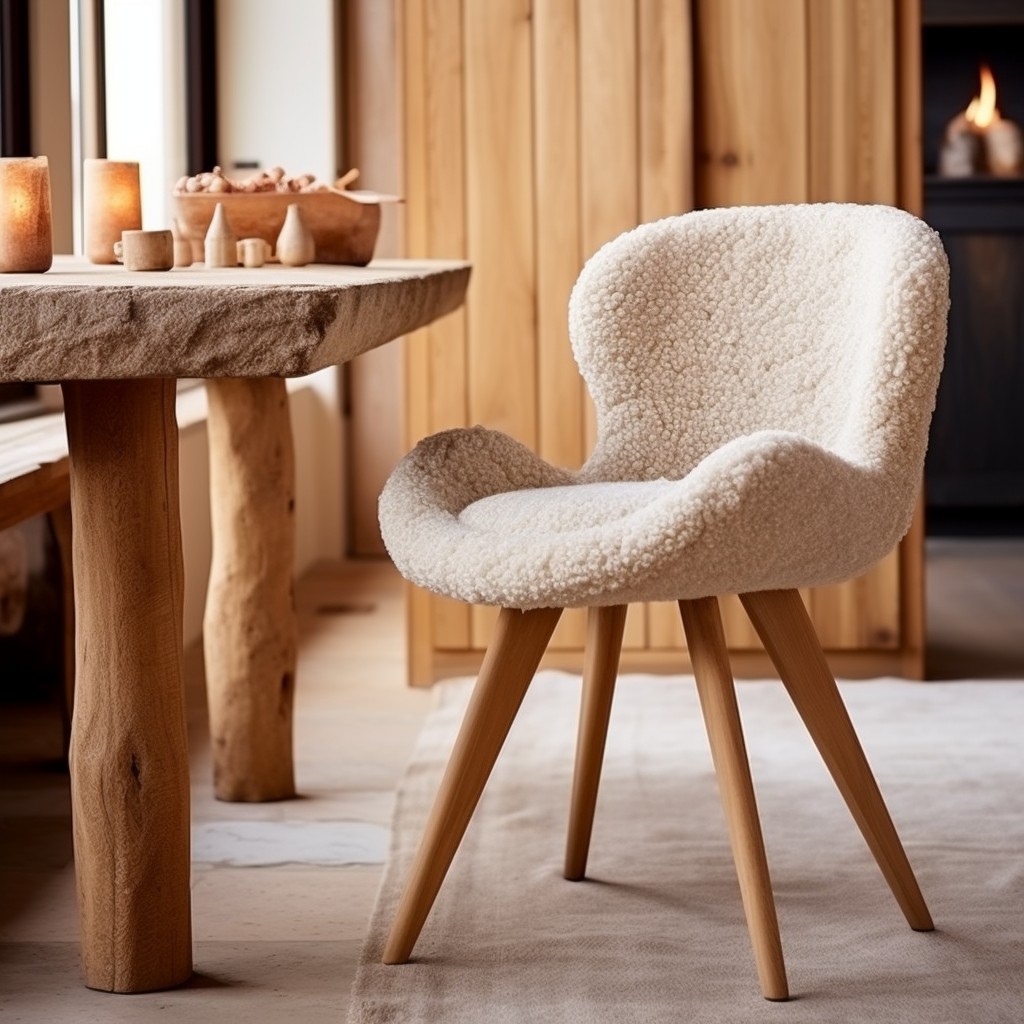 Known for their simplicity, functionality, and beauty, Scandinavian design principles align perfectly with the subtlety of boucle fabric. Often characterized by clean lines and a minimalist aesthetic, this style forgoes excessive adornments, allowing the unique texture and comfort of the boucle upholstery to speak for itself.
A common feature of these chairs is the use of light-colored wood for the chair frame. The pale tone complements the boucle, often dyed in neutral palettes, creating a warmth and softness that radiates inviting appeal.
Moreover, functionality is crucial in Scandinavian design. Hence, the chairs are not only visually appealing but also comfortable and durable. This translates to designs with ergonomic considerations, such as a slightly curved backrest for support and generous padding for comfort.
Furthermore, Scandinavian design respects the integrity of materials, meaning that the boucle fabric is often used in its most natural form. This lends an organic and tactile quality to the dining chairs, stimulating visual interest while ensuring a cozy feel.
For those aiming to use these chairs in a design scheme, they integrate well with other Scandinavian features such as pops of plant life, tonal art pieces, and ambient lighting, creating a serene and harmoniously coordinated dining space.
Eames-inspired Boucle Dining Chairs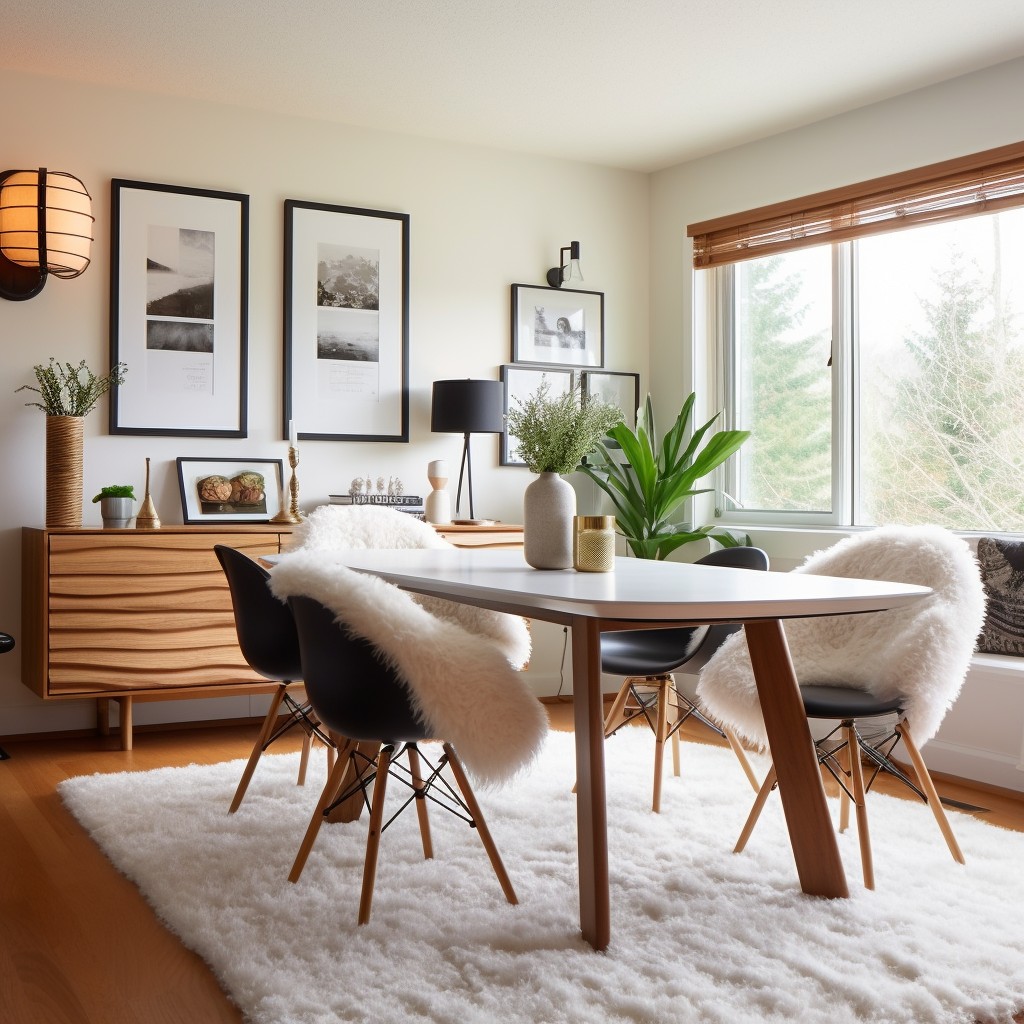 Harnessing the essence of mid-century modernity, these seats blend a desirable aesthetic with a touch of comfort. The signature curves and sculptural design are a salute to the innovation of the Eames team. Indeed, their timeless appeal is only accentuated when wrapped in the trendy boucle fabric, adding a fresh twist to a classic design.
Unlike many other stiffer dining chair options, those inspired by Eames offer an added layer of functionality – comfort. This makes them an excellent choice for long dinner parties or family gatherings where seating is more extended. Design-wise, these chairs easily adapt to a myriad of interior styles. Possessing a chameleon-like ability to harmonize with both overtly vintage or distinctly contemporary spaces, they provide the style-savvy homeowner with abundant versatility.
Key highlights of these designs are their often distinctive wooden or metallic legs, the shell-like seat construction mimicking a soft hug, and the mere sophistication the boucle fabric imparts. Always in vogue, they are a designer-approved choice to infuse some mid-century magic into your dining room.
Double-layered Boucle Dining Chairs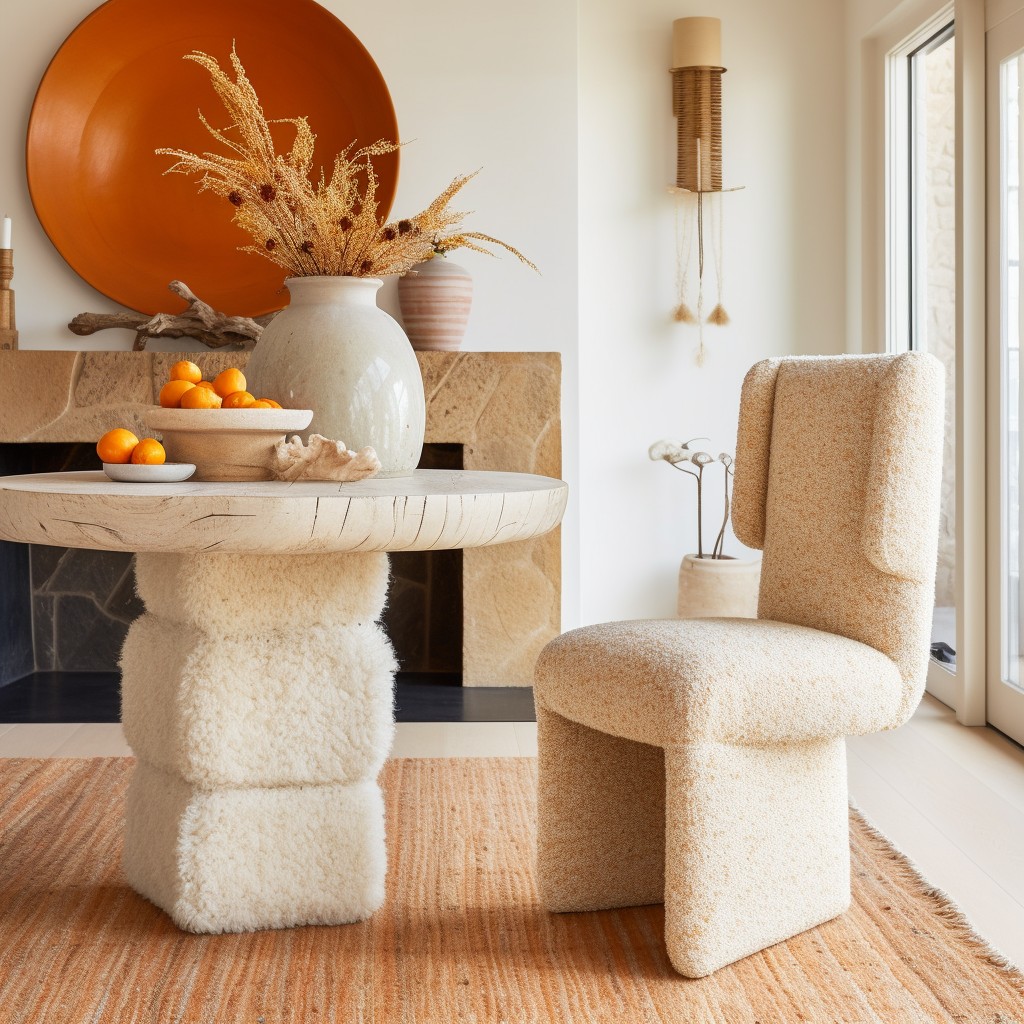 Double-layered designs offer an appealing aesthetic that exudes elegance and luxury. The outer shell provides a sturdy structure while the second layer offers plush comfort, creating an ideal balance between firmness and softness. This style delivers not just on the functional aspect but also as an eye-catching feature in the dining room. Perfectly tailored in cozy boucle fabric, these chairs withstand the test of time, both in usage and style.
Luxurious Texture: The double layers build up a rich, sumptuous texture that adds depth.
Enhanced Comfort: The dual layers provide robust support combined with plush comfort.
Versatility: Double-layered boucle chairs complement various dining room styles, be it minimalist, contemporary, or rustic.
Endurance: Being tough and durable, they can handle daily wear while retaining their charm.
Consider mix and match with dining tables of different materials like glass, marble, or reclaimed wood to create a purely personalized feel.
Neutral-toned Boucle Dining Chairs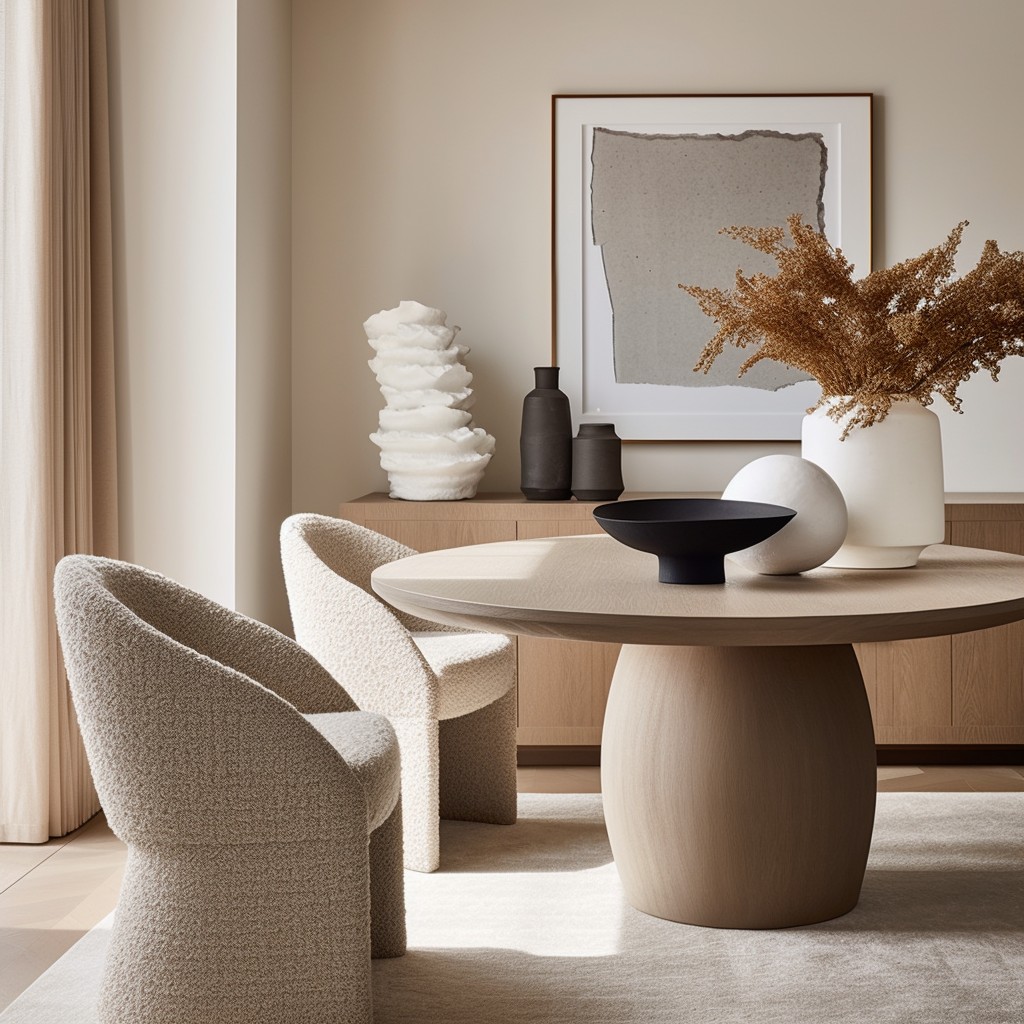 Continuing the journey through the world of boucle dining chairs, neutrality instills tranquility in a dining space. Neutral tones, known for their flexibility, can complement a multitude of color schemes and room themes.
Here are some key points to consider:
Versatility: Beiges, greys, creams, and whites are ideal for blending in seamlessly with existing décor.
Timelessness: These shades remain in fashion indefinitely, making your chair resistant to the buzzing and ever-changing décor trends.
Easy Maintenance: They camoflage stains and spots, accumulating less visible wear and tear over time.
Optics: Light neutrals can improve the sense of space in a room, making it appear bigger, brighter, and more inviting.
Harmony: Creating a calm, serene backdrop boosts the appeal of accent pieces and primary colors in the room.
Implementing neutral-toned boucle dining chairs can invariably be a valuable addition to your dining space. Providing not only comfort, but also a tranquil aura that fosters food, conversations, and memorable gatherings.
Mix and Match Color Boucle Dining Chairs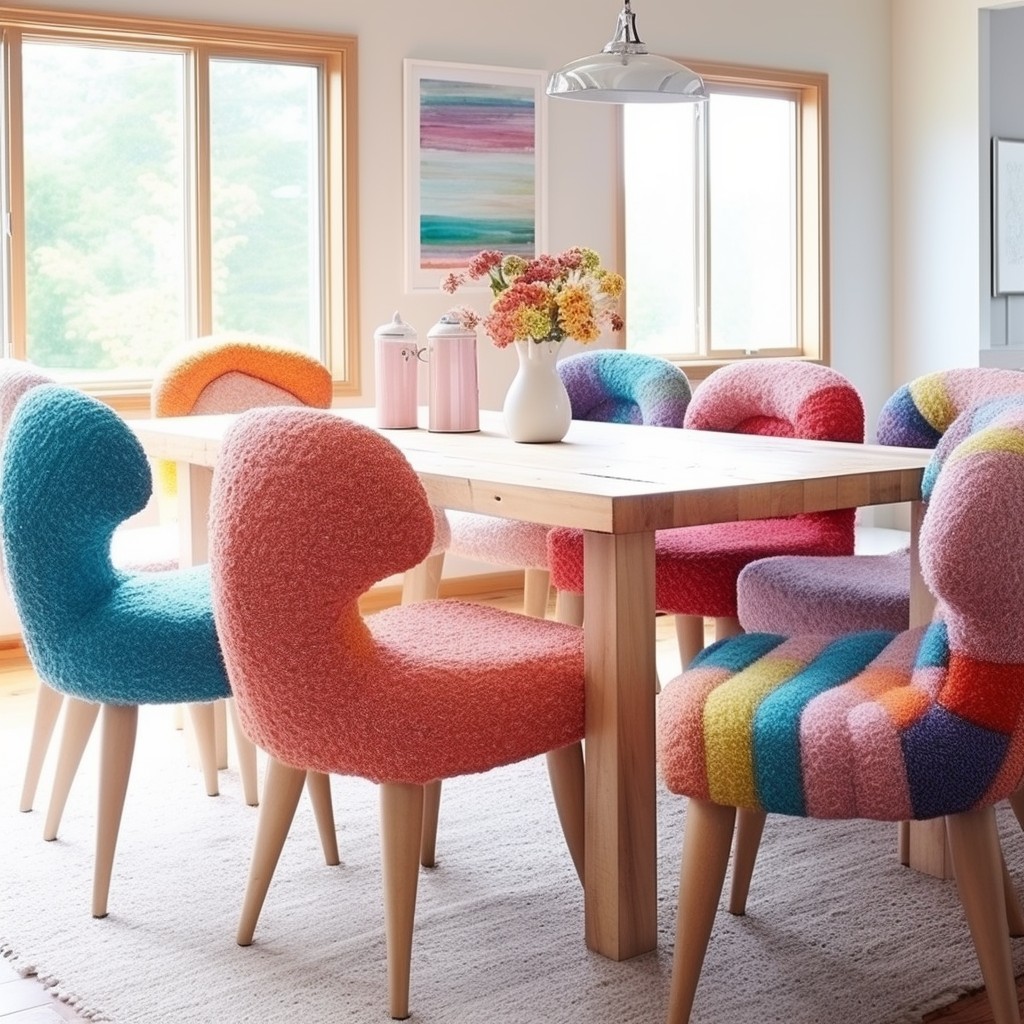 Beyond the uniformity, a color assortment can add a dynamic touch to your dining space. With various hues of boucle fabric, this approach breaks away from traditional color schemes and ventures into a more eclectic territory.
1. Perfect Harmony: Use different shades of the same color across several chairs. This provides a tonal harmony while maintaining individuality and interest.
2. Contrast is Key: Pair opposite colors on the color wheel for a striking effect. Consider a navy blue and mustard yellow or a pastel pink with forest green for a strong visual impact.
3. Pastels and Dark Shades: Light pastel chairs next to dark, rich colors create a beautiful chiaroscuro effect in the dining space.
4. Earth Tones: Blend warm and cool neutrals for a sophisticated palette. Combine tan, cream, or beige boucle chairs with browns or grays for a grounded, natural look.
Remember, the aim is to create balance and interest without overpowering the eye or distracting from the dining experience.
Minimalist Boucle Dining Chair Concepts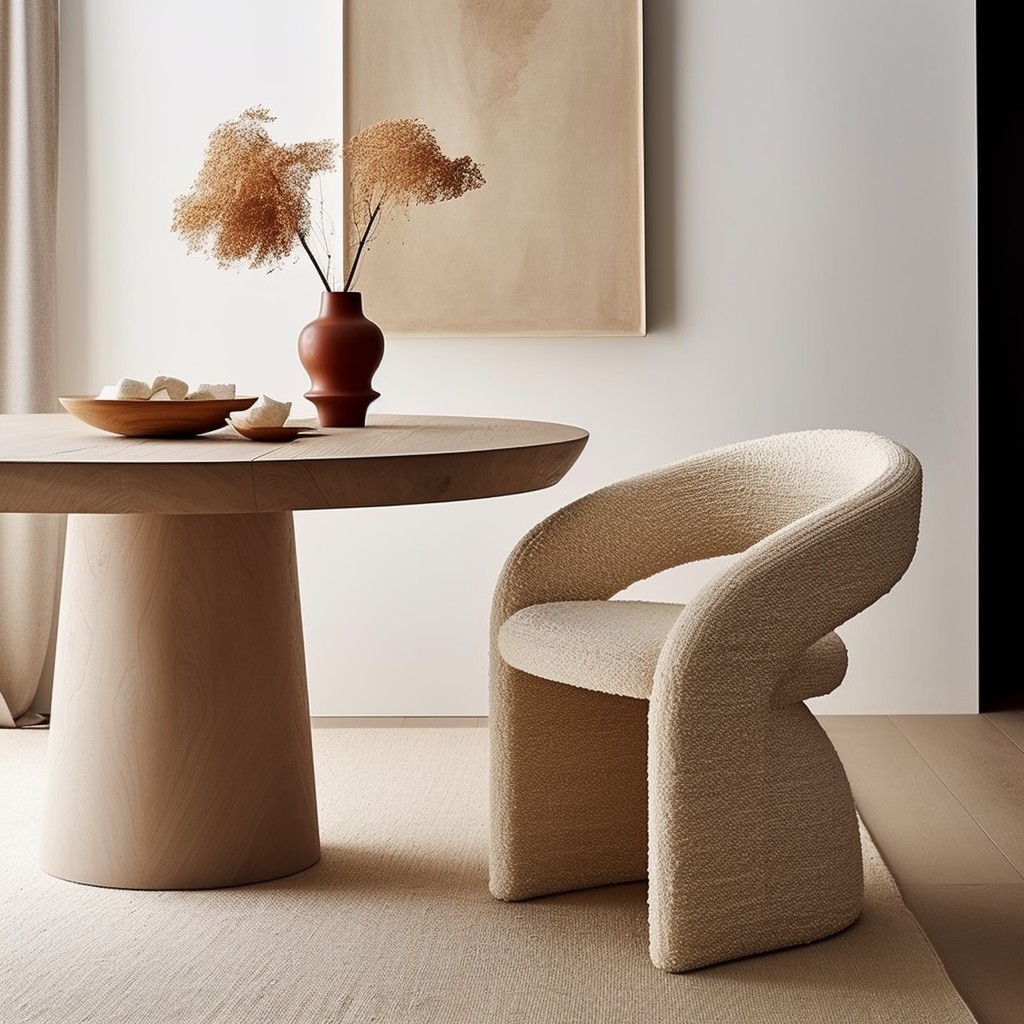 Uncomplicated yet refined, a minimalist boucle dining chair preserves the simplicity that defines the style. Here are some key points:
1. Lean Design: Trimmed down to only essential elements, such chairs focus on function over ornament.
2. Neutral Palette: Soft hues create a peaceful dining environment. Think whites, greys, or beiges.
3. Quality over Quantity: Prioritizing high-quality materials ensures longevity and a timeless appeal.
4. Fine Lines: Smooth edges and curved lines emulate serenity and visual harmony.
5. Texture Contrast: The textured boucle fabric contrasts with a sleek metal or wooden frame, adding depth.
6. Detailing: Even in a minimalist concept, detailing gets focus. Handcrafted work or even a small pin-tuck can add interest.
Each point drives the essence of the minimalist concept; an embodiment of subtlety, functionality, and understated elegance.
Tufted Boucle Dining Chairs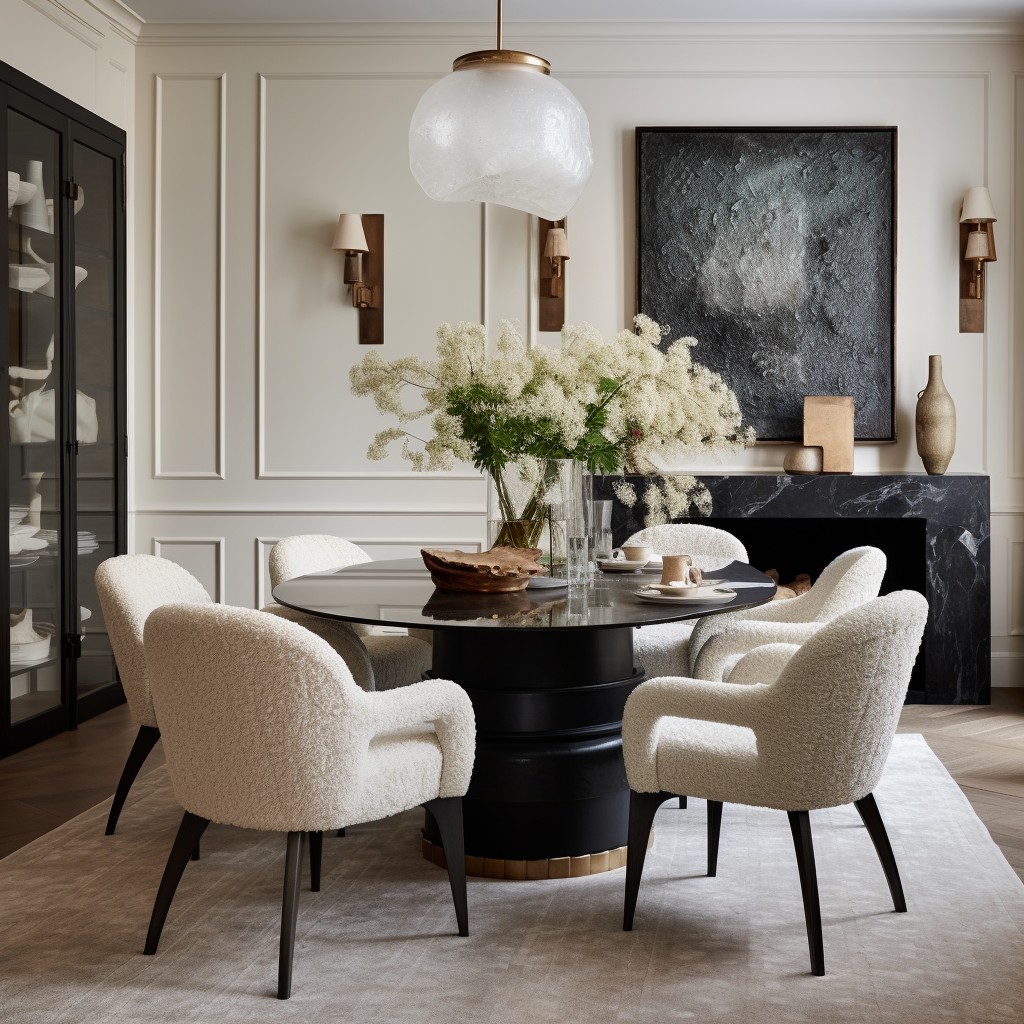 Emphasizing refined elegance and intricate craftsmanship, tufted boucle designs lend a classical touch to your dining room. These chairs usually come with deep button tufting, which is not only captivating but also enhances user comfort. The tufting draws intrigue and adds a dynamic texture aspect that sets your chair apart from ordinary dining seating.
Consider a design where the tufting is accentuated with complementary studs or piping for an elevated look. Alternatively, settling for a contrast color tufting can spice up the visual appeal, adapting to boho, minimalist, or even maximalist décor themes.
Remember, the maintenance aspect can be tricky, especially with embedded crumbs. A routine vacuuming or brushing keeps the tufting grooves clean. Lastly, these chairs are typically padded generously, reaffirming that sophistication and comfort can indeed, coexist.
Solid Oak Frame Boucle Dining Chair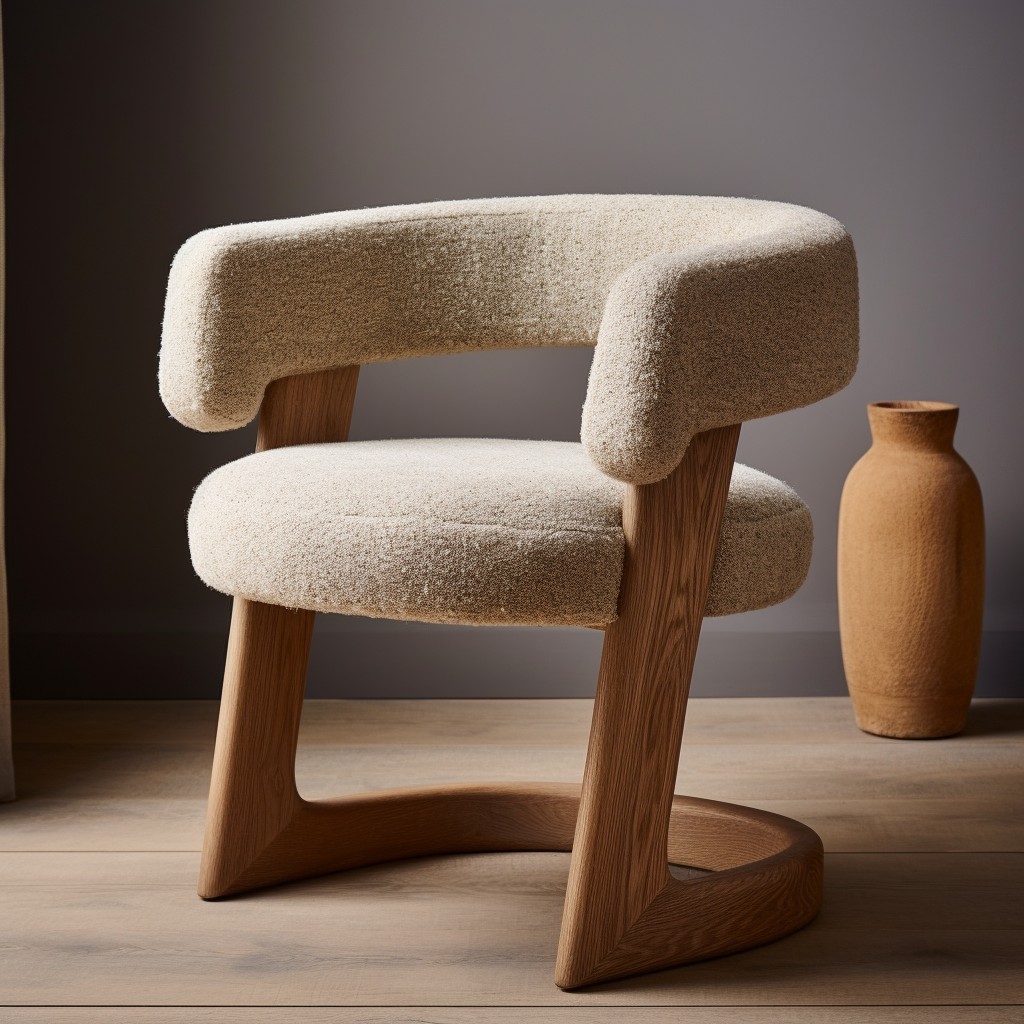 Solid oak offers immense durability and a natural, appealing look. It's a popular material for furniture, making it a superb choice for your dining chair frame. With its robust hardness and high load-bearing capacity, it ensures some of the sturdiest seating options for your dining room.
The juxtaposition of this firm base with the soft, woven boucle fabric brings an unexpected and pleasant contrast. Boucle, known for its unique, curled texture and gentle comfort, complements the oak's sturdy nature, bringing a touch of warmth and coziness.
Consider a model with simple lines to let these materials shine or opt for a more intricate design to make a statement. Remember, various finishes on the oak frame can drastically alter the chair's aesthetic. Choose from a natural finish to retain a rustic vibe, a dark stain for added sophistication, or even a painted surface to infuse some color.
Beyond the aesthetic pleasure, such a chair is also practical. It's easy to clean and maintain, and the solid oak frame contributes significantly to the chair's longevity. Thus not only visually captivating, but a boucle dining chair with a solid oak frame also brings functionality to the forefront of your dining room decor.
French Country Boucle Dining Chairs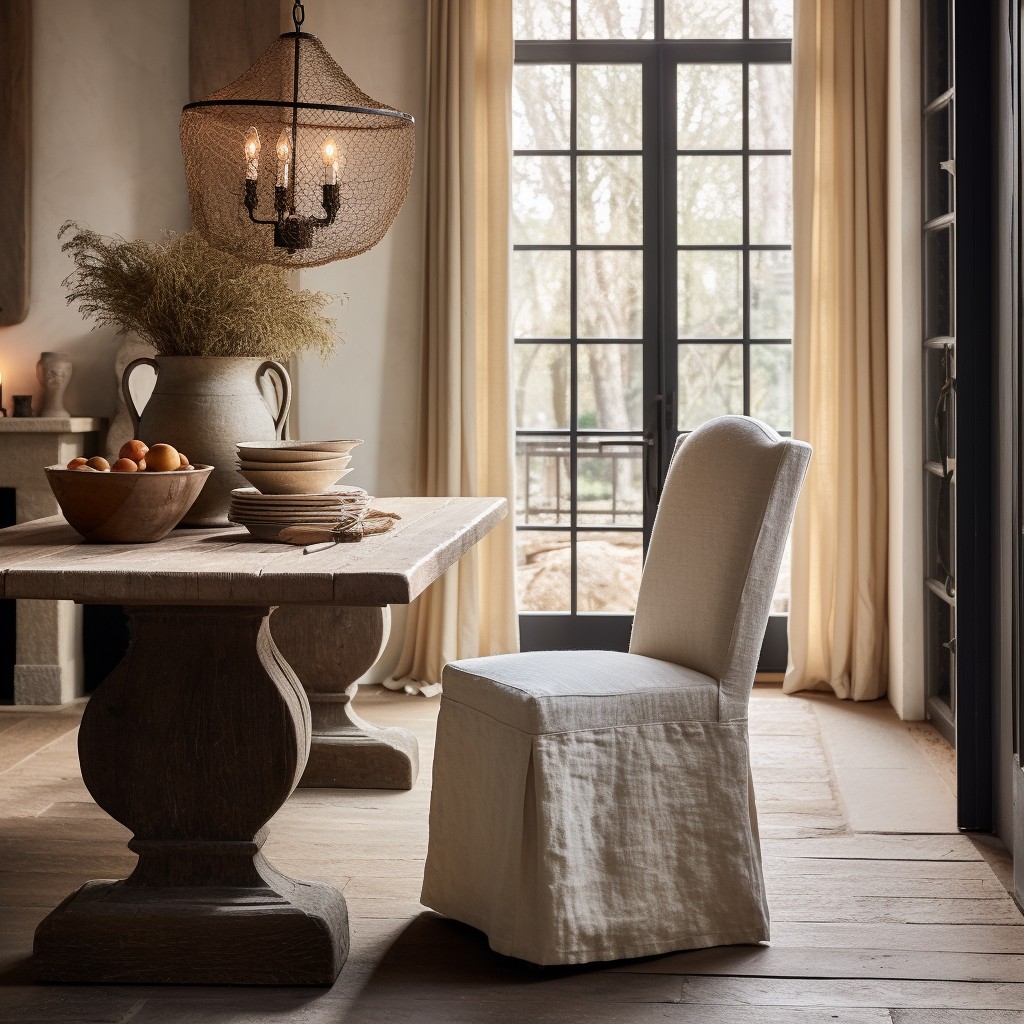 Characterized by natural materials and coarse textures, these chairs add a rustic yet elegant touch to any dining space. The texture of the boucle fabric pairs exquisitely with the Provencal countryside aesthetic, creating an ambiance of comfort and luxury.
1. Emphasize the charm of their design: Their wooden frames often feature carved detailing, which exudes vintage appeal.
2. Consider the color palette: You'll typically find them in subtle, muted tones—think shades of beige, cream, and taupe.
3. Note the comfort: Unlike some other chair designs, the soft boucle fabric and padded seats ensure utmost comfort.
4. Appreciate the durability: With their sturdy wooden frames, these chairs don't just look good—they're built to last.
5. Integrate into your overall décor: French country boucle chairs blend seamlessly with natural elements like stone or wood and with pastel or muted wall colors.
6. Palatial touch: Their elegant design can enhance a regular dining room and give it the sophistication of a French country manor.
Curved Back Boucle Dining Chairs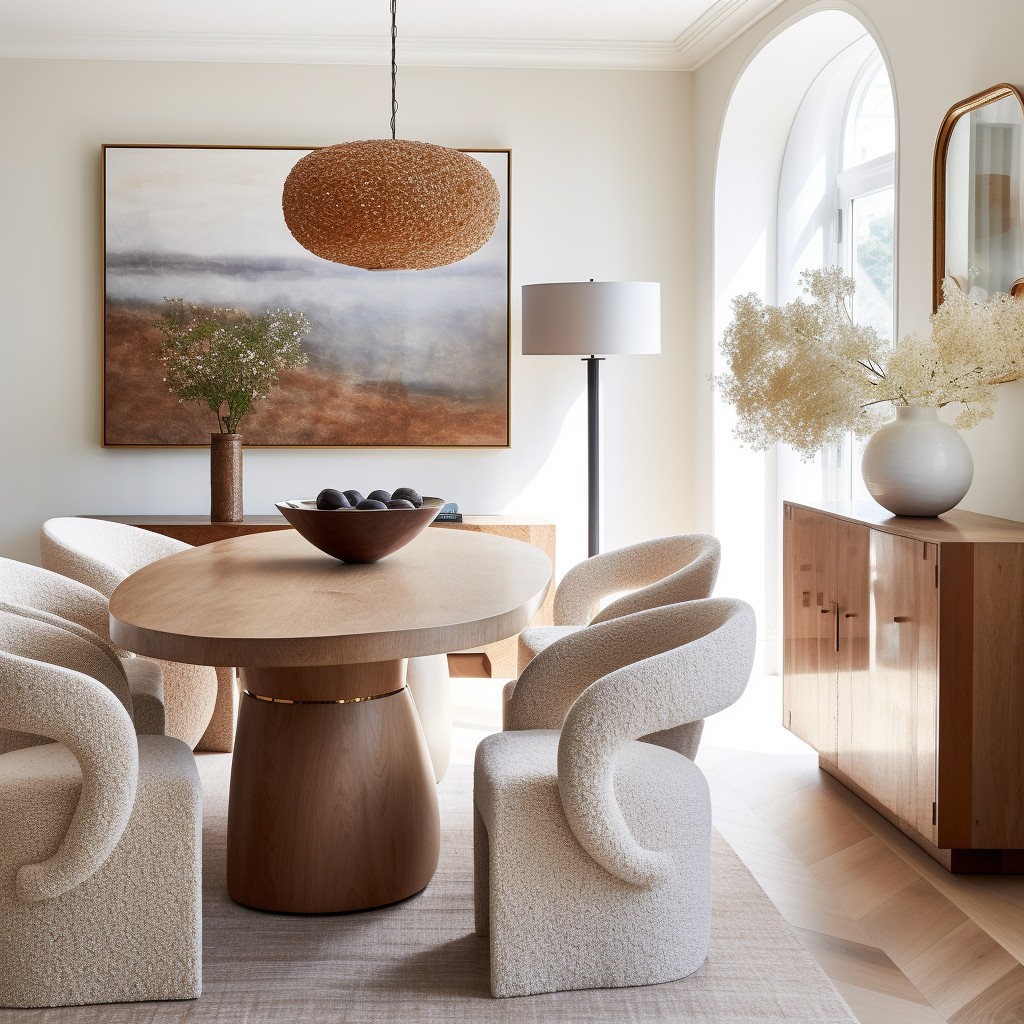 The design of a curved back creates an inviting look while also promoting comfortable sitting for extended periods. This style can feel just as luxurious as it looks, especially when a premium boucle fabric is used. Attention is drawn directly to the detailed stitching, highlighting both material and form. Luxuriously textured, it provides an aesthetic and tactile appeal that can uplift any dining room look instantly.
Key points for this sub-topic are:
Comfortability: The curved back design offers additional back support, increasing the comfort level and making it perfect for those long dinner parties.
Versatility: The sleek design and neutral color palette of boucle fabric make these chairs an easy fit for a variety of dining room styles, from traditional to modern.
Durability: Boucle is a strong, hard-wearing material that can withstand everyday use, making it a practical choice for a dining chair.
Focal Point: This style of chair can stand out and be a breathtaking addition to a dining room, enhancing its visual interest and making it a conversation starter.
High Back Boucle Dining Chair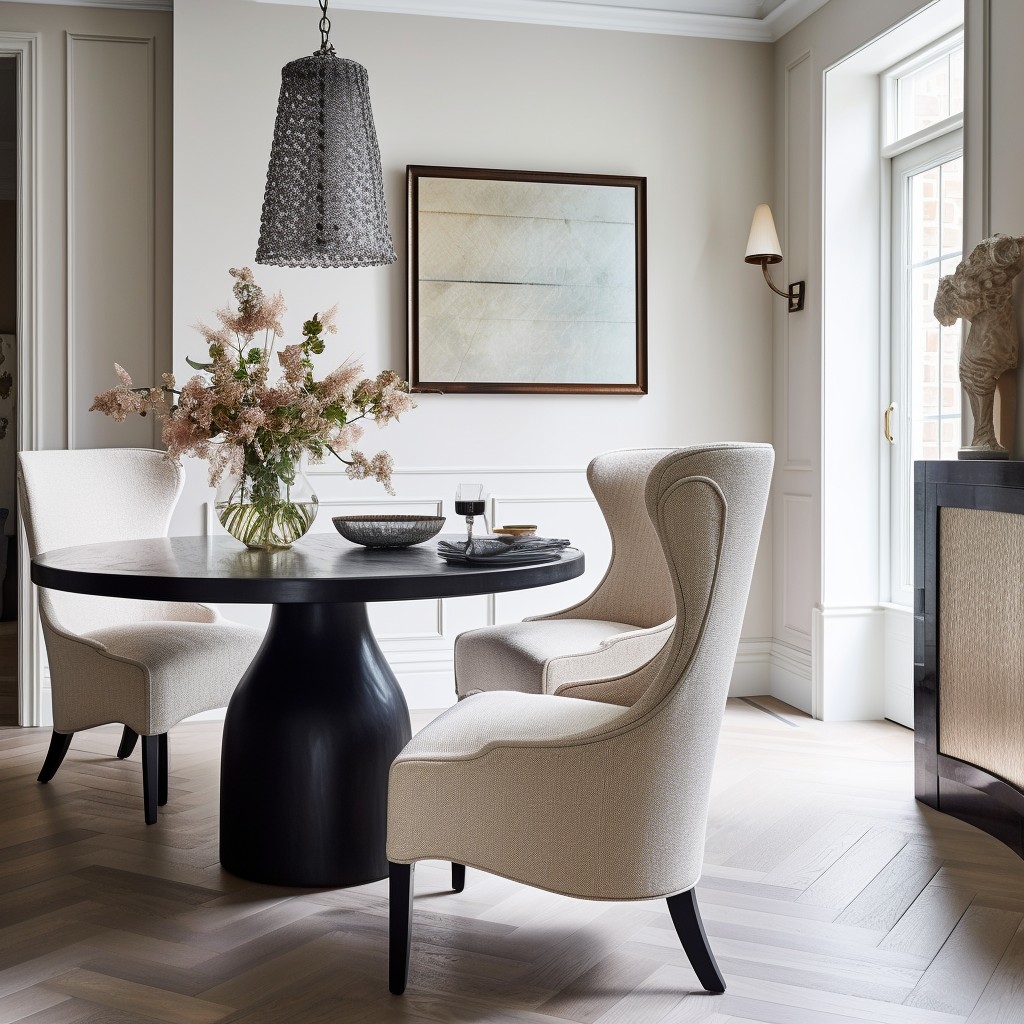 Ensuring the ultimate comfort and a commanding presence, high back dining chairs crafted in boucle fabric can make a dramatic statement. They provide additional support for the back, making them exceptional for long, leisurely dinners.
1. Comfort First: These chairs are ideal for those who appreciate extra back support. The high back creates a comfortable sitting position that aids in relaxation and posture.
2. Statement Piece: High back boucle dining chairs also serve as a bold style statement. They boast of sophistication and create a focal point within the dining space.
3. Versatility: Despite their size, these chairs are versatile and fit seamlessly into any decor scheme—from minimalistic to opulent.
4. Variety in Design: There's a wide selection of high back boucle chairs, some coming with tufted backs, winged sides, or scrolled tops, each adding a unique touch to your dining room.
5. Luxurious Appeal: The boucle fabric gives these chairs a touch of luxury, making them perfect for elegant dining spaces.
6. Durability: The high-quality boucle material ensures these chairs withstand daily use, all while maintaining their luxe appeal.
You may also like to read: