Last updated on November 14, 2023
Prepare to dive into the world of boucle accent chairs because they are a stylish and versatile piece that can upgrade any interior space.
Bouclé accent chairs can transform any space with their unique texture and classic appeal. Whether it's a living room, bedroom, or study, these chairs add a touch of elegance and comfort.
With their soft, curly fabric and variety of styles, they can suit any decor theme, from modern minimalist to cozy farmhouse.
This article will delve into various bouclé accent chair ideas, discussing how to select the right chair, placement tips, and ways to style it with other furniture and accessories.
Get ready to explore and find the perfect bouclé accent chair for your space!
Table of Contents
Low Back Boucle Accent Chair for Minimalist Designs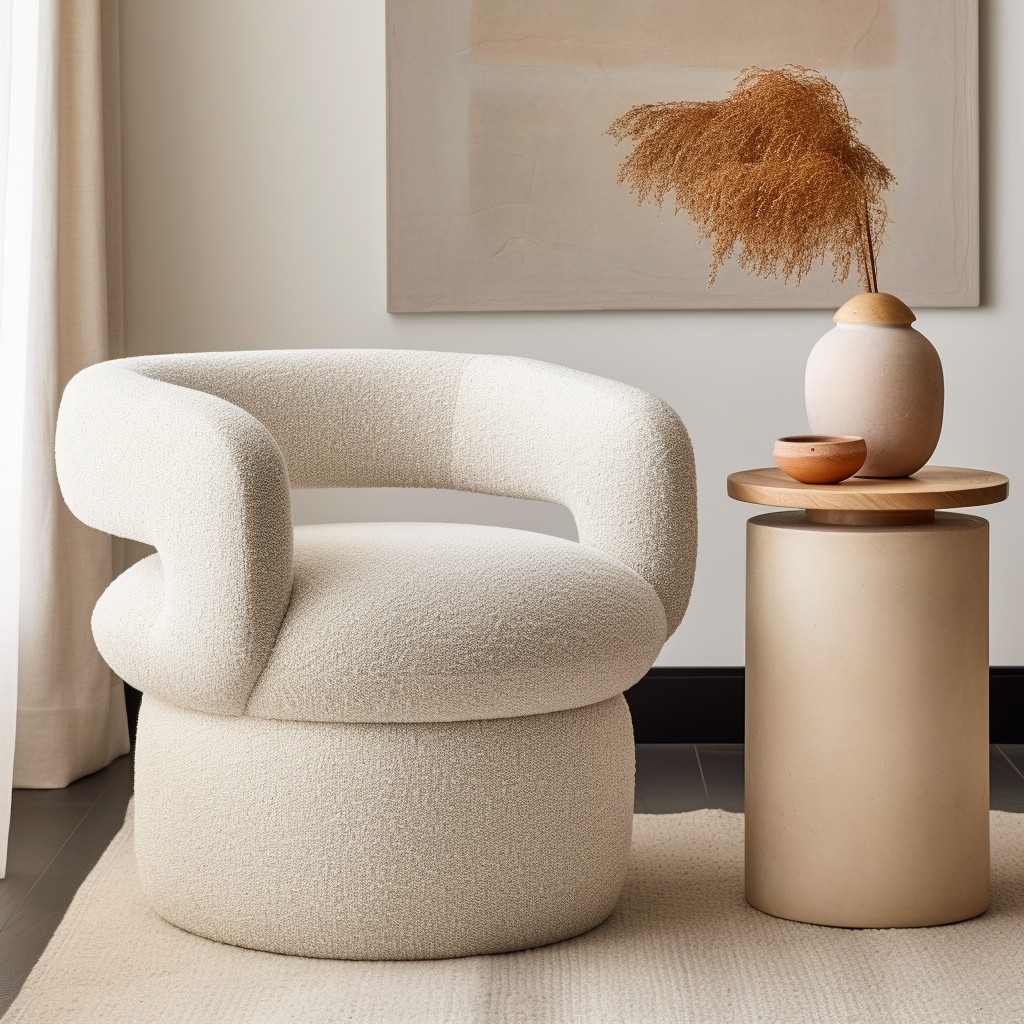 Offering an understated and chic appeal, the low back boucle chair fits perfectly into minimalistic design styles. Its neat lines and subtle texture bring a sense of balance and simplicity that resonates with the aesthetics of minimalism. At the same time, the soft, looped fabric adds a layer of comfort, making this piece not only visually appealing but also invitingly cozy.
Consider these key points when incorporating such a chair into your decor:
1. Position it in a corner with a streamlined floor lamp for a well-lit reading nook.
2. Complement it with a monochrome rug that contrasts its color for a cohesive look.
3. Place it adjacent to a minimalistic coffee table in a living room setup.
4. Pair it with a low-profile, geometrical side table that mirrors its low back design.
5. Blend it with muted, solid colored drapes to maintain a calming ambiance.
Remember, less is more with a low back boucle chair in a minimalist design. Use it as a statement piece that fortifies the room's tranquility and organic unity. Harness its light, airy shape to reinforce the spacious and uncluttered nature of your minimalist interior.
Pairing a Cream Boucle Accent Chair With Bold Colored Cushions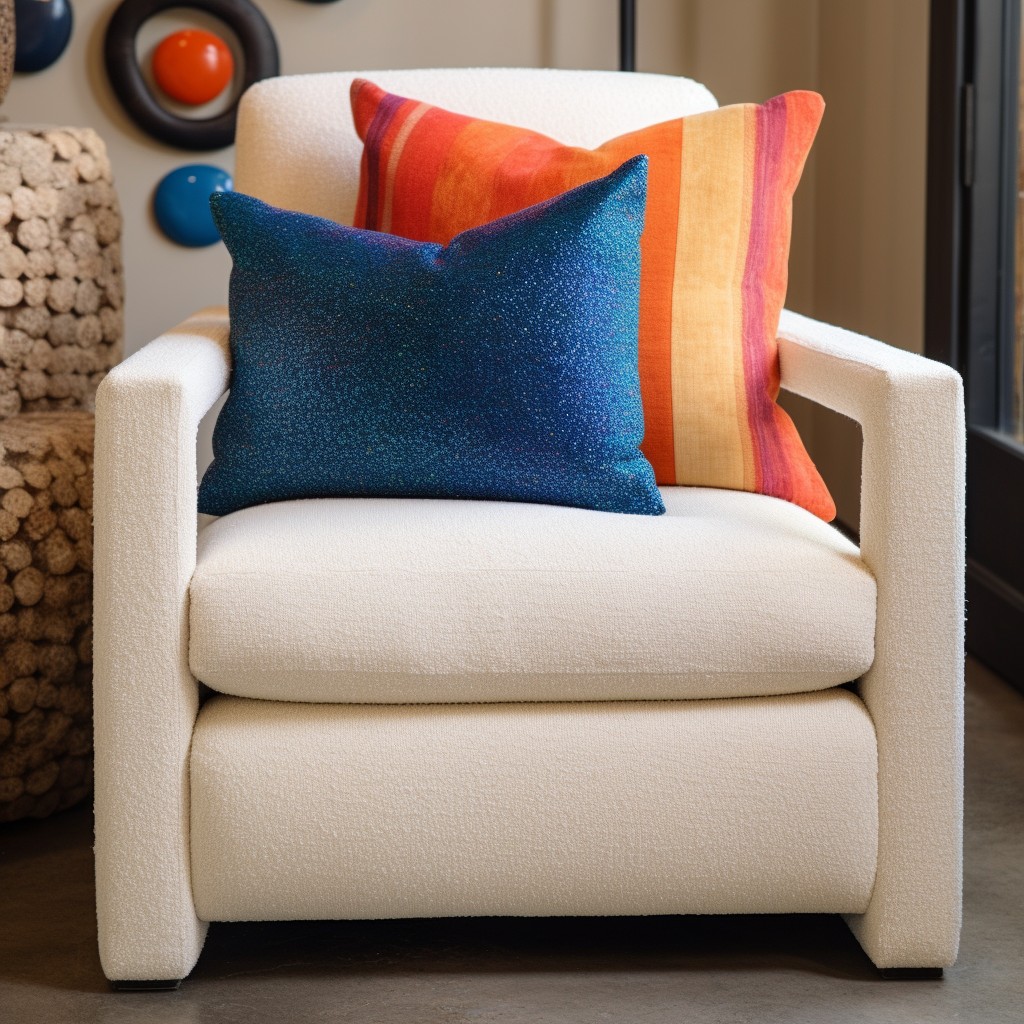 Experimenting with color is a clever and versatile way to bring out the best of a cream boucle accent chair. Although understated by nature, a cream chair can become an inviting focal point when adorned with bold, vibrant cushions.
An earthy green or rich burgundy cushion can create a warm, inviting atmosphere. These colors are grounded and calming, making them excellent options for a living room or study.
For a trendier, modern vibe, consider bright jewel tones like emerald or sapphire. These strong colors contrast strikingly with the cream boucle, making the chair pop.
Don't be afraid to play with patterns. A geometric or floral print cushion can add a touch of sophistication and excitement.
Alternatively, opt for a monochromatic theme by pairing a cream boucle chair with cushions in varying shades of cream and white. This can create a luxe, high-end look.
To find your perfect match, consider the overall color scheme and decor style in your room. Remember, the key is to choose cushions that not only accentuate the chair but also blend harmoniously with the room's overall aesthetic.
Mid-century Modern Inspired Boucle Accent Chair With Wooden Legs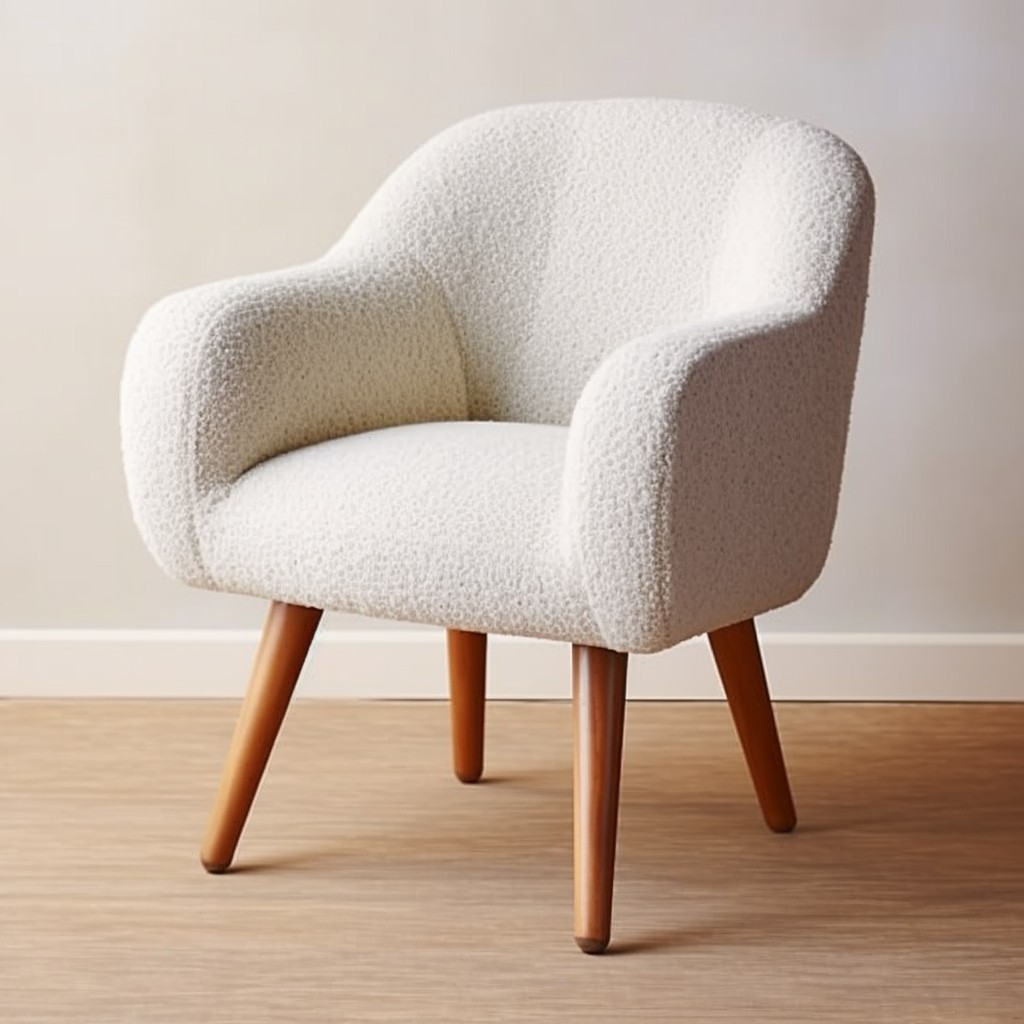 Executing this design is all about striking a balance between retro and contemporary appeal. Wood, specifically walnut, is a characteristic feature of mid-century modern furniture and serves as a warm counterpoint to the soft, nebulous texture of boucle fabric.
Consider these points:
Look for tastefully tapered legs, an emblematic trait of mid-century style. It adds both an artistic flair and an impression of lightness.
Select a chair with simple, clean lines which is a hallmark of this design era. It allows the boucle's unique texture to stand out whilst falling in line with minimalist tastes.
Choose muted hues; softer color palettes were popular during the mid-century period and will accentuate the boucle's natural elegance.
Have the chair be the primary focus in the room, limit the use of other patterned furnishings around it.
Finally, accessorize thoughtfully. Complement the chair with a mid-century modern side table or vintage lamp for an impressive finish.
Luxurious Gold-framed Boucle Accent Chair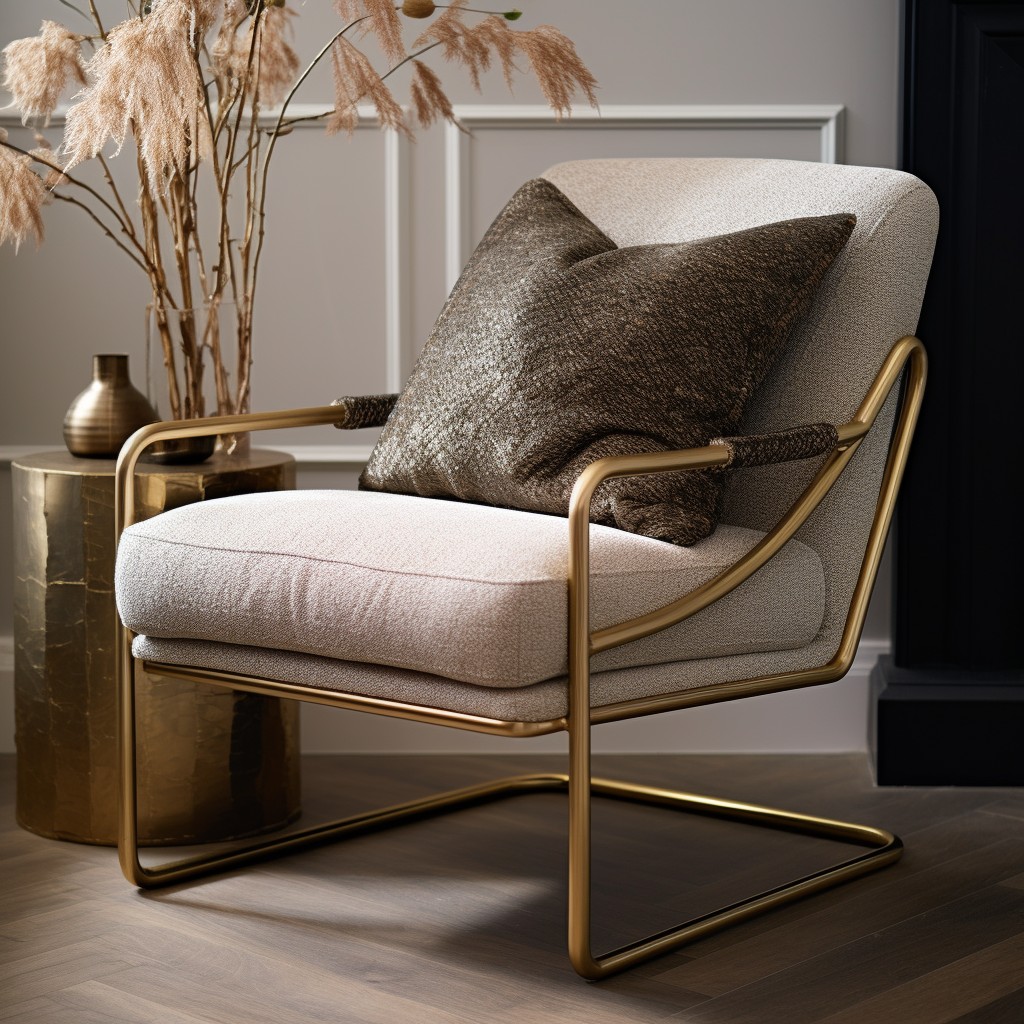 A gold frame brings a touch of glitz and grandeur, elevating the cozy boucle fabric to luxurious levels. It's a pairing that merges comfort with sophistication, an ideal choice for decor enthusiasts who love to fuse modern with classic.
This piece works best in rooms with neutral or pastel hues, allowing it to take center stage without overwhelming the space.
Consider areas like the living room or a spacious hallway for placement. Partner it with a sleek side table or a plush ottoman in a similar palette to enhance its grandeur. Balance is key, so keep surrounding decor understated to let the chair shine.
A plush throw or a luxe cushion in complementary tones can accentuate the plushness of the boucle, while adding a cozy factor.
Boucle Accent Chair With a Matching Ottoman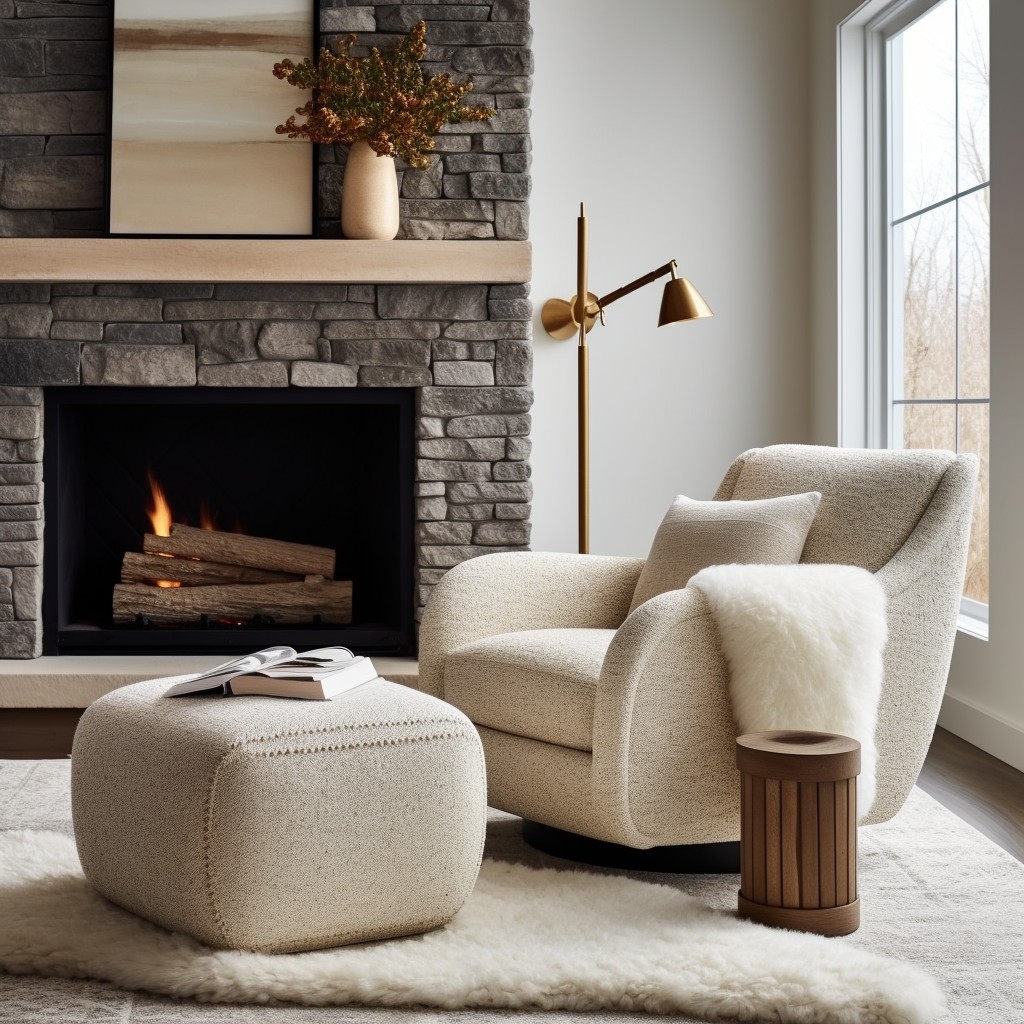 Having a chair and ottoman set takes the guesswork out of finding a complementary footrest. This combo can significantly enhance a room's aesthetic appeal while ensuring consistency.
A matching boucle ottoman can function as extra seating during gatherings or a spot to relax your feet after a long day. It also provides a remarkable touch of symmetry, curating a perfectly balanced composition in your interior design.
Furthermore, with its textured fabric and alluring look, the boucle ottoman mirrors the charm of your accent chair, thereby doubling the sophistication.
Smoky Gray Boucle Accent Chair for a Neutral Color Scheme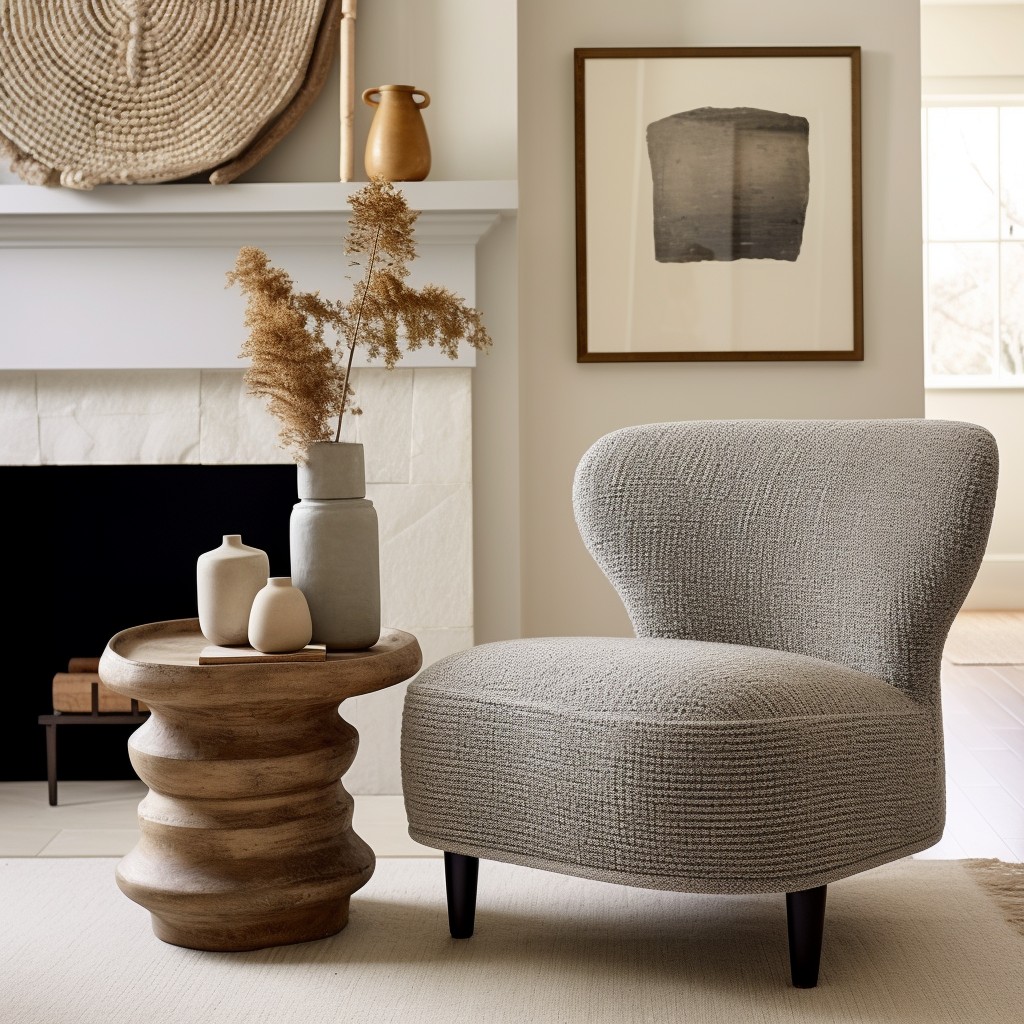 Characterized by its sophisticated yet relaxed demeanor, a smoky gray boucle accent chair provides the ideal addition to tranquil interiors. It effortlessly complements various shades within a neutral palette, blending seamlessly with white, beige, and taupe backgrounds.
For a harmonious ambiance, try coordinating this gray chair with soft-textured accessories such as knitted throws or velvet pillows. Wood accents from furniture pieces like coffee tables or floor lamps can also enhance this chair's warm undertones.
Lighting plays a vital role in showcasing the texture of the boucle fabric. Utilize natural light when possible, and in the evening, bathe it with subtle overhead lighting or a nearby table lamp. To enlarge the sense of space, consider placing the chair on a light-colored rug.
In smaller spaces, this chair becomes a focal point without the risk of overwhelming the room due to its muted tones. The boucle fabric contributes to an organic, tactile quality that invites comfort and relaxation, making it an essential piece in a serene, neutral living space.
Swivel Boucle Accent Chair for Flexibility and Ease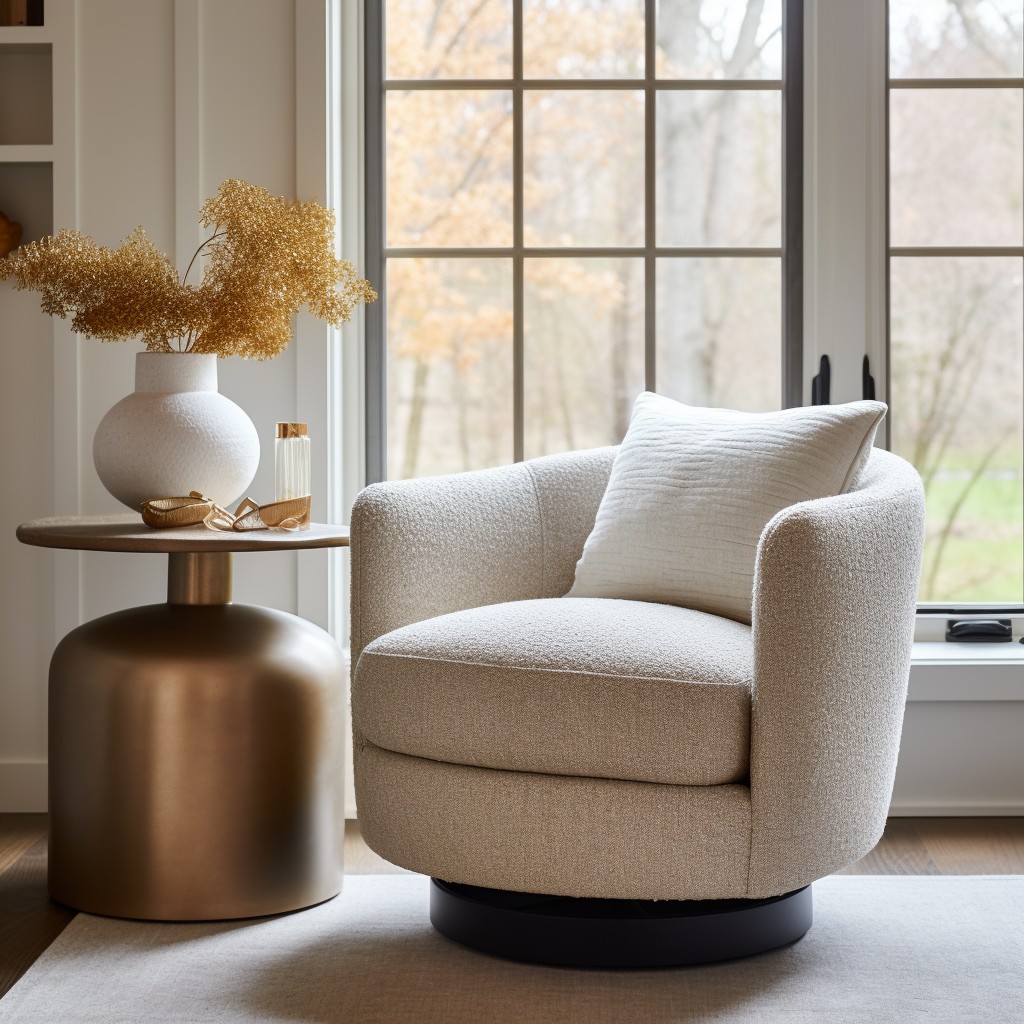 It offers incredible comfort with typically upholstered thick padding and an encasing that allows you to spin around freely. Ideal for numerous setups, these noble chairs effortlessly fit in a living room corner, home office, or even a bedroom, providing versatile functionality.
To further elevate its aesthetics, consider pairing it with a stylish floor lamp. For organization fanatics, a small side table could be a functional addition, giving a perfect place to set down reading glasses, coffee cups, or favorite books.
Plush Pink Boucle Accent Chair for Feminine Decor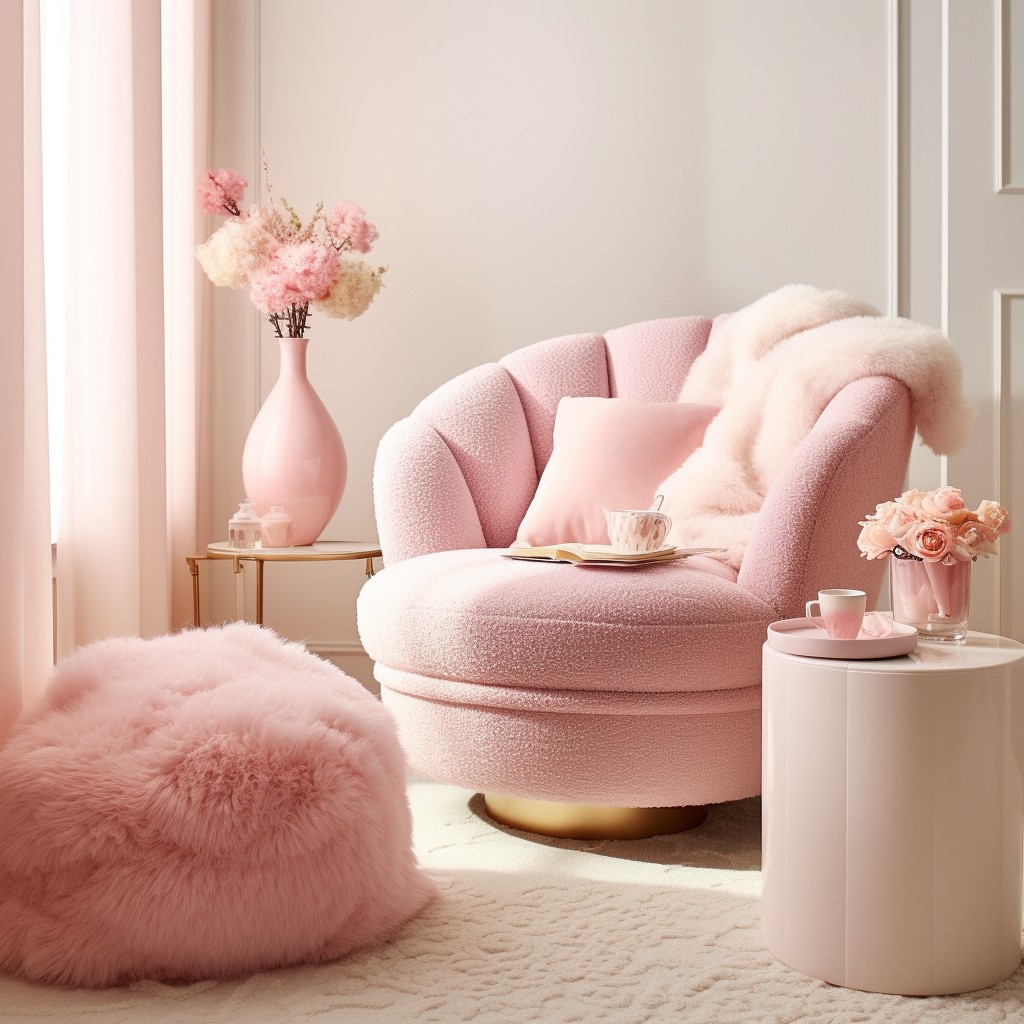 Incorporating this plushy option can add a soft and warm vibe to your living space. Known for its textured and elegant aesthetic, pink boucle can work wonders in enhancing the feminine appeal of your décor. Its color alone is versatile enough to complement both darker tones and lighter hues, proving that this isn't just a chair—it's a style statement.
For optimal results:
Combine with gold or white accessories, like side tables or lamps, to further accentuate its elegant appeal.
Choose soft lighting and mirrors to reflect the gentle pink and create an inviting, cozy atmosphere.
Use contrasting, geometric patterned cushions to give a modern, fresh twist whilst ensuring comfort.
Pair with a matching pink boucle ottoman for a complete, uniform look.
Surround with delicate, feminine artwork or floral prints to highlight the softness.
Incorporating a Boucle Accent Chair in a Reading Nook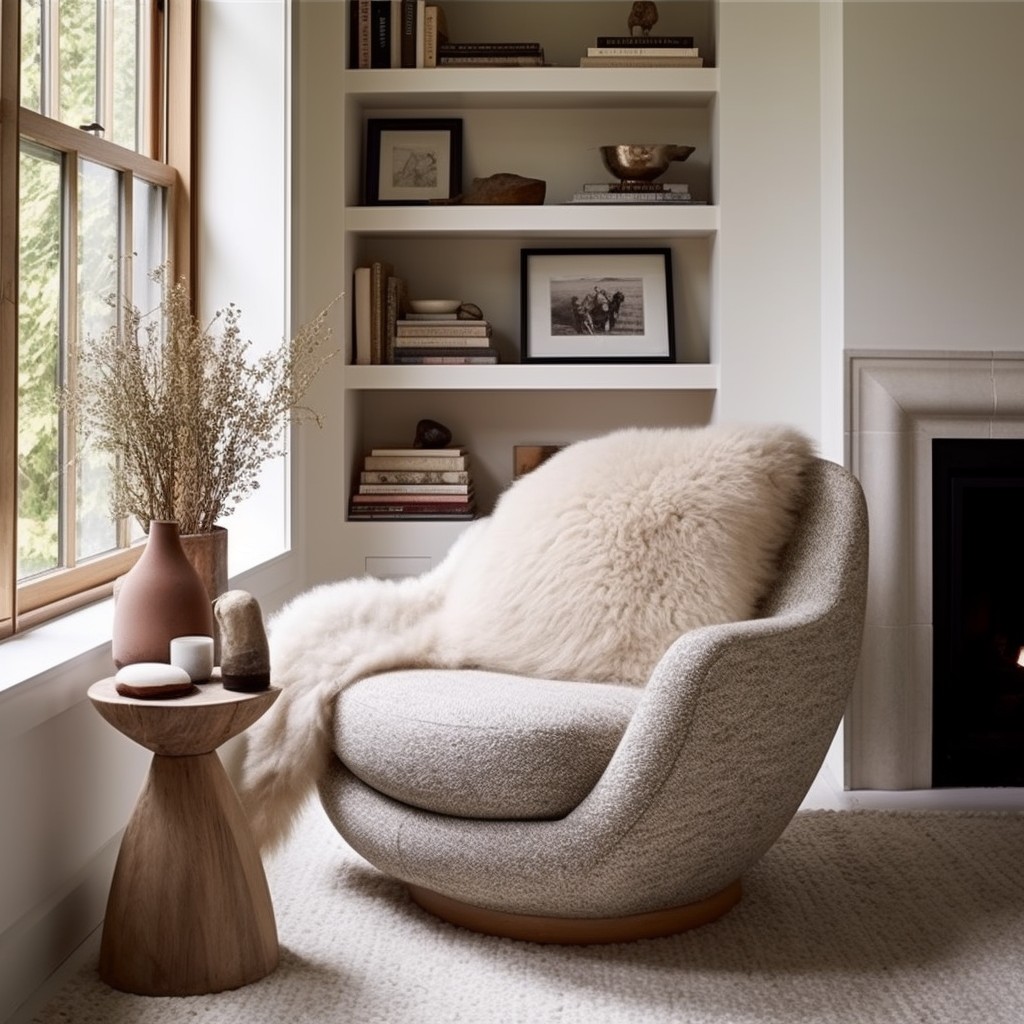 A boucle chair perfectly complements the inviting ambiance of any reading nook. Its texture brings warmth to the space, while its style merges elegance with comfort.
Here are ways to tastefully incorporate it for a peaceful reading experience.
1. Space Utilization: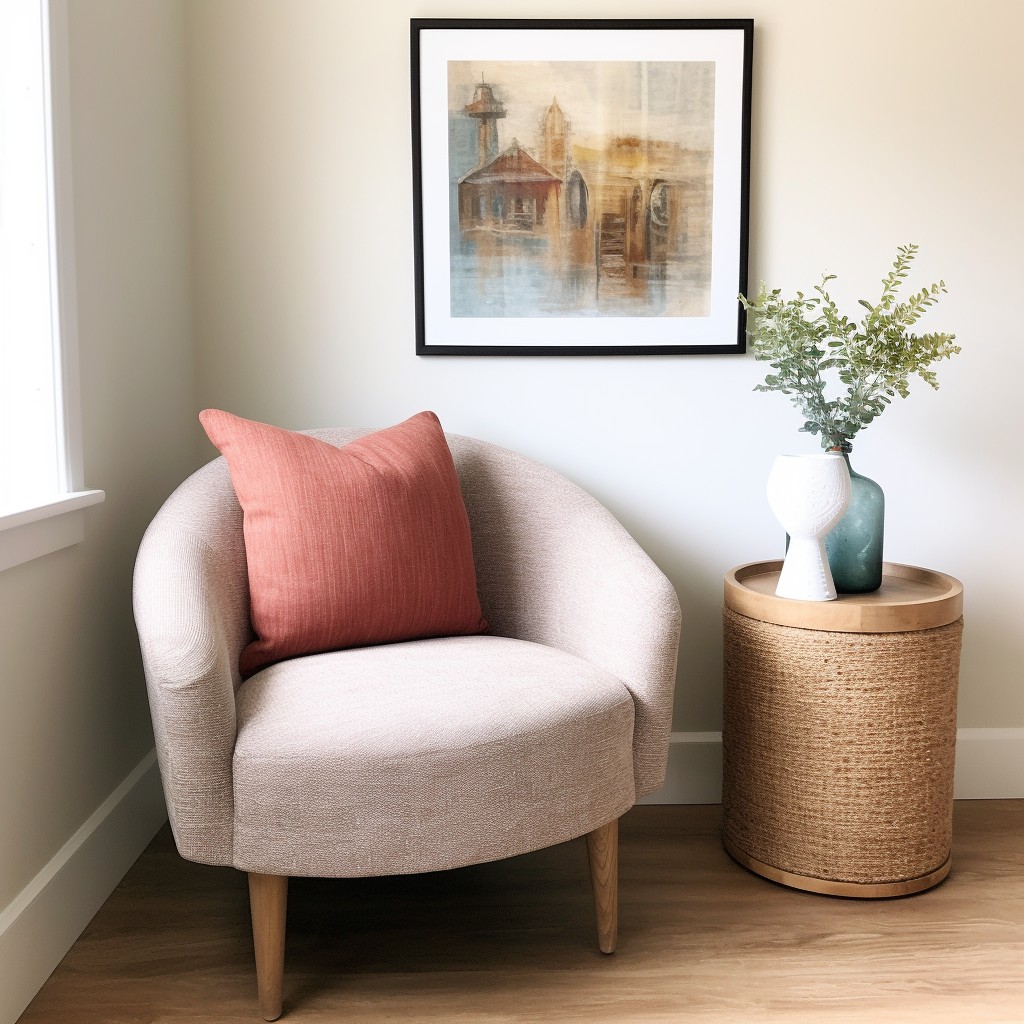 Place the chair in a cozy corner which receives ample daylight. Position it beside a window for natural lighting.
2. Add a Side Table: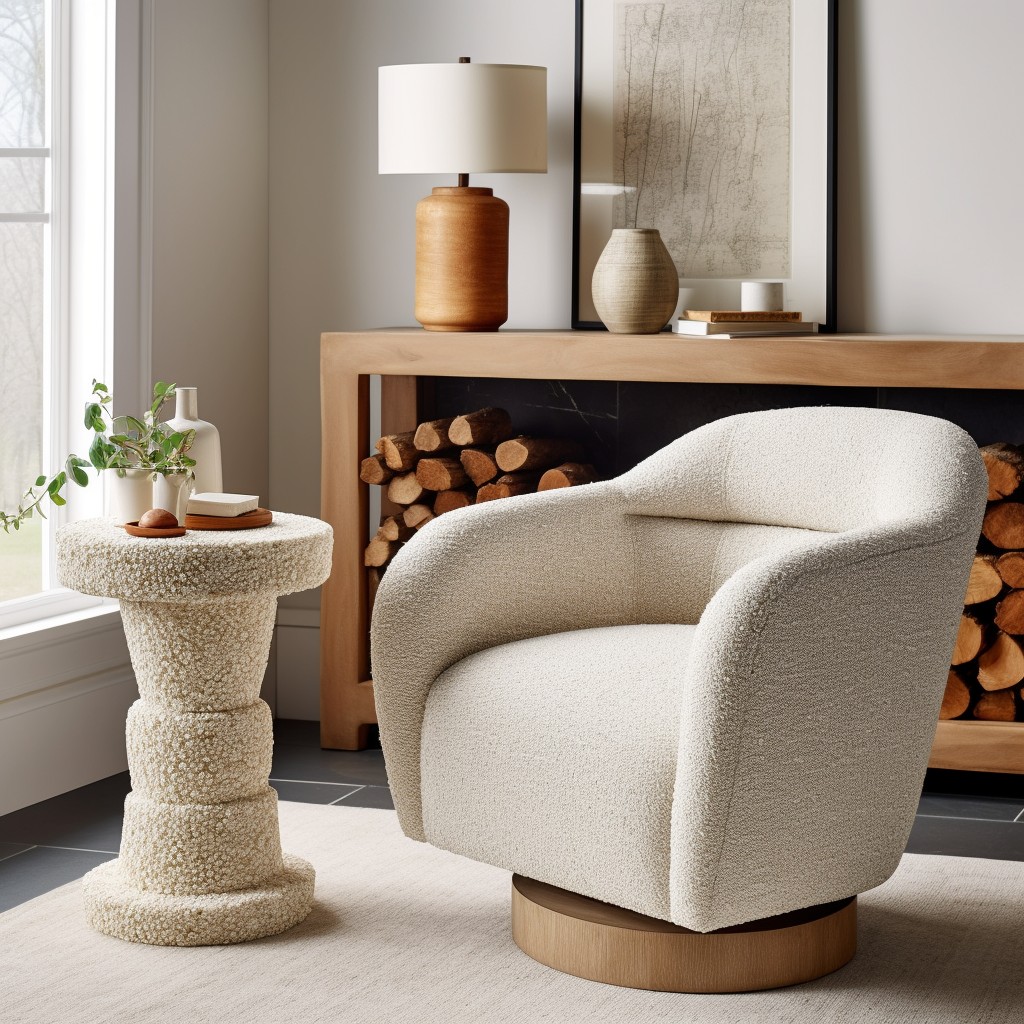 Install a small table to hold your books, coffee, or a reading lamp. A table with a metallic finish complements the chair's earthy fabric.
3. Pair with a Footrest: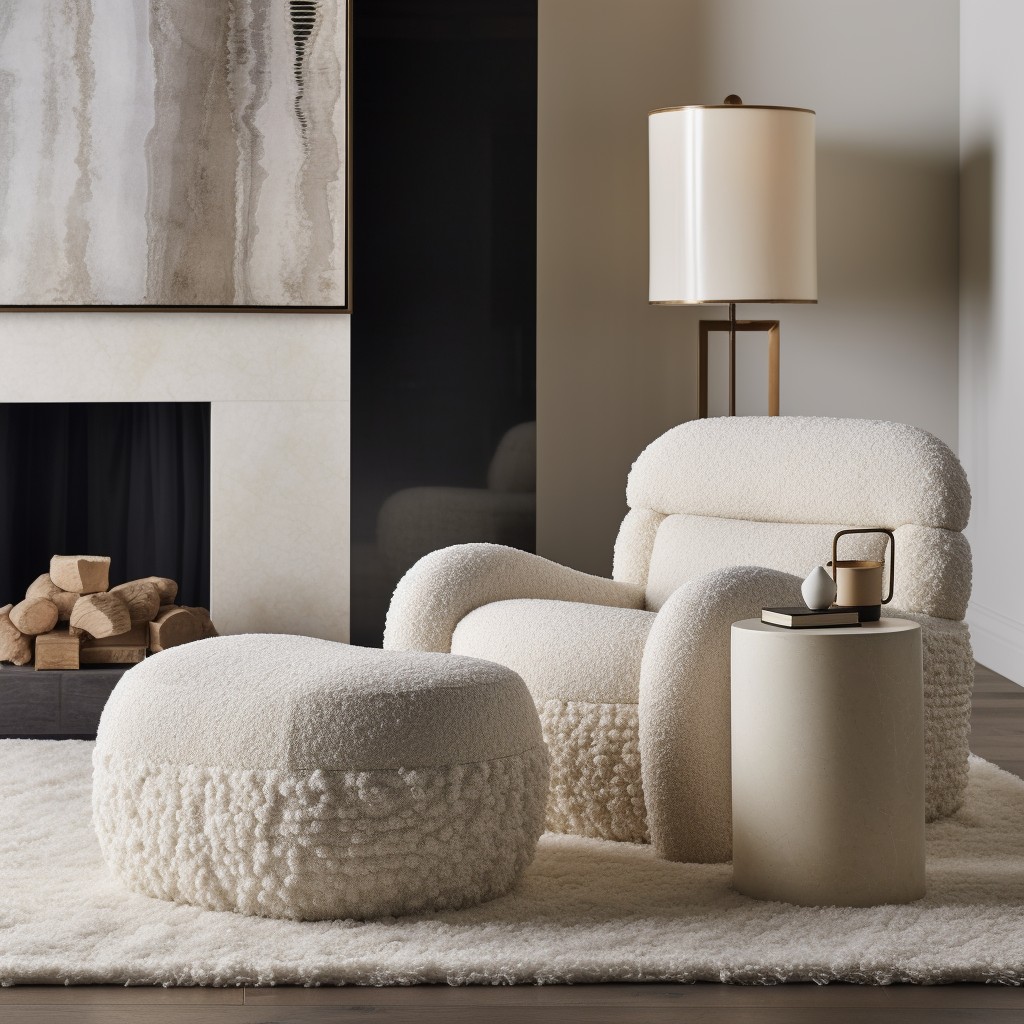 If a more laid-back reading posture is your preference, a small ottoman furthers the comfort.
4. Layer with Soft Furnishings: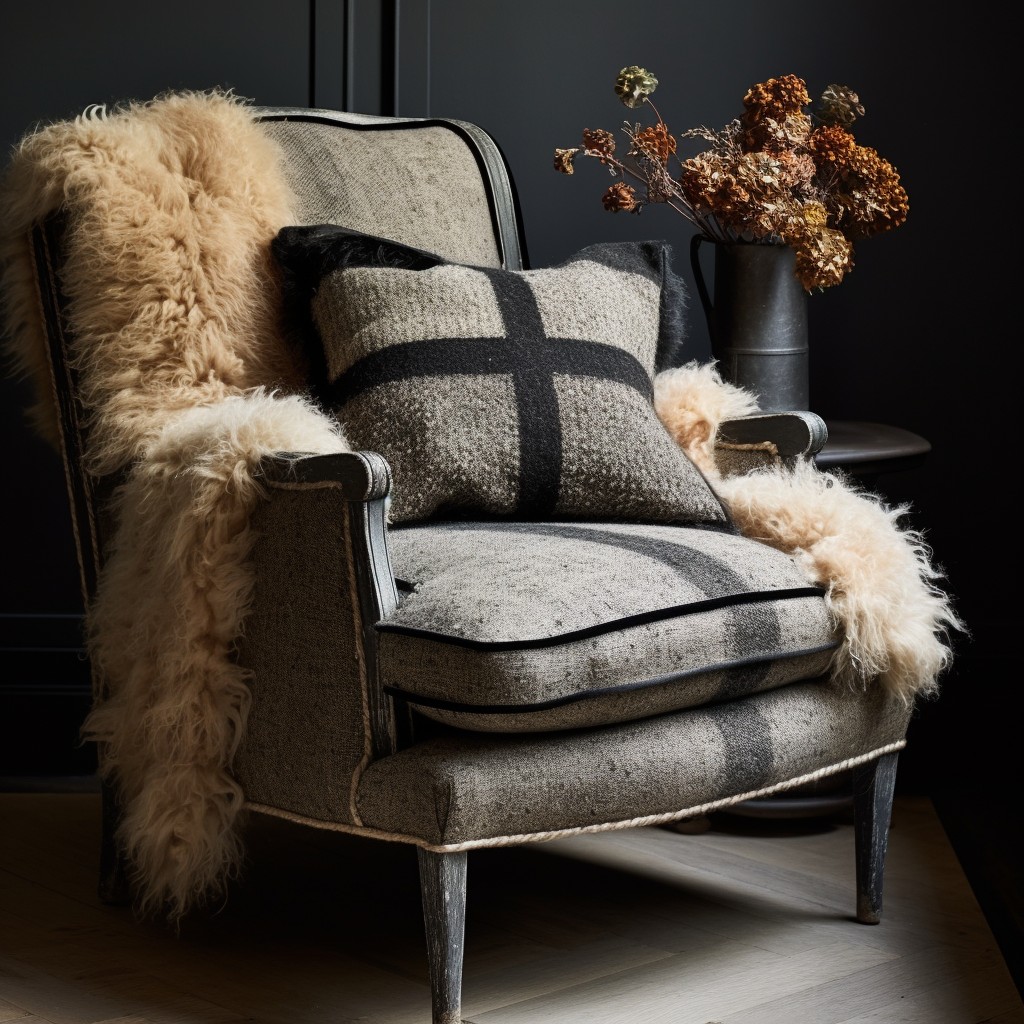 Add a throw blanket or a couple of cushions in soft fabrics and gentle hues. Not only do they enhance the chair's comfort level, but also elevate its visual appeal.
5. Choose Surrounding Elements: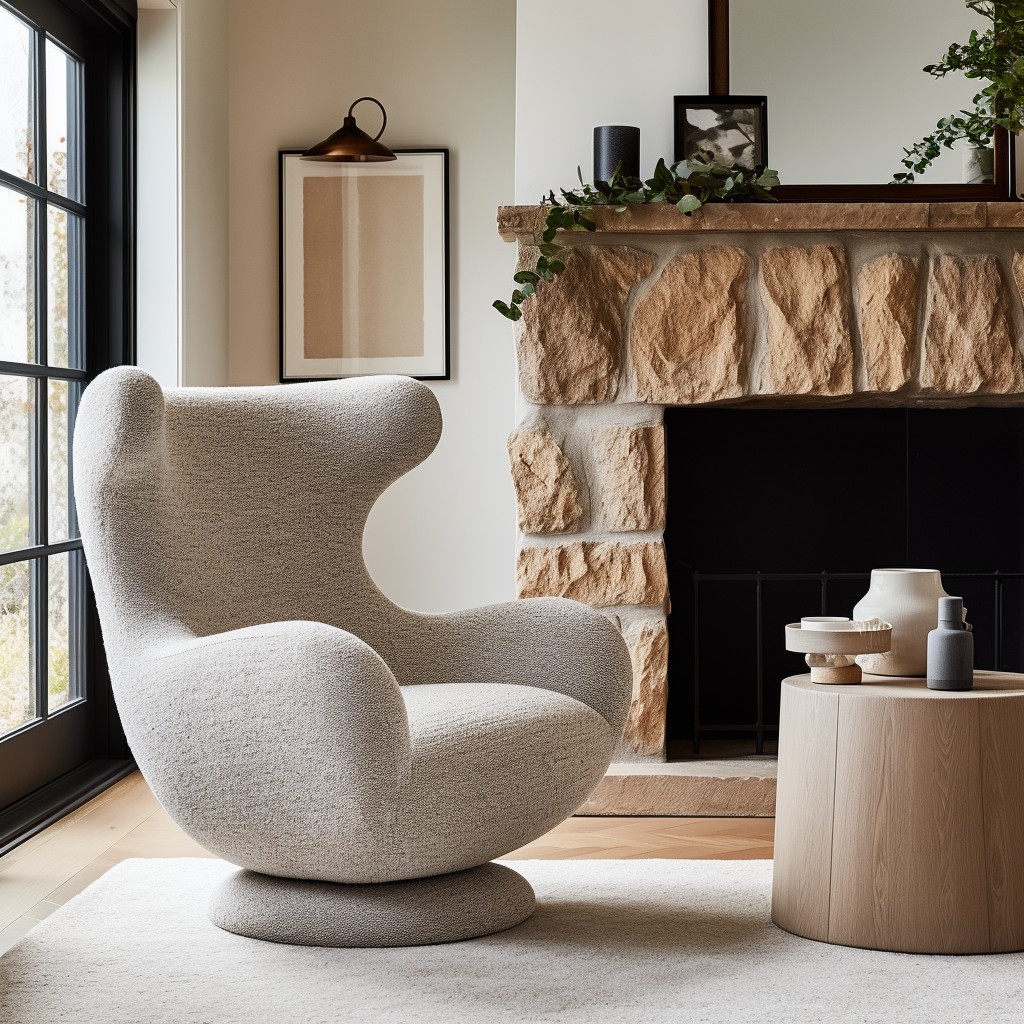 Complete the setting with a stylish floor lamp for great late-night reading and a tall bookshelf nearby to keep your favorite books at arm's reach.
Pairing Boucle Accent Chair With a Faux Fur Rug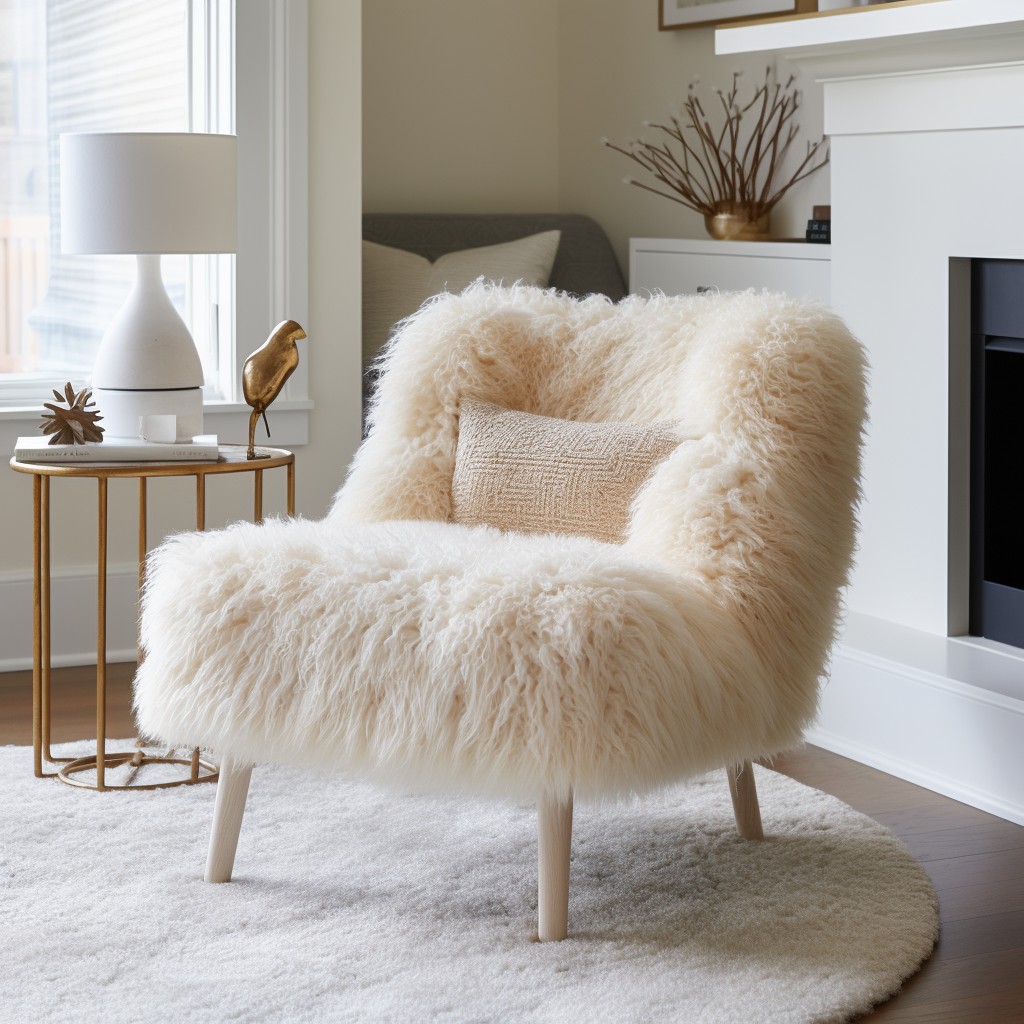 To nail this charismatic coupling, consider the color coordination of both elements. A stark white or cream boucle chair can be matched with a similar shade faux fur rug to create a uniform, serene decor. Alternatively, a stark contrast can be created with darker, richly pigmented rugs.
Texture plays a pivotal role too. The looped fabric of boucle offers an intriguing tactile element that pairs beautifully with the softness of faux fur. This pairing introduces an appealing interplay of different textures, resulting in rich, cozy appeal in any living space.
Lastly, size and placement are crucial to achieving harmony in your decor. An oversized rug goes well with a compact chair, ensuring a balanced visual weight throughout the room. Also, placing the chair at an angle or partially on the rug enhances flow in the room, making the setting appear inviting and thoughtfully arranged.
Remember, how these pieces interact will set the comfort and aesthetic tone for space. This dynamic duo of boucle chair and faux fur rug presents countless possibilities to inject your own personality into your home decor while ensuring a chic, updated look.
Boucle Accent Chair With Sleek Metal Legs for an Industrial Look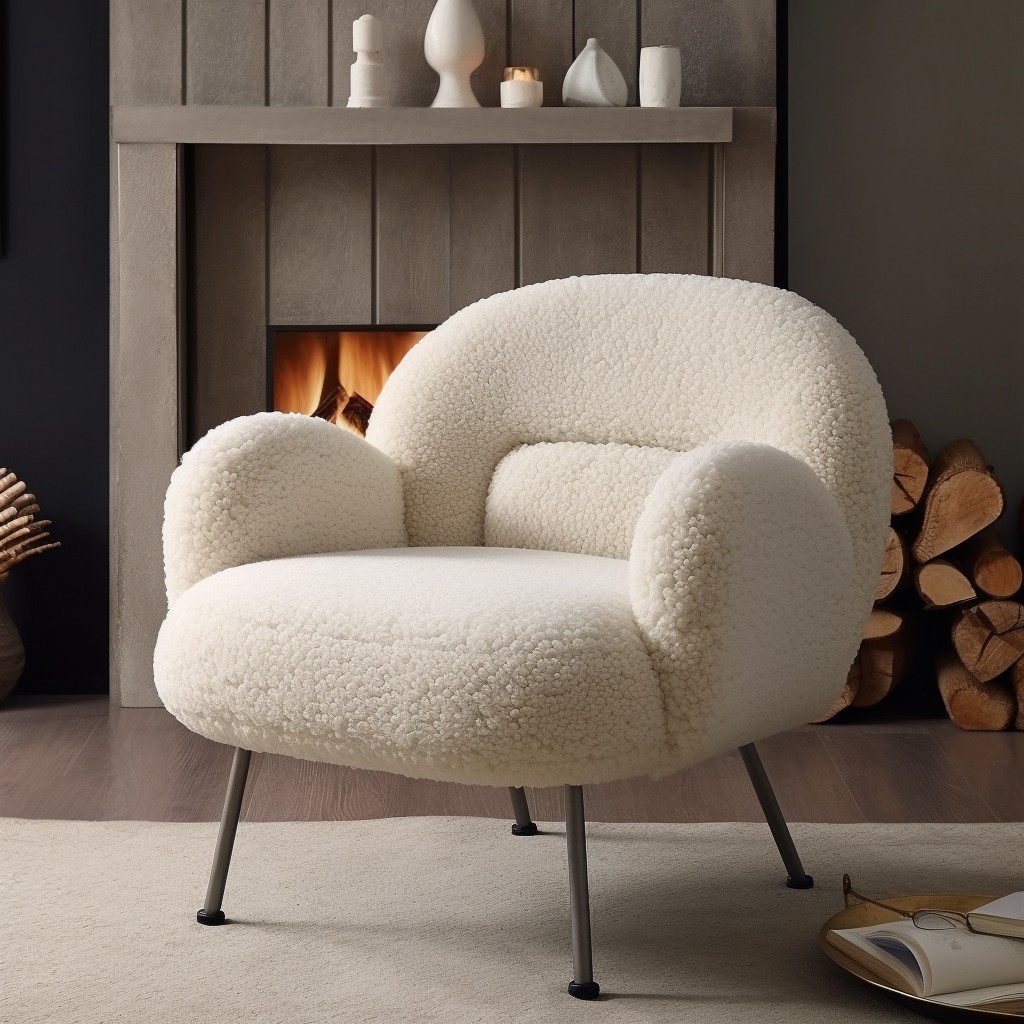 To achieve an edgy industrial look, look no further than a boucle chair with slick metal legs. This design pairs the textured, warm feel of boucle fabric with the raw, cool essence of metal – a beautiful contrast that brings sophistication to any room.
The choice of metal finish matters, with black metals offering a stark modern feel while copper or bronze can imbue a touch of vintage charm.
A chair of this style becomes the center of attraction amid exposed brick walls, metal fixtures, and reclaimed wood elements. If you're apprehensive about the space becoming too harsh or cold, layer in cozy elements like a woven throw or a soft rug.
The rich, nubby texture of the boucle works perfectly to soften the hard lines of an industrial space without compromising its signature aesthetic. For extra flair, consider adding a pillow or two in bold geometric designs.
Feature a Boucle Accent Chair in a Botanical-inspired Setting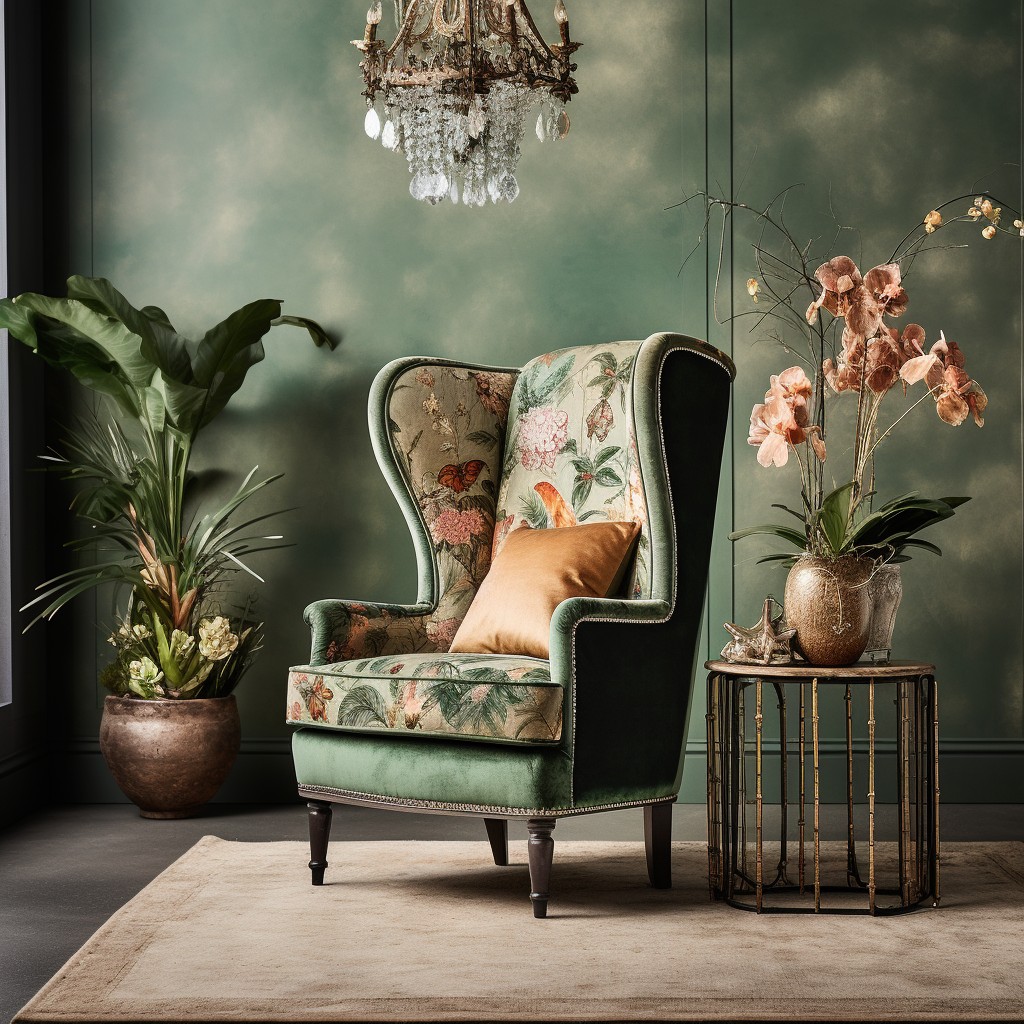 In creating a botanical oasis inside the home, the boucle-style chair thrives as a unique, fashionable, and snug accent. Its neutral texture and color lend seamlessly to green, breezy atmospheres.
Here are the key ideas.
Generously surround the chair with lush, leafy plants and verdant foliage. The mix of soft boucle fabric and diverse foliage helps balance comfort and earthiness.
Opt for botanical patterned throw pillows on the chair to reinforce the theme. Choose earth-tone hues such as bronze, green, or beige, echoing the colors often seen in nature.
Adding a side-table with a glass terrarium or plant-inspired art pieces further advances the botanical theme. Together with the chair, these elements create an inviting space that brings the serenity and vibrancy of nature inside.
Lastly, enhance the natural light. Position the chair by a large window, let daylight shine over the boucle fabric, and watch it elevate the whole setting's freshness.
Oversized Boucle Accent Chair for a Cozy Seating Area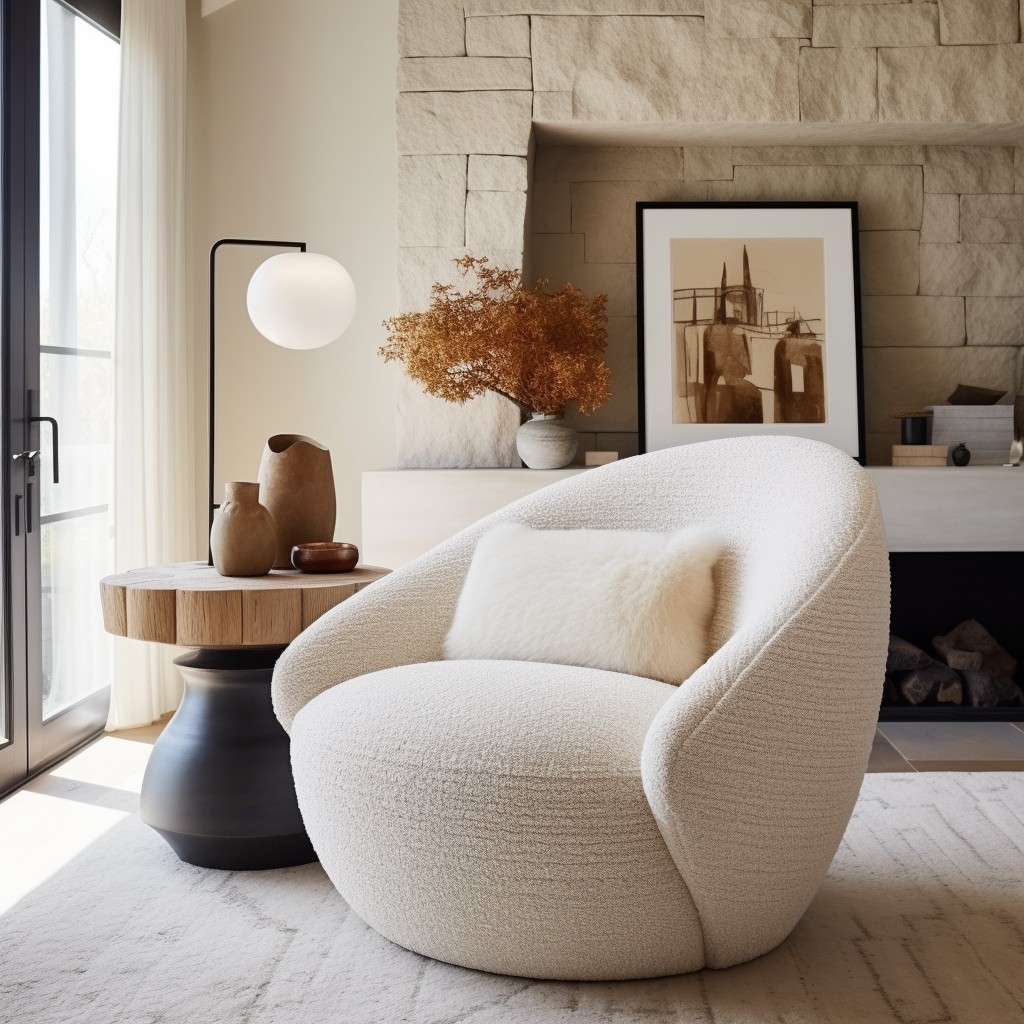 Immersing in an oversized boucle accent chair provides an elevated level of coziness, perfect for those peaceful afternoons or chilly winter nights. The plush texture of boucle fabric combines with the chair's generous proportions to create a snug haven.
1. "Hug-like" Comfort: Due to its oversized nature, this chair offers full-body support, providing a hug-like feel that ensures ultimate comfort, warmth, and relaxation. It's simply the ideal seat for lounging or enjoying a good read.
2. Enhances Room Aesthetics: Despite its large size, the chair doesn't overwhelm the space. Instead, it becomes a statement piece that adds an inviting and stylish touch to any room it's placed in.
3. Versatility: Beyond lounging, envision cuddling with kiddos during bedtime stories, or transforming it into your personal work-from-home corner with just a nice throw blanket and a cushion for lumbar support.
4. Pairing Possibilities: Complement the chair with a small side table or a knitted footrest for a completed look. Alternatively, placing it near a fireplace or beside a floor lamp can create an ultra-cozy magical corner in your home.
5. Easy Care: With removable and washable covers, this chair is easy to maintain, promoting a fresh and clean appearance, adding longevity to its appealing aesthetics.
Remember, the oversized boucle accent chair not only brings the ultimate comfort but also seamlessly blends with different decor styles, making it a valuable addition to any home.
Boucle Accent Chair With a Tall Backrest for a Dramatic Look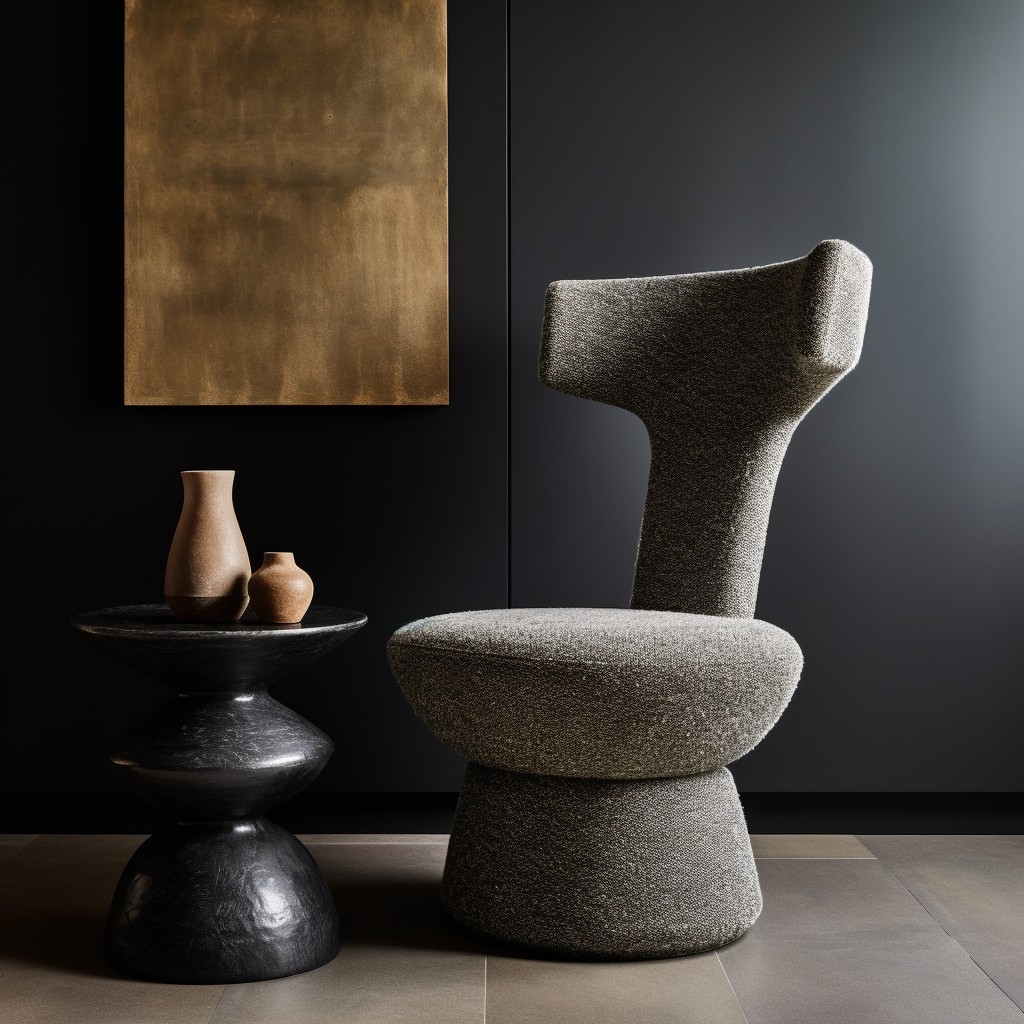 A tall backrest not only adds to visual aesthetics but also enhances the overall comfort. A boucle chair with a heightened backrest can be ideally positioned against an empty wall to command attention.
Strategically placed lighting can work wonders to amplify its impact further. Opt for embellishments like tufted upholstery or nailhead trim to add even more allure.
The high backrest allows adding a multitude of standalone pillows to introduce varied textures, patterns, or color pops into the decor mix.
Despite its dramatic visuals, a high backrest chair is very functional; it's an excellent spot to enjoy a lengthy phone chat, dive into an engrossing novel, or simply unwind at the day's end with a warming cup of tea.
Remember, the tall backrest design complements different interior styles from classical to modern, making it a versatile choice for any home.
Wingback Style Boucle Accent Chair for a Touch of Sophistication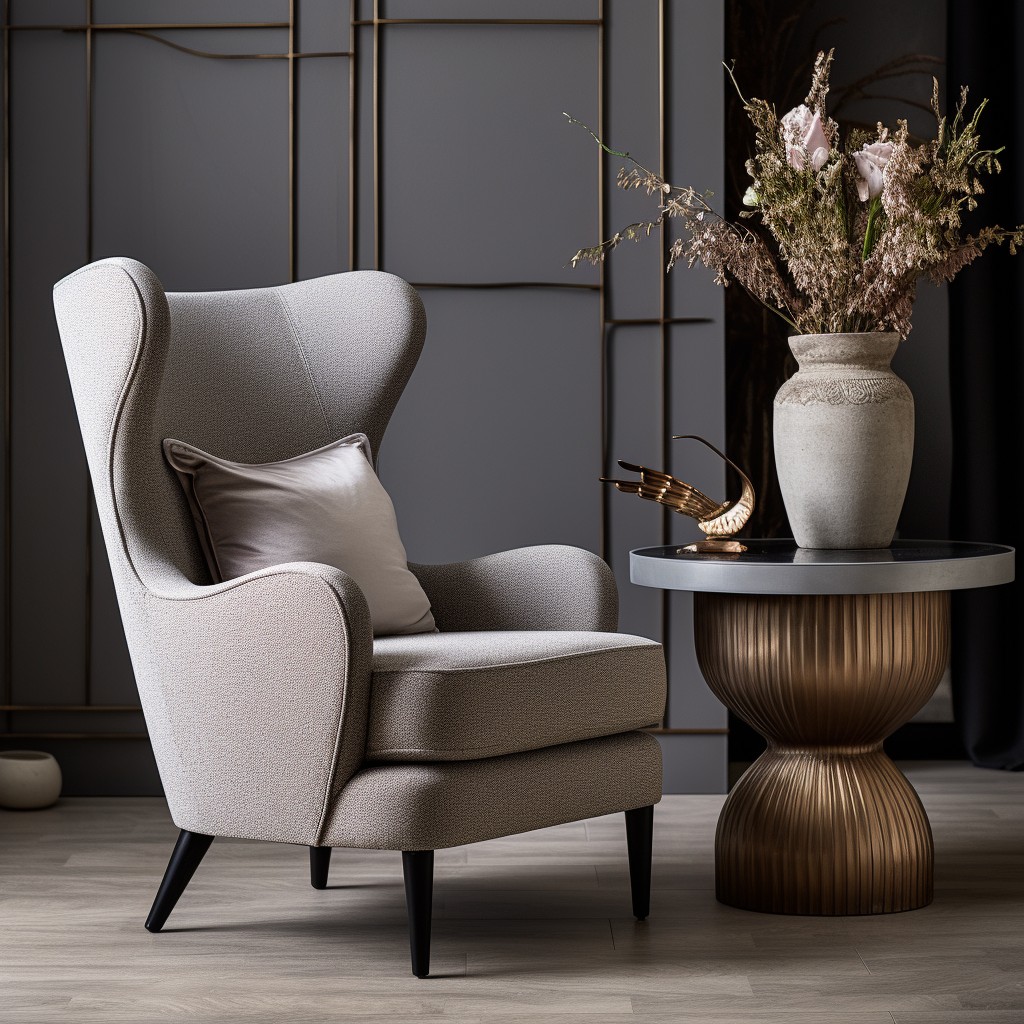 When it comes to classic, chic, and comfortable designs, the wingback style is a superior choice. Upholstered in sumptuous boucle fabric, this chair instantly elevates the ambiance of any room. The distinctive 'wings' on either side not only provide a stylish flair but also offer the sitter a snug nook.
Consider these points to effectively style your space with a wingback boucle chair:
Balance proportions: The chair's larger silhouette pairs well with a substantial side table or floor lamp.
Play with contrasts: Complement the soft, textural fabric of boucle with sleek, polished surfaces like marble or glass.
Layer with accessories: Throw blankets and cushions can add visual interest and augment comfort levels.
Utilize the corner: The high back and side wings make this chair the perfect corner accessory, creating a cozy reading spot or relaxing retreat.
Complement with art: The sophisticated aesthetic of the chair goes perfectly with tastefully chosen artwork, be it monochrome prints or vibrantly colored paintings.
Boucle Accent Chair in a Home Office Space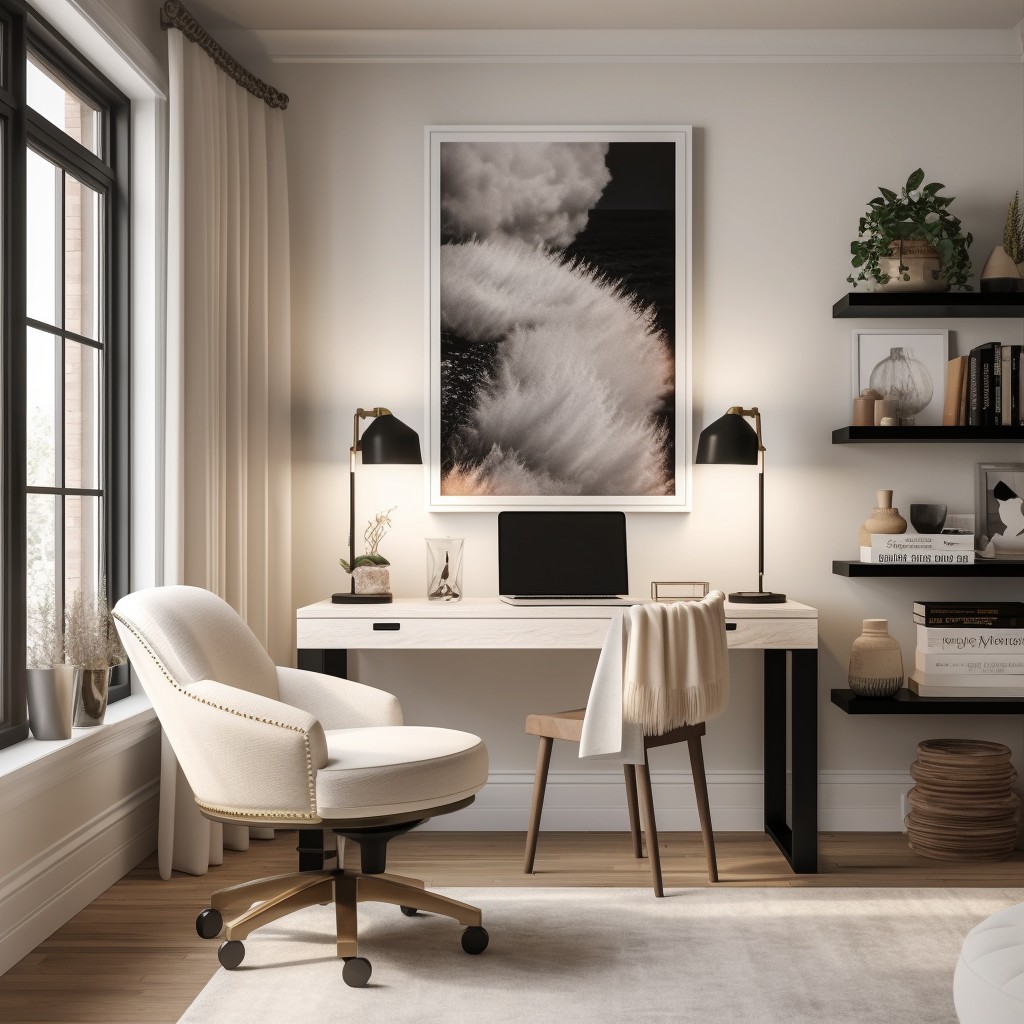 Spruce up your work-from-home setting by incorporating this luxurious piece. Its textured finish lends a professional feel to the space, while providing exceptional comfort throughout the day.
Consider a style with wheels for added convenience and mobility, making the transition from desk work to cozy reading nook effortless. For an aesthetically pleasing look, opt for a chair that complements your desk, in terms of both material and color.
Remember, your comfort is paramount. Look out for designs with ergonomic features, such as lumbar support and adjustable height. This will ensure you remain productive, without compromising your posture.
Furthermore, an ottoman can serve as a relaxing touch, providing you a chance to kick your feet up during breaks.
Lastly, don't shy away from adding a few statement cushions or a throw blanket, especially if the office has a cooler feel. A chair isn't just a place to sit – let it reflect your personal style while boosting functionality in your home office.
Pairing a Boucle Accent Chair With a Minimalistic Coffee Table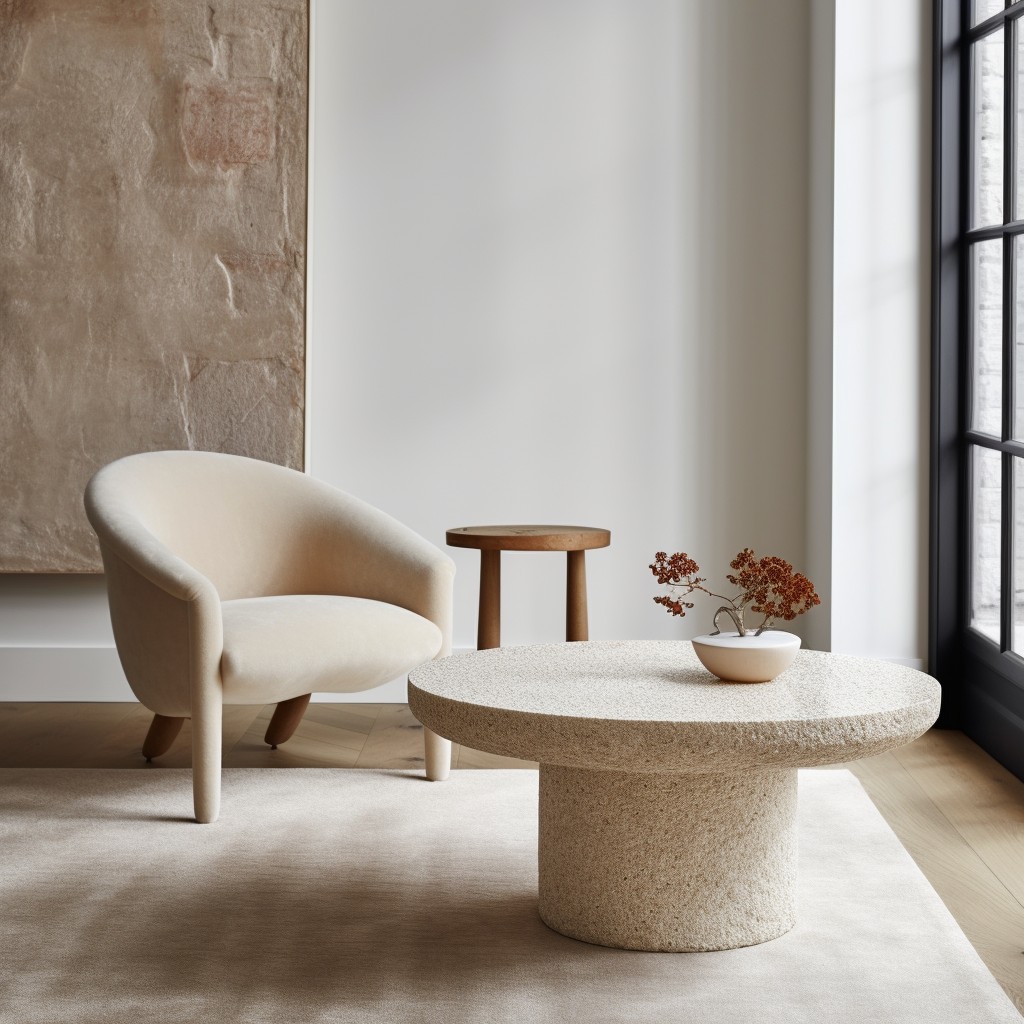 Stepping into the realm of minimalism, consider complementing your boucle chair with a minimalistic coffee table. The textured fabric of the chair juxtaposed with the simplicity of the table creates a harmonious balance in the room. The subtle detail in the boucle brings out a visual interest without overwhelming the space.
1. Choose minimalist tables made of materials like glass or metal – their sleek lines can help to offset the plush boucle fabric.
2. Opt for a table shape that complements the chair design. Round or oval tables often correlate well with curvaceous chair models.
3. Keep color palettes neutral, allowing the boucle chair to act as the star of the room.
4. Avoid overdecorating the table. With minimalism, less is truly more.
5. Consider the size of the table in proportion with the chair. Too large may dwarf the chair, while too small may not provide sufficient surface space.
Accent a Vibrant Colored Room With a White Boucle Chair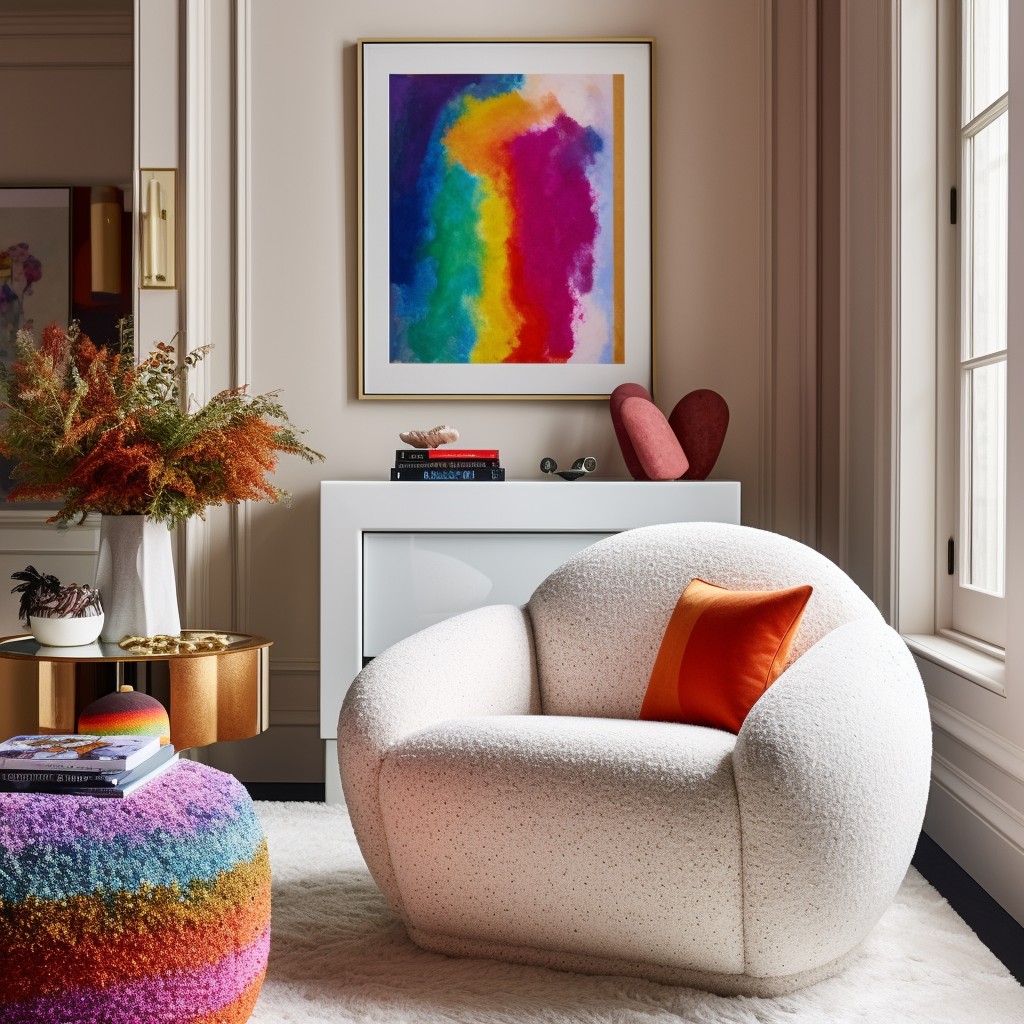 Keeping core colors vibrant offers a delightful contrast to a white boucle chair. This unity brings an unexpected freshness to your space.
Consider these elements:
Use Color Magnification: Amplify the colors elsewhere in the room. The consistency of the white boucle chair tones down the room's dramatic hues, offering a delicate sense of balance.
Play with Textures: Add dimension by combining various textures in the room. Mix a silk throw pillow, a velvet couch, or a shaggy wool rug with your boucle chair.
Experiment with Patterns: Don't hesitate to incorporate patterns. A floral printed curtain or a geometric-patterned rug can complement the subtlety of your white chair.
Embrace Light: Position your chair near a window or under a lamp. White has an inherent property to reflect light, enhancing the chair's texture and color.
Break Monotony: A white boucle chair can serve as an excellent tool to break a monotonous color scheme.
Remember, the idea is to not overpower the interior with extreme shades. The chair should offer a calming spot within the vibrant energy around it.
Balcony Design Idea With a Compact Boucle Chair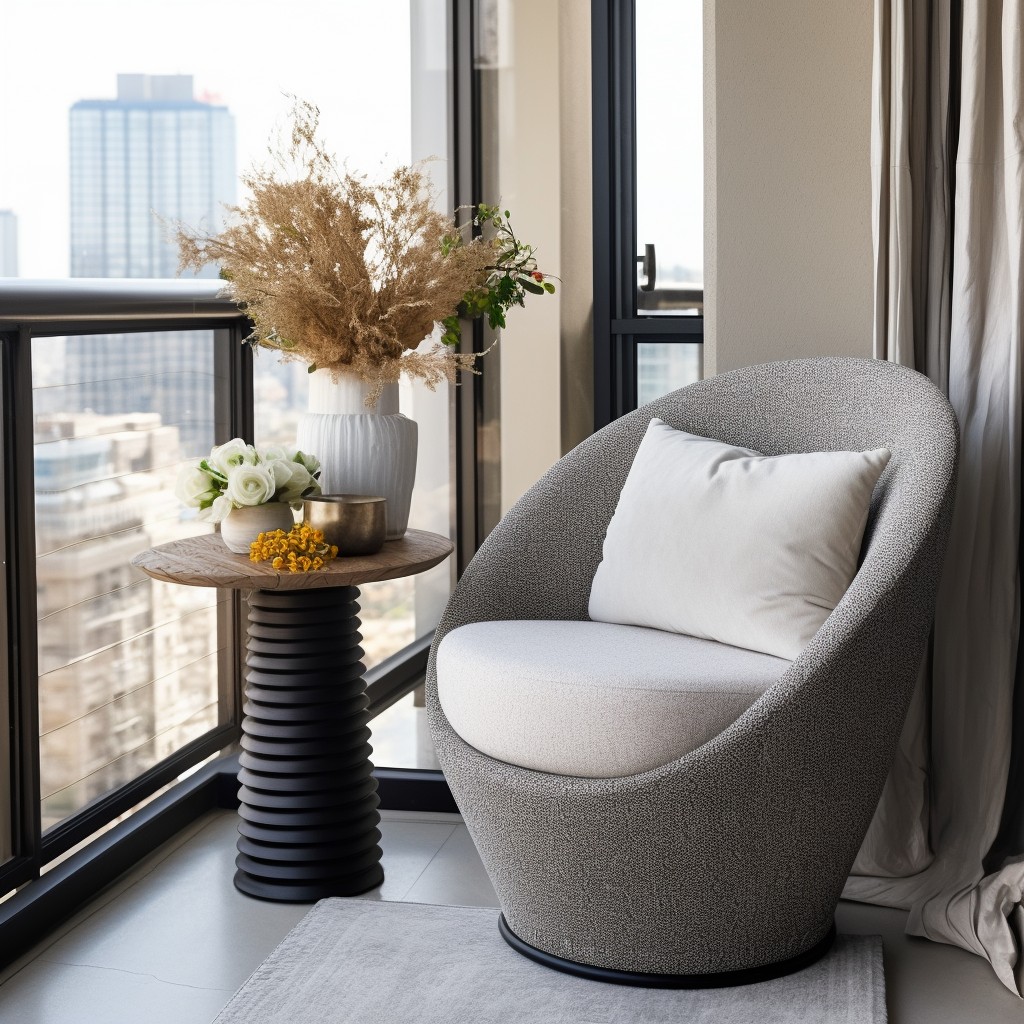 A space often overlooked for design potential, your balcony can become a perfect place to unwind with the addition of a compact boucle chair. Being small in footprint yet high in comfort, a compact boucle chair proves to be suitable for balconies regardless of their size. Its textured appearance adds interest to the space while maintaining a homely, inviting feel.
Ensure it fits snugly, without overpowering the limited balcony space by measuring the chair's dimensions before purchasing. Opt for one in a light hue such as cream or beige to keep the area looking open and airy.
Another key point is to balance it with low-profile accessories. A small, round side table or a folding tray could offer a place to hold a drink or a book. Adding soft ambient lighting, such as fairy lights or a small lantern, can further enhance the cozy atmosphere, making your balcony a cozy nook perfect for relaxing on a lazy afternoon.
Lastly, consider adding potted plants. The natural aesthetic of greenery pairs well with the soft feel of the boucle fabric, creating a calm, natural sanctuary just steps from your living room. A vertical garden or hanging planters may be a good solution if space is an issue.
Remember, the key to this balcony design idea is simplicity and functionality.
Refined Living Room With a Boucle Accent Chair and Antique Decor
Creating a refined living room environment involves an intricate blend of selected furnishings. Introducing antique elements into the equation contributes to timeless appeal and the venerable allure. A centerpiece – like a Victorian era hardwood sideboard can effortlessly add a touch of historical charm.
Incorporate vintage wall art or brass accents like a telescope or ornamental mirror for a dash of retro refinement.
The boucle accent chair serves as a modern element in this antique decor mix. Its textured fabric brings a refreshing contrast against polished antique wood. To create cohesion, opt for a chair color that compliments the overall color scheme. For instance, a warm cream will pair well with rich wood tones.
Consider situating the chair strategically, perhaps to overlook a classic view or towards a favorite piece of antique art. Decorate around the chair with period-themed accessories. An aged Persian rug or a distressed wooden coffee table might just be the perfect companions.
Remember, the key to achieving a well-balanced ambiance lies in striking the right contrast and harmony between the modern boucle chair and gracefully aged antique elements. With careful arrangement, this living room setup can ooze sophistication and timeless elegance.
You may also like to read: