Last updated on November 14, 2023
Embracing the unique architecture of your home, an entryway table for a curved wall adds a distinct character, because it perfectly uses the space while offering practical storage and a stylish first impression.
Curved walls bring an element of architectural intrigue to any home, but they can pose a unique challenge when it comes to finding the perfect entryway table. Fear not, as this article will guide you through a selection of innovative ideas that will harmonize with your curved wall, transforming your entryway into a captivating focal point.
Whether you're seeking a minimalist design, a statement piece, or a functional storage solution, you'll find an array of options here to suit your style and space. So, let's embark on this journey to discover the ideal entryway table for your curved wall, offering you all the details you need to make an informed decision.
Table of Contents
Semi-circular Console Table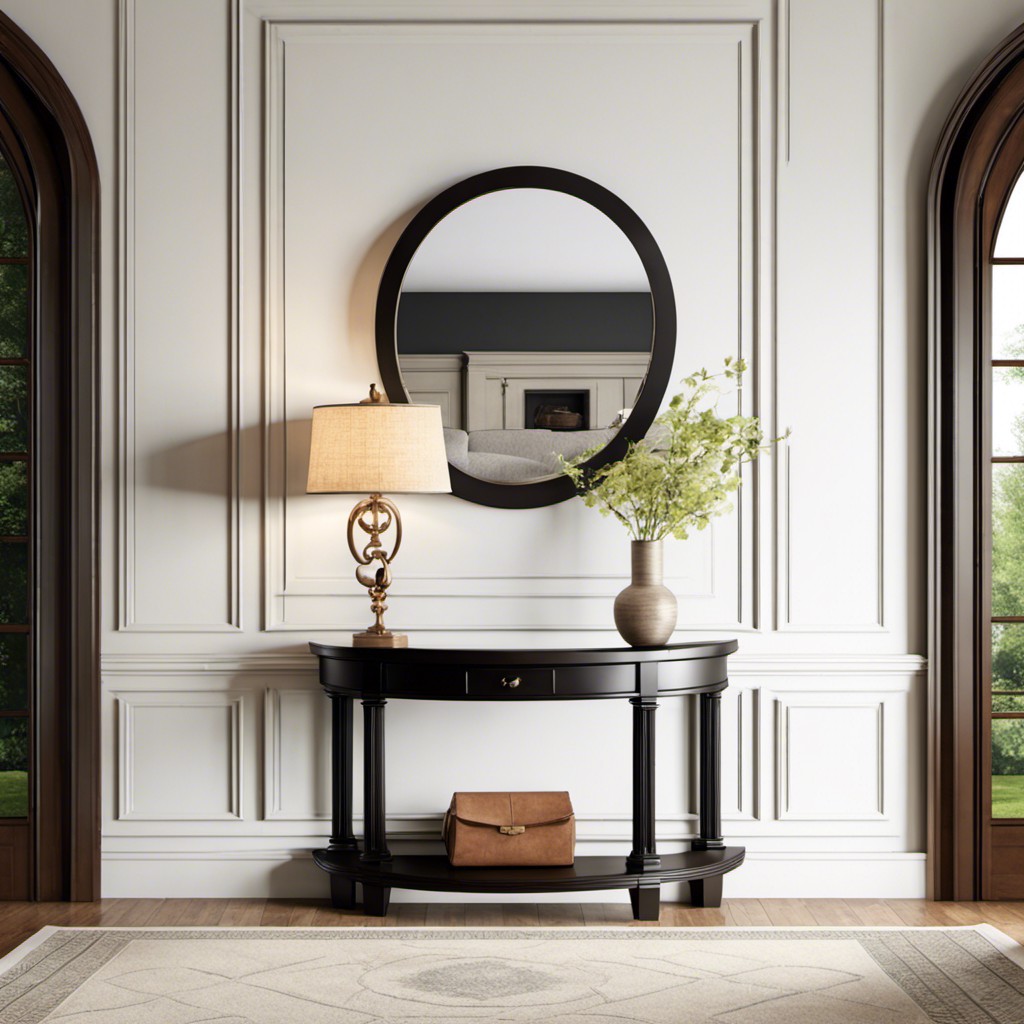 Offering both form and function, this design makes the most of the curved wall shape. With its sleek and sturdy form, it adds a stylish display area without consuming much space. This table type is a brilliant choice for entryways as it maintains the flow of the area and prevents narrow hallways from feeling more cramped. It subtly complements the curved wall, creating a harmonious balance and continuity in the overall design.
You have a variety of material options with semi-circular tables. There's the elegant touch of polished wood, the rustic charm of wrought iron, or even the modern simplicity of glass. Each can significantly alter the aesthetic of your entryway depending on your home's overall decor.
Remember, the tabletop is also an opportunity to impress. Use it to showcase artistic elements, such as a beautifully framed mirror, a stylish lamp, or a dramatic floral arrangement. These details can steal the spotlight and welcome guests with a visual treat as soon as they step inside your home.
Floating Shelf for a Minimalist Look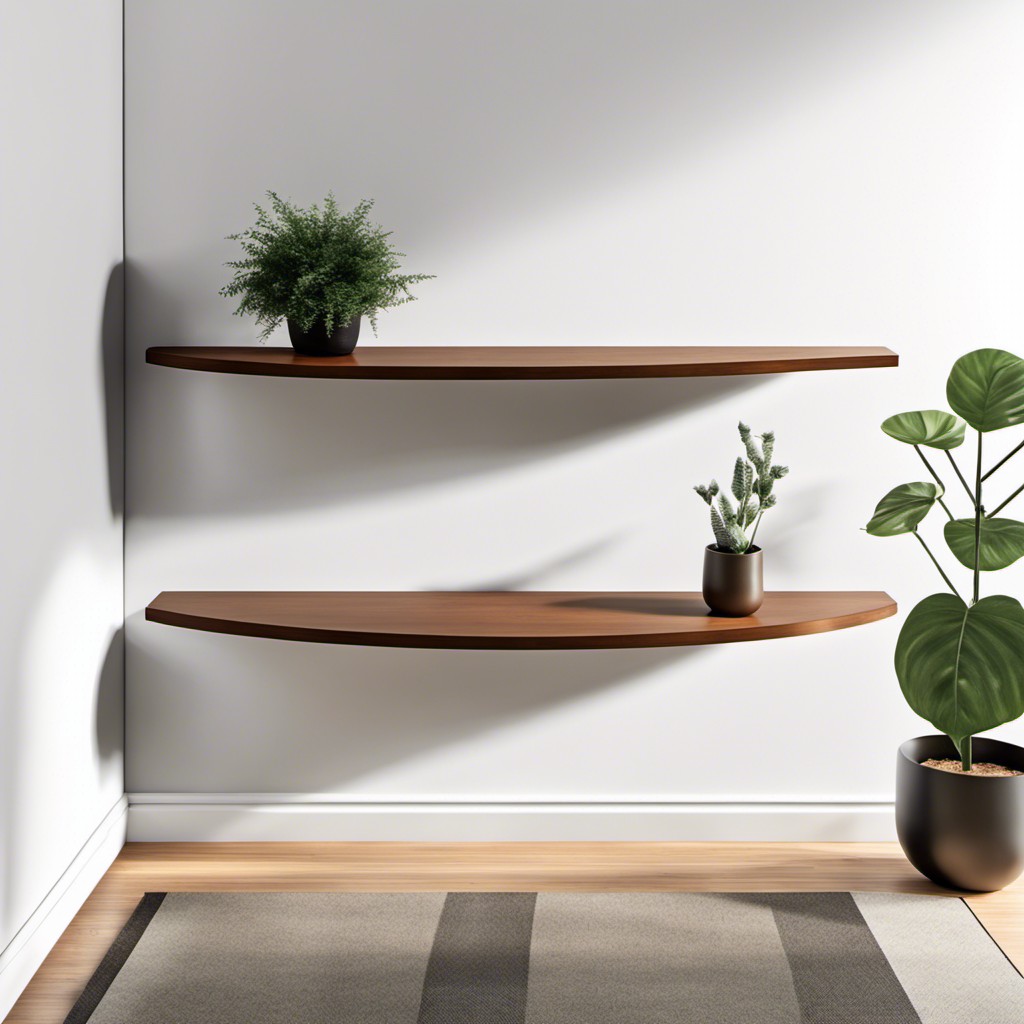 To achieve a clean, uncluttered appearance, a floating shelf is a brilliant choice. Available in diverse sizes and materials, you can choose one that seamlessly blends with your wall.
The advantage lies in its versatility – it can serve as an appealing display for both art pieces and everyday items.
If you're seeking to maintain a minimalist aesthetic, adhere to a limited palette. Black, white, or natural wood shades work well while creating a sense of visual continuity.
Additionally, an appropriately positioned wall light can highlight the items on your shelf, adding a welcoming aura to your entryway.
Corner Table for Curved Wall Spaces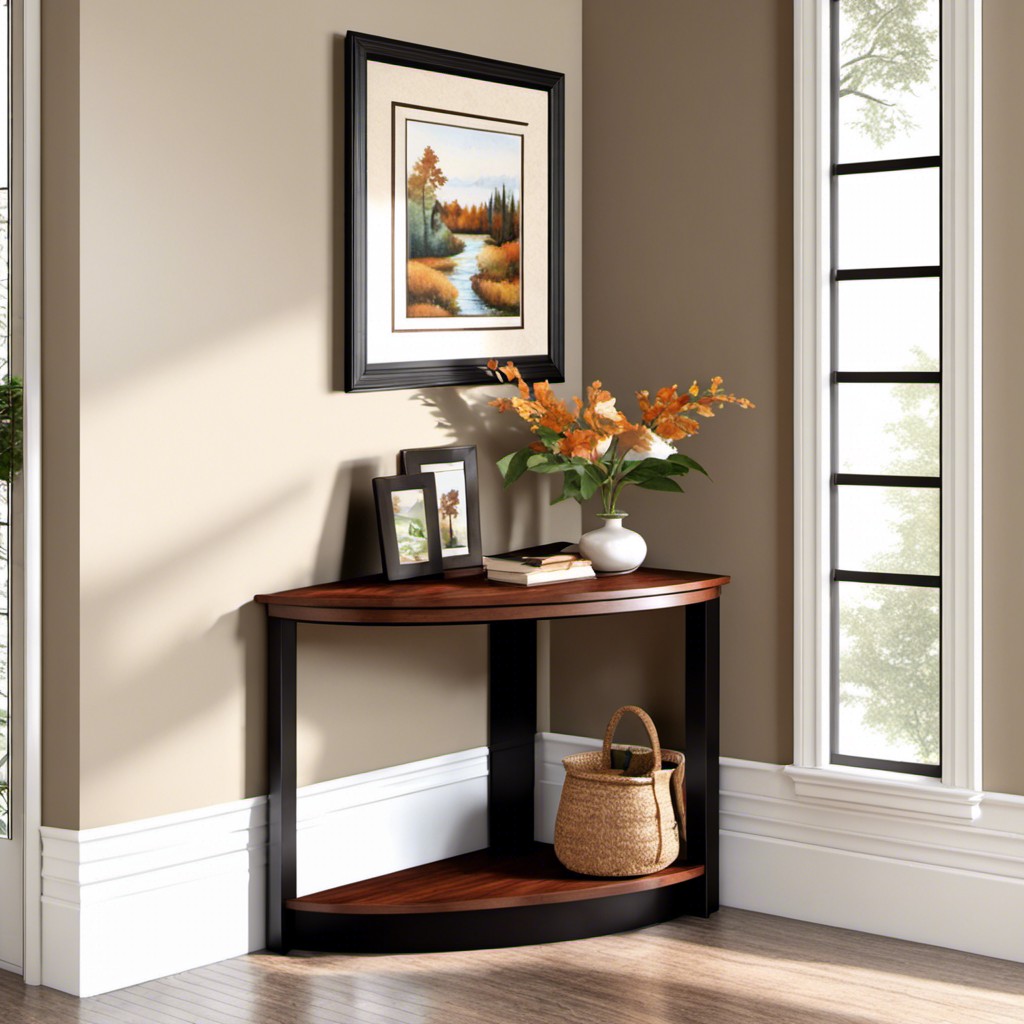 Fitting perfectly into the bend, this table maximizes use of space and adds elegance to the foyer. They come in various styles, from contemporary to traditional, catering to different home aesthetics. Consider material options for your table such as solid wood for a natural, rustic appeal or metal for a sleek, modern vibe.
Further, functionality plays a key role. Choose a corner table with drawers or shelves if you need storage for keys, mail, or decorative items. For smaller items like handbags or shoes, a table with a bottom rack would be ideal.
Remember, accessibility is important. Keep the height and width proportional to your wall curve for seamless integration. Also, choose a corner table that complements your wall color and overall home decor to create a cohesive look. Finally, adding a vase, lamp, or mirror on top can enhance the aesthetic.
Wall-mounted Drop-leaf Table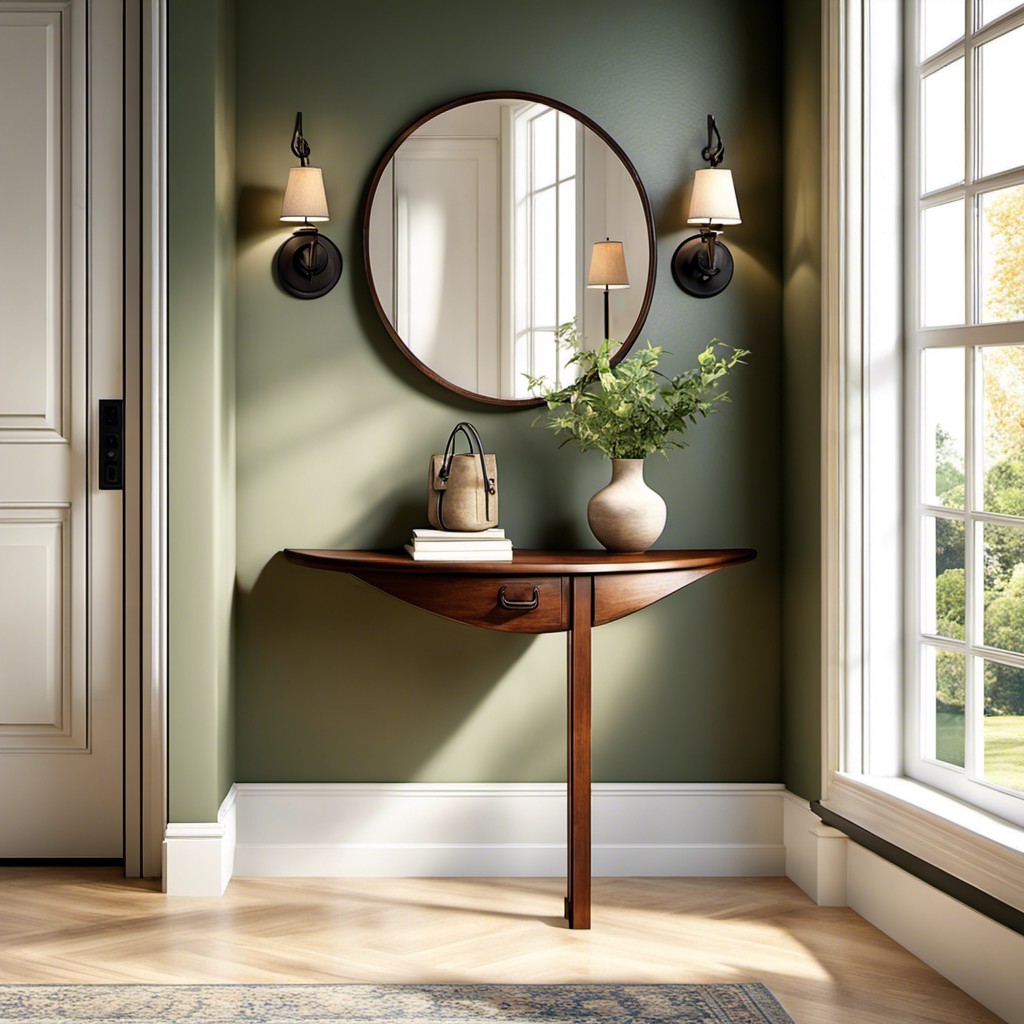 An innovative solution for a curved wall, the drop-leaf table is designed to conserve space without losing style. Pioneering customization, it can be set at various heights on the wall to meet specific needs.
1. Space Efficient: Having limited space? This table has you covered. It folds down when not in use, effectively freeing your floor space.
2. Versatile: The adjustable design ensures multifunctionality. Use it as a console table for the day, then transform it into a dining or work table when needed.
3. Easy Installation: The table employs a simple mechanism that's easy to install, putting less pressure on the wall compared to heavier options.
4. Style Variant: Despite its inherent functionality, the drop-leaf does not compromise on aesthetics. Choose from a plethora of designs, materials, and finishes to harmonize with your décor.
5. Cost Effectiveness: Along with its functional and aesthetic appeal, it is a cost-friendly option, particularly fitting for those redesigning on a budget.
Remember, with a drop-leaf table you gain not just a stylish addition, but also a valuable space saver for your curved wall entryway.
Abstractly Curved Wooden Table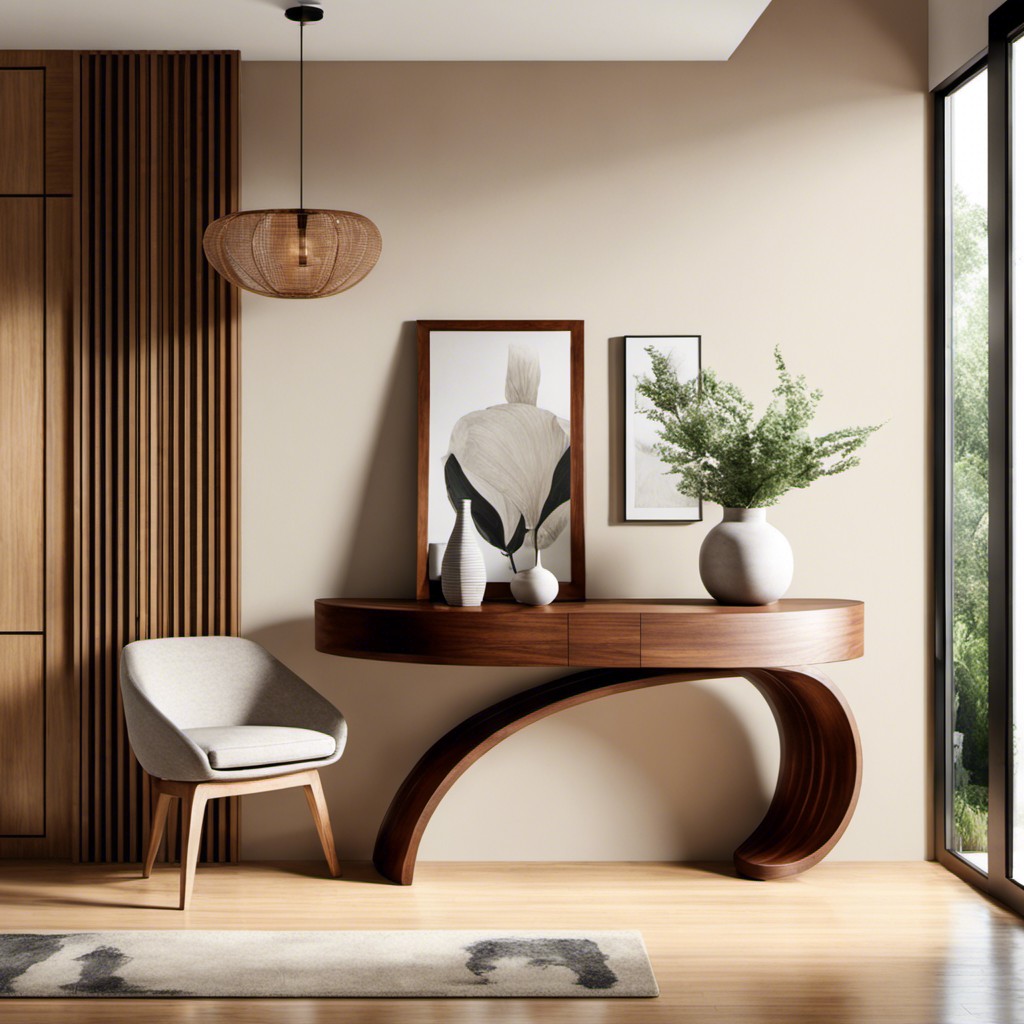 Perfect for admirers of eccentric designs, this piece reflects individuality and uniqueness. Carrying a touch of whimsy, the abstract curves meld inviting warmth and intriguing aesthetics into your entryway decor.
Handcrafted from diverse wood types like Ash, Teak, or Rosewood, each piece possesses a unique range of hues and grain patterns.
This union of natural elements and innovative design adds a lively spirit to your curved walls. It serves an essential utility, holding keys, mail, or a vase of flowers while instilling a visually stimulating experience for guests as they step into your home.
Additionally, pairing it with modern or minimalist wall decor amplifies your space's appeal, enhancing its overall character. Do remember, despite its striking appearance, the table should not overwhelm the wall space, maintaining a balance between functionality and aesthetics is crucial.
Modern Metallic Curved Console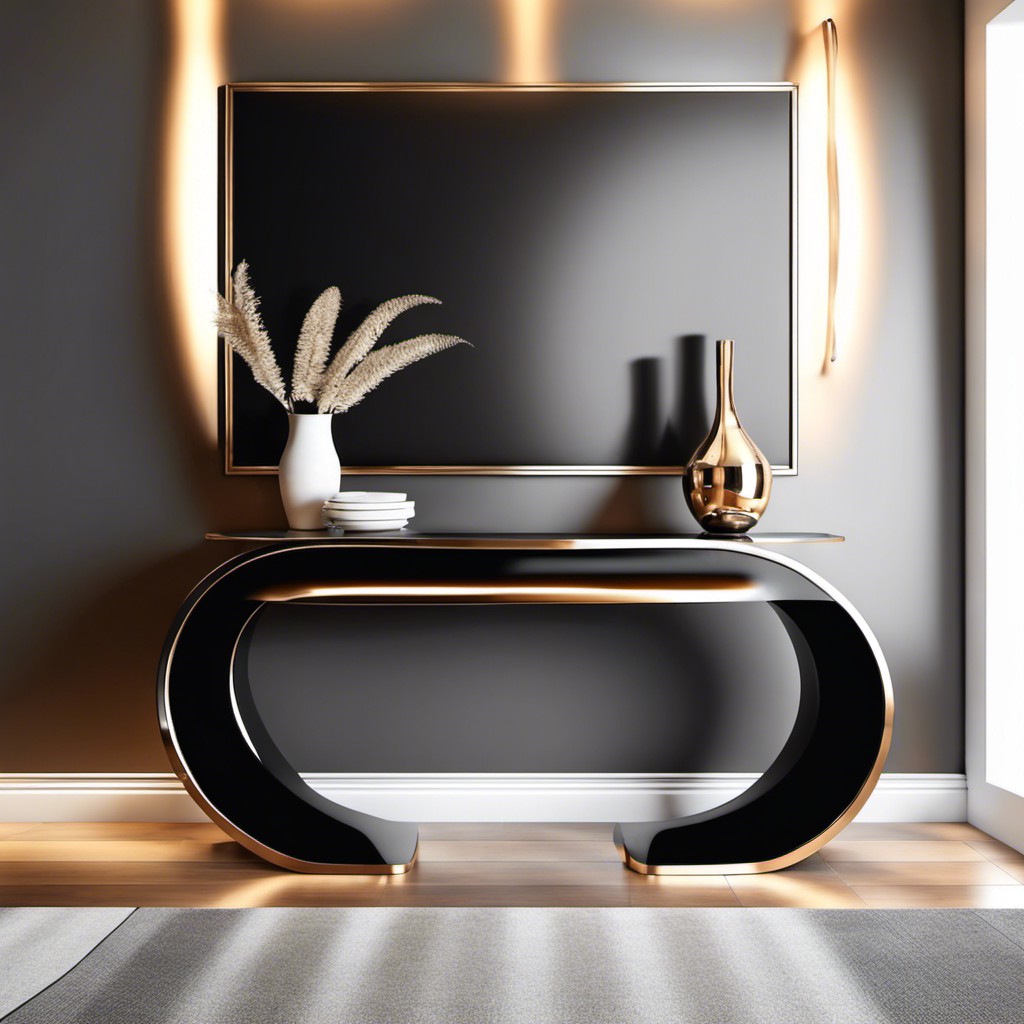 The alluring gleam of the metal base, paired with a sleek tabletop, creates a contemporary aesthetic. Its versatility enables these consoles to fit into different design schemes, from industrial to modern luxe.
It can add subtle drama and contrast to a neutral or minimalist entryway. Remember, the table's curvature should mimic the wall's shape for an optimal fit. The table can also incorporate storage functionality or remain pure in form.
The metallic finish choices can range from glossy chrome, brushed nickel, satin gold to matte black, each claiming a unique mood. Ensure the chosen console complements existing decor, reinforces color schemes, and doesn't disrupt traffic flow due to protruding edges.
Lighting, too, plays a critical role – a well-placed lamp could enhance the console's metallic shine, amplifying its effect. Rounding up the look with coordinating metallic artwork or mirrors could further integrate the console into the space.
Realize the potential of greenery – a simple potted plant or vase full of blooms could offset the hardness of the metal with their soft organic forms, stimulating visual interest.
Custom-made Curved Glass Table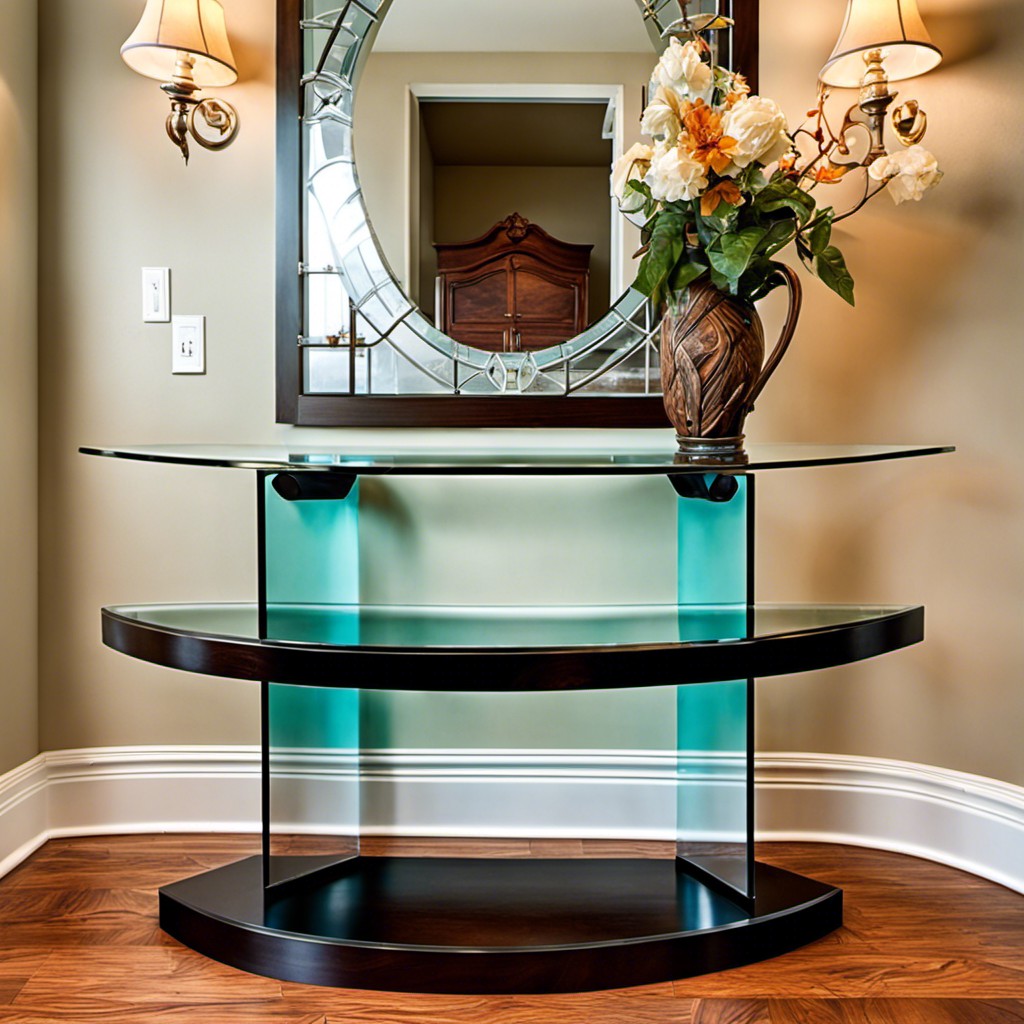 Diving into the realm of custom designs, the uniqueness of a curved glass table offers a pristine and sophisticated outlook. Typically, it's constructed with tempered glass to ensure durability while maintaining an elegant aesthetic. It effortlessly complements various design themes and is especially suited for minimalistic or modern styles.
Opt for clear, frosted or tinted glass depending on your preferences. Artisanal details like etched patterns, intricate edges or glass coloring can further personalize the table to reflect your style. The transparency of glass also lends a feel of openness to your entryway; therefore, it doesn't obstruct visual flow.
A custom-made curved glass table, while being functional, can also transform into an art piece in itself. Although higher in price compared to ready-made tables, the cost reciprocates in its unique style and the statement it brings to your curved wall.
Antique-style Demi-lune Table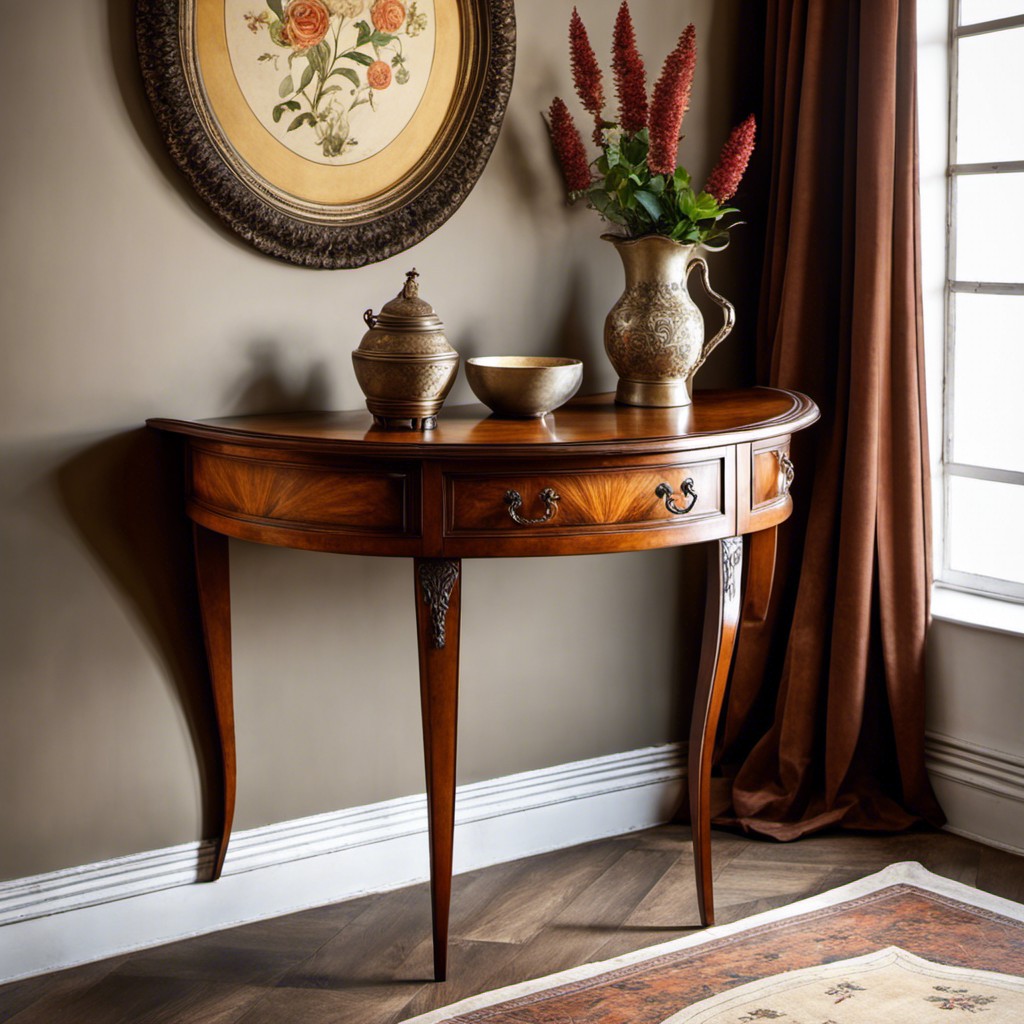 This vintage furniture piece, known as the demi-lune, offers a unique charm through its quaint shape and detailed craftsmanship. Designed to sit flush against the wall, its half-moon structure conveniently fits curved spaces, providing a striking focal point within the home's entrance.
Key pointers about an Antique-style demi-lune table include:
Perfect Blend of Old and New: Their classical aesthetics easily meshes with contemporary décor creating a fantastic fusion of styles.
Space-Savvy: Despite the generous surface it offers, its compact build makes it ideal for small or awkwardly-shaped entryways.
Detailing: Features like intricate carvings or distressed finish contribute to an authentic antique appeal.
Versatility: Beyond being a handy space for keys and mail, it can also be adorned with vases or photo frames thereby doubling as a delightful display area.
Broad Material Selection: They're available in a range of materials including wood, metal, or even a combination – making it easy to select one that suits your existing home décor.
Opting for an Antique-style demi-lune table undoubtedly lends a timeless charm to your curved wall entryway.
Multi-level Curve Wall Table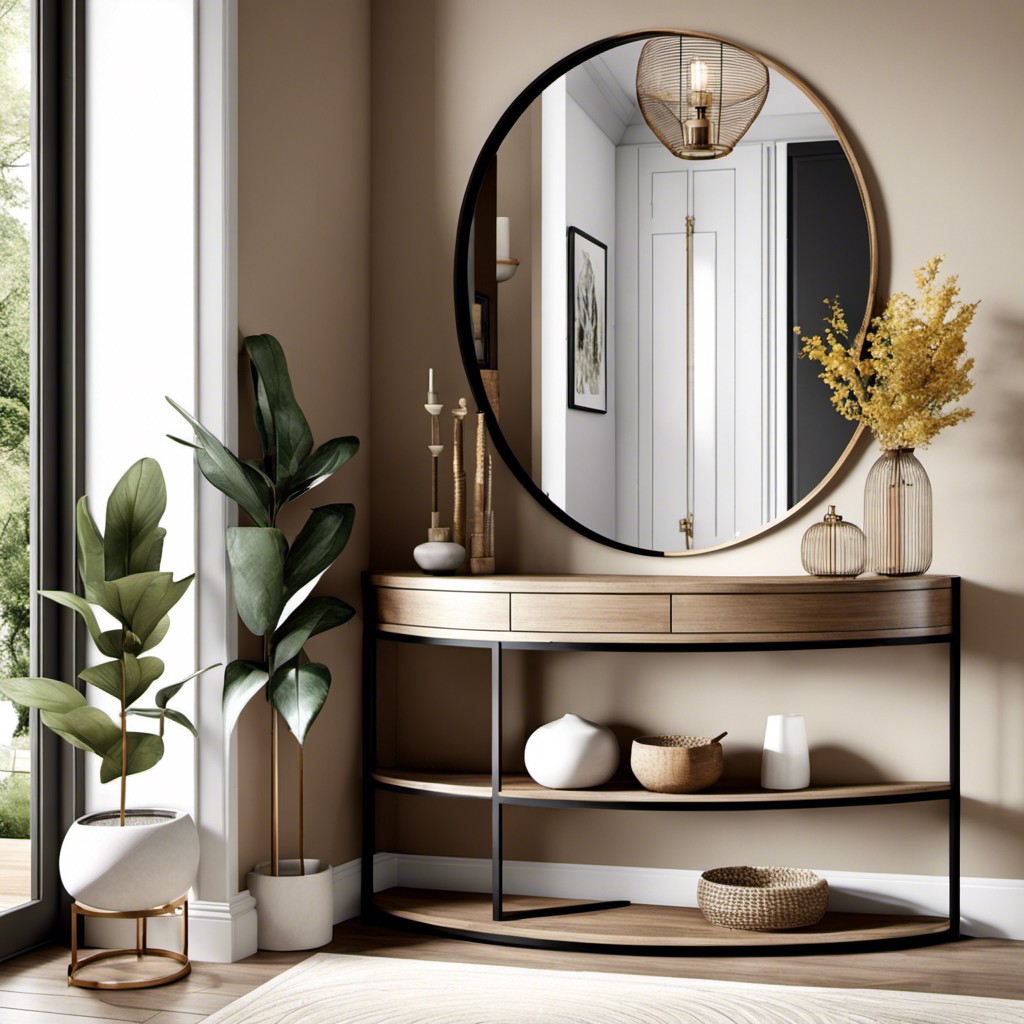 Featuring varying heights, this design not only allows for artistic flair but also enhances functionality. The levels provide dedicated spaces to display decorative items, store everyday essentials, and even hold a lamp or plant for added interest.
For a cohesive look, select a table that matches your interior style, be it modern, rustic, or industrial. To ensure stability and durability, choose high-quality materials, such as solid wood or metal. If you're leaning toward a luxurious vibe, opt for a design with marble tops on each level.
Equally important, always confirm the table dimensions to guarantee it fits seamlessly with your curved wall. The multi-level curve wall table, with its unique design and practical structure, is indeed a worthy consideration for your entryway.
Mirrored Console Table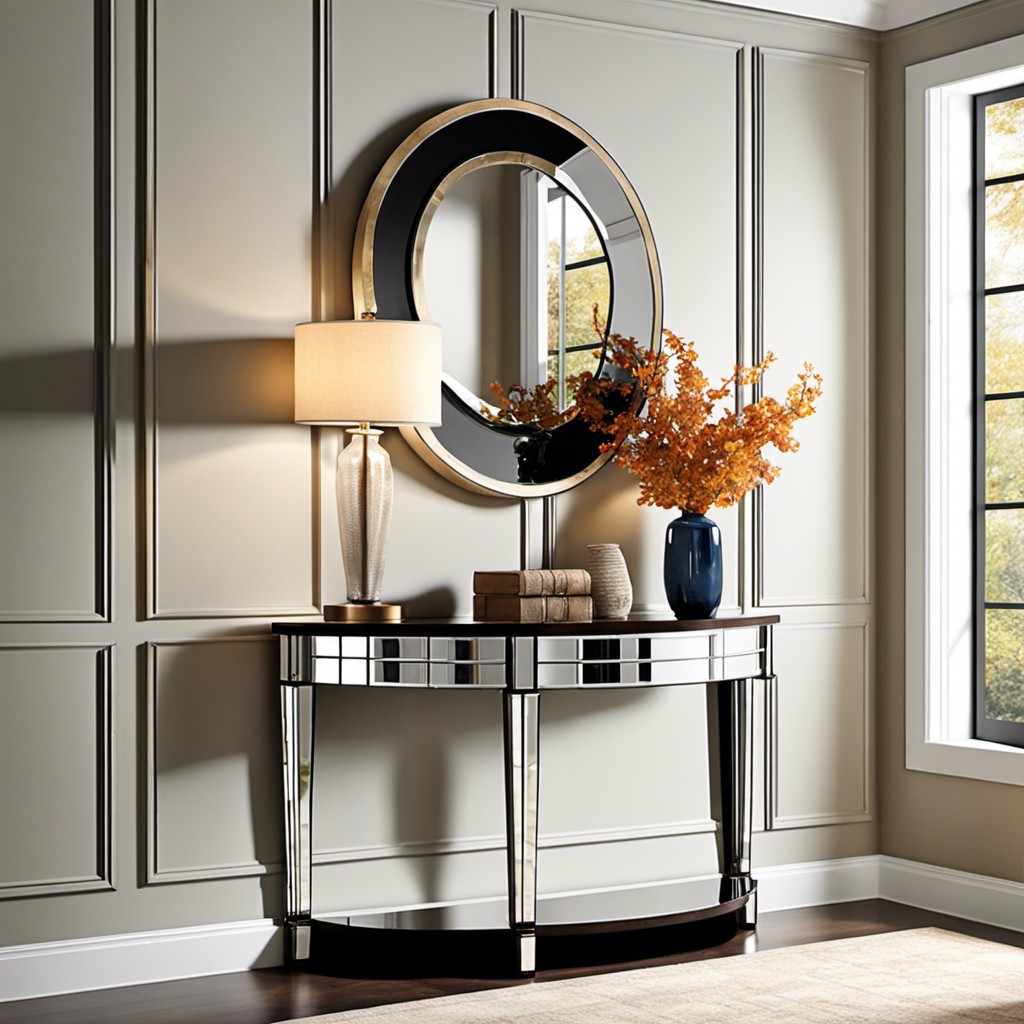 Reflective, stylish, and capable of adding a touch of class to any entryway, a mirrored console transforms curved walls into a unique focal point.
Its glossy finish creates an illusion of depth, ideal for smaller spaces as it helps expand the room visually.
Mirrors reflect light and brighten up the area, inviting a warm, welcoming atmosphere.
Consider models with drawers or shelves for additional storage solutions.
Opt for a silver, gold, or brass frame to accent your decor, or select a frameless design for a modern approach.
Remember, a clean, lint-free cloth is your best friend when caring for this statement piece, ensuring it retains its sparkle and elegance.
Console Table With Drawers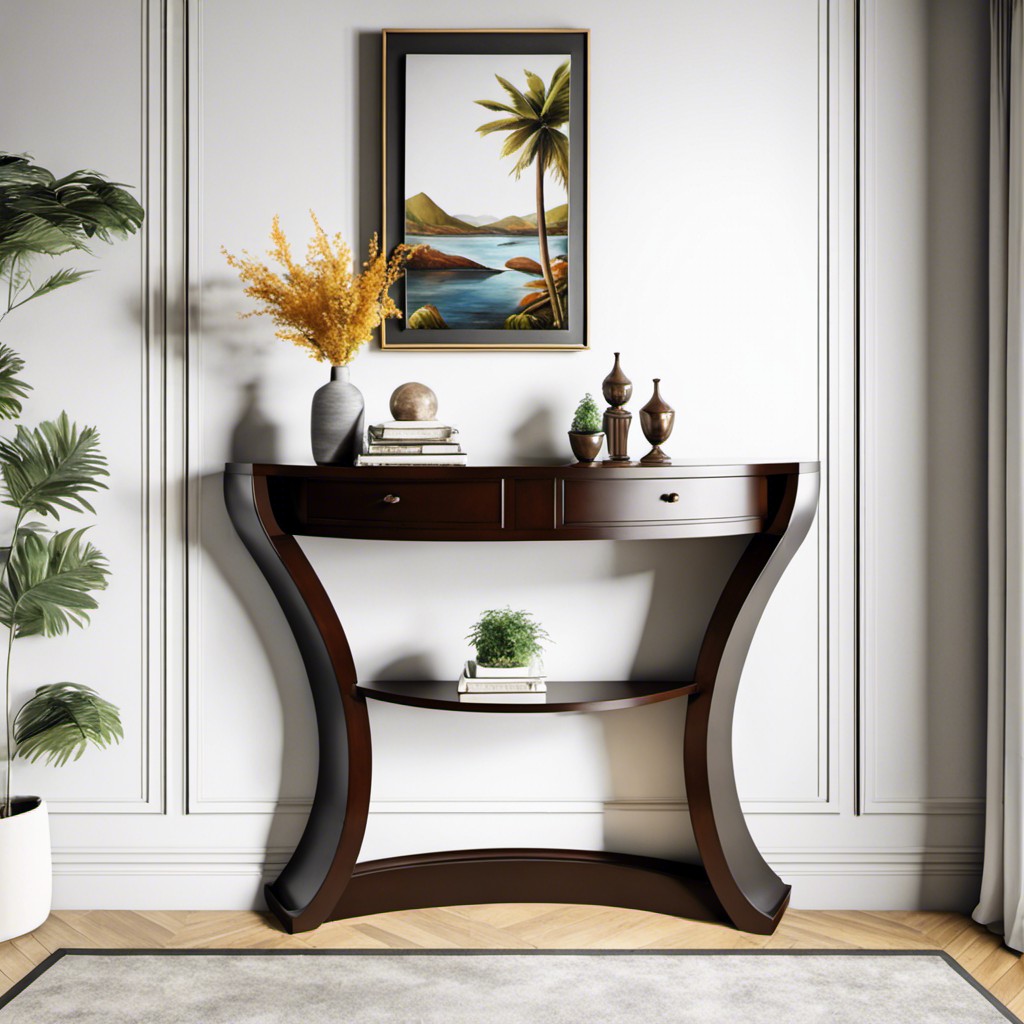 Incorporating drawers ensures an effective union of functionality and aesthetics. It cleverly eliminates clutter by providing discreet storage. It's an ideal place for storing keys, sunglasses, and other small items that are frequently used on the go.
This design allows for a tidy surface to display your favored pieces or functional items, like a catching tray, letter holder, or a tastefully chosen lamp.
From traditional wooden designs to sleek metal options, such styles match any décor from country rustic to modern minimalistic. Always remember, while choosing such a table, the drawer's size should cater to your storage needs and its design should seamlessly blend with your hallway's style.
Curvilinear Nonuniform Table for an Artistic Look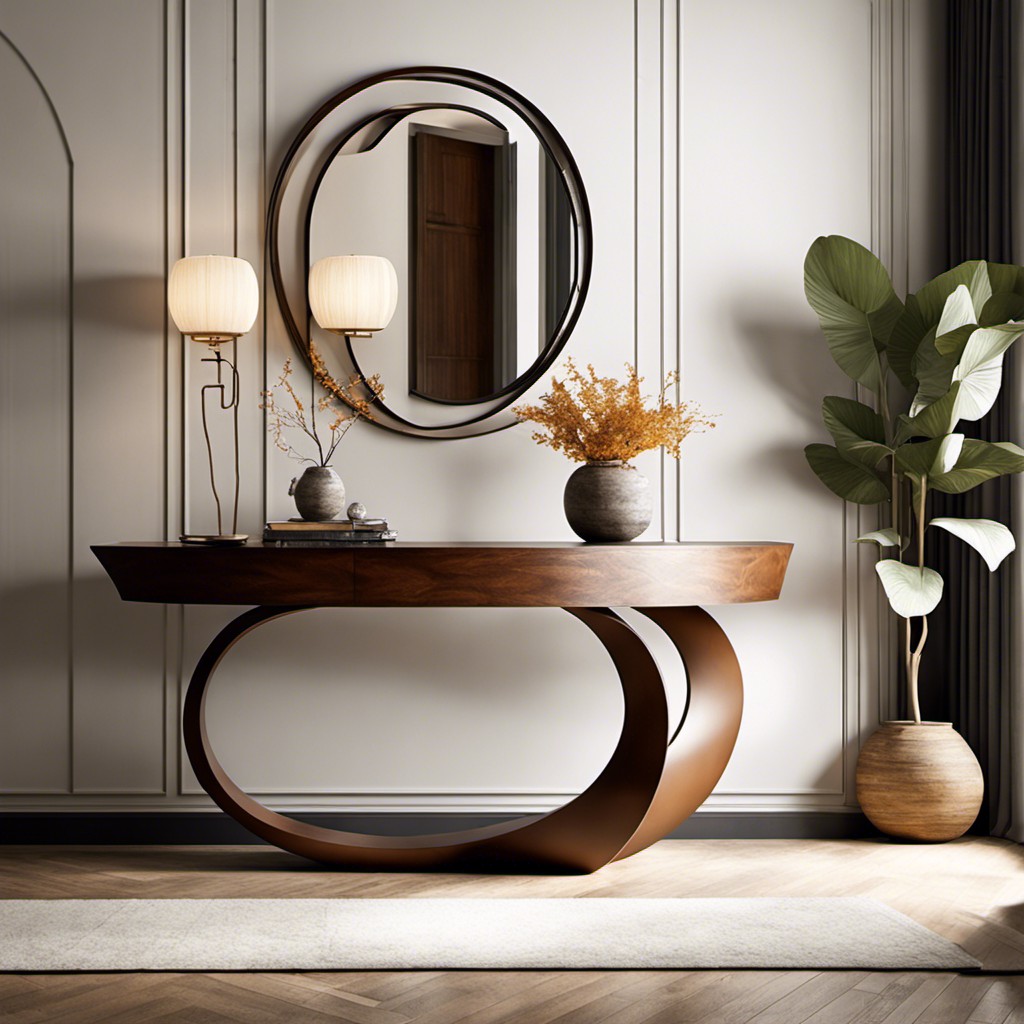 If you value uniqueness and artistic flair, this design could be a top pick. These tables are handcrafted with a fluid, asymmetrical appearance that seems to flow along the wall. They break the rigidity of standard shapes, allowing for a more dynamic and interesting space.
Each one is a conversation starter, capturing the interest of all who pass by.
The main elements of this design include:
Asymmetry: The lack of a uniform shape adds an intriguing visual element. Imagine a swirling river or rolling hills – no two are exactly the same.
Fluid lines: The smooth curves of the table mimic natural elements, mimicking fluid motion and providing a soothing visual effect.
Customization: Because these tables are handcrafted, they can be designed to fit your specific space perfectly, ensuring the curves of the wall are complemented rather than constrained.
Strong materials: Although they appear delicate, these tables are made from sturdy materials like hardwood and metal for a design that's as durable as it is striking.
Artistic impressions: Choose from a range of finishes to enhance the table's artistic impression. Whether you prefer a grained wood finish or a sleek, modern color, you can find the perfect match for your décor.
This table type adds an appealing dramatic effect, making your entryway a curated masterpiece.
Fitted Curved Shelf With Ornamental Brackets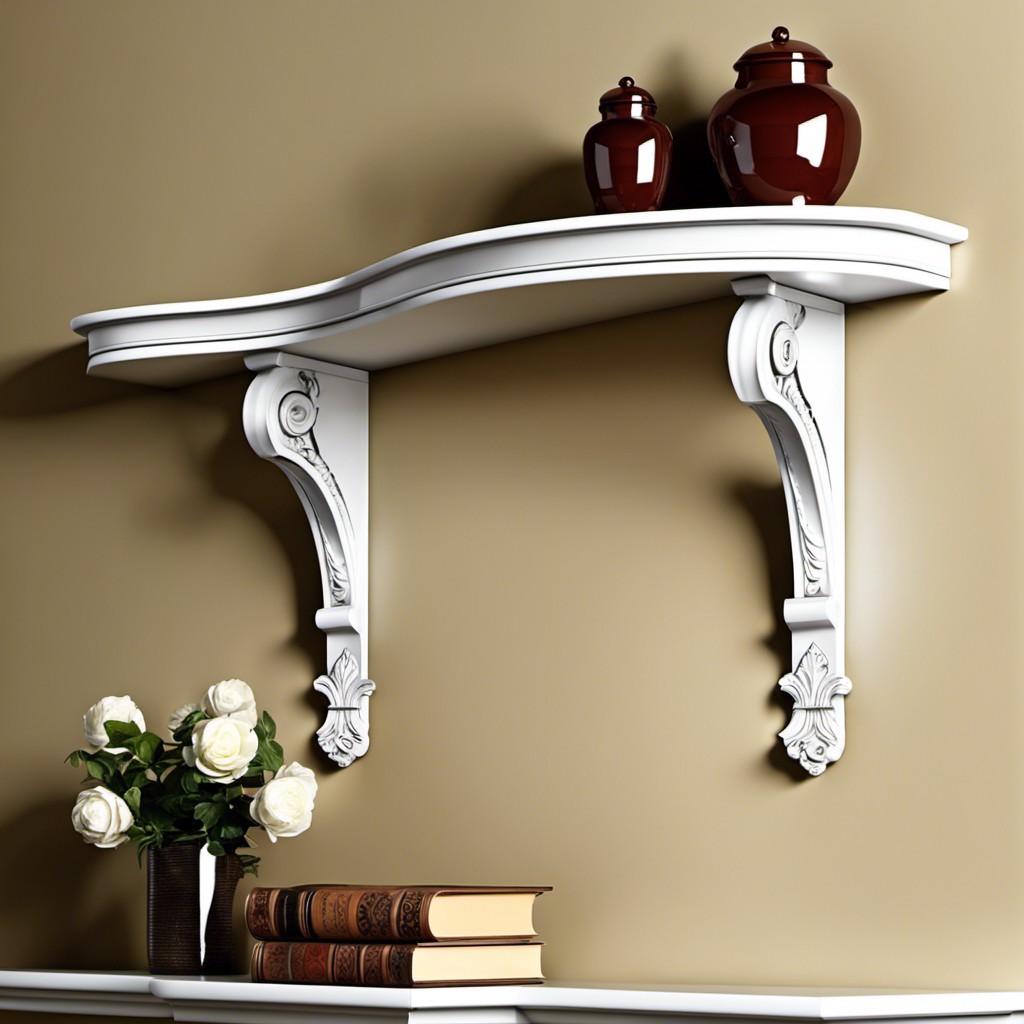 Embellished with ornamental brackets, these shelves add a distinct charm to your entryway. The curvature fits snugly against the wall, enhancing the architectural features of your home. In addition to being a decorative element, these shelves also offer practical benefits.
1. Space-Savvy: Making excellent use of wall real estate, they provide a platform for hosting items without occupying much floor space.
2. Customizable: Ornamental brackets are available in a variety of designs, allowing for a customized appearance.
3. Functional: Aside from their aesthetic appeal, they also serve as a handy spot for keys, mail, or decorative items like picture frames or vases.
4. Variety: These shelves can be made from several materials, like wood, metal, or even glass, and painted or treated to suit your decor styling.
Remember, where and how you position your fitted shelves could drastically alter the feel of the entryway, so consider the height, color, and placement carefully.
Wall-integrated Sleek Shelf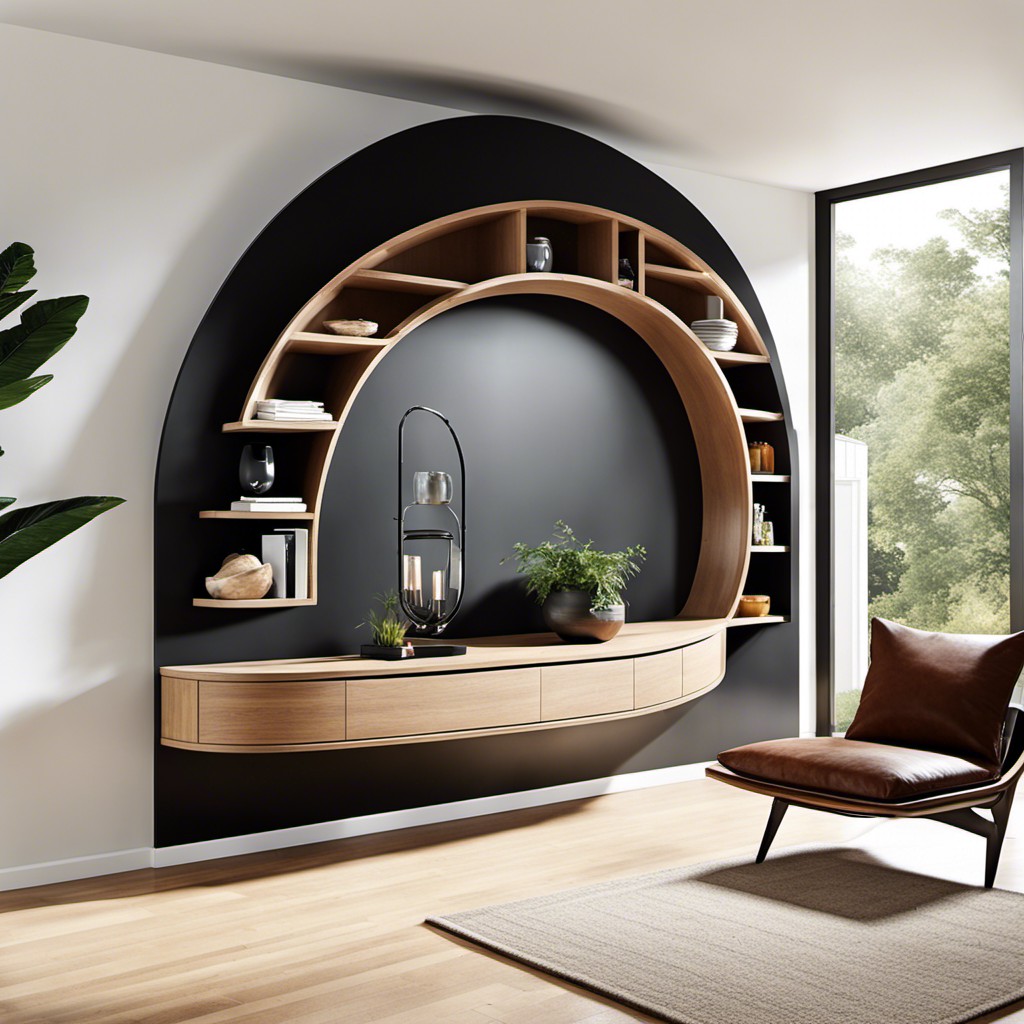 A wall-integrated sleek shelf effortlessly harmonizes with a curved wall. This versatile piece creates visual interest by playing up the wall's natural curve, offering a modern, minimalistic touch.
Creating a smooth, continuous line with the curved wall, it seemingly floats, adding levity to the space. Often made from materials like wood or metal, its slim profile allows for showcasing decor without encroaching on floor space.
A thoughtful blend of form and function, it suits entryways that need to remain uncluttered while exhibiting style. Lastly, it can be multi-tiered, offering additional display opportunities and extra storage for everyday items.
This innovative design solution is indeed a perfect marriage of minimalism and versatility.
Wrap-around Floating Shelf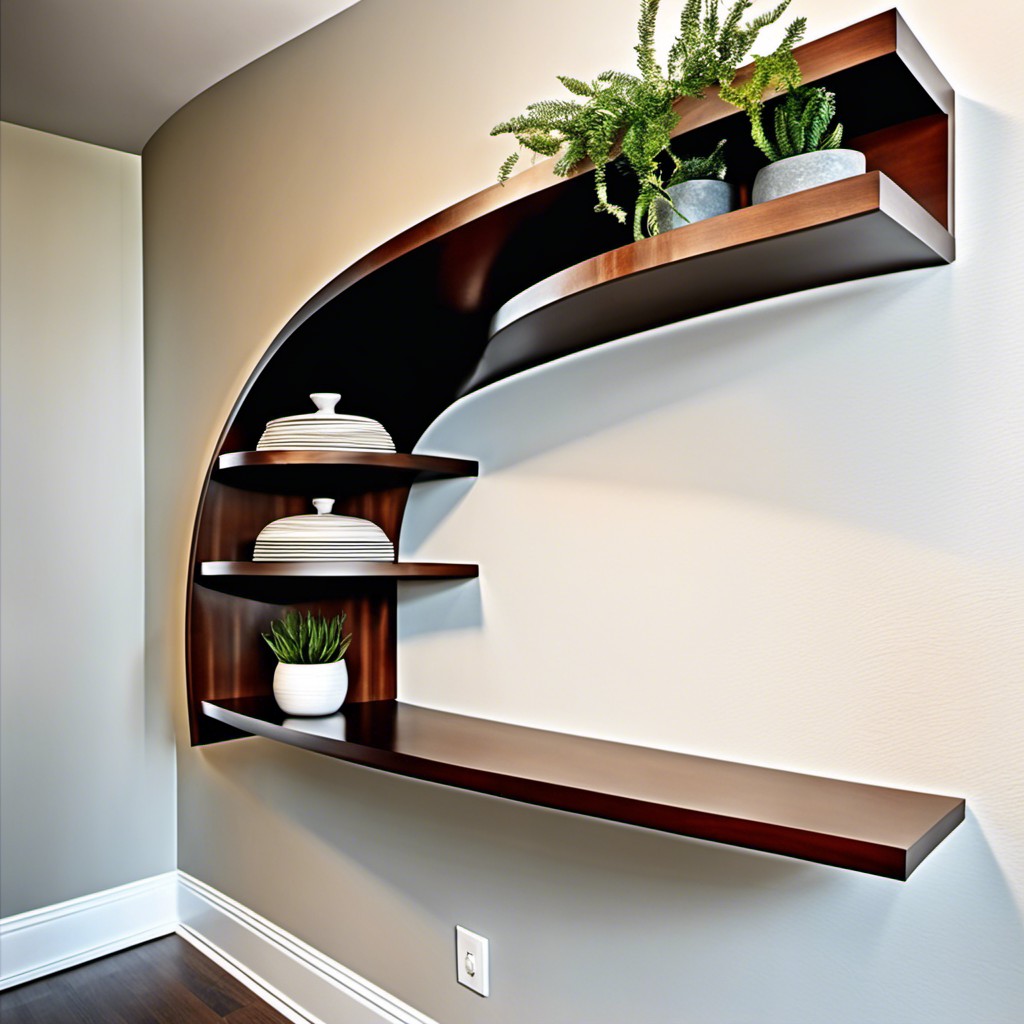 Designed to adapt to the shape of your wall, this innovative choice is perfect for any home looking to save space. The wrap-around design makes it a versatile option for those wanting to make a style statement as well. It can be used to display a variety of items, from books to decorative ornaments.
First, consider the material and finish that complements your existing decor. Whether it's a sleek glass or a rustic timber finish, each brings its unique charm.
Second, pay attention to the dimensions. The depth and length should coincide with the wall curvature and not hinder foot traffic.
Finally, assess the weight capacity of the shelf to ensure it can hold your desired items safely. From lightweight ceramic vases to heavy photo albums, know what your floating shelf can support.
The beauty of the wrap-around floating shelf not only lies in its flexibility and spatial efficiency but also its potential to become a focal point for your entryway. Balancing form and function, this style offers a visually pleasing way to keep your essentials easy to find.
Half-moon Shaped Table in Rustic Style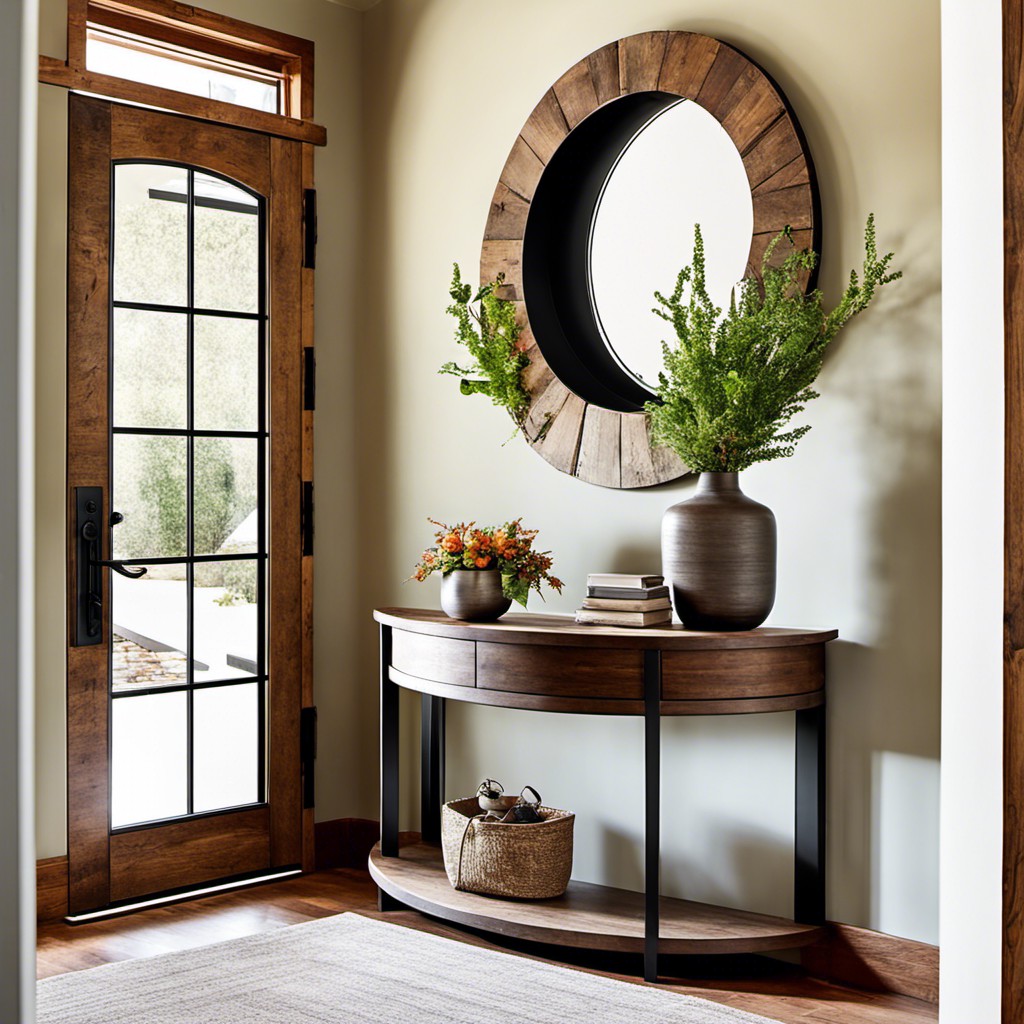 An appealing fusion of traditional design and practicality, this style is ideal for adding a touch of understated elegance to the entryway of your home. The half-moon silhouette makes it adept at settling against curved walls, making the most out of limited spaces. The rustic aesthetics often feature distressed wood or metal finishes, offering a warm, welcoming vibe.
Several features enhance its utility:
Slim profile: The half-moon design not only fits into curved walls but also saves floor space.
Storage: Many designs include drawers or a lower shelf, serving as a practical storage spot for keys, mail, or wallets.
Display Space: The flat tabletop is perfect for showcasing decorative items, floral arrangements, or a welcoming lamp.
Versatility: Its timeless appeal blends seamlessly with various decor styles, from farmhouse to vintage and everything in between.
Durability: Crafted often from durable materials like solid wood or metal, providing long-term service.
Marble-topped Curved Table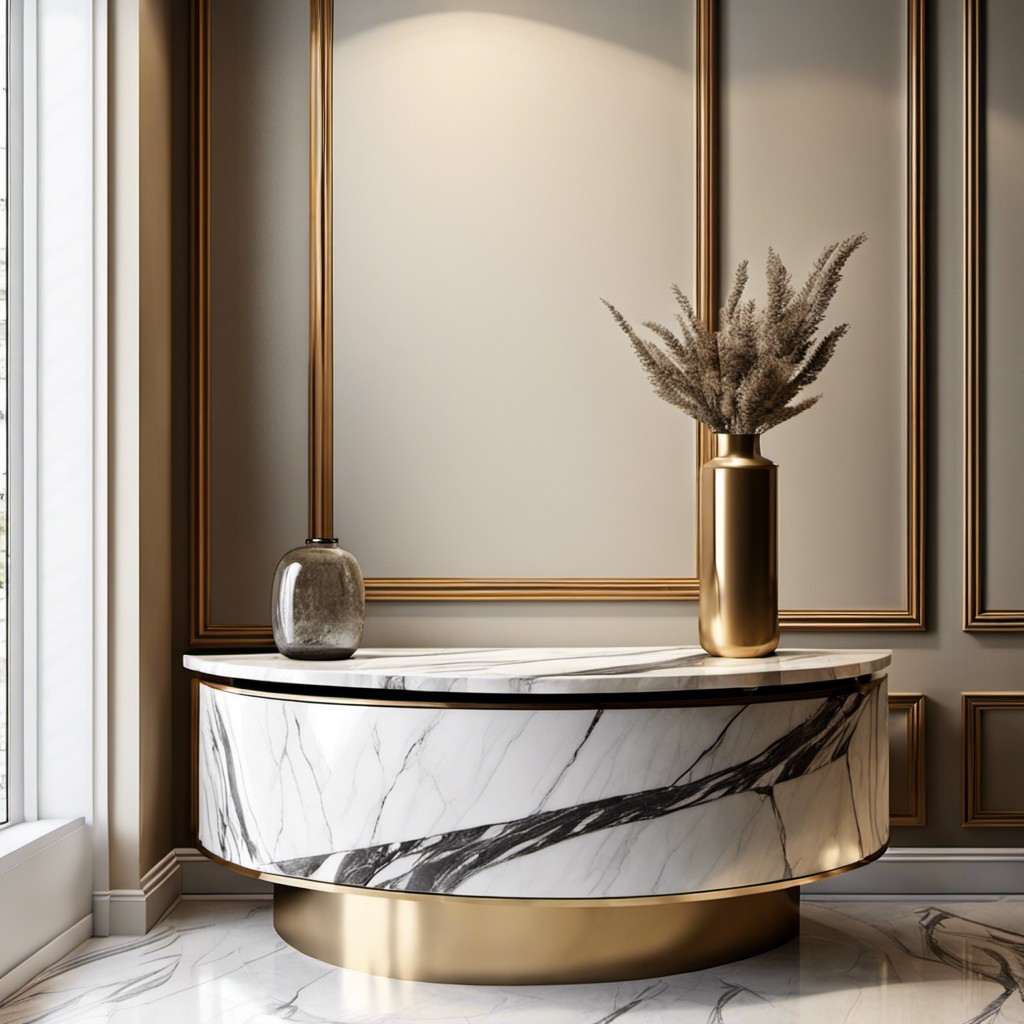 Emanating an air of uncompromising elegance, these pieces make a refined statement while pairing well with various existing decor styles. Their hard, cool surfaces are not only beautiful, but also practical: resistant to water, heat, stains, and scratches, they're designed to withstand day-to-day use.
The striking juxtaposition of the cool marble against the curved structure can create an inviting balance in the entryway. It allows for a harmonious blend of both contemporary and classic design aspects. For increased versatility, consider choosing a neutral marble hue which will complement an array of color schemes and seasonal decorations.
Remember, while marble tables tend to be heavier, many feature a removable top, making them easier to transport or rearrange. As a bonus, those with additional shelving or drawers provide extra storage, making your entryway not only stylish, but functional as well.
Modern Geometric Curved Console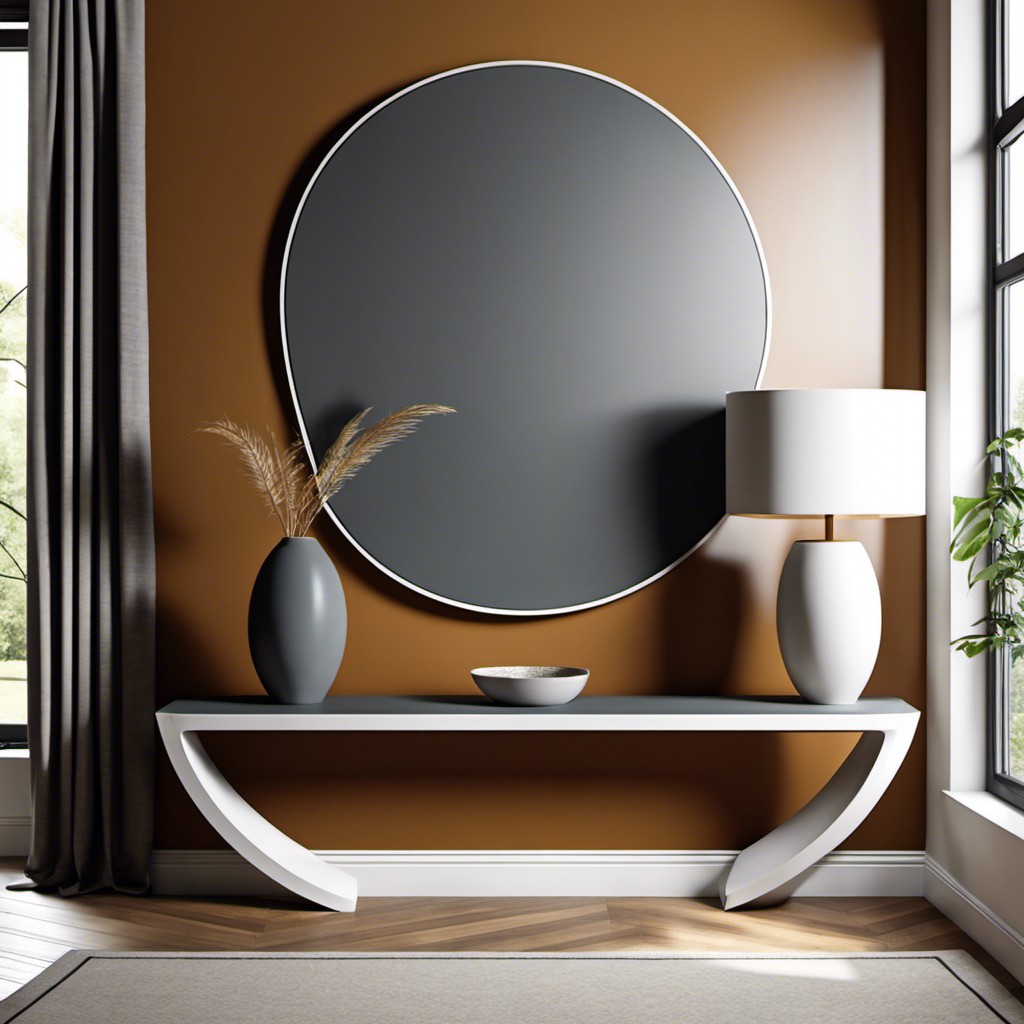 With its sharp lines and edgy aesthetics, the geometrically shaped console is a fantastic choice for curved walls. This design instantly brings an air of modernity and sophistication.
1. Material: Often crafted in high-quality steel, wood, or glass, it exudes durability and style.
2. Design: Its angular aspects work intriguingly with the wall's curvature, creating a visual contrast.
3. Versatility: Comes in an array of finishes, making it well-suited to diverse decor themes.
4. Practicality: Provides ample surface for decor displays or functional use like storing keys.
5. Space-enhancing: The unique shape can optimize space utilization, essential for small entryways.
Remember, for a cohesive look, ensure its design complements other furniture pieces in your entry.
Functional Storage Bench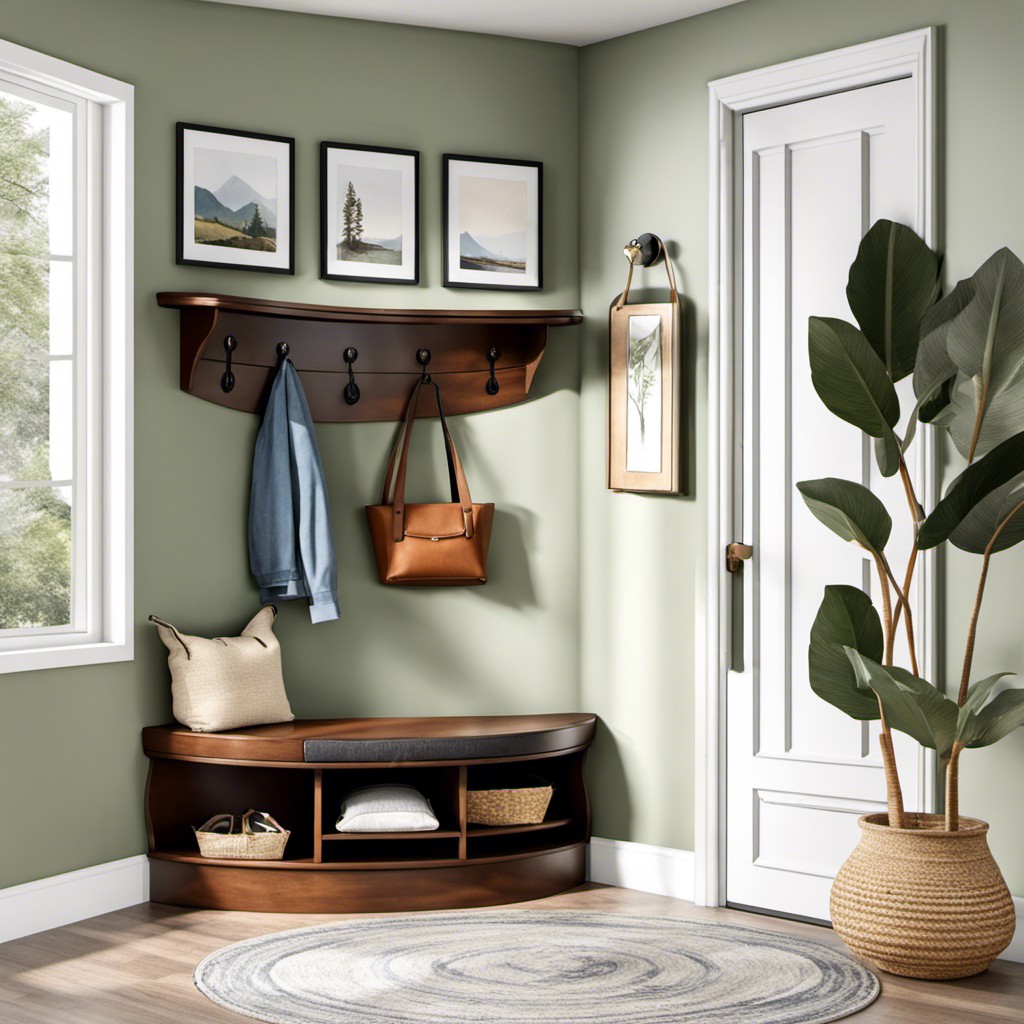 Serving a dual purpose, these unique pieces meld aesthetics with utility. A functional storage bench not only provides a space to display your favorite vases, books, or other decorative items but also offers hidden storage compartments. This clever design is perfect for storing items, such as shoes, umbrellas, bags, or even keys and mail when placed near the entryway.
One can choose from various materials like wood, metal or upholstered ones depending on the desired style. Furthermore, the top of the bench can serve as additional seating for putting on shoes or waiting for others before heading out. Integrated with your curved wall, it can effortlessly transform your entrance into a clutter-free, stylish area.
Nesting Tables for Flexibility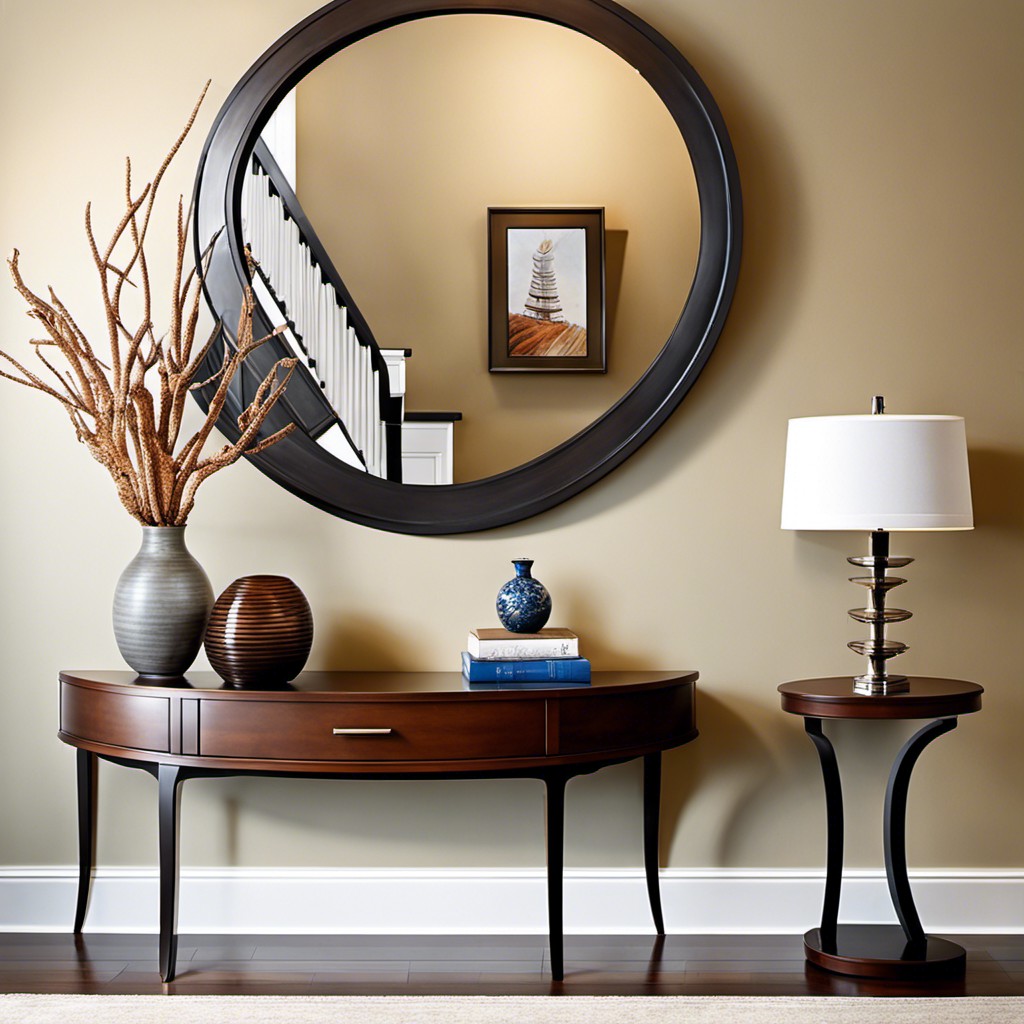 Perfect for households that crave versatility, nesting tables offer an excellent solution. As a set, they make an intriguing visual point of interest, their staggered heights adding depth to your décor. When desired, they can be separated to serve multiple purposes, such as an accents throughout the hallway, or as additional surfaces for your guests to place their personal items on during visits.
One major advantage comes from their compact design. When not in use, they tuck neatly under each other, saving precious space in your entryway. Choose from a variety of styles, from modern acrylic to classic wood, to match the overall tone of your home's interior. Just remember to maintain balance; find nesting tables that compliment your curved wall without overpowering it. Nesting tables not only provide an elegant touch to your curved wall but are also practical, flexible furniture pieces for your entryway.
You may also like to read: