Last updated on October 13, 2023
Explore the sophisticated world of boucle bed ideas because their unique texture and style can instantly elevate your bedroom aesthetics.
Boucle beds, with their distinctive looped texture and cozy appeal, are a fantastic choice for adding warmth and interest to your bedroom.
Whether you're looking to create a minimalist sanctuary or a luxurious retreat, boucle beds can be a versatile centerpiece.
This article will delve into various boucle bed ideas, from choosing the right style and color to matching accessories and decor.
It will also provide tips on maintaining your boucle bed to keep it looking its best.
Stay tuned to explore the world of boucle beds and find the perfect fit for your space.
Table of Contents
Boucle Headboard for a Cozy Touch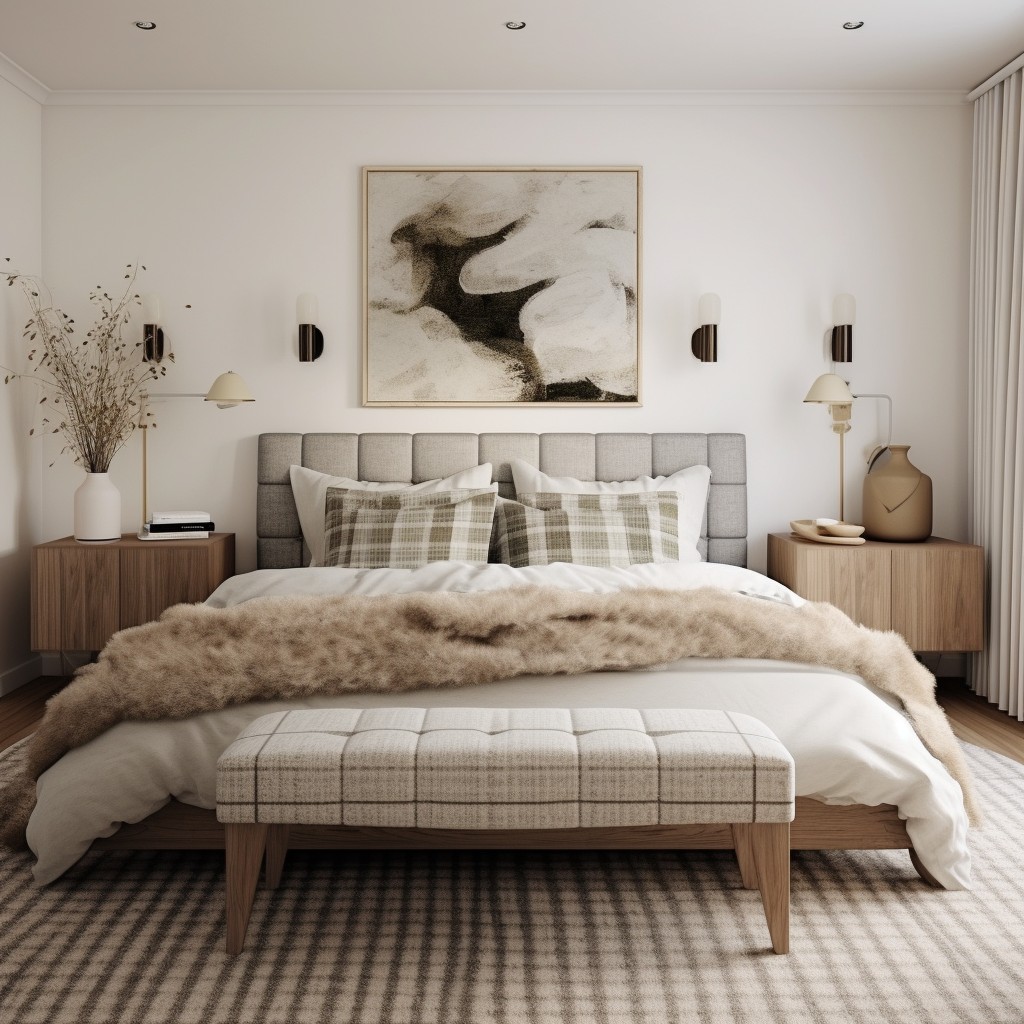 Adding a headboard to your existing bed can instantly elevate its look and comfort level, especially when it's crafted in the plush material of boucle. Famed for its looped and textured weave, the material provides unbeatable comfort and softness, making your bed more inviting.
The cozy looped fibers are easy to sink into and give an incredibly warm aesthetic, best paired with a soft lighting scheme. This style can easily complement any bedroom; whether minimalist, farmhouse, or modern chic, as boucle headboards fit seamlessly in while adding character.
From simple rectangular shapes to arching designs, the options are diverse. Some designs feature tufting or piping to add an extra level of interest and detail. A boucle headboard can also serve as an excellent background for patterned or colorful pillows, enabling versatility in styling the bed.
For those who want to stay in bed just a little longer on those lazy Sunday mornings, a boucle headboard can provide the cushioning and support necessary. Reading or breakfast in bed never felt so comfortable!
A boucle-covered headboard also offers exceptional durability. Despite being a soft fiber, boucle withstands the tug and pull of everyday use. Spot cleaning or professional cleaning can be done periodically, ensuring lasting aesthetics.
In short, investing in a boucle headboard pays off significantly. Not only does it provide a design upgrade, but it also enhances comfort and the overall appeal of the room. No doubt, every good night's sleep may just begin with a cozy boucle headboard.
Combining Boucle Beds With Matching Ottomans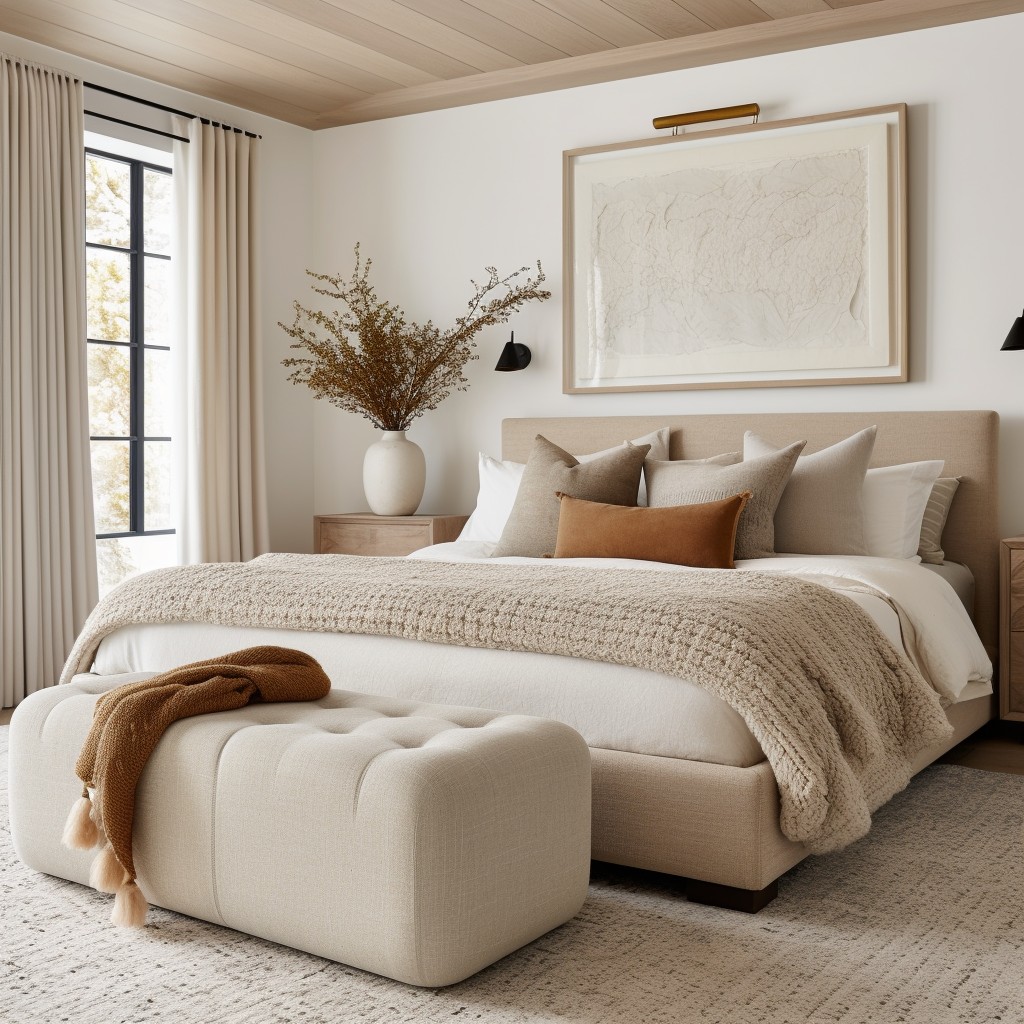 To bring a sense of unity in your bedroom decor, pair your boucle bed with a matching ottoman. This subtly textured furniture pairing provides not only visual appeal but also added comfort.
1. Unifying Aesthetics: The similar fabric between the bed and ottoman creates a harmonious look. Choose matching or complementary colors to ensure they work well together.
2. Multi-functionality: An ottoman serves as a footrest, seating area, or even storage space, proving itself as a handy addition to your bed.
3. Comfort Enhancement: An ottoman at the bed's foot-end invites relaxation, perfect for unwinding with a book or a cup of tea.
4. Size Considerations: Ensure the ottoman size matches your bed's scale. A large bed calls for a substantial ottoman, while a smaller one suits minimalistic beds.
5. Style Continuity: Select an ottoman style that reflects your bed's design – be it modern, vintage, or contemporary – to maintain decor consistency.
Remember, the match doesn't have to be perfect. A near-match can sometimes introduce a delightful note of contrast, adding depth to your overall decor.
Boucle Bed With Minimalist Style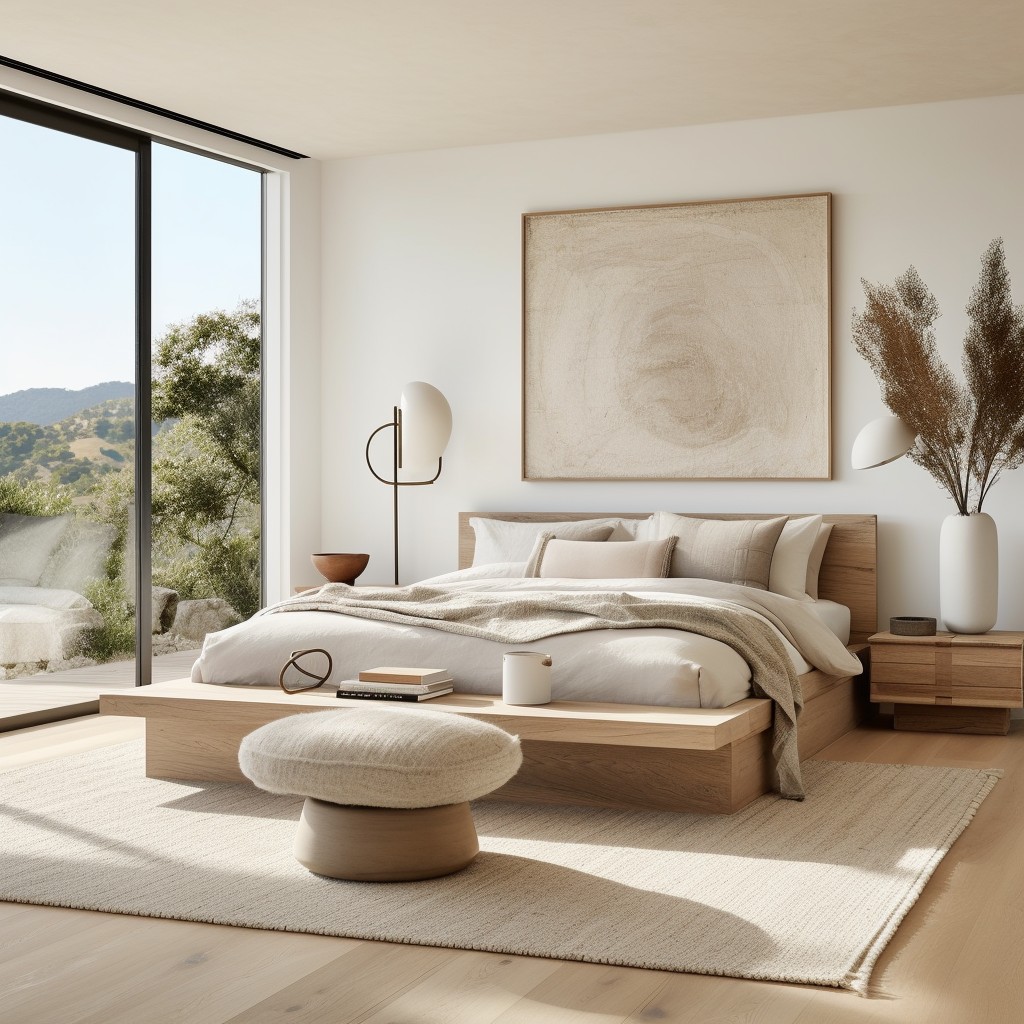 In achieving this design, simplicity is pivotal. Clear lines and an absence of clutter or adornment are definitive of the minimalist style. For this to be incorporated into your boucle bed, considering a plain, streamlined bed frame is imperative. You could opt for metal or wood; the choice depends on your room's overall aesthetic.
For bedding, choose outfits in neutral hues like white, black, grey, or beige. It maintains a clean, unclustered, and streamlined aesthetic, integral to this style. Do shy away from patterns or vivid colors.
Simple does not equate to uncomfortable, though. By adding a plush, soft boucle fabric can bring an essence of warmth and comfort to the minimalist decor. This fabric, with its looped, textural quality, introduces a pleasing tactile variance.
Ensure that the rest of your bedroom decor adheres to the minimalist style as well. Keep your bedside table and other furniture around your boucle bed modest and neat. Lastly, remember that in a minimalist space, less is more. Stick to essential pieces only, and your boucle bed will surely stand out.
Boucle Bedspread for Additional Texture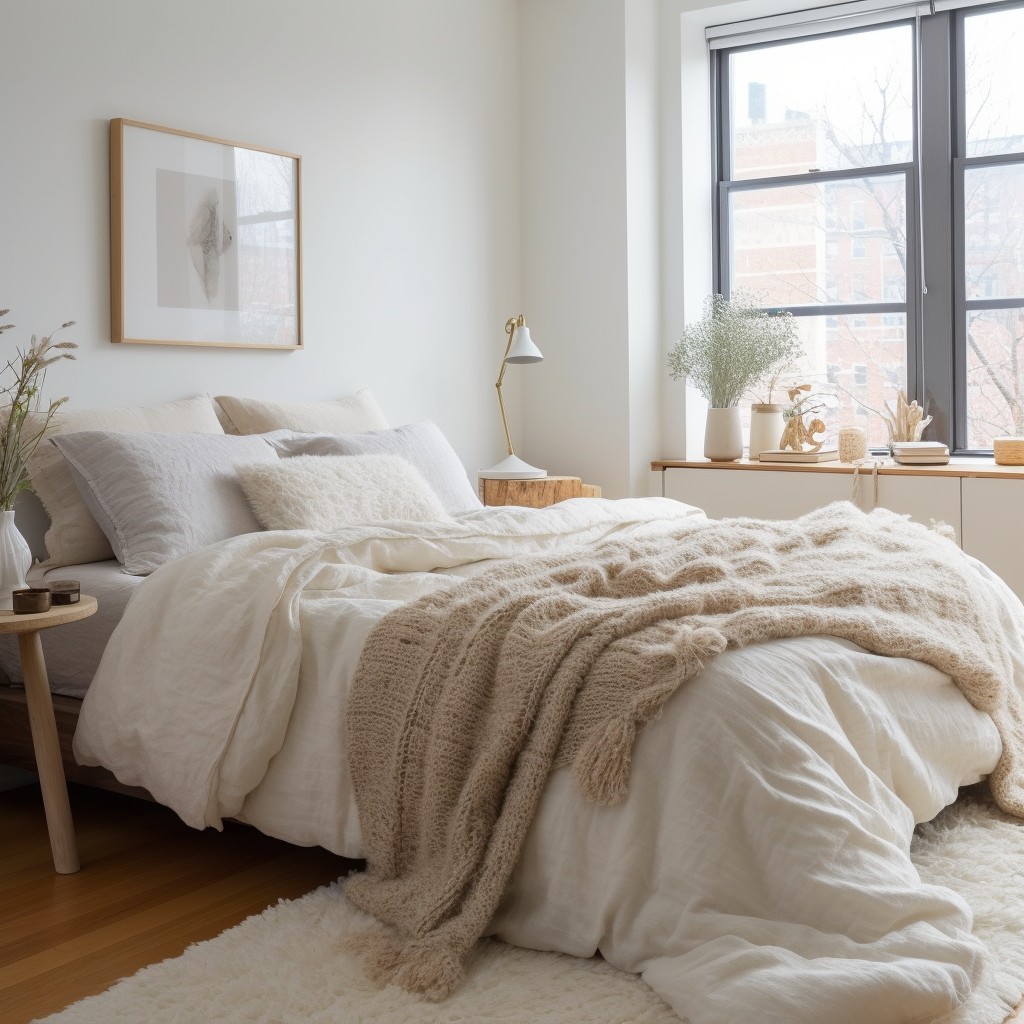 Adding a boucle bedspread can effectively offer textural contrast in your bedroom. Not only does it provide additional warmth on chilly nights, but it also becomes a focal point, enticing anyone to dive into its cushiony softness.
1. Subtle Sheen: The round loops in boucle fabric catch light and lend a soft luster to your bed, enhancing its visual appeal.
2. Tactile Interest: The unique looped texture of boucle gives a great tactile sensation that's both pleasing to the touch and the eye.
3. Versatility: A boucle bedspread easily pairs with numerous themes, from minimalistic to boho to rustic, given its inherent coziness and muted tonality.
4. Easy Care: Boucle fabric often requires minimal care. A simple machine wash ensures both cleanliness and longevity, making it a practical choice for busy households.
Remember, select a color that complements your room's hues to create a cohesive look. A bedspread isn't just about functionality, it's also an easy way to make your space uniquely you.
Boucle Blanket for an Easy Update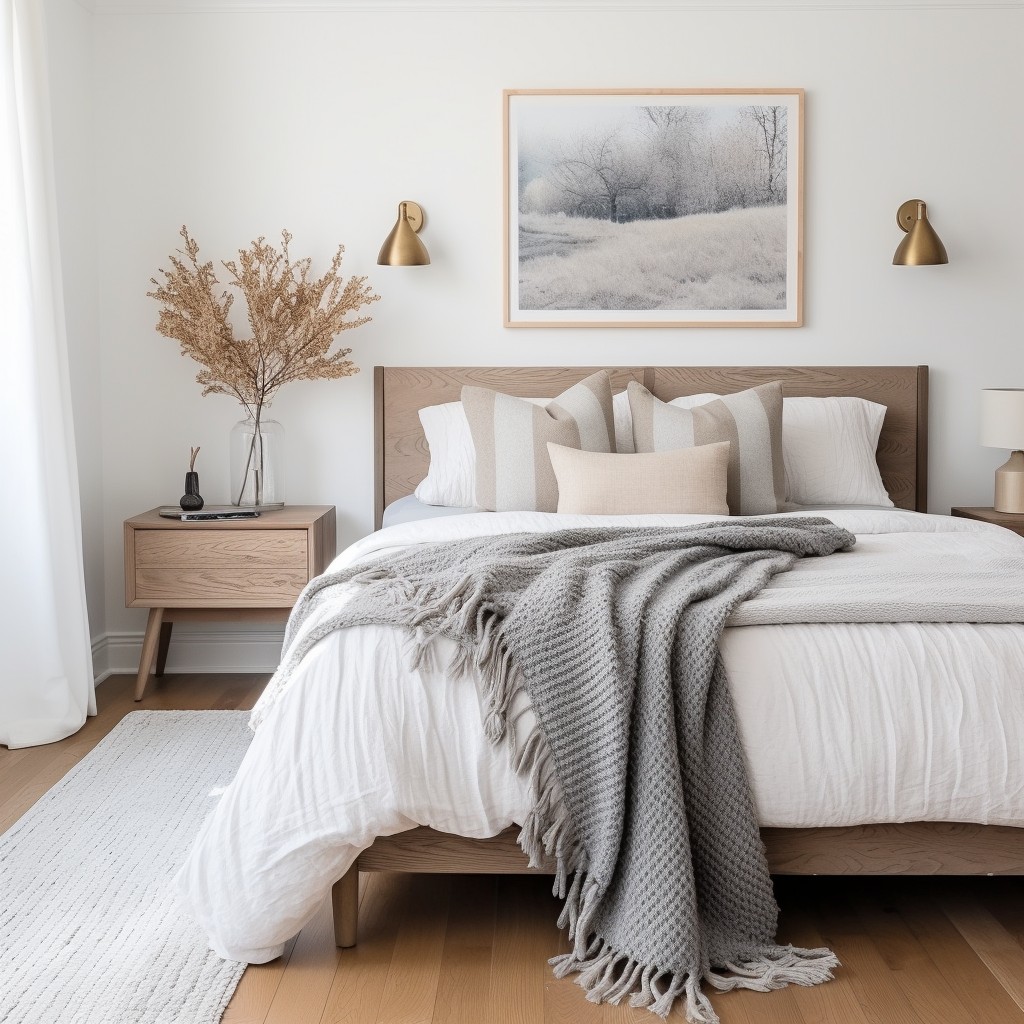 Transforming your bedroom ambiance can be as simple as draping a boucle blanket over your existing bedspread or comforter. This technique is a straightforward and cost-efficient way to introduce a touch of texture and warmth to your sleeping space. Boucle – with its looped yarns – has a distinctive tactile quality that invariably draws attention and evokes a sense of depth.
1. Color Choice: Opt for a color that complements your existing décor. Neutrals work well universally, though a vibrant hue can serve as a delightful accent piece.
2. Size It Up: It's crucial to decide on the size of the blanket. A larger blanket adds more texture and can be more comfortable, while a smaller one is easier to manage and less bulky.
3. Styling: Drape it casually over the foot of the bed for a laid-back look, or fold it neatly for a more structured appeal.
4. Maintenance: Check washing instructions before purchase. Some boucle blankets may need to be dry cleaned, while others are machine washable.
5. Material Mix: Consider matching the blanket with boucle throw pillows to create a cohesive look.
Remember, the idea is to subtly incorporate the material into your décor, rather than letting it overpower the whole room. Dosage is key in maintaining balance and harmony.
Boucle Throw Pillows for Added Comfort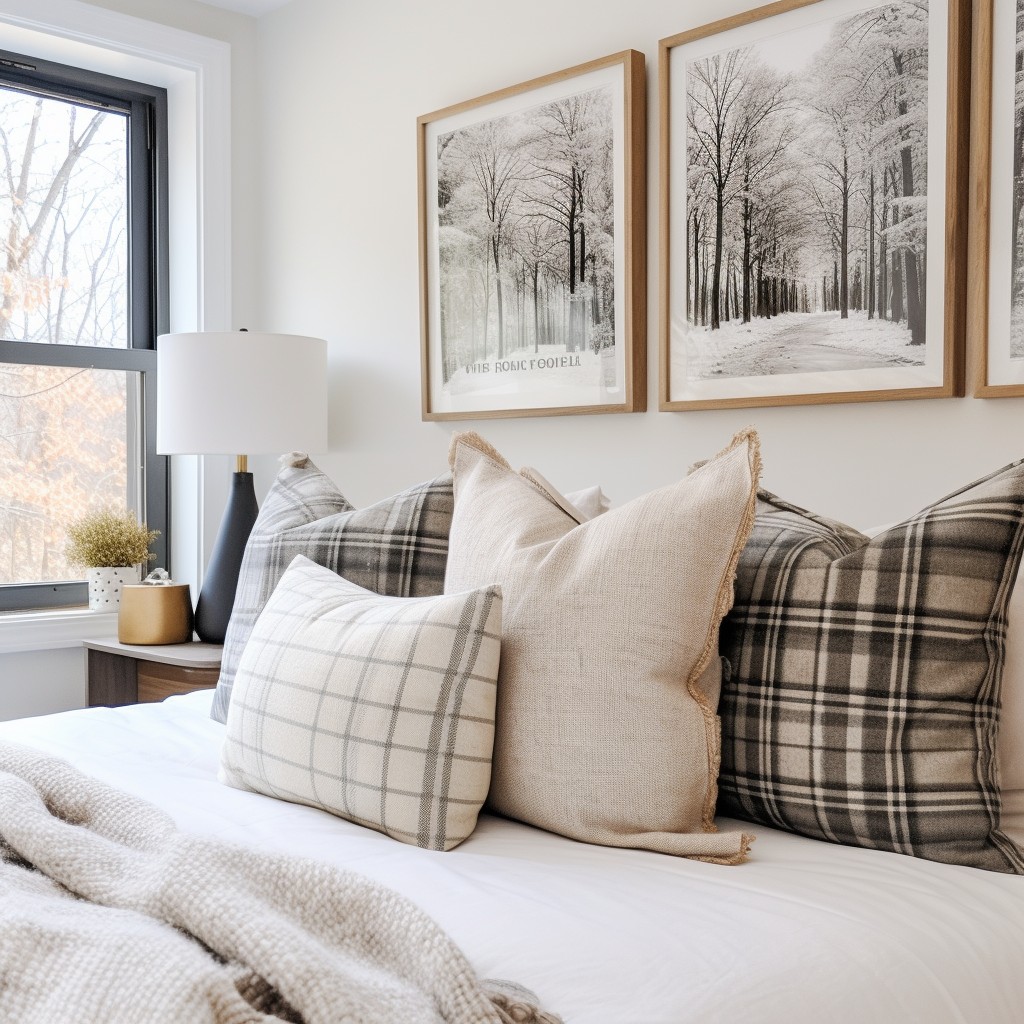 Throw pillows offer a simple yet effective strategy to elevate the luxury of your bed. For a touch of sophistication, consider adding boucle fabric to your assortment. A material known for its "curly" texture, boucle gives a unique visual interest, contributing to a richer sensory experience.
1. Comfort: Boucle throw pillows offer a cozy, plush feel, perfect for lounging.
2. Versatile Style: They are available in various sizes and shapes, allowing you to make selections that best suit your personal style.
3. Easy Update: Swapping out your standard pillows for boucle ones is a quick, non-permanent way to adopt this trend.
4. Enhanced Visual Appeal: The texture of boucle adds an extra layer of visual interest, preventing your bed from looking dull or monotonous.
5. Coordinating Pieces: Pairing your boucle pillows with other boucle items, such as bedspreads or ottomans, creates a harmonious look.
Remember, the tactile experience is crucial in a bedroom, making boucle throw pillows an ideal solution to add both comfort and style.
Boucle Bed With a Contemporary Metal Frame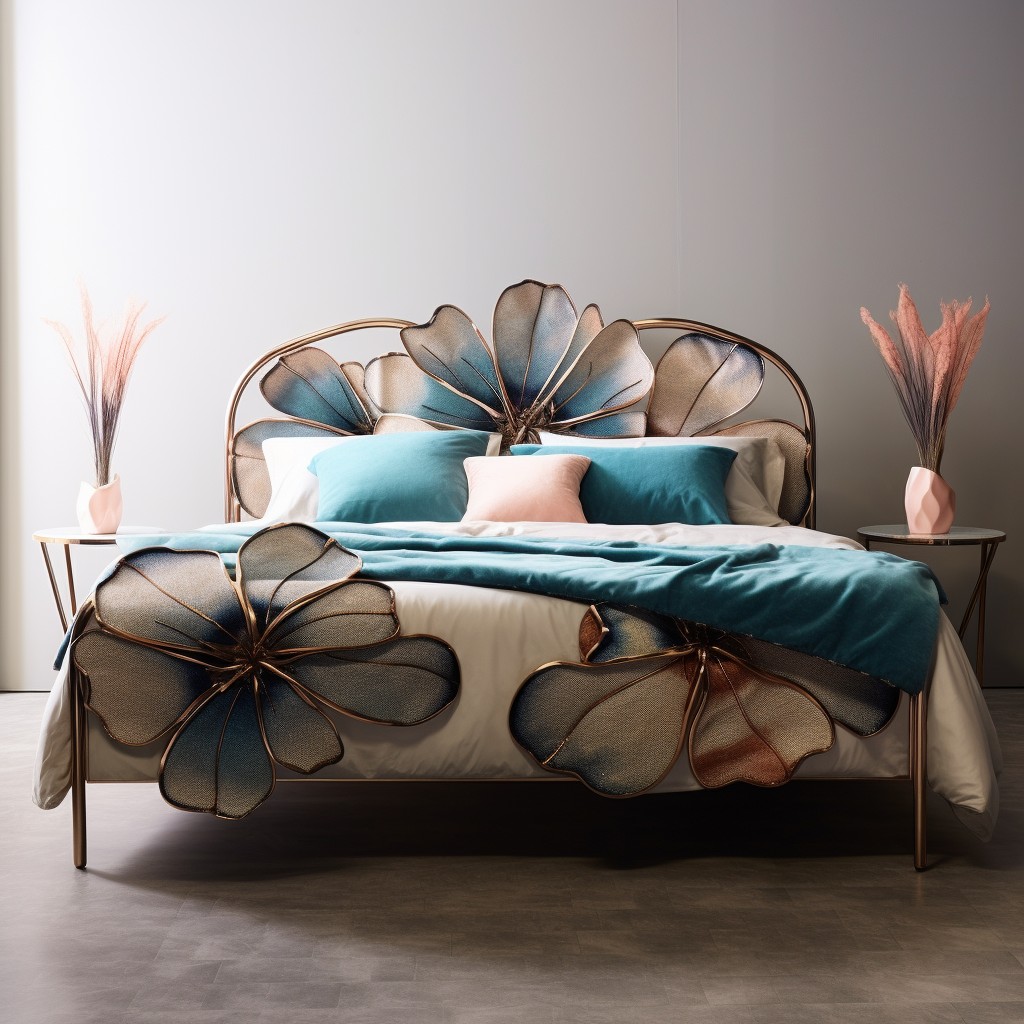 Marrying the plush texture of boucle fabric with the sleek appeal of a metal frame results in a dynamic piece that blends various design styles effortlessly.
1. Hard Meets Soft: This pairing combines the hardness of the metal with the soft fabric, offering a visually stunning contrast.
2. Modern Look: The metal frame's contemporary features enhance the space's overall aesthetic, making it an inviting and unique focal point.
3. Durable Combination: Despite its delicate appearance, boucle fabric is very sturdy, complementing the metal frame's longevity.
4. Unique Statement: This modern choice sets your bed apart from traditional designs, reflecting your unique style.
5. Versatility: The neutral tone of boucle fits into any color scheme, and a metal frame can be finished in various ways — brushed, polished, or painted — to suit your personal taste.
Vintage-styled Boucle Bed Design
Craving a nostalgic touch in your bedroom? You're in luck. This style leans heavily into the charm of yesteryears. Think antiqüe brass bed frames delicately upholstered with boucle fabric. Subtle hues like cream or light camel tend to be a staple in this design, offering a timeless appeal.
Forge a connection between the old and new by pairing your vintage-style boucle bed with contemporary accents. Modern bedside tables or abstract wall art provide a harmonious contrast, without stealing the spotlight from your bed. The key is balance: blending the plush, cozy elements of boucle with the classic elegance of vintage design.
Remember, it's the minor details that will infuse your room with its unique personality. Antique-style pendant lighting, a plush rug, or vintage-inspired curtains can turn an ordinary room into a cozy sanctuary. When done right, a vintage-styled boucle bed becomes more than a piece of furniture – it's a statement.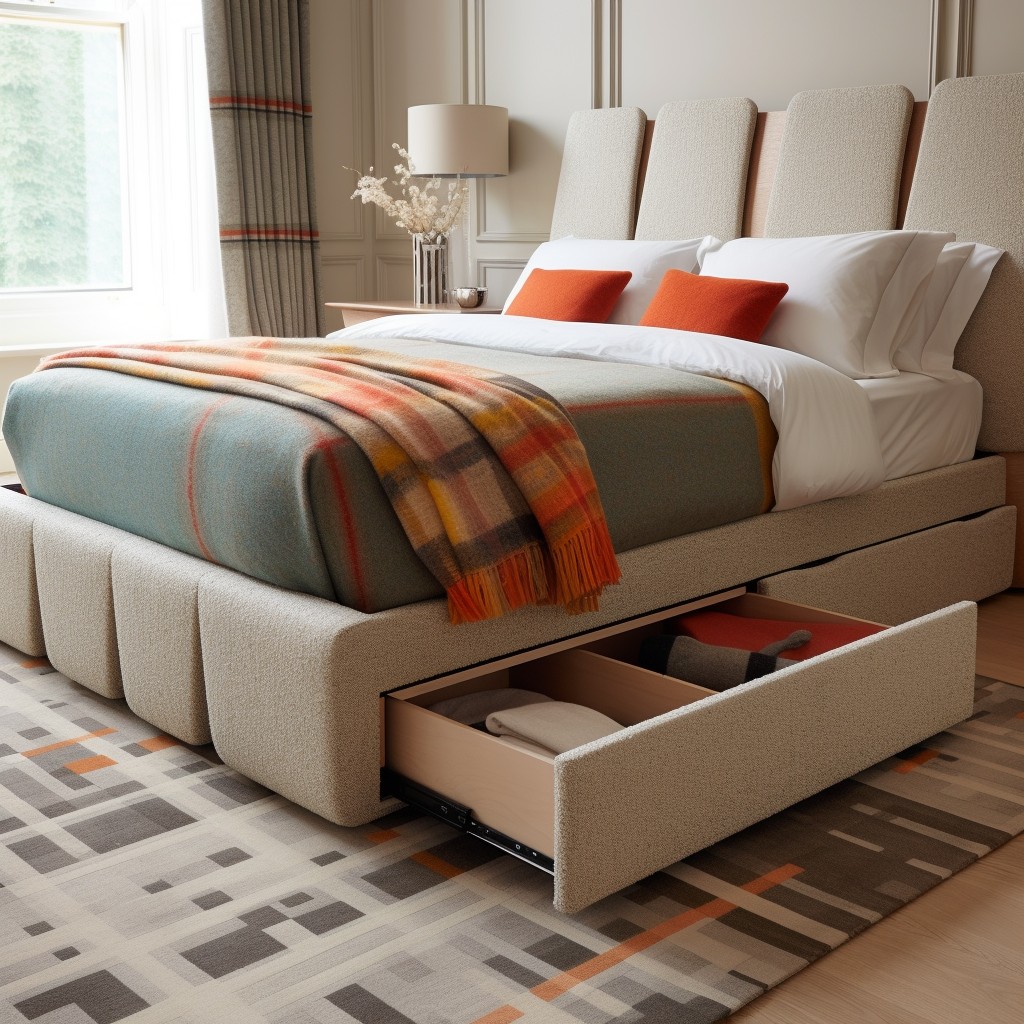 With this ingenious design, every inch of space is utilized smartly. Hidden storage spaces, typically under the mattress or in the headboard, provide an excellent solution for stashing away items that aren't regularly used but still important—like seasonal clothing, extra bedding, or holiday decorations.
Consider the following details while exploring this option:
Materials: These beds are primarily made of wood or metal, with the boucle fabric generously wrapped over the upholstered parts.
Practicality: Particularly beneficial for those living in confined spaces. Ingenious location of storage compartments provides quick access to the stored items.
Design: These beds generally come in either lift-up or drawer-style storage. Lift-up models can even double up as a seating area when the lid is closed.
Customization: Some manufacturers offer customization options, allowing you to choose the storage layout that best suits your needs.
Remember, functionality should not compromise style. This is why boucle fabric finds its place here, adding a layer of plush comfort to the design while keeping your sleeping space organized and clutter-free.
Mixing Boucle and Velvet for Luxurious Feel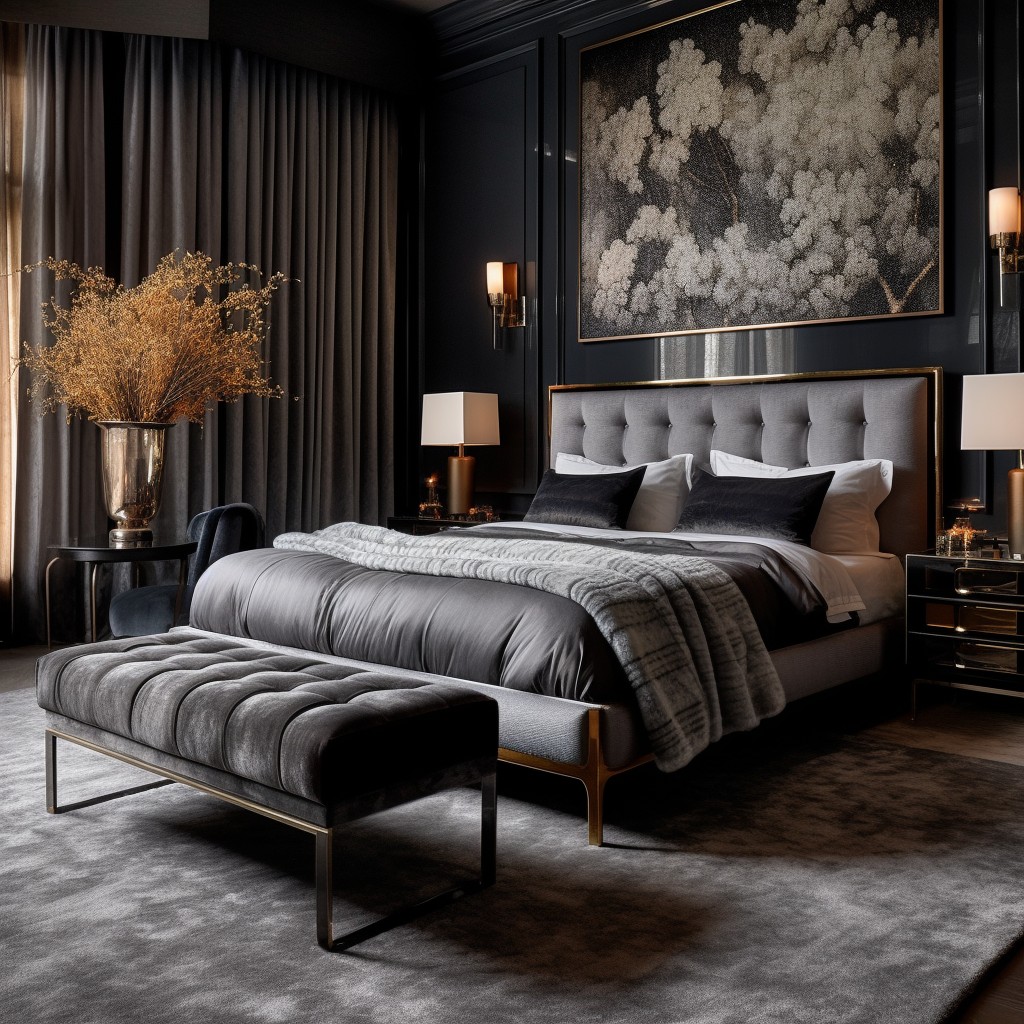 In order to emphasize luxury and elevate your bedroom's appeal, a careful blend of rich velvet and textured boucle fabric can be a real game-changer.
1. Harmonious Blend: With the plushness of velvet and the tactile charm of boucle, creating an elegant, luxurious room becomes effortless. Opt for velvet pillows complemented by a thick, boucle bedspread for that rich, tactile variety.
2. Color Coordination: Choose coordinating colors for the fabrics. A deep velvet hue can be offset beautifully with a lighter, neutral-toned boucle.
3. Furniture Selection: Consider introducing a velvet upholstered chair or sofa for a lavish note, juxtaposed with a boucle ottoman for that textured twist.
4. Layering and Dimension: Layering these textured materials in the form of blankets, pillows, or bedding will introduce depth and dimension to your room.
Remember, it's all about finding the right balance – not letting one fabric overwhelm the other, but allowing both to shine in their unique ways.
Boucle Upholstered Daybed for Small Space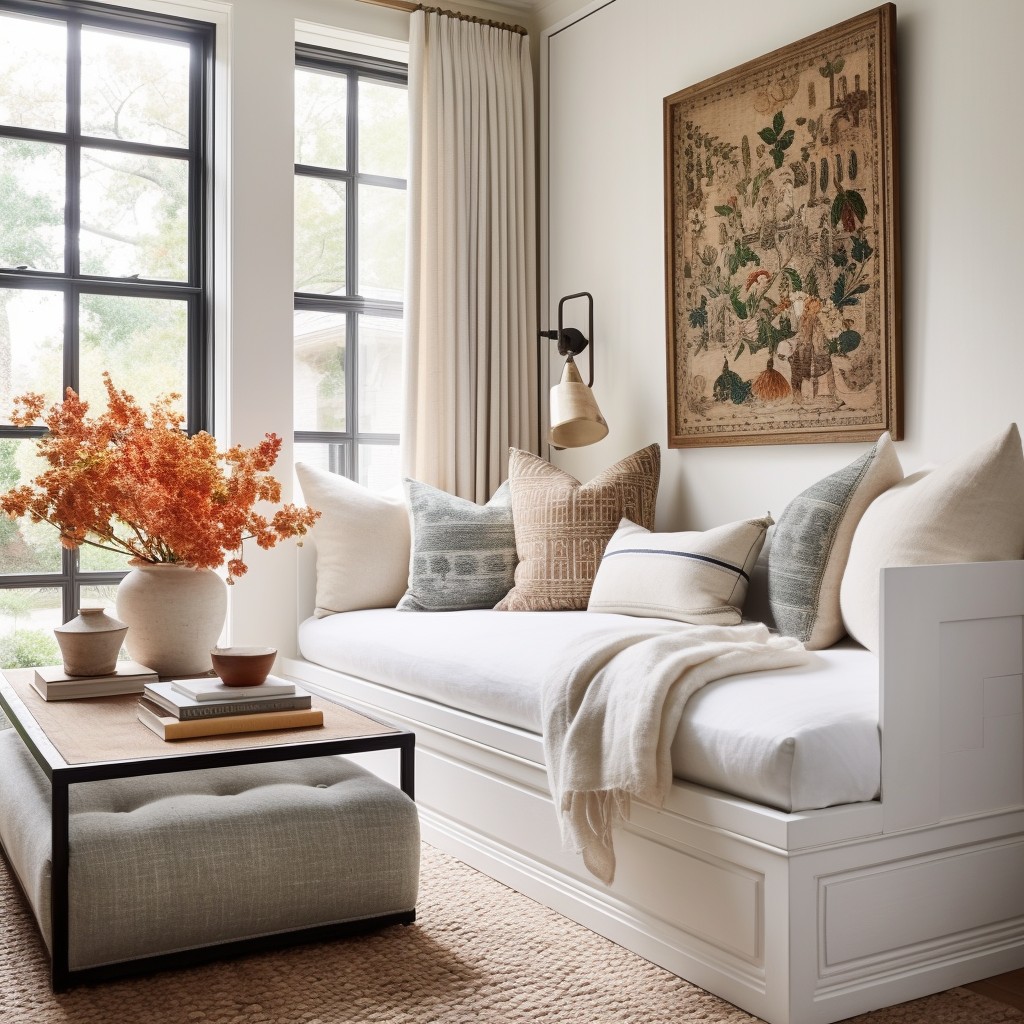 In spaces where room is limited, functionality is key. This is where the upholstered daybed shines. Wrapped in boucle fabric, the daybed not only offers a cozy place for daytime lounging or nighttime sleeping but also brings a touch of textural interest to the setting. It's aesthetically pleasing, emitting a vibe of casual elegance that meshes well with a variety of interior themes.
Choices abound in design from the tailored version without seams to the tufted model for a more classical approach. A key aspect to consider is the scale – ensure it complements the room's size and doesn't overwhelm the area.
Coordinating items like toss pillows or throws can elevate the daybed's visual appeal and comfort. Select a color contrasting the boucle to add depth and interest. Furthermore, consider a daybed with built-in storage underneath to optimize the utilization of space even more.
Last but not least, the placement is crucial. In front of a window captures natural light, against a wall saves space, while in the center of an open-plan space creates a multi-purpose area. Be creative and watch how this versatile piece transforms your small space.
Boucle Bed With Wooden Bed Frame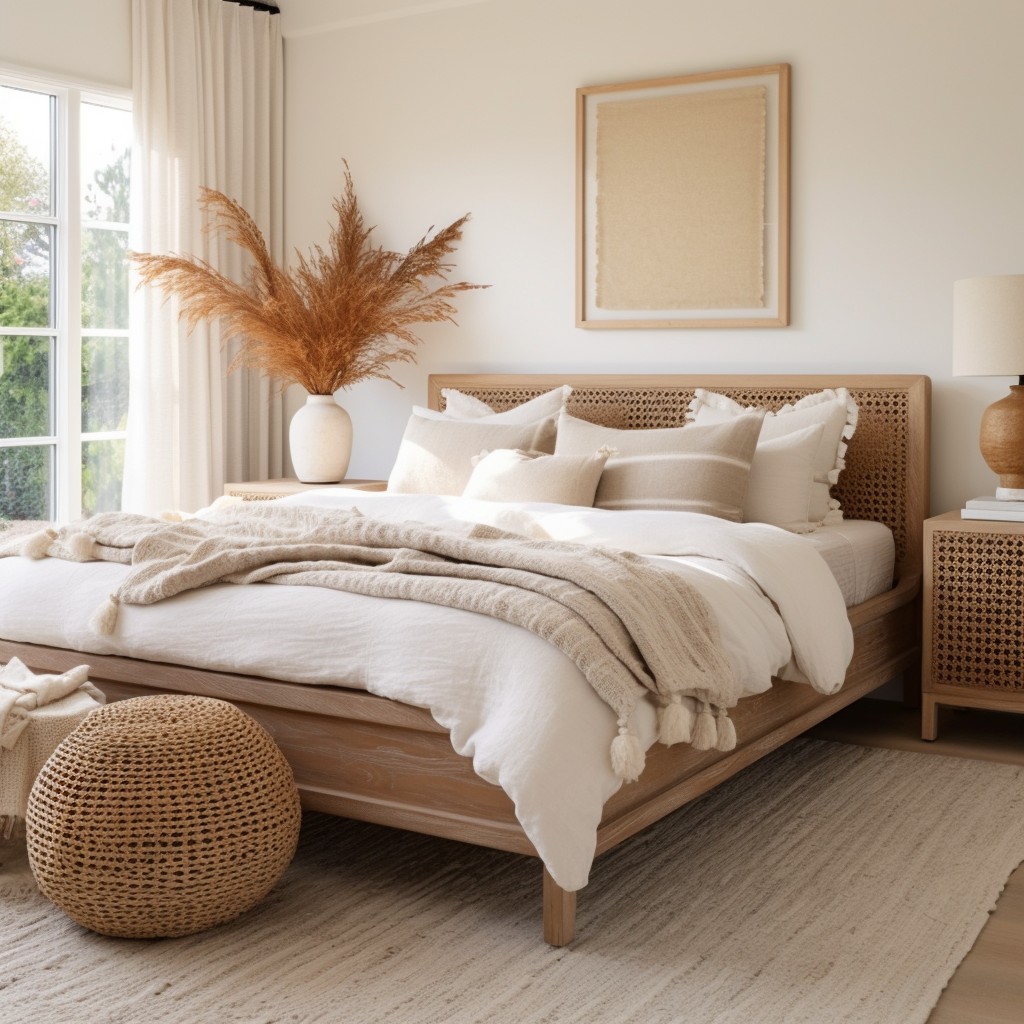 Integrating a boucle bed with a wooden frame creates balance by adding warmth and a natural element to the tactile-rich boucle upholstery. Opt for a frame in darker woods to set an alluring contrast against the soft-hued boucle. On the contrary, lighter woods can evoke a coastal, airy feel, ideal for rooms abundant in natural light.
Besides, the wooden frame is not just aesthetically pleasing. It's a sturdy material enhancing durability, proving the combination of boucle and wood to be stupendous even in the practical perspective. Customizing the wood finish further diversifies the design possibilities, facilitating a unique look for your bedroom according to your personal taste.
Blend this bed setup with cotton or linen sheets for a summer-ready look. For winter, a chunky knit throw can heighten the cozy aspect of your boucle bed. Don't hesitate to experiment with patterned curtains and rugs to add an extra layer of texture to the space. Through these additions, your bedroom will blossom into a room of dreamy comfort and style.
Boucle Bed in a Neutral Color Palette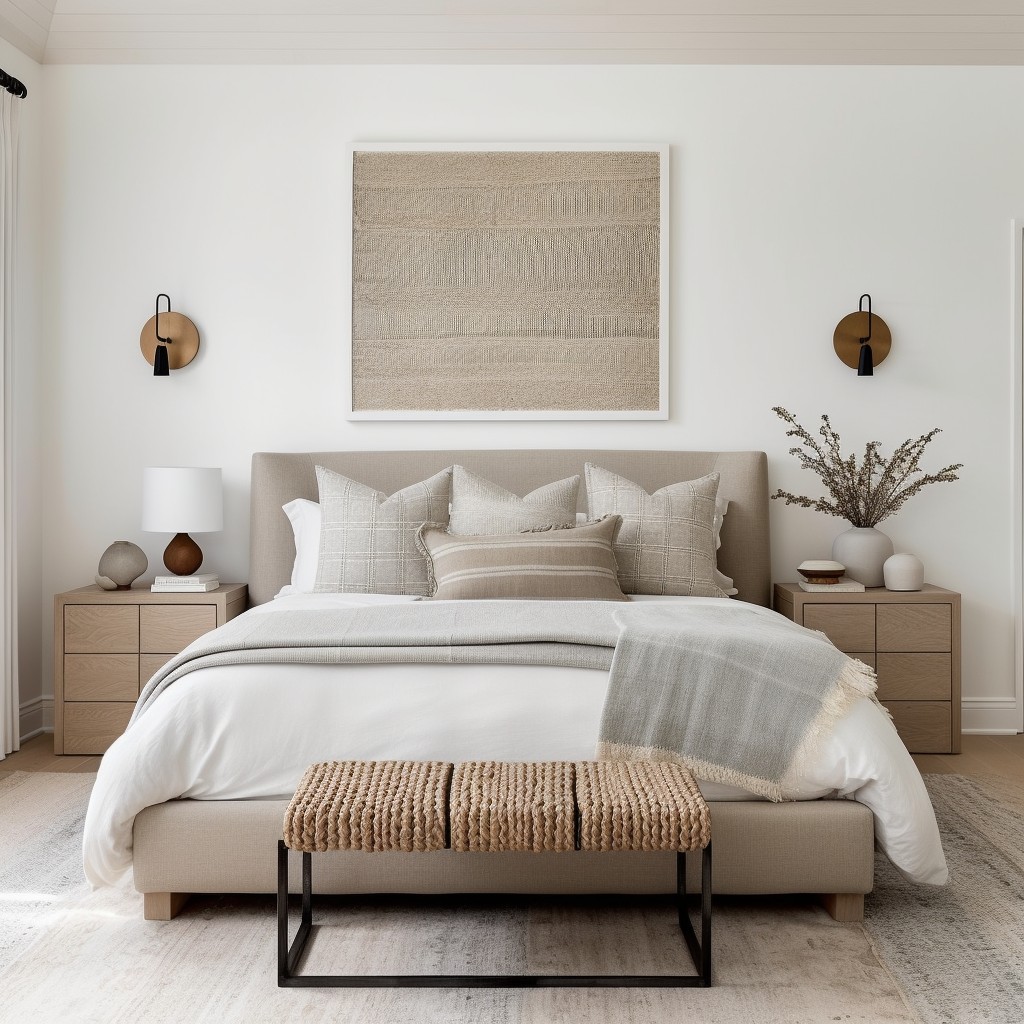 Choosing neutral tones for your boucle bed enhances the timeless appeal of your bedroom. It's a versatile choice that gives you the freedom to switch out accent accessories as trends change, or as mood and seasons dictate. Hues like beige, cream, or light gray synchronize perfectly with the tactile texture of boucle, giving your bed an invitingly touchable appeal.
Consider matching your neutral boucle bed with a clean, crisp white or soft pastel colored bedding set. This tip works especially well with Scandinavian or minimalist bedroom themes. For extra dimension and a cozy vibe, you can layer a knit throw or a faux fur rug at the foot of the bed.
To complement your neutral palette, introduce wooden or metallic elements in your bedside tables or lamp fixtures. The texture contrast will add an interesting visual element while keeping to your chosen color scheme.
Neutral boucle beds also offer a calming presence, bringing a serene atmosphere into your bedroom, which is essential for a good night's sleep. This is especially useful for spaces dedicated to relaxation and rest.
Boucle Bed With Tufted Design for a Classic Look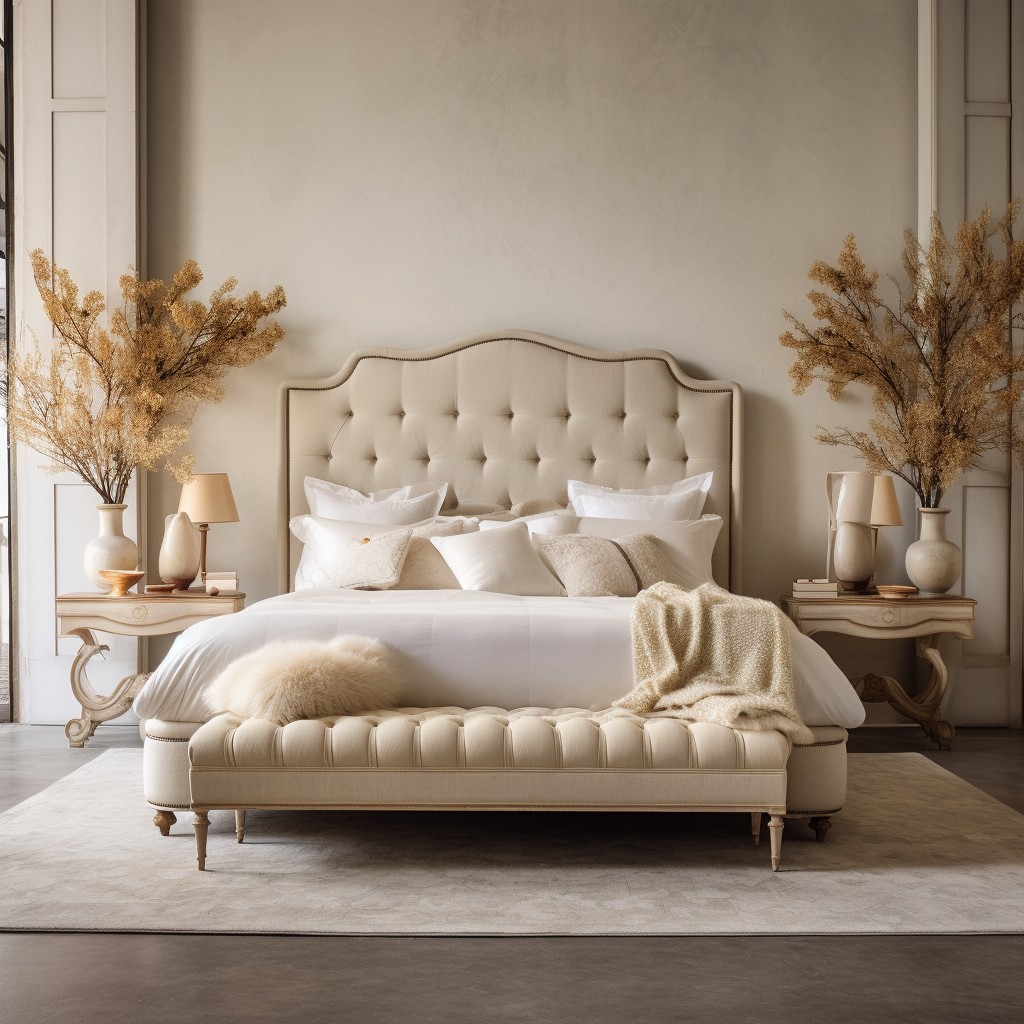 Incorporating a tufted design into your boucle bed offers a perfect blend of elegance and comfort. This sophisticated style harkens back to the grandeur of bygone eras, yet remains supremely versatile, fitting flawlessly into a range of interior decor styles.
The key concept behind tufting is the clever use of buttons or stitches to form a patterned indentation in the fabric. This introduces depth and texture to your bed, transforming it into a centerpiece of the bedroom.
To ensure aesthetic harmony, pair your tufted boucle bed with soft lighting and complementary pieces such as antique side tables or velvet curtains. Similarly, color can play an essential role in setting the mood. Opt for neutral tones for a serene, relaxed ambiance, or bold hues if you're after a dramatic effect.
A lesser-known advantage of tufting is how it secures the stuffing within the bed, making it less likely to shift or clump over time. Thus, investing in a tufted boucle bed doesn't just elevate your room's style but also ensures lasting comfort.
Boucle Bed With a Canopy for a Romantic Touch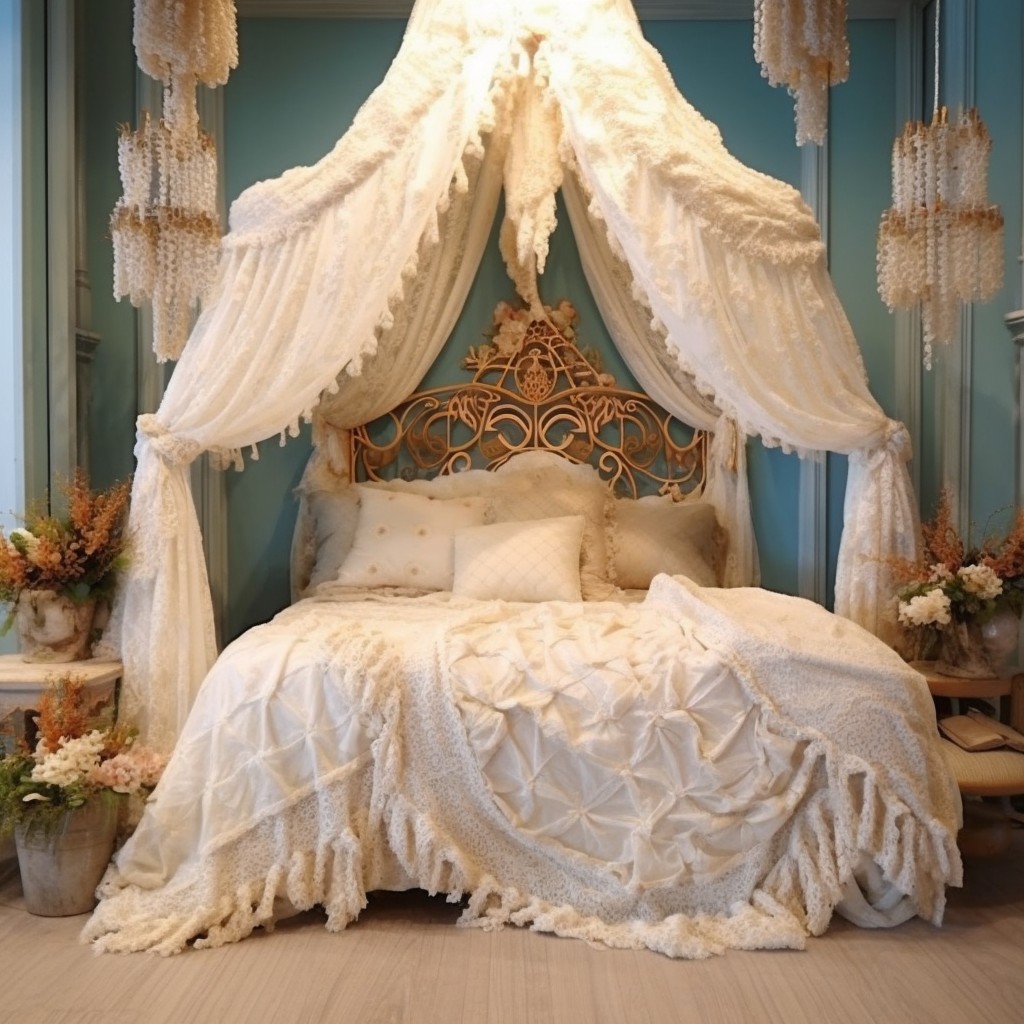 Canopies are reminiscent of the Medieval era, adding an aristocratic feel to the interior. Boucle fabric, with its looped texture and sheen, amplifies this vintage charm. It gives the room a cozy and lavish allure.
When choosing a canopy for your boucle bed, consider the overall style of your room. For a romantic setting, a four-poster canopy works excellently. Mount it to the ceiling or use a freestanding bedframe; both provide an ethereal and intimate feel.
For your canopy color, light, airy hues are perfect. White or cream enhance the warmth of the boucle, exuding a soothing ambiance.
Moreover, adorn the canopy posts with fairy lights for a soft, glowing effect. Or, add some flowing curtains for a splash of fantasy.
Maintenance is key. Regular dusting keeps your canopy fresh. Also, avoid harsh cleaning agents that could damage the delicate boucle fabric.
Lastly, yet importantly, safety precautions must be observed. Ensure that the canopy and the lights are securely fastened to prevent any accidents.
Colorful Boucle Bedding for a Vibrant Effect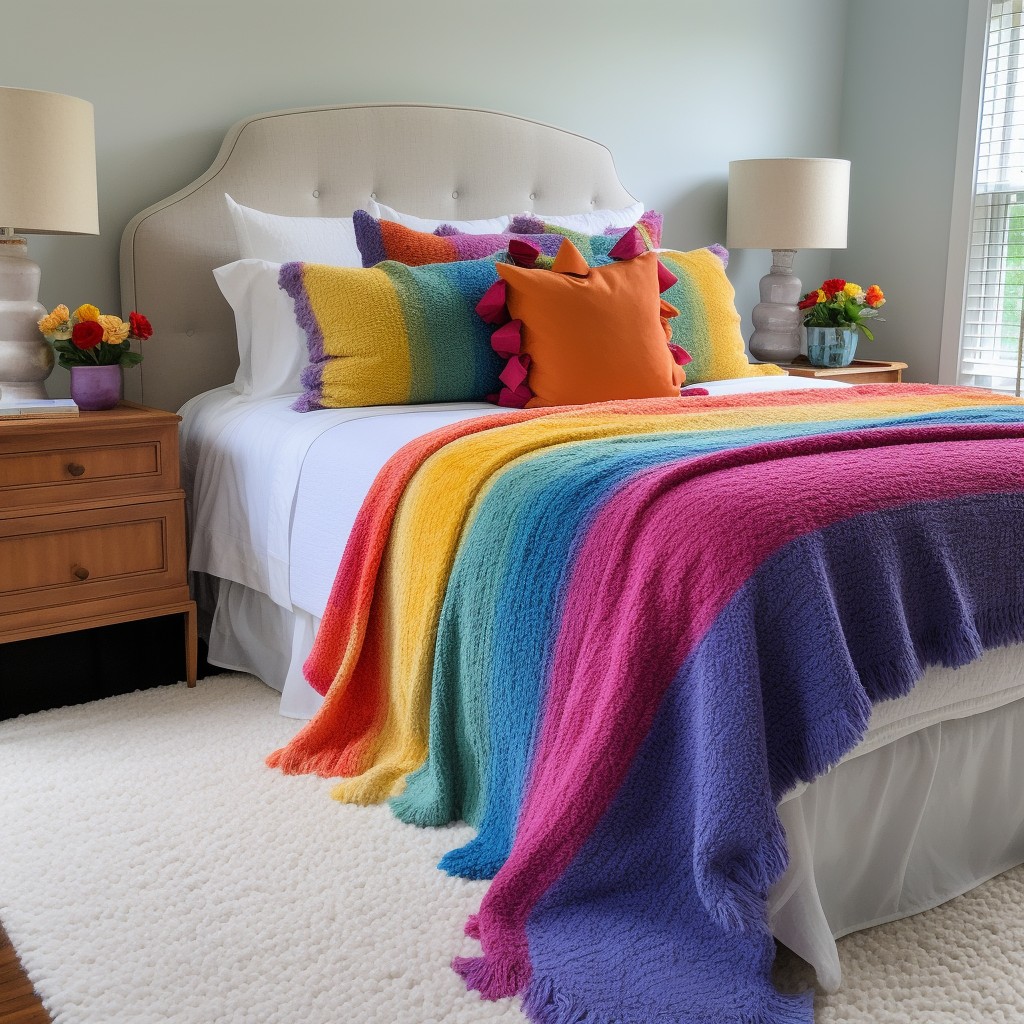 Adding a splash of color to your sleeping space has never been easier. The texture of the boucle yarn, paired with a vivid palette, can make a bed the highlight of your room decor.
Here are some tips to consider:
1. Bold Hues: Navy, emerald, ruby, or mustard can instantly uplift the mood. Don't shy away from these shades, especially if the rest of your space is neutral.
2. Patterned Boucle Beddings: Stripes, checks, or abstract boucle designs lend a dynamic visual interest to your room.
3. Complementary Colors: Consider the color wheel. Opt for bedding in colors that complement the other hues in your room to create a harmonious scheme.
4. Pastel Hues: If your preference leans towards softer aesthetics, pastel boucle beddings in shades like lilac, powder blue, or blush pink can offer a serene ambiance.
Remember, boucle bedding does not just offer comfort, but it's also an accessory that can either make your room pop or turn it into a tranquil retreat. Choose wisely and let your bedspread do the talking!
Boucle Bed With Contrasting Piping Detail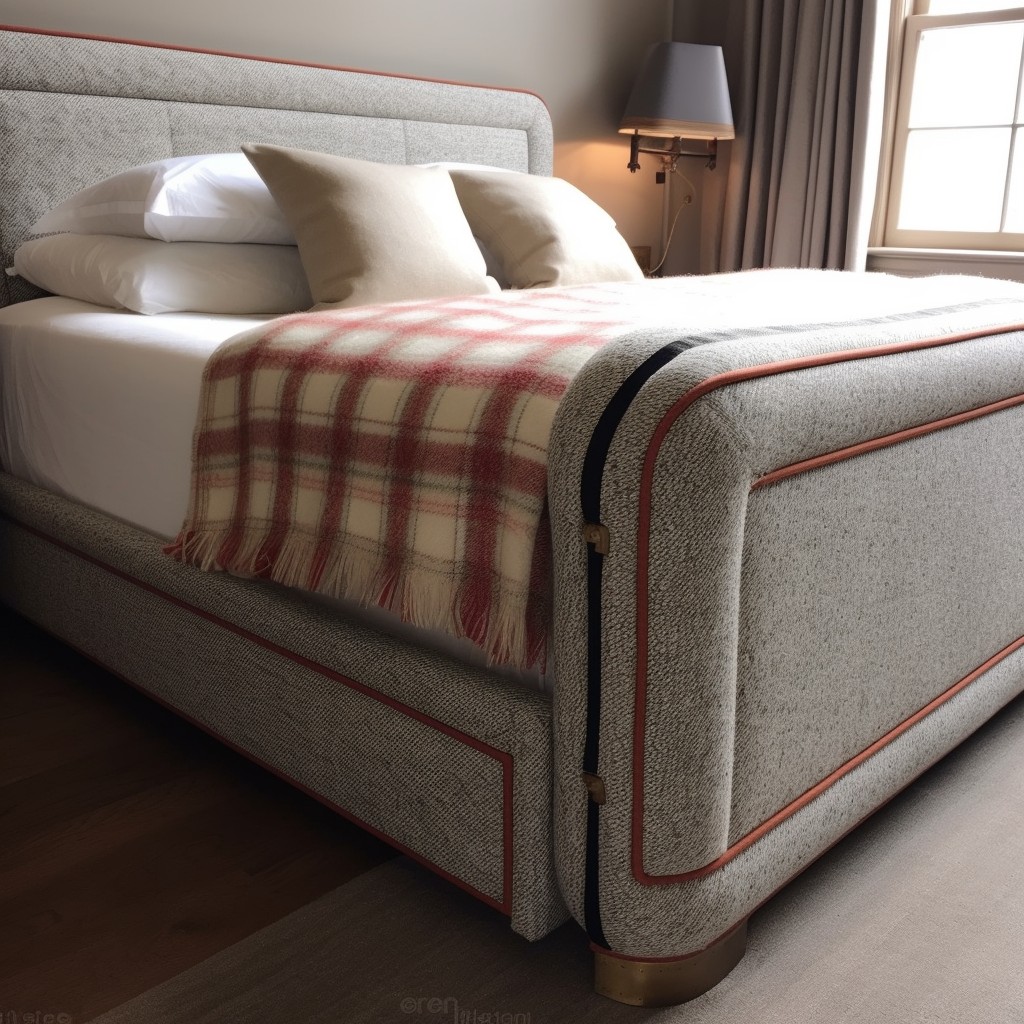 Contrasting piping detail, deftly incorporated on a boucle bed, imparts an air of careful craftsmanship and smart design. It's an interesting trend that can subtly enhance the overall aesthetics of the bedroom.
Maximize its visual impact by selecting a piping color that dramatically contrasts the bed color. For instance, a white boucle bed with navy piping or a gray boucle bed with rose gold detailing can look particularly striking.
The trick is to coordinate this detail with other elements in the room, keeping balance in mind for a harmoniously chic look. It's a minor addition that has the potential to make a major style statement. Truly, the devil is in the detail!
Boucle Bed With a Platform Base for a Modern Look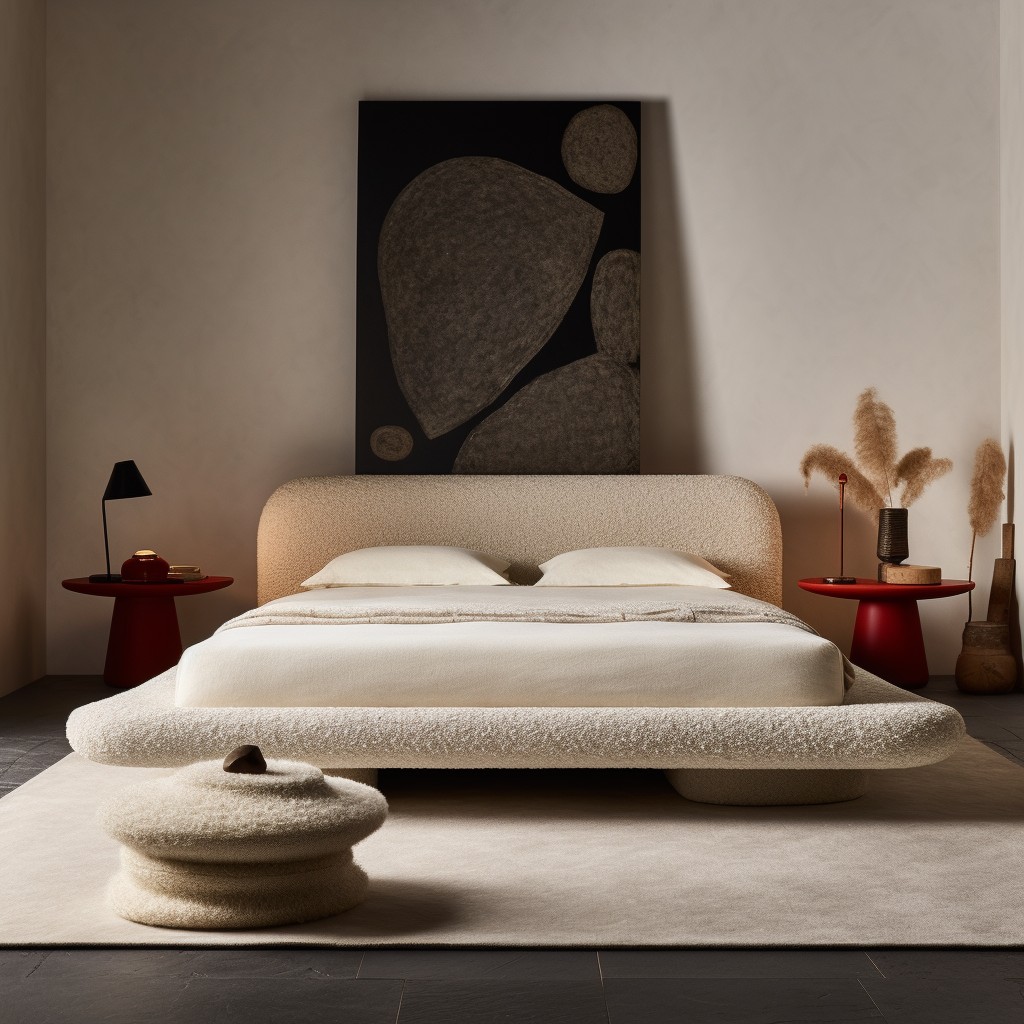 A platform base provides a sleek, clean-lined foundation to a boucle bed, enhancing its modern aura. It offers several benefits. Firstly, given its distinctive design, you eliminate the need for a box spring, enhancing the contemporary feel. Secondly, the sturdy, low-profile construction creates an illusion of more space, perfect for compact rooms. Lastly, this base comes in a variety of materials from wood to metal, each lending a unique aesthetic while complementing the rich texture of the boucle.
Incorporate this bed in a minimalist room for a touch of warmth, or balance a boldly decorated bedroom with its neutral tones and simple structure. Add a geometric printed bedding or a solid color duvet for a finishing touch.
Boucle Bed With Matching Bedside Furniture
Matching your boucle bed with bedside furniture enhances an overall cohesive aesthetic. For a seamless transition, select bedside tables or nightstands featuring the same hue or texture as your boucle bed. For example, a tan boucle bed blends perfectly with natural oak or walnut side tables. The incorporation of glass or metal finishes could provide a modern twist while cultivating a sophisticated appeal.
Consider practicality along with visuals. If you're a bedtime reader, a bedside table with a built-in bookshelf might be a good fit. If you keep a multitude of essentials close to your side while asleep, opt for nightstands with ample storage.
Finally, pay attention to scale. Overly large or too small bedside furnishings can disrupt the balance of your bedroom decor. Instead, ensure these furniture pieces are proportional to your boucle bed and the rest of the room.
DIY Boucle Headboard Project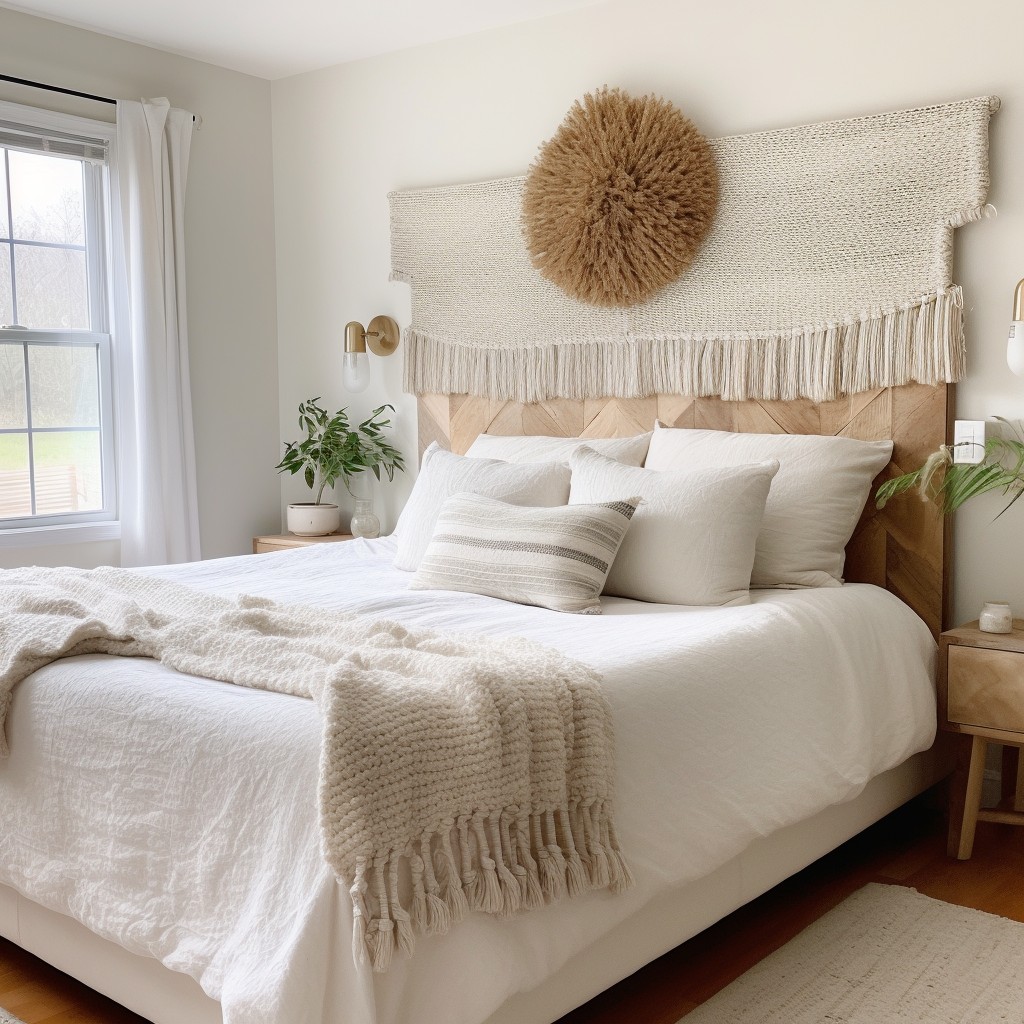 Starting a DIY boucle headboard project has a myriad of benefits: from personalization to cost savings.
Firstly, choose the desired size and shape of your headboard. This allows you to seamlessly fuse your pre-existing design elements alongside your personal style preferences.
Next, gather necessary materials including a suitably sized piece of plywood, foam padding, and of course, boucle fabric—opting for upholstery-grade material ensures durability. Adding extra-thick foam padding elevates comfort, while strips of batting wrap everything neatly together.
Once the plywood is fit securely with foam and wrapped in batting, the boucle fabric can be introduced. Fix it carefully onto the plywood using a staple gun. Running a quick iron over your fabric beforehand avoids unsightly creases or wrinkles.
And there you have it. With your creative spirit and a weekend of time, a unique DIY boucle headboard is now an unmissable addition to your bedroom decor.
You may also like to read: