Last updated on November 14, 2023
Inject character into your interior scheme with boucle chairs because their unique texture and versatile style can effortlessly elevate your space.
Boucle chairs are a current trend that effortlessly blend comfort and style.
These unique pieces, with their textured fabric and often curvaceous designs, add a touch of sophistication to any room.
Whether you're looking to incorporate a boucle chair in a minimalist, modern, or vintage-inspired space, there are countless ways to make this decor piece work.
This article will delve into various boucle chair ideas, discussing everything from color selection, suitable styles, to perfect pairings with other furniture, ensuring you make the most out of this chic addition to your home.
Table of Contents
Pairing Boucle Chair With Velvet Cushion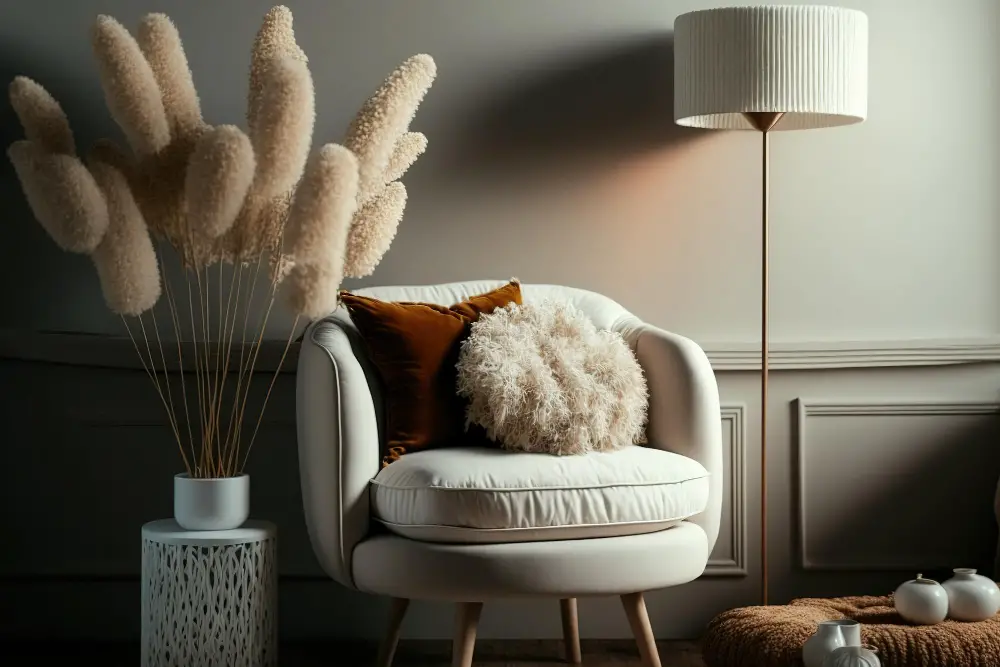 Giving a soft and luxurious feel, a velvet cushion makes an outstanding companion to a boucle chair. This combination presents a balanced texture play, with the nubby boucle fabric and the smooth velvet creating a visually appealing contrast.
Velvet cushions in bold hues like royal blue, burgundy, or emerald green pop beautifully against neutral boucle chairs, adding an easy element of colour.
For those preferring softer aesthetics, pastel velvet cushions might be the perfect pick. Not only do they offer additional comfort, but they also provide an opportunity to frequently switch up your décor style.
Experimenting with geometric or patterned velvet cushions can add an extra dimension to your interior design. However, care should be taken to maintain the cushion's cleanliness to ensure that the sophisticated appeal remains undiminished over time.
Minimalist Black-framed Boucle Chair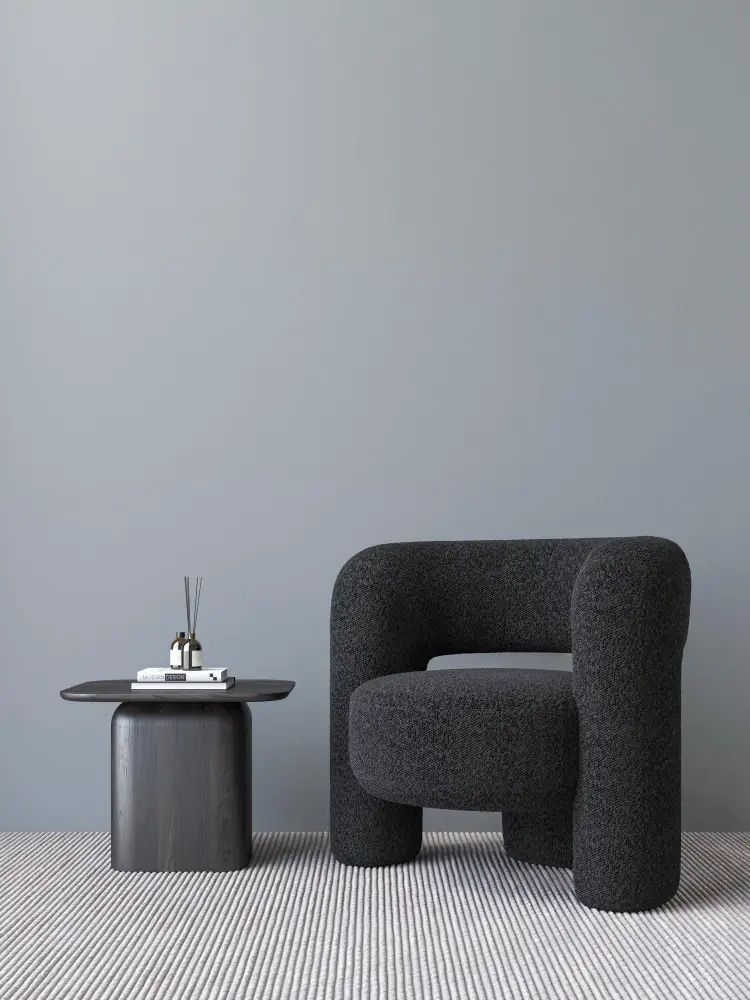 Black frames are key to making the boucle chair stand out in a minimalist setting. To keep it understated yet stylish, ensure the other furniture pieces align with the simplicity of the chair.
Enhance its distinctive texture by opting for accessories in smooth, contrast materials, like a sleek glass side table or a polished steel floor lamp. The subtlety of the black frame allows for bold choices in the room's color palette. It can anchor brighter shades or blend seamlessly with monochromatic hues.
Even in a minimalist design, cushions or throws in vivid patterns or colors can add a punch of visual interest without overpowering. Finally, the minimalist black-framed boucle chair benefits from ample natural light, letting the play of textures come to life.
Boucle Chair With Brass Accents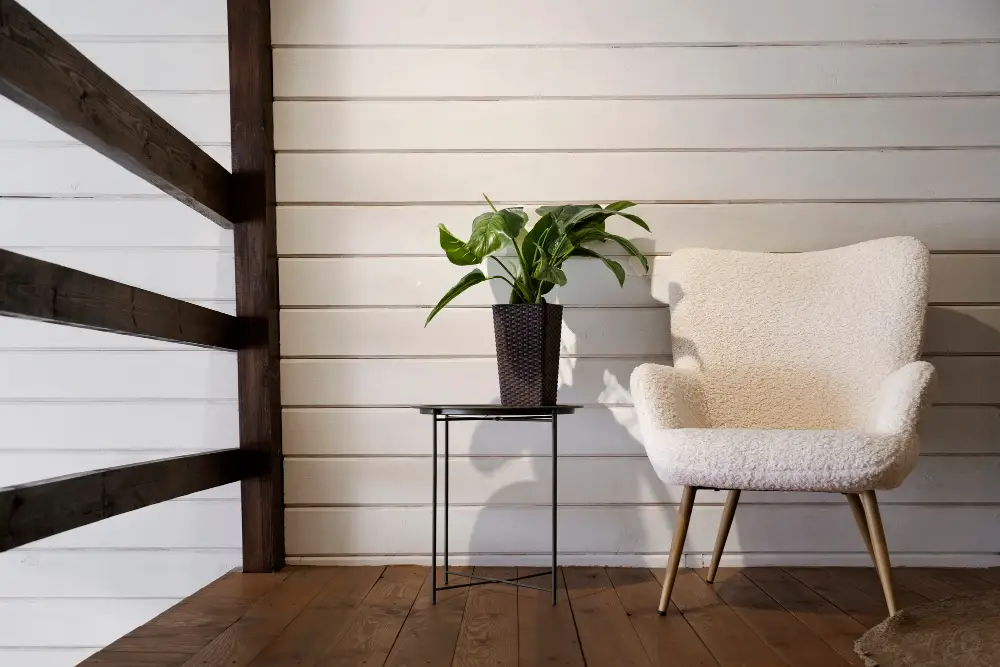 For an air of sophistication, incorporating brass accents to your boucle chair can certainly do the trick. This quite flexible trick allows the boucle's distinctive looped texture to catch the light, breathing life and dimensionality into the chair. The brass can feature on the chair's frame, legs, or even as detailing on the arms for an extra flourish.
Let's dive straight into tips:
Brass edging complements the soft boucle fabric to create a harmonious coexistence of opposite textures.
Consider the rest of your brass accents in the room – match the color tone for a neat look.
If you go for brass legs, ensure they have a sturdy base to avoid tipping.
Try not to overdo it – the idea is to achieve a subtle blend of elegance and simplicity.
If brass detailing on the arms feels too much, a small brass-hued side table or lamp could be the perfect accompanying piece.
Finally, choose brass with a sleek finish for a polished look that will last for years to come without any significant maintenance needed.
Neutral-toned Boucle Chair in a Color-themed Room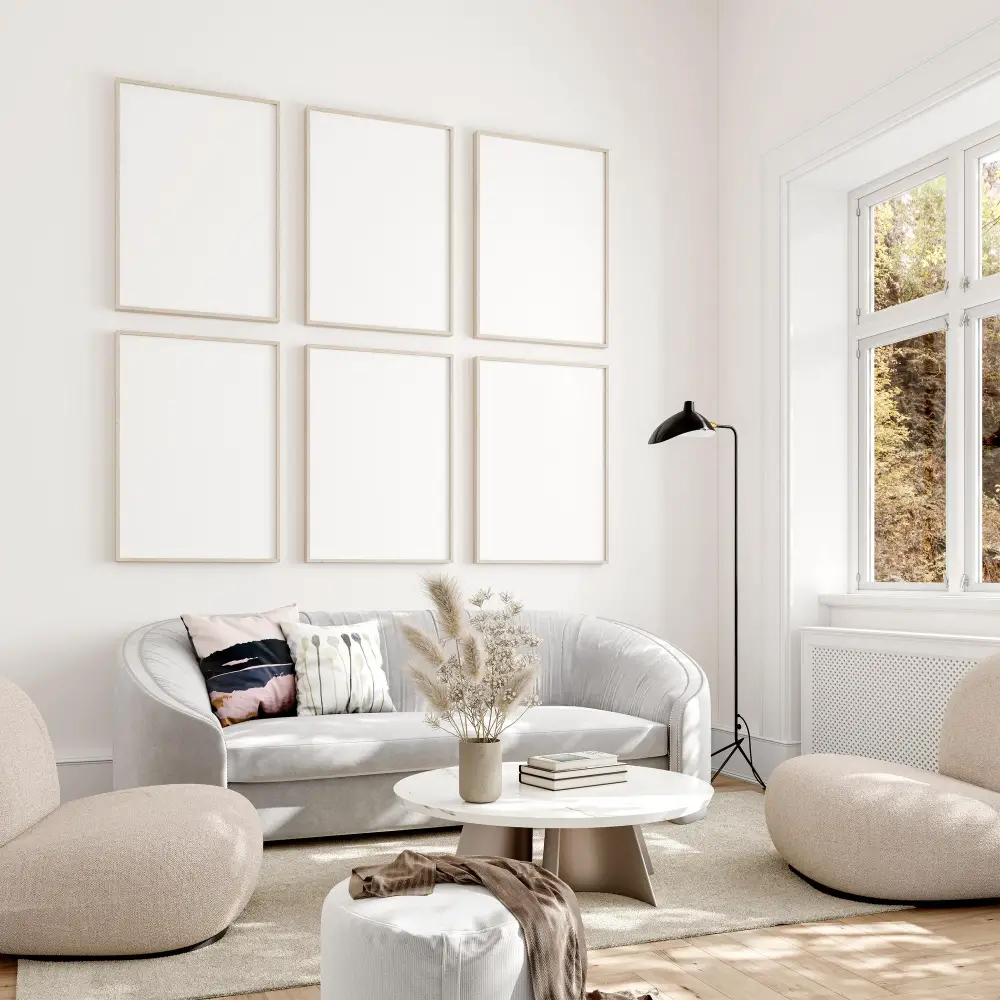 Utilizing a neutral-colored boucle chair can establish equilibrium when designed in a room saturated with vivid hues. It serves as an understated yet elegant piece that doesn't compete with the vibrant colors, but simultaneously enhances them with its subtle charm.
Here are a few points to efficiently leverage this strategy:
1. Create Contrast: Position the beige or grey boucle chair against vivid walls to provide a visual respite and highlight the chair's texture.
2. Balance Color Intensity: Use the chair as an anchoring element if your room is drenched in strong, saturated colors. It can reduce the intensity, preventing your room from appearing overpowered by color.
3. Enhance Wall Art: The neutral chair can be strategically placed to pull the viewer's attention to a bold piece of art or wall decor. In this setup, it helps direct focus rather than seeking it.
4. Complement Bold Rugs: In a room with a strikingly colorful rug, a neutral boucle chair can provide balance without stealing the spotlight. It accentuates the rug's design, making it a focal point.
5. Add Calmness: Amidst color-intensive decor, a neutral-toned boucle chair brings a calming effect, providing a comfortable and pleasant seating addition. It offers a soothing spot in a busy room, adding to the overall aesthetics.
1950's Mid-century Modern Styled Boucle Chair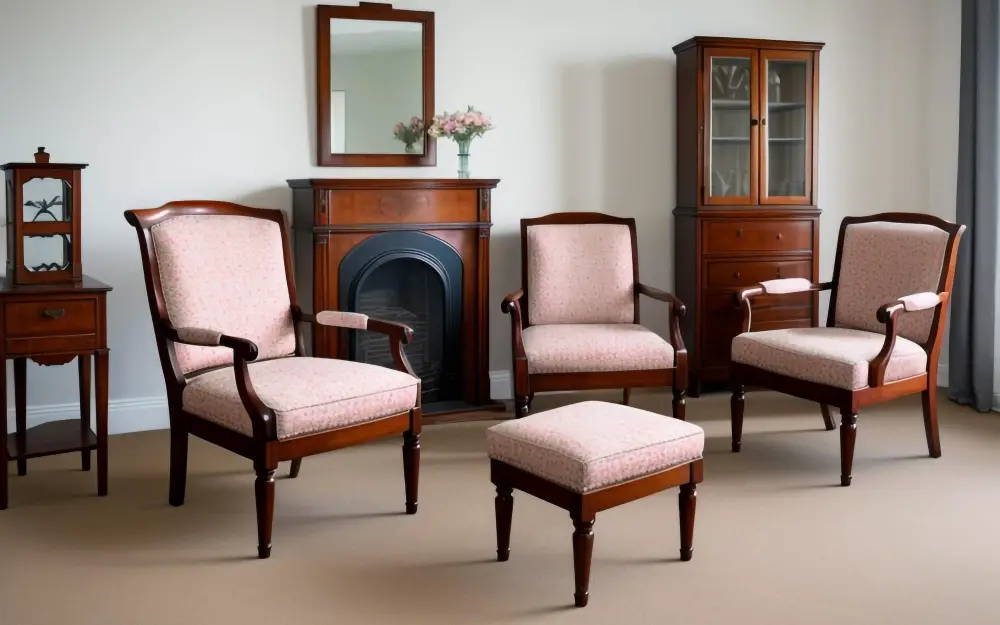 Incorporating a hint of nostalgia, a 1950's mid-century modern boucle chair is a standout choice. It boasts of clean lines, functional forms, and organic contours. Its accentuated curves are an ode to the design sensibilities of the period. Traditionally, it is made with exposed wooden frames – often teak, ash, or oak.
A few key aspects to consider for this design:
Upholstery: Always go for a neutral shade. This enhances the ageless appeal of the chair and allows for easy interplay with other decor elements.
Frame: The chair's frame should showcase the inherent wood grain, contributing to its authenticity. It is an essential feature distinguishing it from contemporary spins on the design.
Placement: To create a design continuity, place this chair amid pieces that share mid-century aesthetics. This includes tapered leg furniture, geometric patterns, and popping color accents.
Pairing: Cushions with abstract or organic prints complement nicely. Consider other retro-inspired accessories such as a Sputnik lamp or a starburst mirror for a cohesive look.
Remember, whether part of a full mid-century inspired space or a dash of vintage in a modern setting, this boucle chair is a testament to timeless appeal and functional design.
Boucle Chair With Wooden Armrests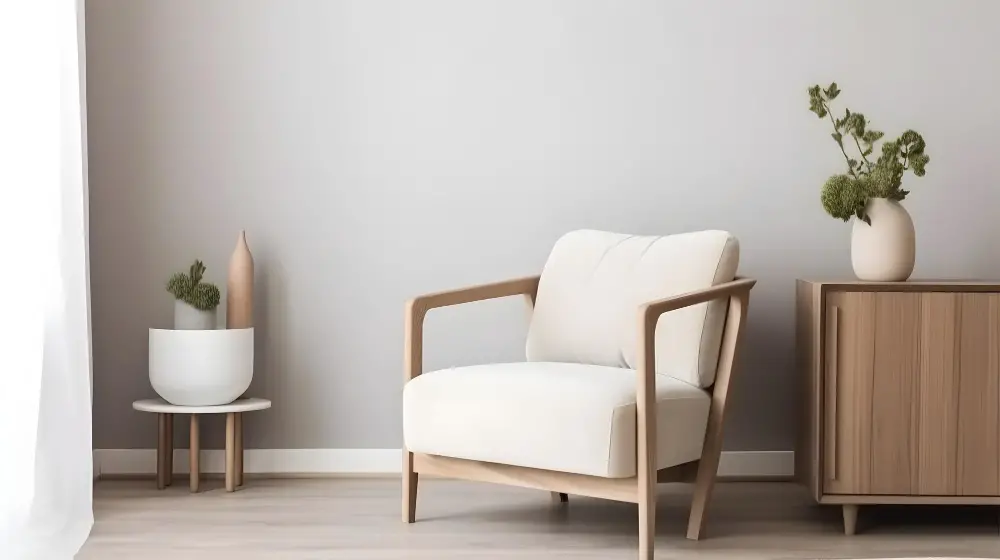 Unifying the soft tactile appeal of boucle fabric with the earthy charm of wood, these chairs offer a captivating blend of textures that evoke a sense of warmth and comfort. Paired with the robust and durable wooden armrests, the texture of boucle upholstered seating becomes an unexpected center of attention. The wooden armrests not only provide practical comfort but also add a timeless design element that plays up the texture and plushness of the boucle upholstery.
This combination pairs perfectly with various interior styles – from modern minimalistic spaces where the contrast between the tactile boucle and the smooth wood delivers a striking visual payoff, to cozier rustic or country-style spaces where the earthy wood and textural boucle echo the warm and inviting ambiance. Integrating a boucle chair with wooden armrests in your setting contributes a luxurious yet earthy component, and offers a stunning harmony of texture and material that's both surprising and charming.
Choose a light-colored boucle upholstery to complement lighter woods like oak or ash for a softer, airy aesthetic. Alternatively, opt for darker boucle tones to contrast with rich, dark wood like walnut or mahogany for a bolder, moody vibe. The correct balance between the boucle chair's tone and the wooden armrests can result in a piece that subtly enhances the room or stands out as an intriguing centerpiece.
Cozy Reading Corner Featuring a Boucle Chair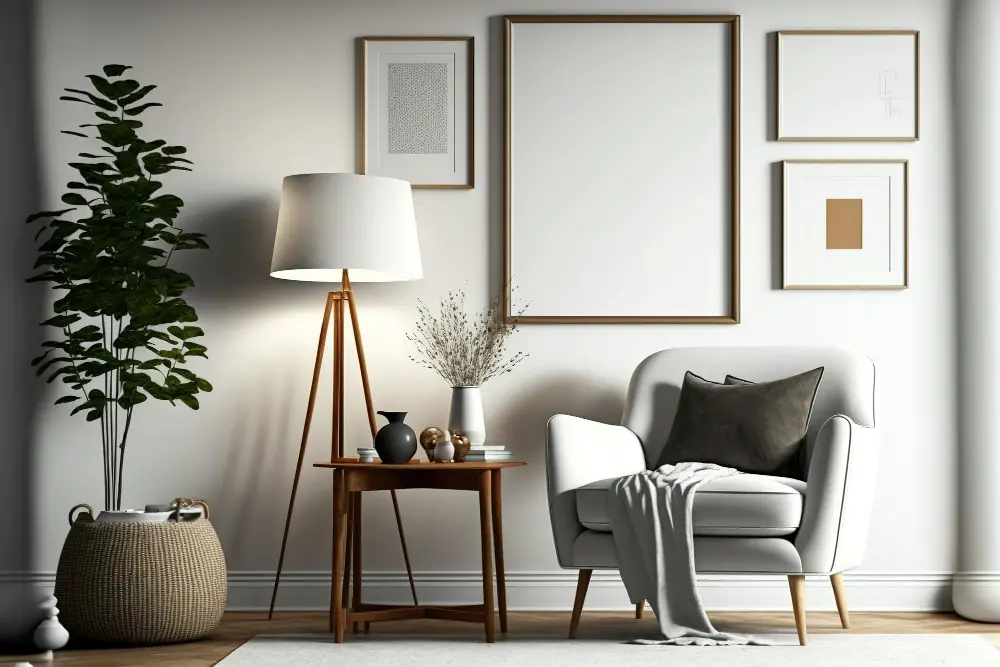 For the perfect reading corner, it's all about comfort, warmth, and serenity. Position the boucle chair close to natural light, ideally near a window for reflective daytime reading. The textured fabric of boucle adds a fun visual element while also feeling soft to touch, thereby heightening the sense of contentment.
Include a small side table to hold your books, a warm cup of tea, or other reading essentials. Layer in a fluffy throw or plush pillows to create an even cozier vibe. Illumination is key as well; a freestanding floor lamp is a practical yet stylish choice, offering sufficient light during evening reads. Lastly, an indoor plant can add a touch of tranquility, as greenery subtly enhances your reading experience.
In terms of color schemes, opt for soft, relaxed tones matching the boucle fabric, promoting a calming atmosphere conducive for losing oneself in a literary world.
Boucle Chair With Metallic Frame for Industrial Touch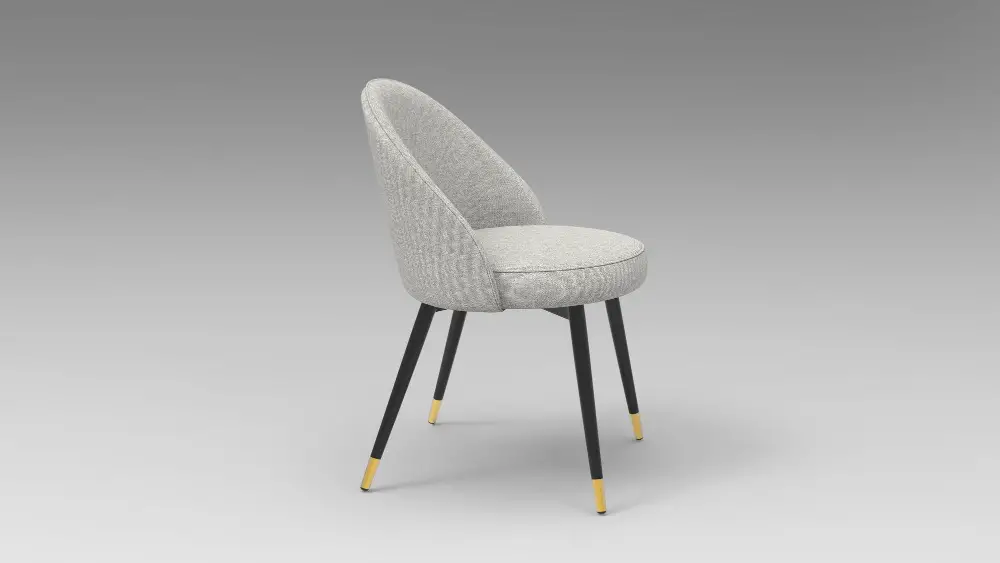 Pairing a boucle chair with a metallic frame is a surefire way to expertly introduce an industrial flair in your living space. The tough metal juxtaposed with the soft, textured fabric provides an interesting visual contrast that's eye-catching. Opt for frames with a rustic finish to further underscore the industrial vibe.
Here are some key points to consider:
The frame choice: Go for steel or iron to truly embody the industrial aesthetic.
Color of the frame: Dark grays or black usually work best, adapting readily to various color schemes.
Open frame design: This creates a light, airy look that's synonymous with industrial interiors.
Upholstery considerations: Choose a soft-hued boucle fabric that nicely contrasts the stark frame.
Placement: Position the chair in a spot where the metallic frame will be highlighted, perhaps against a brick wall or next to a floor-to-ceiling window.
Remember, while it's about creating an edgy look, comfort should be a prime consideration. A good balance between aesthetics and comfort will always yield the best results in functional home décor.
Oversized Boucle Chair for Extra Comfort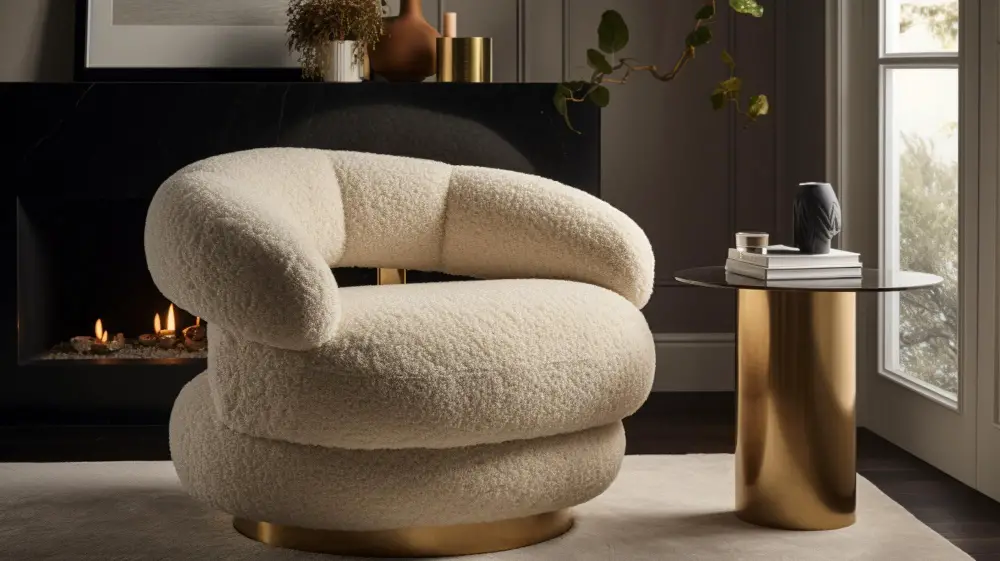 Choosing an oversized variant delivers comfort alongside a unique statement. Emphasize relaxation with a plush, enveloping design, perfect for curling up with a good book or enjoying a movie marathon.
Streamline the aura of the room with clean lines and soft curves to avoid creating a dominating presence despite its size. Complement the chair with subtle accessories like a small side table or a delicate floor lamp.
Remember, a neutral palette can help to balance the robust presence, and soft textures in the surrounding decor will echo the tactile charm of the boucle upholstery. Give this piece a dedicated space to truly shine – perhaps a quiet corner or beside a picturesque window.
The aesthetic beauty and comfort will be heightened further with the right background. Pair it up with a matching footstool, for those moments when you want to stretch out and relax.
Boucle Chair for a Scandinavian Styled Interior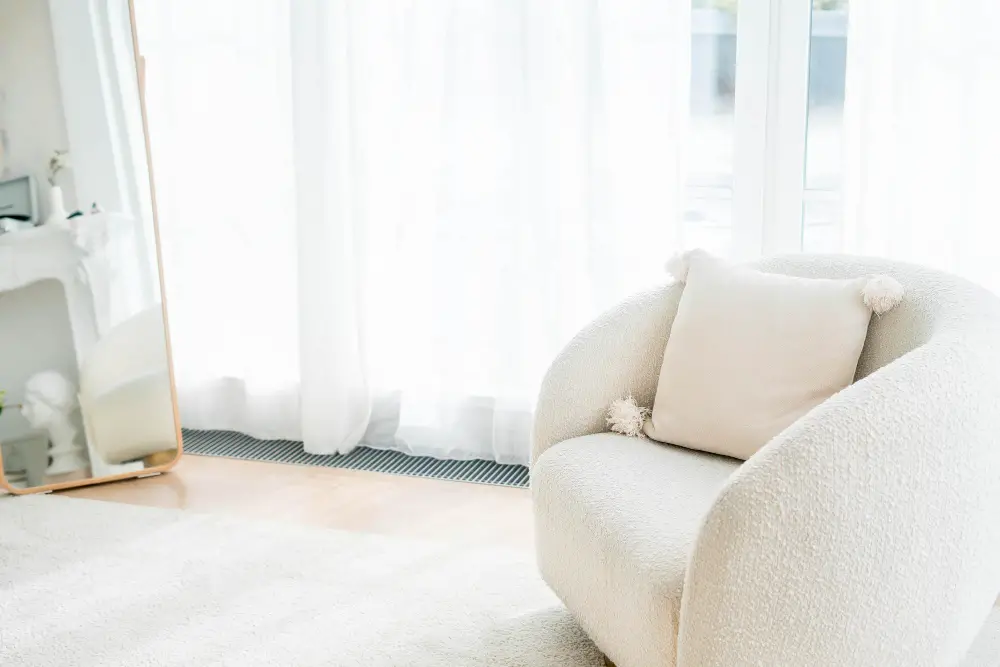 The simplicity and functionality of Scandinavian design find a perfect match in the Boucle chair. To amplify the elegance, consider a chair in a neutral or pastel hue, keeping with Nordics' love for soft, muted tones.
1. Harmony: Ensure the chair harmoniously syncs with other muted or light-colored furniture, creating a serene, inviting home nest.
2. Space: Remember, Scandinavian design calls for simplicity and prioritizes open spaces. A well-placed chair can contribute to space optimization without causing a style clash.
3. Accessories: Use geometrically structured, minimalist cushions or throws which are other staples of this styling trend.
4. Light: Maximizing natural light is a lynchpin of Nordic design, meaning the chair should be placed near windows or light sources, to absorb or distribute brightness efficiently.
5. Warmth: Lastly, incorporate a touch of warmth by coupling it with a thick-knit wool rug or sheepskin draped over its back, to offset any harsh, minimalistic edge.
Pair of Boucle Chairs for a Symmetric Look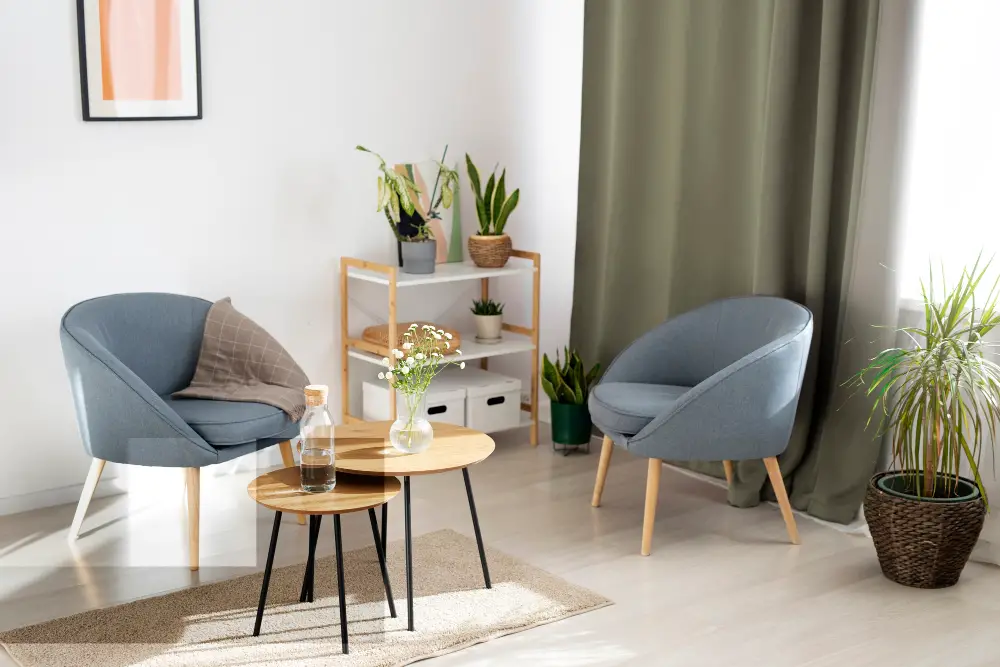 Achieving symmetry in a room delivers an innate sense of order and balance. This often equates to a more aesthetically pleasing and harmonious design. Utilizing a pair of boucle chairs is a wonderful way of embracing the symmetrical layout.
1. Mirroring Positioning: Strategically positioning two boucle chairs in a mirror-like manner brings a subtly balanced aesthetic. This could be across a coffee table or flanking a fireplace.
2. Matching Elements: A pair of the same design of boucle chairs utilizes repetition, reinforcing a visual connection and creating a unified look.
3. Complementary Accessories: Adding identical cushions or throw blankets to each chair pairs them further. This visually ties the chairs together, meeting the symmetry element.
4. Focal Point: Two chairs can create a visual corridor leading towards a focal point in the room, guiding the gaze towards a painting for instance.
5. Pair with a Couch: If a room features a larger couch, placing two boucle chairs on either end creates a sense of balance and frames the centerpiece.
It's essential to remember though, symmetry doesn't mean all elements have to exactly match. Play around with color, texture or surrounding décor to add interest and personality.
Boucle Chair in a Boho-inspired Interior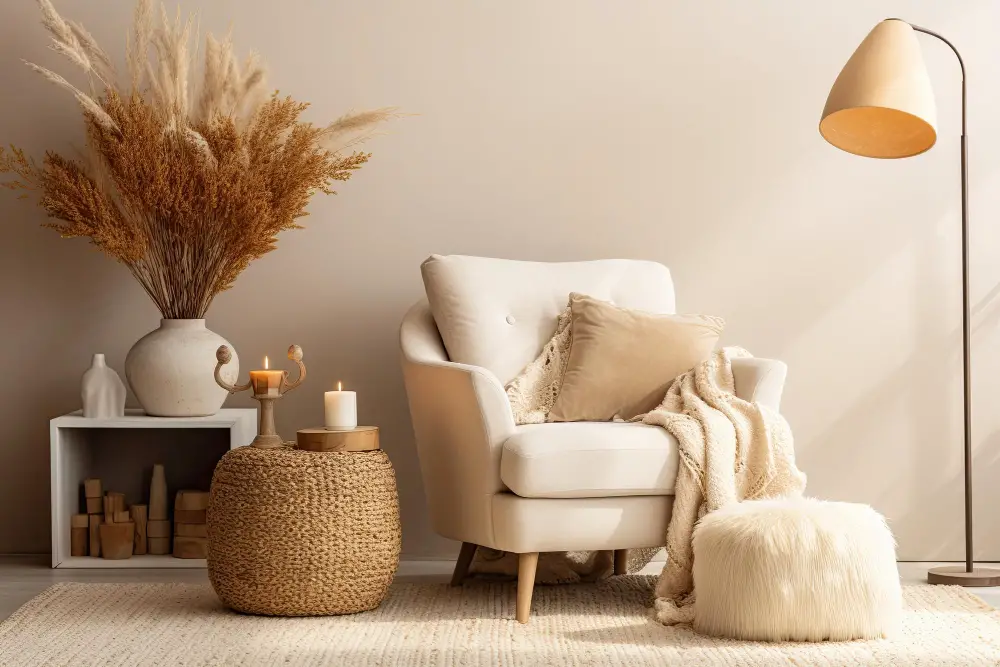 A boho-style room often displays a mix of vibrant colors, patterns, and textures. Here, a boucle chair is an excellent addition as it lends an interesting textural detail to the space.
The fluffy, looped yarn of the chair pairs exceptionally well with intricate boho elements such as macrame wall hanging, rattan accessories, and kilim rugs.
Due to its neutral color, the chair doesn't compete but complements the bold hues typical of boho interiors, maintaining harmonious visual flow.
Remember, boho style is all about eclectic warmth – don't be afraid to bring in a colorful blanket over the chair or display a handful of your favorite multi-patterned cushions.
The beautiful contrast between the looped yarn and these varied textiles will most definitely make the boucle chair a cozy, boho paradise to relax in.
Bright Colored Boucle Chair As a Statement Piece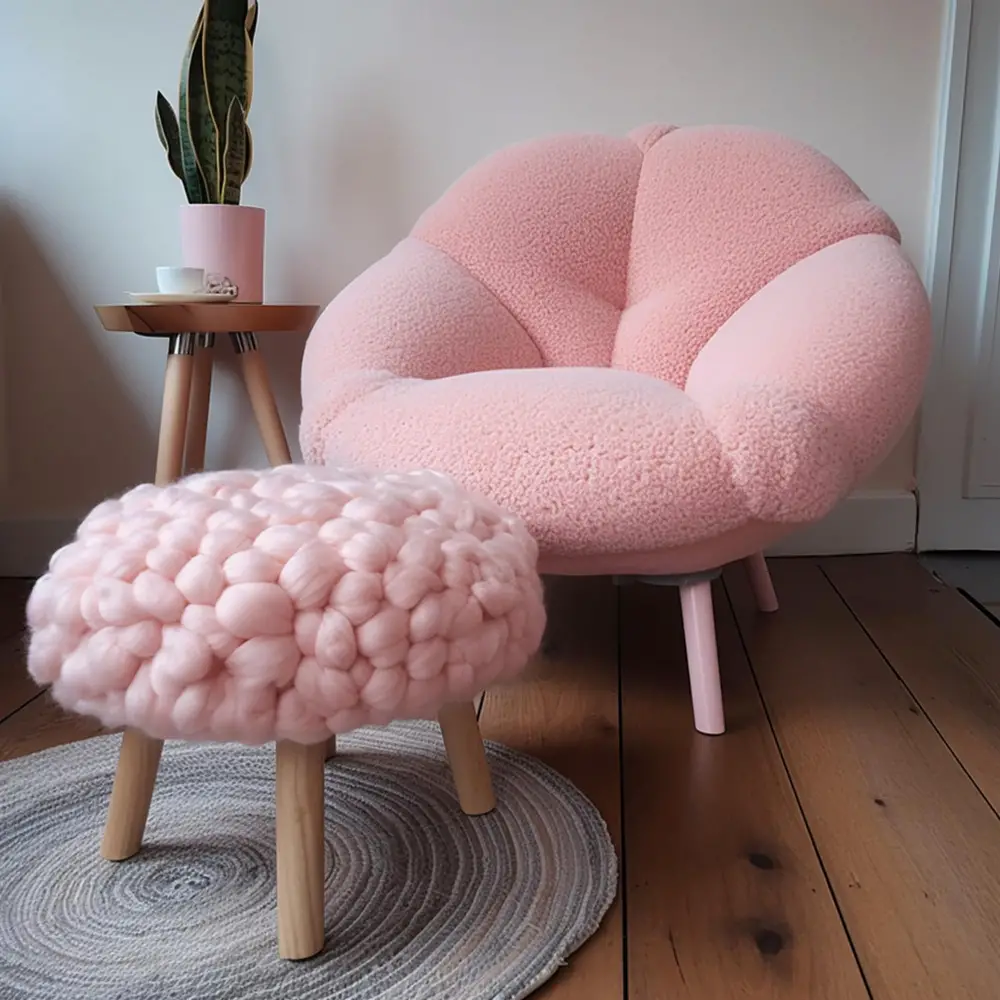 Adding a pop of color to your space can be effortlessly achieved with a bright boucle chair used as a focal point.
1. Select Vibrant Hues: Colors like mustard yellow, electric blue, or vibrant coral can entice visual interest and create a welcoming atmosphere.
2. Positioning: Place the chair in an impactful spot. It could be the first thing you see when entering the room or positioned to draw attention to another standout feature, like an ornate fireplace or an expansive window.
3. Balance with Neutrals: To ensure the chair doesn't overwhelm, anchor the room with subtle neutral tones. These could be in items such as rugs, curtains, cushions, or walls.
4. Complement Decoration: Add accessories or art pieces that have a touch of the chair's color to create harmony and synergy within the space.
5. Texture Contrast: Since boucle fabric has a unique, looped texture, place it near sleek, smooth surfaces, like a glass side table or leather couch, to foster visual depth.
Remember, less is more. It's about making a statement without overcomplicating the overall design.
Boucle Chair Paired With a Fur Rug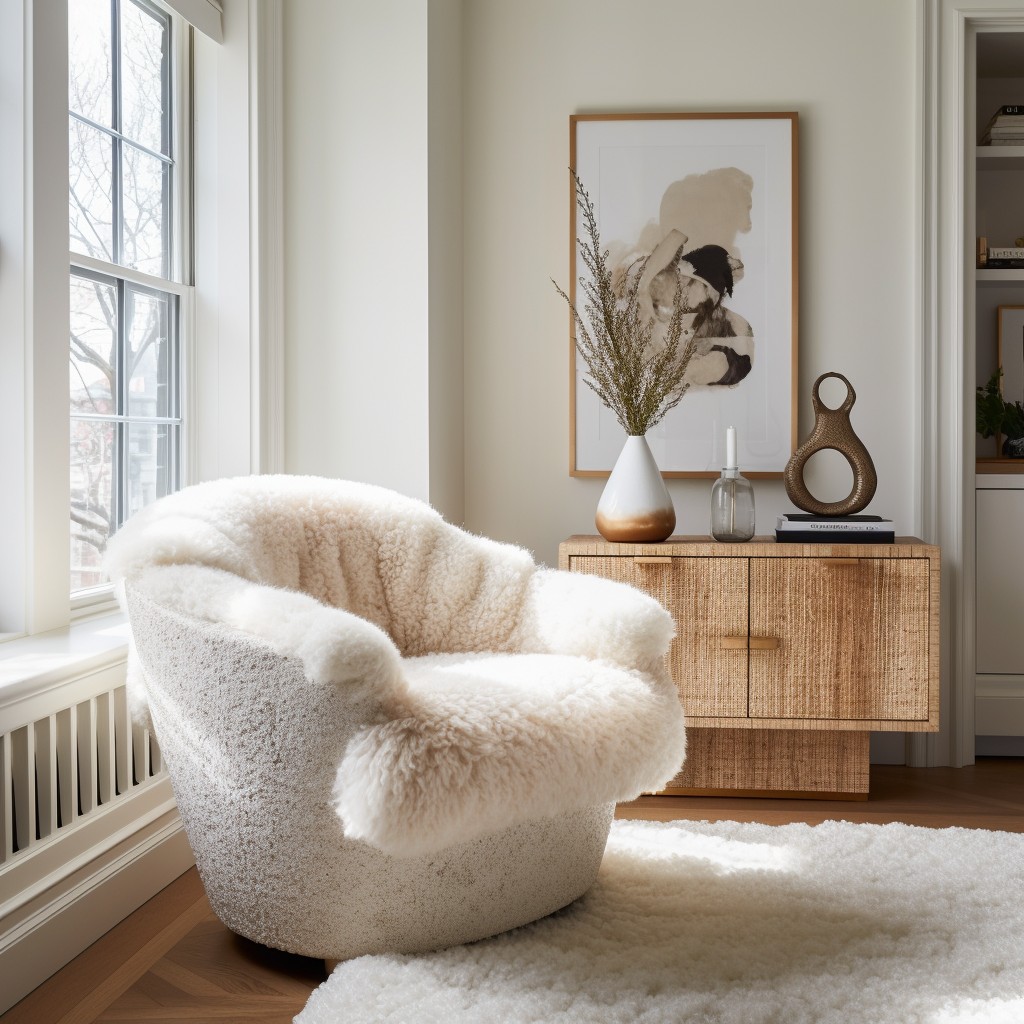 For an added touch of luxury and warmth, consider incorporating a plush fur rug in your setup. This pairing is a surefire recipe for coziness, as both the boucle fabric and the fur rug are inherently soft and comfortable. Moreover, this duo works perfectly in a variety of styles, from modern to rustic interiors.
Here are a few points on making the best out of this combination:
1. Choose a rug that contrasts or complements the boucle chair color for added visual interest.
2. The fur rug does not necessarily have to be real fur. There are numerous faux fur options available that are animal-friendly and often easier to maintain.
3. Placement is key. Place your boucle chair on or adjacent to the fur rug to create a harmonious setup.
Remember to experiment and play around with different tones and textures until you find the look that suits your personal style best.
Boucle Chair in a Minimalist Home Office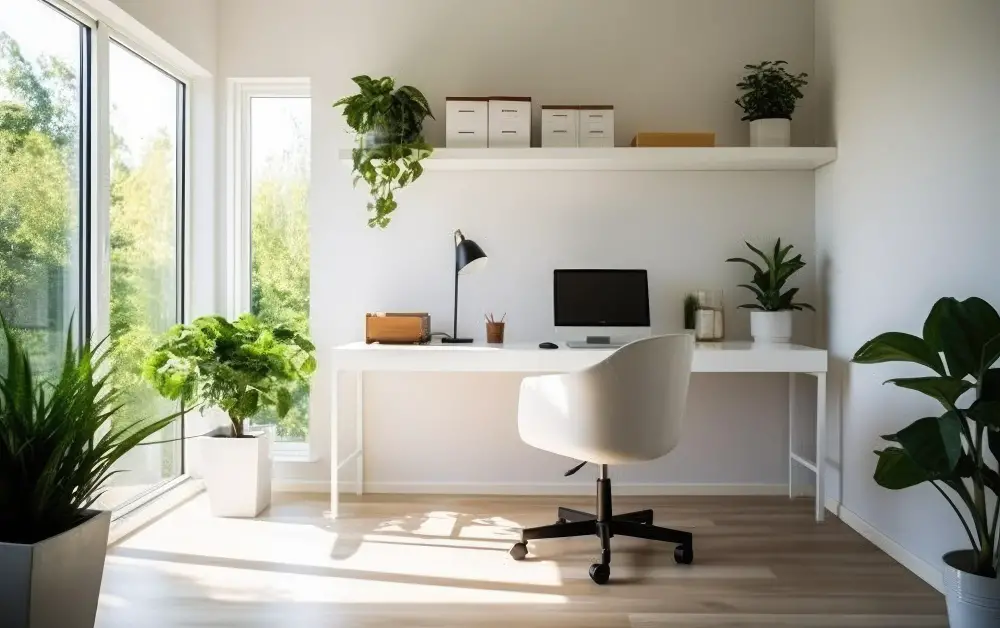 Choose a boucle chair in lighter tones – whites, creams, or grays – to maintain the effortless simplicity of a minimalist workspace. The chair's textured fabric brings a subtle touch of warmth to a sleek space, preventing it from appearing sterile. Opt for a style with clean lines and a minimalistic design; perhaps a chair without armrests, or a model with a thin metal frame. Remember, in a minimalist setup, 'less is more'.
Consider placement carefully; positioning the chair near an ample light source can emphasize its unique boucle texture, creating an interest point while conforming to the minimalistic theme. Similarly, stark surroundings can help the chair's distinctive design stand out.
Finally, pay attention to comfort. After all, functionality should always accompany style in a home office. Consider chairs with a cushioned backrest for ergonomic support during long hours. Even though the space should look sparse, comfort should never be compromised.
Boucle Swivel Chair for Stylish Comfort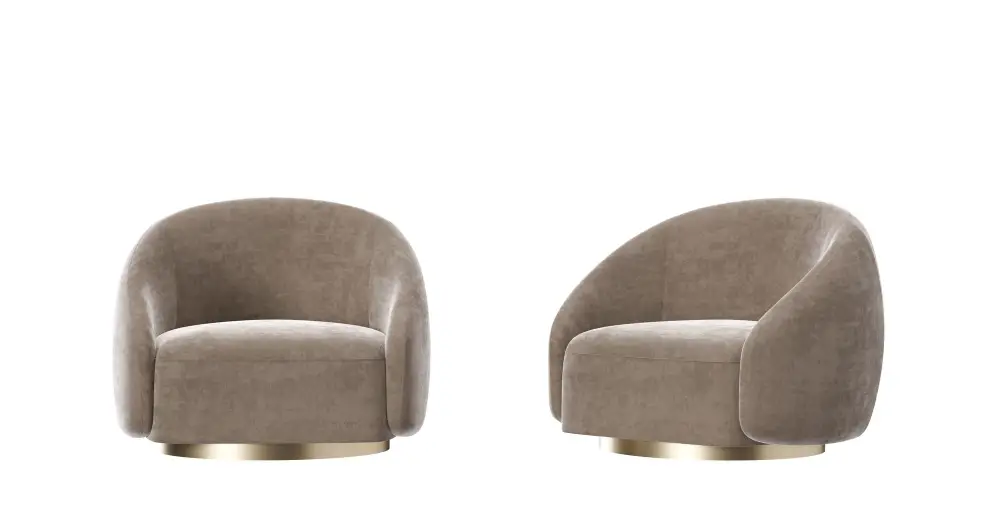 With the perfect blend of design and function, this chair style promises ease of movement, making it a versatile addition to any room. The swivel feature provides flexibility, ideal for spaces that require dynamic seating arrangements – think reading corners, living rooms, or home offices.
The boucle fabric, known for its loops and curls, gives it a unique texture that adds a soft, welcoming touch. Its aesthetic appeal coupled with comfort-oriented ergonomics works well with contemporary design schemes as it exudes a cool, edgy vibe. Moreover, in terms of color options, from inviting neutrals to vibrant tones, there's an array of choices. It's worth considering your room's existing color palette to ensure a harmonious mix.
With proper care, these chairs tend to be durable, serving as a long-term investment for your interior decor. Finally, to complement these chairs, consider plush cushions or throws, adding an extra layer of comfort and style.
Antique-restored Boucle Chair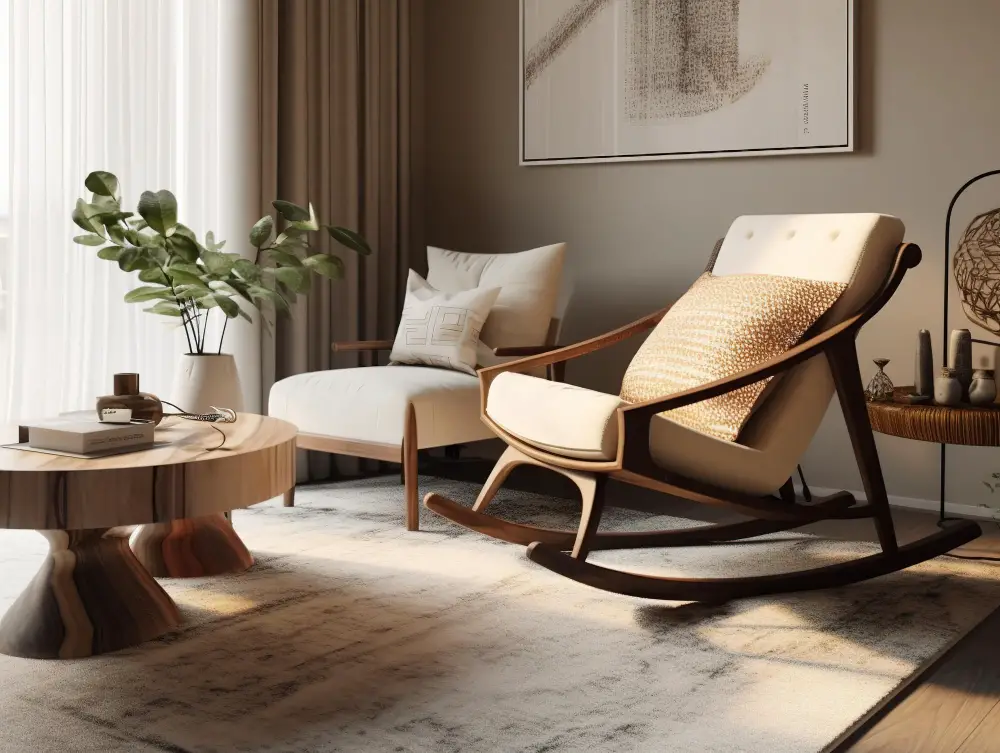 Breathing new life into an old piece always adds a charm and unique touch to interior decor. The craftsmanship of an antique-restored boucle chair is one such representation that combines history with luxury and comfort.
Here are some of the compelling reasons why this is a great decor idea:
Sense of history: Antique furniture pieces come with a story behind them, adding an interesting conversational piece to your room.
Quality: Antique furniture is known to be built with high-quality materials and craftsmanship that withstands the test of time.
Uniqueness: Your chair will be far from generic, guaranteed to give your room a distinctive touch.
Eco-Friendly: Restoration reduces the demand for new furniture, thereby benefiting the environment.
Supports Local Businesses: Many antique restorations are done by local artisans and craftsmen. Your purchase might support their skill and livelihood.
With this in mind, consider revitalizing your living space by adding a standout antique-restored boucle chair.
Boucle Chair With a Complementing Footstool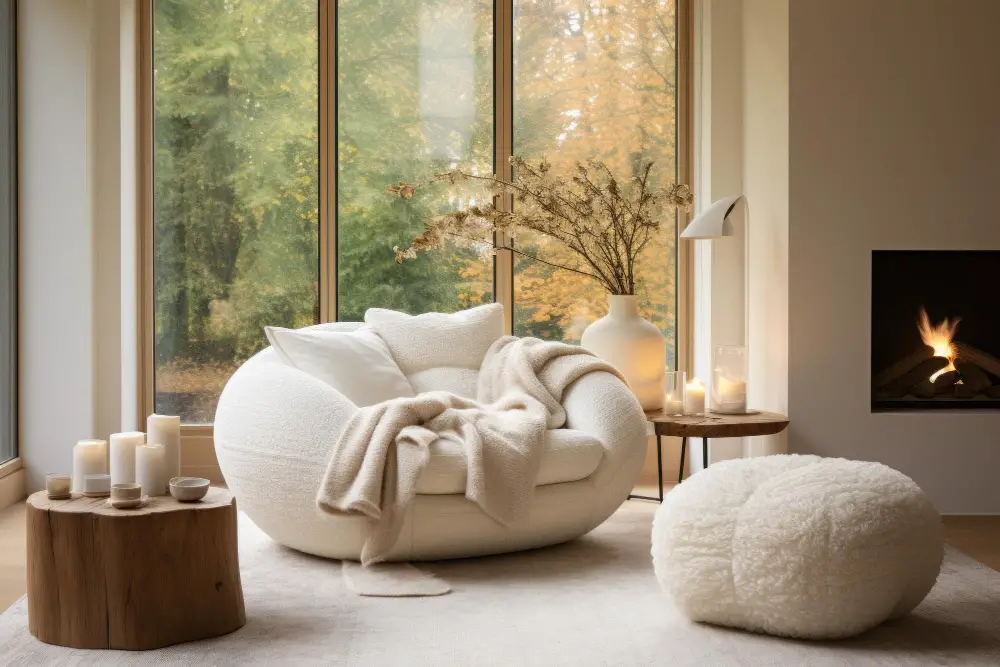 A footstool paired with a boucle chair enhances the overall comfort, providing a spot to rest your feet after a long day. This combination creates a relaxing atmosphere, perfect for leisure activities such as reading or simply lounging.
Apart from functionality, a footstool that matches or complements the chair adds a unified and cohesive look to the room's decor.
To achieve this look, consider the following points:
Matching Materials: Ensure both the chair and footstool are upholstered in boucle fabric. This will create a seamless, sophisticated look.
Size Considerations: The footstool shouldn't out-size the chair — it should be proportionate to maintain balance.
Color Coordination: Pick a footstool in a hue that complements the boucle chair. It could match perfectly, or be in a color that complements or contrasts nicely.
Style Synchronization: If your chair features a particular design era, such as mid-century or modern, select a footstool of the same style.
Functionality: While aesthetics are crucial, don't forget to consider the footstool's utility. It should provide comfort, and if possible, offer extra storage space.
Remember, a well-paired boucle chair and footstool make a stylish, functional furniture duo that invites relaxation and enjoyment.
Boucle Wingback Chair for a Classic Appeal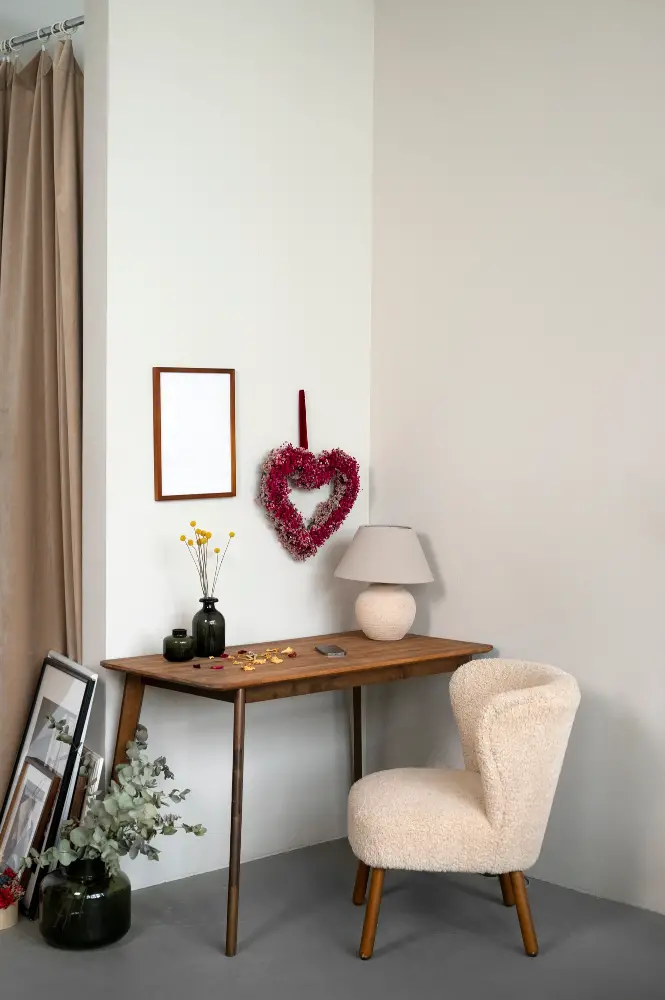 A Boucle wingback chair lends a timeless charm to any space. Upholstered in the trendy fabric, this design seamlessly melds old-world elegance and modern texture.
Here are a few key points to capture the charm of this unique style:
1. The distinct silhouette: The high back and side panels were originally designed to protect from drafts but now serve to frame the textured boucle fabric, highlighting its unique woven characteristics.
2. Visual balance: This chair design is a mix of curved and straight lines. This versatility can anchor a room, balancing other elements whether the overall decor leans more toward modern or traditional.
3. Comfort factor: Beyond aesthetics, the wingback design provides optimal comfort and support. With the added coziness of the boucle fabric, it's a perfect chair for reading or lounging.
4. Color scheme: While a neutral colored chair could blend effortlessly with your current decor, don't be afraid to consider bold colors. A wingback chair can be an attractive focal point, even more so when draped in colorful boucle.
5. Accessorizing: Adding an accent pillow or throw can enhance the chair's appeal. Consider materials that contrast with the boucle for a visually interesting mix. Velvet or faux fur can be attractive options.
Incorporating a boucle wingback chair in your design plans can imbue your room with a classic yet chic vibe. The perfect blend of form and function, this chair style might be just the piece you're looking for.
Boucle Chair Combined With an Ottoman for a Lounge Area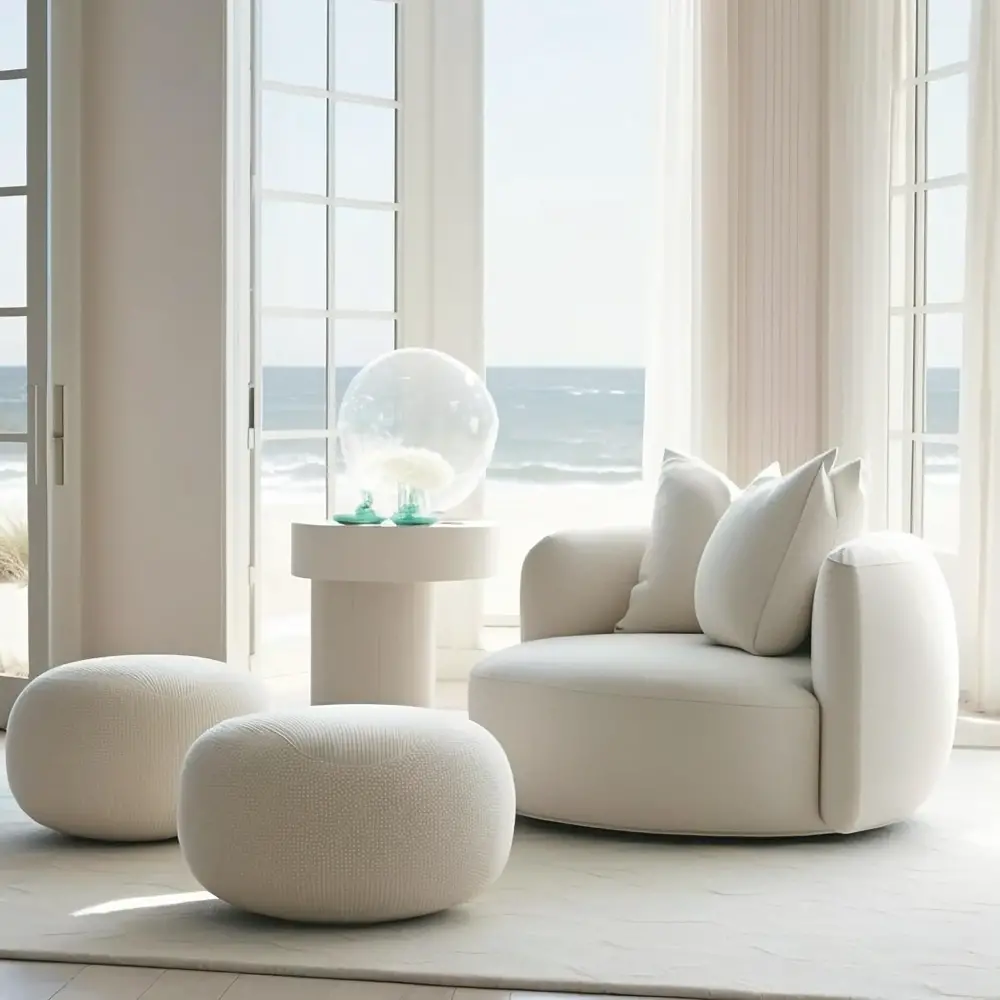 Nesting your boucle chair with an ottoman instantly amplifies the comfort level, transforming your lounge area into a relaxation haven. It also presents an opportunity to introduce a contrasting element for added visual interest.
Firstly, consider the proportions. The ottoman should not overpower the chair, neither should it go unnoticed. It should be proportionate to the chair to create balance and harmony in the setup.
Next, pay attention to the color and fabric. Opt for neutral or complementing colors. For an unexpected twist, you may also choose a contrasting fabric for the ottoman, like leather or velvet.
Finally, remember the placement. Set the ottoman at a comfortable distance from the chair, not too far to require stretching, while ensuring it does not obstruct traffic flow in the room.
Accomplishing these points successfully creates a cozy, stylish, and functional lounge area, where you can kick back and unwind after a long day.
You may also like to read: