Last updated on December 6, 2023
Dive into this article because it unveils unique and sophisticated ideas to style your space using a Boucle lounge chair, redefining comfort and aesthetic appeal in your home decor.
Boucle lounge chairs are the epitome of comfort and style, effortlessly blending into any interior design scheme. Whether you're looking to elevate your living room or create a cozy reading nook, these chairs offer an array of decorating possibilities.
From pairing with contrasting textures to selecting the perfect color scheme, this article will guide you through the process of incorporating a boucle lounge chair into your home decor. With detailed insights on placement, accessories, and styling techniques, you will have all the information you need to make the most of this versatile piece.
Table of Contents
Retro Boucle Armchair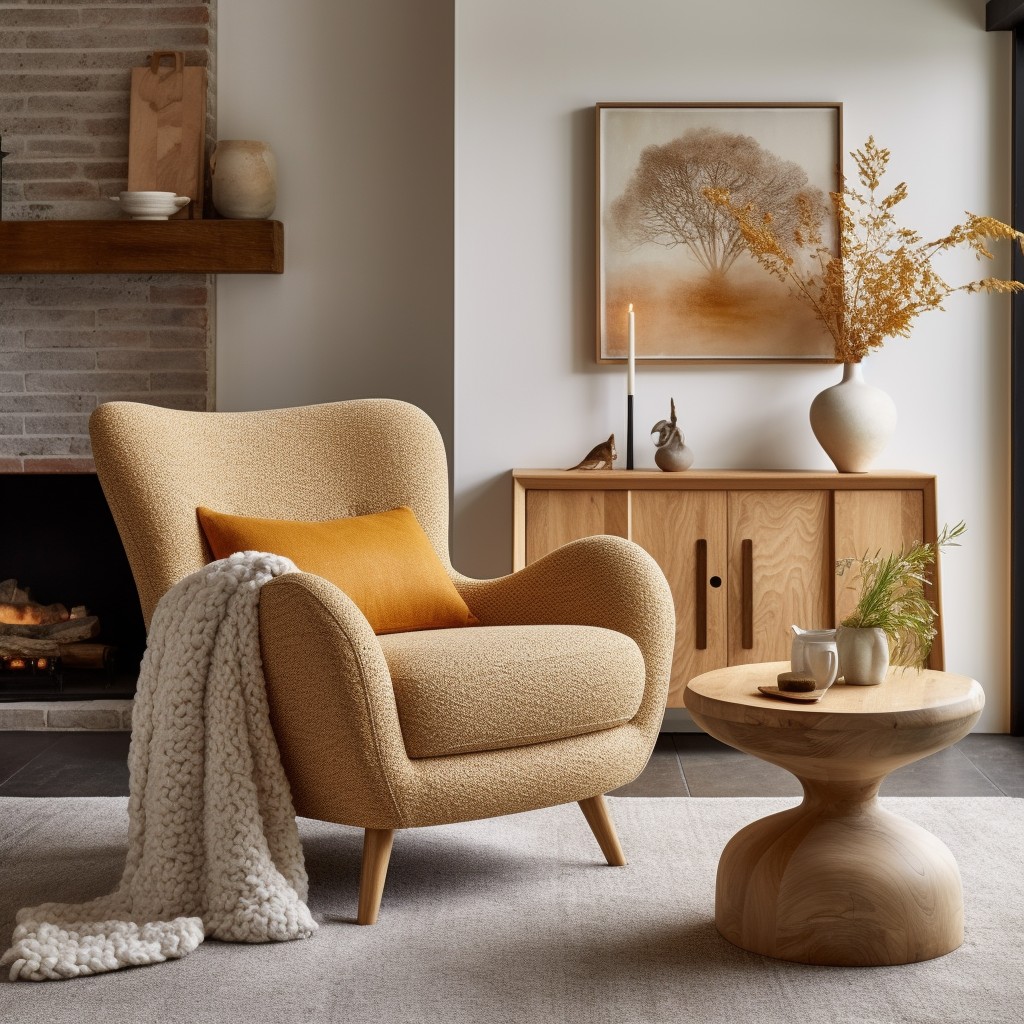 The fascinating mesh of old and new is what forms a Retro boucle armchair's distinct charm. The tendency towards the organic textures and materials typical of the mid-20th-century style gets a modern spin with the trendy boucle fabric—a looped yarn with a rich, tactile surface.
These stunning creations fit well in different spots across the home. Their generous size and embrace-like structure make them perfect for creating a cozy reading corner or adding extra seating in the living room. Paired with a tree slab coffee table and softer elements such as sheepskin rugs or light drapes, these chairs can create a harmonious balance between vintage and contemporary aesthetics.
A couple of points to keep in mind:
These chairs, with their distinctive voluminous silhouettes, demand ample space. Avoid cramping them in tight corners.
To accentuate their retro vibe, choose warmer, neutral tones such as cream, beige, or soft gray.
Cushions are optional. If choosing to add them, opt for textures like velvet or fur that contrast the roughness of boucle.
Depending on the chair's base—wooden or metallic—you can play with different interior styles: rustic, industrial, or minimalist.
Remember, the key to successful incorporation of a Retro boucle armchair in your decor is not to allow it to dominate the room but to let it subtly, yet impressively accentuate the rest of your interior.
Swivel Boucle Lounge Chair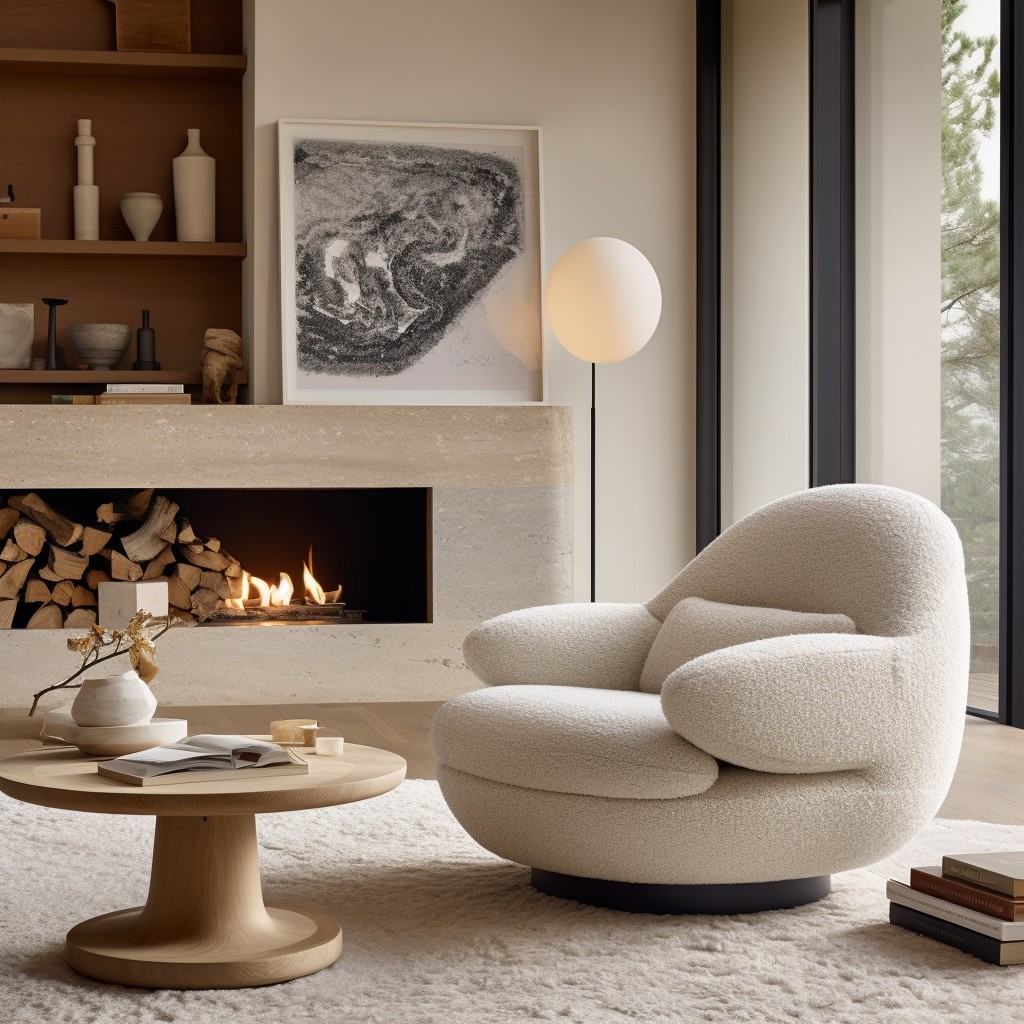 Designed with a unique twist and turn movement, the Swivel Boucle Lounge Chair offers dynamic seating options perfect for modern interiors. Resilient to wear and tear, the boucle fabric enhances the soft, luxurious feel without compromising on durability. This chair, often with a brushed stainless-steel base, effortlessly merges aesthetics and function creating a balance between comfort and style.
Its 360-degree swivel feature ensures versatile use, making it an ideal choice for open-plan living spaces or reading corners, allowing an easy change of direction whenever required. With a choice of colors, the Swivel Boucle Lounge Chair can either merge subtly into the surroundings or become a standout piece within a room, depending on personal preference.
Pair it with a matching boucle footstool and a sleek side table for a sophisticated setting. A plush throw and a statement cushion can add an extra layer of texture and create a snug, inviting space. The Swivel Boucle Lounge Chair is not just about seating—it's about creating an experience that enhances comfort and style.
Pink Boucle Oversized Chair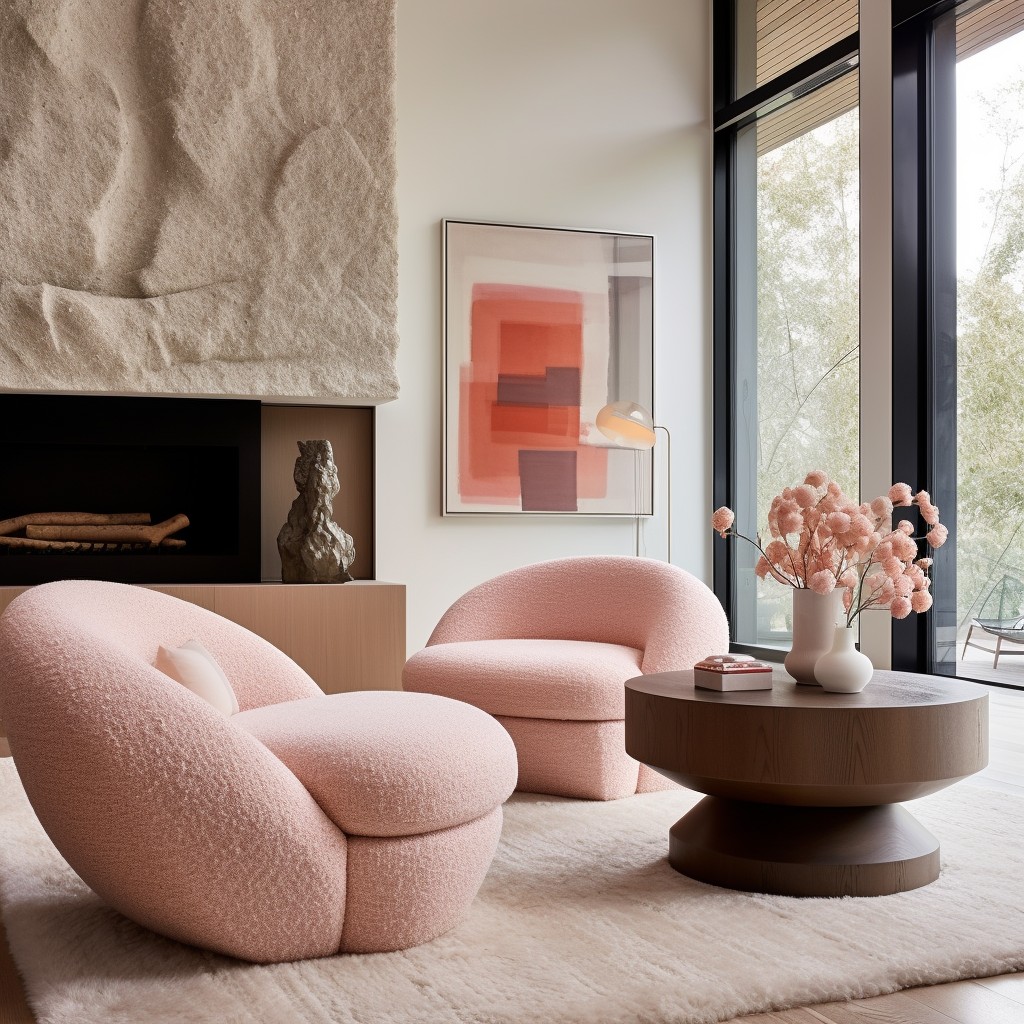 Ensuring an element of playfulness while still maintaining a rich aesthetic, this option stands out due to its unforgettable allure. Its generous size provides ample comfort, turning any space into a cosy corner for relaxation.
1. Perfect for adding a pop of color to more neutral-themed rooms.
2. Its oversized feature offers enhanced comfort, ideal for lounging or reading.
3. The soft texture is synonymous with luxury and richness, making your space feel more opulent.
4. Versatile in nature, it can easily fit into a living room, bedroom, or even a spacious closet.
5. Its bold aesthetic makes it a great statement piece that can also complement other interior elements.
6. Easy to pair with throw pillows or blankets for added depth and contrast.
Boucle Lounge Chair With Ottoman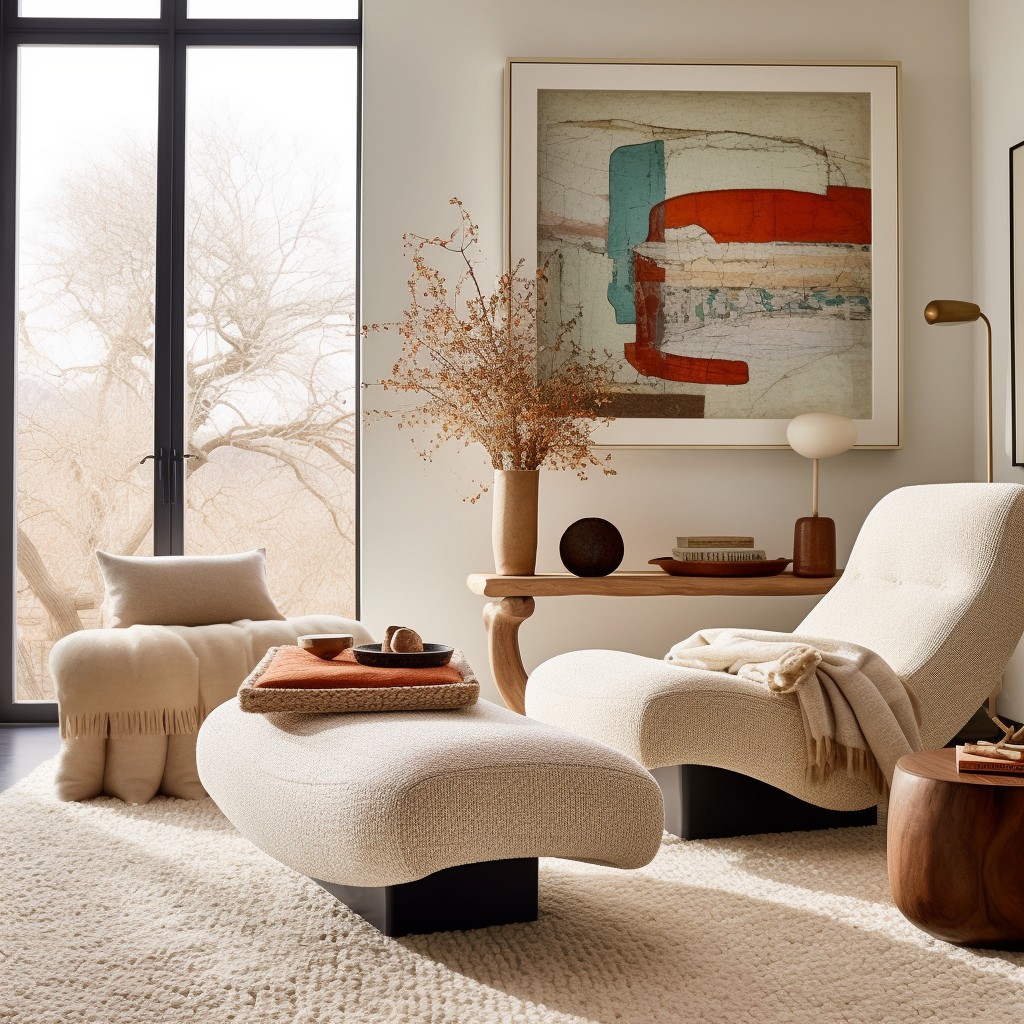 Ottomans are standout additions that amplify the comfort factor. Pairing one with your lounge chair allows for optimal relaxation, offering a place to prop your feet up after a long day. The boucle fabric brings an undeniable tactile allure, acting as a soft wrap that invites you to sink into its luxurious depths.
In terms of decor, the classic combination of a lounge chair and ottoman works seamlessly in different design styles. Whether your preference leans towards minimalist modern, mid-century, or cozy eclectic, this pair adds a dash of sophistication.
Practical too, an ottoman can function as an additional seating option when you host guests, or as a side table to hold your favourite books or cup of coffee. Whatever your needs, this twosome does more than just look good – it doubles up on purpose and style.
Scandinavian Inspired Boucle Chair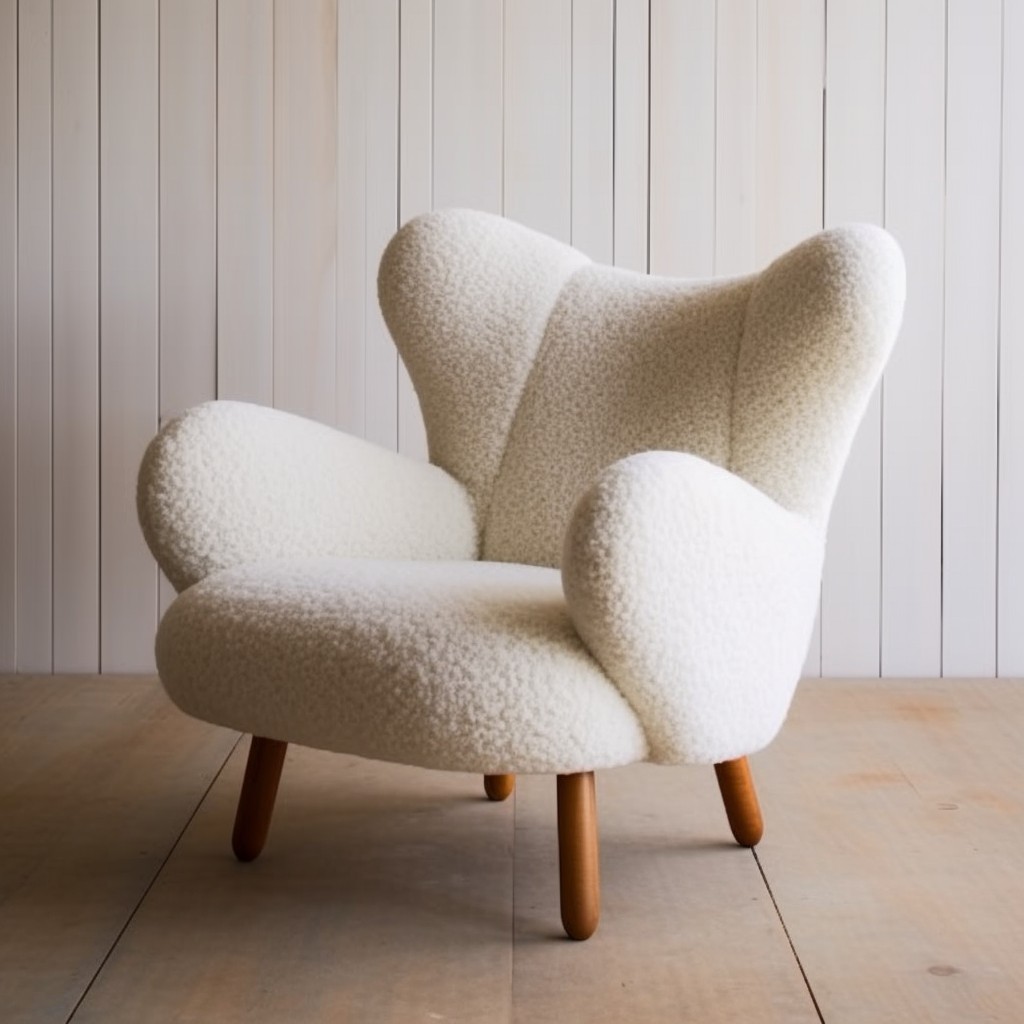 Drawing inspiration from simplicity and functionality, Scandinavian design channels minimalism perfectly. The use of natural elements such as walnut legs on a boucle lounge chair not only enhances the chair's durability but also adds an earthy aesthetic, intrinsic to Nordic style.
The boucle fabric itself is textured, providing a contrast to the smooth, streamlined Scandinavian design, and bringing warmth and coziness to the space.
Here are four key design principles to note:
Functionality: The concept behind Scandinavian design prioritizes comfort, ensuring the boucle lounge chair is not only aesthetically pleasing but also practical and comfortable.
Simplicity: Clean lines and a sparse yet strategic use of accents highlight key aspects of the chair, thereby avoiding clutter.
Natural Elements: Elements like walnut legs are both sturdy and visually appealing, mimicking the Scandinavian love for nature.
Contrasting Textures: The juxtaposition of soft boucle fabric against hard wood adds depth and interest to the overall design.
Remember, the beauty of Scandinavian style lies in its simplicity, and the fusion of functionality and aesthetics is its essence.
Boucle Lounge Chair With Walnut Legs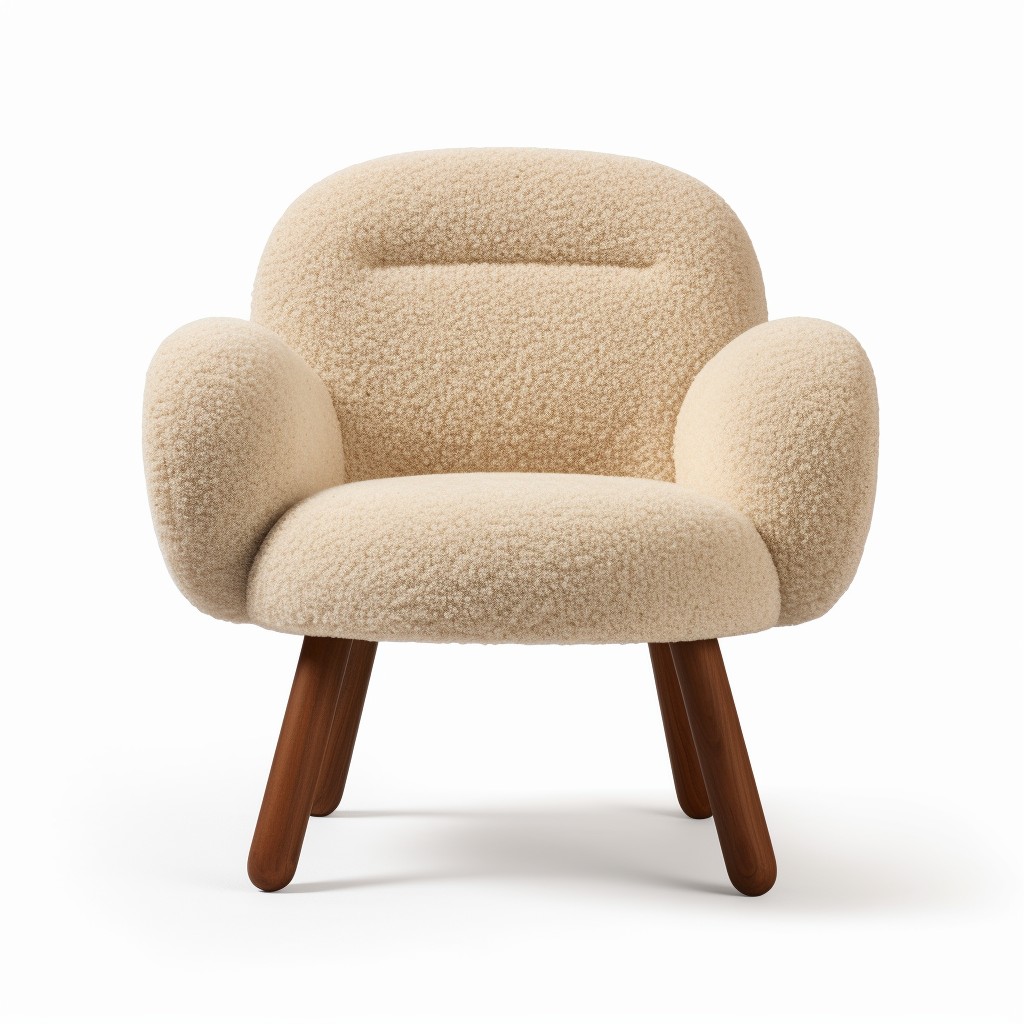 Distinguished by steely resilience and warm, radiant hues, walnut legs can transform the aesthetic dynamics of your boucle lounge chair. Great for complementing neutral or earth-toned decors, this kind of arrangement can bring about a perfect balance of texture— from the lush, curled or looped surface of the boucle fabric down to the smooth, sturdy walnut legs.
But that's not all; these chairs offer practical advantages too. For starters, the hard-wearing nature of walnut makes it resist wear and tear impressively, ensuring your chair stands firm and stable for years to come. What's more, its rich and inviting organic tones steadily deepen over time, giving your chair an ever-evolving, unique charm.
Placement matters just as much; think about putting the chair against a pale or white wall to fully emphasize the contrast and make the chair a statement piece. Or, you could pair it with a walnut coffee table or side table, for a harmonious, coordinated look with a cozy, welcoming feel.
Vintage-style Boucle Lounge Chair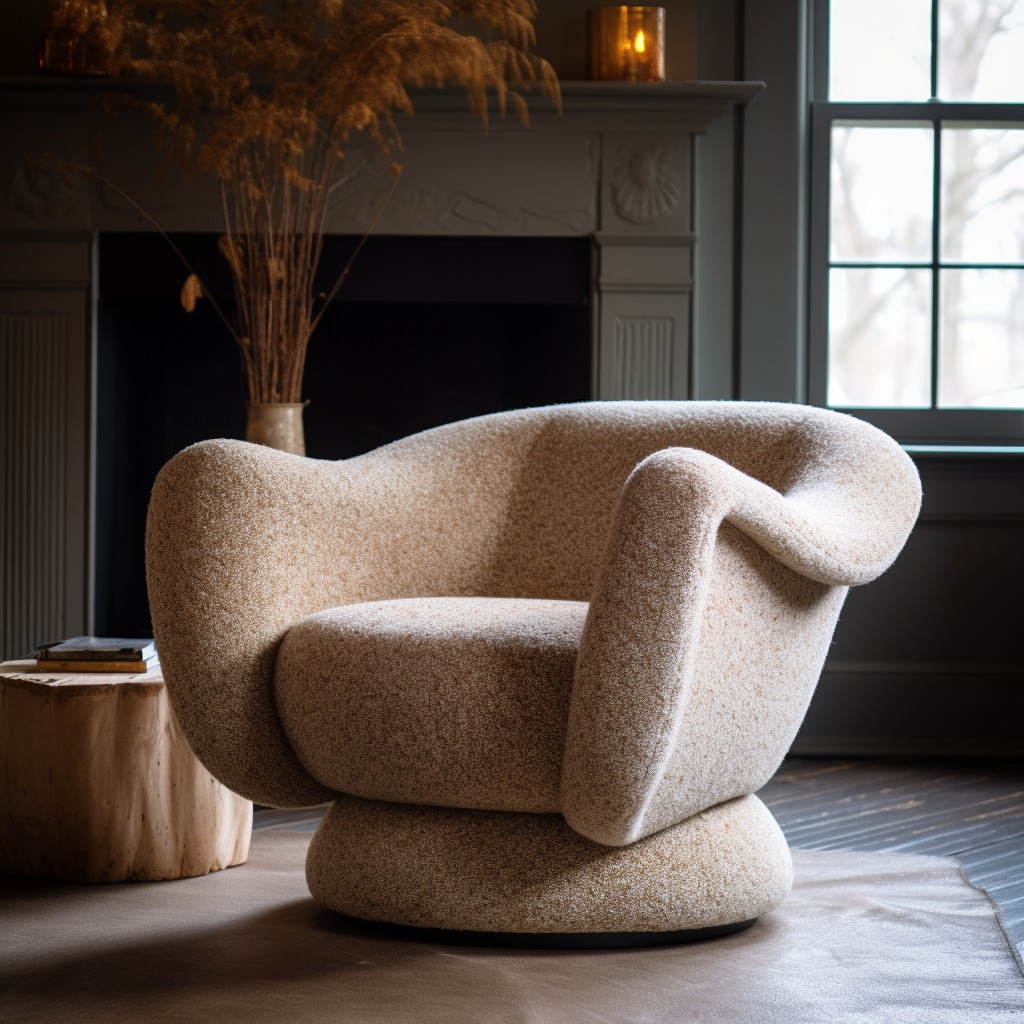 Taking cues from the mid-20th-century designs, these chairs emphasize comfort and aesthetic appeal. Their soft, knubbly fabric and nostalgic round curves invite relaxation and can immediately make the ambiance warm and inviting. The vintage style, marked by characteristic wide seat, high back, and sturdy wood legs, typical of the 1950s and 1960s, lends an authentic retro flair. This look further accentuated with the timeless 'bubble yarn' upholstery, is a winning choice for vintage lovers.
Whether tucked into a corner for an intimate reading spot, grouped with a mid-century coffee table for a conversation area, or standing alone as a statement piece, these chairs provide the perfect mix of style and utility. Their versatile design seamlessly blends with both traditional and contemporary decors. Complement these with vintage accessories like an old-world lamp or a classic bookshelf to intensify the period look.
The long-lasting quality is another desirous trait. The boucle fabric is known for its durability and resistance to wear and tear, meaning that the chairs can retain their vintage charm for years. Looking after them is effortless too – a simple vacuuming and spot cleaning keep them in their best shape.
As for colors, there's a wide palette to choose from. Cream, beige, and other neutral shades can lend a subtle elegance, while bold hues like red or green can inject a lively retro vibe. It all depends on the preferred look, but either way, a vintage-style boucle lounge chair is an investment piece that enhances any living space.
Two-tone Boucle Chair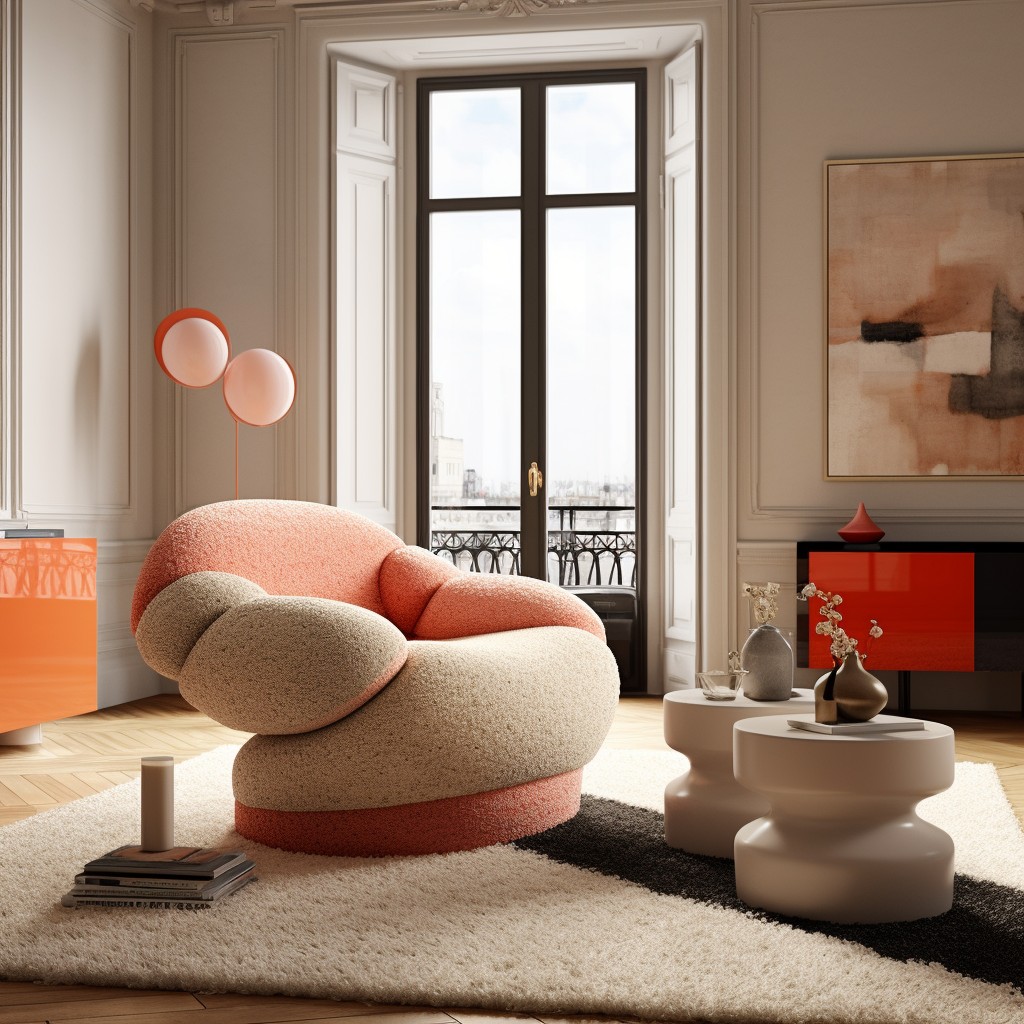 The two-tone design elevates the visual intrigue of your space, making it a statement piece in the room. It fuses different hues, giving it versatility to blend with any design theme – from modern minimalist to retro chic. These chairs retain the comfort factor of an average boucle lounge chair while offering a unique aesthetic edge.
Visual appeal: Offering a deviation from solid colors, a two-tone chair stands out. It becomes an interesting focal point in your décor.
Versatility: This chair effortlessly fits into various design themes with its two-color scheme. It can be a great unifying element in your space.
Customization: You can choose the hues that suit your color palette. This allows you to maintain balance in your décor while adding a touch of distinctiveness.
Textural contrast: Boucle fabric lends itself to the color-blocking done in a two-tone chair. The textural variation between light and dark shades is remarkably eye-catching.
Remember that the success of a two-tone boucle chair in a room heavily depends on its placement. It can serve as an artistic accent when placed in strategic spots.
Boucle Lounge Chair in a Reading Nook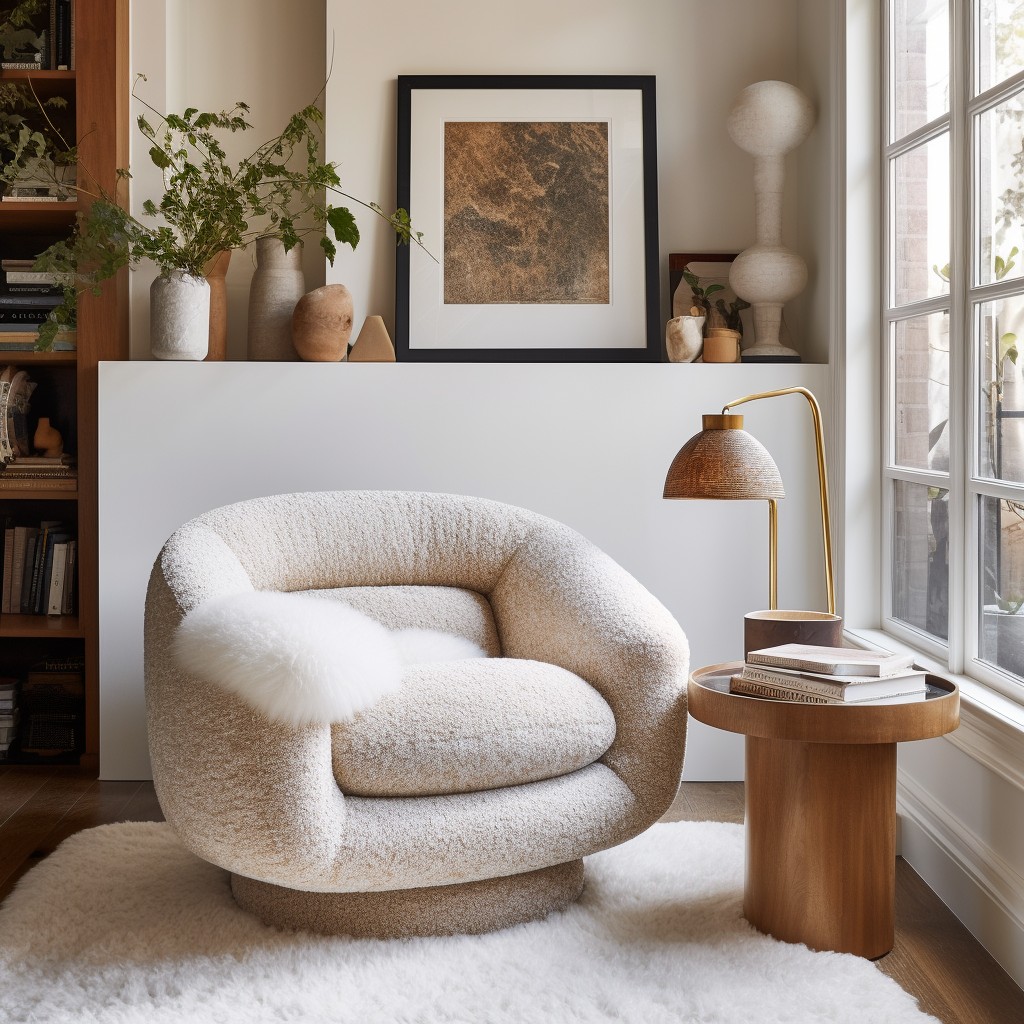 Pairing a comfortable boucle lounge chair in your reading nook is a perfect choice for creating a cozy atmosphere. With their ability to envelop the reader in a snug cocoon, these chairs have the power to transform a mundane corner into the most inviting spot in the house.
Consider these points:
1. As a result of its textured and soft surface, a boucle chair offers an ultimate comfort level, essential for long reading sessions.
2. Depending upon your aesthetic preference and the current decor of your reading nook, there are countless color options to choose from. You might opt for calming neutrals or make a decorating statement with bold tones.
3. Scale is another element to consider. Balance a spacious nook with an oversized chair while saving a petite chair for a smaller, more intimate area.
4. Accents are the key. Pair your chair with an ottoman or a throw blanket to add another layer of comfort. A side table for your coffee cup or a standing lamp for sufficient light could further elevate the space.
5. The sheer variety of styles – vintage, contemporary, or mid-century, allow a boucle chair to seamlessly fit within your chosen reading nook theme.
6. Lastly, the structural design of these chairs ensuring the body is properly supported, enhancing the overall reading experience.
Green Boucle Lounge Chair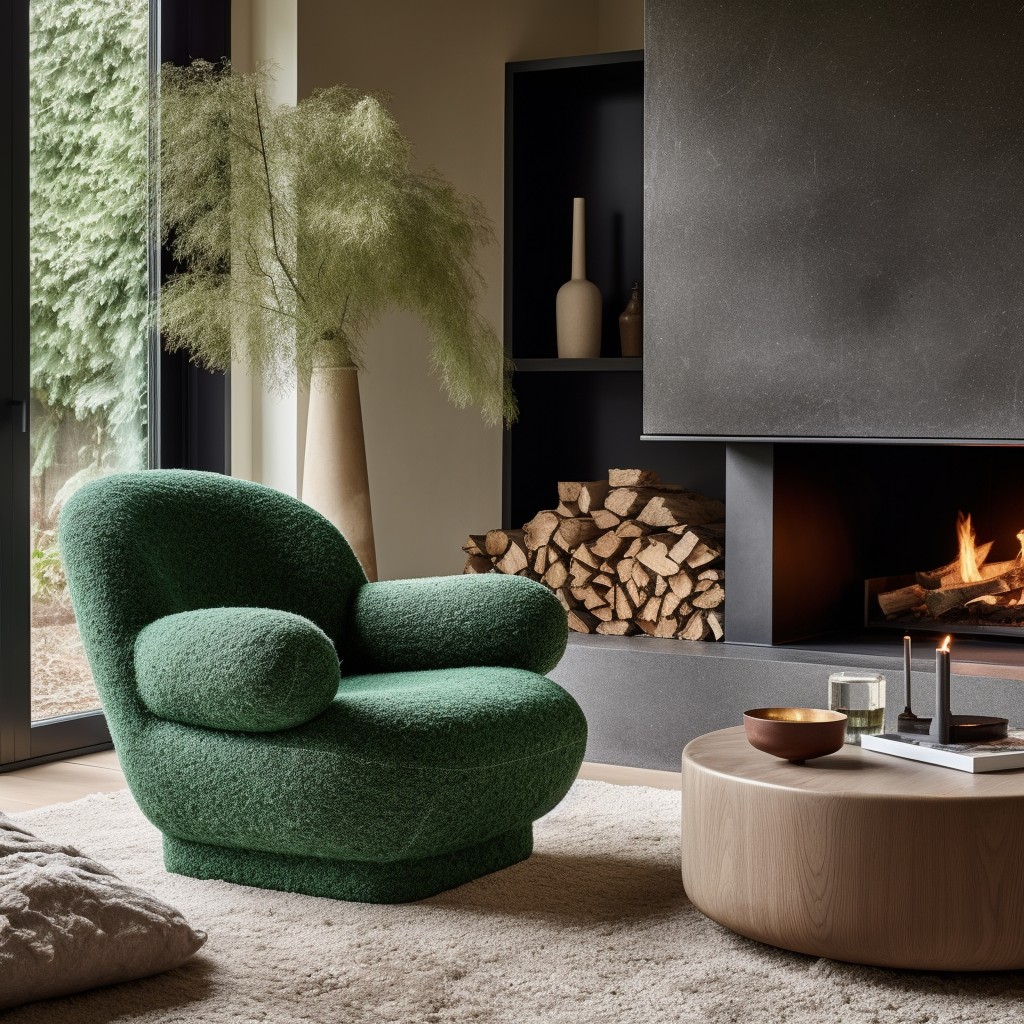 Renowned for its amusingly textured fabric, the green hue adds a touch of rejuvenation to any space, acting as an organic neutral. The calming shade infuses an earthy essence, making it a favorable choice for those who appreciate tranquility in a home.
Besides its aesthetic appeal, boucle fabric is known for its durability and supportive furniture structure, ensuring longevity and continuous comfort. Fitting impeccably in living rooms or open spaces, these chairs serve as ideal spaces for just relaxing or delving into a good book.
When paired with complementing decor elements such as wooden furniture or beige accents, they enhance the overall interior design scheme. A fluffy throw pillow or a soft blanket could be the perfect additions to elevate the cozy charm.
Jute Boucle Upholstered Lounge Chair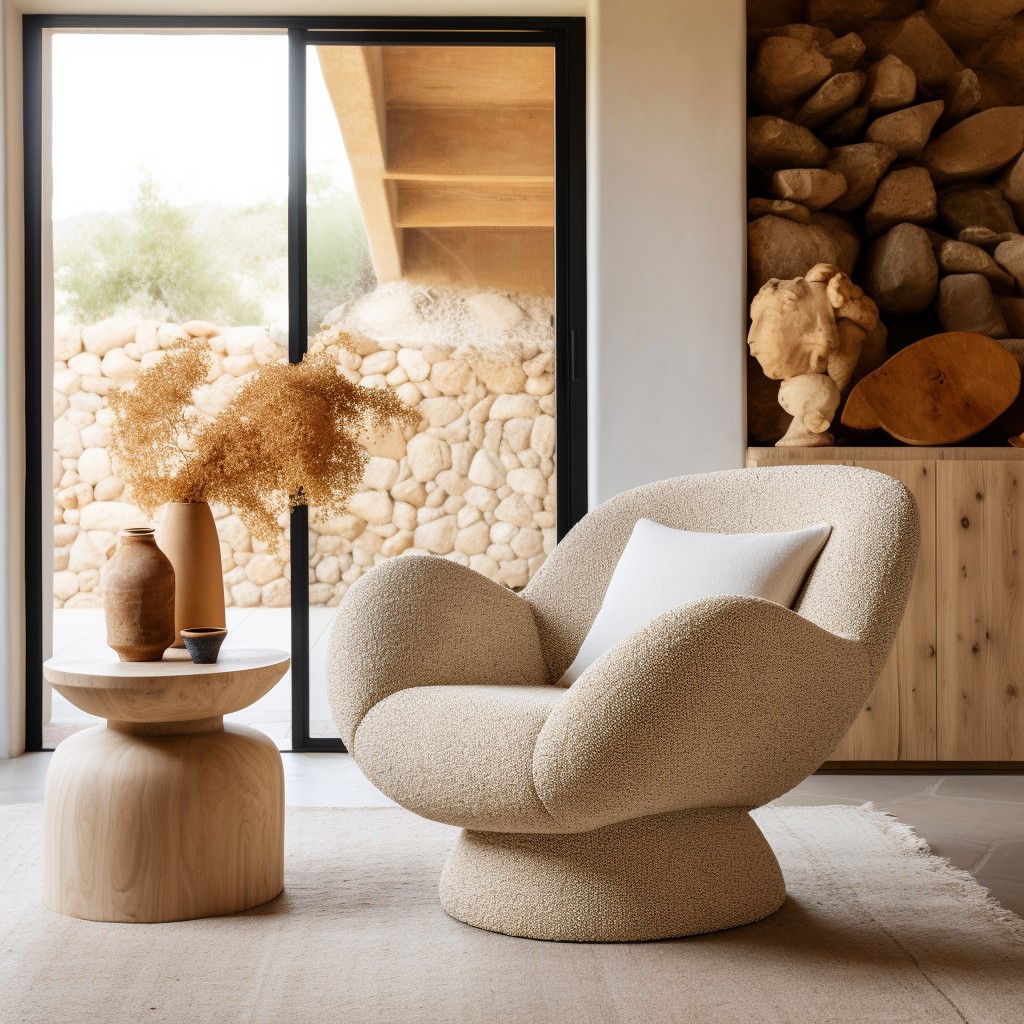 Jute boucle, a robust and natural fabric lends deep texture and invigorating feel to your lounge chair. Its eco-friendly nature is a bonus, making it a perfect choice for sustainability-conscious individuals.
1. High Durability: Suitable for a piece of furniture that is frequently used given its hard-wearing traits.
2. Unique Aesthetics: Its muted color and complex texture invite visual interest.
3. Comfort: Despite its rough appearance, a thick layer of this textile provides a wonderfully comfortable seating experience.
4. Easy Maintenance: It's incredibly easy to maintain and clean, adding to its appeal.
5. Versatile: Fits right into various decor styles, from rustic to contemporary, due to its neutral tones and adaptable qualities.
Choosing this fabric upholstered lounge chair is about blending style, function, and conscious living into your space.
Boucle Chair With Chrome Base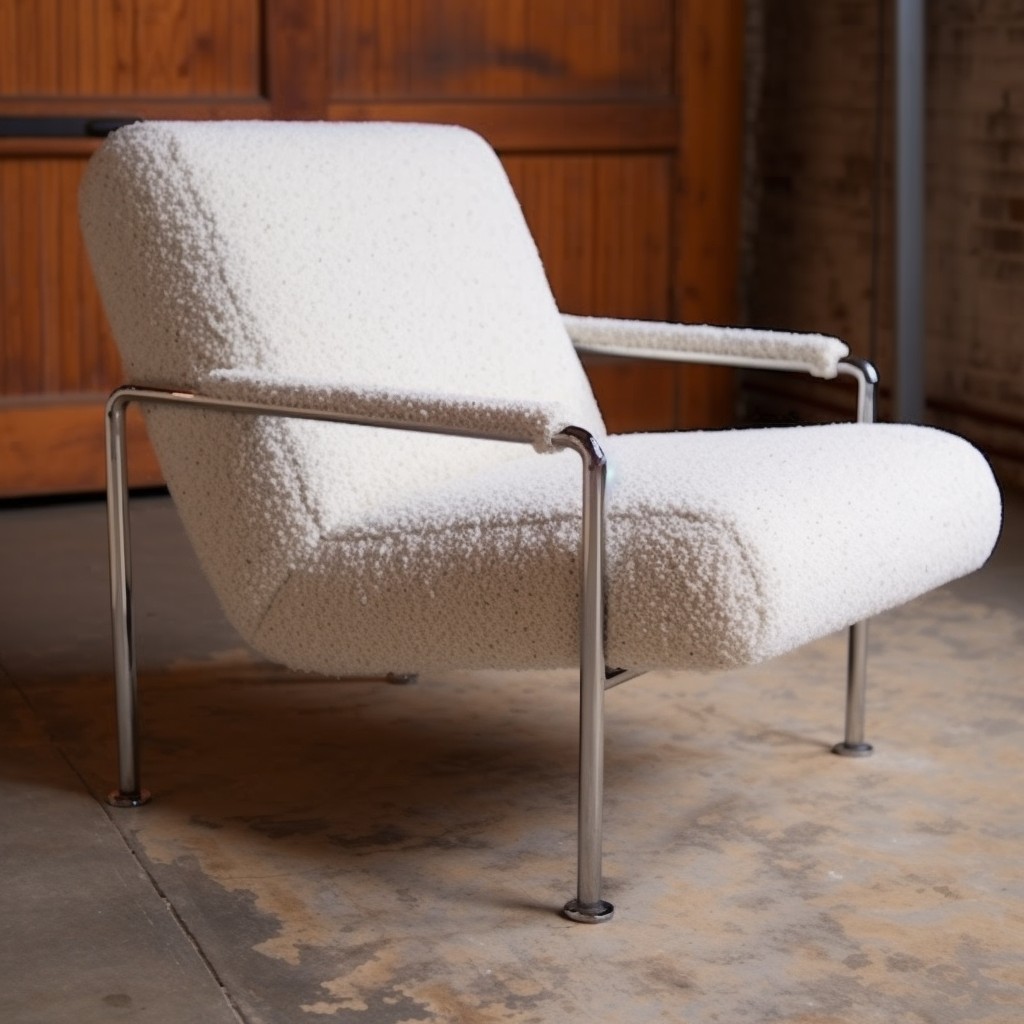 Incorporating a metallic accent, like a sleek chrome base, elevates the aesthetic appeal of the chair while retaining its supreme comfort. The metal finish creates a beautiful contrast with the textured boucle fabric, bringing a modern touch to the furniture.
The design's ingenuity lies beyond its striking visuals. A sturdy chrome base ensures durability, so the chair can withstand heavy usage and retain its charm over the years. This functional design choice aids in maintaining structural support, and the polished finish minimizes the visibility of scratches or scuffs.
Ideal for both residential and commercial spaces, a boucle chair with a chrome base adds an element of sophistication. The glossy finish of the base pairs effortlessly with the tactile richness of boucle, harmonizing contemporary design with timeless functionality. Whether you're propping this chair in a minimalist loft or an opulent office, its presence adds a dash of elegance.
Placement is crucial. Position this chair where the chrome base can catch the ambient light. The gleaming reflectivity enhances the ambiance, highlighting the chair's attributes while lending a touch of glitz to space.
Boucle Lounge Chair for the Office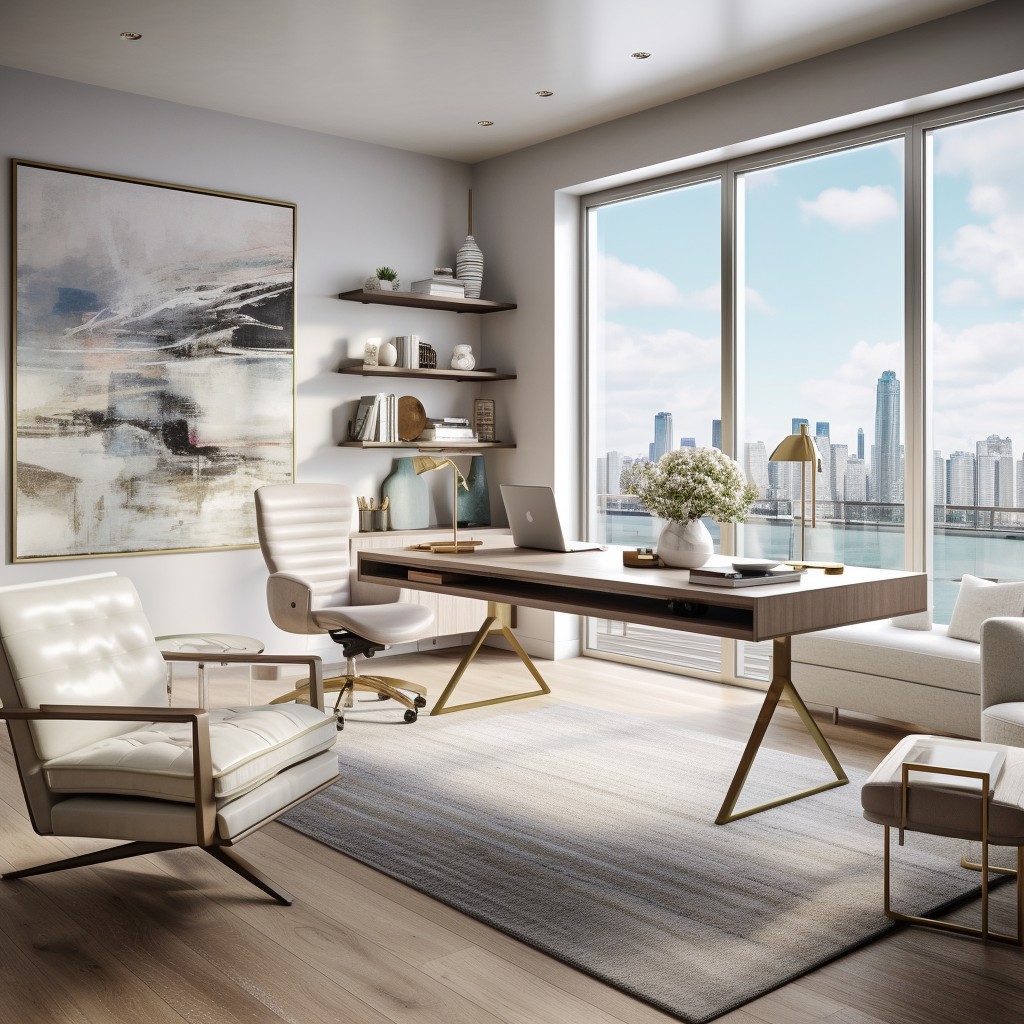 Choosing this type of seating for a workspace combines aesthetics with comfort, providing an enticing alternative to traditional office furniture. The textured fabric offers sophistication and adds visual interest to the room. Its unique texture can also provide unexpected, delightful tactile stimulation to break up the monotony of a workday.
For ergonomics, some models feature adjustable backrests and armrests that ensure comfortable postures. These chairs can be paired with a desk of compatible height for work, or be placed in a conversation area for informal meetings. Their modern, chic look contributes to creating an office environment that feels homely and less sterile, which can improve mood and productivity.
In terms of color selections, neutral shades generally blend well with most office decors, but opting for a vibrant hue can create a pleasing focal point in the workspace. One could also add a small throw pillow for an additional layer of comfort and a punch of color.
Remember, it's not just about looking good; a boucle lounge chair in the office should also meet individual seating preferences and workspace requirements. Each piece should offer the right balance of style, comfort, and functionality.
Mid-century Modern Boucle Chair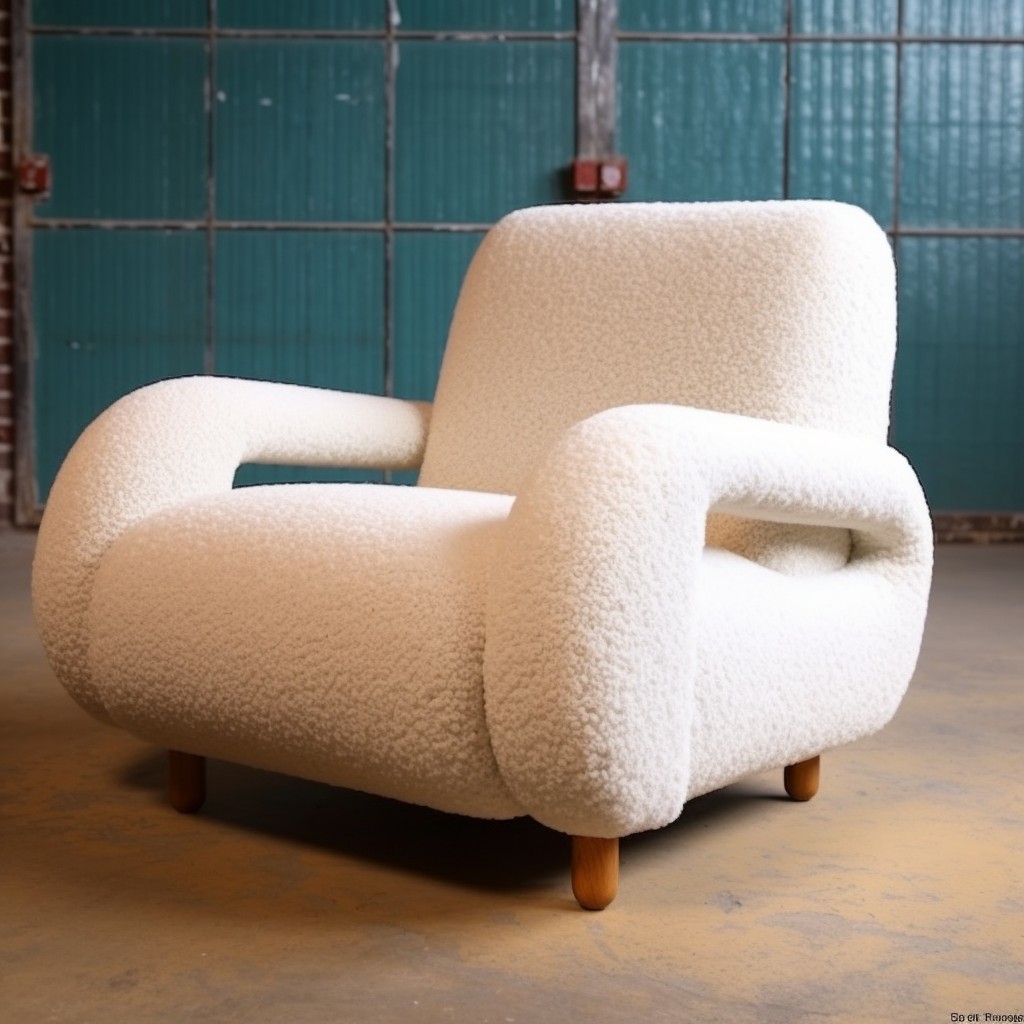 The Mid-century design in furniture is renowned for its clean lines, gentle curves and understated looks, features that lend themselves well to the tactile nature of boucle fabric. This style is perfect for creating a visually interesting space while maintaining a serene, uncluttered ambiance.
1. Influences: This aesthetic borrows from a diverse mix of design movements and natural shapes. Its balance of function and form results in timeless pieces, which include boucle lounge chairs.
2. Fabric: The textured looped structure of boucle brings an added tactile dimension to a mid-century piece, enhancing the user's interactive experience.
3. Versatility: These pieces blend well within a range of settings – from a minimalist environment to more eclectic spaces populated with bold, varied textures and colors.
4. Comfort and Style: Their firm structure provides good support, while the gentle curves and padded seats cater to luxurious comfort. They directly complement the sense of easy living, the cornerstone of mid-century design.
5. Pairing: An understated rug or a sleek side table could provide an exquisite pairing, highlighting the chair's distinctive characteristics further.
In essence, the Mid-Century boucle lounge chair is a harmonious blend of comfort, functionality, and style, making it a desirable addition to any living space.
Small Boucle Chair for Bedroom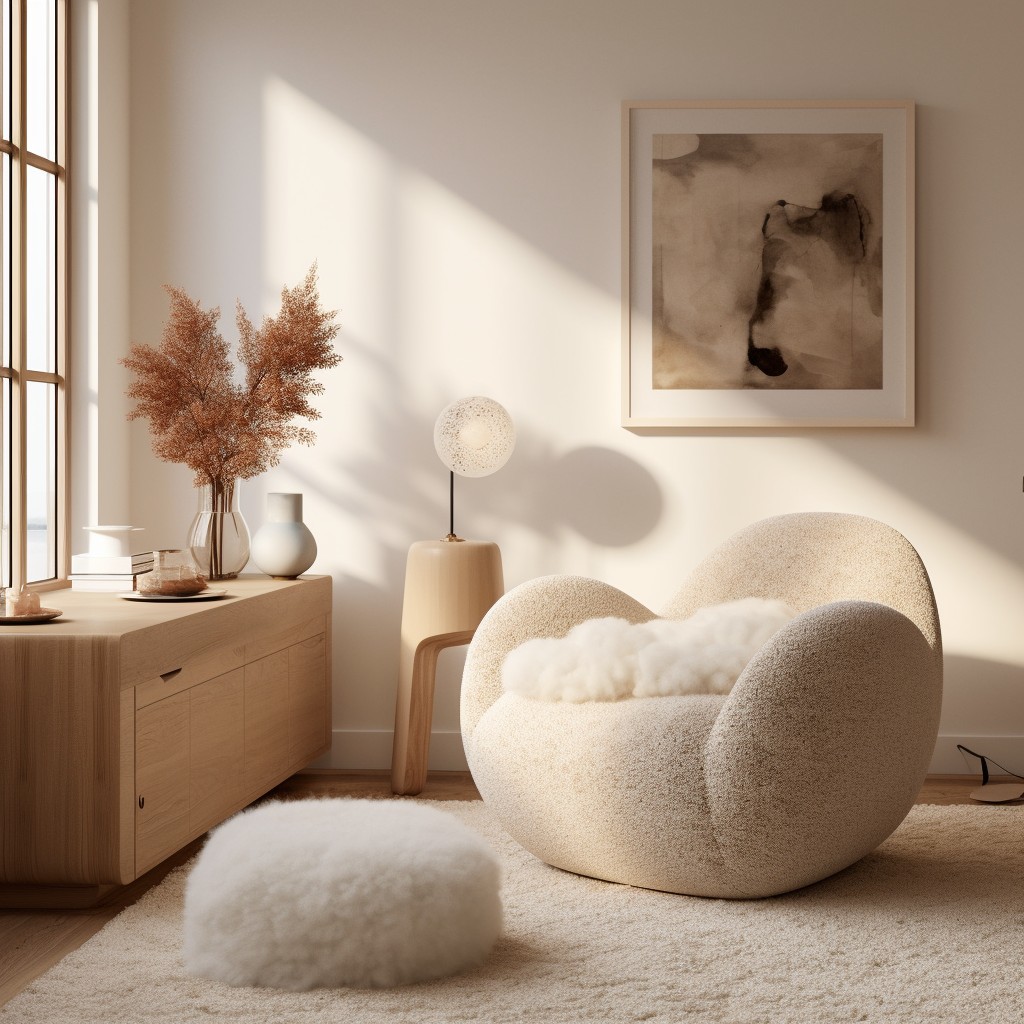 Harmonizing form with function, small boucle chairs for the bedroom offer an intimate touch to your personal haven. The textural richness of boucle coupled with the chair's compact size creates an inviting aesthetic, perfect for reading or putting on shoes.
1. Space optimization: A small boucle chair doesn't compromise the floor space, important in smaller or multi-functional bedrooms.
2. Comfort: The soft and warm boucle fabric provides a cozy seat, increasing the comfort quotient in your bedroom.
3. Visual appeal: With a variety of colors and patterns on offer, these chairs can accentuate the room's overall look.
4. Versatility: Small in size, yet big on style, these chairs act as an extra seat, a footrest, or even a clothes rack.
5. Easy to move: Being lightweight, repositioning the chair when altering your room's layout doesn't require much effort.
Integrating a small boucle chair can help your bedroom resonate with panache and tranquility while maintaining its functionality.
Bold, Black Boucle Lounge Chair
Bold in visual appeal, this unique style statement is perfect for those who value a touch of drama in their living space. Straying away from traditional color norms, its impactful presence unquestionably sets it apart.
Here are a few things to note:
1. The black woolen fabric is soft yet textured, offering luxurious comfort and tactile satisfaction.
2. This chair provides a stunning contrast in a light-colored room or complements a dark, contemporary theme effectively.
3. The choice of color does not distract from its architectural integrity, instead, it heightens the overall aesthetic.
4. This piece is typically eye-catching, thereby effortlessly becoming the focal point of any room.
5. As functional as it is fashionable, it offers ample lounge space without compromising on style.
6. The material is durable and easy to maintain, ensuring that it remains a long-lasting feature in your home.
7. Paired with brightly colored pillows or throws, it allows for accenting and personal customization.
8. This chair seamlessly combines traditional boucle fabric with a modern color palette, reflecting a blend of old and new design elements.
Remember, this piece is far from being just a seat; it's a piece of art that brings sophistication and a memorable appeal to your décor.
Elegant Cream Boucle Chair
Choosing an elegant cream boucle chair involves paying attention to several key components. To enhance the chair's elegance, look for design features such as tufted upholstery, roll arms, and tapered wooden legs. The soft, looped boucle fabric – renowned for its comfortable, plush feel – should be cream-color to maintain its elegance. This hue works well in various settings, underlining the versatility of the piece.
Furthermore, consider the size and proportion in relation to the rest of your furniture. A matching ottoman or coordinating accent pillow could add a touch of charm to your chair. Lastly, the placement of the chair is crucial; a well-positioned chair can easy become the focal point of the room, exhibiting its elegant, classy aura.
Luxury Boucle Chair With Gold Accents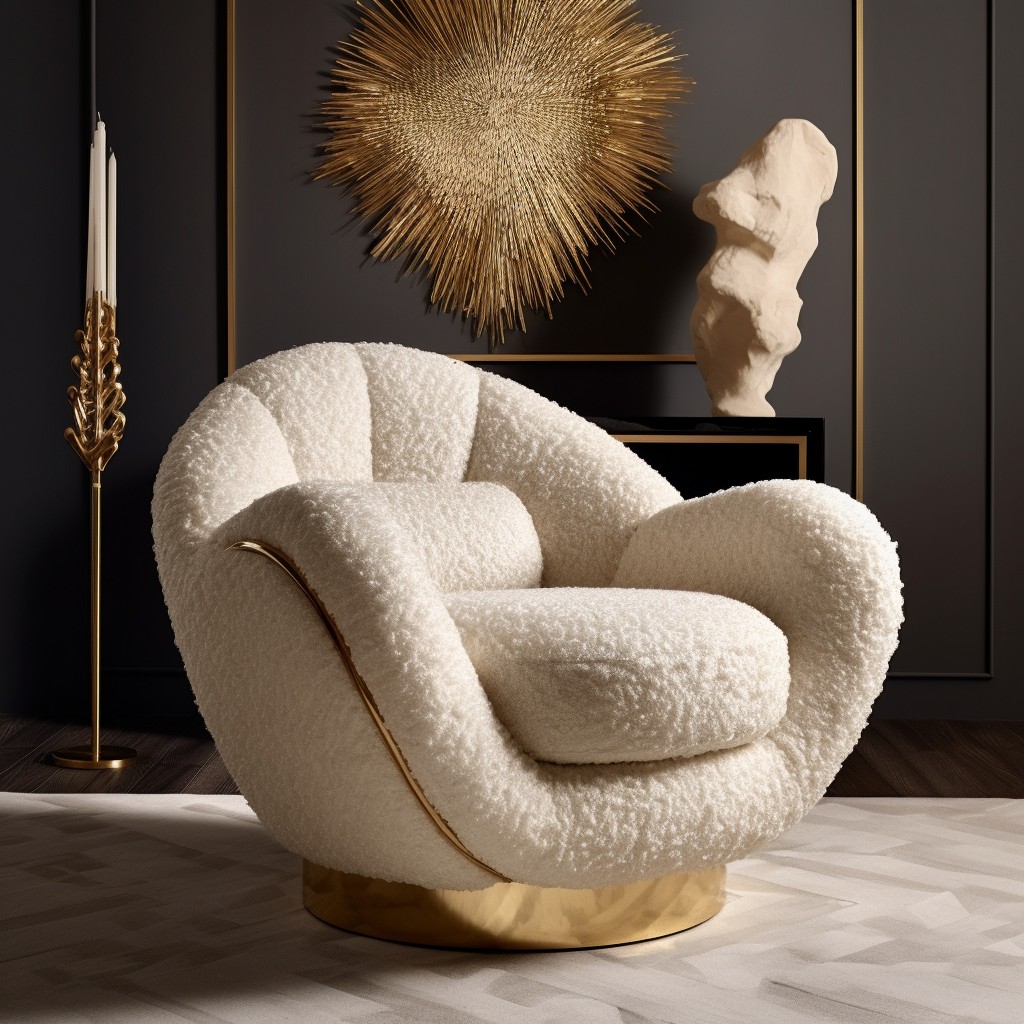 Golden accents add an exclusive touch to any decor piece, elevating their presence within a room. The same is true for a luxury boucle chair. Usually paired with an intricately designed gold frame, it injects a sense of opulence and royal ambiance into your space.
A lighter shade of boucle fabric can create a stunning contrast, reinforcing the chair's lavish aesthetics. It can work in harmony with various interior styles – from classic to contemporary. For achieving a more cohesive look, consider adding gilded accents to your room's other parts, such as side tables, picture frames, or lighting fixtures.
Comfort doesn't have to be compromised either. The rich texture of the boucle upholstery provides a cozy, snug seating experience. These chairs are great for areas where you wish to establish a sophisticated, luxurious vibe, such as the living room, study, or a personal library.
Remember, care is essential to maintain the chair's opulence. Regular vacuuming or light brushing helps in removing dust and preventing fabric damage, ensuring the chair's longevity. However, this type of chair may not be suitable for a household with children or pets due to its delicate nature.
In essence, a luxury boucle chair with gold accents is a marvelous décor piece that can add considerable refinement to your interiors, making it a standout accent in your space. Its unique design, accompanied by the plush texture and luxurious feel, ensure it becomes a cherished possession in any home.
Boucle Coral Pink Chair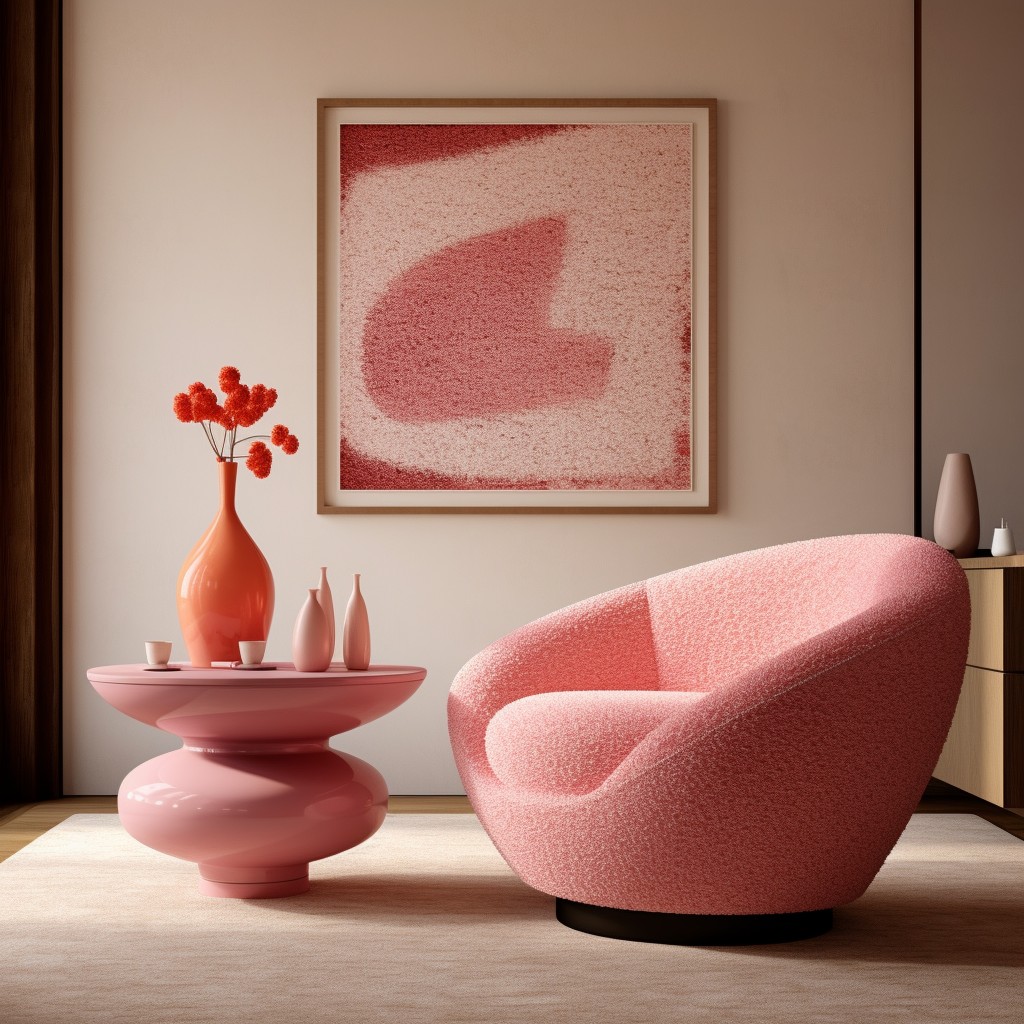 Despite evoking images of old Hollywood glamour, there's a playfulness that comes with its coral hue. This makes it an ideal choice for eclectic, colorful interiors where it can become a standout piece.
Paired with a neutral color scheme, it serves as an appealing contrast, injecting vibrancy into a muted room.
Consider its placement carefully to fully capitalize on its aesthetic potential. Prominently positioned in the living room or even a large bedroom, it has the potential to completely transform the vibe, making it more fun and less conventional.
As it tends to attract attention, accessorizing should be minimalistic. A simple matching throw pillow or a light gray or cream blanket should suffice. Its upholstery is also easy to maintain clean which is ideal for busy households.
It blends in with mid-century, modern, eclectic, and even minimalist interiors with its unique ability to match contrasting decor elements effortlessly. With gold or brass finishes on nearby accessories or fixtures, the coral hue looks particularly striking.
All in all, its potential as a statement piece in your home decor is limited only by your creativity. With careful color coordination and placement, it's a guaranteed conversational piece.
High-back Boucle Lounge Chair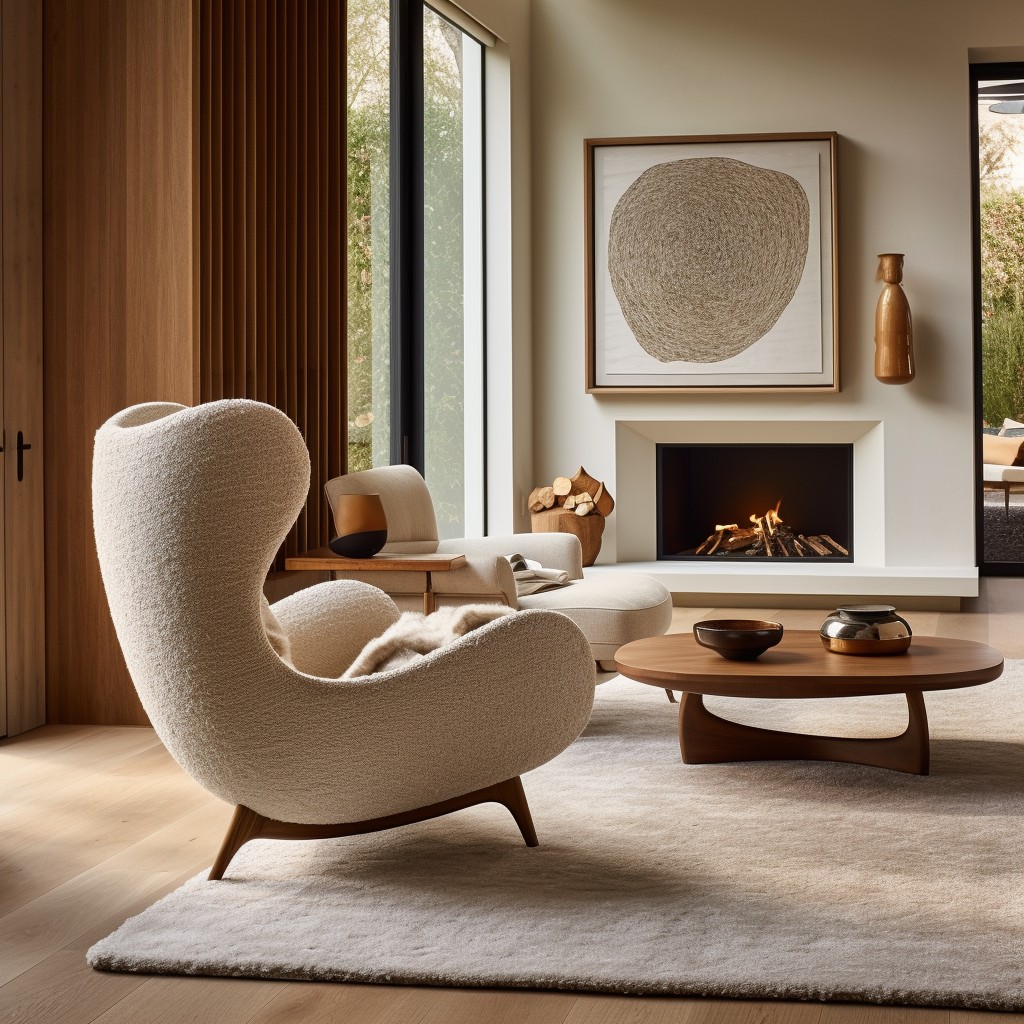 Exuding an aura of luxury and elegance, the high-back profile not only offers added support and comfort but also introduces a distinguished aesthetic to any space. To truly maximize the potential of this chair, opt for a piece featuring plush boucle fabric, known for its durability, warmth and inviting texture.
When integrating this chair into your design, consider the following points:
Place it in a roomy area: Its high-back design implies a sizeable footprint, requiring ample space to prevent the chair feeling cramped or overwhelming.
Pair with a cushion or throw: Adding a cushion or throw in a contrasting color not only enhances comfort but also introduces visual interest, contrasting the cozy boucle with other textures.
Light and balance: Due to the height of the chair, it's prudent to ensure it's quite balanced in the interior space to avoid overshadowing smaller furniture pieces. Use appropriate lighting, like a tall, slender floor lamp to give a balance in height.
Use as a focal point: The high-back design makes the chair a stand-out piece, perfect for a reading nook or as an elegant statement in a minimalist living room.
Consider the color: While boucle often comes in neutral tones, a more daring color can infuse the room with personality whilst remaining elegant and timeless.
You may also like to read: