Last updated on October 12, 2023
Explore the charming world of boucle benches because they provide a perfect blend of visual appeal and comfort, transforming any space into a haven of elegance and sophistication.
Boucle benches are a stylish addition to any home, offering both comfort and a unique aesthetic appeal. Whether you're looking to add an extra seating option in your living room, create a cozy reading nook, or simply enhance your bedroom's décor, boucle benches are a versatile choice.
This article provides innovative and creative ideas to incorporate a boucle bench into your home, from choosing the perfect location to pairing it with other furniture and accessories. Stay tuned for comprehensive details on how to make the most out of this chic furniture piece.
Table of Contents
Vintage Victorian Boucle Bench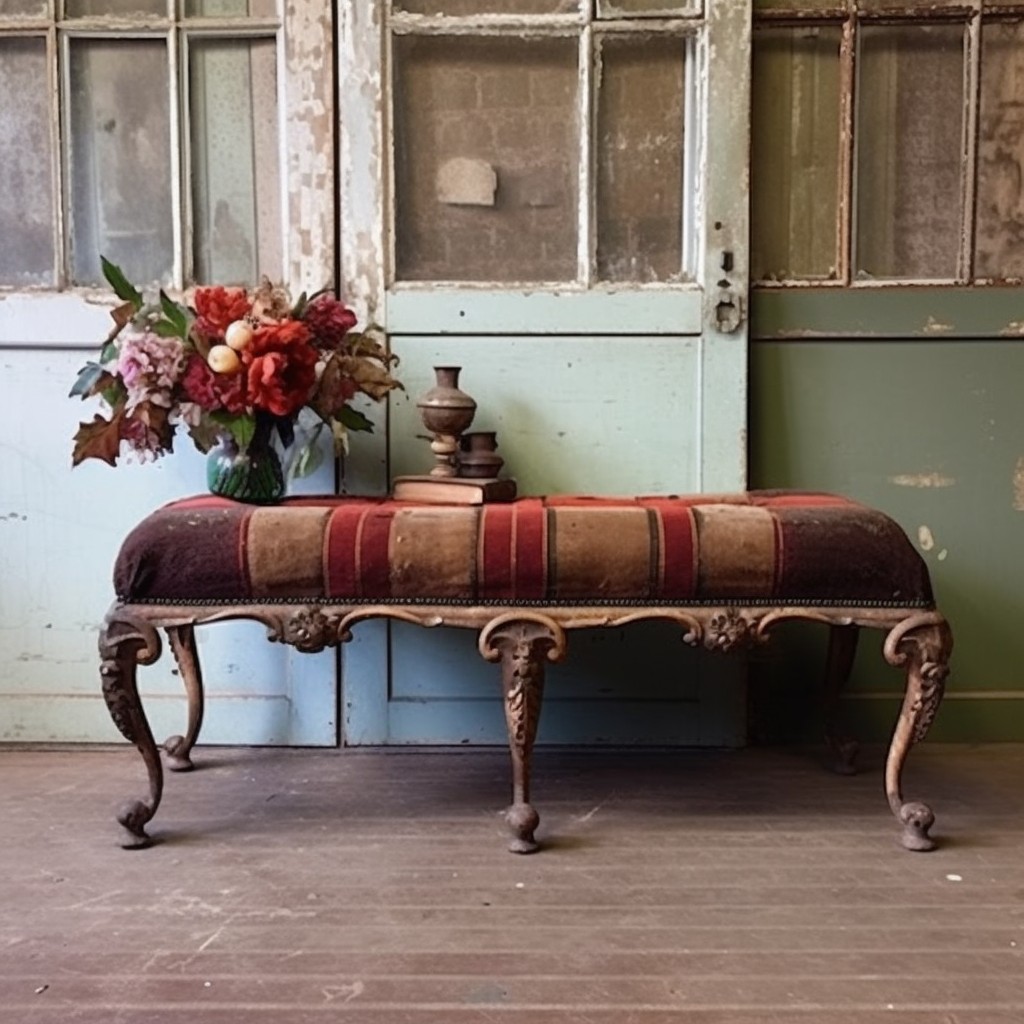 Taking inspiration from the grandeur and elegance of the Victorian era, this style can be identified by its intricate wood carvings and rich upholstery. Done in boucle fabric, it adds a touch of modernity while maintaining its antique characteristics.
Incorporating this bench into your decor can enhance a room with an old-world charm and sophistication, making it a focal point. Serving both functional and aesthetic purposes, it's a perfect choice for areas requiring a statement piece, like entryways, living rooms, and master bedrooms.
It pairs well with velvet, silk, or heavy drapery, and complements vintage and antique accessories or furniture. Wooden decorations, dark-toned rooms, and rich-textured rugs will also enhance this bench's appeal. Use sparingly to avoid overstuffing your space with opulence.
Remain mindful of maintenance as boucle fabric requires gentle cleaning due to its looped yarns. Keep away from pets or sharp objects to prevent snagging. These tips ensure you enjoy the plush comfort and majestic feel, as well as the long-lasting quality of your Vintage Victorian Boucle Bench.
Mid-Century Modern Boucle Bench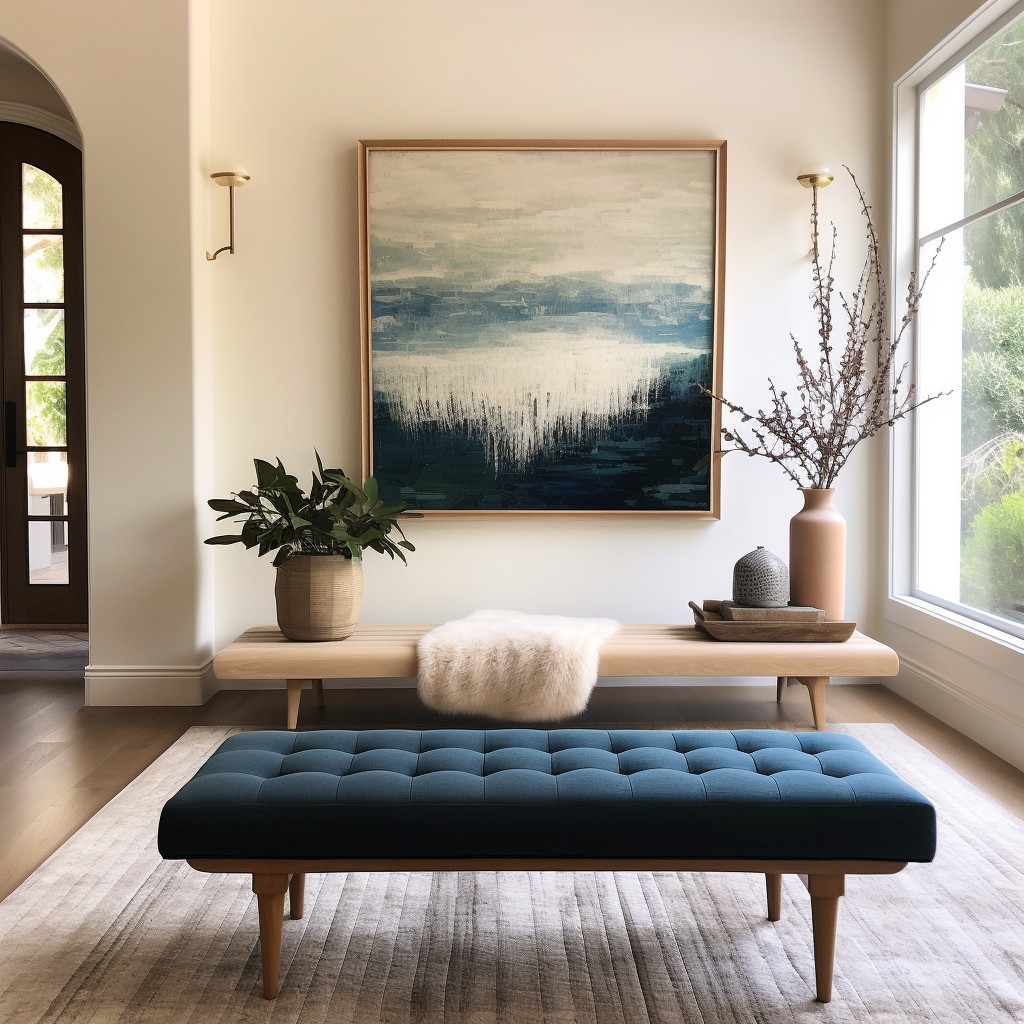 A quintessential piece of mid-century design, this bench style is characterized by simple lines, organic shapes, and high functionality. Clad in soft, textured boucle fabric, it adds tactile charm to any room.
Key features include:
1. Sleek lines: Reflecting the simplicity and functionality of the era, the profile often features clean, simple lines.
2. Wood Base: Typically, these benches are supported by wooden legs, demonstrating an appreciation for natural elements.
3. Boucle Fabric: Known for its looped texture and comfortable feel, boucle provides an appealing contrast to the smooth wooden legs.
4. Subtle Colors: Often, the color palette stays within the realm of neutrals. This allows it to blend seamlessly with a variety of interior design styles.
5. Compact Size: Perfect for smaller spaces, these benches are often compact without sacrificing comfort.
6. Versatility: Its minimalistic design makes it an ideal addition to any room, be it as an end-of-bed bench, entryway seating, or as an accent piece in the living or study area.
Minimalist White Boucle Ottoman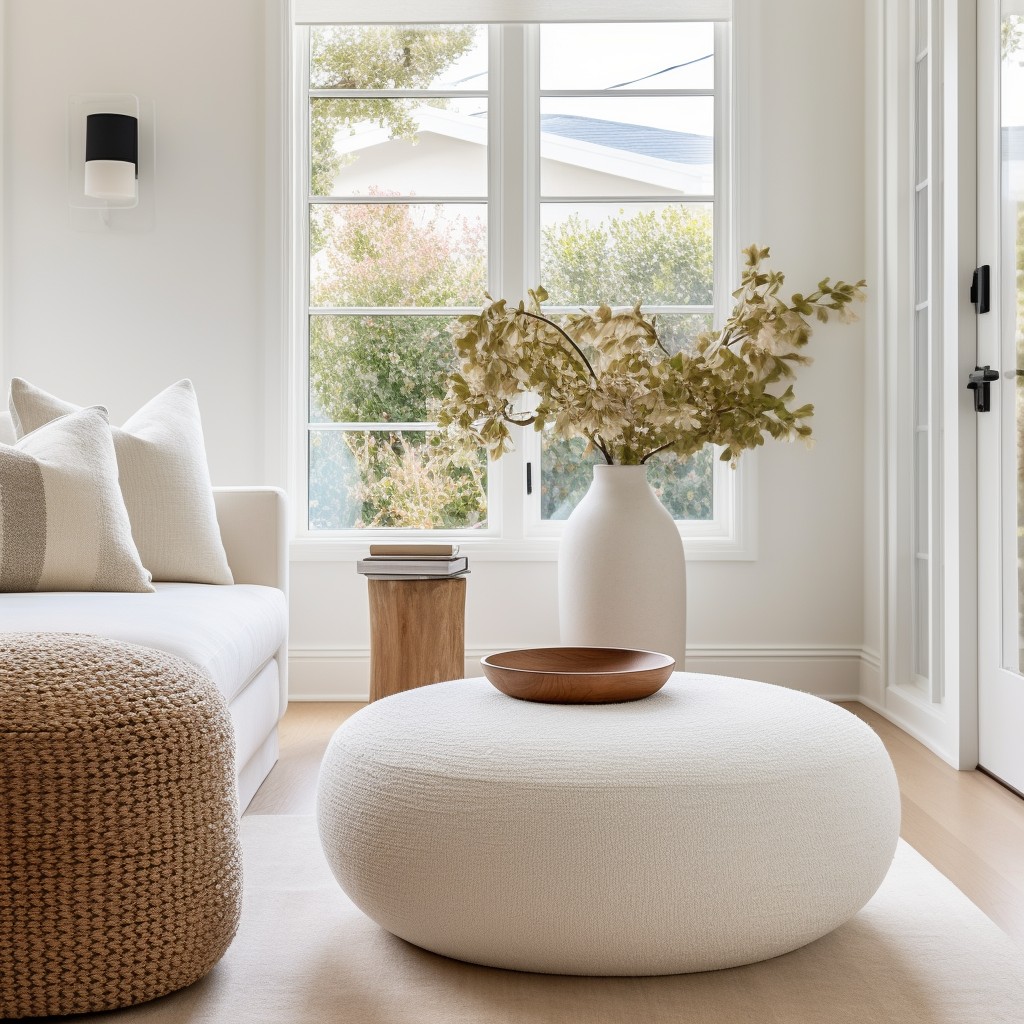 A white minimalist boucle ottoman effortlessly blends comfort and elegant simplicity. Its clean white shade gives room to versatility, matching effortlessly with any color scheme.
Here are a few points to understand this better:
1. Minimalism amplifies the design principle "less is more". With this ottoman, the focus is on clean lines, simple geometric forms, and lack of embellishment.
2. Quality over quantity is key. The ottoman's premium boucle fabric offers optimal comfort and durability.
3. It can serve multiple functions, from alternate seating to a footrest, or even as a coffee table when accessorized with a tray.
4. The texture adds tactile interest in a minimalistic setting, introducing cosiness without overcrowding.
5. A perfect fit for a neutral-themed decor, it also works excellently as a contrasting piece in colorful settings.
Art-Deco Inspired Boucle Bench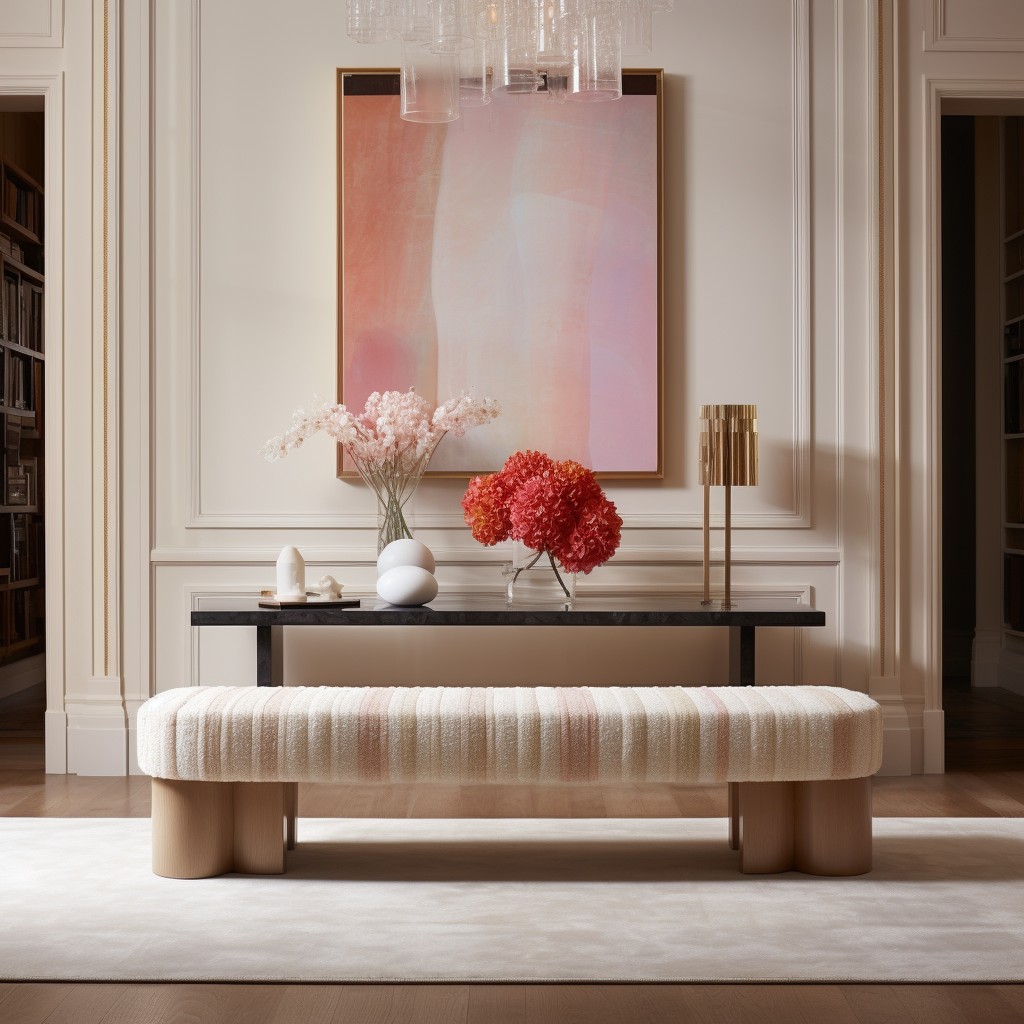 Drawing its design cues from the luxurious interiors of the 1920s and 30s, this bench combines geometric patterns with rich materials, signature traits of Art-Deco style.
Expect to find features such as:
Distinctive Patterns: Geometric and symmetrical designs on the bench base, reminiscent of Art-Deco skyscrapers.
Luxurious Textures: The soft, textured boucle is juxtaposed against sleek metallic accents.
Rich Colors: Often, a neutral-toned boucle fabric is combined with bold, metallic finishes.
Statement Piece: Its bold design makes this bench a perfect centerpiece, lifting the aesthetics of any room.
Performance: Along with its decorative allure, the high-performance boucle fabric ensures durability.
Size: This bench offers ample seating while also taking up minimal space, staying true to Art-Deco's functional design principles.
Integrated Design: May feature inbuilt storage or shelving, amplifying function with form.
Remember, choosing an Art-Deco inspired boucle bench is a commitment to timelessness and elegance, making your space grand and sophisticated.
Boucle Bench With Metal Legs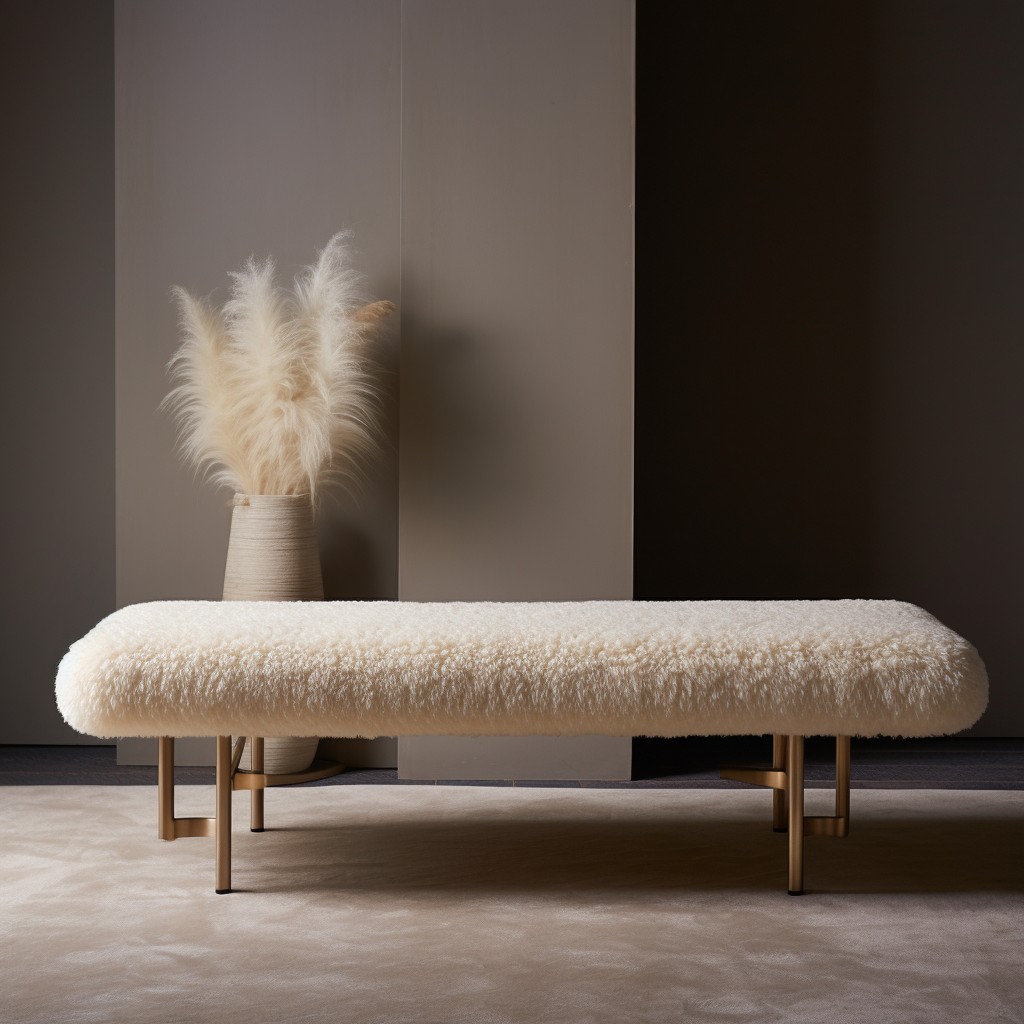 One of the first things that stands out about this kind of bench is its steel or iron base, which provides a stark contrast to the soft and plush boucle fabric. The metal legs not only offer the bench a sturdy base but also add an industrial touch to its design, making it an ideal piece for spaces that incorporate both rustic and modern elements.
Equally important to note is the choice of metal finish. From shiny chrome to matte black, the choice of metal finish can significantly impact the overall look of the bench. A gold or brass finish can bring a touch of glamour and sophistication, while a matte black finish can create a more muted, contemporary look.
A boucle bench with metal legs often features a minimalistic design as well, making it a versatile piece that can fit into various interior styles. Whether it's a chic loft apartment or a cozy and warm farmhouse-style home, the clean lines and simple silhouette of the bench can seamlessly complement the space.
While it's an excellent choice for seating, this bench isn't just limited to that. It can also act as a statement piece in hallways, entryways, or even at the foot of the bed. Placed against a wall with some throw pillows or a cozy throw blanket, the bench can double as a stylish lounging spot.
In addition, the easy-to-clean aspect of metal legs is a pertinent feature worth considering, particularly for high-traffic areas or homes with kids and pets. This practicality, combined with its appealing aesthetics, secures the boucle bench with metal legs as an attractive option in home décor. It's one to consider when aiming to blend comfort, style and robust design.
Contemporary Square Boucle Bench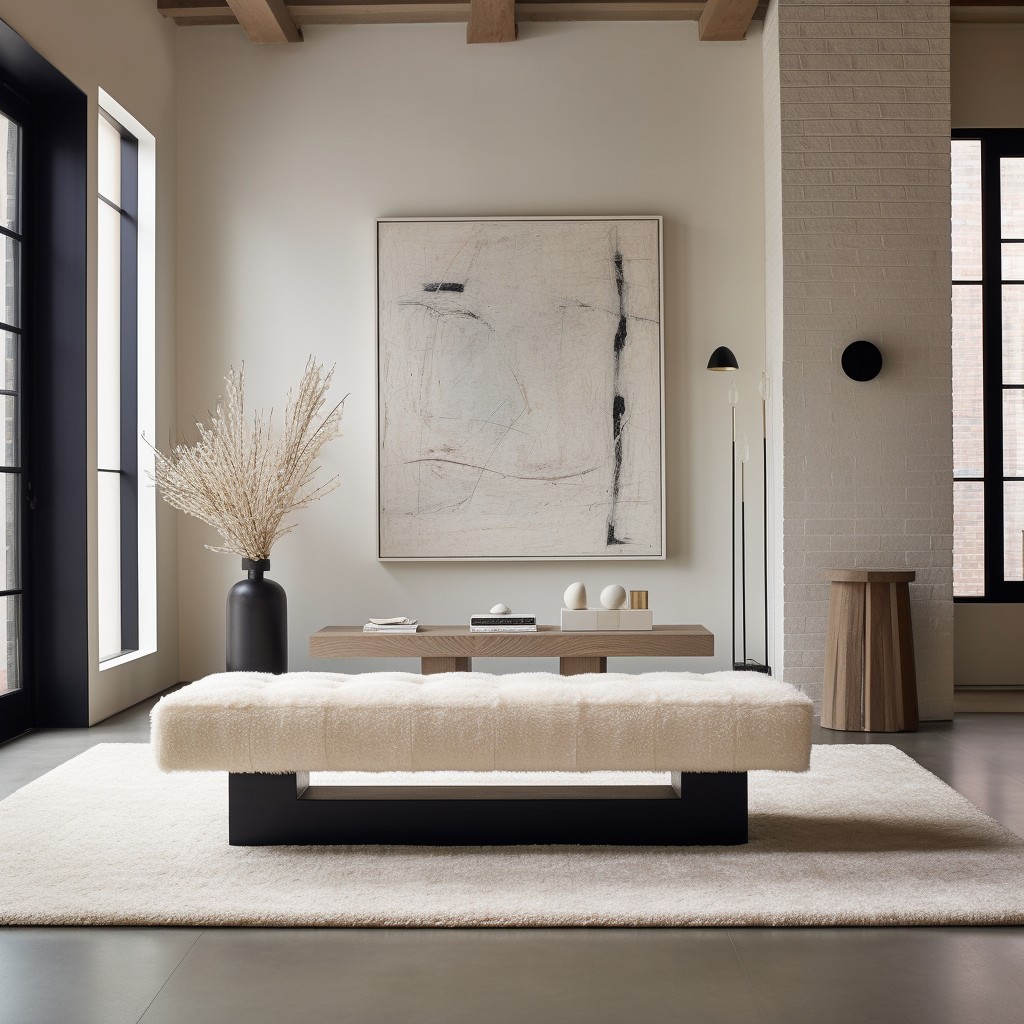 Characterized by its clean, geometric lines, the contemporary square Boucle bench exudes a sleek sophistication. It's a visually appealing blend of both form and function.
1. Defined Shapes: The design encapsulates a definite square shape that gives a structured look and aligns perfectly with modern interiors.
2. Material: The boucle upholstery adds a soft, textured contrast to the stark square shape, creating a balance between hard and soft elements.
3. Versatility: Its controlled dimensions make it an ideal addition to any compact, modern living space as an extra seat or even a footrest.
4. Palette: From neutrals to bolder shades, the wide array of color options caters to every palette, allowing it to blend seamlessly with existing decor.
5. Expose Frame: A modern twist can include an exposed frame, where metal or wooden frames lend an artistic flair to the square boucle bench design.
6. Comfort: Despite its sharp design, the padding ensures it doesn't compromise on comfort, making it both a stylish and practical choice.
Remember, furniture isn't merely about functionality. The right choice can significantly elevate your home's aesthetic appeal. Inject modernity into interiors with a contemporary square boucle bench.
Classic French-Styled Boucle Bench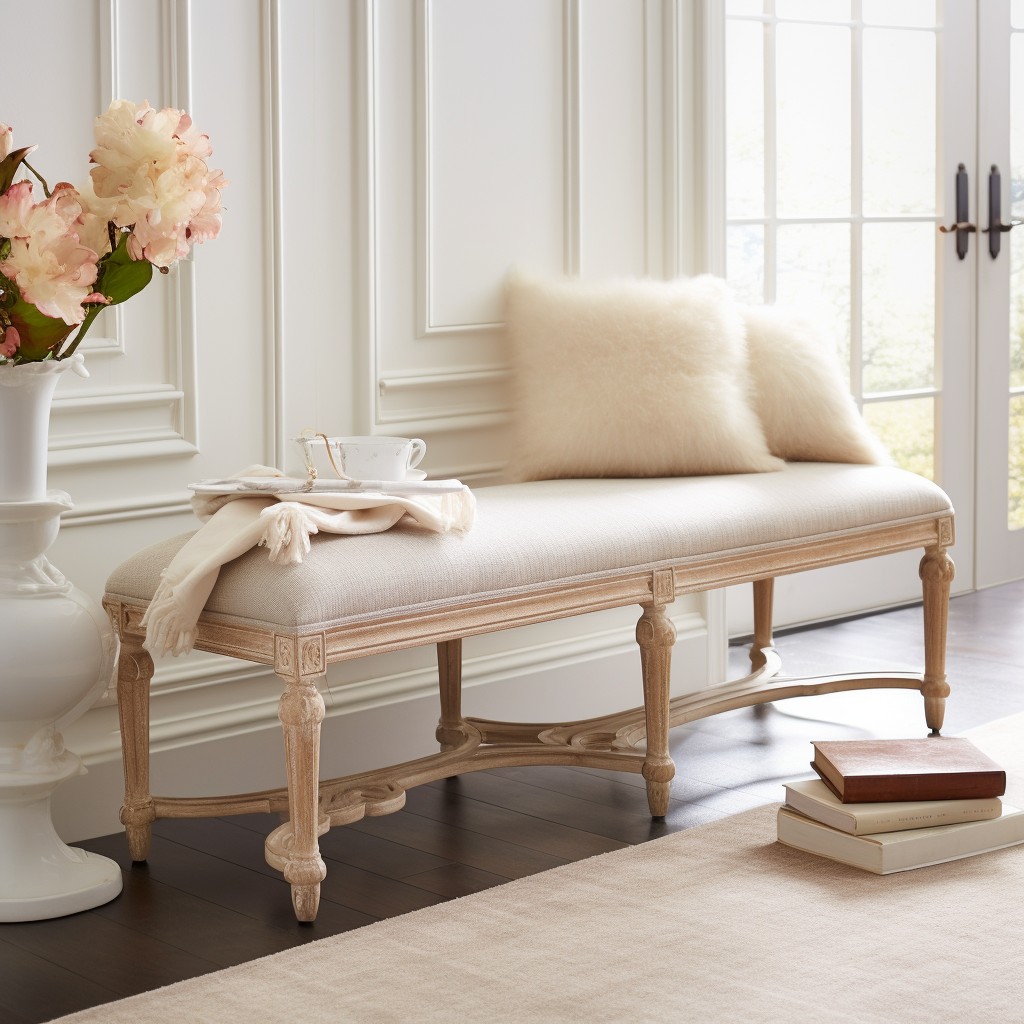 Incorporating touches of luxurious texture and intricate detail, this Bench exemplifies the timeless beauty of French interior design. It boasts a boucle fabric upholstery, often characterized by its looped curls that provide a soft, indulgent feel. The structure aligns with France's penchant for ornate, artistic furniture, carrying an undulating, curvaceous silhouette that complements both traditional and contemporary settings.
Key distinguishing features:
Upholstery: Boucle fabric, known for its plush softness, provides warmth and welcoming coziness.
Design: Embraces French classicism with intricate detailing and an eye-catching silhouette.
Versatility: Despite its historical roots, it flawlessly blends into various decor styles, from traditional luxury to modern minimalism.
Structure: Sits on typically wooden, occasionally metal legs that may incorporate detailing enhancing its stylistic resonance.
Attention to Detail: Can feature unique elements such as tufting, piping, or a nailhead trim that punctuates its classic appeal.
Size: Generally, it tends to be compact, making it a perfect accent piece in a bedroom, hallway, or living area.
Functionality: Besides aesthetic appeal, it serves a practical seat or can adapt as a footrest, testament to its function-meets-form allure.
Tufted Boucle Bench With Wood Legs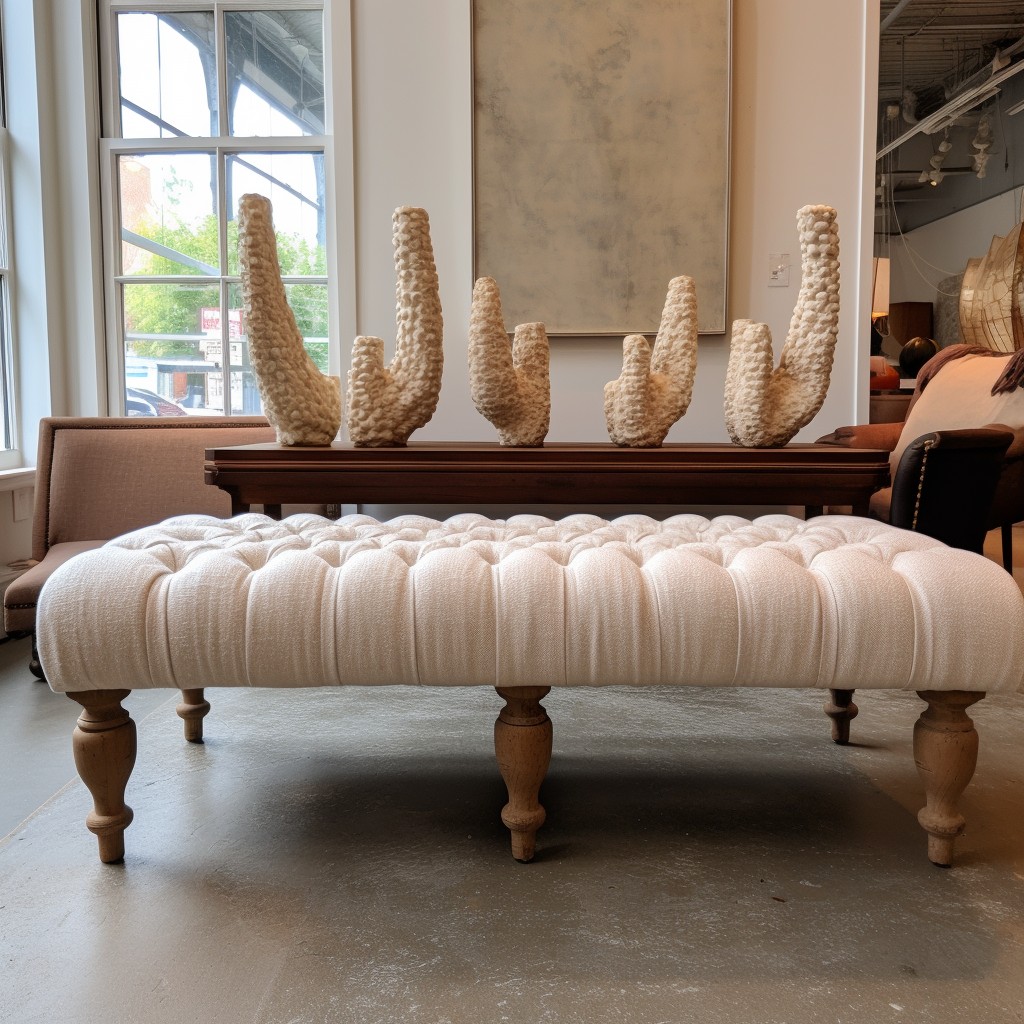 The appeal of this design lies in its amalgamation of textures. The wood's organic lines are a perfect foil for the boucle's rich and textured surface. Authentic hardwood legs, with a variety of finishes from glossed to distressed, offer an elevated aesthetic.
A signature trait of this type is the tufting. Crafted meticulously, it provides additional depth and enhances its inviting appearance. This feature is attractive and doubles as a comfort enhancer, ensuring equal distribution of the boucle fill for a sink-in experience.
Furthermore, these benches exhibit durability with their sturdy wooden leg feature. Yet, they are not just functional, their design also contributes to the overall aesthetic appeal. Frequently, the wood is crafted in styles borrowing from mid-century modern or classic French, adding a design statement to any room.
Lastly, due to the neutral tones of boucle, these benches offer seamless integration with any existing decor, ranging from minimalist to maximalist. Pair it with earth-toned pillows or throw blankets to create a cozy corner in your living room, or place it at the foot of your bed for a bit of luxury in the bedroom.
Curvy Boucle Accent Bench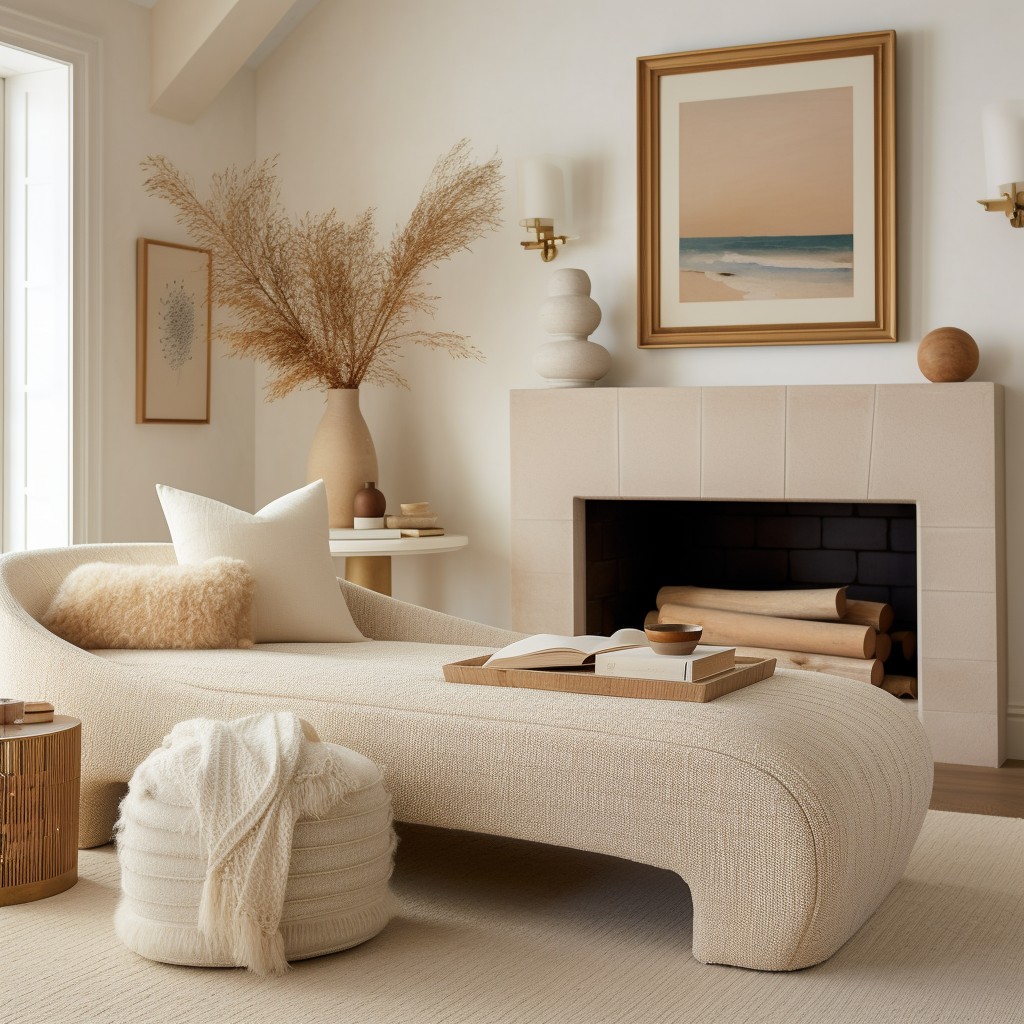 Creating a soft architectural statement, the accent bench can be a stunning addition to your room. Its sweeping, curved lines invite anyone who enters to sit and relax. Upholstered in plush boucle fabric, the bench delivers a unique tactile experience and a visual appeal.
Its distinctively rounded silhouette adds a touch of softness, instantly elevating the elegance of any room, while also introducing texture. Whether used in a hallway, bedroom, or living room, this piece's versatility becomes evident.
Finally, the comfort level of this bench is enhanced by its curved design, providing a cozy seating area that offers simple, understated style. Despite its plush appearance, it does not compromise on durability, thanks to a sturdy wood-based frame that can withstand everyday use.
Overall, the curvy boucle accent bench serves as an expression of contemporary aesthetics, seamlessly blending function, comfort, and style. Whether you're looking for additional seating or a statement piece, this bench can fulfill those needs. Keep in mind that pairing this bench with complementing elements for decoration, such as pillows or throws, can further accentuate its beauty.
Chunky Large Boucle Bench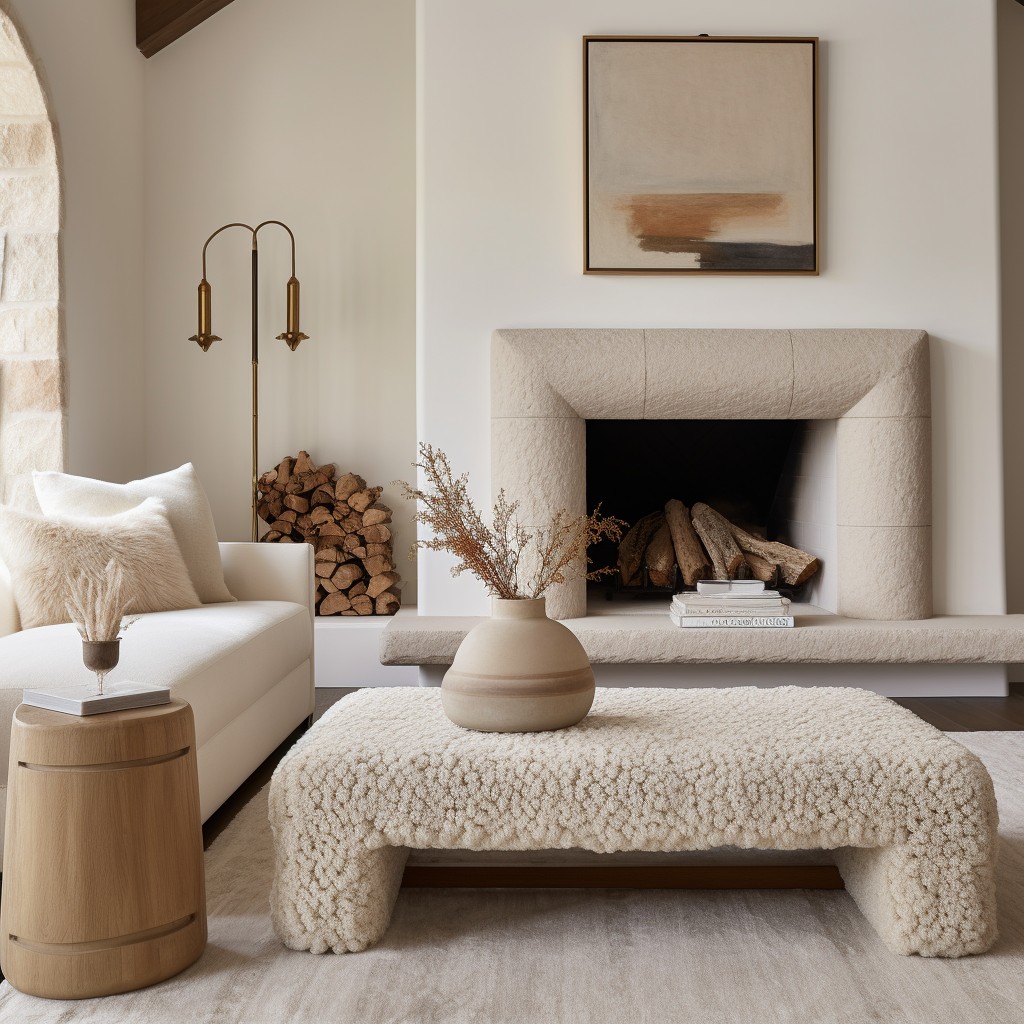 The chunky large boucle bench is an eye-catching furniture piece that effortlessly combines comfort and style. It has a plush, inviting look achieved by using an oversized boucle fabric, which not only provides tactile enjoyment but also adds a delightful visual bulkiness to the room. It is perfect for those who desire bold statement pieces or like to experiment with textures in their home decor.
This piece is versatile and functional, capable of being used as a seating area or a cozy nook for reading and relaxation. The large size makes it suitable for both spacious living rooms and ample bedrooms. Despite its bulky appearance, the design's simplicity allows it to blend seamlessly into various interior styles, from modern to bohemian or rustic.
The bench can be further adorned with vibrant cushions or throws to provide a pop of color, or left bare to let the chunky boucle make its statement. It is an appealing option for lovers of trendy, tactile, and versatile furniture pieces.
Soft Ivory Boucle Bench
Equally celebrated for its elegance and comfort, the soft ivory hue brightens up the space effortlessly, infusing a gentle, serene vibe. Its neutral color paletteworks smoothly with a wide range of interior styles; be it minimalist, boho, classic, or contemporary, ensuring its versatility in home decor.
Having a plush texture and great fit, this bench provides an inviting seating option in living rooms, bedrooms, or entryways. Its smooth, curved design complements most architectural features without overpowering. While paired with sophisticated, gold-tinted decor or pastel-themed spaces, it enhances the style quotient immensely.
Moreover, maintaining the bench is quite simple: regular vacuuming and professional upholstery cleaning are just what it needs to keep its charm intact for years.
Black Edged Boucle Bench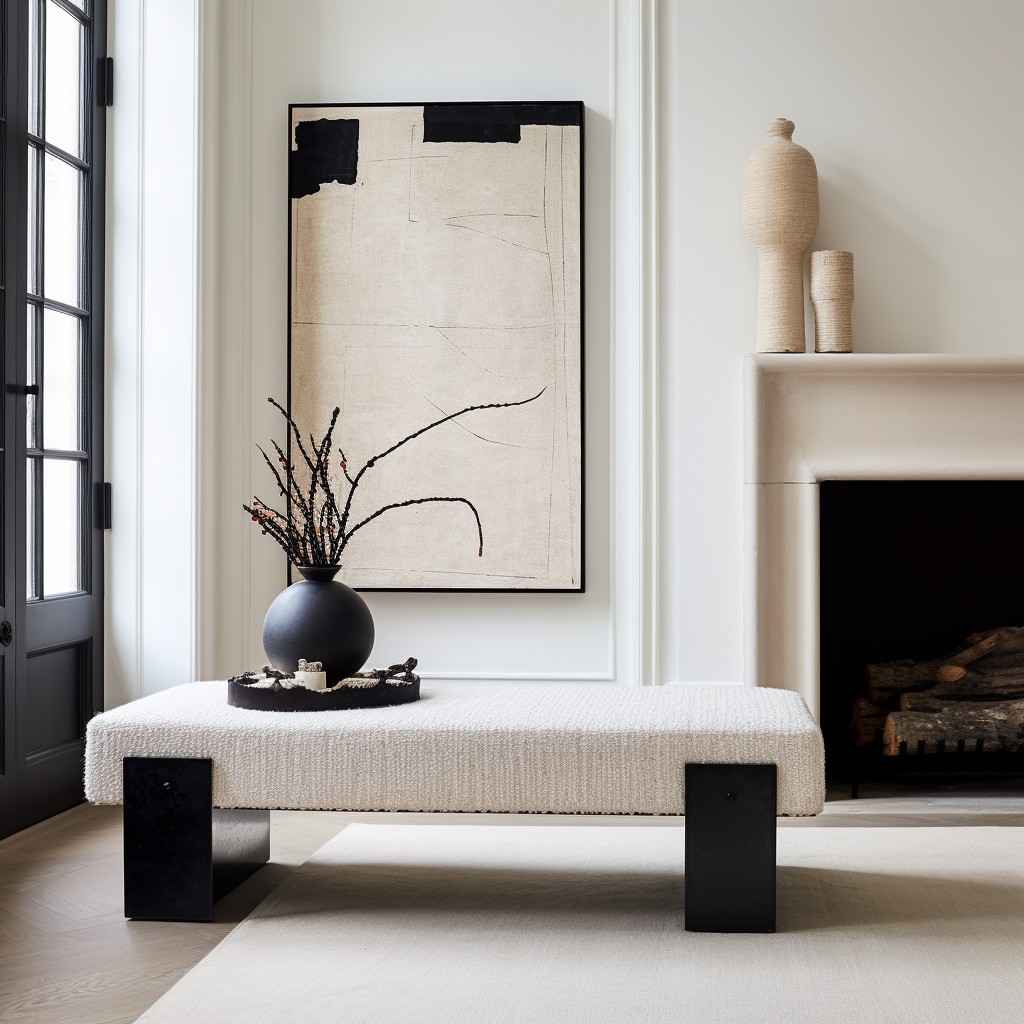 Delving deeper, the hallmark of this design lies in its distinct, striking black edges which create a bold statement.
This detail adds an element of dramatic contrast, turning a simple boucle bench into an attention-grabbing piece.
The juxtaposition of the usually soft, creamy boucle fabric against the assertive black edging makes it a perfect fit for interiors that favor a modern fusion style.
It also enhances versatility – it can blend seamlessly with monochrome or minimalist setups, yet stand its own in bold, vibrant color schemes.
Additional features might include metal or wooden legs, with their style influencing the overall visual weight of the bench.
Ultimately, the black-edged boucle bench is a conversation starter, fusing classic comfort with daring design accents.
Boucle Storage Bench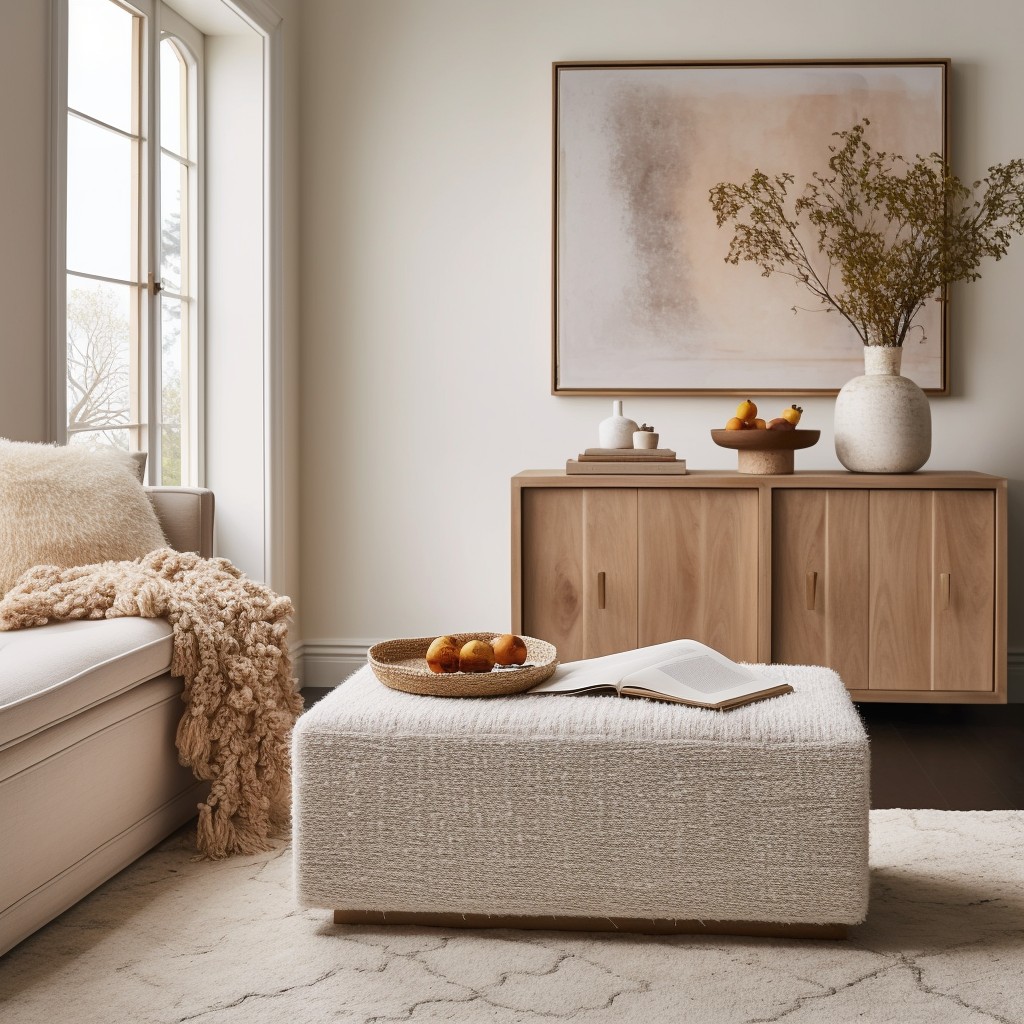 An eye-catching piece of furniture that marries function with design, this choice brings a textured, cozy charm into your home. It steps up as a viable solution for space constraints, offering a place to stow away your essentials.
The hidden compartment usually sports a straightforward opening mechanism for easy access. This bench often showcases sturdy construction, so you can use it as a seating place as well.
Perfect for hallways, living rooms, or bedrooms, its aesthetic versatility allows it to meld seamlessly with various decor styles. Some models feature detachable lids or drawers, adding an extra layer of practicality.
Notably, these benches also come in an array of shades, from light cream to charcoal, to effortlessly match your color scheme.
Scandinavian Style Boucle Bench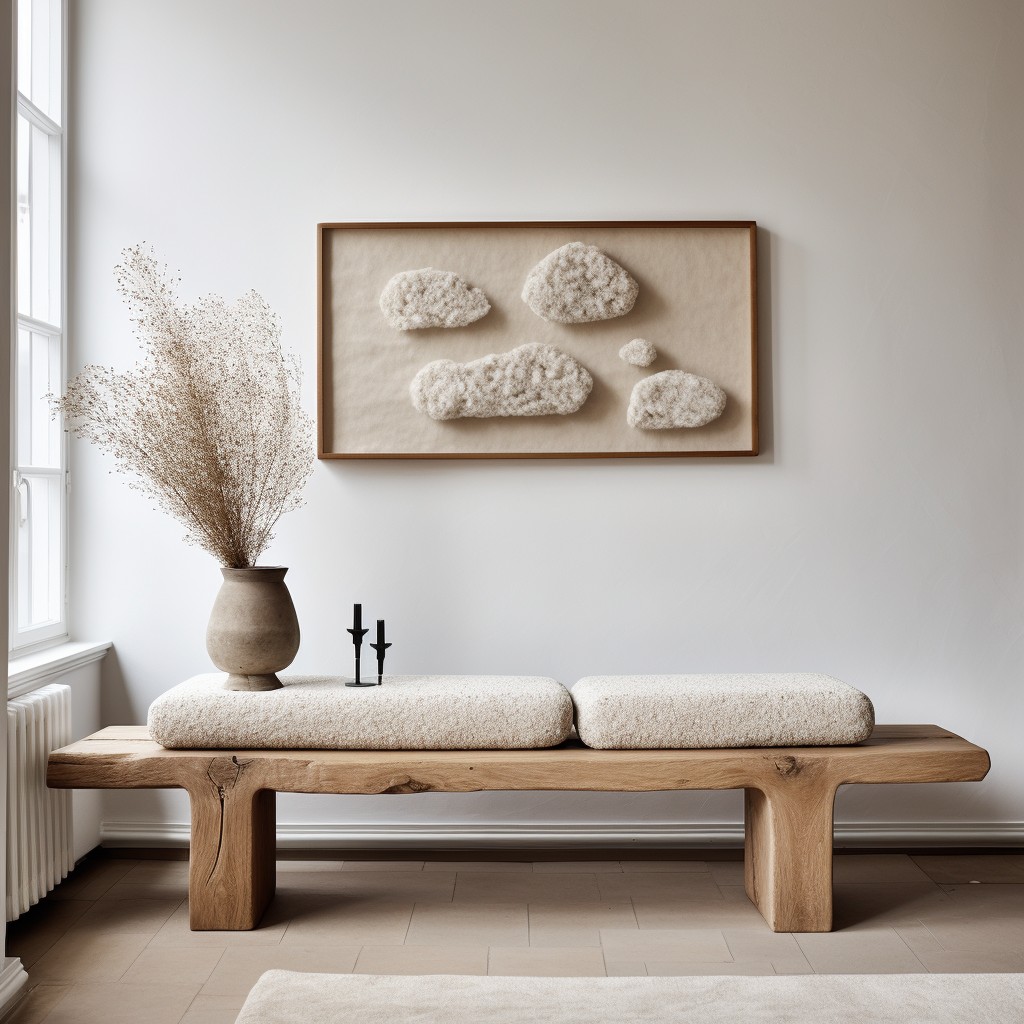 The Scandinavian style focuses on simplicity, minimalism, and functionality, delivering a clean and crisp aesthetic. Regarding a Boucle bench in this design, a few signature elements typically stand out:
1. Crisp Lines and Simple Design: The benches follow a straightforward, low-key design with sharp lines and minimal decorative fuss. The emphasis is on functionality over frills, making them a perfect match for a streamlined, minimalist interior.
2. Neutral Tones: Scandinavian benches often come in shades of white, off-white, and cream, aligning with the Boucle material's common palette. These colors impart a sense of calmness and tie into the light and open feel of Nordic interiors.
3. Natural Materials: Traditional Scandinavian style celebrates natural materials. Wooden legs or frames, often in light finishes, are a common accompaniment to the fluffy Boucle upholstery, creating a soothing textural contrast.
4. Airy and Spacious Feel: These benches tend to have a low height and slim profile, contributing to a spacious look. Their sleek design allows them to blend seamlessly with the room, enhancing the airy quality that's signature to Scandinavian interiors.
5. Comfort: Despite their modern visual appeal, these benches prioritize comfort. The Boucle fabric provides a plush, warm, and welcoming place to rest, infusing a dash of inviting coziness.
In marrying the light texture of Boucle with the pared-down Scandinavian aesthetic, one can achieve a harmonious blend of modernity, comfort, and chic visual appeal.
Geometric-Shaped Boucle Bench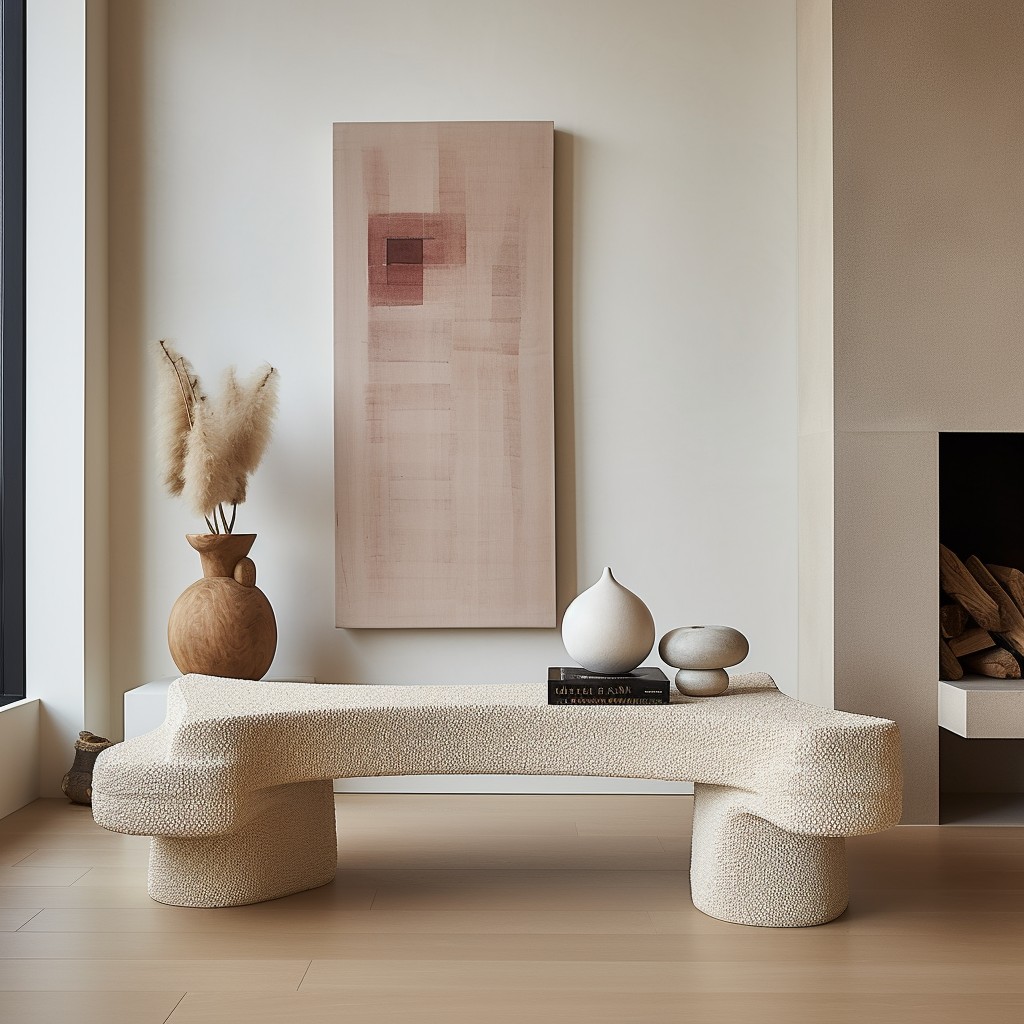 Delving into an untraditional design, geometric-shaped boucle benches provide a bold aesthetic. They play with shapes such as squares, rectangles, or unexpectedly, hexagons, adding a point of interest in the room.
Key features include:
Angular Framework: Contrasting soft boucle fabric with angular lines for an unusual, striking effect.
Multi-Functional: Large geometric benches can serve as both a coffee table and seating option.
Modern Décor: These benches complement contemporary, minimalist, or Scandi interiors brilliantly.
Variety: Available in various colors and sizes, suited for different spaces—hallways, living rooms, or bedrooms.
Unexpected Designs: Hexagonal or pentagonal benches provide an unconventional, conversation-starting piece.
Overall, these pieces are masterful blends of comfort and style, truly embodying the fusion of function and form. They offer an abstract art feel while retaining practical usability, an innovative departure from typical bench designs.
Silver-Framed Boucle Bench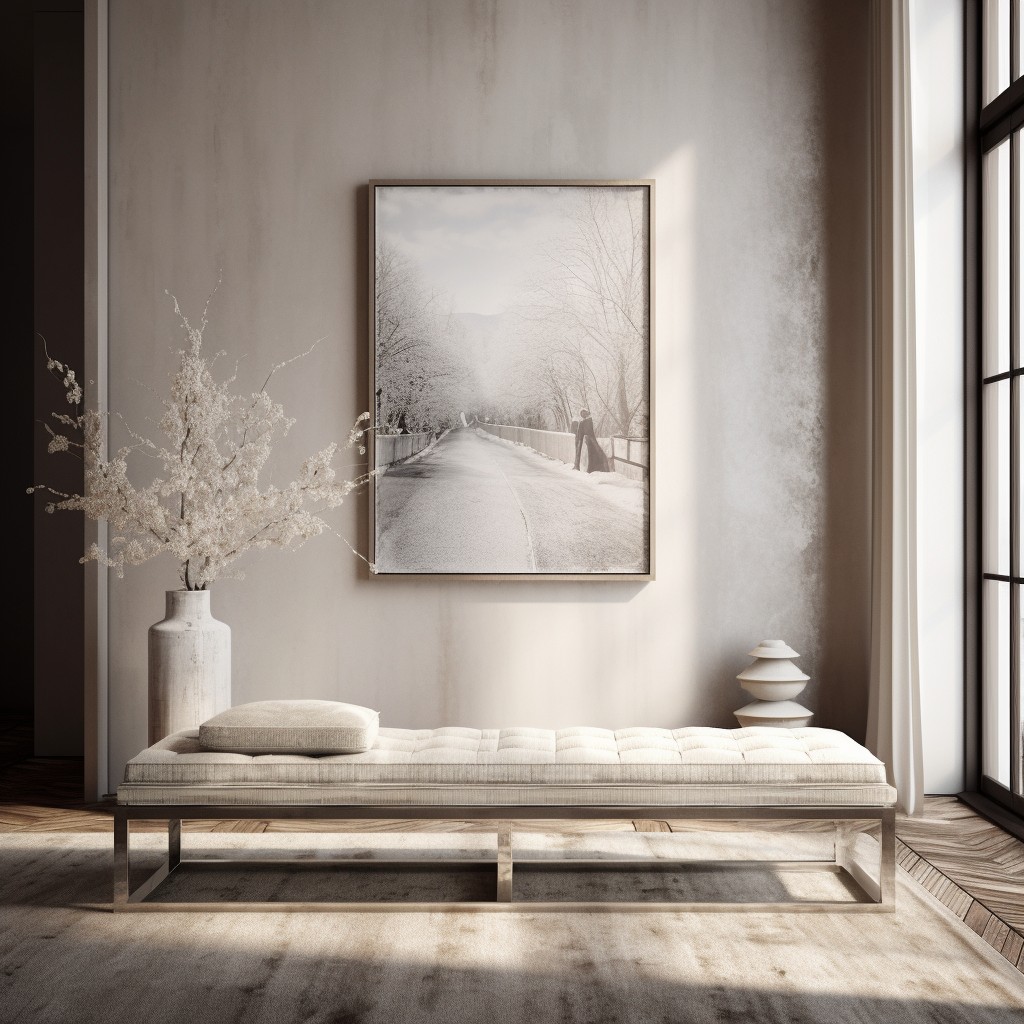 Incorporating metallic accents has always been a favored choice in home decor and it's no different with this standout piece. The silver frame provides an elegant contrast to the tactile boucle fabric. It not only adds a glamorous touch but also ensures durability. The strength of the silver frame guarantees longevity, while its slender silhouette doesn't compromise on aesthetic appeal.
Varying the texture is a beneficial way to create intrigue; the grainy surface of the silver blends well with the soft, looped threads of boucle fabric. This pairing can bring a distinct character to any room, providing an understated elegance well-suited for both traditional and modern interiors.
Additionally, the touch of silver allows for seamless integration in a myriad of color schemes. From a monochrome setting to more vibrant backdrops, a silver-framed boucle bench certainly brings a chic balance. It's versatile and sophisticated, subtly enhancing the ambiance of your living space.
Finally, the maintenance of this bench is straightforward. Regular dusting of the silver frame coupled with gentle fabric cleaning is enough to keep the bench in excellent condition for years. So, as stunning as it is practical, this piece adds effortless charm and functionality to your decor.
Retro Pink Boucle Bench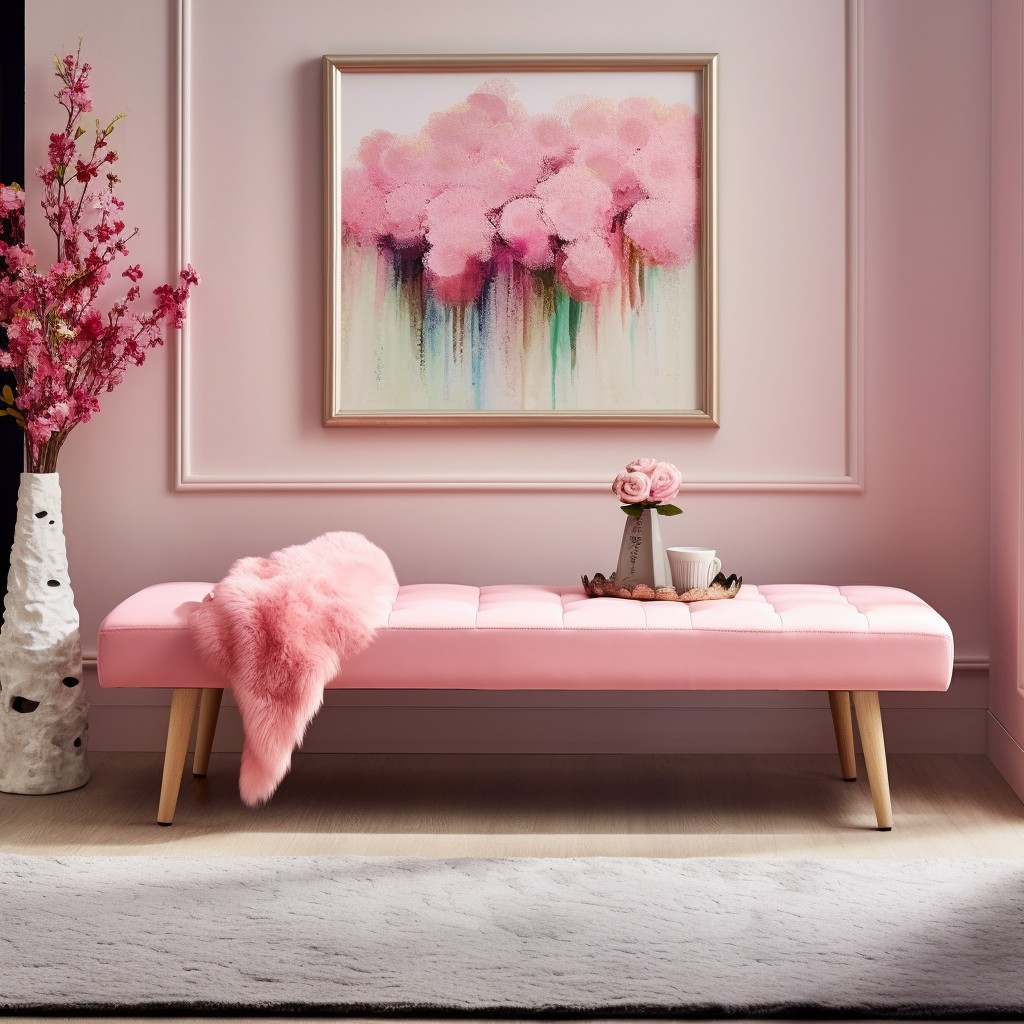 Embracing a nostalgic appeal, this bench provides an undeniably vibrant pop of color. The refined pink boucle fabric infuses a retro and playful twist into any space. Its distressed finish blends perfectly in a room with a vintage aesthetic, making it an intriguing statement piece.
Ensuring comfortability, the bench features a soft and dense cushion. Not to disregard its durable build, the bench offers a sturdy seat and is resistant to wear and tear. It helps create a homely yet stylish setting with its craftwork that balances subtlety and boldness.
When aiming for an eclectic interior, this bench can be paired with simplistic furnishings to allow it to stand out. Alternatively, it can be incorporated into a more energetic decor by adding contrasting patterns and textures. Hence, adding versatility in a modern, stylish, and thrilling manner. It impresses upon us the ability of an ordinary piece to transform a room radically while serving a functional purpose.
Adjustable Boucle Bench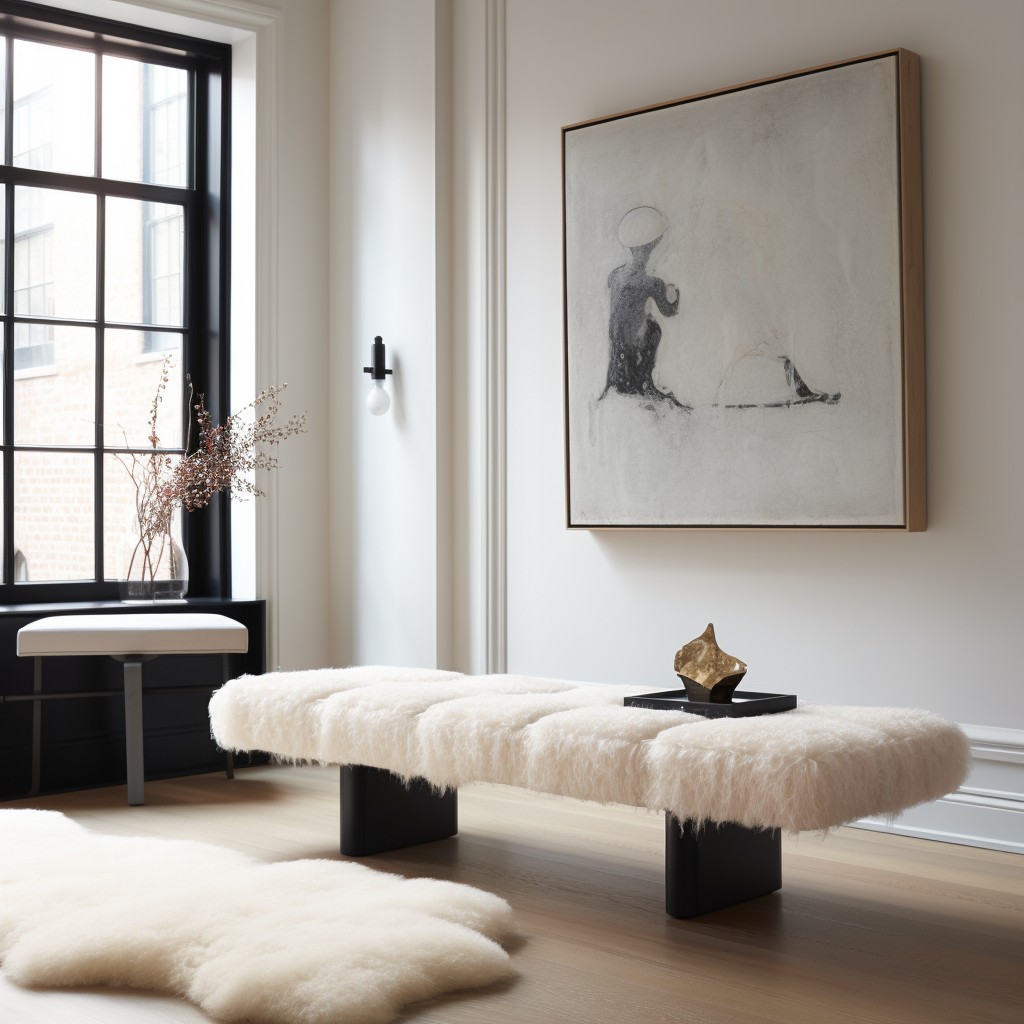 Offering practicality alongside a dash of modern sophistication, these unique pieces adapt to different needs. They provide an inviting seating place during the day and can extend flat for a comfy night's rest.
Featuring boucle-upholstered cushions, they create a soft and textured appeal, easily blending with diverse interiors. Moreover, the adjusting mechanism is typically discreetly integrated, maintaining the chic, seamless look.
Benefits are multifold: space-saving, versatile, and anyone can modify them without the need for tools or complex instructions. Perfectly fitting for studio apartments, guest bedrooms, or living spaces where adaptability is welcomed.
Tapered Legs Boucle Bench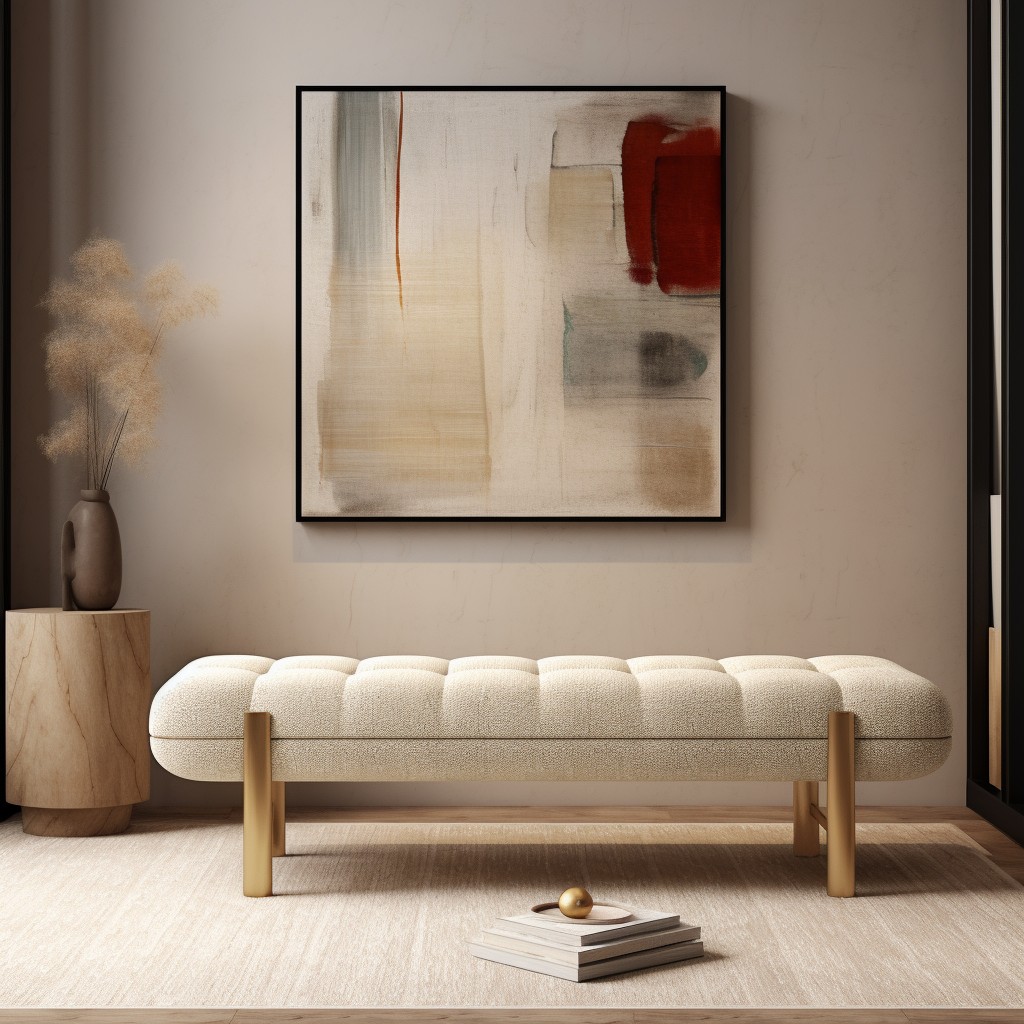 Designed for elegant simplicity, this style typically features angled, often wooden, legs that contribute to a mid-century modern aesthetic. The streamlined silhouette allows it to blend seamlessly with many décor styles. It adds a touch of class to any room, with its utilitarian yet stylish demeanor.
Here are a few core concepts behind its design:
Functional elegance: The sleek lines of the tapered legs add a minimalist, yet refined touch to the bench.
Space-conscious Design: Slimmer at the bottom, these legs can make your room appear more spacious, an invaluable feature for smaller spaces.
Versatility: Due to their simple design, they pair exceptionally well with the textural richness of boucle upholstery, creating a delightful contrast in materials.
Stability: Tapered legs are not just about appearances; they also provide solid support and stability, despite their delicate look.
Mid-century modern aesthetic: These benches often fit well in rooms adopting the mid-century modern aesthetic, a style famous for its timeless appeal.
Remember, when choosing any piece of furniture, keeping the room's existing decor in mind helps to maintain a harmonious and aesthetically pleasing space.
Fluffy Cloud-like Boucle Bench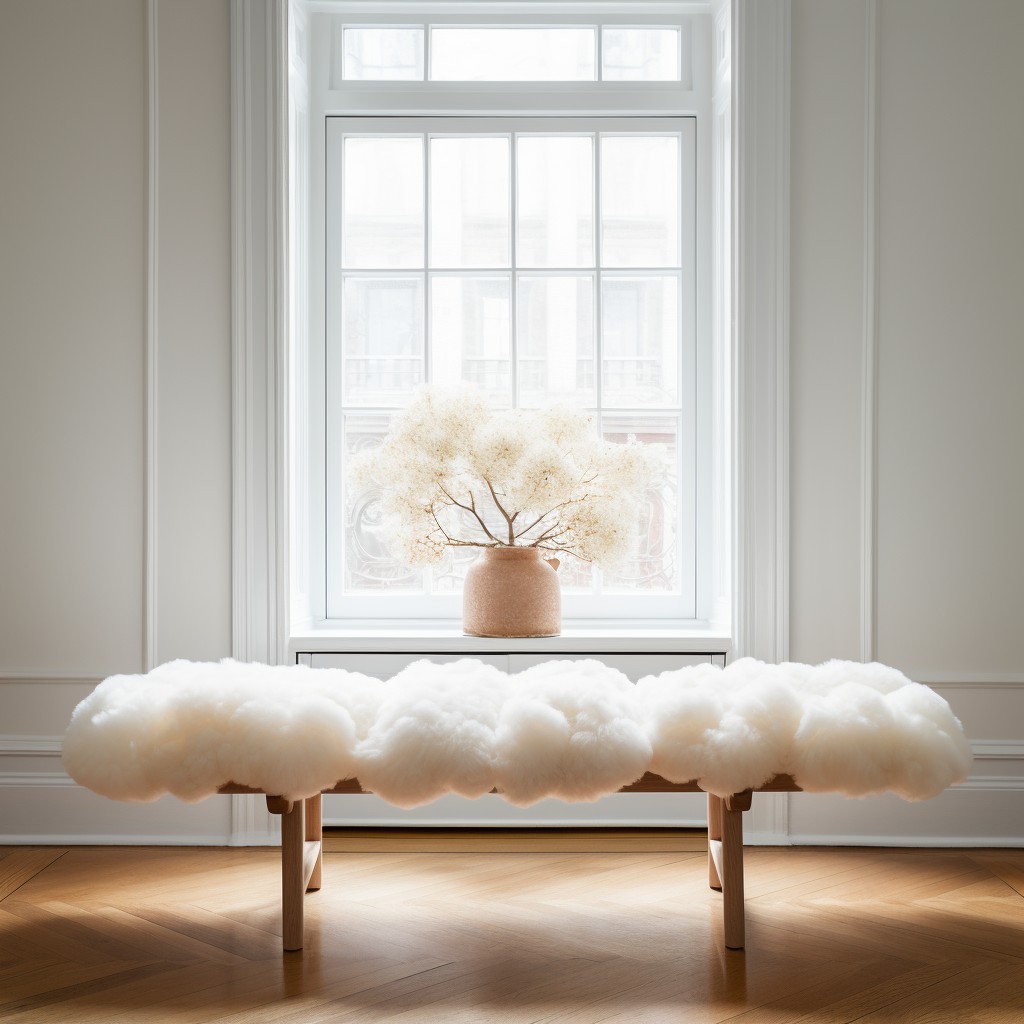 Incorporating soft textures and neutral tones, a fluffy cloud-like bench adds a touch of whimsy to any space. This piece is reminiscent of luxuriant soft clouds, providing unparalleled comfort and adding an element of visual warmth.
The plush boucle fabric invites touch while remaining firm enough to provide ample support.
Here are some points to consider:
Space Suitability: Ideal for bedrooms, living rooms or lounge areas due to its cozy, inviting aesthetics.
Size: Even though they appear hefty, they can be incorporated in small spaces as an accent piece due to their low footprint.
Color Themes: Best paired with neutral and pastel color themes for a calming ambiance.
Maintenance: The fabric requires regular cleaning to maintain its cloud-like whiteness and fluffy texture.
Coordinates: Works beautifully with natural elements such as wooden accents, wicker baskets, or planters for a harmonious look.
You may also like to read: