Last updated on October 12, 2023
Boucle recliners inject an element of elegance into homes because they blend comfort and style with a texture that adds depth and character.
Boucle recliners are a perfect blend of comfort and style, making a statement in any living space.
From choosing the right color to matching it with your existing decor, there are numerous ways to incorporate a boucle recliner into your home.
This article will guide you through various ideas to make the most of your boucle recliner.
You'll find tips on selecting the right spot, pairing it with other furniture, and even some creative ways to accessorize it.
Whether you prefer a minimalist aesthetic or a more lavish look, there's a boucle recliner idea for everyone here.
So, buckle up and get ready to explore the world of boucle recliners.
Table of Contents
Boucle Recliner With Retro Design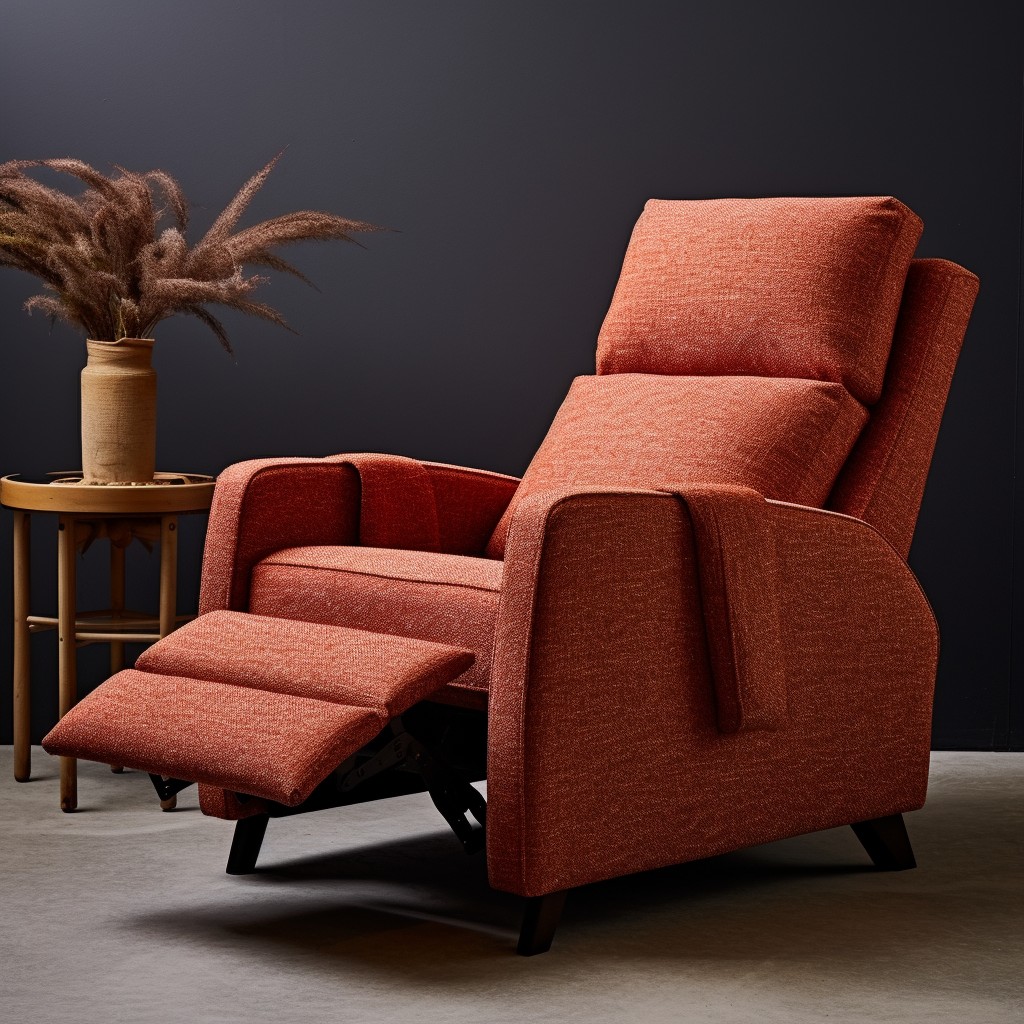 Dipping into the nostalgic vibe of yesteryears can be delightful, especially with a retro-designed boucle recliner. Its essence is captured by the blend of classic features with modern comfort. Hand-tufted buttons, a distinct adornment of the retro era, typically characterize these recliners. They excellently complement the textured pattern of the boucle fabric to provide an appealing visual contrast.
The intriguing blend of old-world character with contemporary build can be seen in the recliner's framework. Usually constructed with sturdy, slim-profiled wooden or metal frames, they provide robust support while maintaining an airy appeal. The curvature of the backrest and seating area is another typical characteristic, tailored to provide user comfort while enhancing the nod to vintage styles.
Despite their nostalgic aesthetic, these recliners are equipped with modern reclining mechanisms for smooth and easy adjustment. This seamless fusion of retro design with present-day functionality makes the boucle recliner a versatile piece, fitting perfectly into any home setting while adding a touch of vintage flair.
Navy Blue Boucle Fabric Recliner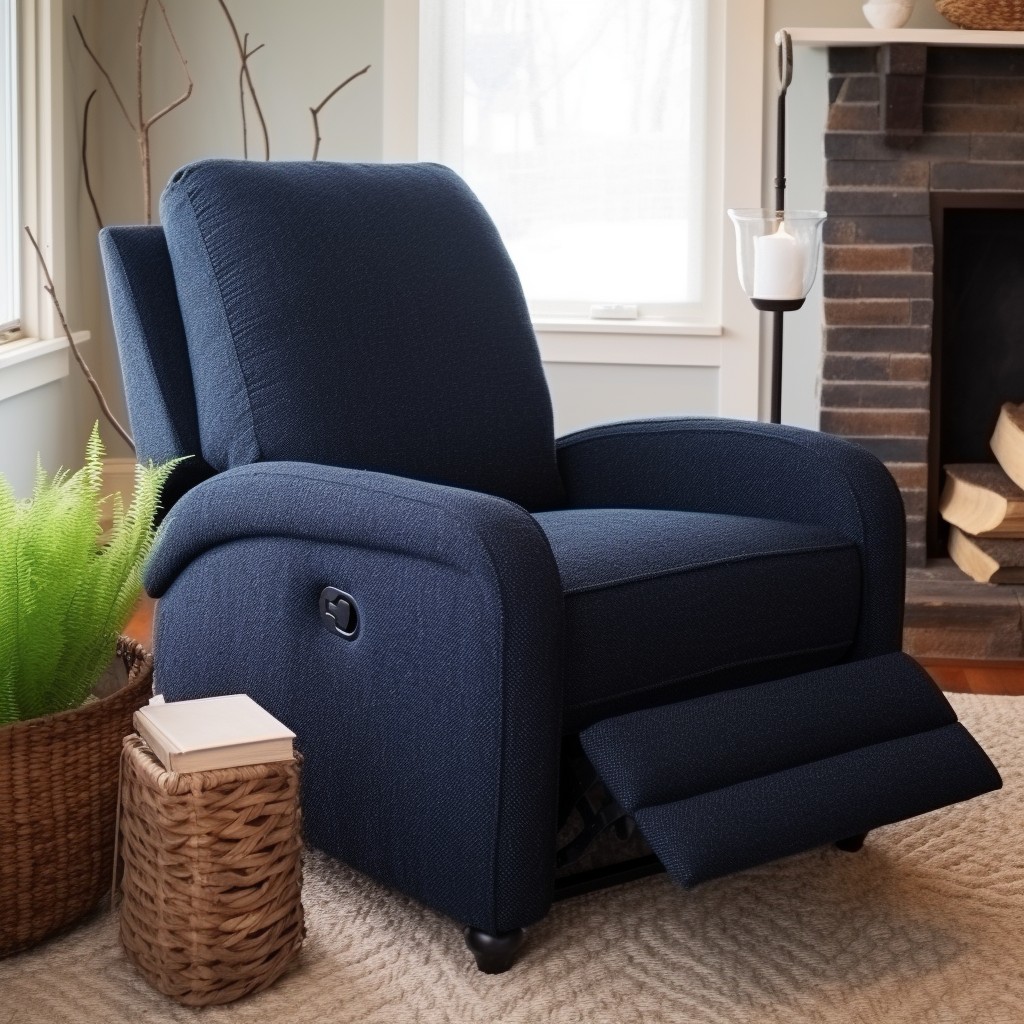 In an elegant shade of navy blue, this boucle fabric recline embodies sophistication and luxury.
Equally impressive is its durability. The tightly woven boucle fabric is known not only for its pleasing aesthetic but also for its exceptional resistance to wear, a crucial feature for any furniture subjected to daily use.
Navy blue, moreover, brings an additional stylistic advantage by helping to mask minor stains and spills, reducing your maintenance efforts.
This model often includes plush padding, ensuring maximum comfort. The rich color allows it to serve as an attractive focal point in your room or subtly blend with a wide range of color schemes.
Various design details like button tufting or nail-head trim may enhance its stylish appearance, depending on the specific model you choose.
Undeniably, its blend of top-notch quality and noteworthy design makes it a valuable addition to your decor.
Minimalistic White Boucle Recliner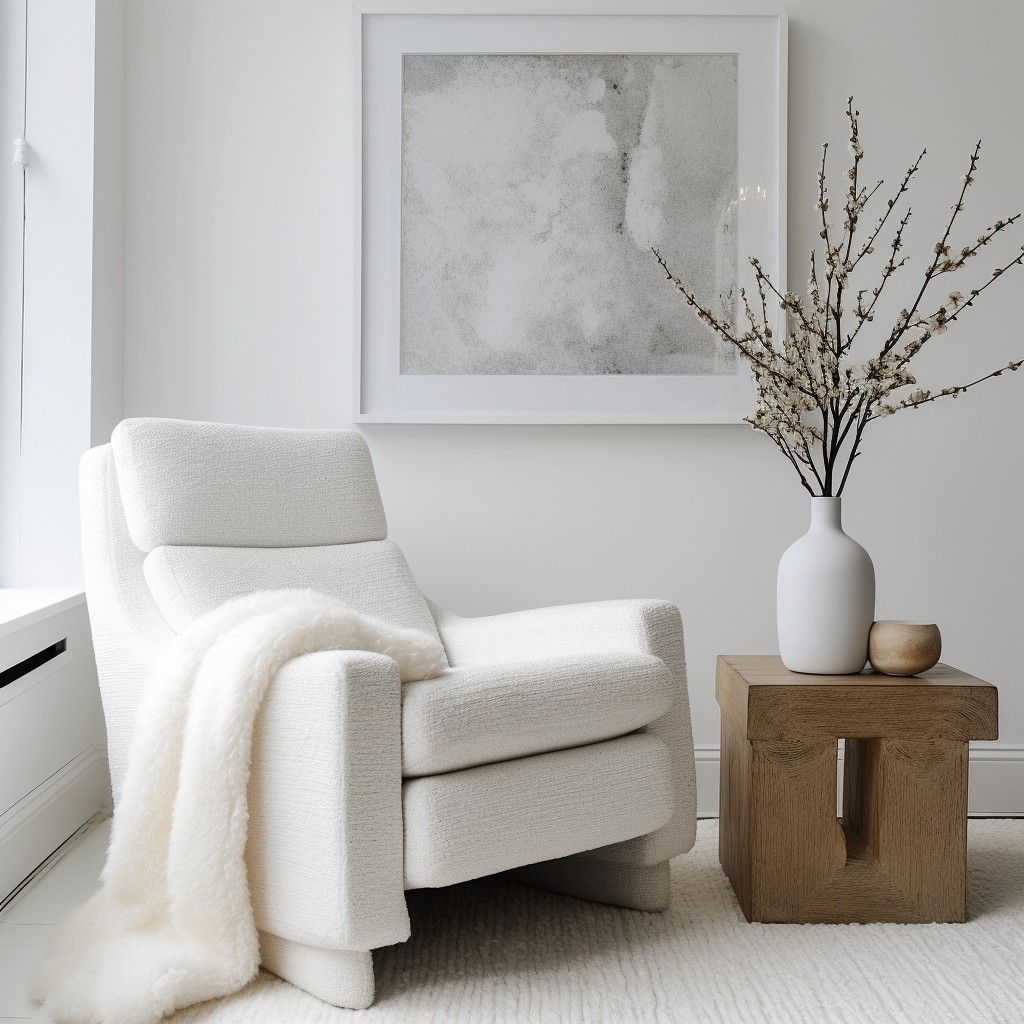 A perfect blend of simplicity and sophistication, this design brings a fresh, clean look to any living space. The neutral hue of the fabric complements various color schemes, promoting a harmonious blend with your existing decor. The sleek silhouette doesn't overpower the room, instead, it adds a modern touch and subtle elegance.
To further enhance the minimalistic vibe, often, these recliners don't have extra frills or embellishments but focus on the essential elements. A streamlined backrest and simple armrests are the distinguishing features. The button-tufting or stitch detailing often add a hint of visual interest without compromising the clean aesthetic.
The soft, looped boucle fabric lends a cozy, inviting feel, while the simple functionality offers a straightforward reclining mechanism for optimal comfort. The slim metal or wooden legs, generally in a muted shade or natural finish, ground the design and offer a sturdy foundation. Pair it with a throw pillow or a plush blanket for a cozy, curated look.
Despite its understated design, the comfort and quality remain uncompromised. Thick cushioning and a well-padded seat ensure maximum support while elevated durability ensures longevity. It not only serves as a comfortable seating option, but also a visual treat that enhances the overall interior design.
Boucle Recliner With Wooden Legs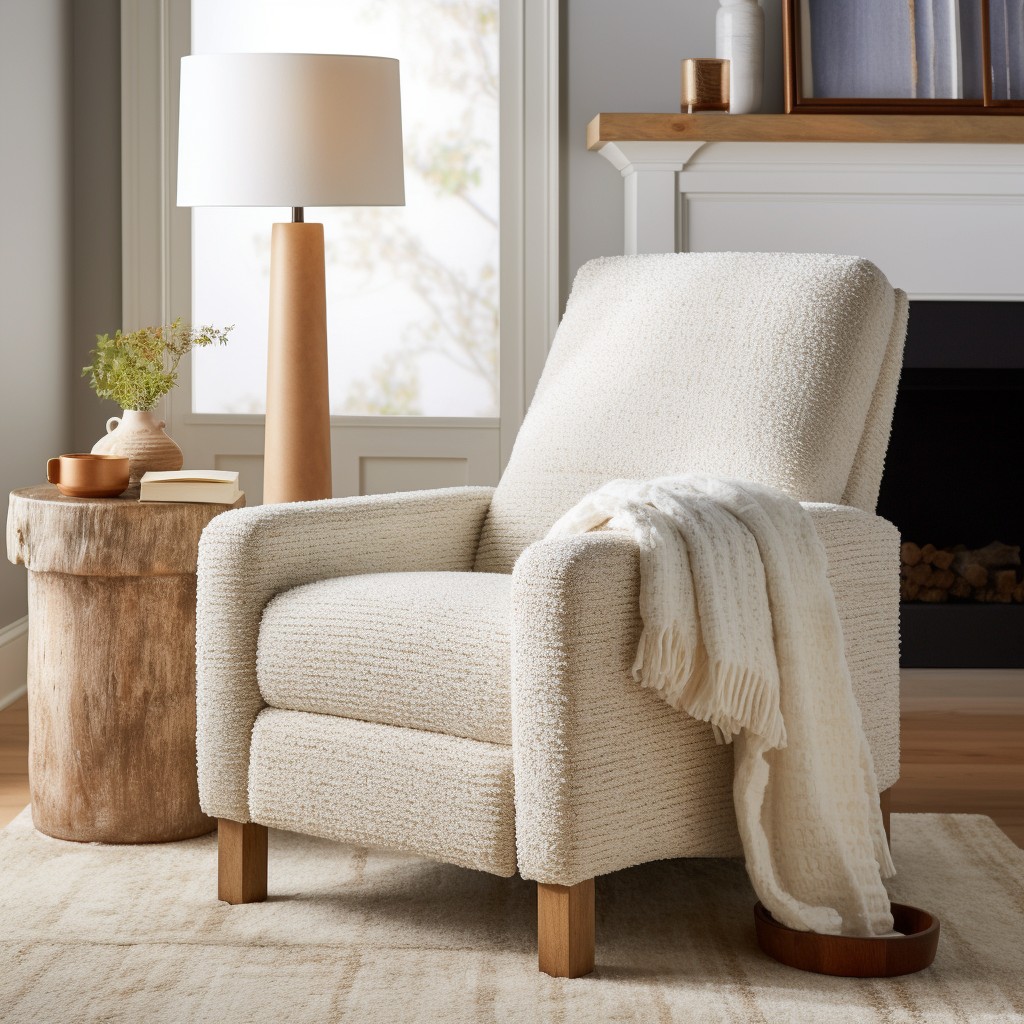 Pairing a boucle fabric upholstery with sturdy wooden legs creates a unique blend of comfort and rustic charm. Here are a few key features that make this particular style desirable.
Firstly, the wooden legs add an element of rustic elegance. Available in various finishes such as mahogany, walnut, or pine, they offer considerable flexibility to match a range of home decors.
Secondly, they enhance durability. Wooden legs are robust, providing excellent support and stability to your recliner. They're less prone to wear-and-tear or breaking, ensuring longevity.
Thirdly, they contribute to the overall comfort by offering differing heights. Whether you prefer a low-set or high-set recliner, there's a range of options to suit your preferences.
Lastly, the natural grain and texture of the wood add aesthetic appeal. This touch of nature contrasts nicely with the soft, textured boucle fabric, creating a show-stopping furniture piece in your space.
Oversized Boucle Recliner for Comfort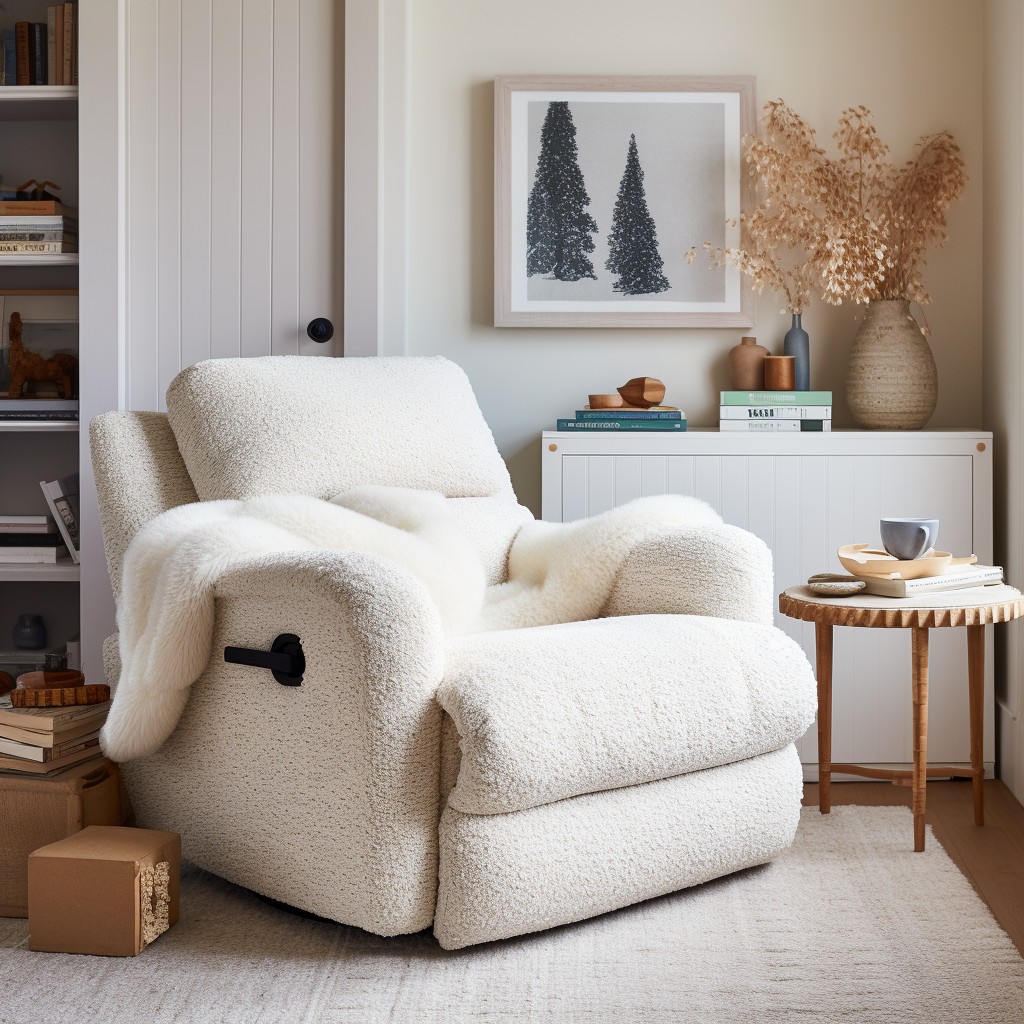 Delving into the world of oversized boucle recliners, comfort becomes a focal point. With dimensions larger than average recliners, these chairs offer ample space for relaxation. The boucle fabric adds to the experience, its looped yarn producing a welcoming texture and soft handfeel.
These recliners, also known as "big man chairs," cater to all body types and sizes. Exemplifying inclusivity, they provide an opportunity for anyone to unwind without spatial restrictions.
Engineered for maximum comfort, they often incorporate plush, high-resilience foam for superior cushioning. Their construction ensures body-supportive design that promotes a neutral posture, making them an excellent choice for extensive seating periods.
Options may include built-in features like heating or massage functions, contributing to an even more inviting experience. They can also embrace versatile designs such as swivel bases or integrated headrests for customized comfort.
Maintenance is a breeze. Boucle resistance to pilling and its ability to hide dust and stains make these oversized recliners ideal for both busy households and those that love a hassle-free upkeep.
In essence, an oversized boucle recliner merges comfort, durability, and functionality, promoting a stimulating restful experience.
Boucle Recliner With Metallic Accents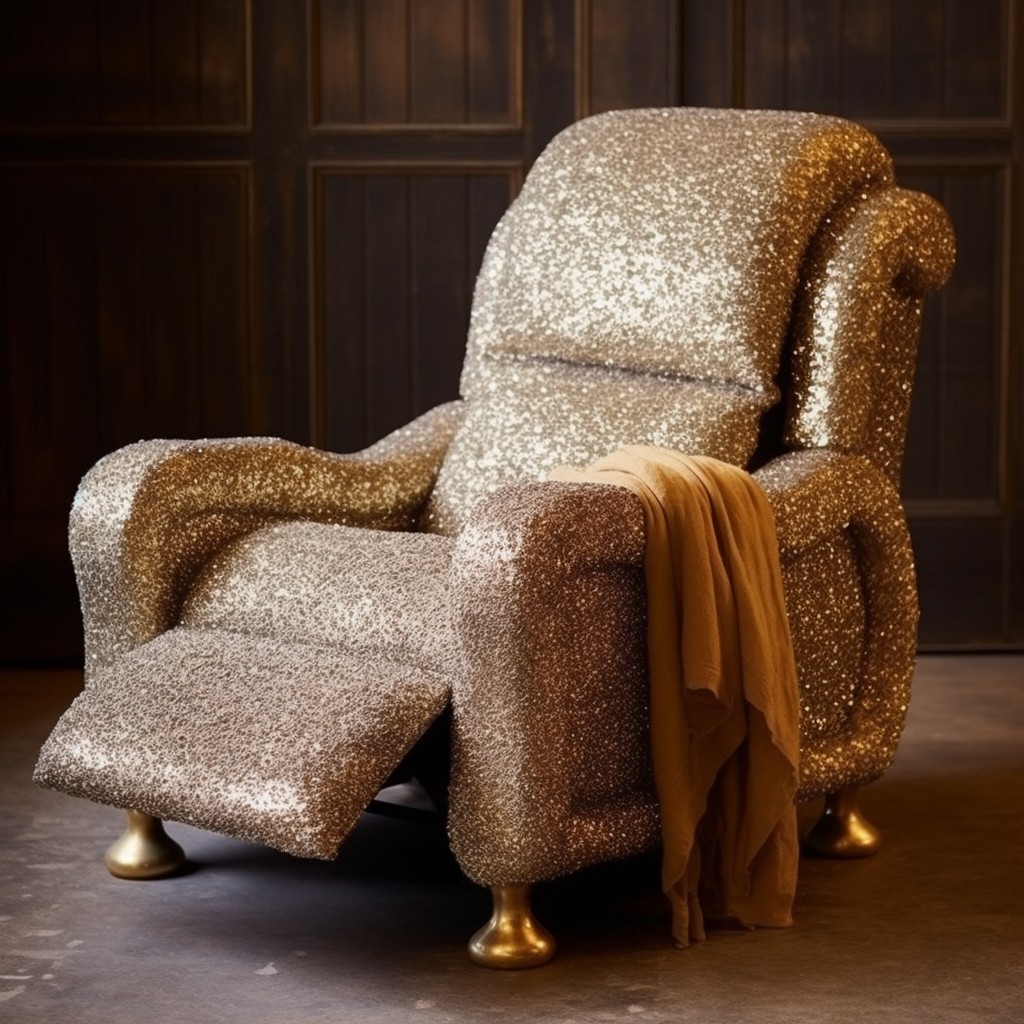 Accenting the subtlety of boucle with metallic elements brings forth a remarkable fusion of comfort and sophistication. The shimmering allure of metallic accents delivers a striking contrast, enhancing the textural appeal of the recliner.
Whether it's polished copper, brushed brass, or subdued silver, these embellishments can truly redefine the charm of the seating area.
A few points to remember:
1. Make sure the metallic accents blend with your existing decor. Harmonize with the color palette and overall aesthetic.
2. Ensure balance. Too many metallic accents could overwhelm, while too few may go unnoticed. The aim is to provide just enough visual interest.
3. Remember, boucle recliners with metallic accents are not only about aesthetics. They need to balance form with function, comfort being of utmost importance.
4. From inbuilt frames to buttons and decorative pins, the metallic accents can be incorporated in numerous ways. So, flex your creative muscle!
5. Lastly, remember to care for these accents. They have to maintain their shine to continue ramping up the elegance of your boucle recliner. Regular cleaning and polishing techniques are pivotal.
With these points in mind, let the fusion of fluffy boucle with resilient metallic accents elevate your home decor!
Bright-colored Boucle Fabric Recliner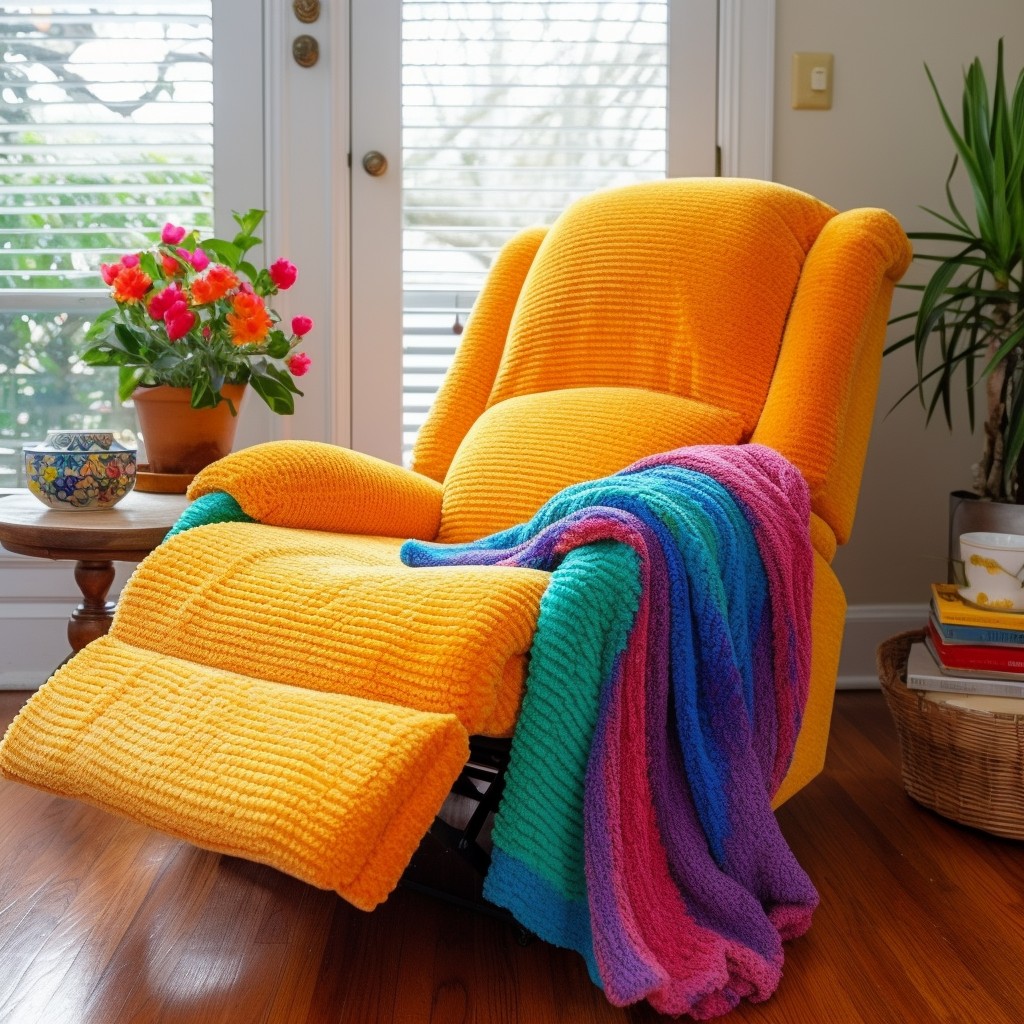 Adding a pop of color can enliven a room, and a bright-colored recliner in bouclé fabric is a stylish way to achieve this. Charming shades such as teal, mustard, fuchsia, lilac or even lime green can become the highlight of any space, drawing attention and offering distinct character.
However, it's important to balance these vivid hues with neutral elements in the room, preventing an overwhelming tone. Use, for example, clean-lined furniture in shades of white, beige, or charcoal to bring harmony and cohesion. Additionally, consider utilizing pillows, throws, or rugs in subdued colors or earth tones to smoothly link the vibrant recliner with the remainder of the surrounding décor.
Maintain simplicity when choosing patterns – stick to minimalistic patterns or solids to let the color be the star. Lastly, the fabric's unique texture, inherent in bouclé, adds an extra touch of sophistication to these vibrant recliners, bringing a tactile appeal along with its visual impact. Remember, your bold recliner should enhance the space, not overpower it.
Fully-padded Boucle Recliner Chair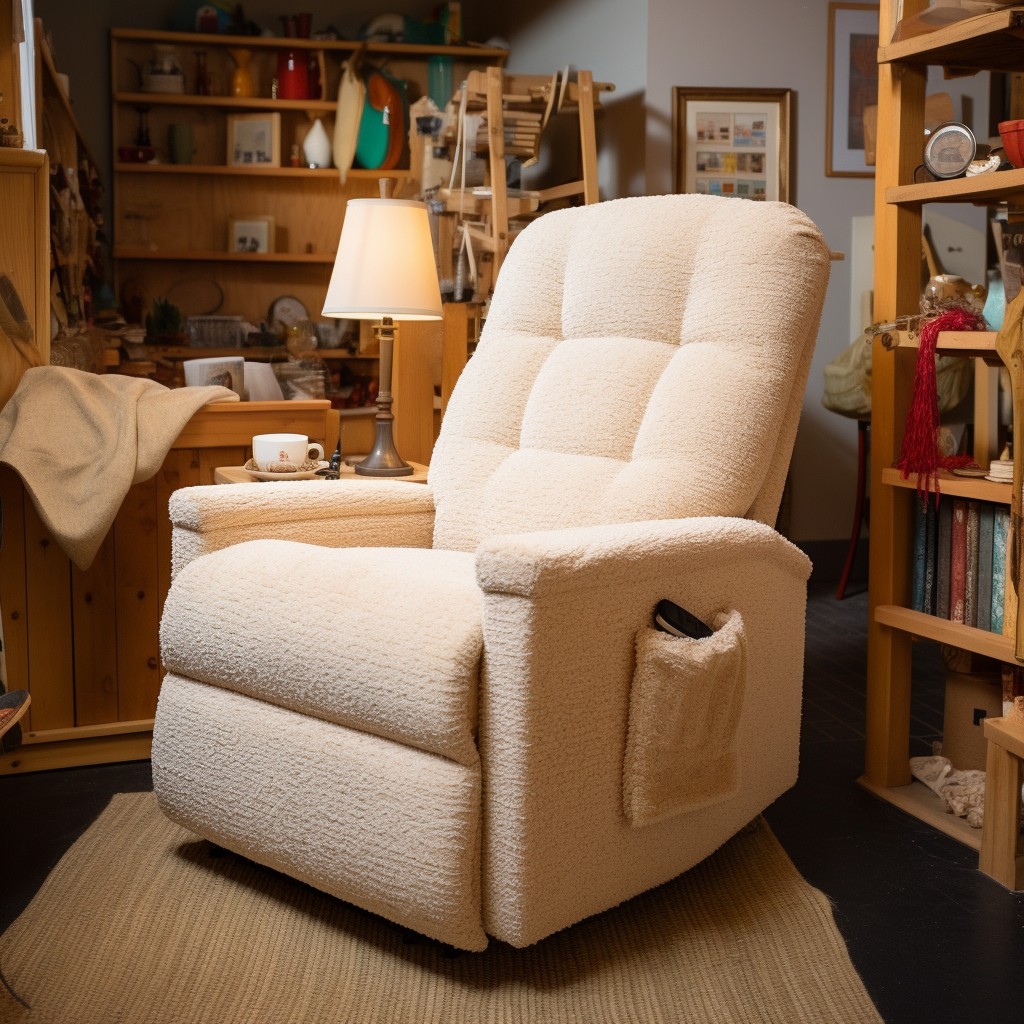 Offering an unparalleled comfort level, the full padding feature makes it a top pick. Since every inch is cushioned, it provides an enveloping feel that adds to the overall comfortability.
These types of recliners are especially recommended for people who spend prolonged periods of time sitting or those who require additional support for their joints. It makes for a perfect reading chair or a wonderful place to unwind after a long day.
Moreover, a fully-padded design doesn't compromise on style. In fact, the padding can enhance the appeal, making your boucle recliner look plush, inviting, and aesthetically pleasing.
Vintage-inspired Boucle Recliner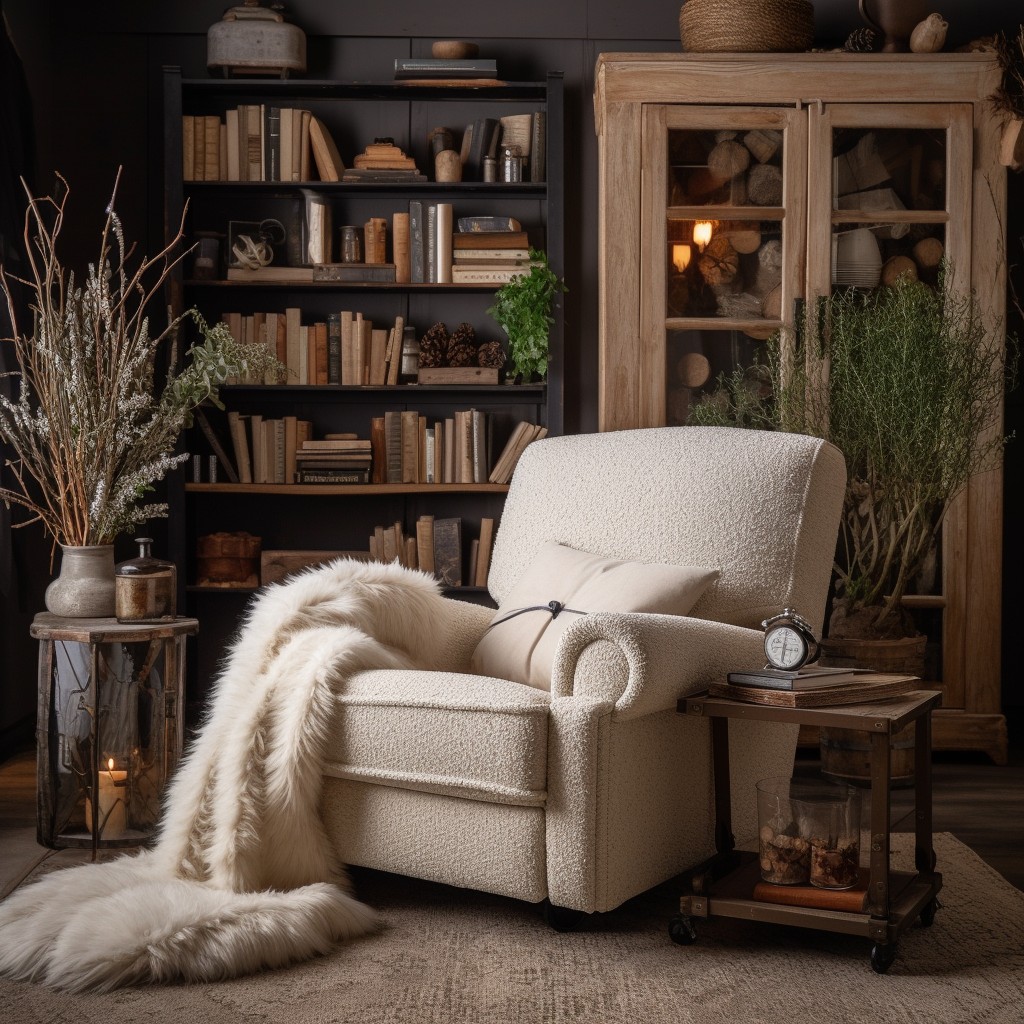 Pay homage to the bygone era with these charming recliners, featuring tufted detailing and accentuated curves as principal elements of design. They exhibit a tactile aesthetic that ignites nostalgia, thanks to the coarse yet soft textural richness of boucle fabric. The use of neutral palettes like beige, cream, or soft pinks is quite prevalent, making these recliners versatile and accommodating to different color schemes.
Their universally flattering design gains depth with dark wooden legs, forming a perfect contrast. These recliners are typically generous with cushioning, aimed to deliver superior comfort while exuding old-world charm. They are perfect for those seeking to infuse their spaces with a hint of timelessness balanced with modern comfort.
Remember, these pieces often act as the protagonist in your room. Hence, surrounding decor should aim to accentuate without overpowering. Minimal ceramics, neutral rugs, and simple wall art often work best.
Multi-positional Boucle Lounge Recliner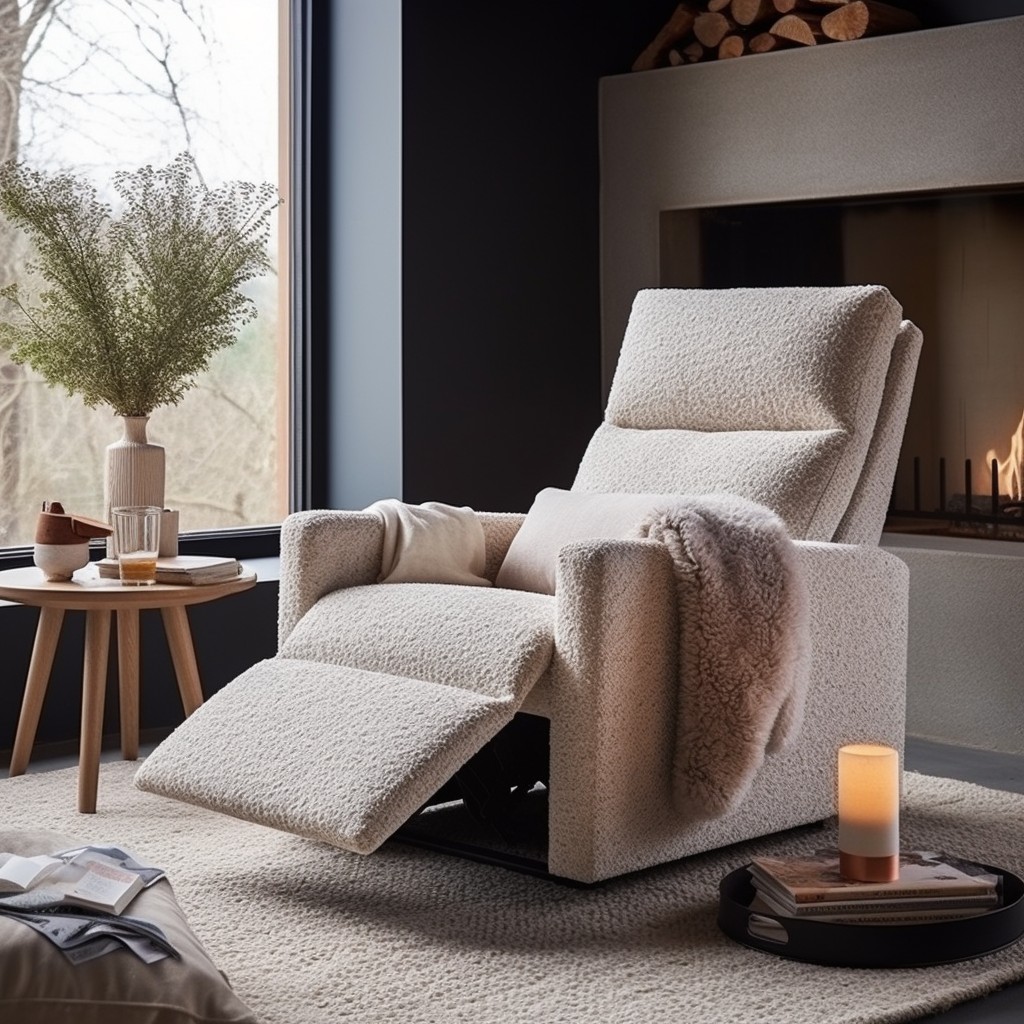 Having this particular item in your living space offers you the utmost comfort with its adaptable settings. A feature that sets it apart is its multi-positional function. The backrest can be reclined to varying degrees, making it perfect for an afternoon siesta or binge-watching your favorite series on a lazy Sunday. You can sit upright during a meeting and then recline for a cozy read.
Beside delightful aesthetics, it affords ideal seating comfort. The plush padding is enveloped in the soft, unique texture of boucle fabric, offering an inviting warmth. Furthermore, this fabric is known for its durability, enabling it to maintain its appealing appearance for a prolonged period.
Don't forget about the lounge factor. Oftentimes, this type of recliner is equipped with extending footrests for full-body relaxation. It's clear to see how a multi-positional boucle lounge recliner can elevate the comfort and style quotient of your home.
Boucle Recliner With Matching Ottoman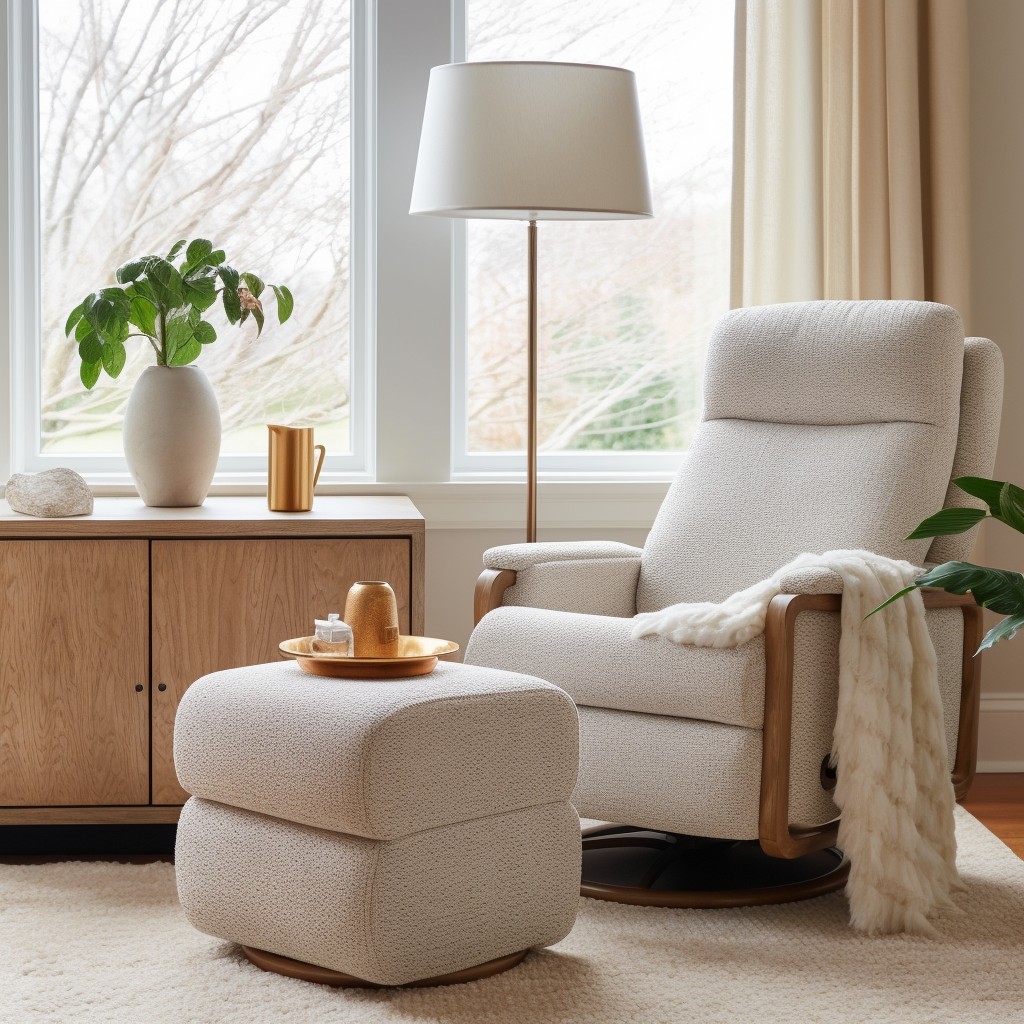 Pairing your boucle recliner with a matching ottoman not only elevates your living space's aesthetic but also enhances comfort. Ideal for resting your feet or serving as an extra seat, ottomans offer functional versatility. When swathed in the same boucle fabric as your recliner, it ties the room together in a visually harmonious fashion.
Remember, texture, color and size are vital considerations. A texture that matches the recliner's boucle fabric brings tactile homogeneity. Similarly balancing the color to conform to your space's palette ensures a smooth transition. Size-wise, an ottoman should not overshadow the recliner. Instead, it should complement it. So, select dimensions that align with the recliner's proportions.
Another consideration is shape. Round, square, or rectangular, the outline can impact your space's vibe. For example, round ottomans soften the room's edges, while square or rectangular ones can provide a more structured look. Choose the one that suits your decor theme.
Finally, storage ottomans are an excellent pick for those needing extra room for books, throws, or even board games. Multifunctional and stylish, they cater to the need for both utility and elegance in contemporary homes.
Mid-century Modern Boucle Recliner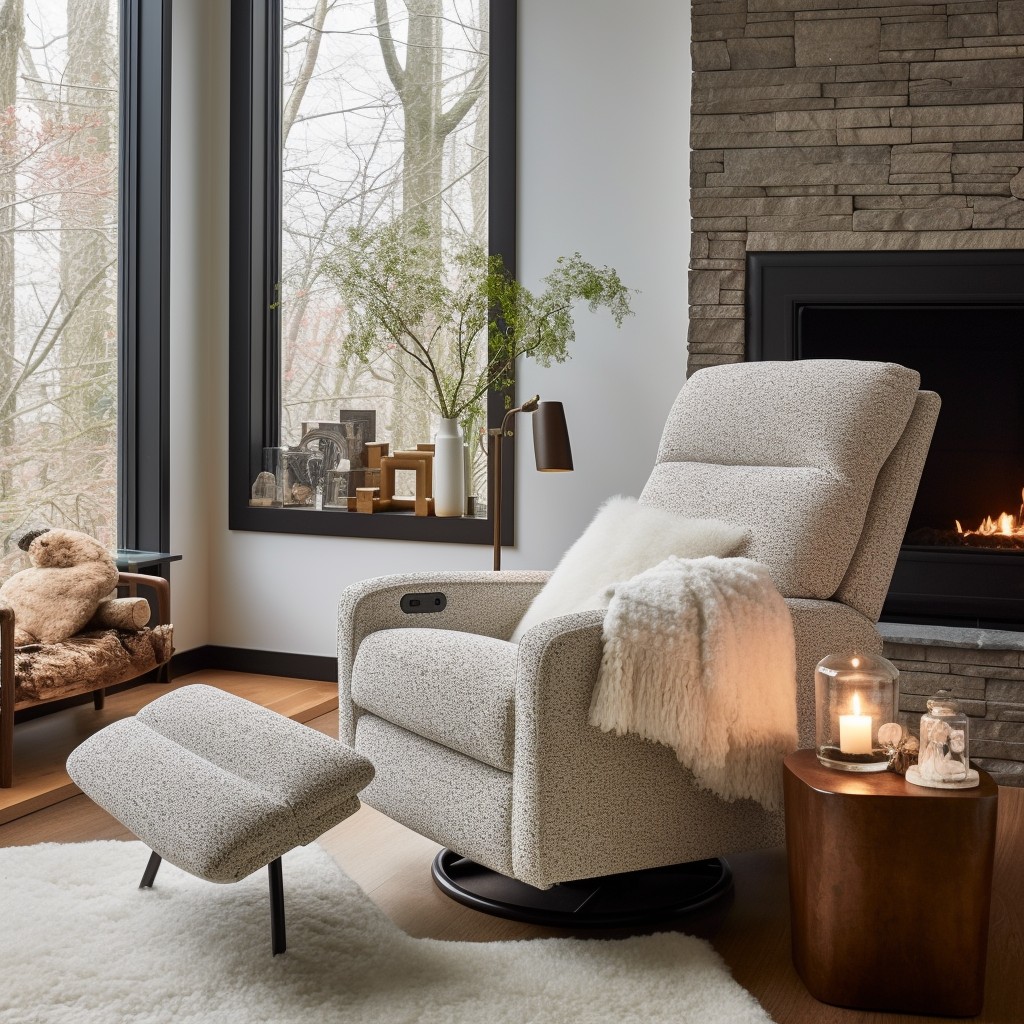 Characterized by clean, simple lines, this style harks back to the mid-twentieth century yet seamlessly fits into contemporary settings too. Promising maximum comfort with its soft, durable boucle fabric and distinctive aesthetic appeal, it's not just about looks.
The smooth contours are designed to hug the shape of your body for a snug fit, while the glistening teak or walnut base adds a warm, natural touch. Its understated elegance allows it to blend with almost any decor, enhancing the room without overpowering it.
Classic yet on-trend, this chair offers the best of both worlds – let it make a statement in your living space, home office, or reading nook.
Boucle Recliner With Unique Patterns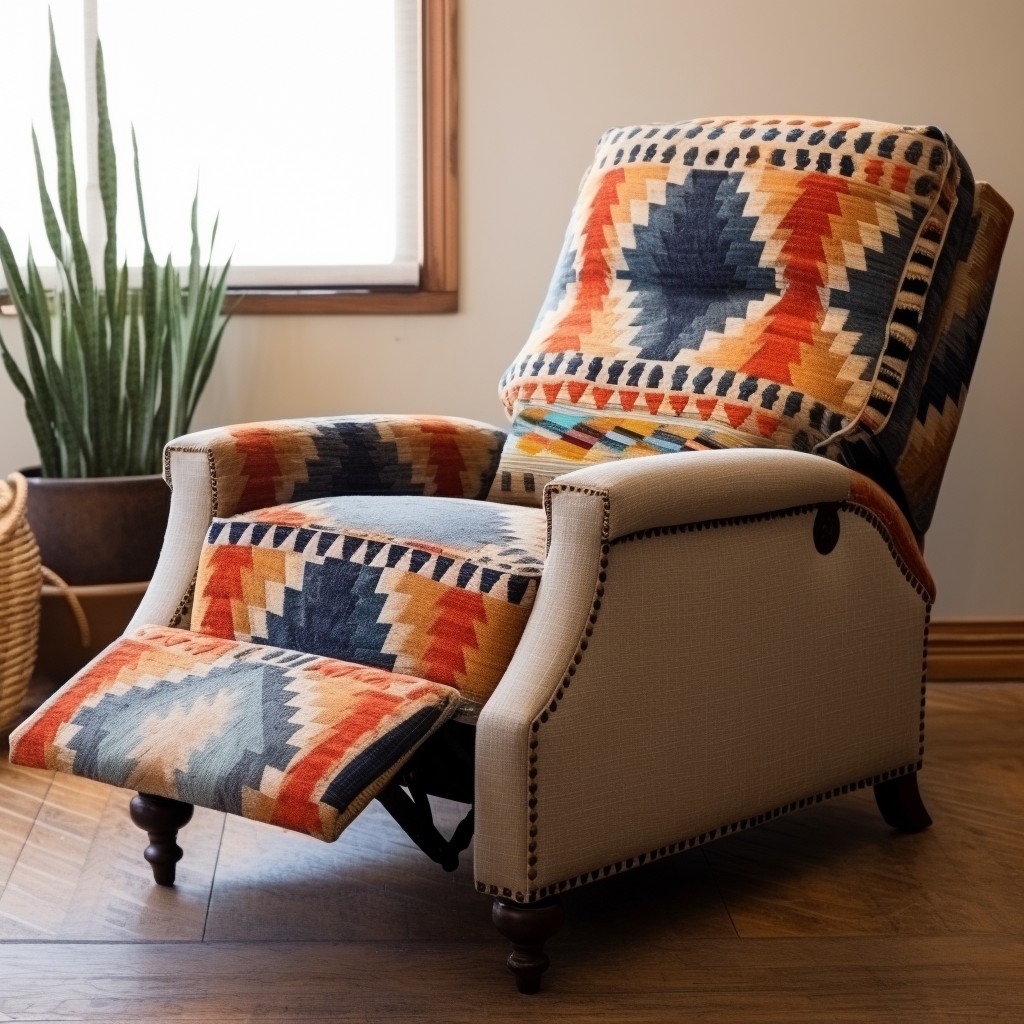 Spicing up your living space with a patterned variant can be an enchanting shift from traditional designs. Patterns like geometrics, abstracts, or florals can lend an unconventional edge and make the piece a focal point in the room.
1. Geometric Patterns: Geometrically patterned boucles are perfect for a modern or mid-century modern-inspired space. Their symmetrical designs bring consistency and order, simultaneously adding visual interest.
2. Abstract Patterns: If you're looking for a more artistic, unusual style, opt for abstract patterns. They bring a creative, free-spirited vibe and can act as standalone art pieces.
3. Floral Patterns: Floral patterns are timeless. They add a touch of elegance to any living space, giving it a warm, vintage appeal.
Remember, no matter the pattern, always ensure harmony with the existing decor. It should complement rather than clash with your home design themes.
Contemporary Boucle Power Recliner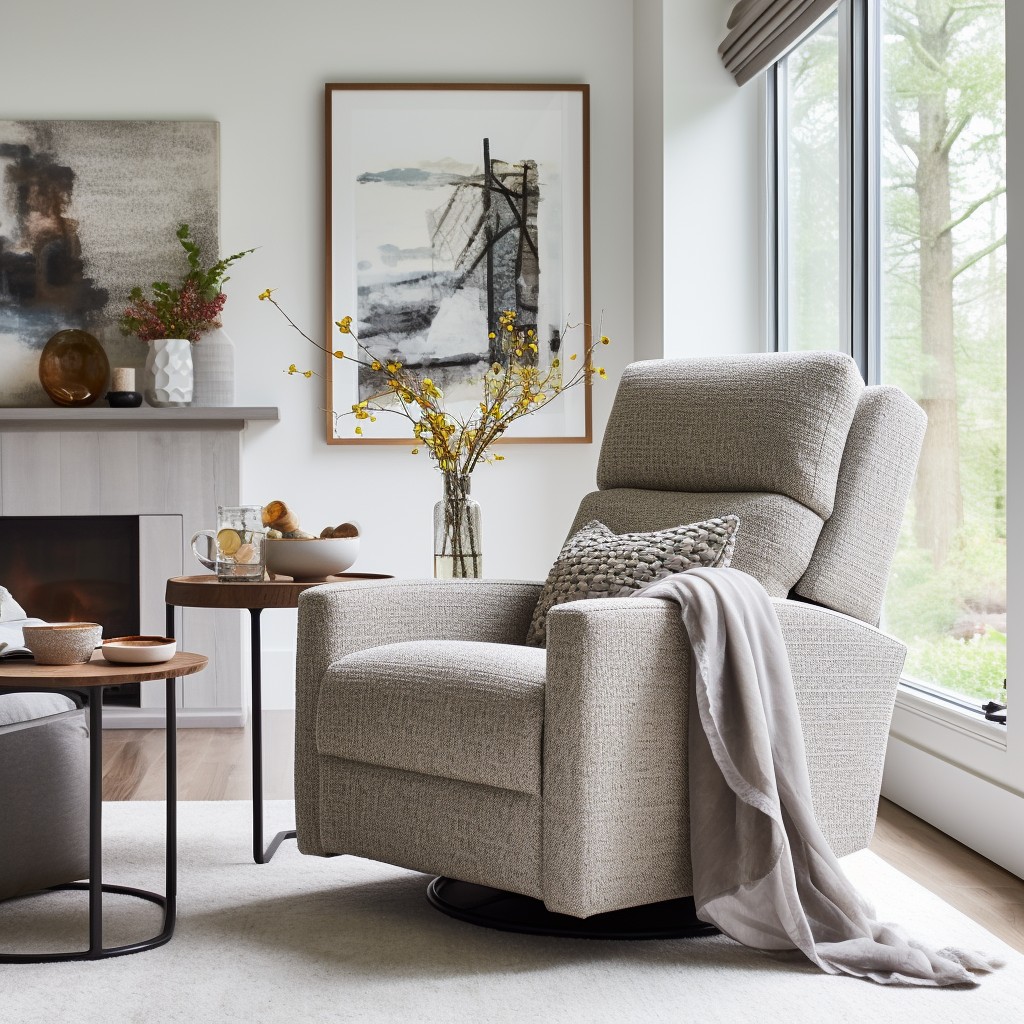 Providing a seamless blend of modern technology and comfort, the world of contemporary furniture presents the power recliner. Enveloped in soft, nubby boucle fabric, this chic option is far from ordinary. What sets it apart?
1. One-touch Power Recline: The convenience of adjusting to any position at the press of a button makes this the epitome of comfort and technology.
2. Sleek Design: A nod to contemporary elements, it incorporates clean lines and streamlined forms that create an aesthetic visual balance in your living space.
3. Versatile Styles: From sculpted arms to low-profile designs, these recliners offer diverse choices to complement your space.
4. High Durability: Thanks to the sturdy construction and high-tech mechanisms, these recliners stand the test of time making them a cost-effective solution for your home.
5. Luxurious Comfort: Filled with plush padding and crafted with ergonomic designs, they provide exceptional support and comfort, creating an enveloping feel.
Remember, making a purchase is about merging needs with wants. These ticking both boxes with their cozy boucle fabric and advanced power functionalities. These elegant power recliners promise to add a touch of sophistication whilst offering maximum relaxation. Whether it's reading, napping, or watching TV, it's all about sinking into sublime comfort.
Eco-friendly Boucle Recliner
For those committed to sustainable living, an eco-friendly recliner is an excellent choice. Often crafted from up-cycled materials and natural fabrics, its manufacturing process tends to be less destructive to the environment. The use of boucle, an inherently durable and long-lasting fabric, eliminates frequent replacement needs, further promoting sustainability.
Key points:
Produced with sustainability considerations in mind.
Delivered using emission-reducing methods.
Crafted using up-cycled and natural materials to limit waste.
Boucle fabric, known for its durability, reduces replacement demands.
Manufacturers often undertake eco-friendly practices such as water-saving production techniques.
In essence, choosing an eco-friendly boucle recliner is a practical way to incorporate sustainable choices into your décor. It's not just about creating a stylish space, but also making responsible decisions for the planet.
Boucle Recliner With Luxurious Feel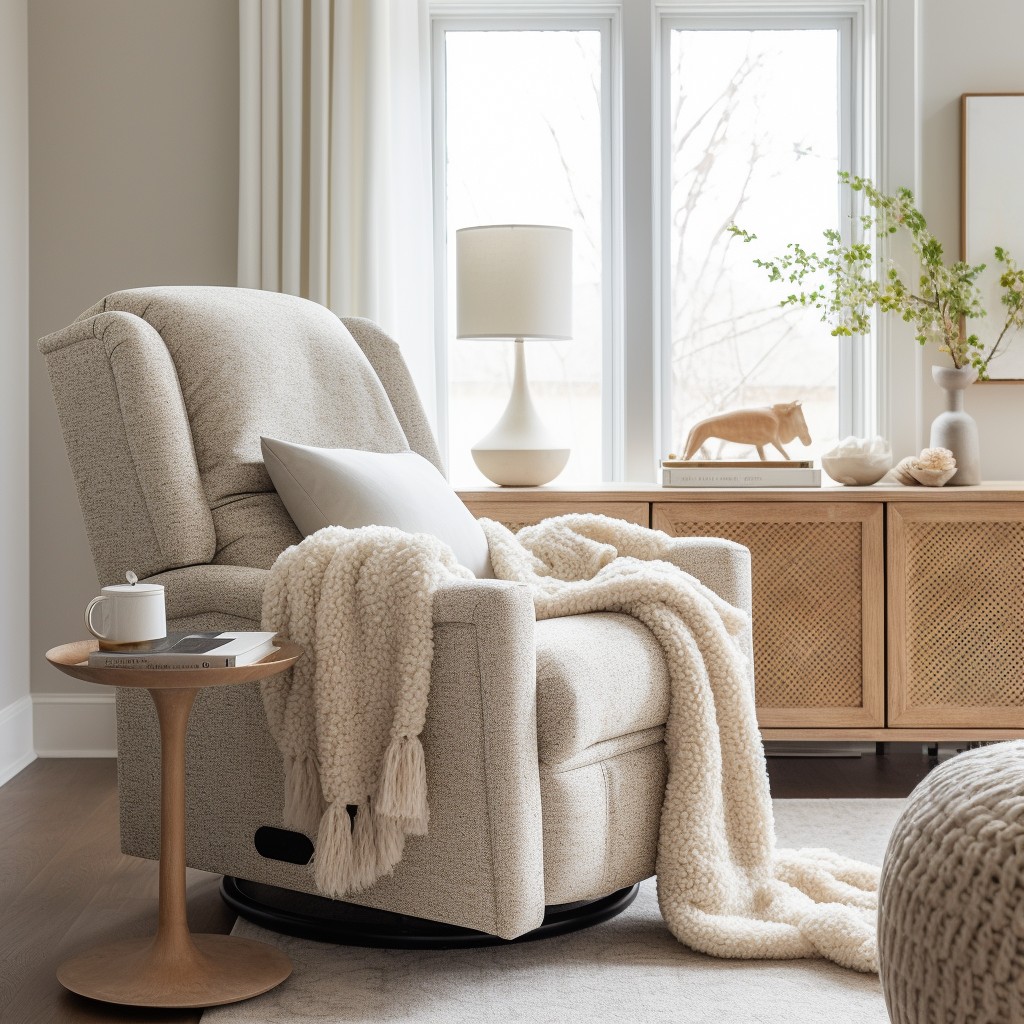 One highlight of this style is the velvety texture that radiates an air of class and comfort. This plush finish and feel come from the looped yarn fibers that characterize boucle fabric. Not only does it add aesthetic appeal, but it also elevates comfort levels, making you want to sink in and relax.
To maximize the luxury, consider pairing it with high-quality cushions and throws. The layering of these items adds depth and enhances the appeal. Another good tip is to have your luxury boucle recliner be a focal point. This helps draw attention and creates a conversation starter.
Despite its luxurious feel, this recliner is surprisingly durable and requires minimal maintenance, making it a worthwhile investment for your home.
Undeniably, having a boucle recliner flaunts luxury while maintaining functionality. It is a chair that invites superior relaxation without compromising your home's interior design.
Durable and Easy-to-clean Boucle Recliner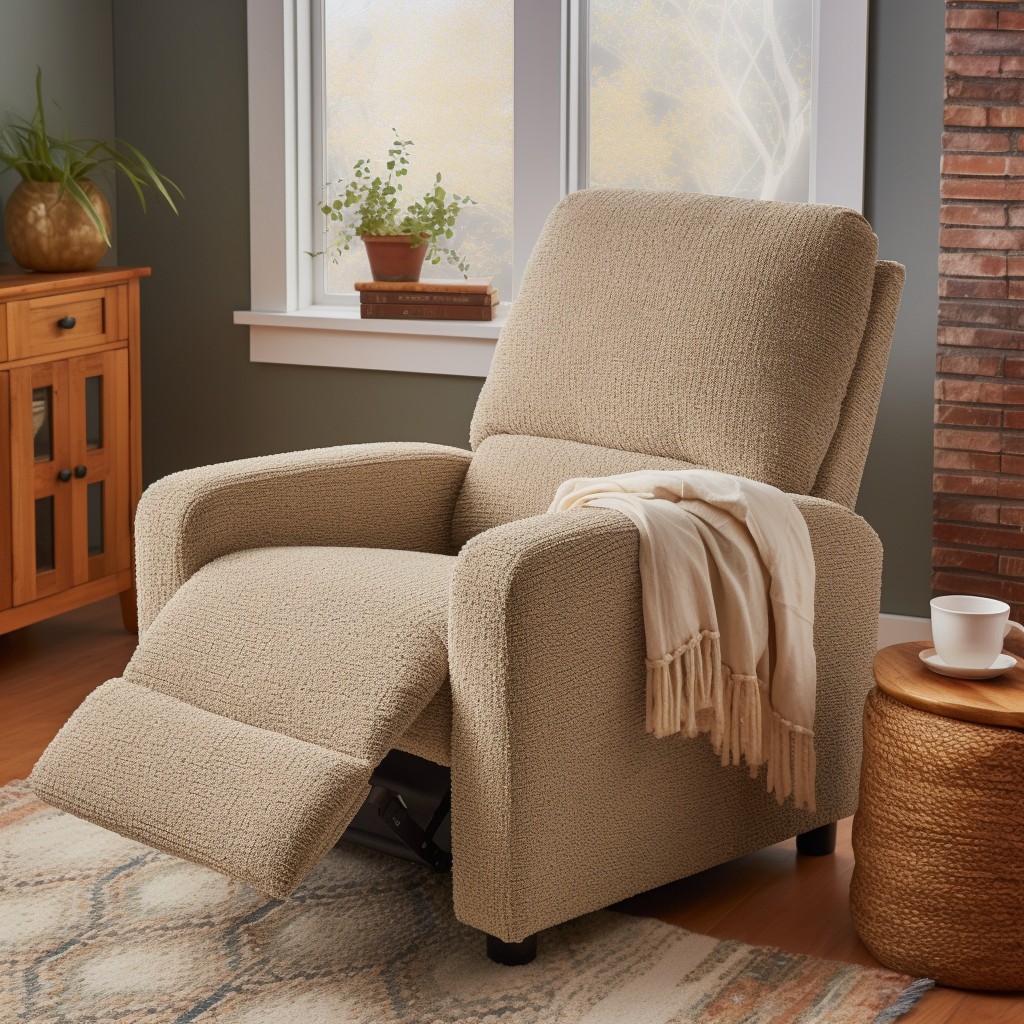 Choosing a fabric that will withstand the test of time and everyday use is crucial. Boucle certainly fits the bill. Not only is it durable, but its unique looped yarn gives it an unexpectedly soft texture that invites relaxation.
A key advantage of this fabric is its resistance to wear and tear. Thanks to its tightly woven structure, it can endure high levels of usage, making it an ideal choice for often-used furniture such as recliners. Additionally, boucle fabrics can maintain their appearance longer and better resist pilling compared to other textile options.
Moreover, cleaning and maintaining a boucle recliner is generally hassle-free. The majority of spills can simply be blotted with a clean, dry cloth. For a deeper clean, users could opt for a professional upholstery cleaning service, as these are unlikely to cause any damage.
Bringing style and practicality together, a boucle recliner proves an excellent choice for decorating enthusiasts seeking timeless elegance, longevity, and ease of maintenance in their furniture pieces. Great emphasis should be placed on the durability and hassle-free care this material provides, as it can significantly extend the life of the recliner and maintain its pristine condition.
Lumbar-supporting Boucle Recliner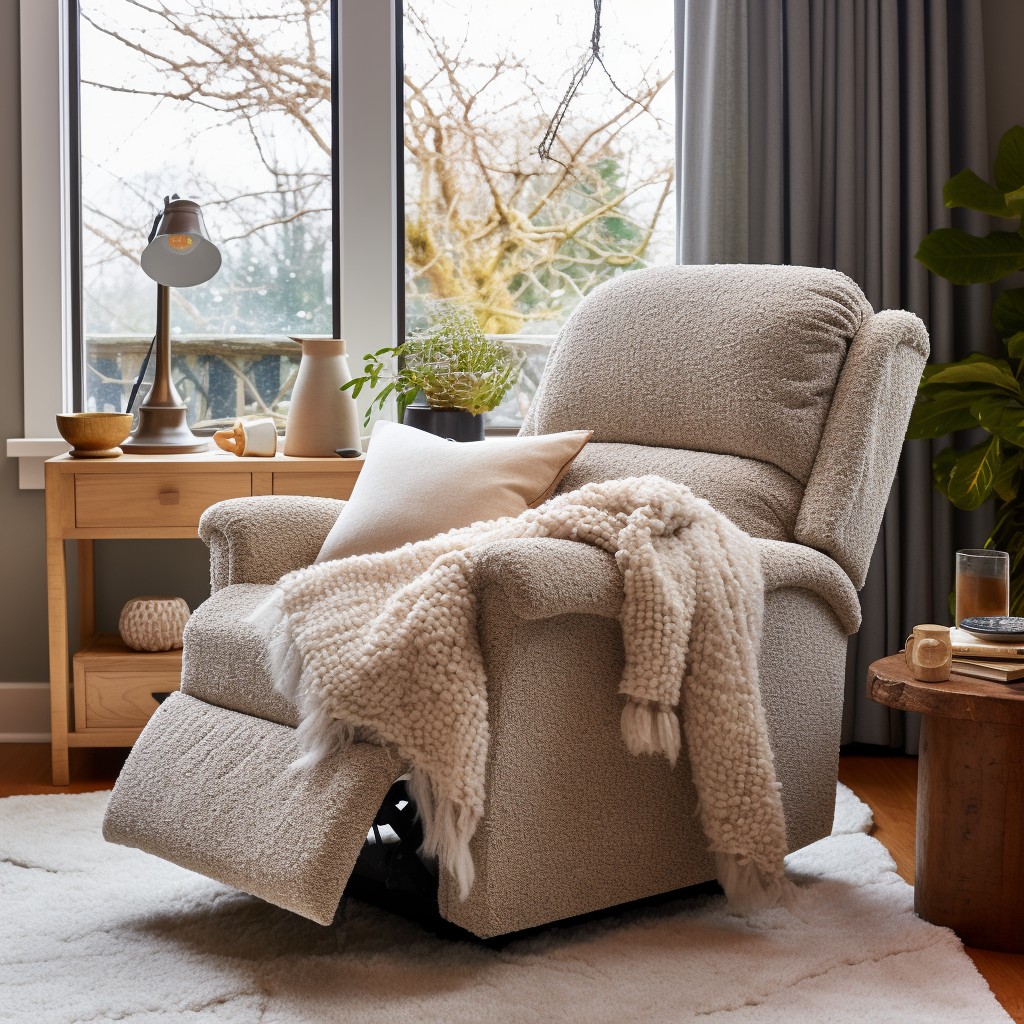 Incorporating the lumbar-supporting feature in a boucle recliner not only enhances its aesthetic appeal but also drastically improves comfort. The cozy, textured fabric married with specially engineered support for the lower back area reduces strain and promotes relaxation.
Here are some notable elements of this type of chair:
It promotes correct sitting posture that keeps your spine aligned, ideal for people who sit for extended periods or struggle with back pain.
The interior framework optimizes cushioning in the lower back region, effectively lending ergonomic support.
The seat and backrest often conforms to your body, encouraging a healthy curve in your lumbar region to alleviate stress.
Users can adjust some designs, allowing a tailored lounging experience based on personal comfort levels.
Despite the focus on functionality, these designs do not sacrifice style, fitting seamlessly into any home décor.
However, if you have unique physical conditions, consult with a healthcare professional before making a purchase. This ensures the furniture is more likely to fit your needs and won't exacerbate any potential health-related issues.
Boucle Recliner With Storage Compartments
Incorporating storage in a recliner can be both stylish and functional- offering a practical solution for small spaces. Imagine a neatly tucked away remote or a favorite novel, just within arm's reach. Boucle fabric, with its intricate loops, offers a textured appearance while increasing durability, a perfect combination for a recliner with frequent handling.
There are several key points to consider. First, the size and number of storage compartments. Some offer a single large compartment, whereas others prefer multiple smaller ones. The decision boils down to what you wish to store.
Second, the position of these compartments plays a crucial role. Some are cleverly hidden underneath, while others are visibly integrated into the armrests.
Lastly, the type of closure system can either complement or disrupt the overall design. Options include open compartments, zippers, or magnetic snaps, each with their advantages. Magnetic snaps, for example, allow easy access yet retain a sleek look.
Taking the time to contemplate these factors ensures your storage-equipped boucle recliner fits seamlessly into your lifestyle and interior decor.
Custom-made Boucle Recliner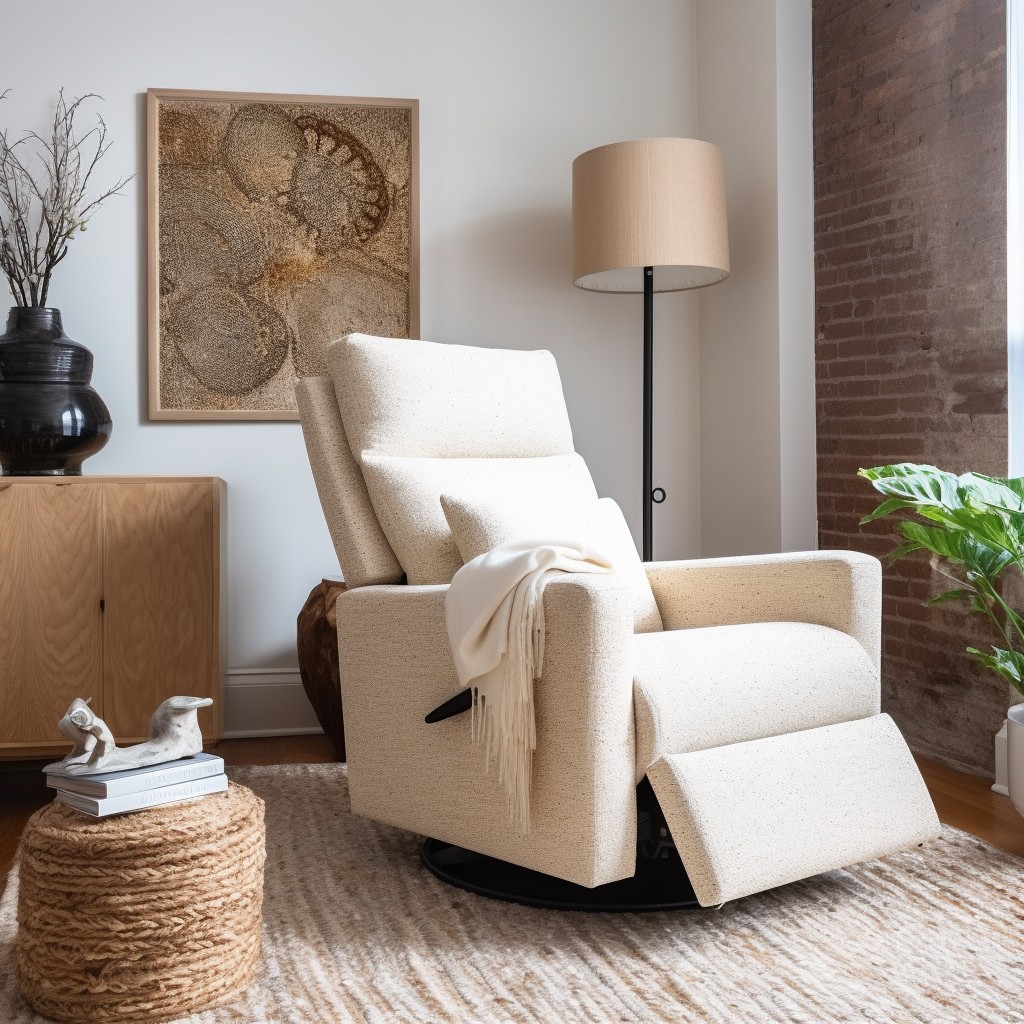 Exploring the concept of customization invites a world of untapped potential and uniqueness in boucle furniture. This allows homeowners to combine both form and function to meet personal preferences.
A compelling aspect of choosing a custom-built recliner is the ability to select every component, from the nature-inspired tones of the boucle fabric to the precise dimensions that will fit perfectly in a chosen space.
Features such as adding memory foam padding for maximum comfort, incorporating motorized reclining mechanisms for effortless lounging, or integrating heating and massaging capabilities for the ultimate relaxation experience can all be considered.
A variety of leg styles, matching trims, and additional bolsters can also be selected to create a harmoniously designed piece.
Having a custom-made boucle recliner not only enhances the aesthetic value of the room but it also ensures that the piece is of high-quality and crafted in line with personal health needs and comfort preferences.
It's an excellent solution for those who value originality and superior comfort in their home décor.
Additionally, collaborating with craftsmen leaves room for creative freedoms, turning a simple seat into an extraordinary piece of art that encapsulates personal style.
However, note that customization might increase the time it takes to get your boucle recliner.
Depending on the nature of the specifications, it could take weeks or even months to have the final product.
Understandably, it might also be costlier than buying a ready-made recliner.
So, it's important to factor in these considerations to make an informed choice.
You may also like to read: