Last updated on November 14, 2023
Explore the versatile world of boucle throw pillow ideas because their unique texture and warmth can effortlessly elevate your interior design.
Boucle throw pillows are the perfect addition to any home decor, effortlessly blending comfort with style.
These versatile accessories can be incorporated into a variety of design aesthetics, from rustic to modern, adding texture and warmth to any space.
This article will guide you through a plethora of creative ideas on how to style your boucle throw pillows, including color combinations, placement tips, and pairing suggestions with other decor elements.
Dive in to discover how to elevate your home decor with these chic and cozy additions.
Table of Contents
Minimalist-off White Boucle Throw Pillow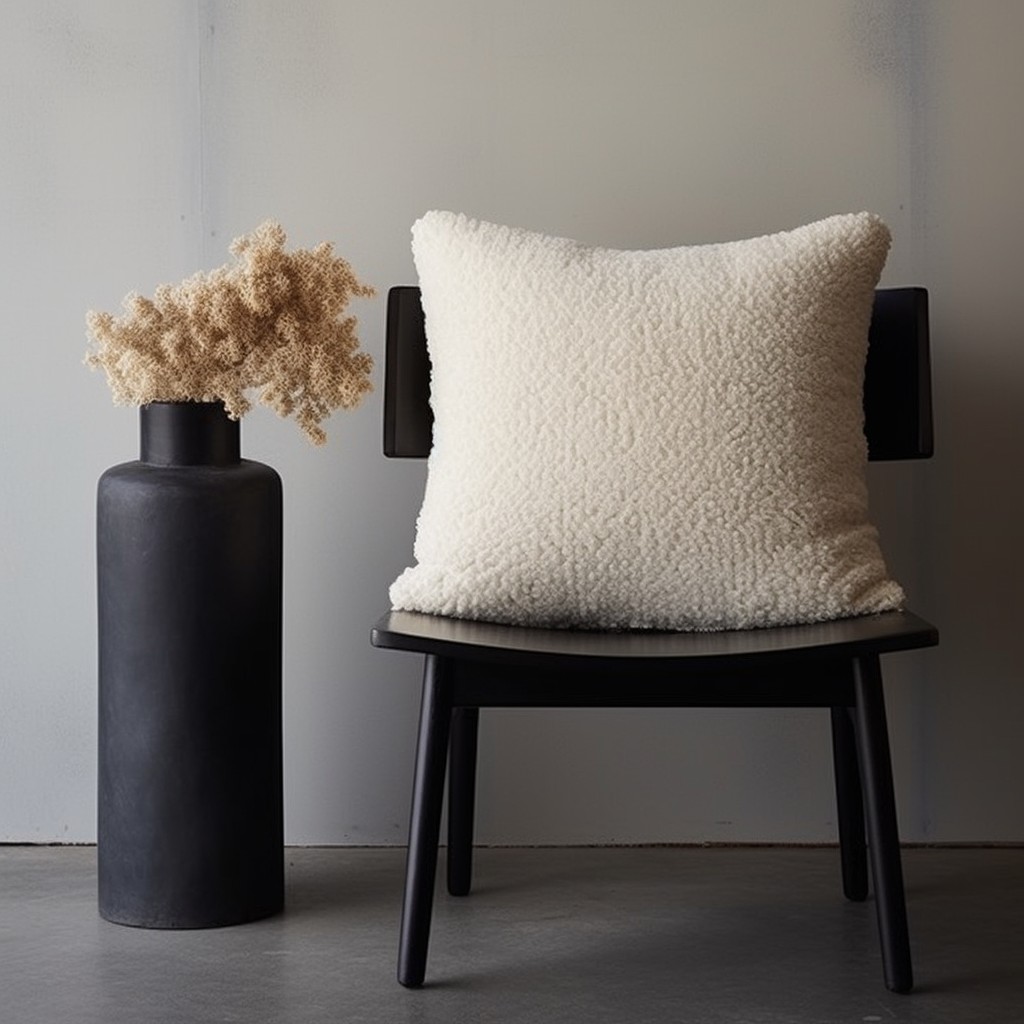 This style of pillow is perfect for those seeking a muted and subtle aesthetic. Its versatility allows it to blend seamlessly with diverse decor, from modern city lofts to country cottages.
Here are some essential points to remember:
1. The off-white color helps to create an airy, open aesthetic, enhancing the feeling of space in a room.
2. The boucle texture adds a tactile aspect, providing visual interest without overwhelming with color or pattern.
3. Pairing it with furniture of similar hues can create a soothing monochromatic room setup.
4. It also works well as a contrast point for brighter, punchy hues or patterns.
5. The minimalist style adheres to the 'less is more' philosophy, bringing a calm, uncluttered vibe to any room.
Vibrant Multi-coloured Boucle Throw Pillow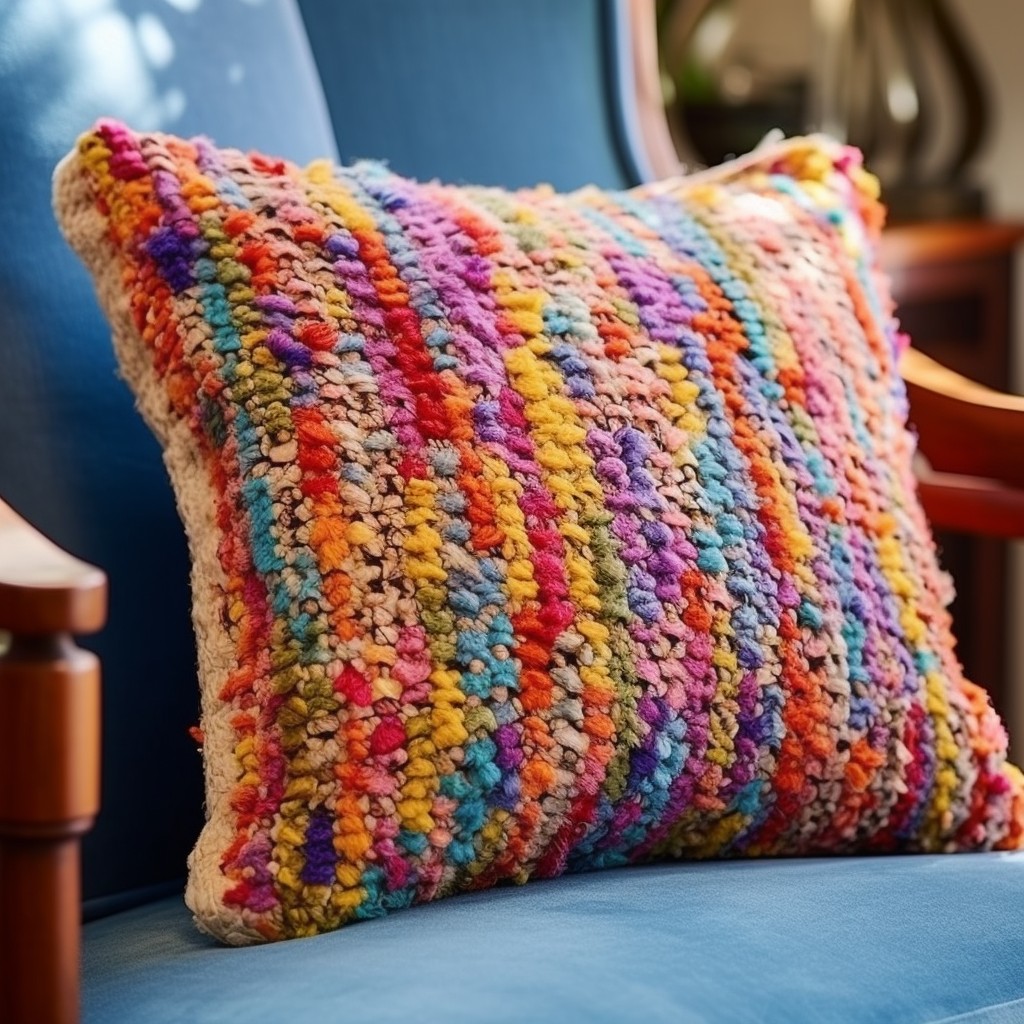 These captivating cushions come with a splash of multiple colours, designed to create a lively atmosphere in any space. Paired best with a muted or neutral background, they proficiently draw the eye and act as a focal point.
Here are some key points to bear in mind:
1. Colour selection: Choose colour schemes that complement the existing decor, hues of red, blue, yellow, green and purple are commonly used.
2. Placement: Best suited for spaces that need a pop of colour, including living rooms and bedrooms.
3. Size and shape: Available in various sizes and shapes, ranging from small, circular to large, rectangular ones.
4. Fabric: Though bouclé is typically wool, cotton or acrylic can also be used for a summer-friendly option.
5. Cleaning: Most multi-colour bouclé throw pillows are machine washable, make sure to check the care instructions.
6. Performance: Despite the vibrant colours, they are surprisingly resilient to fading and wear.
Monochromatic Black and White Boucle Throw Pillow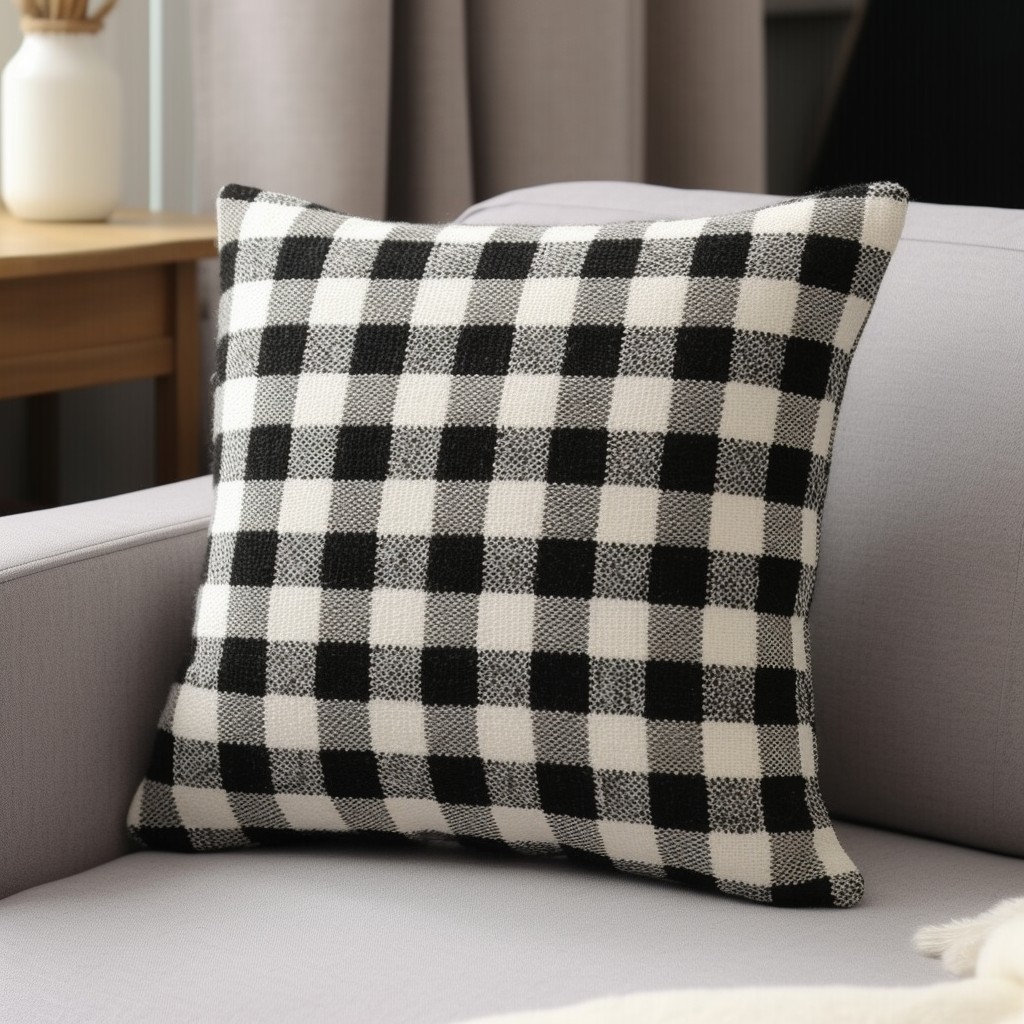 A chic option, the monochromatic black and white boucle throw pillow effortlessly blends with various color schemes. Its design can bring a modern edge to any space retaining simplicity and style.
Its main concept revolves around minimalism and contrast.
A few key aspects to consider:
Contrast: Mixing black and white creates a striking contrast, enhancing visual interest while maintaining a harmonious balance.
Versatility: This color combination suits most decor styles, from modern to traditional.
Textures: The unique texture of boucle adds depth, making the pillow visually appealing and comfortable.
Patterns: Opt for various black and white patterns to add a dynamic element.
Layering: Pair with other monochromatic pillows in different shapes and textures for an added layer of design.
Remember, the essence lies in harmonizing simplicity and impact, making it a perfect accessory for a minimalist, yet, a vibrant space.
Nordic Style Cream Boucle Throw Pillow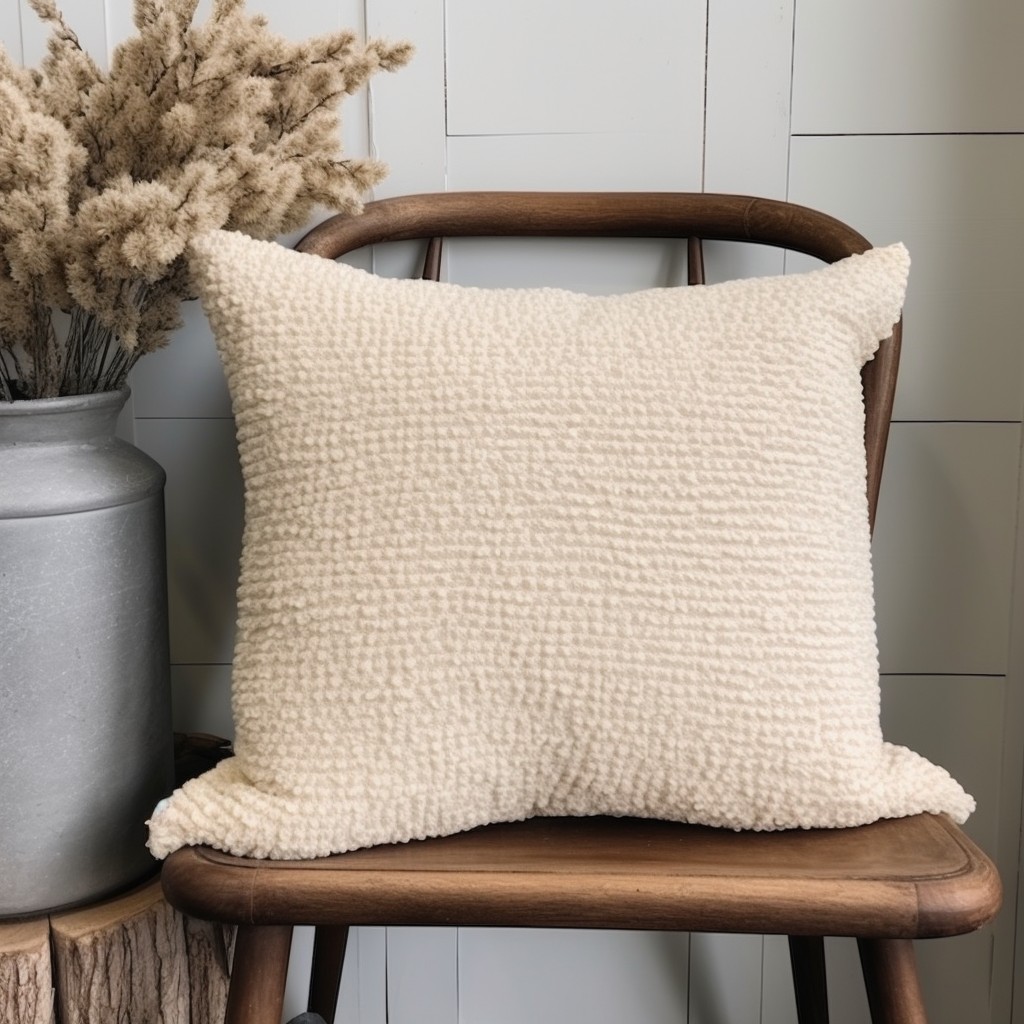 Displaying an elegant simplicity, a Nordic style cream boucle throw pillow can lend a serene ambiance to your living space. What sets it apart is its neutral color palette and focus on texture.
1. Neutral Colors: Incorporating a neutral palette like creams, whites, and beige, these pillows effortlessly blend with any interior style.
2. Focus on Texture: The texture of a boucle fabric, with its distinctive looped yarn, creates visual interest and adds depth to interiors.
3. Minimalistic appeal: Adhering to a 'less is more' principle, the restrained aesthetic speaks volumes about the chic sophistication of this design.
4. Versatility: Due to its understated elegance, it can complement a multitude of different aesthetics and color schemes, from Scandinavian to modern farmhouse.
5. Warmth and Comfort: The plush texture of boucle and the warm cream hue make this pillow ideal for cozy, relaxing environments.
Remember, this style harmonizes well with wooden elements and clean lines common in Nordic design, amplifying a sense of tranquility and harmony within one's abode.
Autumn-themed Orange Boucle Throw Pillow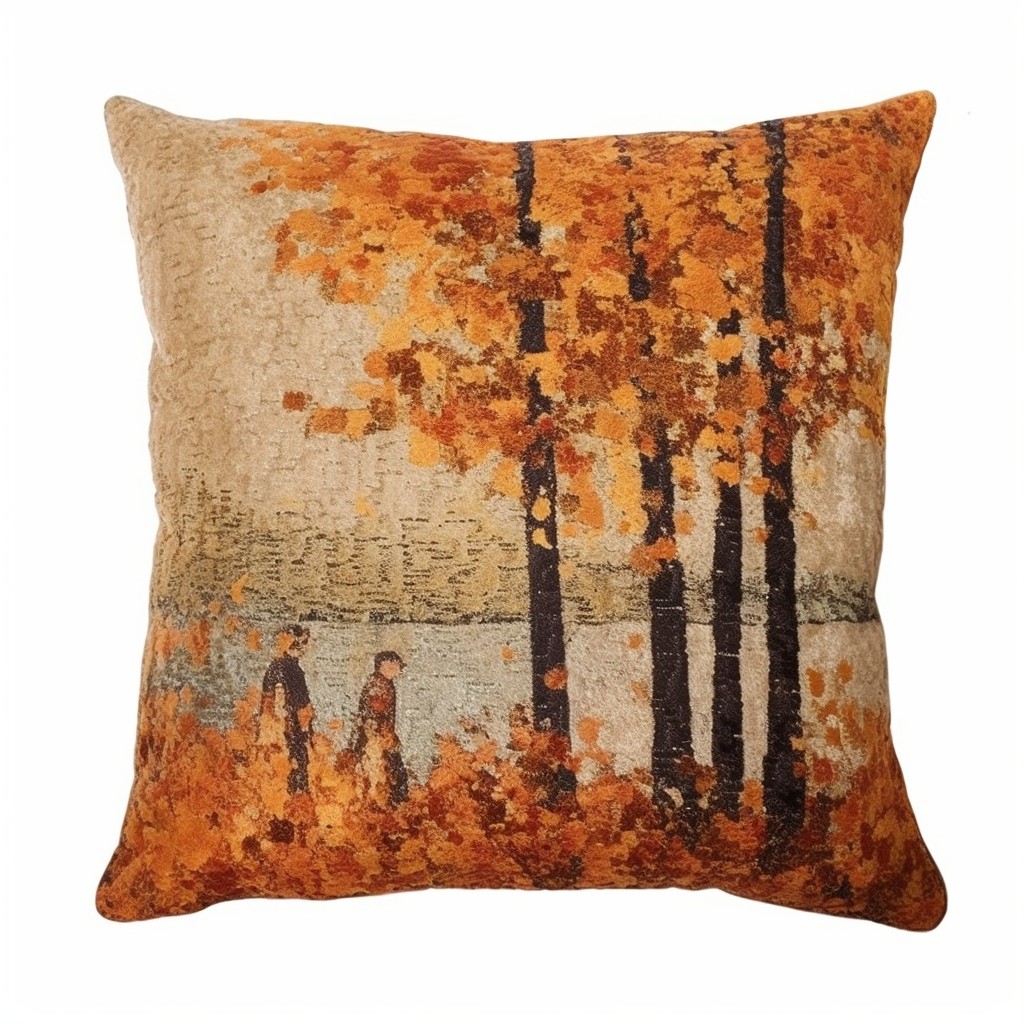 Harvest hues make this particular variety a much-desired option during the fall season. Its warm, earthy shade helps to set the mood, creating a cozy atmosphere indoors.
A vibrant orange boucle throw pillow is an easy and effective way to incorporate the quintessential colors of Autumn into your living space. With their unique texture, these pillows add a compelling element of tactile interest.
An added advantage is their versatility. They pair splendidly with neutrals, deep blues, and cool grays for a crisp yet inviting fall aesthetic.
Consider complementing these pillows with decor items featuring Autumn motifs, such as fall leaves, pumpkins, or gourds, for a fully integrated seasonal feel in your room.
Eco-friendly, Natural Dyed Boucle Throw Pillow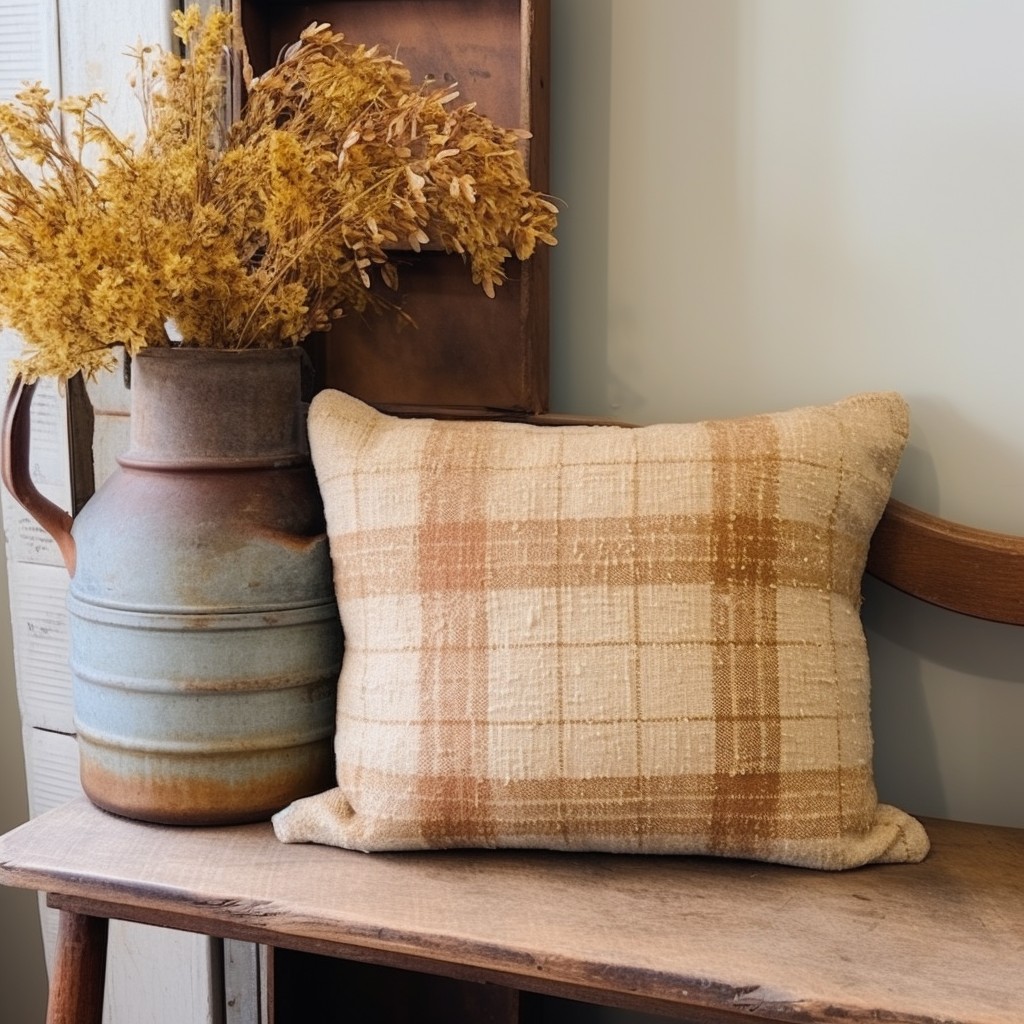 Opting for eco-friendliness means embracing sustainable materials and natural dyes. This isn't simply better for the environment; it can also bring an earthy, calming aesthetic to your home.
1. Natural Fibers: Organic cotton or linen are robust materials perfect for boucle weaving. Breathable and hypoallergenic, they offer comfort and durability.
2. Plant-Based Dyes: Colours derived from roots, bark, fruits, or leaves have unique earth-tones that synthetic dyes can't replicate. These hues can add charm to your décor while reducing chemical waste.
3. Biodegradable: Natural materials break down over time, unlike synthetic alternatives. By choosing an eco-friendly pillow, you're ensuring your style isn't compromising the planet.
4. Decor Impact: The earthy tones found in these pillows can elegantly enhance a green, sustainable décor theme. This aligns perfectly with the growing trend of eco-friendly interior styling.
5. Handcrafted: Natural dyed boucle pillows often have a handmade touch, providing a distinct, artisanal look to your home furnishings.
Remember, decorating your home can be an environmental statement. Be conscious of your choices, and let your decor reflect your values.
Nautical Blue Striped Boucle Throw Pillow
With its striking hues of marine and sky blues, the Nautical is a standout for its ability to evoke the calming ambiance of the seaside right into your home.
The key factors of its charm include:
Striping pattern: This adds an element of order and balance. It creates a visually appealing contrast that is both refreshing and pleasing to the eye.
Blue tones: These hues will naturally resonate with a serene atmosphere and help foster a tranquil environment.
Boucle texture: This not only provides an added dimension of comfort but also enhances the aesthetic appeal. It brings to life the 'touch and feel' aspect of home decor that is equally important.
Suitable for both modern minimalist and rustic settings, this pillow can easily become a focal point or blend in harmony with your existing decor. With its summer feel, the Nautical is great for seasonal decorating but its classic charm makes it an excellent choice for year-round display.
Floral Pattern Boucle Throw Pillow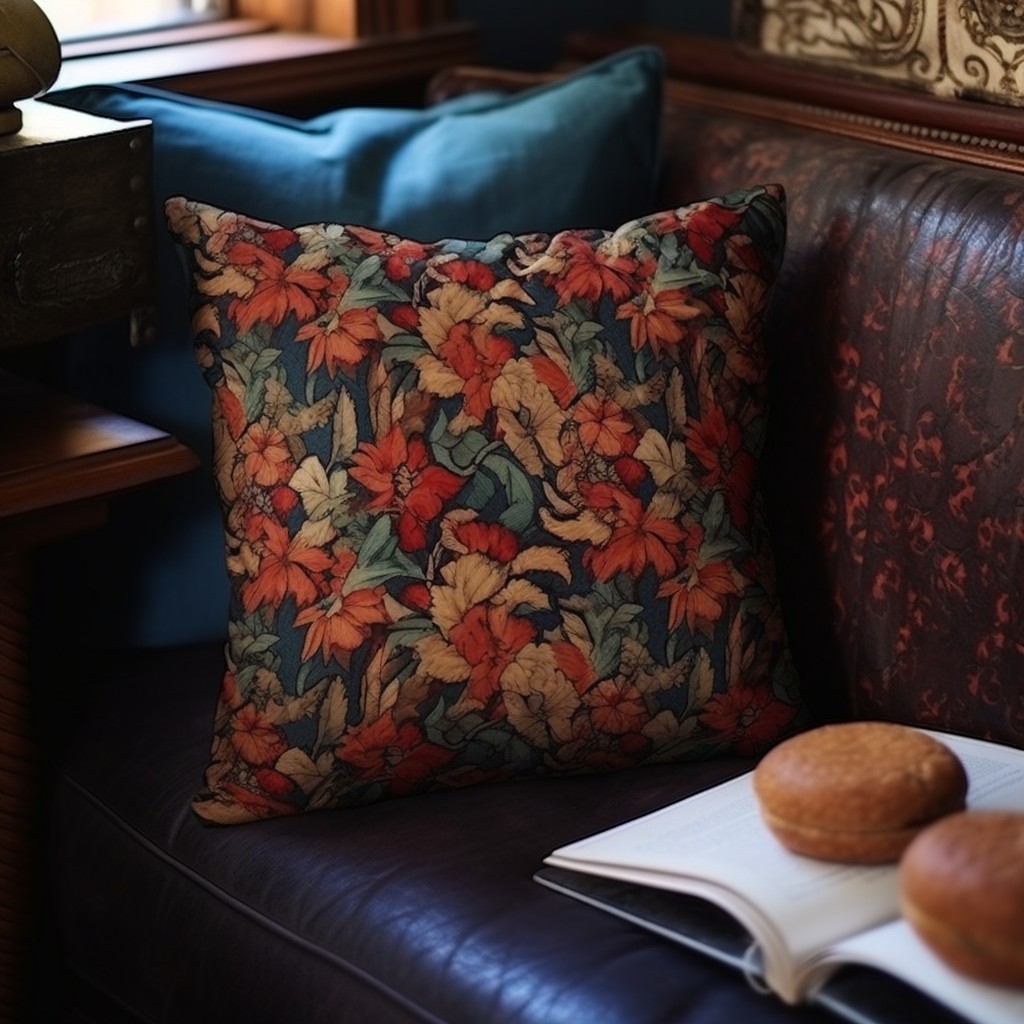 Incorporating the floral pattern into a boucle throw pillow gives a breath of freshness to any living space. The texture of boucle, paired with the vibrant colours often seen in floral designs, creates a captivating visual impact. Ready to bring the joy of nature inside while keeping things stylish?
Firstly, choosing the right floral pattern is vital. Smaller, intricate designs often give a traditional feel, while larger, abstract ones lean towards a modern aesthetic. Secondly, colour is key. Pastel shades of pink, blue, or yellow provide a subtle hint of grace, while bold hues like red, purple, or green are perfect for exuding energy.
Finally, placement makes a difference too. A floral boucle throw pillow can be a stunning focal point on a neutral couch, or mix with other patterned designs to add personality to your space. Importantly, despite the popular belief that floral is best for spring or summer, with clever colour and pattern choices, they can enhance your decor all year round.
Geometric Style Boucle Throw Pillow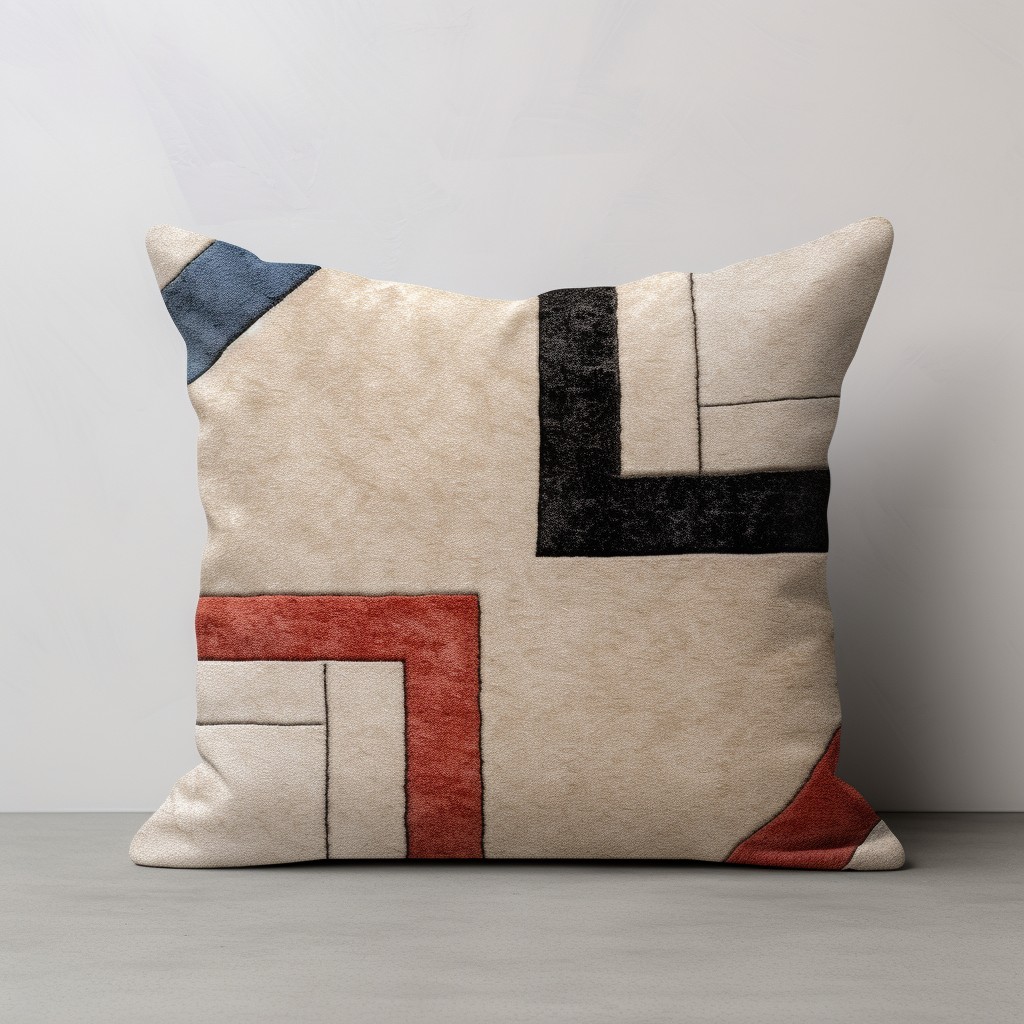 Accentuating a room with geometry can evoke a modern and captivating aesthetic. With its defined edges and symmetrical patterns, a geometric style boucle throw pillow can amplify the look of any space. Strict lines and sharp angles in contrasting hues can break the monotony.
Key points to consider with this theme:
Shape matching: Harmonize with existing decor. Circles with curves, squares with straight lines.
Colour selection: Darker shades elevate the sober look, lighter ones bring out freshness.
Pillow placement: On a solid coloured sofa, bedspread or chair, it becomes the striking focal point.
Pairing Idea: Pair geometric pillows with simpler ones to create a balanced visual.
Remember, with decorating, it is all about breaking patterns yet achieving harmony. A geometric style boucle throw pillow ticks both boxes.
Pastel Pink Boucle Throw Pillow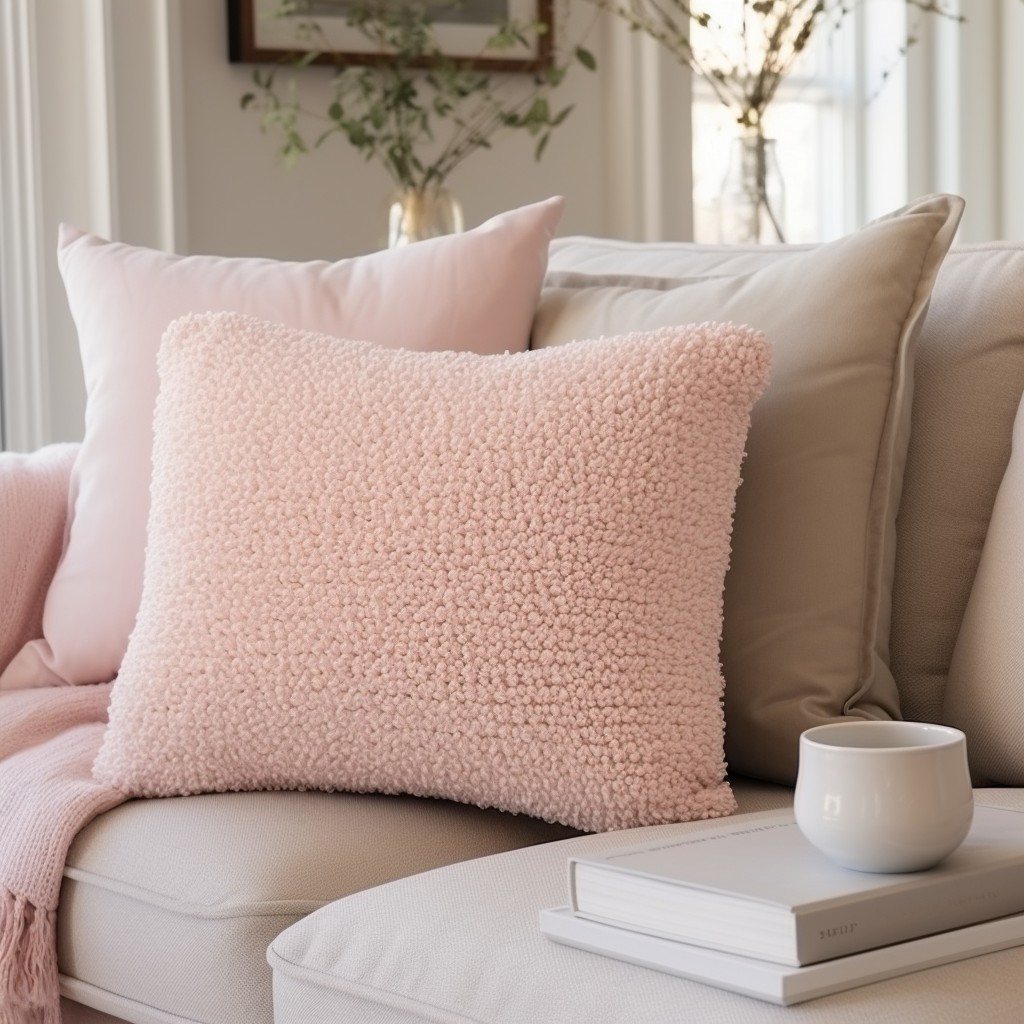 Soft and delicate, with an unmistakable feminine charm, the pastel pink version offers a soothing presence in any home decor setup. It very seamlessly adds a romantic touch, and a fresh spring vibe.
Here's why it stands out:
Colour Therapy: Pink is known to be calming and comforting, bringing feelings of hope and love. It's perfect for enhancing the room mood.
Versatility: It blends beautifully with most colour schemes, especially with neutral, earthy tones and even bold, vibrant hues.
Texture: The distinctive loopy texture of boucle in pastel pink adds a unique tactile experience.
Styling: This type can be styled in bedrooms, living rooms or nurseries for a subtle feminine touch.
Remember, it's not just about colour, but also the atmosphere you aim to create.
Mustard Yellow Boucle Throw Pillow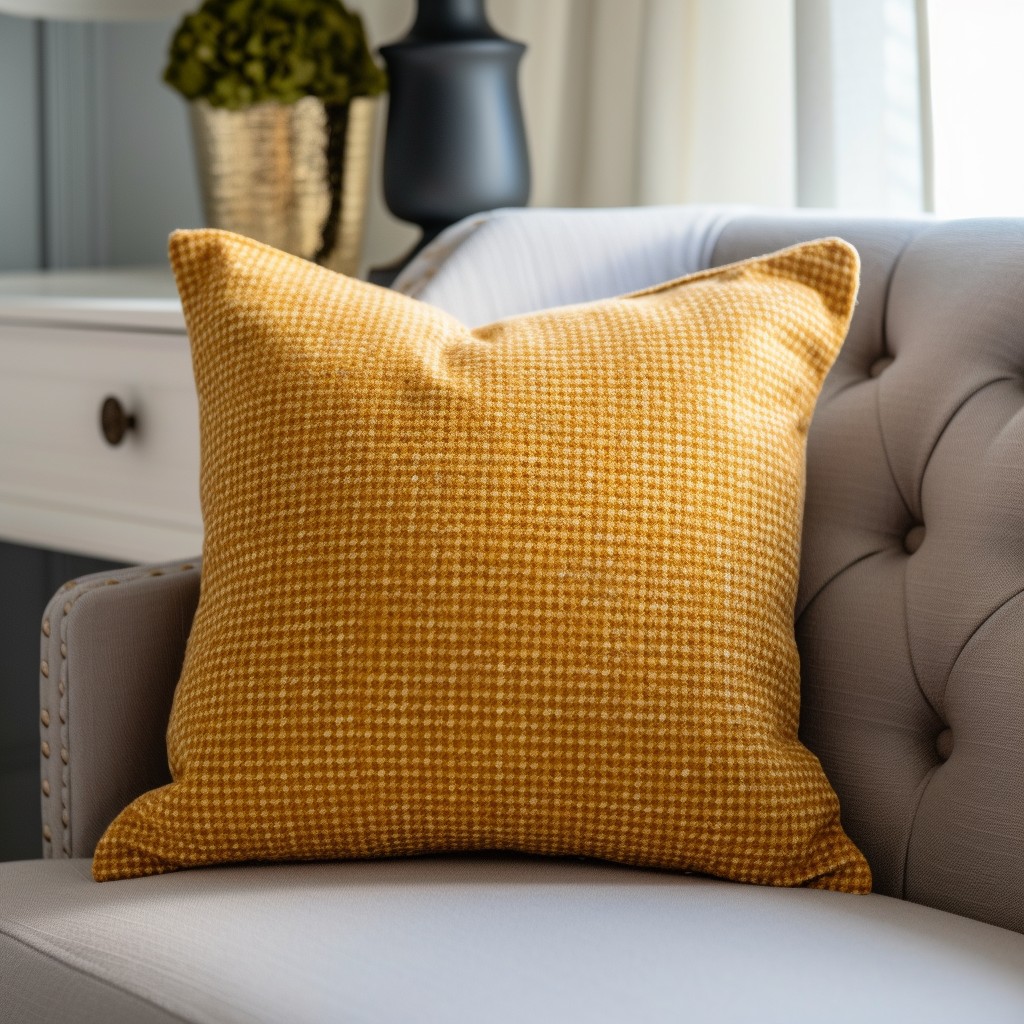 This vibrant hue possesses an undeniably warm and inviting charm that can easily spice up any decor. Infusing your seating area with a dash of sunshine, these cushions cater to both a modernist aesthetic and earthier, rustic settings. The rich texture of the boucle fabric, with its distinctive loops and curls, presents a pleasing sensory experience, enhancing the pillow's overall appeal.
Pairing it with cooler greys or blues can balance the intensity of the mustard yellow, creating a serene yet lively ambiance. Alternatively, complementing the pillow with other saturated colours like burgundy or teal can establish a visually captivating and adventurous design scheme.
Perfect for sprucing up a monochromatic room or enhancing a sophisticated setting, the mustard yellow boucle throw pillow serves as a versatile piece. Despite its boldness, it never fails to blend seamlessly with its surroundings, seamlessly incorporating into various color schemes.
Rustic Brown Boucle Throw Pillow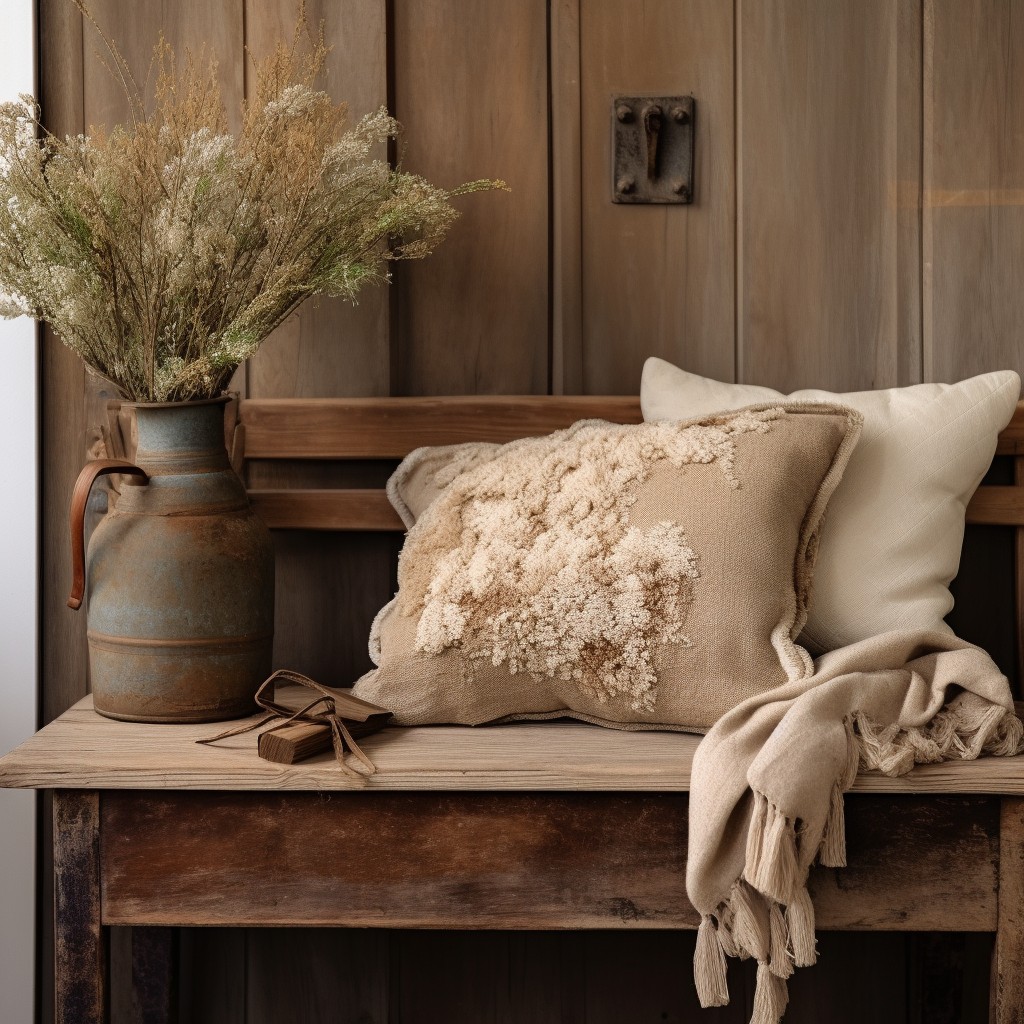 Delving into the enchanting nature-inspired hues, the earthy brown tone channels a sense of rustic charm, grounding any décor scheme. The dynamic texture of boucle fabric brings an added element, warming up your space with its dense, looped yarns.
Firstly, it effortlessly harmonizes with natural materials like lush green indoor plants, wooden furniture, or terracotta pots. Pairing it alongside such items results in a balance that's visually soothing and invites an element of the wilderness indoors.
Secondly, the neutral-toned pillow works as a perfect base for mixing and matching with other textures and colors. While compatible with various styles, it blends fantastically with creams, whites, or even punchy, vibrant hues, accentuating them without stealing their show.
Lastly, the rustic brown adapts to different seasons. Although ideal for a cozy autumn or winter vibe, it can represent the earth's hue in summer or spring, fusing beautifully within a blooming environment. Experimenting with surrounding colors and patterns, as per a room's seasonal setting, can refresh the appeal of this versatile piece.
Remember, a well-placed brown boucle throw pillow can evoke a rustic elegance that's timeless and engaging, setting the tone for a serene and inviting space.
Boho Chic Boucle Throw Pillow With Tassels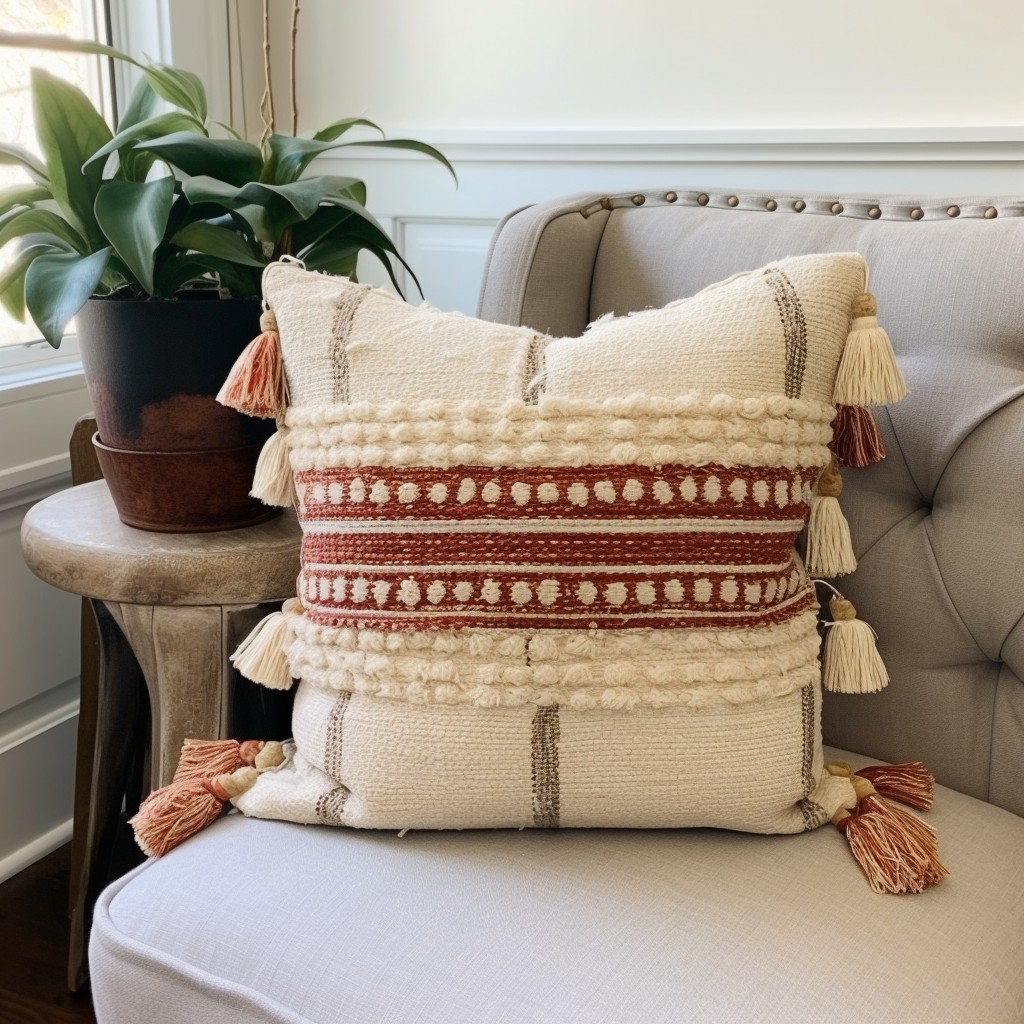 Adding a touch of character, these patterns feature playful tassels as an eye-catching detail. The bohemian artistry shines with superior tactility, blending comfort and style effortlessly. Soft enough to get cozy and sturdy enough to maintain shape, they are a wonderful addition to the decor.
Here are essential points to note about boho chic throw pillows with tassels:
Made with distinctive loops of yarn, they create an inviting plush feel.
Varied tessellating patterns in the fabric add a unique touch to any interior design aesthetic.
Often handcrafted, each one holds its own charm and personality.
Tassels serve as a diverse decorative element that can range from minimalist to flamboyant.
Embrace a chic appearance with earthy tones or opt for vibrant hues for lively energy.
Exceptional durability ensures they remain as beautiful decor pieces over time.
Remember, they are a great way to showcase personal style while infusing warmth to the room. Not to mention, their textured surface makes a feast for the eyes and hands. Same style, different feel – embrace the versatility!
Luxe Gold and Silver Boucle Throw Pillow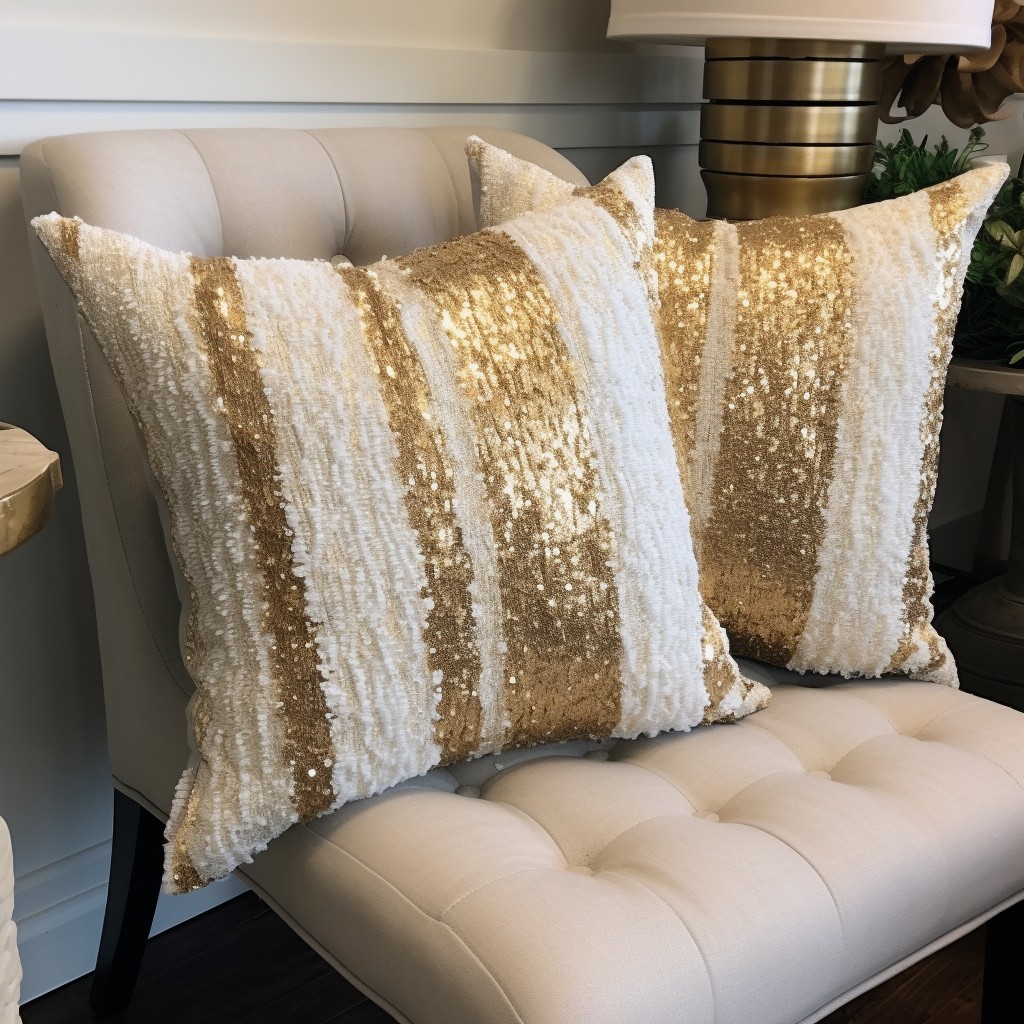 For a sophisticated touch to your home decor, the Luxe style cannot be overlooked. This option represents a blend of elegance with a prosperous vibe. Regarded as a premium offering, it resonates both ostentation and opulence.
1. Luxury Factor: With the gold and silver pillows adding a glamorous touch, your space is instantly elevated. Their high-shine finish mimics the effect of real gold and silver, thereby infusing your room with a ritzy feel.
2. Versatility: Despite their high-end look, these pillows can seamlessly blend with any decor from modern, traditional to bohemian. They easily pair with neutrals, warm hues, and even bold colors creating a harmonious balance.
3. Statement Piece: Unlike basic boucle throw pillows, the gold and silver ones serve as a focal point. They naturally draw the eyes due to their sparkle, pulling together the entire room aesthetic.
4. Room Enhancer: Ideal for bedrooms or living rooms, these plush pillows reflect light, making the area appear brighter, spacious, and more inviting.
Remember, less is more with Luxe style. A couple of these throw pillows on your sofa or bed will be enough to create a significant impact.
Ornate, Vintage Style Boucle Throw Pillow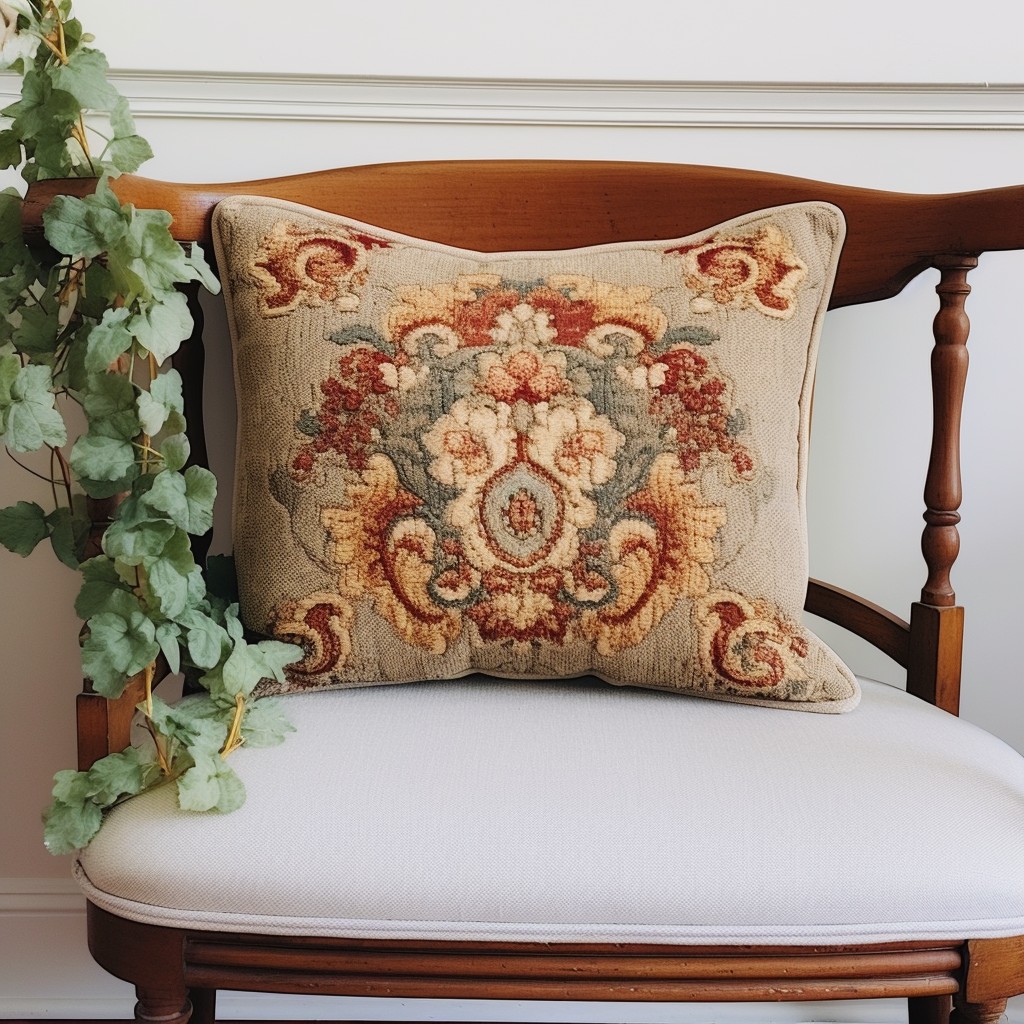 Incorporating an exquisite appeal, these pillows radiate refinement and classic elegance. Boasting detailed embroidery, opulent fabrics, and intricate fringing, they effortlessly elevate any living space. They are ideally paired with antique furniture for a harmonious aesthetic balance.
1. Fabric Choice: Typically, materials like velvet or brocade are utilized due to their intricate patterns and texture.
2. Color Scheme: Lean toward muted pastels, golds, silvers, and rich jewel tones to adhere to the vintage look.
3. Embellishments: Incorporate beading, tassels, fringe, or lace for added sophistication.
4. Pairing Tips: Subtler surroundings allow the vintage-style boucle throw pillow to truly shine. Avoid cluttered or overly modern settings.
5. Care Instructions: Due to the delicate fabric and detailed embroidery, it's crucial to follow the cleaning guidelines attached.
Remember, while the ornate, vintage-style characteristic can make a powerful statement, one must know how to blend it with the rest of the decor to avoid a confused look. Remember to consider the existing colors, textures, and patterns in your room.
Bold, Rainbow Stripe Boucle Throw Pillow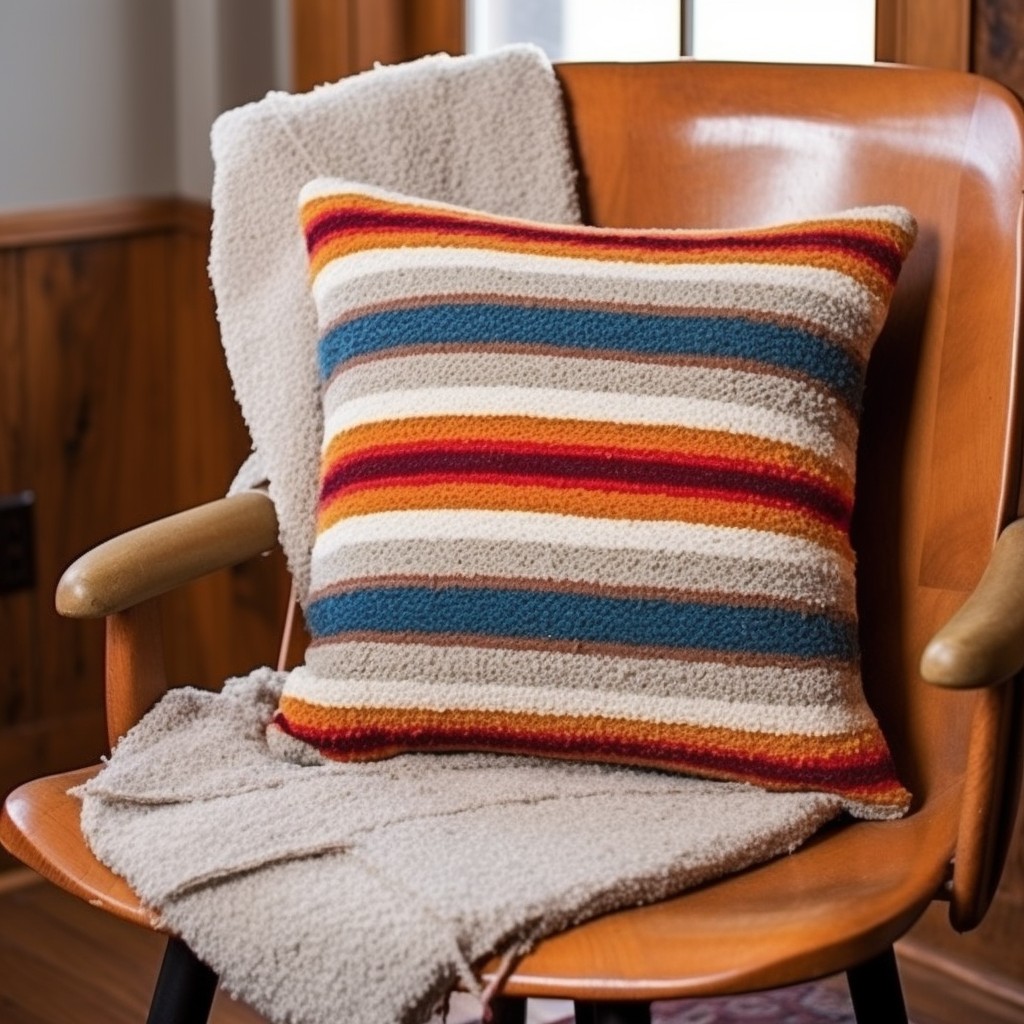 This pillow choice truly lets you embrace color, combining the texture of the boucle fabric with bright, engaging stripes. Here are some points to understand its appeal:
1. Unconventional and bold, it is an ideal pick for those unfazed by vibrant color schemes.
2. The rainbow stripes can enhance visually dull spaces, adding a pop of fun to the area.
3. Easy to pair with solid-colored furniture, this pillow does well to break monotonous vibes.
4. With its versatility, it can work in various decor styles – modern, eclectic, or even in children's spaces.
5. Being a statement piece, it often requires less of other accents, simplifying the decoration process.
Remember, it's not for the faint-hearted. But, if you are looking for a fun, lively glow in your interiors, it can serve you well.
Shimmery Metallic Boucle Throw Pillow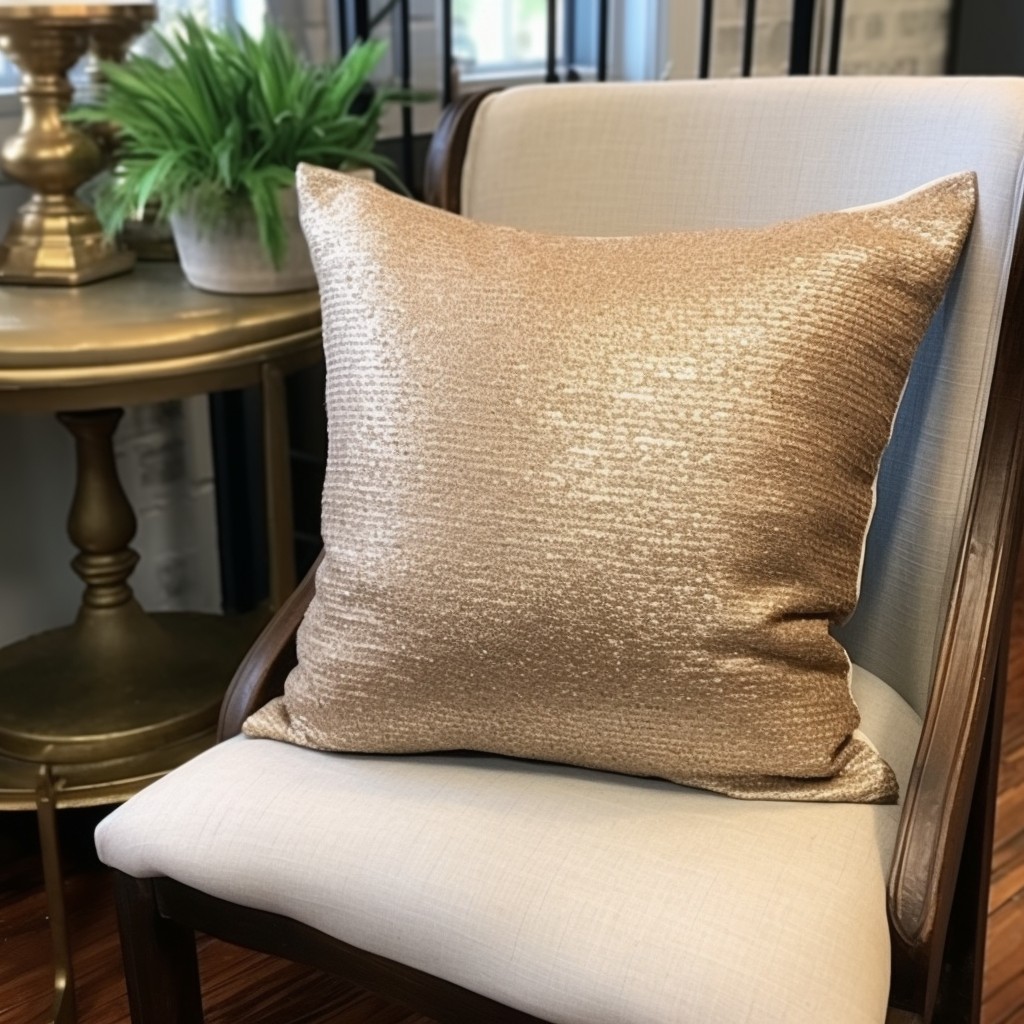 Celebrating the elegance of metallic hues in home decor, these pillows have a subtle shimmer. Utilizing high-quality threads with a metallic finish, they aim to bring a touch of glamour on couches, beds, or lounge chairs.
Not only does this design suit contemporary living spaces, but it can also blend seamlessly into a vintage setting, offering a high-contrast against rustic elements. It creates a visual spectacle without overtaking other design elements in the room.
For lovers of gleaming elements, but not ready to commit to large-scale changes, this is a tasteful addition. Its plush boucle fabric gives a comforting touch, making it a chic yet cozy accessory.
Remember to avoid direct sunlight to prevent the metallic thread from fading, and clean gently to retain the lustrous shine.
Quirky, Whimsical Pattern Boucle Throw Pillow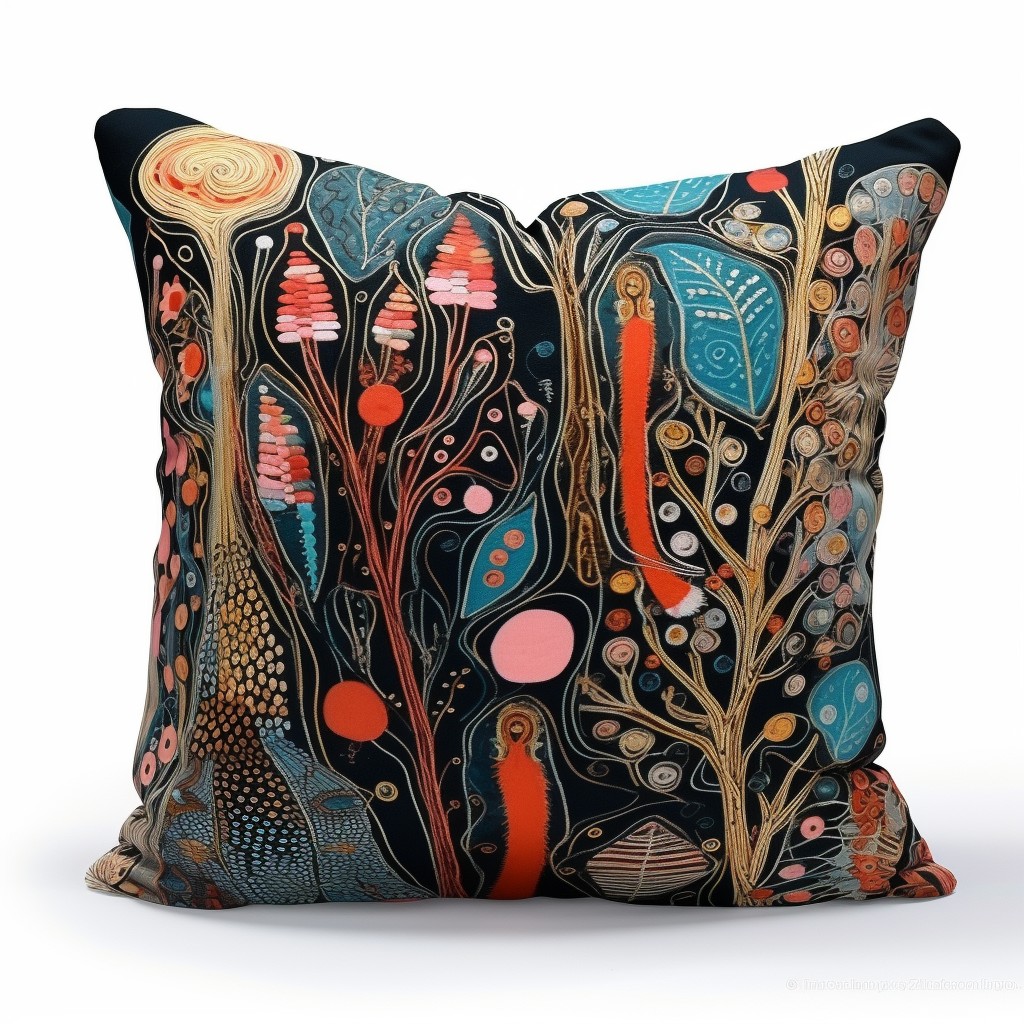 Combining playful patterns with the unique texture of boucle fabric can create a whimsical addition to any living space. The enchanting detail of these pillows often come from quirky prints, including playful animals, unconventional shapes or amusing characters.
The buoyant nature of these designs can breathe life into a neutral space, acting as an attention-grabbing centrepiece on any couch or armchair.
Favouring bold colours can further enhance the lighthearted tone these pillows produce. Radiant hues such as fuchsia, turquoise or lime green can amplify the playful aesthetic these pillows bring to the table.
For a more subtle approach, opt for softer illustrations in pastel shades on a contrasting boucle fabric background.
Maintaining balance is also crucial. Match these vibrant pillows with more understated furnishings to prevent clashing and create a harmonious flow in your space.
A striking balance between the fun pattern on the pillow and the boucle fabric creates an interesting dynamic that blends textures to keep the eye entertained.
Additionally, durability is a considerable advantage. The robust nature of boucle fabric makes these pillows an ideal option in households bustling with activity. They can withstand wear and tear, maintaining their attractive look for years to come.
Experimenting with a variety of sizes can also add character. Mixing different dimensions can create a layered look, enhancing the overall appeal of your room.
Whether you choose whimsical round, timeless square, or unique oblong shapes, the size and shape diversity will bring an additional element of interest and style.
Traditional Embroided Boucle Throw Pillow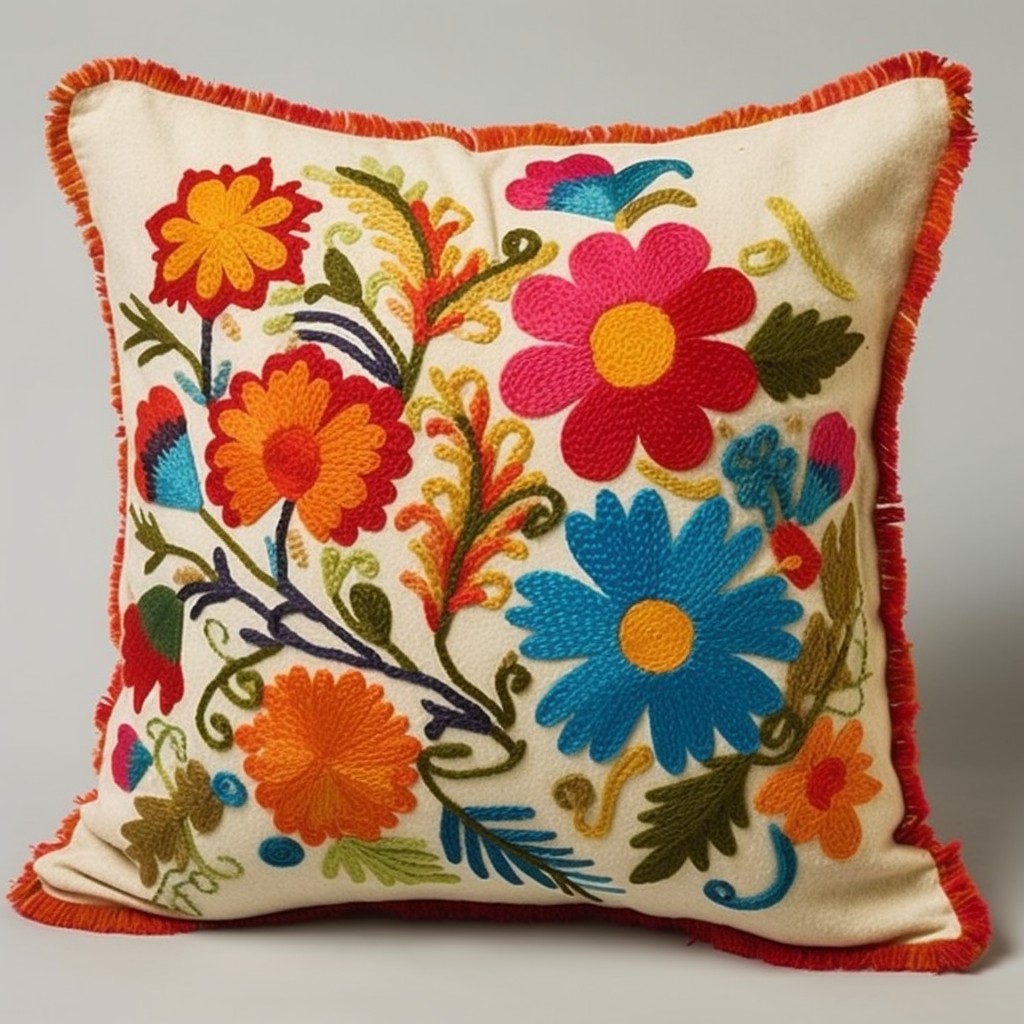 Adorning a living space with such a masterpiece combines the charm of vintage craftsmanship with a contemporary fabric technique. Let's delve right into its unique features:
1. Emphasizes handwork expertise: The embroidery on this type of pillow is often done by hand, showcasing exceptional craftsmanship.
2. Enhances aesthetic appeal: Intricate patterns can add depth and sophistication to any room.
3. Embodies tradition: It's an excellent way to encapsulate heritage and culture in home décor.
4. Versatility: These pillows can compliment both traditional and modern spaces with their appealing blend of old and new.
5. Add textural contrast: The combined textures of boucle fabric and embroidery can create an impactful design element.
Art Deco Style Boucle Throw Pillow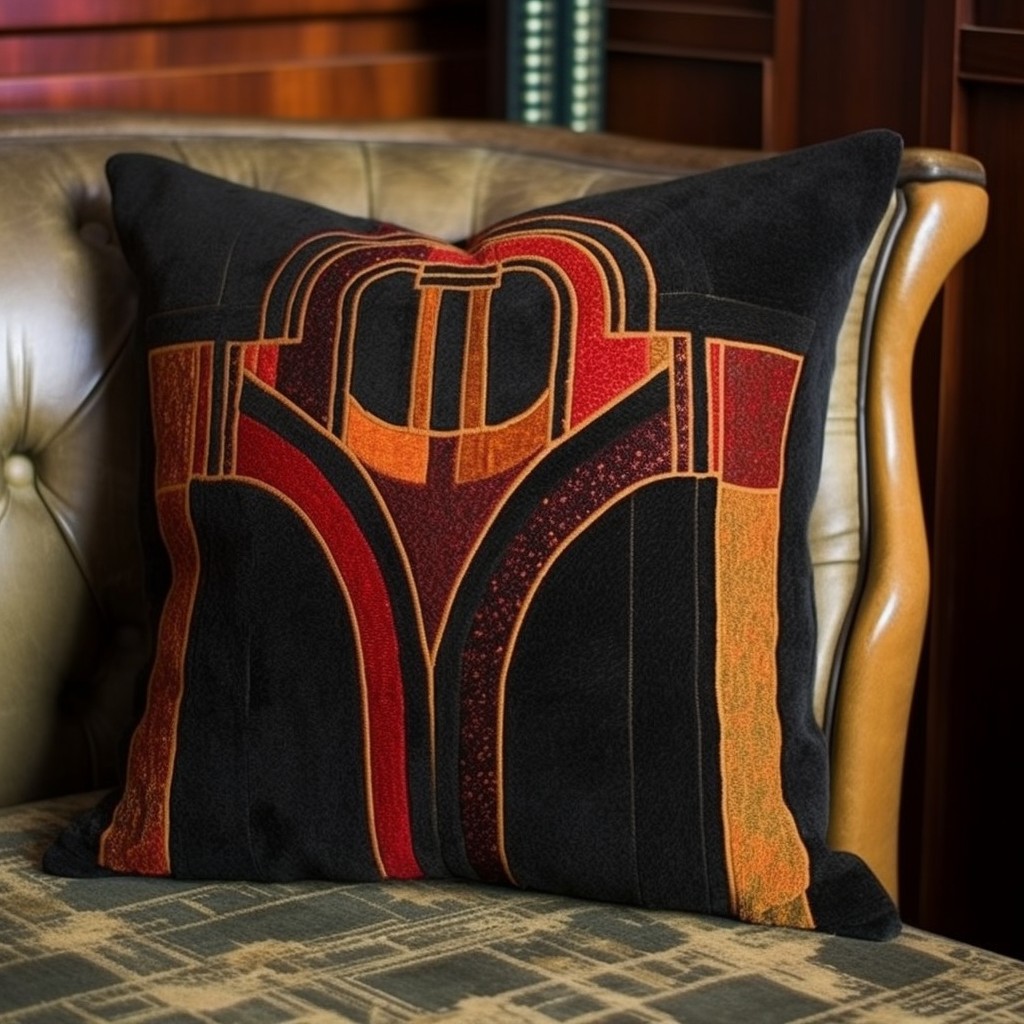 Radiating with the glamour of the Roaring Twenties, this design embodies opulence and style. Its symmetrical forms, bold geometric patterns, and rich colors make it a brilliant choice for those seeking a luxe aesthetic.
These throw pillows often feature gold, silver or bronze hues, paired with striking patterns like chevrons or scallops.
Here are some key hallmarks to identify this style:
Luxury Fabrics: This design includes rich velvets and silks, sometimes accented with iridescent touches or elaborate beadwork.
Vibrant Patterns: Geometry plays a significant role. You might find zigzags, arcs, fan shapes, or even stylized floral designs.
Metallic Accents: Gold, silver and bronze accents add a sense of richness and elevate the design.
Bold Contrast: Often, the color palette of these pillows is a combination of both neutral shades and bold, vibrant colors, creating a visually striking contrast.
Whether you aim to spruce up a dull living room or want to infuse a touch of timeless elegance into your surroundings, these throw pillows serve as perfect statement pieces.
When artfully combined with other Art Deco decor items, these pillows can truly transform a space into a luxurious haven.
You may also like to read: