Last updated on October 12, 2023
Explore the charm of bouclé counter stools because they offer an unbeatable blend of style, comfort, and chic sophistication, perfect for any home setting.
Boucle counter stools are a chic addition to any home, offering both comfort and style. These versatile pieces can blend seamlessly with various decor styles, from modern minimalist to rustic farmhouse.
Whether you're looking to add a touch of elegance to your kitchen island or need a cozy seating option for your home bar, boucle counter stools are an excellent choice.
In this article, you'll discover a variety of ways to style these unique pieces, as well as tips for choosing the perfect stool to suit your space. From fabric selection to seat height, we've got all the details covered.
Table of Contents
Mid-century Modern Boucle Counter Stools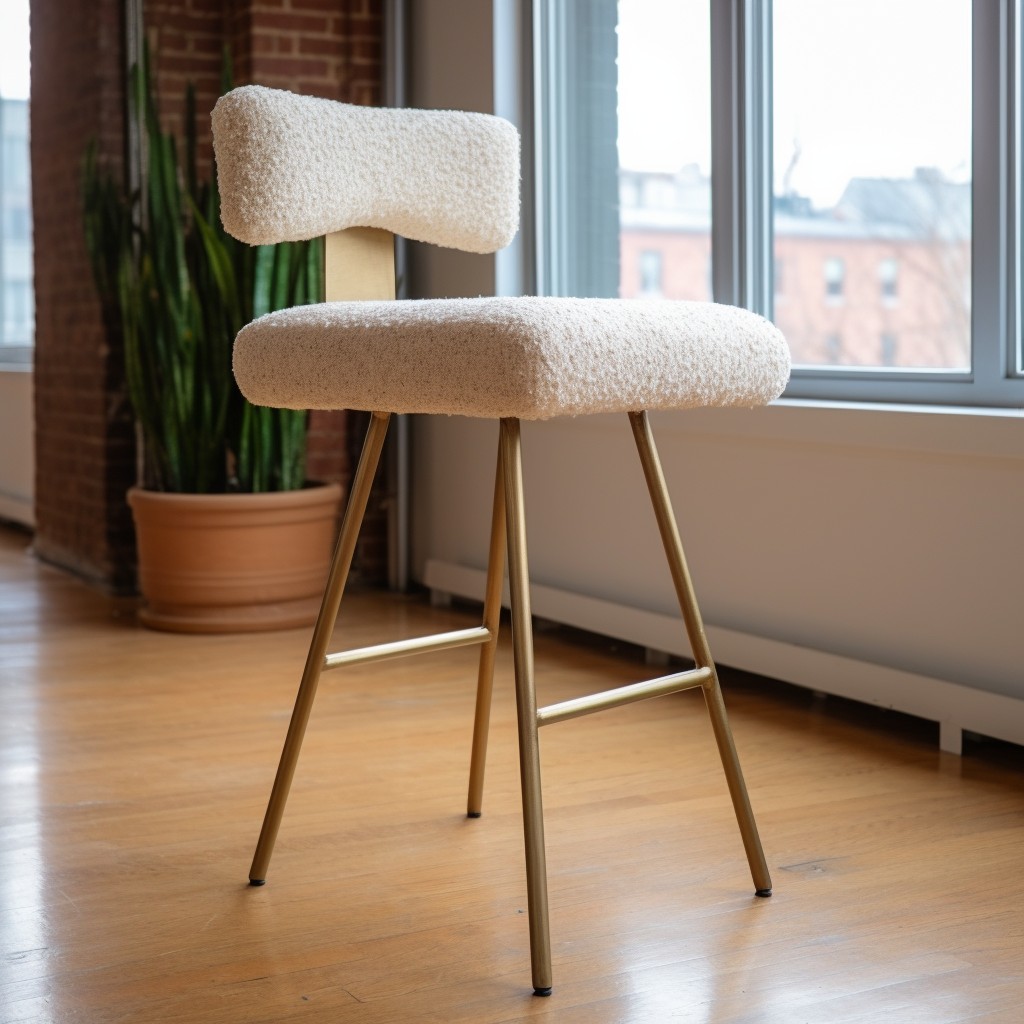 With their distinct silhouette and charm, these stools are a perfect match for spaces craving for an infusion of vintage flair. Their captivating features include:
Structured Yet Comfortable: While the architectural lines stay true to the mid-century aesthetics, the boucle fabric imparts a plush softness ensuring top-notch comfort.
Neutrality: These stools are stylistically versatile thanks to their neutral colors. Whether your kitchen palette is bold or muted, they can seamlessly blend in.
Statement-Making: The warm wooden legs contrast brilliantly against the white boucle upholstery, making them a definitive head-turner.
Compact: They're an excellent fit even for kitchens with spatial constraints. Their condensed design creates an illusion of more space even when the area is limited.
Easy Maintenance: Boucle fabric is stain-resistant and easy-to-clean, meaning these stools preserve their charm even with rigorous use.
Thus, investing in a mid-century modern boucle stool stands synonymous with adding a delightful mix of vintage charm, comfort, and practicality to your counter space.
Industrial Style Boucle Stools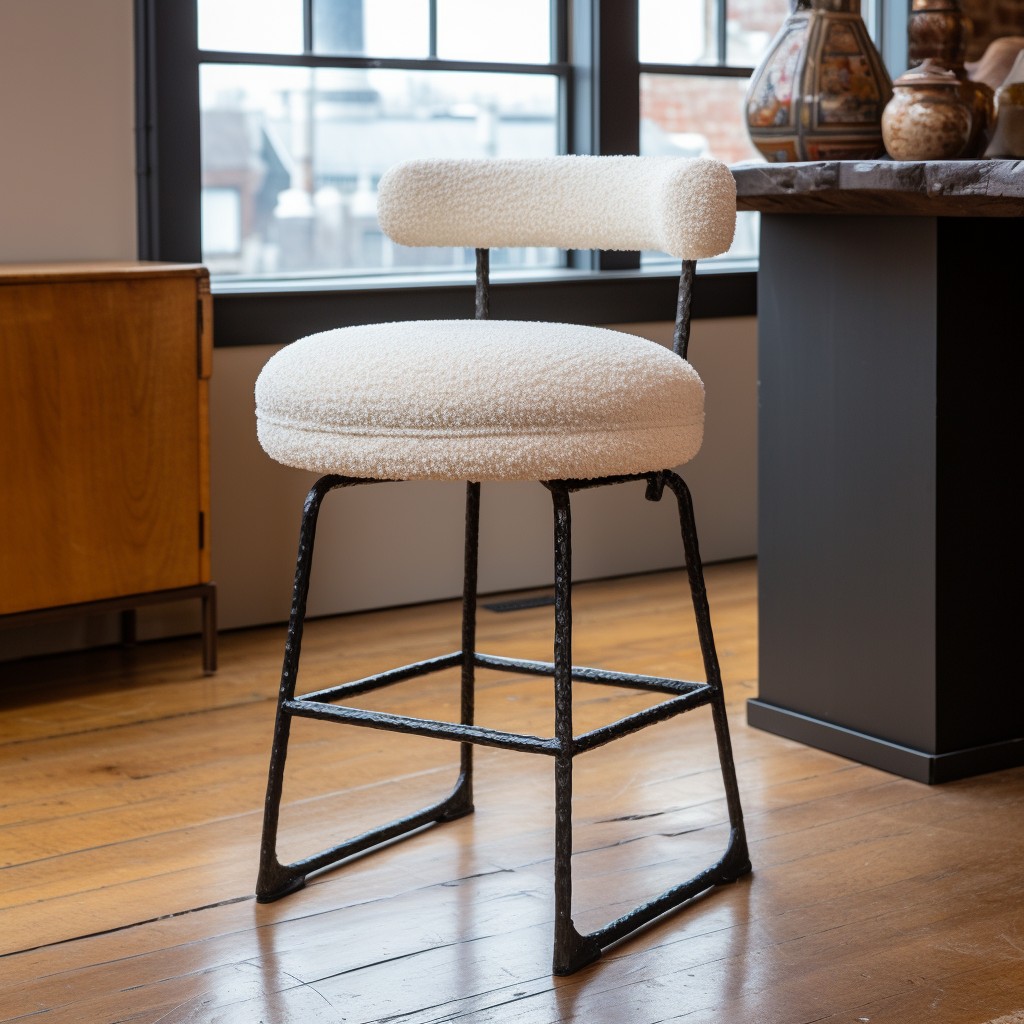 These stools confidently embody an aesthetic that combines the raw functionality of industrial design with the softness of boucle fabric. They often feature robust materials such as steel or iron for the frames to infuse an urban loft feel.
Key points:
Steel-framed stools in black or grey can enhance the industrial look and work beautifully with the boucle upholstery.
Opt for stools with weathered or distressed finishes to add an authentic touch to your industrial-style kitchen or bar area.
To create contrast, consider boucle fabric in earthy tones. This balances the harshness of metal, providing a stylish equilibrium.
Industrial style stools can also feature visible hardware like screws and rivets, adding grit and character.
For a touch of comfort, choose stools fitted with padded seats and backing. Despite the utilitarian design, the plush boucle fabric ensures cozy seating.
To add an element of dynamism, swivel stools are an excellent choice within this style category.
Remember, the goal is not to mimic a factory verbatim, but to draw on industrial inspirations, harmoniously merging it with the coziness of boucle to create a versatile seating arrangement.
Minimalist Boucle Counter Stools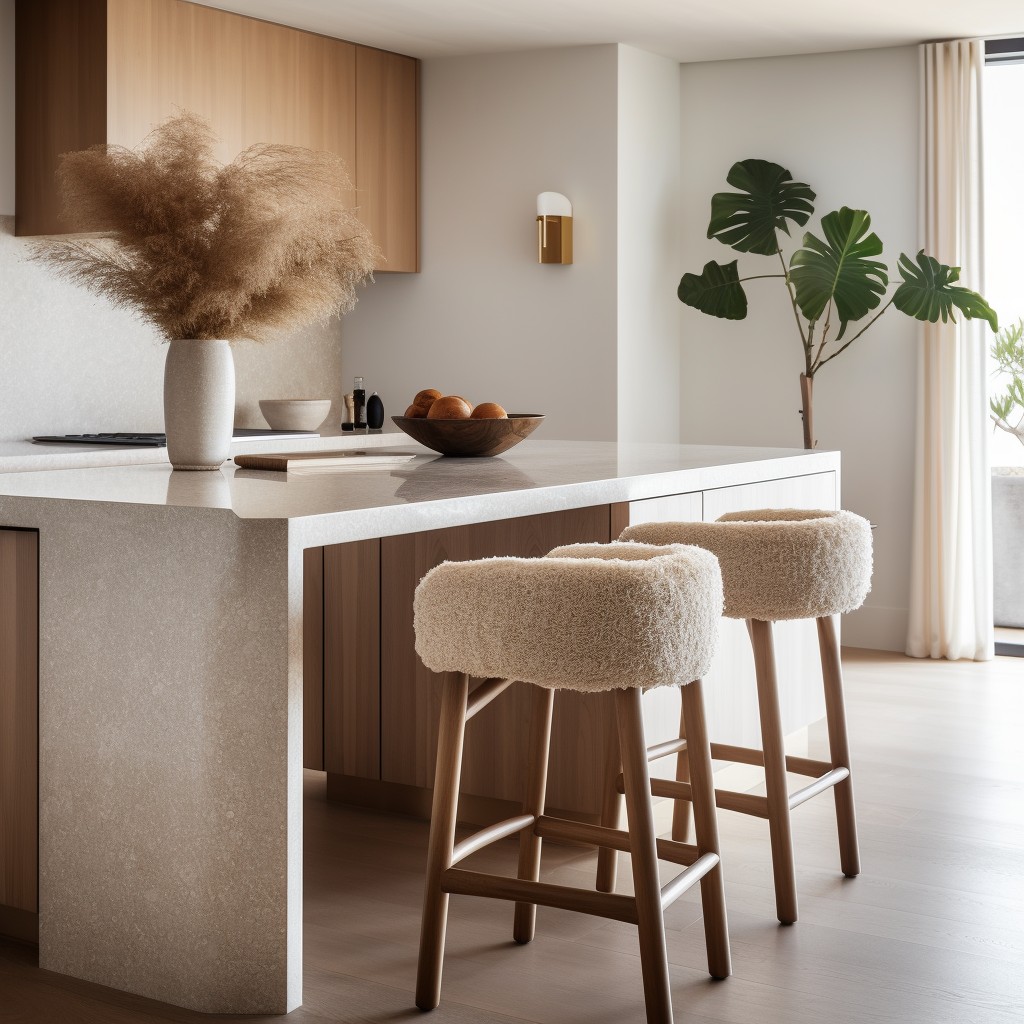 In the realm of minimalism, less is always more. This sentiment is beautifully captured by these unique counter stools that use simple lines and textures for an understated look. The outer shell is typically covered in soft boucle fabric, adding a luxurious touch to the otherwise plain design. Simplicity doesn't mean sacrificing comfort. Their curves are just pronounced enough to provide ample support without breaking the seamless aesthetic.
Key hallmarks of the minimalist aesthetic in these boucle counter stools include:
1. Sleek metallic bases often in silver or black: They're clean, uncomplicated, and provide a striking contrast to the soft boucle fabric.
2. Monochromatic color schemes: Shades of beige, gray, or white stand out. They blend seamlessly with any decor and provide a soothing visual.
3. Fewer decorative elements: No flashy patterns here. The main attraction is the boucle fabric itself, appreciated for its rich, complex texture.
4. Functionality: As with all minimalist furniture, these stools prioritize function over form. Although visually pleasing, they're primarily designed to be comfortable and practical.
Remember, a minimalist boucle counter stool can make a big style statement while elegantly maintaining its role as a functional piece of furniture. It's all about the balance.
Metallic Frame Boucle Stools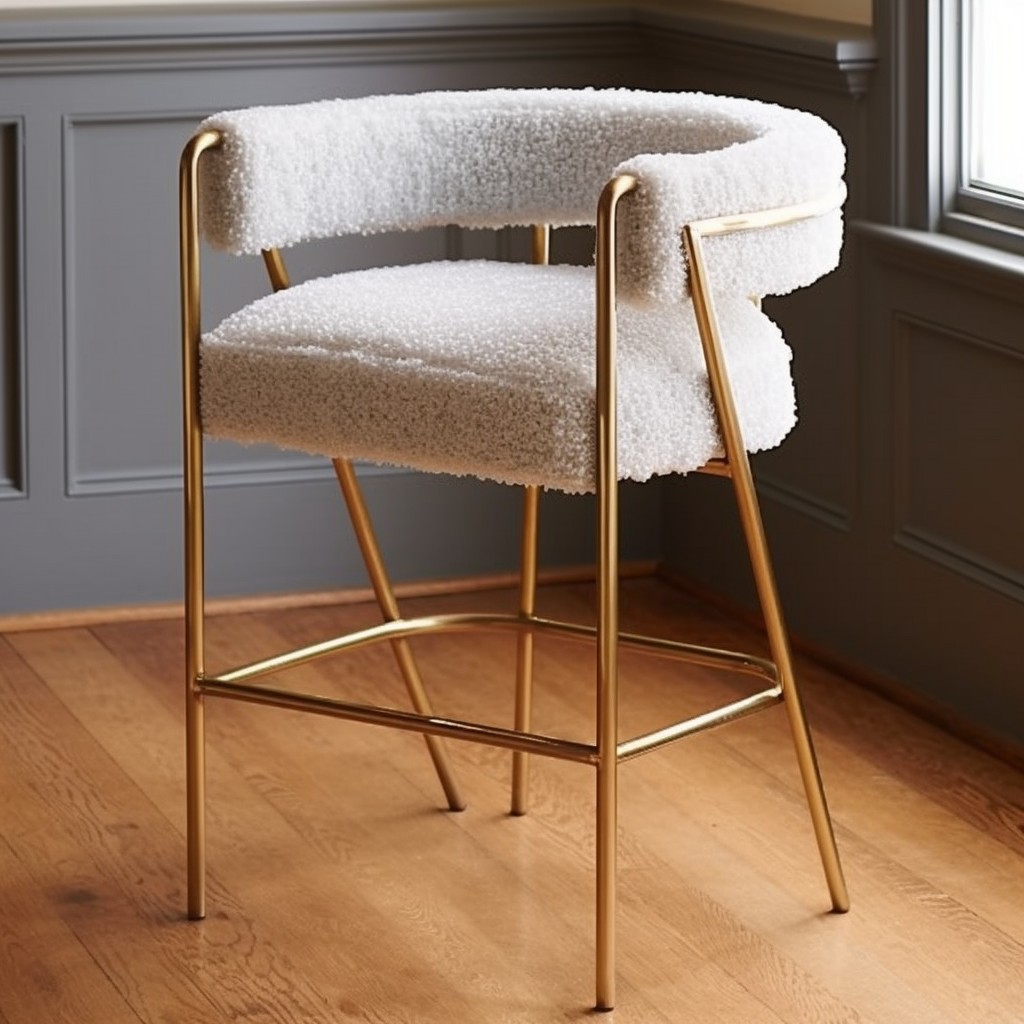 Featuring a polished balance of glamour and function, these stools effortlessly blend in various interior themes. Their strength lies in the fusion of sumptuous boucle upholstery with a sleek metal framework. This combination displays an astute sense of design. It's noteworthy how they offer a chic way to introduce an industrial vibe.
1. Durability: The metallic frame provides robust support, increasing longevity.
2. Versatility: Their neutral style blends harmoniously with different decors, from modern to rustic.
3. Luxury: The metallic shine adds a luxurious touch to spaces.
4. Comfort: The plush boucle seat ensures a comfortable seating experience.
5. Adjustable: Some designs offer adjustable heights, thus enhancing convenience.
6. Easy care: Regular dusting with a soft, dry cloth keeps them looking new.
However, remember to avoid placing them in overly humid areas, as this could potentially affect the metal's finish over time.
Boucle Counter Stools With Back Support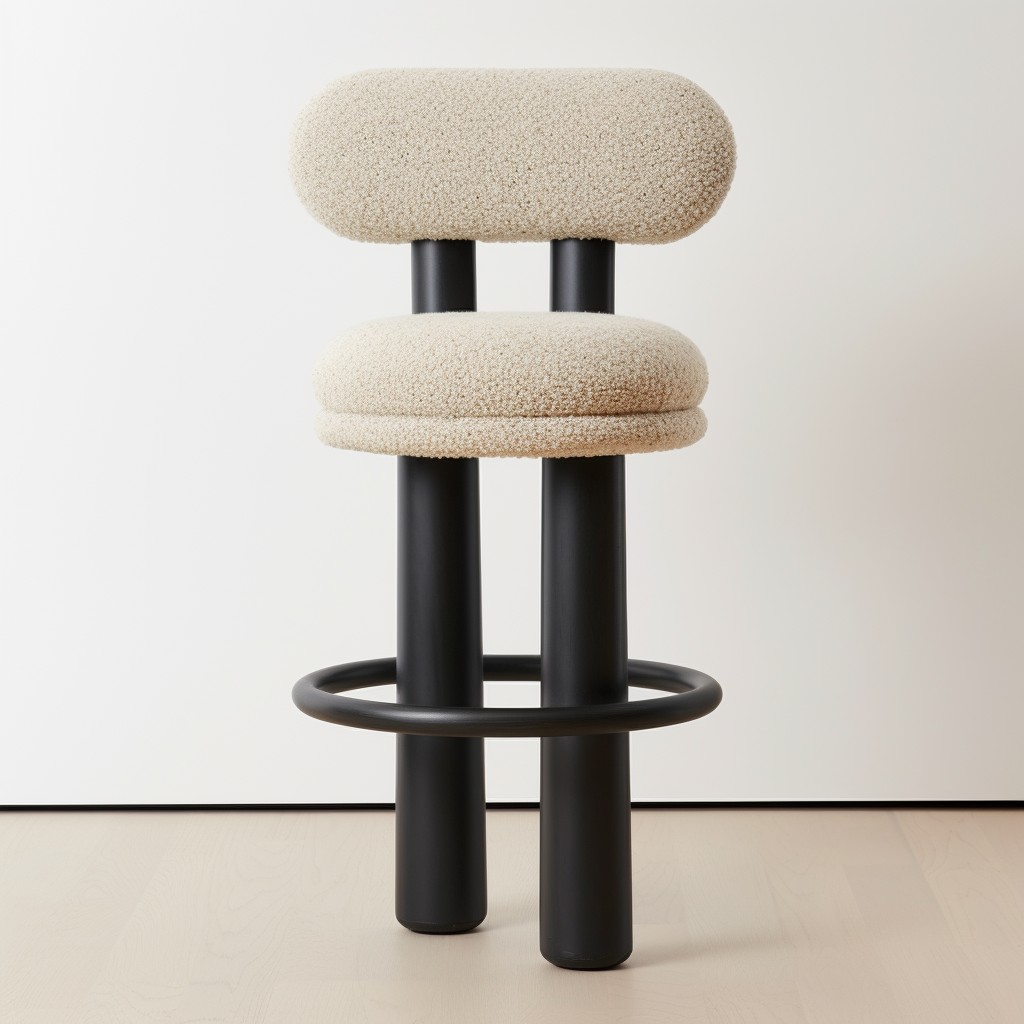 Offering both function and fashion, back support in boucle counter stools can improve comfort and posture. Ideal for extended seating, it's an excellent choice for kitchen counters and home bars.
1. Enhanced Comfort: Stools with back support provide ergonomic advantage. The backrest offers a convenient lean-on spot, making seating a more relaxed and enjoyable experience.
2. Prominent, Stylish Feature: Upholstered in boucle fabric, the backs become a prominent style element. The tactile texture of boucle adds a luxurious feel, elevating your overall home decor.
3. Variety in Design: Available in various shapes from round to rectangle, these backrests allow an added layer of customization, helping to create unique interior spaces.
4. Mix of Material: Combining boucle upholstery with different materials like wood, metal, or rattan for the frame can create a stool with back support that caters to specific aesthetic tastes.
5. Durability: Most back support designs are robust, ensuring you invest in a product that will stay functional and attractive even after prolonged use.
Swivel Boucle Counter Stools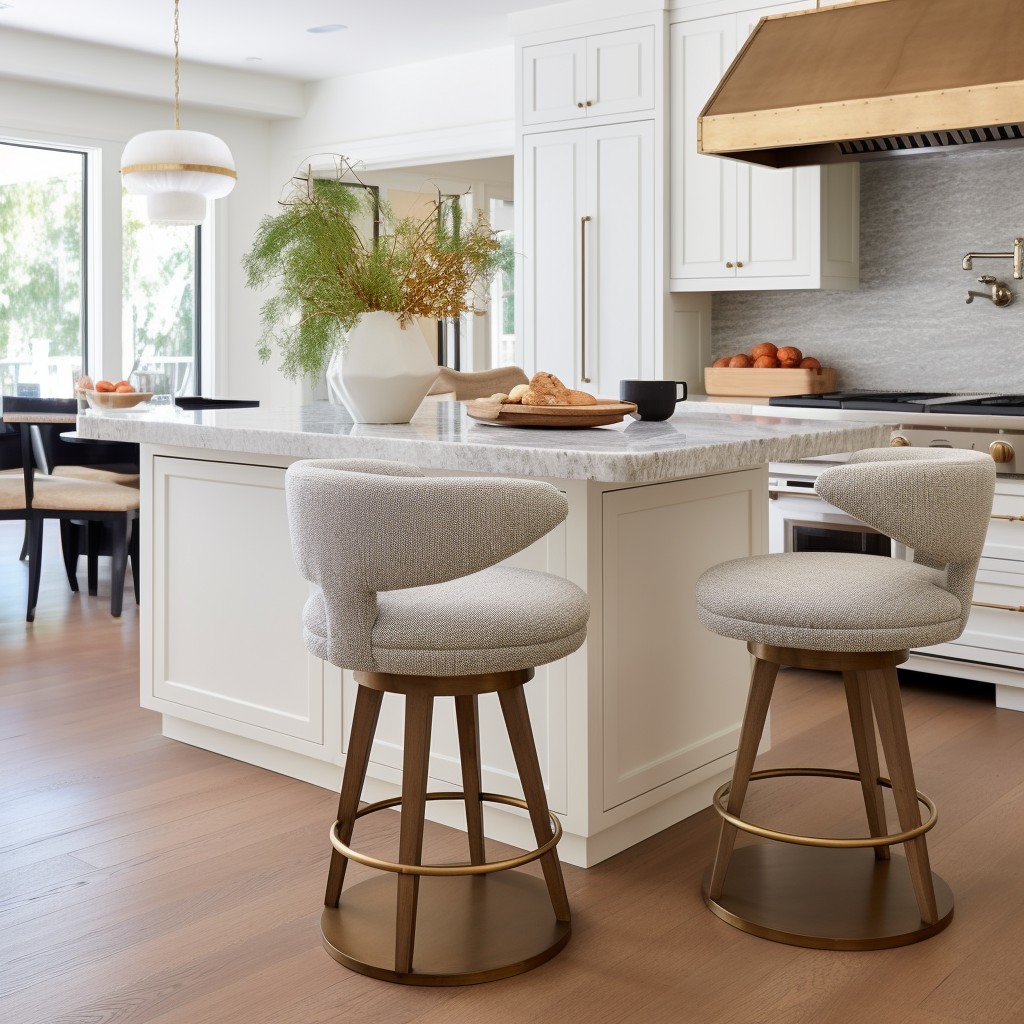 With the ability to rotate 360 degrees, these stools offer unique functionality that makes them an absolute comfort in the kitchen or the bar area. First, they provide freedom of movement – the swivel feature allows for easy access and maneuverability. If your counter space is compact, this style will maximize usage with its easy-to-rotate feature.
Secondly, boucle swivel stools bring an element of design versatility. Available in a variety of styles, from contemporary leather to classic wood frames, they can seamlessly match any home decor. Though the boucle fabric grants them a luxurious aspect, it's their swivel nature that adds a hint of allure, modernity, and fun to their design.
Thirdly, they perform with outstanding durability. The sturdy construction ensures they can handle the unexpected turns and twists. Not only do they provide a unique visual appeal, but also a tangible, long-lasting functionality to the home.
Bi-color Boucle Counter Stools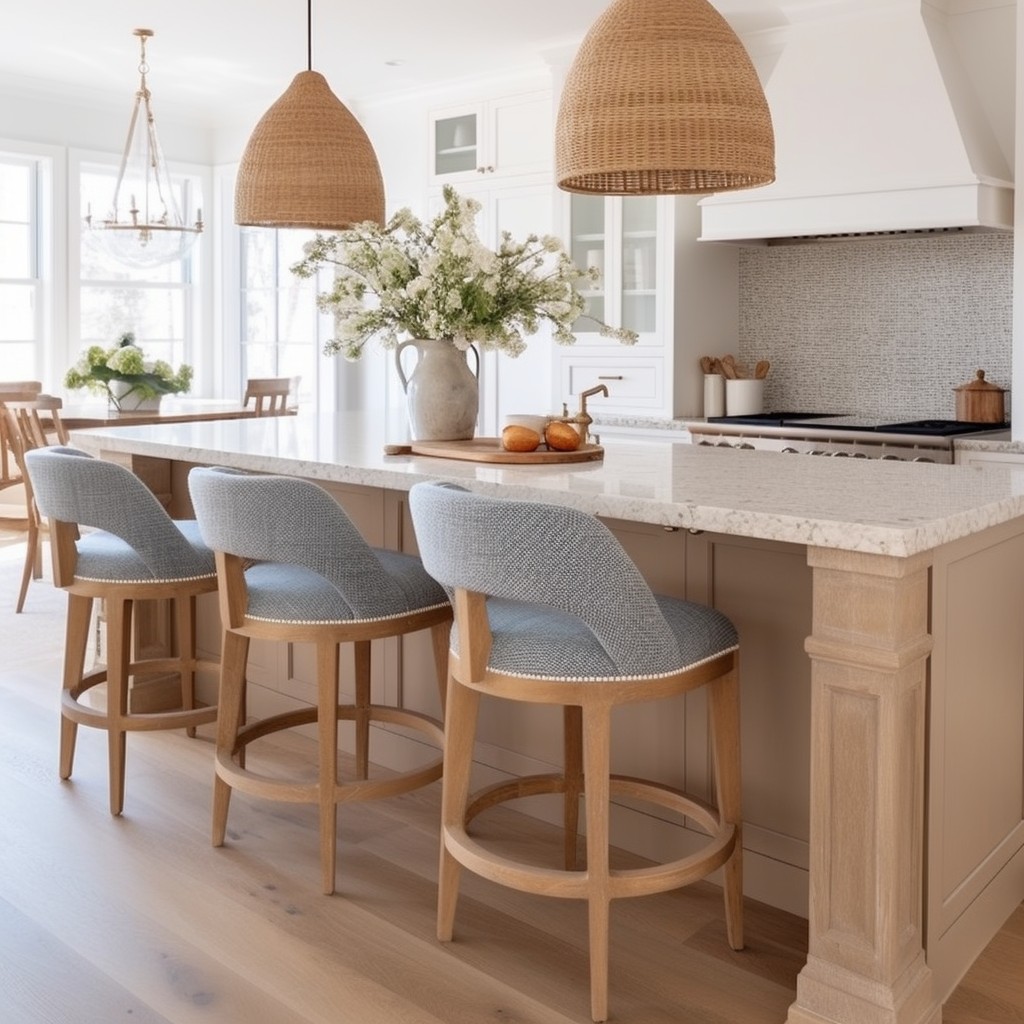 Venturing into dual-tone territory, these stools embody versatility and visual appeal. They consist of two varying shades on a single stool, enhancing their aesthetic charm.
Seamlessly blending in with diverse settings, these stools can adapt with ease to existing color concepts. Here are some worthy notes about these dynamic stools:
1. Color Coordination: The dual shades play a vital role in connecting different color elements within a room, tying the space together.
2. Versatility: The presence of two colors offers a versatile solution for those who wish to periodically alter their décor. Simply switching the stool orientation can provide a refreshed look.
3. Balance: Implementing a lighter shade with a darker one works to achieve an aesthetic balance. This strategy prevents the stools from seeming overpowering while maintaining their distinctiveness.
4. Mood Setting: The chosen color pair can set the mood of the room. Soft, light tones could create a serene atmosphere, while bold, vibrant shades might trigger excitement and energy.
5. Variety: The two-toned concept offers a vast array of color combinations to choose from, ensuring that it caters to various personal preferences and design needs.
Vintage Boucle Counter Stools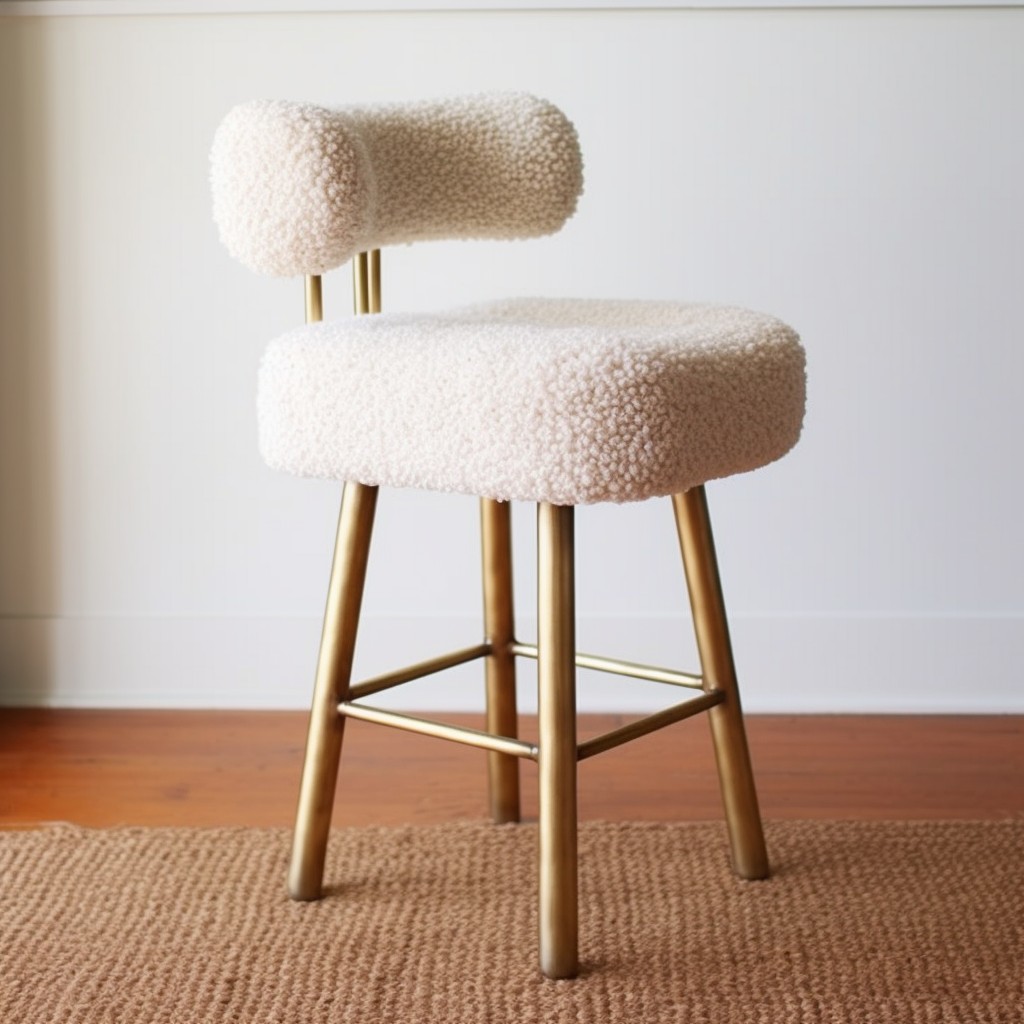 Vintage boucle counter stools are a perfect fusion of comfort and classic design. This style has stood the test of time, thanks to the plush texture of boucle fabric and the classic aesthetic of yesteryears.
1. Wooden legs are a key feature, often with a rich, dark finish to highlight the vintage nature.
2. Intricate design elements such as button tufting or nailhead trim add elegance to these stools.
3. Commonly available in neutral colors, a less common but nonetheless vintage choice is the pastel-hued boucle fabric which radiates a soft, bygone charm.
4. The high-density foam seat ensures they are durable and comfortable, making them perfect for a kitchen island or breakfast nook.
5. The stool height is usually conventional; however, they can occasionally come in adjustable variants.
6. Being vintage, they carry an aura of elegance, effortlessly becoming the focal point of any room they are placed in.
7. They pair well with other rustic decor elements like distressed wood tables or traditional terracotta pottery.
Remember, their timeless charm lies in the blend of their detailed design coupled with the unique texture of boucle, making them a persuasive option for those seeking to infuse a touch of legacy into their modern decor.
Natural Wood and Boucle Stools
Embracing the beauty of natural elements, these counter stools blend the wooly texture of boucle fabric with the raw appeal of wood.
Here are the key aspects:
Material Contrast: The stark contrast between the rich, grainy wood and the plush, curly boucle fabric creates a visual spectacle.
Versatility: Suitable for a variety of design aesthetics, from rustic to contemporary due to the universal appeal of both components.
Warmth: Wood brings an unmistakable warmth, offsetting the cool, soft touch of the boucle upholstery.
Durability: Stools constructed from solid hardwoods like oak, ash, or teak are robust and hold up well over time.
Customization: Depending on the wood's finish and the boucle's tone, these stools can be tailored to fit any color scheme or decor style.
Refurbished Boucle Counter Stools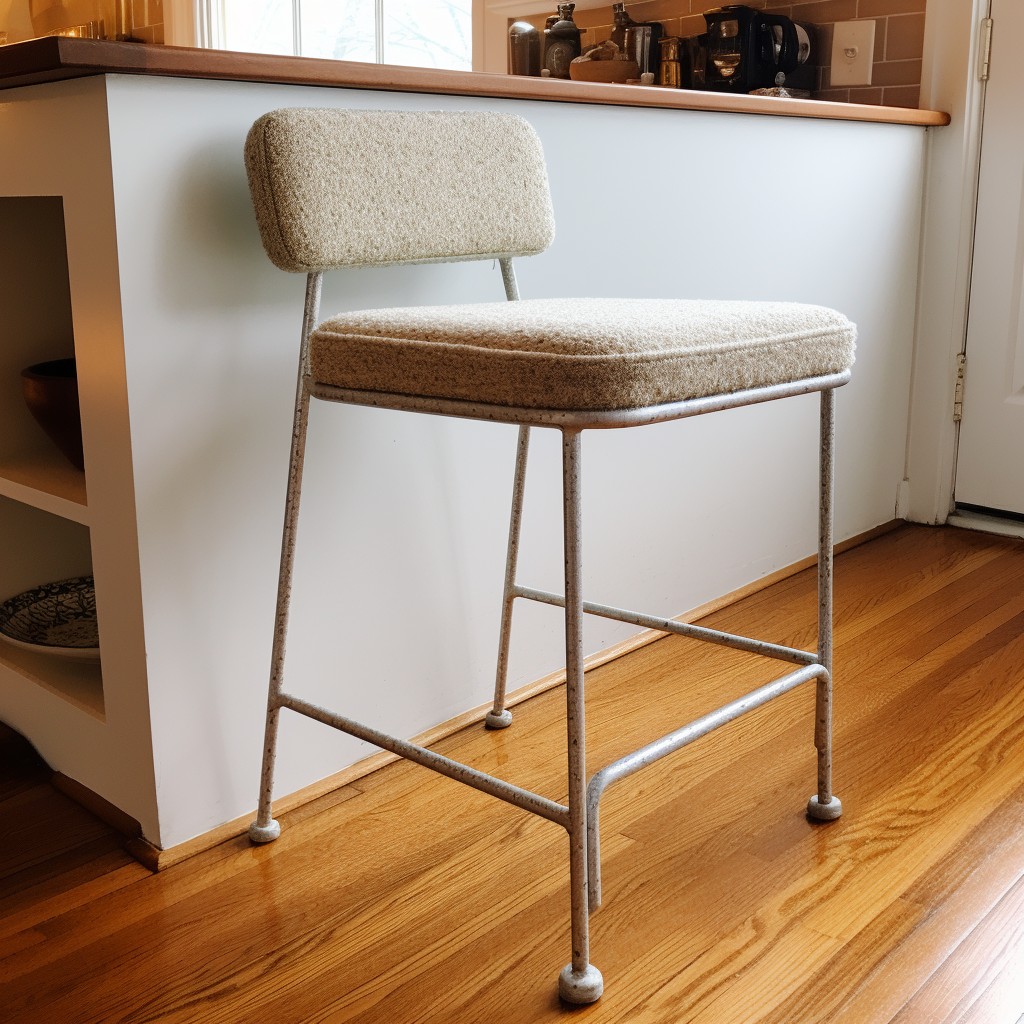 Refurbishment gives a fresh lunar life to otherwise antiquated stools while ensuring each one harnesses an authentic touch.
1. Eco-Friendly: Reusing old stools diminishes the demand for mass-produced furnishings, reducing environmental impact. It's a step towards green living.
2. Individuality: Since no two refurbished stools are exactly alike, they inherently add a unique charm to your settings.
3. Affordable: Comparatively less costly than brand new stools, these maintain quality aesthetics at more budget-friendly rates.
4. Craftsmanship: Patches of worn spots, scars, or age signs reveal the beauty of handmade artisan quality.
Remember, it necessarily isn't about 'old'; but appreciating the charm that comes with maturity, and the unique character they lend to your counter space.
Boucle Stools With Gold Accents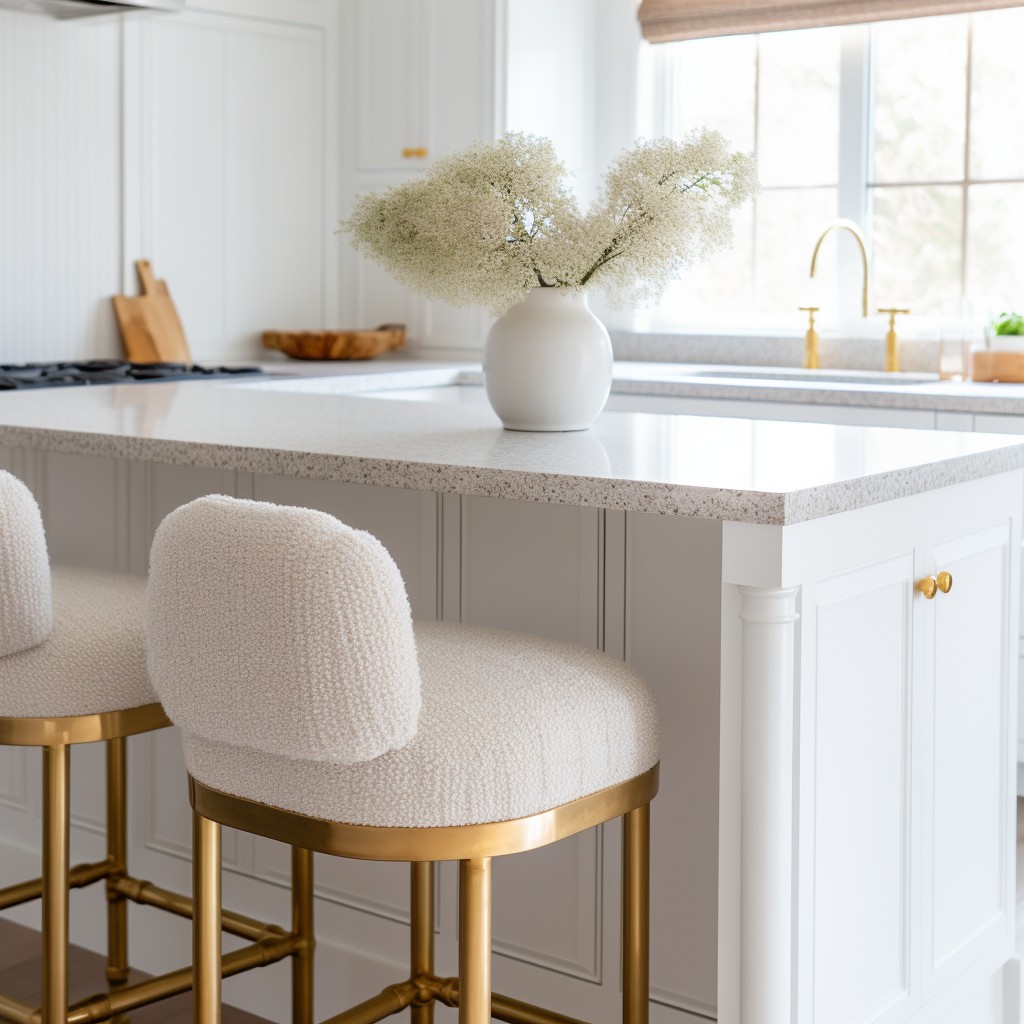 Gold accents give a touch of luxury to the organic texture of boucle fabric, creating a sophisticated interplay of materials. There are fetching models that feature golden footrests or framework, which not only gleam in the light but also provide a sturdy foundation for the stool.
Some designs incorporate a gold trim around the bottom or top, adding a rich border that subtly complements the upholstery. This aspect lifts the overall aesthetic of any space, making it perfect for anyone desiring a counter stool that straddles both opulence and comfort.
For a unique touch, one might consider stools where the gold accents are in an intricate pattern, taking the sophistication a notch higher. Meanwhile, for a less ostentatious look, there are options where the gold accents are tastefully applied just on the legs or handle.
No matter the design, a boucle counter stool with gold accents remains a delight to the eyes and a comfortable seat that perfectly melds luxury, comfort, and style.
Adjustable Height Boucle Counter Stools
The true beauty of these stools lies in their flexibility. Adjustability in height offers a seamless blend of convenience and comfort, perfect for a diverse range of counter heights. As practical as they are stylish, these stools can effortlessly cater to tall adults, young kids, and everyone in between.
Their design is typically marked by a lever beneath the seat, easily accessible and simple to operate. Some models may have a twist-to-rise functionality, where the seat is rotated anti-clockwise to increase height and clockwise to decrease. This feature presents a satisfying blend of function, comfort, and aesthetic appeal.
Stools with adjustable height are excellent for open-concept kitchens or multipurpose islands. They ensure that everyone seated at the counter can enjoy their meal or conversation comfortably, irrespective of their height. These stools often come with a footrest for additional comfort, allowing users to relax their feet regardless of the stool's height setting.
When it comes to design options, there's a vast range to choose from. You can opt for swivel seats, back supports, or more minimalist designs, depending on your home's existing décor. Be it metal, wooden, or chrome finish, there is a design to suit a variety of personal aesthetics.
However, while considering this option, remember that adjustable stools might require periodic maintenance to ensure the mechanism stays smooth and functional over time.
Cross-legged Boucle Counter Stools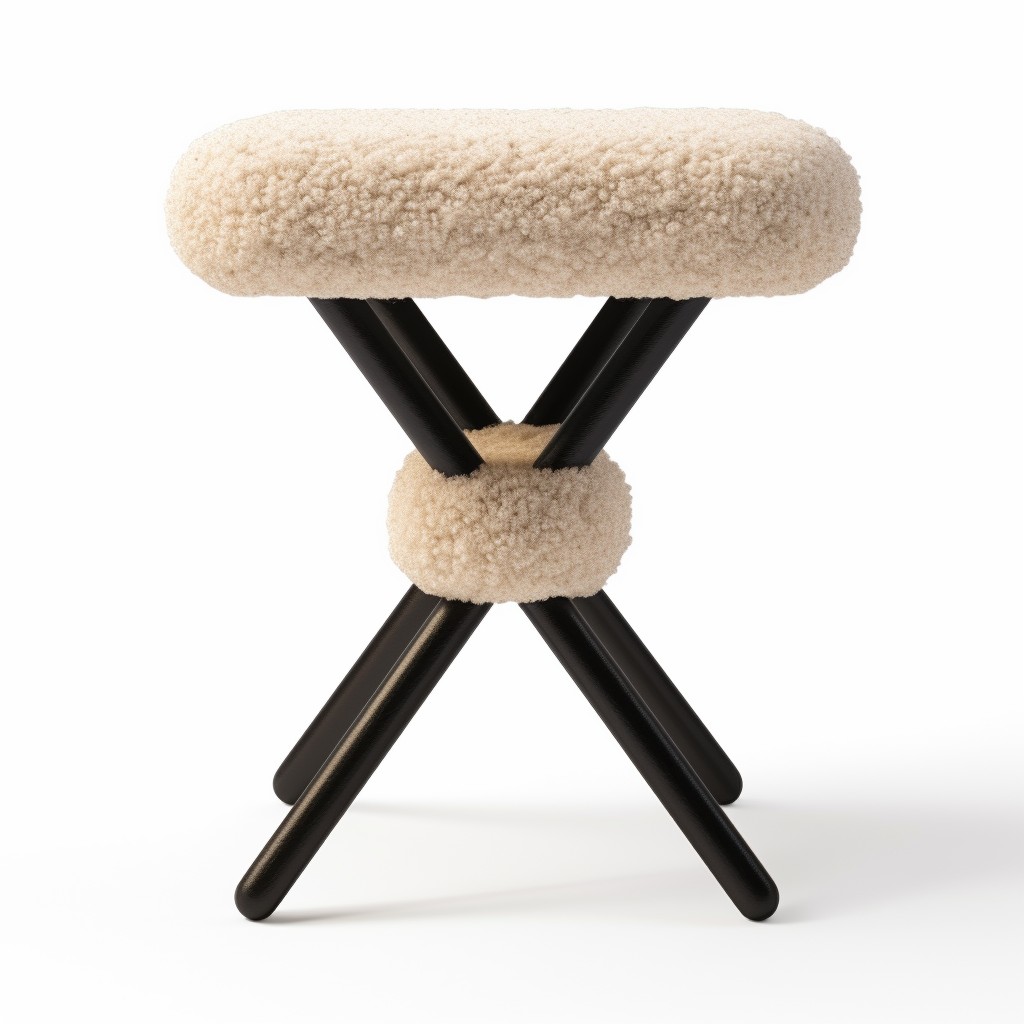 Providing a clean and neat aesthetic, these stools are designed with intersected legs, forming an 'X' shape at the base. They exude contemporary charm, with the intricate boucle upholstery softening the structural look of the crossed legs, offering an outstanding blend of comfort and style.
Being lightweight, they are easy to move about, making redecoration a breeze. Stability of these stools is never a concern as the cross-legged design ensures robustness and durability.
Available in a range of colors and finishes, you can choose from black or white legs to wood grain or polished metallic, to suit the ambiance of your space. These unique stools are sure to add a dash of elegance to any counter area, reflecting your superior taste in home decor.
Multi-textured Boucle Stools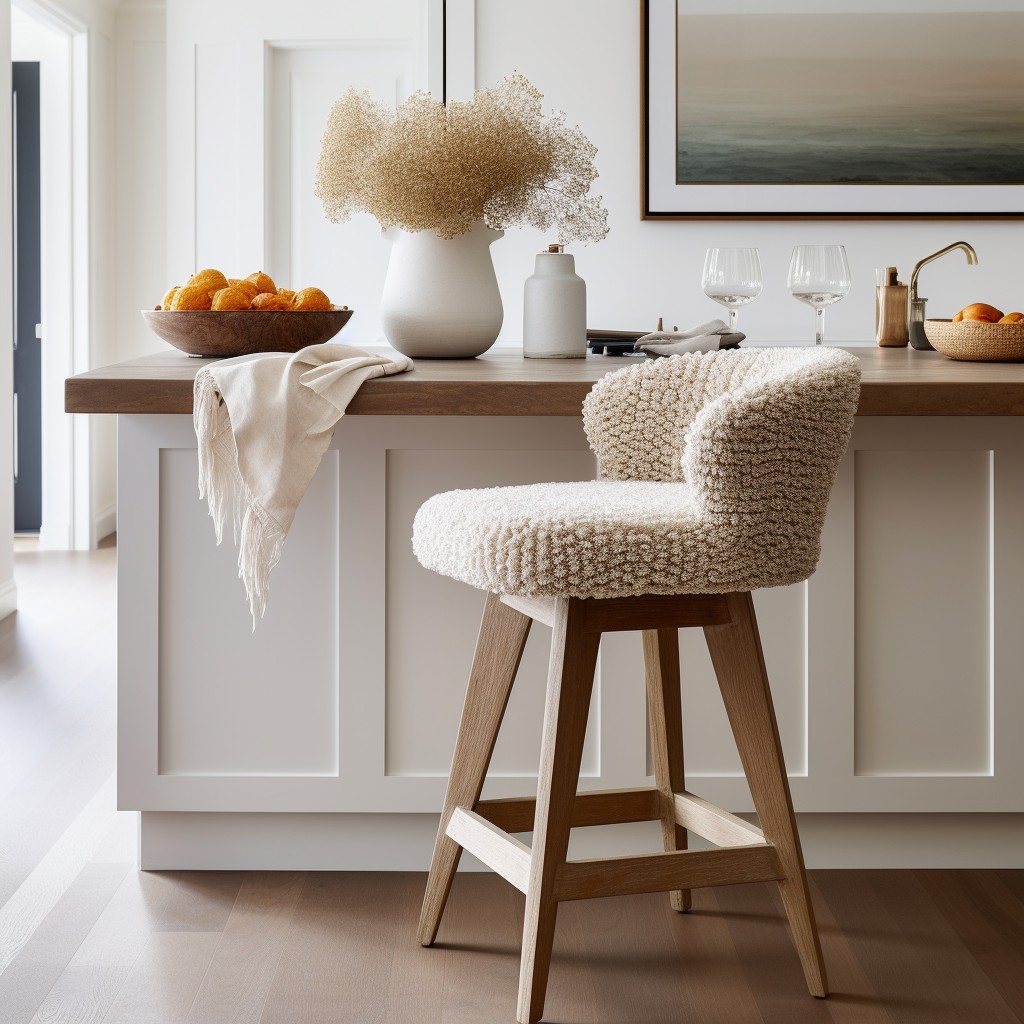 Consider the exceptional allure of multi-textured styles to introduce a vibrant and tactile element to your space. Thanks to the unique weaving pattern of the boucle fabric, this style offers a visually appealing mix of loops and curls, lending an artistic touch. They provide an ideal way to achieve a layered look without adding unnecessary clutter.
Some key points to bear in mind whilst seeking such stools include:
1. Amply padded seats: Choose designs that boast ample padding, thus ensuring both visual interest and comfort.
2. Tip-to-toe texture: Opt for designs where the texture extends from the cushion down to the footrest for a cohesive look.
3. Contrast Stitching: Stools with contrast stitching can add depth and detail to the overall design.
4. Mix 'n' Match: Don't shy away from complementing texture-rich stools with slick, smooth surfaces of countertops.
5. Color Choices: Neutral tones can subtly highlight the texture while bold colors turn it into a visual focal point.
6. Frame: Wooden frames paired with such textures create a rustic touch, while a steel frame can usher in a sophisticated vibe.
Fluffy White Boucle Stools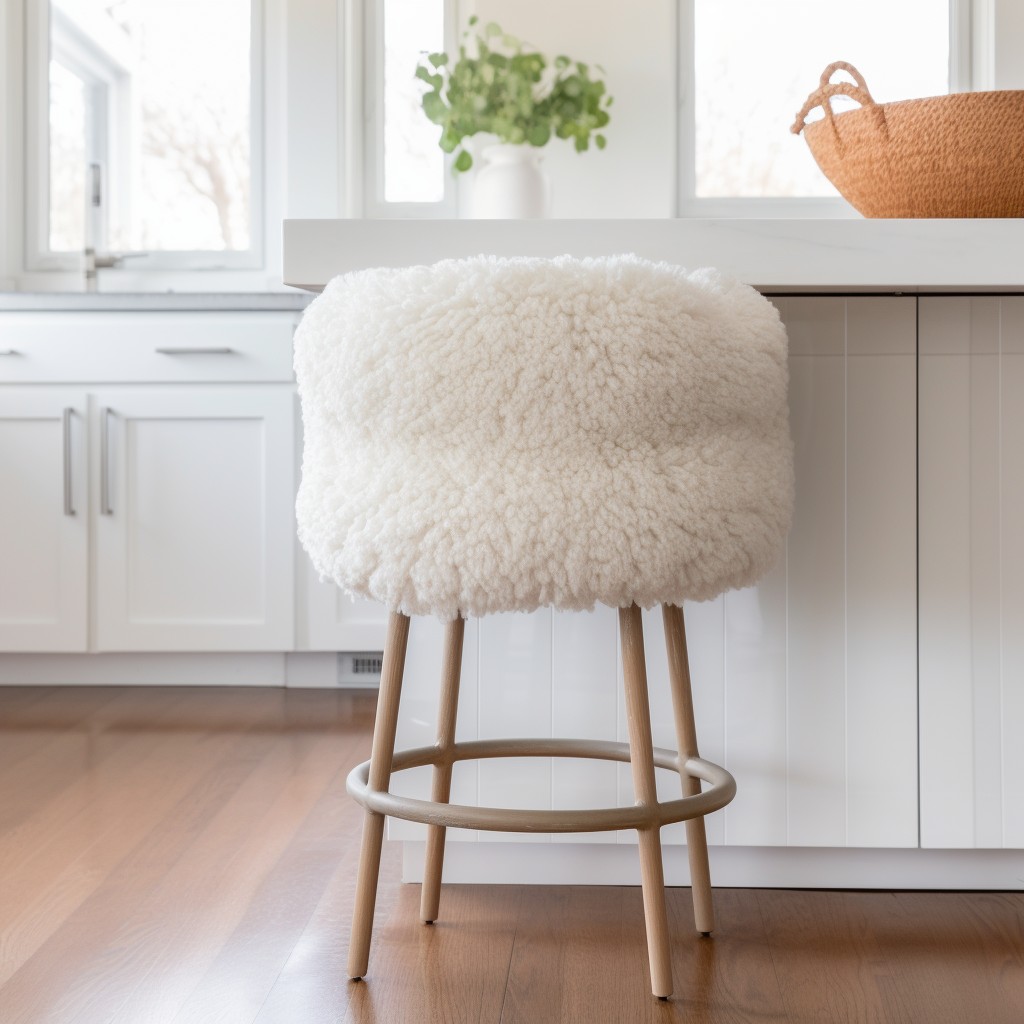 An embodiment of chic elegance, these pieces are perfect for bringing a touch of comfort to your counter area. Projecting the feel of a fluffy cloud, they offer an inviting seat that merges function with fashion.
Material: Predominantly covered in rich, textured boucle fabric which offers both durability and a soft, inviting texture.
Color: The white hue bestows a clean, bright ambiance, immediately drawing the eye and lighting up your conversation corner.
Design: The plush, fluffy design provides a stark contrast to rigid counter surfaces, introducing a welcoming softness into the kitchen area.
Comfort: The generously padded seating surface ensures ultimate comfort, turning your counter into a popular hangout spot.
Versatility: Although stunningly stylish, their neutral color makes them quite versatile, effortlessly complimenting various color palettes and decor styles.
Care: They are easy to maintain; a gentle brush or wipe down can keep them looking vibrant and new.
Durability: Made with resilient fabrics, these stools can withstand frequent use while retaining their charming appeal.
Retro Green Boucle Counter Stools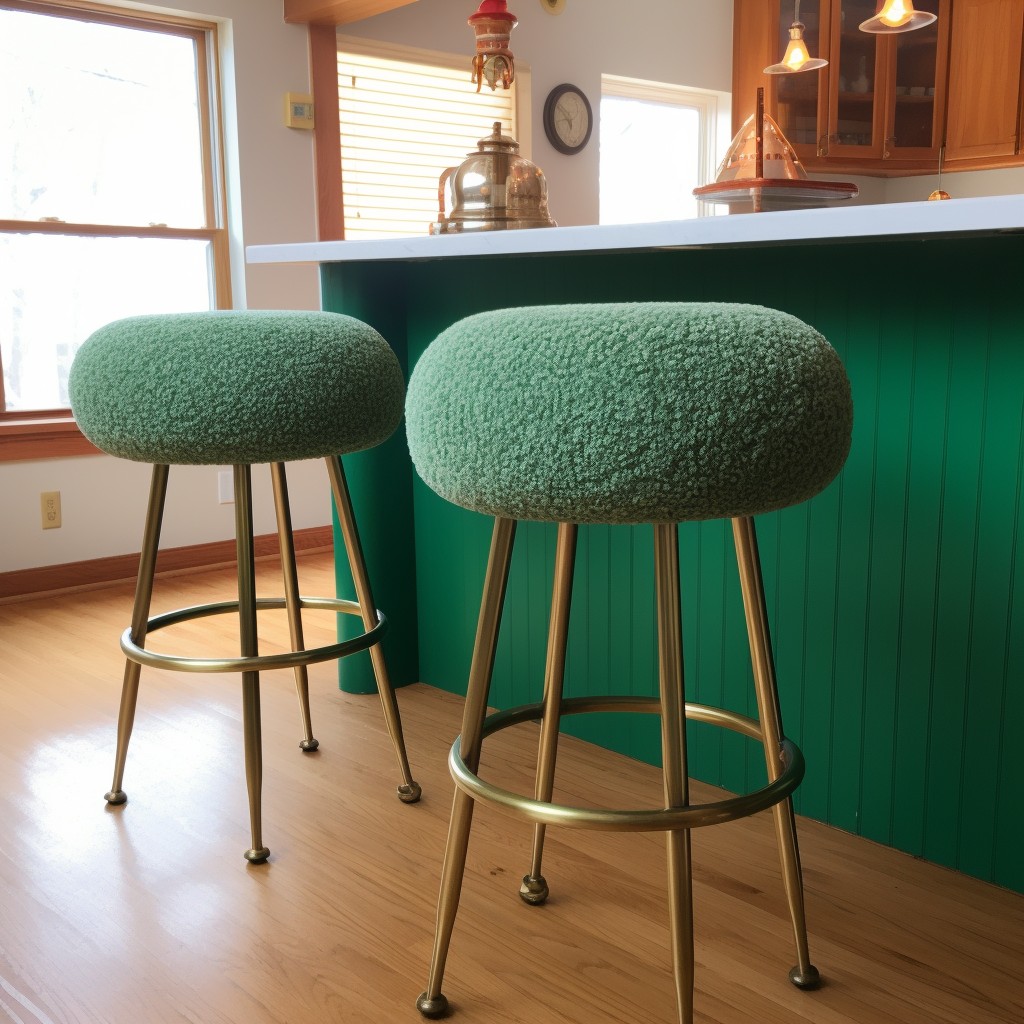 Turning towards the color wheel, green is worth considering for an added pop of color. Particularly in the retro style, it blends beautifully with the tactile fabric. This style of stool typically features matte or satin-finished metal legs, forming a harmonious combination of textures.
The retro vibe can be further amplified with details, like fluted stitching, reminiscent of the mid-20th century. Where they truly excel is in spaces that nod to retro flair, like a kitchen lined with subway tiles or a counter with brushed brass fixtures.
Remember, you can play with different shades of green to appropriately match your décor without overwhelming the space or disrupting the overall theme. Whether you opt for a bold emerald or a more subdued sage, these stools subtly enhance the counter area, dramatically improving the ambiance.
Scandinavian Style Boucle Stools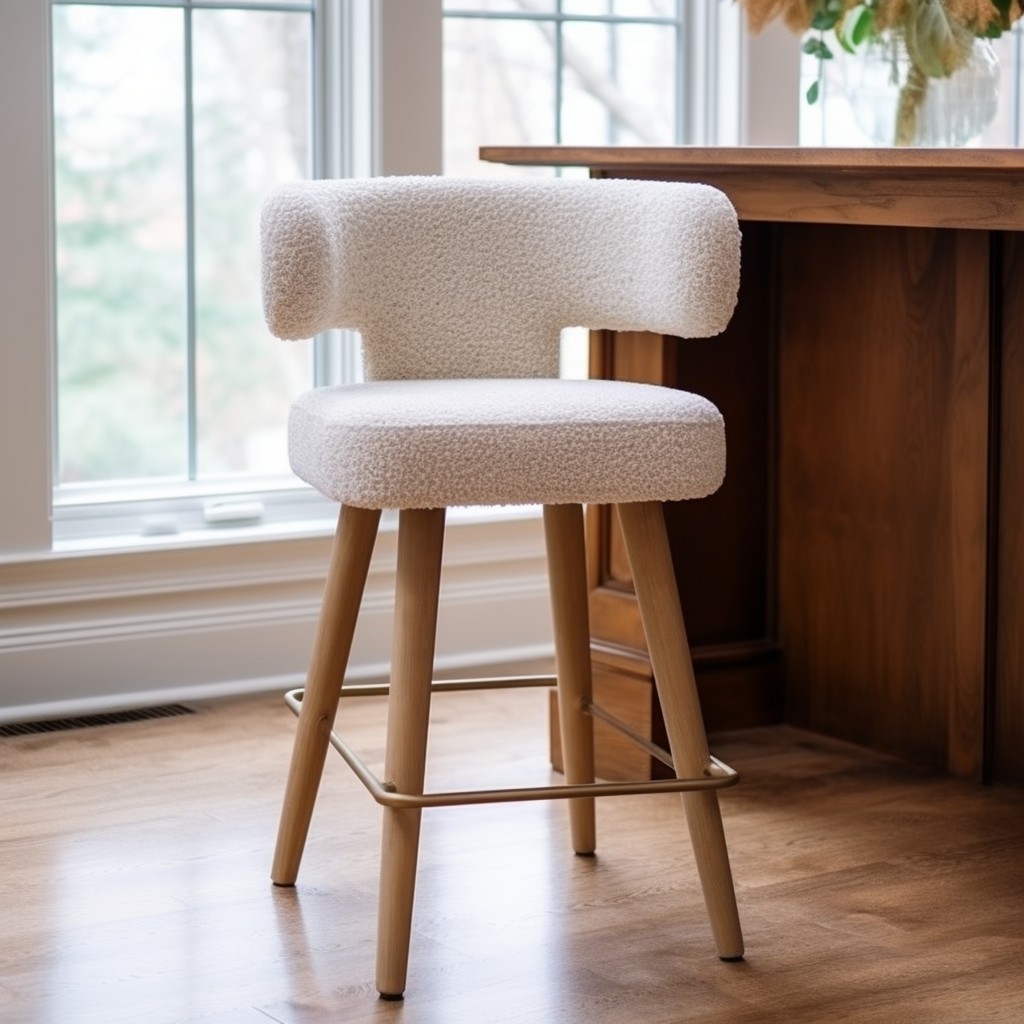 Unmistakably minimalistic and functional, these pieces embody the simple elegance central to Nordic design principles. Quality craftsmanship ensures durability, with each stool practical yet aesthetically pleasing. Rich walnut or oak bring an inherent warmth to balance the cool textural boucle upholstery.
With intentionally pared back lines, these stools subtly enhance any counterscape without becoming a focal point. Often finished in matte or semi-gloss, they offer a tactile indulgence that invites touch, thus creating an inviting, homely atmosphere. A lower backrest suits the style, offering essential support without overwhelming the design.
Ideal for those desiring an airy, clutter-free space, these stools allow light and sight to flow freely in the room, thereby enhancing spatial perception. Lighter boucle shades are hugely popular in Scandanavian inspired pieces, although deeper hues also find application for creating stark, dramatic contrasts. The clean, uncomplicated silhouette of these stools epitomizes the "less is more" ethos, making it perfect for modern or minimalist settings.
Square-shape Boucle Counter Stools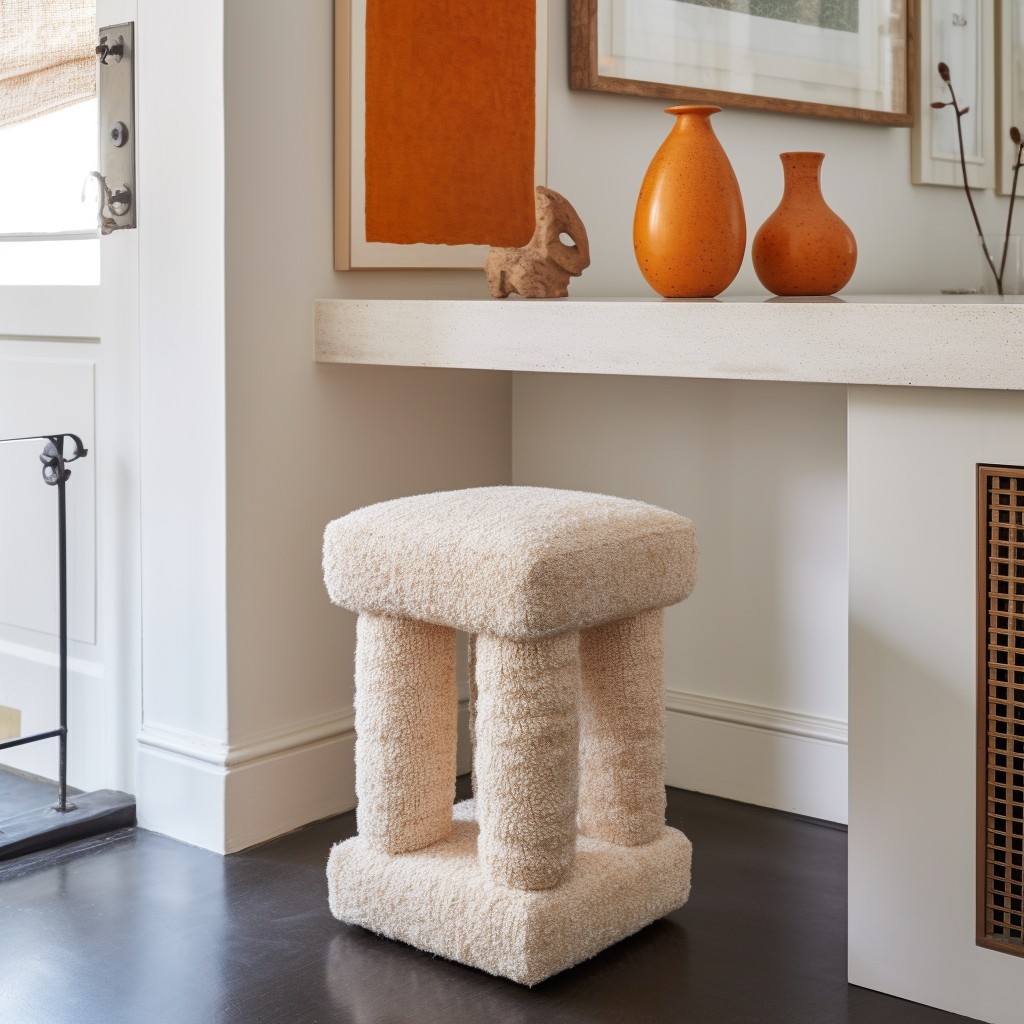 A trending choice, this style of stools encompasses clean lines and symmetry that seamlessly merge with modern aesthetics. The distinguishing feature is the square-shaped seat, often softly rounded at the edges for comfort.
Technique and attention to detail extend to the meticulously tailored boucle upholstery covering the seats and often the backs. Embellishments are kept to a minimum, allowing the textures and form to take the spotlight. Matching these stools with geometric fixtures and linear décor elements can create a visually pleasing unity.
It's not only about style – these stools also bring functionality, crafting a comfortable seating space in your kitchen or bar area.
Convertible Boucle Counter Stools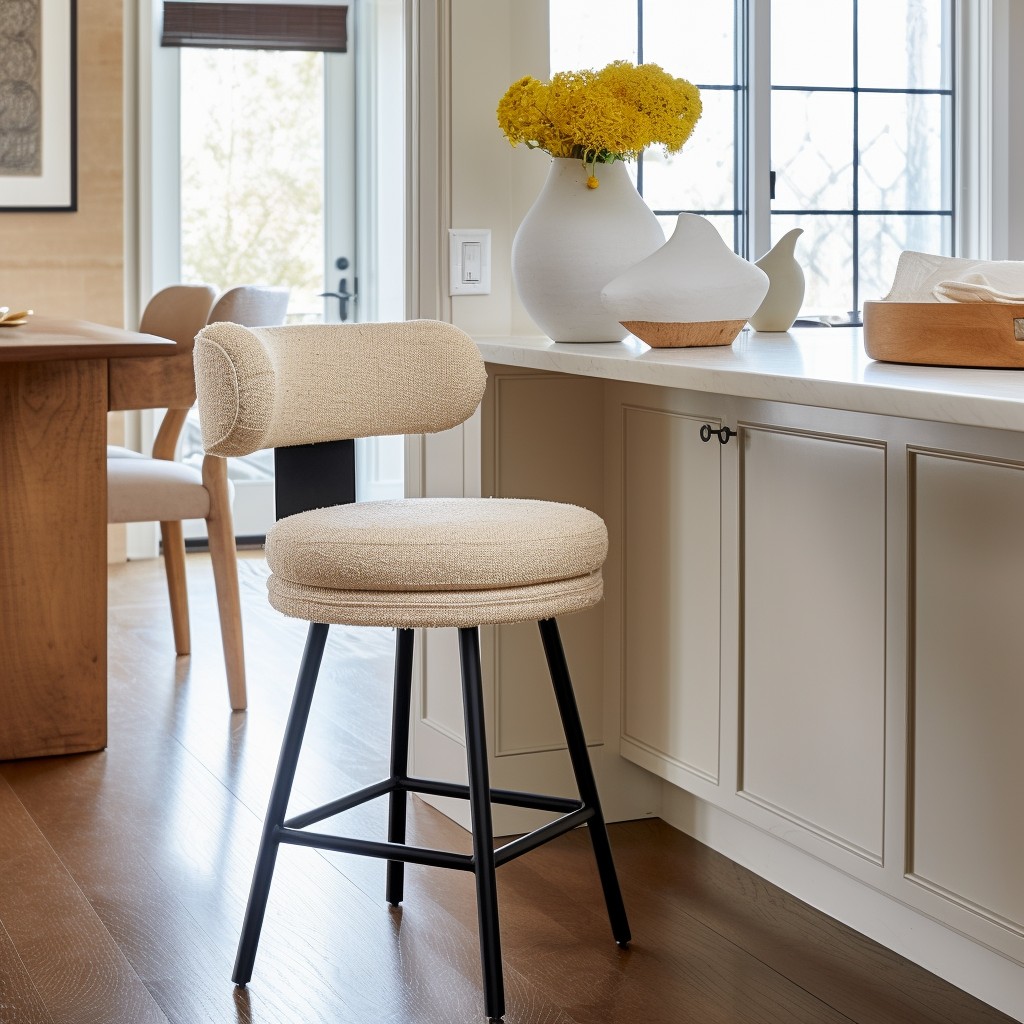 With these designs, versatility is key. Transformed to match your seating preference from counter to bar height, convertible stools are truly multi-purpose.
A lightweight metal frame, typically found in these varieties, adds to their mobility and convenience. The cozy, textured boucle upholstery ensures a comfortable seat, regardless of its presented height.
Favorable for smaller spaces or nomadic decor schemes, these stools provide dual-sofa seating solutions without compromising style and comfort.
There are sophisticated models featuring sleek chrome or matte black finishes, blending effortlessly with a modern aesthetic.
On the other hand, those with a wooden finish offer a warm, rustic vibe, fitting seamlessly into a vintage or bohemian decor scheme.
In consideration of maintenance, boucle fabric requires regular light vacuuming or brushing to prevent dirt from settling.
If stained, use a specific upholstery cleaner and always perform a patch test first.
Despite being convertible, these stools still provide the chic, curly-haired look of boucle that's highly adored in the realm of interior design.
Abstract Shaped Boucle Stools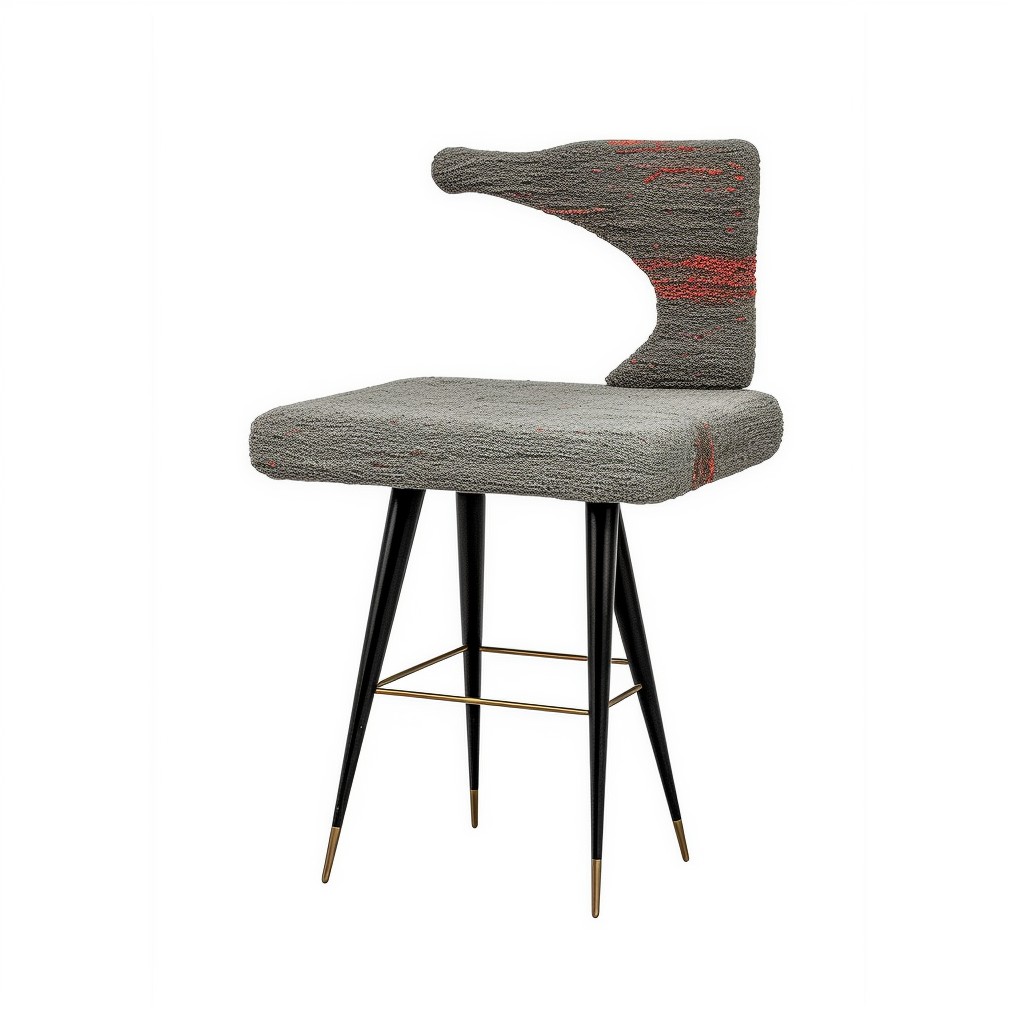 These unique stools challenge the norm with their unusual shapes. Perfect for those who prefer a futuristic or eclectic style, their charm lies in their unpredictability and visual intrigue.
1. Creates a focal point: Guaranteed to catch the eye, they can be the centerpiece of your kitchen or bar area.
2. Express individuality: Flaunt your unique style through these 'out of the box' designs.
3. Versatile: Their modern and unique design allows them to fit well in various settings, from ultra-modern lofts to contemporary kitchens.
4. Comfort: Contrary to conventional thought, these stools provide an adequate level of comfort despite their abstract forms.
5. Space-saving: Often compact, they can be an innovative solution for smaller spaces.
6. Conversation starter: Their distinctive shapes can surely spark stimulating dialogue among your guests.
You may also like to read: