Last updated on November 11, 2023
Explore innovative ways to incorporate boucle swivel chairs into your decor scheme, because their unique design element can instantly upgrade the look and feel of any room.
Boucle swivel chairs are an excellent addition to any room, offering a perfect blend of comfort and style. These chairs, known for their textured fabric and 360-degree swivel feature, can be incorporated into various interior design styles.
Whether you're looking to create a cozy reading nook, a chic home office, or add a statement piece to your living room, a boucle swivel chair could be the perfect choice.
This article will provide you with creative ideas on how to style and position your boucle swivel chair, along with tips on choosing the right colors and accessories to complement your chair.
Let's dive into the world of boucle swivel chair ideas.
Table of Contents
Boucle Swivel Chair in Minimalist White Design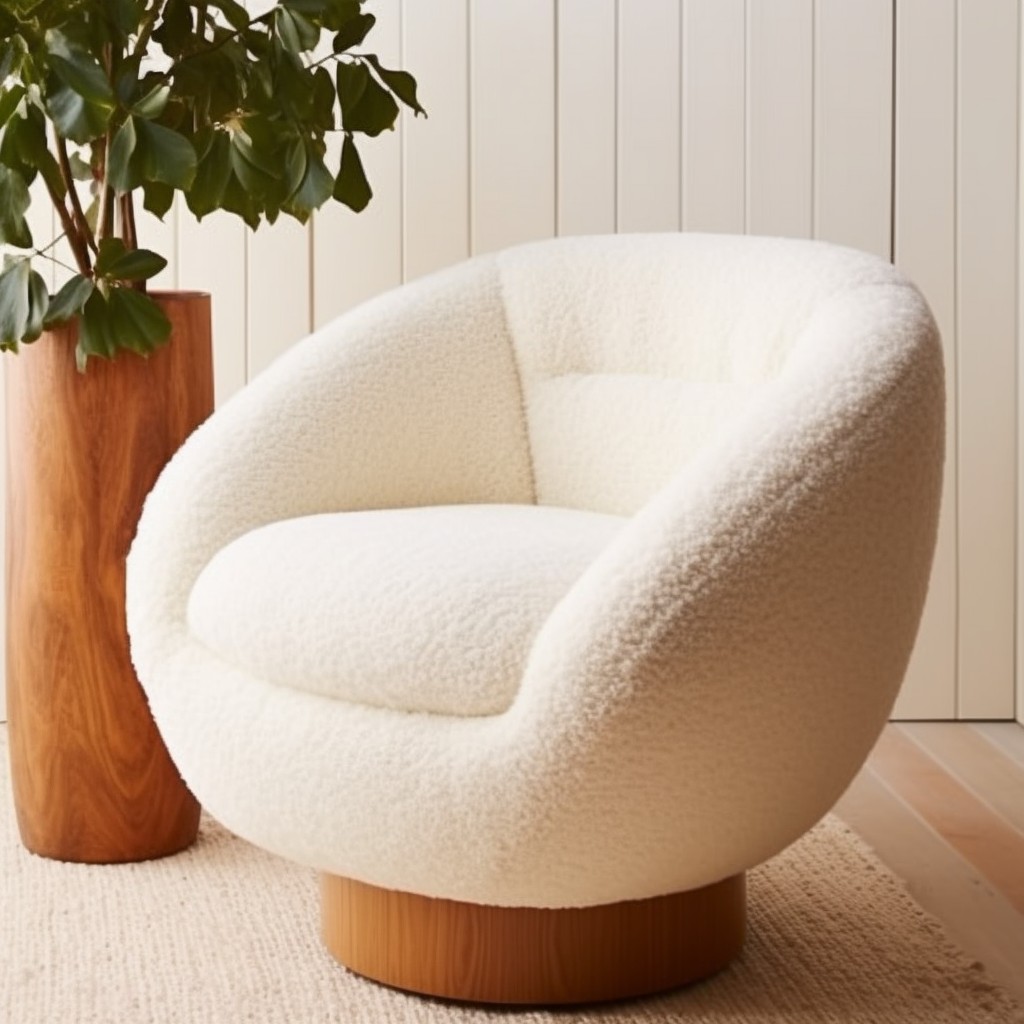 Simplicity is the essence of the minimalist design aesthetic. This chair embodies that notion, with its clean lines and absence of unnecessary detail. The all-white boucle fabric not only provides a rich textured finish but also adds warmth and comfort. The swivel base, often with a chrome or matte finish, provides functionality without distracting from the overall design.
Key points about minimalist white design in Boucle swivel chairs include:
Focus on simplicity: Minimalist design means reducing the item to its most essential elements. For a chair, this means comfortable seating, sturdy construction but no superfluous details.
All-White Palette: The color white symbolizes cleanliness and simplicity and is the perfect hue for a minimalist chair.
Texture over patterns: The use of boucle fabric adds a tactile element without the busyness of patterns, enhancing the minimalist aesthetic.
Functional swivel base: The swivel base is key for convenience and functionality, but it should also be sleek and subtle to align with the minimalist design.
Versatility: Such chairs can seamlessly fit into various settings, be it a work-from-home office, a reading corner in the bedroom, or a cozy spot in the living room.
Vintage Retro-inspired Boucle Swivel Chair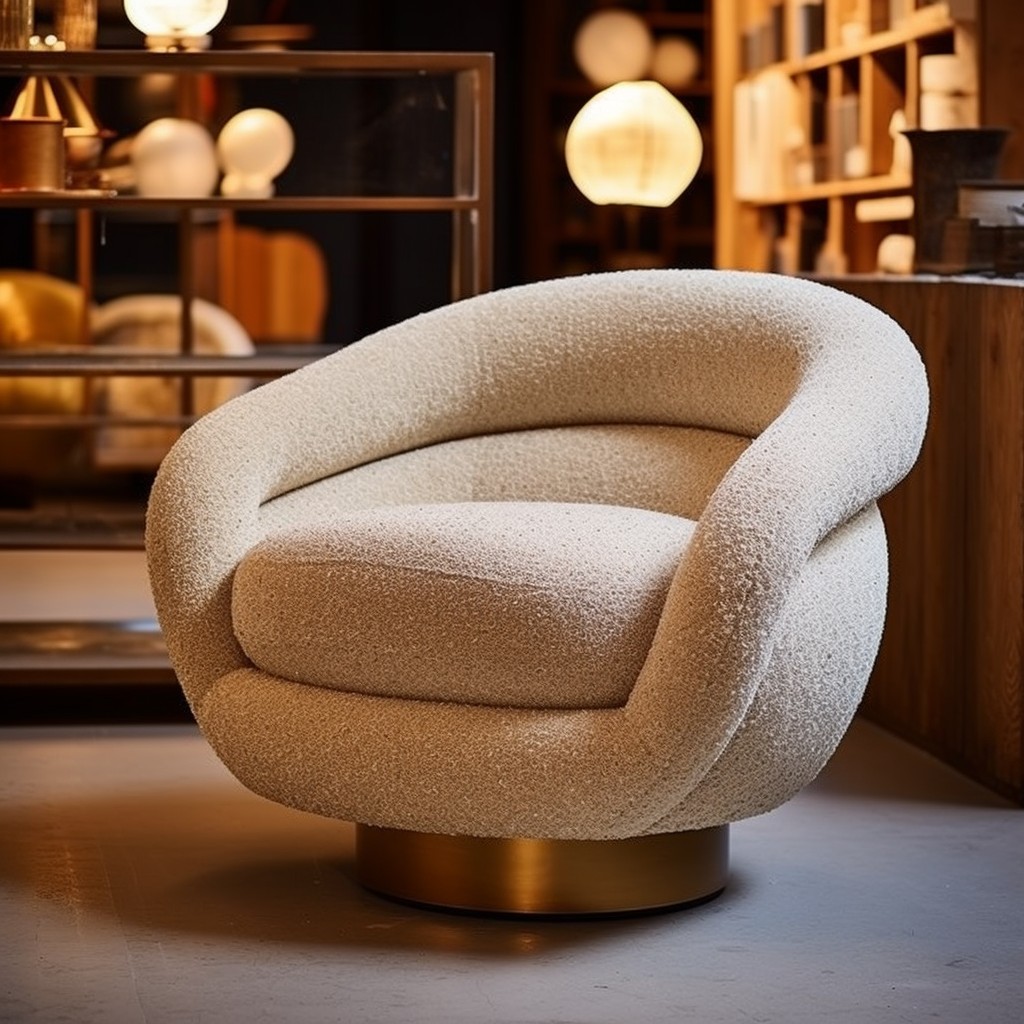 The nostalgia-steeped charm of a vintage approach makes it a popular choice for boucle swivel chairs. It merges comfort with timeless style, often featuring curved silhouettes and rounded backs for a sophisticated yet cozy sitting experience. Accents like polished wood or brass fixtures can add a touch of elegance, while grainy textures echo the rustic themes of mid-20th century design.
Key points to consider when selecting a vintage boucle swivel chair:
Choose a warm, earthy color palette reminiscent of yesteryears, such as deep greens, mustards, or burnt oranges.
Details like piped edges, button tufting, or scalloped backs can further boost your chair's retro aesthetic.
Consider pairing it with other items in your living space that feature vintage motifs for a harmonious feel.
Ensure the chair offers an ample sitting area and is well-padded for the perfect balance between form and function.
Last but not least, make sure that it swivels smoothly, as functionality shouldn't be compromised for style.
Mid-century Modern Boucle Swivel Chair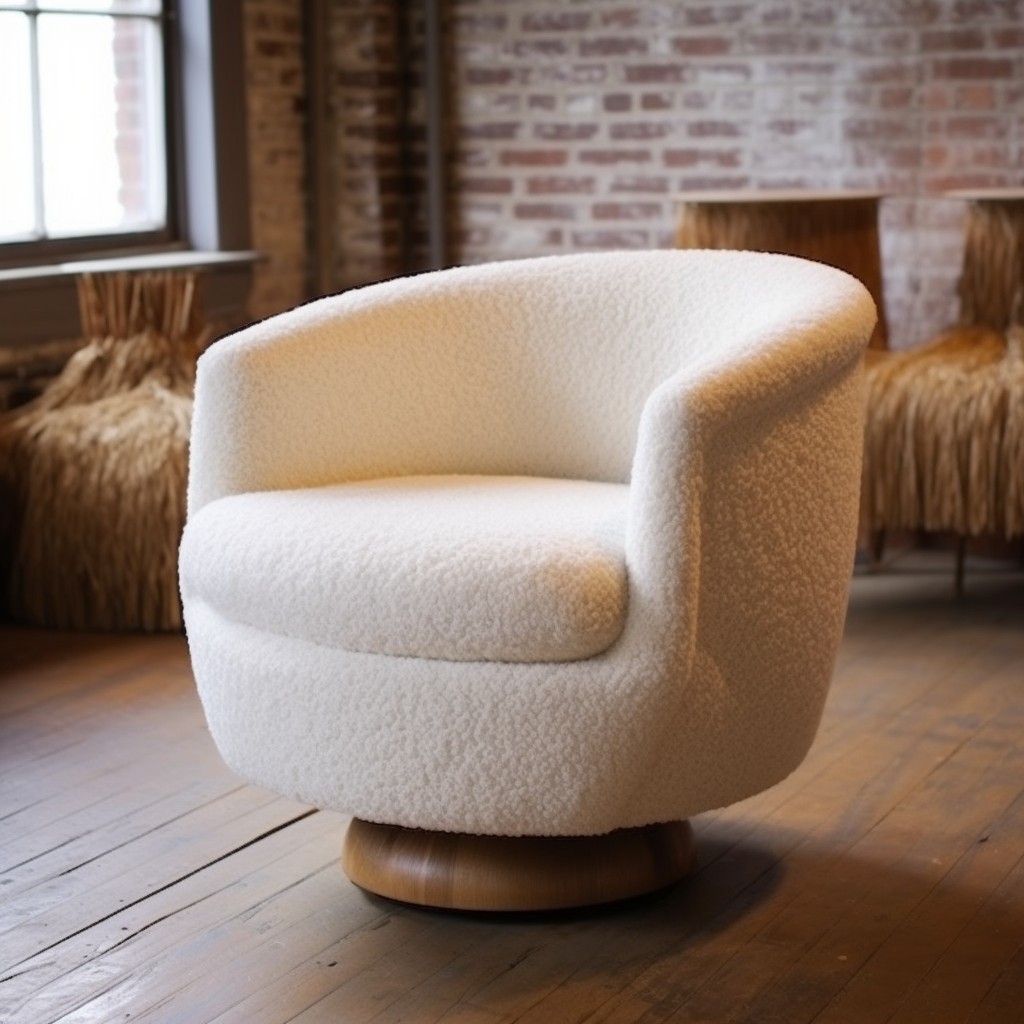 Drawing upon clean lines and organic shapes, the mid-century look of these swivel chairs settles comfortably in any modern decor. Upholstered in textured boucle fabric, they offer both style and comfort at the same time.
Simple yet well-defined, their iconic silhouette can play up the aesthetic value of any room, aspiring for that eye-catching statement piece.
Three key components largely define this particular style:
Versatile functionality: These chairs swivel, allowing for a broad range of motion, suitable for dynamic living spaces in today's multifunctional homes.
Attention to detail: Subtle touches like button tufting or a stitched seam running along its back add interest without disrupting the minimalistic flair.
Foundation and framing: Often cradled in a sturdy wooden or metal base, the low-slung profile and open design of the frame lends itself to a classic mid-century appeal. The juxtaposition of a heavy upholstery like boucle with such an airy frame creates an interesting visual contrast.
Black and White Patterned Boucle Swivel Chair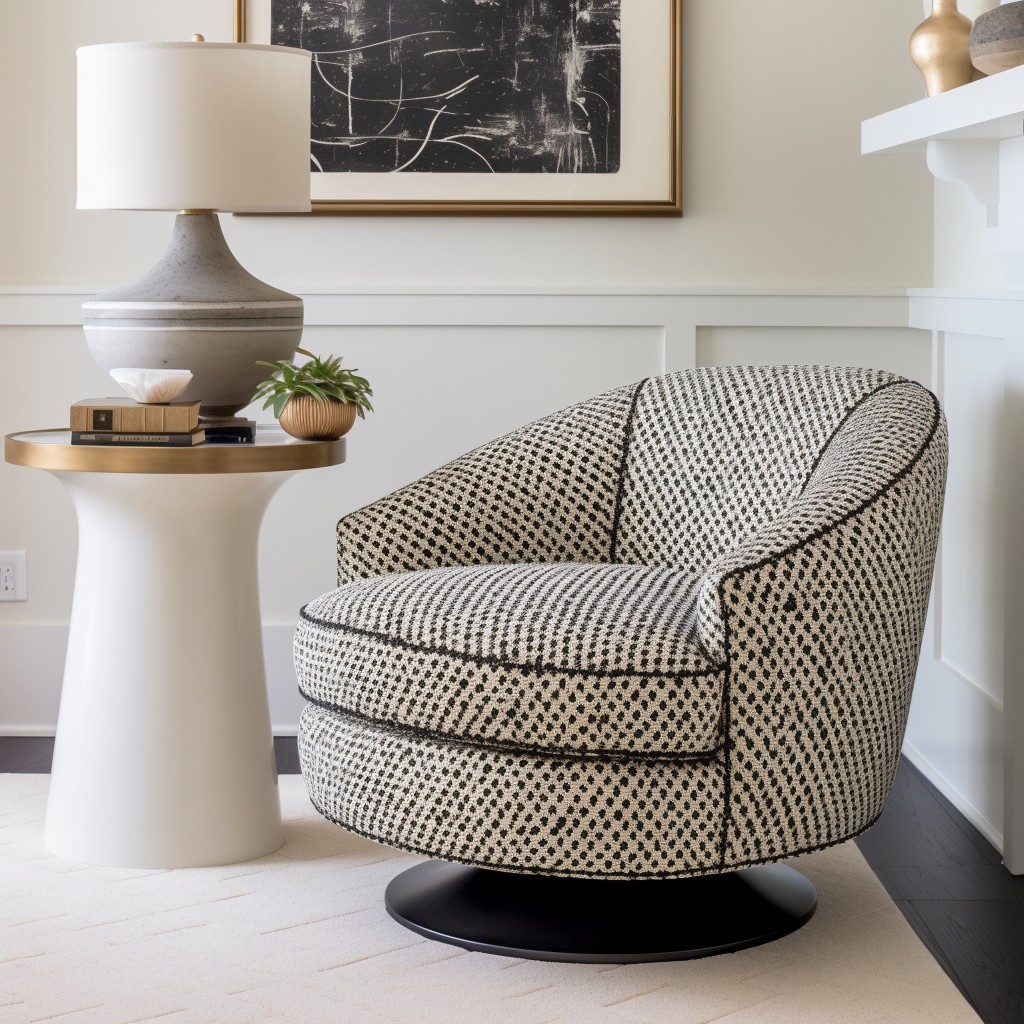 In a grayscale home setup, this chair type efficiently anchors the entire space. The twist comes from its patterns: stripes, checks, chevrons, or even animal prints jazz up the visual interest and provide a snap of energy.
Work beside a minimalist-patterned rug or a sleek coffee table for a harmonized look. The swivel functionality, besides being practical, infuses an air of fun and playfulness.
In order to achieve and maintain this balance, keep the following in mind:
Experiment with pattern scale: A bold, grand pattern can become a statement piece, while smaller, subtle patterns blend well for a more subdued look.
Pair with solid colors: To prevent a busy look, solid colored drapes, cushions or carpets can provide a break and keep the eye focused on the chair.
The importance of lighting: Highlighting the chair's pattern with effective lighting helps to amplify the impact and makes it a prominent feature in the room.
Versatility: With its unique aesthetic value, it can be paired with both modern and vintage decor elements, paving way for endless design opportunities.
Oversized Boucle Swivel Chair for a Cozy Corner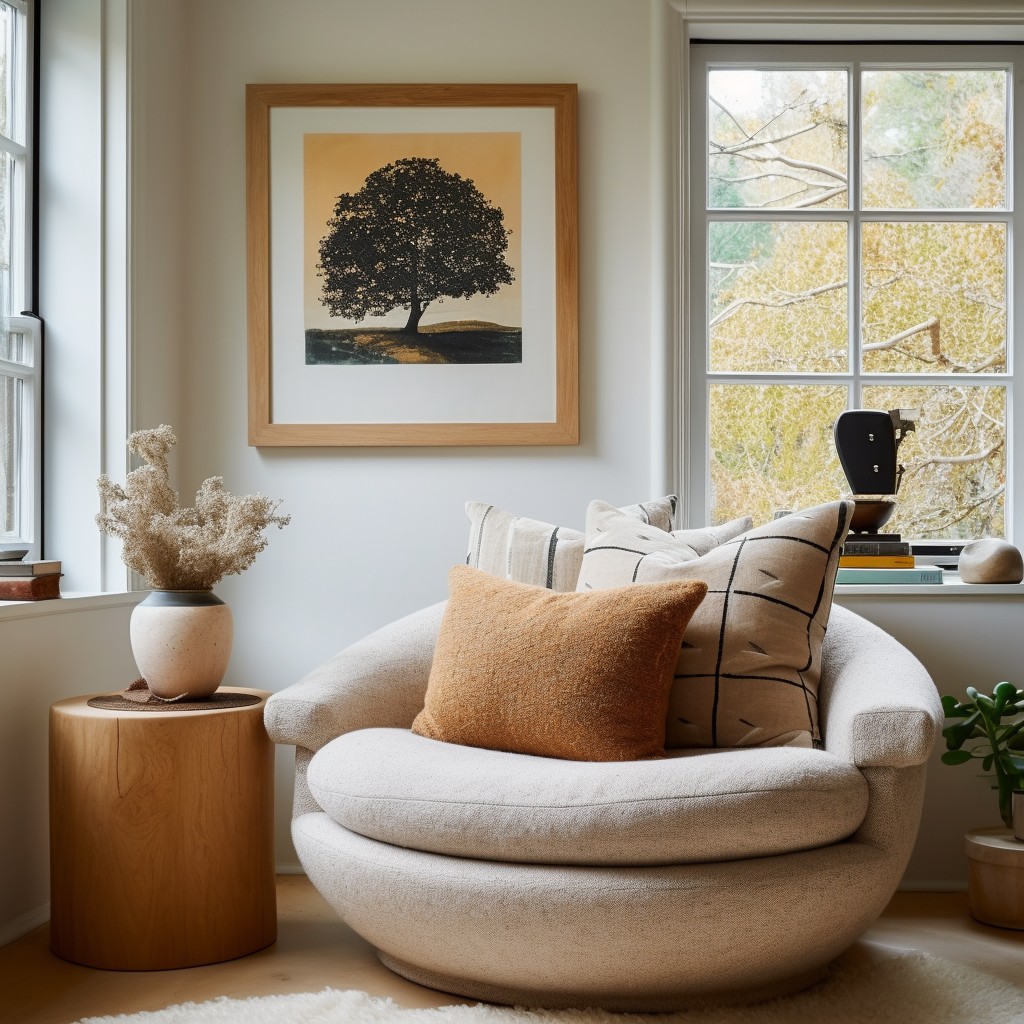 Appreciators of spacious seating often gravitate toward oversized options. The incorporation of plush boucle material elevates the comfort factor while presenting a sophisticated aesthetic. Ideal for filling out a snug corner or serving as a statement piece, this chair style provides a fitting blend of form and function.
1. Space Maximization: In larger rooms, the chair serves as an effective space filler, maintaining a balance between functionality and aesthetics.
2. Comfort: Its oversized nature ensures ample space for relaxation, allowing for numerous, comfortable sitting positions.
3. Statement Piece: With its distinctive design, the chair effortlessly becomes a visual focus, drawing eyes and establishing the room's décor tone.
4. Versatility: Suitable for a variety of interiors, from modern to eclectic. The boucle material delivers a texture-rich surface, enhancing visual interest.
5. Functionality: Swivel feature allows easy transition from conversation to television viewing, thus making it a versatile furniture piece in a living room or den.
Boucle Swivel Chair With Wooden Details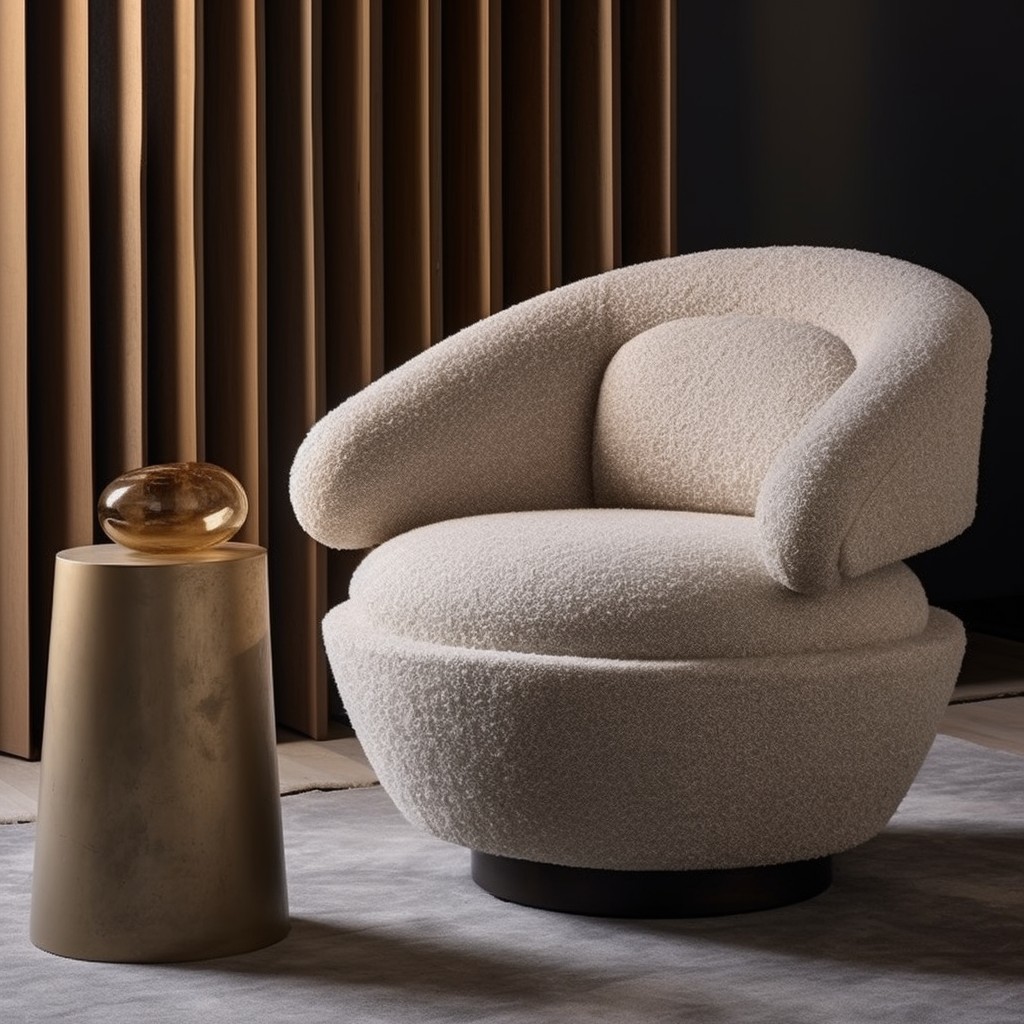 Integrating wooden elements with the boucle material lends a dash of warmth and rustic charm to your space. The textural contrast between the soft boucle and the hard wood can create an engaging visual interest in the room.
The wooden parts could be exposed armrests or framework, or a simple and elegant wooden base supporting the swivel mechanism. This combination not only elevates the aesthetic appeal but offers functionality as well.
Wood is a sturdy material and ensures the chair's durability and longevity. Incorporate this style into both traditional and modern settings for a balanced and grounded look.
This chair is an ideal statement piece for living rooms or a chic addition to your home office.
Embroidered Boucle Swivel Chair for an Artsy Touch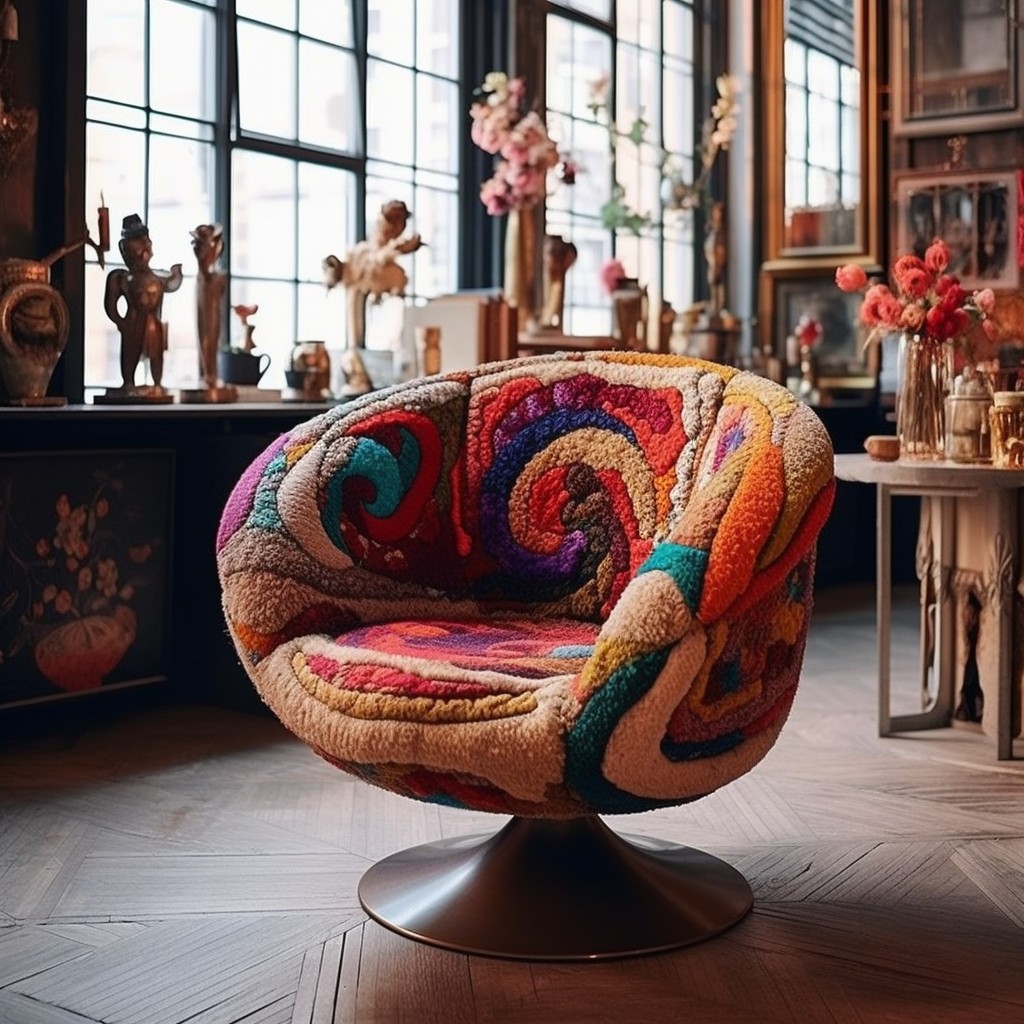 Incorporating an embroidered touch can elevate the aesthetic appeal of a boucle swivel chair, giving it creative, artsy flair. Mission-critical considerations include:
Pattern Choice: Intricate floral or geometric embroideries can impart a striking visual interest, turning the chair into a statement piece.
Color Selection: Complementing or contrasting embroidery colors with the chair's base hue can either blend seamlessly or provide a distinct pop.
Detailing: Attention should be given to the craftsmanship; finely executed embroideries reinforce the piece's quality.
Theme Harmony: Ensure that the embellishment resonates with the overall room decor to maintain uniformity.
Texture Mix: The embroidery's surface texture against the boucle fabric can trigger a sensory appeal, amplifying the chair's comfort level.
These guidelines will aid in selecting or crafting the perfect embroidered boucle swivel chair, adding an artsy touch to any space.
Pair of Boucle Swivel Chairs for a Unified Living Room Set
Opting for a pair of these chairs is a great way to establish symmetry and unity in your living room. Not only does it create a balanced aesthetic, but also facilitates conversation by providing comfortable and accessible seating facing each other.
You can go for matchy-matchy with identical chairs, or embrace an eclectic sensibility with chairs in coordinating but not matching upholstery.
Balanced Look
1. Balanced Look: Two chairs placed strategically can create balance, accentuating the room's layout.
Versatility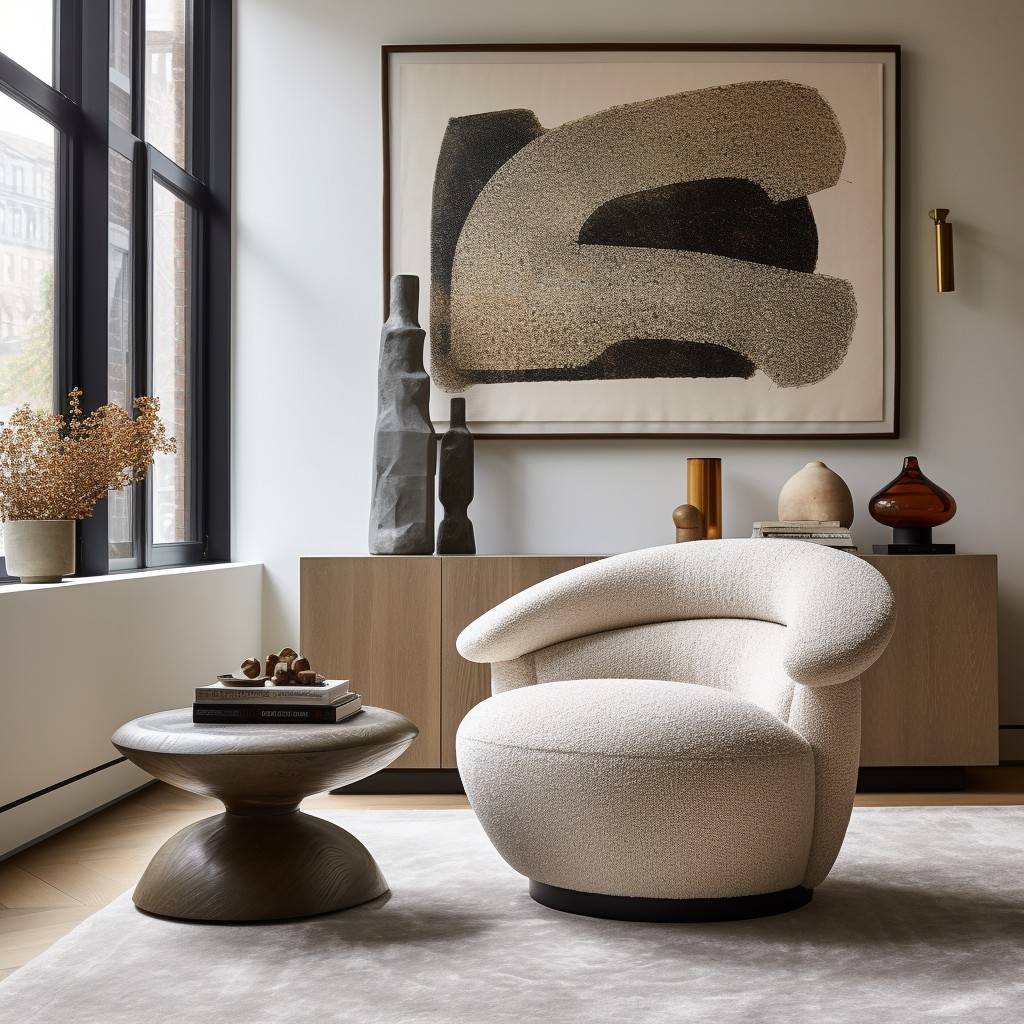 2. Versatility: These pairs can be placed together or separately, providing additional flexibility in arranging your space.
Comfort Factor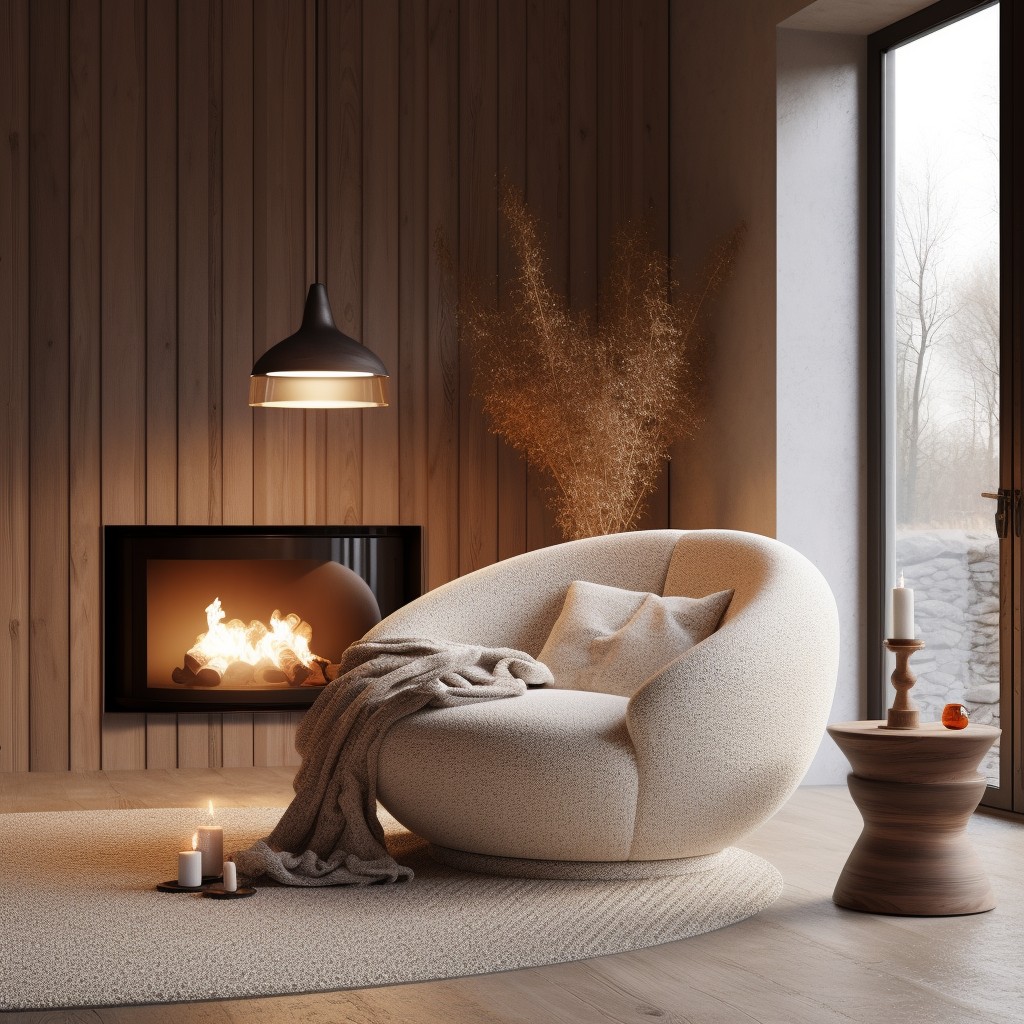 3. Comfort Factor: Swivel chairs are renowned for comfort, their rotating bases allowing for easy adjustment to the user's preference.
Style Statement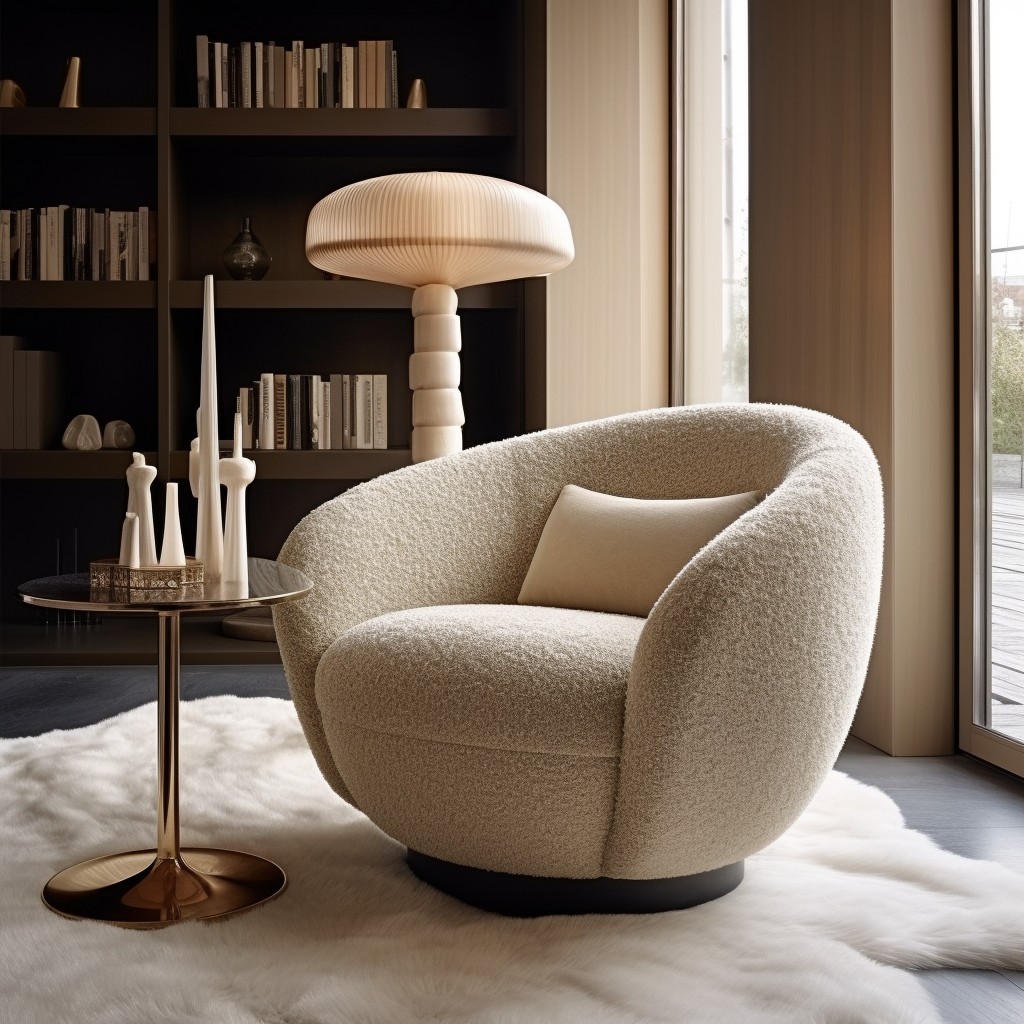 4. Style Statement: These chairs can also add a visual oomph, acting as a standout piece in your room.
Choosing chairs with similar structure but varied fabrics can add an element of intrigue. Alternatively, opt for identical upholstery to stress the unified, cohesive look.
Soft Pastel-colored Boucle Swivel Chair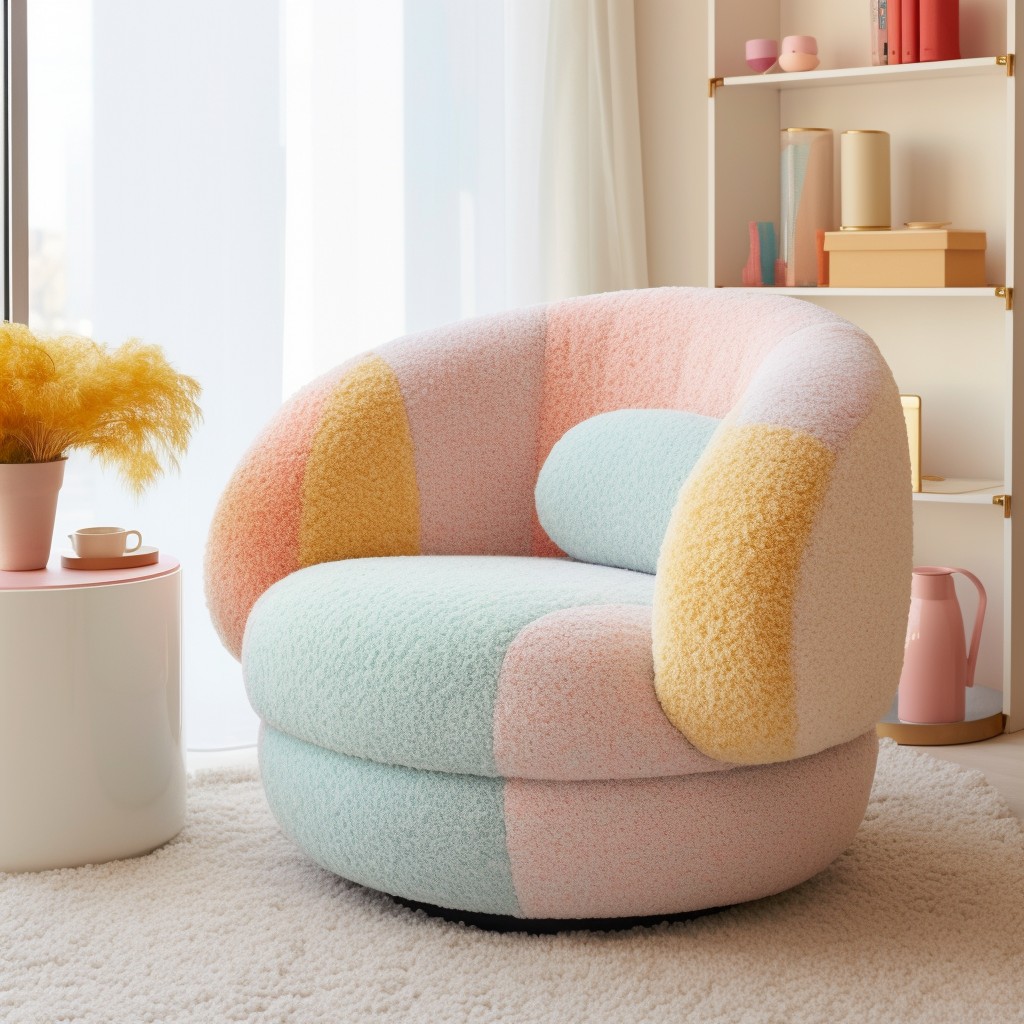 Soft, pleasant hues like blush pink, hazy blue, and lavender not only inject a lovely pop of color but also breathe tranquility into interiors. Such pastel tones ideally complement the tactile richness of boucle fabric, bestowing an elegant aesthetic.
A pastel boucle swivel chair is perfect if you aim to create a serene and inviting atmosphere in your living space. The piece serves as an eye-catching yet unobtrusive focal point, enhancing the room's visual appeal without overwhelming it.
Moreover, pastel colors exhibit excellent versatility. They blend flawlessly with a wide variety of design schemes, whether you prefer the rustic charm of farmhouse style, the classic elegance of traditional decor, or the neat simplicity of modern interiors.
Additionally, pastel boucle swivel chairs offer an approach to add a touch of femininity or playfulness to your decor, depending on the shade you select. For instance, a pale pink or mint green boucle chair can introduce a subtle romantic element, while a lilac or buttery yellow one can bring a playful, youthful vibe.
Last but not least, this furniture item is not just about style; it delivers in the comfort department too. With its swivel mechanism and plush boucle fabric, it promises a cozy seating experience, making it the perfect spot to unwind with a book or enjoy a cup of tea.
Plush Boucle Swivel Chair for a Luxurious Touch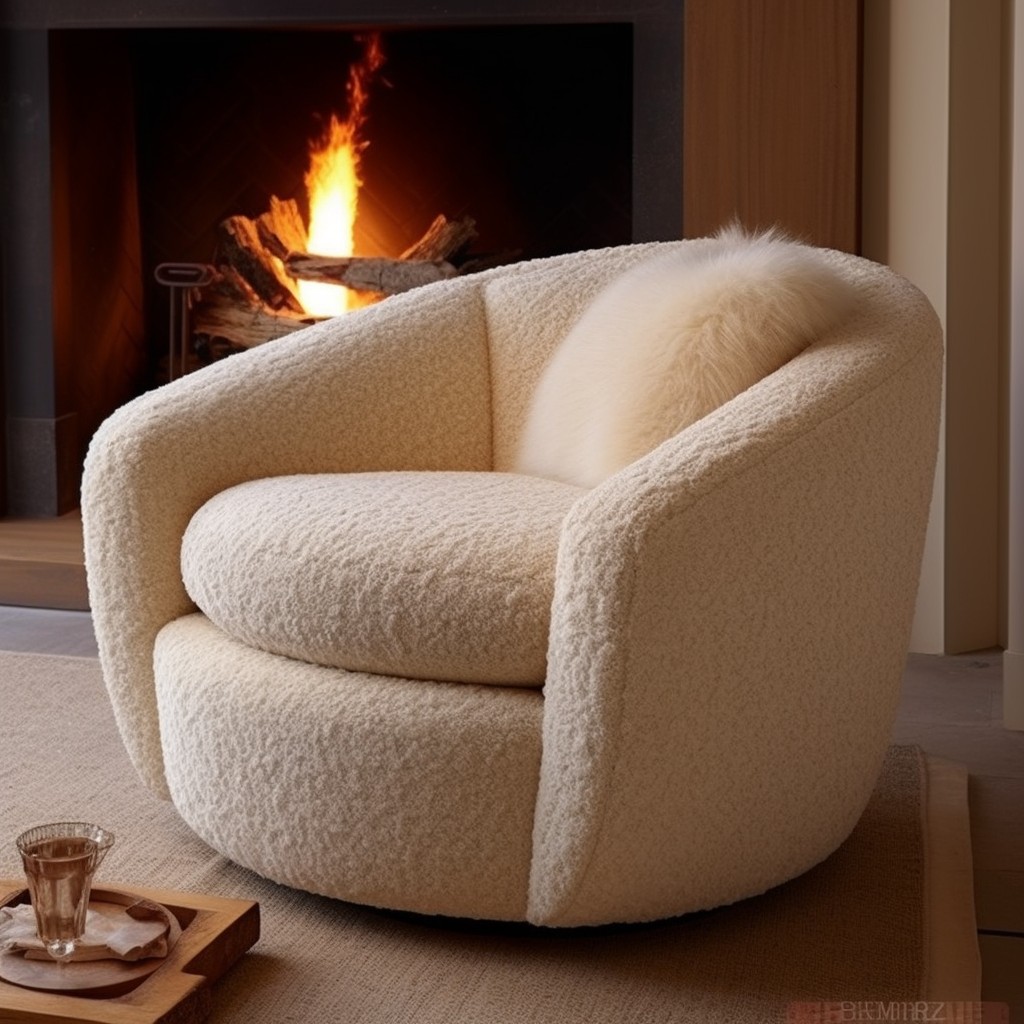 A plush boucle swivel chair can elevate any room with indulgent comfort and sartorial charm. This type of chair offers style and utility in equal measure – here's why.
1. High-End Material: The soft and textured fabric of boucle gives furniture a lush and luxurious touch.
2. Uncompromising Comfort: With a cozy, cushioned seat, it is not just visually appealing but also ergonomically designed.
3. Versatility: Its plush feature doesn't limit it to just comfort-focused spaces, but it's also a perfect choice for a professional office, waiting room, or study.
4. Statement Piece: The plush nature transforms it into a statement piece that gives off an air of opulence.
5. Easy to Style: Despite its modern luxury appeal, it can fit well in traditional, minimalist, or classic interiors due to its textured neutral tone.
Remember, when choosing a swivel chair, always consider both the aesthetics and comfort level. A plush boucle swivel chair presents both beautifully.
Compact Boucle Swivel Chair for Small Spaces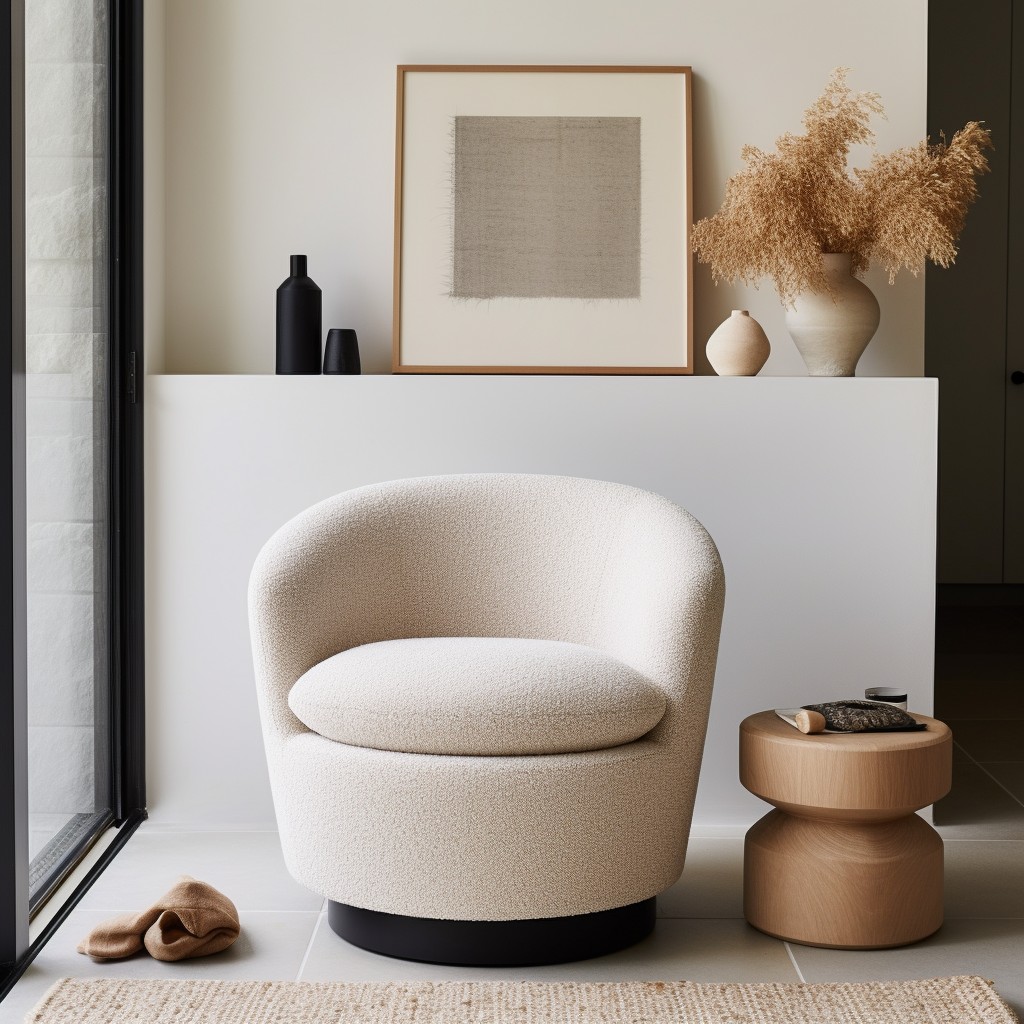 Compact boucle swivel chairs pack a powerful punch by combining functional design with comfortable aesthetic appeal. Here are a few key points:
1. Saves Space: Its petite frame fits easily even in the smallest of areas, without compromising on comfort or style.
2. Versatility: This piece is perfect for multi-purpose rooms, making it an exceedingly practical choice. It can be used for working from home, for guests, or simply for a cozy reading nook.
3. Enhancing Room Decor: Available in a wide array of colors, patterns, and fabrics, a compact boucle swivel chair also acts as a great element to pep up the decor of any room.
4. Easy to Move: Being lightweight, these chairs can be easily repositioned, transforming the room layout depending on your needs.
5. High in Comfort: Despite its compact size, this chair doesn't skimp on comfort, with a high-density foam providing plenty of support.
Remember, while the compact design is a great advantage, considering the size, positioning, and color that will work best in your space is key to maximize the benefits of this piece.
Boucle Swivel Chair With Metallic Accents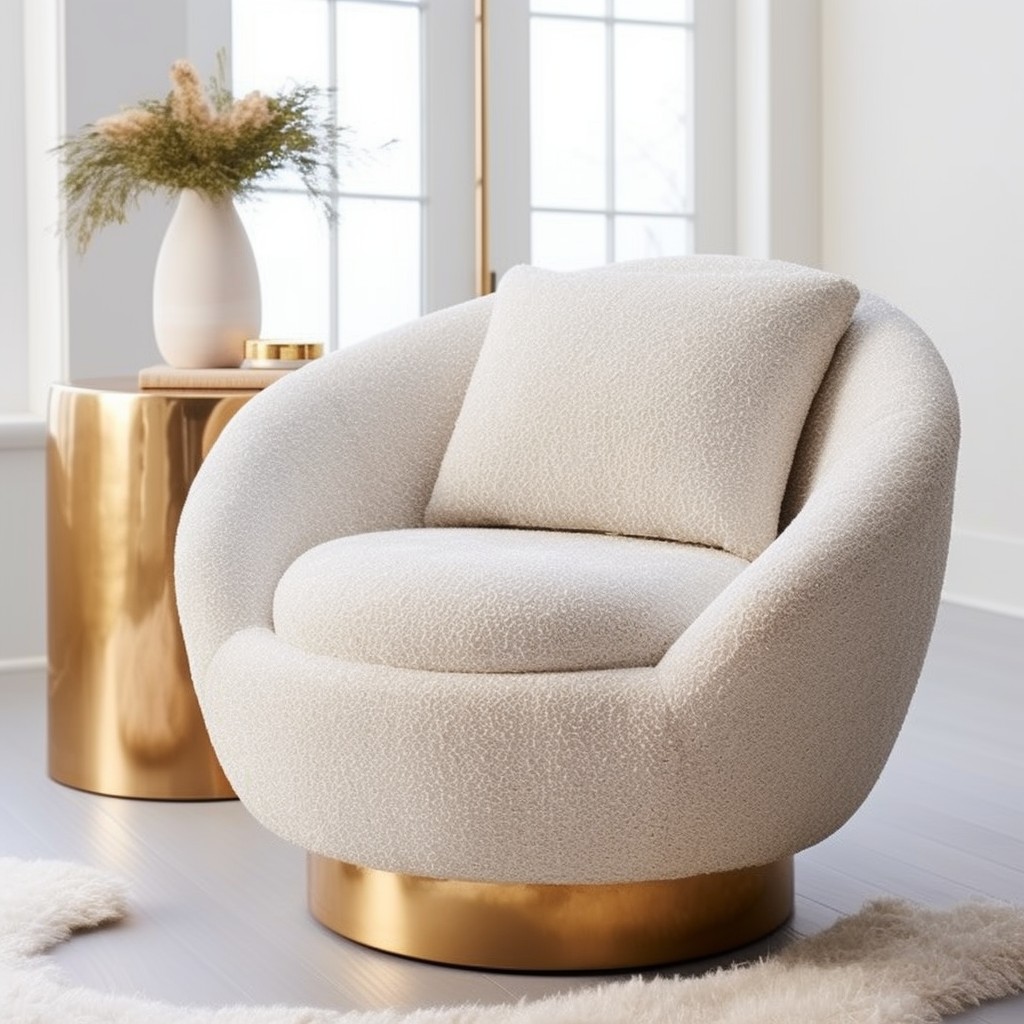 Dressing up your living or working space with a distinct touch of glamour is easily achieved with metallic accents. Picture a boucle swivel chair outfitted with polished brass or brushed stainless steel details. Not only does it swivel providing functionality and comfort, but the metallic accents add a modern, sophisticated edge that sparks visual interest.
The reflective quality of metal components can make the space feel larger and more open, while the texture of the boucle fabric offers a chic contrast. Complement this chair with other metallic elements in the room, such as lamp stands or decorative mirrors, to create a coherent and balanced look. If subtlety is what you're after, opt for accents in darker metals like brushed nickel or copper.
Maintenance is also simple with metallic accents as they are durable, easy to clean and resist wear and tear. Whichever room this chair graces, it's sure to elevate the space while offering a stylish seat that swivels with ease.
Eclectic Multicolored Boucle Swivel Chair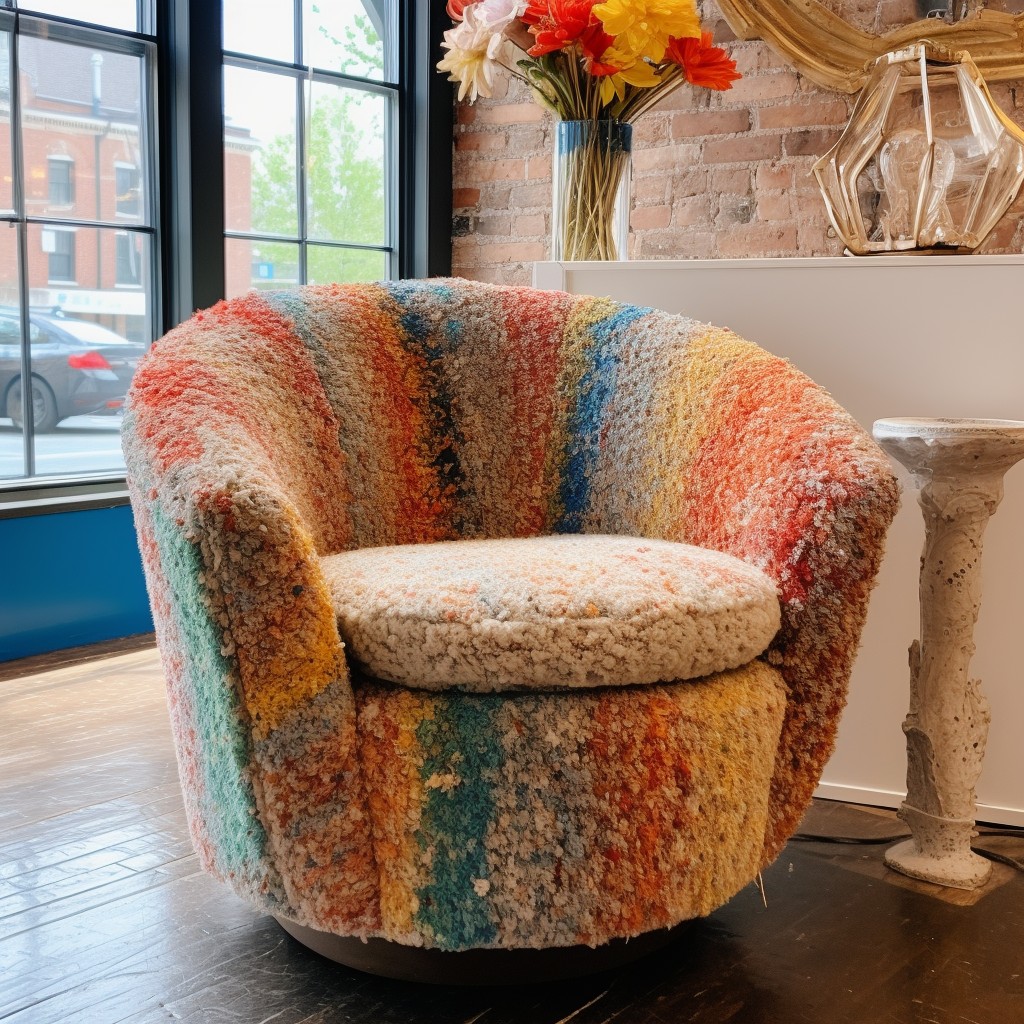 Moving from traditional to an exciting trend, this chair brings out fearless creativity. Various colors blend together to create a beautiful mosaic. It works best as a statement piece, becoming the centerpiece of your room.
The busy pattern hides stains while the spin feature adds functionality and fun. Honor style and practicality by pairing it with neutral and minimalistic furniture to balance out the boldness. Remember, working with multicolored patterns might be challenging but the pay-off is tremendous when done right.
Experiment with throw pillows or rugs that echo at least one color from the chair, establishing harmony in your room.
Sleek and Streamlined Boucle Swivel Chair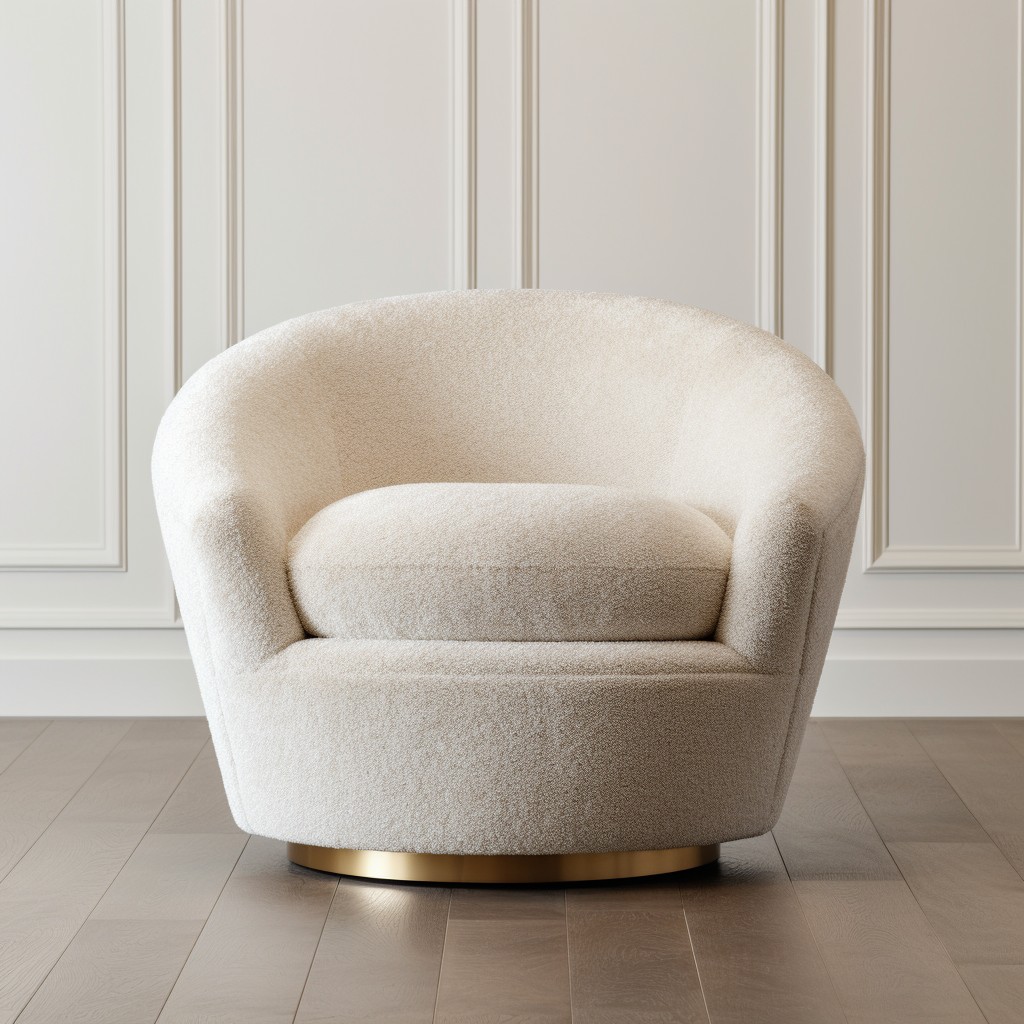 Known for their minimalistic elegance, sleek and streamlined boucle swivel chairs are designed to integrate seamlessly into any decor, from the most modern to transitional styles. These chairs, with their distinctive boucle upholstery, are instantly recognizable yet subtly sophisticated.
1. Slim Silhouette: Generally, these chairs sport a slim silhouette, making them an excellent choice for small spaces or open floor plans.
2. Minimal Accents: Embellishments are stripped down to the absolute necessities with an emphasis on clean lines and simplicity. The focus is more on form and function rather than elaborate decorative elements.
3. Modern Appeal: The modern aesthetic of these chairs lends a touch of contemporary charm. They blend excellently with glass, metal, or other modern furniture pieces, creating a cohesive look.
4. Versatility: Their neutral shades make them an effortless fit into various color schemes and interior settings, contributing to their popularity.
5. Comfort: Not to be compromised, comfort is as integral as design with plush, high-density foam cushions offering a delightful seating experience.
Remember, whatever your home style, these chairs can easily become a staple, underscoring the beauty in simplicity and function.
Boucle Swivel Chair With Tufted Details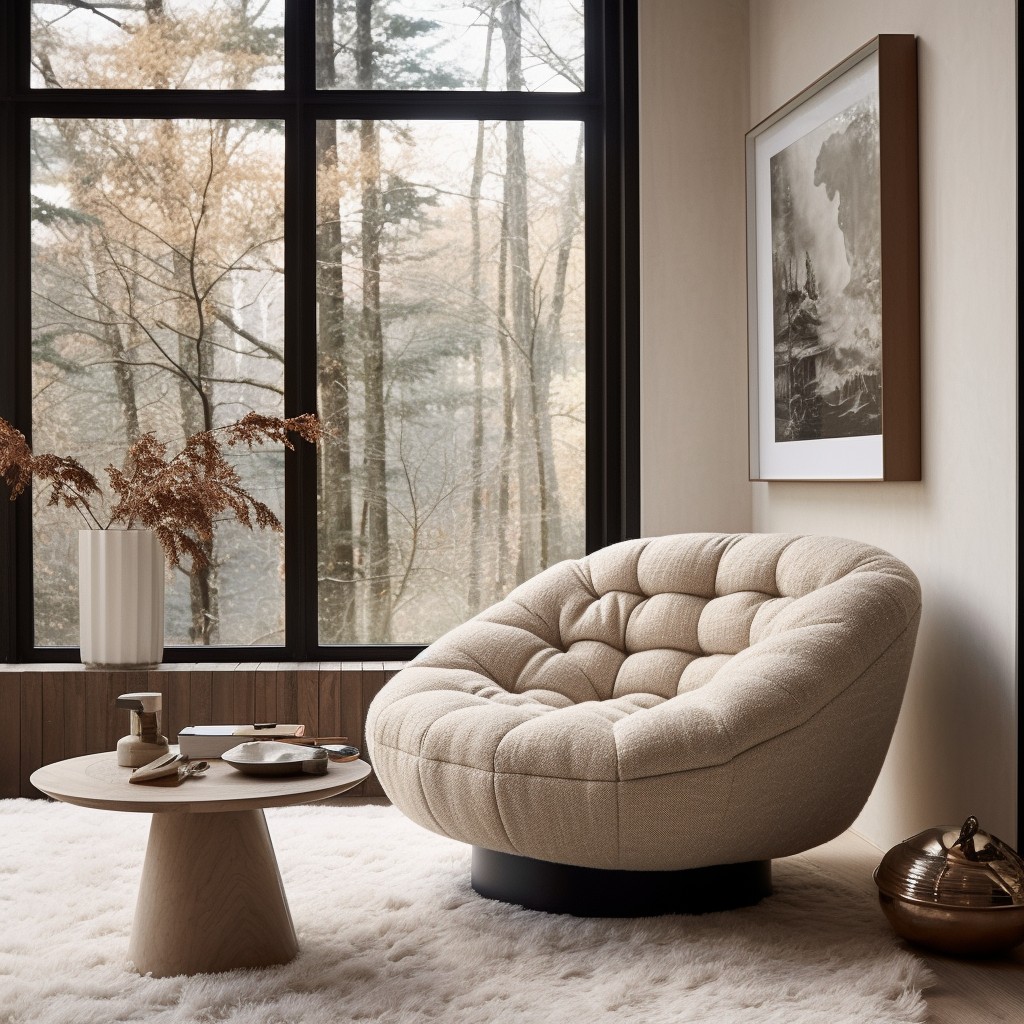 An exquisite touch to these pieces of furniture is the tufted detail. This feature, often seen in sophisticated furniture design, enhances the overall aesthetic while providing added comfort. Its incorporation in the boucle swivel chairs enhances the chair's elegance, making it an eye-catching piece in any room.
Consider these points:
Extra Comfort: The tufted details offer more than just style. They create an additional layer of plush padding that brings a new level of comfort.
Vintage Appeal: Tufting imbues a chair with a classic look. Its vintage appeal blends well, particularly in a room with a traditional or mid-century modern design aesthetic.
Dimension and Texture: The tufted details on the chair provide an immediate sense of depth. This added element can make the chair stand out, particularly in a minimalistic setting.
Customizability: Tufting is a versatile detail. It can be used sparingly for a more modern vibe or in excess for a luxurious, opulent feel.
Durability: The stitches from the tufted design can add structural strength to the upholstery, making the chair more durable over time. Your boucle swivel chair won't just look good – it'll stand the test of time, too.
Whether you're after comfort, aesthetic appeal, or a unique merger of the two, a boucle swivel chair with tufted details could be the perfect addition to your home.
Boucle Swivel Chair With a Matching Footrest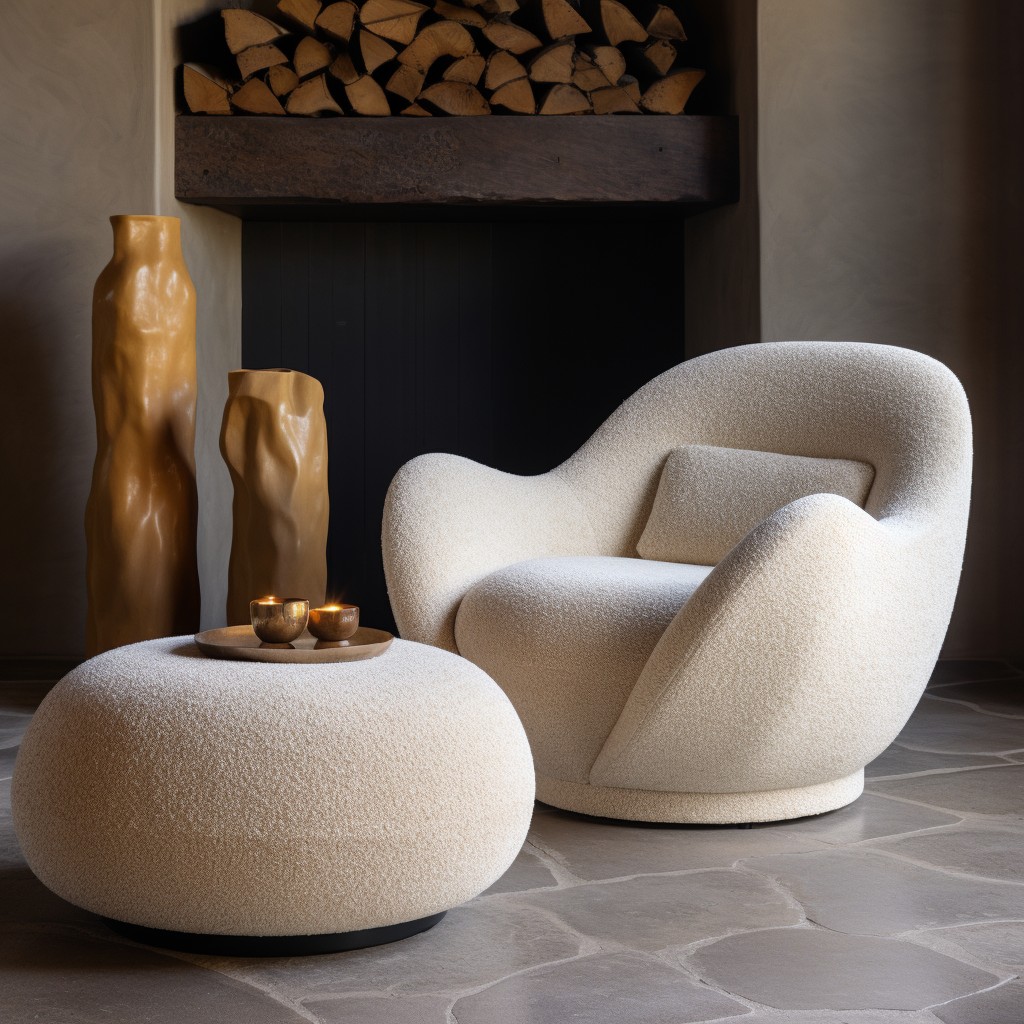 This design offers an elevated sense of comfort and elegance. The footrest aligns perfectly with the chair, creating a harmonious look. Most importantly, it ensures maximum relaxation.
The matching set can be a statement piece in any room, highlighting individual style while adding a touch of luxury.
1. Increased Comfort: The additional footrest promotes relaxation and can help reduce leg fatigue when sitting for extended periods.
2. Cohesive Look: The matching chair and footrest bring a unified, sophisticated aesthetic to your decor.
3. Versatility: Regardless of your interior style, a footrest complements the swivel chair superbly, and can be placed either together or separately.
4. Space-Friendly: This design takes up no more room than a standard chair while offering the elevated comfort of an ottoman.
5. Customizable: This pairing allows for personalization, where the color, fabric, and size can be adapted to fit your room perfectly.
Remember, the matching footrest is not just about the aesthetic appeal; it also provides practical benefits, contributing positively to one's overall wellness and lifestyle.
Neutral-colored Boucle Swivel Chair for Scandinavian Decor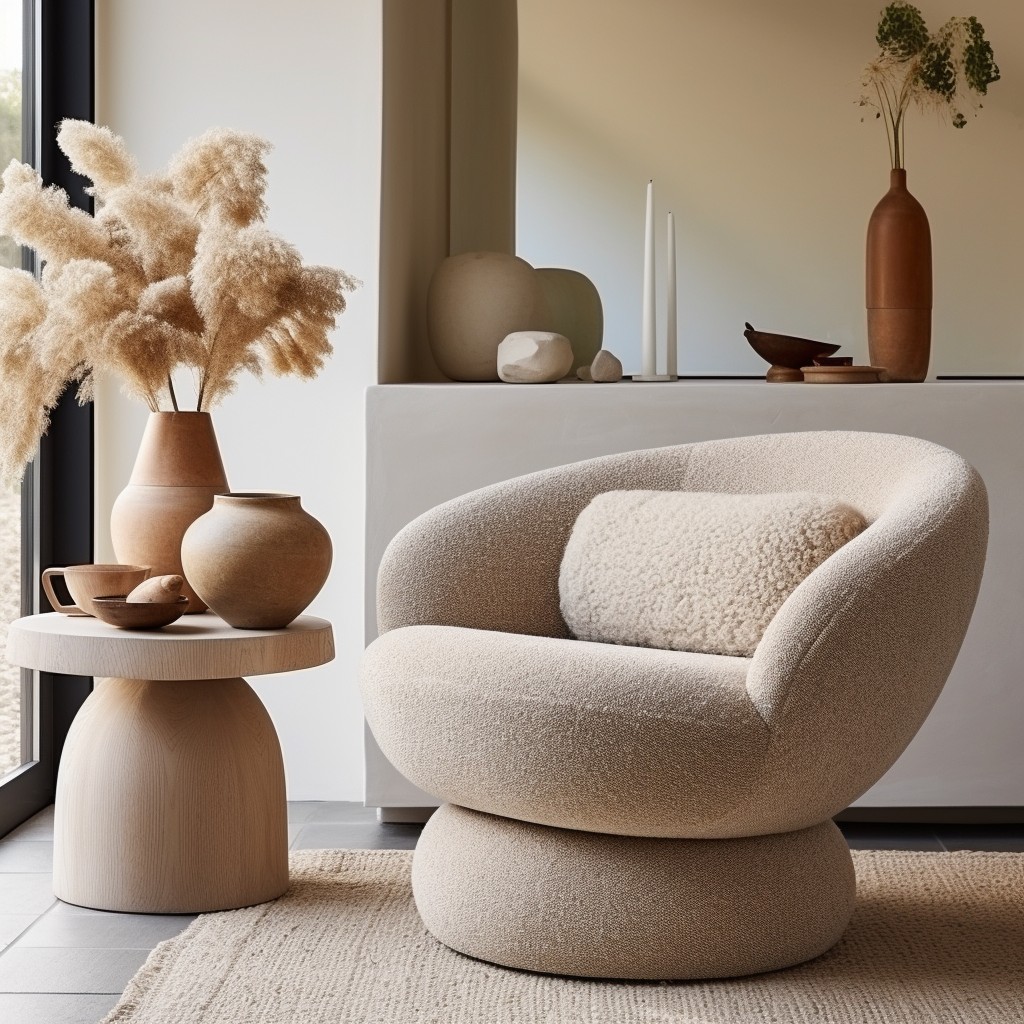 Neutral shades, like soft white, beige, or grey, are at the core of Scandinavian design ethos. Combining these neutrals with the soft, textured boucle fabric creates furniture pieces that radiate simplicity, warmth, and cosiness. The muted palette allows the underlying naturalness of the boucle textile and the tactile pleasure it offers to truly shine.
These swivel chairs offer both function and form. They rotate 360 degrees, allowing flexibility in multi-purpose spaces. Coupled with plush and comforting boucle fabric, they effortlessly merge comfort and practicality.
To maintain the minimalist scandi vibe, pair this chair with nature-inspired elements. Think wood, stone, or plants. Keep accessories to a minimum and let the natural textures of the room do the talking.
The key is to maintain a balance of neutral tones and textures, creating an environment that's both welcoming and sleek. This way, the boucle swivel chair doesn't merely exist in the room, but enhances the overall aesthetic, hallmark of Scandinavian decor.
Boucle Swivel Chair With Bold Contrasting Trim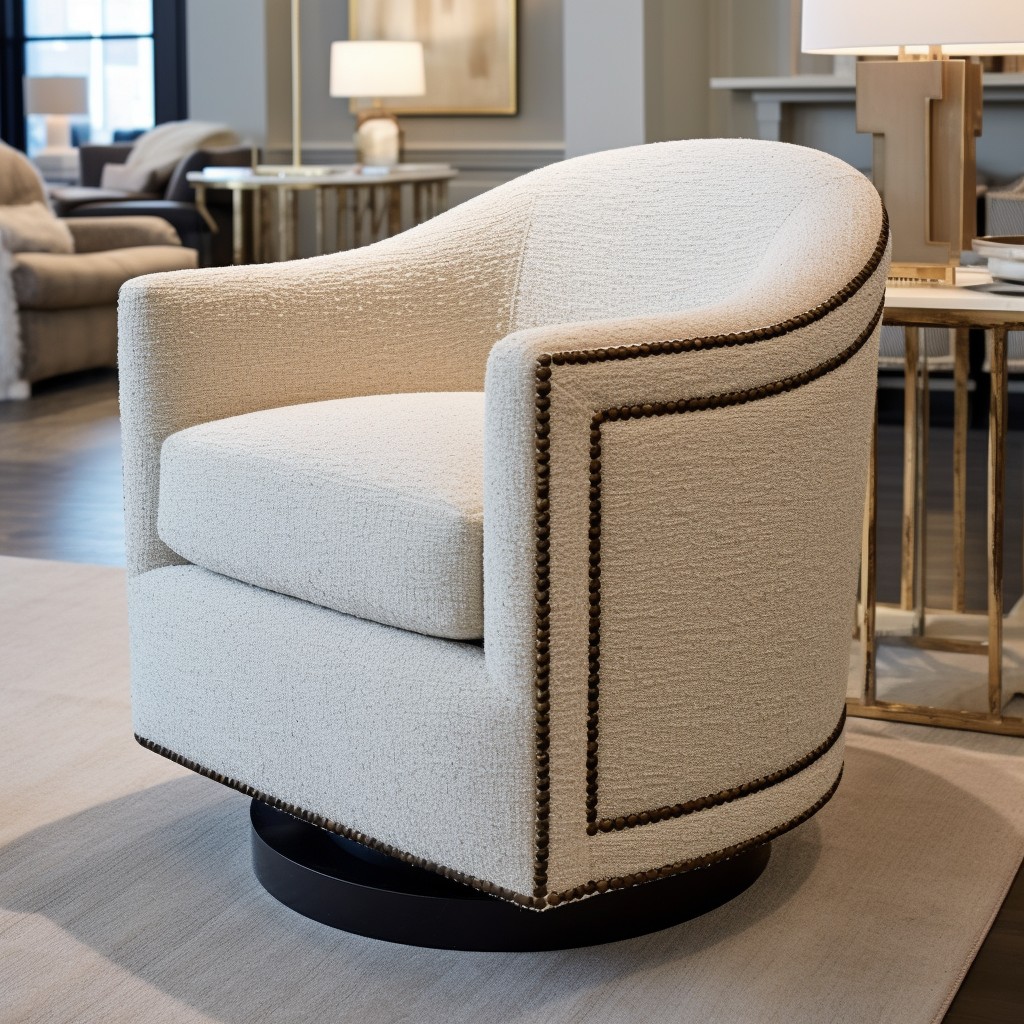 Envision this unique chair inject a pop of color and a personality statement in your room, an intriguing mix of texture and hue. This quirky version of the classic boucle design is all about celebrating diversity, a shift from traditional design aesthetics to something a little more adventurous.
1. Its signature feature, the bold contrasting trim, offers an unexpected yet striking color palette that sparks interest and creates visual boundaries.
2. Playing with contrasting colors can also be strategic. Lighter trims against a darker fabric can make the chair look more prominent, instantly commanding attention.
3. The boucle fabric ensures the chair remains soft and comfortable while providing texture to spice up monochromatic rooms. It's not just about aesthetics; it's about creating an experience.
4. Mixing materials allows you to jazz up your chair. Smooth piping or metallic trim could be used against the rough texture of boucle, a clash of textures that makes quite a statement.
5. A contrasting trim also helps to highlight the design of the chair, bringing out its curves and angles. Features like a high back, a slender neck, a deep seat become more visually apparent.
Remember, boldness is subjective. Even modest contrasting trims on your boucle swivel chair can make a significant impact, bespoke to your stylistic preferences.
Boucle Swivel Chair in Trendy Jewel Tones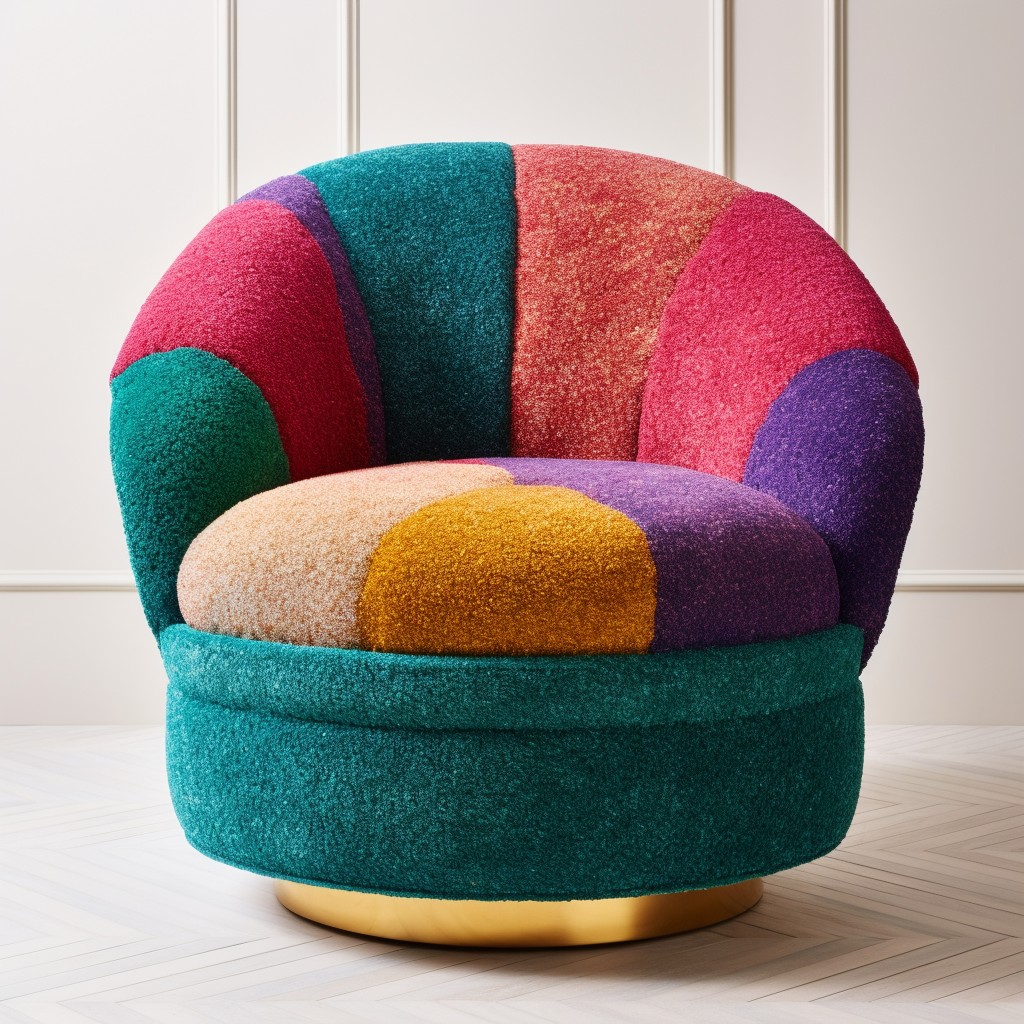 Prominent jewel tones like emerald green, amethyst purple, or sapphire blue can certainly make a boucle swivel chair a focal point of any room. They breathe life into the space while reflecting an air of sophistication and originality.
1. Colored Statement Piece: Jewel-toned chairs act as a vibrant accent, converting a dull space into an engaging lounging area.
2. Elegance: Jewel tones are associated with luxury and sophistication, providing an upscale feel to interior decor.
3. Versatility: Though bold, these colors can effortlessly blend with both monochrome and color-rich spaces.
4. Mood Enhancer: Jewel tones are known to enhance mood due to their vivid character.
Remember, a jewel-toned boucle swivel chair does not only serve its purpose, it exudes ambiance, making it a dashing addition to any interior setting.
Boho-themed Boucle Swivel Chair With Fringe Accents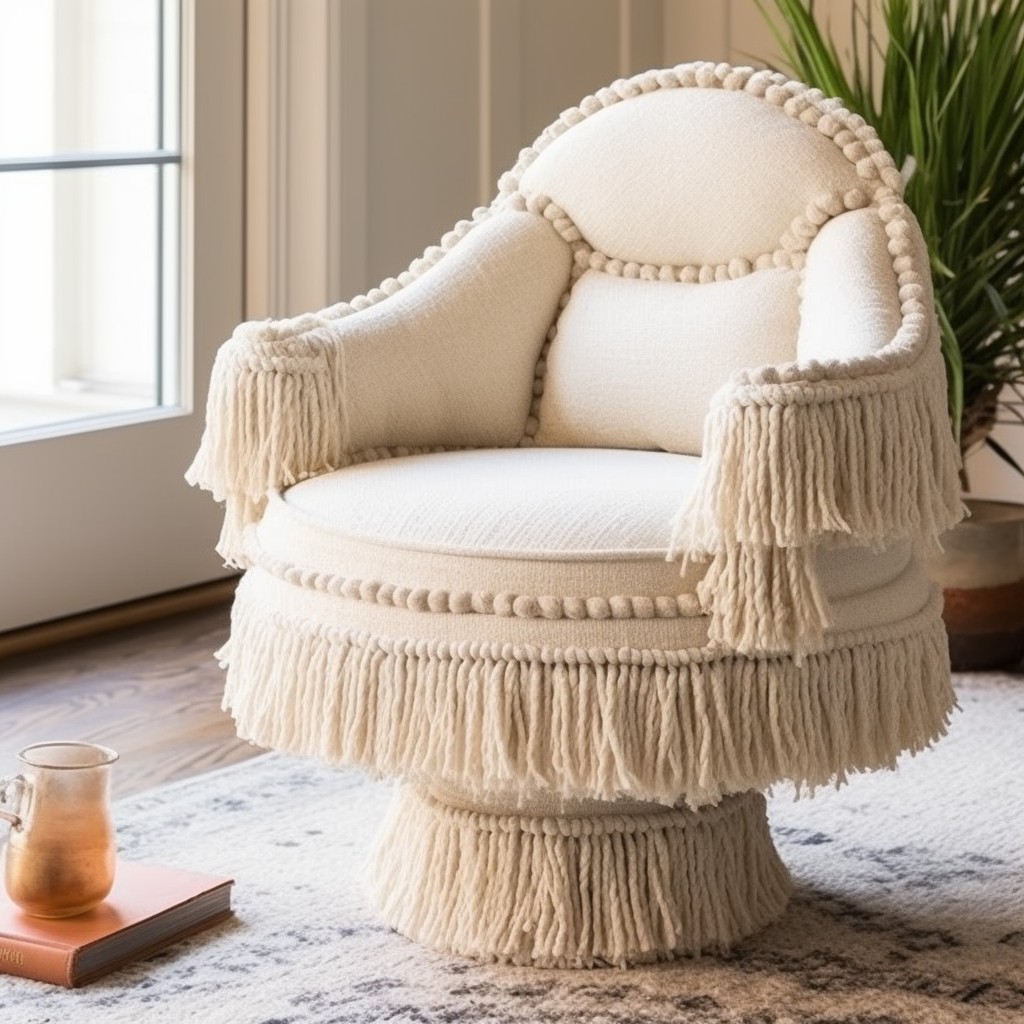 This eccentric chair style exudes a whimsical flair through a playful mix of textures and colors, adding charm and character to any room. The fringe accents, reminiscent of bohemian aesthetics, breathe life into ordinary interiors, creating an undeniable focal point.
Combine it with rattan furniture, macrame wall hangings, and indoor plants to achieve a well-rounded boho decor. The key is to embrace creativity and mix it up. With a blend of earthy tones and vibrant colors, let the chair tell a lively visual story.
Following these steps helps yield a lively, comfortable space that embodifies the free-spirited nature of boho style.
You may also like to read: