Last updated on December 4, 2023
Explore these innovative curved wall furniture ideas because they will revolutionize your interior design approach, making the most of your unique space.
I proudly present to you my original 20 Curved Wall Furniture Ideas, anticipating that you'll find them as inspiring and enjoyable as I did during the creative process.
Curved walls present a unique challenge in home decorating, but with the right furniture ideas, they can be transformed into stunning design features. Whether it's a cozy reading nook, an elegant display area, or a space-saving storage solution, the possibilities are endless.
This article will guide you through various innovative and stylish furniture ideas specifically designed for curved walls, providing you with the inspiration and practical advice you need to make the most of these distinctive spaces.
Stay tuned for detailed insights that will help you turn your curved wall into a focal point of your home.
Table of Contents
Curved Sectional Sofa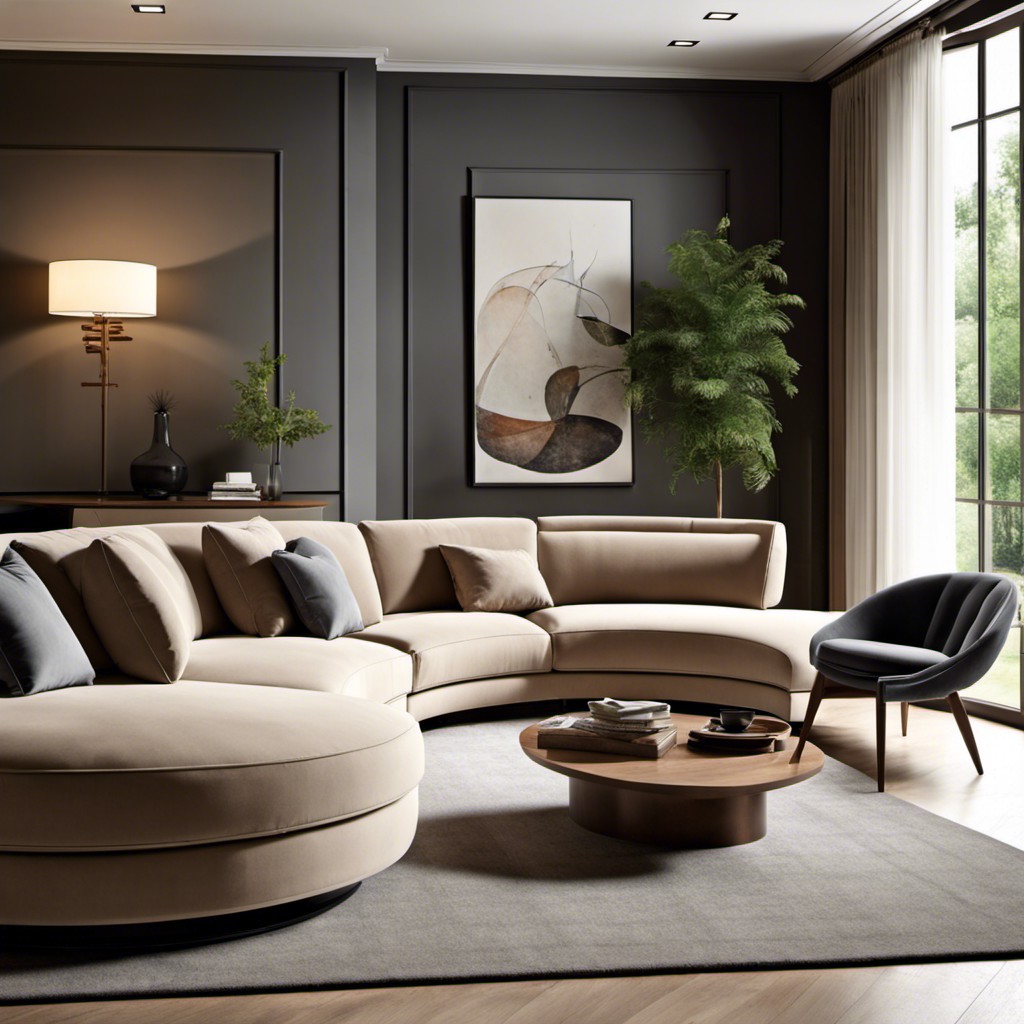 Offering both functionality and aesthetics, a curved sectional sofa can work beautifully in a variety of spaces. It succeeds in creating a remarkable focal point in living rooms, breaking free from the standard straight-lines of traditional furniture. Moreover, its unique form facilitates intimate conversations, as everyone seated faces towards the center instead of frontwards.
Opt for a custom-made design with dimensions and upholstery that sync flawlessly with the room's decor. Remember, position the sofa strategically to make the most of natural light without obstructing walkways. A floating arrangement, setting the sofa away from the wall, can help in highlighting the curvature and induce a dynamic flow in the room.
Finally, incorporate a round or elliptical coffee table to complement the sofa's curve and enhance the visual harmony. Simple, artistic throw pillows can offer a punch of color and texture, elevating the overall room design. Incorporating these tips with a curved sectional can significantly transform your living space into a sophisticated, cozy sanctuary.
Crescent-shaped Console Table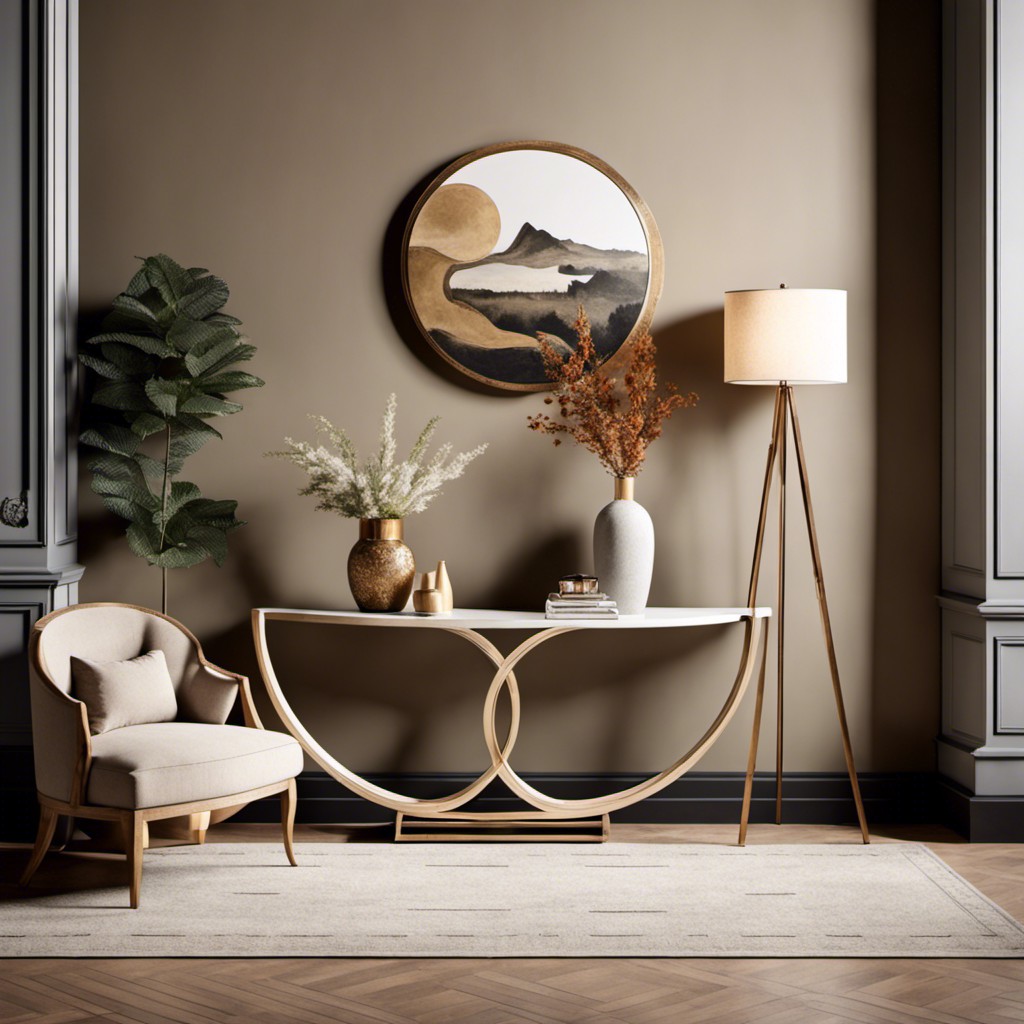 Situated perfectly against semi-circular walls, these console tables imitate the contours of the room, contributing to a seamless and harmonious decor. Their distinctive shape offers a balanced look, eliminating sharp corners and supplementing an inviting atmosphere. They can be used in various spaces like entryways, hallways, or living rooms, serving both form and function.
On the practical side, they are ideal for displaying decorative items like figurines, lamps, or framed photos, while also providing space for storage underneath. Materials range from polished wood to refined metal or mixed materials, offering options for various interior design styles. When choosing a crescent console table, look for a piece that complements the existing color scheme and texture of the room to amplify aesthetic appeal.
Remember, a mirrored or glossy finish can add depth to a small space, while a rustic wooden style offers a homely and warm appeal. Tips for accessorizing include using elements in varying heights to generate visual interest, or a table lamp to illuminate the area and create an inviting ambience.
Bow Front Sideboard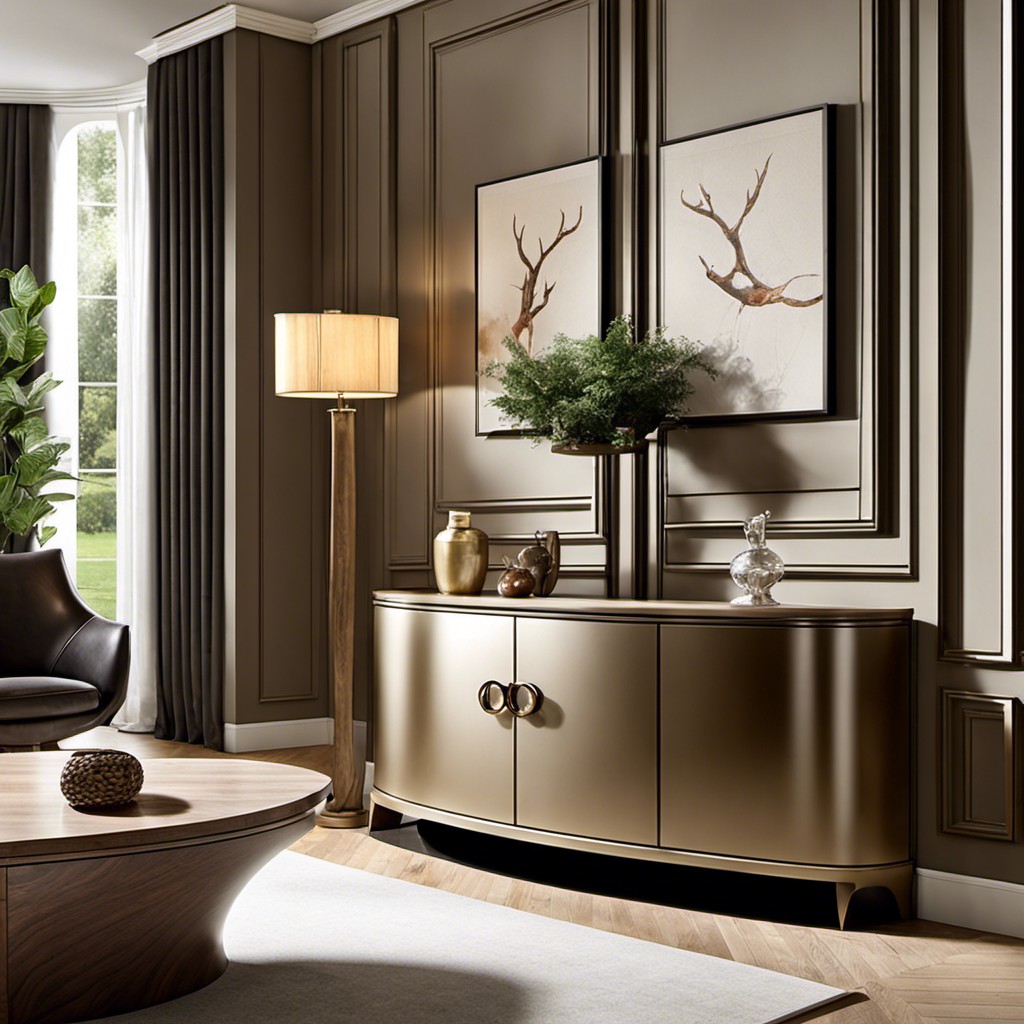 The elegance of a bow front sideboard lies in its functional and aesthetic blend. The convex silhouette introduces dynamism to the room's decor by breaking up the monotony of straight lines. It offers ample storage, equally ideal for dining rooms to stockpile dinnerware, or living rooms as a chic media stand.
Here are key points on its concept:
1. The curvature: The soft curve of the front creates a beautiful, unique focal point in any room, adding depth and visual interest.
2. Storage: Despite its distinctive design, it doesn't compromise on storage with its spacious cabinets and, sometimes, in-built drawers.
3. Versatility: It effortlessly complements various interior styles, from classic to contemporary decors.
4. Placement: It can fit snugly on wall curves or soften square spaces.
5. Material selection: Often made from hardwoods like Mahogany or Walnut, it promises durability and timeless charm.
Round Floating Shelves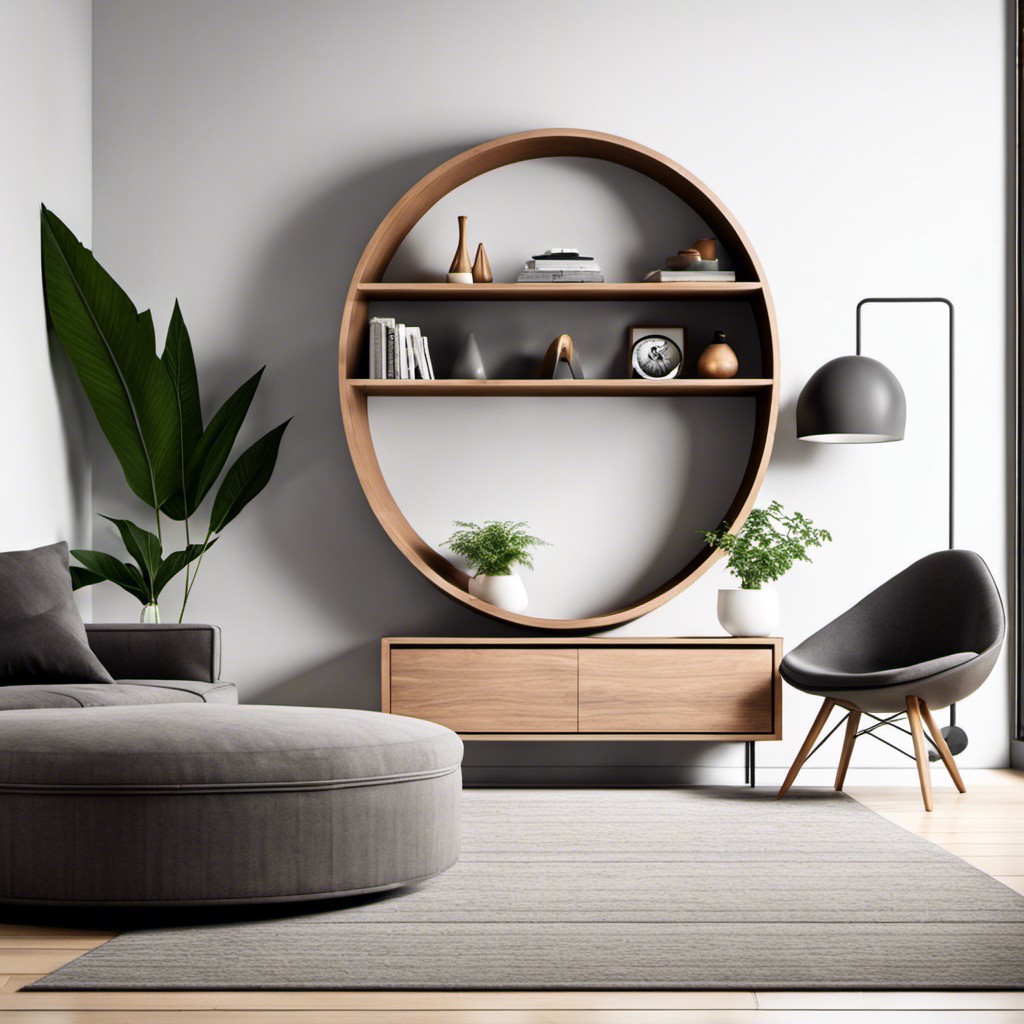 Perfectly fitting in any design scheme, these versatile storage solutions offer a combination of practicality and visual appeal. Taking advantage of vertical spaces, they break up the monotony of a straight wall with a vivacious aesthetic.
1. Versatility: From books to picture frames to decorative items, they can host a range of items, thus offering a clean and clutter-free look to your space.
2. Customizable: The beauty lies in their flexibility. They can be installed at different heights, depending upon your needs and aesthetic preferences.
3. Space-enhancing: They are ideal for small spaces. Occupying minimal square footage, they expand the perception of a room by drawing the sightline upward.
4. Easy Installation: Their mounting process doesn't involve complex steps, thus adding to your convenience.
Remember, the ultimate goal is to break away from the traditional norms of home décor, infuse your personal style and make the most of your curved wall.
Wall-mounted Curve Desk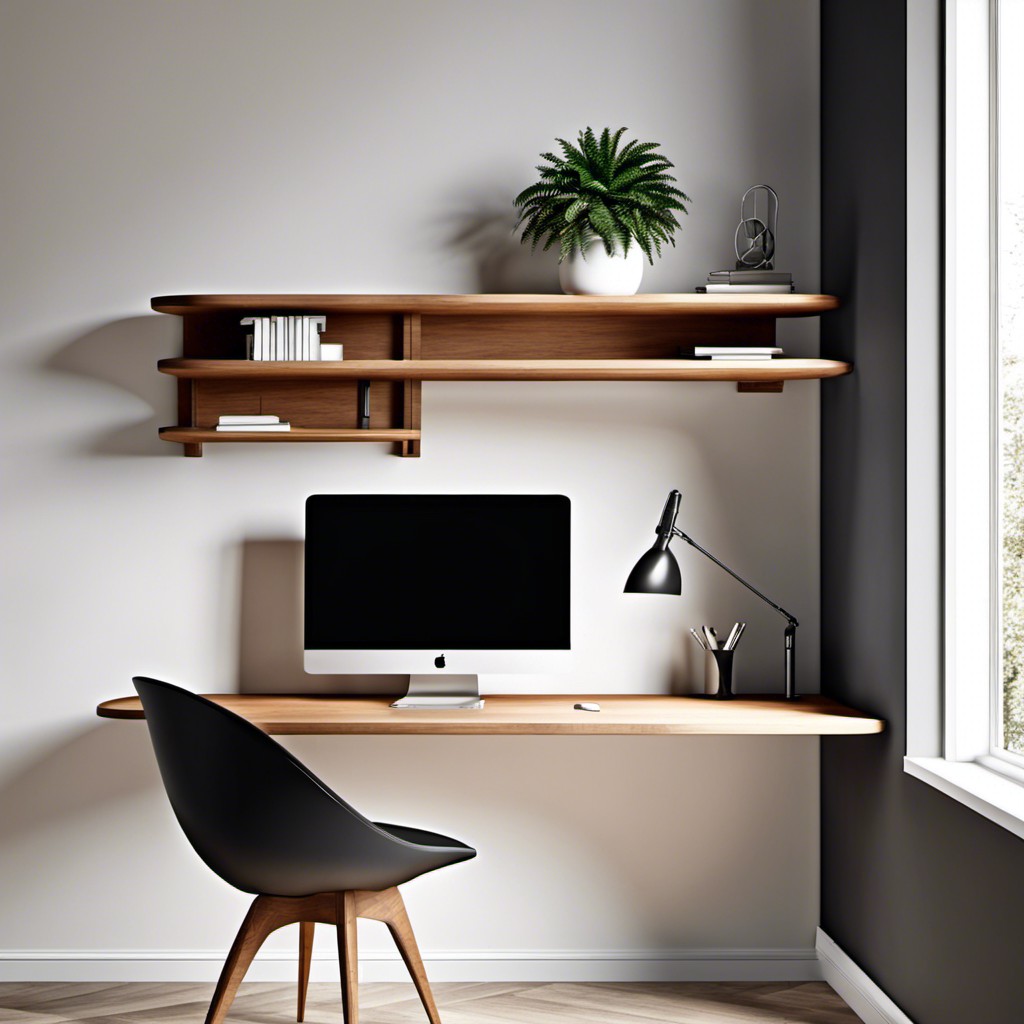 Designed uniquely for corner spaces, these desks prove practical and stylish. They blend seamlessly into the room layout without occupying bulky ground space.
Attaching it to the wall offers sturdy support, eliminating the need for additional legs that traditional desks require. Due to the curvature, it provides an optimal work area while following the room's natural flow to avoid sharp corners.
It's ideal for home offices or study areas, fostering productivity. Choice of materials range from varnished hardwood to painted metal providing both aesthetic and functional versatility.
One free-hand side promotes easy movement around, and underneath storage, while mostly open, can include sections for filing and organization.
Semi-circular Bar Cabinet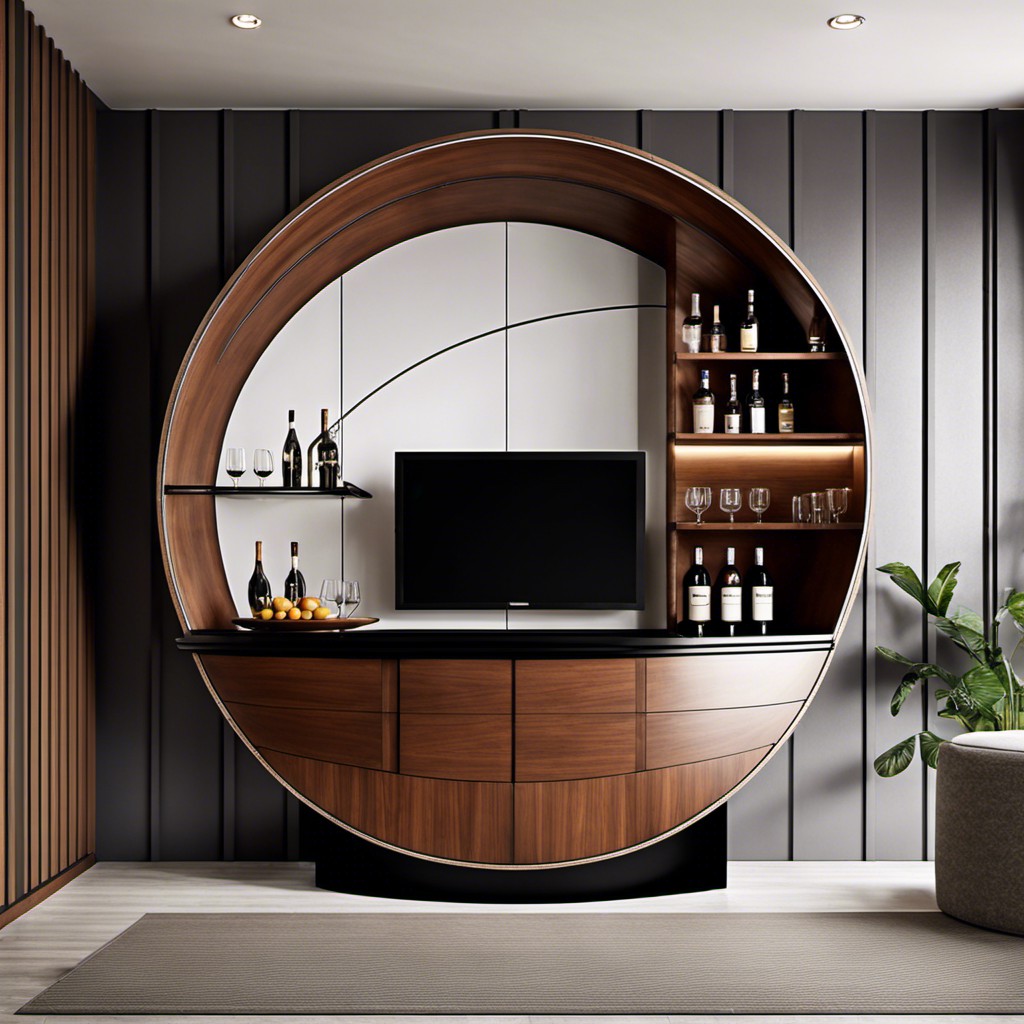 A semicircular bar cabinet can elevate a home while providing a practical storage solution. Its curved design aligns perfectly with a curved wall, maximizing the uses of tricky-to-furnish spaces. Its versatility makes it an excellent choice for both large and small areas alike.
Here are some points to consider:
Efficient storage: The bar cabinet adheres to the curve, capitalizing on every inch of space. It accommodates wine bottles, glassware, and cocktail-making equipment neatly.
Elegant design: Due to its distinctive shape, it introduces elegance and character to any room while maintaining subtlety. It can seamlessly blend with any decor style.
Easy access: Its semi-circular design brings all stored items within reach, ensuring a smooth operational flow during gatherings.
Personalization: It offers opportunities for personalization. You can choose its material, finish, or even incorporate additional features like wine racks or glass holders.
Remember, a well-placed semi-circular bar cabinet can directly influence the ambiance, practicality, and visual appeal in your home.
Bow-fronted Wardrobe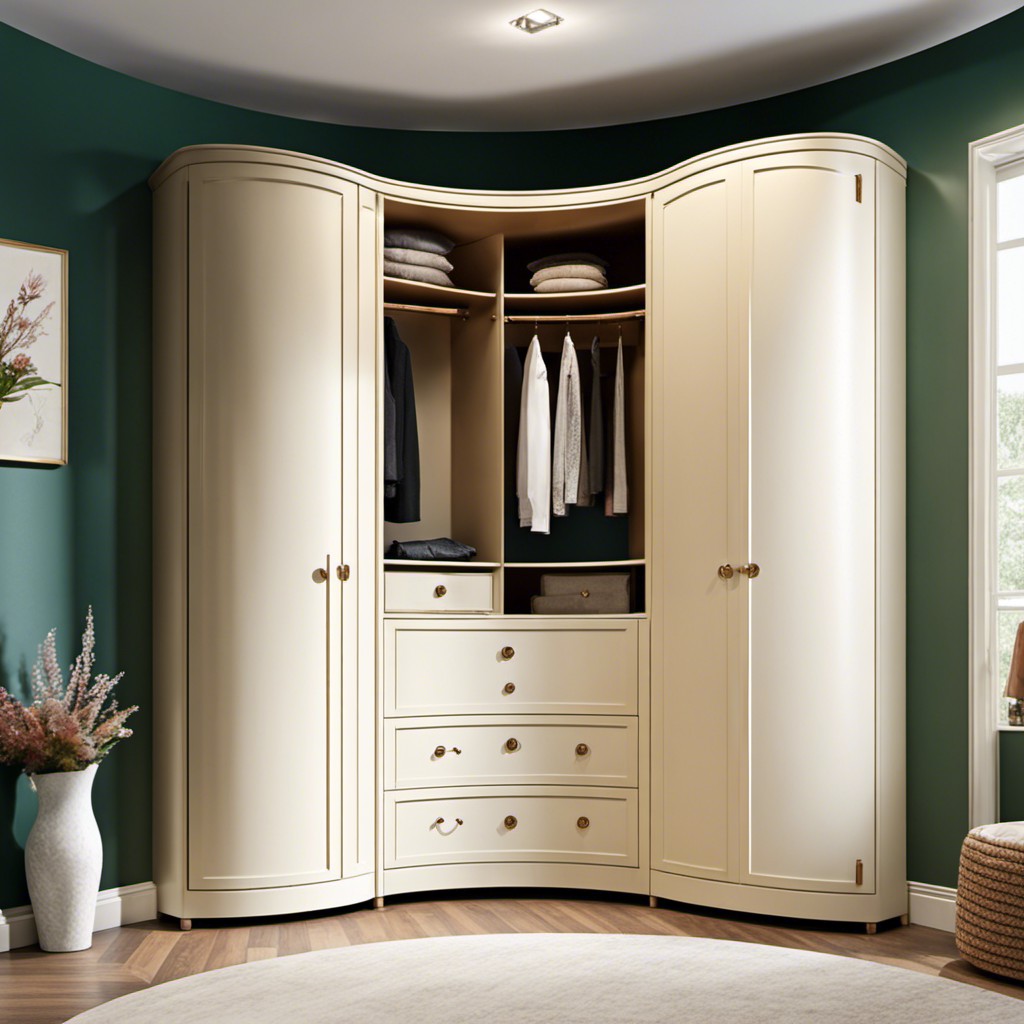 Aesthetically pleasing and notably functional, the bow-fronted wardrobe adds space and style to your bedroom. It capitalizes on the curved wall design, providing a unique depth and character to the room.
Here are some intriguing aspects of this adapted storage solution:
Efficient Space Usage: With its concave design, it optimizes the often under-utilized space, offering a sophisticated alternative to traditional straight-edged wardrobes.
Style Versatility: Regardless of whether your home's architectural style leans towards contemporary or classic, it blends seamlessly, enhancing the overall theme.
Tailored Storage Options: These wardrobes come with customizable interiors, allowing you to choose from drawers, shelves, and hanging rails, catering to different clothing storage needs.
Dynamic Visual Impact: It provides a soft contrast to the typical linear furniture pieces, engaging the eye with its come-hither curve.
Easy Integration: It fits snugly against the wall, marrying function with elegance, and is particularly suited for bedrooms with curved walls.
Remember, the objective is to combine modern sensibility with ingenuity to create a space that feels both inviting and organized.
Half-moon Shaped End Table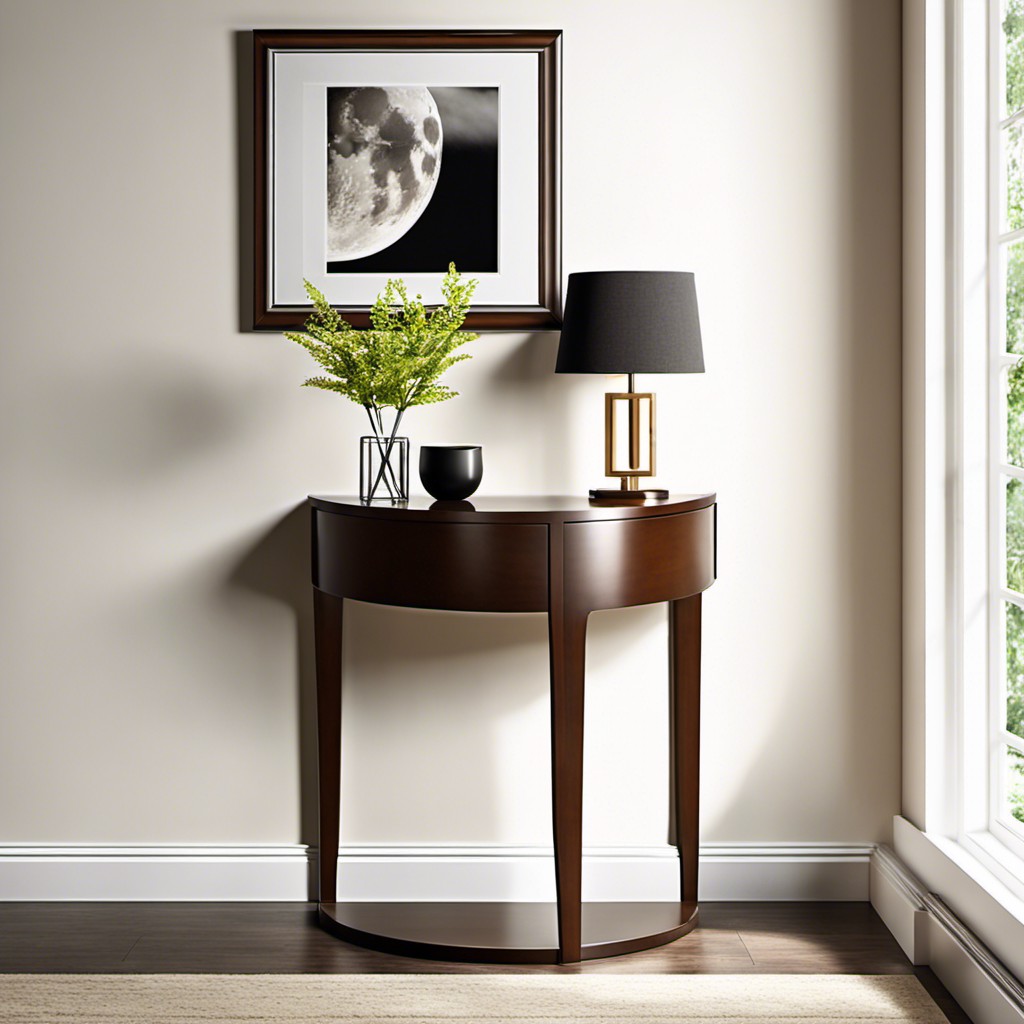 A versatile piece, the Half-moon end table can give corners and smaller spaces a design lift.
Being compact, it fits snugly against the wall and doubles as a decor and utility piece.
It can display photo frames, books, or even a stylish table lamp, becoming a focal point in the room.
Far from being only decorative, its flat surface and often included drawers or shelves make it functional as well.
Suited to both contemporary and traditional interiors, it's a blend of style and practicality.
Add an extra dash of charm by choosing a table with intricate wood carvings, metal inlays, or a vibrant color.
From helping you keep your essentials at your fingertips or elevating your decor game, a Half-moon shaped end table is truly an embodiment of form meeting function.
Curved Wall Mounted TV Unit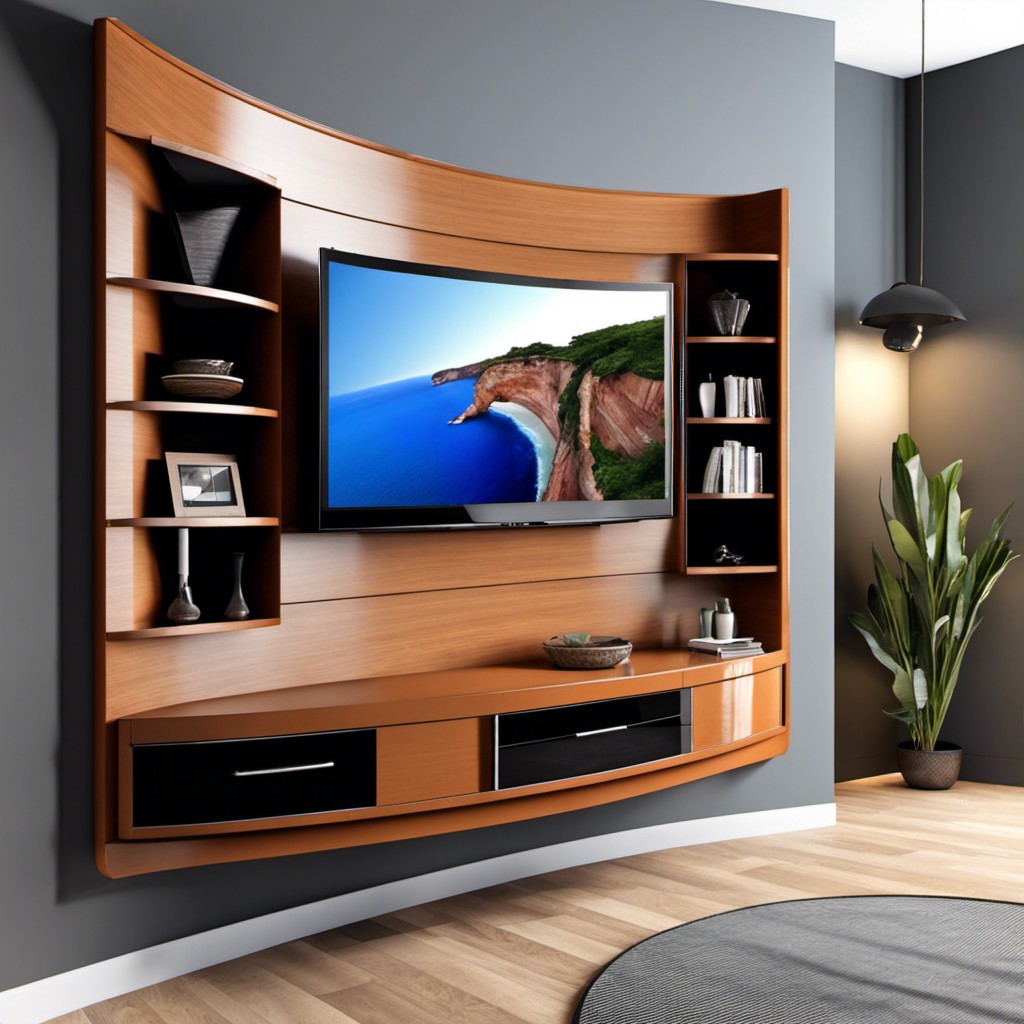 Having a TV unit that mirrors the curve of the wall not only accentuates the architectural uniqueness of the space, but it also saves room, providing a cozy viewing experience.
These units often come equipped with built-in storage, effectively utilizing the space.
Some styles also allow for concealing wiring and accessories behind sleek panels or doors for a more streamlined look.
They are available in variety of materials – from glossy veneer finishes to more rustic wood versions.
Moreover, adjustable mounts can provide flexibility with viewing angles.
This option creates a striking feature in your curved wall room, combining function with aesthetics brilliantly.
Round Corner Shelf Unit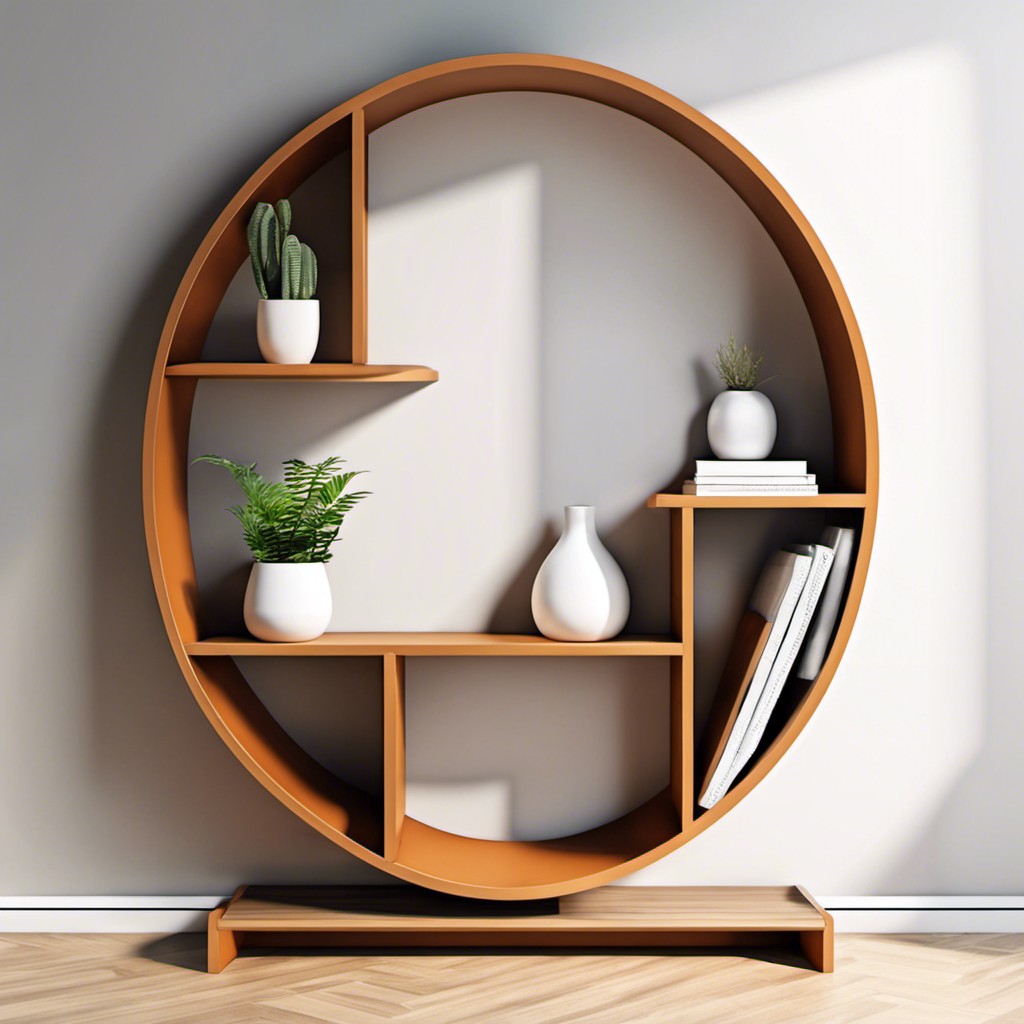 These units are ideal for maximizing storage space and displaying ornaments or decorative items. With their creative and easy-to-install design, they can bring out the best use of the wall's curvature.
As a multi-tier structure, these shelves provide ample room for books, photo frames, plants, or other cherished keepsakes, converting otherwise overlooked corners into something stylish and functional.
They work in most rooms – whether it's the living room, bedroom, or even the bathroom, unleashing both practicality and visual appeal.
Just remember, when positioning items, place heavier items at the bottom for stability and lighter ones towards the top. This detail ensures the unit remains balanced and safe.
Modular Curved Storage System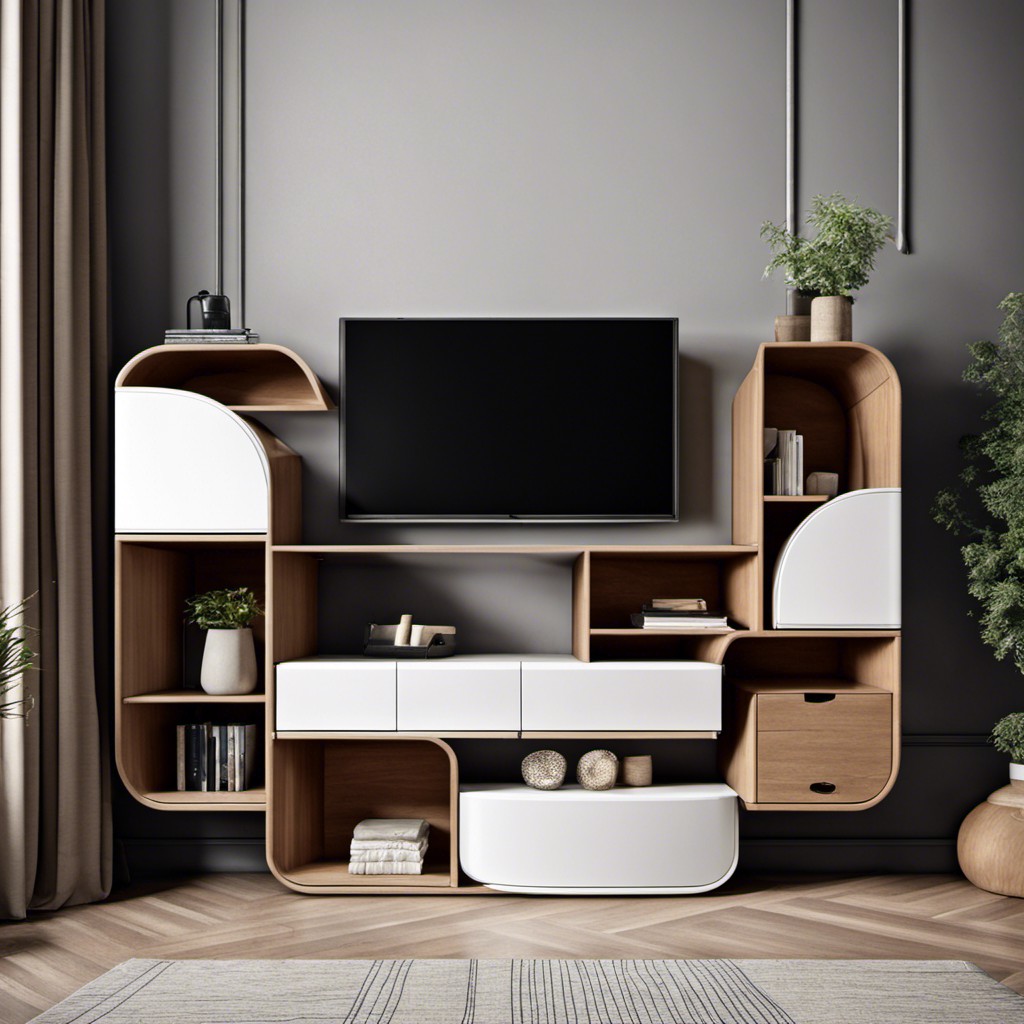 A modular curved storage system seamlessly fits into the shape of your wall, creating a smooth and cohesive look. They can be customized to suit personal style and storage requirements.
1. Flexibility: These units make clever use of the available space, presented by the curved wall, that would possibly be lost with conventional furniture.
2. Variety of Use: They offer versatile storage options for books, decorative pieces, media essentials or other items.
3. Aesthetic Appeal: With a range of finishes, colors and materials available, they bring an artistic appeal to the room.
4. Easy Customization: Depending on your needs and the size of the wall, modular systems can be added or subtracted with minimal efforts.
5. Space Enhancement: They serve to enhance the perceived space in the room by flowing with the architecture, instead of interrupting it.
Remember, they're not just functional but a beautiful addition that complements your curved wall. Plus, they add a touch of modernity and convenience to your living space.
Arc Shaped Bookshelf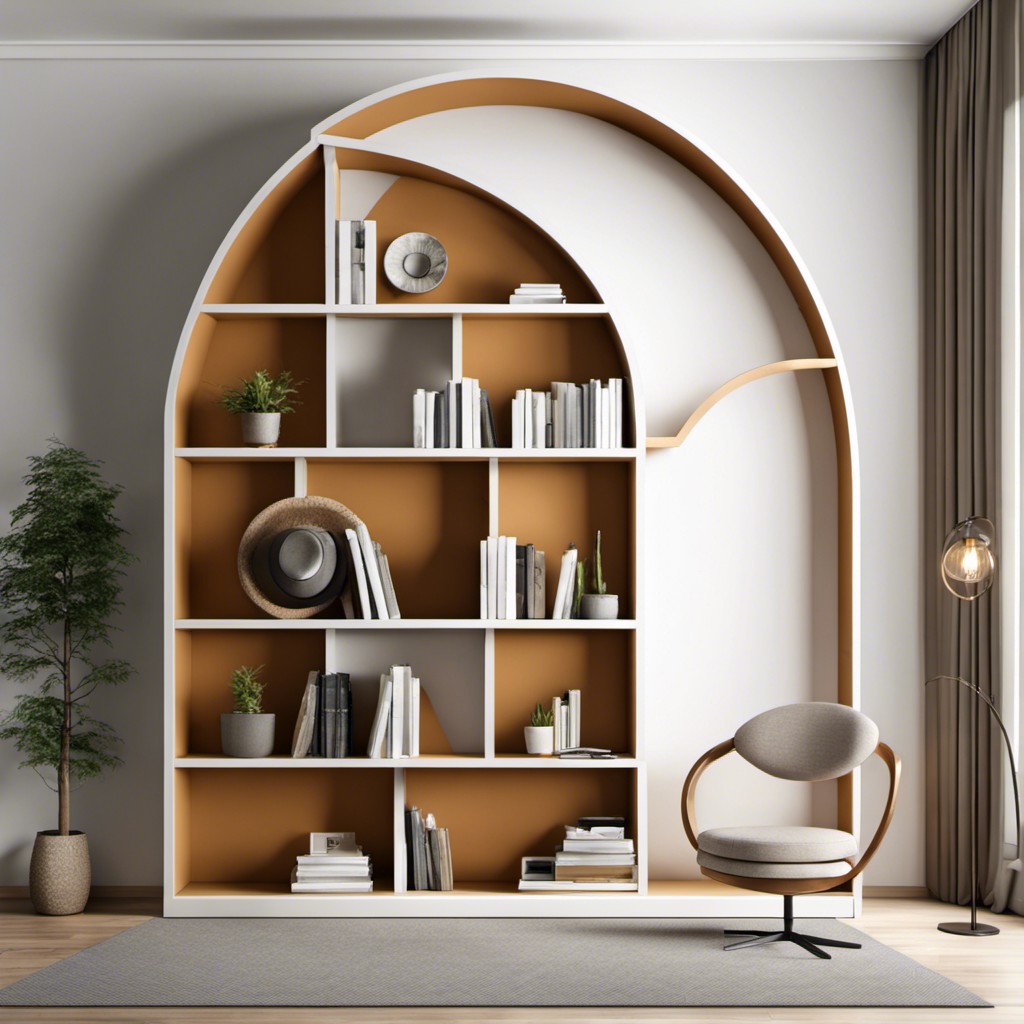 An arc-shaped bookshelf is not only a storage solution but can also act as a statement piece in your room. Here are some factors to consider:
1. Material: Wood, metal, or a blend of both can offer different vibes— rustic, contemporary, or industrial.
2. Size: It all depends on the dimension of your curved wall. A proper measurement before purchase is crucial.
3. Compartments: An array of small compartments can artistically exhibit your book assortment, while a few spacious ones can accommodate larger items.
4. Color: Match with the wall color for a subtle appearance or go for contrast to make it stand out.
5. Theme Continuity: Ensure the shape and design of the bookshelf merge well with your other furniture items in terms of style and period.
Remember, practicality never needs to compromise on aesthetics with the right unit.
Crescent Ottoman
The crescent ottoman lends a touch of classic whimsy to any room. Its ergonomic shape is excellent for utilizing space in a curved wall setting.
The versatility of an ottoman cannot be overemphasized. It can serve as additional seating, a footrest, or even a side table with the addition of a tray.
Using it in multiples creates a visual and functional impact. Moreover, material and color choice can make it adaptable to different decor styles.
From leather to upholstery, neutrals to vibrant hues, the range of customization options is vast. Also, it's kid-friendly with no sharp edges, ensuring safety without sacrificing style.
Corner Curio Cabinet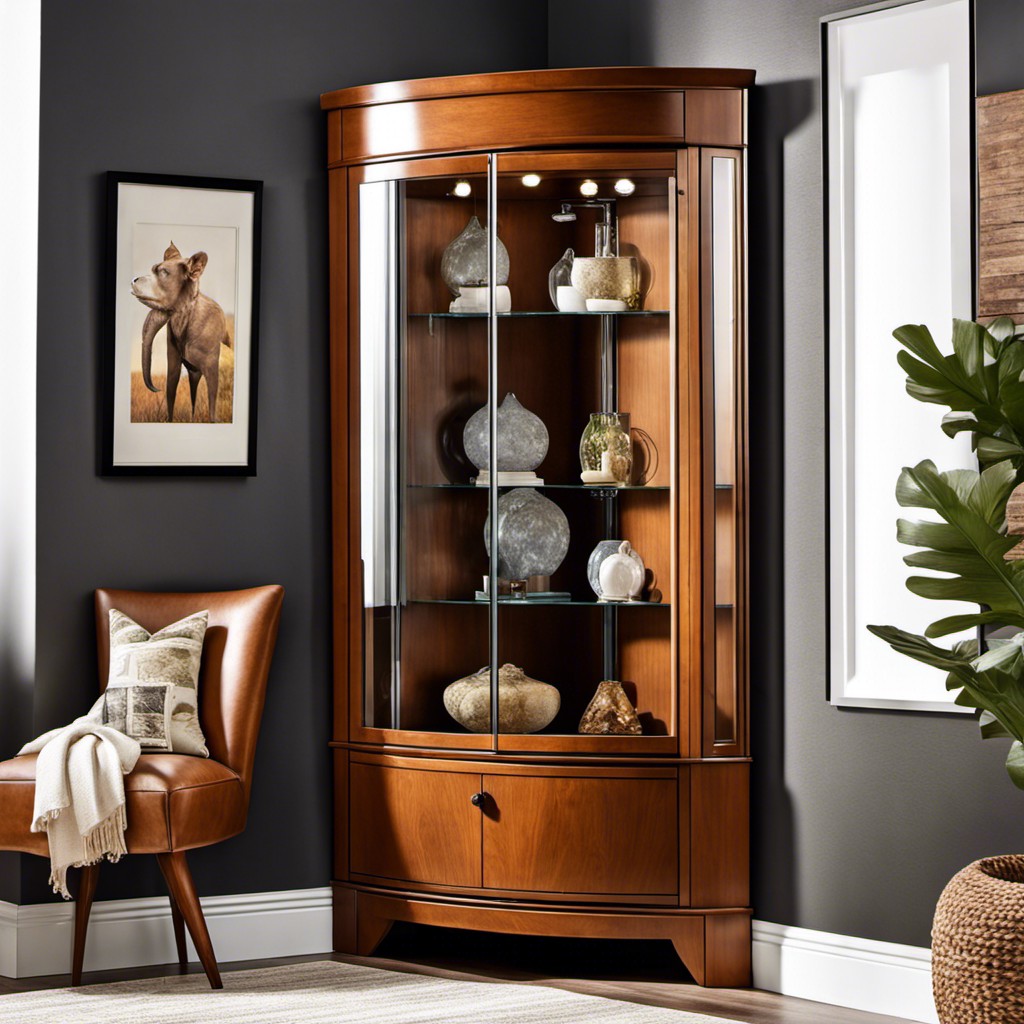 Perfect for displaying porcelain statues, cherished mementos, time-honored collectibles or family photos, corner curio cabinets shine in the utilization of dead space. They nestle conveniently into the often-overlooked corner spaces of a room, leaving more open space elsewhere for other pieces of furniture.
Designed with a distinct appeal, they come with glass facades for optimal display view, allowing your treasured items to become part of the room's decor. Different styles range from contemporary glass designs to more traditional wooden styles that complement various home themes.
Adjustable shelves offer flexibility to accommodate items of varying sizes. Moreover, some models come equipped with built-in lighting to accentuate the display, providing a sophisticated touch to the room.
Finally, the corner curio cabinet is not just aesthetically pleasing, but it also provides useful storage, making it a valued addition to any curved wall setting.
Round Bed for Curved Bedrooms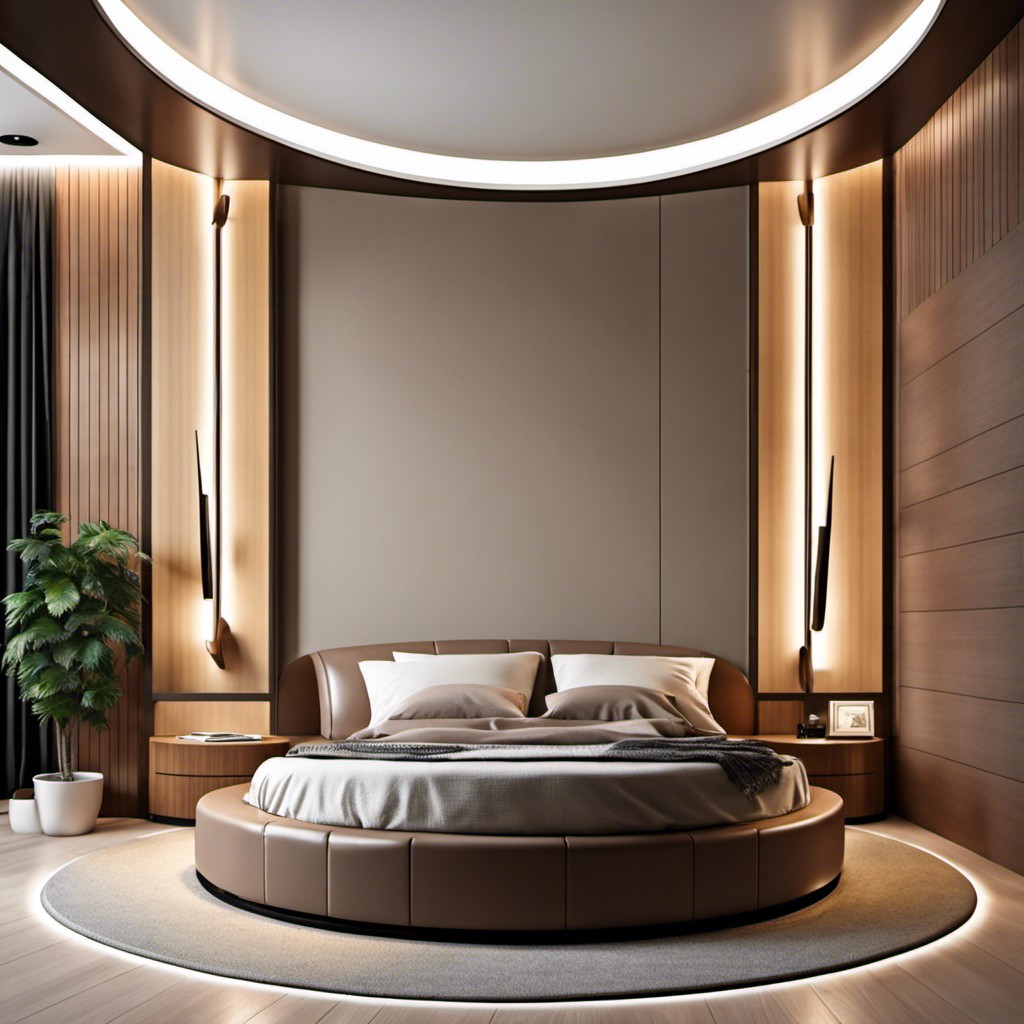 The round bed offers a sophisticated and modern edge to your bedroom. Its unique design fits effortlessly into the natural curve of the wall, providing a neat, streamlined look.
Apart from its aesthetic benefits, it also maximizes space, especially in small and oddly shaped rooms. Placing the round bed with the circular base against the curved wall can create a sense of flow and continuity, enhancing the overall room decor.
For a cosy, warm ambience, opt for a bed with plush, rich textures. Alternatively, a minimalist, sleek design can evoke a more contemporary and crisp atmosphere.
For optimal comfort and harmony, ensure the bed's colour palette complements your room's overall scheme. Consider incorporating a stylish round bedside table or a sleek hanging lamp to further augment this ensemble's charm.
Curved Wall Mirror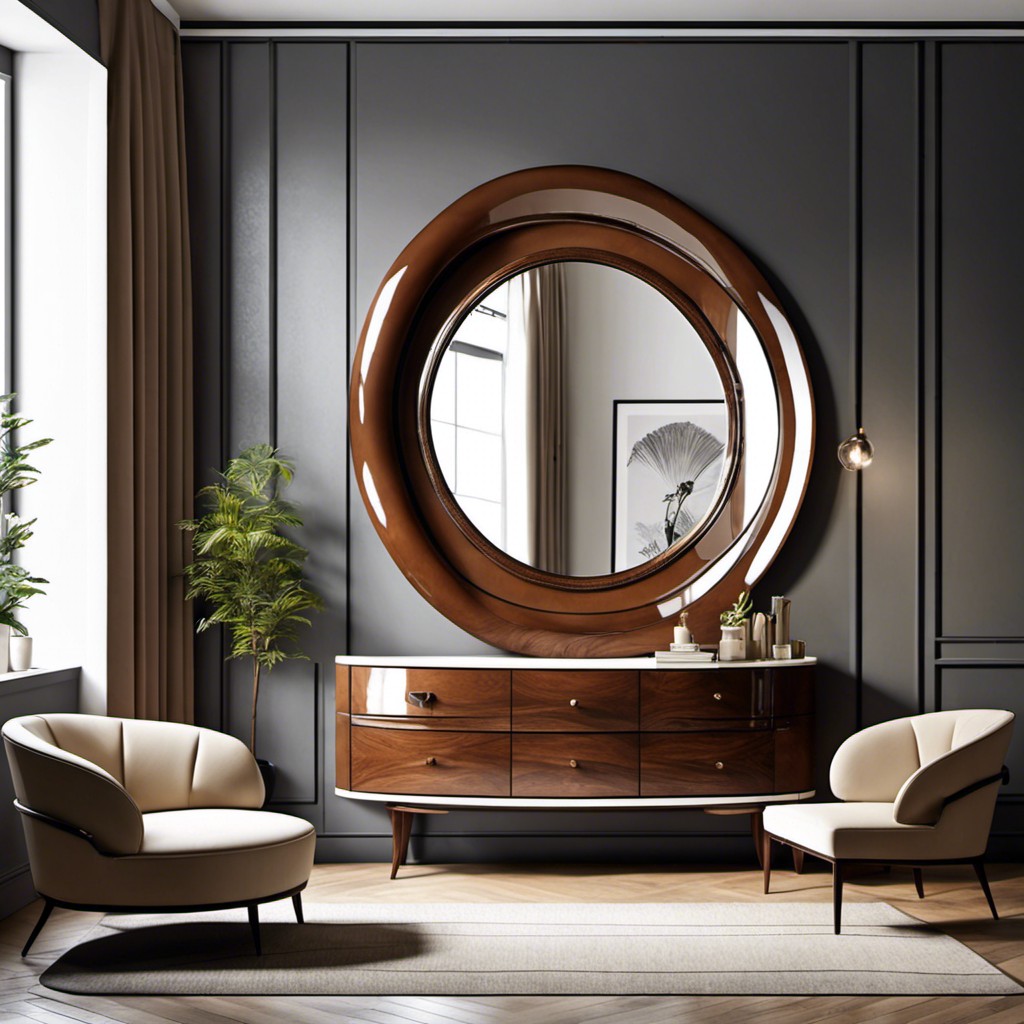 Mirrors are a fantastic way to create an illusion of space and amplify light in any room. Opting for a curved design adds aesthetic interest and softens the look. They particularly complement curved walls by accentuating the smooth, rounded characteristics of the architecture.
Here are some key points to consider:
Size: Ensure the mirror's size is proportionate to the wall and room. A large mirror can be a statement piece, while smaller mirrors create a subtler effect.
Placement: Position the mirror to reflect a pleasing view or increase natural light. Avoid facing it toward clutter or less visually appealing spaces.
Frame: Choose a frame that matches the room's decor. Metallic frames add a touch of elegance, while minimalist frames provide a modern, sleek appearance.
Functionality: Apart from aesthetics, remember to install the mirror at a practical height for daily use, if necessary.
Safety: Use sturdy mounts and fittings to hang it securely, particularly for larger mirrors.
Remember, a well-chosen and positioned curved wall mirror can both enhance the room's design and make it seem larger and brighter.
Corner Pedestal Sink for Bathrooms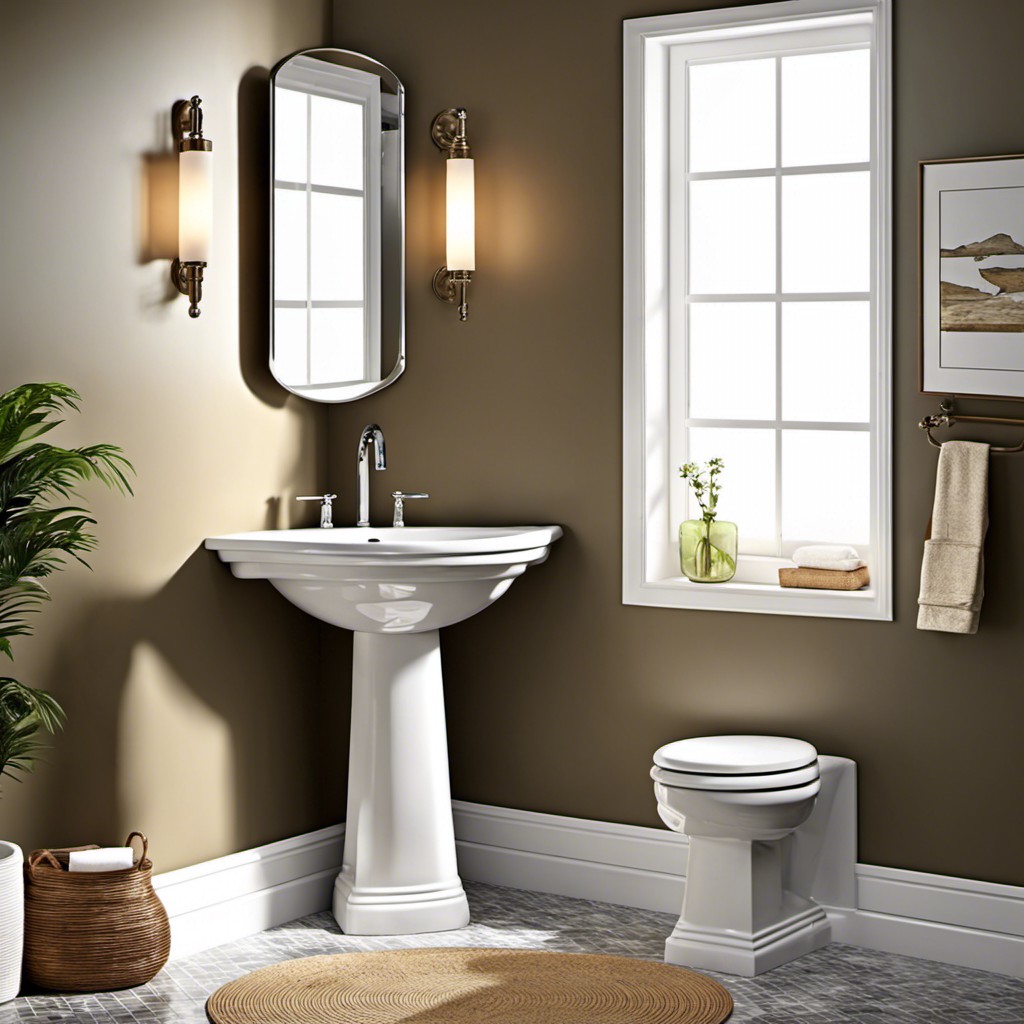 When dealing with curved wall bathrooms, a fantastic furniture option is the corner pedestal sink. These sinks offer the perfect blend of style and functionality, fitting snugly into curved walls while maximizing available space. They eliminate traditional sharp borders found in standard sinks, lending a more fluid, harmonious appearance to your restroom.
1. Space Efficient: These sinks occupy the often forgotten corner spaces, freeing up your floor area. Ideal for small bathrooms, their compact design ensures no compromises on comfort.
2. Style Statement: With a wide array of designs, from modern minimalistic to vintage, these can be a focal point adding personality to your bathroom decor.
3. Easy Installation: These self-supporting sinks do not require extensive modifications. Their easy setup process adds to their user-friendly nature.
4. Better Accessibility: As they are placed in the corner, reaching the faucets becomes convenient, facilitating easy movement in the bathroom.
5. Variety of Materials: Ranging from ceramic to porcelain and even copper, you can choose the material that suits your aesthetic best.
Remember, the right corner pedestal sink can enhance bathroom usability while complementing your curved wall perfectly.
Curved Banquette Seating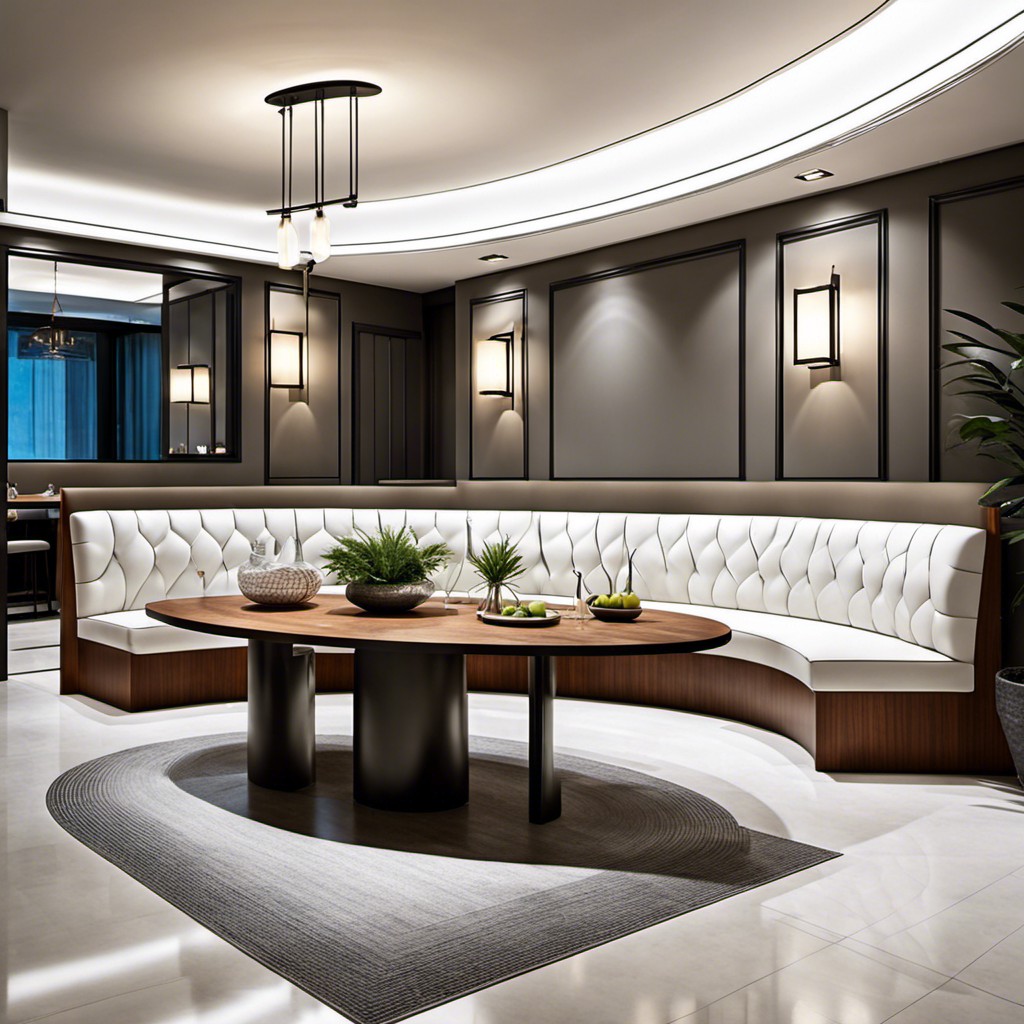 Featured in many contemporary homes, banquette seating is a fashionable and practical solution for curved walls, primarily in kitchen or dining areas. This style utilizes space efficiently, creating an intimate and cozy atmosphere for family meals or social gatherings.
Here's what gives it an edge:
Space Optimization: The seating structure hugs the curve of the wall, maximizing available space. Ideal for cramped quarters or awkward angled areas.
Customizable: With a variety of upholstery options, colors, and styles, it's easy to design a piece that seamlessly blends with the existing décor.
Extra Storage: Many banquettes come with a bonus – built-in storage. Lift the seat to reveal a hidden compartment for your essentials.
Versatility: Not just for dining, use this comfortable corner for reading, working, or simply relaxing with a cup of coffee.
Sociable: The circular arrangement promotes conversation, making meal times more engaging and enjoyable.
Remember, balance is key when integrating curved furniture. Combine it with straight-edged pieces to produce a fluid, harmonious aesthetic in your room.
Curved Edge Coffee Table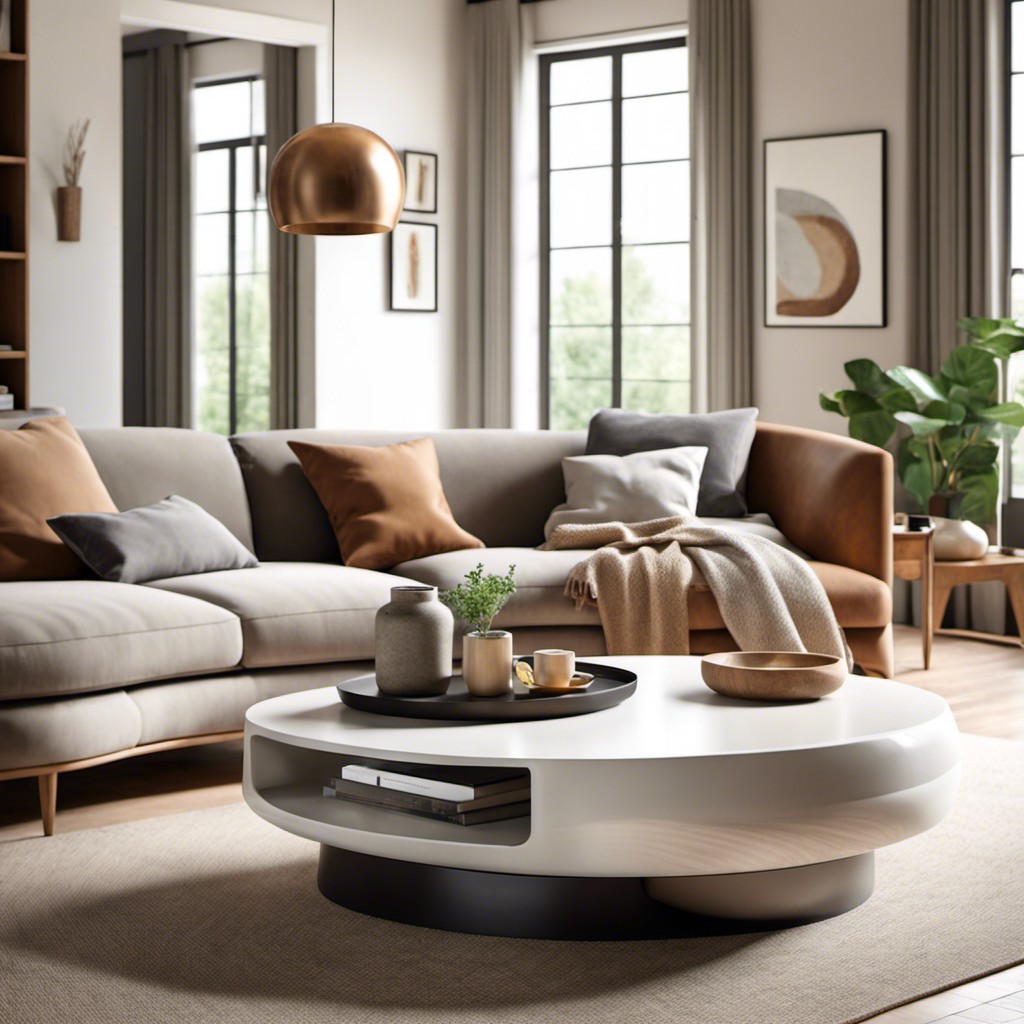 Ideally suited for softening the harsh straight lines in a room, this type of furnishings ooze charm and elegance. They can stand in the epicenter, drawing attention while creating a sense of fluid harmony. To complement a contemporary theme, opt for a minimalist metal base with glass top, or for traditional settings, a wooden piece with intricate detailing would work wonders.
Consider factors like scale and function while deciding on the piece. An oversized table could become an overwhelming piece in a small room so opt for one that is relative to the size of the sofa and chairs around it. The utility factor should not be overlooked, so explore the ones with storage options that can provide concealment for magazines, remotes, or even extra cushions.
Material selection should be in line with the overall aesthetic. However, glass tops provide an illusion of less space occupancy, making it a popular choice for small spaces. They provide a sturdy surface without visually cluttering the space.
In terms of positioning, utilize it as the heart of your living area that connects all other elements together. As the central location where guests gather around, it's important to embellish it with decorative pieces, a small floral arrangement, or a stack of coffee table books to infuse vibrancy.
Semi-circular Hallway Table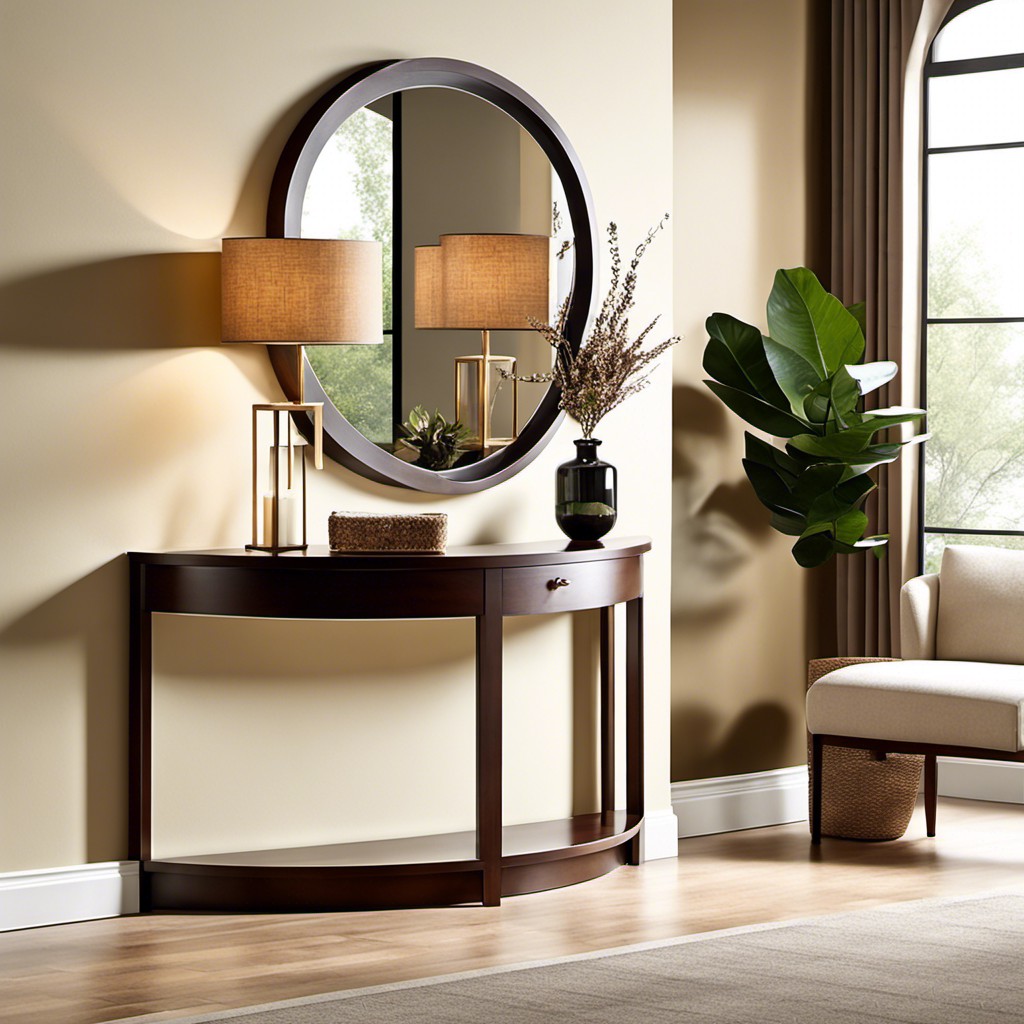 This style of table, fitted against a curved wall, adds an elegant touch while maximizing available space. It's an ideal platform for showcasing decorative pieces and can also serve a functional role, doubling as a landing spot for keys or mail.
When selecting this furniture, pay attention to materials and finish; wood brings warmth and tradition, whereas metal or glass offer a more contemporary look. Think about proportions too – the table should not overwhelm the space, nor should it get lost.
Finally, consider adding a complementing mirror above or a matching stool underneath for a cohesive look. Your hallway will not only be stylish but also practical.
You may also like to read: