Last updated on September 28, 2023
Designing a dining room that will produce a "wow effect" on your guests can be challenging. With numerous attractive options, picking some over the others might just feel wrong. Furthermore, combining various ideas to create a cohesive look is not the most straightforward task under the sun.
If you feel like your every dazzling concept seems to miss the mark, we might be able to help. Below, you will find several breathtaking ideas you can easily incorporate into your dining room design. From combining hybrid flooring with wooden furniture to adding a dining table fish tank into your interiors – there is a design solution on our list that will leave your visitors stunned.
Here are some of the best dining room ideas to create an enjoyable space – both for you and your guests. Read on!
Table of Contents
Use Hybrid Flooring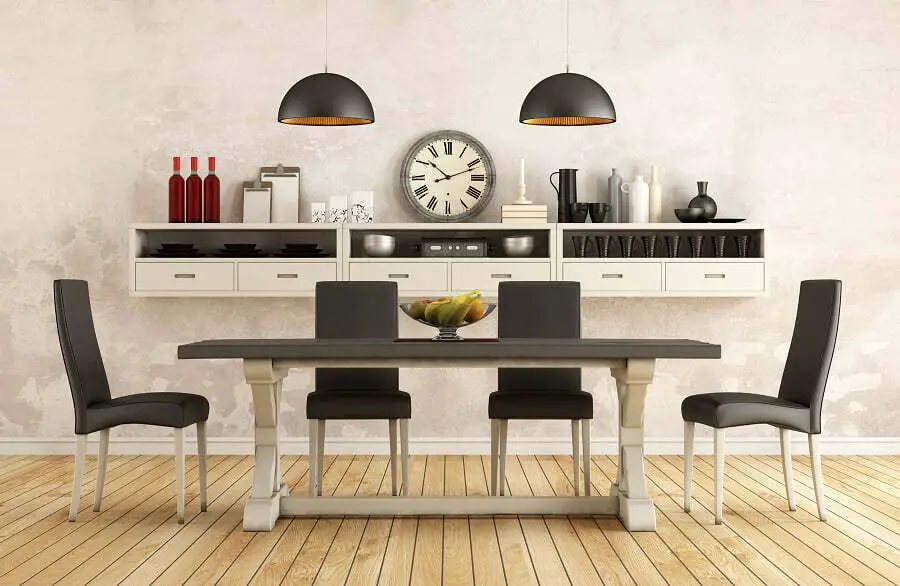 A great way to add interest to your dining room is by using a hybrid flooring type. What is hybrid flooring? Simply put, it is a combination of two popular types – laminate and vinyl flooring. Not only will it create visual interest, but it will also be practical, as it will be easy to clean.
You can choose from a range of styles, such as arctic white, black, and brown, with the latter being an excellent option when you have a lot of natural light in your dining room. Hybrid floors offer a softer sound and a cushion underfoot. Besides, they can withstand high foot traffic, meaning they will serve you for many years to come.
Install a Statement Chandelier
One of the easiest ways to add drama and sophistication to your dining room is by installing a statement chandelier. It can become the focal point of any room, dictating how your guests perceive the space. There are numerous designs to choose from, so you can find one that perfectly complements your current look.
What makes a dining room chandelier so eye-catching? Aside from its size, several other factors contribute to its appeal.
First, the material is essential. You should choose a chandelier that blends in with the rest of your interiors. Opt for a crystal chandelier if you aim for a more traditional feel. On the other hand, consider a metal or glass chandelier for a more modern vibe. If you want to use something unique, an ornate chandelier made of metal is just what you need.
The color is another detail that makes up for a terrific dining room chandelier. Ideally, you should go for something bright and vibrant since it will stand out from the rest of the interior. Pick a color that goes best with your dining room's color palette and enjoy the benefits it provides!
Go for Wooden Furniture
Contemporary dining room ideas are not the easiest to pull off. This is because most of them revolve around a neutral color palette, visually-absorbing decor elements, and modern furniture pieces. The good news is that you can easily create a stunning space with the help of wooden furniture.
Wooden furniture is a classic choice for any dining room. It is both stylish and timeless and will easily complement any design scheme. If you want to infuse your modern dining room with warmth and comfort, you can use wooden furniture as your main decor element. Wooden chairs, wooden tables, wooden sofas – they all look good in this genre and bring a homey vibe into your space.
If you want a unique look, consider opting for a darker wood such as mahogany or ebony. Doing so will make your dining room look more inviting and cozy.
Add a Dining Table Fish Tank
If you are looking for an eye-catching focal point for your dining room, consider adding a dining table fish tank. It is a fantastic way to add excitement and intrigue to your space. Plus, it will provide a fun environment for your guests to enjoy. Although fish tanks are usually used for aquariums, they can also be embedded into dining tables. It is quite a modern-looking design solution that will make the room feel larger and more spacious than it actually is.
Use Bold Wallpaper
Wallpaper can be a great way to add personality and interest to your dining room. You will be surprised how bold wallpaper can change the whole look of your dining room. You could go for a geometric pattern or even a monochromatic concept if you want it to be subtle.
Alternatively, if you are looking for a bold look, consider using patterned wallpaper. It will add instant visual impact to your space.
The best thing about modern wallpapers is that they can easily match any kind of furniture. The geometric patterns are especially suitable for a minimalist dining room, emphasizing the importance of other design details.
The Takeaway
Choosing the right dining room ideas is not a simple process. It involves a lot of thinking and analyzing, which might be challenging to do on your own.
What is the key to creating a stunning dining room? We believe that the answer is combining different elements in a way that will leave your guests mesmerized yet still feel comfortable. You can achieve this by picking a combination of furniture that works superbly together, complementing them with one of the gorgeous styles and colors listed above.
With the help of our list and tips, you will find it a whole lot easier to create a stunning interior that will have everyone jaw-dropping. So, make sure to read our top ideas for designing the most stunning dining rooms and implement them into your decor. Good luck!
You may also like to read: