Last updated on October 24, 2023
When forced to choose between spending tons of cash on an interior designer or doing everything themselves, many homeowners opt for the latter. However, following the DIY route is not always the wisest approach. In many instances, working with a professional can protect you from incurring more expenses than necessary and reduce the number of stressful situations you may encounter.
But how to estimate when is the right time to call for help? Well, it all starts with the scope of your project. If it is relatively minor, you might get away with finishing it yourself. On the other hand, hiring an interior designer is a must if you have a significant remodel in mind. The size of your budget also plays a critical role. If you do not have many funds to work with, an interior designer can help you find hidden gems and get the biggest bang out for your buck.
Here is a complete list of instances when you should consider giving an interior designer a call instead of following through with your design idea entirely on your own.
Table of Contents
You Want to Incorporate New Technologies into Your Home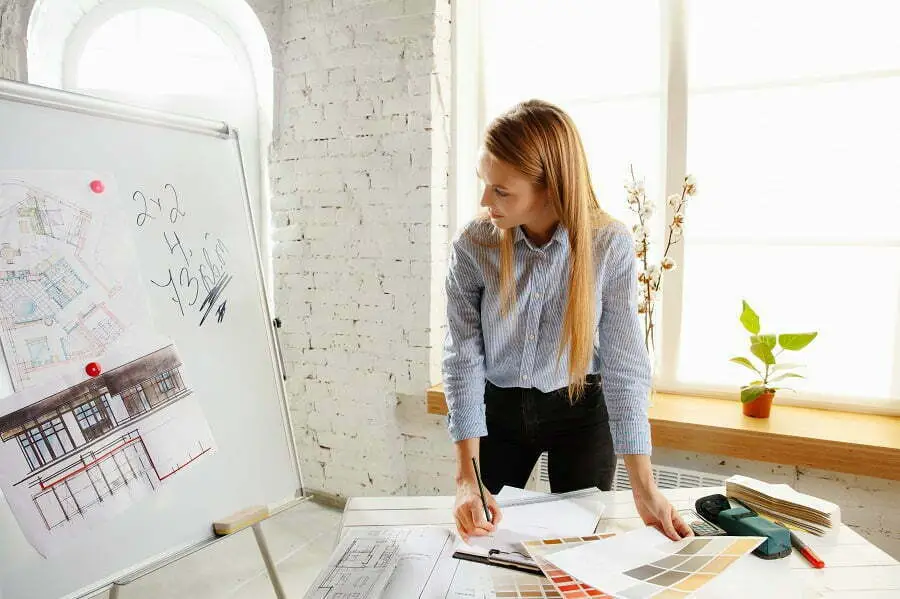 If you are thinking of bringing new technologies into your home, a professional can guide you in the right direction. After all, a design specialist probably has more expertise than you when it comes to choosing the best tech solutions for a living space.
For example, if you want to upgrade your TV or sound system, an interior designer would be able to guide you through the process and help you choose the most appropriate ones for your home. According to garagedoornation.com, working with an interior designer and a garage door expert could be helpful to find the best way to implement a garage door opener without ruining your current design.
If you want to incorporate new technology into your home, an interior designer can help you figure out what will work best in your space. They can also help you find products that fit within your budget.
You Have a Complicated Floor Plan
Most homeowners can handle their remodeling projects independently because they have to work with a relatively simple space. However, that is not always the case. If you have a complicated floor layout, you will likely encounter some issues along the way.
For instance, if your space has lots of doorways and walkways, it might be challenging to figure out where everything goes. Similarly, if you have complicated angles or odd-shaped rooms, you can encounter some issues with creating visually attractive interiors.
As a result, you might want to hire an interior designer so that you do not end up with a layout that does not make much sense. They can help you estimate where everything should go and what solutions will work best in your case.
If you want to make the best out of your space, it would be best to consult with an expert and have them help you develop a functional layout.
You Plan On Moving Soon
If you plan on moving in a year or so after completing your remodel, you will probably not be able to recoup most of the money you spent on upgrades and decor. Instead of spending tens or even hundreds of thousands on a renovation that will inevitably turn into an expensive memory, you could save yourself from some heartache by hiring an interior designer to help you create a functional yet stylish space.
Working with an interior designer can help you get top dollar for your home without breaking the bank on renovation. They can help you enhance its curb appeal and make it more attractive to potential buyers.
You Have a Limited Budget
Before you start planning your redesign, it is essential to have a clear idea of how much money you can pay for the project. This way, you will be able to avoid unpleasant surprises and remain within budget.
If you are working with a limited budget, an interior designer can help you save money in the long run. They can find hidden gems and help you stretch your dollar further than you ever thought possible.
If you do not want to spend much on the project, look for solutions that can prove to be a good value for money. An interior designer might introduce you to different decorating trends that are popular in the industry right now, as well as share tips on how to make them fit into your current design scheme. Besides, they can help you purchase affordable, high-quality items from various stores.
You Need Help with Space Planning
Space planning is not something most people are good at. If you need help making the most out of your space, hiring an interior designer can be a lifesaver.
An interior designer understands how a room or a house should work and how everything in it should function. You can't just throw anything into space and expect it to work because it will bring in too much visual noise. For this reason, whether you are planning to build a custom home or renovate the existing one, you will benefit from an expert's assistance.
Space planning requires the expertise of an individual who works with both design and architecture. Hiring an interior designer could be just the solution you need to cover these areas and ensure your house looks just the way you envisioned it.
You Have Difficulty Making Decisions
Making important design choices can be overwhelming, especially if you are unfamiliar with how certain things work. In such cases, hiring an interior designer who has the right experience and expertise can save you a lot of time, effort, and money.
For instance, you may not know what color would work best in the space or how to create a cohesive style throughout your home. A professional can handle all the details and ensure that your ideas are carried out effectively.
The Takeaway
If you are looking to get the most out of your interior design project, it is crucial to understand that it goes beyond choosing the right furniture, lighting fixtures, and accessories. You also need to determine whether you will need to get some professional help.
An experienced designer will be able to provide you with valuable insights on how to preserve your home's resale value while maximizing its functionality. If you are ready to take your next major step towards transforming your living space into a dream home, we encourage you to consider these six things before hiring an interior designer. After that, all that is left for you is to find the best professional for the job.
You may also like to read: