Last updated on June 28, 2022
Here's what you need to know when choosing a new garage door and figuring out whether tilt-up doors are the right choice.
When your garage door gets beyond repair, it is time to pick out a new one that will fit your garage and look nice. There are a lot of options and the homeowner wants to make sure that they are getting a garage door that will fit their budget and still looks good in the garage as well. With so many options to choose from, it is hard to know which type of garage door to choose.
One option that you can consider when it comes to your garage door is the retractable tilt-up garage. door. This door is going to require more space for it to operate, but can be a unique option for your home. Learn more about it to see whether this is the right one for your needs.
Table of Contents
The Tilt-Up Garage Door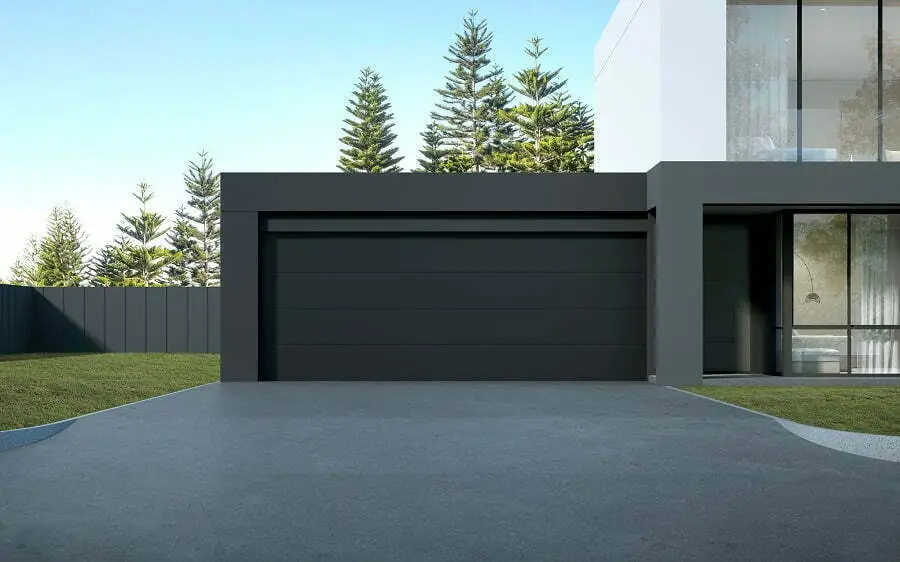 When you go with a retractable garage door, you are going to need to work with a single-panel door. It is going to be put on a horizontal track and unlike some of the canopy garage doors, it will not be able to extend beyond the piers in its horizontal position. To get this one to work, it will need an electric operator, so you will be able to hook it up to a door opener like other garage doors for more convenience. Even if it is a manual one, it is much easier to automate it later on compared to one of the canopy doors.
If you do choose this kind of door, you will need to reserve more space to make this one work. They will be on a horizontal track and will require the electric operator. This is going to reduce the height of the garage. Most of the models will also result in less drive-through width when you come into the garage. You will need to take a look at this to figure out whether it will fit into the space that you have or not.
The Benefits of Tilt-Up Garage Door
There are a number of benefits that come with the tilt-up garage door, making it a good choice to add to your garage. Some of the benefits of choosing this kind of door include:
This type of garage is going to be designed to be automatic. This can make it easier for you to get the door set up so that it can open and close from your car. 
These doors are going to be more comfortable to use compared to some of the others. 
When you compare to the canopy doors that are often popular as well, you will notice that this tilt-door is going to reduce the noise that you hear. 
If you have the space to add the door. It does take up a little more than some of the other garage doors, but the reduction in the noise and the lower expense is going to make it a good option for you to choose over other styles.
The Drawbacks of the Tilt-Up Garage Door
While there are some benefits to choosing the tilt-up door, it is important to take a closer look at some of the drawbacks that will come with this type of door. It is not going to work for every homeowner or every type of garage door, so you will need to look at all aspects of the door to determine if it is right for you. Some of the drawbacks that come with the tilt-up door include:
These doors do not come with insulation in them and there are no seals. This can make it harder to keep the garage comfortable and will be hard for you if you live in a colder climate.
The construction is going to be more complex. Because of this, you will find that there are more chances for it to fail on you.
You will need more space in the garage in order to get this door to work the way that you want.
Is the Tilt-Up or the Canopy Garage Door Better?
You may notice that the tilt-up doors and the canopy doors are very similar. For the most part, these are going to be a little bit bigger, which makes them work better when you have a larger garage to handle. According to Lift Tech Garages, they are also going to be more affordable and have a faster installation. Another big difference is that the canopy doors are going to run more on a vertical track and you will not have to worry about the track taking up as much space in the garage.
It is not as common to find either of these two doors in many homes any longer. They were around more about 50 to 60 years ago because they were easy to install and affordable. They do take up more space than some of the other garages that you install on them.
If you go with a canopy garage door, it is going to be in an open position and a third of it is going to protrude from the plane to the front of the building. When this door is open, it is able to cause a small canopy, which is where it is able to get its name.
It will also rely on steel cables and torsion springs and many will provide an anti-drop safety device to prevent accidents in case the cable breaks or something goes wrong with the spring. The technology maybe a little older, but this one is going to be a good option, better than the tilt-up garage door because they are quick to install and they are not going to restrict the width of the drive-through as much as the other.
You may also like to read: