Last updated on October 7, 2023
While many homeowners think of their garage as space for storing items ranging from off-season decorations to unused sports equipment, it can, in fact, be a much more versatile and functional area in their house. Even if your garage is relatively small, you can still make the most out of it – you only need to organize it right.
In this article, you will find several garage design ideas that will help you improve the functionality of your garage and make it more organized. Apart from installing door and window locks for better security and using the overhead space to keep things off the garage floor, you should also upgrade lighting, install vertical organizing systems, and build a workbench.
Continue reading to find more design solutions to make your garage a more practical space.
Table of Contents
Install Vertical Organizers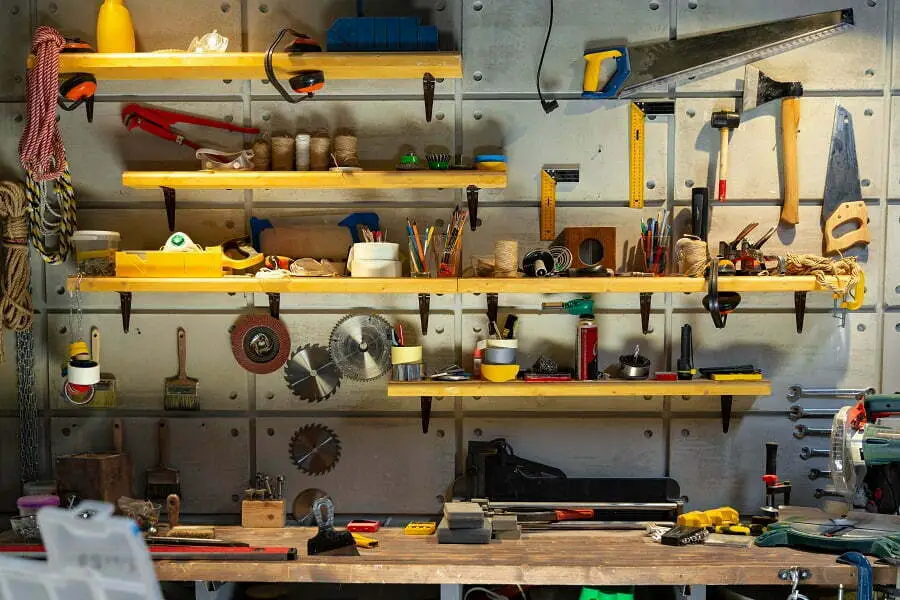 Vertical organizers are a great way of making the most out of the space in your garage. They help you keep things off the floor, which makes cleaning and maintenance easier.
By using vertical storage solutions, you get to organize your tools and other items in an orderly manner, which also makes it easier for you to find what you need when you need it. 
Keeping things in a vertical position also helps you save space. You can install vertical storage racks near the ceiling and along the walls, where they will be out of the way. This way, you can store things like paint cans, gardening tools, rakes, extension cords, and so on.
Install Door and Window Locks
Security is another important aspect of garage organization. Installing door and window locks will not only keep your belongings safe from thieves but will also help keep the dust and dirt out of your garage.
You can also install motion sensor lights to illuminate the space at night and make it harder for burglars to hide from sight. If you live in a neighborhood where crime is common, you should consider installing an alarm system to further deter burglars.
If you discover that your garage door has seen better days and could be a weak spot that could be used by third parties with bad intentions, get in touch with local garage door repairs services and fix this issue in a timely manner.
Upgrade Garage Lighting
When it comes to organizing your garage, lighting is one of the first things that come to mind. Installing adequate lighting not only helps you see things better in your garage but also reduces the risk of tripping over something in the dark.
For example, customizable Quonset garages allow a lot of natural light in during the day, so you can use lighting fixtures to brighten the space at night. You can also install LED lights and motion sensors to help you avoid switching on the lights unnecessarily.
Build a Workbench
A workbench is one of the most practical additions to any garage. It is a great way of organizing tools and other items that you use for different DIY projects. You can build a workbench out of wood or metal and use it as additional storage space for larger tools like saws, drills, and screwdrivers.
A workbench is also a great place to organize smaller tools like screwdrivers, wrenches, hammers, rulers, pliers, and so on. In fact, with a workbench, you get to keep your garage shelves free of clutter and keep work areas neat and tidy.
Use the Overhead Space
If you have a small garage or if you don't have enough floor space in the garage, you can make the most out of the overhead area by using it for hanging storage. Many people tend to overlook this area when they organize their garages but it can be very useful if you are short on storage space. You can hang your bikes from hooks or organize your sports equipment on overhead racks or racks situated above the garage doors.
Another great way of utilizing this space is by installing overhead cabinets. They are great for storing things like sports jerseys and running shoes. Even if you choose to install cabinets and racks over your garage doors, make sure that they do not obstruct the door's opening and closing mechanism.
Use Plastic Storage Bins for Organizing Small Items
If you don't have many items that need to be stored in your garage, you can use large plastic storage bins to keep them organized. They are perfect for storing everything from sporting equipment to gardening tools and cleaning supplies.
You can store things like rakes, shovels, brooms, gardening gloves, and small gardening tools in them. You can also use plastic storage bins to organize small items like screws, nails, nuts, bolts, and other hardware. You can place them on the shelves or inside your cabinets.
The Takeaway
If your garage is not well organized, you will spend a lot of time looking for things. This can be frustrating and interfere with the way you work. The garage is a unique space in your house, as it is not only used for storing things but also for working and relaxing.
If the space is disorganized, it can make it hard for you to relax, especially when you want to do some DIY projects. Organizing your garage properly might seem like a daunting task but it doesn't have to be – you just need to follow the tips above.
Most people tend to organize their garages in a haphazard way, by placing things on the floor or on shelves at random. However, you can keep items off the floor and make the most out of your garage's storage space by using vertical organizers, installing overhead cabinets and racks, and adding hooks.
At the same time, you can increase the functionality of your garage by adding a workbench, upgrading both the lighting and the locks, and installing shelving for additional storage space. With these tips and with the right planning, you can turn your garage into a functional and well-organized space. Good luck!
You may also like to read: