Last updated on November 5, 2023
Plaid living room furniture can inject a bold and sophisticated appeal into your space, because of its timeless versatility and design inspiration it provides.
"I am proud to present my personally designed 20 Plaid Living Room Furniture Ideas, hoping these inspire you as much as they inspired me during creation."
Plaid living room furniture can add a warm and cozy touch to your home, creating a comfortable and inviting space.
From sofas and armchairs to curtains and rugs, there are numerous ways to incorporate this timeless pattern into your décor.
Whether you prefer traditional tartan or modern buffalo check, this article will provide you with a variety of innovative and stylish ideas to transform your living room with plaid furniture.
Stay tuned for all the details that will help you make the most of this versatile design element.
Table of Contents
Plaid Upholstered Sofa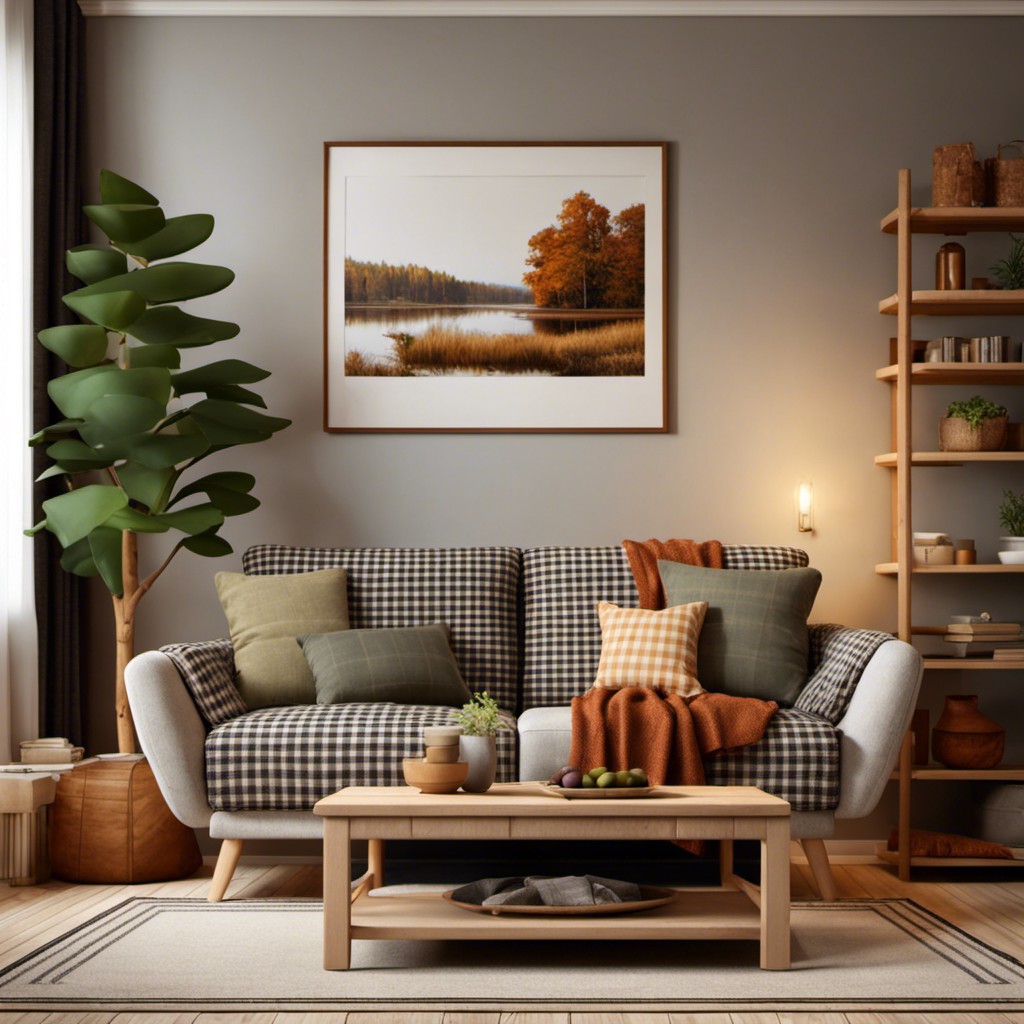 Incorporating a plaid upholstered sofa into your living room can serve as a vibrant focal point.
Traditional patterns like tartan and buffalo check lend a warm and inviting feel.
Meanwhile, modern grid-like designs give a sleek, contemporary vibe.
Careful coordination with room color themes can make the sofa integrate seamlessly.
Avoid clashing patterns or colors within the vicinity of the sofa.
Decorative elements like plain throw pillows or simple blankets will complement the plaid pattern without causing visual clutter.
Regular fabric maintenance enhances the sofa's longevity, ensuring it remains an eye-catching feature for years.
Plaid Accent Chairs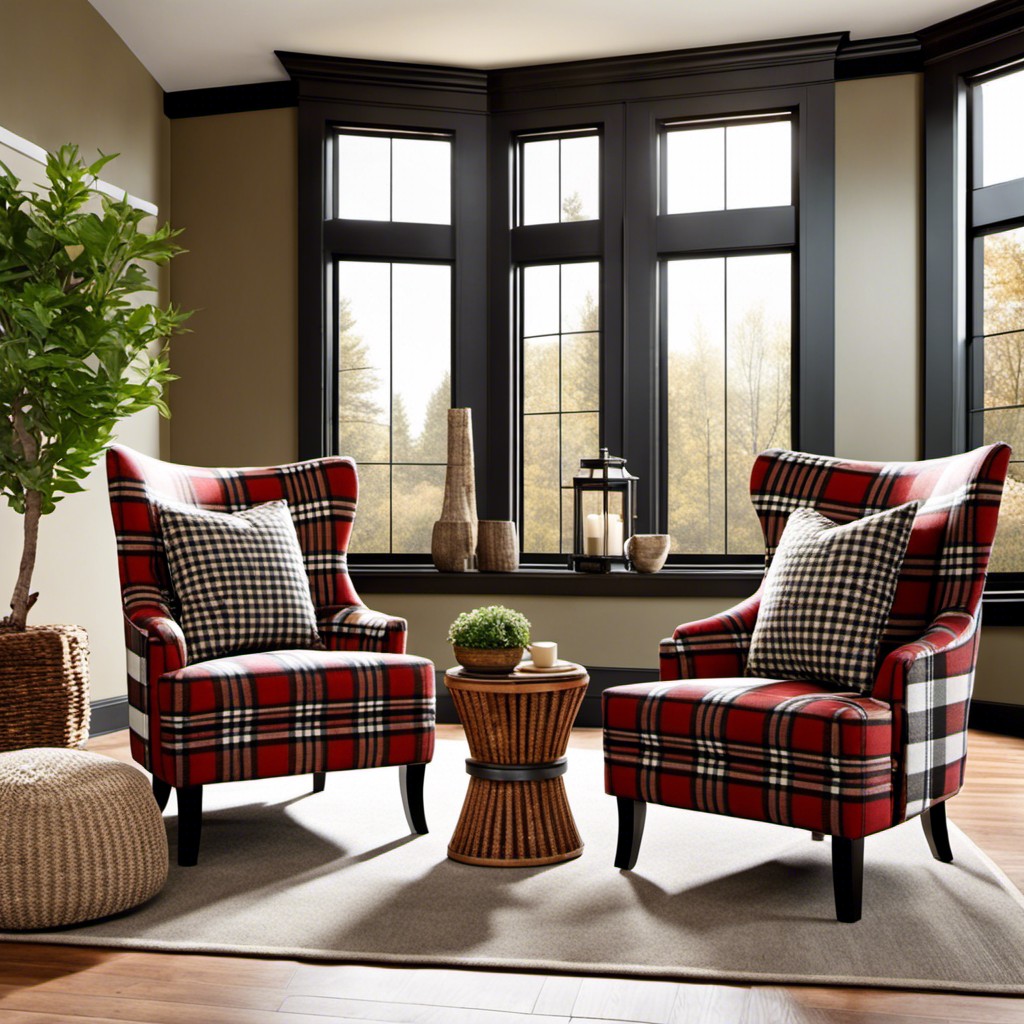 Accent chairs in plaid can create a striking visual effect in your living room. They allow you to incorporate diverse colors and patterns without overwhelming the space. Whether choosing a larger armchair or a charming side chair, there are three key considerations: material, color, and pattern scale.
1. Material: Wool and cotton are timeless options that offer durability and a classic aesthetic.
2. Color: Select a plaid pattern with dominant colors that blend with your room's color scheme. To make a bold statement, opt for bright, vivid hues.
3. Pattern Scale: Larger plaid patterns offer a modern, bold look, while smaller patterns provide a subtle, traditional touch.
Remember, less is often more. A single plaid accent chair can make a stunning impact, bringing texture, color, and an element of surprise into your living room design.
Plaid Throw Pillows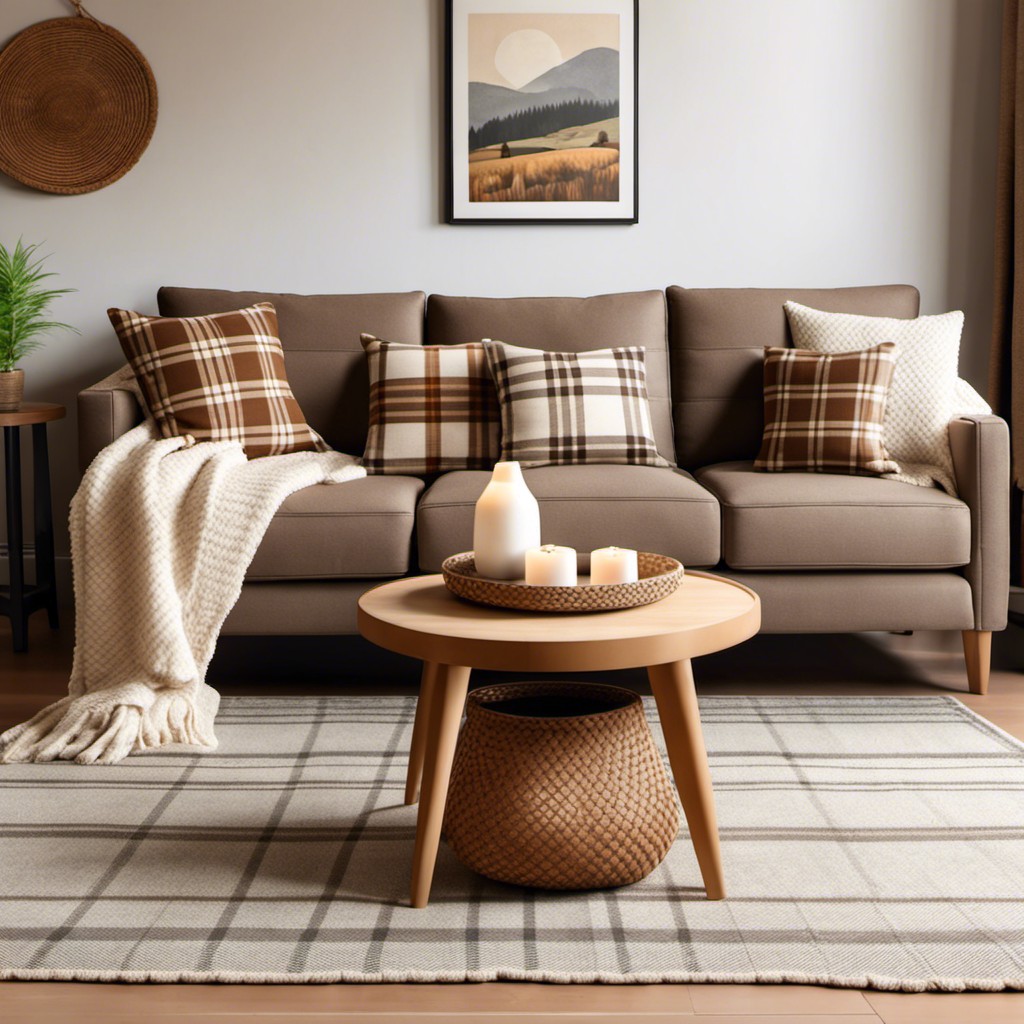 A plush plaid throw pillow can introduce a new element of design while providing comfort. This versatile decorating tool comes in a variety of styles, colors, and patterns to suit different tastes. It can easily become one of the focal points of your living room.
Versatility: Throw pillows can spice up a monochrome sofa or complement an already vibrant one. You can also interchange them with the changing season or whenever you want a fresh new look.
Sizes and Shapes: From standard square to cylindrical bolster pillows, the options are wide and varied. You have a myriad of choices depending on your preference and the style you want to achieve.
Material: Materials range from cotton and linen to velvet and faux fur. The right material enhances the plush factor, adds texture, and contributes to the overall aesthetic.
Mix and Match: The beauty of plaid is that it goes well with other prints. Combine plaid with floral or geometric designs to add depth and dynamic to your couch setting. Stick to close color schemes for a cohesive look.
Placement: Place at strategic points, for instance at the corners of your sofa, to create a visually stimulating balance.
Remember, a mix of well-crafted throw pillows can significantly enhance your living room's appeal.
Plaid Ottoman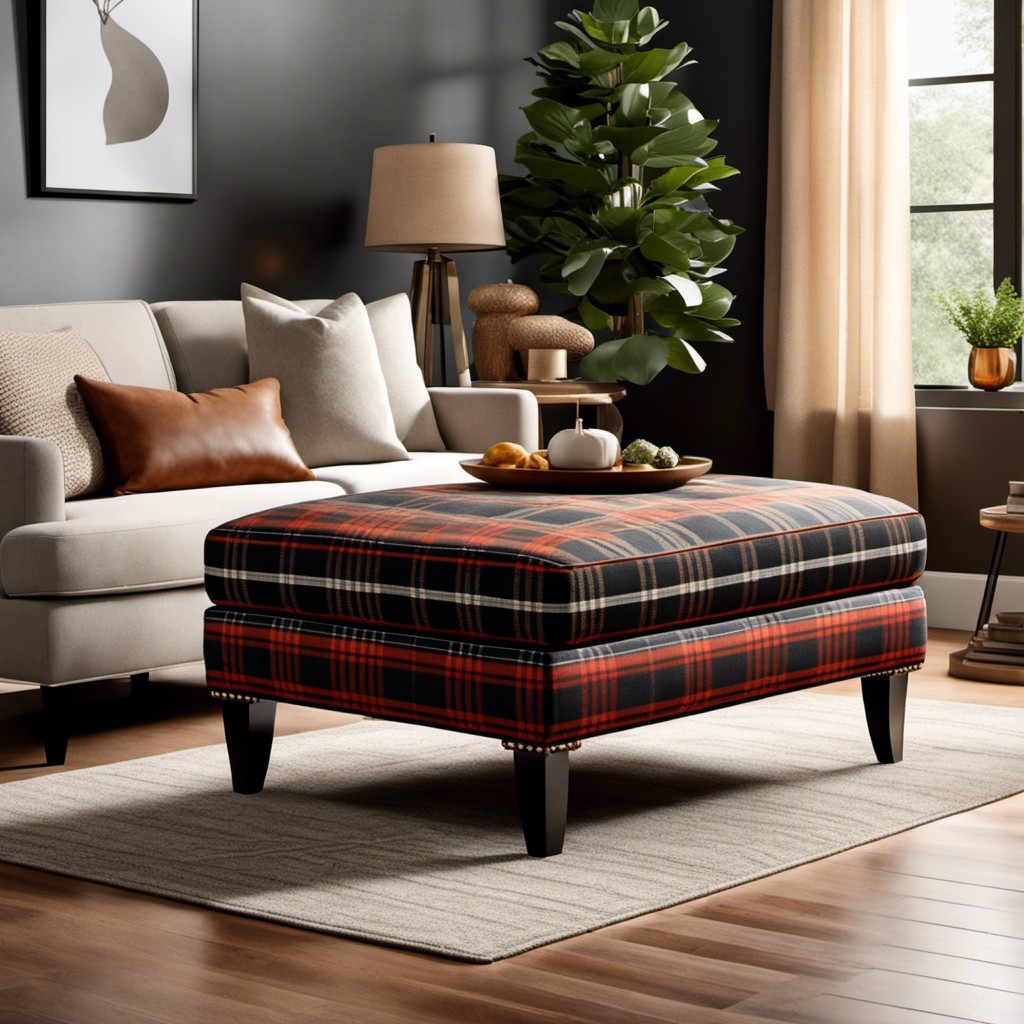 Offering both functionality and style, this accent piece provides an excellent way to incorporate plaid into your living room.
Ottomans in bold plaid patterns can be a focal point, drawing the eye and adding visual interest.
Pair a tartan print with dark leather or neutral fabric furniture to create balance and avoid overwhelming the room.
For a softer approach, consider a pale, pastel plaid that can complement existing furniture without being too dominating.
Keep in mind, ottomans also provide extra seating, can function as a coffee table when topped with a tray, or provide hidden storage– all while enhancing your room's decor with their charming checks.
Regardless, remember the size of your ottoman should correspond with the size of your other furniture to maintain proportionality.
With their variety in pattern, color, and size, plaid ottomans indeed bring a versatile touch to your living area.
Plaid Couch Covers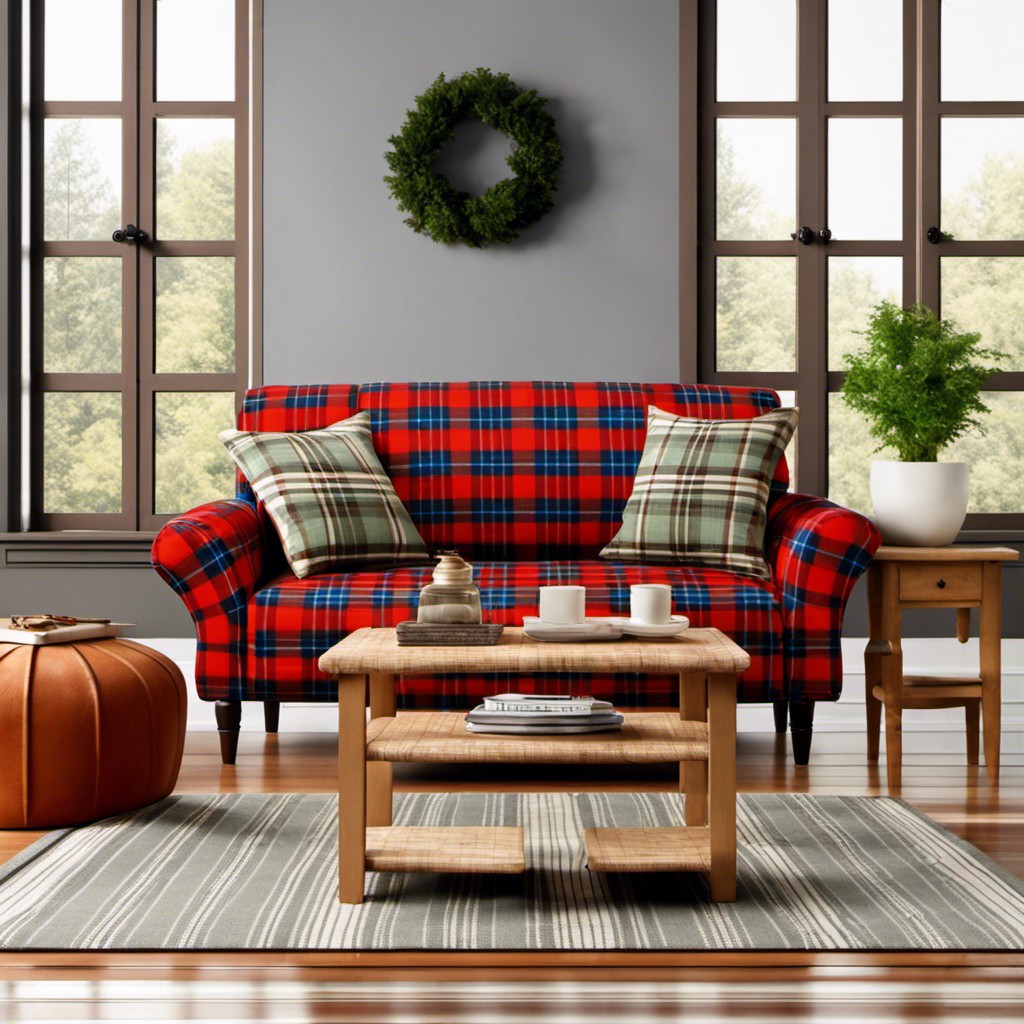 Elevating your living room's aesthetic appeal, couch covers in plaid patterns make for a chic yet practical choice. Not only do they bestow a sense of style, but they also guard your essential furniture pieces against daily wear and tear.
Here are the core concepts:
1. Material: Choose a fabric that's durable and fits your needs, such as cotton for comfort or a blend for resistance to stains.
2. Size: Measure your couch to ensure the cover will fit perfectly. Overly tight or loose covers will mar the overall look.
3. Pattern: Depending on the room's existing decor, choose either a bold, vibrant plaid or a more delicate, subtle version.
4. Tone: Align the color tone of your covers with your existing decor. Deep reds and forest greens are traditional plaid shades, but neutrals or pastel plaids can deliver a modern twist.
5. Maintenance: Opt for machine washable covers to make cleaning easier.
Remember, a plaid couch cover can transform your old couch into a stylish statement piece while offering excellent protection from spills, stains, and pet hair.
Plaid Loveseat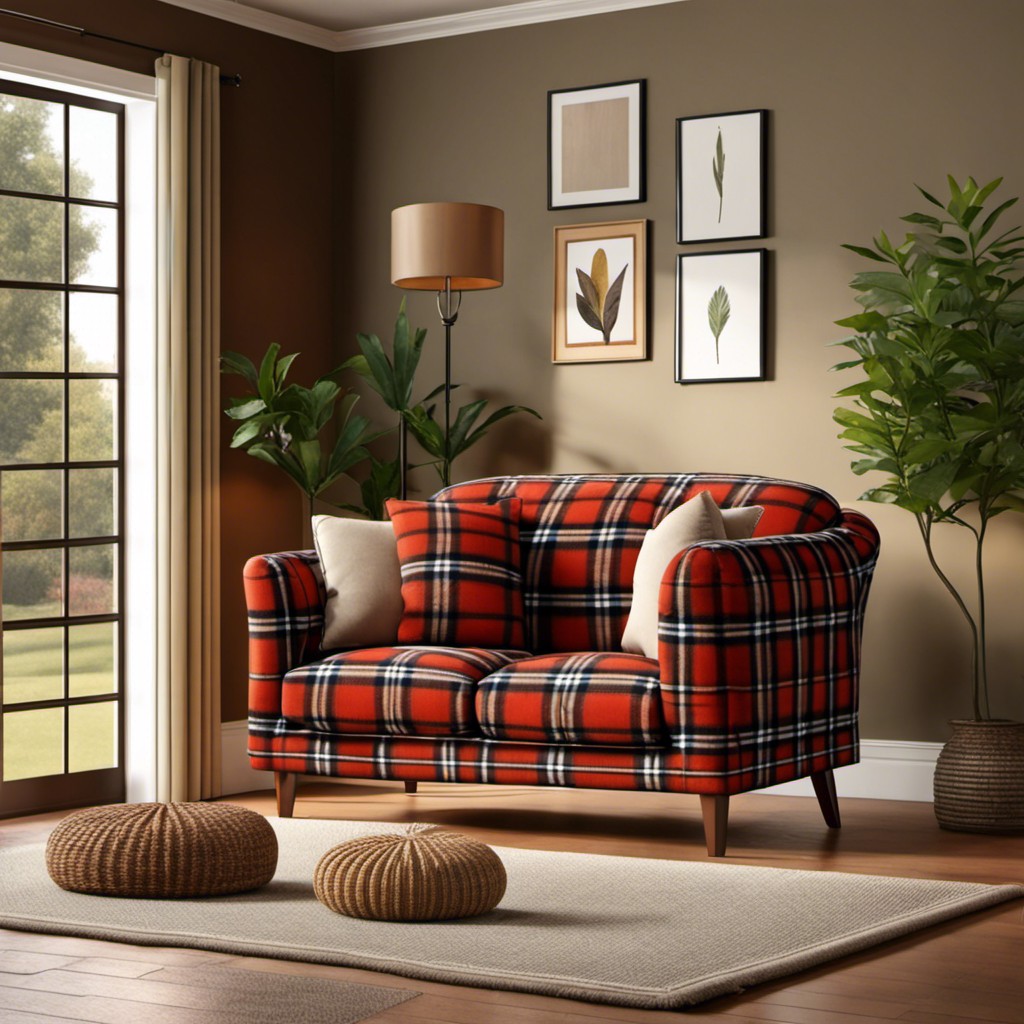 Incorporating a loveseat into your living room is always a good idea, especially when it flaunts a charming plaid pattern. With their compact size, loveseats are versatile and fit comfortably in smaller spaces or tucked into a corner. Here are some points worthy of consideration.
1. Array of Styles: Choose from classic, traditional, contemporary, or transitional styles to suit your taste. Button tufted details or nail head trims can further enhance visual interest.
2. Material Choice: Fabric such as 100% cotton or a blend of polyester and rayon offers durability and easy care. For a luxurious feel, opt for upholstery options like leather or velvet, adorned with plaid patterns.
3. Color Selection: Picking the right color is crucial and depends on the room's overall color scheme. Reds, greens, and blues in plaid create a warm, cozy atmosphere, while grays, whites, and blacks invoke a modern, chic ambience.
4. Complement with Accessories: Marry your plaid loveseat with solid colored throw pillows or blankets for a balanced visual appeal. A plaid loveseat against a neutral-colored rug can monolithically tie the look together.
5. Furniture Placement: Place your loveseat strategically to create an inviting seating arrangement. It can be paired with a matching sofa, situated across a coffee table, or placed adjacent to the fireplace for a cozy nook.
When infused thoughtfully into your living space, a plaid loveseat is surely to provide both function and style to your living room.
Plaid Window Curtains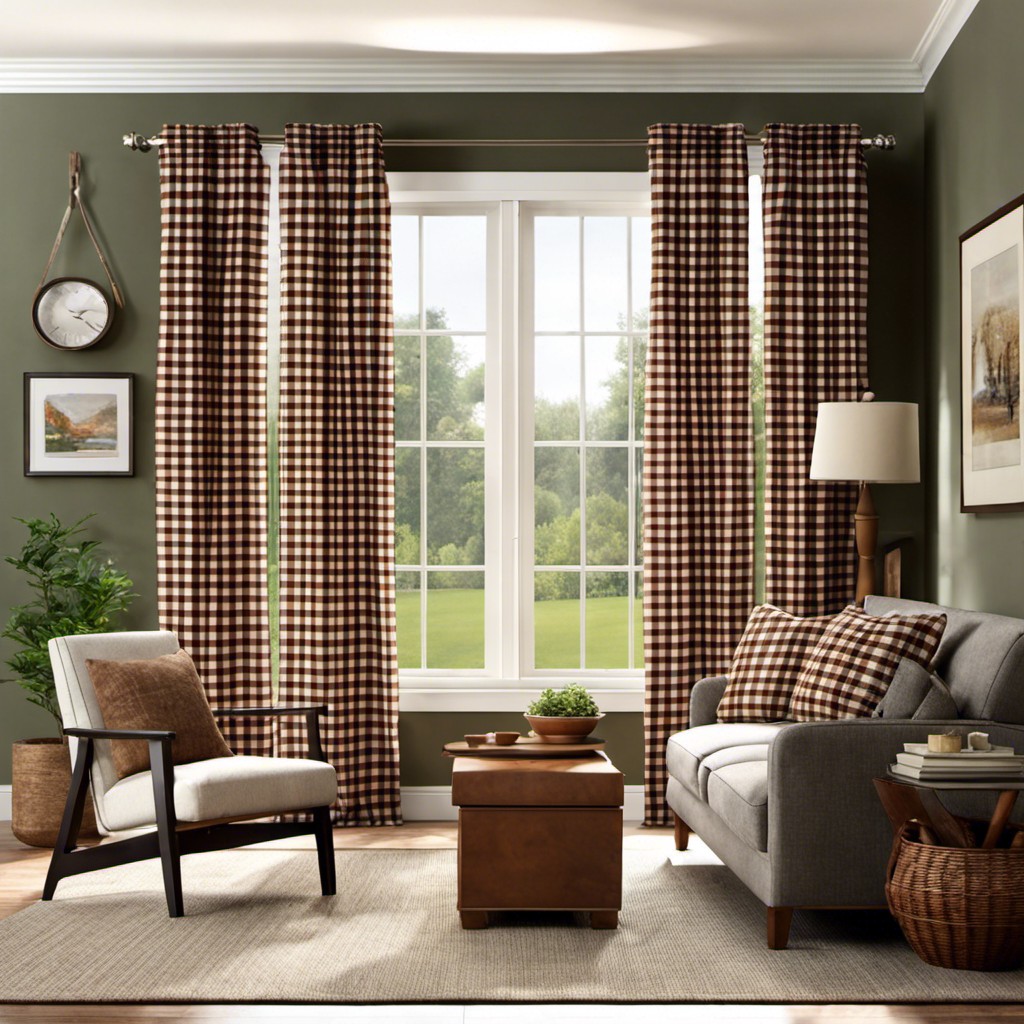 Plaid window curtains can significantly enhance the aesthetics of your living room. They offer a classic, cozy charm while providing a dramatic pop of pattern.
For lighter rooms, softer tartan patterns in pale colors can add a subtle texture. On the other hand, darker plaids are excellent for creating a bold statement and can also provide greater shadow control.
Make sure they match or complement the overall color scheme of the room to maintain harmony. Furthermore, consider their material; heavier fabric can provide insulation while lighter fabric can lend an airy feeling to the room.
You can use tiebacks for added elegance or to let in more light during the day.
Plaid Rug or Carpet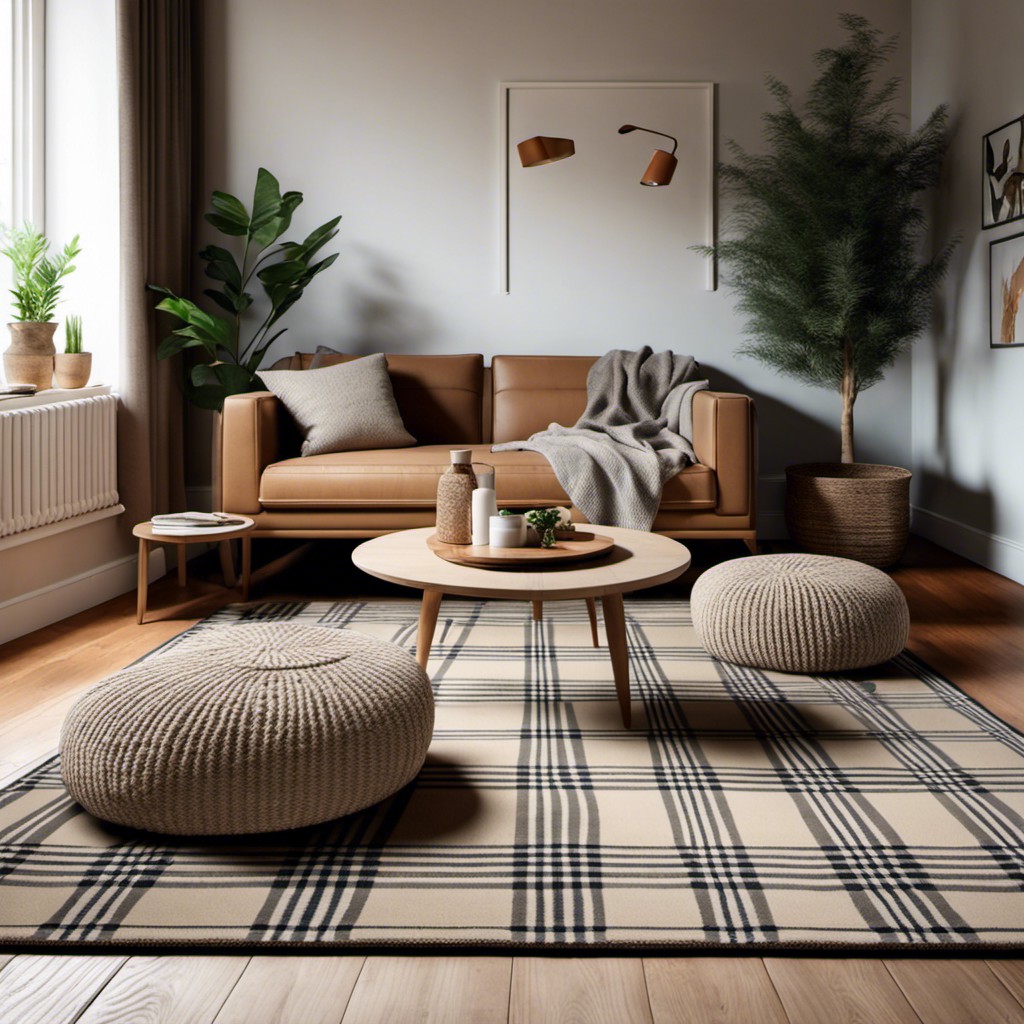 The selection of a rug or carpet plays a critical role in tying together the decor of a room. Opting for a plaid pattern can inject a classic yet playful vibe into your space. Take into account the color scheme of your room before making a choice. High-contrast variations like black and white can serve as a dynamic focal point, whereas softer palettes can blend harmoniously with your existing decor.
For a unique twist, consider placing your plaid rug diagonally to disrupt bland uniformity. Alternatively, use it to highlight a particular piece of furniture, such as a coffee table or a fireplace. Remember, rugs aren't limited to the floor! Drape a smaller plaid rug over side chair for extra texture and color.
Keep in mind that large patterned plaid rugs can make a striking statement but may feel overwhelming in small spaces. In contrast, small-scale plaid carpets can add a subtle warmth and coziness without overpowering the room. The dimensions of the rug should also correspond with the size of your room and furniture to maintain visual balance.
In terms of material, wool or cotton plaid rugs are durable and easy to clean. However, for a luxurious touch, you might consider silk or chenille.
Ultimately, a plaid rug or carpet can both enhance your living room's aesthetic and make your space more comfortable.
Plaid Cushions for a Window Seat
Adding cushions in a playful plaid pattern can dramatically transform your window seat into a vibrant and cozy nook.
Base your choice on the room's color scheme – a bold red tartan plaid can bring warmth, while monochrome plaid adds a nuanced elegance.
Opt for durable, spill-resistant cotton fabrics for practicality, and different-sized cushions for visual appeal.
Remember, patterns don't have to match exactly; contrasting plaids can create an eclectic vibe.
Also, consider reversible cushions, where one side is plaid and the other is a solid color – allowing flexibility in your decor.
Finally, pair your plaid cushions with a plush, solid-colored throw to maintain balance and avoid overstimulation.
Plaid Storage Benches
Utilizing a storage bench with plaid upholstery brings a functional element into any living room, combining purpose with pattern.
Available in various design blends, a storage bench allows for extra seating while providing neat storage for miscellaneous items, enhancing room organization.
Blend a plaid storage bench with neutral-tone accessories to balance the dynamic pattern.
For an inviting, cozy scene, opt for warmer plaid shades.
If you're aiming for a modern twist, a monochrome plaid pattern on the bench offers a perfect choice.
Maintenance of the bench fabric extends its life; consider removable and washable covers, especially if the living room is often used for casual family gatherings.
Make sure the chosen bench complements other plaid elements in the room for a harmonious ambiance.
Plaid Armchair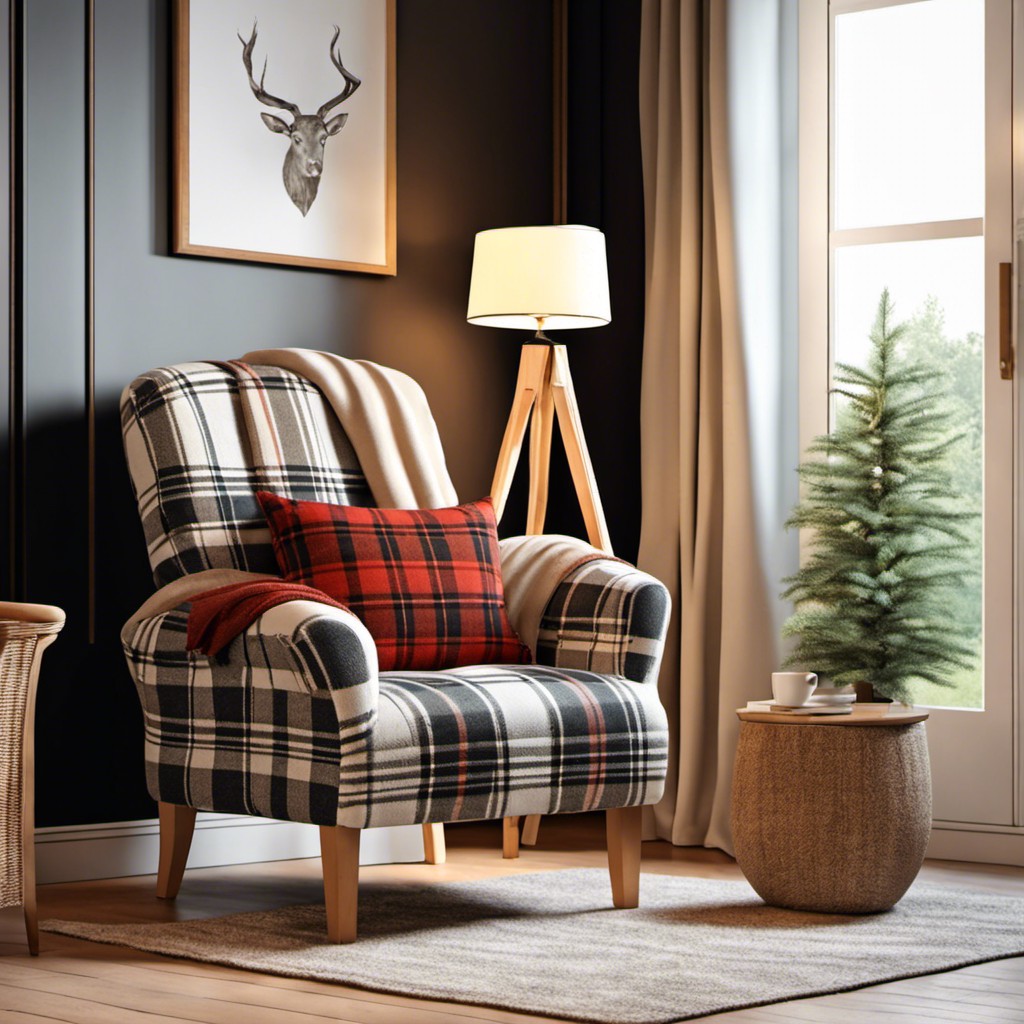 A well-selected, comfortable armchair can become the star attraction of your living room. Consider a sophisticated plaid pattern to heighten your living room's visual appeal.
Plaid, with its time-honoured charm, bolsters a sense of coziness while adding a splash of character. Choose the colour spectrum to match your room's palette, from subtle neutrals to bold contrasting hues.
Remember, an armchair is not only about aesthetics, but also about comfort. Therefore, opt for sturdy frames and high-quality upholstery fabric. Extra features like a swivel base or reclining mechanism can enhance functionality.
Pair your plaid armchair with a minimalist side table or a chic floor lamp to create a cozy, inviting corner. Remember, customization is key; ensure your chosen piece harmonizes with the overall look of your living room.
Plaid Poufs or Footstools
With their versatility and compact size, these stylish pieces can provide a decorative touch while serving an array of practical uses. Opt for plaid patterns in softer hues for a subtle approach, or choose bold and colorful versions to make a statement. They can act as additional seating in a pinch, double as a side table, or provide a comfy rest for your feet.
Different shapes, from round to square or even rectangular, can complement your existing décor. A knitted plaid pouf can add a cozy texture, offering an extra layer of comfort and warmth. On the other hand, a leather plaid design introduces an element of sophistication, suitable for both modern and rustic interiors.
For a coordinated look, you might match your pouf or footstool with other plaid elements in the room, such as curtains, cushions, or rugs. However, if you prefer a more eclectic feel, mix and match with solid-colored furnishings, focusing on the color palette to tie everything together. No matter the choice, the low-profile nature of poufs and footstools allows them to seamlessly blend in without overwhelming the space. They can easily be moved around to change the room's layout or stored away when not in use, proving their functionality and practicality without compromising style.
Plaid Throw Blankets
Throw blankets add an extra layer of warmth and comfort to your living room space. When choosing a plaid pattern, vibrant hues can bring a cheerful pop of color, while muted tones create a more relaxed atmosphere.
For a cohesive look, pick a blanket with colors that compliment your existing decor. Always consider the texture – whether you opt for a soft, plush fabric or a more rustic, woven style, the texture should be inviting and suit your personal comfort preferences.
Remember functionality and versatility too – a throw blanket isn't just for snuggling up in front of the TV; on cooler days, it can be effortlessly draped over the sofa for an instant interior update, and when not in use, it can be stored in a decorative basket to maintain a neat and tidy living room.
Plaid Lamp Shades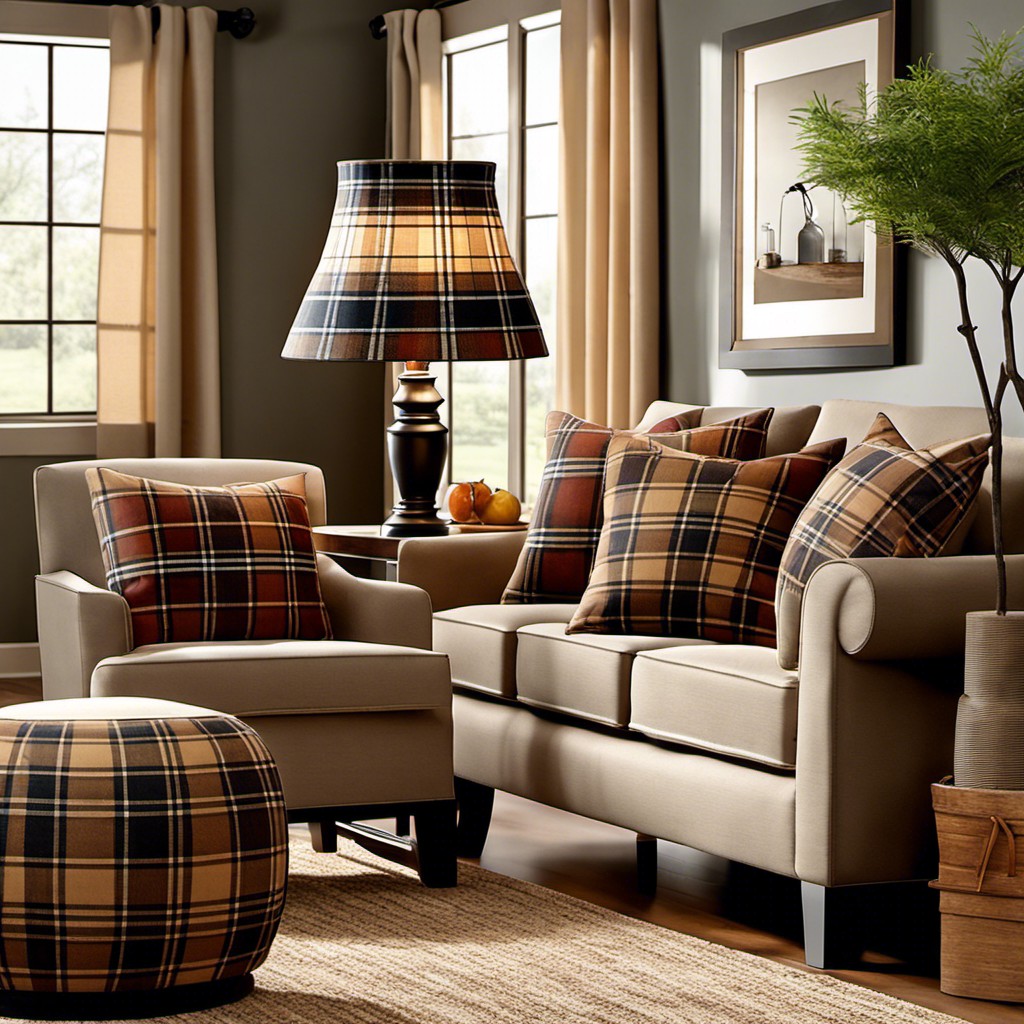 A well-chosen lampshade can set the tone for the entire room. There's something delightfully cozy and rustic about a plaid lampshade that warms up a space instantly. Whether it's a classic red and black lumberjack print or a softer pastel plaid, these patterns elevate even the simplest table or floor lamp.
1. Material selection: Choose pure cotton or linen for a warmer light, or silk for a more sophisticated look.
2. Colours: Match the shade's colours with your room's colour scheme. Aim for contrast or harmony, as you prefer.
3. Size: Ensure your shade is proportionate to the lamp base. Rule of thumb: the shade's width should be approximately twice the base's width.
4. Pattern match: If you have other plaid elements in the room, steering towards a similar colour palette can create a unified look.
5. Light levels: Lighter colour schemes will allow more light to shine through, while darker plaids may create a more intimate, subdued lighting effect.
Remember, the choice of a lampshade can be as expressive as any piece of art. So enjoy the creative process and let your lampshade make a statement!
Plaid Recliner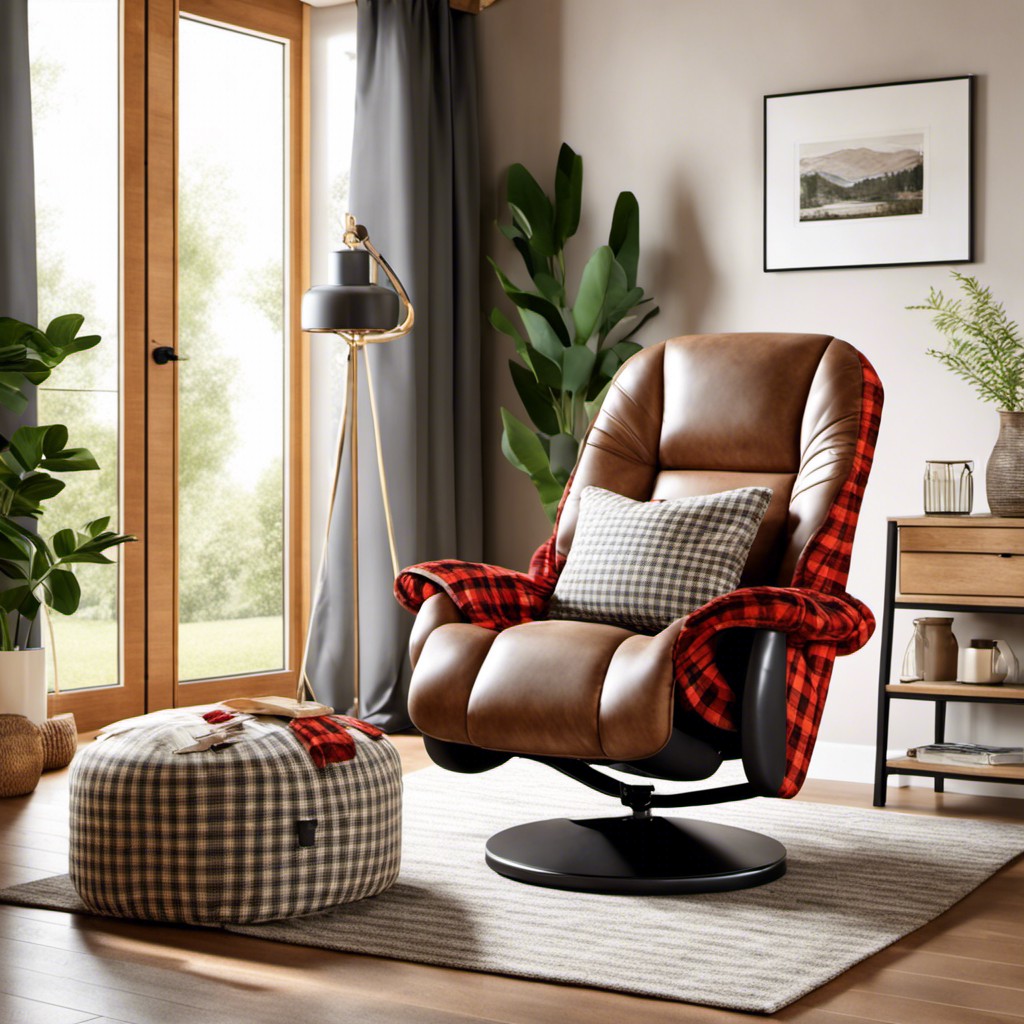 A unique twist to a traditional element, the beauty of the plaid recliner lies in its unexpected yet insightful addition to any living room space.
1. Functionality: While it provides the same comfort as any typical recliner, represents an edge with its bold plaid pattern.
2. Variety: Whether it is a gingham, tartan, or houndstooth pattern, there are countless plaid variations to choose from.
3. Versatility: Plaid recliners can complement various color schemes and decor styles, from rustic to contemporary.
4. Statement Piece: Stands out as a design focal point, invoking interest and conversation.
5. Coziness: Not only does a plaid recliner add a visual element, but it also brings a sense of warmth, enhancing the room's coziness factor.
Remember, while it may seem challenging to incorporate such a high-impact piece, a plaid recliner can enhance the overall ambiance when placed and paired thoughtfully. Choose patterns and colors that harmonize with the rest of your living room to create a balanced, inviting quarters.
Plaid Bean Bag Chairs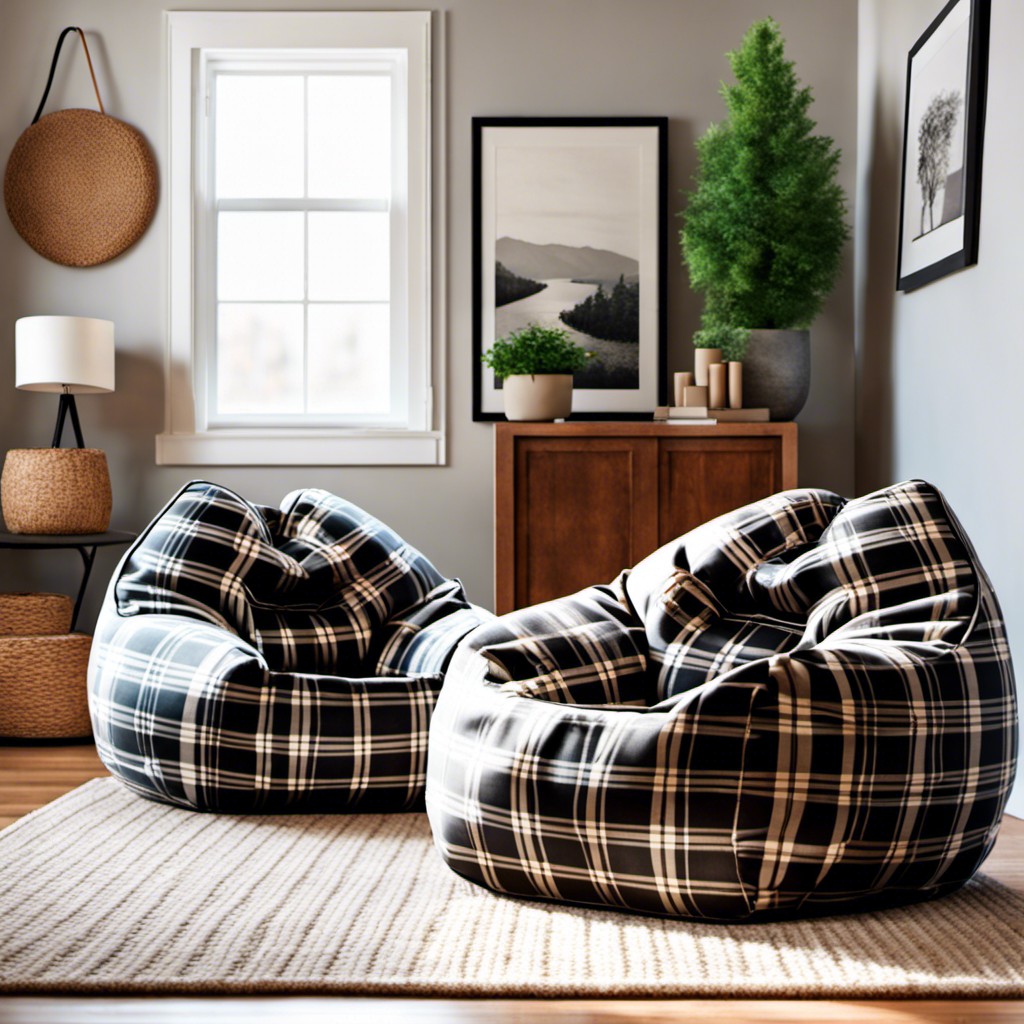 Bean bag chairs offer a great way to introduce plaid into your living room. They're not only comfortable and versatile, but also come in a variety of sizes, perfect for both children and adults. Choosing a bean bag chair in a plaid pattern can add an unexpected dose of coziness and color to your room.
1. Versatility: Move the bean bag easily from room to room, adjusting to the need of the moment.
2. Coziness: The soft fabric offers an inviting seating spot, perfect for reading or relaxing.
3. Colors: Plaid patterns come in many color combinations, helping to tie the room's palette together.
4. Sizes: Choose from small for children, to large for adults, there's a perfect fit for everyone.
5. Maintenance: Many come with removable and machine washable covers, making upkeep a breeze.
Plaid Dining Chair Covers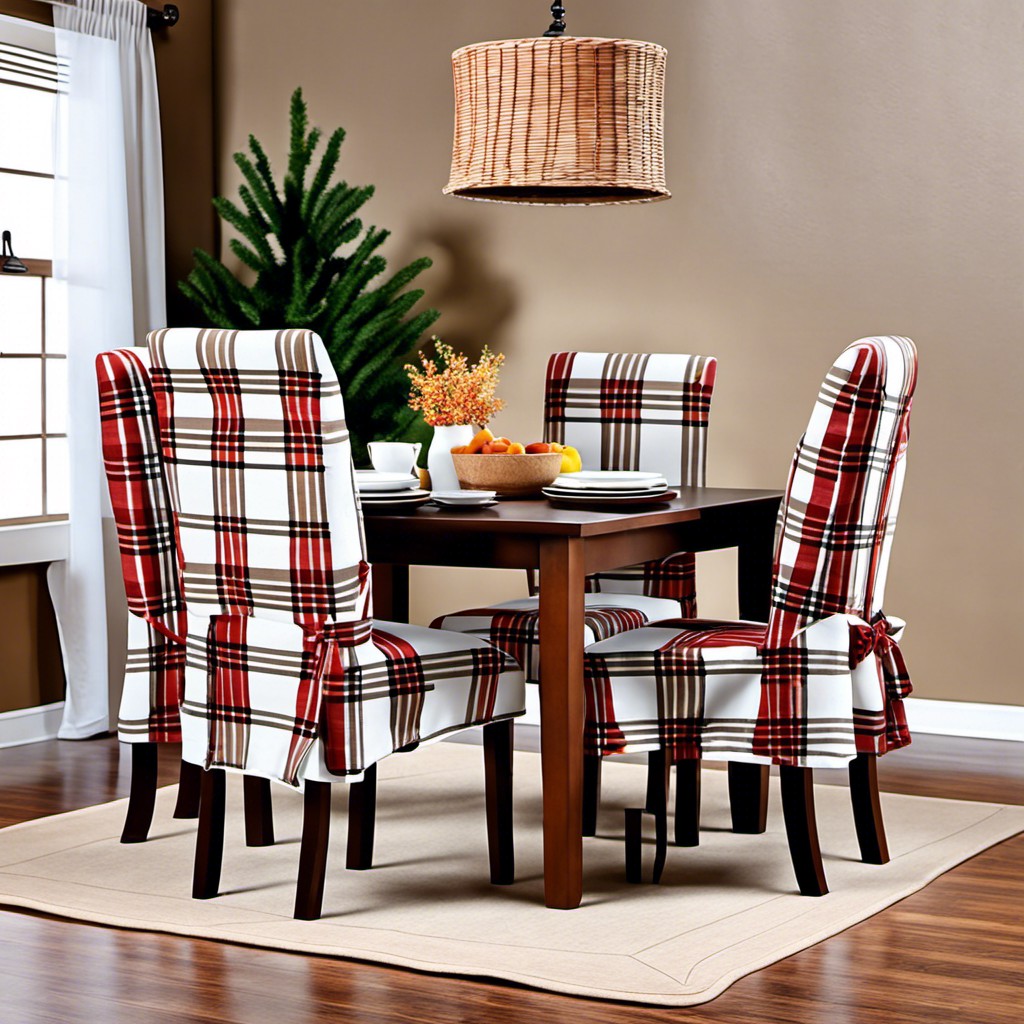 With their stylish touch, the covers protect your chair upholstery from daily wear and tear. A variety of patterns from Buffalo check to Tartan allow customization to your decorating style, making it easy to change your decor with the seasons or on a whim.
The removable nature of the covers also makes cleanup a breeze after family meals or festive gatherings. For an added layer of comfort, choose padded covers which also provide a fresh, coordinated look. While tan, black, and white are traditional colors, don't be afraid to experiment with vibrant shades for a bold contrast in your dining area.
Increase your home's aesthetic appeal by complementing the covers with matching table runners or placemats.
Plaid Wall Art or Tapestry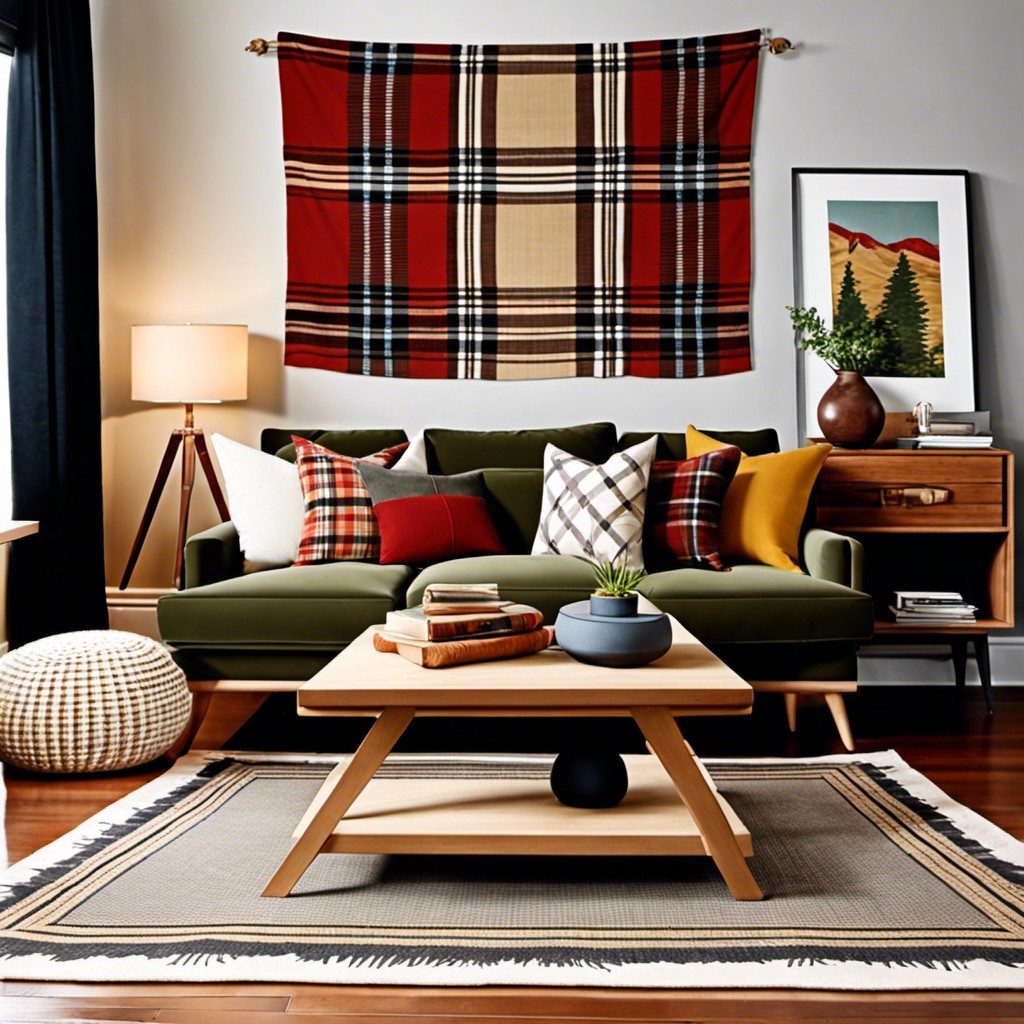 Plaid wall art or tapestry can be an impactful staple in a living room. This design choice offers a multitude of ways to customize the space.
Consider these key points:
Balance: Find a plaid pattern that complements the rest of your living room's decor. Too many clashing patterns may create a chaotic atmosphere.
Sizes: Larger plaids can attract more attention and become a central point of interest. Smaller plaids may contribute to a subtler, nuanced ambiance.
Colors: Align the colors of your wall art with your overall living room color scheme. Tonal or monochromatic plaids can be a stylish choice for a more subdued look, while bright multi-color plaids offer a vibrant, lively aesthetic.
Placement: Position the wall art at eye level to draw immediate attention. For tapestries, you might choose to cover an entire wall, creating a stunning backdrop.
Mix with Solids: A smart design strategy is to mix plaid items with solid colors elsewhere in the room. This provides balance and prevents the space from appearing overly busy.
With careful selection and tasteful placement, plaid wall art or tapestry can serve as a unique element that gives personality to your living room.
Plaid Tablecloth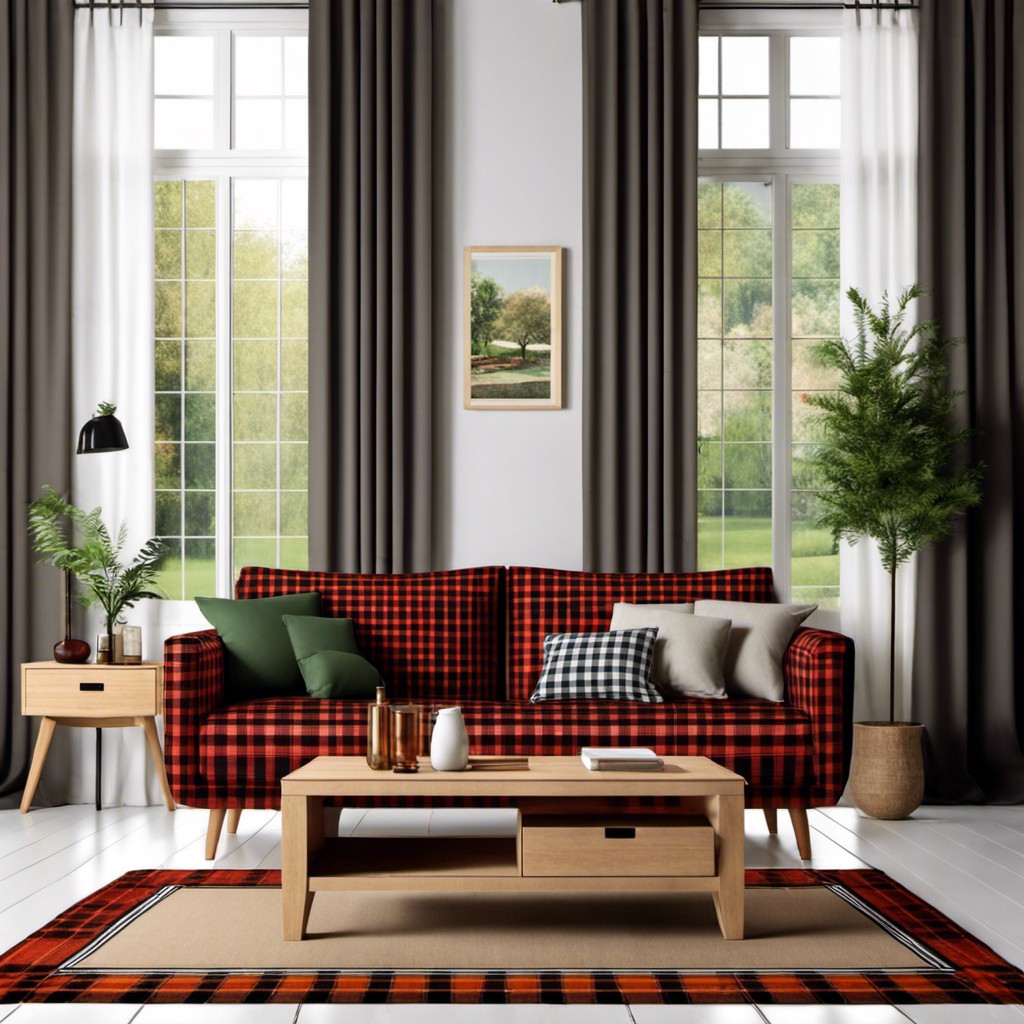 Introducing a plaid tablecloth to your living room can be a game-changer. Great for a coffee table or even as a feature on a side table, a tablecloth brings a unified look that's both sophisticated and homey. Opt for a design that suits your color scheme – soft neutral tones for a subtle look, or bold, contrasting colors for a standout centerpiece.
Remember, it doesn't have to match everything, but it should blend well with your overall décor. Whether during a dinner party or everyday use, it can be an impressive practical addition, serving as a protective layer against scuffs, stains, and scratches.
Also, keep maintenance in mind. Cotton and linen are machine-washable, while wool and silk may require special care. Seasonal changes can also be a wonderful opportunity to update your tablecloth with new, cheerful plaid patterns. Be creative and fearless in your choices!
Plaid Slipcovers for Your Furniture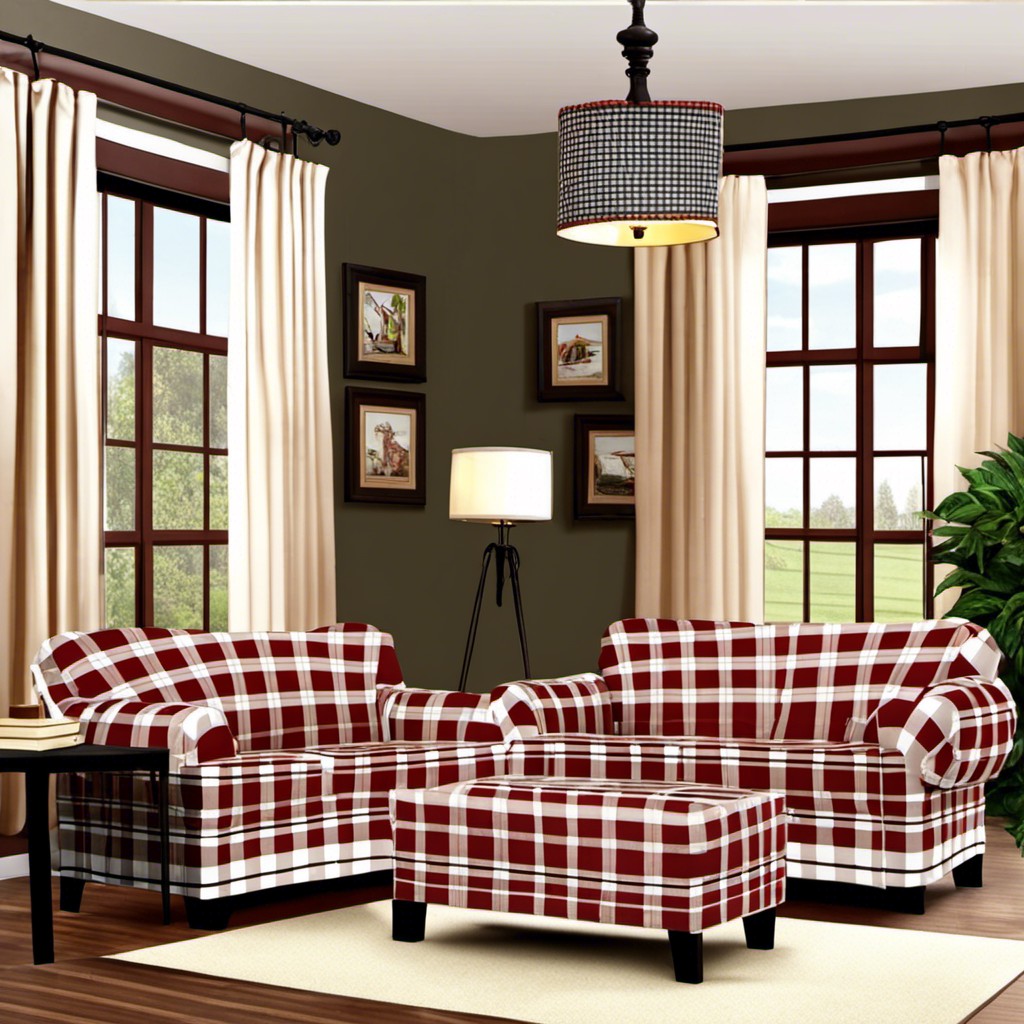 Slipcovers provide an easy and affordable way to update your living room's look. Opting for plaid designs can infuse a pop of color into the space and add a cozy, inviting feel.
Here are some points to consider:
Versatility: Changing the ambiance of the room can be as simple as swapping the slipcover.
Protection: They safeguard your furniture from spills, stains, and wear.
Easy to Clean: Most are machine washable which makes maintenance a breeze.
Budget-Friendly: Instead of buying new furniture, a new slipcover can give your existing pieces a fresh look.
Variety: Plaid slipcovers come in a range of color combinations and patterns, which allows you to pick the perfect one for your aesthetic.
While selecting, consider the color scheme of your room, as the plaid pattern should complement rather than overshadow it. Also, ensure the quality of the fabric is durable and comfortable to touch. Lighter materials are ideal for a casual feel, while thicker ones provide a more formal look.
You may also like to read: