Last updated on December 3, 2023
Dive into a world of plaid sofa ideas because it effortlessly combines charm, comfort, and timeless style, transforming any living space into a cozy haven.
Plaid sofas, with their timeless charm and versatile patterns, can be the perfect statement piece to elevate any living space. Whether you're aiming for a cozy, rustic vibe or a sleek, modern look, a plaid sofa can seamlessly blend in while adding a dash of personality.
This article delves into a multitude of plaid sofa ideas, exploring different styles, color schemes, and room layouts that can harmoniously integrate a plaid sofa into your home decor. With a keen focus on details, this piece will guide you in selecting the perfect plaid sofa that aligns with your aesthetic preferences and complements your existing decor.
Table of Contents
Tartan Plaid Sofa With Wooden Legs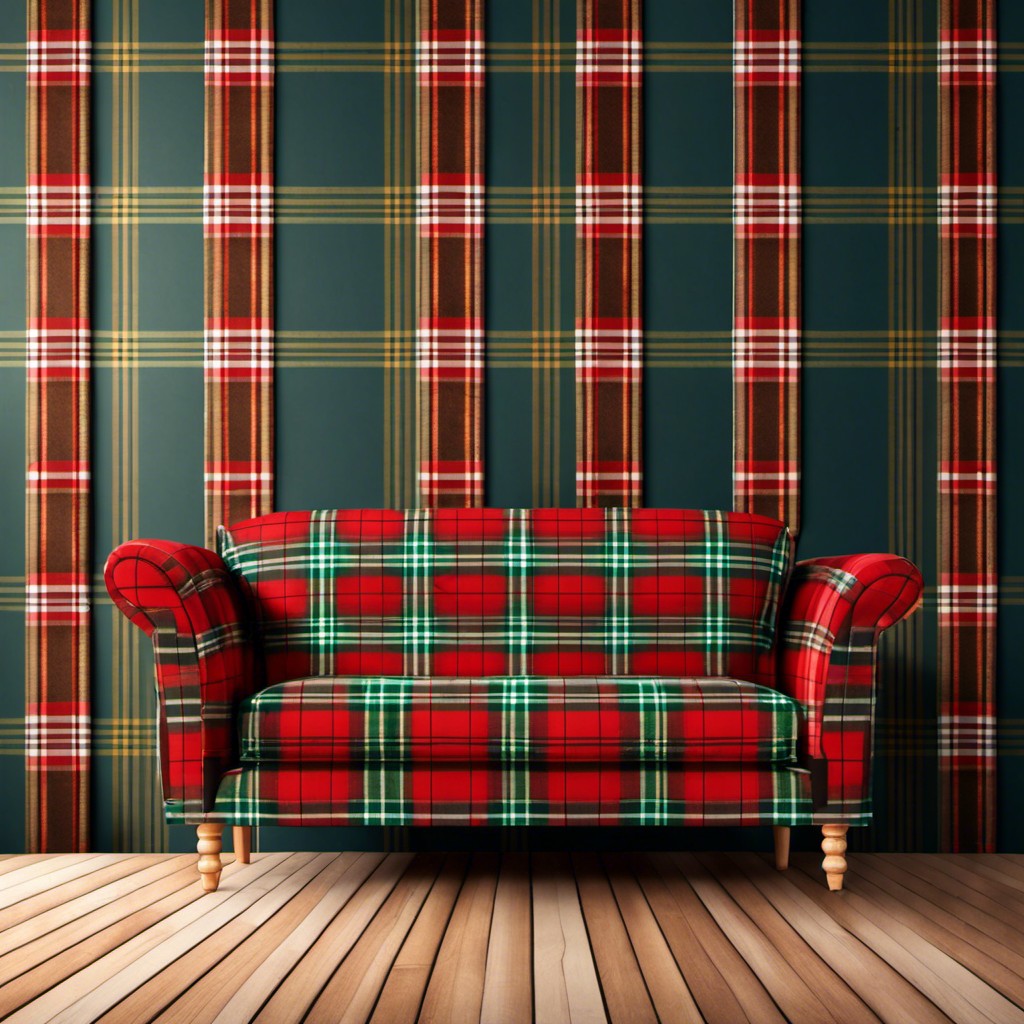 A Tartan plaid sofa is a timeless piece that can add an unexpected pop of pattern and color while maintaining sophistication. Wooden legs complement its classic charm.
Here are some keys to achieving this style:
Choosing the Right Timber: The color and texture of the wood can set the mood. Pair dark mahogany for a rich, traditional feel or light oak for a fresher, modern ambiance.
Matching the Plaid: Tartan comes in various patterns and colors. Ensure the color tones align well with the room's overall color scheme.
Positioning: Position the sofa where it stands out, but does not overwhelm the space.
Accessorizing: Complement the sofa with solid-color cushions, rugs or lamps to balance the busy print.
Care and Maintenance: Regular dusting and occasional polishing will maintain the wooden legs' luster, while a professional cleaning service can ensure the tartan fabric remains vibrant and stain-free.
With these aspects in mind, infusing your space with the warmth of a tartan plaid sofa with wooden legs becomes a simpler task.
Black and White Buffalo Plaid Sofa
Showcasing a versatility that few patterns can match, black and white buffalo sofa complements most decor styles with ease. Capable of fitting into rustic, farmhouse, modern, and even traditional themes, this sofa design offers adaptability like no other.
For a Monochrome theme, couple the black and white buffalo plaid sofa with similar hued furnishings like charcoal curtains, off-white rugs, or grayscale wall art. It creates a visual harmony sleek and timeless.
If pops of color are desired, combine the sofa with red, yellow, or teal pillows. Add colorful wall art, drapery, or rugs. The sofa, serving as a neutral base, enables the color accents to command attention.
While buffalo plaid is inherently cozy, it also encompasses a modern, chic flair. This unique blend can be highlighted by pairing it with metallic accents. Chrome, brass or gold finished side tables, floor lamps, or frames would do the trick.
Comfort being paramount, fluffy sheepskin throws, cotton cushions, or knit footstools beside the sofa enhance the homely ambiance one craves. However, maintaining a balanced decor by not overloading on textures can prevent the design from becoming overwhelming.
Effectively bridging the gap between traditional and contemporary, a black and white buffalo plaid sofa serves as a stylish and adaptable piece of furniture, infusing character into the space it resides in.
Grey Plaid Sectional Sofa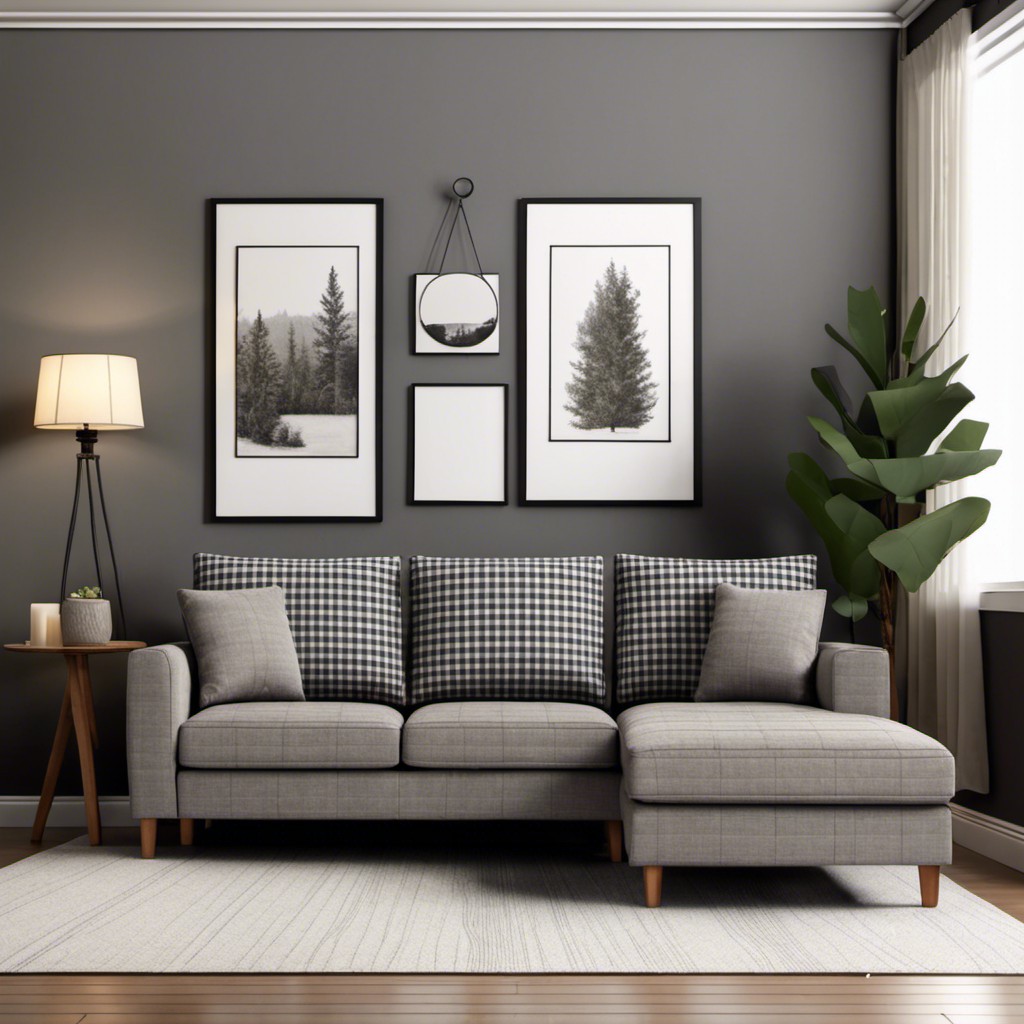 Incorporating a grey plaid sectional sofa brings with it a contemporary touch and understated elegance, blending perfectly with most decor styles. Its cool, neutral tones offer a sense of serenity and calm to the living space.
One, versatility is its strong suit. Grey pairs well with an array of color palettes – pastels, bold hues, or monochromatic schemes.
Two, sectional sofas provide plenty of seating, ideal for large families or when entertaining guests.
Three, the plaid pattern adds visual interest, breaking up the monotony of a plain sofa without being overly loud or ornate.
Lastly, durability is a plus – a sturdy fabric like plaid resists wear and tear, extending the sofa's life.
Remember to accessorize with cushions or throw blankets to increase the comfort factor and customize it to your style. Try metallic accents or textured throws to create a personalised finishing touch.
Plaid Sofa in Holiday Red and Green Tones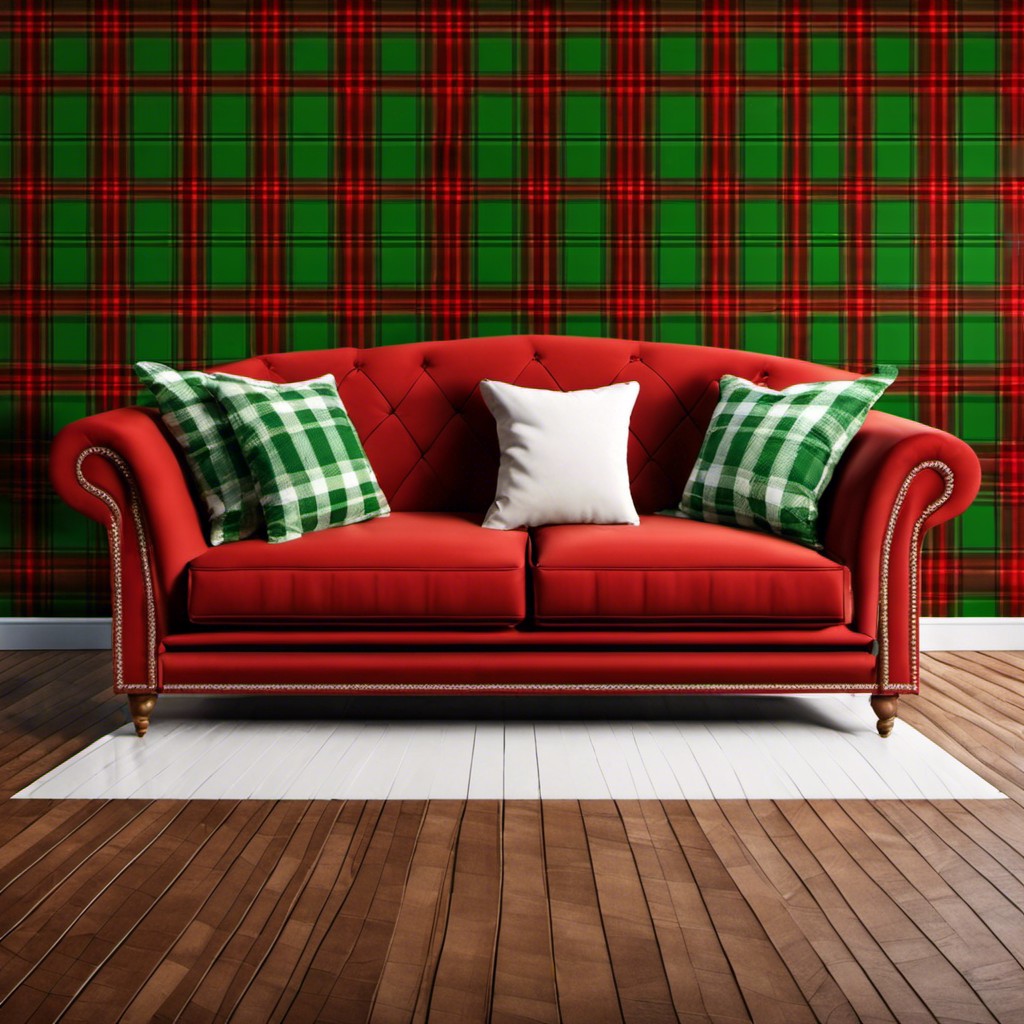 Utilizing these vibrantly hued pieces during festive seasons can capture an aura of warm, jovial celebration. Here are some key elements to keep in mind:
1. Tones: The shades of red and green should be vibrant, reflecting the holiday spirit. Be cautious not to let them overwhelm the space; aim for balance.
2. Quality: Ensuring high-quality fabric that is both comfortable and durable is essential. These colors are prone to show wear, so pick a fabric that can withstand the test of time.
3. Lighting: Use soft, warm lighting to enhance the cheerfulness of the colors. Bright, cool lights can create an overly stark contrast.
4. Accents: Pair with earth-toned, neutral, or metallic accents for a cohesive look. Gold, brass, and silver can provide an enchanting sparkle amidst the red and green.
5. Patterns: Keep other patterns in the room to a minimum to avoid clashing. If used, they should harmonize well with the plaid.
6. Features: Integrating features like removable covers, storage spaces, and reclining options can increase functionality and longevity.
Lastly, remember, irrespective of size and style, this sofa should seamlessly blend with the room's ambiance while acting as an appealing focal point.
Reversible Plaid and Solid Color Sofa Cover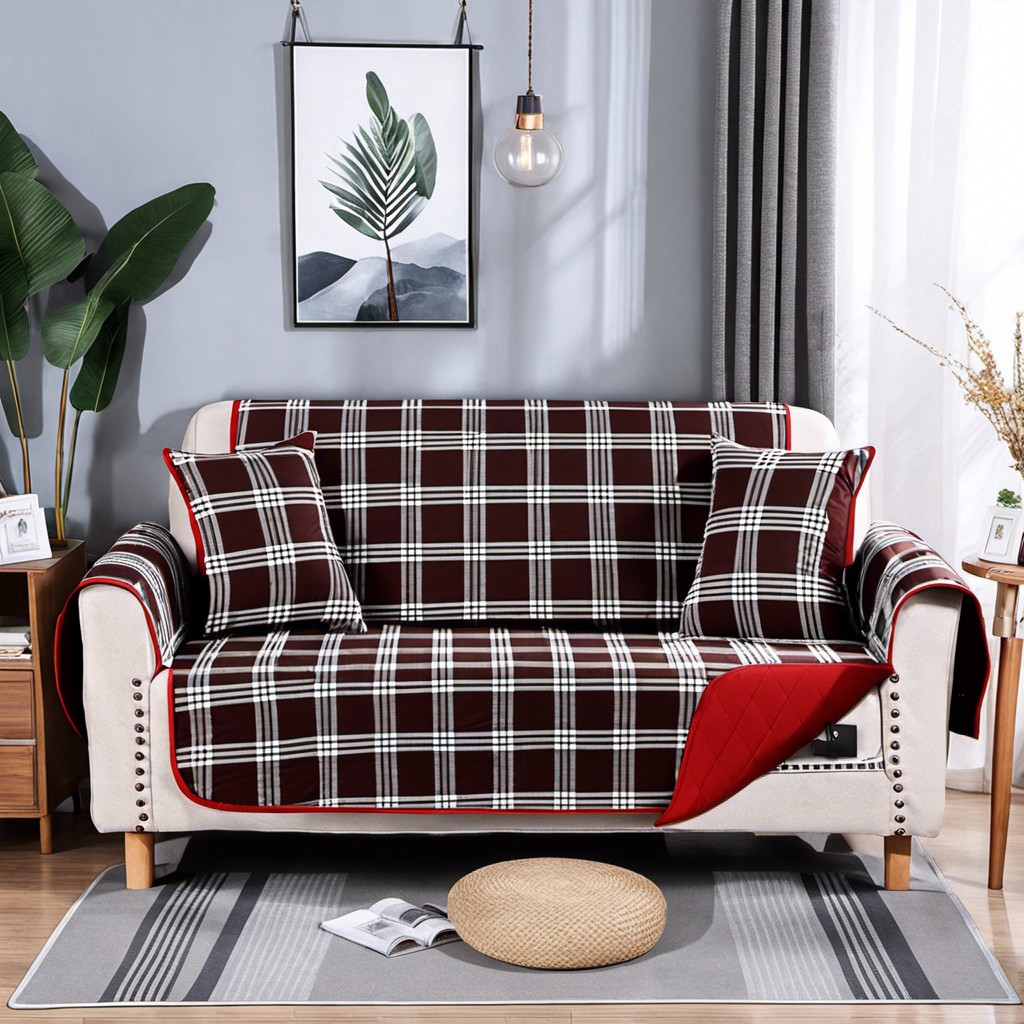 Offering versatility and a convenient way to change the look of your living space, reversible covers are an excellent option. When opting for a plaid pattern on one side, ensure the solid color on the other complements the tones in the plaid. Doing so allows for a seamless transition when you decide to switch sides.
1. Versatility: Switch between a patterned and a solid look based on your mood or the season.
2. Damage Solution: Covers are a brilliant fix for any stains or spills on your sofa, keeping it protected.
3. Easy Clean-up: Most covers are machine washable, sparing you the trouble of spot cleaning.
4. Affordability: Instead of buying two separate sofas, invest in a high-quality reversible cover to save money.
5. Design Your Space: Use contrasting or matching cushions with either side for an extra touch of style.
Remember, reversible sofa covers not only extend the life of your furniture but also offer an effortless way to refresh your decor.
Vintage Plaid Sofa for a Rustic Decor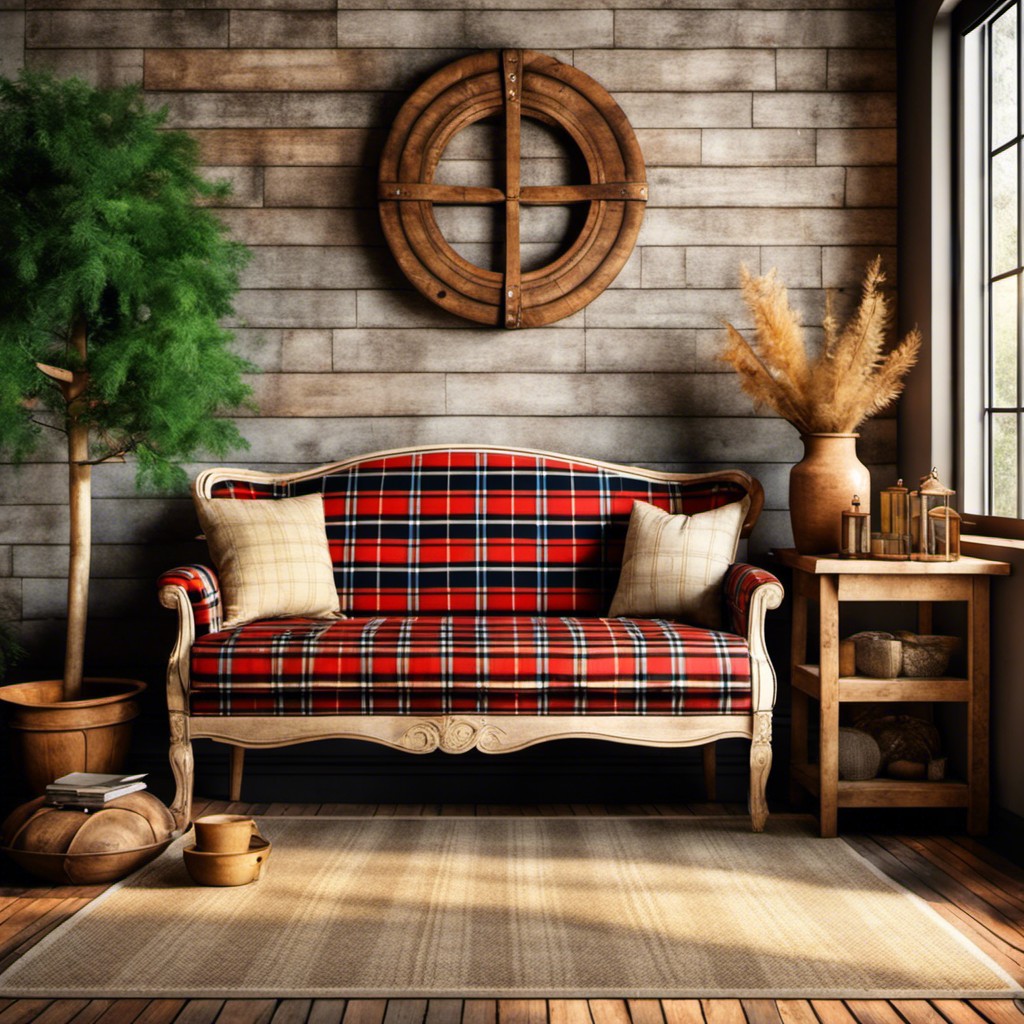 To evoke a feeling of nostalgia, few pieces can compete with a vintage plaid sofa. Its iconic design pairs perfectly with rustic decor, characterized by natural elements and homely charm.
The warmth exuded by the vintage plaid pattern complements other rustic elements like reclaimed wood, cozy fireplaces, and antique artifacts.
To balance its typically bold pattern, consider a neutral or muted color palette. Browns, beiges, or deep reds can imbue the space with a warm, inviting ambiance even in the colder months.
A sofa in soft, worn fabric woven with heirloom quality enriches the sense of welcoming comfort inherent in rustic decor.
It's also wise to accompany the sofa with solid color accent pillows or throw blankets for a break in the pattern, and ground it with a natural jute or sisal rug.
Always remember, while plaid makes a strong visual impact, the magic lies in complementing it with subtle accents rather than competing patterns.
Plaid Sofa With Leather Armrests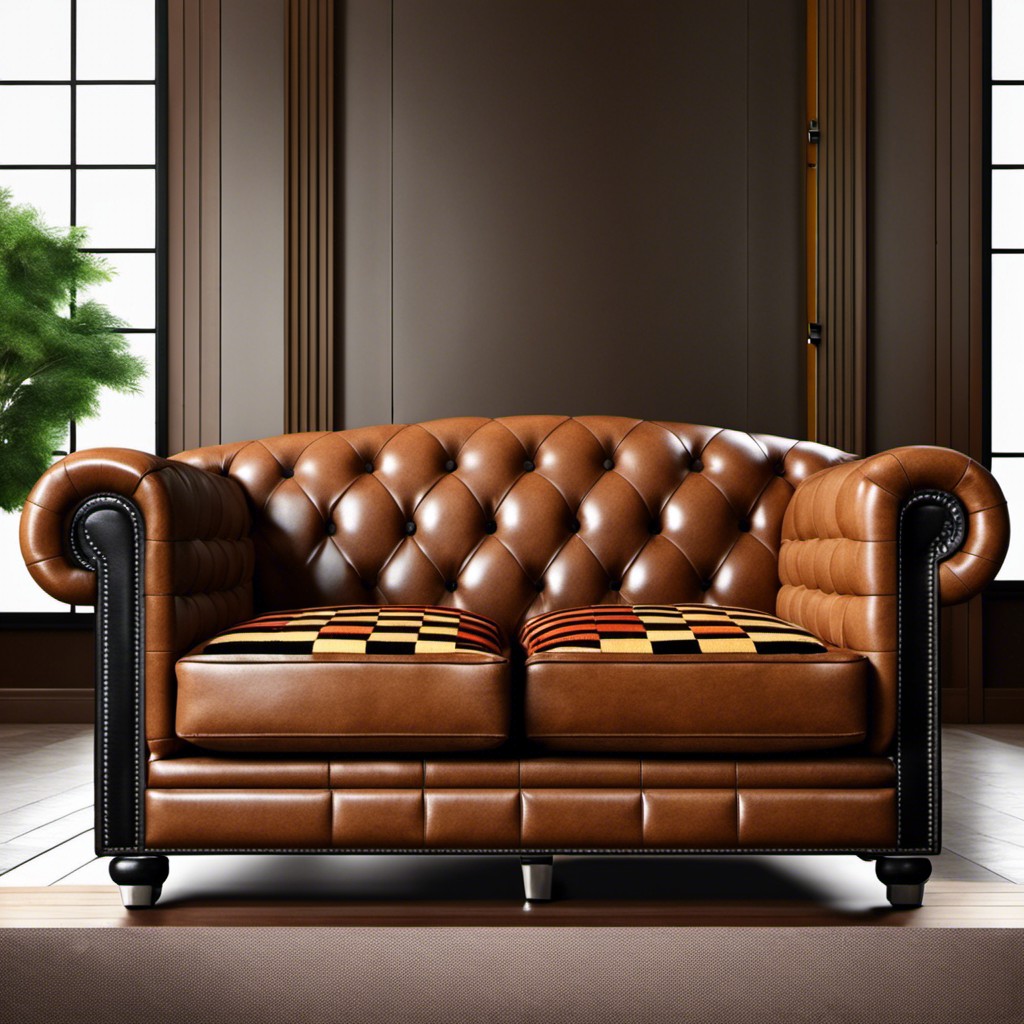 The fusion between leather armrests and a plaid body gives the couch a unique elegance. It combines the rugged depth of leather with the warmth and homeliness of plaid. With various colors, you have the flexibility to choose a color that blends with your interior decor.
This model is ideal for those seeking a blend of tradition and sophistication in their living space.
Let's consider some key points:
Enhances the style quotient and displays a mix of traditional and modern aesthetics.
It requires low maintenance with the added durability of leather armrests.
Provides a stylish contrast between textures.
Brings versatility in accentuating different styles for broader design themes.
Guarantees comfort while also being visually appealing.
Overall, this sofa style serves not only as a functional piece but as a statement of taste and personal style.
Country Style Plaid Sofa With Ruffled Skirt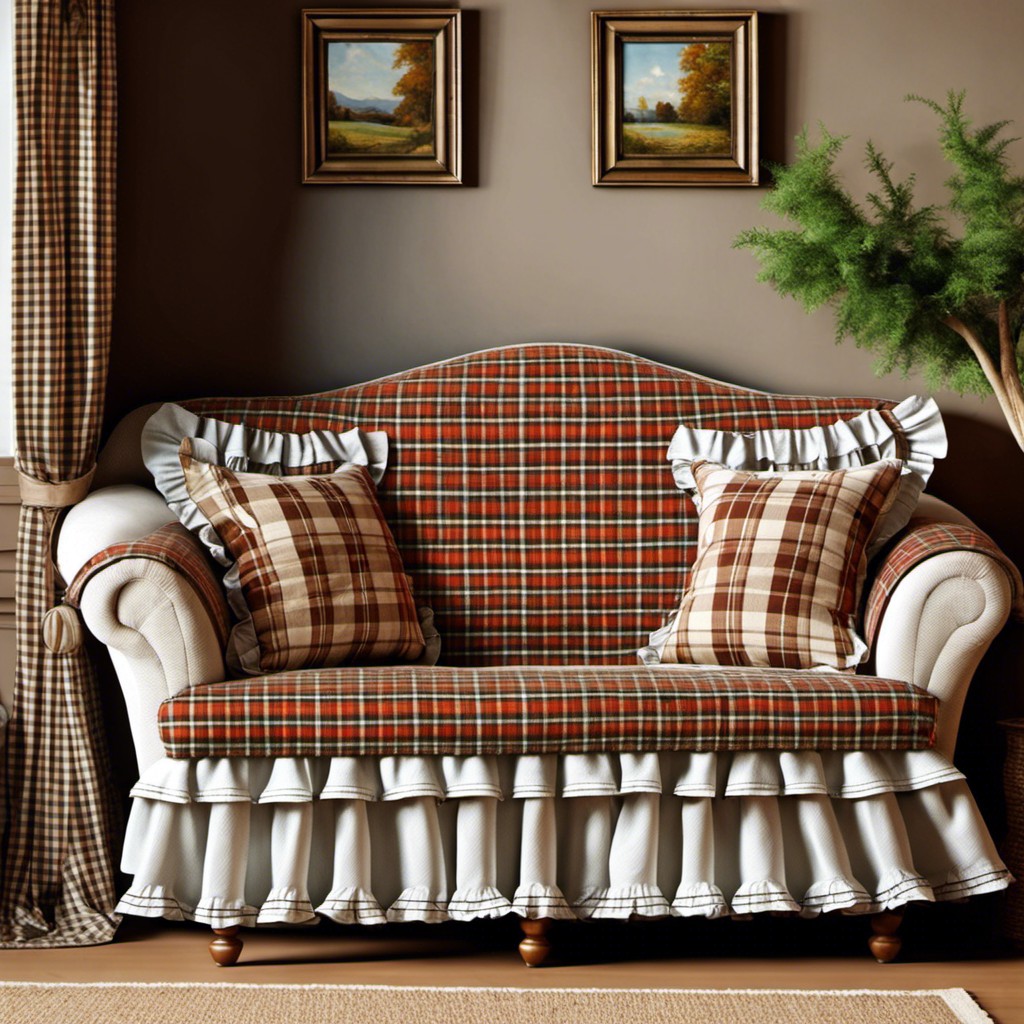 Delighting in the warmth and comfort, this design offers an air of homeliness and charm. The versatile and cozy nature of the country-style sofa is defined by its plaid pattern, predominantly in softer hues. A textured quilt, barn red, cornflower blue, or farm-fresh green often graces these comfortable furnishings.
The hallmark of this style is its ruffled skirt, a detail adding an extra layer of soft appeal to the aesthetic. This unpretentious fabric curtain conceals the legs, dropping from the seat base to the floor, thus extending visual continuity to the room.
Further, details such as overstuffed cushions uplift the coziness factor. These ample, fluffy cushions, often in matching fabric, offer sink-in comfort while emphasizing the relaxed, welcoming feel characteristic of country style.
Accessorizing these sofas using assorted throw pillows, either in corresponding plaid pattern or solid colors that complement the scheme, furthers the cozy yet stylish feel.
Worthy of mention are the slipcovers typically adorning country style sofas. These plaid slipcovers not only add visual interest but also promote easy cleaning and maintenance.
Whether positioned in the living room or an intimate reading nook, these sofas subtly reinstate the beauty of a bygone era, encapsulating the essence of country living.
Colorful Plaid Sofa for Children's Room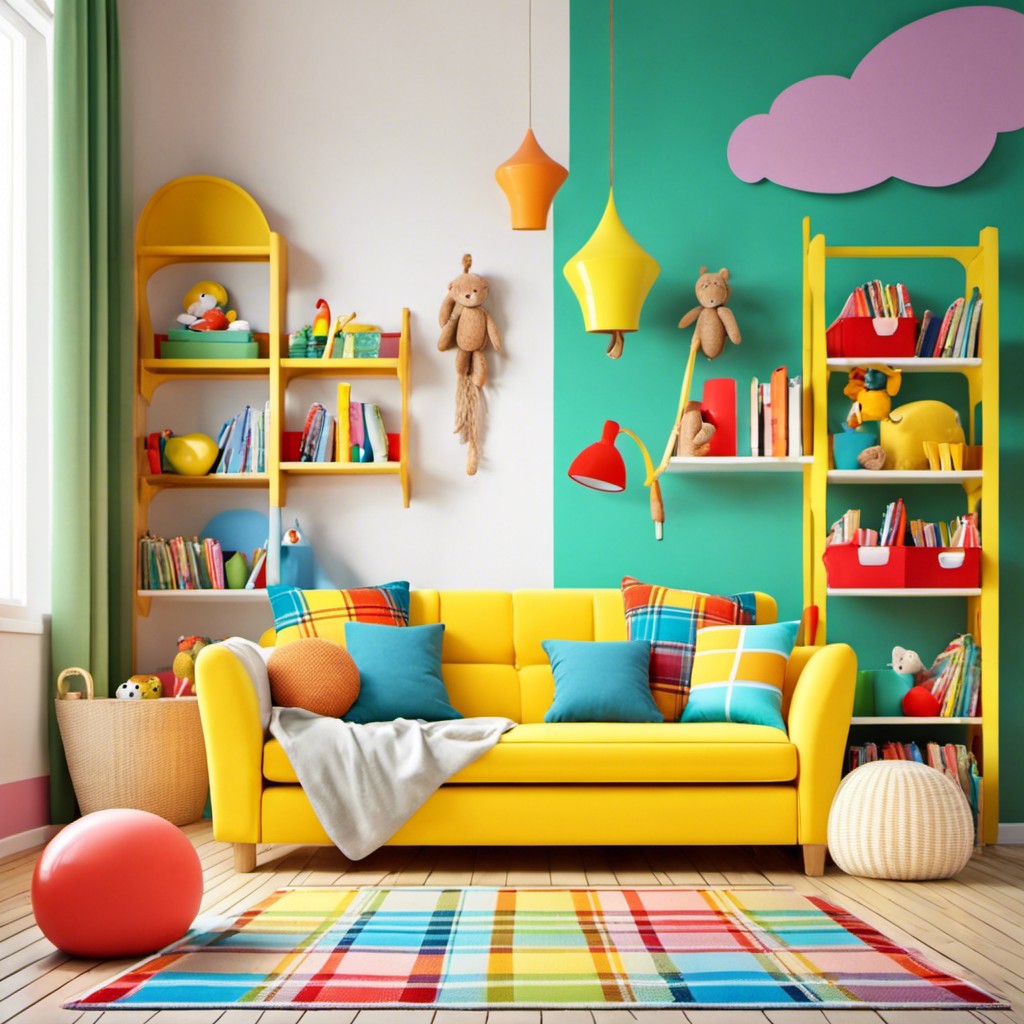 Expressing creativity via décor can make a child's room come alive. A plaid sofa, bursting with color, introduces a distinctive element. It's not just visually appealing, but also practical.
The multitude of colors can camouflage any accidental spills or stains – a common scenario in a kid's play area. When selecting, keep in mind:
Durability: Ensure the material can handle extraneous use and is easy to clean.
Colors: Pick bright, vibrant colors that stimulate children's creativity and are in tune with overall room aesthetics.
Size: Choose a size proportionate to the room. A large piece can overwhelm a small space.
Safety: Rounded edges, sturdy construction, and non-toxic materials are crucial.
Accessories: Throw in some matching or contrasting plaid cushions or a throw blanket for a cozy touch.
Experimentation and personalization will lead to a surprising, yet pleasing, room flavor exhibiting a mélange of vibrancy and cheerfulness.
Plaid Pull-out Sofa Bed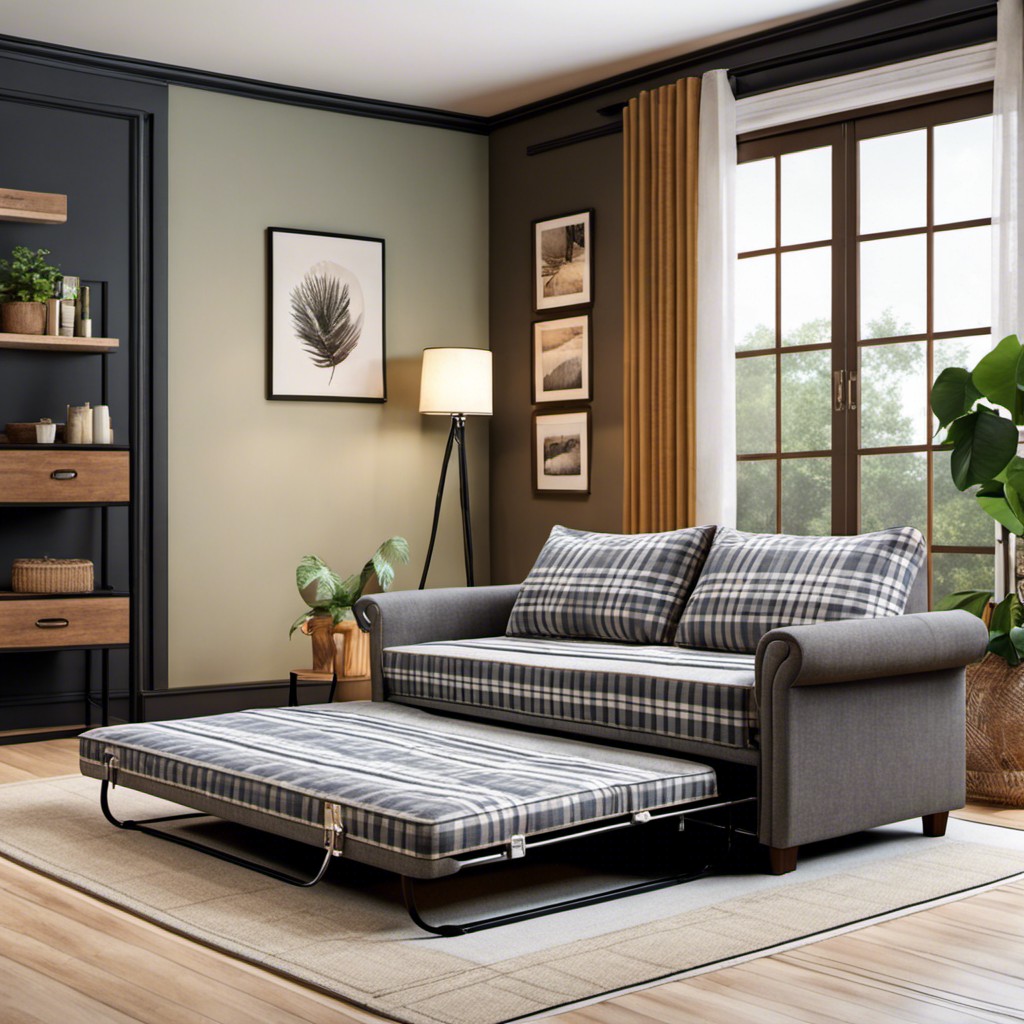 Bearing versatility and aesthetic appeal in mind, a pull-out sofa bed adorned in plaid fabric is an ideal choice. Not only for its convenience in providing extra sleep space for guests, but also for its classic pattern that offers a stylish touch to any room.
Dual functionality: With its transformative nature, it serves as a comfortable seating option during the day and doubles as a cozy bed for overnight guests.
Space saver: Particularly suitable for apartments or houses limited in square footage, it eliminates the need for separate pieces of furniture.
Style: Its timeless plaid design lends itself to traditional, rustic, or even modern spaces depending on the color and scale of the pattern.
Comfort: Many of these pieces come with in-built mattresses, making them perfectly sleep-ready.
Variety: There's a plethora of sizes, shapes, and color options, ensuring a fit for every décor style and personal preference.
Items like these are not mere furniture; they're intelligent solutions that blend functionality with aesthetics- truly catering to the modern lifestyle.
Convertible Plaid Futon Sofa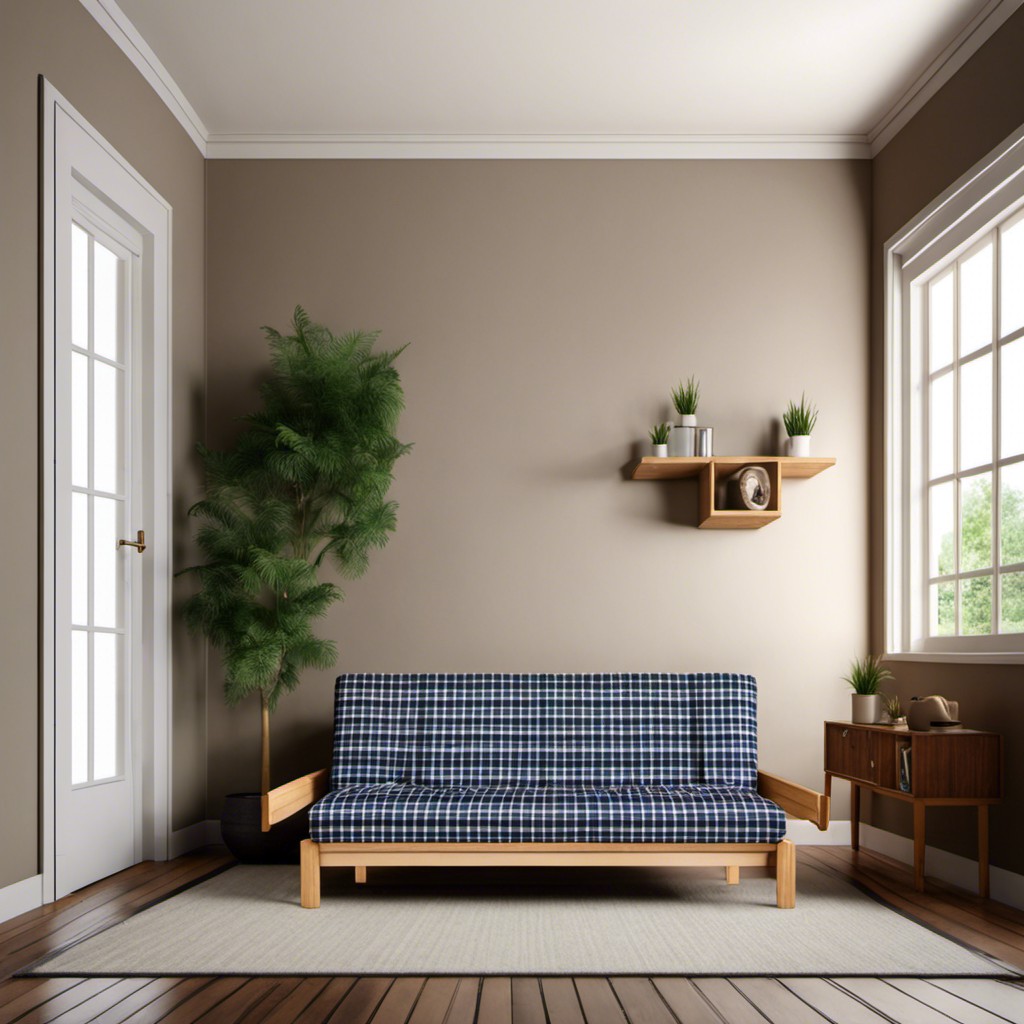 This option provides dual utility with the transition from an attractive seating solution to a cozy sleeping space, making the most out of limited square footage. Its plaid pattern adds a touch of classic appeal to any interior design, effortlessly creating a homely yet stylish ambiance.
Key points to consider include:
1. The futon's transformability saves space and offers guest accommodation, suitable especially for smaller living areas or multipurpose rooms.
2. Plaid brings in an element of timeless style, fitting well into different décor schemes, be it rustic, modern, or coastal.
3. Since futons come in a vast array of sizes, it's essential to measure your space prior to purchase.
4. The firmness of the futon is an important factor to consider for comfort, both as a sofa and a bed.
5. Lastly, maintenance and care for the material should be taken into consideration, especially if the futon will be utilized frequently.
This practical furniture piece seamlessly fuses functionality and fashion.
Plaid and Floral Mixed Pattern Sofa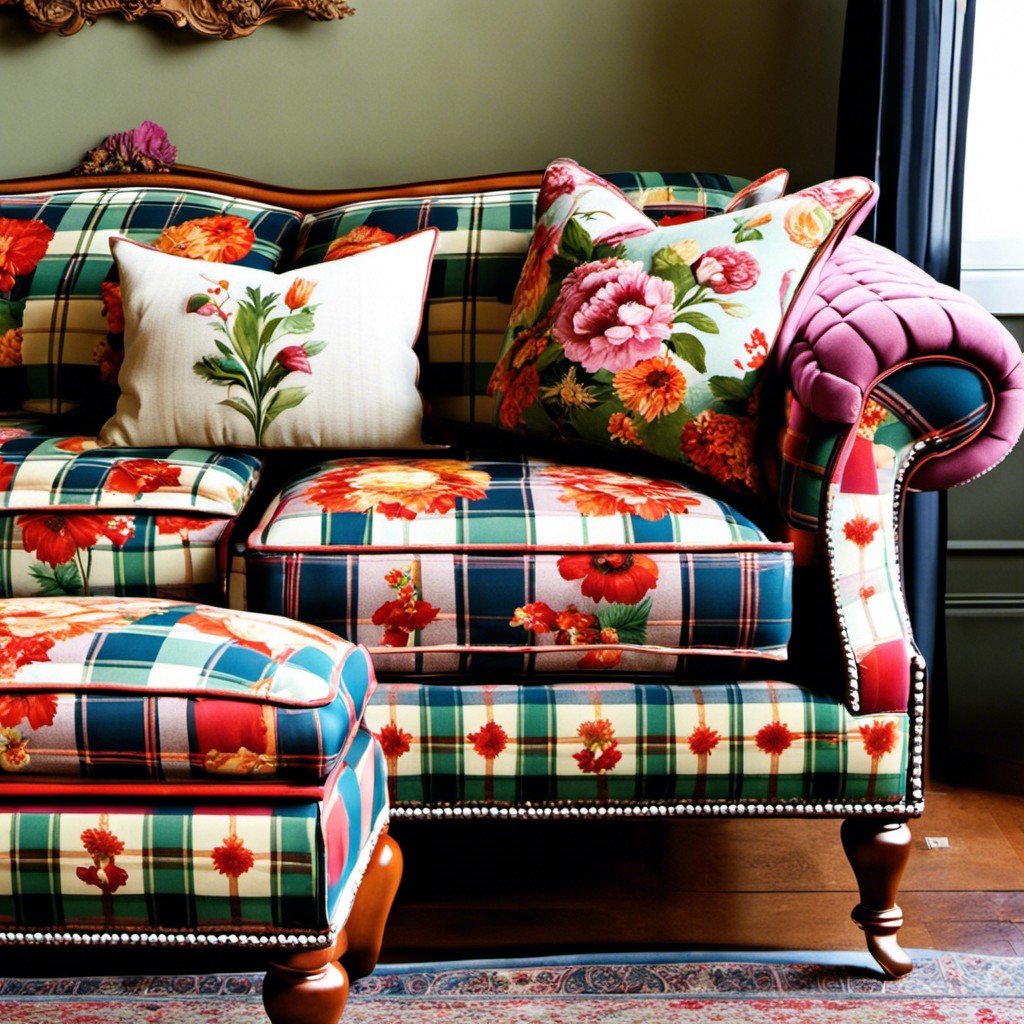 Embracing the unexpected can be the key to a unique and captivating living space. One such surprise pair is the mix of plaid and floral patterns on a single sofa.
This daring combination works best when there is a unifying color scheme, creating a harmonious blend of the bold, geometric plaid against the softer, more organic floral design.
Whether it's an all-over pattern mix or more subtly using a plaid base with floral accents, or vice versa, the result is an aesthetic feast for the eyes that's trendy, yet timeless.
If you want to experiment further, throw in some solid-colored pillows or a muted rug to accentuate and ground the design.
Just remember, balance is crucial to ensure these contrasting patterns coexist beautifully without overwhelming the room.
Plaid Sofa With Matching Ottoman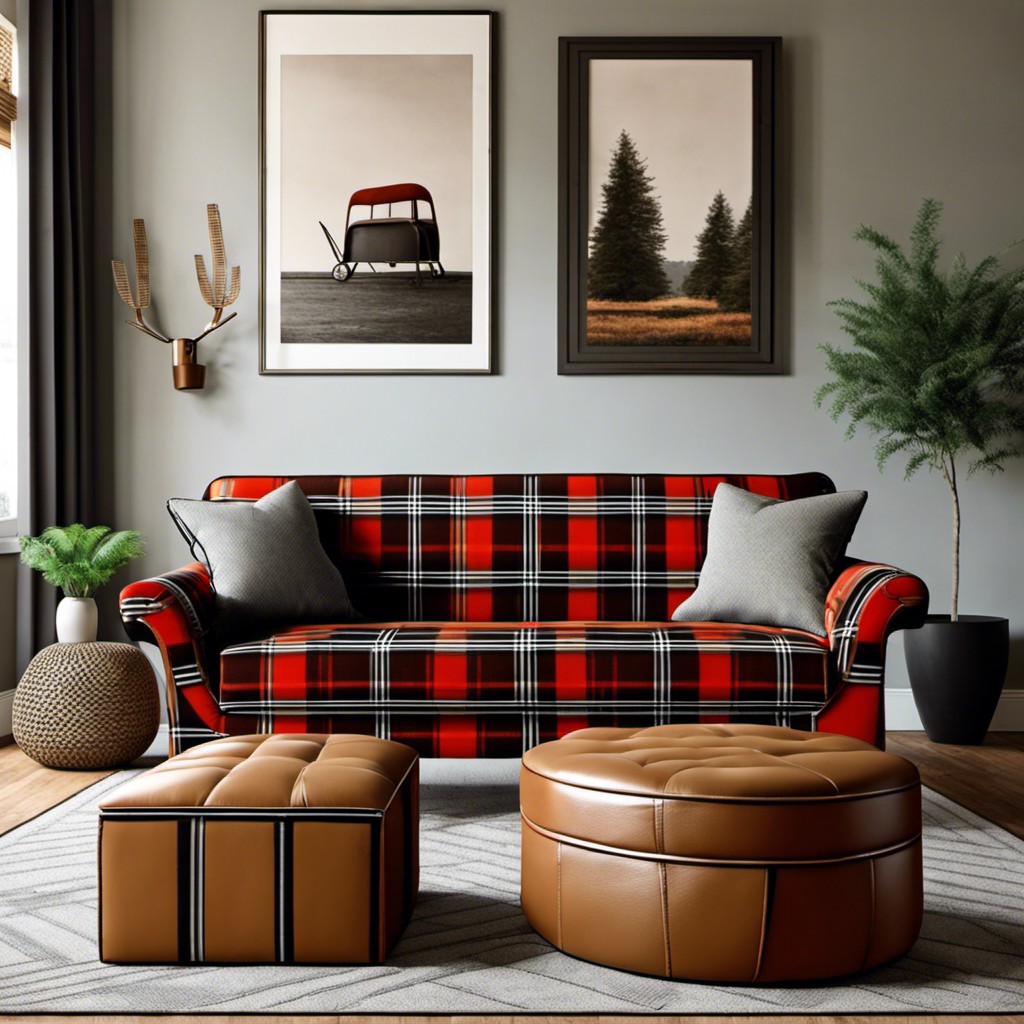 Choosing for both pieces in one set is an astute design decision. A matching ottoman not only offers extra seating or a comfortable footrest, but it also creates a visually coordinated look, enhancing the room's design unity.
1. Material Combination: Both pieces clad in the same plaid pattern creates a cohesive unit helping enlarge small spaces or add depth to larger ones.
2. Color Coordination: The matching colors between sofa and ottoman can help bind your decor together, with the ottoman echoing the sofa's hues for a visually pleasing aesthetic.
3. Design Elements: This coordinated setting embodies balance and harmony, especially in open-plan living spaces where you want to subtly differentiate areas without segregation.
4. Versatility: An ottoman, besides acting as a footrest or additional seating, can also double up as a coffee table when topped with a sturdy tray.
Utilizing a plaid sofa with a matching ottoman integrates aesthetics with functionality, making it a versatile addition to any living space.
Blue and Green Plaid Sofa for a Coastal Theme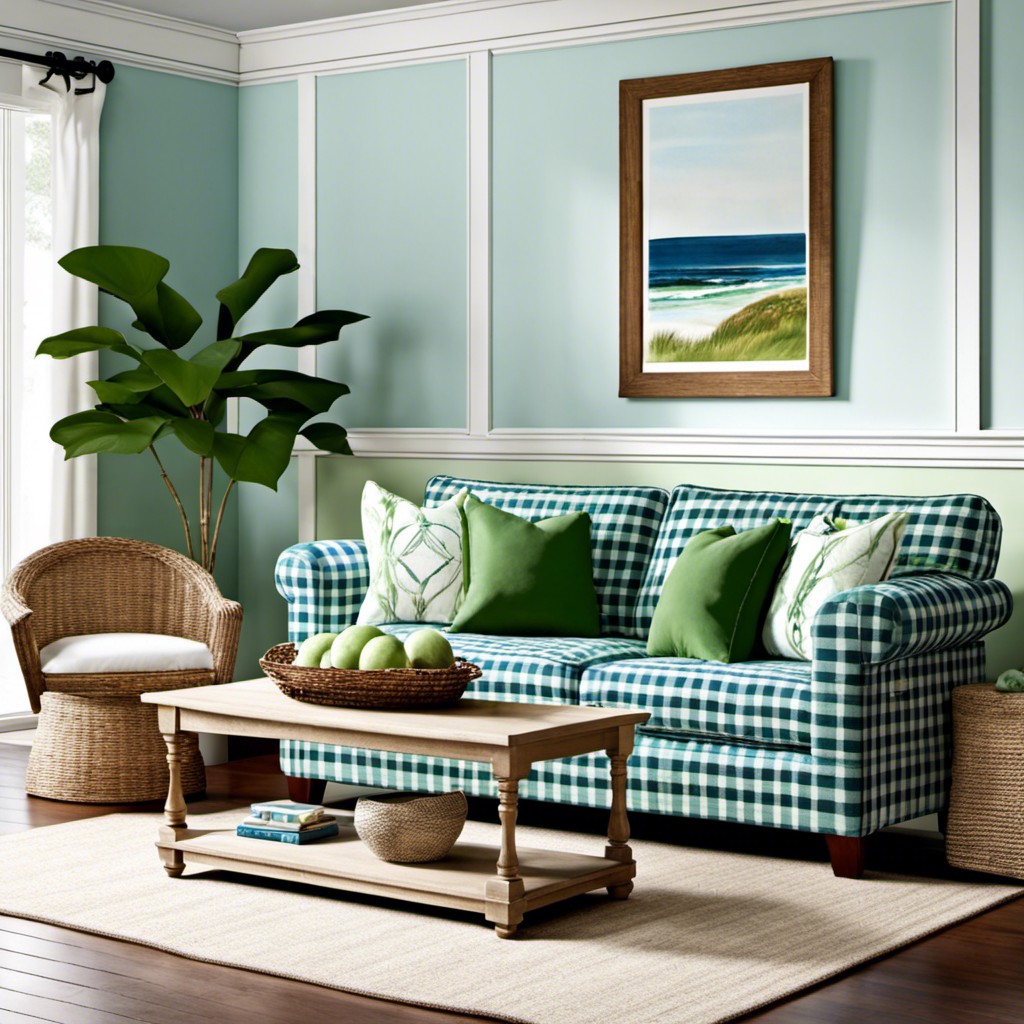 Decidedly tranquil, the shades of blue and green in the plaid pattern embody the serene rhythm of coastal waves. Utilizing these colors can instantly transport the space to a beachfront vacation home.
It is important to complement this sofa with its surrounding decor. Light-colored walls, natural wooden elements, and beach-themed accessories, such as sea shells or starfish, can emphasize the coastal ambiance.
Opt for cushions in solid colors such as sandy beige or seafoam green to strike a balance with the energetic plaid. Strive to mirror the overall freshness and openness of coastline living, imbuing the living space with a breezy feel.
With mindful styling, an ocean-inspired sanctuary can become a reality in the comforts of home.
Beige and Cream Plaid Sofa for a Neutral Palette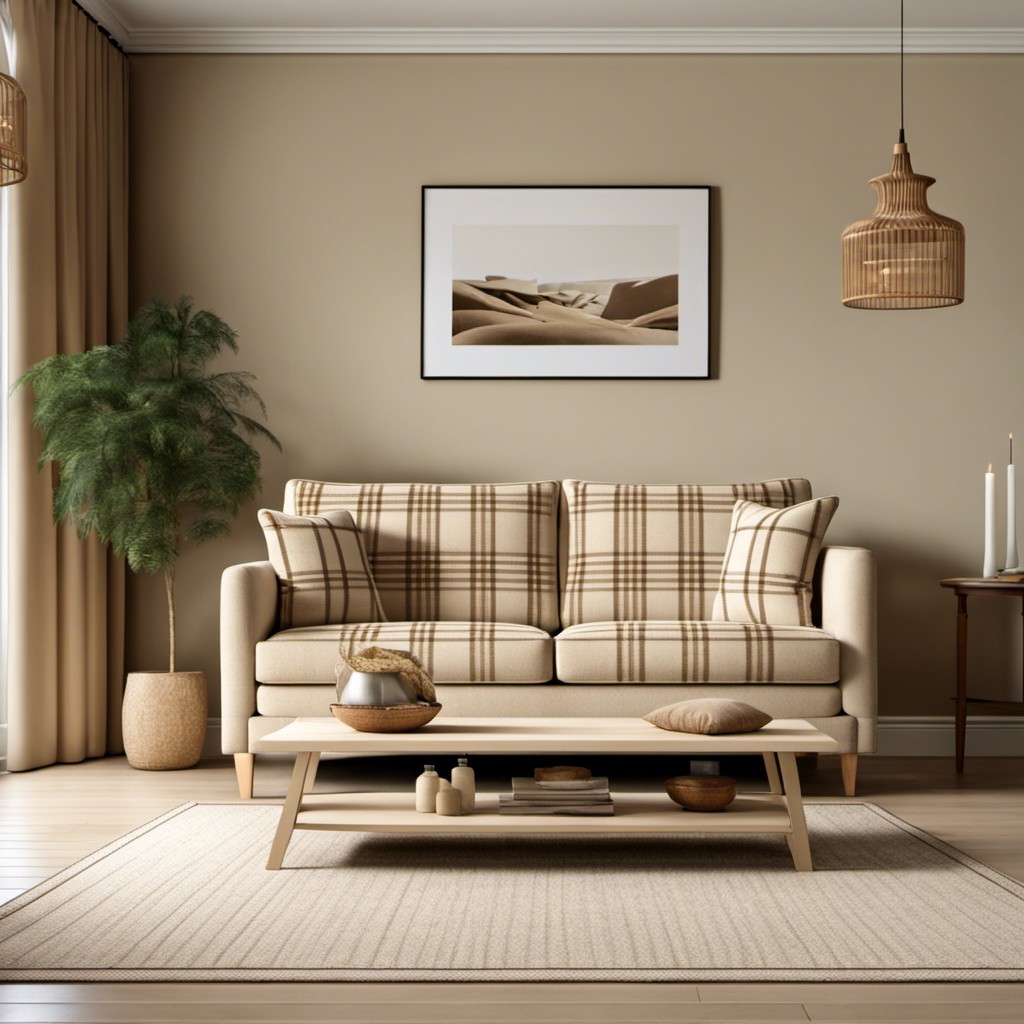 The combination of beige and cream hues in a plaid pattern offers many decorating advantages. These two tones create a soothing effect on the eye. Given their lightness and subtlety, they accommodate various styles and colors in a room easily. The neutrality of these colors also helps in magnifying the space, making smaller rooms feel larger and more airy.
One fantastic option is to complement the sofa with cushions in varying textures like knits or faux fur in sympathetic colors- think further soft neutrals or even light pinks or blues. Alternatively, metallic accents like gold or copper can evoke a luxe element within the room.
In a more modern or minimalist theme, opt for geometric coffee tables or lighting fixtures with clean, sleek lines. If you're going for a more rustic, homely aesthetic, consider pairing it with distressed wooden furniture.
In any room layout, placing a rug can unify the space, especially a plush one in a color to match. For those preferring a hint of drama, however, an intricate or bold rug can create a striking contrast without overwhelming the neutrality of the sofa.
Bold Red Plaid Sofa for a Statement Piece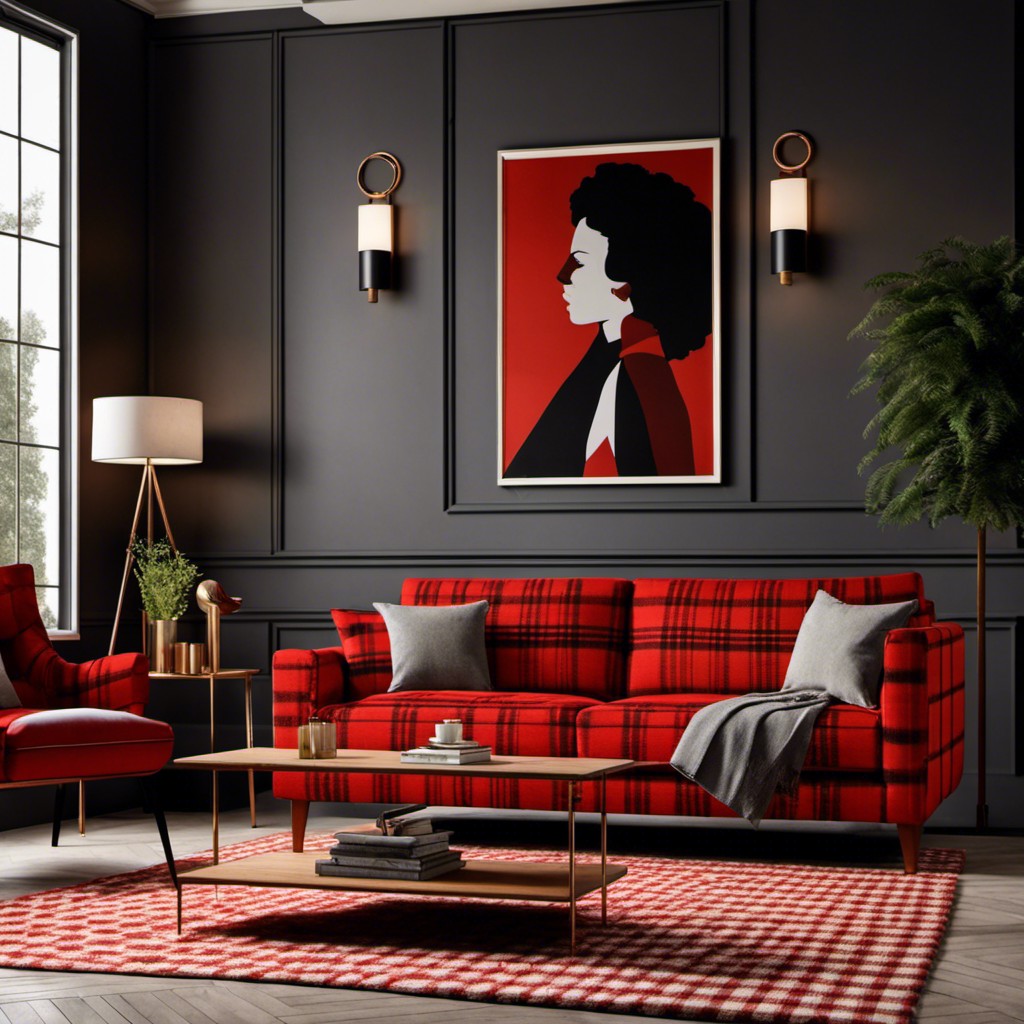 Bold colors pack a punch, instantly becoming the focal point of any living space. Enveloped in rich red plaid, a sofa functions as more than just a seating element; it transforms into an attention-commanding showpiece. The trick lies in the balance.
1. Complimentary Colors: Surround the sofa with neutral shades—crisp white walls, beige rugs, or black coffee tables—to make the red plaid shine.
2. Textural Contrast: Raw wood, rattan, or metal finishes in the furnishings can add a touch of rustic charm or sleek modernity, amplifying the bold red plaid's visual interest.
3. Throw Pillows: Neutral or muted color throw pillows can break the color intensity, adding harmony, while those with geometric patterns can instill a contemporary flair.
4. Lighting: Soft lighting will mellow the bold look, while spotlighting will intensify it further. Play with lighting elements as per your aesthetic preference.
5. Greenery: Indoor plants juxtaposed with the red plaid create a lively, refreshing contrast, breathing life into your space.
Remember: It's a bold choice; the key is to envelop it seamlessly within your decor, creating a balanced yet exciting room atmosphere.
British-inspired Tweed and Plaid Sofa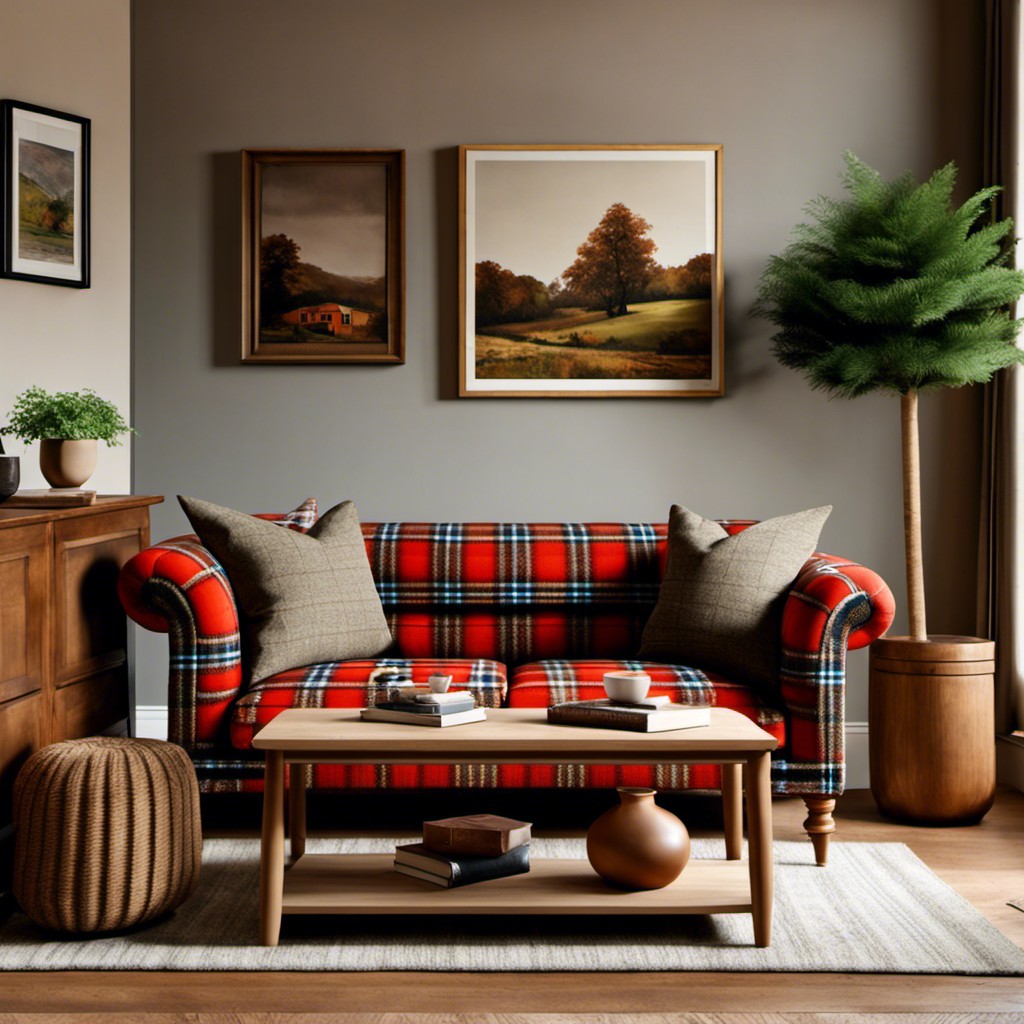 Drawing influence from the classic British design, this combination adds a unique twist to your living space. Its distinctive look is characterized by tweed, known for its resilience and warmth – qualities appreciated in British Isles' harsh climate, paired with the striking geometrical patterns of plaid. The aesthetic appeal lies in the mingling of these two textiles, creating a captivating contrast while retaining an air of sophistication.
Here are key elements tied to this style:
Durability: Both tweed and plaid are sturdy materials that provide exceptional durability, making them ideal for sofas.
Warmth: They have a cozy feel to them, adding a layer of comfort in the colder months.
Versatility: They blend seamlessly with various decor styles – from modern to rustic.
English Country Style Influence: This sofa choice echoes the inviting and relaxed charm of English country manors.
Unique Contrast: The mix of textured tweed and patterned plaid creates an interesting focal point.
Rich Tradition: They reflect the time-honored traditions of British craftsmanship and design.
Various Color Options: The range of available color palettes allows you to find a perfect match for your interior.
Remember, a well-chosen sofa can become the centerpiece of your room, dictating color schemes and influencing the choice of accessories.
Plaid Chesterfield Sofa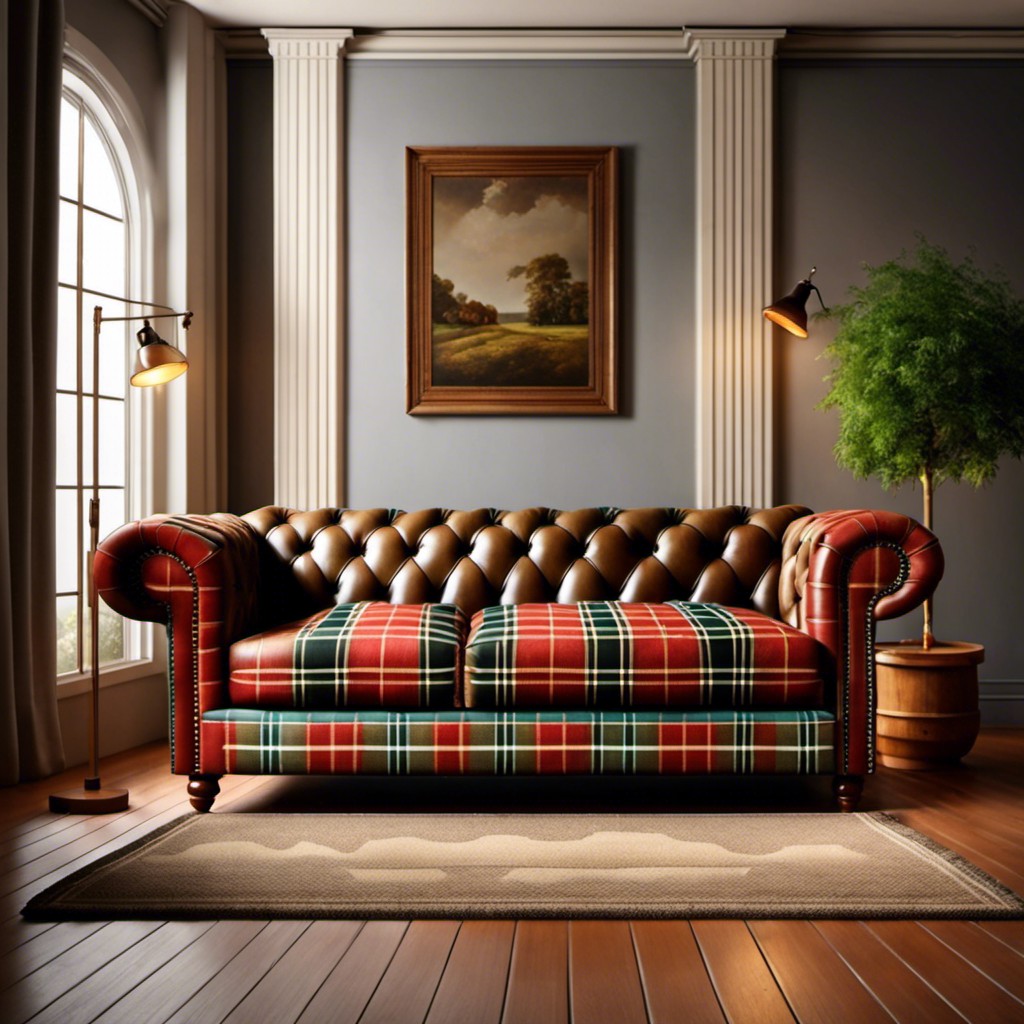 The Chesterfield sofa, known for its distinctive deep buttoning and low back, leaves a remarkable impression when draped in plaid. This style offers a perfect blend of classic British elegance and lively pattern depth.
The rich and intricate plaids can bring the traditional details of the sofa to life, making it an exquisite centerpiece in living rooms, offices, or luxurious lobbies.
When selecting a plaid Chesterfield, consider these key points:
Material: Opt for high-quality textiles like wool or heavy cotton for longevity and easy maintenance. Plush velvet can also add a touch of opulence.
Color Scheme: Traditional reds, greens, and blues are popular, but modern renditions with grey, cream, or even pastel plaids can adapt to varying decor styles.
Accessories: Pair with solid or subtly patterned cushions to balance the vivid plaid print, or introduce a matching footstool to complete the look.
Room Setting: Ensure it complements the room's colors and themes. It can work well in wooden interiors or rooms with muted wall colors.
Maintenance: Have a professional cleaner handy as plaid patterns can be unforgiving with spills or stains. Regular vacuuming also keeps the fabric fresh.
Remember, each element contributes to the outstanding charm of a plaid Chesterfield sofa, from its iconic design to the visually engaging covers.
Plaid Sofa With Contrasting Striped Pillows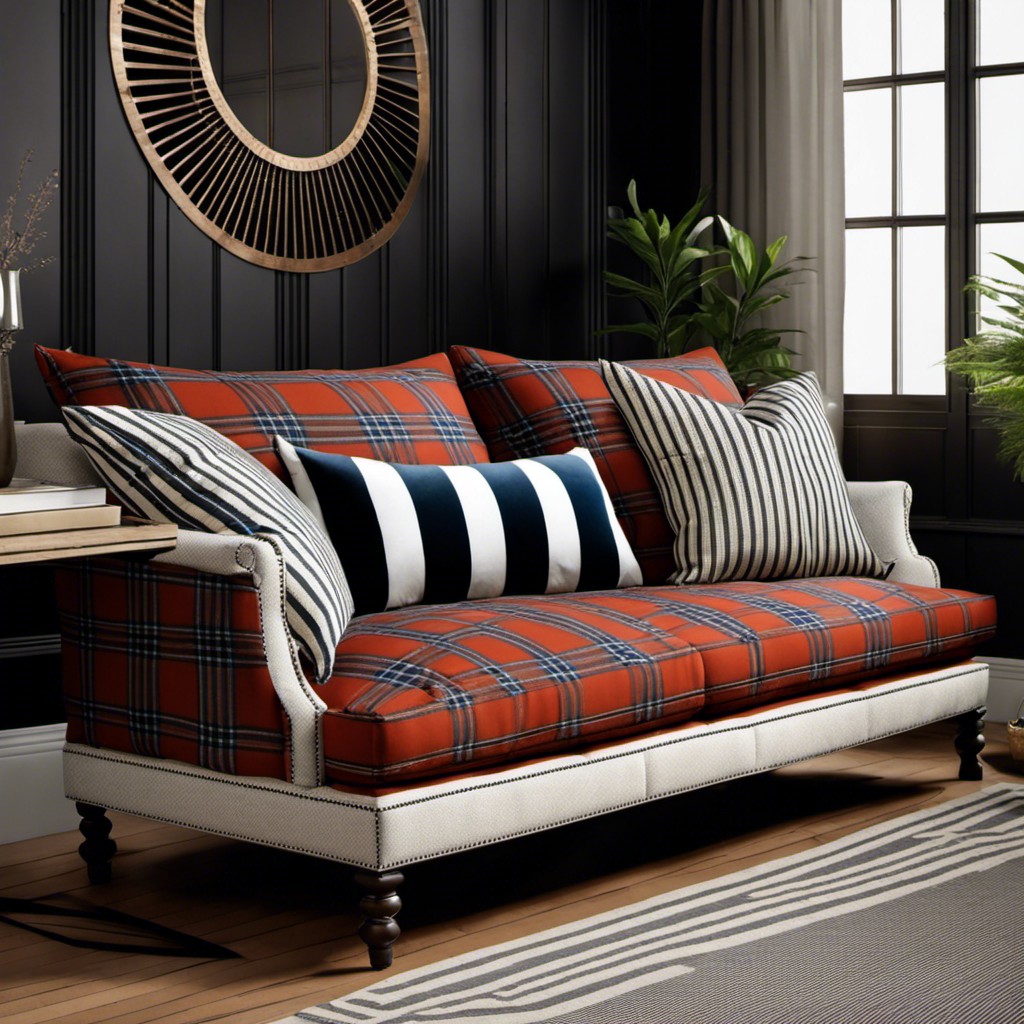 Pairing a complex pattern like plaid with a second pattern requires a few well-planned steps. Choose a stripe pattern that shares at least one color with the existing plaid. This creates a united look and prevents the patterns from clashing.
Next, decide on the scale: A sofa with large plaid patterns pairs well with thin stripes, and vice versa. This contrast allows the eye to differentiate and recognize each design on its own.
Lastly, consider the arrangement. Placing an even number of striped pillows on a plaid sofa creates balance and symmetry. Try positioning them on either end for a pleasing visual distribution.
Approach this with flexibility and imagination. Experiment until you find the blend that best suits your aesthetic. A plaid sofa with contrasting striped pillows serves as a unique, stylish addition to any space.
Mustard Yellow Plaid Sofa for a Mid-century Feel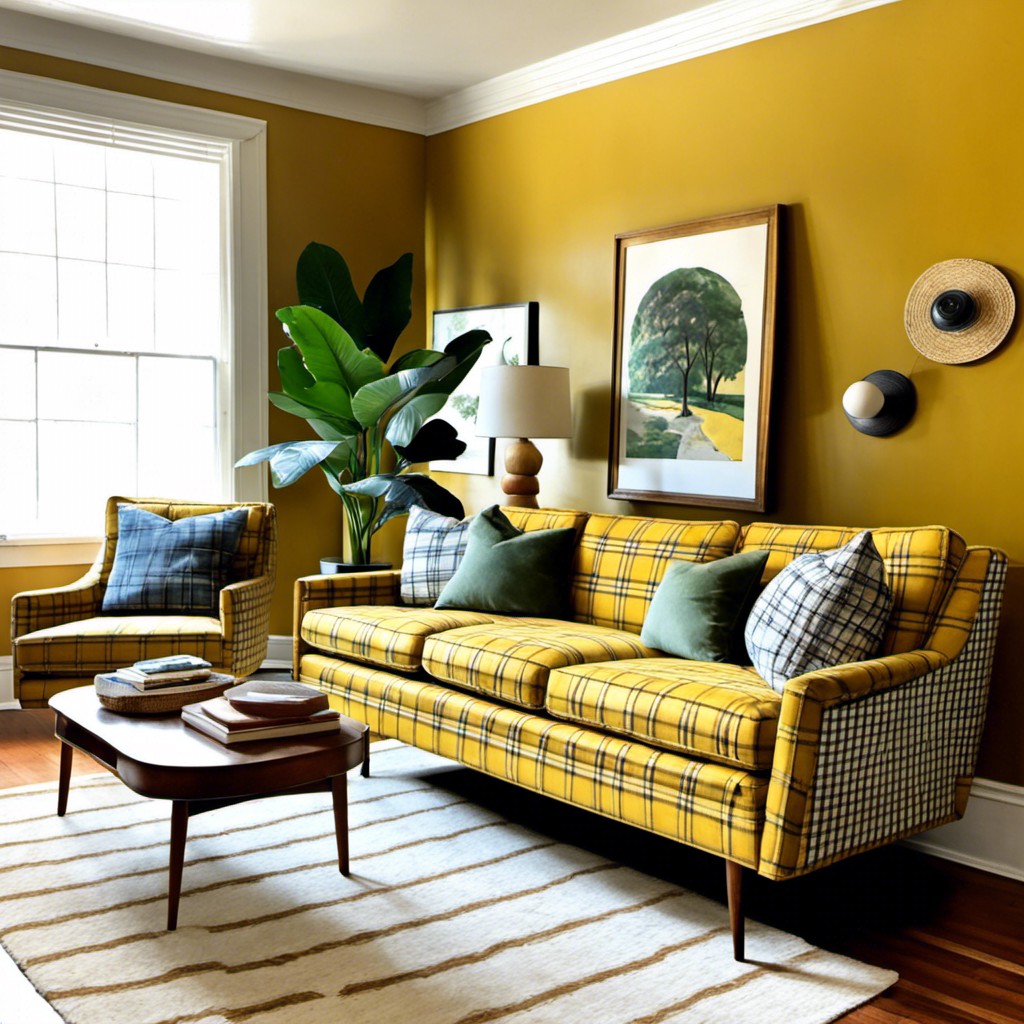 This vibrant piece masterfully captures the design aesthetic of the mid-century period with its mustard yellow color and plaid pattern. The retro charm of mustard yellow evokes a sense of nostalgia, while also appearing fresh, lively, and modern. Plaid, with its ordered and geometric lines, affords a radiant contrast, providing an unexpected twist to the typical mid-century design.
Here are some points that capture the essence of this style:
1. The distinctive mustard yellow color conjures an engaging visual focal point in your living space.
2. Plaid patterns resonate with a melody of both nostalgia and contemporary trendiness.
3. This sofa creates an aesthetic that is cohesive with other mid-century furniture elements, such as tapered wooden legs and clean lines.
4. Rich textiles like lush velvets or tweed fabrics work well with this theme, occluding an added layer of texture and visual interest.
5. Consider coordinating with other warm-toned or neutral furnishings and decor pieces for a harmonic look.
6. Pops of contrasting colors, like blues or greens, in throw pillows or rugs generate a vibrant, energetic space.
7. Mid-century accent pieces like an arc floor lamp or a coffee table with hairpin legs beautifully complement this plaid sofa.
Remember, in design, it's all about balance, harmony, and personal touch. So, do not hesitate to experiment until you find a combination that resonates with you and flawlessly fulfills your aesthetic goals.
You may also like to read: