Last updated on November 3, 2023
Transforming your living space with a boucle loveseat is essential because it seamlessly blends versatility, timeless style, and comfort together.
Boucle loveseats are the epitome of chic, offering a plush, textured look that can transform any living space. Whether you're aiming for a minimalist aesthetic or a cozy, inviting vibe, these versatile pieces can be styled in numerous ways to suit your personal taste.
From pairing with complementary textures and colors to incorporating into various design themes, this article will delve into a multitude of boucle loveseat ideas. Explore the endless possibilities and learn how to make your boucle loveseat the star of your décor.
Table of Contents
Gray Bouclé Loveseat With Wooden Legs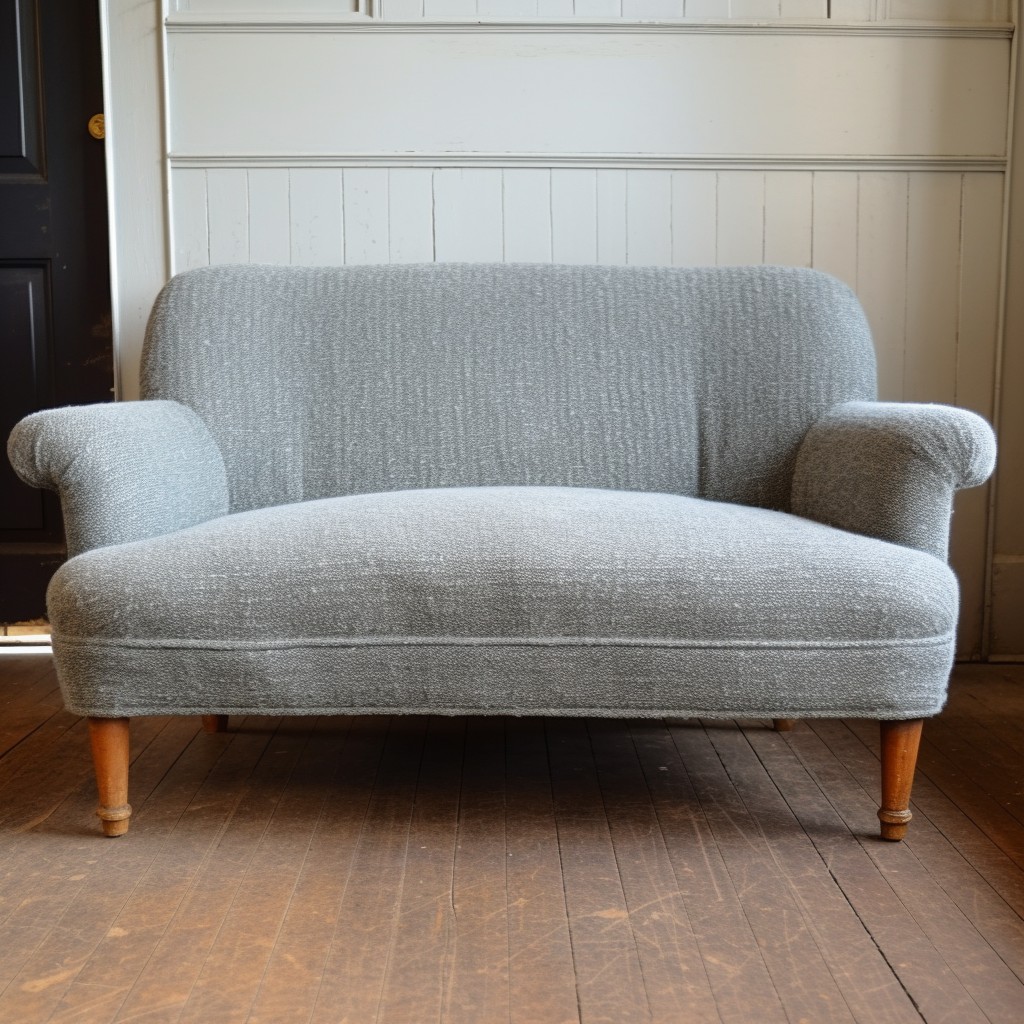 Throughout the time, the integration of wooden elements with bouclé fabric creates an appealing contrast. The soft, textured, wool-like fabric paired with the firm, grounded feel of wooden legs forms a unique combination. This ensemble not only stands out aesthetically but also ensures durability and stability.
1. Material Contrast: The wooden legs provide a sturdy base underneath the inviting comfort of the gray bouclé fabric. This balance of materials brings out a sense of harmony.
2. Versatility: Its gray shade exhibits a versatile quality. Complimenting almost any color scheme, it can be a beautiful addition to a variety of rooms.
3. Warmth and Comfort: Bouclé fabrics offer an inherent warmth. Ideal for cozy cuddles or relaxed reading times, this loveseat becomes an island of comfort.
4. Durability: Wood, being a sturdy material, guarantees a long lifespan. This loveseat, inevitably, will be a durable piece for your living space.
Therefore, this combination enhances the aesthetic value, versatility, comfort, and durability that a loveseat can offer.
Cream Bouclé Loveseat With Matching Ottoman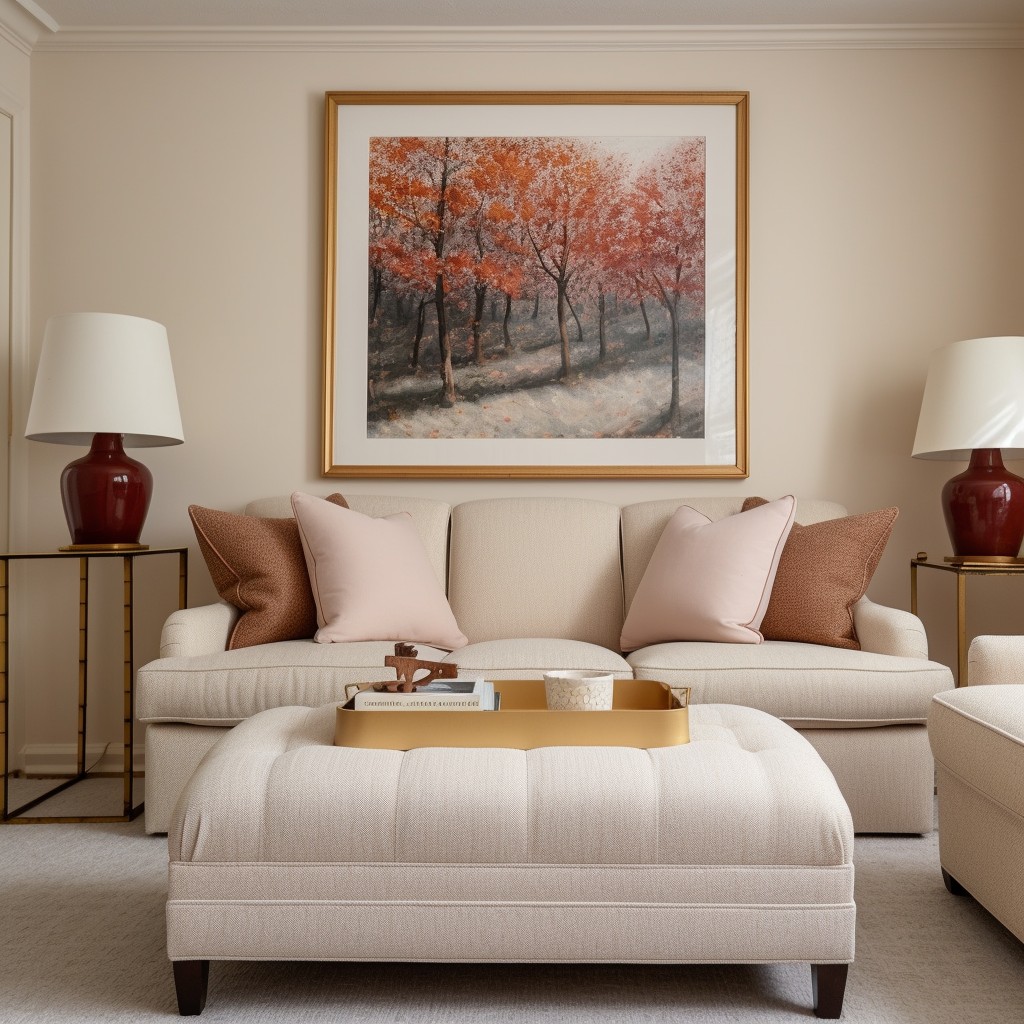 This soft-colored pairing exemplifies cosy elegance. The cream hue gently complements various color schemes, offering a flexible anchor in any setting, be it a contemporary loft or a rustic country home. Its plush bouclé fabric boasts not only warmth and comfort, but also high durability, making it a perfect centerpiece for daily family interactions.
The matching ottoman offers additional bliss, providing a go-to spot for a mid-afternoon nap or a leisurely footrest after a long day. Alternatively, use it as an extra seat when guests flock in, or a coffee table for holding your favorite reads and sips.
It's a collaborative fusion of comfort, functionality, and design, an investment that will stand the test of time while gracefully accentuating your space.
Boucle Loveseat With Patterned Pillows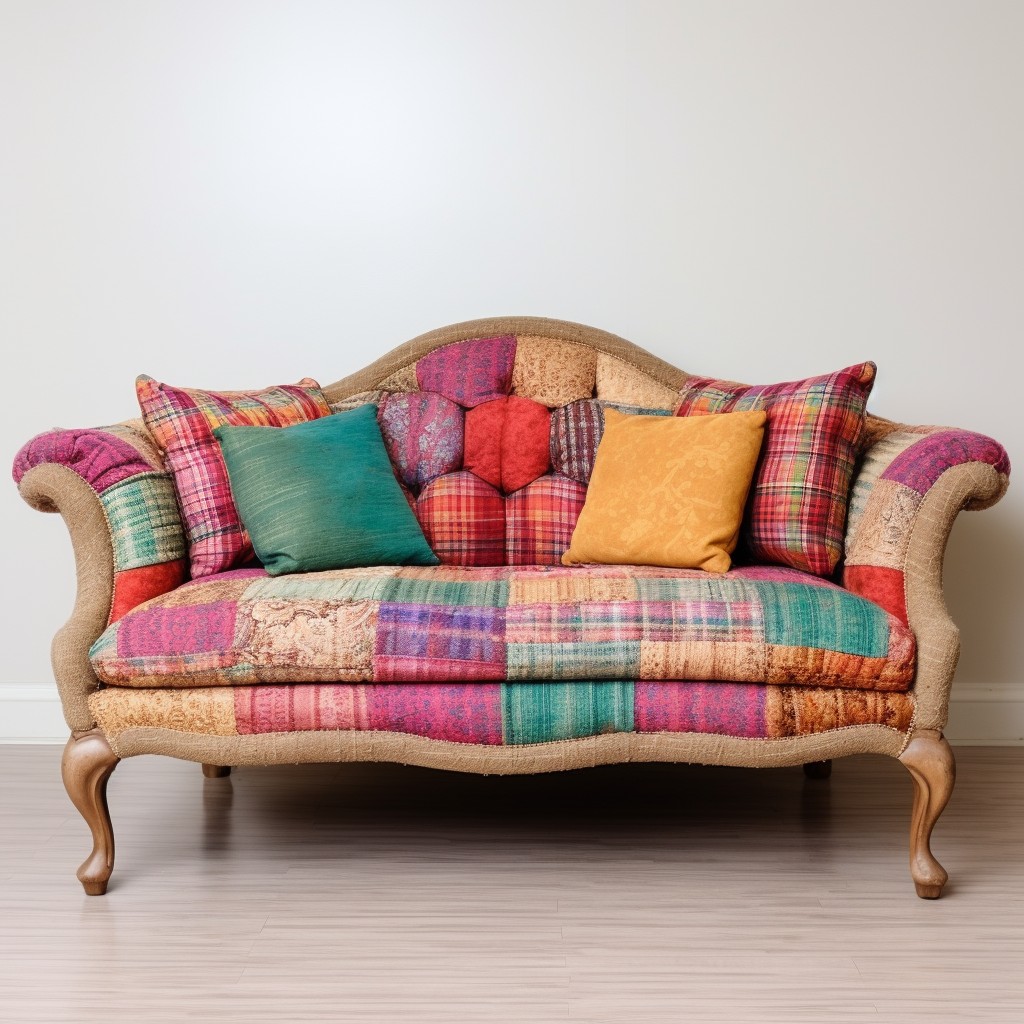 Patterned pillows provide an excellent way to bring additional flair, warmth, and charm to your loveseat. Strike a balance between these accents and the natural texture of bouclé for a harmonious visual intrigue. Play with scaling and echo the fabric's unique loop and curl pattern to create a cohesive element.
For a modern approach, mix geometric prints with abstract designs. Alternatively, consider floral designs for a traditional appeal. Select colors that complement the bouclé—neutrals like beige, off-white, or soft pastels work well, or add a punch with jewel tones on a neutral bouclé loveseat.
Remember, the quantity and size of the pillows matter, too. A pair of larger pillows at each end offer a symmetrical look, while an odd number, mixed in sizes, manifest an eclectic, comfortable style. Don't forget about the fill: down-filled pillows give a squishy, relaxed feel, while foam or polyester filled pillows offer a tidier, stiffer look.
Selecting the right patterned pillows for your loveseat allows you not only to express your personal aesthetic but also to enhance the feel and flow of the room. Experiment with the above tips to find what makes your space feel most inviting.
Retro-styled Pink Bouclé Loveseat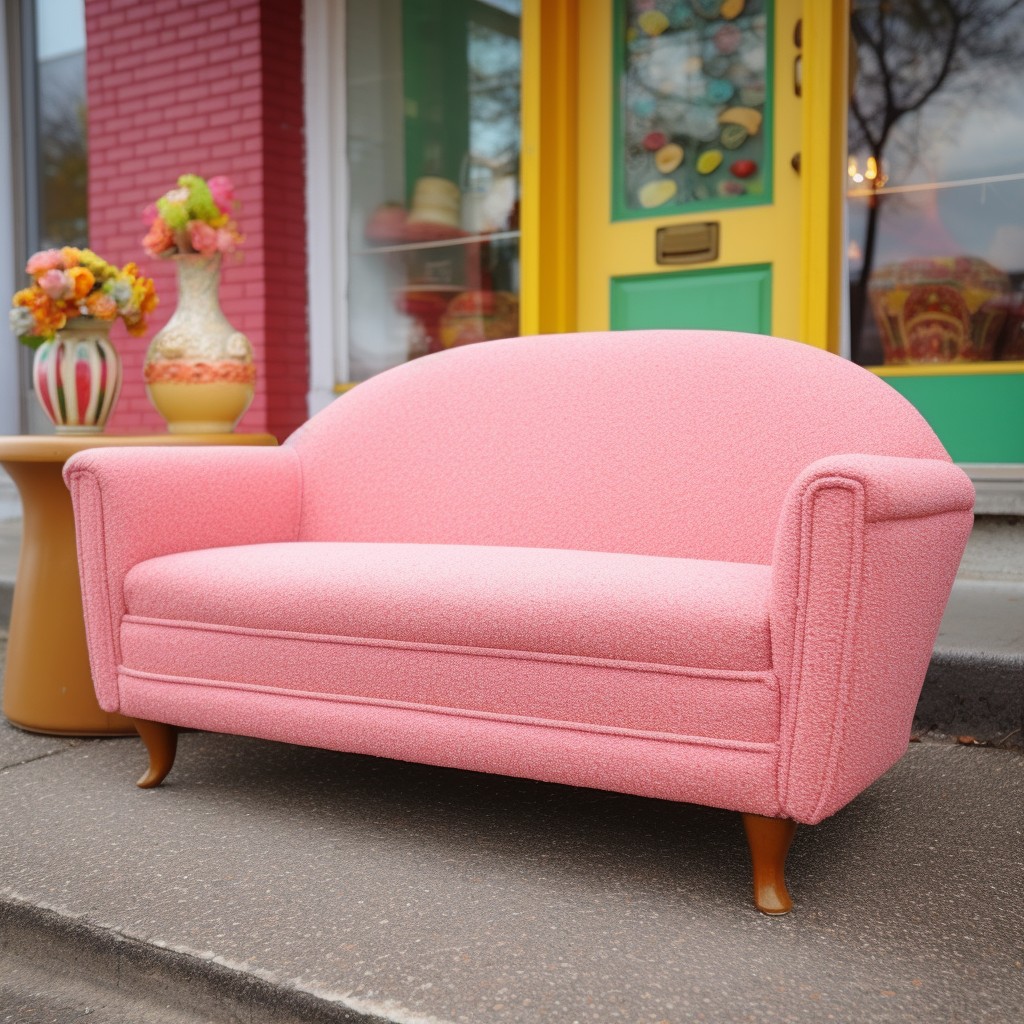 In an homage to the past, this particular loveseat emanates vintage charm. The warm pink hue makes a bold and bubbly statement, instantly brightening any room. Ideal for a cheerful living room or a playful office space, it adds a hint of joy to your decor while maintaining sophistication.
The feature that makes this piece truly stand out is its bouclé fabric. This type of material presents a looped texture, which gives the loveseat its unique tactile quality and visual appeal. Think comfort, but with a kitsch twist.
Strong and supportive, the structure of this loveseat is anchored by a simple, unornamented silhouette – the perfect balance to its lively color and texture. If you're seeking a centrepiece that exudes personality and nods to mid-century aesthetics, look no further. Spritz some modern throw pillows for an extra dash of style, and your living room is set to impress.
Bouclé Loveseat With Metallic Gold Legs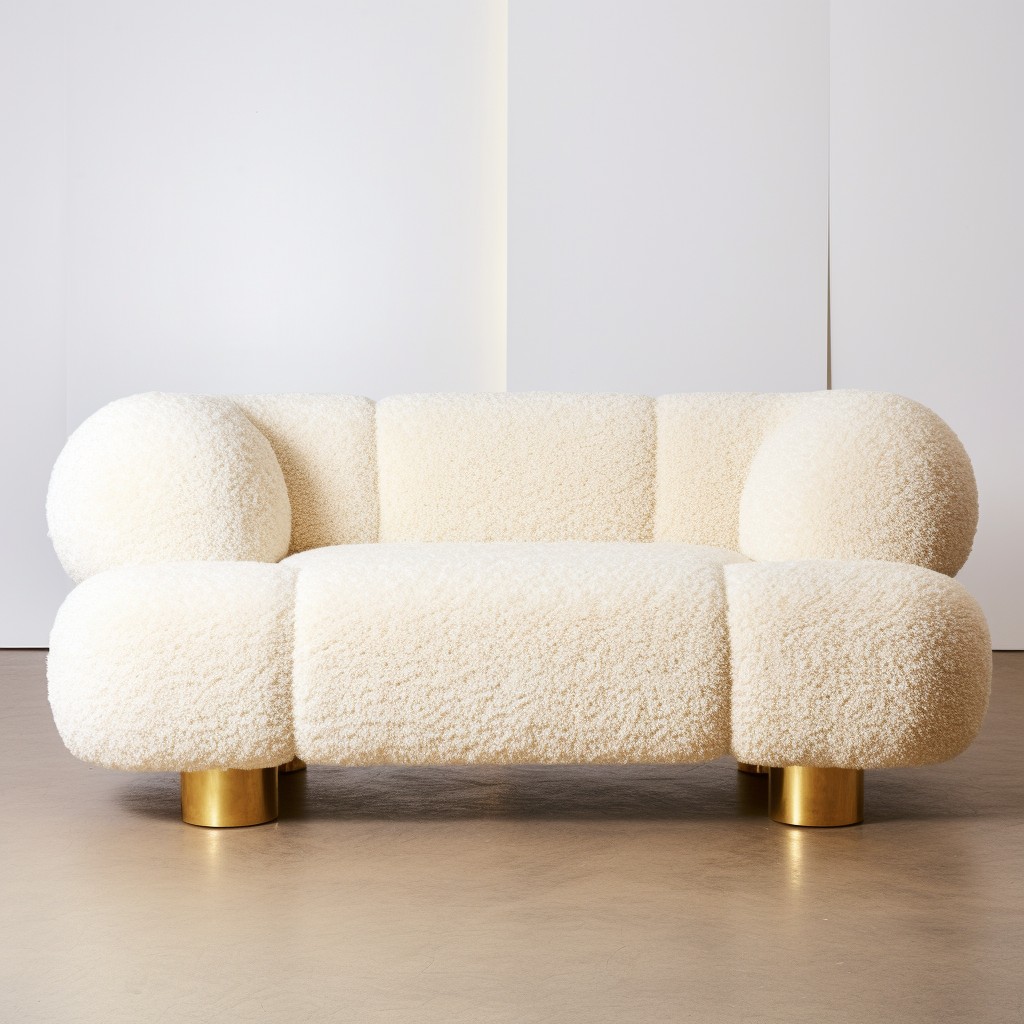 Exuding sophistication and grandeur, the marriage of bouclé fabric with metallic gold legs introduces a captivating visual contrast. The shimmering legs add a lavish element, breaking the monotonous texture of the fabric and giving the loveseat an upscale vibe.
Here are a few concepts to consider:
1. Frame Structure: Opt for linear or curved legs—both incarnations blend seamlessly with the richness of gold.
2. Balance: Pair this bold loveseat with subtle, neutral room elements to avoid overpowering your space.
3. Maintenance: Gold legs may require periodic polishing to retain their lustre, while the bouclé fabric is typically easy-care.
4. Versatility: Such a standout piece transitions well across different interior design styles—from modern glam to vintage chic.
5. Lighting: Natural or well-set artificial light will highlight the gold, adding a pop of brightness to the room.
Remember, this unique choice can command attention and become your room's centrepiece, so plan your décor ideas accordingly to create a harmonious aesthetic.
Luxurious, Oversized Bouclé Loveseat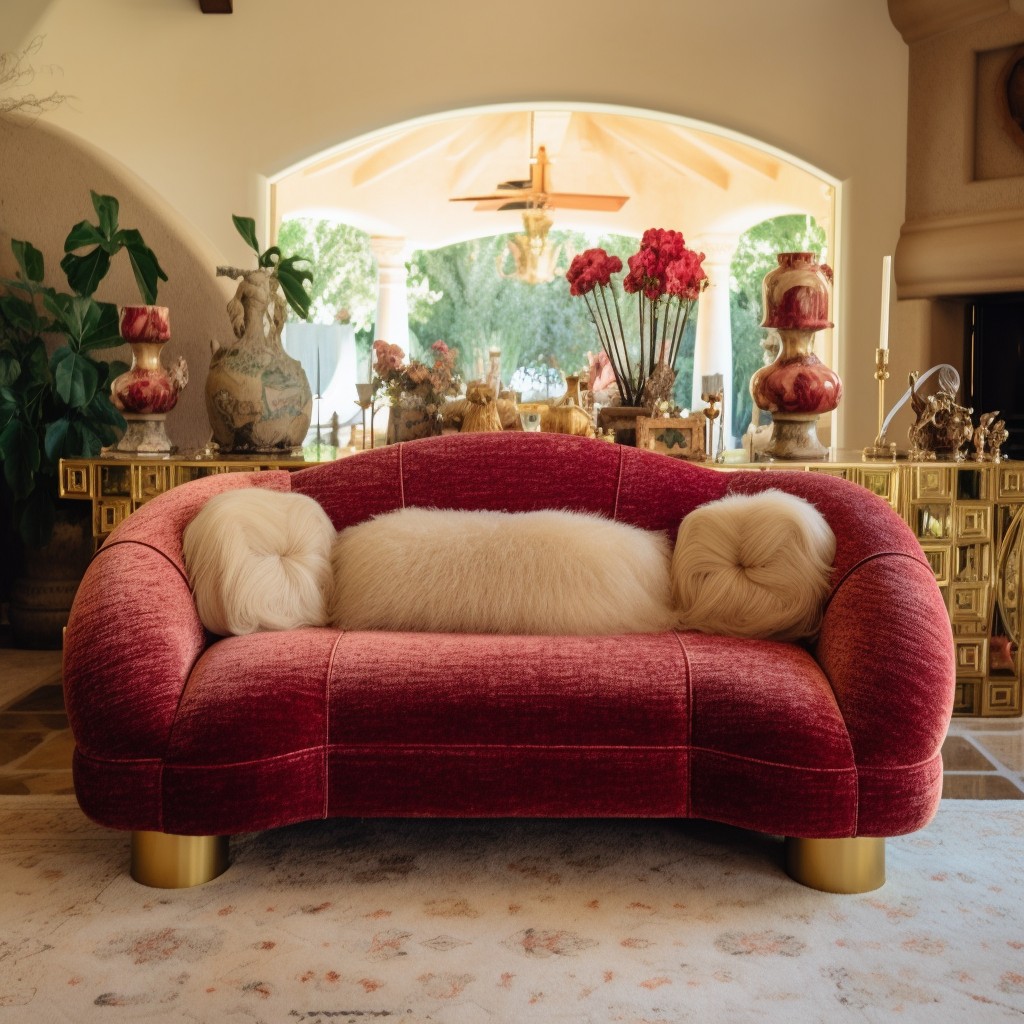 This substantial piece certainly commands attention. Characterized by its generous proportions, it provides ample space for stretching out or cuddling up.
The luxuriousness is elevated by the tactile appeal of bouclé fabric, known for its looped yarns that offer a satisfyingly cozy feel.
Opting for neutral hues can accentuate the plushness while offering design versatility. Notably, it pairs well with various decor styles, making it an instant crowd-pleaser.
Meticulous design details such as deep-cushioned seats, sloped arms, and quality craftsmanship make this item truly stand out.
Layering with oversized cushions and throws will enhance its appeal, creating the ultimate relaxation nook.
Remember, this piece requires substantial room to avoid making the space feel cramped.
Neutral-toned Bouclé Loveseat for Minimalistic Styles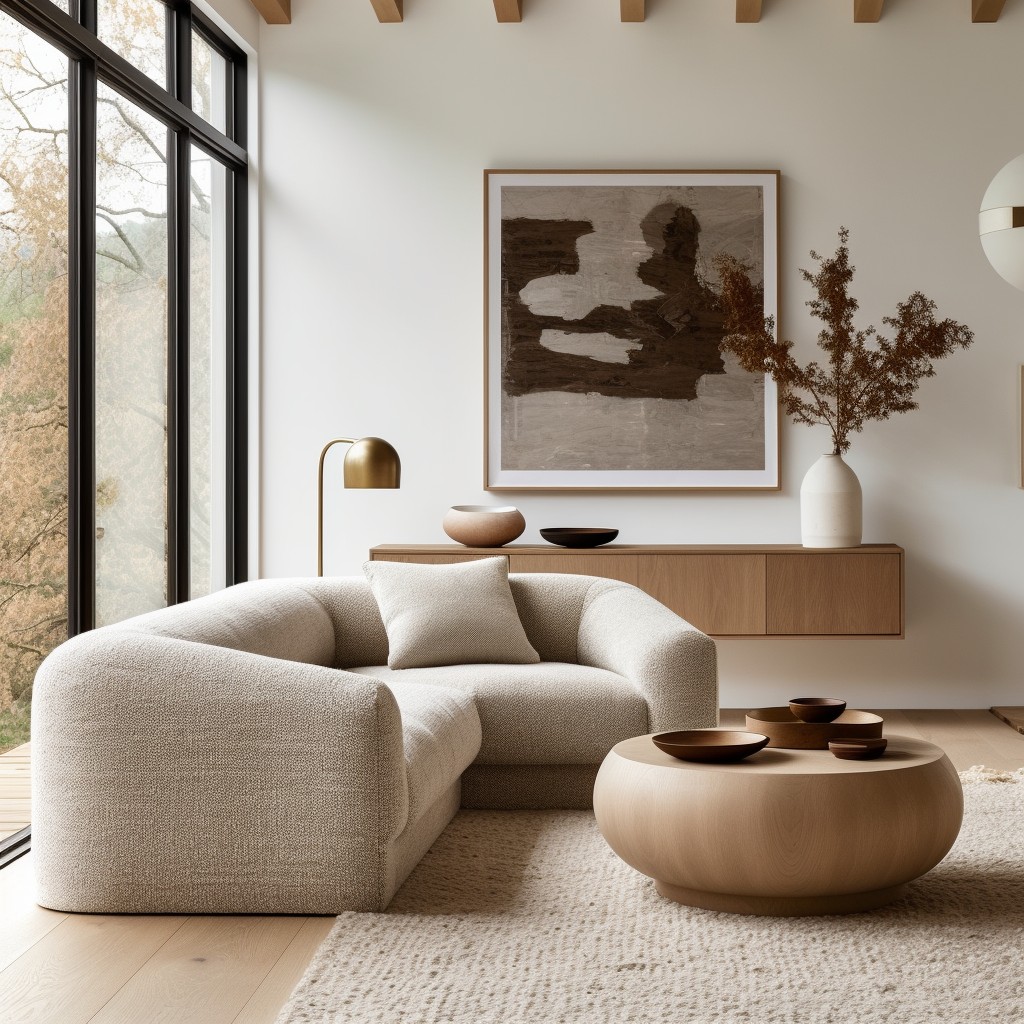 Simplicity reigns in minimalist styles, and this is where neutral-toned bouclé love seats shine the brightest. Their staple attraction is the flexibility they offer. The soft texture and light shades of beige, cream, or eggshell white can effortlessly blend with any color scheme.
Flat surfaces and clean lines are inherent within minimalistic decor, making the organic texture of bouclé an excellent contrast. Adding a few geometric-patterned pillows contributes to maintaining a balance between the various textures.
When paired with muted shades for walls and flooring, these furnishings work as a primary focal point, offering a calming silhouette against the otherwise understated surroundings. On the lighter side, they repel heat, making a space feel cooler. A thoughtful arrangement with a simple glass coffee table, slim table lamps, and a streamlined rug can harmonize the minimalist aura, manifesting a sense of tranquillity.
Applying this approach with a neutral-toned bouclé loveseat serves to maximize minimalist style without compromising comfort and sophistication.
Teal Bouclé Loveseat for a Pop of Color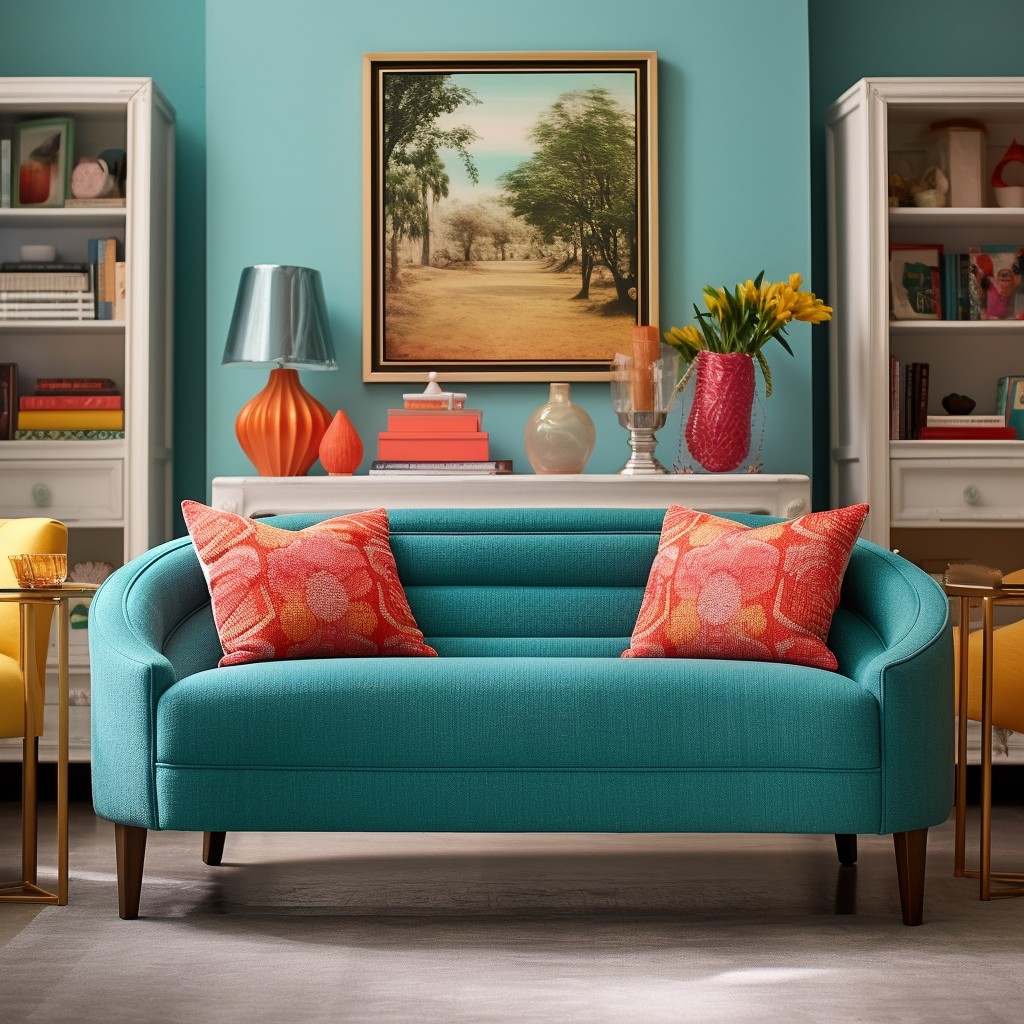 In a neutral living room, adding color can bring vibrancy and dynamism. A teal bouclé loveseat proves exceptional at this. With its distinct shade, it effortlessly enhances the décor while serving as a beautiful centerpiece.
Consider these key points:
Versatility: Teal blends well with many color schemes, from browns and golds to various shades of white and gray. Regardless of your existing palette, a teal bouclé loveseat can complement it.
Popularity: Teal is an extremely popular shade in contemporary interior design. It evokes tranquility and creativity, making it ideal for achieving a relaxed and modern ambiance.
Fabric: Bouclé, loved for its looped texture and comfortable feel, can enhance the aesthetic appeal of your loveseat, making it more inviting. The material also adds a tactile dimension to your furniture, elevating the overall interior experience.
Size & Positioning: Ensure your loveseat fits your space. Position it to optimize conversation areas, view of the television, or a window with a view.
With these points in mind, a teal bouclé loveseat not only imbues your space with color but also enriches the overall design with texture and contemporary appeal.
Bouclé Loveseat With Matching Side Chairs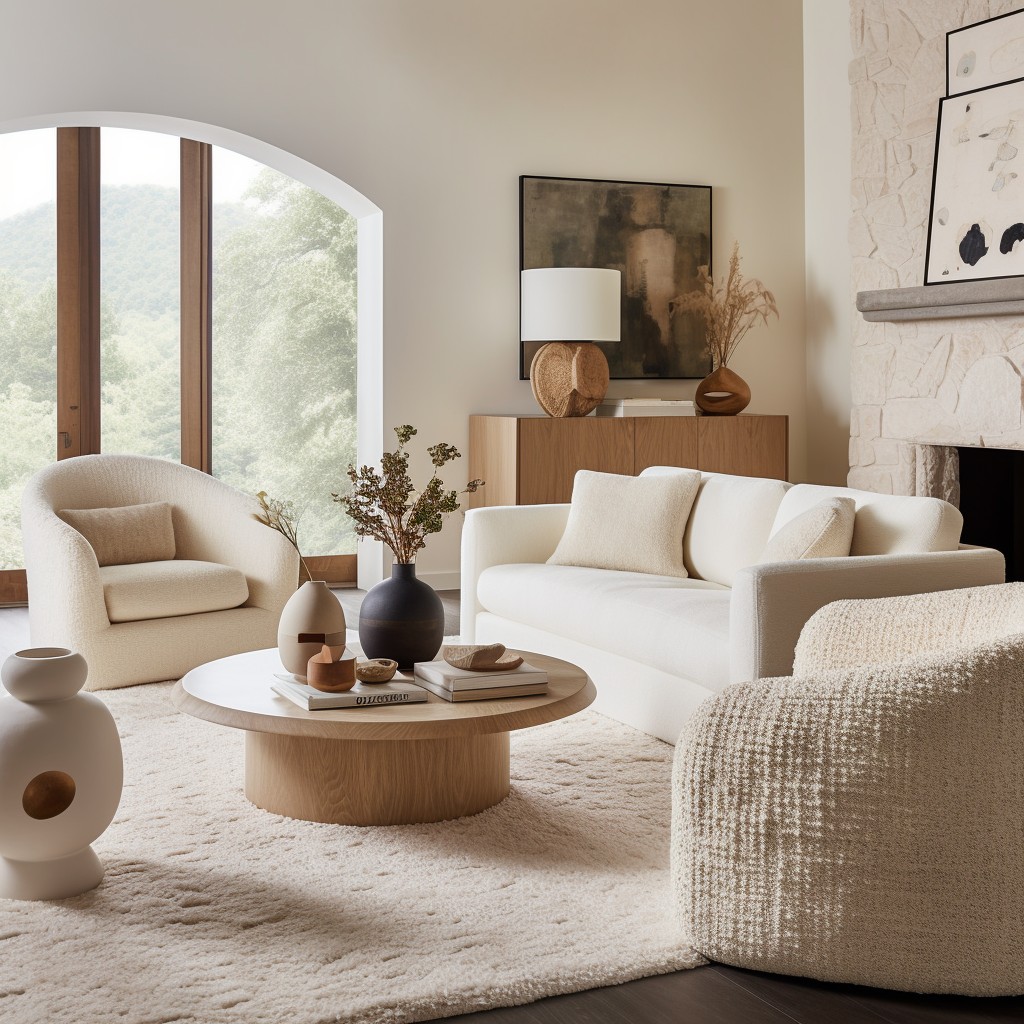 Harmonizing your space becomes effortless when pairing your loveseat with matching side chairs. A refined way to amplify the comfort of your living space, the uniformity and cohesiveness of the design give an air of sophistication to any room. This arrangement diversifies seating options and fostering an inviting environment perfect for conversations and lounging.
Consider the following aspects:
Materials: High-quality bouclé fabric is renowned for its durability, resilience, and comfortable feel. Ensuring both the loveseat and side chairs share this material guarantees a visually pleasing match.
Shape: Round or curvaceous chair structures pair beautifully with the loveseat, creating a continuous, fluid design flow.
Color: Ensuring the loveseat and chairs share the same hue provides a seamless aesthetic. Alternatively, opt for subtly contrasting tones for a dramatic flair.
Size: The scale of the side chairs in relation to the loveseat plays a pivotal role in overall balance.
Remember, the ultimate goal is to create an engaging, warm atmosphere that invites relaxation and camaraderie. This pairing nails the desired effect while also serving as a chic centerpiece for your interior.
Modern Bouclé Loveseat With Edgy Design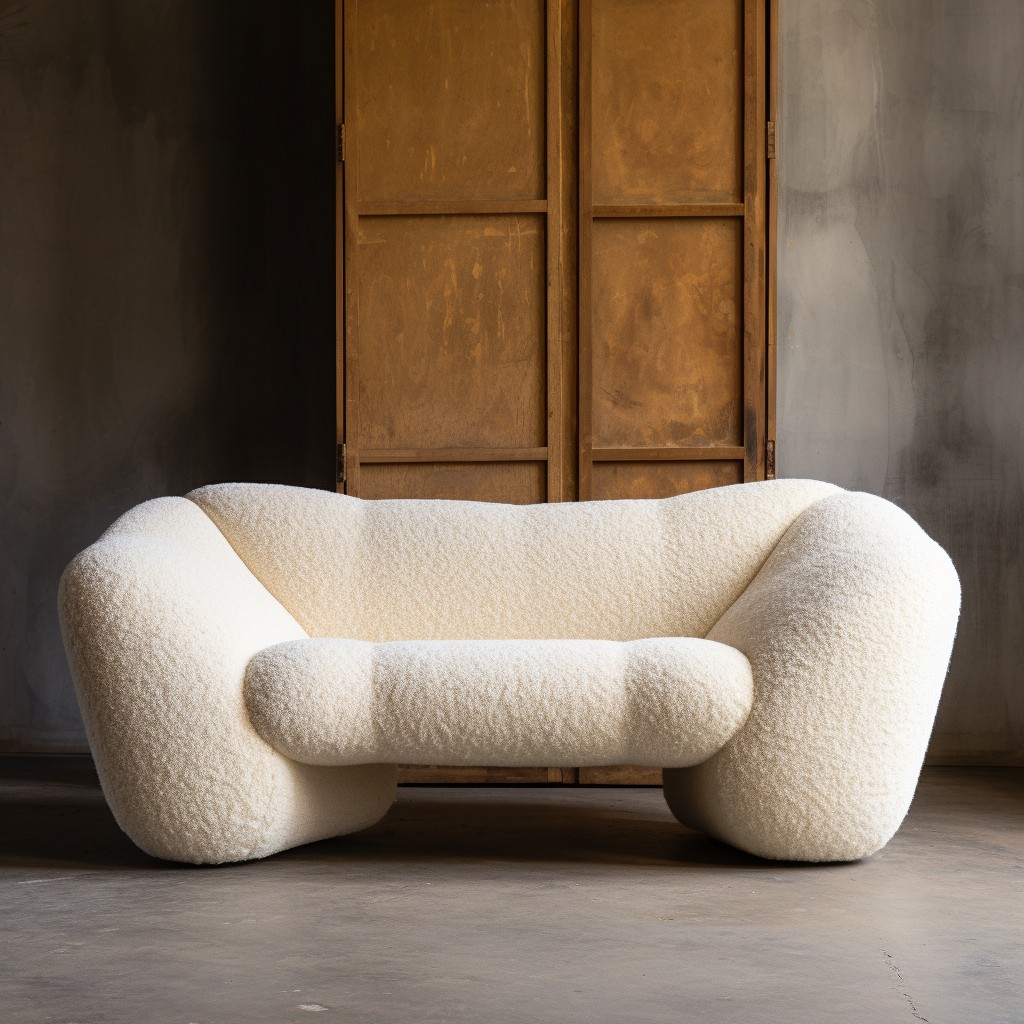 The appeal of a modern aesthetic paired with bouclé fabric can surprise many. An edgy design elevates the entire room with its unique look—that's where the magic of the modern bouclé loveseat lies.
Choosing this piece means embracing a bold, unexpected style. Consider a sharp, geometrical structure to contrast the plush fabric. Ever thought about an asymmetrical backrest? It adds an element of surprise.
Details, like sharp lines or chrome accents, increase the lovseat's modern vibe. A courageous color choice, like a deep plum or vibrant orange, reinforces that this isn't your grandma's bouclé!
Lastly, displaying it as a stand-alone piece allows it to truly shine. Pair it with minimalist decor to heighten its impact. Just remember, whatever design choice you make should speak volumes about your unique personality and taste.
Beige Bouclé Loveseat With Chenille Throw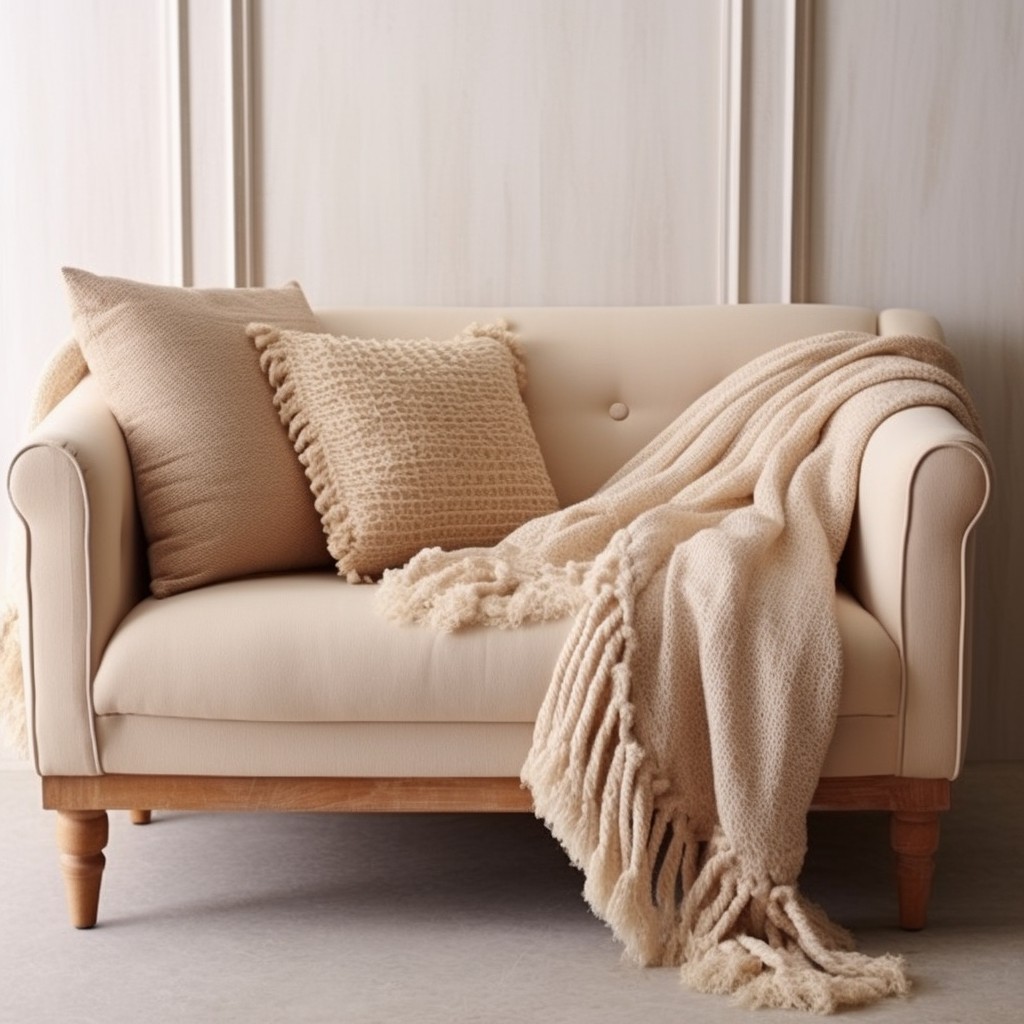 A touch of softness is achieved through the pairing of a chenille throw. Their plush nature brings warmth, simultaneously offering a contrast to the relatively textured finish of our beloved bouclé. The beige color provides a versatile palette that allows you to experiment with a wide range of colorful, patterned, or textured throws according to changing trends.
This combination harmonizes comfort, coziness, elegance and an almost irresistible tactile allure. It's particularly appealing to those who admire a blend of everyday luxury and practicality. For an added pop of color, consider a brightly hued accent pillow, perhaps in a complementary texture like velvet or raw silk.
The final look is versatile, easily integrated into a variety of design aesthetics from boho-chic to contemporary minimalism.
Brushed Brass-capped Bouclé Loveseat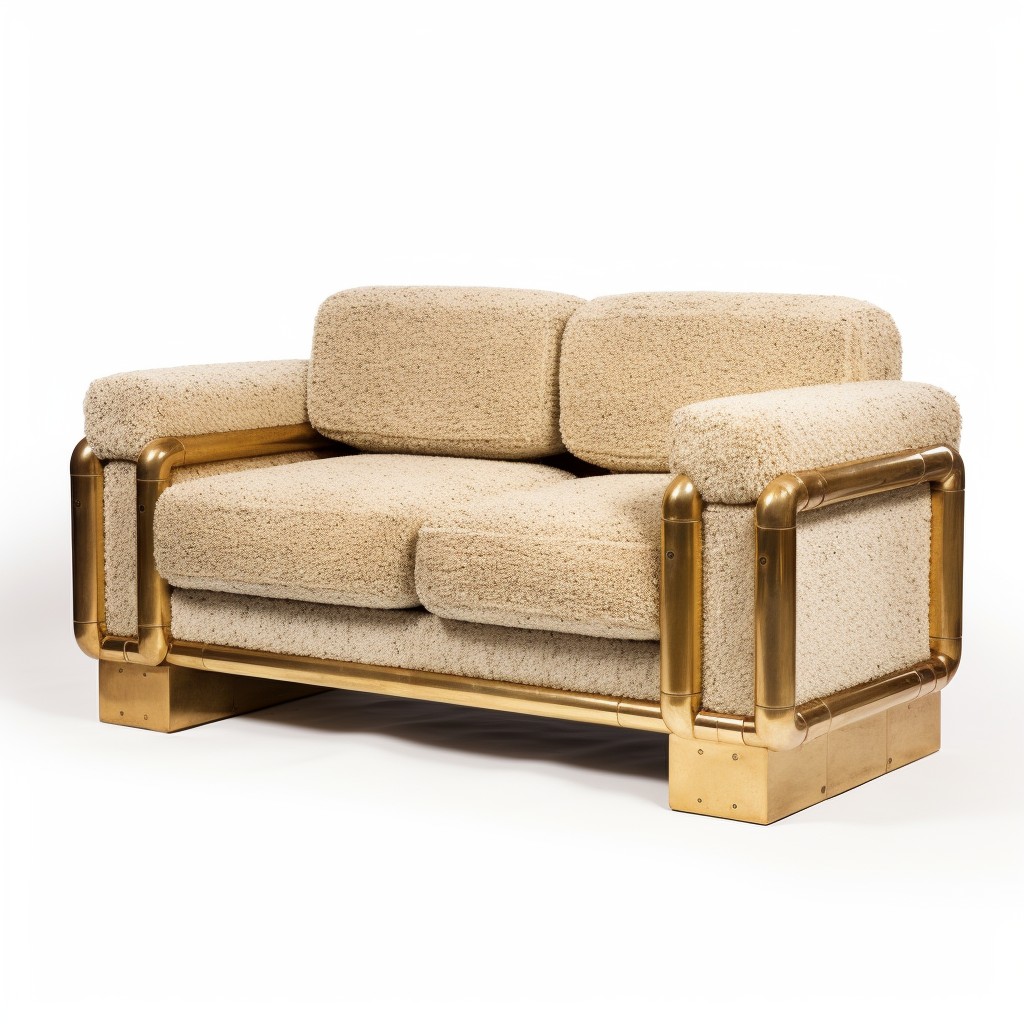 Perfect for those after a lavish touch, this style exudes mid-century sophistication. The plush bouclé fabric lends an inviting texture, perfect for sinking into after a long day, whilst the brushed brass caps elevate the piece.
These added details create an element of luxury and an air of elegance. Effortless to style, this piece complements a variety of color palettes – both the light and dark tones.
In terms of placement, it shines as a focal point in a living room or a comfortable addition to a study. Remember to give it room to be admired, do not overcrowd it with excessive décor. Instead, choose small brass accent pieces to complement the distinct caps. A brass reading lamp, for example, may fit nicely with the overall theme.
Despite its sumptuous appeal, this loveseat is far from fragile. The careful combination of plush bouclé and hardwearing brass ensures it's built to last.
Bouclé Loveseat for a Chic Reading Area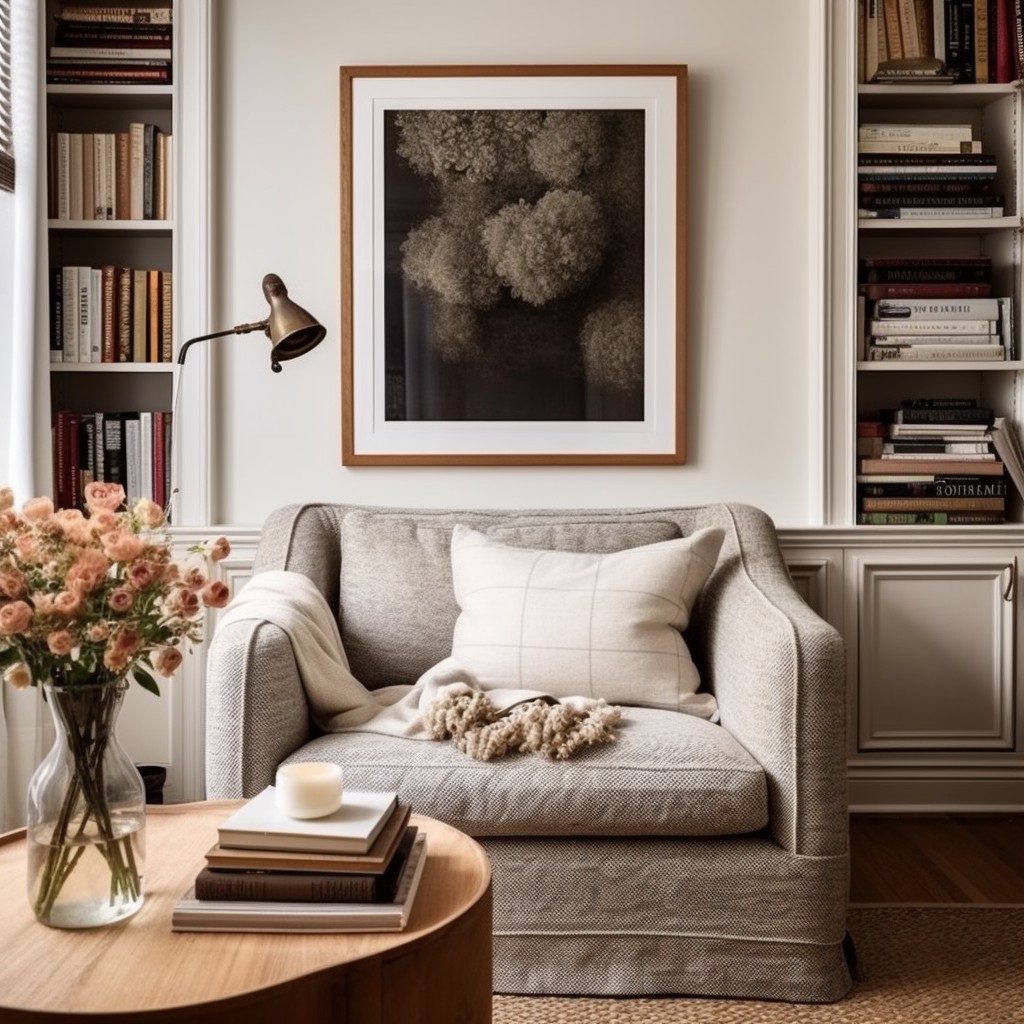 Pairing a bouclé loveseat with a sleek floor lamp and surrounding it with your favorite books can instantly create a cozy nook perfect for indulging in famous novels or poetry collections.
Due to its unique texture, the bouclé fabric becomes a spotlight of the space, attracting immediate attention.
Consider adding a plush rug under the loveseat for extra comfort and warmth.
Additionally, a small side table can provide a practical surface for a cup of tea along with your reading material.
Ensure the color of your loveseat complements the existing color palette of the room.
For more visual interest, add various-sized throw pillows in harmonizing hues.
Lastly, remember to position the loveseat near a window, if possible, to maximize natural light exposure during daytime reading sessions.
Bold, Hunter Green Bouclé Loveseat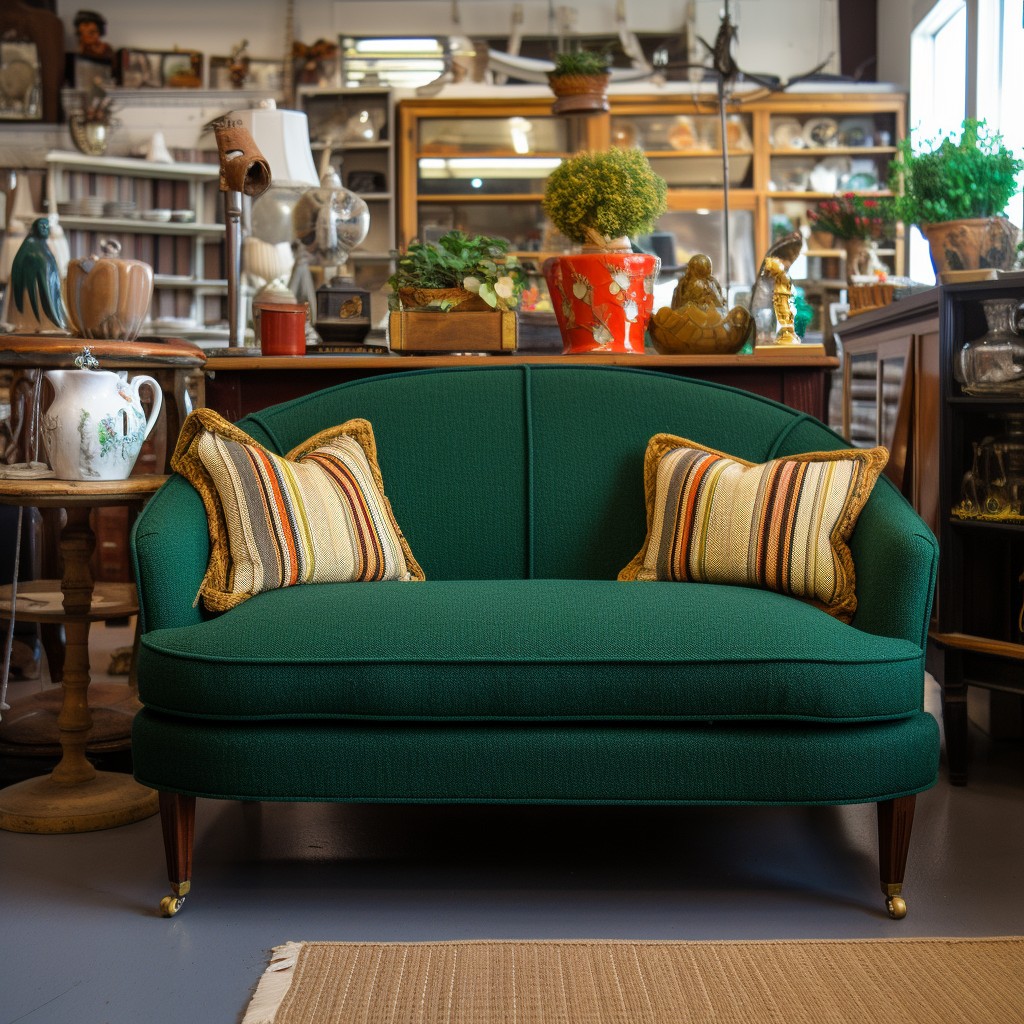 Having a bold furniture piece can add a unique touch to your living space. Here's something to consider if you lean towards a more adventurous and dramatic style: the hunter green shade. This deep, rich green has been popular in home decor for a number of years, evoking a sense of nature and sophistication simultaneously.
First, understand that a loveseat in hunter green bouclé fabric stands out in any room. It demands attention and becomes an inspired focal point. Hence, to maintain balance, pair it with neutral tones, like beiges and whites, and natural wood furniture.
Secondly, the texture of the bouclé material adds a tactile contrast to other decor items in the room. It exudes comfort with its softness, inviting anyone to have a seat. Experiment with a mix of textures to create a cozy and inviting atmosphere. For example, brass or metallic lamps and glass tables can work well with this.
Finally, don't shy away from adding other bold accents to complement the loveseat. Elements such as boldly patterned pillows or colorful artworks can harmonize with the prominent green shade while adding layers to your room's visual interest. However, a bit of restraint is necessary to prevent the room from feeling cluttered or overly vibrant.
Hence, with thoughtful pairing and strategically placed accents, the hunter green bouclé loveseat can craft a remarkable central point for your living room, offering a distinctive, chic allure that's hard to replicate.
Mid-century Bouclé Loveseat Design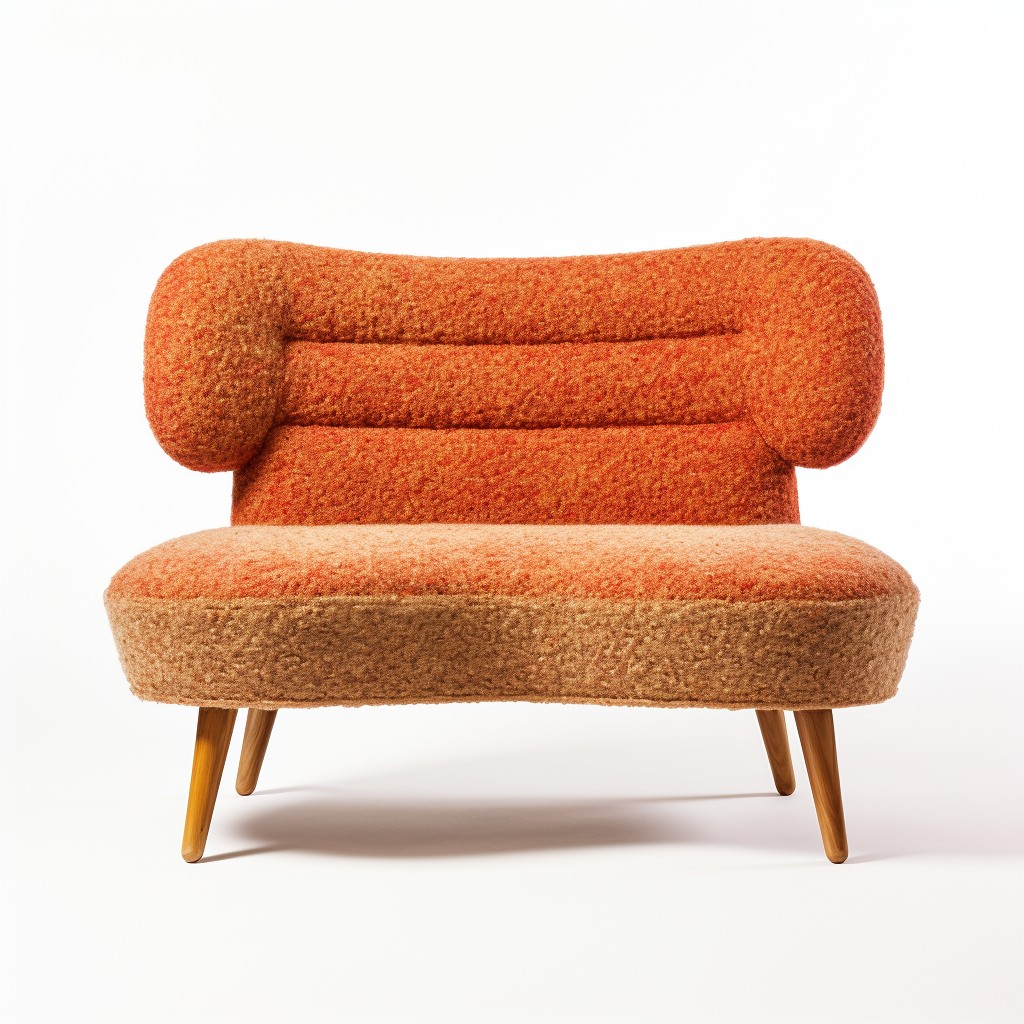 Embracing clean lines and organic curves, the mid-century design is all about simplicity and functionality. The bouclé fabric enhances these key characteristics, providing a rich texture while still maintaining the minimalist approach.
1. Clean Lines: The mid-century bouclé loveseat shows off a sleek silhouette, a testament to the no-frills aesthetic of the era.
2. Organic Curves: Gentle organically-inspired curves are central to mid-century design. On a loveseat, those are usually seen in the backrest or armrests.
3. Functionality: Besides having a neat design, a mid-century bouclé loveseat is fully functional, providing ample comfort.
4. Texture: The looped yarns of bouclé give it a unique, nubby texture, introducing an element of tactile interest.
Remember, a true mid-century piece pairs well with both vintage and more contemporary décor items, making this loveseat a versatile choice for any home. Highly functional yet visually appealing, this is the essence of mid-century design.
Petite Bouclé Loveseat for Small Spaces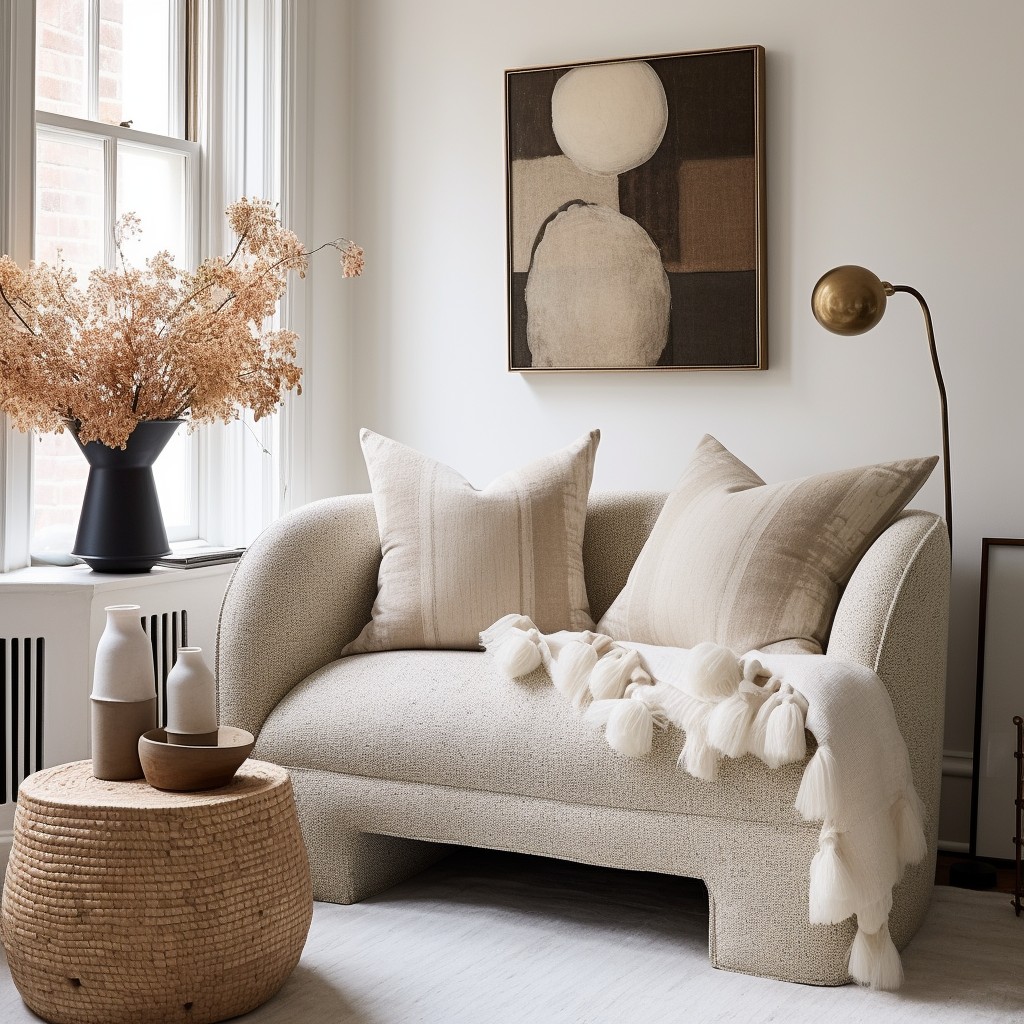 With its compact size, a petite loveseat not only brings extra seating but also creates an intimate conversation area. Essential for apartments or modest-sized rooms where space is a premium, it fortifies the room without overwhelming it.
Fitting snugly into corners and against walls, the piece maximizes space to ensure functionality and flow. And with the cozy, soft and tactile appeal of bouclé fabric, it adds both comfort and style.
For personalized charm, consider unique accessories: a statement cushion or throw, a patterned rug underneath, or side tables that reflect your tastes. To open up the space, mirrors or artwork can be placed above. Strategically adding lighting can also enhance the ambiance, creating a warm, inviting atmosphere.
Space-saving Corner Bouclé Loveseat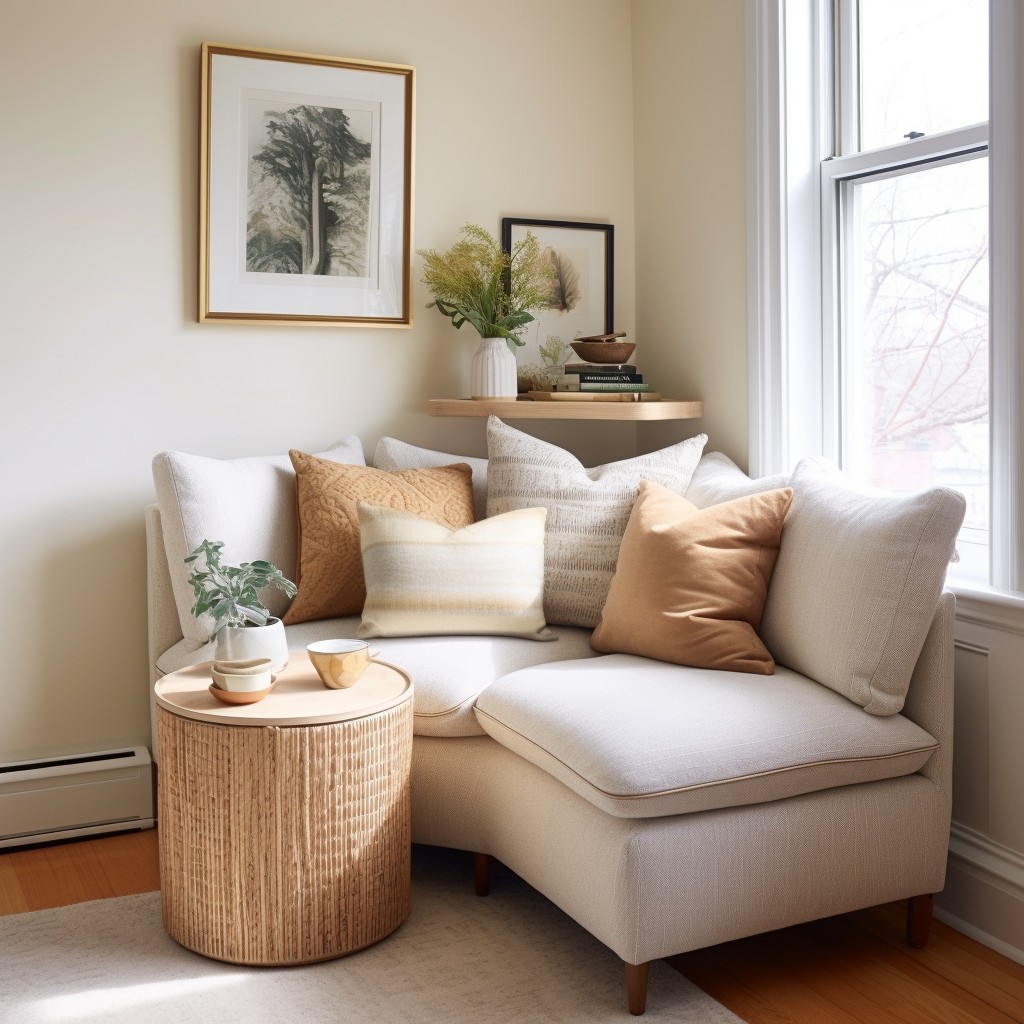 Utilizing corners is a fantastic approach to conserving space. The compact design of corner loveseats allows them to seamlessly fit into these often-underused areas.
The bouclé fabric adds a luxurious texture, ensuring no compromise on style even with size constraints.
Opting for such a loveseat could work well in a small apartment, a reading nook or perhaps in the master bedroom for a cosy evening read.
Besides, it may also serve as an ideal choice in large, open-concept living areas where delineating spaces could be a challenge.
The addition of pillows or a throw can elevate the décor quotient, making it not just functional, but also an appealing décor element.
Emerald Bouclé Loveseat With Tufted Design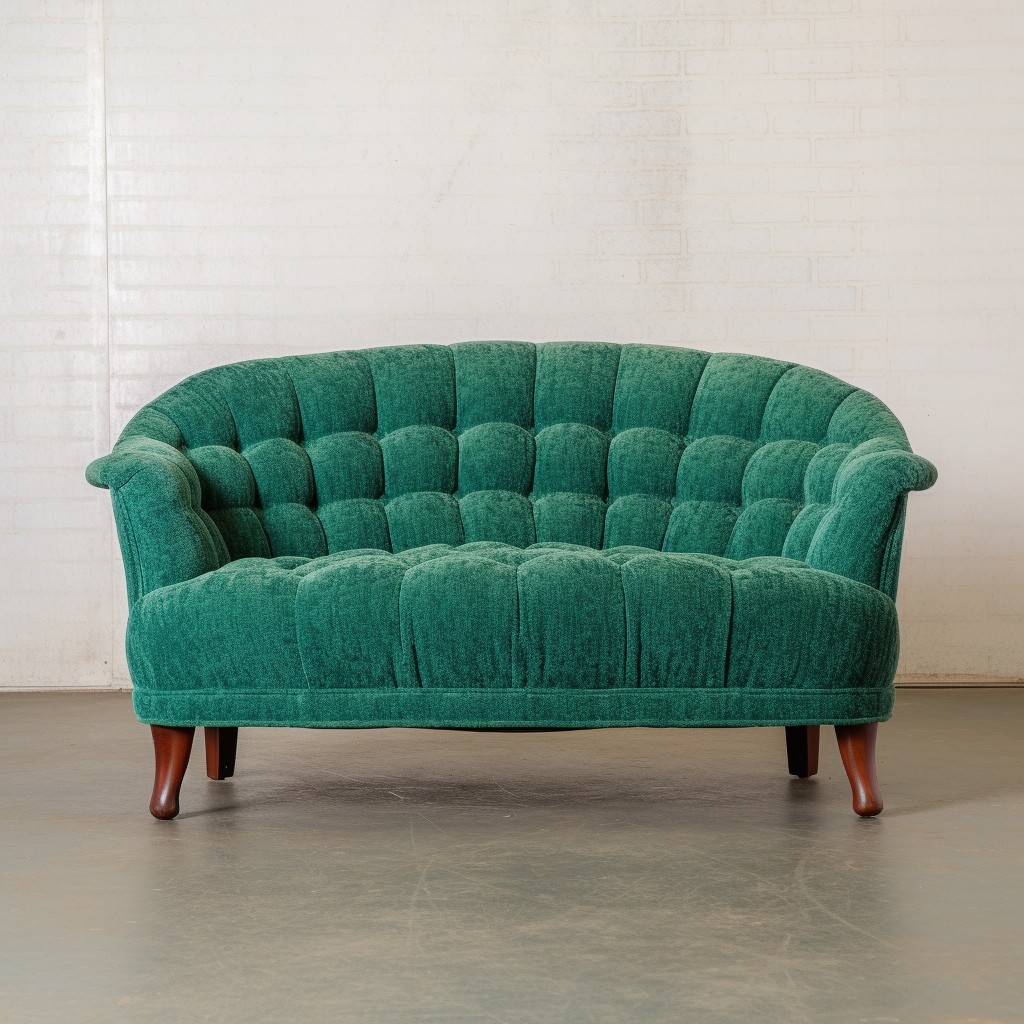 The elegance of this loveseat originates from its vivid, emerald green hue. An ideal fit for contemporary themed rooms, it adds a pop of color, enhancing the aesthetic appeal. The bouclé fabric's distinct nubbly texture coupled with tufting creates an eye-catching pattern, adding depth and warmth to its appeal.
This style of loveseat becomes a focal point, it effectively draws attention. It's not just about aesthetic appeal; it's equally about comfort. The plush tufting detail ensures a cozy seating experience. Opt to pair it with neutral or gold-toned accents for a luxurious finish. Its versatility allows it to be utilized in various room settings – from formal living spaces to cozy reading corners. Ultimately, this piece combines style, comfort, and functionality.
Classic, Blue Trim Bouclé Loveseat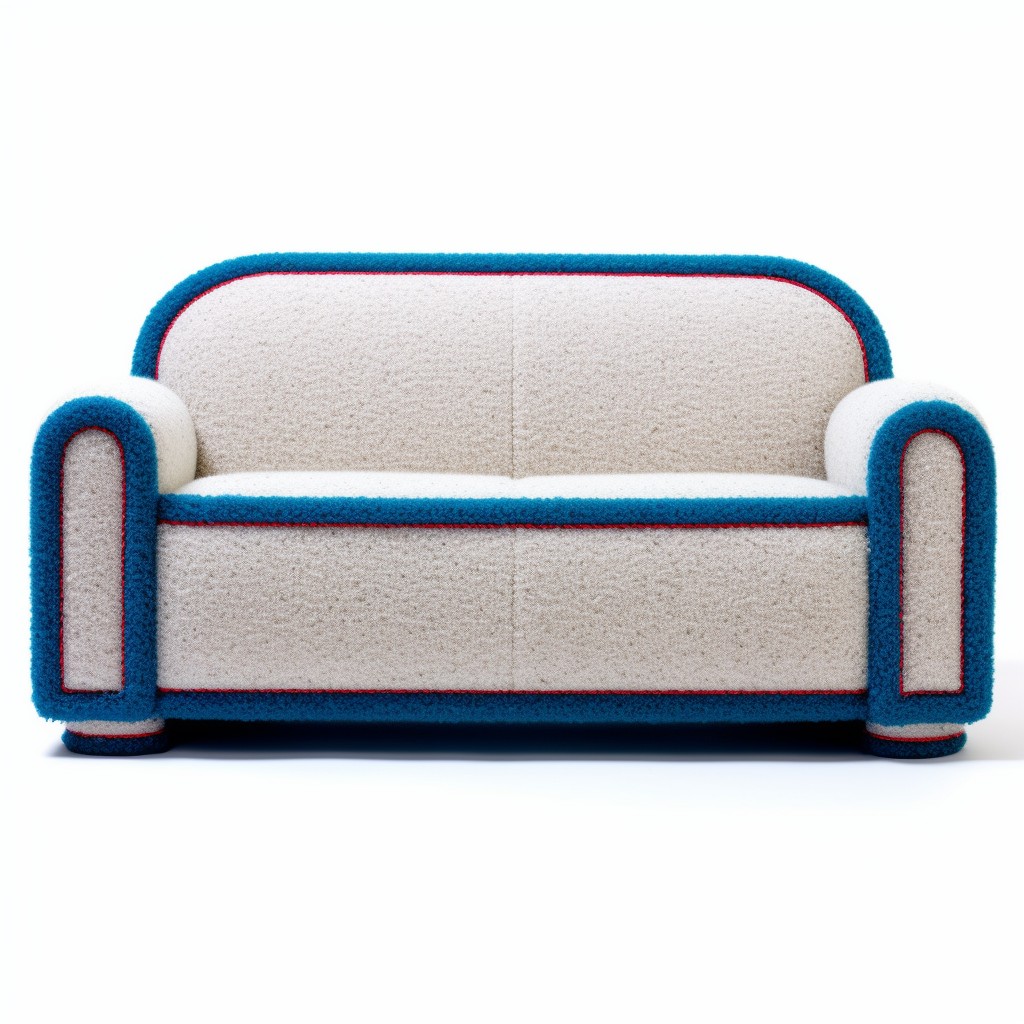 Featuring a timeless design, this seating option indulges in both comfort and style. The soft, textured fabric brings a plush aesthetic whilst the blue trim adds a chic contrast, allowing it to meld effortlessly into various home decor styles.
For a harmonious ambiance, pair this piece with navy or cobalt throw pillows. If, on the contrary, a bold ensemble is preferable, consider adding vibrant, orange and red accents. With versatile colour options, it's easy to switch between looks depending on mood and season.
Considering its size and structure, this item exhibits a robust constitution, making it a fantastic focal point within living rooms or spacious bedrooms. Despite its impressive strength, the breathable bouclé fabric provides a soft touch, perfect for sinking into after a long day.
In terms of maintenance, periodic vacuuming can maintain its fresh appearance and prevent piling. For material longevity, it's advisable to keep it out of direct sunlight. Professional cleaning is recommended for any severe staining.
Ultimately, this distinctive loveseat injects both elegance and functionality to a room setting. It's a sophisticated choice for those looking to strike a balance between modern taste and time-honored tradition.
Black Bouclé Loveseat for a Classy Touch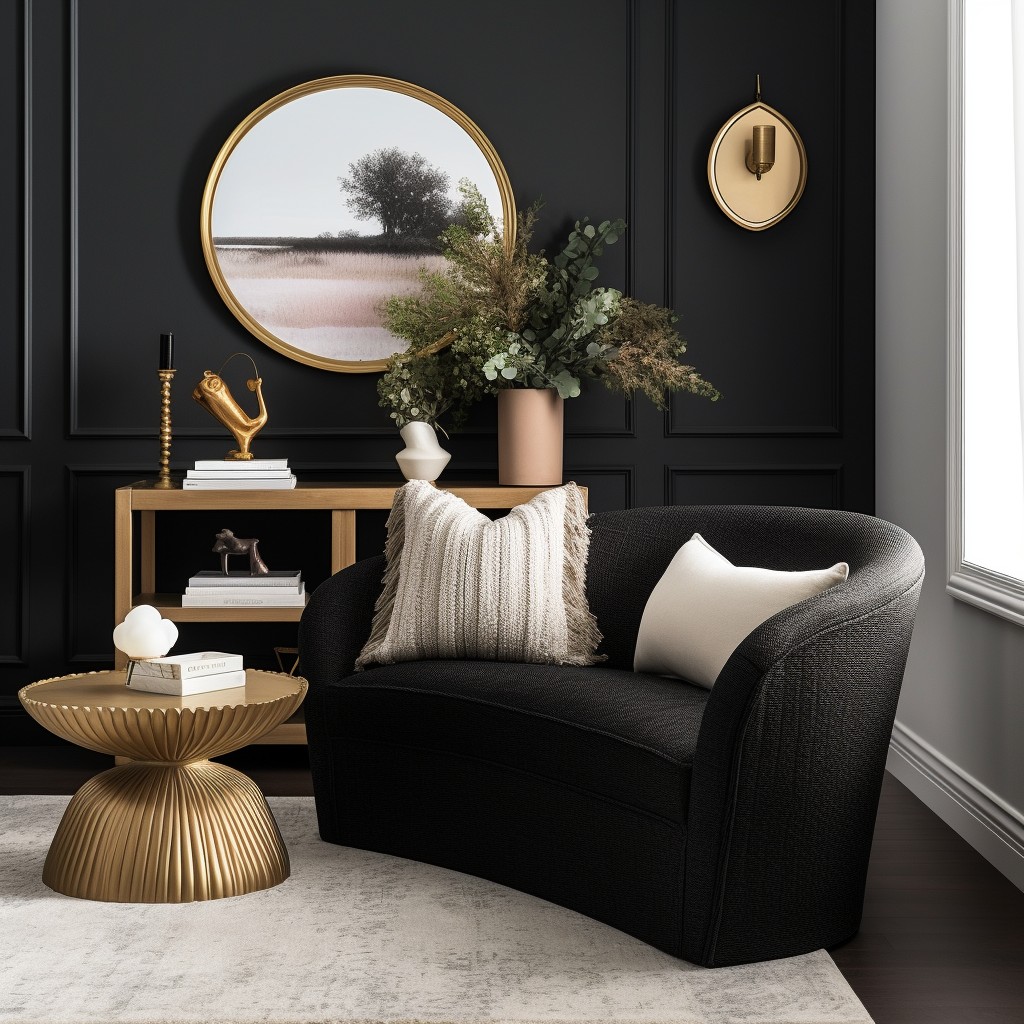 Dipping into the opulent spectrum of dark hues, the black bouclé loveseat serves as an assertive, yet sophisticated, focal point in a modern living space. Its rich color can ground a room, especially when balanced with lighter walls and floor coverings.
When selecting accessories, there are a few things to consider:
Throw Pillows: Perhaps a mix of textures to contrast the unique upholstery of the loveseat. An assortment of smooth silk or velvet pillows can exude elegance.
Rugs: A plush area rug in lighter hues can formulate an attractive contrast with the darkness of the loveseat, while maintaining coziness.
Art: Neutrals or color-rich, abstract pieces can enhance the sophistication exuded by the loveseat.
Lighting: A cool-toned, white light will elevate the elegance of black furniture and highlight its tactile surface.
Metallic Accents: Incorporate touches of metals like gold or brass in side tables, lamps or picture frames for an additional upscale appeal.
Remember, the aim is to create a harmonious balance to display the black bouclé loveseat as the classy, statement piece it is.
You may also like to read: