Last updated on November 4, 2023
Delve into a world of bold accents and fascinating focal points with red coffee table ideas, because embracing color can breathe life into any space.
I'm proud to share these 20 unique red coffee table designs that I've meticulously created, and I hope they not only inspire your interior design plans, but also bring you as much joy as they've brought me in the process of crafting them.
Injecting a vibrant pop of color into your living space can be as simple as introducing a red coffee table. This bold piece of furniture not only serves a functional purpose but also acts as a statement, drawing the eye and sparking conversation.
Whether it's cherry red, burgundy, or scarlet, a red coffee table can complement a variety of interior styles, from modern minimalist to bohemian chic.
In this article, you'll find a plethora of ideas to style your red coffee table, ranging from the choice of décor to the surrounding color palette.
Dive in to explore how to make the most of this striking piece of furniture.
Table of Contents
A Classic Red Mahogany Coffee Table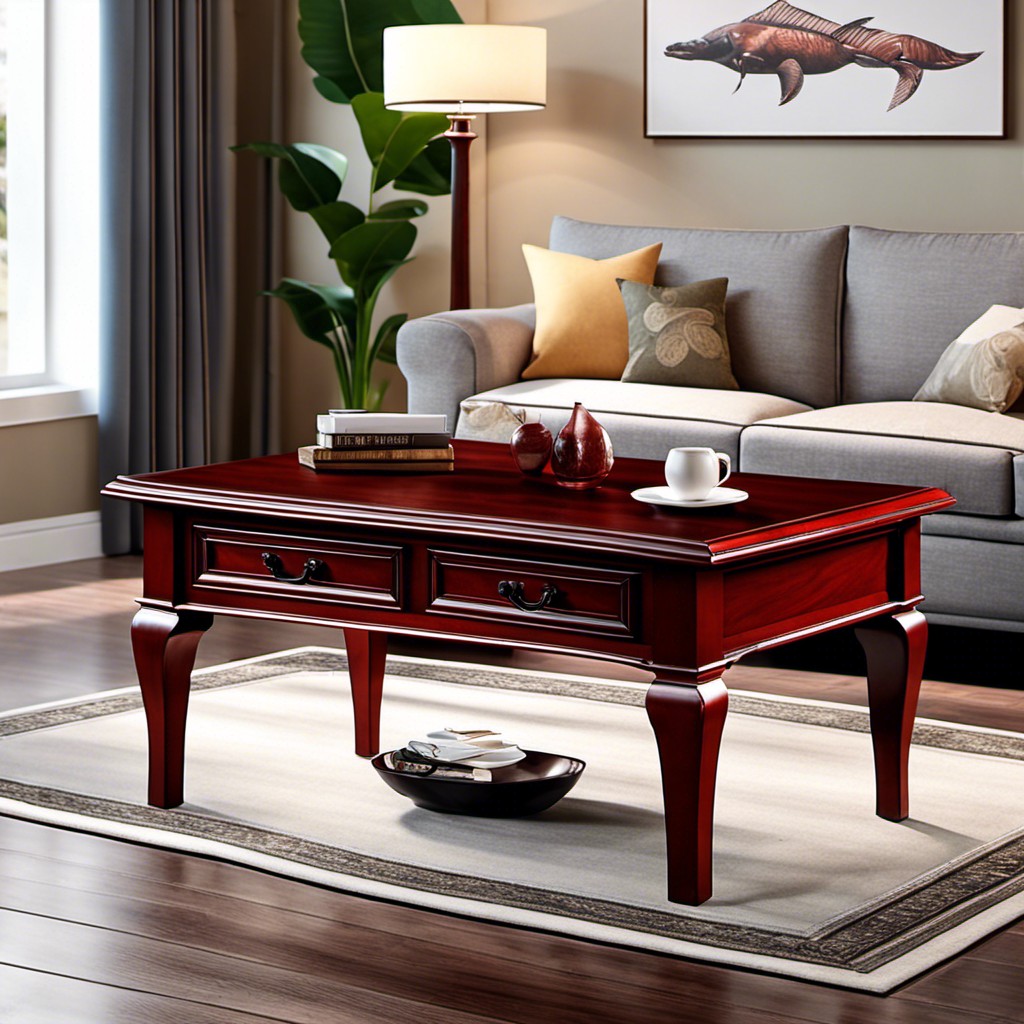 Mahogany's rich, deep color naturally lends itself perfectly to a classic style. When stained with a red undertone, it creates an immediate impression of bold elegance. Proving to be more than just a statement piece, the weight and durability of mahogany makes it ideal for daily use. This timeless option blends beautifully with other wood tones, creating a warm and inviting space with a touch of sophistication.
A few points to note when considering a red mahogany coffee table:
Complements traditional decors: The natural richness and depth of mahogany are best suited to more classical, ornate styles of decor.
Durability: Mahogany is known for its strength and durability, making it an intelligent choice for a piece of furniture that will be used daily.
Versatile colour: The red undertones of the mahogany blend seamlessly with a range of color schemes, making it a versatile choice.
Match other furniture: To create a cohesive look, pair it with other mahogany furniture.
Regular care: Like any wood furniture, a red mahogany table requires regular care—dusting, occasional polishing—to maintain its luster.
Red Distressed Farmhouse Style Coffee Table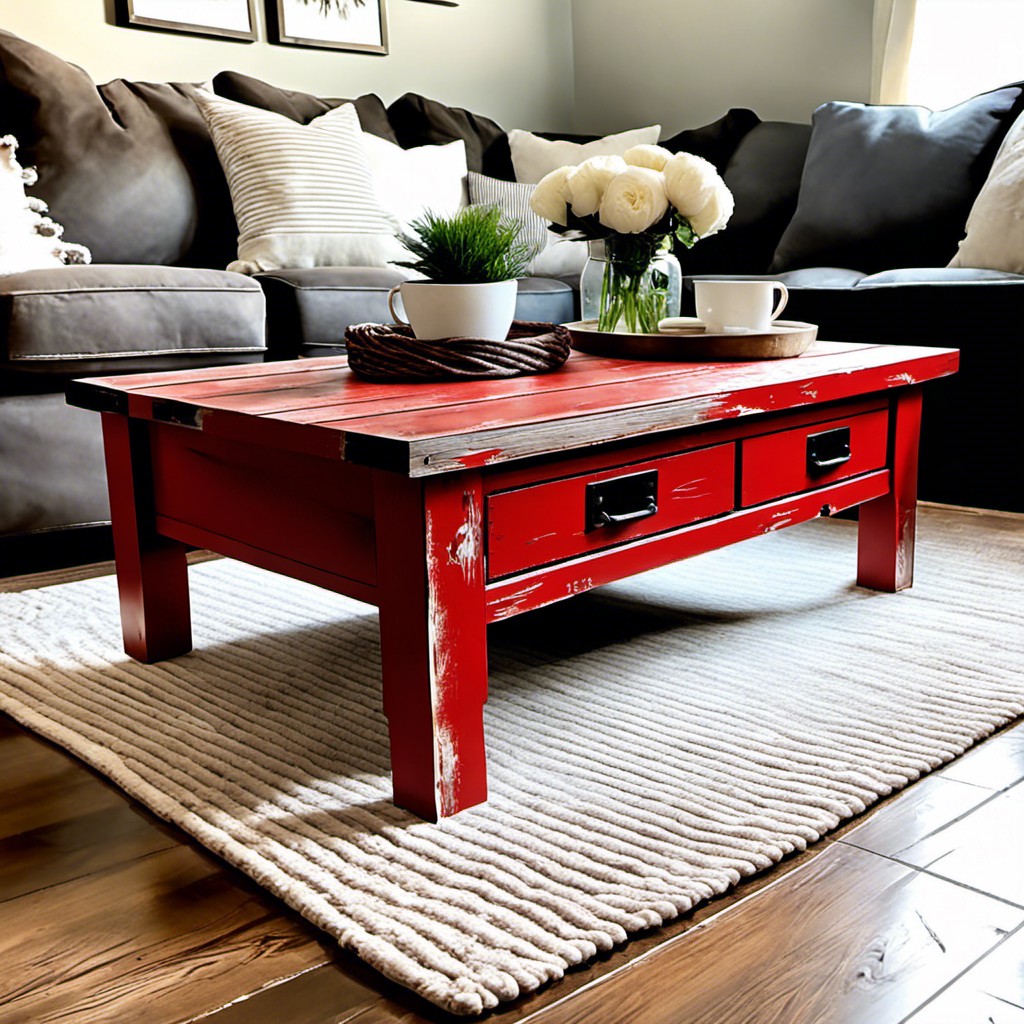 Delivering a touch of rustic charm, this variant embodies a worn-in aesthetic which gives it a unique character. The fun, crackled look results from a specialized painting technique often using milk paint, finished with a sanding process, allowing the under layers to show through.
The final pieces exhibit an attractive lived-in look perfect for cottages, country homes, or any space craving warmth and enchantment. The simple structure and weathered texture blend effortlessly with antique or vintage accompaniments, yet can provide an interesting contrast in more modern settings.
They are easily paired with natural elements like wicker, wood and hides, while the bold red tone can accentuate patterned rugs, throw pillows, or pastel couches.
Modern Red Lacquer Square Coffee Table
For a sleek, contemporary touch to your living space, consider this option. The high-gloss finish of the lacquer makes it an instant focal point.
Beyond just a place for placing your coffee mug, its robust, square shape bestows a bold, geometric accent to the decor.
A key point to note here is that red lacquer surfaces can be easily wiped clean, making this choice practical as well as stylish.
Additionally, its vivid red hue can ignite dynamic conversations and catch the eye, even in the most minimalist spaces.
Avoid over-accessorizing to let the table take center stage.
A single statement piece, like a modern sculpture or a colorful coffee table book, would be enough.
A word on positioning this piece: it works best in spacious living areas.
The size and glossy finish can easily overwhelm smaller, more intimate settings.
For best results, pair it with neutral tones or monochrome palette to help the red stand out, without overpowering the rest of your decor.
Rustic Red Cedar Log Coffee Table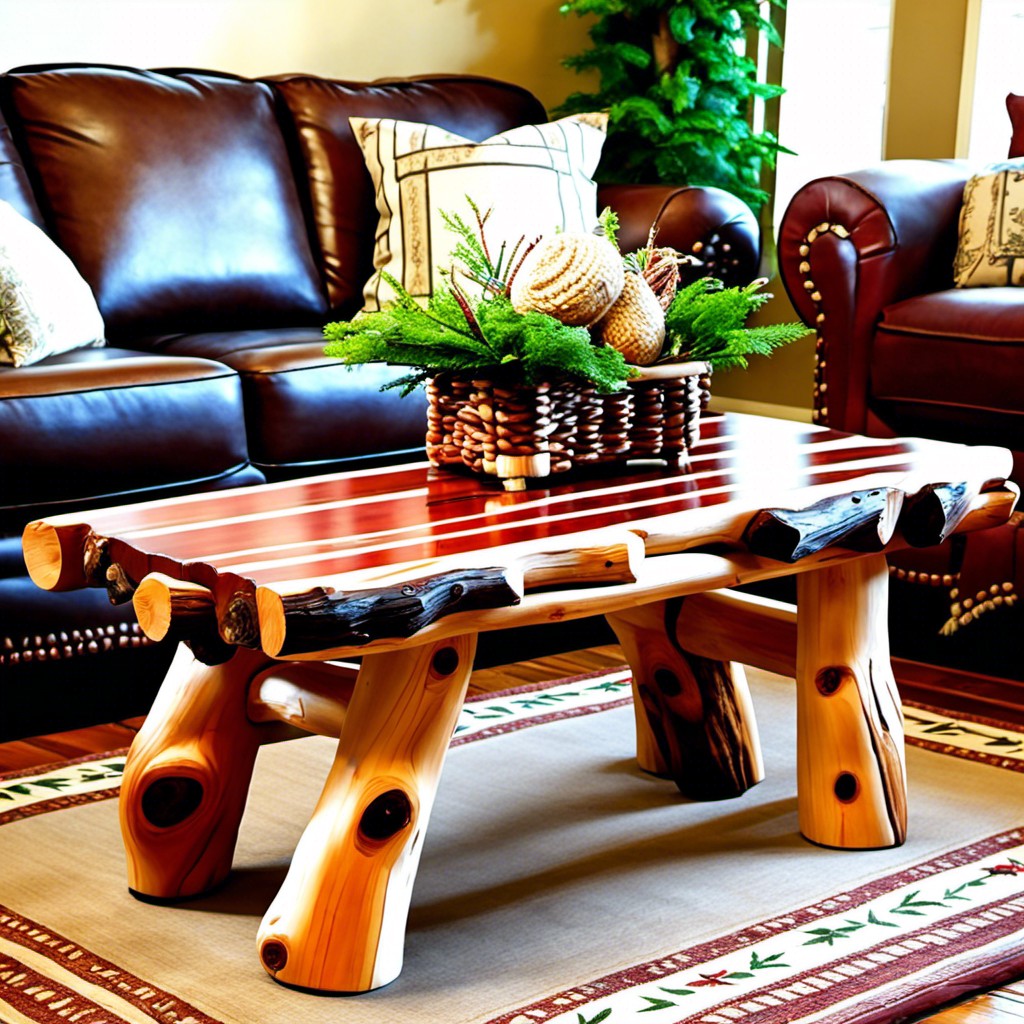 Crafted from natural cedar logs, this table offers an enchanting blend of rustic charm and warmth. The rich hue of the wood enhances its beauty. Beyond aesthetics, cedar's inherent properties make it resistant to decay and insects, ensuring longevity. Each piece of wood contributes unique grain patterns and knots, giving the table character.
Enhance its layered look with a plaid table runner or provide contrast with sleek, modern accessories. This table is suitable for every set-up – from an alfresco gathering beside a cozy fire pit to a comfortable living room scene.
Red Epoxy Resin River Coffee Table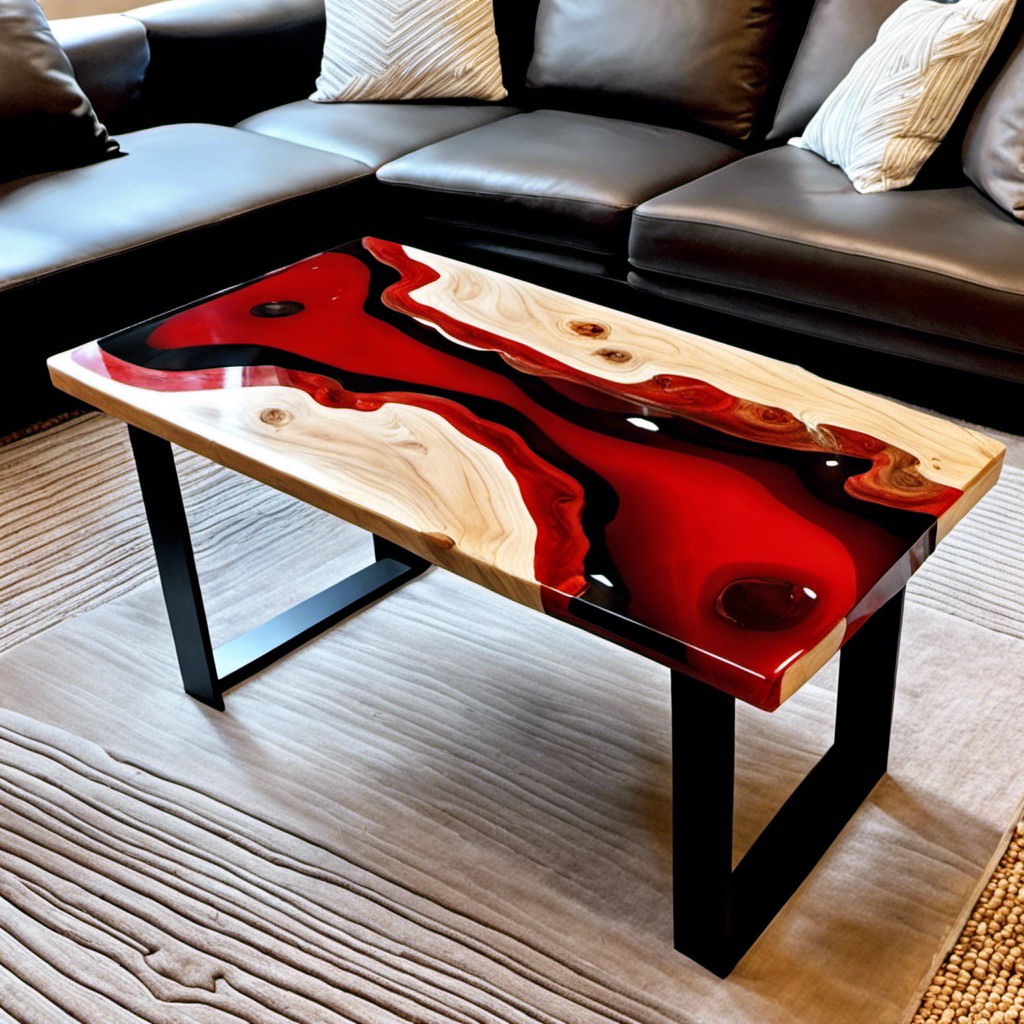 Richly crafted, this design channels the ebb and flow of a gentle stream, encapsulated in a strikingly sleek table. The visual spectacle ensues from the carefully executed fusion of epoxy resin with a slice of live edge wood's natural ruggedness.
1. Material Selection: Part of the charm derives from the selection of wood, often retaining its natural edges and knots. Popular choices include walnut, elm, or cherry wood.
2. Resin Application: A clear or tinted epoxy resin, in this case, red, is poured to mimic a river's course. This creates a vivid contrasting aesthetic against the wood's natural tones.
3. Design Versatility: Depending on personal preference, the resin river can be thin and winding or broad and compelling.
4. Finish: The resin and wood are polished and sealed, enhancing the overall durability and appearance.
5. Functionality: Despite its artistic appeal, the table remains practical and easy to clean.
This style marries natural rustic charm with modern design aesthetics, making it an intriguing focal point in any living room.
Glossy Red Coffee Table With Chrome Legs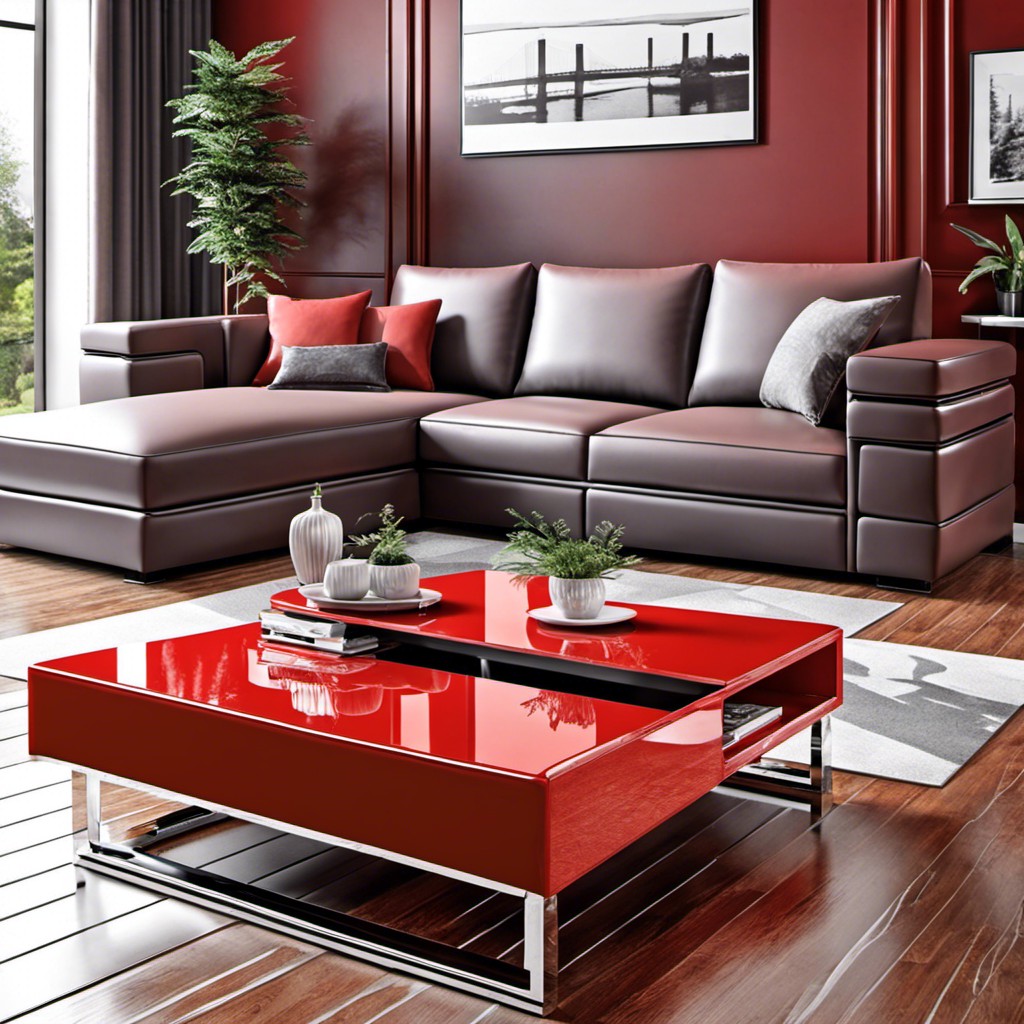 Accentuating the visual appeal of the living room, this particular table features a smooth, bright finish which instantly draws the eye. Its glossy red surface contrasts beautifully with sleek chrome legs, forming an excellent fusion of color and material.
The glossy finish offers a clean and modern look, while making it easy to clean and maintain. Chrome legs bring durability, stability, and an industrial touch to the piece, contributing to an overall contemporary aesthetic.
Positioning this coffee table in a neutral-toned setting helps it stand out, making it the centerpiece of the room. Pairing it with plush white chairs or sofas can enhance its visual appeal manifold.
If you decide on this style, ensure you maintain a balance. Let its boldness be enhanced by surrounding it with softer elements or pastel colors. This can help prevent the room from feeling overwhelming, while still allowing the coffee table's design and color to remain a focal point.
Vintage Red Leather Trunk Coffee Table
With a sense of history imbued in its sturdy structure, this piece is an excellent addition to homes striving to create a warm and welcoming atmosphere. The vintage leather trunk offers a wonderful twist on the traditional design, marrying the old and the new. Encased in rich, supple red leather, it provides a vibrant pop of color that can liven up any living room.
As a unique centerpiece and the star of a furniture ensemble, it blends seamlessly into rustic, vintage, or industrial decor styles. But it's not just striking in appearance; it's practical, too. One of the most significant advantages of this piece lies in its storage capacity. The trunk opens to reveal ample space, perfect for keeping magazines, books, or even throw blankets out of sight, yet within reach.
Caring for this piece involves routine dusting to keep its sheen. A leather conditioner can be used occasionally to maintain its good looks and extend its lifespan. Navigate any potential scratches or tears immediately, as neglecting them can lead to further damage.
To bring the most of its aesthetic appeal, pair the red trunk with contrasting lighter fabrics, or let it shine as the sole bright element in a monochromatic setting. Compliment the vintage theme with antique accessories or brass lamps to enhance the mood. This chic and versatile choice offers both aesthetics and function, providing the perfect blend of style and convenience.
Red Mid-century Style Coffee Table With Glass Top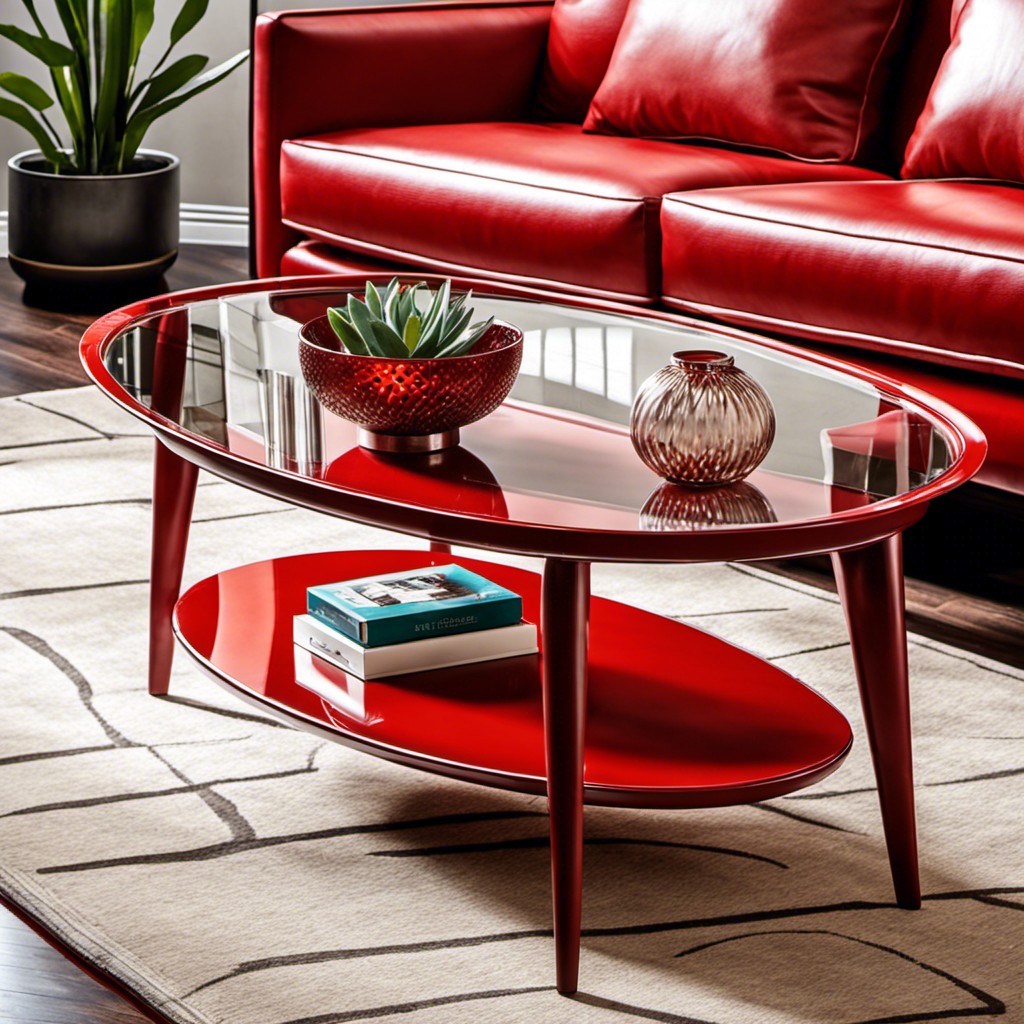 Effortlessly blending functionality with aesthetic appeal, this style emanates charm and elegance. The mid-century aspect brings in a sense of nostalgia, while the glass top adds a touch of modern luxury. The red undertone delivers a visual punch, creating a vibrant focal point in your living room.
Features to appreciate include:
Transparent Glass Top: Its clarity allows the eye to roam freely around the room, creating an illusion of more space, an especially useful feature for compact living spaces.
Sleek Lines: Refined and minimalistic style, making it compatible with several interior design themes.
Quality Material: Typically made from high-quality wood, such as teak, ensuring durability and longevity.
Intriguing Interplay: The red veneer underneath the glass top creates an interesting visual interplay; the color reflects subtly, softly radiating a warm, welcoming ambience.
Versatility: Suitable for homes or offices alike, effortlessly enhancing any space it inhabits.
Remember, the versatility of this table doesn't limit you to a specific color palette. Whether you want to create a contrast with cool blue sofas or complement a warm-toned rug, the decision is yours. This piece is here to elevate and not overpower. Its purpose is not just to hold your cup of coffee, but to hold up your style.
Octagonal Coffee Table With a Poppy-red Finish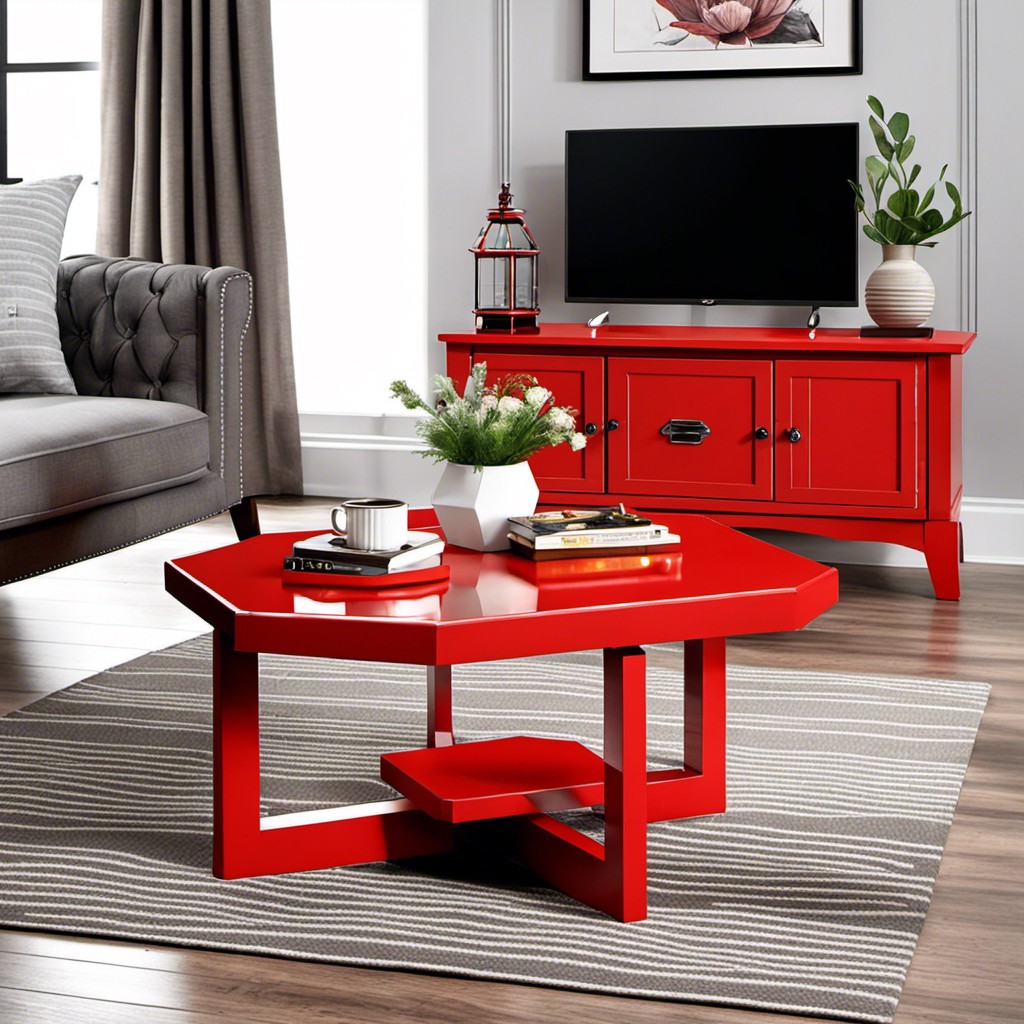 Add a distinctive flourish to your living room with an eight-sided table design. This table's poppy-red finish brings vibrant energy, perfectly matching modern, eclectic, and even retro-themed rooms.
Its octagonal shape offers ample surface area for displaying your favorite decor pieces, and, by virtue, breaks the monotony of traditional round or square tables.
If you appreciate exotic geometry and bold hues, this table might just capture your interest. The trick to styling it right lies in balancing its strong presence with softer or neutral colored elements in the room.
From neutral-toned rugs to cream-colored sofas, these components will both complement and ease the table's prominence. Pair it with a glass top for increased durability and a smooth, reflective surface that only amplifies its charm.
A coffee table of this sort is easy to maintain – a soft cloth and regular dusting will keep its fiery red sheen intact.
Art Deco Red Lacquer Coffee Table
Art Deco design is recognized for its bold, geometric shapes, rich colors, and lavish ornamentation. The red lacquer applied to this coffee table mirrors this boldness. Offering a smooth, glossy finish, it transforms the piece into a centerpiece for any room.
This fashion-forward choice exudes an aura of glamour and luxury, lending an authentic 1920s vibe to your living space.
Such a table looks brilliant when paired with either complementary or contrasting elements. For instance, a glossy black sofa or a golden rug creates visually dramatic combinations. For an added touch of elegance, a vintage vase or sculpture serves as a suitable tabletop accessory.
To maintain its fresh and shining appearance, remember to regularly dust your lacquer coffee table and avoid placing hot items directly on it. Instead, opt for coasters or place mats to safeguard the lacquer's intense, rich hue.
Not only aesthetic, but this design also exudes practicality. It's compact size makes it suitable for any home and its sturdy construction will ensure it retains its splendor for years to come.
Red Enamel Industrial Style Coffee Table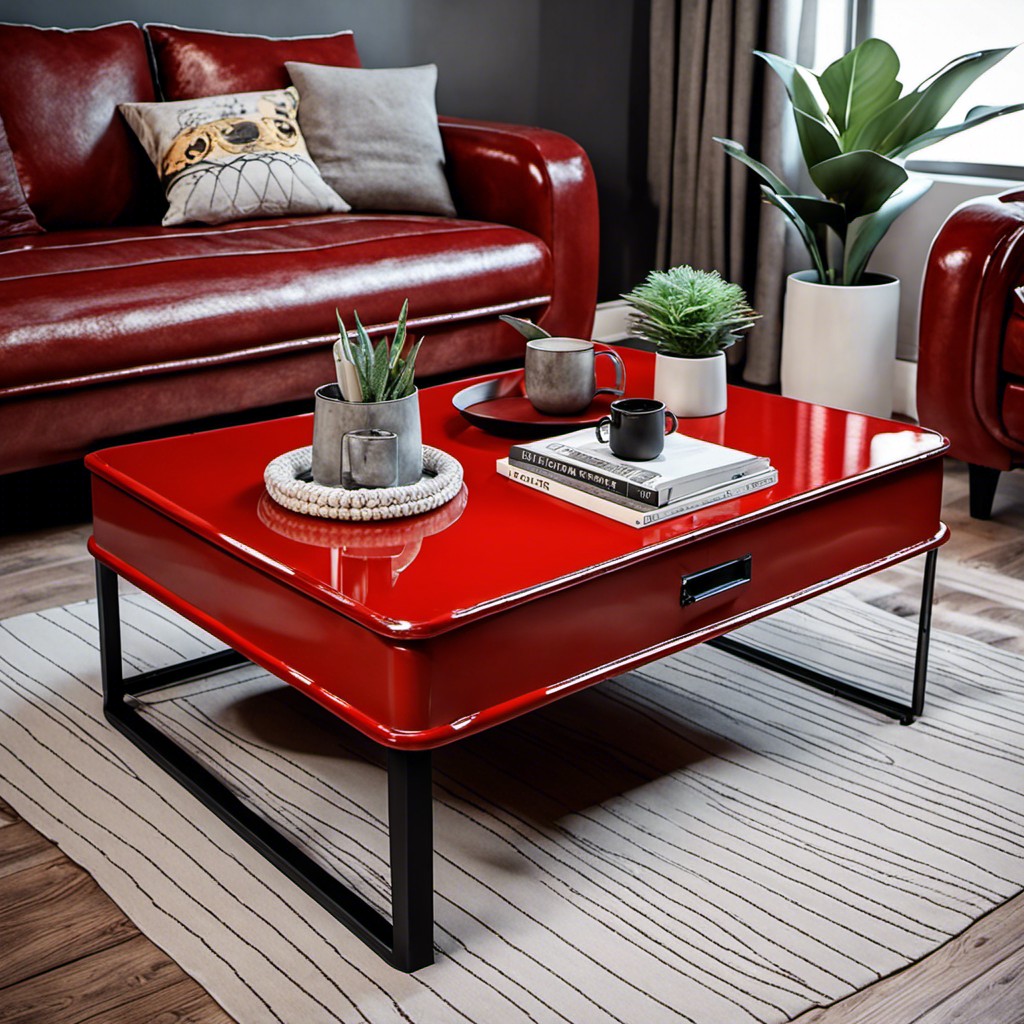 Crafted from robust metals, these tables merge durability and aesthetic appeal effectively. Their vibrant red enamel coating not only draws attention but also acts as a protective layer against scratches and stains.
One distinctive feature is their versatility; standing out impressively in contemporary lofts and industrial-themed spaces. Usually available in low-profile designs, they make a big style statement without overpowering the surrounding décor.
The in-built storage compartments, often found in these tables, are ideal for stashing away books, remotes, and other small items. A major plus point? Easy maintenance. Wipes clean with a damp cloth, retaining its look over time.
Additionally, the use of non-toxic, lead-free enamel secures the health of your household. With sturdy construction and practical features, enamel industrial tables in red make a stunning addition to any living area.
Red Pallet Coffee Table With Wheels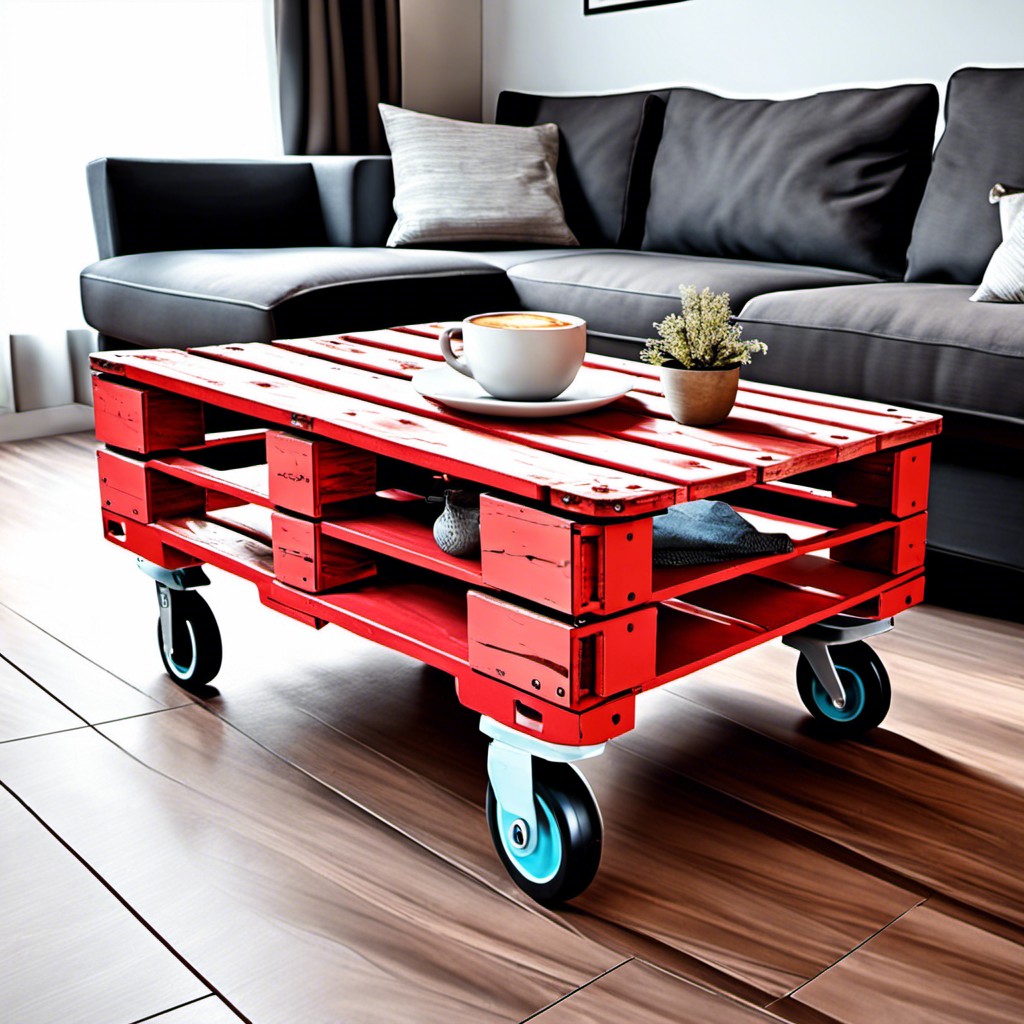 Crafted from repurposed materials, this table variant combines function and style. Able to be moved with ease due to the attached wheels, it offers both mobility and flexibility.
Its rough-hewn appearance provides a rustic touch, enhancing the character of any living space. Each piece can be personalized – from raw, unpainted wood for a minimalist appearance, to an array of finishes for a more polished look.
Some even incorporate glass tops or storage areas built within. In essence, this table transforms an otherwise simple conversation piece into a practical, distinctive, and environmentally-friendly home accent.
Dark Red Cherrywood Coffee Table With Drawers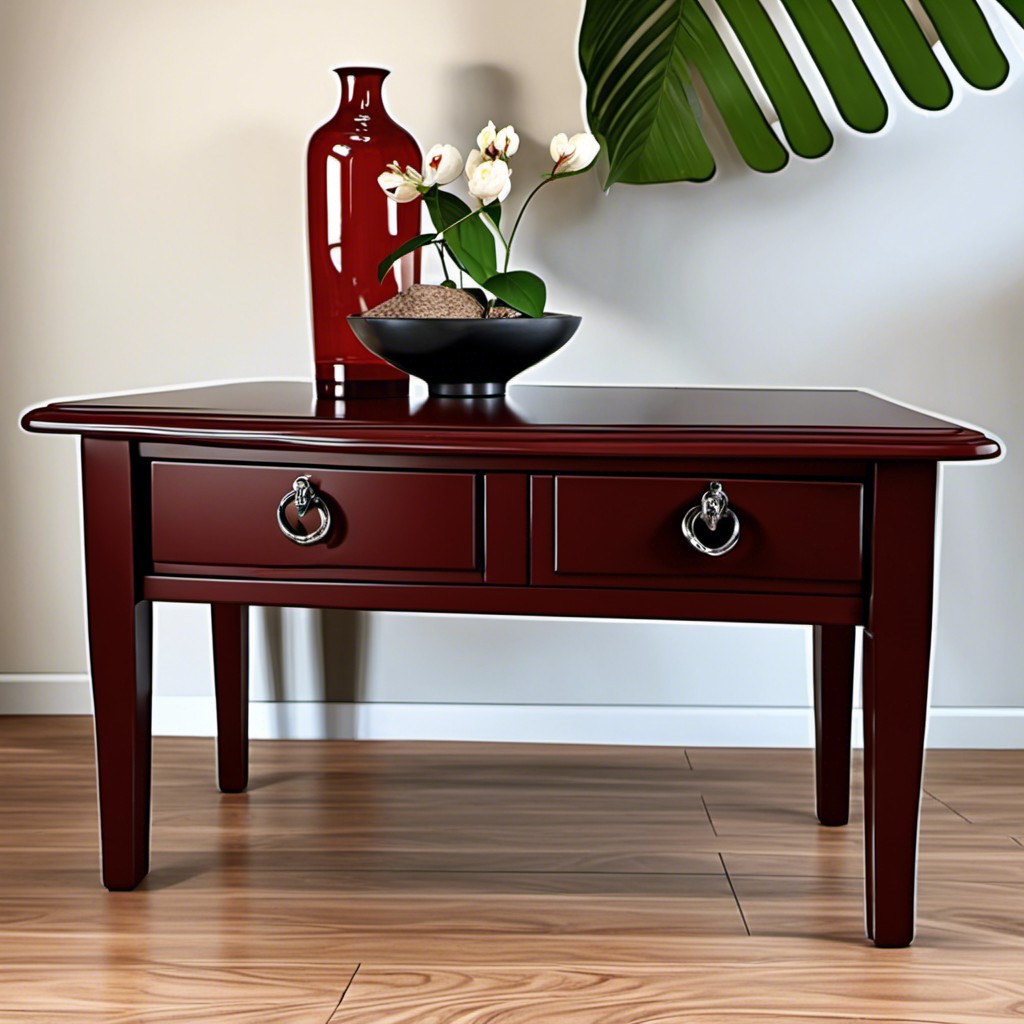 Heralding a warm and luxurious aura, these pieces feature richly grained hardwood, renowned for its strength and longevity.
Elusive hues perfectly match traditional and contemporary room architectures.
The presence of drawers brings in an added convenience, ideal for stowing away items like remotes, magazines, or coasters, keeping your space neat and uncluttered.
The clean lines of its silhouette, furthermore, provide an elegant contrast to softer decorative elements in your living room.
With such versatility in function and design, it's a choice worthwhile for a bespoke décor.
Red Rattan Outdoor Coffee Table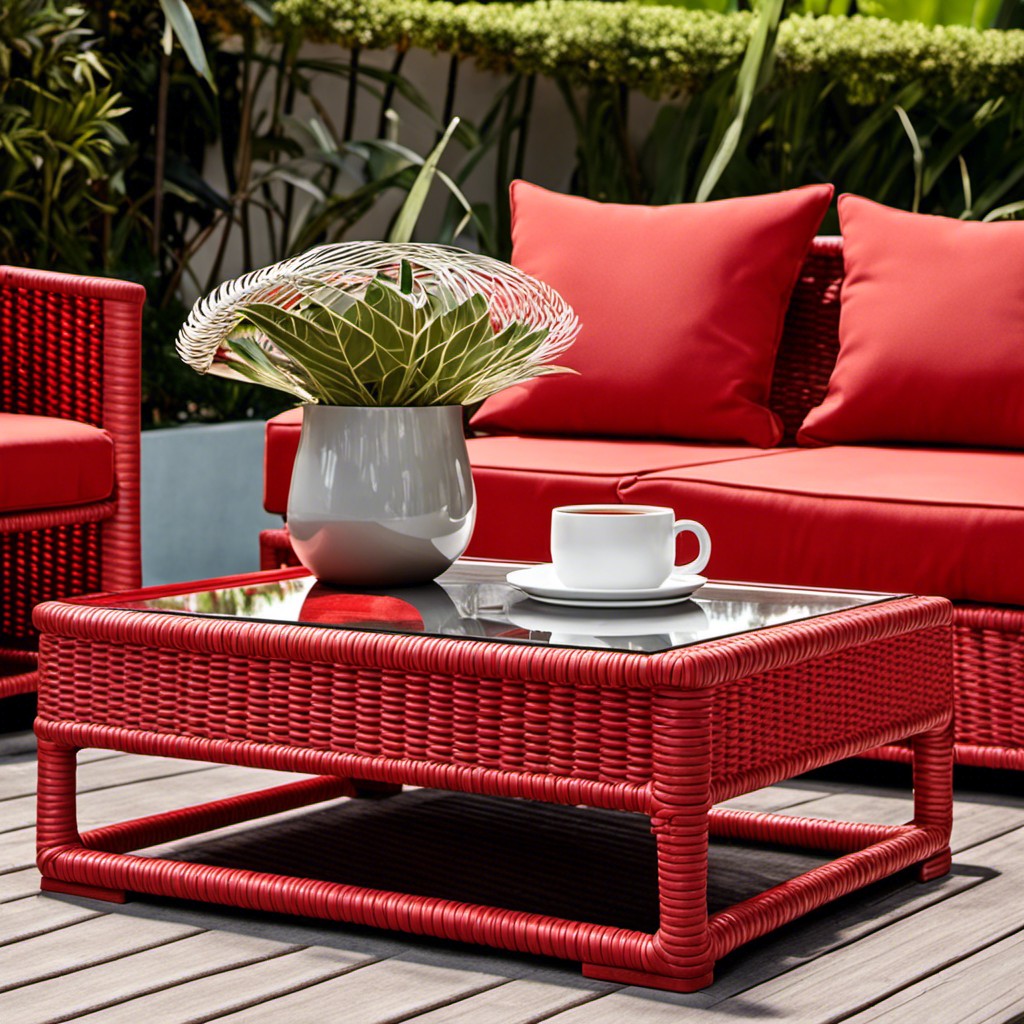 For an outdoor experience that exudes both comfort and class, the rattan coffee table delivers. Its red hue brings a warm and invigorating note, serving as an eye-catching centerpiece. The unique texture of the rattan adds organic charm, making it a perfect fit for the patio, backyard, or poolside setup.
Compared to other materials, rattan is highly durable. It thrives in various weather conditions, promising longevity. The low-maintenance nature of rattan is also an advantage. A simple wipe-down keeps it clean, leaving more time to enjoy the outdoor ambiance.
Beyond durability and maintenance, rattan is lightweight, making rearranging your outdoor space a breeze. Experimenting with different layouts becomes effortless and fun. Moreover, many rattan tables feature a glass top, enhancing practicality and adding a touch of elegance. This combination makes rattan not only visually pleasing but functional as well.
Pair the red rattan coffee table with complementing outdoor furniture – maybe a rattan sofa or outdoor rug, to create a cohesive outdoor living area. Use prints, patterns, and bold colors to make the space lively and inviting. With the red rattan coffee table at the heart of your outdoor setting, a stylish and relaxed outdoor atmosphere is guaranteed.
Retro Red Acrylic Coffee Table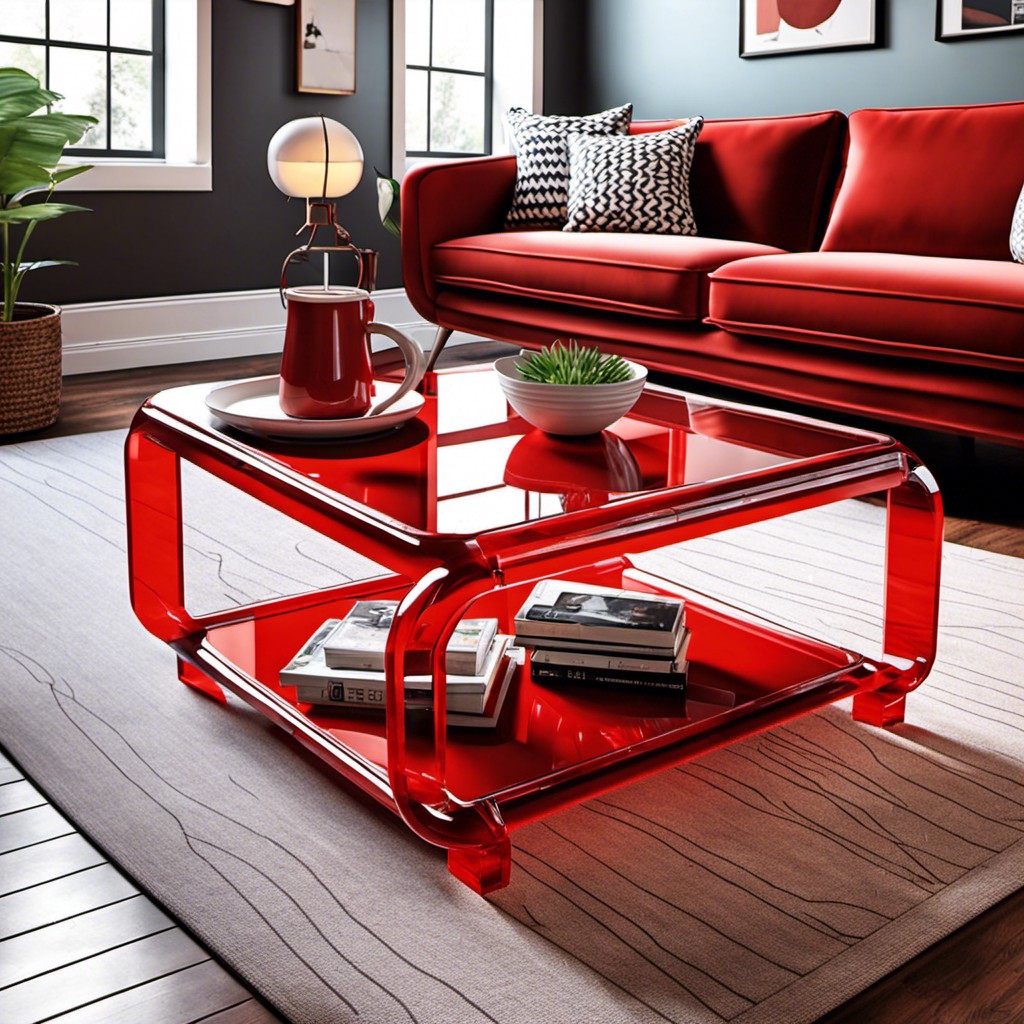 Standing out in design and style, this showpiece turns heads with its unique blend of retro charm and modern flair. Its clear, acrylic composition offers a bright, light-filtering touch to any living space, enhancing the visual space even in smaller rooms. The bold red hue adds a dazzling pop of color, certain to be a conversation starter among guests.
Its practicality is elegantly coupled with robust design elements, able to withstand daily wear and tear. Generally, these tables are scratch-resistant, meaning it can continue to dazzle and shine for years on end. Pair it with vintage decor for a complete retro look, or set it against minimalist, modern designs to create a striking contrast.
Taking care of this eye-catcher is a breeze due to the non-porous nature of acrylic. A little warm water and mild soap will keep it looking as radiant as ever. Be sure to avoid harsh chemicals to maintain its vibrant color and glossy sheen.
Red Coffee Table With Open Shelf Storage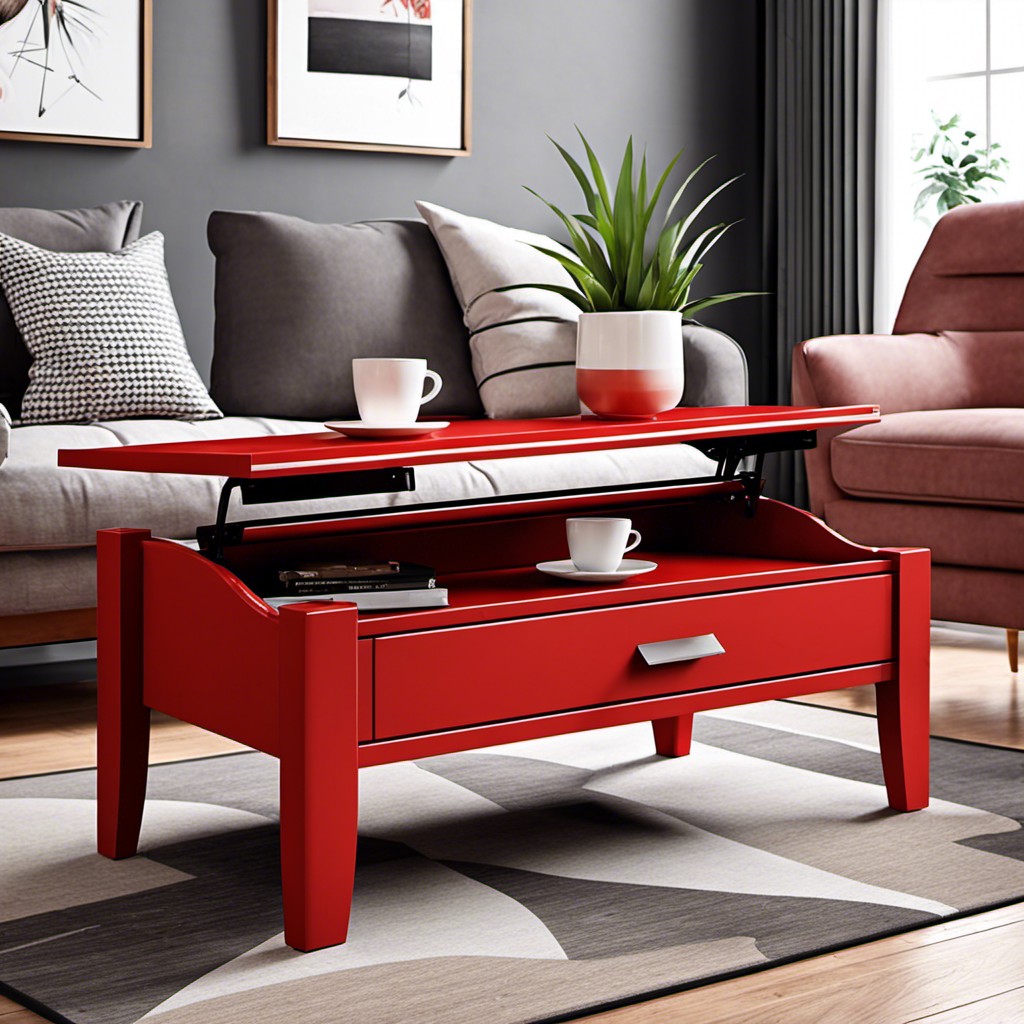 This furniture option offers both beauty and function. The bold red hue acts as a centerpiece in any room, drawing the eye and setting a lively tone. The shelves beneath provide ample storage for books, magazines, or decorative items. Being open, the shelves allow for displaying anything stored in a way that helps increase the aesthetic appeal of your living space.
Some key points to remember with this piece are:
Choose the right shade of red to match your overall room decor. A bright red might be best for a lively, modern room, while a deeper red could suit a more traditional or rustic setting.
Arrange your items on the shelf in a way that is visually appealing. Balance larger items with smaller ones. Books can be stacked or placed upright with an attractive bookend.
Ensure the table's material is durable and water-resistant. This is especially important if you'll be placing drinks or plants on it.
Position the table where it won't block walkways but will be easily accessible to everyone seated around it.
Clean and maintain the table regularly to keep the red color vibrant.
All in all, this specific table style offers a unique blend of utility and aesthetic appeal, making a daring and practical addition to your home decor.
Large Red Ottoman Used As a Coffee Table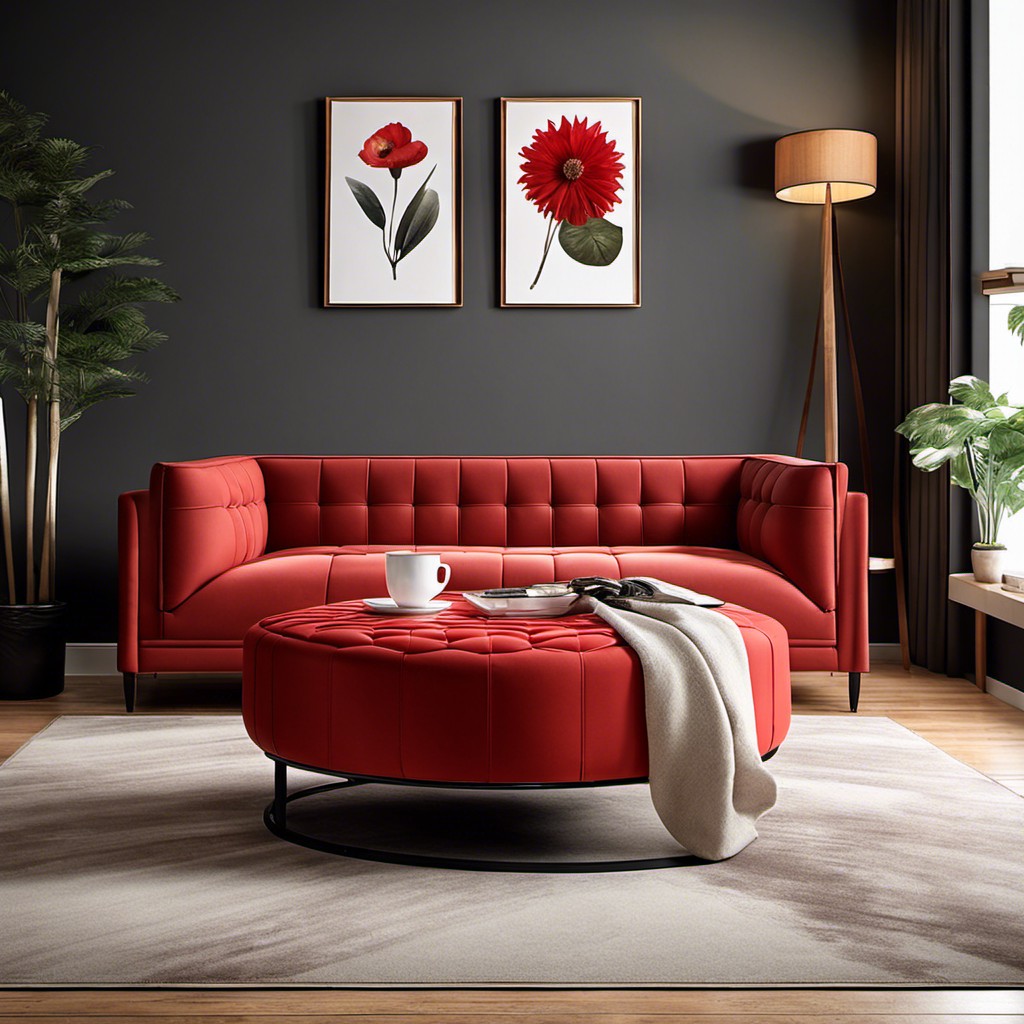 Versatile and functional, an oversized ottoman lends a hearty dash of color and can double as a coffee table in any living space. Upholstered in sanguine fabric, it invigorates the room while offering a comfortable spot to rest your feet.
When adding a tray, it provides a secure place for drinks, books, or decorative accessories. The plush and inviting surface can also cater to impromptu seating during gatherings, ensuring its practical value.
The richness of a red ottoman strikes a balance of boldness and elegance. Being an anchor piece, it can tie together eclectic décor or stand out against neutrals. Likewise, matching it with similarly hued accessories can create a cohesive color scheme.
Maintaining such an ottoman is straightforward – an occasional vacuum or light brushing keeps the fabric fresh. For spills, promptly using a damp cloth can prevent stains.
Selecting an oversized red ottoman brings together style, utility, and comfort in a single furniture piece. And with careful placement and décor pairing, it can effortlessly transform as a vibrant and versatile coffee table ready to liven up a room.
Red Painted Coffee Table With Gold Accents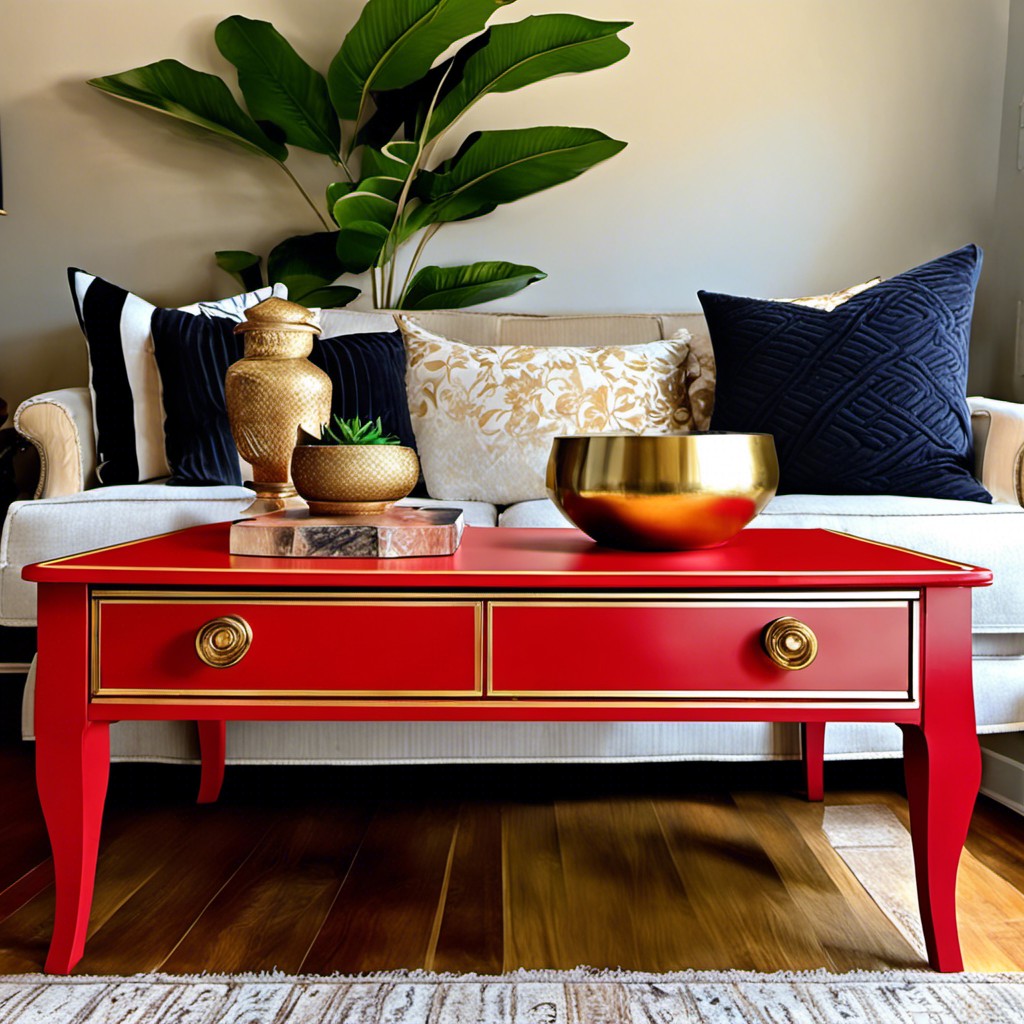 Adding gold accents onto a red painted coffee table adds an elegant yet bold touch. This combination creates a desirable contrast that can suit a wide range of décor styles from modern to traditional.
1. Vibrant Mood: Red symbolizes energy and passion, gold, on the other hand, signifies luxury and opulence. Combining these two will create an alluring focal point in any living space.
2. Style Versatility: This table can seamlessly blend with a traditional setting owing to gold's classical association, yet it can just as well fit into a modern setting, thanks to the bold element red brings.
3. Customization Opportunities: The gold accents can be applied in various forms – intricate patterns, simple lines or distressed highlights, depending on the overall room style.
4. Enhanced Visual Appeal: Complementing gold accents can elevate the look of a simple red coffee table, adding a hint of refinement and making the piece an unequivocal statement.
Coffee Table With Red Ceramic Tile Top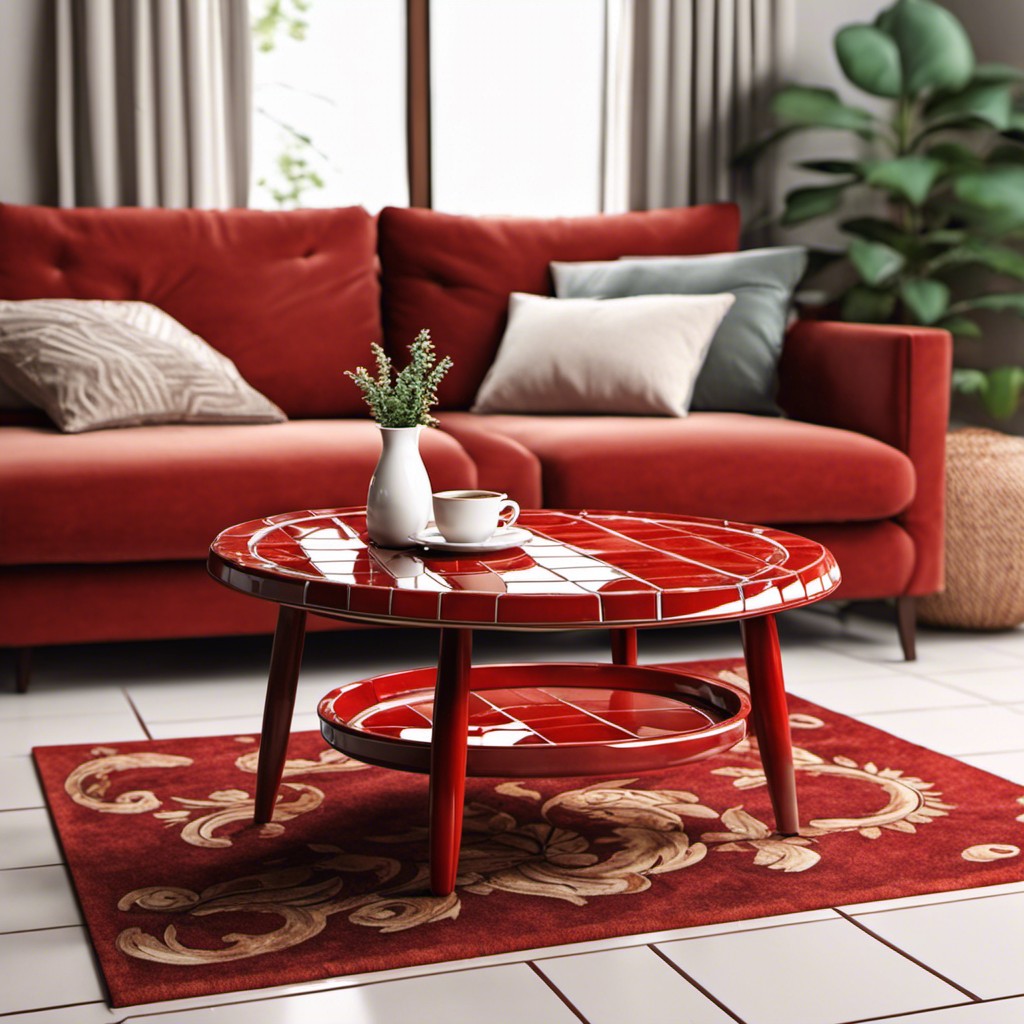 Ceramic tiles offer versatility with an array of designs, textures, and shades. They easily infuse personality into a coffee table. In this case, the red tiles serve as an unconventional tabletop, drawing attention and introducing visual intricacy. The robust nature of ceramic ensures the durability of the table, excellent for everyday use.
Here are some points to consider:
1. Tiles can be arranged in a multitude of patterns, from simple grid layouts to intricate mosaics, allowing you to flex your creative muscles.
2. Red tiles specifically inject a bold, energetic vibe into the room, standing as a fun and lively center of attention.
3. Sealant is imperative for longevity and preserving the rich color, protecting your table from stains and damage.
4. Tile-top tables are low-maintenance, requiring only a damp cloth for a good clean, making them perfect for lively, active spaces.
Remember, the table legs and frame can also influence the overall style. Metal would lean more industrial, while wood would lean more rustic. Choose according to the theme of your room.
Red Driftwood-style Coffee Table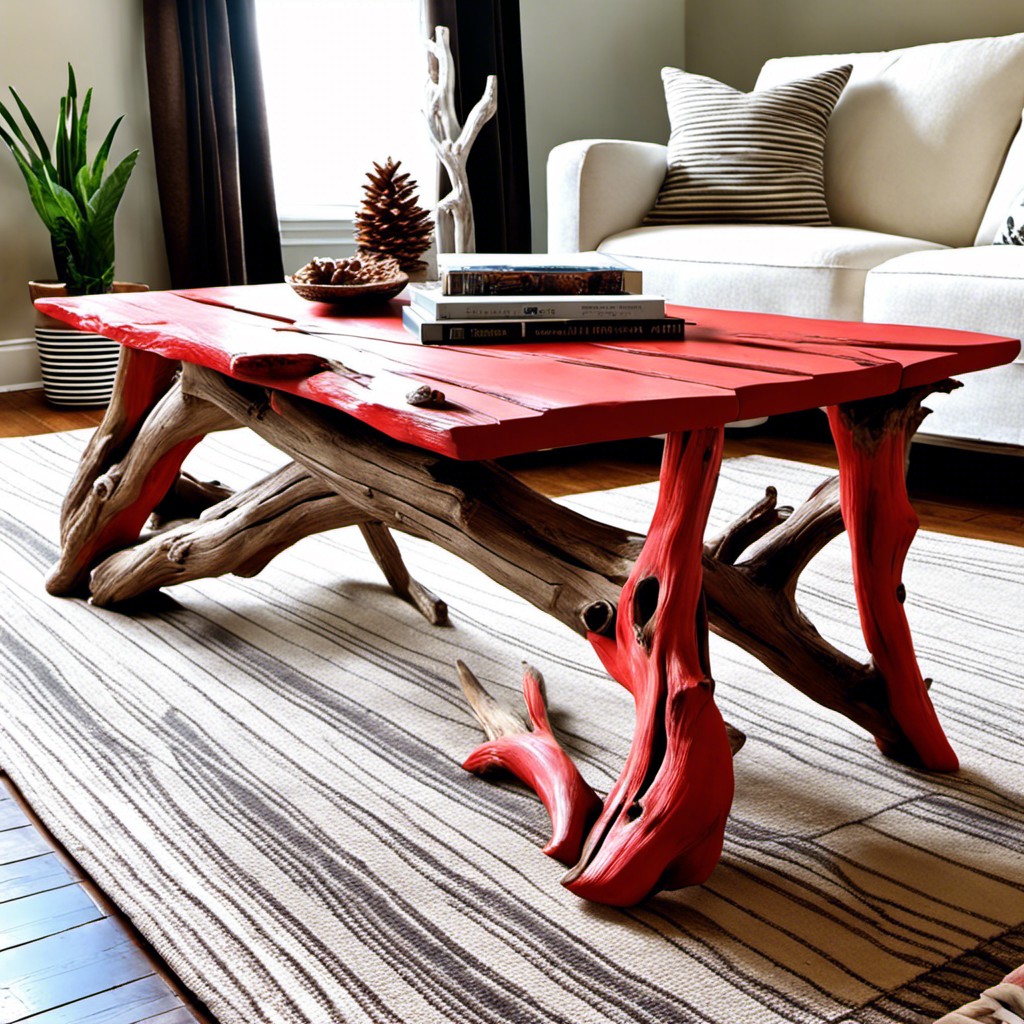 Driftwood, inherently intricate and unique in its form, brings an organic, rustic charm to a room. When crafted into a coffee table and painted a rich red, it becomes a striking statement piece. Sporting sumptuous red hues, this table design instigates visual interest and a sense of nostalgia, a homage to beachside driftwood hunting trips.
Its distinctive pattern of weather-beaten lines and cracks gives it a sculptural appeal, making each piece one-of-a-kind. Going a step further, couple it with a clear glass tabletop to fully showcase the underlying driftwood's beauty. Ideal for coastal or nautical themes, yet versatile enough to suit a range of interior styles, this coffee table effortlessly blends functionality and aesthetics.
For the eco-conscious homeowner, a red driftwood-style coffee table delivers on sustainability values. These designs are often made from salvaged driftwood, repurposing what nature discards into something reusable and gorgeous. A poignant reminder that beauty, much like our environment, should be preserved and appreciated.
Maintenance is simple. Regular dusting keeps the table clean, while a wood-friendly polish applied twice a year helps preserve its vibrant colour and protect the wood from drying out. Remember to place a coaster beneath beverages to avoid moisture damage. Whether you're a lover of rustic charm or environmentally friendly design, this table shines as a beautiful investment.
You may also like to read: