Last updated on November 8, 2023
Your blue couch could be the statement piece of your living room, because the right rug can transform it from simple to stunning.
Choosing the right rug to pair with a blue couch can truly transform your living space. The key is to consider the shade of blue and the style of your couch, as well as the overall design of your room.
Whether you're leaning towards a modern geometric print, a classic Persian design, or a simple neutral rug, there are plenty of options to explore. This article will guide you through the process of selecting the perfect rug, offering detailed tips and inspiring ideas to ensure your blue couch becomes a standout feature in your home.
Table of Contents
Solid Grey Shag Rug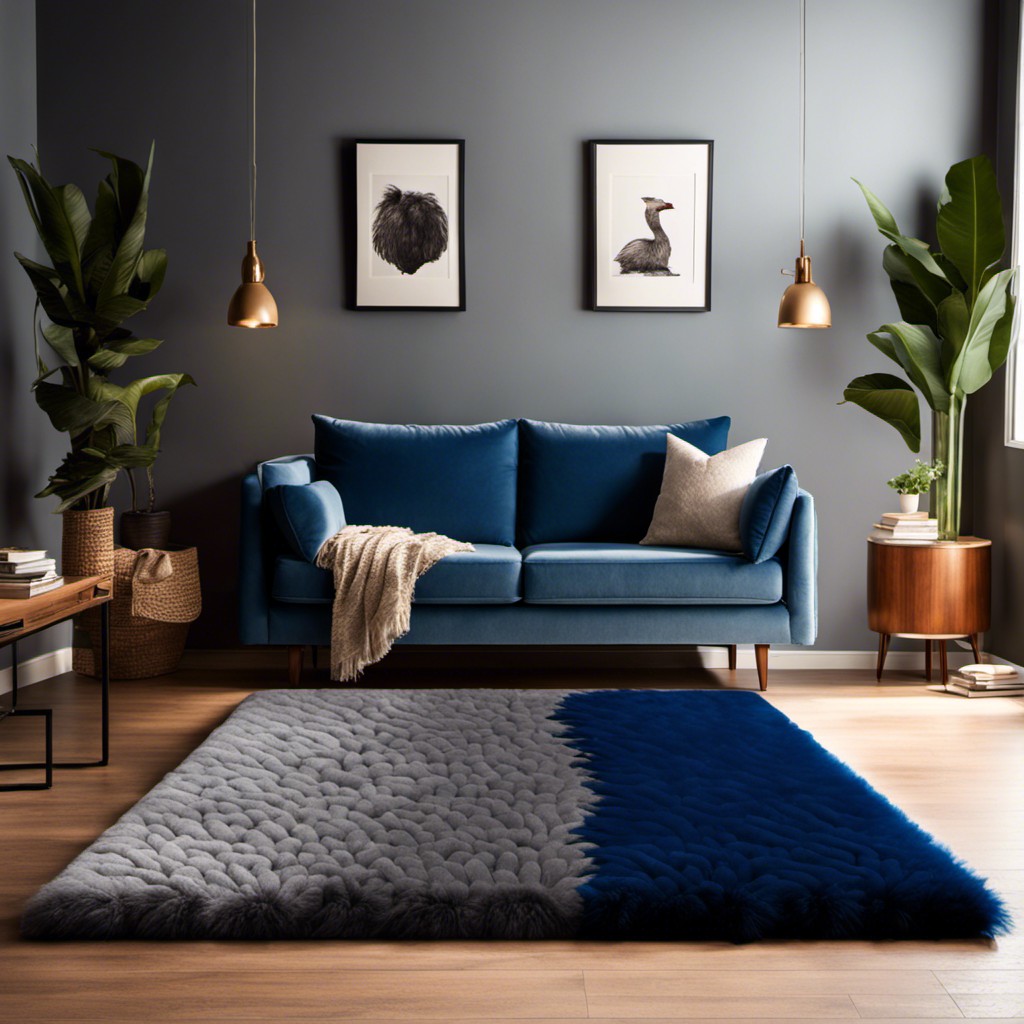 Capturing a modern vibe while balancing your blue couch, the solid grey shag rug is an excellent choice. Its neutral color complements the blue tones, creating a harmonious balance.
Its plush texture adds depth to the room, creating an inviting space for relaxation. Interestingly, the grey rug also operates as a fantastic stain-hider, which makes it highly functional.
The shag style offers a retro touch that can easily mix with different types of decor, adding an elegant dash of sophistication to your living area. The right size, depending on your seating arrangement, can help anchor all furniture pieces, ensuring a sense of coherence.
The key point here is, a solid grey shag rug can support your blue couch in achieving a stylish look that feels both comfortable and chic without straying too far from a neutral color palette.
White and Navy Geometric Rug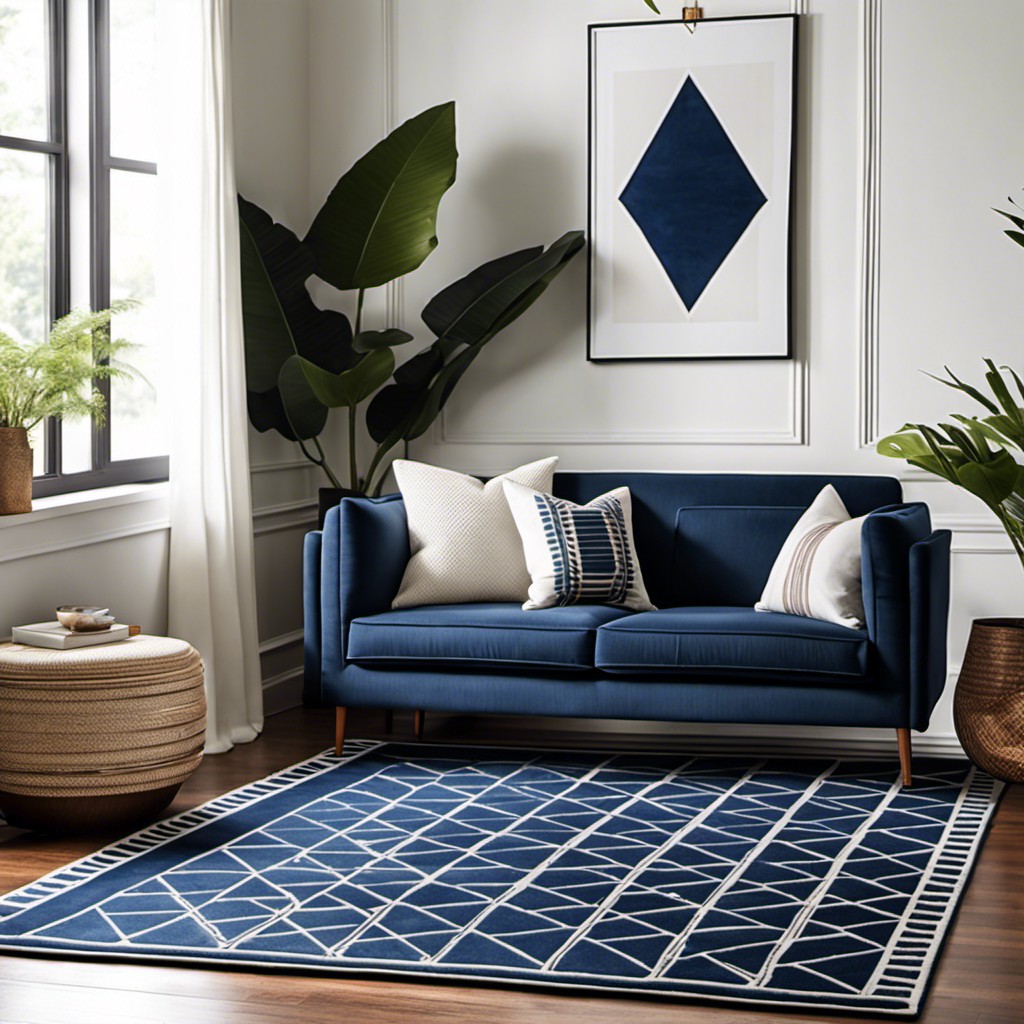 Taking into consideration the stark contrast and visually appealing design, a white and navy geometric rug represents a smart choice. The symmetry in pattern not only illuminates the blue in the couch but also adds an engaging touch to the overall room décor.
Sharp Contrast: The juxtaposition of white against navy creates a dynamic visual effect, drawing attention to the couch.
Visual Interest: Geometric patterns provide a modern, trendy feel, transforming the living space into an artistic display.
Complementary Colors: The navy in the rug echoes the blue of the couch, creating a pleasing harmony within the décor.
Versatility: Such rugs are versatile and they can accommodate any alterations in the overall color scheme of the room.
Toying with patterns and colors, the geometric rug can be a game changer, enhancing the overall aesthetic appeal of a room with a blue couch.
Light Beige Oriental Rug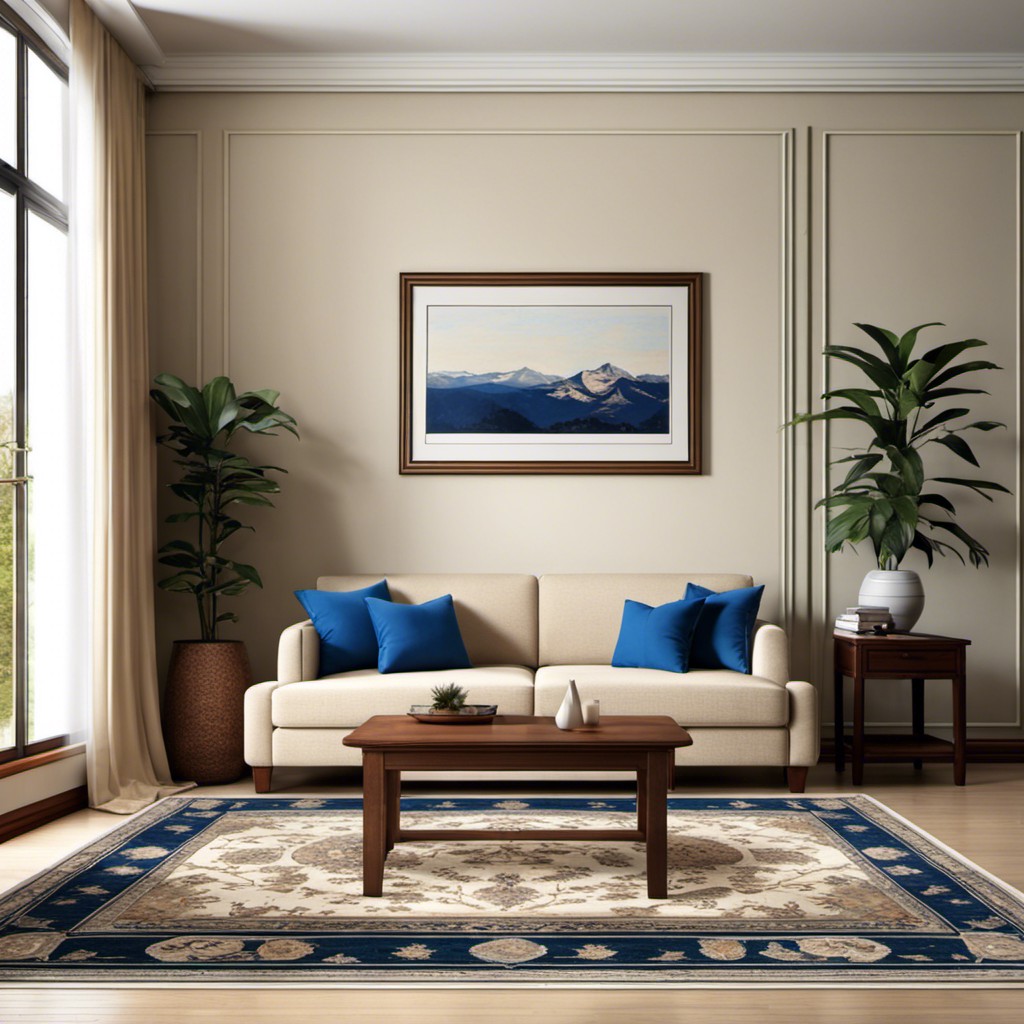 The light beige oriental rug effortlessly complements the rich hues of a blue couch. Its intricate designs and warm color can create balance and add personality to a room.
Beige, a subtle and neutral color, richly offsets blue, offering both contrast and harmony to your space.
1. Contrast: The understated beige contrasts the vibrant blue, highlighting the couch's color without overpowering it.
2. Balance: The oriental motifs add visual interest to the space, breaking up the solid blue couch without making it a distraction.
3. Warmth: Beige introduces a warm tone against the cooler blue, welcoming a comfortable atmosphere.
4. Versatility: An oriental rug offers various colors and patterns, making it easy to incorporate into different styles.
5. Elegance: Oriental rugs are famed for their exotic touches and sophisticated patterns, adding a touch of elegance to your setting.
Multicolor Abstract Rug
A multicolor abstract rug can tie together the various hues of your living space impeccably, providing a harmonious blend with your blue couch. The abstract designs bring an element of modern sophistication and an appealing, stylish vibe. The multiple colors can help to balance out the solid tone of the blue couch and make it pop, drawing attention and giving your space a lively feel.
1. Harmony: With a variety of colors, the rug can match other pieces of furniture and décor in the room, creating a unified look.
2. Pop of color: The vibrant shades can break the monotony of a single color scheme, making the blue sofa stand out.
3. Modern chic: The abstract design lends a contemporary aesthetic to the space, suggesting a fashion-forward style.
4. Versatility: The blended colors make it easy to pair this type of rug with different decor styles from traditional to modern.
5. Statement maker: An abstract rug serves as a conversation starter, setting the tone for the rest of the room.
This style of rug works best in rooms with a substantial amount of natural light, as it enhances the colors, making them appear even brighter and more likely to catch the eye.
Charcoal Grey Braided Rug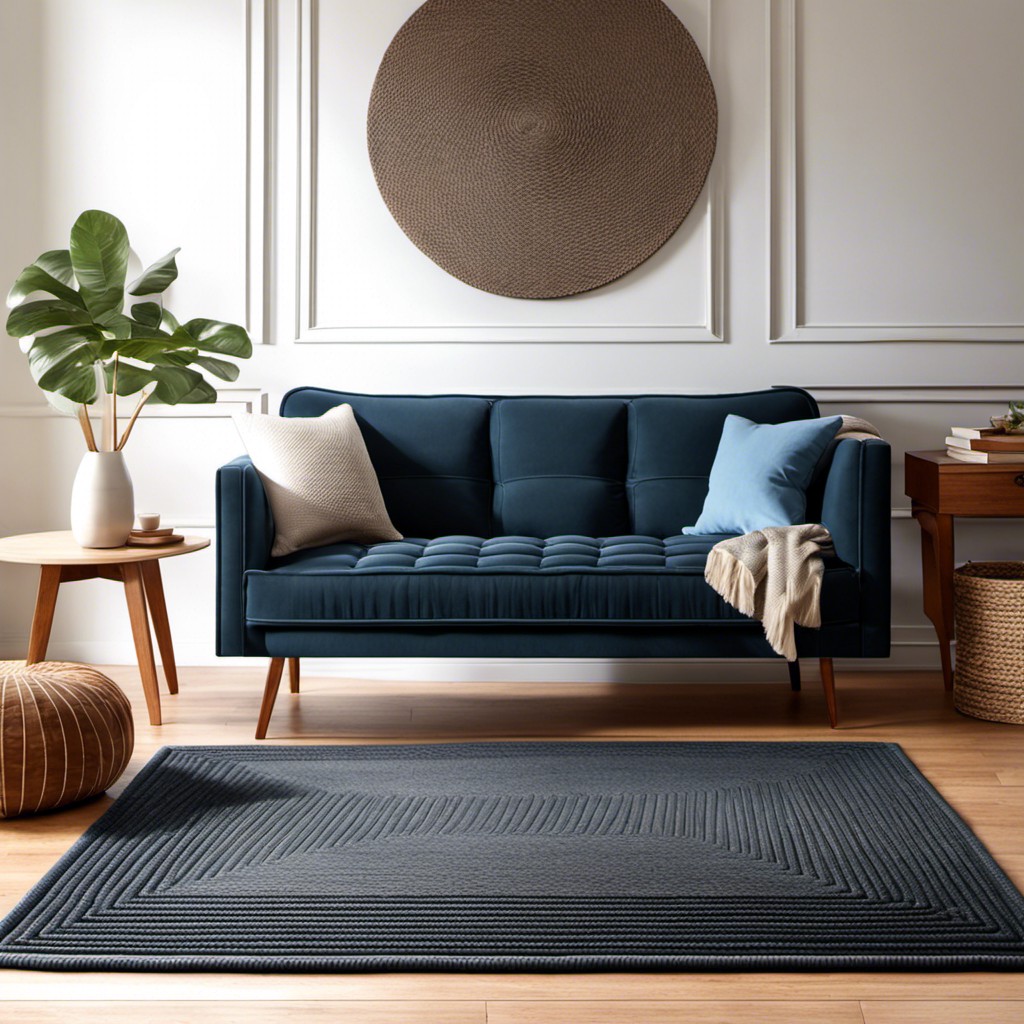 Known for its durability, the charcoal grey braided rug can withstand high traffic areas in your home, making it a practical choice. Its dark hue offers a beautiful contrast against a blue couch, thus creating a distinguished yet welcoming look.
The braids add an element of texture, breaking away from a monotonous setting and introducing an interesting visual to your décor. When complemented with lighter tone cushions or throws on the couch, the combination brings in an appealing balance to the design scheme.
Remember, the rug's pattern and structure play a key role: intricate braids lend a touch of complexity to any simplistic room design. Remember to choose the size thoughtfully, a larger rug might overwhelm the space, while a smaller one can help retain focus on your couch.
Finally, its easy maintenance is a boon – a quick vacuum is usually enough to keep it clean and attractive.
Teal and Gold Persian Rug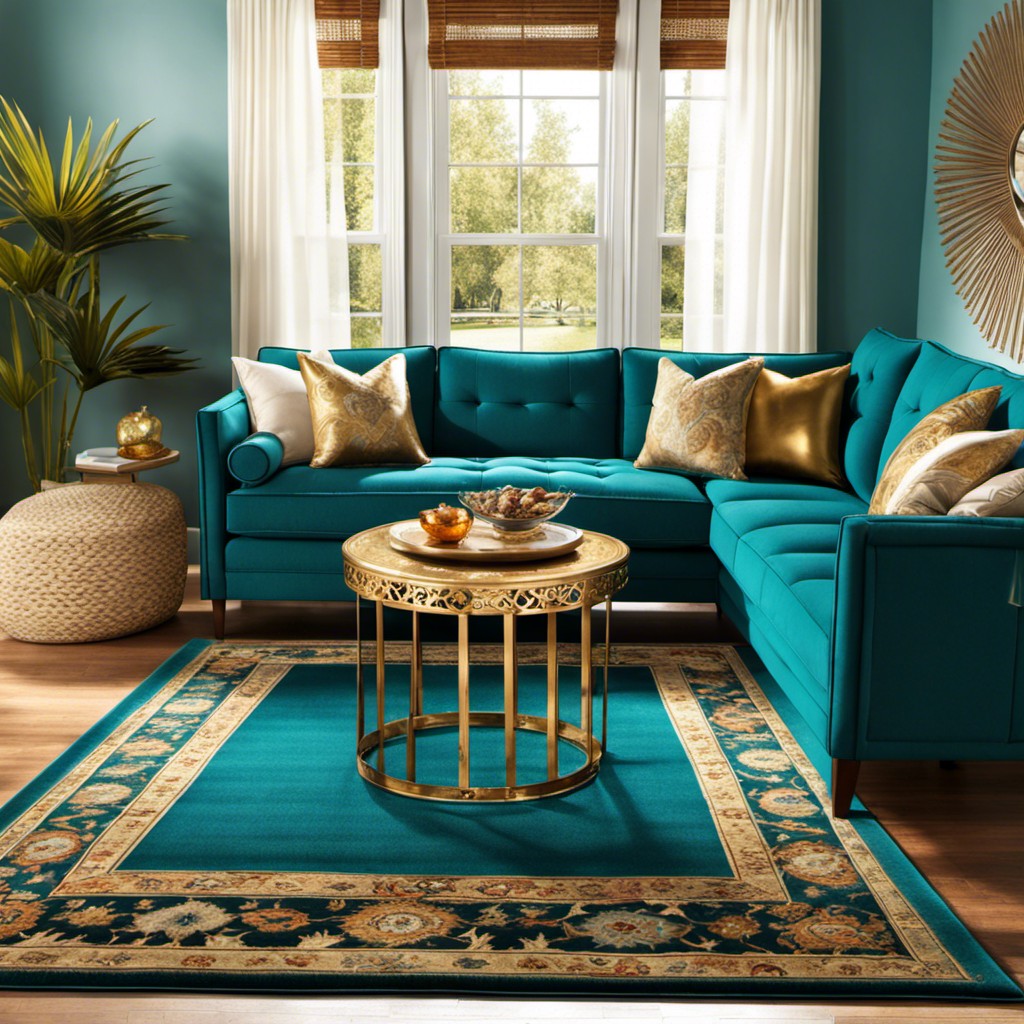 Bringing a royal, luxurious touch to a living space, the combination of teal and gold in a Persian rug can impeccably match your blue couch. This choice is traditionally handcrafted, exuding time-honored artistry. The teal sets up a harmonious conversation with the blue couch, while the gold adds a surprising twist, elevating the overall luxury.
1. Contrast: The gold in the rug juxtaposes with the blue couch, offering an attractive contrast in your living room.
2. Elegance: The Persian style alludes to a sophisticated appeal, becoming a focal point in the space.
3. Color Palette: The teal blends well with the blue couch, tying the room together, and making color coordination easier.
4. Pattern: Intricate geometric or floral patterns in Persian rugs introduce a sense of detail and depth to your decor.
5. Texture: The distinct texture of Persian rugs adds a tactile element, complementing the fabric of your couch.
Remember to verify the authenticity of your Persian rug to ensure the quality and longevity of your investment. Despite slight variations in patterns and designs, a genuine Persian rug will always have a dense, tight weave that is apparent on the back of the rug.
White Faux Fur Rug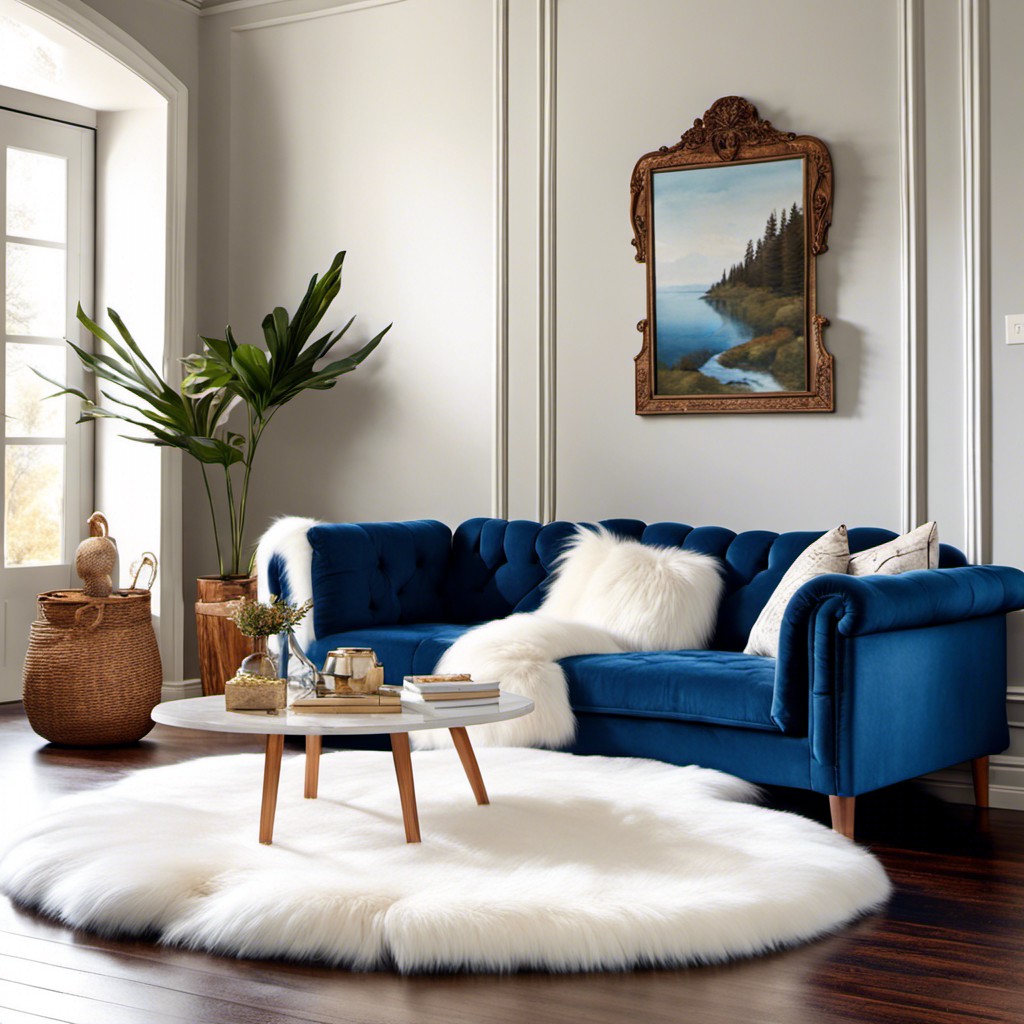 Among the myriad rug options, the white faux fur variant stands out for good reasons. It offers a luxurious, cozy feel underfoot that is simply irresistible. Additionally, positioning one of these fluffy rugs in front of a blue couch invites elegance and comfort into the living space.
1. Contrasting Texture: The contrast of the rug's fluffy texture against the sleekness of the couch creates visual interest and balance in the room.
2. Color Balance: Its pure white color provides a perfect balance against a vibrant blue couch, preventing the hue from overpowering the space.
3. Versatility: This kind of rug complements various interior design styles, from modern and minimalist to glam and bohemian.
4. Mood Enhancer: A white faux fur rug conveys a sense of tranquility and lightness, adding to the calming vibe.
5. Maintenance Consideration: Despite its luxury appeal, it's worth noting that this type of rug requires proper care and maintenance to keep it looking fresh and abolish potential stain issues.
Consider the above points when deciding on a white faux fur rug to accent your blue couch.
Light Brown Jute Rug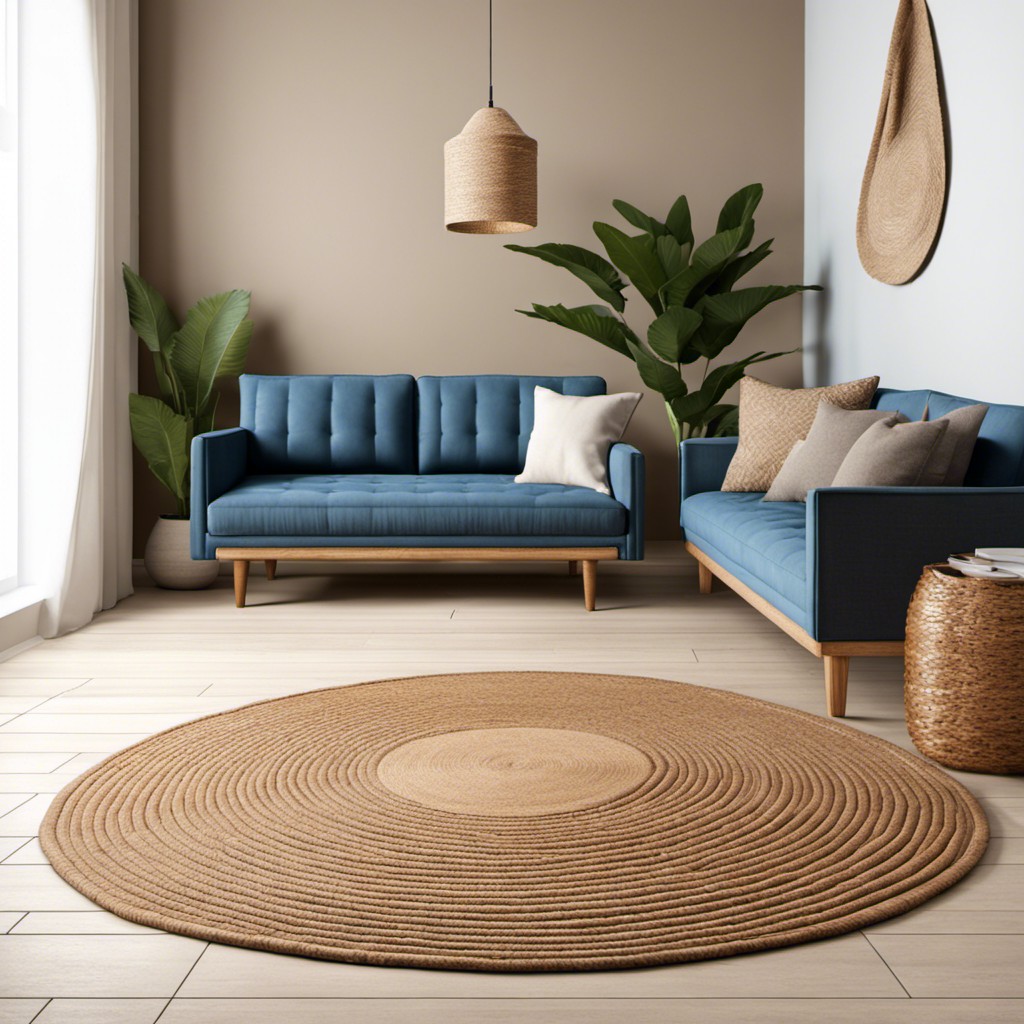 Pairing a light brown jute rug with a blue couch is a fantastic way to elevate the aesthetic of your living space. Here's why:
1. Natural Materials: Jute, a plant-based fiber, can bring a distinctly organic feel, complementing the blue of your couch beautifully and creating a beach-like aura.
2. Texture and Visual Interest: The rugged surface of a jute rug can add depth and texture to your room decor. This helps in breaking the potential monotony of a solid-toned blue couch.
3. Neutral Tone: Light brown is a warm, earthy color that works well with blue, a cooler tone, providing balance to the overall decor.
4. Versatility: The natural hue of a jute rug blends effortlessly with a wide range of color palettes. This gives you flexibility when selecting ancillary decor elements such as throw pillows, curtains, and wall art.
5. Durability: Jute rugs are sturdy and can withstand heavy foot traffic, making them a practical choice as well as a stylish one.
Remember, the rug's size should be proportionate to the space and the couch for a cohesive look.
Coral and Blue Circular Rug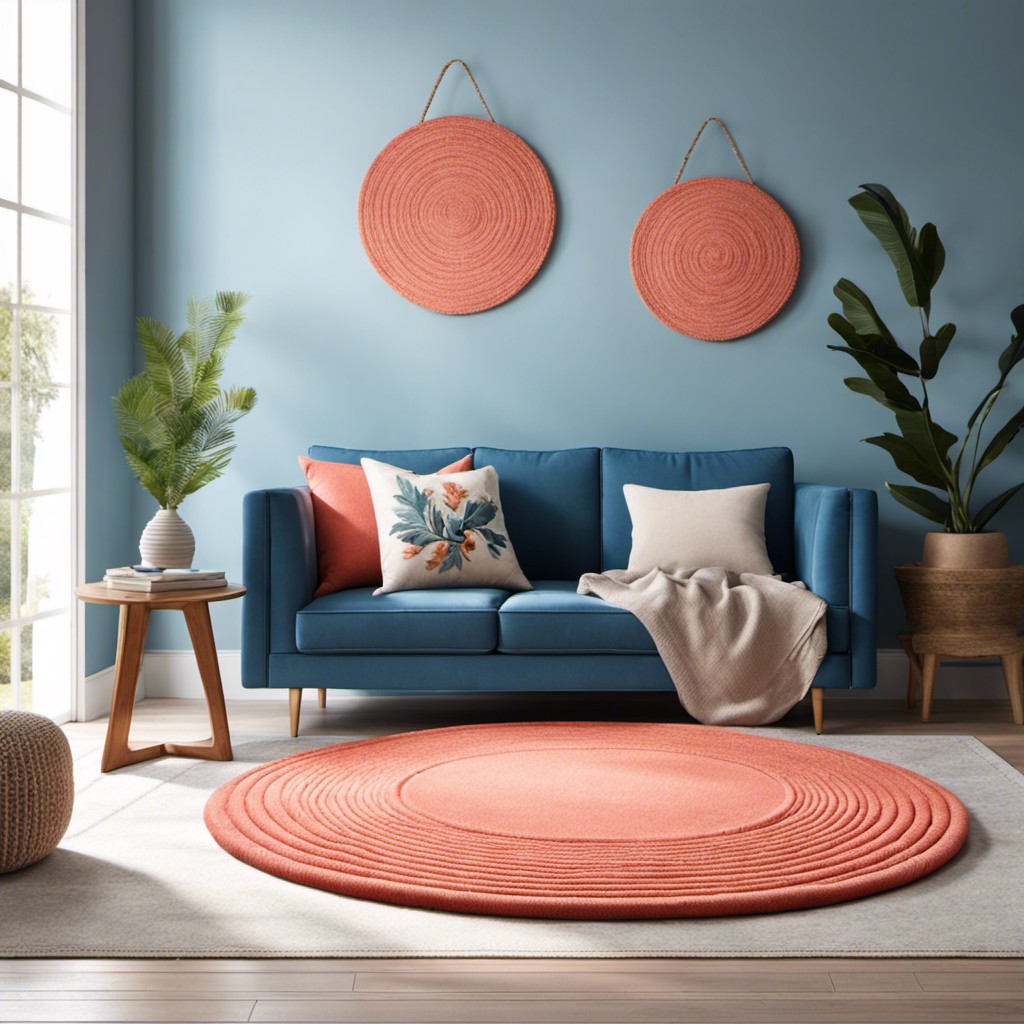 Presenting an exciting twist, the coral and blue combination brings two bold colors into the mix. A circular rug of this palette creates a dynamic yet warm and inviting environment.
The cool blue complements the warmth of the coral, balancing the visual warmth in the room. This rug plays well against the blue couch, matching its hue while adding a splash of color with the coral.
Opt for a design with an uncomplicated pattern to retain the sophistication in the room's overall design. These rugs, often made of durable materials like wool or cotton, are great for high traffic areas due to their longevity.
Grey and White Striped Rug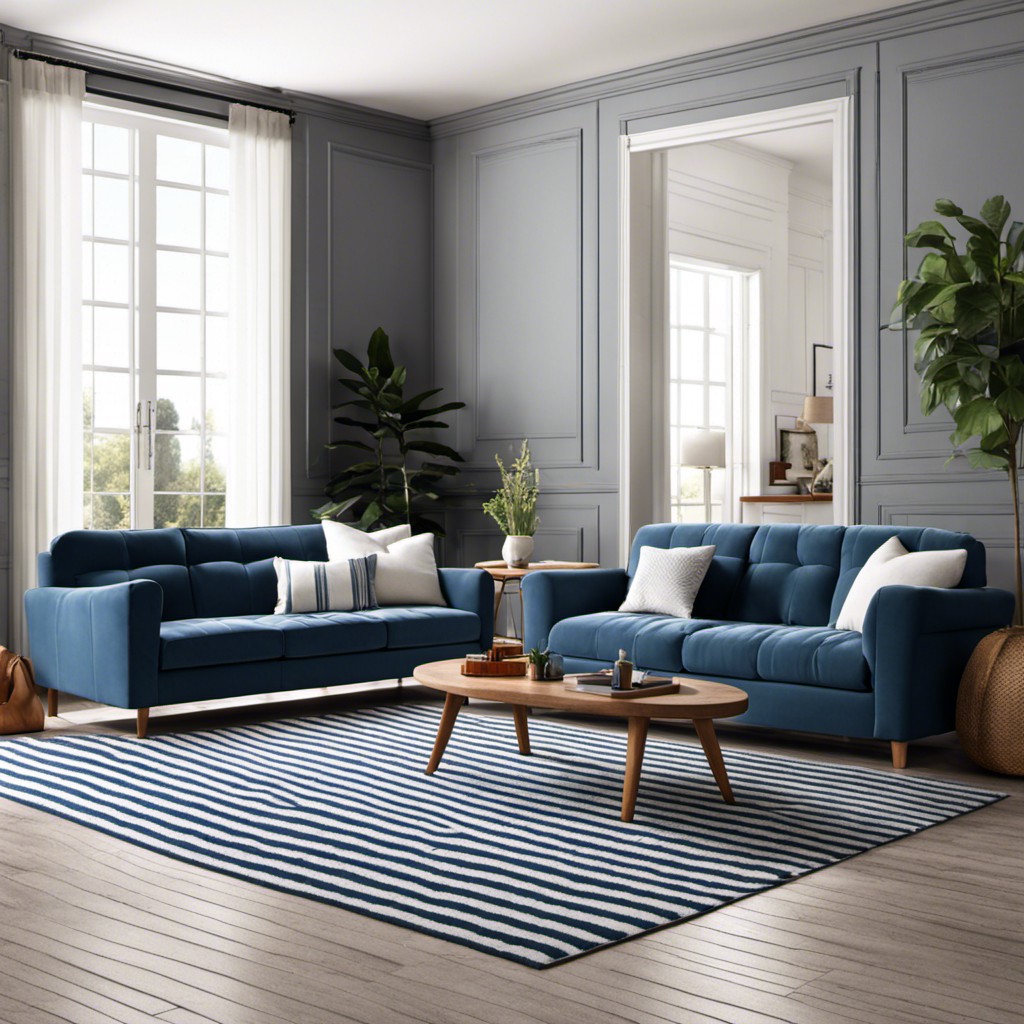 Stripes offer a classic pattern, often bringing balance to a space. The neutral shades of grey and white complement the cool tones of a blue couch, providing harmony without overstating its presence.
This sort of rug bridges the gap between vintage and modern design, making it a versatile choice regardless of your décor style. When chosen in a plush material, it can also add textural contrast, increasing the depth and comfort of your living space.
Plus, a striped rug acts as a great base when you want to layer rugs for a unique, stylish look. Pair it with detailed accent pillows or throw blankets to complete the room.
Silver Patterned Rug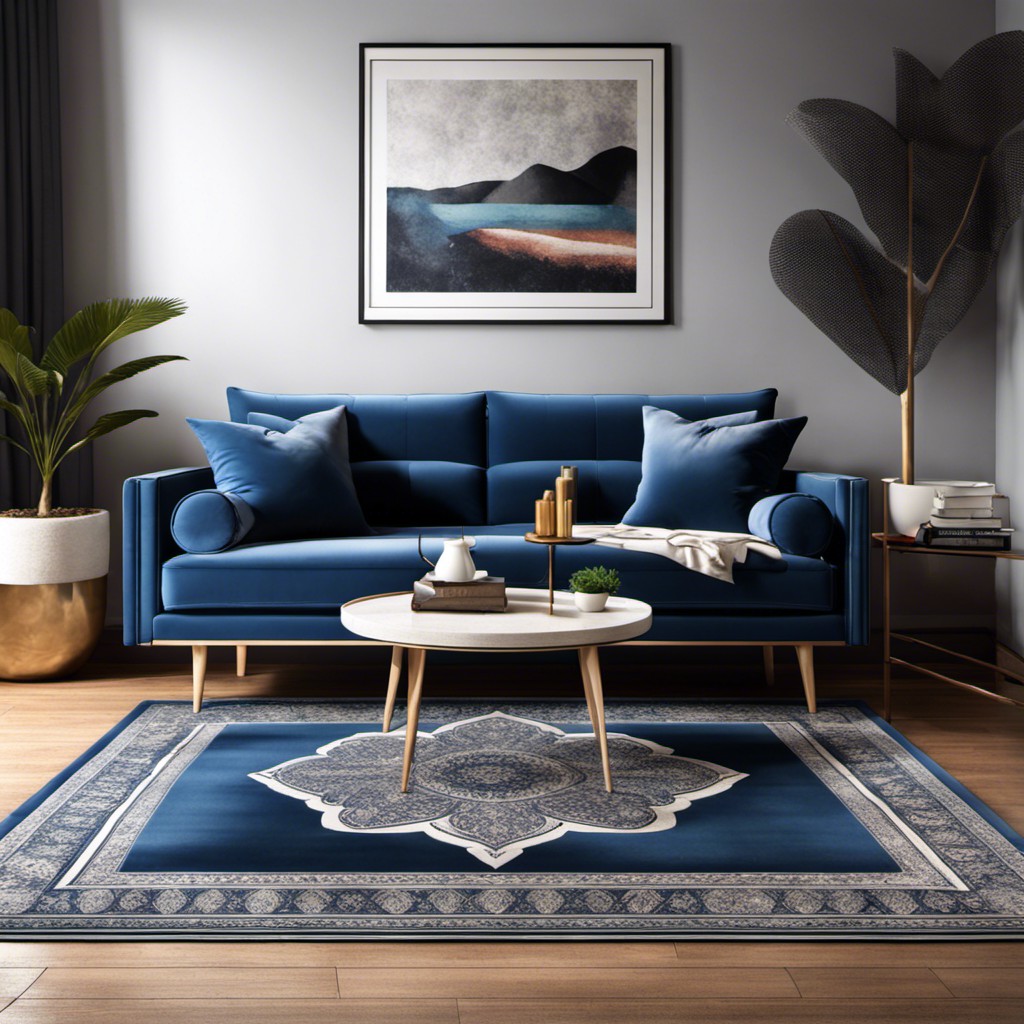 Privilege elegance with the versatility of the silver patterned rug. This option can seamlessly elevate the design aesthetic by drawing attention without overpowering the room's central piece, the blue couch.
1. Subtle Elegance: The soft sheen of silver can add understated luxury to any living room setting, creating a cool, modern vibe.
2. Texture Variation: Patterned designs often incorporate different pile heights, delicately playing with depth and bringing an added visual intrigue.
3. Versatility: Such rugs can fit into diverse themes, from ultra-modern to shabby chic, complementing other room elements.
4. Spot Concealment: A silver patterned rug is practical too. It can mask minor stains or foot traffic wear efficiently.
5. Easy Pairing: Silver pairs well with many colors. When teamed up with a blue couch, it can balance its dominance and contribute to creating a soothing atmosphere.
Remember, the rug is not just a floor covering – it's an integral part of your interior décor.
Yellow and Blue Chevron Rug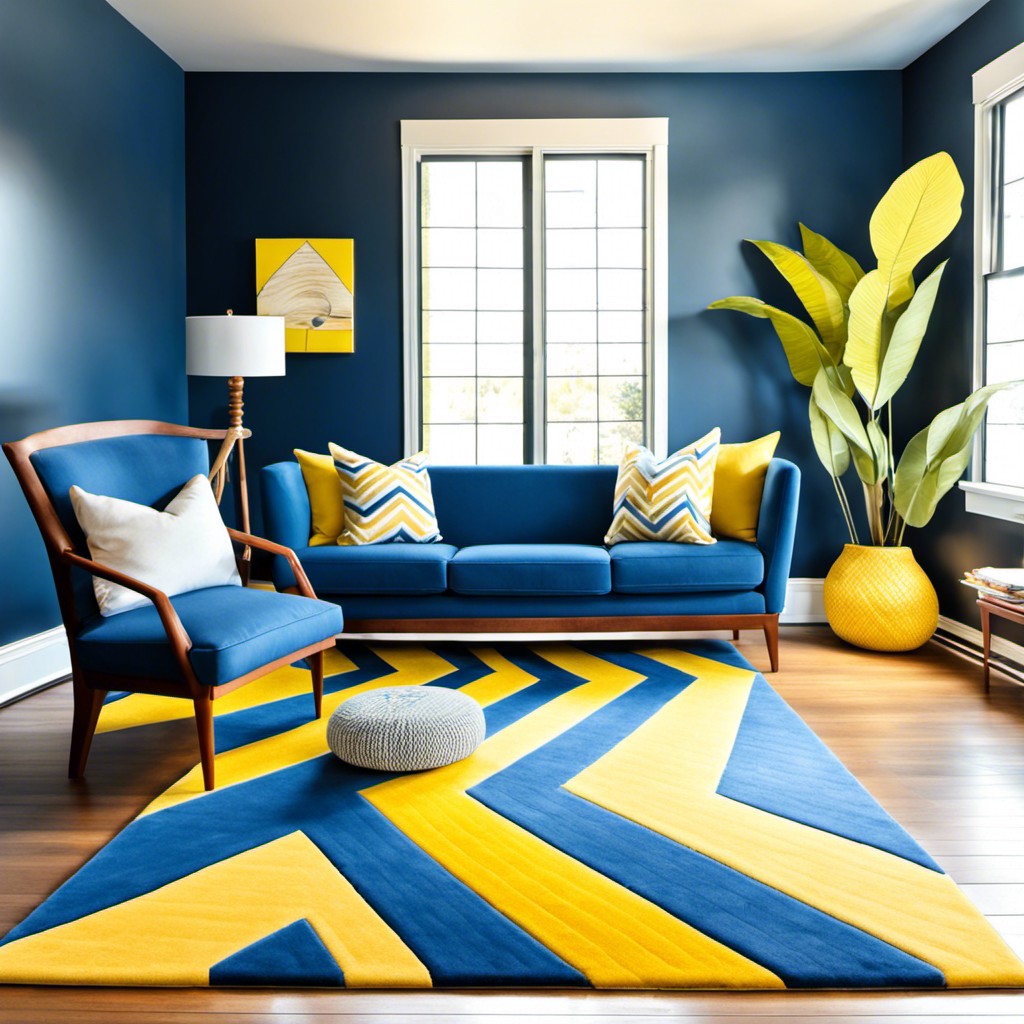 Positioned ideally as a centerpiece, this fascinating combination brings warmth and cheer into settings dominated by blue. The yellow undertones highlight the coolness of the blue couch, creating an inviting atmosphere.
Some aspects to understand about this rug choice include:
The recurring 'V' pattern in chevron design adds visual interest and movement, distracting from a potentially monotonous blue.
Its bold hues provide an opportunity to sprinkle yellow accents around the room for a coordinated look.
This rug option is a wonderful way to keep a summer feel year-round, symbolizing sunlight and clear blue skies.
Keep in mind the blend of textiles – choose a fabric like wool for a soft feel underfoot and impressive durability.
This rug is more than just a floor covering, it's a statement piece that enhances the color palette, connects various room elements, and establishes a balance in decor.
Ivory and Blue Moroccan Rug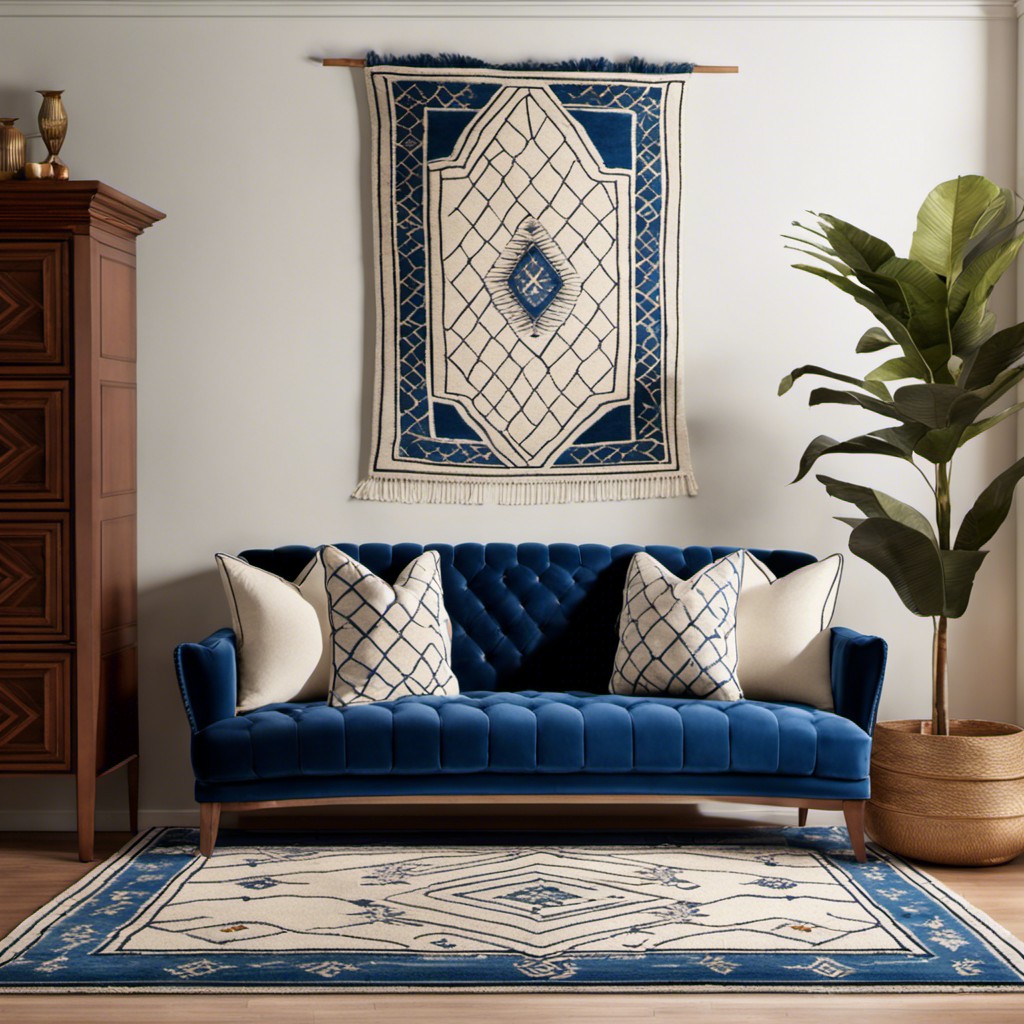 This particular choice pairs beautifully with a blue couch. Its rich hues offer a sublime contrast, with the ivory offering a smooth and soothing influence against the bold blue. The Moroccan design adds an exotic touch, turning the living area into a captivating, inviting sphere.
1. Color Coordination: Ivory provides a soft contrast to the bold blue of the couch. The mix of these two hues creates a harmonious combination.
2. Exotic Pattern: The Moroccan pattern adds a touch of culture and exoticness. It transforms your living area into a captivating space that invites conversation and relaxation.
3. Comfort: The texture of the rug contributes to the comfort and overall aesthetic of the space. The underfoot comfort can enhance your lounging experience.
4. Room Enhancement: An ivory and blue rug can tie together different elements of a room. Its color and design can complement wall color, artwork, and other furniture pieces, giving a unified look to your interior.
5. Maintenance: The darker blue patches can help mask minor stains or spills. This feature, combined with the durability typical of Moroccan rugs, makes it a practical choice for busy homes or spaces.
6. Versatility: Despite a strong design, the rug proves versatile. It can blend with varied color palettes, styles, and patterns, making it a smart and stylish choice.
Sea Green Tibetan Rug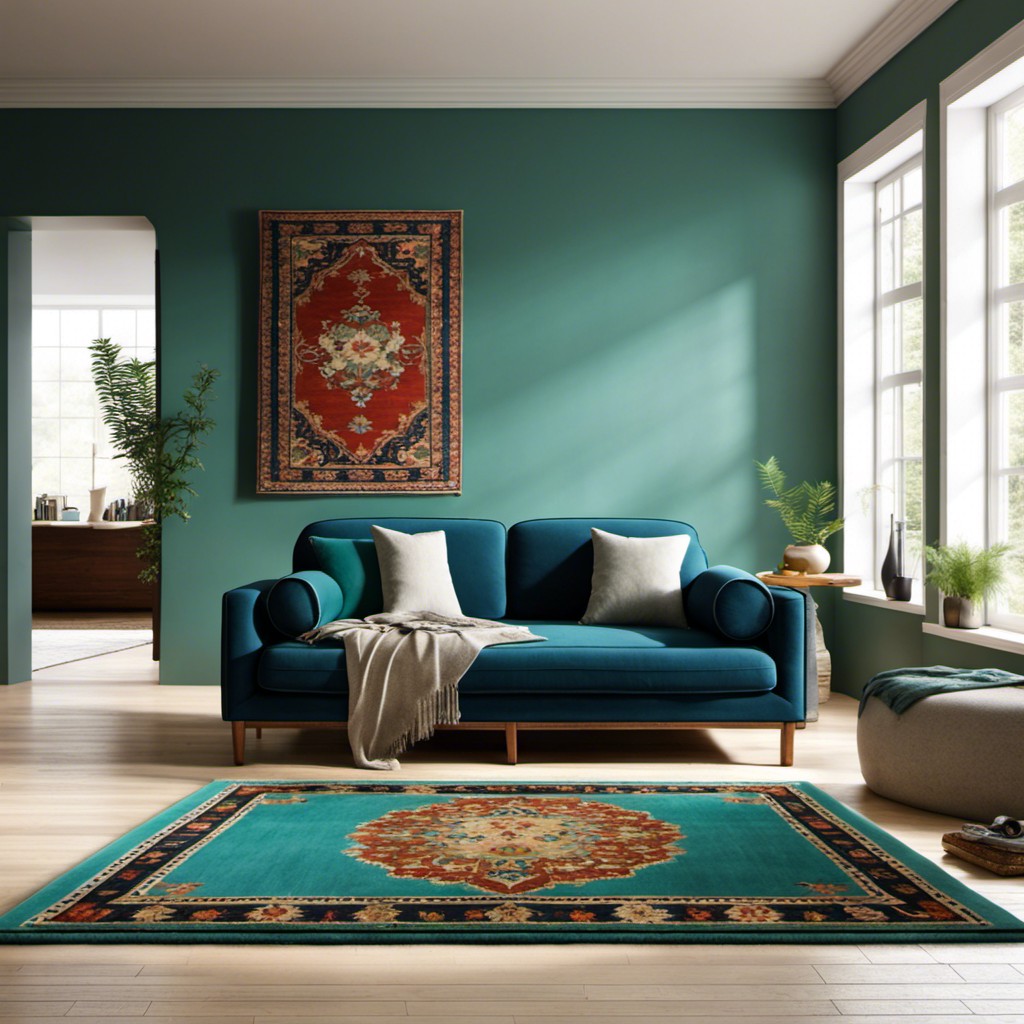 With its striking ocean-like hue and intricate detailing, the sea-green Tibetan rug places a majestic and calming layer of aesthetic at the foot of your blue couch. Several points highlight its unique appeal:
1. Color Combination: The sea green hue adds a serene touch, creating a cool, calming setting that enhances the tranquil undertone of a blue couch.
2. Texture: Tibetan rugs are known for their thick, rich, and dense texture that can soften the appearance of a room, adding contrast to the sleek finish of a typical blue couch.
3. Patterns: The complex designs of Tibetan rugs can incorporate geometric and organic motifs, embellishing the plain look of a blue sofa.
4. Material: Most Tibetan rugs are created from authentic wool or silk, both sustainable and natural materials, bringing an element of earthiness to the modern blue furniture.
5. Cultural Significance: Tibetan rugs hold a rich cultural significance making them not just a decorative piece, but also a conversation starter, adding depth of context to your living space.
Remember, the key is to balance your sea green Tibetan rug with other room elements; so the room doesn't become too busy and every piece has its chance to shine.
Golden Yellow Cotton Rug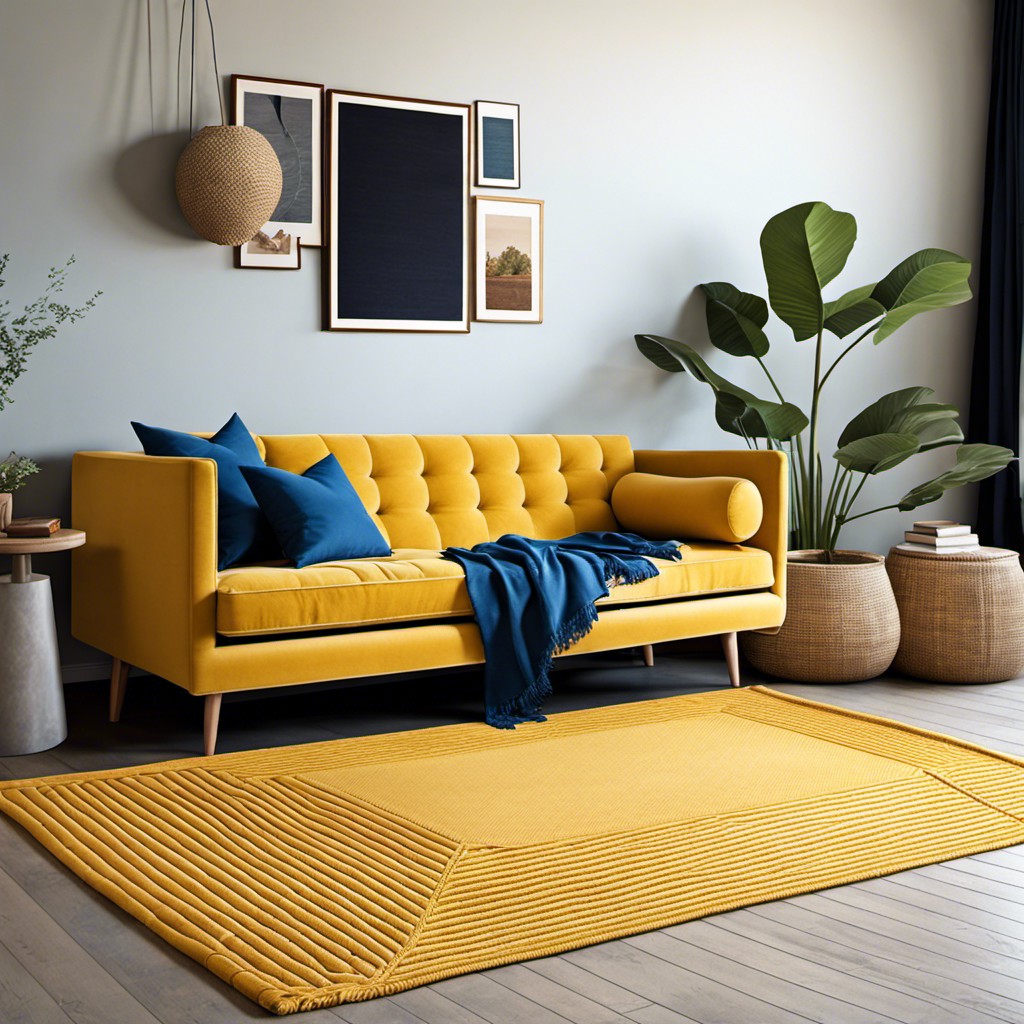 Emphasizing the brighter side of decor, this option infuses a pop of color while maintaining a comfortable, homey feel. The color of the sun, golden yellow fosters a sense of warmth and happiness, contrasting yet harmonizing with the serene blue of the couch.
1. Complementary Colors: The golden yellow acts as a direct contrast to the calming blue of the couch, creating a vibrant yet balanced palette. It is a bright, friendly shade that can liven up your space.
2. Add Warmth: Yellow, with its warm undertones, can counterbalance a cool blue couch, creating a balanced atmosphere. It also complements most wooden furniture beautifully.
3. Versatility: Its neutral tone allows it to blend seamlessly with various interior styles – from modern minimalistic to boho or rustic.
4. Easy Maintenance: A cotton rug is machine washable, easy to maintain, and has a shorter drying time compared to other material rugs.
5. Texture Play: Cotton rugs come in various textures from smooth to woven, offering a tactile counterpoint to your blue sofa's fabric.
Green and Blue Floral Rug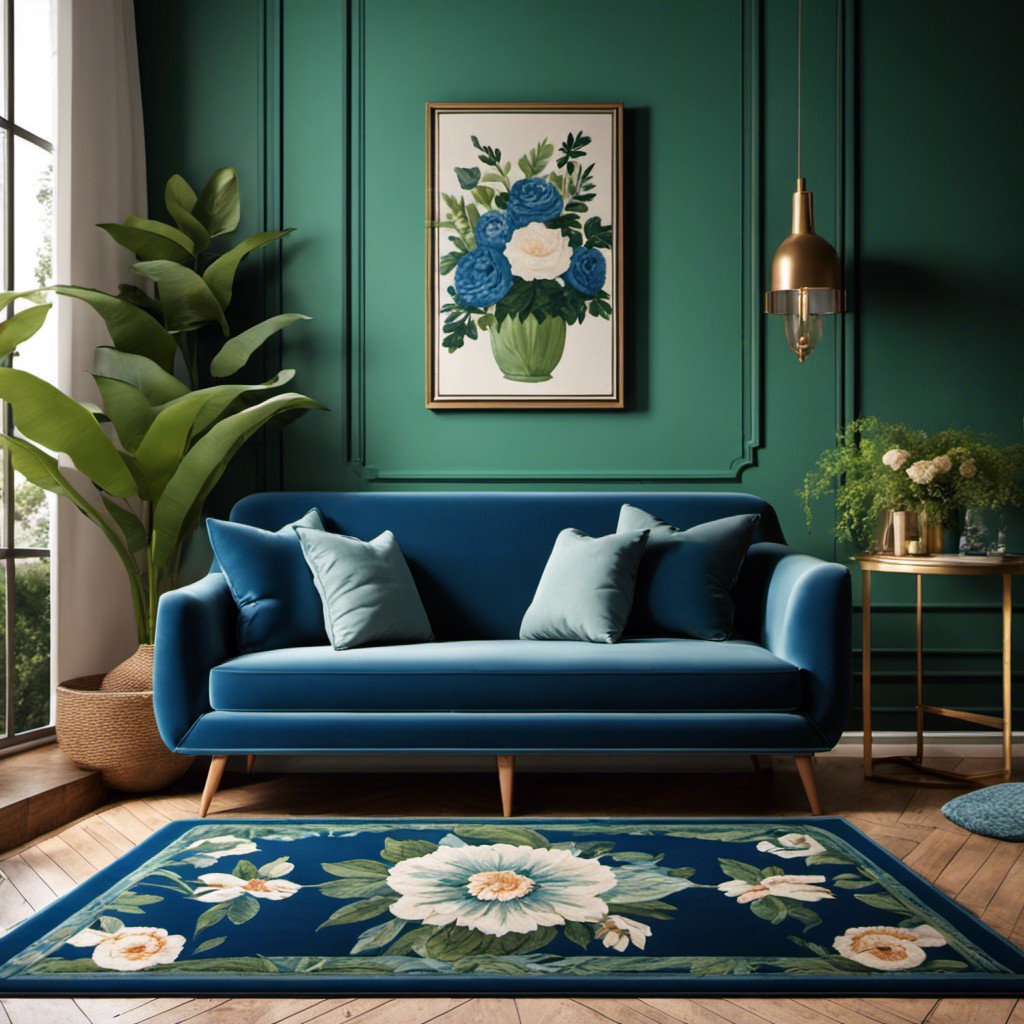 Pairing a green and blue floral rug with your blue couch can present a harmonious, garden-like aesthetic. Here are some pointers to consider:
1. The varying shades of blue in both the couch and rug can create a layered oceanic tone, while the green offers a touch of nature's serenity.
2. Patterns of flowers or leaves give an air of tranquility and movement.
3. The floral design can lighten the look of a room, and offset a heavy, solid colored sofa.
4. This rug is a perfect choice if your aim is a bohemian or a country chic vibe.
5. Consider the rest of your decor: this rug pairs well with decor accents in green, blue, gold, or even light brown tones.
6. Ensure the floral pattern is not too overwhelming in scale, especially if your room is small.
When you go rug hunting, keep these thoughts in mind for a delightful living room design. Colors interact and influence each other in extensive ways, so every detail is key.
Off-white Wool Rug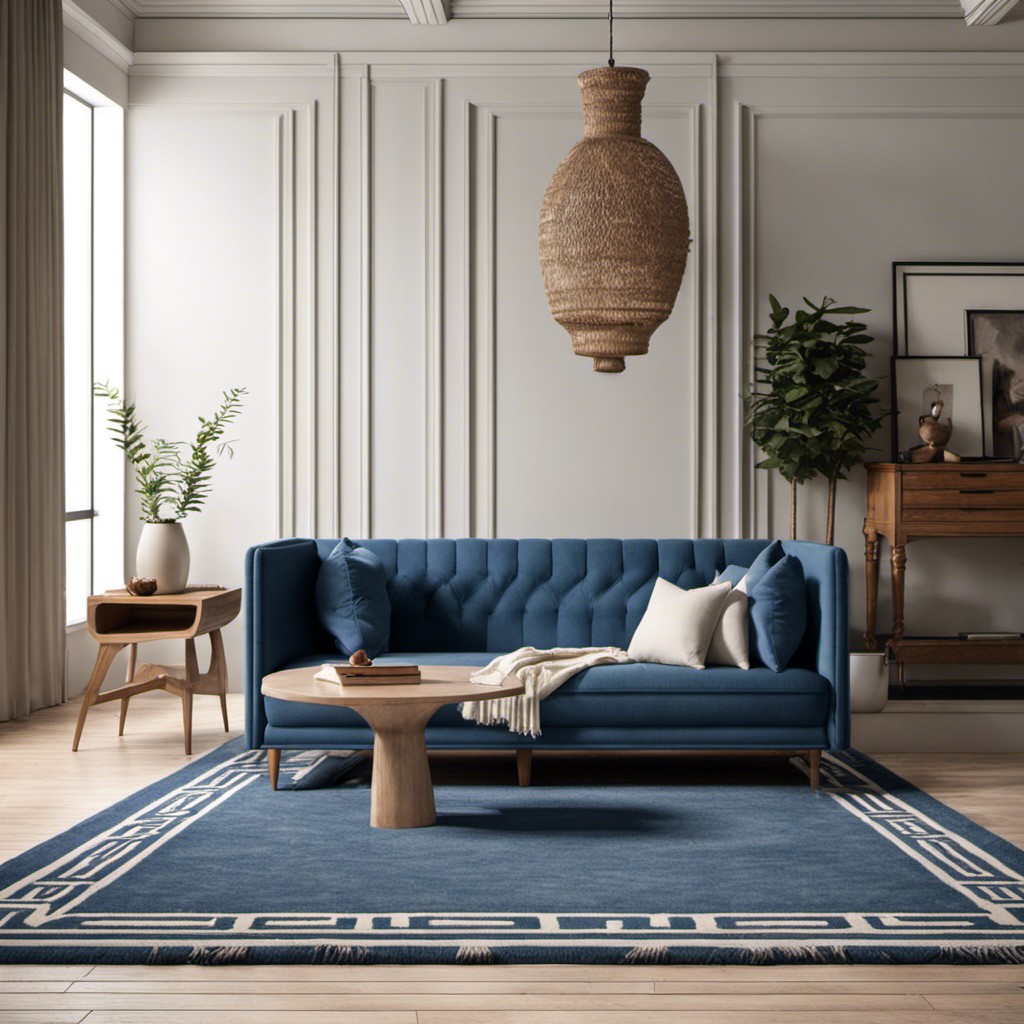 Incorporating this piece into your living room provides a subtle contrast to your blue couch. This rug often comes in a variety of textures, including tufted, knotted or woven, giving you ample options to choose from.
In terms of durability, wool is naturally resistant to stains and wear, perfect for heavy traffic areas. It also contributes in creating a warm and inviting ambience due to its soft and plush fabric.
However, keep in mind that these rugs can be a bit pricey, but given the quality and longevity, it's a worthy investment. Pair it with minimalist decor for a clean, crisp aesthetic or opt for bold accessories if you prefer a contrasting look.
Remember, balance is key when decorating with off-white wool rugs.
Pink and Blue Kilim Rug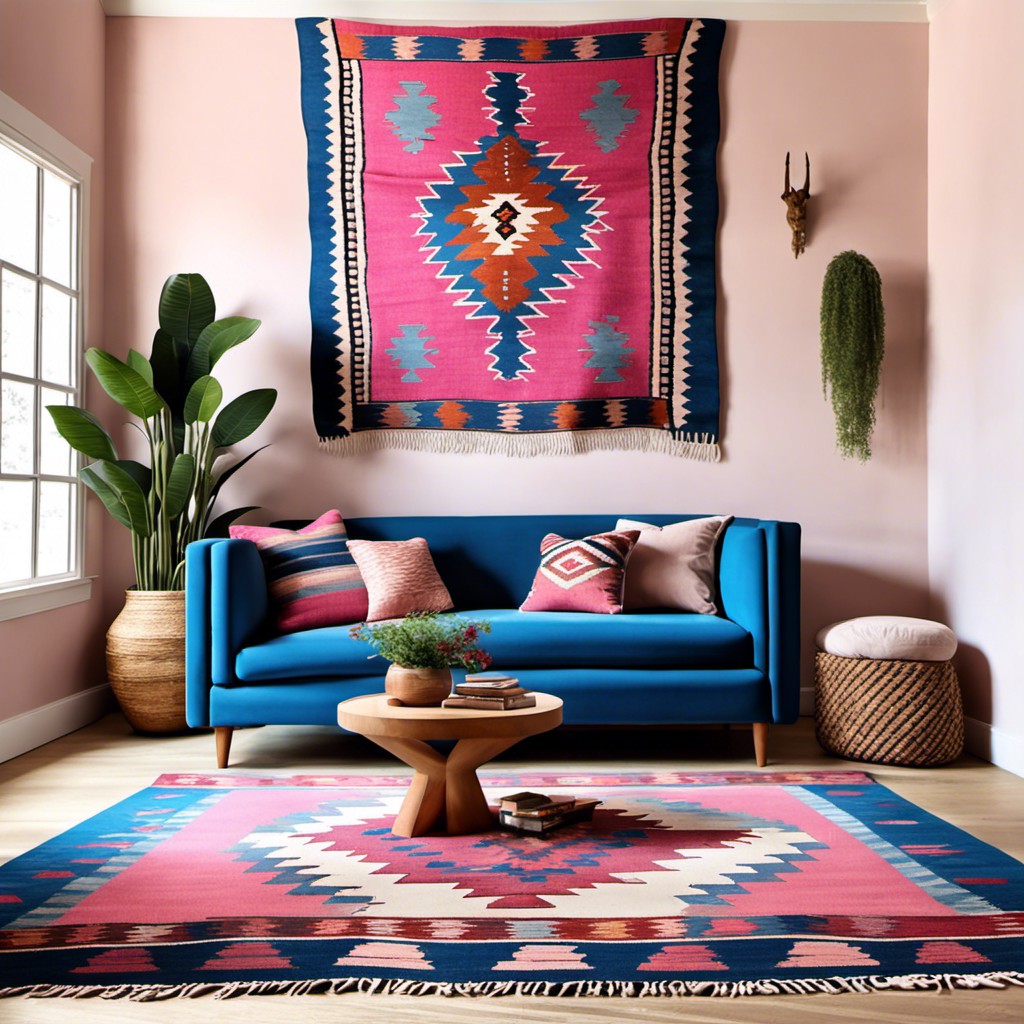 A burst of color and pattern, this rug option combines softer blush tones with bold hues for a dramatic visual display. Originating from a Turkish and Persian weaving tradition, every kilim rug carries a unique geometric design and tells a compelling story. Often handwoven, they offer an impressive durability, perfect if your living room sees high foot traffic or pets.
Here are points that serve as background in exploring this option:
1. A play of contrasts: The bright and soft pink adds warmth while pairing flawlessly with the cool tone of a blue couch. This interplay creates a balanced, inviting space.
2. Striking patterns: The geometric shapes bring to life an otherwise monotonous setting. They brilliantly infuse visual interest and depth in your living room.
3. Layer of texture: Besides color and pattern, the flat-weave kilim rugs introduce another level of intriguing texture, enhancing the overall character and feel of your space.
4. Easy to maintain: Kilims are often reversible and easy to clean, making them a practical as well as attractive choice.
This pink and blue kilim rug would be an eye-candy in any contemporary space, adding layers of aesthetics, comfort, and history. Simple yet bold, it's more than just an accessory; it's a statement piece.
Rustic Orange Bohemian Rug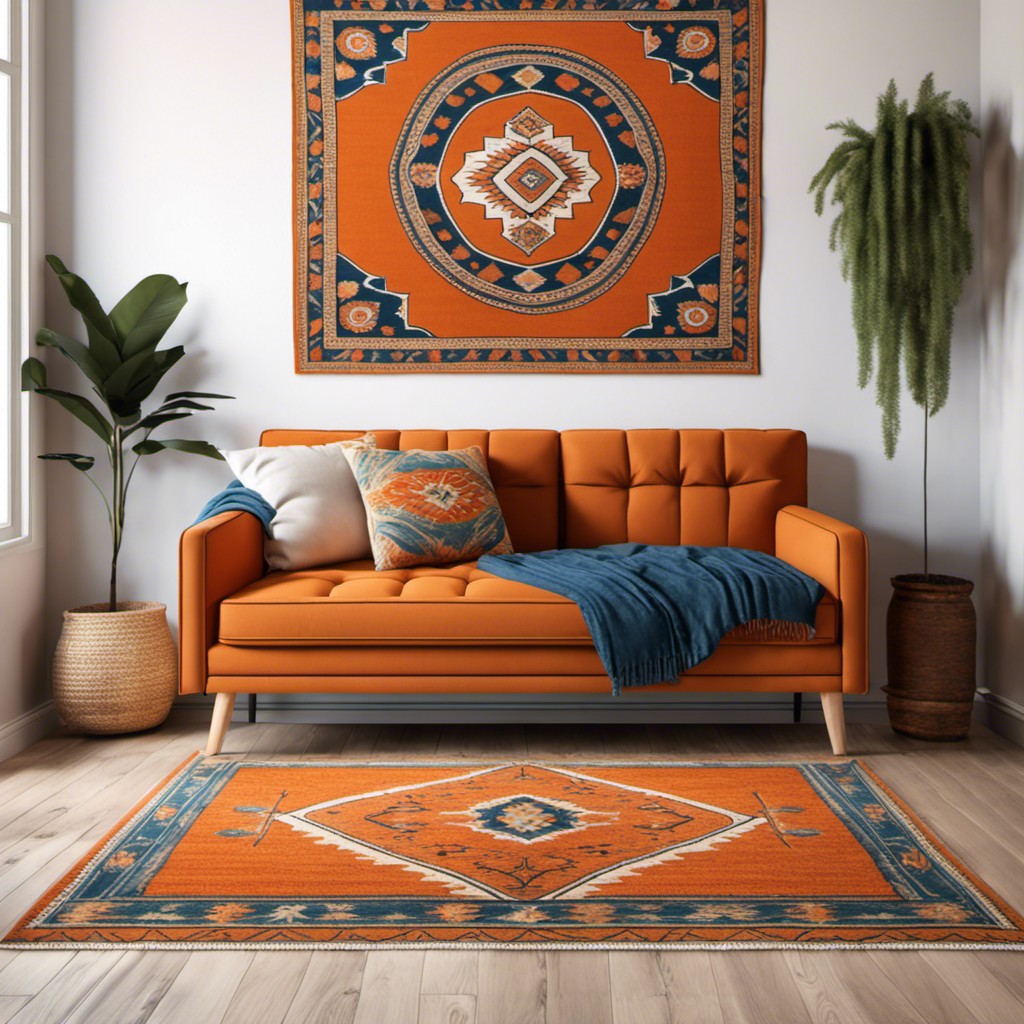 Exuding warmth with its sun-kissed hue, the rustic orange bohemian rug offers an unignorable burst of life. It's not just a contrast to your blue couch, but a celebration of color and design. This rug adds depth and vivacity to your space with its layered textures and intricate patterns.
When choosing a rug like this, consider these points:
1. Material: Opt for a high-quality wool or polypropylene rug, both are durable and soft. Ensure it's made with non-toxic dyes that keep the vibrant color intact.
2. Size: A larger rug can target the overall room, while a smaller one draws attention to the sitting area.
3. Pattern: Typically layered with other patterns and design elements, it can seamlessly fit into a mix-and-match decoration style.
4. Maintenance: While the rustic orange hides dirt and spill well, regular vacuuming prolongs its life.
5. Room style: Works best in a boho-chic, eclectic room. However, if played well, it can stand as a character piece in a minimalist or contemporary room.
Remember, this rug isn't just about color contrast – it's about embracing a creative, unique style.
Turquoise and White Trellis Rug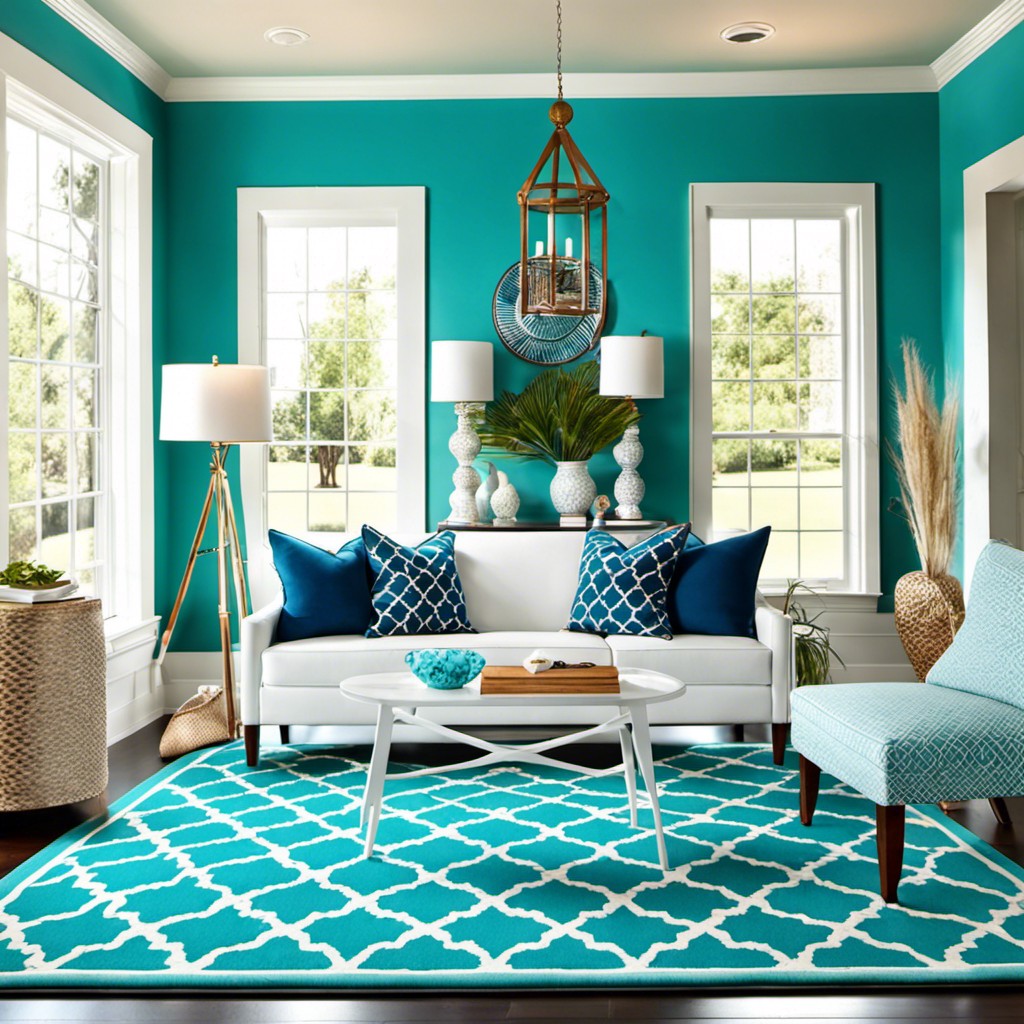 This eye-catching rug can enrich your living space with a river of royalty. Its trellis pattern, a mesh of interwoven or intersecting bands, exhibits a classic element in design. Typically of Moroccan origin, the trellis pattern in this rug can create a sense of openness and dimension.
Now consider the turquoise hue. Not only does it echo the blue of your couch, it adds a touch of mediterranean charm that is both calming and invigorating. Additionally, the white components in the rug maintain balance and freshness in your decor.
Remember, placement of the rug can dramatically alter the visual appeal of the room. For example, positioning it under the coffee table can create a cohesive look.
However, this rug carries versatility; so don't shy away from placing it in high-traffic areas or under furniture. The low-pile nature of trellis rugs makes them easy to clean and maintain.
In essence, a turquoise and white trellis rug can be that piece of decor that can enhance the style, create a captivating dynamic in your interior setting all while balancing your beloved blue couch perfectly.
You may also like to read: