Last updated on December 3, 2023
Embrace the unique charm of a boucle sofa in your living space because it embodies both practicality and aesthetic allure.
Boucle sofas, with their unique texture and cozy appeal, are a trending choice for home decor enthusiasts seeking a blend of comfort and style. This article provides an array of boucle sofa ideas that cater to diverse aesthetic preferences, from minimalist to maximalist, traditional to contemporary.
Here, you'll find inspiration for incorporating this chic furniture piece into your living space, suggestions on complementing decor items, and advice on maintaining its distinctive fabric. Whether you're looking to make a bold statement or create a serene sanctuary, the comprehensive details provided will guide you in leveraging the charm of a boucle sofa to enhance your home's ambiance.
Table of Contents
Neutral Tone Boucle Sofa With Minimalist Design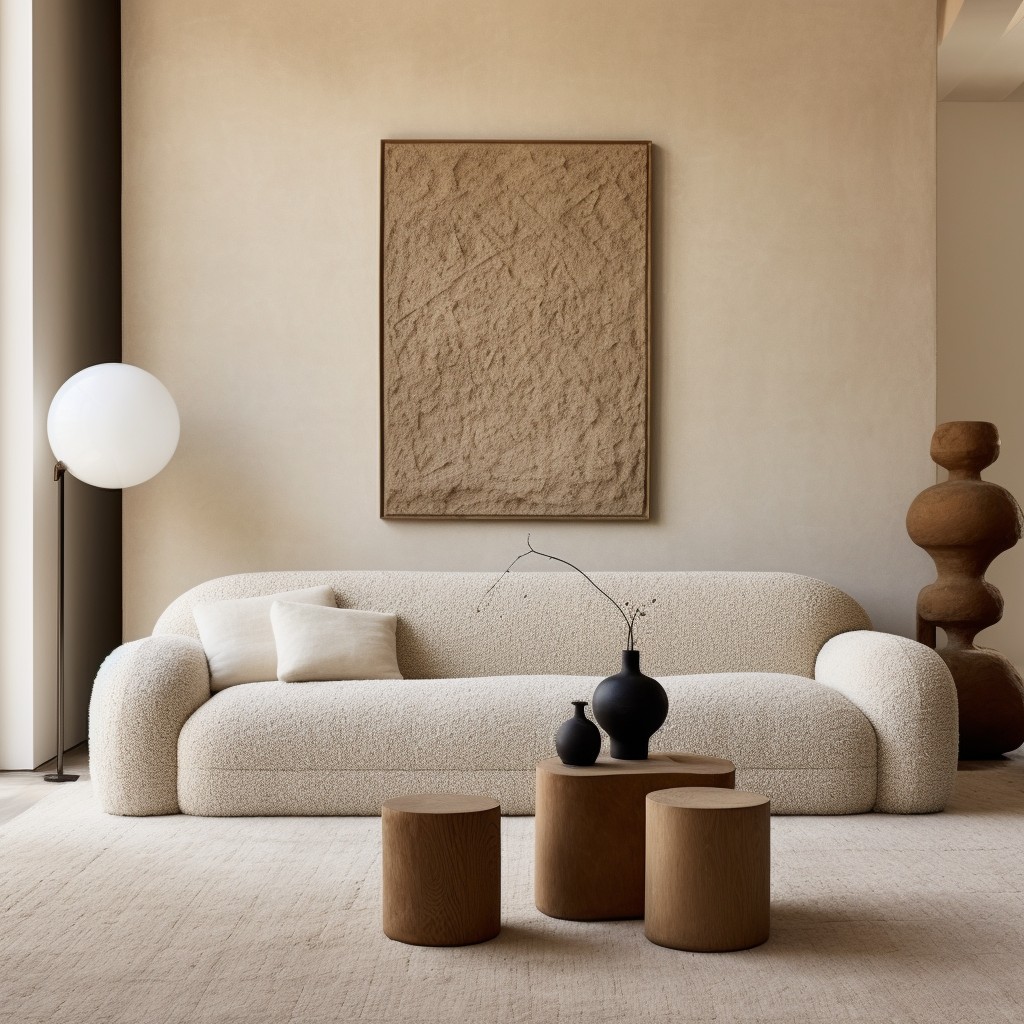 Having a neutral tone, this boucle sofa effortlessly blends into a minimalist room decor, focusing on functionality and simplicity.
Its subdued color palette, often grays, whites or beige, becomes an inviting, serene focal point.
The design is sleek, with clean lines and minimal ornamentation, allowing the unique texture of boucle to become the star of your living room.
It also presents an opportunity to align with the room's aesthetics, with the addition of some elements.
A monochrome abstract painting, a Scandinavian rug, or meticulously selected plants would enhance the charm.
The setting provides room for creativity while maintaining a minimalist influence that bridges the gap between comfort and style.
Bold Color, L-shaped Boucle Sofa for Spacious Rooms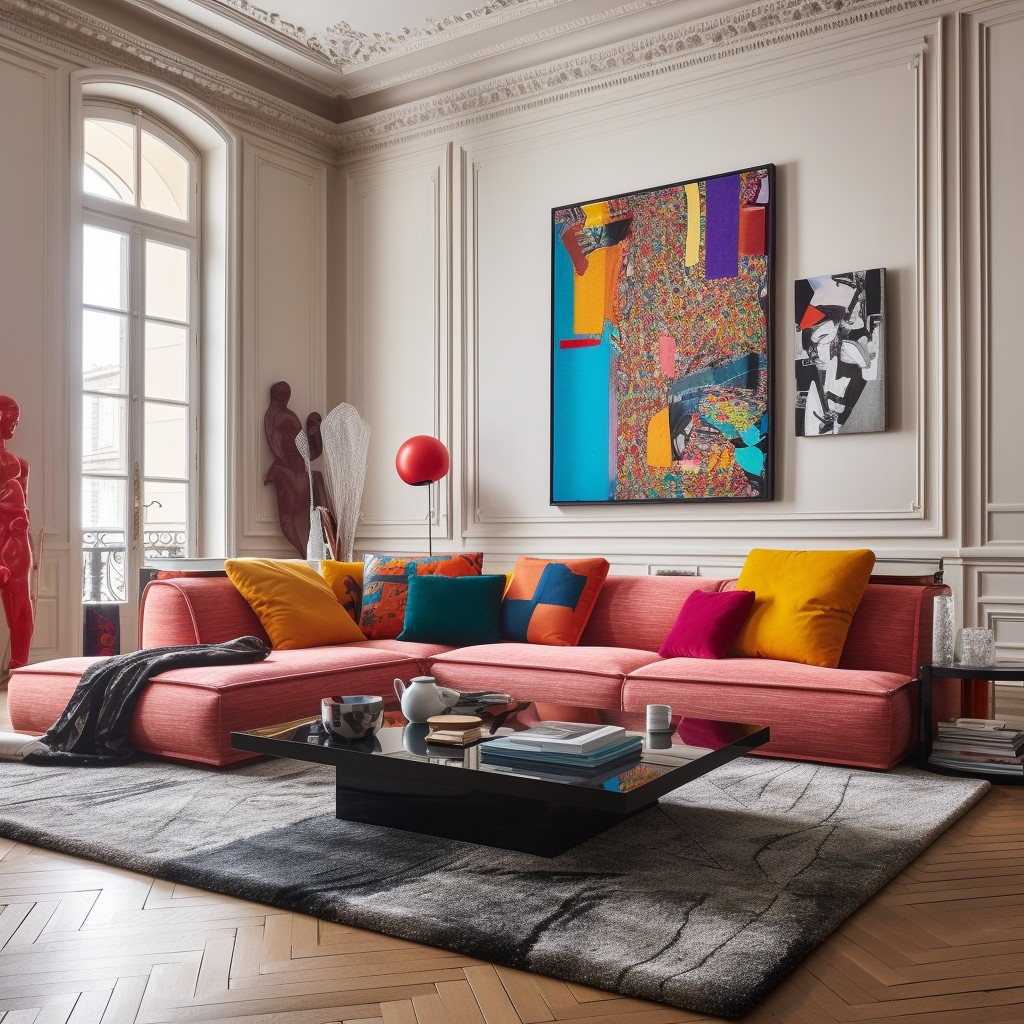 To truly enjoy and benefit from a bold-colored, L-shaped boucle sofa, place it strategically in a spacious room. Here are some considerations.
1. Color: A bold color works effectively to spark visual interest and create a lively atmosphere. Colors like red or yellow can be experimental but rewarding choices.
2. Size: An L-shaped sofa serves as an excellent piece for space subdivision. Especially beneficial in open plan rooms, it helps to demarcate the living area from the rest of this space.
3. Fabric: Boucle's looped texture provides a distinctive, tactile appeal. This fabric not only exudes luxury and quality but also coziness.
4. Positioning: Place this sofa at an angle where it can command attention. It can either face the entertainment area or the window view, depending on the room's layout.
5. Accessories: Complement the sofa with minimal yet strategically placed accessories – think monochrome rugs, solid-color cushions, metallic coffee tables.
6. Wall Colors: Neutral or light walls serve as a beautiful backdrop to the bold-colored sofa, allowing it to stand out.
Remember, the focal point of any room can easily be a colorful, comfortable and stylish L-shaped boucle sofa. So, don't shy away from bold choices!
Vintage-inspired Boucle Sofa With Wooden Legs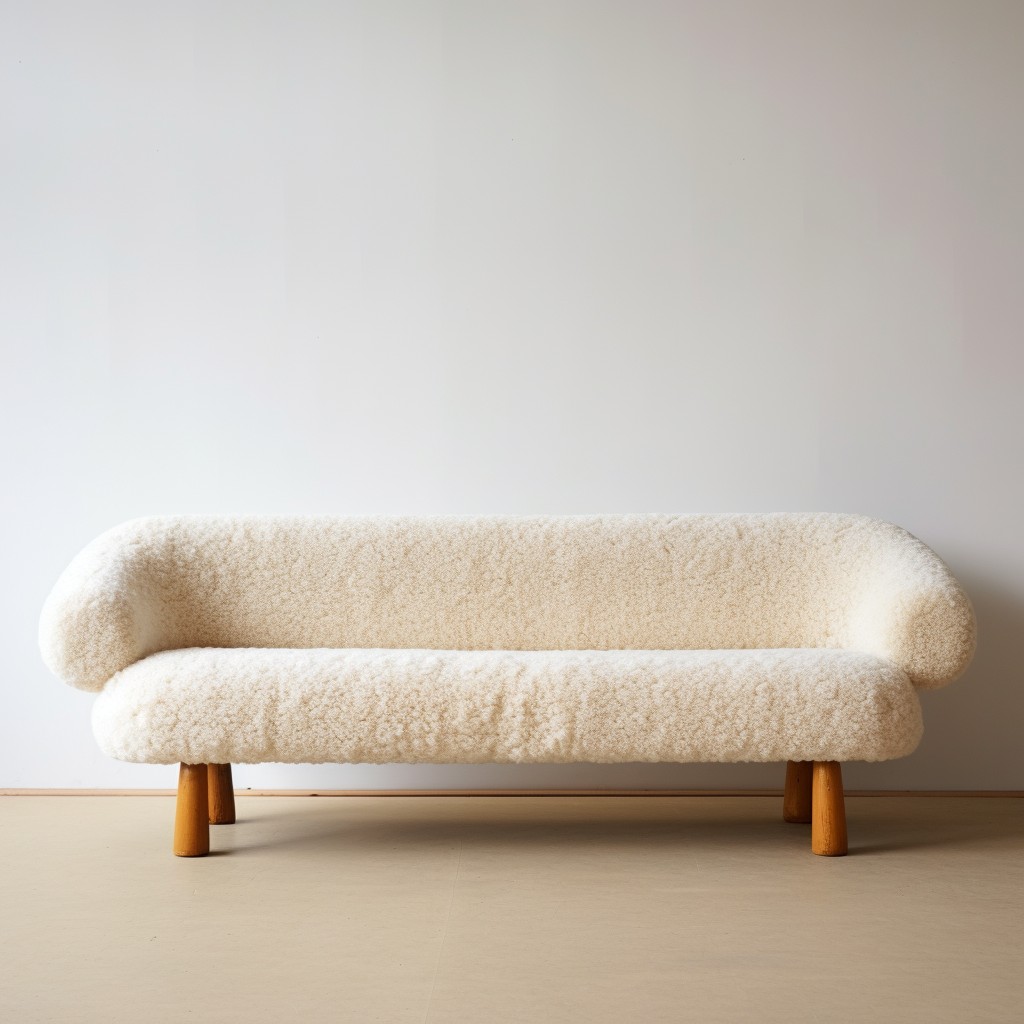 Taking inspiration from timeless designs, these sofas add a touch of nostalgia to any space. The wooden legs bring natural appeal and reliability, serving as a sturdy base. Further, they accentuate the tactile delight of boucle fabric, making the piece even more alluring.
1. Proportions: These sofas often have a balanced silhouette which complements both compact and larger living spaces.
2. Versatility: The combination of wood and boucle is neutral and warm, hence suitable for various color schemes and styles.
3. Comfort: The soft, looped texture of boucle fabric promotes comfort, making this type of sofa ideal for leisurely lounging.
4. Maintenance: Boucle is durable and resistant to pilling, facilitating easy care – a light vacuuming or brushing suffices.
5. Sustainable choice: Often, the wooden elements are constructed from sustainably sourced timber, making this option eco-friendly.
6. Customization: Sofas with wooden legs can generally be customized, from the finish of the wood to the color of the boucle fabric.
Remember, placement is key. Position your sofa to highlight its vintage appeal, perhaps near a mid-century lamp or a retro-style coffee table.
Boucle Sofa With a Matching Footrest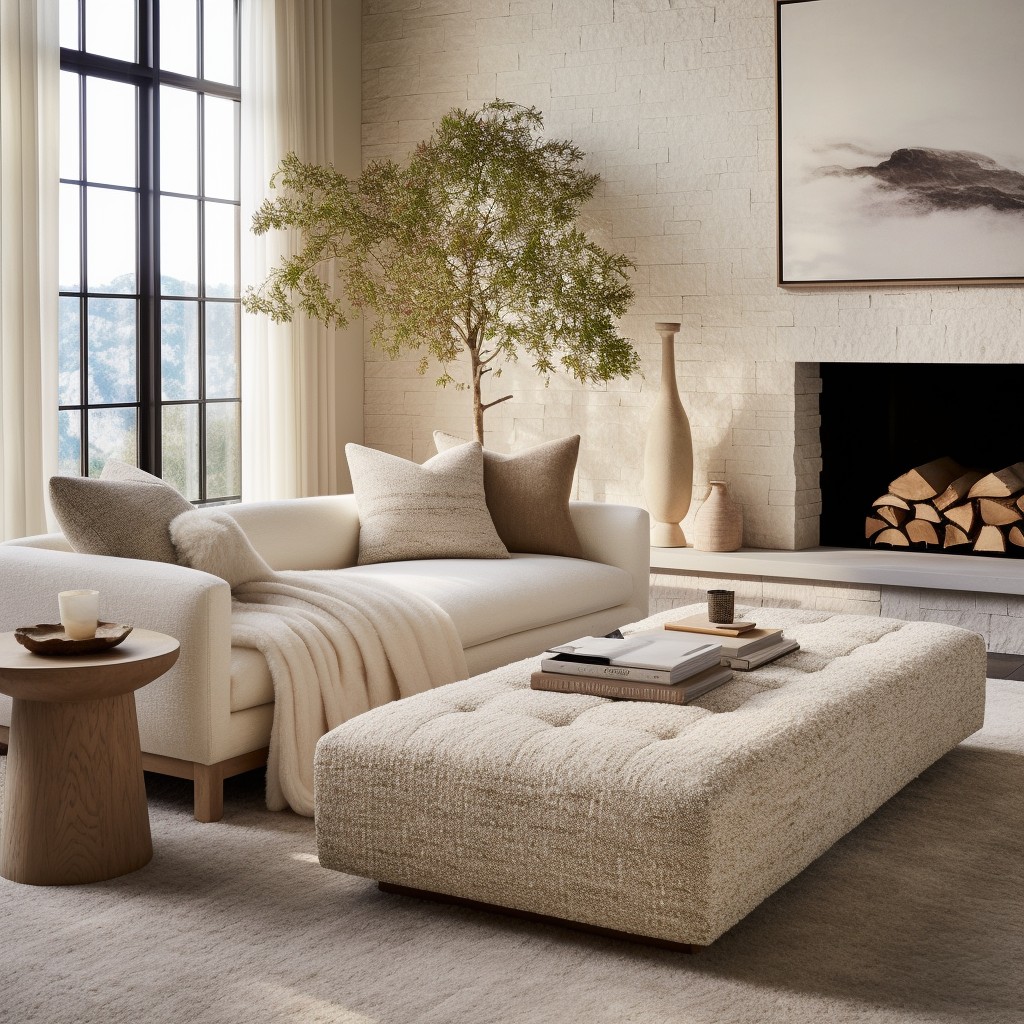 Adding a footrest creates more comfort and luxury. It is a perfect pair since it brings uniformity and enhances the boucle fabric's unique texture.
Place it strategically to either create a lounging area or divide the room. A matching footrest can be used for comfortable leg resting, or as an extra seat during social functions.
Both should have sturdy frames to resist wear and tear. While choosing the colors, opt for those that blend with the room's palette to form a cohesive look.
For easy maintenance, ensure the upholstery is removable for a hassle-free cleaning process. Remember to accessorize with a cozy throw blanket or a tray to hold your coffee mug during those chilly evenings.
Cream Boucle Throw On a Modern Sofa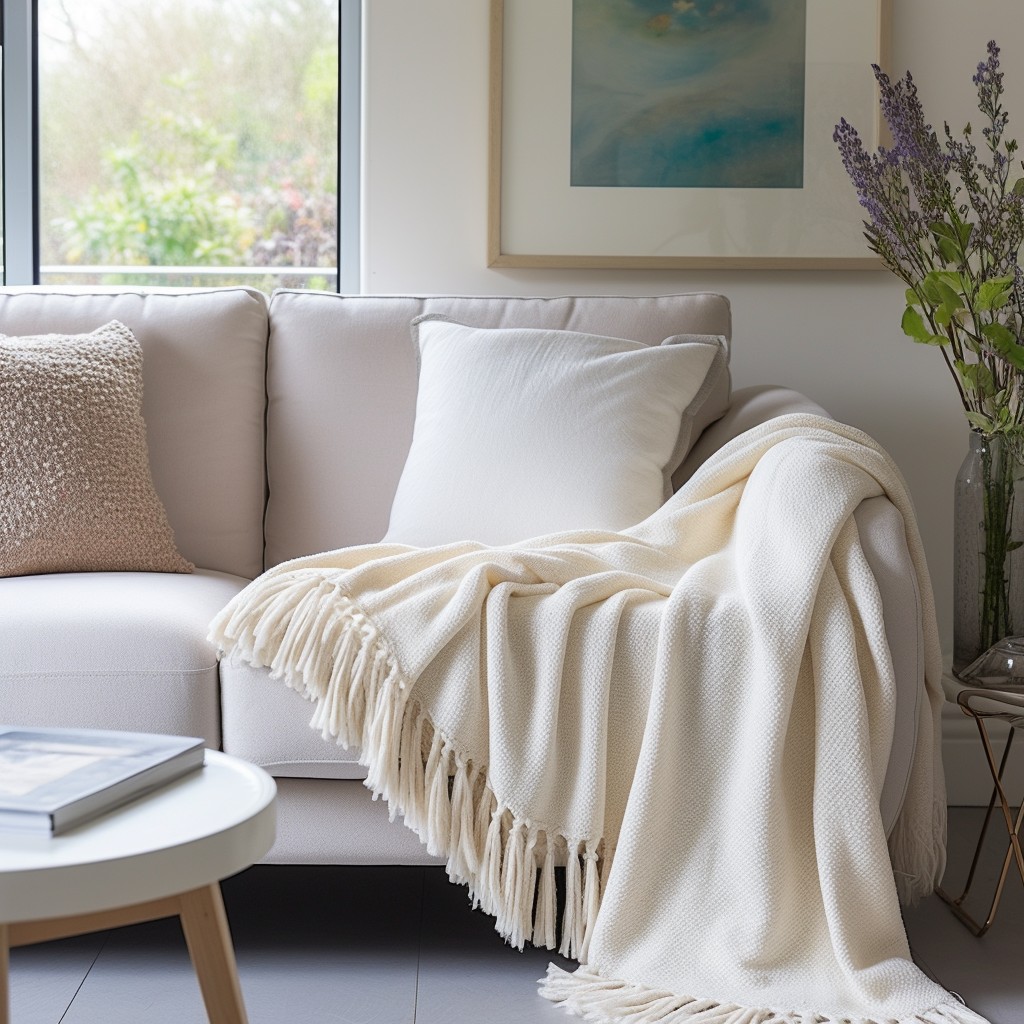 Incorporating a cream boucle throw elevates a modern sofa's appearance while adding an element of plush warmth to your living space. Here's how to achieve this chic and sophisticated look.
Material Match: Choose a throw that blends well with your sofa material. Boucle is particularly effective on leather or smooth fabric couches, where its distinctive looped texture stands out.
Tone on Tone: A cream-colored boucle throw works best with neutral-toned sofas. The soft, muted color palette meshes beautifully, providing a seamless aesthetic while emphasizing texture and form.
Throw Placement: Drape it casually on one side of the sofa, or fold it neatly in half over the back. Affix it so that it both adds to the decor and is readily available for snuggling up on cool evenings.
Size Selection: Avoid oversized throws that swamp the sofa. Ideally, the throw should be just large enough to add a touch of comfort without overpowering the furniture's design.
Accessorize: Pair your boucle throw with contrasting throw pillows. The varied textures and forms provide visual interest, and increase the cozy appeal of your sofa.
Pastel Boucle Sofa Set for a Cozy Living Room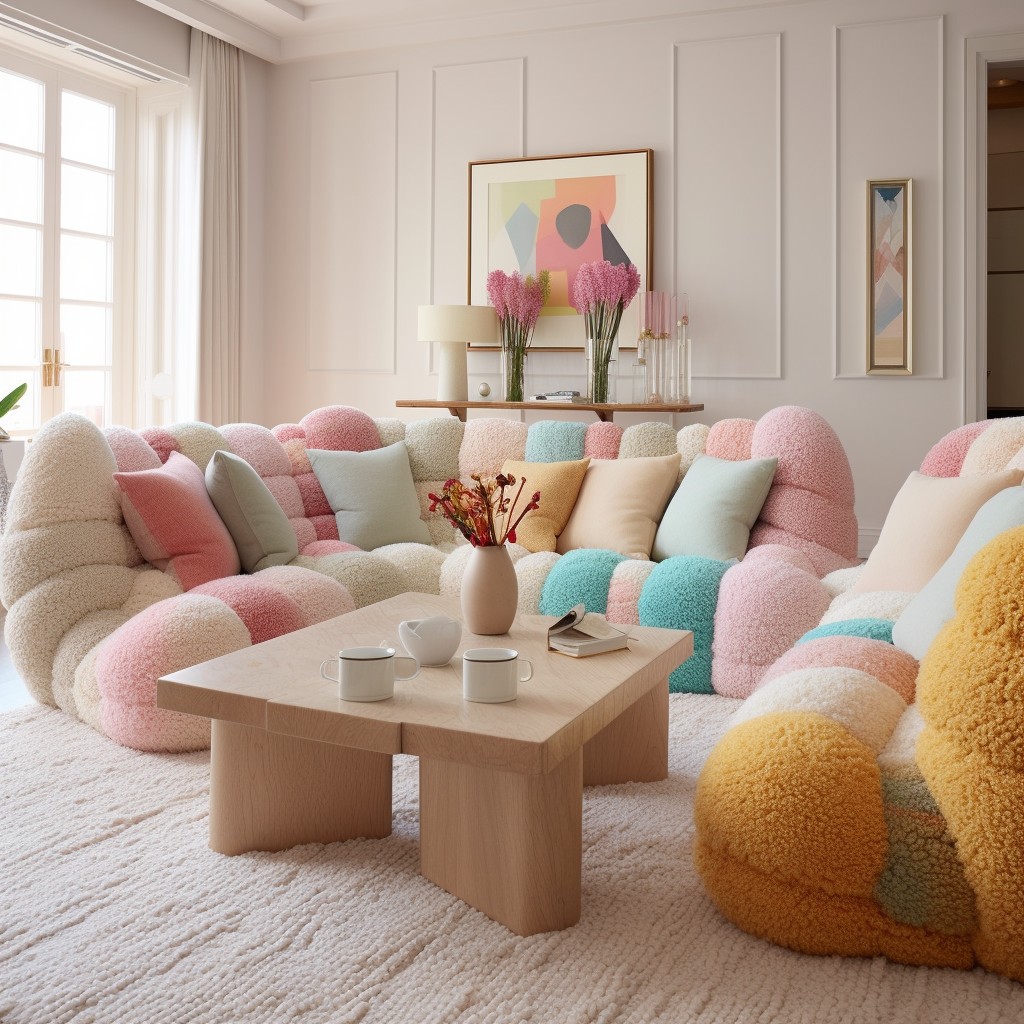 Delicate and soothing to the eye, pastel tones are a popular choice for creating a warm, welcoming ambiance. The soft shades of a pastel boucle sofa set can breathe life into your living room, creating a calming and peaceful atmosphere.
1. Serenity through Color: Subdued hues of pink, blue, or mint infuse tranquillity and add a refreshing twist to traditional home design.
2. Versatility: Pastel colors easily complement a multitude of design themes. You can pair them with rustic elements or sleek modern artefacts to create a visually appealing balance.
3. Comfort: Boucle is not just about appearance, but supreme comfort too. The fabric's distinctive looped yarn gives it a plush and cozy texture that invites relaxation.
4. Visual Interest: A pastel boucle sofa's textured surface adds depth and interest to your living room's aesthetic.
5. Appropriate Accents: Consider supplementing the couch with accessories, such as a white or cream throw blanket, adding an accent pillow or two, or neighboring it with a minimalist coffee table to keep it the room's focal point.
Remember, it's not just about adding a pastel sofa; it's about painting a peaceful canvas that beckons rest and coziness. By incorporating these elements, you'll soon possess a living room that even designers would envy.
Black Boucle Sofa for a Sophisticated Look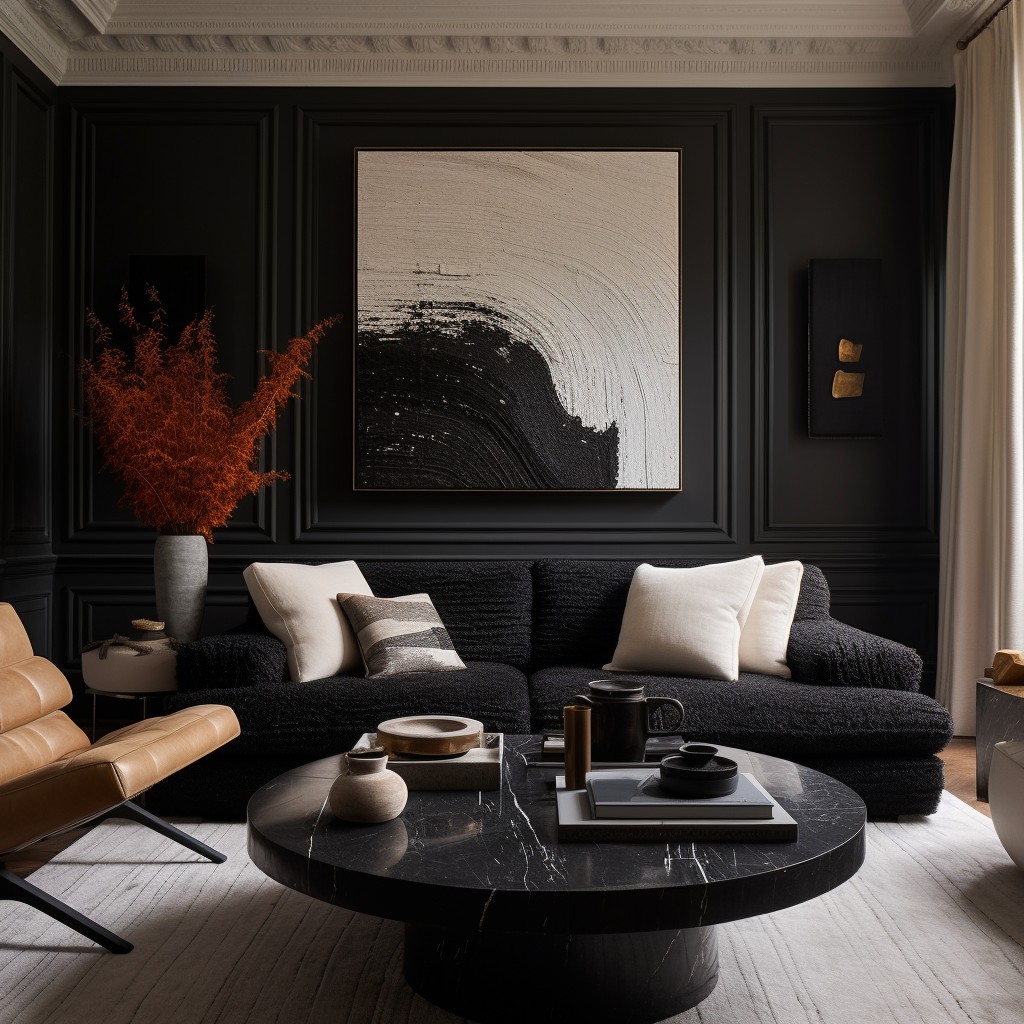 Black is synonymous with sophistication and elegance. When incorporated into a boucle sofa, it commands attention and becomes a striking focal point characterised by modernity and stylish allure. Positioning this piece against lighter walls can allow it to pop and enhance its opulent look.
1. Statement-Making: The intrigue of a black boucle sofa lies in its bold ability to create a statement. It's not just a piece of furniture, but an installation that elevates the whole ambience of a room.
2. Versatility: Combining it with vibrant or neutral-hued pillows can easily transform the mood of the space, offering a harmonious balance of sultry appeal and softness.
3. Durability: Aside from aesthetics, black boucle fabric holds up well over time, effectively camouflaging spills and light stains, making it an ideal choice for homes with pets or children.
4. Room Enhancement: Coupled with strategically placed lighting, a black boucle sofa can add depth and texture to the room, especially if lighter colors dominate the area.
5. Comfort: The soft, looped texture of the boucle fabric ensures that while the sofa looks modern and upper-class, it provides ample comfort.
Keeping these points in mind can help in effectively incorporating a black boucle sofa into your space while ensuring its sophistication and functionality complement each other. Explore different styles, sizes and aesthetic elements to truly personalize the look.
Bohemian Style Living Room With Big Boucle Sofa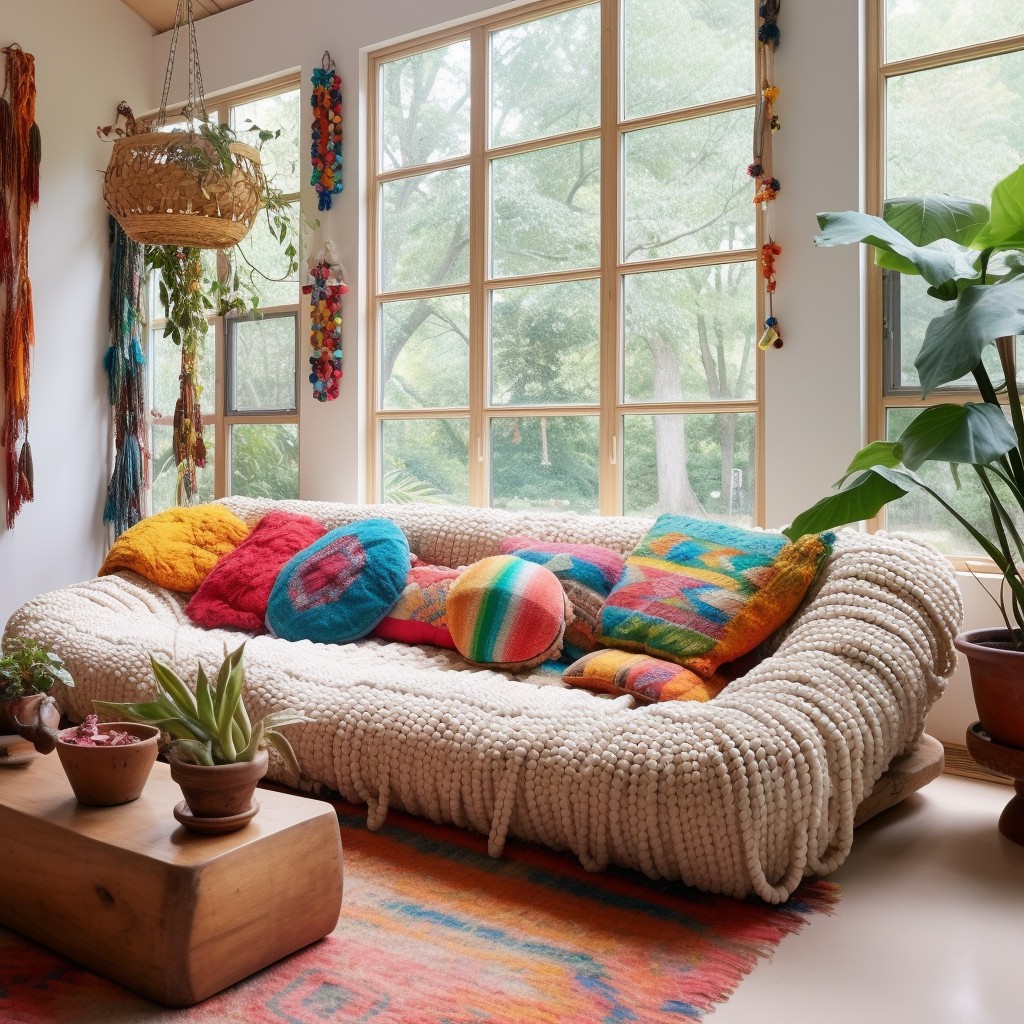 Adorning your sanctuary with a large boucle sofa can instill an incomparable bohemian flair. The plush texture of boucle aligns well with the earthy, eclectic aesthetic of a boho-styled living room.
While the sofa itself acts as a fabulous focal point, consider these alternatives to showcase its charm:
1. Pair with assorted throw pillows: Mix and match with vibrant, fringed, or patterned cushions for added visual interest.
2. Layer with textured rugs: A sisal or jute rug under the sofa provides a compelling contrast, enhancing the warmth of your space.
3. Complement with organic elements: Houseplants, wooden furniture, or a chic rattan coffee table can help create a refreshing atmosphere.
4. Select warm-toned lighting: Soft glow from a lantern or fairy lights can infuse a relaxed and inviting ambiance.
5. Gallery wall or tapestry: Use art or fabric hangings as a backdrop to accentuate the cozy, free-spirited vibe.
By integrating these elements, the boucle sofa will seamlessly blend into your boho living room, while adding a touch of sophistication and homeliness to your haven.
Boucle Accent Pillows for a Fabric Sofa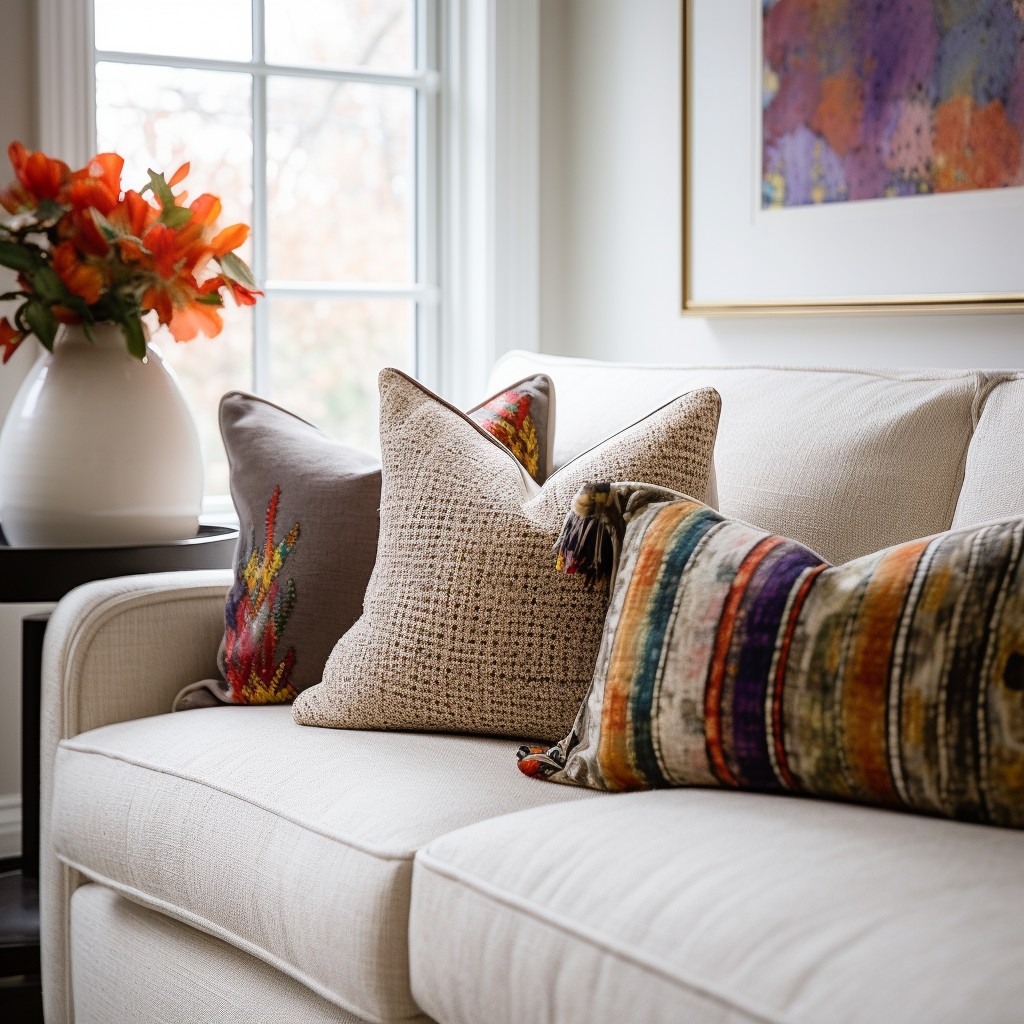 Enhancing your fabric sofa with boucle accent pillows provides tactile fascination and visual interest. Here are some concepts to consider:
1. Contrasting Colors: Select pillows in colors that contrast deeply with the couch. This promotes a vibrant, energizing space.
2. Complementing Tones: Choose pillow shades similar to the sofa's for a sophisticated, soothing look.
3. Varying Sizes: Play with different pillow shapes and dimensions. This adds depth and captivates the eye.
4. Consistent Patterns: Stick with boucle pillows only for a cohesive, harmonious look.
5. Mix and Match: Blend boucle pillows with other textures for a rich, eclectic feel.
6. Seasonal Updates: Switch up colors and patterns seasonally – lighter for spring/summer, darker for fall/winter, for a year-round fresh look.
Remember, accent pillows should stay functional. They should offer back support and comfort, alongside their decorative purposes.
Two-seater Boucle Sofa, Perfect for Apartments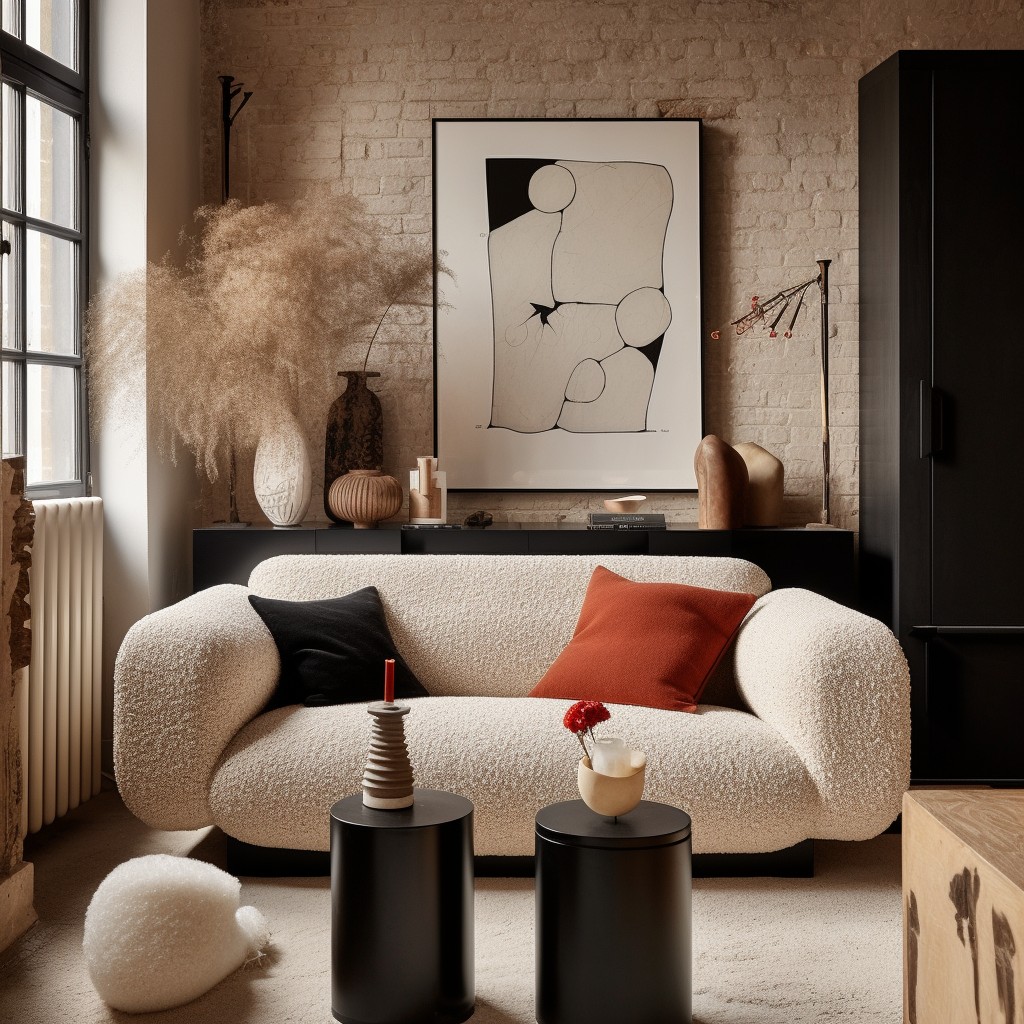 A two-seater boucle sofa is a great fit for apartment living. It strikes a balance between comfort and style without overshadowing the other elements in your living space. Its compact size ensures it doesn't overtake smaller rooms, thus, maintaining a sense of space in the apartment.
Let's delve into the details:
The best aspect of this sofa is its compact size, which complements the available space in an apartment perfectly. It's neither too big to consume your entire living room nor too small to question its existence.
The captivating texture of boucle fabric adds a sense of depth and visual interest. It invites you to touch, transforming the sofa from a mere piece of furniture into a tactile experience.
Our favorite detail is the versatility. Given its neutral tone, a two-seater boucle sofa pairs well with a plethora of colors and decor elements. Throw in some contrasting pillows or a colorful throw for an extra layer of charm.
The practical side cannot be undermined. The seat capacity is just right for intimate gatherings, movie nights or a catch-up over a cup of coffee.
This type of sofa embodies functionality and aesthetic beauty, seamlessly blending into your apartment design while keeping comfort a top priority.
Retro-themed Room With a Round Boucle Sofa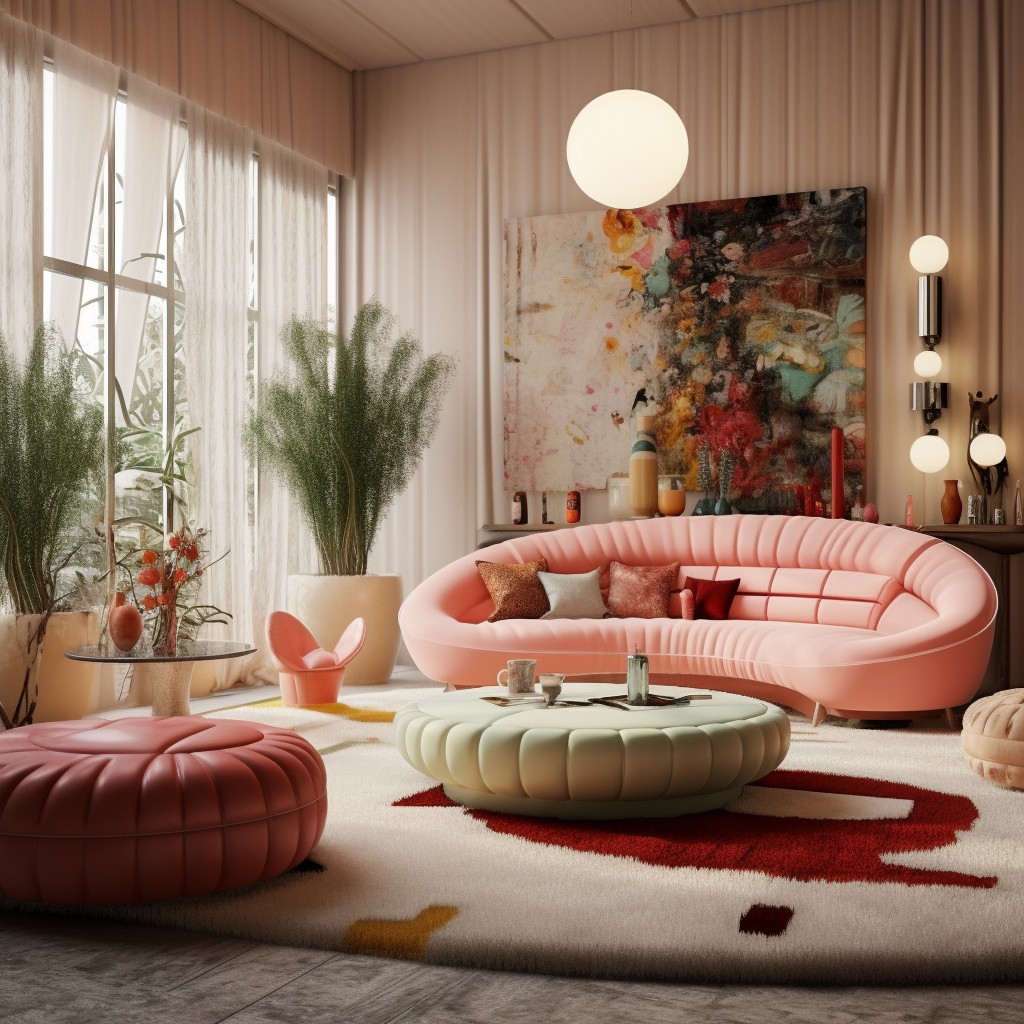 Just picture it: a groovy, round boucle sofa acting as the centerpiece in your retro-themed room. Its distinctive shape and fabric creates an undeniable 60s vibe. The boucle fabric, characterized by its curly and looped yarn, provides both aesthetic and comfort.
This style of sofa pairs wonderfully with other retro elements:
Geometric patterned rugs or cushions: These will echo the fun, whimsy of the 1960s.
Mid-century modern light fixtures: Opt for globe-shaped pendant lights or arc floor lamps for a stylistically consistent look.
Iconic retro colors: Think mustard yellow, burnt orange or olive green. Introduce these through wall color, artworks or other furniture.
Vintage accessories: A lava lamp, record player or rotary dial telephone to amplify the retro theme.
Combining these elements with your round boucle sofa will transport you back in time, immersing you and your guests in the warm, playful atmosphere of the retro era.
Pairing a Boucle Sofa With Contrasting Texture Rug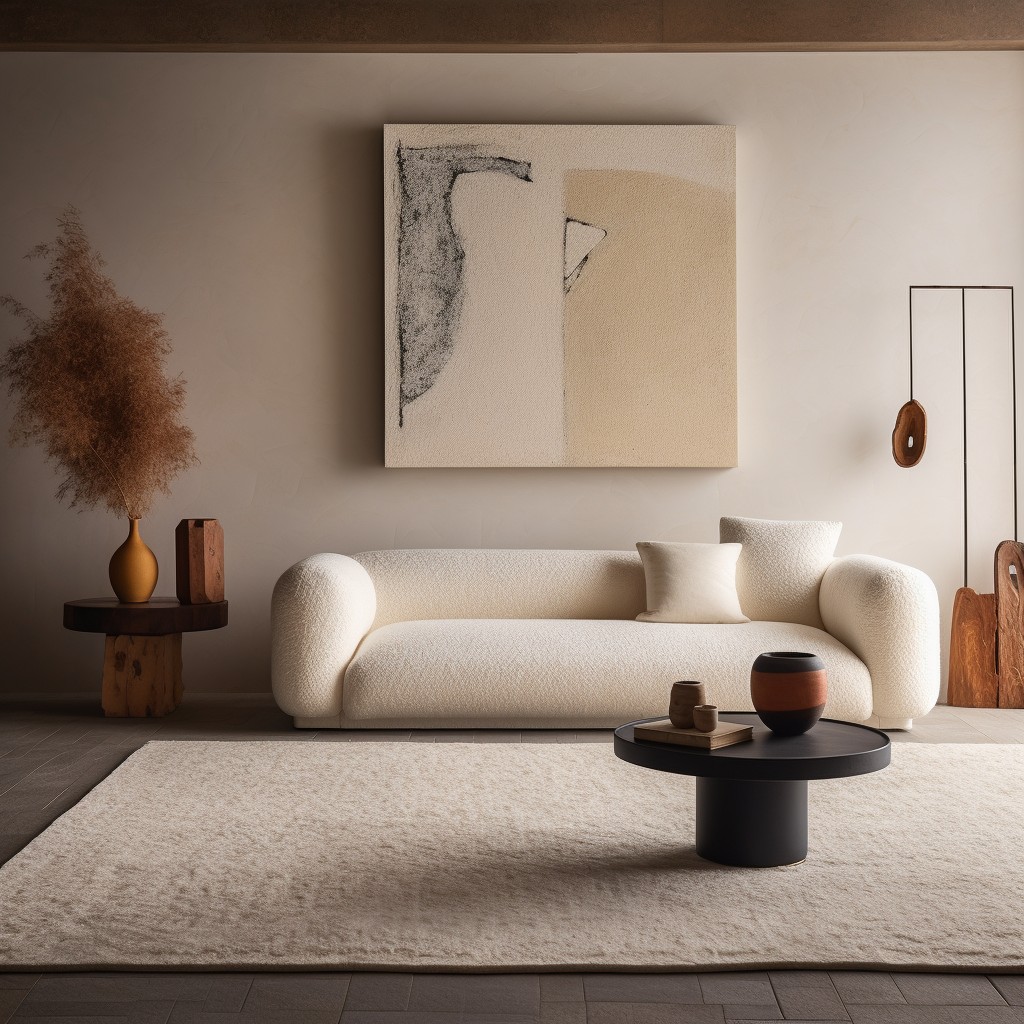 Consider the juxtaposition of textures as a way to liven up your living space dramatically. A smooth, fluffy boucle sofa can beautifully contrast with a rough rug, like one from jute or sisal. This not only diversifies the touch-feel element in the room but also creates an exciting visual nuance.
A shaggy, high-pile rug sets a luxurious stage for a boucle piece to shine. Meanwhile, flat woven-kilim rug, with its intricate patterns, can enhance the visual depth beneath a minimalist boucle couch. For a modern approach, an industrial-rubber mat offers a stylish contrast as well as being practical — easy to clean, and durable.
Ensure the rug proportion is right; it should be either large enough to seat all the seating furniture—including the sofa—or be the exactly the same length as the sofa for a more contemporary look. Neutral-colored rugs guarantee versatility, while a splash of intense color can add vibrance to a space with a monochrome boucle sofa.
Textures play an essential role in any interior design, offering contrast, or unifying different elements of the decor. So, be bold and play around with different materials—it's a quick and effective method to refresh and add a personal touch to any space.
Boucle Sofa With Adjustable Headrests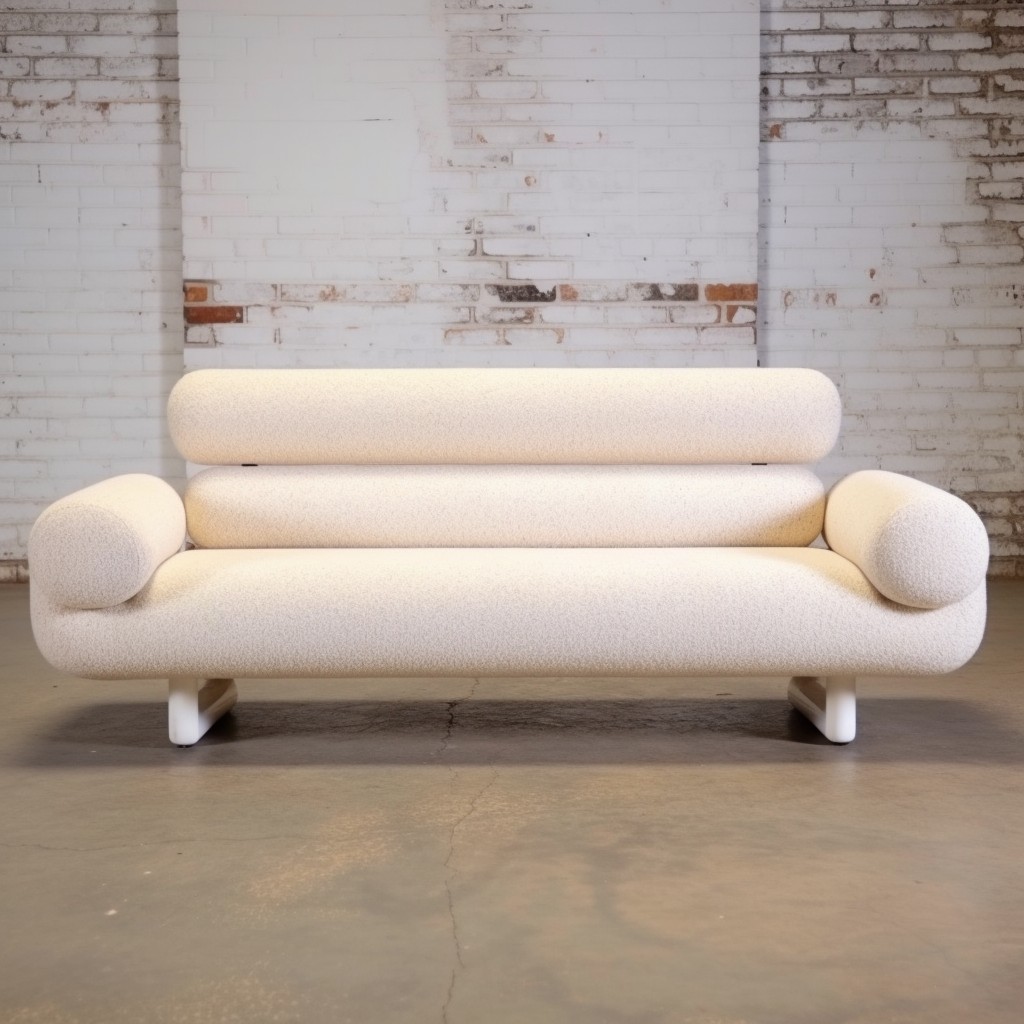 Adjustable headrests on a boucle sofa represent an excellent choice for homeowners who desire both aesthetic delight and functional comfort. This design feature offers numerous benefits:
1. Adaptability: The movable headrest allows for different seating positions, accommodating varying heights and reclining preferences. It renders a flexible sitting experience, great for relaxation and informal lounging.
2. Comfort: The plush texture of boucle, combined with customizable headrests, increases comfort levels. Whether you are watching TV, reading a book, or conducting casual conversations, the tailored support for your neck and shoulders reduces strain, fatigue, and discomfort.
3. Contemporary Look: The incorporation of adjustable elements speaks modern design language, contributing a compelling element of dynamism and interactivity to the room.
4. Space-saving: Multi-functional furniture like this is an intelligent solution in compact spaces. It offers the lounging comfort equivalent of a chaise longue or recliner, without the need for extra room.
Remember to check the sturdiness and the adjusting mechanism of the headrest when buying to ensure long-term durability and smooth operation.
Zero-waste Boucle Sofa With Eco-friendly Materials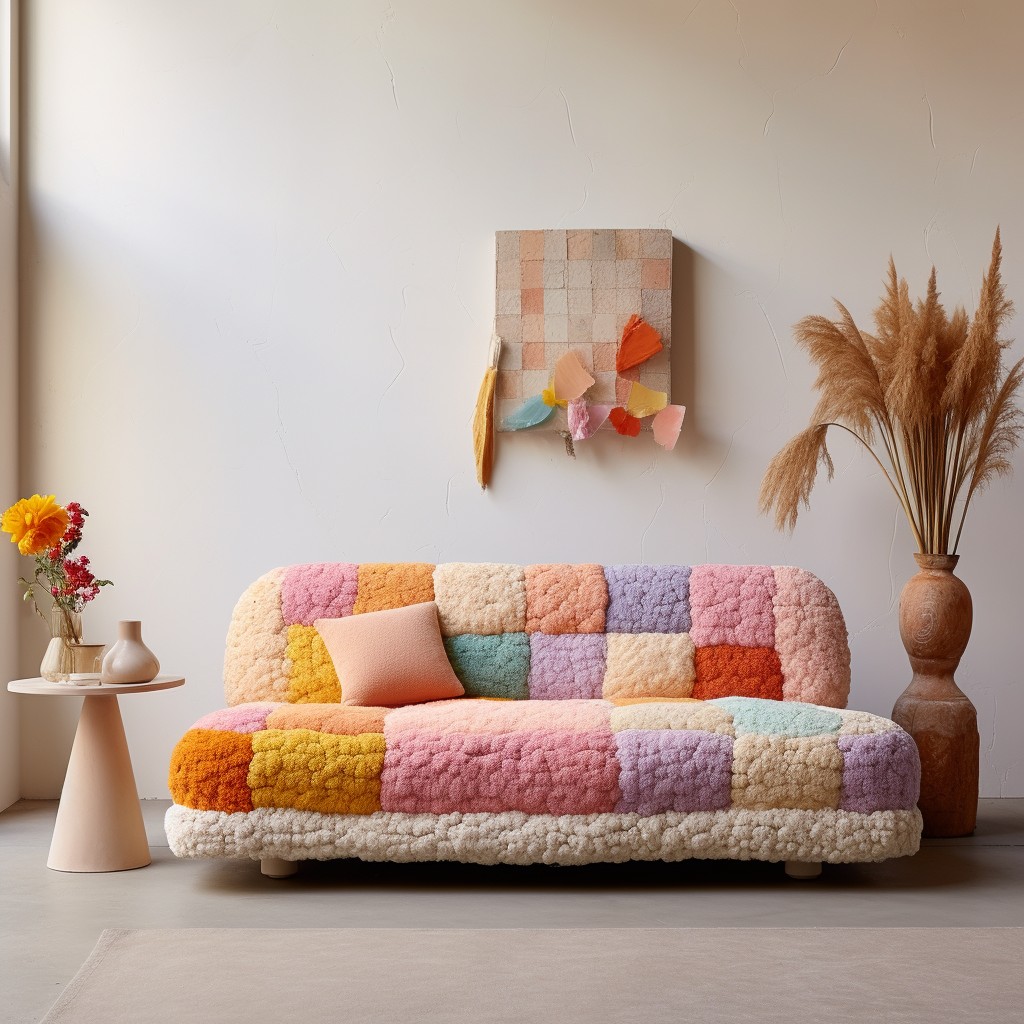 Eco-conscious homeowners will rejoice at the opportunity to incorporate sustainability into their interiors. Crafting the framework from certified responsible sources or reclaimed woods helps to minimize deforestation.
The internal fillings can be composed of recycled polyester or cruelty-free feathers, reducing landfill waste and promoting animal welfare.
Fabrics like boucle made from organic cotton or recycled yarns not only lower the environmental footprint, but also offer a soft, cozy texture.
Non-toxic dyes ensure a safer environment, free of harmful chemicals.
Metal components can be substituted with sustainable alternatives like recycled steel or biodegradable plastic components.
Considering manufacturers that offer a take-back program can also add to the sustainability factor.
This serves a dual purpose – enhancing your living space aesthetically while contributing positively to the planet.
Pink Boucle Sofa for a Stylish, Delicate Room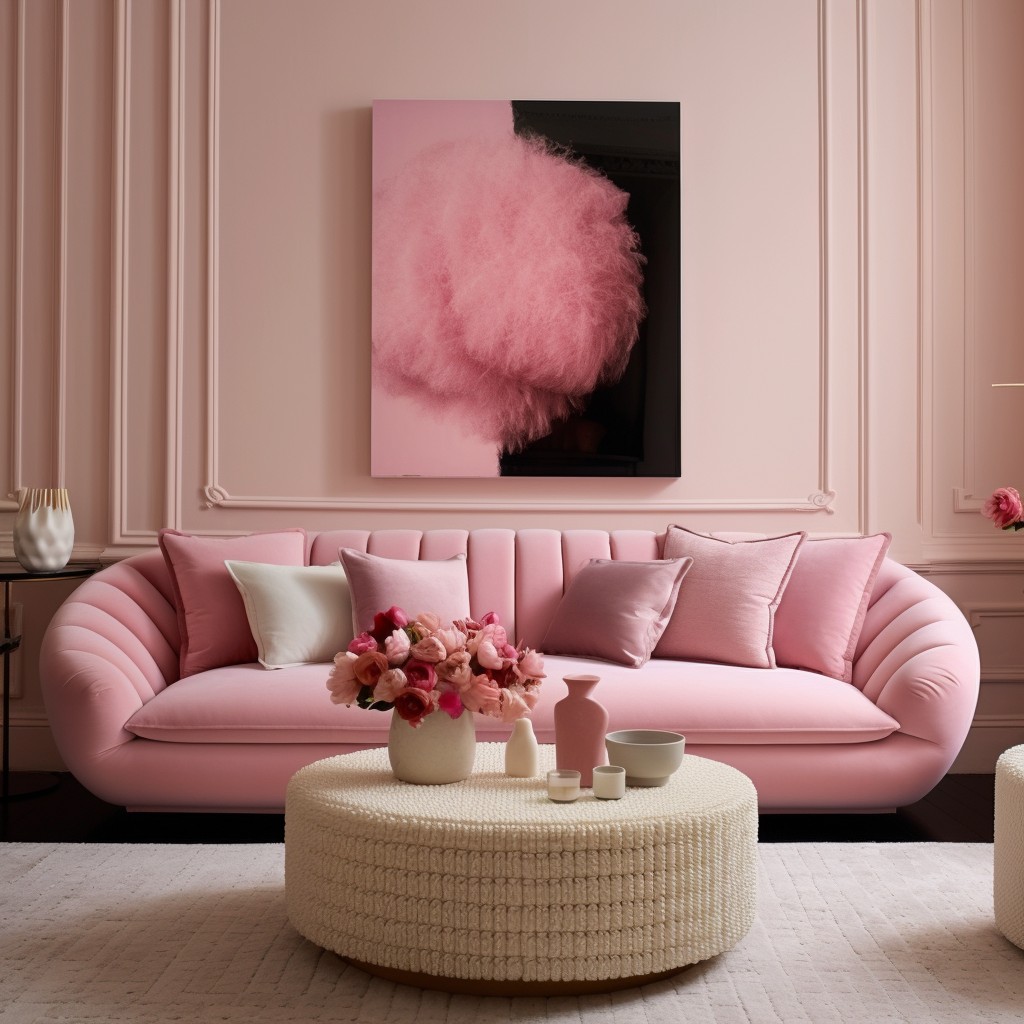 Moving away from characteristic neutrals, a pop of color like pink can add a fun, stylish element to any room. The use of a pink boucle sofa gives a sense of delicate luxury, providing an aesthetic gem with classic appeal.
1. Enhancing Feminine Charm: Pink, often associated with femininity and sensitivity, can soften the room's look and induce a warm, comforting ambiance.
2. Complementary Accessories: Consider blush throw pillows, cream-colored throws, or even fluffy rugs to enhance the plushness and maintain a cohesive look with the pink boucle.
3. Color Balance: Pair the pink sofa with white, grey or wood accents to keep the palette balanced and prevent the color from being overwhelmingly bright.
4. Statement Piece: The pink boucle sofa can act as a room's centerpiece, encouraging further decorating decisions around this stylish, standout piece.
Remember, trends change, and your style should too. Always stay true to your personal preference while experimenting with different décor elements for the perfect blend of comfort and style.
Modern Room With a Boucle Sofa-bed Design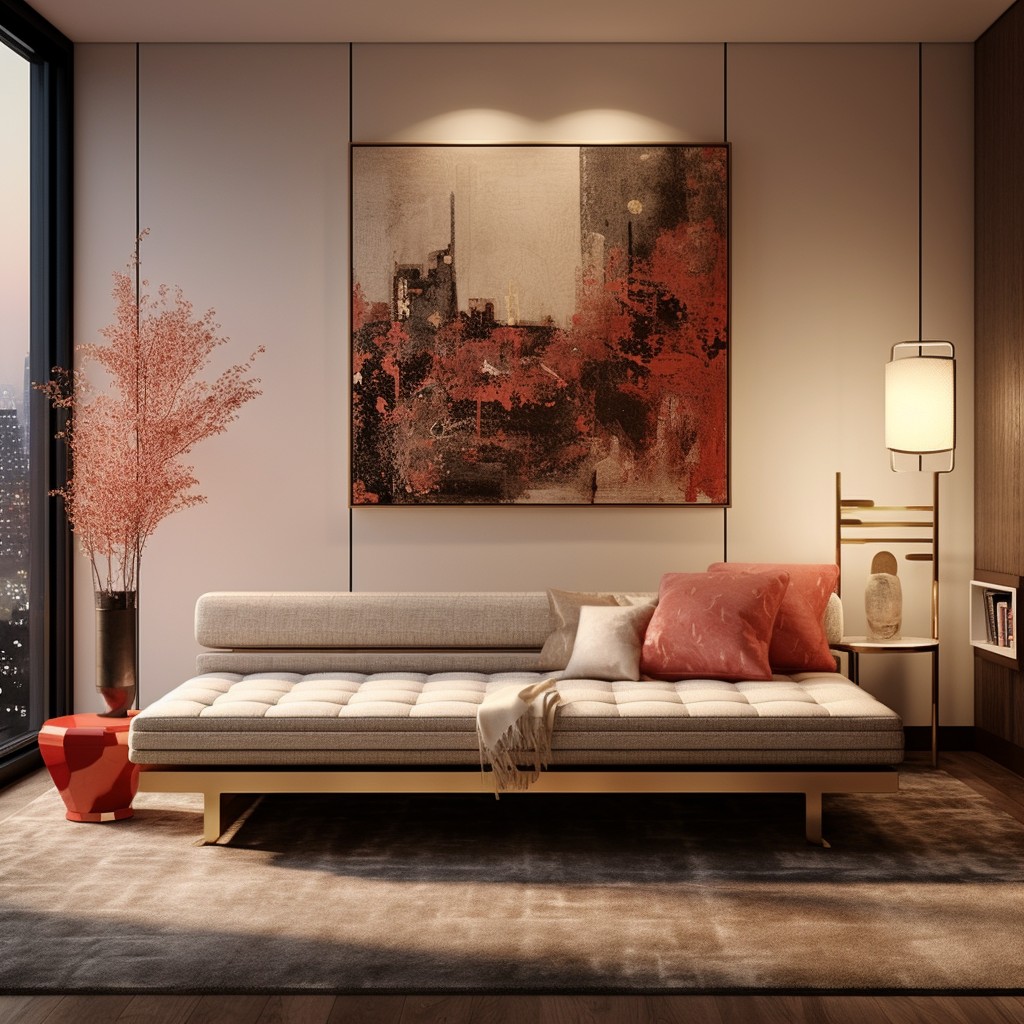 An upscale loft or a chic studio apartment can truly benefit from the dual functionality of a sofa-bed, specifically with a boucle cover. It brings a balance of modern aesthetics with practical use, for those unexpected guests or movie nights that turn into sleepovers.
Blending Function and Style: This design combines user-friendliness with contemporary vibe. Incorporated with a mechanism for easy pull-out, it's both a sofa for casual lounging and a bed at a moment's notice.
Space-Saving: This design is perfect for compact spaces, giving room for guests to sleep without the need for a separate guest room.
Comfort Factor: Boucle fabric adds that extra touch of comfort. The textured surface provides a cozy place to relax and unwind, ensuring a pleasant sleep experience.
Aesthetic Appeal: With its unique texture and wide variety of color options, the boucle material further enhances the room's visual appeal. Piece it together with mixed media accents or a statement rug, it stands out, yet comfortably blends in.
Remember, when it comes to modern design, less is more. Let the sofa-bed be the centerpiece, limit other large pieces of furniture. Add subtle touches like throw pillows, small potted plants or a muted-tone blanket to add warmth. This will keep the focus on the functional and fashionable boucle sofa-bed.
Comfortable Boucle Corner Sofa for Large Families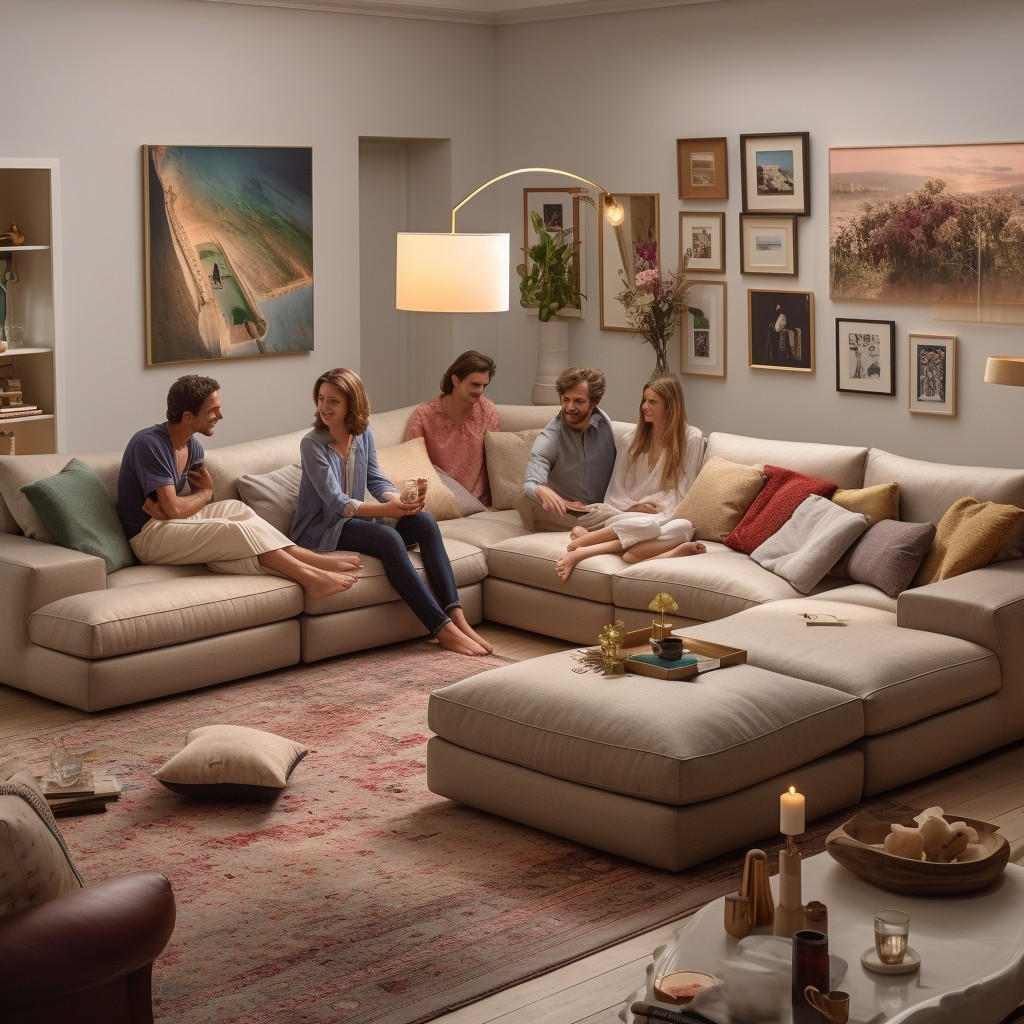 An ideal choice for a family room, the corner design offers ample seating area, without skimping on the comfort factor. This style isn't merely about space utility – the organic feel of the boucle fabric adds a touch of warmth that can make any home feel inviting.
Key Points:
1. Boucle is known for its crinkly texture, enhancing the cozy vibe.
2. The corner configuration maximizes room space – more room for family activities.
3. Sofas with deep seats and extra cushions cater to everyone's comfort.
4. Choosing durable, stain-resistant boucle material is practical for kid-friendly environments.
5. Customizing with different shades of boucle fabric can complement your room's aesthetic.
Remember, while the design should be functional, it doesn't have to be boring. You can infuse your personality into the room through your choice of sofa.
Pairing a Beige Boucle Sofa With Green Plants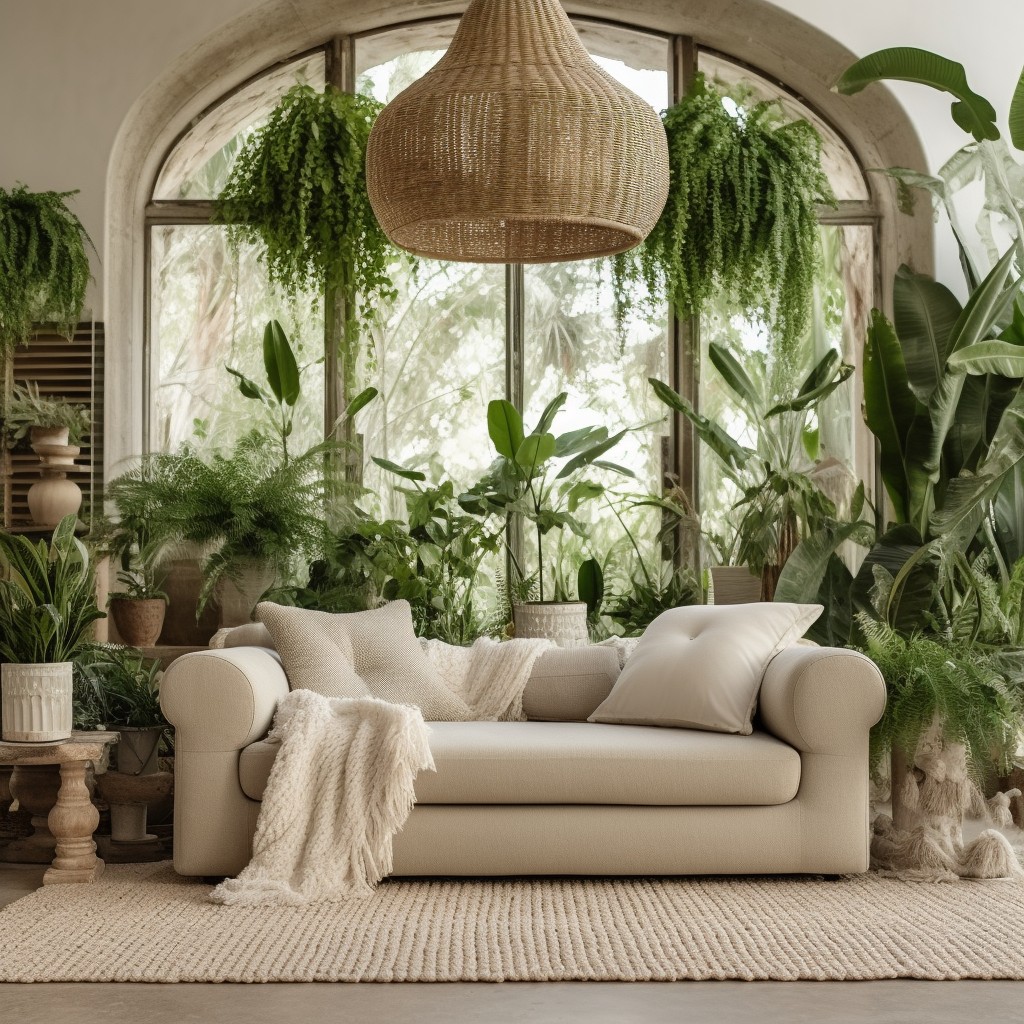 Incorporating nature within your interior layout can lend a refreshing touch. Greenhouse plants especially can accentuate the sophisticated charm of a beige boucle sofa effortlessly. Let's delve into the ways to achieve this aesthetic balance:
1. Complementary Shades: Opt for plants with deep or light green foliage, depending on your space's existing color scheme. Variegated leaves can also work well.
2. Foliage Variety: Mix and match the textures of your greenery. From the delicate leaves of a fern to the rich and robust Monstera's foliage, the contrast will make your space more visually engaging.
3. Pot Styles: Reflect your personal style through your choice of pots. Ceramic, terracotta, metallic, or baskets can all harmonize with the beige of your boucle sofa.
4. Placement: Consider where to place these plants. A tall fiddle-leaf fig can be an excellent floor companion for your sofa, while a trailing pothos on a bookshelf nearby can provide balance.
5. Maintenance: Remember, each plant requires specific care. Ensure they're placed in areas with suitable sunlight levels and moisture conditions.
The objective is creating a serene, lively setting that enhances the elegant simplicity of the beige boucle sofa while highlighting your unique taste.
Sofa With Boucle Upholstery in a High-tech Design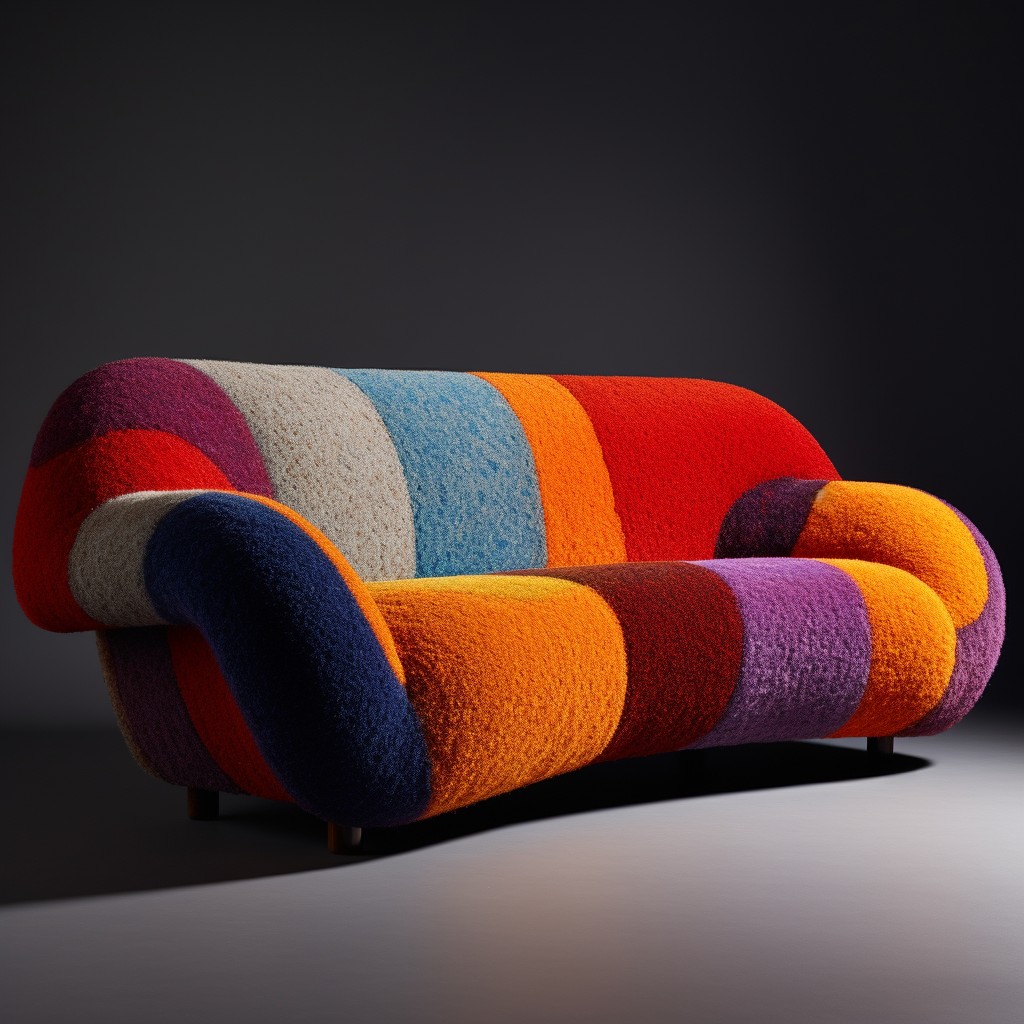 In today's technologically advanced era, it's not enough to just have a comfortable place to sit. Style, comfort, and technology are all rolled into one with innovative high-tech designs. Just as it sounds, this luxe unit is primarily about the integration of cutting-edge tech features to enhance user experience.
It's about the transformation of an ordinary sofa into a marvel of modern design. A breath of fresh air in any living space, these sofas come with boucle upholstery to add subtle texture and a soft tactile surface, ensuring the sofa is as pleasing to touch as it is to look at.
Most high-tech models are designed with multi-functionality in mind. They often come equipped with hidden storage compartments, adjustable recline settings, and state-of-the-art media console complete with USB ports and docking stations. This provides optimum convenience, allowing you to charge your gadgets while lounging or even listen to your favorite music through built-in speakers.
Furthermore, the trend of 'smart' furniture means some sofas could feature automation and adaptability – they can adjust their positions and settings based on user preferences, providing the perfect blend of aesthetics, comfort, and technology.
Finally, the sofa's material takes center stage here. Boucle fabric with its distinctive looped yarn, offers an interesting, intricate texture that's both durable and stylish. Its capacity to hide wear and stains make it a popular choice. Whether in sober, muted tones or vibrant, bold colors, the fabric provides a sophisticated yet inviting look suited for tech-friendly homes.
Remember however that a high-tech boucle sofa should still pair well with the rest of your space. Consider matching its color and design theme with your interior walls, rugs, and other furniture pieces to create a cohesive feel. After all, even the most technologically advanced sofa should fit seamlessly into your lifestyle and express your personal style.
A Mix of Boucle Sofa and Leather Armchairs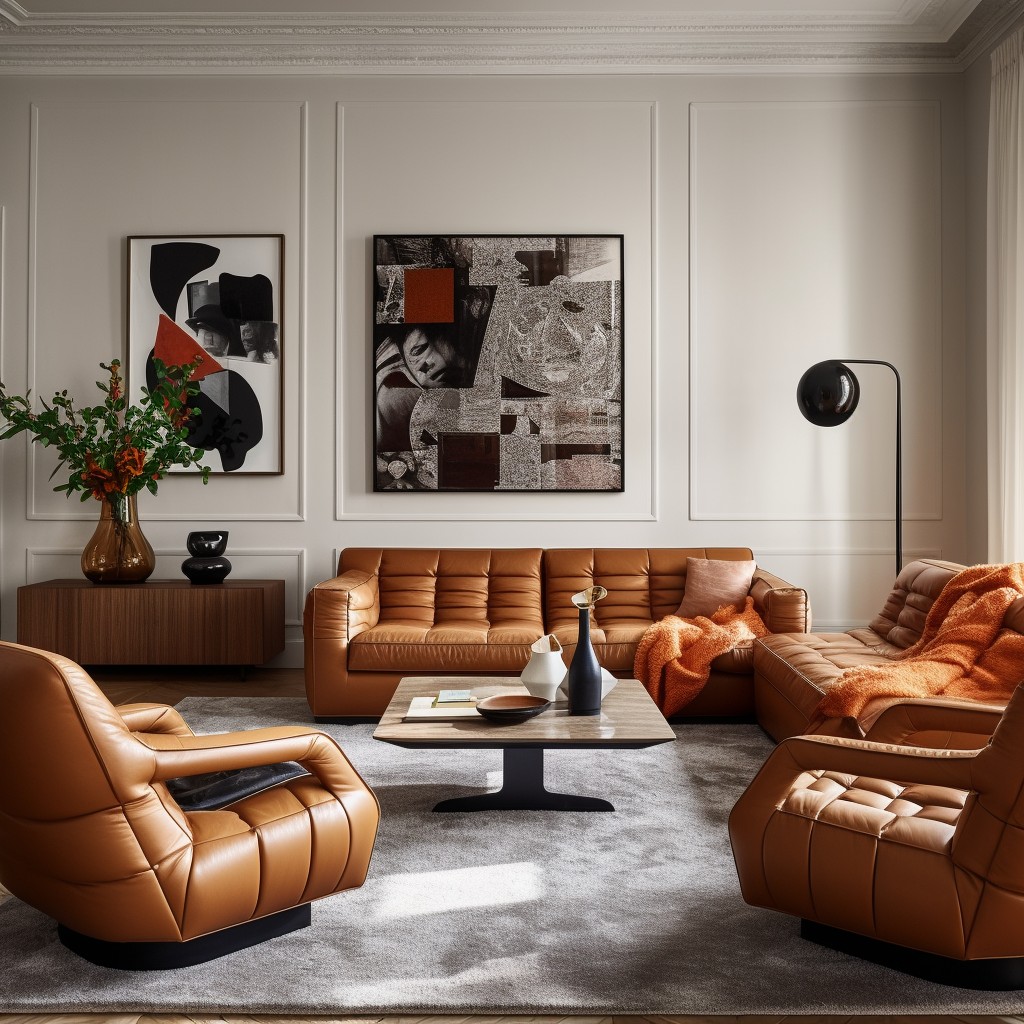 Creating a mix of textures in your living room can add depth and a touch of style to your space. Pairing a boucle sofa with leather armchairs is an ideal way to achieve this. The lush, looped texture of the boucle provides a stunning contrast with the smooth, refined feel of the leather.
1. Choose Complementary Colors: Ensure the colors of your sofa and armchairs harmonize with each other. For example, a gray or cream boucle would look rich next to brown or black leather.
2. Balance the Proportions: Integrating a bulky boucle sofa with sleek leather armchairs presents a balance that's visually intriguing without overwhelming the space.
3. Accessorize: Adding accessories like throw pillows or blankets can bridge the gap between the two different textures, thus creating a cohesive look.
4. Consider Room Layout: Place your sofa and armchairs in a way that directs the flow of traffic while promoting conversation.
Using these tips, you can create an inviting space that's stylish, functional, and essentially, a haven for relaxation.
You may also like to read: