Last updated on November 3, 2023
Dive into the world of red and white couch ideas because a vibrant fusion of these timeless shades can turn your living room into a stylish sanctuary.
Red and white couches can inject a vibrant and fresh look into any living space.
This article will provide an array of ideas to help you incorporate a red and white couch into your home decor seamlessly.
From choosing the right shade of red to pairing it with other furniture or accent pieces, we'll cover everything.
We'll also delve into different styles, be it modern, traditional, or eclectic, and how a red and white couch can fit into each of these aesthetics.
So, whether you're looking to make a bold statement or just add a pop of color, this guide is your comprehensive resource for all things related to red and white couches.
Table of Contents
Red and White Chevron Patterned Couch
For a striking visual impact in your living space, a couch decked in this ubiquitous zigzag pattern is a chic choice. Chevron alternatives in shades of red and white can suit various design preferences, ranging from bold ruby to a softer coral, combined with a pristine white for balance.
When considering the decor gamut, it instantly provides a modern, playful touch in contemporary setups, emphasizing dynamism and movement. However, it fits just as effortlessly into rustic or shabby chic styles, adding a dash of whimsical texture.
It's worthwhile to note that chevron tends to be the star of the show. To avoid overpowering the room, complement this bright couch with neutral tones and minimalistic accessories.
Consider pairing with grey walls or beige rugs for a captivating yet elegant aesthetic. Statement lighting or monochromatic art pieces could enhance the couch's standout appeal effectively. Don't be afraid to experiment with textures, velvet or chenille throw pillows often add depth.
Finally, maintenance is practical. Spot cleaning or professional services are recommended, depending on the fabric. Slipcovers, especially in high-traffic homes, function as a great protective solution.
Couch With Red and White Contrasting Cushions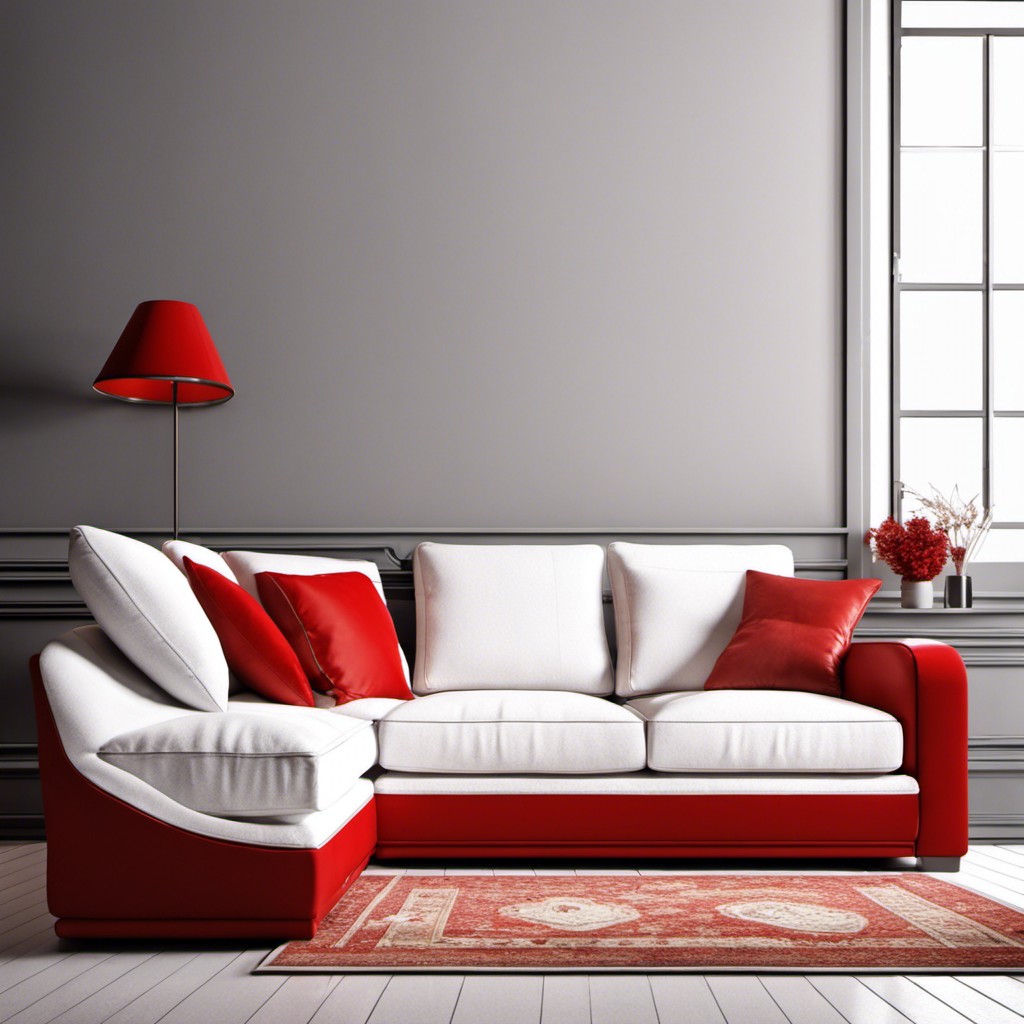 Utilizing cushions in opposing hues is an exceptional strategy for bringing a vibrant touch to your living space. This design solution offers flexibility, as the cushions can be easily changed.
Consider these few pointers to get it right:
Mix and Match: Pair solid red cushions with white ones, not only in terms of color but also through different shapes and patterns. You can add other elements with hints of matching colors to bring the room decor together.
Texture Play: Combine different materials such as cotton, linen, velvet, or faux fur. Varied textures can add depth to the overall look.
Optimal Placement: Experiment with cushion arrangement. Whether it's symmetrical, with matching cushions at each end, or scattered naturally, each placement can completely alter the feel of the space.
Scale and Size: Don't confine the selection to one size. A mix of large, medium, and small cushions can deliver an eye-catching aesthetic.
The key is maintaining a balance that ensures both colors stand out while also blending seamlessly into your decor.
Minimalist Style Couch in White With Red Accents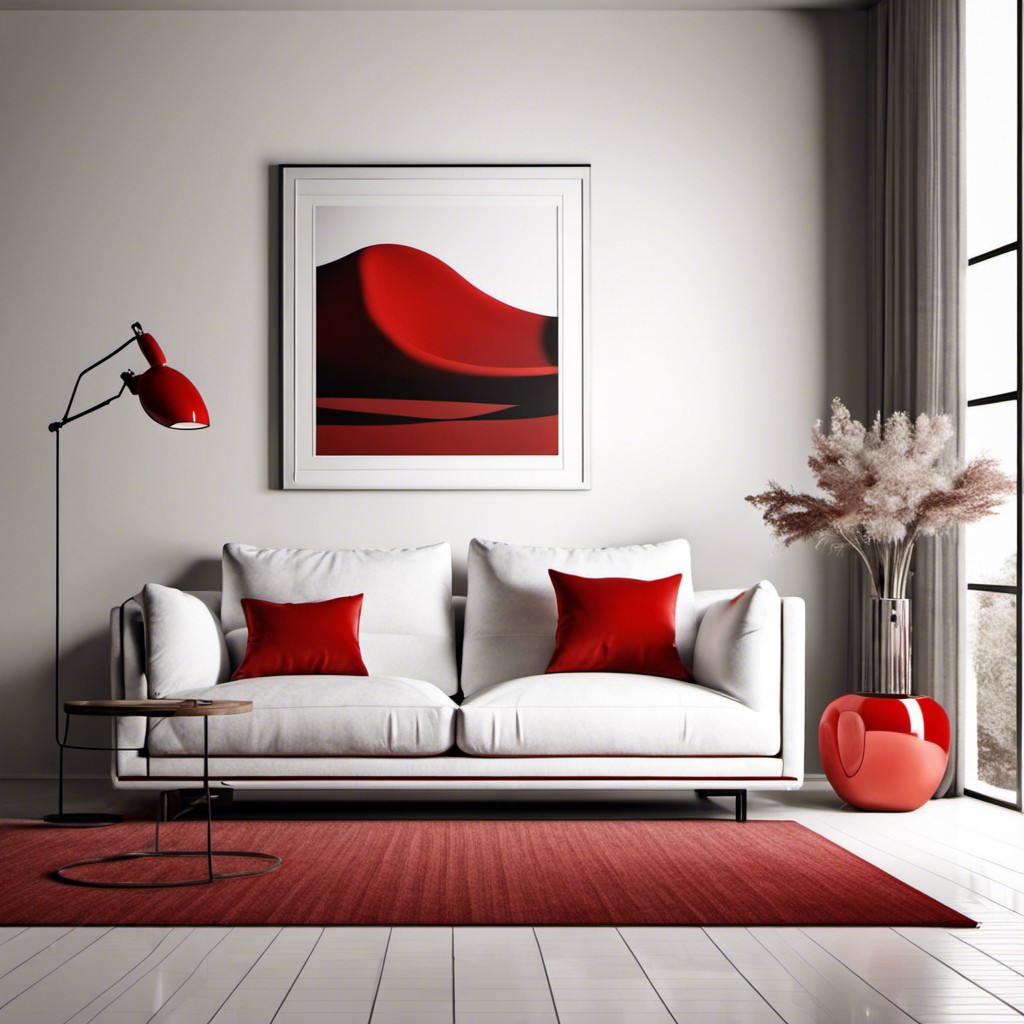 Capitalizing on the strength of its crisp and clean color palette, this couch idea breathes tranquility and order. It revolves around a pristine white couch, complemented by bold red accents that break the monochrome without disturbing the minimal vibe.
1. Choose a simple, sleek white couch. Look for clean lines and a streamlined form.
2. Consider a matte finish fabric. Silk and velvet might be too lavish for this look. Instead, opt for linen or cotton which embraces the minimalist aspect.
3. Add red accents subtly. A single red throw pillow positioned purposefully can act as a daring statement.
4. Alternatively, a red ottoman or side table, neatly placed in the vicinity, could provide an elegant dose of color.
5. Play with different textures to create intrigue. Mix a matte white couch with shiny red leather pillows, or a smooth white ceramic pot on a red textured rug.
6. Keep the surrounding décor simple to maintain the minimalist theme. Opt for a simple black and white wall art or a transparent coffee table.
7. Light plays an important role in minimalist interior design. Opt for natural lighting wherever possible. If not, choose unobtrusive lighting fixtures.
Remember, less is often more when it comes to minimalism. Every piece should be functional as well as treasured. A neat white couch with planned red accents can give a room that sleek and modern feel while maintaining comfort and simplicity.
White Leather Couch With Red Throw Blanket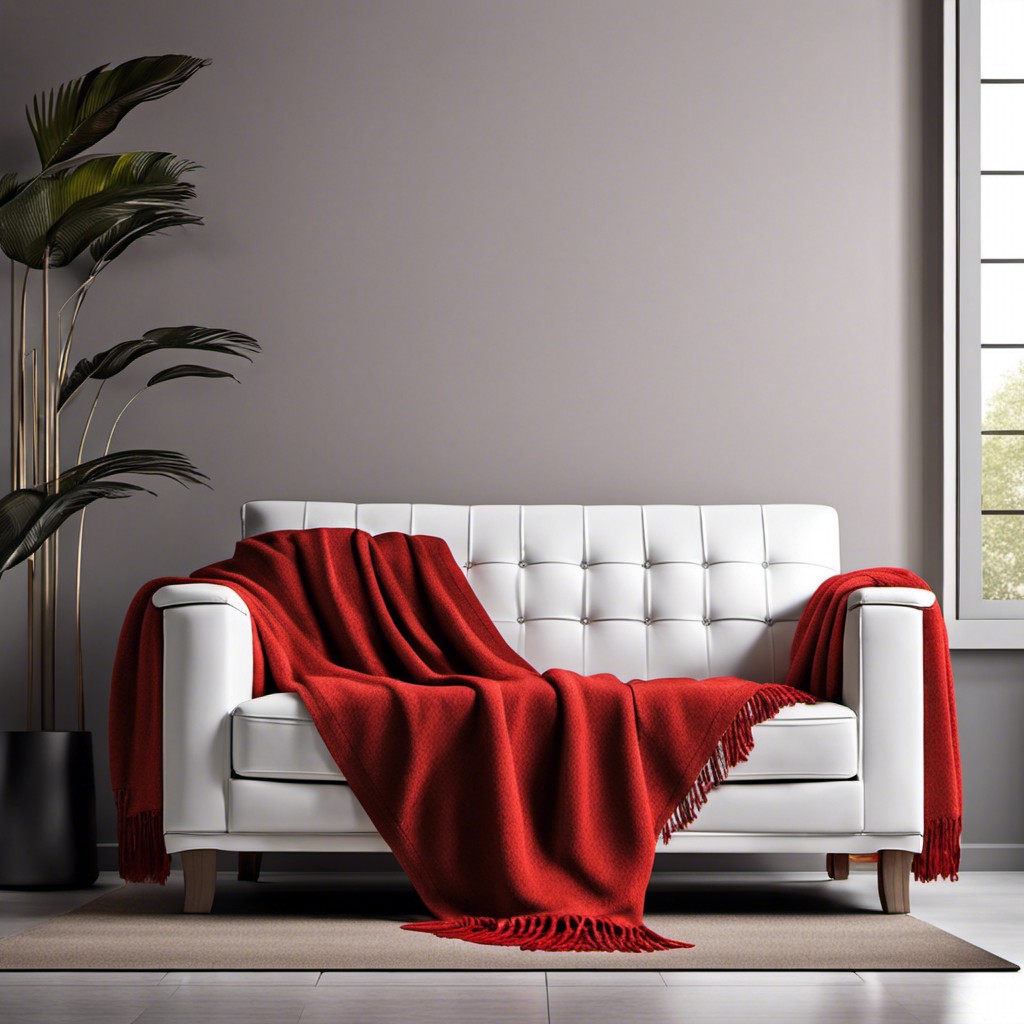 Consider the visual appeal of a rich crimson throw blanket draped casually over an immaculate white leather couch. This pairing exudes two elements – the cool sophistication of white leather and the dramatic passion evoked by the color red.
1. Versatility: Both the white leather and red blanket can easily complement various other color schemes and styles, giving you the freedom to change your interior decor without replacing these key pieces.
2. Textural Contrast: The smooth white leather contrasts well with the soft, sometimes fuzzy texture of a red throw blanket. It's not just a color play, it's a tactile experience too.
3. Seasonality: The throw blanket isn't just for decor. It serves a functional purpose in colder months. During the summer, you can display the blanket on a nearby stand or tuck it away, allowing the cool white leather to take center stage.
4. Visual Balance: The bright, bold red tends to pull attention, the neutral white of the couch helps provide balance, preventing the color from overwhelming the room.
5. Easy Updates: A throw blanket is easy to replace, offering the perfect opportunity to experiment with different shades of red until you find the one that resonites with you.
These pointers illustrate how the combination of a white leather couch and a red throw blanket can deliver both style and practicality to your living room.
Retro-style Red Couch With White Piping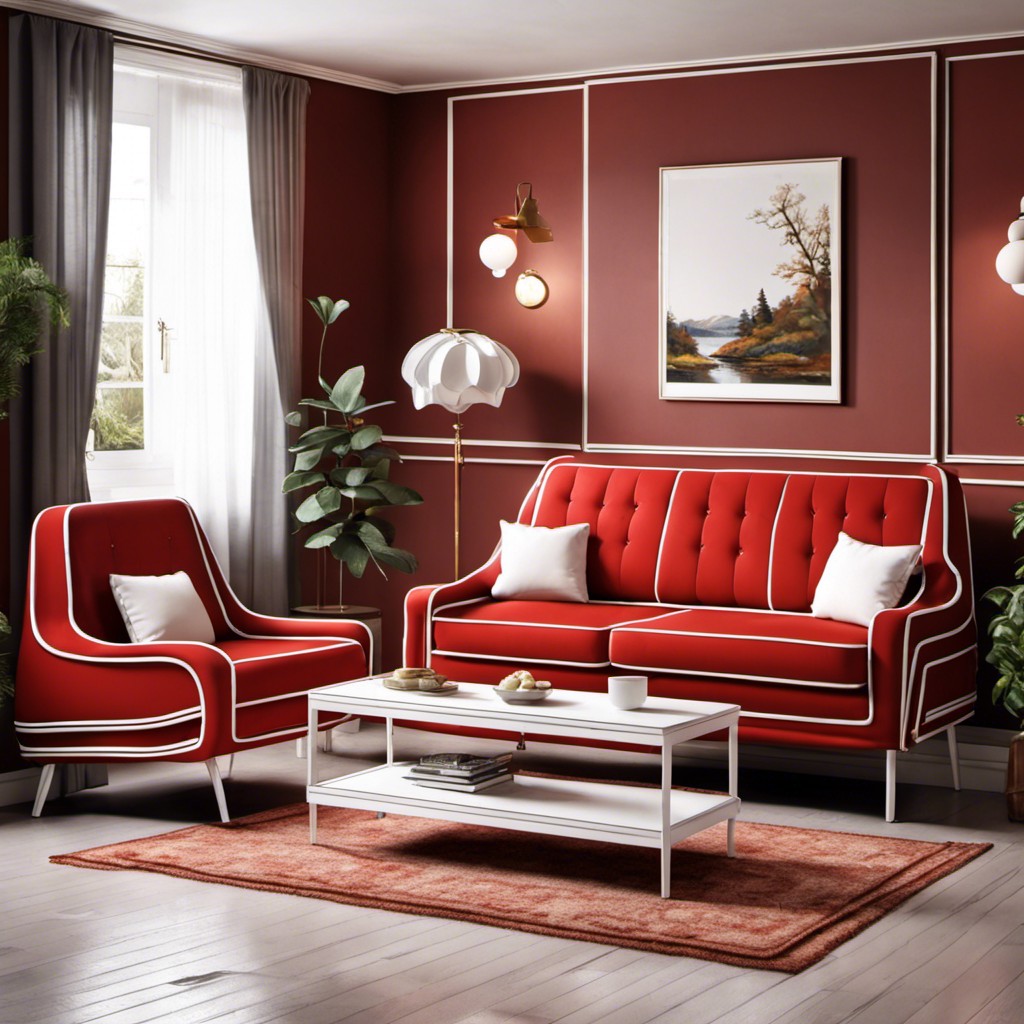 Aiming for a vintage aura? One can't go wrong with this style! It channels the spirit of the '50s and '60s with its bold red hues and uniquely designed white piping.
This couch serves as an instant centerpiece, radiating nostalgia in a modern setting.
1. Piping: This is the strip of fabric inserted into the seam to create a decorative outline. Here, it's in white and contrasts brilliantly with the red fabric.
2. Red Hue: Known to exude a warm and inviting appeal, this color is perfect for seating arrangements, creating an immediate focal point.
3. Vintage Aesthetic: This style complements a wide range of interiors, from mid-century modern to eclectic.
4. Upholstery: Often crafted in velvet or heavy-duty cotton blend, longevity and comfort are guaranteed.
Remember, while the couch itself is a statement piece, it's also important to balance the rest of the room's decor. Neutral wall colors, minimal artwork, and restrained accents help make this retro marvel the undisputed star. While it's a bold choice, it's one that pays off with character and style to spare!
Solid Red and White Striped Couch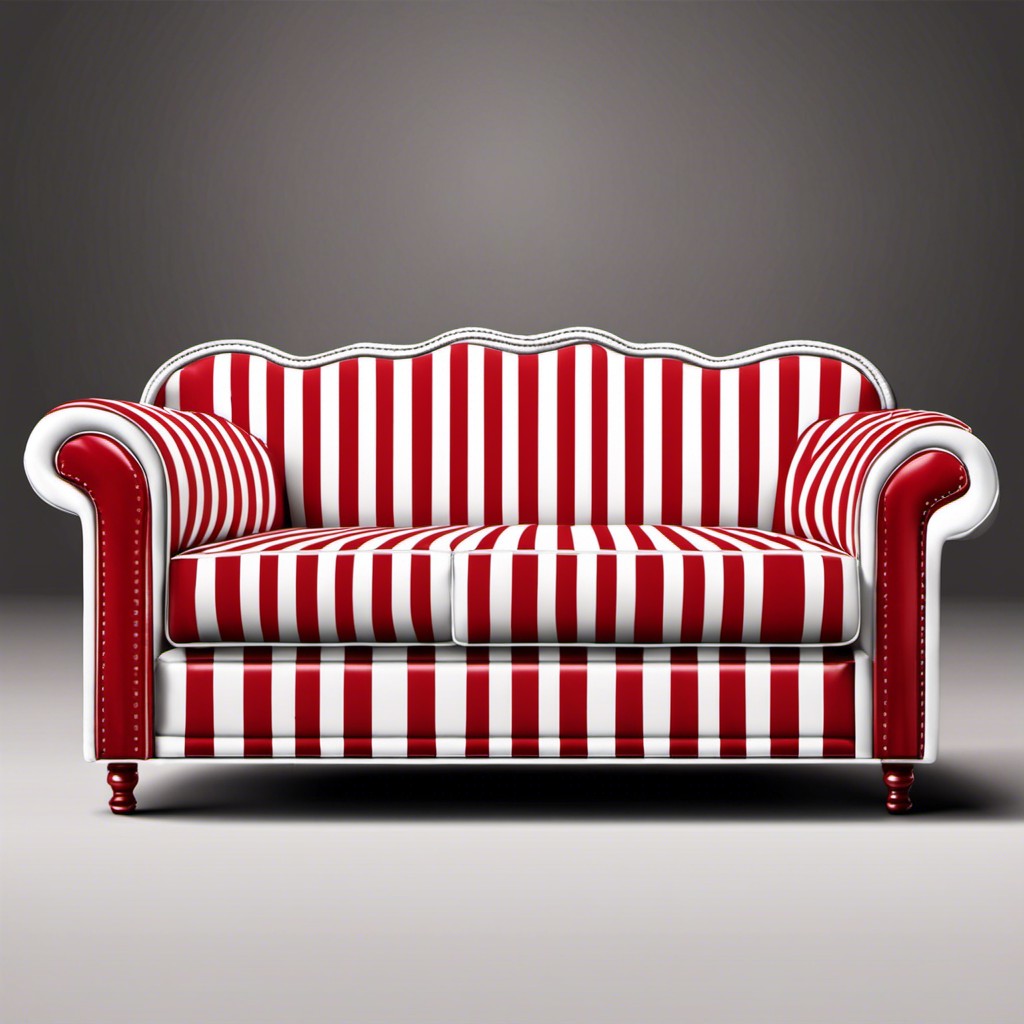 Striped couches can unify a space visibly. In this style, bold bands of red weave along with classic white, transforming the everyday piece into a captivating focal point.
The stripes could be vertical or horizontal, with either direction lending a different vibe. Vertical stripes champion a look of height and formal elegance, while horizontal ones convey a feeling of relaxed, casual breadth.
When choosing the cushions or throw blankets to match this couch, try to maintain a balance. Too many striped items might make the area look overly busy and chaotic. A blend of solid colors with few, well-chosen patterns typically results in a harmonious design. If you want something whimsical, consider pairing it with polka-dotted or geometric-patterned pieces.
Lastly, your surrounding decor needs consideration. For example, a surrounding decor filled with solid colors would allow your striped couch to stand out. A primarily white or red surrounding environment would help the striped pattern pop out. A careful approach towards accompanying furniture and decor pieces would ensure that your bold red and white striped couch remains the room's star yet doesn't overwhelm the overall aesthetic.
White Fabric Couch With a Red Floral Pattern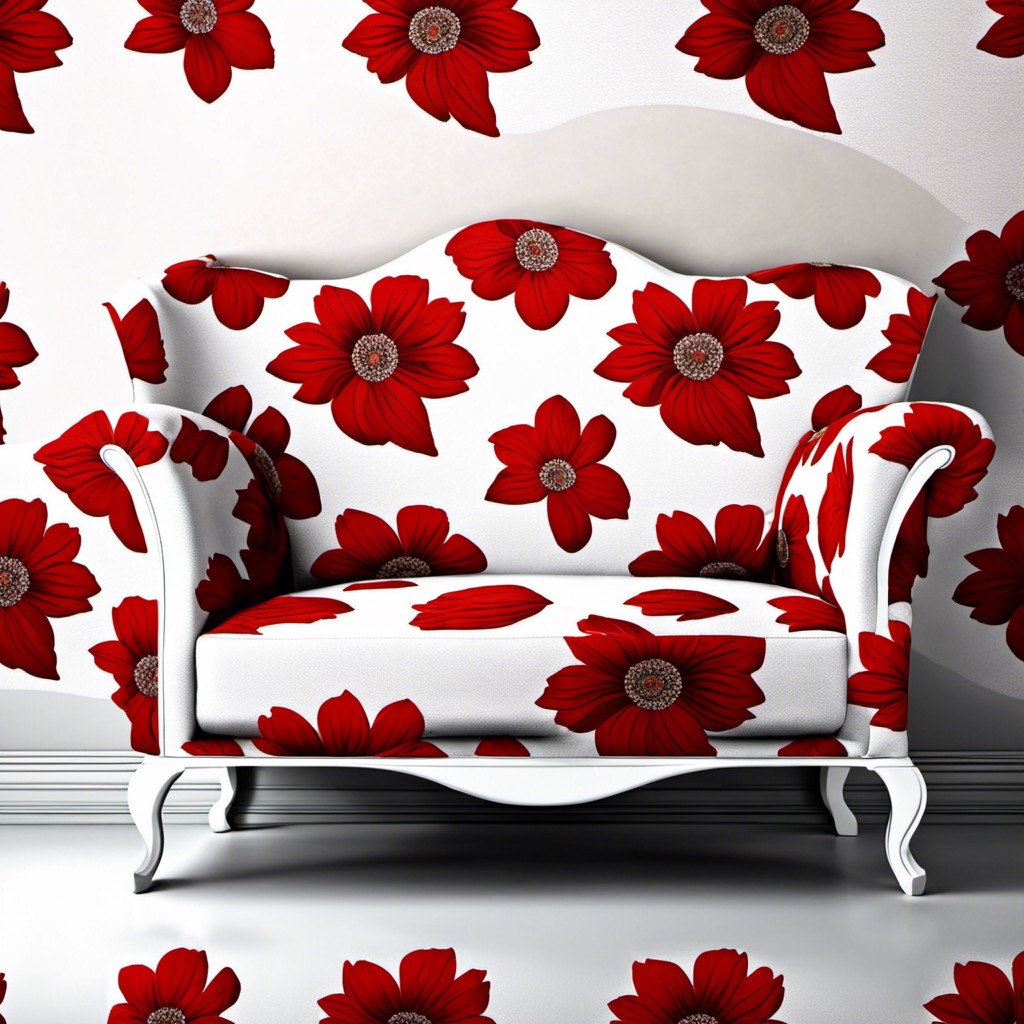 This style of couch brings a touch of nature indoors, balancing elegance with a casual flair. Here are some important points to consider:
1. Florals: The intertwining vines and blossoming flowers introduce a romantic and organic touch. The red floral pattern on a white background is both striking and vibrant, adding visual interest to your room.
2. Versatility: Suitable for both traditional and modern settings. While the pattern is vintage-inspired, the color scheme fits seamlessly into contemporary environments.
3. Accent Elements: Complement the couch with red floral touches elsewhere in the room for unity. Consider red window drapes with white curtains or a matching area rug to echo the pattern.
4. Neutral Background: Against a crisp white backdrop, the red blooms gain prominence. This allows the couch to become the focal point without overwhelming the space.
5. Fabric Choice: Opting for a durable fabric like a tight-weave cotton or linen blend ensures longevity while maintaining comfort and style.
Remember, the key to any design is balance. This couch, with its delicate combination of colors and patterns, guarantees a harmonious blend of comfort and aesthetics.
Sectional Couch in White With Red Footrest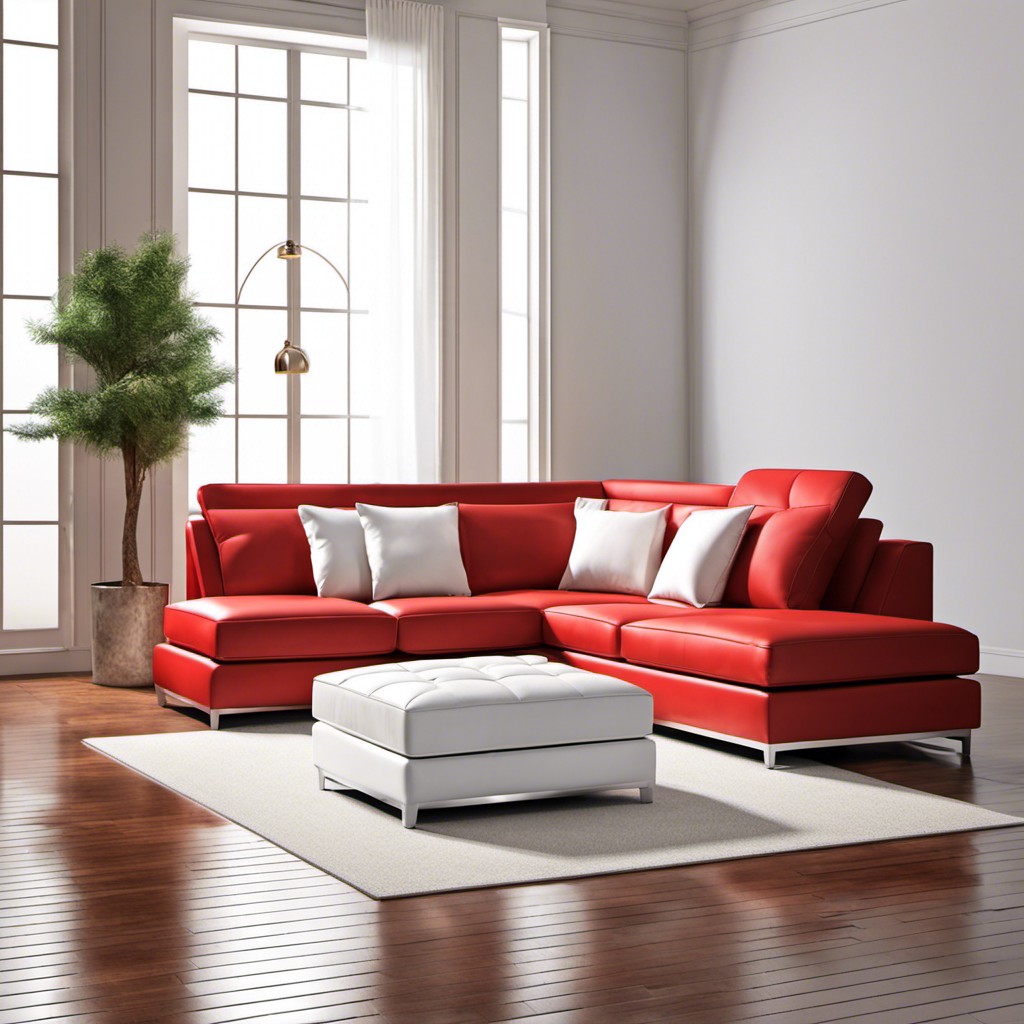 Equipping your living space with this unique coupling offers a chic and modish aesthetic. The duo-tone palette maintains a crisp, clean look often sought in contemporary designs.
This sectional's pristine white offers the ideal backdrop for the spirited red footrest – inviting a burst of warmth and energy into the room.
Incorporating various textures such as velvet or linen in the footrest can introduce intriguing tactile contrasts. It's a great way to punctuate metro modern styling while facilitating a functional, comfortable lounge space.
Accents, like patterned red cushions or throw blankets on the white couch, can tie the look together for a harmonious feel.
Furthermore, a red footrest stands out as an asset to those who value both aesthetics and comfort, offering a place to relax and recharge.
Experimenting with different shades of red could also yield stunning results – from bold and striking cherry red to a more subdued burgundy or rust.
Ultimately, balance between the two colors is key, and the white sectional with a red footrest achieves this with aplomb.
White Couch With Red Paisley Detailing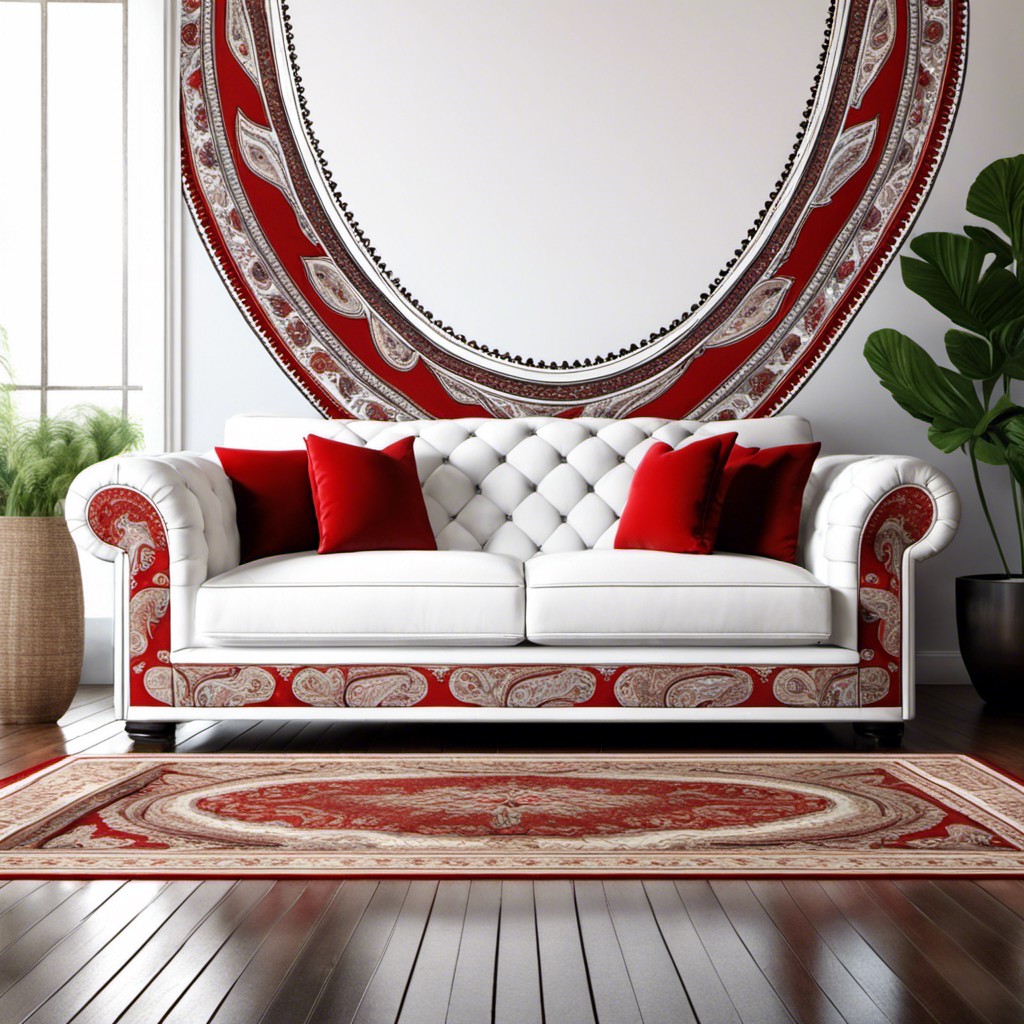 Adding a paisley pattern can truly make your white couch stand out. This classic design, with its teardrop-shaped motif and intricate details, lends an old-world charm that is hard to resist. Opting for a red paisley detailing brings a two-fold benefit.
Firstly, red, being a powerful, warm color, injects vibrancy and energy into the living space. Secondly, the combination of the passionate red with the serene white creates a charming contrast. This contrast is not just visually appealing but also breaks the monochromatic monotony.
The paisley pattern does not need to cover the entire couch. It could be confined to the upholstery of the cushions or the armrests. Alternatively, a selectively placed throw or slipcover boasting the red paisley design also does the trick.
Regardless of how you incorporate it, the red paisley detailing adds a distinct personality to your white couch. It's a bold choice for individuals who love experimenting and are not afraid to mix traditional and modern design elements.
Remember, in decoration, as in art, it's all about balance. So, while the couch is the centerpiece, ensure that other elements in the room complement rather than compete with it.
Couch With Red and White Checkered Slip Covers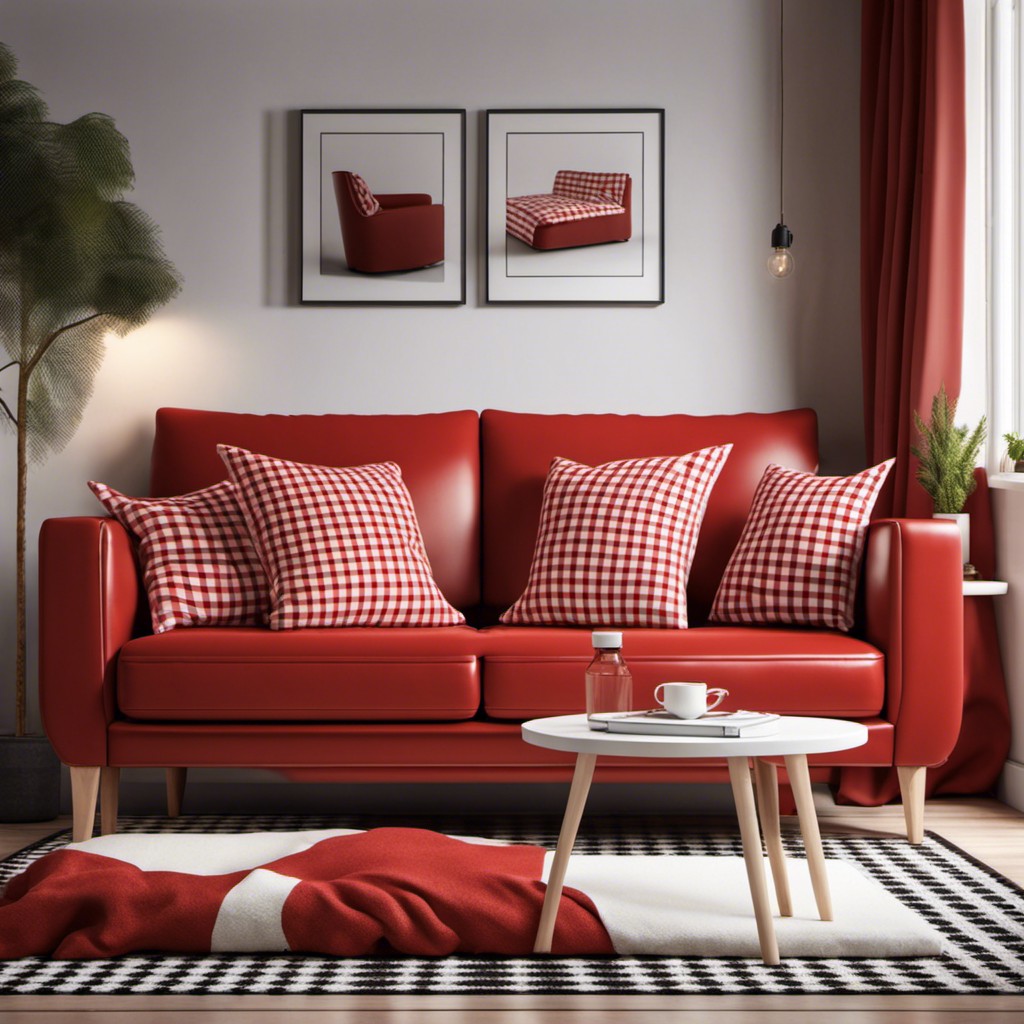 Offering a delightful rustic feel with a playful touch, the checkered design effortlessly marries youthfulness and elegance. Slip covers are particularly convenient as they provide both visual interest and practicality. They protect your couch from wear-and-tear, and their removable nature eases the hassle of cleaning.
The mixture of red and white brings life to the room without overpowering other elements. Here's how this design concept works:
Versatility: The checkered pattern fits a wide range of styles from vintage-inspired to more modern spaces. It plays well with other patterns and solids in the room.
Maintenance: The removable feature of these covers allows for simpler cleaning and maintenance. You can wash or change them easily, preserving the longevity of your couch.
Warmth: The bold red hue introduced by these slip covers add warmth and character to your space. It can serve as a striking focal point, especially in a neutral or minimalist setting.
Comfort: Typically made of materials like cotton, these slip covers enhance the couch's comfort. Their soft and inviting texture encourage relaxation and leisure.
Remember, the goal is to create harmony within the space. A red and white checkered slip cover can serve as a unifying element, blending seamlessly with your existing interior decor.
Tufted White Couch Accented By Red Pillows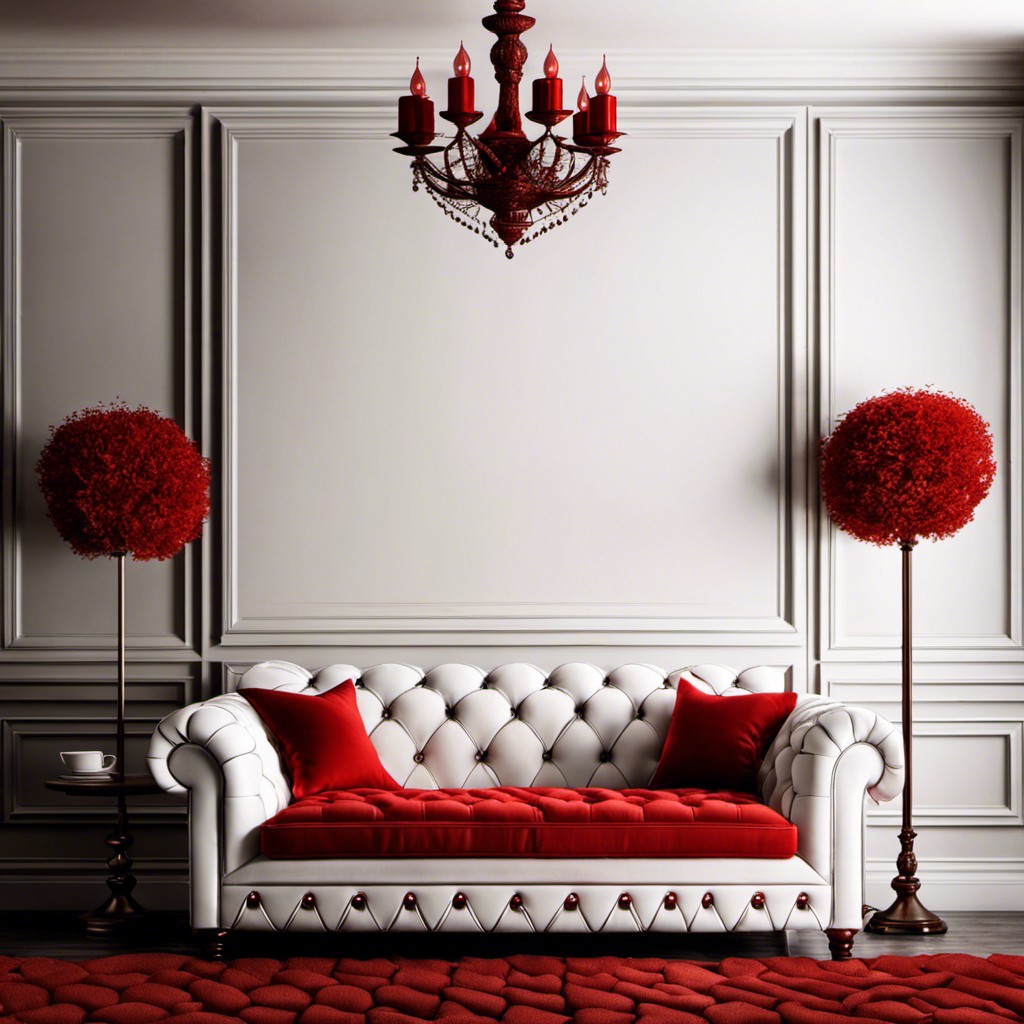 Anchoring the room with a tufted white couch offers a base for color pops with red pillows. This style abounds with chic sophistication, making it a popular choice for contemporary spaces.
1. The plush white upholstery of the couch offers a blank canvas, creating a contrast against vibrant red pillows.
2. The tufted design nods to classical furniture but retains a touch of modernity. This allows the couch to blend into various design schemes seamlessly.
3. Red pillows against the white couch can vary in texture, size, and pattern. Velvet, sequined, or a contemporary pattern – each type of pillow adds a distinct appeal.
4. Minimalists can appreciate the clear, structured lines of tufted couch designs. Adding red pillows elevates the couch while maintaining a minimalist aesthetic.
5. The white couch can be revitalized over time. Seasonal trends, personal tastes – every change can easily be matched with different red pillow styles.
Remember: Keep red accents balanced across the room for a cohesive look. A touch of red in a rug or wall art can beautifully tie the couch into the overall decor.
Futon-style Couch in Pure White and Red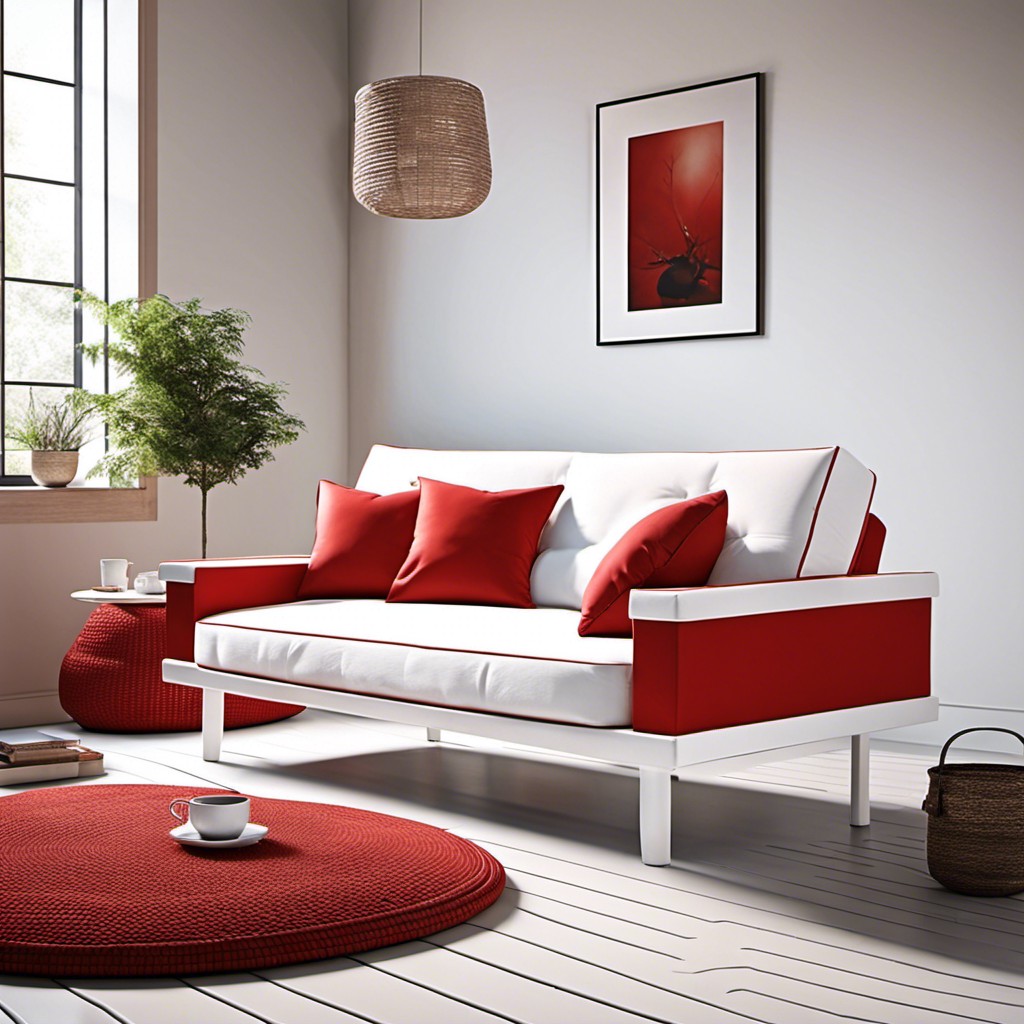 As an epitome of space-saving brilliance, this couch design exhibits both function and style. It leverages the simplicity of the futon, commonly recognized for its foldable nature allowing it to be used as a seat during the day and transformed into a bed at night. The color palette blends undisputed purity of white with the strikingly vibrant red.
Incorporating the white in the main body of the couch lends it an expansive aura, visually enhancing the room's space. The red may be introduced subtly, perhaps as a cozy throw or cushion adding a focal point to the design.
Selecting materials like white canvas for the body that can withstand daily transformations and utilizing plush, velvety red for accessories ensures longevity without compromising on comfort. By emphasizing clean lines and utilitarian form, the design stays true to minimalism principles inherent in futon couches.
When paired with similar toned interior elements like a white shag rug or red wall artwork, such a couch becomes a seamless part of the room's wider design story. The visual appeal can be enhanced further with indoor plants or black-and-white photographs amplifying the contemporary aesthetic that futon-style couches embody.
Motifs or patterns can also be leveraged, but deploying them strategically is crucial to maintain the simplicity and clutter-free look integral to this couch style. The white foundation can serve as an ideal canvas for geometric red patterns or even abstract brush-strokes, depending on the taste of the homeowner.
Mixed-material Couch Featuring Red Leather and White Linen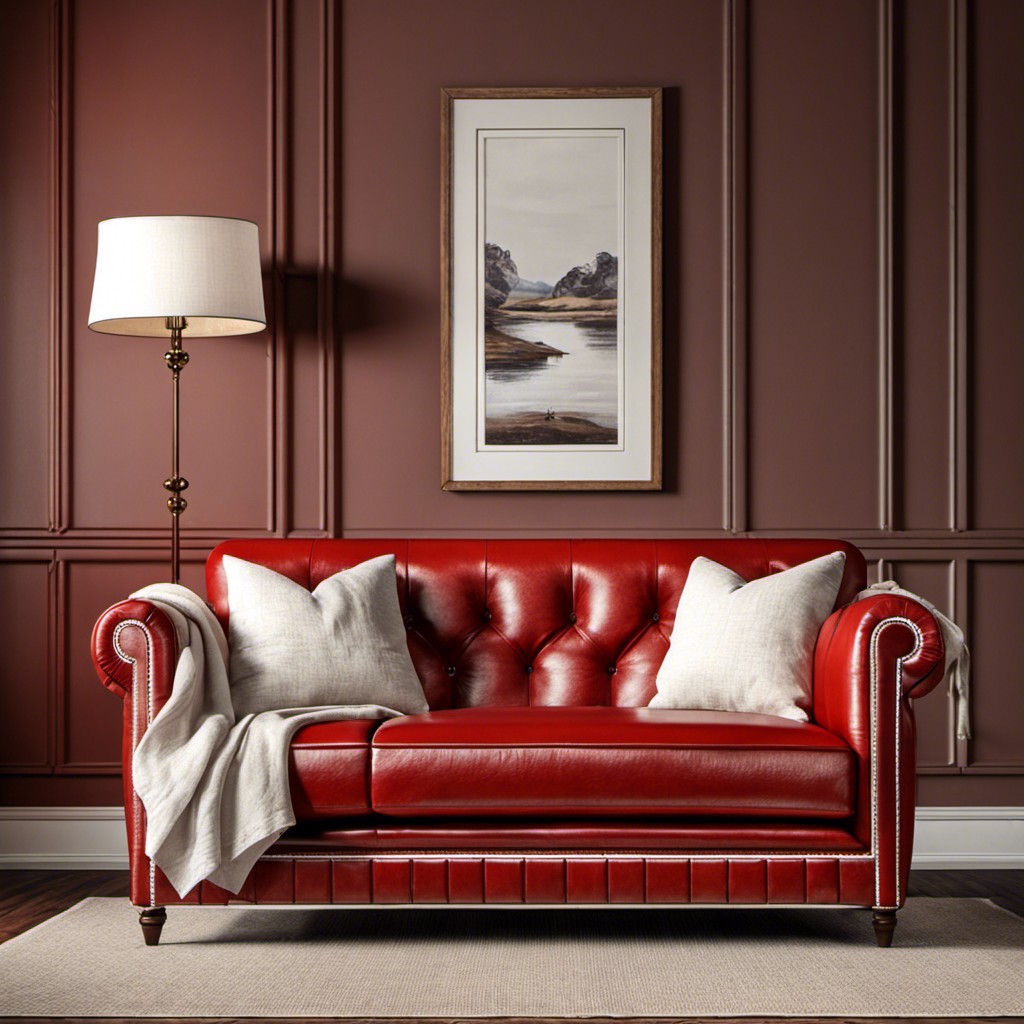 Once the right combination is struck, a mixed-material couch creates a stunning visual appeal. Picture this: plush red leather cushions are nestled upon a crisp white linen base.
In this scenario, the durability of the leather is in perfect contrast to the softness of the linen, which produces an unmatched tactile experience.
Visualize the richness of the red leather; not only does it offer sturdy comfort but also adds a bold pop of color, becoming the focal point of the room. Then, the coolness of the white linen balances out the intensity of the red. It complements the leather by providing a clean, relaxed backdrop while adding a touch of elegance.
Consider the following when opting for this design:
Maintenance: Leather requires specialized care while linen is more forgiving. Balance your cleaning routine accordingly.
Comfort: Leather's ability to adapt to body temperature combined with the softness of linen ensures ultimate comfort.
Versatility: This combo can work with a variety of styles, whether you lean towards the rustic, modern, or transitional style.
Durability: This pairing is highly durable – leather's toughness complements the lighter nature of linen.
Remember, it's all about balance when integrating these contrasting materials into your aesthetic.
Shabby Chic Couch With Distressed Red and White Fabric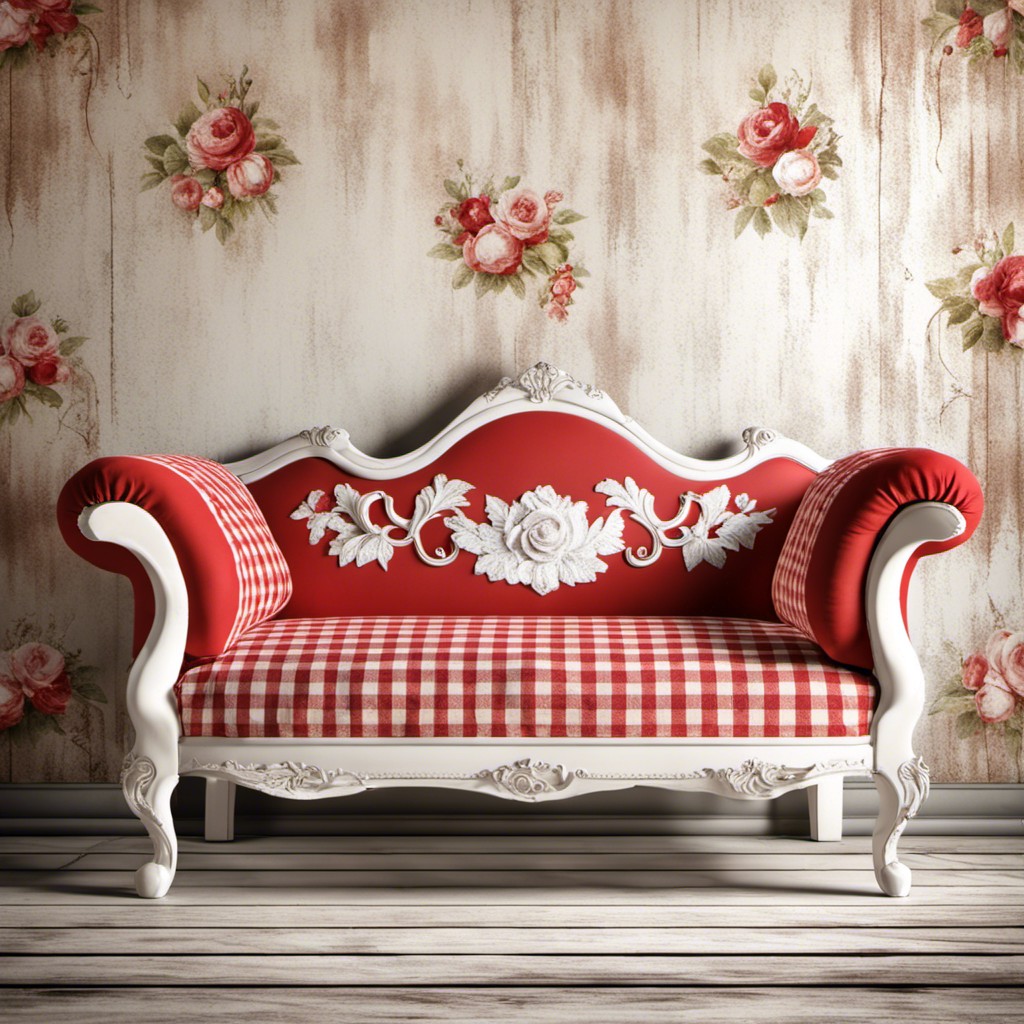 Shabby chic design combines comfort with visual appeal, making it a popular choice for many homes. A distressed fabric, often featuring faded patches or carefully created wear and tear, enhances the vintage aesthetic of shabby chic.
This sofa style oozes a pleasant, lived-in vibe, welcoming ample lounging and relaxation. Red, in softer or muted shades, adds an inviting warmth. It contrasts perfectly against the white, creating a striking balance without being overpowerive.
Choosing fabrics with a slightly worn look can lend authenticity to your distressed red and white couch. Linen, cotton, and loose-weave fabrics typically work best for achieving this effect.
To accentuate the shabby chic aesthetic, consider complementing your couch with throw pillows in florals, stripes, or even toile. Finish the look with a well-loved quilt or throw blanket for an additional layer of cozy comfort.
Remember, shabby chic is all about creating an inviting, homey feel. Let this guide the way when you are stylizing your red and white distressed couch.
Luxurious Red Velvet Couch With White Fringe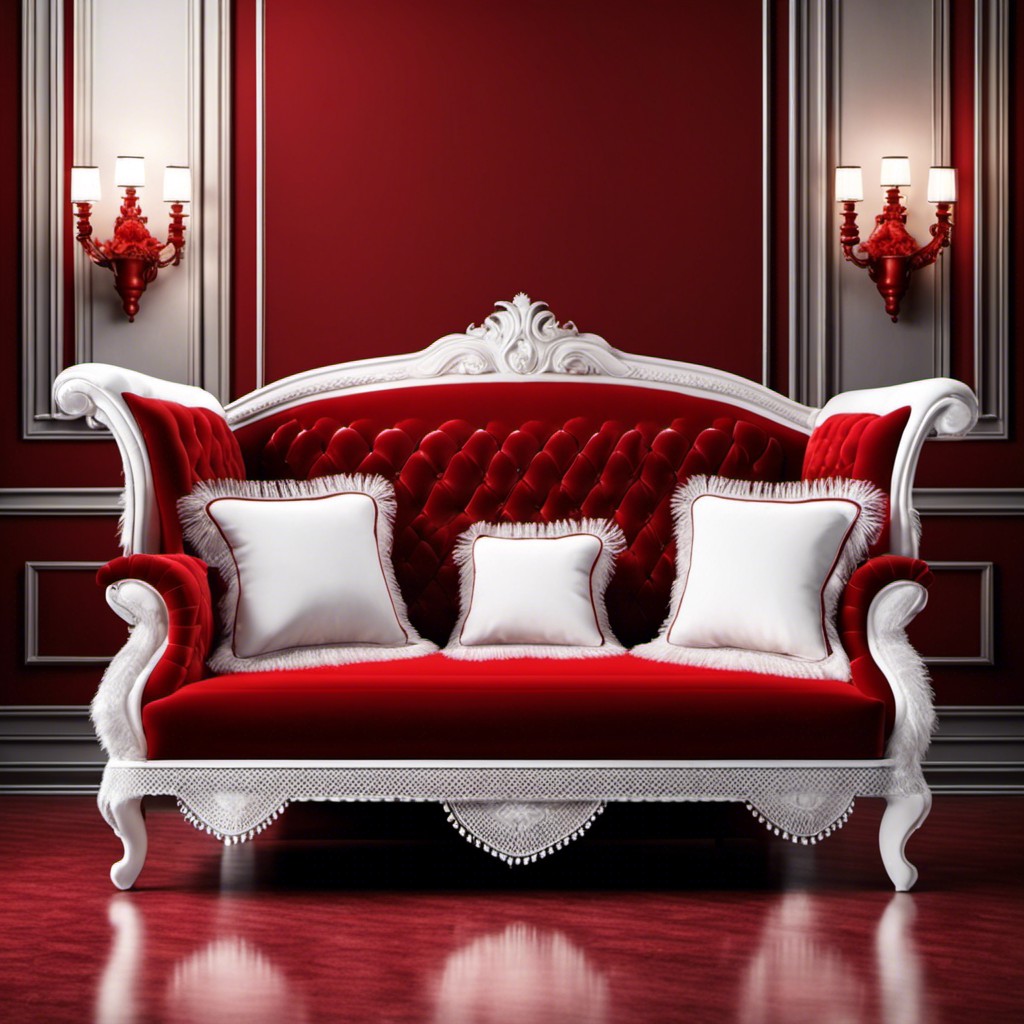 Spurred by a resurgence in vintage styles, this trend delivers a touch of opulence to any living space. The lavish texture and rich hue of the red velvet create a stunning visual anchor, while the white fringe adds an extra layer of elegance.
Here are some elements to consider:
1. The velvet material exudes a warm, inviting appeal, transforming your couch into a comfortable retreat.
2. Red, as opposed to traditional neutrals, infuses a bold statement into your room, invoking a sense of passion and energy.
3. The white fringe accent is versatile, bridging the gap between classic and modern decor.
4. This couch design pairs well with gold accents, ornate rugs, and mid-century lighting for an authentic vintage look.
5. Velvet couches require specific care to maintain their appearance, including regular vacuuming and prompt spot-cleaning.
Remember, incorporating this piece into your decor elevates your space's aesthetic charm, making it a conversation starter among guests.
Futuristic Design With Glossy Red and White Leather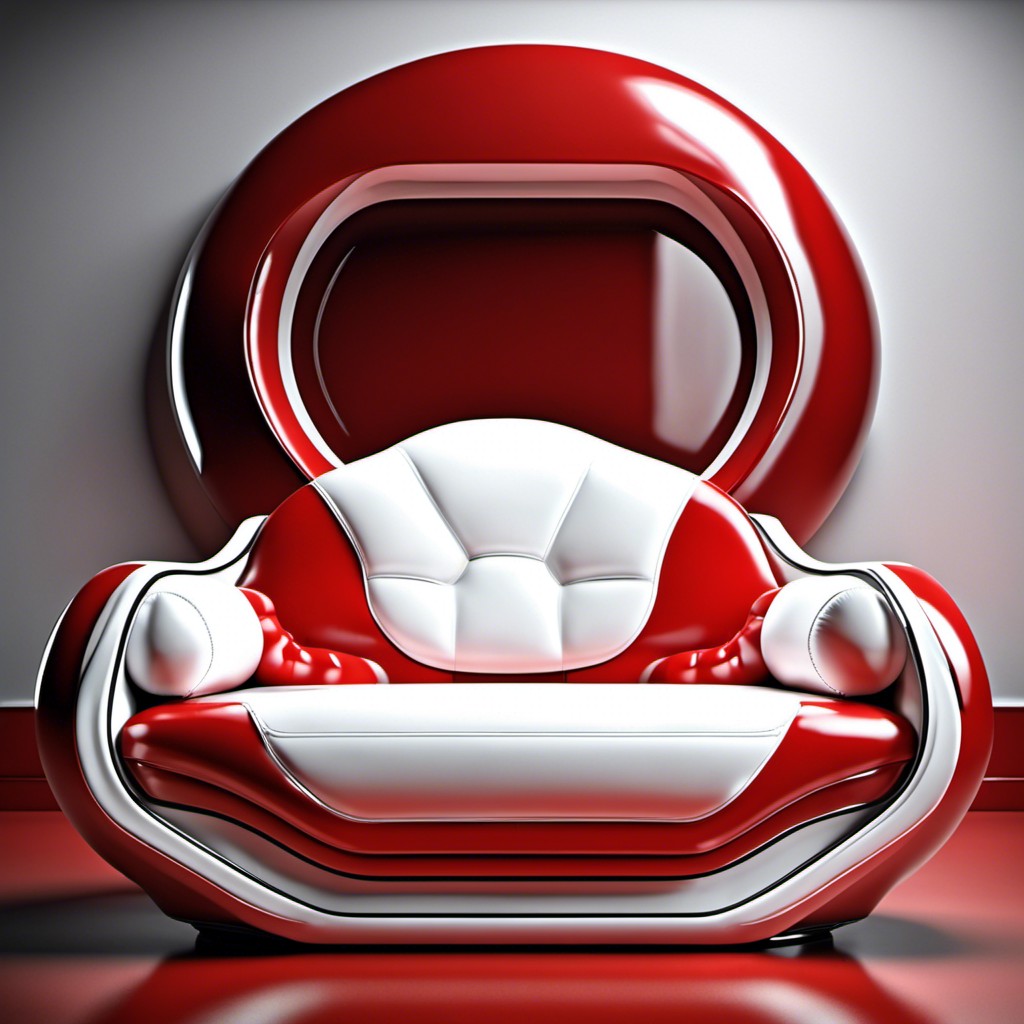 Capitalizing on the vibrant hues, a design like this paints an image of the future. You'll find an edgy appeal with its glossy red leather. It's bold, eye-catching, and oozes confidence. Meanwhile, the white leather adds a sophisticated contrast. It's fresh, pure, and reflects cleanliness, helping temper the intensity of the red.
This combination signifies the dynamism inherent in futuristic design themes. A couch in this style, with its high-shine and intense color, will become the focal point in any room. Opt for sleek lines and symmetrical shapes to emphasize the modern aesthetic. Choose other elements, such as metallic accents or high-gloss side tables, to resonate with the avant-garde spirit of this design.
Red and White Houndstooth Patterned Couch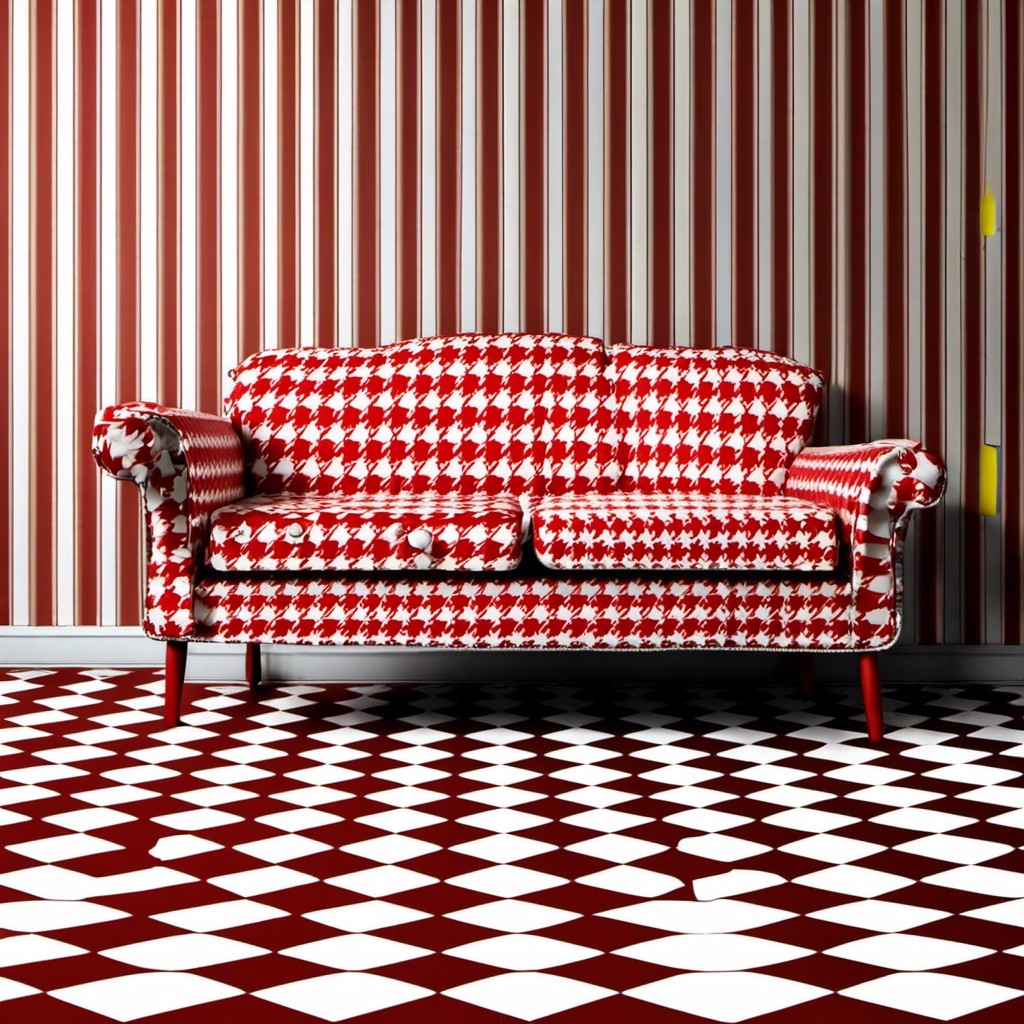 Exuding sophistication, this couch style can captivate any living room scene. The houndstooth pattern, a classic duo-toned textile originating from Scotland, creates a visually striking statement without feeling overwhelming.
The weaving pattern uses two colors, alternating between large and small checks, which gives a pleasant visual effect. Pairing red and white into a houndstooth patterned couch infuses both warmth and brightness – a perfect combination for those seeking both comfort and style.
Incorporating this design into your home allows for an easy mix-and-match with other decor. Elements like a white coffee table or red accent rug can align flawlessly with the couch pattern. Also, neutral or wooden finishes can bring out the red tones and create a blend of contemporary and traditional styles.
For those concerned about maintenance, slip covers made of durable materials can help protect the fabric from wear and tear, allowing the couch to retain its vibrant colors.
Lastly, make sure to consider the room size. While perfect for a spacious area, a smaller room might feel overwhelmed. Careful planning should ensure that the final effect is impressive rather than overpowering.
White Couch With Bold Red Geometric Patterns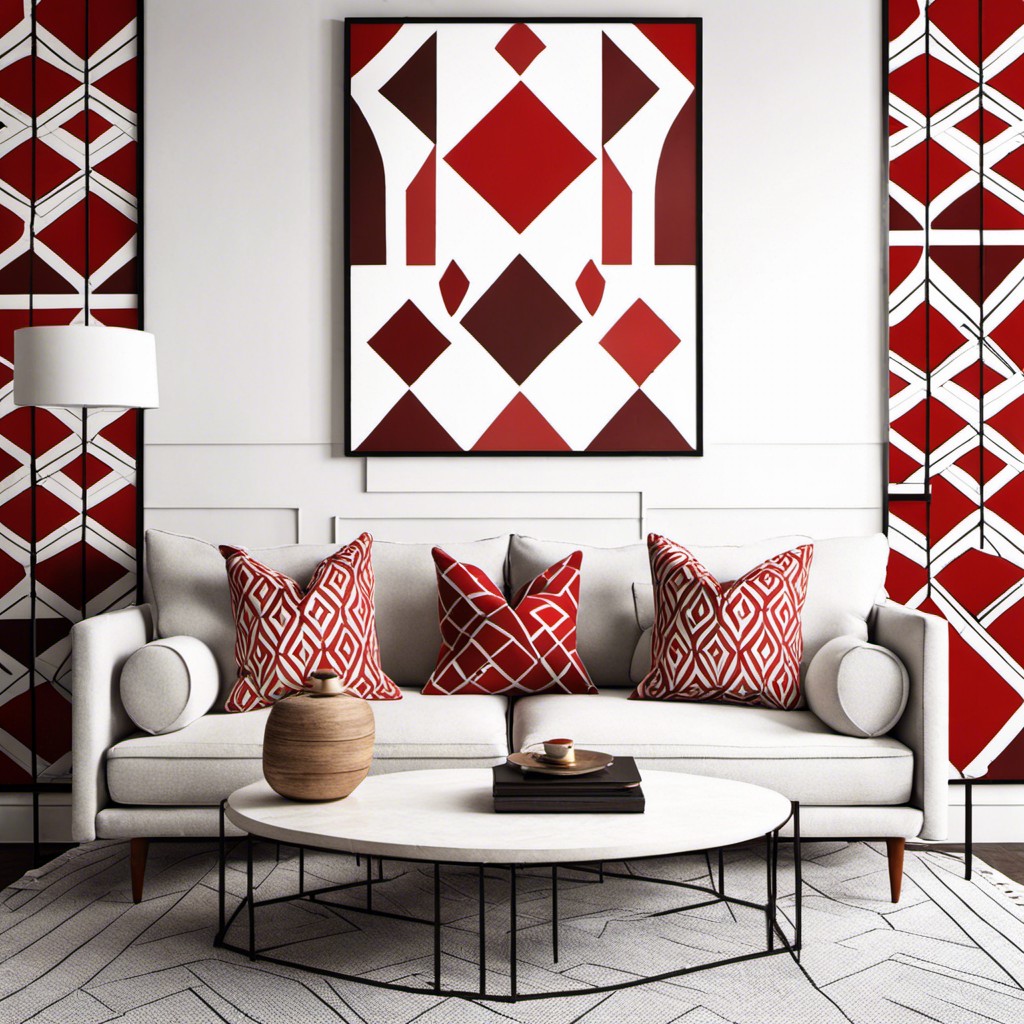 A key element of this style is the strong, eye-catching nature of geometric patterns. When selected in bold red against a crisp white couch, geometrics can inject life and drama into any room.
Large or small, repeating or standalone, these striking shapes won't go unnoticed. Choose from classic circles, squares, or diamonds, or go for something more complex like octagons or hexagons, adjusting the size of the pattern to the overall design scheme.
While the red adds warmth, the white base ensures a pure backdrop, letting the pattern do the speaking. Organic geometric designs can loosen up the living space while angular, rigid shapes might impart a more chic and modern vibe.
For adornments, metal accents, be it silver or gold, match well with the red and white combo, enhancing the couch's overall appearance. Rectangular glass table or vibrant abstract artworks can add final touches to your living space, complementing the couch without overpowering it.
Remember to balance. Avoid using too many bold patterns around the couch as it diminishes the bold statement of the geometric designs. Instead, opt for simple accessories and let the geometric couch shine as the living space's definitive feature.
Scandinavian Style Couch in White With Red Accents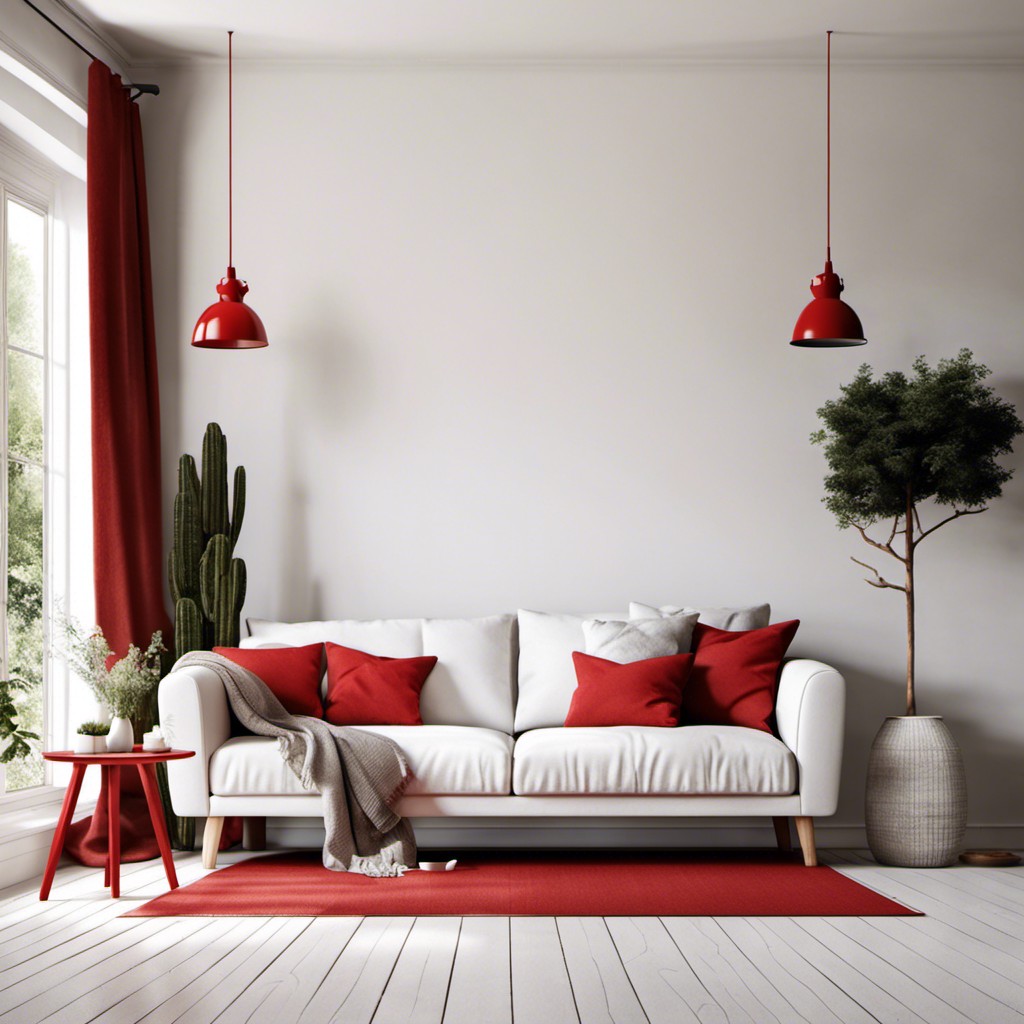 Embracing a minimalist yet functional approach, this style combines white as the primary color for the furniture with red acting as a subtle pop of color – an accent, typically used in selected decorative elements.
To establish the Scandinavian theme, keep these key notions in mind:
Simplicity: Uncomplicated lines and understated elegance are hallmarks.
Functionality: Every piece should be as practical as it is attractive.
Natural Elements: Incorporating wood or wool contributes to the warm, homely aesthetic.
Color: Use red sparingly to punctuate the white background, such as in a throw pillow or blanket.
Balance: Avoid clutter. Aim for a harmonious blend of color and space.
Adherence to these principles can help create that desired Nordic charm, while providing a comfortable and appealing seating arrangement.
Red and White Patchwork Fabric Couch
Embracing a more eclectic style, this choice offers an adventurous alternative to traditional designs. A couch draped with red and white patchwork immediately evokes feelings of country charm and handcrafted homeliness.
The individual fabric squares, alternatively toned red and white, stitch together seamlessly to create a vibrant statement.
Farmhouse or rustic settings welcome the patchwork couch wholeheartedly. Its charm lies in its sense of heritage, bringing a nostalgic touch to any living room.
This design isn't confined to classic settings, though. Modern spaces also benefit from its inclusion, adding a pop of color that counters monotone décor.
The patchwork fabric couch encourages flexible styling. Metallic side tables, candle stands, and photo frames in bronze or copper complements its earthy allure.
Alternatively, dark wooden furniture emits warmth, highlighting the comfy vibe of the couch.
Utilizing throw pillows with contrasting textures or patterns, like faux fur or floral print, can enhance visual interest.
To maintain the red and white theme, use throws and rugs in similar hues, thus tying the room together with the statement piece that is the patchwork fabric couch.
Remember, personal touches like cherished family photos or curated artwork can add to the homely appeal that parallels the spirit of the patchwork couch.
You may also like to read: