Last updated on December 3, 2023
Explore the compelling visual appeal of rugs for cream couches because the perfect rug can transform your living space from mundane to mesmerizing.
I'm proud to have written and illustrated this article on "20 Top Rugs for Cream Couch Ideas: Styling Solutions & Tips", hoping it inspires you and brings as much joy to you as it did to me during its creation.
Choosing the right rug to pair with your cream couch can completely transform your living space. Whether you're aiming for a modern, traditional, or eclectic style, the rug is a key element that ties the room together.
This article explores a variety of rug ideas that perfectly complement a cream couch, covering a range of colors, patterns, and materials. From bold, statement rugs that add a pop of color to subtle, neutral designs that create a serene environment, we delve into the details of each option.
Continue reading to discover the ideal rug that will enhance your cream couch and overall decor.
Table of Contents
Neutral-toned Moroccan Rug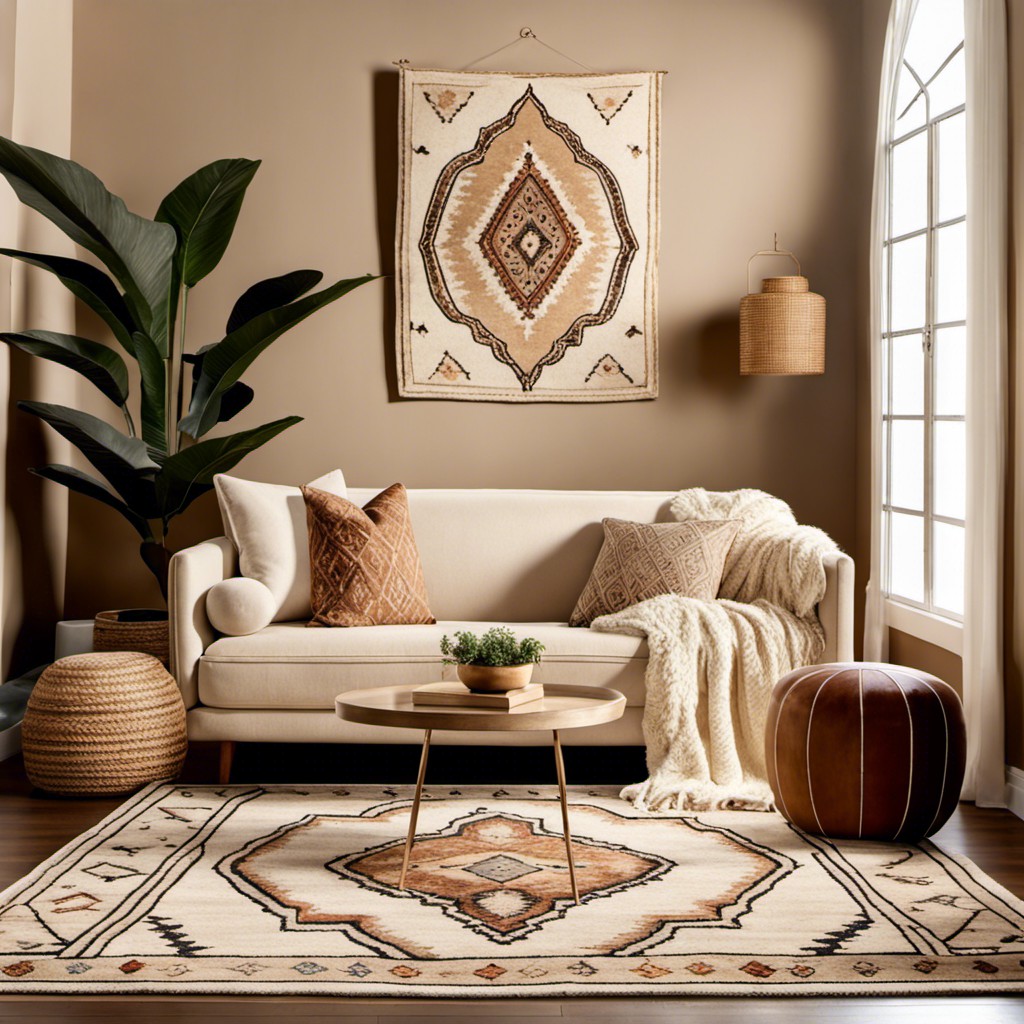 This type of rug typically features intriguing patterns that beautifully complement a cream couch. An integral piece of Moroccan culture, these rugs blend artistry with functionality, exemplifying a relaxed, eclectic aesthetic.
Points about the neutral-toned Moroccan rug:
Pattern: Often adorned with geometric shapes or abstract designs, these rugs can add visual interest without overwhelming a room.
Tones: The neutral hues help maintain a calming color scheme, enhancing the cream couch, not competing with it.
Material: Most are crafted from natural materials like wool which, besides being durable, adds an organic touch to your decor.
Versatility: Their timeless design fits seamlessly with various design themes, from modern minimalist to boho chic.
Layering: For a complex aesthetic, consider layering with a patterned or colored rug.
Functionality: With their dense weave, these rugs also provide comfort and warmth, especially when placed under a couch.
Care: Regular vacuuming will keep them looking their best, protective treatments available for families with children or pets.
Vintage Oriental Rug in Muted Colors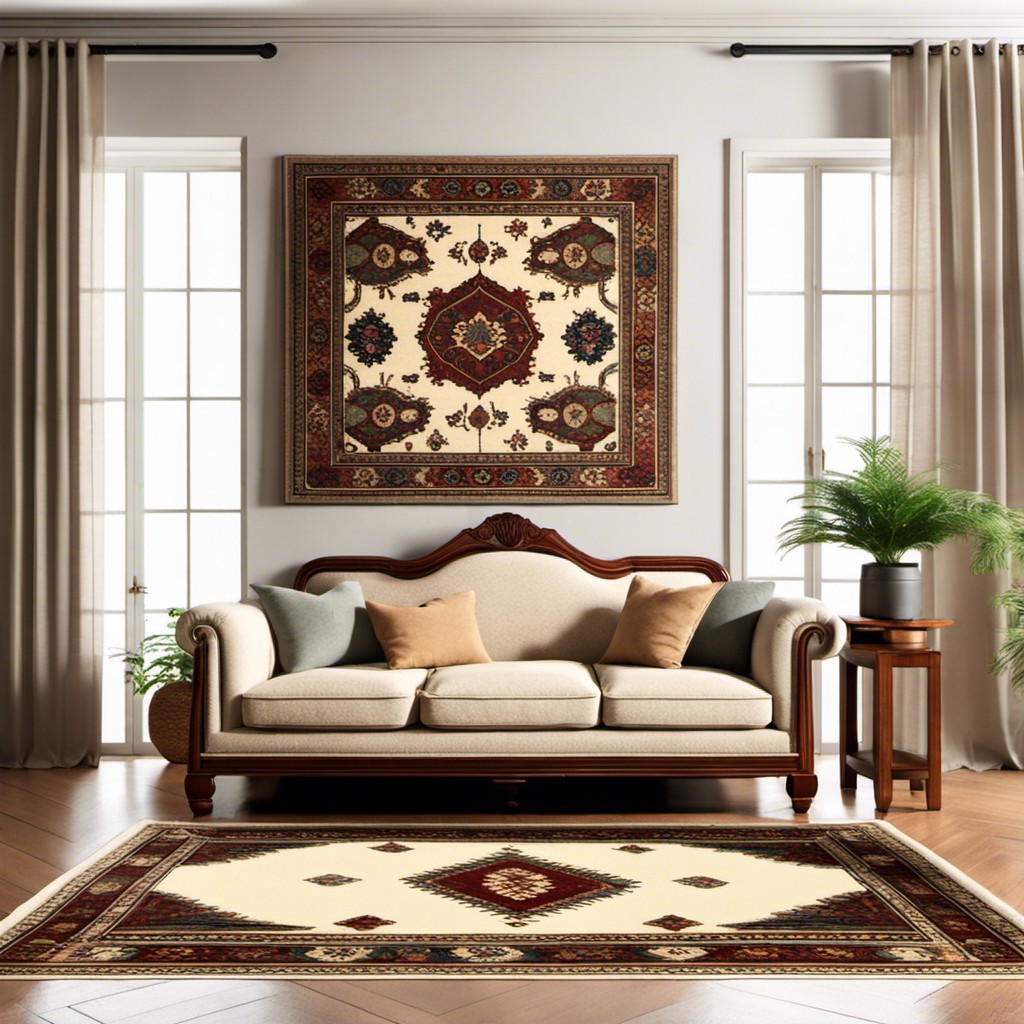 Incorporating timeless designs, these rugs can softly punctuate a room without overpowering its existing aesthetic. Here are some points to consider.
1. Harmonious Blend: Muted colors typically balance well with a cream couch, creating a visually soothing space.
2. Timeless Appeal: Their historical and cultural significance lend a unique charm and one-of-a-kind element to your living room.
3. Versatility: Despite being vintage, these rugs effortlessly blend with various design styles from modern minimalist to richly traditional.
4. Easy Maintenance: Most vintage rugs are made from durable materials that withstand regular use, prone to wear and tear less easily.
5. Artistic Flair: The intricate designs of Oriental rugs can be a form of artwork for your floor, giving your space an artistic edge.
Teal Blue Shag Rug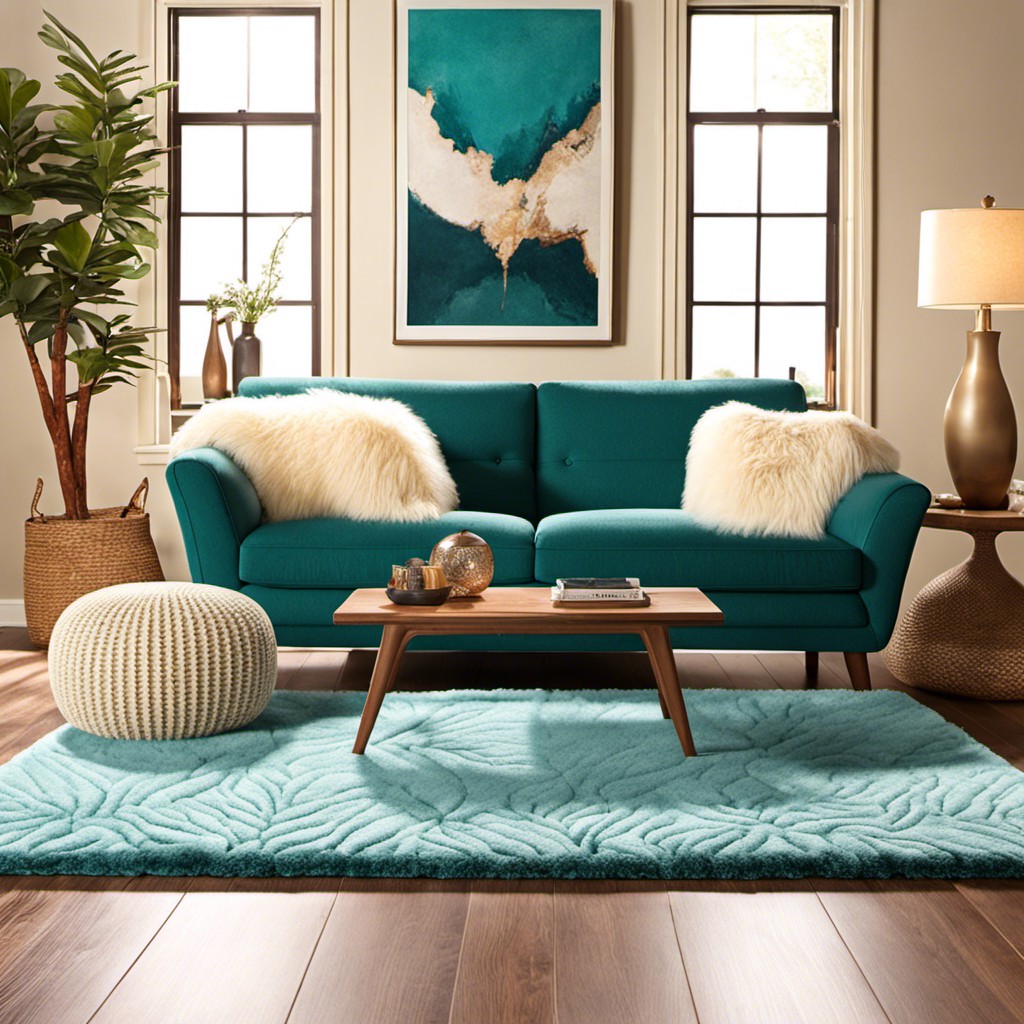 A teal blue shag rug is a striking addition under a cream couch. It adds both textural and color contrast, making for a vibrant living space. With dense, fuzzy pile, these rugs are high on comfort and have a cozy appeal.
1. Color Compatibility: Teal, with its cool undertone, pairs well with cream, offering a striking yet harmonious contrast.
2. Texture Variation: The shaggy surface of these rugs creates textural diversity that invites touch and adds intrigue to the overall setting.
3. Style Statement: A shag rug's retro appeal introduces a casual, laid-back attitude to the interior. It is indeed a statement of style and personality.
4. Noise Reduction: Thick shaggy rugs can help insulate against noise, proving to be a functional addition, especially in apartments.
5. Warmth and Comfort: Above all, a shag rug provides warmth and comfort – perfect for walking barefoot.
Remember, you can choose from hundreds of shades of teal and various sizes when selecting the perfect fit for your room.
Beige and White Striped Rug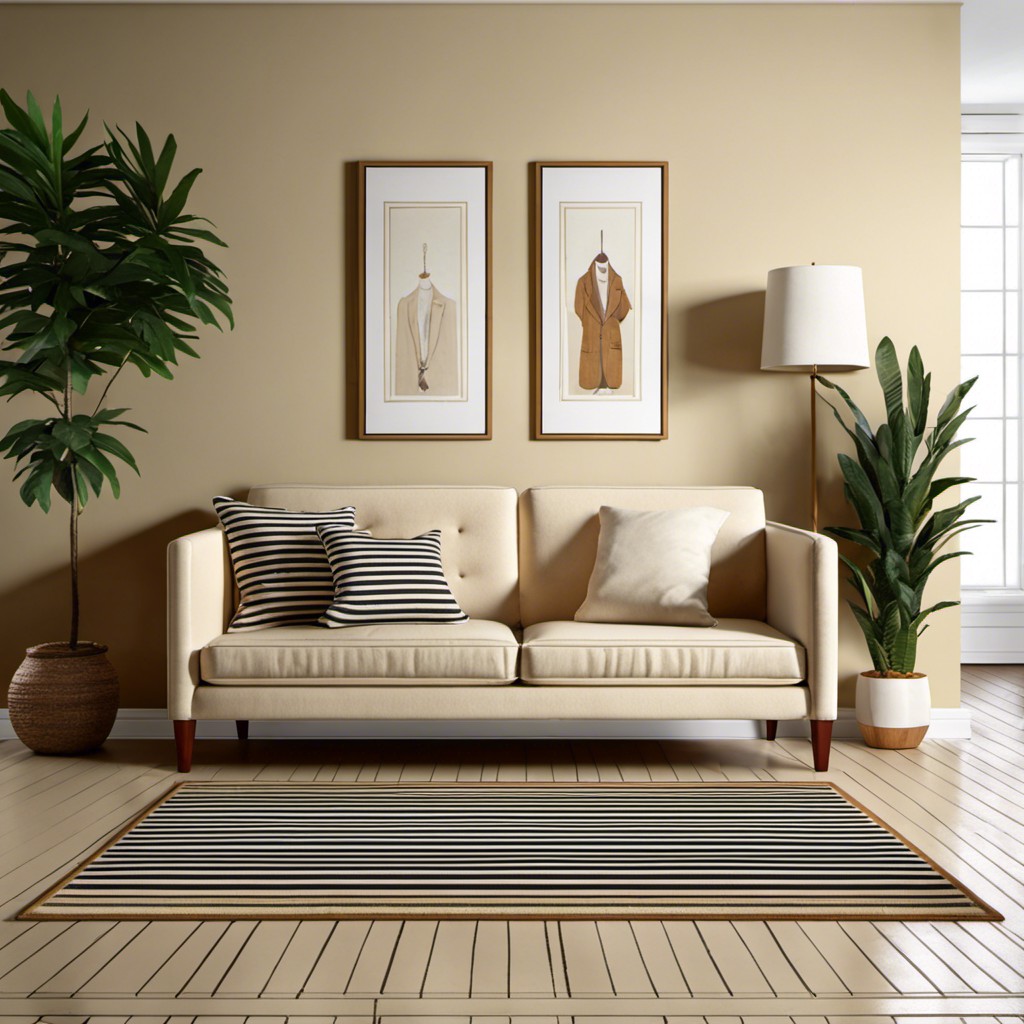 Pairing your cream couch with a beige and white striped rug is an excellent way to cultivate a relaxed yet elegant atmosphere. Here's exactly why.
1. Togetherness: The similar hues work seamlessly together, offering a harmonious palette that enhances the aesthetic cohesion of your living space.
2. Timeless Style: Striped patterns are a classic choice, able to withstand the test of time style-wise.
3. Spatial Enhancement: Horizontal stripes, in particular, can also visually expand a smaller space.
4. Versatility: This color combination grants you the liberty to experiment with other elements of decor. Whether it's vibrant cushions, bold wall art, or rustic furniture, the rug's muted tones will provide an ideal backdrop.
5. Texture Variation: Select rugs offer varied weaving textures within the stripes, an effective way to inject a bit of visual interest without detracting from the overall color scheme.
Large Jute Rug for Natural Feel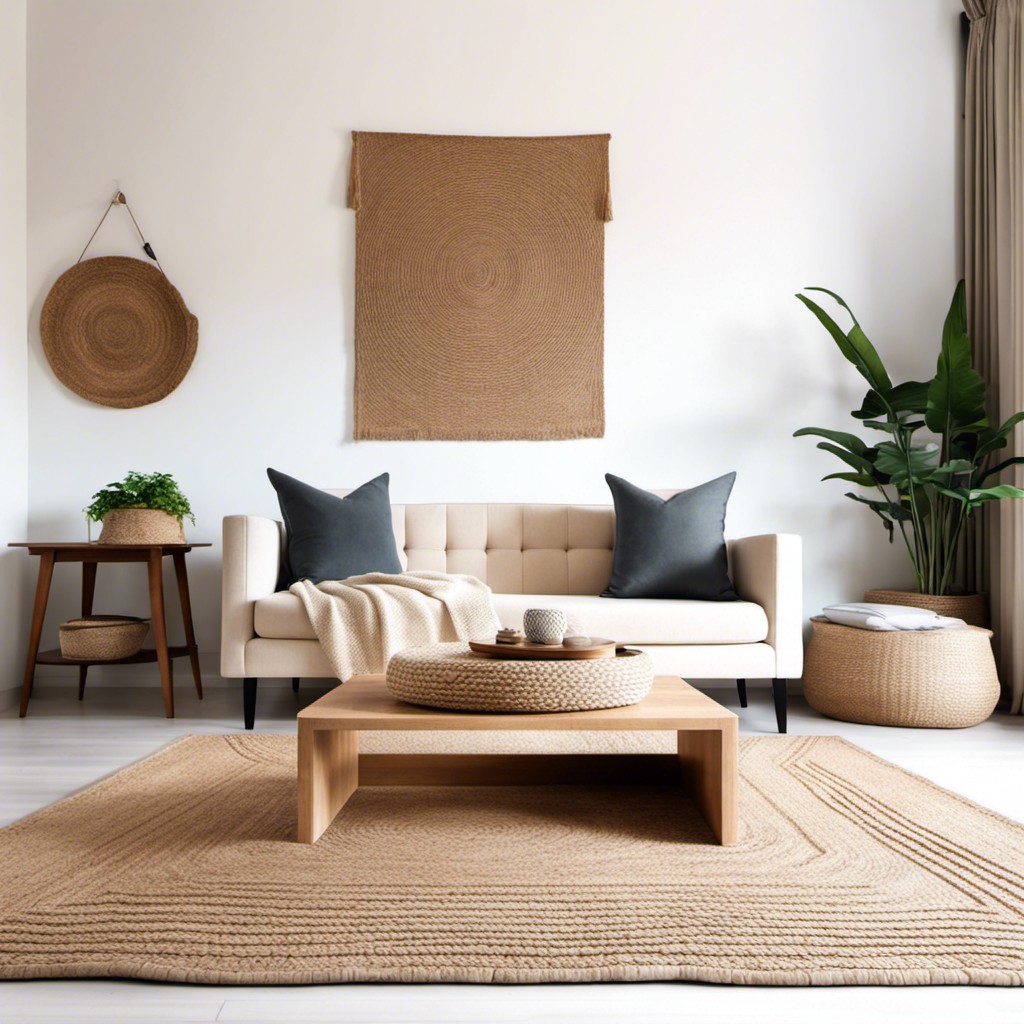 Adding a large jute rug to your living space creates an earthy, relaxed vibe that complements a cream couch beautifully. Jute, an utterly natural, plant-based material, entwines rustic charm with durability, making it an ideal choice for high-traffic areas. Its raw texture provides a cozy warmth which balances the smooth upholstery of your cream couch.
Environmentally friendly and renewable, jute rugs are a preferred choice for those conscious of their ecological footprint. Moreover, their neutral tones make them versatile and easy-to-style. Mix with patterned cushions or throws for a bohemian feel or accessorize with sleek, metallic elements for a modern twist. You may also want to consider a reversible jute rug, adding interest with a simple flip.
The larger size suggests a statement piece without being too dominating, maintaining a tranquil environment. Occasional vacuuming can keep the rug pristine, demonstrating low maintenance. So, while offering comfort underfoot, a large jute rug can beautifully anchor your cream couch, promoting a soothing atmosphere.
Geometric Patterned Grey Rug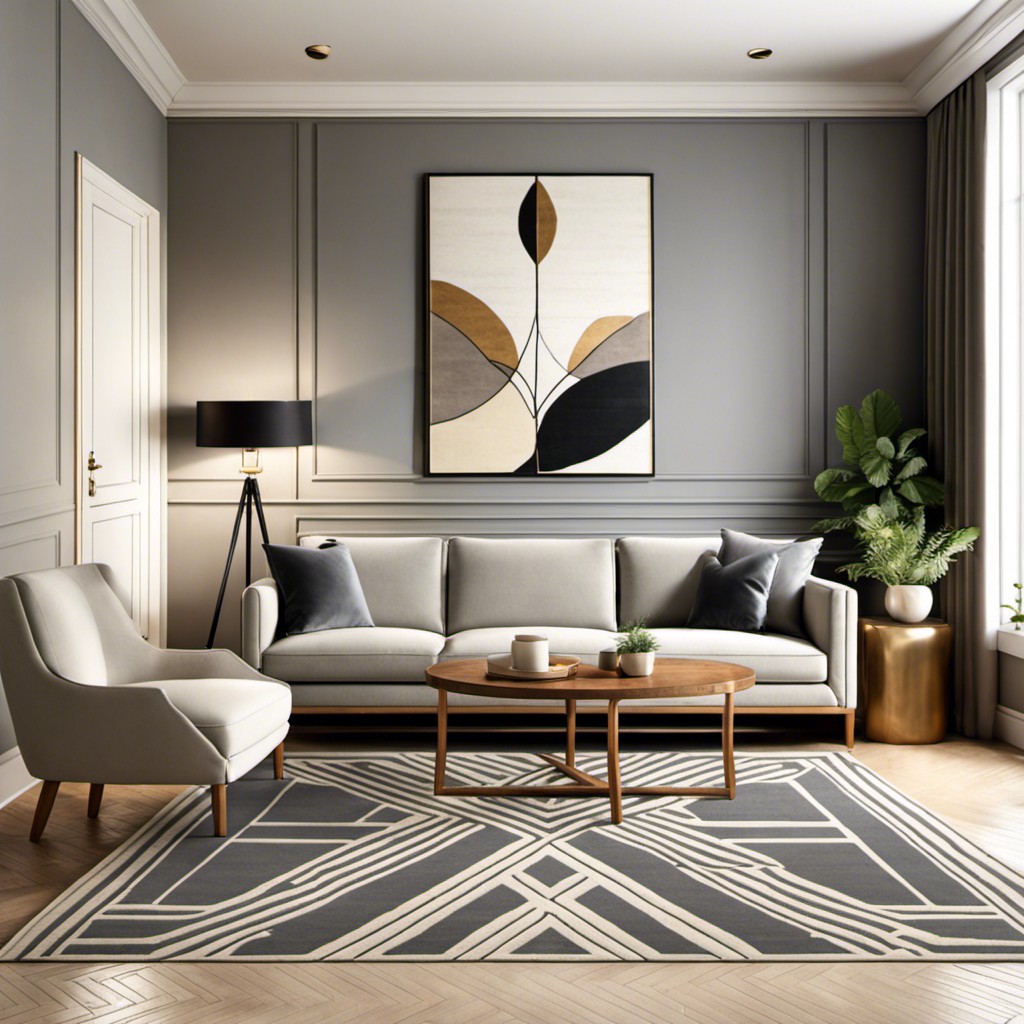 A geometric-patterned grey rug tends to complement a cream couch in an unrivaled modern and minimalist style. With its fusion of straight lines and abstract shapes, it brings life and energy to a space.
There's also a bit of versatility; this rug can set a bold, edgy tone in a cutting-edge loft, or it can provide a sophisticated accent on a contemporary lounge.
Key points:
Versatile use: From edgy lofts to sophisticated lounges, there's a place for this rug.
Modern visual interest: The straight lines and abstract shapes form an exciting backdrop.
Complements furniture: It helps balance a cream couch without overshadowing its aesthetic.
Variety in styles: Depending on the geometry, it can evoke either a dynamic or relaxed mood.
Enhances other décor: Whether paired with muted art or colorful cushions, the rug enhances overall room aesthetics.
Soft Purple Plush Rug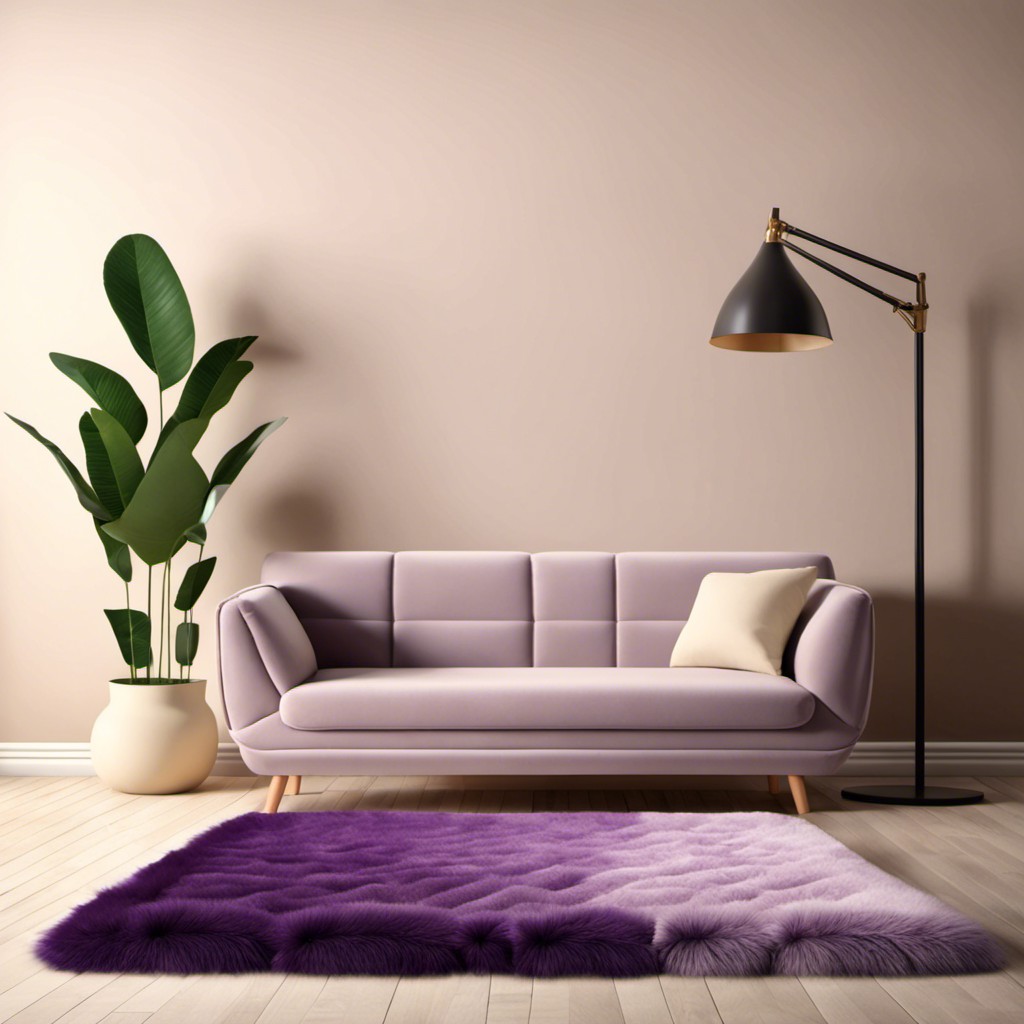 Complementing a cream couch with a soft purple plush rug introduces a gentle pop of color, which can instantly elevate the overall look of the room. The play of colors is visually appealing and keeps the eyes moving around the space.
1. Light Color Contrast: The purple brings out the cream's crispness and depth, resulting in an elegant and vibrant layout.
2. Texture Play: A plush rug adds a layer of texture that differentiates pleasantly from the smooth surface of the couch. A feast for both your eyes and your feet!
3. Room Theme: Consider the hue and tone. A soft, pastel purple can bring a romantic, soft touch to the room, ideal for those who prefer feminine or whimsical themes.
4. Rug Material: Plush rugs are typically made from thick, cut pile material, making them extremely comfortable and soft to the touch.
5. Versatility: Despite its unique color, a purple rug can be versatile. Pair it with metallic accents, subtle greys, or white for breathtaking aesthetics.
Remember, when selecting the best rug, consider not just the color, but also comfort, material quality, and how well it complements the existing decor in the room.
Red Persian Rug for Pop of Color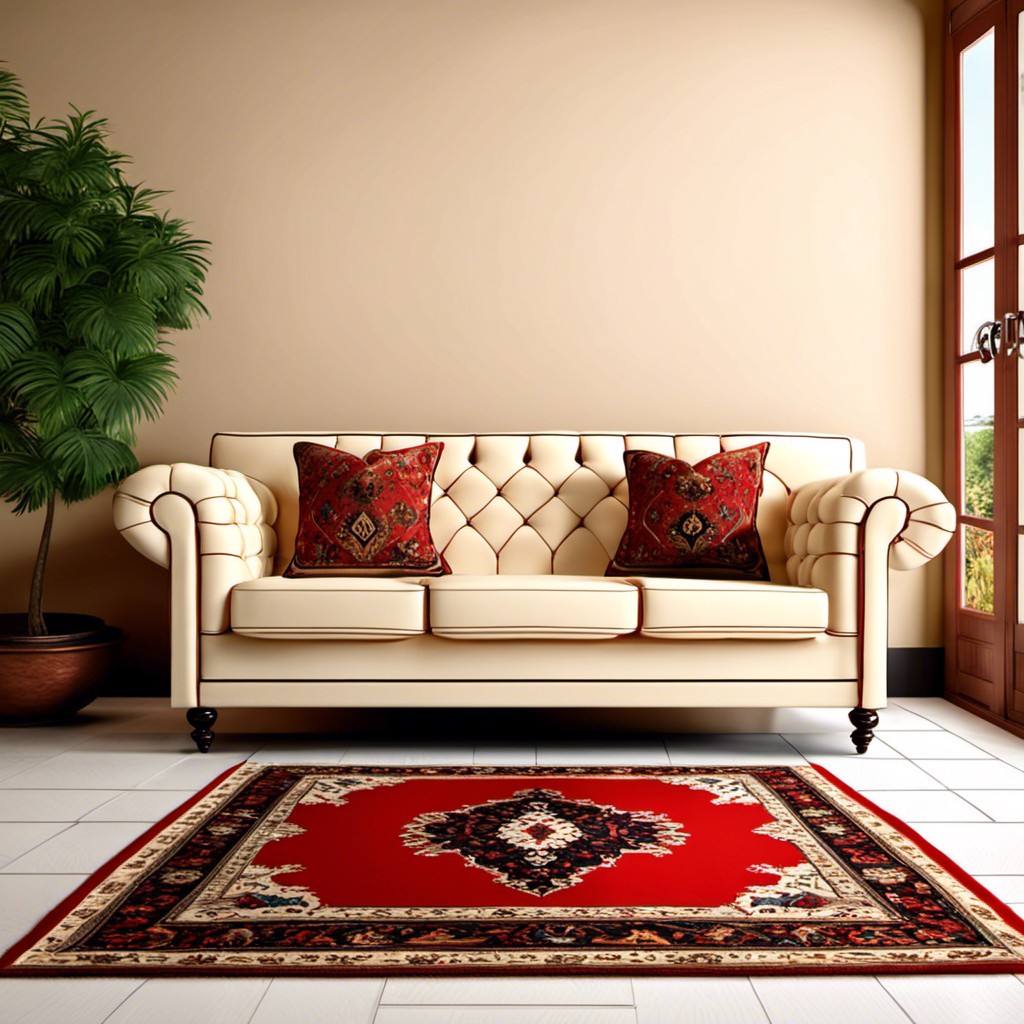 Adding bold elements to a muted cream couch, such as a red Persian rug, elevates the visual appeal of the space. The intricate floral and medallion designs characteristic of Persian rugs introduce detailed craftsmanship to an otherwise simple setting. This rug becomes the statement piece, inviting one's gaze and adding intrigue.
Here are a few points to consider:
Balance of visual weight: Ensure the intensity of the red doesn't overwhelm by pulling in touch-points of the same color elsewhere in the room like throw pillows or drapes.
Rug placement: Positioning it right under the sofa's legs can unify the room and define the seating area.
Rug care: Regular vacuuming and occasional professional cleaning can maintain the colors' vibrancy and the rug's overall appeal.
Consider room lighting: Natural daylight can enhance the red tones while incandescent light may soften the color.
Remember, the rug serves both aesthetic and functional purposes. Besides adding color and design, it can provide luxury underfoot and reduce noise.
Black and White Checkered Rug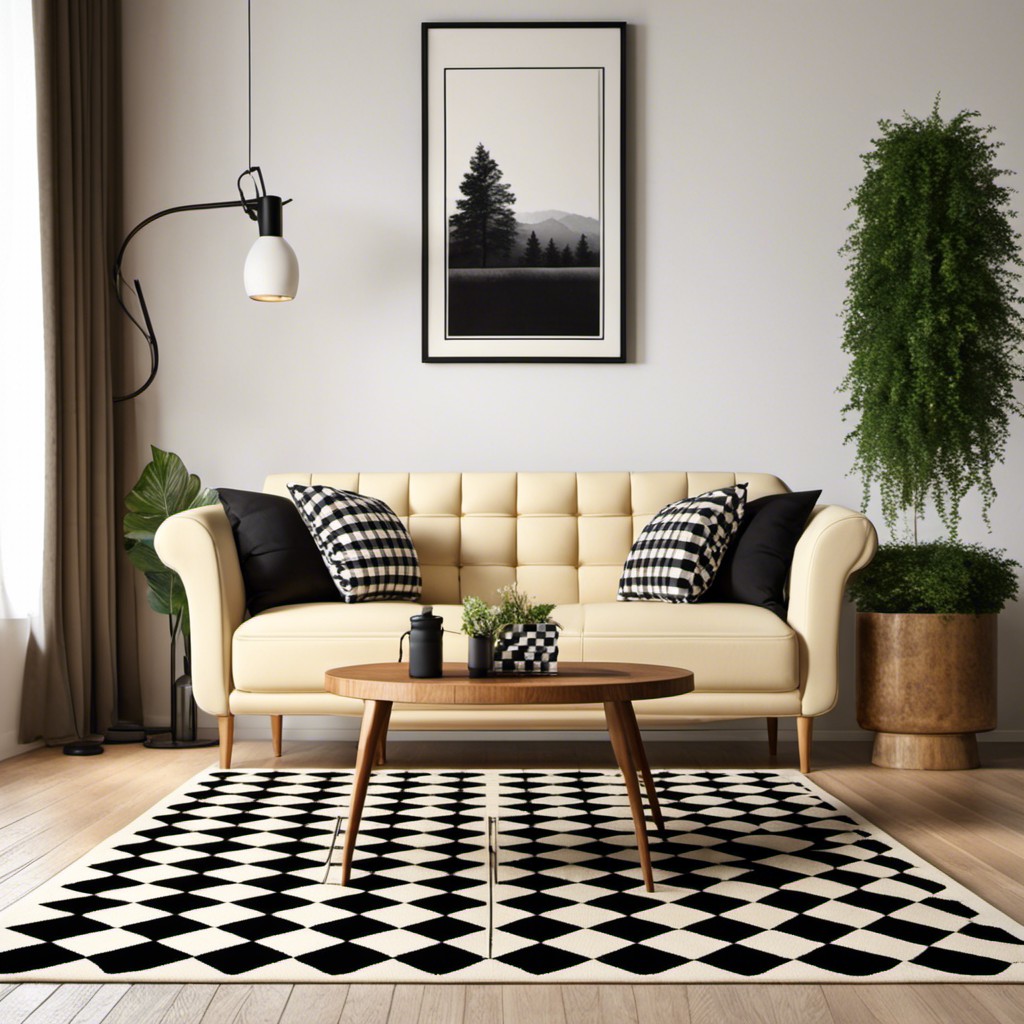 Bringing a classic design into play, this rug is ideal for those who appreciate the timeless charm of checkerboard patterns. It's a great way to introduce contrast without overwhelming a space, given its binary color scheme. As functional as it is chic, it's able to hide stains and hair better than solid-colored rugs.
From regard to placement, it stands out brilliantly against a cream couch, lending a monochrome aesthetic to the room. While it works perfectly in a minimalist decor, don't disregard its potential in eclectic or boho settings – it's versatile enough to harmonize with a mass of different styles. Details in your room, as simple as metal accents or colored pillows, can be purposefully tied in with each check of the rug. With a variety to select from, such as buffalo checks or gingham, you can scale the checks up or down to your liking. It's also available in different materials, catering from minimalist tastes to plush luxury preferences.
Choosing this rug means embracing a clean, sophisticated, and stylish look that is versatile and timeless.
Moss Green Woolen Rug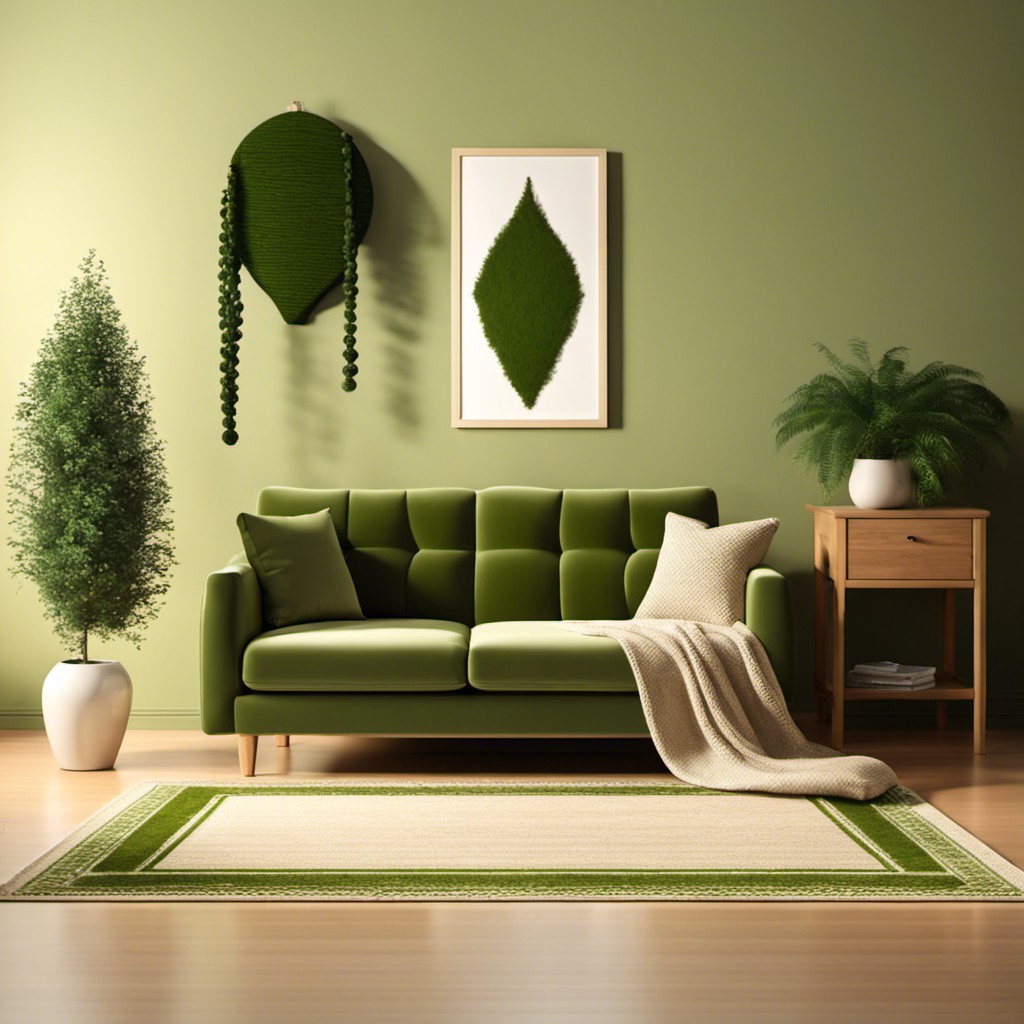 Investing in a moss green woolen rug can introduce a subtle touch of earthiness to your cream couch setup. Wool is a preferred material due to its superior quality and durability, providing a cushiony underfoot experience while promising long-term usage. The moss green color exudes a calming vibe, replicating the serenity of nature within your interior space. It successfully bridges the gap between the neutral cream couch and the wider color spectrum.
Sprinkle of patterns or textures adds visual interest. Think abstract designs or floral imprints, these are minimal yet effective in breaking the monotony. Furthermore, it pairs wonderfully with wooden elements, be it a rustic coffee table or oak bookshelves, enhancing the overall warmth of the decor.
Simple yet significant, this choice of rug unobtrusively ties the room together, creating a cozy and harmonious ambiance. With suitable care and maintenance, your moss green woolen rug can serve as a comforting centerpiece for years.
Floral-patterned Rug in Pastel Tones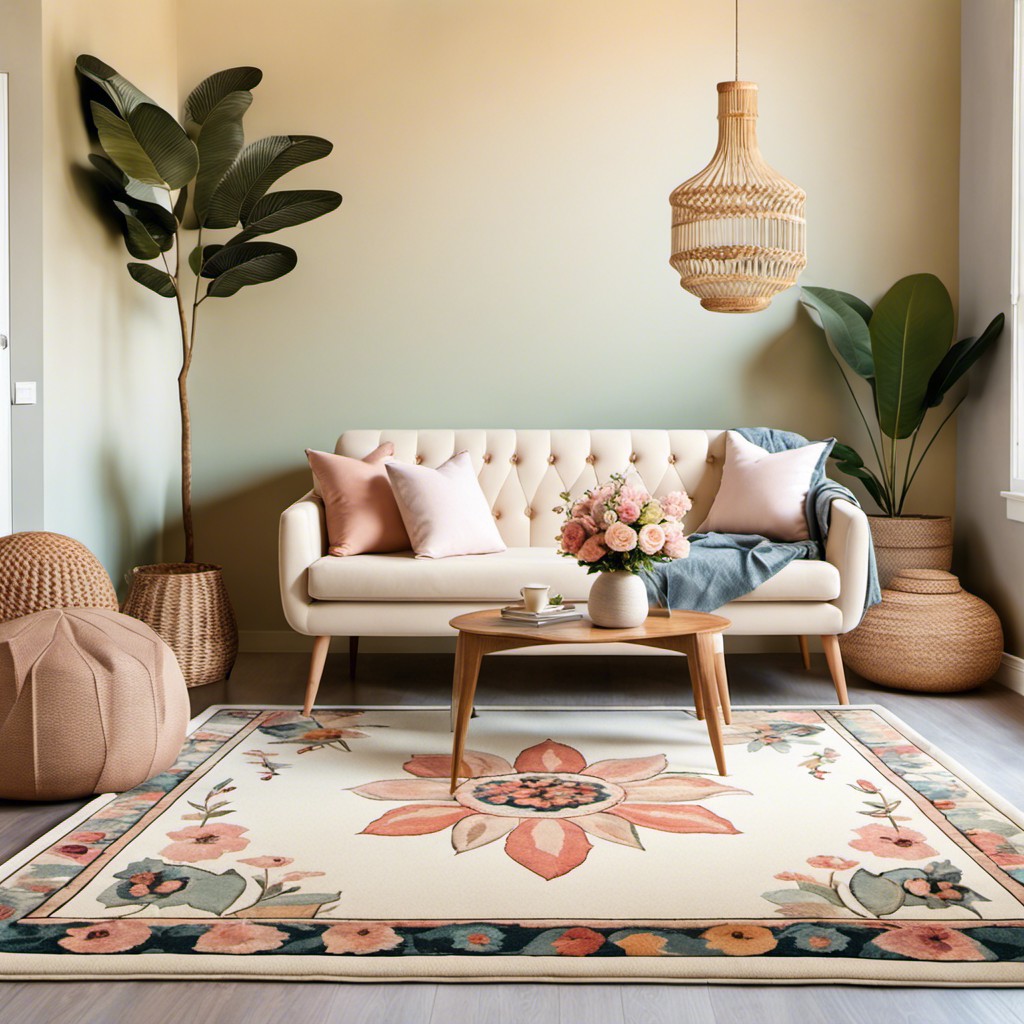 Pastel tones are subtle yet captivating, particularly when integrated into floral patterns. This type of rug can complement a cream couch by adding warmth and soft touches of color to the decor.
The following are key aspects of using pastel-toned floral rugs:
Visual Appeal: The delicate hues enhance the overall aesthetics without overwhelming the design scheme.
Versatility: These rugs work with a wide variety of interior styles, such as shabby chic, contemporary, and traditional.
Easy Maintenance: The lighter tones are practical, effectively masking minor stains and wear.
Fresh Vibe: The combination of floral patterns and pastel tones can instill a spring-like, refreshing ambiance.
Accentuation: The rug can serve as a focal point, drawing together various elements of the room's decor.
Approaching a cream couch with a pastel-toned floral rug is an easy way to introduce whispers of color while keeping the space elegant and inviting.
Modern Abstract Rug in Earth Tones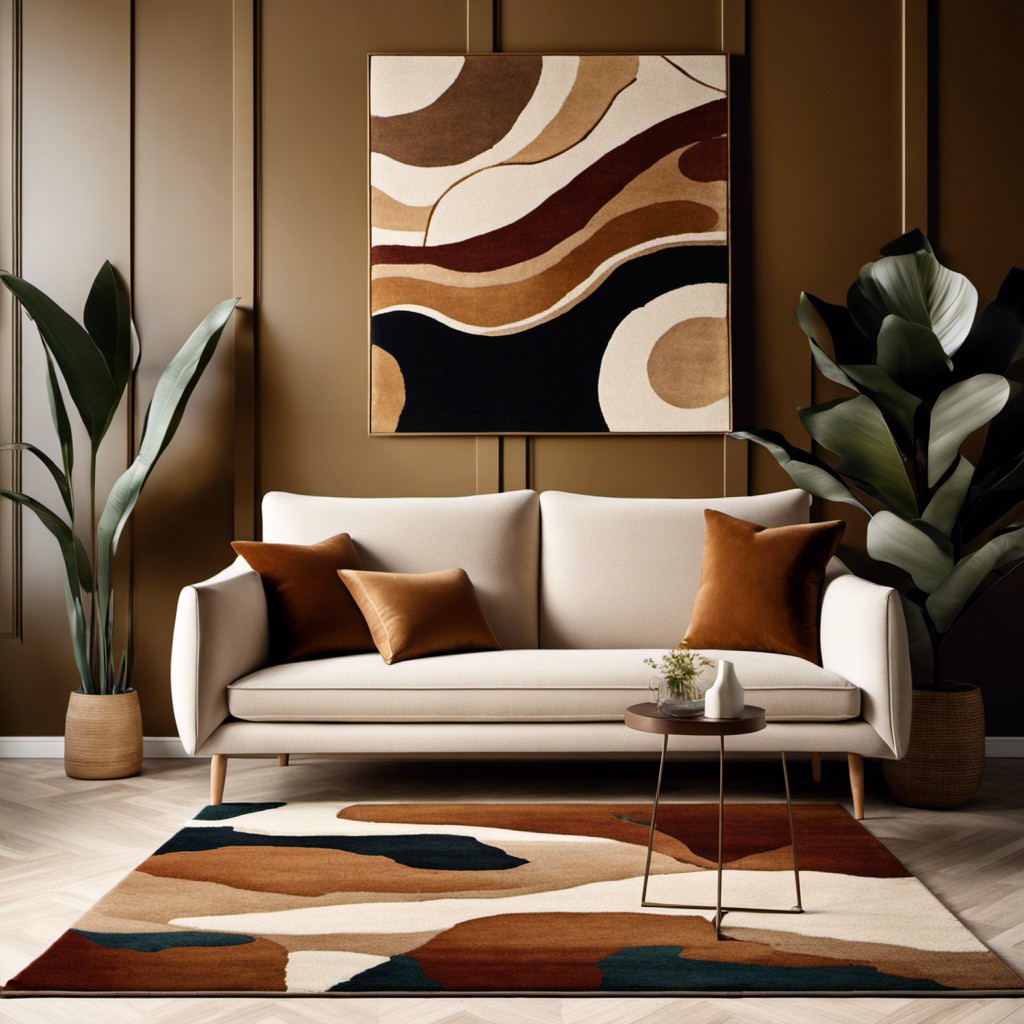 Modern abstract rugs in earth tones excellently bring an artistic touch to a room with a cream couch. These rugs feature a variety of natural shades–browns, tans, and olives–that mirror elements you might see in an earthly landscape.
1. Aesthetic Appeal: Their abstract designs, reminiscent of modern art pieces, infuse an avant-garde look into the room.
2. Versatility: Their earth-toned colors enable them to fit seamlessly with most color schemes, offering both continuity and gentle contrast.
3. Cosiness: These rugs add a layer of warmth and coziness, harmonizing with the soft cream of the couch to create a welcoming atmosphere.
4. Easy to Maintain: Most earthy-toned rugs hide dirt and stains well due to their darker colors, reducing cleaning efforts and making them ideal for high-traffic areas.
Remember, while selecting such a rug, hold an image of your cream couch in mind to ensure the rug's design, shape, and size will complement it effectively.
Faux Animal Skin Rug in Light Beige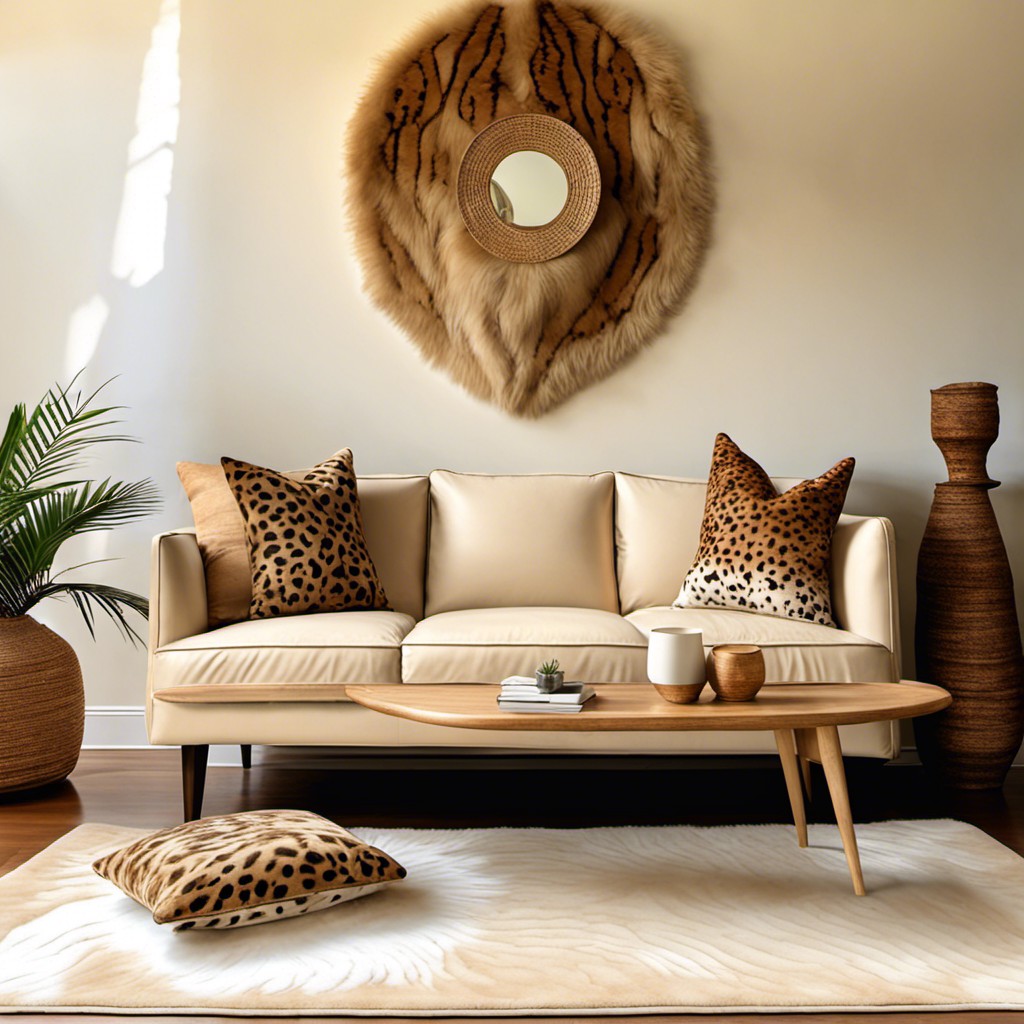 Embracing a light beige faux animal skin rug gives a unique touch to a cream couch. The key to nailing this look lies in the balance it brings without clashing with your existing decor.
1. Textural Appeal: Its distinct texture adds an interesting feature to the room, making it more inviting.
2. Effortless Style: It lends an effortlessly edgy or rustic charm, augmenting the cream couch.
3. Versatile: Despite the animal print, its color is neutral, making it versatile enough to blend with various decor elements.
4. Animal-friendly: Opting for faux skin ensures no animals were harmed, aligning with ethically-conscious choices in home decoration.
5. Easy Maintenance: Faux rugs are usually easier to clean and maintain than their real counterparts.
A faux animal skin rug in light beige not only forms a sophisticated contrast with a cream couch but also stuff in an element of surprise, adding to the overall aesthetics of your living space. Remember to measure your area beforehand to ensure its size suits your space.
Rainbow-colored Bohemian Rug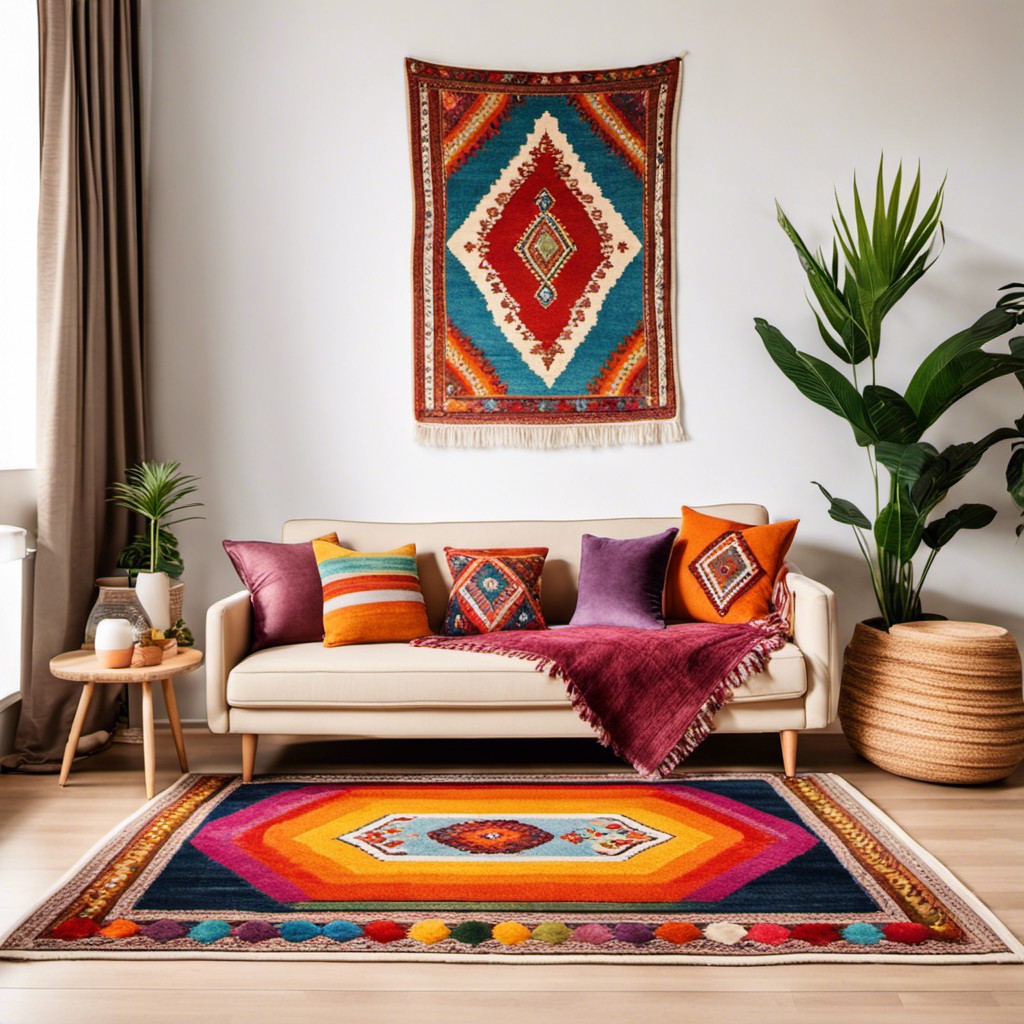 Injecting a riot of colors into your living space, the bohemian rug provides a cheerful backdrop for a cream couch. It's a versatile piece harmonizing with different styles, from eclectic to casual and contemporary settings.
Here are a few points:
Versatility: Adapted to any room, it results in a vibrant focus regardless of your décor style.
Expressive: The bold hues embody a freedom of expression, facilitating an easy manner of personalizing your space.
Comforting: Apart from the aesthetic appeal, it assures a soft, comfortable tread underfoot.
Easy Maintenance: High quality bohemian rugs are usually stain-resistant ensuring long-lasting vibrancy.
Pairing: Simple accessories in neutral tones will offset the rug beautifully, letting it steal the spotlight.
While the rich palette might appear intimidating, don't back away. The key is striking a balance to make this daring choice work harmoniously within your aesthetic.
Navy-blue Nautical Striped Rug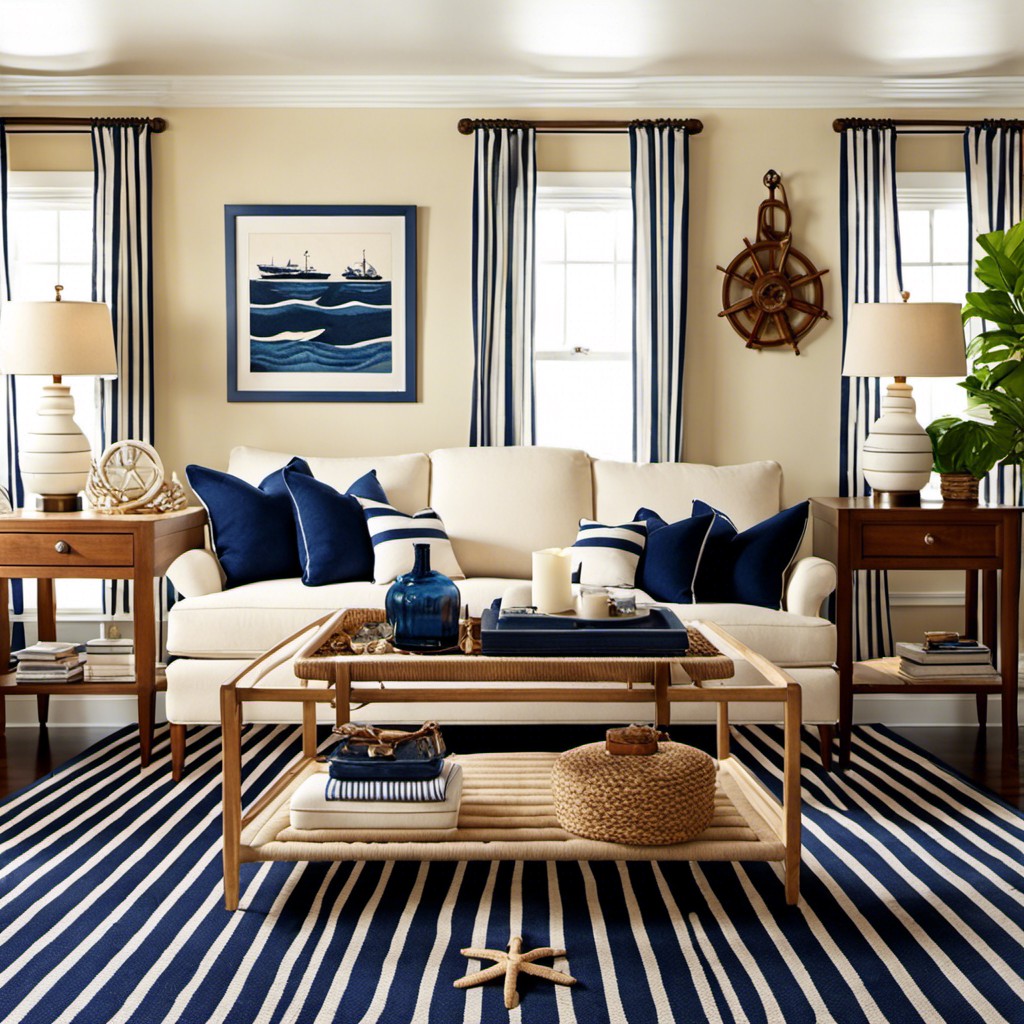 Opting for this rug can easily inject a sea-inspired aesthetic into the living space. Its bold stripes provide a striking contrast to the paleness of a cream couch.
This rug option can be a perfect anchor for rooms with a beachy or marine theme. The dark blue intersects maritime charm with modern chic for a fresh, crisp look.
Here are the noteworthy points:
Anchor motif: This rug employs a universal maritime emblem that visually binds the furnishing elements.
Color scheme: The navy-blue stripe on a clean, white base complements the cream couch, pulling off a polished look.
Varying stripe width: The pattern isn't monotonous. It plays with inconsistent stripe thickness, creating visual interest.
Fabric choice: High resilience makes it ideal for high-traffic areas. The typically synthetic material is relatively easier to clean as compared to its natural counterparts.
Versatility: Despite its nautical theme, it easily pairs with multiple styles. Whether it's a beach house or urban apartment, this rug fits well.
Size and placement: Available in various sizes, this rug can blanket the entire seating area or just nestle underneath the coffee table.
More than just a design accessory, this rug merges aesthetics and practicality in a way that amplifies the overall textural appeal.
Cool-toned Scandinavian Style Rug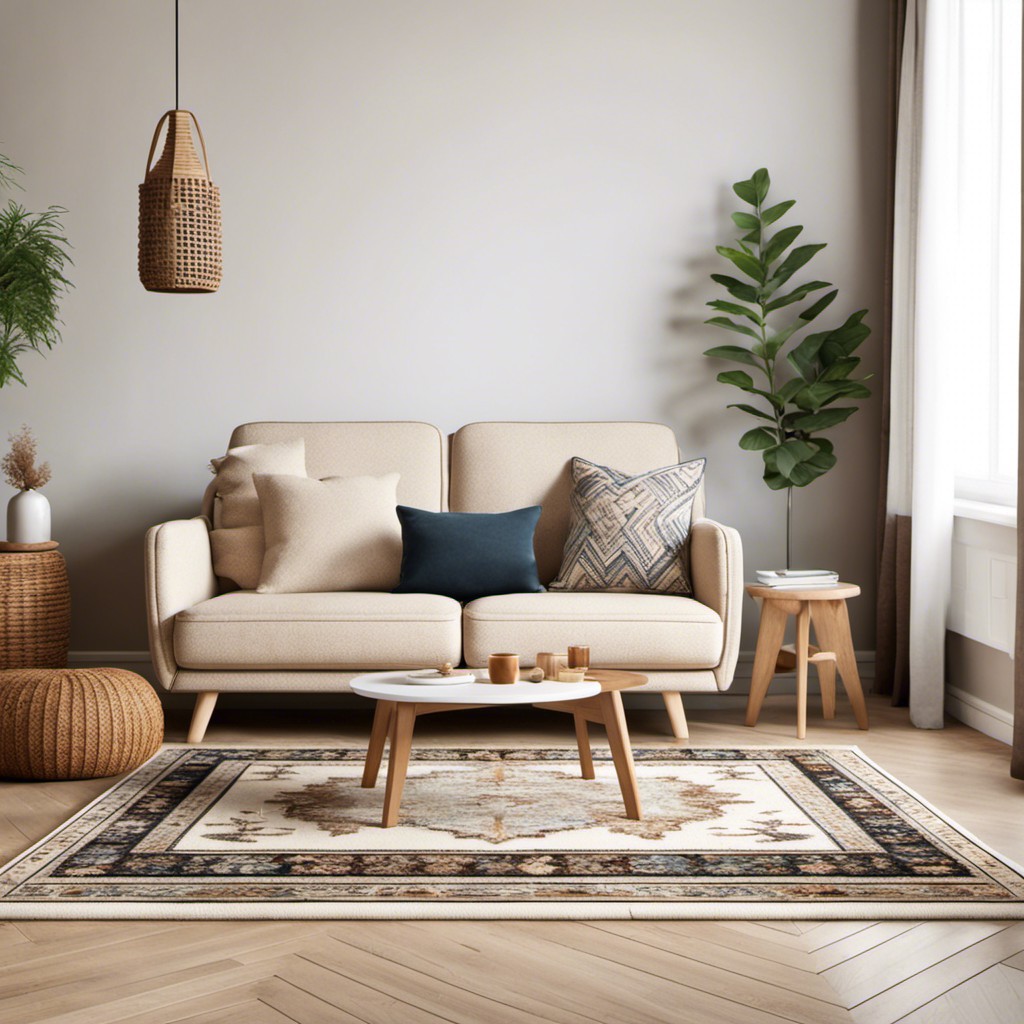 Featuring simple geometric patterns and a palette that often blends whites, blues, and grays, these rugs draw inspiration directly from the northern countries they originate from. The cool tones naturally associate with the Scandinavian winter scenes, offering a crisp, clean aesthetic that pairs exceptionally well with a cream couch.
Light and minimalistic in design, they aim to create an airy, tranquil ambiance in a living room.
Three points help define this type of rug:
Design Simplicity: Scandinavian interior decor is synonymous with simplicity and functionality. Therefore, these rugs prioritize minimalist patterns or single block colors.
Quality Material: A Scandinavian rug is usually made of high-quality, natural materials like wool or cotton, providing both comfort and durability.
Versatility: Due to their neutral and understated design, these rugs have the capacity to blend well with various other decor elements.
Positioning a Scandinavian rug underneath a cream couch creates a harmonious blend of quiet elegance and comfort. This ensemble will bestow a relaxing and yet sophisticated feel to your living space.
Mahogany Rug for a Rich Contrast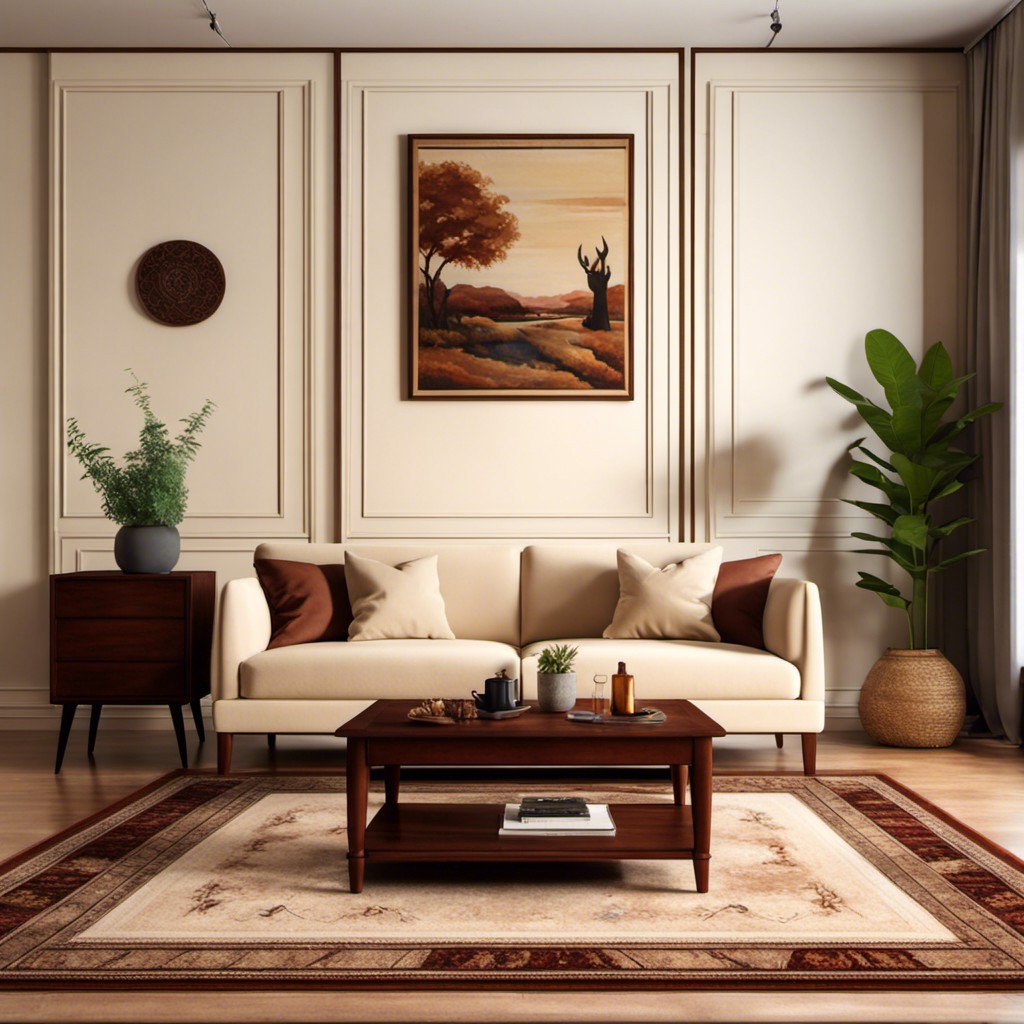 A mahogany rug imbues a room with a stately richness, creating a bold contrast when paired with a cream couch. This robust shade infuses the space with warmth and depth, making the living room appear inviting and balanced.
1. Depth Enhancement: The deep, rich tone of mahogany creates a vibrant visual depth in the room, enhancing perception of space.
2. Warmth Addition: Mahogany rugs add a cozy warmth to a room, providing a welcoming atmosphere.
3. Attention Seizing: The stark contrast between the dark rug and light couch grabs attention, serving as an immediate focal point.
4. Versatility: Whether you prefer a minimalist design or an elaborate pattern, mahogany rugs suit a myriad of styles.
5. Stain Concealment: The dark color of a mahogany rug proves practical, excellently concealing any accidental spills or stains.
Remember, the best rug is not just about color; the fabric, size, and placement all play crucial roles in the overall aesthetics. Choose wisely and enjoy the elegant setting it creates.
Subtly-patterned Rug in Soft Pink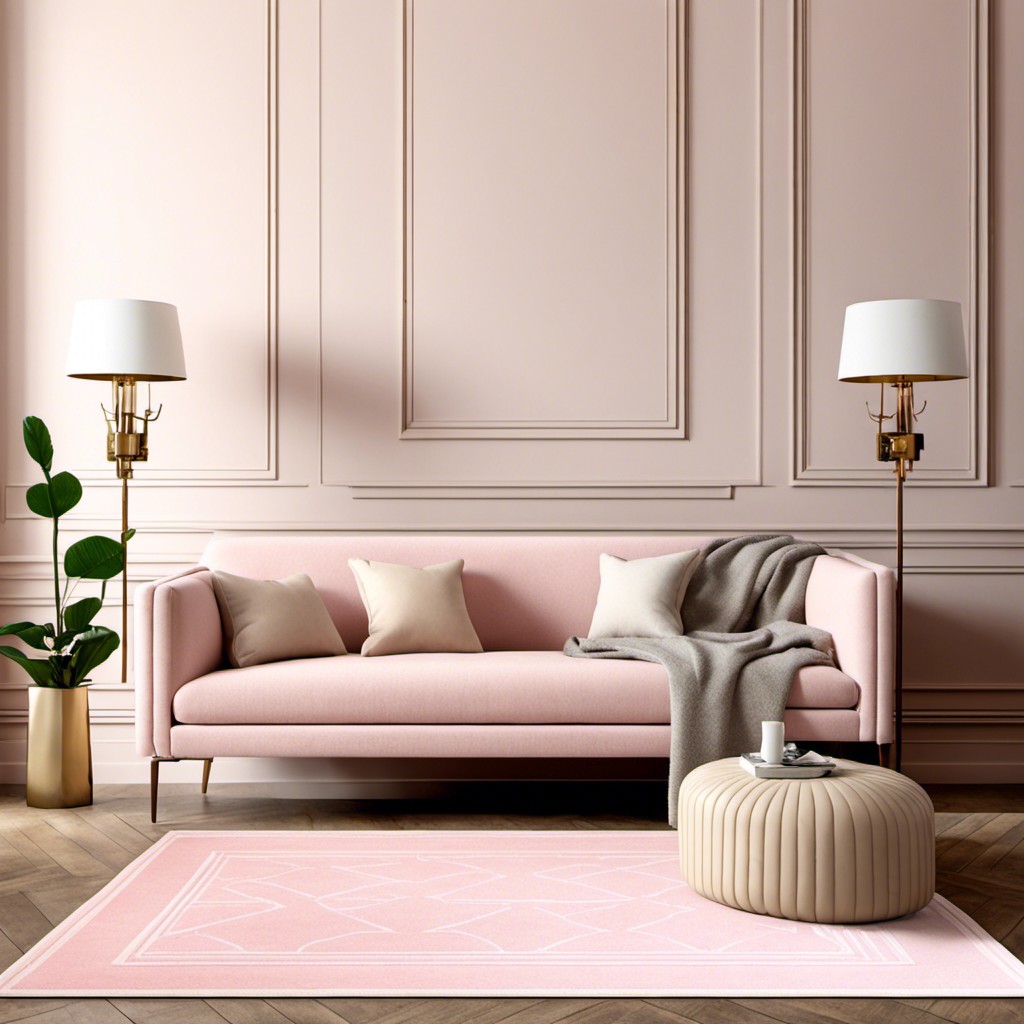 Opting for a subtly-patterned rug in this feminine hue can infuse a serene and luxurious ambiance into your room. It harmoniously complements a cream couch, creating an inviting space with a soft aesthetic.
Here are few points to keep in mind:
1. Choose a pattern with varying shades of soft pink to add visual interest without overpowering the room.
2. Consider the material. Natural fibers like wool or cotton can add an extra layer of comfort and warmth.
3. Size matters. Ensure the rug is proportionate to your couch and coffee table. Generally, a larger rug can make your space look bigger.
4. Note the room's overall color scheme. Other accessories in the room should tie in with your pink and cream theme for a cohesive look.
5. Easy-to-clean rugs are a valuable choice, especially if you plan to place this rug in a high-traffic area or if you have pets or small children. Look for options with stain-resistant features.
6. Experiment with the rug orientation. Depending on your room, placing the rug at an angle or horizontally could enhance the space.
7. Play with texture. A velvety or a shag rug can add a luxurious touch, while a flat-woven one can give a more laid back feel.
Mixed Fabric Rug in Hues of Brown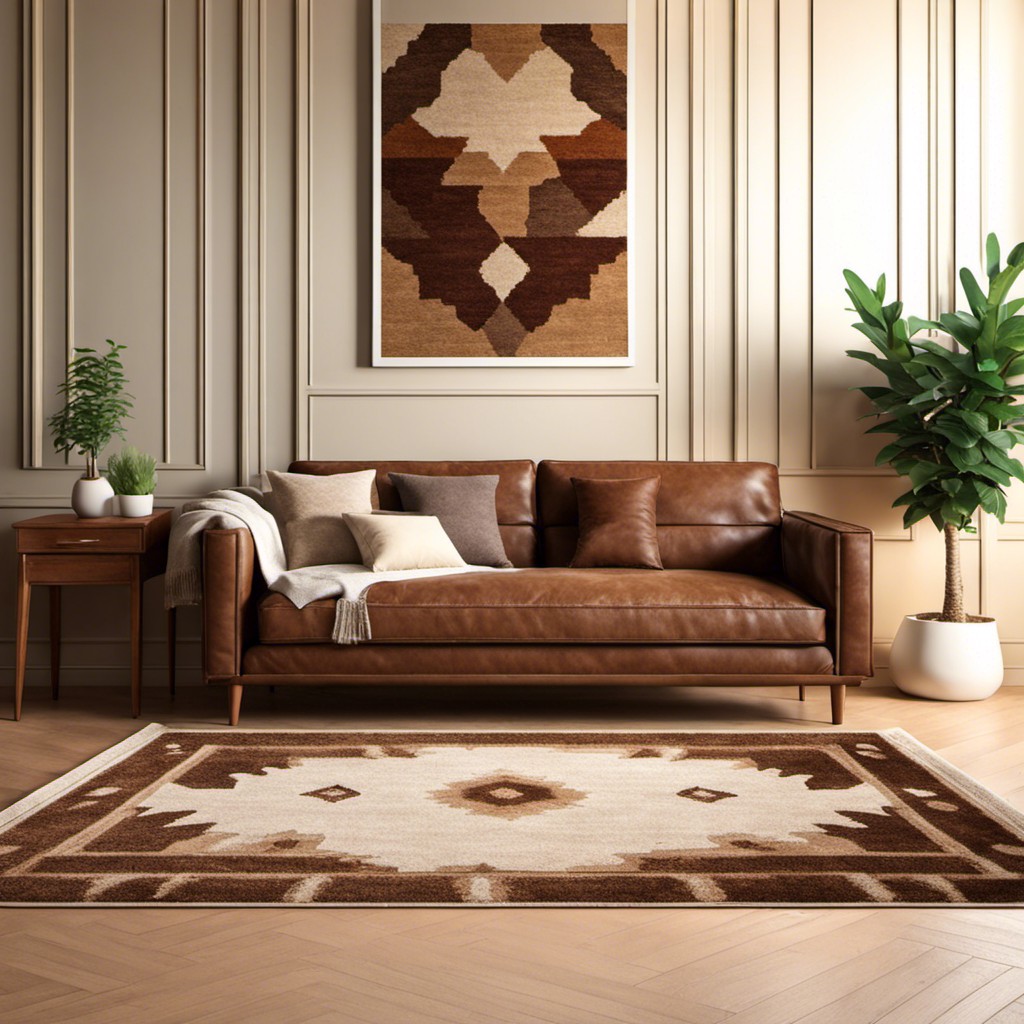 Spanning several shades from light tan to rich chestnut, mixed fabric rugs combine various materials such as wool, jute, cotton or silk to add depth and complexity. This unique fusion not only offers superior durability but also an appealing tactile experience.
To further highlight the allure of a cream couch, these rugs display a melange of brown hues, enhancing the overall warmth of the space. It forms an inviting, cozy atmosphere, perfect for lounging or entertaining guests.
A key advantage is their versatility. These rugs harmoniously blend with most interior styles – be it rustic, modern, traditional, or bohemian. They can be a simple, subtle backdrop for more vibrant elements, or play the star role in minimalist settings.
In terms of care, it's imperative to follow the specific cleaning instructions for each rug's material, to ensure longevity and maintain its original beauty. Regular vacuuming is necessary to keep it dust-free, while professional cleaning is advisable for any major spills or stains.
Lastly, consider the size and pattern of your mixed fabric rug. Smaller, more intricately patterned rugs can add a sophisticated touch, while larger rugs with bolder patterns create a dramatic effect, allowing your cream couch to stand out.
Traditional Turkish Kilim Rug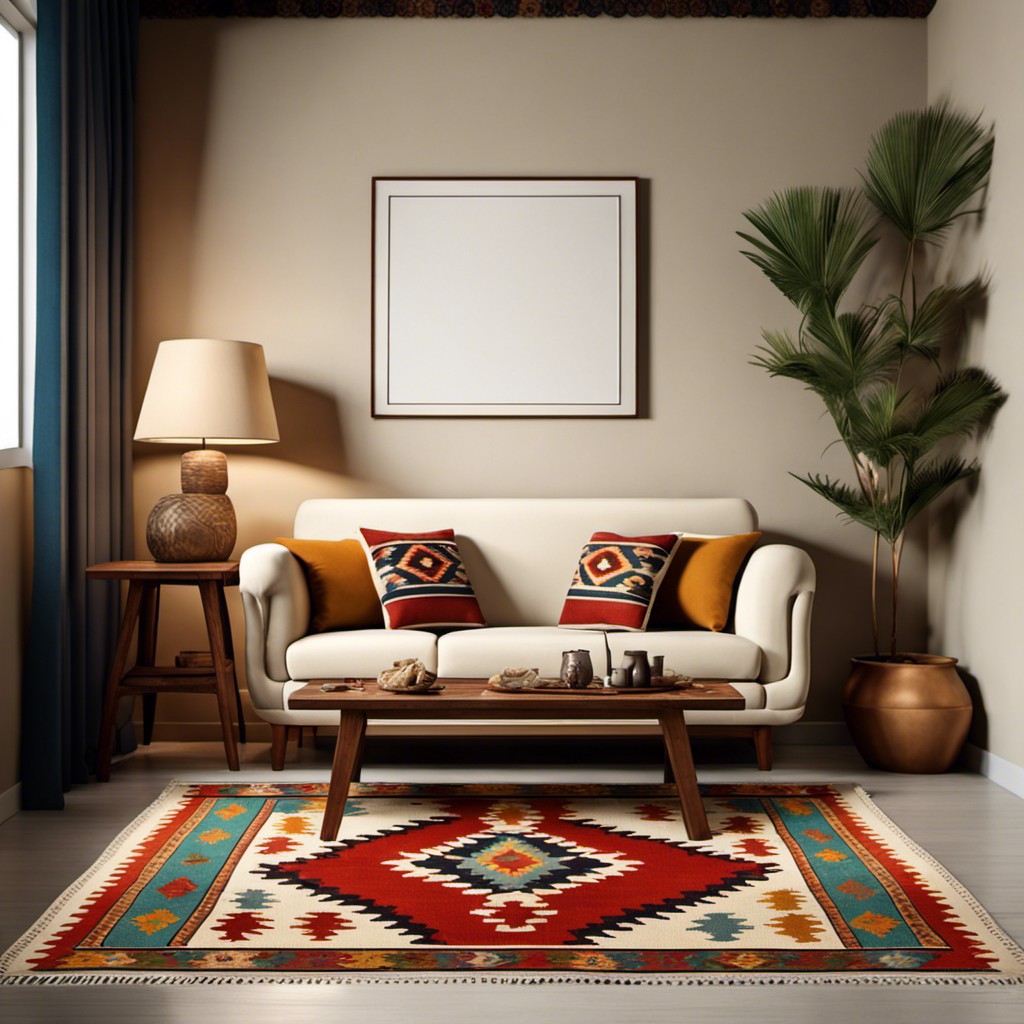 Exhibiting motifs steeped in rich history, these rugs make a striking statement. Crafted by expert weavers, they utilize intricate and time-honored weaving techniques, providing a seamless blend of durability and aesthetics.
Their flat-weave construction ensures that they stay less bulky and lay perfectly flat on the floor. Thanks to their intricate patterns and vivid hues, they work brilliantly against a cream-colored couch, introducing vibrant pops of color and rich textures to your space.
Typically available in a range of sizes, they can effortlessly accommodate different room and furniture dimensions, ensuring a cohesive look. Cleaning and maintenance are relatively hassle-free, requiring regular vacuuming and occasional professional cleaning.
A high-quality underlay can enhance the rug's longevity, providing additional grip and comfort underfoot.
You may also like to read: