Last updated on November 21, 2023
Installing floors in the home is a headache for many. When purchasing materials, flooring manufacturers typically recommend that consumers purchase more materials than they need.
And it's mostly a financial shock for customers. Other materials for the house need to be bought in larger quantities. If you need ten windows, you buy ten windows. Three doors require three door handles.
Even when buying paint, it's best to fine-tune the amount you buy so that most of it ends up on your walls rather than sitting in the garage for years.
Table of Contents
The Types of Floors
Floors can be divided by material (wooden, concrete, etc.), method of execution (e.g. self-cast), the shape of elements (parquet, ship floor), or by various other properties (warm, hygienic, wear-resistant, waterproof, floating, etc.)
Particularly popular in recent years have been parquet floors made of wood from tropical regions, primarily bamboo. These parquets, in addition to their exotic appearance and quality, are absolutely competitive in terms of price, and the pursuit of sustainable materials gives them an additional advantage on the market.
Suffice it to say that it takes about 30 years for a tree to reach full maturity, while six generations of quality bamboo can be grown in the same period.
Wood composite floors are more or less similar to natural wood. Laminate wood floors very quickly flooded the market thanks to the ease of installation, the desire to preserve natural resources, and of course – the price.
The combination of natural raw materials and binding polymers makes an excellent floor covering that is also used on the decks of ocean-going yachts, where it endures salt water and extreme weather conditions.
In the United States, it is common for floors to be made from OSB, over which only a floor covering (carpet, Etison, etc.) can (but does not have to) be placed.
Ceramic tiles with ground stone glaze, concrete slabs with recycled glass as aggregate, and laminates with natural stone or ceramic veneer…
The increasingly frequent use of floor heating and cooling systems contributes to the widespread use of these floors. The pipes of the system transfer the temperature to the cement liner, near the floor. Slabs, tiles, mosaics… the only difference is in the size of the surface of the individual piece.
Floors made of plate elements of mineral origin are the second most common surface we walk on in buildings. They can be made of stone, clay, glass, ceramics, or concrete.
Maintenance of Floors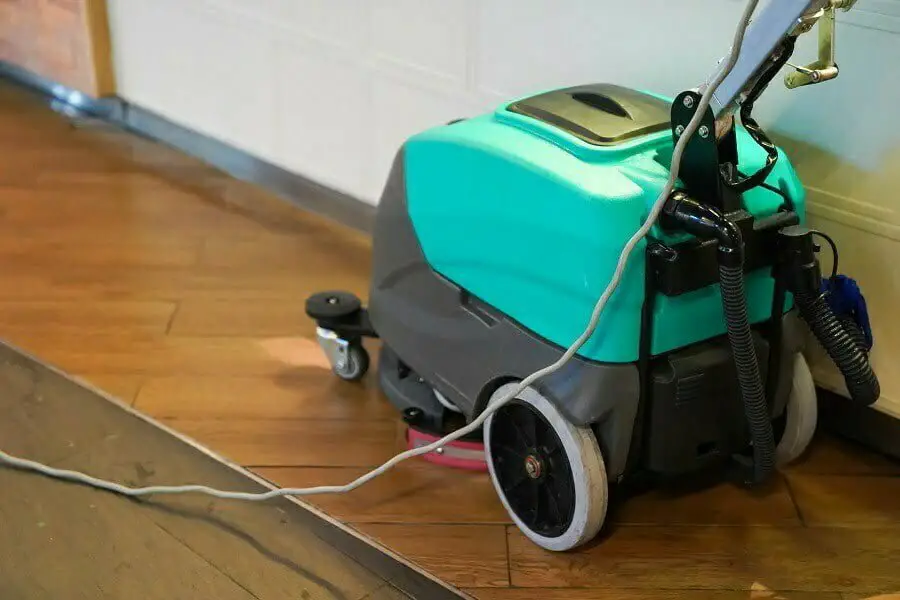 Floor maintenance can be difficult but achievable depending on the floor's material. Wooden and other wood-like floors can be treated with regular chemicals and detergents, but we advise precaution as some of these chemicals can interfere with the wood's polish and remove its natural gloss.
Concrete and other hard materials are a bit different. For this purpose, you'll probably need special tools and equipment to clean the concrete of pollutants and hard particles. As the folks at https://www.niagaramachine.com/ explain, these surfaces need special care, and therefore the machines (which can run on propane, electricity, or battery) are perfect and up to the task.
Interesting methods of treating these stone-like surfaces involve different chemicals and acids. But both of these methods have their disadvantages and can leave certain marks on the floor.
For industrial facilities, the best solution may be the use of these above-mentioned special machines, as chemicals can vaporize and leave toxins in the air.
For your home, always go for vegan-friendly and natural solutions to spare your health and maintain perfect floors. 
Installing Floors
Installing PVC floors is a process that is not so simple. In combination with other floor coverings, but also with each other, depending on the taste and requirements of the person who chose this type of floor covering for their rooms, the possibilities they provide are unimaginable.
Epoxy (industrial) floors are most often installed in halls and warehouses where high-pressure resistance is required. These floors have exceptional strength and resistance to wear, are not thermoplastic, withstand temperatures from -40 C to +80 C, and change color when exposed to UV radiation.
That is why they are most often used in industrial places away from the sun's rays. Epoxy and polyurethane resin-based floors are in use. Although it was originally conceived as an exclusively industrial floor, its appearance, wide range of colors and the possibility to combine it with other types of floors are more and more common in buildings of other uses (shops, offices, catering facilities, etc.)
Wooden floors are usually installed within a day or two, depending on the covered surface. The installation process is pretty simple, as the new technology allows you to clip each part to the next like a puzzle. The process can be done by someone else or yourself, and the only tricky part might be the installation of the layers beneath for water and heat protection.
Also, almost all floor installations require cutting. The most common reason for cutting is that during assembly, the material reached the wall. When installing hardwood floors, an extra board is pulled out and cut to size to fill the gap (with a little expansion added). The rest of that board is kept and used in the next row. Board scraps that are too short or otherwise unsuitable for installation become waste.
Large boards and tiles have the most waste. With some smaller format flooring materials, especially 1-inch mosaic tile, scrap numbers can be on the low end, as the floor sometimes fits the space without having to be cut.
In rooms with a large number of "obstacles," the number of scraps also increases. Square or rectangular rooms have a lower amount of waste than rooms that are curved or have additional niches. Installing hardwood diagonals, while not common, results in even more waste material.
Defective Flooring Materials
For solid hardwood floors, expect as much as 5% of the material to be defective. Some of these defective materials can be used, while others will have to be discarded.
Most hardwood floor installers are experts at working with imperfect materials. Although they prefer to work with pure materials, they know how to soften many imperfections.
Hardwood floors that are missing tongues or grooves can be rammed into the space at the end of the room, while cracks can be cut before cracking.
Floors made of wood will have far fewer imperfections than solid hardwood floors.
Ceramic and porcelain tiles sometimes come with a few broken ones in the package. Resilient floors should always be in perfect condition.
We hope you'll find the guide useful and make the right choice during your next renovation. Your flooring is an integral part of the structure's construction; therefore, we advise you to take your time and make the right choice.
You may also like to read: