Last updated on September 30, 2023
Are you a medical or dental professional in search of ways to make your practice stand out? Creating a comfortable and inviting atmosphere that conveys professionalism can be essential for not only calming anxious patients but also increasing the perceived value of services.
With the right design ideas, materials, furnishings, lighting options—and more—you can create an environment ideal for both yourself and those you serve.
In this blog post, we'll provide creative suggestions on how to optimally design your medical or dental practice with ease!
Table of Contents
Find a Clinic Interior Design Professional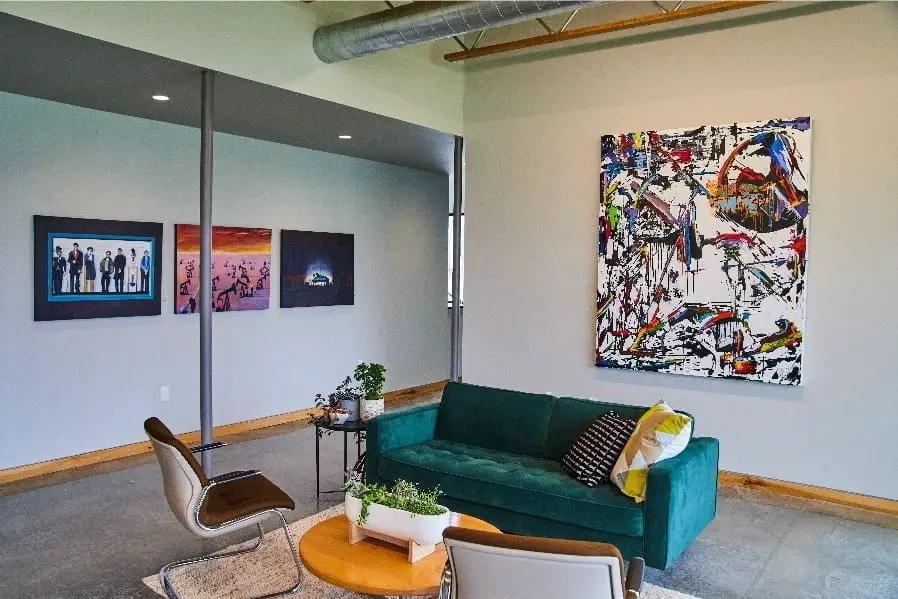 If you're looking to create a dream clinic interior, don't hesitate to find the right design professional. A professional will understand your goals and be able to help you develop an interior that meets those needs. They will also be familiar with the unique requirements of medical and dental office design, like ADA compliance and providing a safe environment for both staff and patients.
When choosing a designer, make sure you're comfortable with their aesthetic vision and working style, so your expectations are aligned from the start. There's no need to compromise when it comes to creating an exceptional workspace for yourself!
When it comes to dental surgery design in particular, you'll want to ensure the design professional is familiar with all the relevant requirements. They should have experience in the industry and be able to provide references from other dental practices they've worked with in the past. 
Utilize Natural Light to Highlight Areas of Your Practice
Natural light can do wonders for your medical or dental practice. It helps to create open and engaging spaces and accentuates design elements of the practice that would otherwise be cast in shadows. Utilizing natural light in strategic ways is not only aesthetically pleasing but it also creates a positive atmosphere that your patients will appreciate.
Rely on skylights, windows, and even mirrored surfaces to help reflect and distribute natural light throughout your practice. Make sure you consult an expert if you're considering a major renovation as they'll be able to tell you how best to utilize natural light in creative ways. Let brighter workdays begin!
Choose Color Palettes That Reflect Your Practice's Professionalism
A medical or dental practice needs to create a professional atmosphere for its clients, and choosing the right color palette is an important decision. It's time to get creative and find the perfect color combinations for your practice.
For medical offices, warm neutrals can provide a sense of comfort, security, and ease. For dentists' offices, cool blues can give visitors a feeling of calmness while they wait.
When selecting a color palette, decide first whether you want natural or bright-hued shades that will make your office feel inviting without being too distracting. Pick two or three palettes that reflect the professionalism of your office and also coordinate with any artwork so that everything ties together perfectly.
For example, cool blues with accents of yellow or green can create a contemporary ambiance. And for a medical office, warm beiges with hints of bright red or orange can create an inviting atmosphere.
Think About Practical Furniture and Equipment Placement
When crafting the perfect design for your medical or dental space, it's important to remember to consider practical furniture and equipment layout. Not only should every item have its designated location, but also you should also think about ease and convenience when positioning elements in the space–for both patients and staff.
By taking into account efficient workflow paths and accommodating appropriate rooms needs, you can maximize your practice's functionality while still creating a visually appealing atmosphere.
Taking time to craft the best possible layout for your workspace is essential for the long-term success of any medical or dental business.
Focus on Comfort for Patients and Staff 
When it comes to perfecting the design of your medical or dental practice, comfort for both your patients and staff should be a top priority. Not only does this help promote relaxation and contentment throughout the environment, but it can truly enhance the experience of everyone who visits.
Consider how cozy furniture, drop-down lighting, and bright color palettes can come together to create a welcoming atmosphere—one designed with care so that all your guests have an enjoyable time when they visit.
With a harmonious balance between form and function, you can create not just any medical practice, but rather one where comfort is key.
Incorporate Visual Elements to Create a Pleasant Atmosphere 
Visual elements in a medical or dental office can make a huge impact on patients' perceptions of their experience. A wall filled with handmade art, vivid paint colors, unique furniture pieces, and other creative elements can instantly shift the atmosphere in any practice from stale to inviting and pleasant.
By strategically incorporating eye-catching visuals throughout your space, you can ensure that your patients feel comfortable and are more motivated to return for future appointments. Involving interior designers, local artists, and patient feedback in the process offers a chance to create something truly unique that meets your specific needs and goals.
With the right visuals, you can create the perfect atmosphere for both your staff and your patients. When choosing art pieces, it's important to consult with a professional to ensure that you are selecting the best works for your space.
They can help you create a space that is both professional and inviting. Plus, it's always a good idea to get patient feedback as well—seeing how they react and what they think will help you create the perfect environment.
There are many creative suggestions for designing your medical or dental practice. From seeking the help of a professional interior designer to utilizing natural light, selecting color palettes that reflect your professionalism, and thinking about furniture and equipment placement in a practical way, these considerations will make all the difference.
Ensuring comfort levels for both patients and staff is key when creating a pleasant atmosphere. Additionally, artwork featuring relevant images can take any practice space up a notch.
With all these design tips in mind, you are sure to craft an impressive and inviting office that both your clients and staff alike will enjoy.
You may also like to read: