Last updated on October 1, 2023
Because they don't cost a lot of money and successfully update any design, you will love these 6 amazing home design ideas.
Pick your favorites and create the perfect blend for you!
Table of Contents
Explore the Most Popular Home Decorating Styles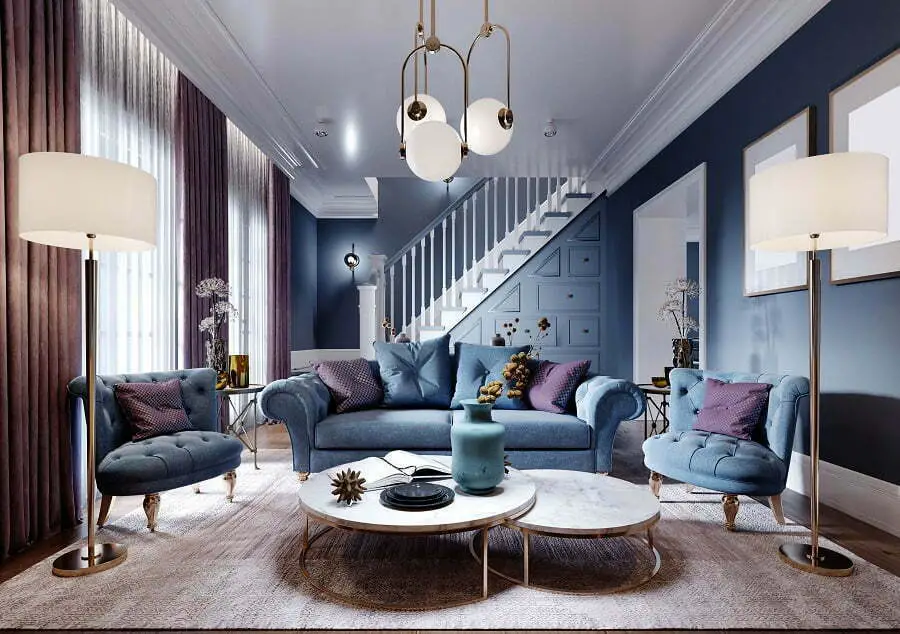 Even if your goal is to create a completely unique aesthetic in your home, you should do so by getting acquainted with popular decorating styles in advance. These are already built concepts that offer you complete style solutions.
From the recommended color palettes, through the construction and silhouettes of the furniture, and even the recommendations of the textures and the way of arranging the furniture, everything has already been designed, and all you need to do is do your research and choose the one that suits you best.
For example, here are some ideas that you should also consider:
Minimalist – everything is simple, even the color palette. No unnecessary things and details.
Because it emphasizes quality over quantity and decreases the need for recurring purchases of items for the residence, this style is also healthy for the environment. What is more, you can always find home furnishings and accessories in a minimalist design.
Eclectic interior design is the best choice if you are unable to commit to just one path. It blends traditional and contemporary, old and new. For example, you can find magnificent pieces of furniture smack dab in the heart of a sleek, modern environment or one-color bohemian décor on the walls. Anything is possible with eclecticism and a little fitting talent.
Industrial house décor emphasizes "raw work"; brick walls are left exposed, for instance, or ventilation systems are installed on the ceilings. Additionally, salvaged furniture is frequently required when decorating a home in the industrial style.
Consider the Retro Styles
When it comes to interior design, each era has left its own aesthetic imprint. In contrast to the '80s, which were characterized by bright colors, pop culture fashion, and considerably sharper edges, the '60s were characterized by pastel colors and trim, "puffy" furniture. You will undoubtedly find inspiration in the past, and if you add contemporary features, the room won't appear dated!
Add a Fireplace
A living room's natural focal point is a fireplace. The pattern we propose is a straightforward geometric shape. Choose a fireplace color to stand out against the dark gray chimney wall. Even better, you can create it yourself with just three wooden boards bent at a 45-degree angle. Then, you can add your own finishing touches.
Or, in order to spare yourself all the mess, you can get a much neater option: an electric fireplace! Electric fireplaces are becoming increasingly popular. Not only do they provide the effect of a real fireplace, but they are also extremely easy to use and neat.
However, before buying one, always check electric fireplaces reviews in order to make the best purchase. This way, you will be able to find the one that suits your home and at the best price!
Find Your Favorite Sofa
If you have a bed that everyone wants to lie on, then you know you made the proper decision, even if your living room is the most minimalist or vacant in the world. The sofa, armchairs, and other similar pieces of furniture "carry" the living room, so be sure to pick one that suits you and will do so for a very long time. It is more crucial that the furniture be comfortable and enjoyable to sit on or lie down in. You can easily adorn it with numerous pillows and a soft rug to create that well-known and adored cozier feeling.
White Is OK, but Add Some Life to It
White is surprisingly the least interesting and inspiring hue among all the options we have for our walls. However, painting a small space white makes it appear larger and more spacious. Pure white definitely adds some light and brightness to the house.
You have considerably more room to play with other aspects of the space along the white walls, so you can do whatever you want with them. The white walls of a different structure also look very beautiful, even without such lavish decorating.
However, you may spruce up boring white walls with a variety of paintings, shelves with plants, lamps, or other forms of extravagant lighting.
Your Apartment's Design Should Reflect Your Personal Taste
Of course, inspiration from specific styles should not be the only factor considered while decorating an apartment. The most crucial factor is that it is tailored to your needs, and by needs, we particularly mean the way you live or behave at home.
With these tips, you can easily upgrade the interior of your home and make it more welcoming and comfortable!
You may also like to read: