Last updated on December 5, 2023
Discover why local thrift stores, online retailers, and bespoke furniture shops are excellent places to buy farmhouse-style furniture because of their vast collections and unique pieces.
Finding the perfect farmhouse style furniture can be an exciting adventure as you curate pieces that embody the charm and rustic elegance of rural living.
The best places to buy these items include both online and physical stores.
Online, you'll find a wealth of options on websites like Wayfair, Pottery Barn, and Etsy.
For an in-person shopping experience, local antique shops, flea markets, and even yard sales can yield unique finds.
This article will delve into the specifics of each option, detailing the pros and cons, to help you make an informed decision on where to buy farmhouse style furniture.
Whether you're looking for a weathered wooden table or a cozy linen sofa, the perfect piece is just a few clicks or a short drive away.
Key takeaways:
Wayfair, Pottery Barn, and Etsy offer a wide selection online.
Local antique shops, flea markets, and yard sales provide unique finds.
Choose furniture made of wood and galvanized steel for authenticity.
Consider the scale of furniture and choose versatile pieces.
Mix vintage and new pieces, stick with a neutral color palette, and layer textures.
Table of Contents
Characteristics of Farmhouse Style Furniture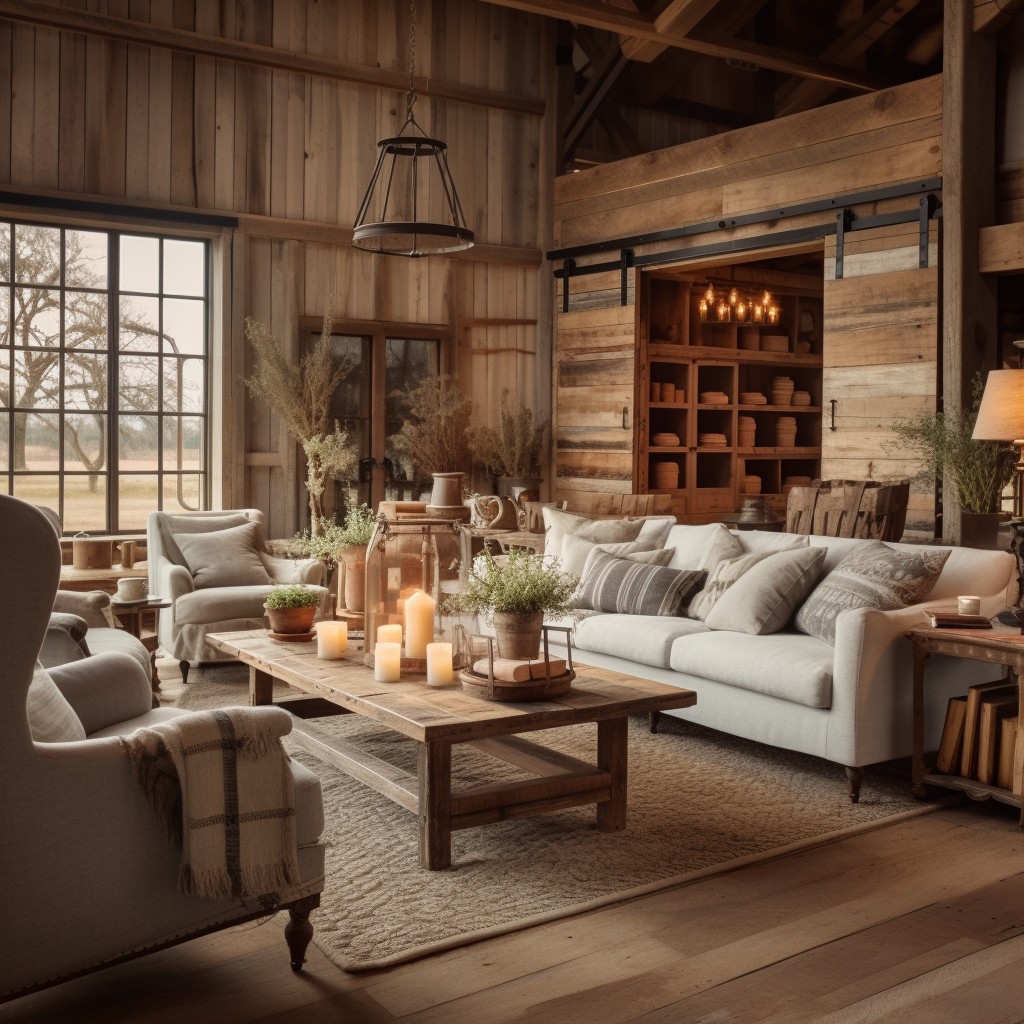 Exhibiting simplicity and comfort, farmhouse furniture embodies a timeless appeal. Primarily wood-built, it showcases natural grain patterns visibly. Traditional paints, often in distressed or whitewashed tones, are used to capture that authentic, lived-in feel.
There's a certain charm in the imperfections, with deliberate nicks and scratches adding to the personality. Straightforward in design, the furniture often includes practical features, like spacious tabletops and ample storage. Upholstery, when used, leans towards warm, neutral fabrics that complement the heartiness of the wood.
Subtle dare to rustic or shabby chic accents is common, but the overall look steers clear of extravagance, encapsulating the inviting, comfortable essence of farmhouse design.
Why Choose Farmhouse Style Furniture
Embodying a sense of simplicity and coziness, this design aesthetic takes cues from the fullness of life on the farm. It blends comfort and functionality, making your home a space of relaxation where everything has its place.
The use of natural materials like wood and galvanized steel adds a touch of authenticity and robustness to your decor. Additionally, the neutral color palette of this style is versatile, easily blending with other decor items in your home.
The icing on the cake is the timeless appeal of farmhouse style furniture – it never goes out of style! Thus, your home maintains a fresh and trendy look for years.
Best Places to Buy Farmhouse Style Furniture Online
Browsing online stores offers convenience and variety when shopping for farmhouse style furniture.
1. Wayfair: A mega retailer with an extensive catalog. Here, you can find everything from rustic bar stools to weathered wooden beds.
2. Etsy: For unique, handmade items, Etsy is a great option. Many small businesses and independent artisans offer custom-built farmhouse furniture.
3. Pottery Barn: A well-known source for stylish, high-quality furniture. Though not exclusively farmhouse style, the 'rustic' and 'vintage' sections have many suitable options.
4. Amazon: With its vast inventory, Amazon is likely to have farmhouse-style furniture in all price ranges. Be sure to read reviews for quality assurance.
5. Overstock: Known for frequent sales on already discounted furniture. Their 'country-cottage' selection includes many farmhouse staples.
Be mindful to check the dimensions and read reviews when shopping online for furniture. Measure your space to ensure the item will fit, and check return policies in case it doesn't meet your expectations upon delivery.
Top Local Stores to Find Farmhouse Style Furniture
Exploring local markets and furniture stores can open up a treasure trove of authentic and unique pieces.
First up, checking out antique and thrift stores can often net some remarkable finds. Farmhouse style rejoices in a well-worn, beloved feel, so do not overlook pieces just because they're used.
Next, many locally owned furniture stores cater to varied tastes, with a good likelihood of stocking up on farmhouse style furniture. Do not hesitate to strike a conversation with the proprietors; they could usually guide you to the right piece or even custom order one for you.
Also, farmers markets and fairs are often great places to find these treasures. Local craftspeople often attend these events and bring along their handmade furniture that perfectly encapsulates the farmhouse aesthetic.
Remember, when buying in person, always scrutinize for the quality of workmanship and the condition of the piece. Happy hunting!
How to Choose the Right Farmhouse Style Furniture
Selection relies on both aesthetic preferences and practical considerations.
1. Understand the Basic Elements: Emphasize on natural materials like wood and metal. Distressed finishes, neutral color schemes, and comfortable, practical pieces define this style.
2. Consider Your Space: Measure your room and consider the scale of furniture it can handle. A large, chunky wooden table might work in a spacious dining room, but not in a small kitchen.
3. Choose Versatile Pieces: Look for furniture that can serve multiple purposes. An armoire, for example, can be used for clothing, for linens, or even as a television stand.
4. Keep Comfort in Mind: Farmhouse style values comfort and functionality. Opt for comfortable seating, practical surfaces, and a sense of welcoming warmth.
5. Blend Old and New: Don't shy away from combining new and vintage pieces. This can help create that lived-in, timeless feel which is at the heart of farmhouse style.
6. Review Product Quality: Always check the quality of furniture, especially when shopping online. Read reviews, examine product details, and check the company's return policy before purchasing.
Tips for Incorporating Farmhouse Style Furniture Into Your Home
1. Mix and Match: Don't shy away from blending different elements together; a combination of vintage and new pieces adds character and interest to any room.
2. Neutral Palette: Stick with a neutral color palette to highlight the unique elements of your furniture. Creams, greys, and browns work well.
3. Natural Elements: Bring in natural elements like plants, hemp rugs, or wooden artifacts to enhance the rustic feel.
4. Layer Textures: Combine different textures like a wooden table with a tufted sofa for a warm, cozy aesthetic.
5. Simplify: Avoid over-cluttering. Farmhouse style focuses on functionality – each piece should serve a purpose while adding to the overall style.
6. Light up: Vintage-inspired lighting fixtures can create a soft glow conducive to relaxing moments.
7. Accessorize: Use pillows or throws for added comfort and style. These elements can easily be switched out to update look.
Remember, the key to farmhouse style is creating a warm, inviting space that feels lived in and loved.
Maintenance and Care for Farmhouse Style Furniture
Keeping the rustic charm of farmhouse style furniture intact requires routine care and maintenance. First, regular dusting with a dry, soft cloth helps maintain the natural finish of the wood. Second, it's crucial to avoid harsh chemical cleaners that can strip away the furniture's aged appearance; opt instead for mild soap and water. Third, protect wooden surfaces from heat and moisture, as both can lead to damage. Importantly, remember that minor scratches or dings often contribute to the overall appeal of farmhouse style, enhancing its well-loved, lived-in aura. Lastly, for upholstered pieces, routine vacuuming and spot cleaning are advised to keep fabrics fresh and vibrant.
FAQ
What kind of furniture is in farmhouse style?
Farmhouse style furniture predominantly features elements such as natural wood, vintage pieces, and accessories, embodying a casual yet contemporary feel.
What decor style is replacing farmhouse?
Cottagecore is the decor style that is replacing farmhouse.
What style furniture is modern farmhouse?
Modern farmhouse style furniture is characterized by its combination of comfortable, relaxed aesthetics with modern elements including smooth lines, glossy accents, neutral color schemes, and contemporary design elements.
Where are the best places to buy authentic farmhouse style furniture?
Authentic farmhouse style furniture can be best purchased at stores like Pottery Barn, Wayfair, Etsy, Overstock, and local antique shops.
How to mix other decor styles with farmhouse elements?
To mix other decor styles with farmhouse elements, blend crisp modern lines, clean colors, and minimalistic furniture with rustic, sentimental farmhouse items, such as distressed wood, repurposed antiques, and homely fabrics.
What are key pieces for a modern farmhouse style living room?
Key pieces for a modern farmhouse style living room include a neutral color palette, rustic furniture, vintage accessories, natural textures like wood and stone, and comfortable, upholstered seating options.
You may also like to read: