Last updated on November 6, 2023
Dive into these modern red coffee table ideas because they can transform a dull living space into a vibrant, dynamic room.
I'm proud to present these 20 modern red coffee table designs, each uniquely crafted by me, and I hope they inspire you as much as they inspire me in making them.
Modern red coffee tables are a bold and exciting choice for any living room. Offering a pop of color and a contemporary touch, these pieces can instantly elevate your space.
This article will explore a variety of modern red coffee table ideas, from sleek minimalist designs to unique, statement pieces. Whether you're looking for a subtle accent or a focal point for your room, you'll find a plethora of options here.
We'll delve into different materials, styles, and sizes, providing comprehensive details to help you choose the perfect red coffee table for your modern home. Stay tuned to discover the myriad ways a red coffee table can enhance your decor.
Table of Contents
Minimalist Red Lacquer Coffee Table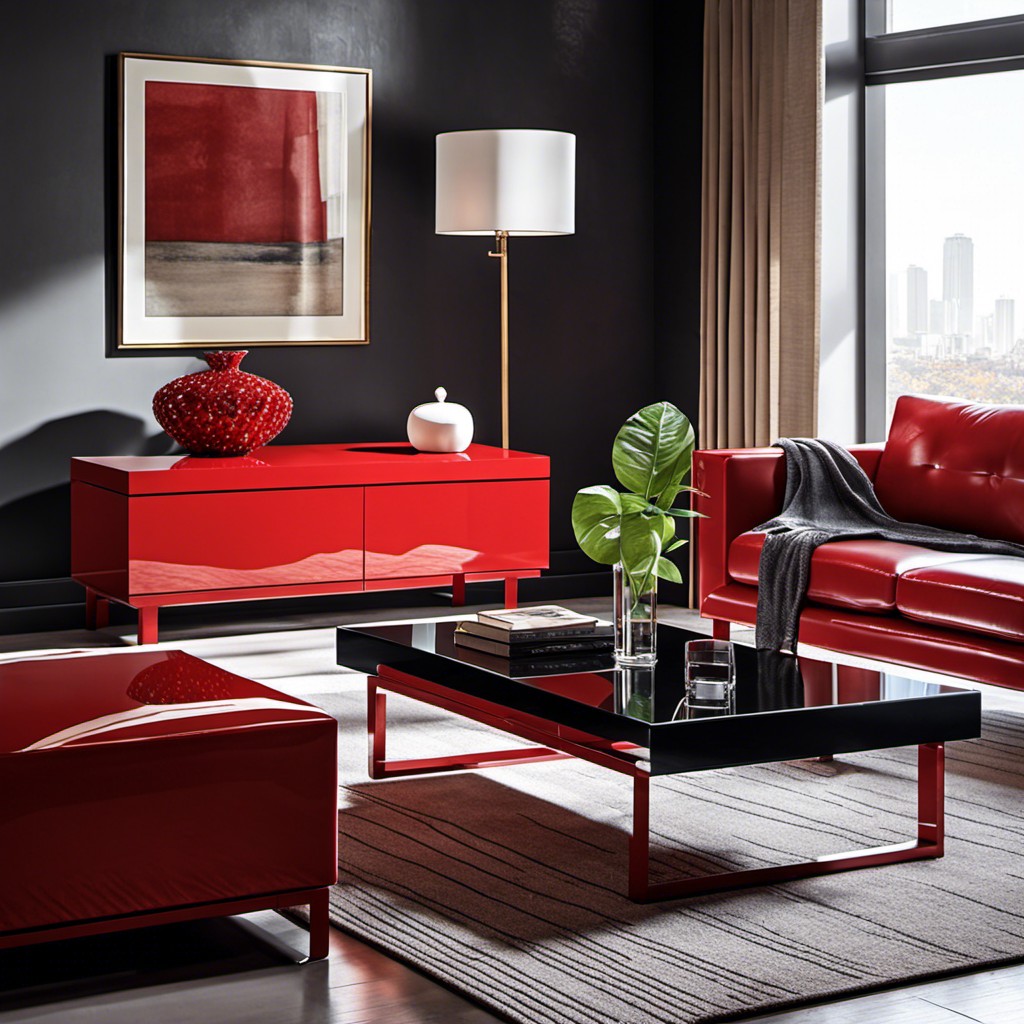 Stripping away the unnecessary to reveal the essentials, this exquisite construction exemplifies the minimalist goal of functional simplicity.
A nice addition to open and spacious living areas, it complements modern decor while adding a splash of color.
Offering a high-gloss surface, the lacquer ensures longevity and effortless cleaning, while its red tone stimulates conversation.
No ornate detailing, simply rectangular form and vivid color, serving as the functional focal point of the room.
Optimally paired with neutral-colored furniture or similar red accents, it creates an atmosphere of modern elegance.
Though appearing simple, it's a carefully considered piece that encapsulates 'less is more'.
Nesting Round Coffee Tables in Vibrant Red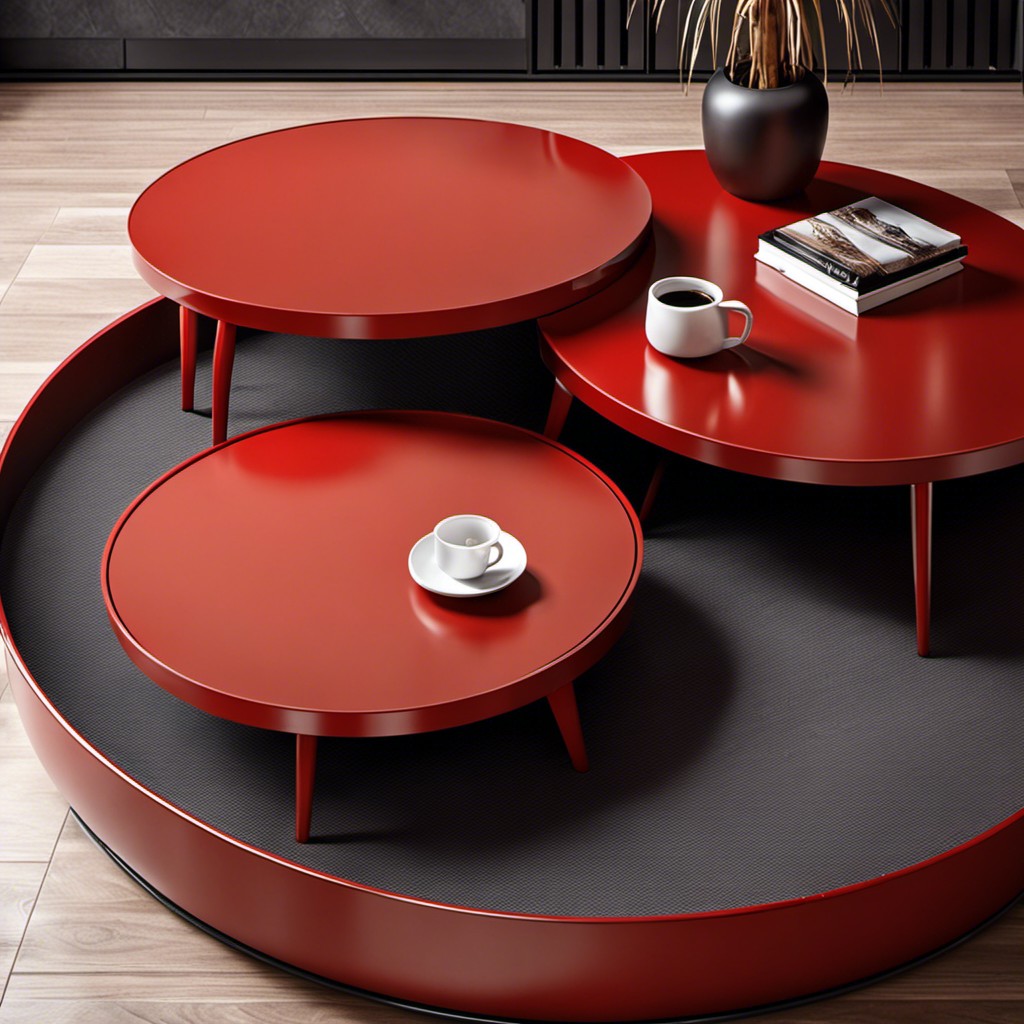 Crafted from coated iron or other sturdy materials, these tables showcase a brilliant red finish that adds a pop of color to your living room. The key concept behind them lies in the practicality and versatility of their design structure.
Here are a few important elements that make this choice noteworthy:
Space-saving: Nesting tables can seamlessly nudge into one another when not in use, thereby maximizing the floor area.
Flexibility: Depending on your needs or the number of guests, these tables can be separated and used as individual units.
Style: The round shape coupled with the vibrant red hue creates a bold aesthetic statement.
Versatility: They're not just limited to serving coffee. Use them to display photo frames, vases, or books, making them a stylish yet functional piece.
Easy to move: Due to their petite sizes, they are relatively lightweight and can be rearranged or moved with little effort.
Red Metallic Coffee Table With Glass Top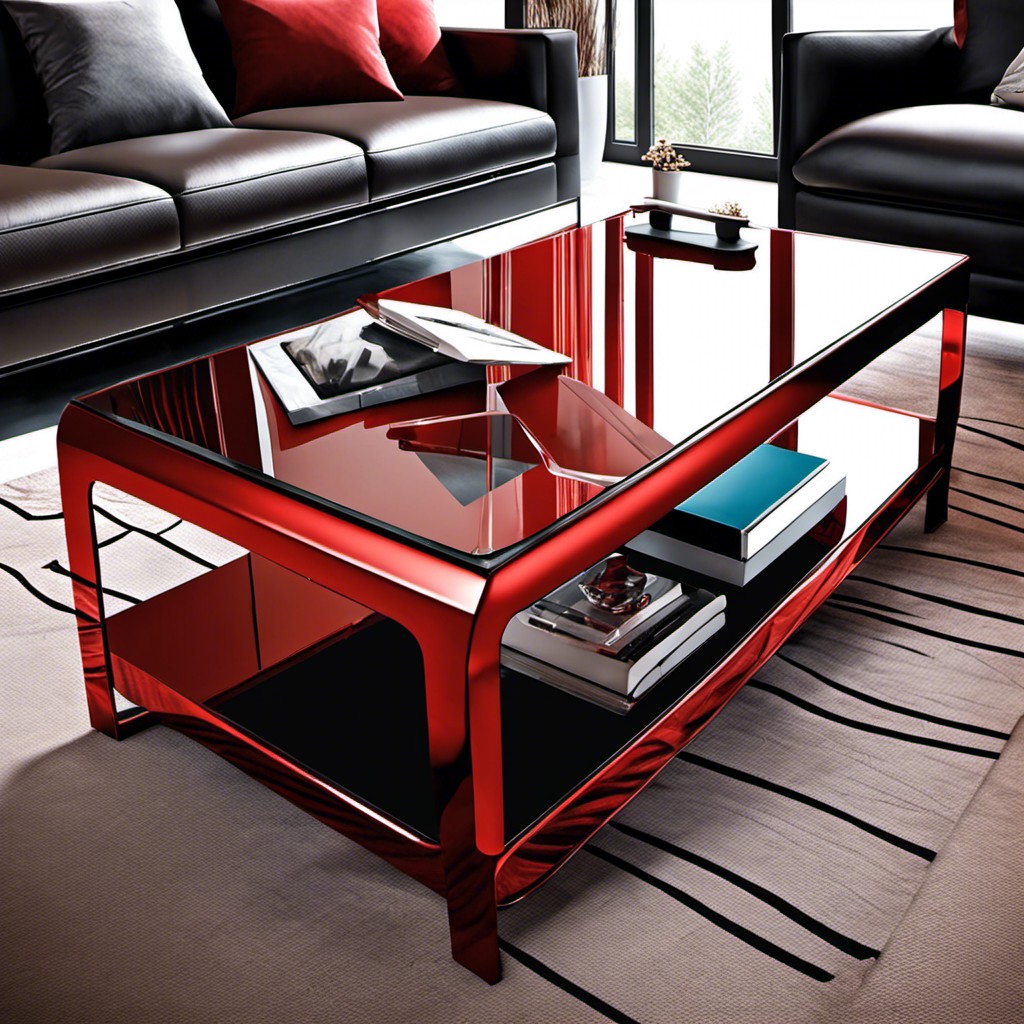 Drawing attention to its most dominant features, this table combines the rich warmth of red with the sleek sophistication of metal and glass. Its robust, metallic base serves not only as a supportive structure but also as an impactful design element. The solid, smooth surface of the glass top adds a level of transparency, allowing the vivacious red metal to take center stage.
Here are some key aspects to consider:
Material Combination: The pairing of glass and metal projects a contemporary, urban feel. It adds interesting contrasts in both visual appeal and textures.
Color Selection: The vibrant red hue of the metallic base gives the table an undeniable wow-factor, infusing any space with a burst of energy and flair.
Versatility: Its modern design pairs well with a range of decor styles, from industrial lofts to chic, modern apartments.
Maintenance: Cleaning is relatively uncomplicated, thanks to the easy-to-wipe glass top and the red metal base that masks minor scratches and dirt.
Size and Placement: Consider the size of the room and the scale of the other furniture pieces. This table serves as a bold focal point, so it's best situated in a central, noticeable location.
Buying Tips: When purchasing your table, be sure to check the quality of both the metal and glass components to ensure their longevity and resilience.
Oval-shaped Red Leather Ottoman Coffee Table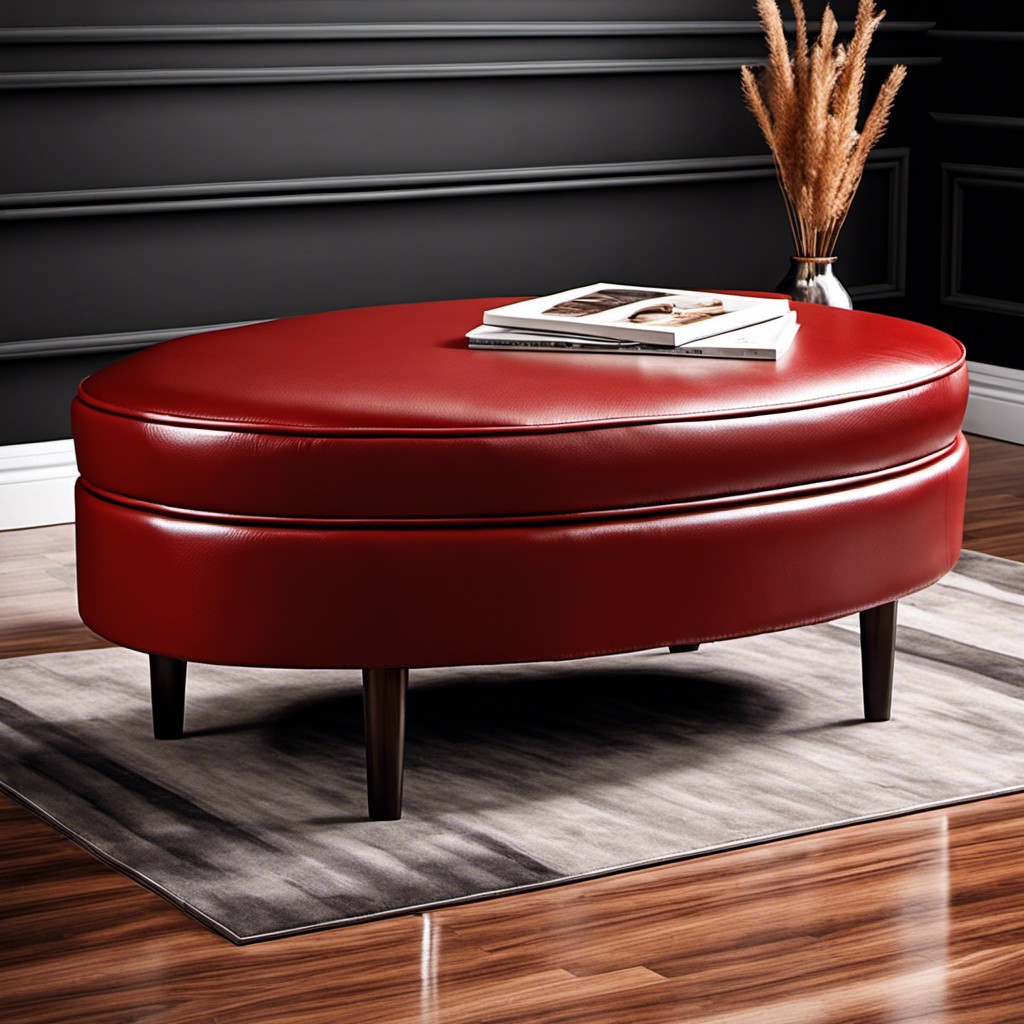 Promising a blend of style and comfort, this piece serves multiple purposes. With its characteristic oval shape, it adds a soft, welcoming feel to sharp-edged modern living rooms. Upholstered in red leather, it offers both a pop of color and a touch of sophistication.
The ottoman structure enables it as both a coffee table and extra seating. With a sturdy wooden tray placed atop, it turns into an attractive area to display your decor or serve beverages. Furthermore, the leather covering is ideal for homes with pets or children, as it's easy to clean and maintains its appearance for a prolonged period.
Designed for the modern home, this piece provides a center point, maximizing space without sacrificing functionality. It brings a distinctive visual harmony coupled with a utilitarian approach, ideal for both compact and spacious interiors. Whether you're hosting a party or enjoying a quiet evening, this ottoman serves your needs with grace and style.
Sustainable Wooden Red Triangular Coffee Table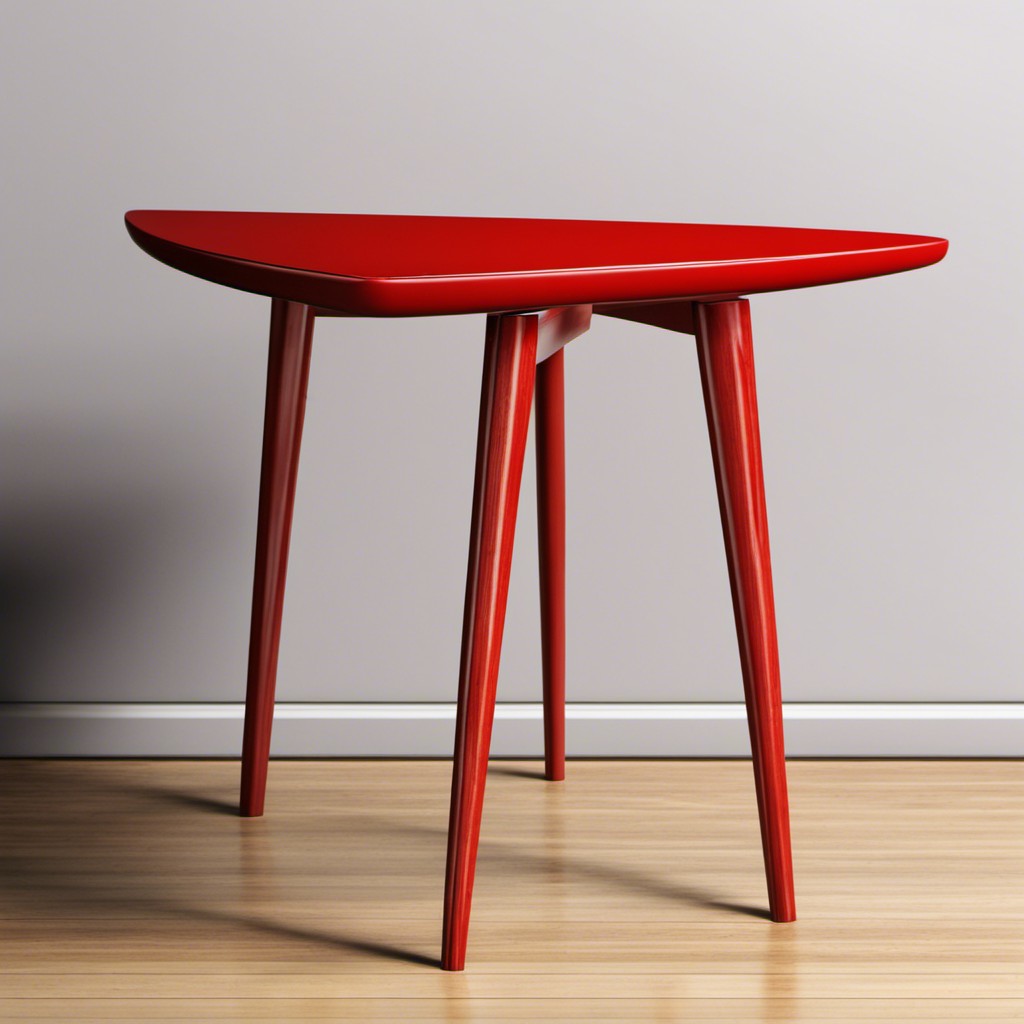 This eco-friendly table owes its hue to non-toxic water-based stains, providing a pop of color without harmful chemicals. Its triangular design lends itself well to modern aesthetics, breaking away from traditional rectangular tables.
The shape invites intriguing placement options – for instance, tucking neatly into a corner or standing out in the middle of a room.
The table is usually built from reclaimed wood or sustainably sourced timber, supporting responsible foresting initiatives. Mixed-grain detailing ensures each piece is unique, adding warmth and life to your living area.
While its solid wood construction promises longevity, the design typically features angled or tapered legs, a nod to mid-century style.
Optional features might include storage shelves built into the design, providing space for books, magazines, or decor items. For flexibility, some models may be equipped with lockable wheels, allowing for easy movement when needed.
Simple maintenance, such as dusting with a dry cloth and avoiding abrasive cleaners, helps to prolong the life of the table and preserve its bold color.
If a refresh is ever needed, sanding and a new coat of your chosen eco-friendly stain will restore its vibrance.
High-tech Red Coffee Table With LED Lights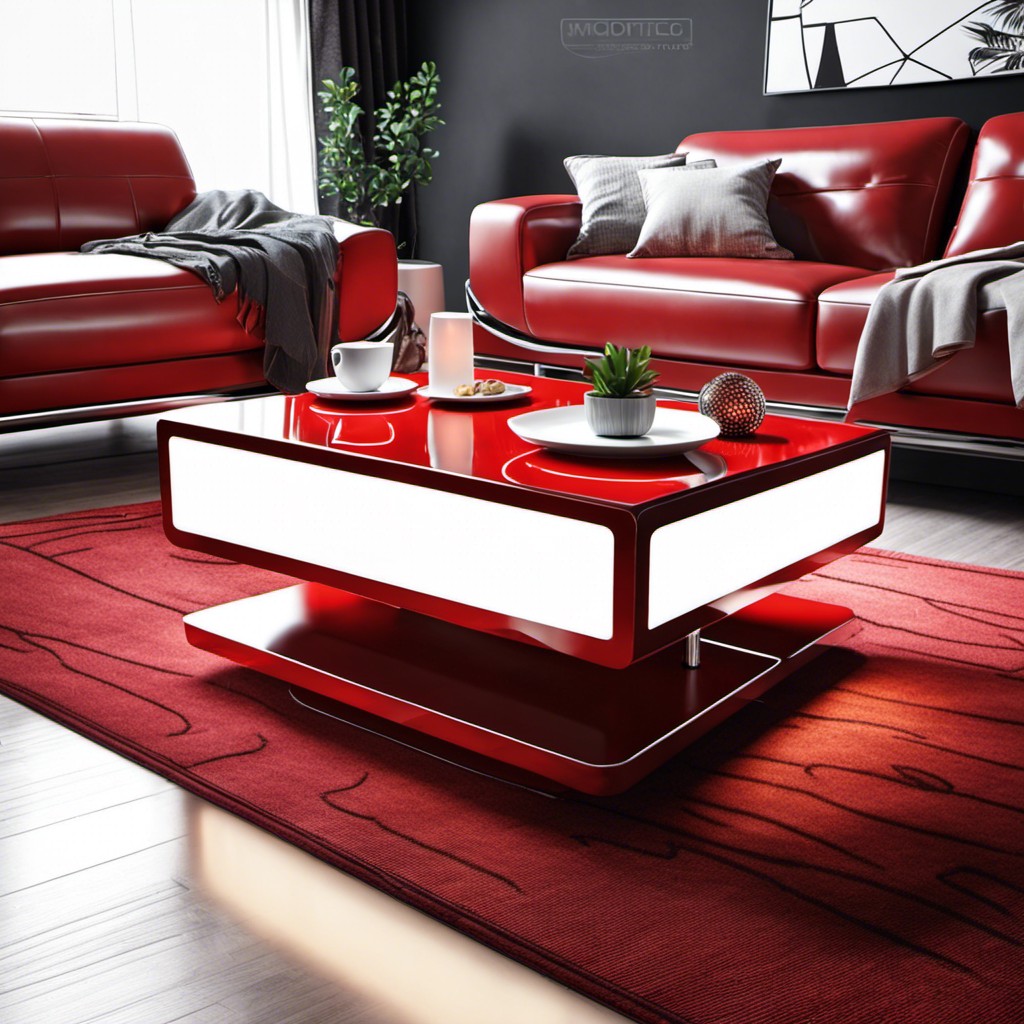 Adding a versatile piece to your living room, the inclusion of LED lights serves a dual purpose: ambiance and functionality.
These tables often come with interactive touch surfaces, changing colors, and USB ports for charging gadgets.
Some even feature motion sensors, responding to movement by lighting up.
With customizable lighting options, these high-tech pieces can be modified to suit your mood or match room decor.
The red hue of the table complements the vibrant LED colors and adds a bold edge to the piece.
This choice caters to those who appreciate modern furniture with a technological twist.
It's an excellent conversation starter at gatherings, highlighting your sophisticated taste in home decor.
Industrial-style Red Steel Coffee Table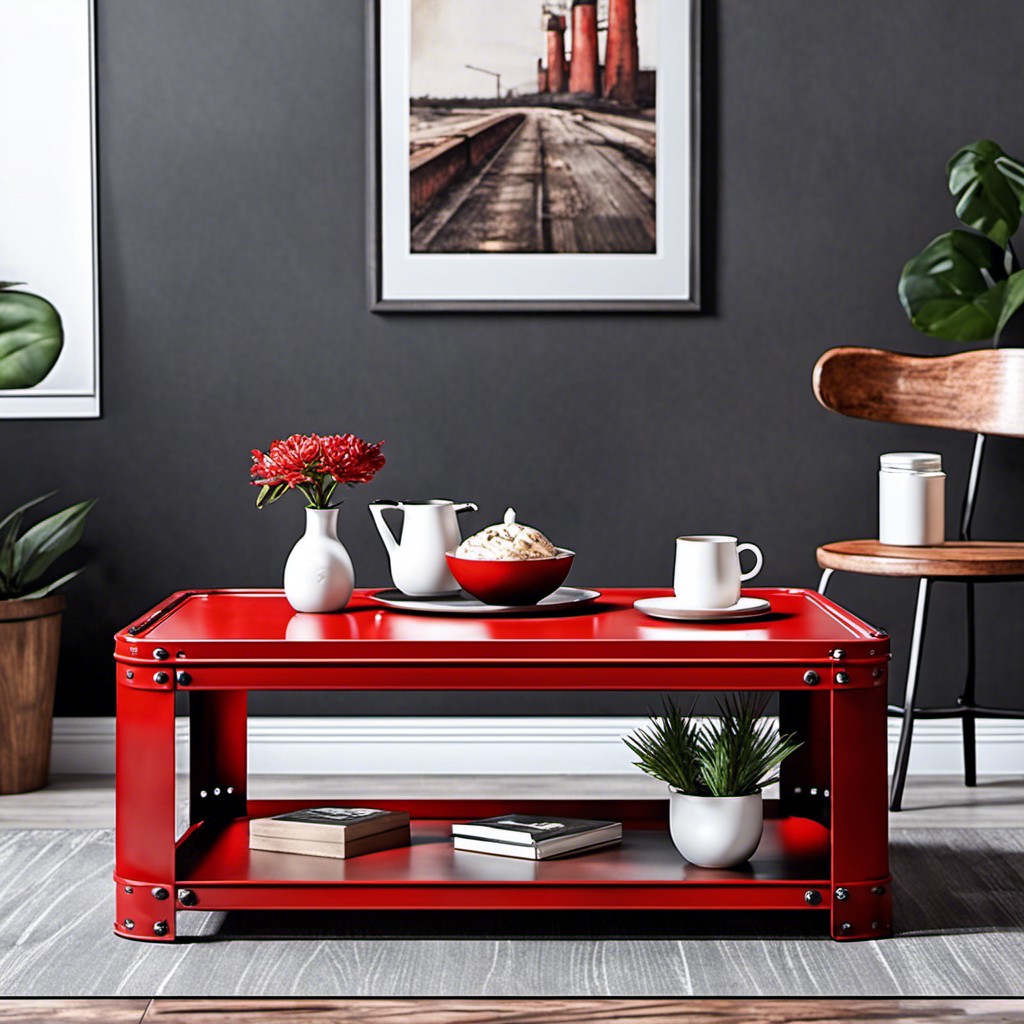 A stark contrast from traditional wooden tables, this choice truly encapsulates the industrial-style aesthetic with its bold colour and material choice. Its steel composition guarantees durability, lending it a rugged appeal while the red colour disrupts the conventional industrial palette, adding a pop of energetic colour.
It is often designed with exposed rivets or screws, adding charm to its rough-and-tumble appearance. This table pairs exceptionally well with chunky leather furniture or metal accent pieces, effortlessly incorporating into an industrial living space. The no-fuss nature of this piece allows for easy cleaning as well.
To personalize it, one might choose tabletop decor with softer materials or shapes to balance the hard edges. A low-maintenance yet stylish choice, it's a stand-out addition for any modern home.
Red Epoxy River Coffee Table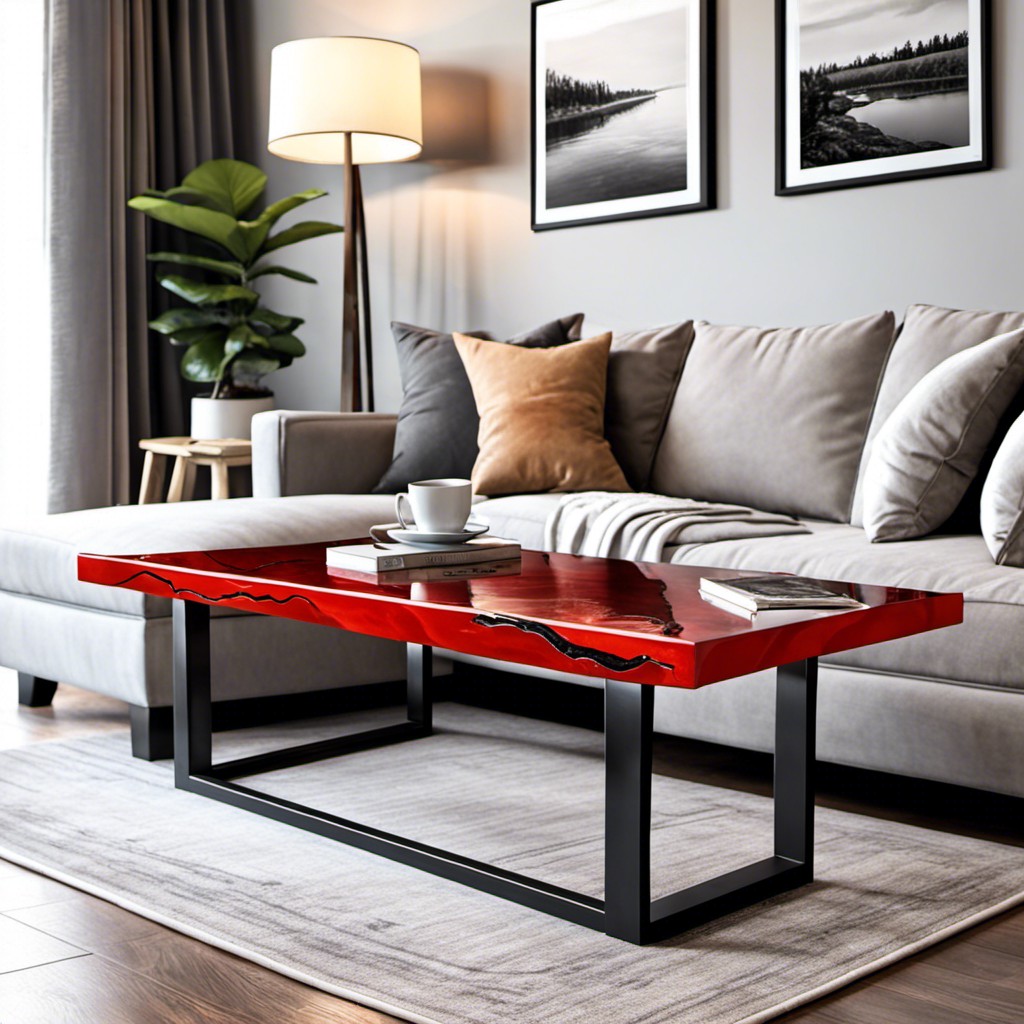 Epoxy river tables are prized for their highly unique and aesthetic appeal. Opting for a red tint in the resin infuses an energizing charm to the design, enhancing the overall ambiance of your living room.
The concept behind these tables is to recreate the serene visual of a river flowing, using the combination of raw wood edges and colorful epoxy.
The design usually involves two separate sections of natural wood with an epoxy-filled center. The interplay between the raw, imperfect edges of the wood slices and the smooth, gleaming epoxy resin creates an interesting texture and design contrast.
For an extra touch, the epoxy can be mixed with other materials like glitter or powdered pigment to create a more shimmering, eye-catching look. The epoxy isn't just for aesthetics; it adds durability to the table, making it resistant to impacts, scratches, and most chemicals.
Remember, each red epoxy river table is unique because of the wood's natural imperfections. So, you'll own a piece of décor exclusive to your home!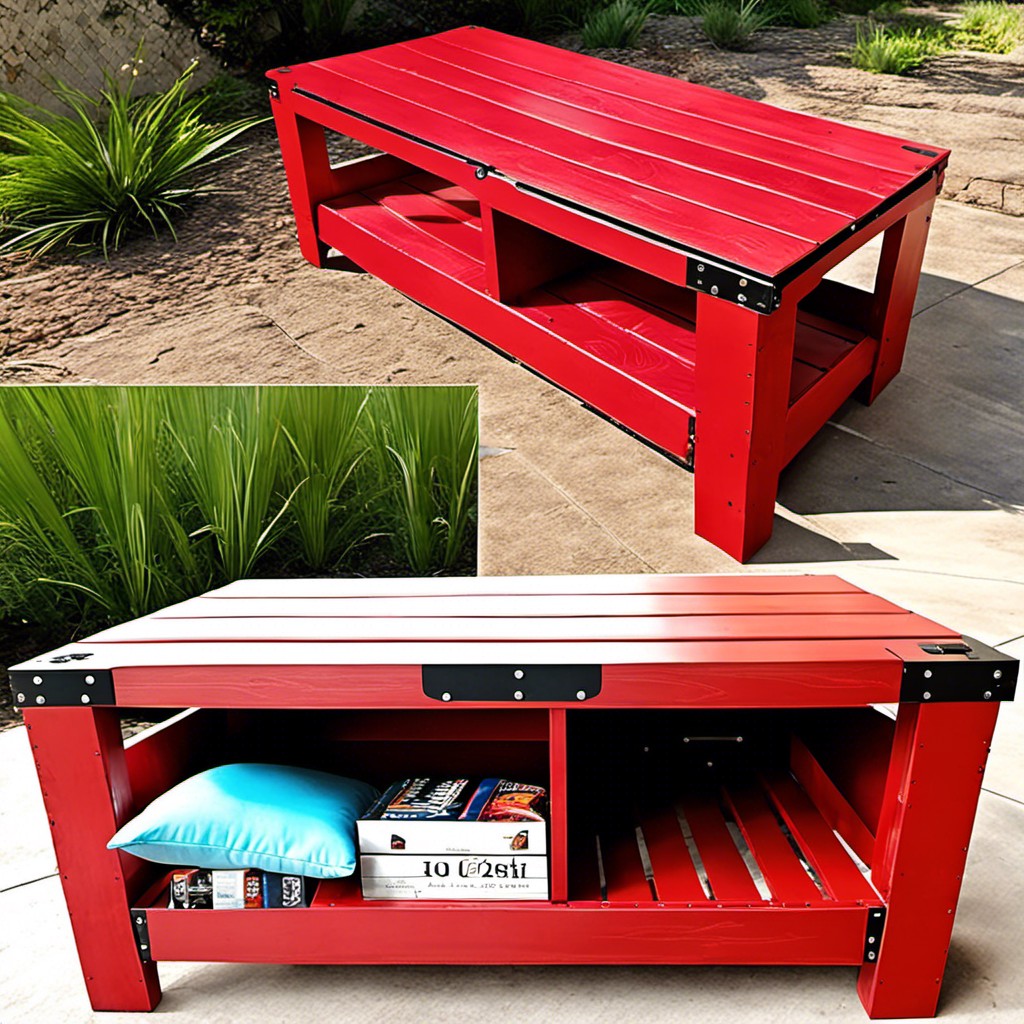 Constructed from sturdy, regenerated wood, these pieces offer a rustic charm that complements many modern decor styles. The key feature, however, lies beneath the surface. A hidden storage compartment provides a discreet location for items such as remotes, magazines, or coasters, thus maintaining the clutter-free aesthetic of your living space.
The natural versatility of the pallet design allows for personal customization. One may choose to enhance the grain with a light stain or leave the wood in its raw state to appreciate the distinct pallet pattern. The popularity of these tables also stems from their sustainability, merging style with eco-conscious living. Remember, a touch of creativity can transform the functional table into a unique centerpiece of your room.
Vintage Red Distressed Wood Coffee Table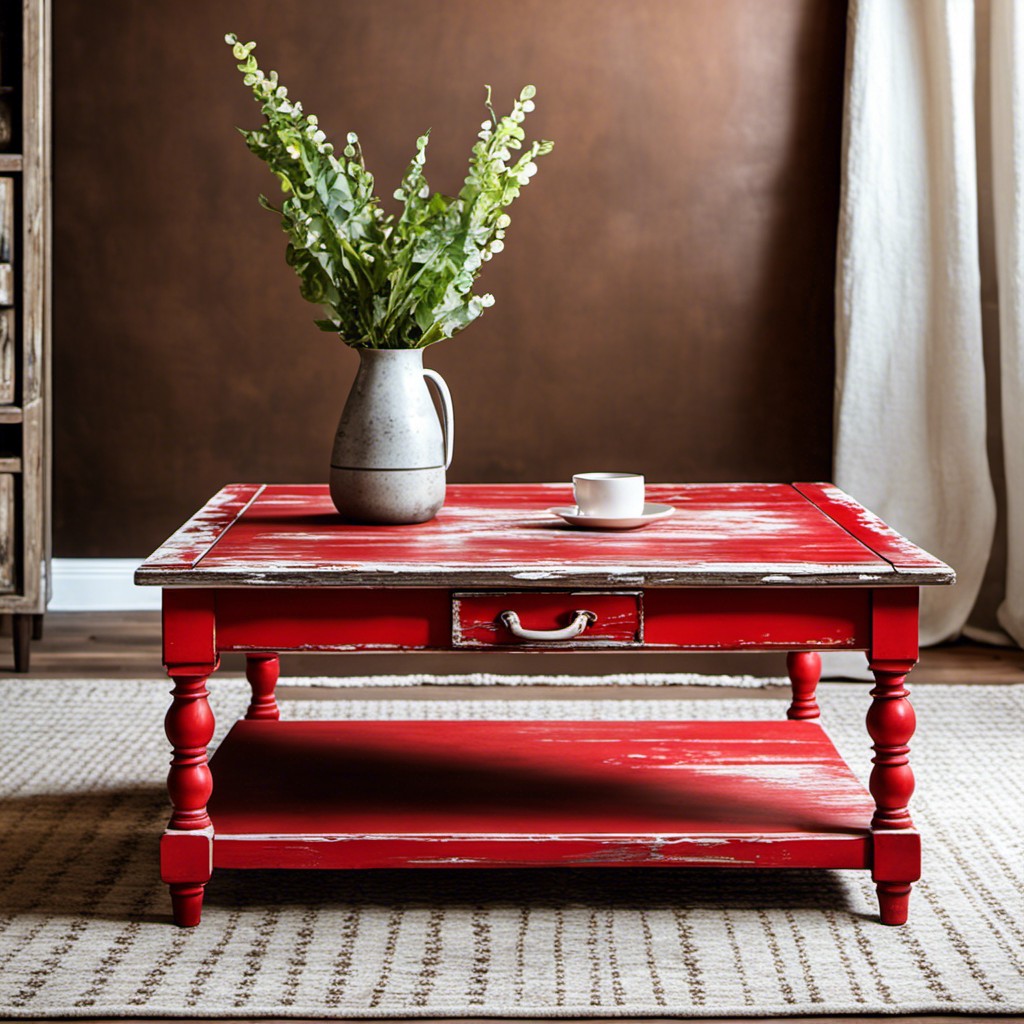 An embodiment of rustic charm and beat-me-up chic, this table features warps, nicks, and layers of rubbed-off paint reveling occasional wood hints. It embraces its personality through its "imperfections", adding to the overall aesthetic rather than diminishing it.
1. Distress Marks: Deliberate distress marks mimic regular wear and tear, contributing to its old-world charm.
2. Rubbed off Paint: Adding to the table's rugged charm, the layered paint finish offer glimpses of rich wood underneath.
3. Rich Wood Underneath: Exposed areas of the wood beneath give a refreshing contrast to the table's prominent red.
4. Mix-and-Match: Works exceptionally well with various decor styles from rustic, bohemian, eclectic, to farmhouse.
5. Durability: Despite the distressed appearance, it's built to last with solid wood construction.
These features combine to create a table that, while it may look as though it's seen better days, is resilient, one-of-a-kind, and steeped in vintage allure.
Glossy Red Perspex Coffee Table On Chrome Legs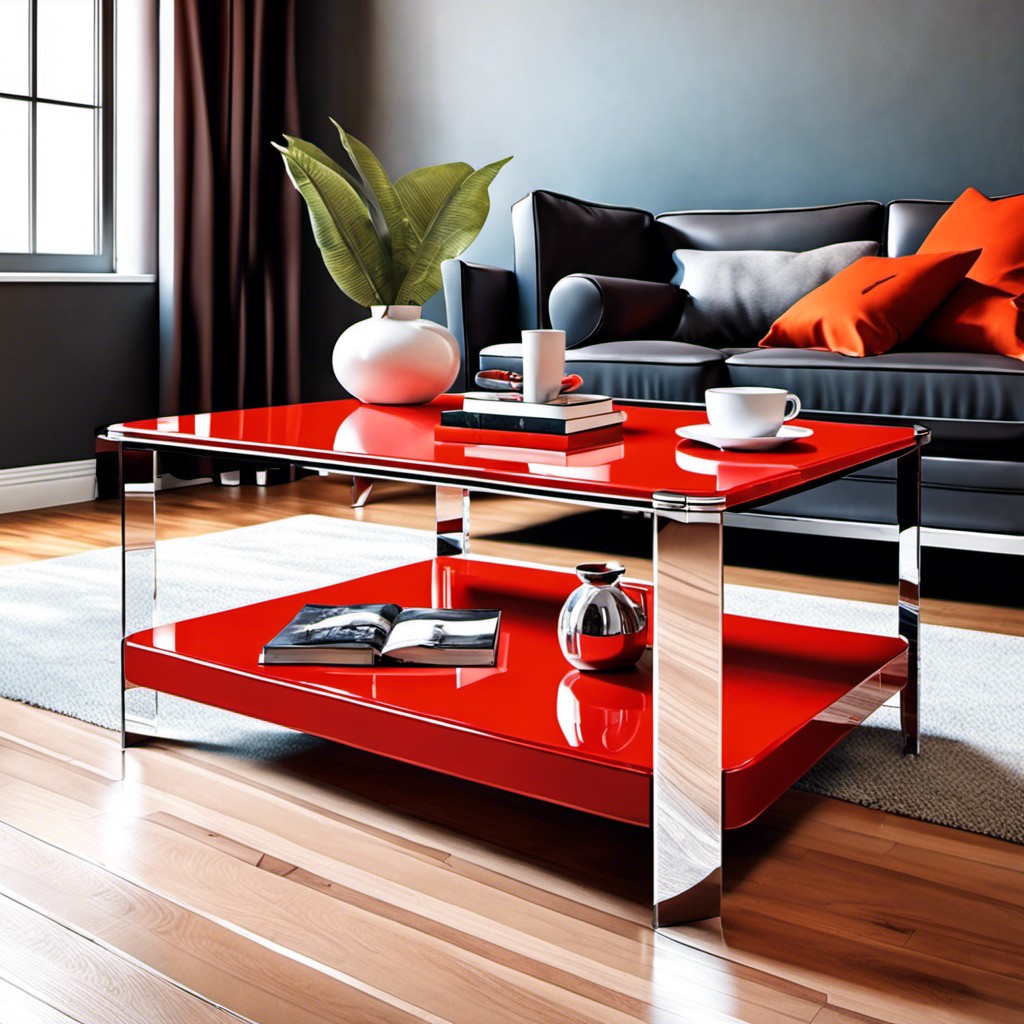 Lending an air of contemporary chic, this selection intertwines high fashion with function. Its glossy finish catches the eye, elevating any space where it's placed. Perspex, a type of acrylic, is known for its durability, light weight, and easy maintenance, making it a smart and stylish choice.
The chrome legs add a touch of modern glamour. Reflecting light and creating a sense of spaciousness, they ensure your table remains an understated dramatic centerpiece. As a bonus, the agile design allows for easy relocation when rearranging your room or hosting gatherings.
Function meets fashion with a bottom shelf for storage or display. A stockpile of magazines, a succulent tray, or a stash of remote controls, are all perfect candidates for this added real estate.
Effortlessly marrying aesthetics and practicality, this choice oozes metropolitan sophistication. So, whether you're sipping a morning espresso or hosting an evening soiree, this table ensures you do it in style.
Remember, while the red pops and adds personality, it also requires thoughtful coordination with the rest of your room's color palette. Balance it with neutral tones or go bold by pairing it with complementary hues, either way, a rightly placed table like this adds volumes to your room's character.
Convertible Red Coffee Table With Lift Top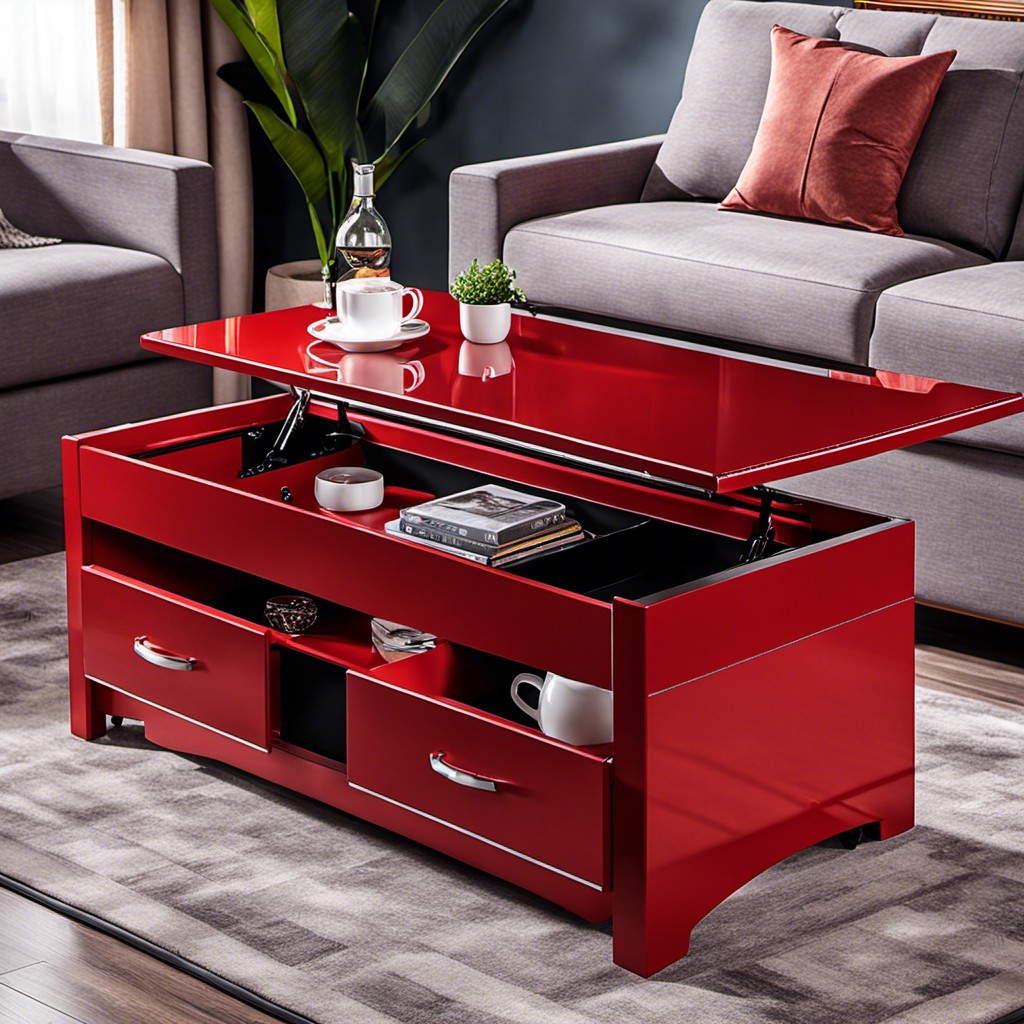 The magic of this item lies in its multifunctionality and space-efficiency, making it ideal for small spaces. Equipped with a lifting mechanism, it smoothly transforms into a high table for a comfortable workspace or a casual dining area. The hidden storage compartment underneath offers an additional place to stow away books, remotes, or coasters, keeping your space uncluttered.
Known for its vibrant hue, this table brings both function and a pop of color to any living area. Its sturdiness is typically provided by a solid wood or metal base, ensuring durability and long-lasting use. A glossy finish might frequently enhace the aesthetic, giving an elegant note to the table, while a matte texture could lend a more subdued, modern appeal. Manufacturers may employ various materials such as wood, metal or composite for the top to suit various decorative styles and budgets.
It's wise to consider the lifting mechanism's quality and ease of operation before making a purchase. Also, deliberate on exactly how the table will be used to ensure it fits your lifestyle – whether for hosting dinner parties, working from home, or just as a simple coffee table. A piece that embodies such versatility not only adds visual interest but also adapts to changing needs, making it an investment-worthy addition to any contemporary home.
Red Coffee Table With Mosaic Tile Inlay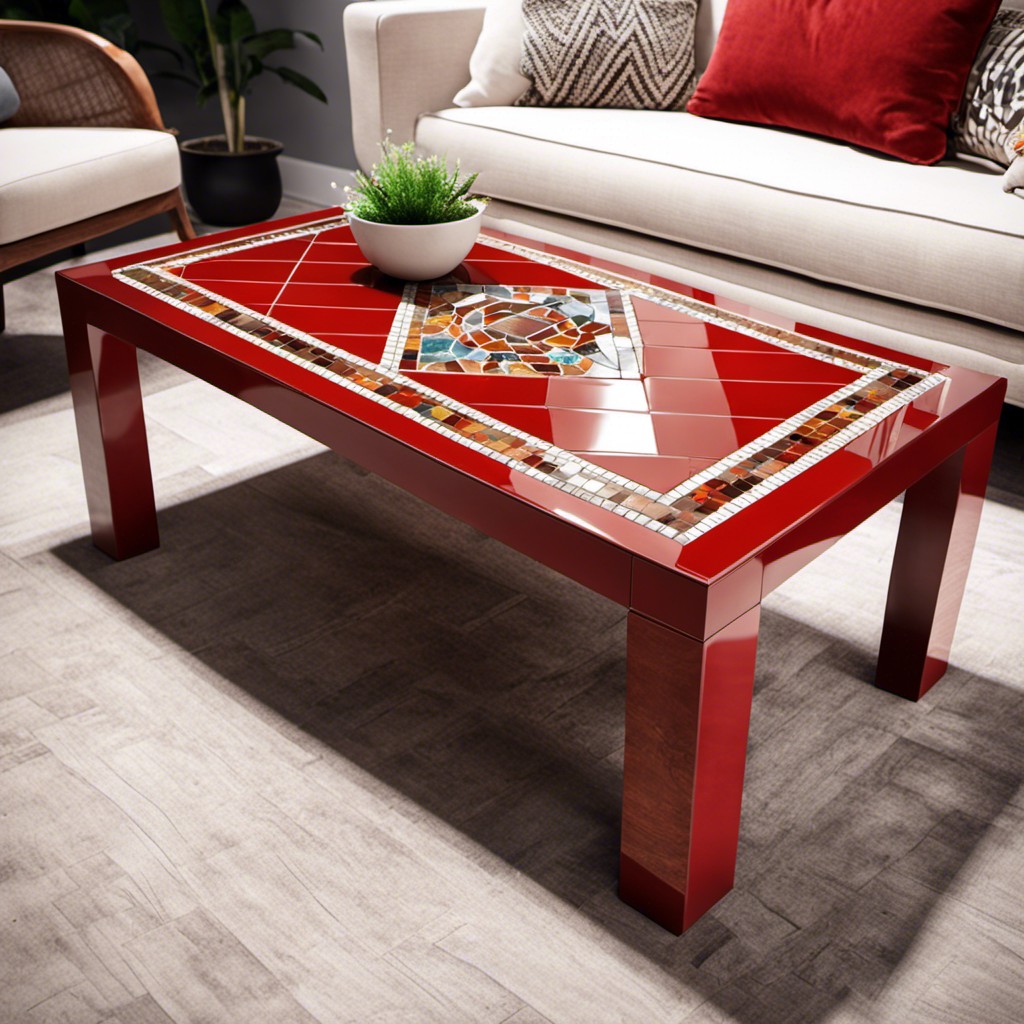 This table design adds a unique, vibrant element to any modern living space. Its main feature: an array of mosaic tiles beautifully set into the tabletop. The juxtaposition of the tiles' intricate patterns against the solid red base captures attention, turning what could be a standard piece of furniture into a veritable work of art.
This style offers many advantages:
Versatile Appeal: The tiles offer a design flexibility that can range from abstract to geometric, providing an opportunity to complement various decor themes.
Durability: Mosaic tiles are typically made from robust materials like ceramic, glass, or stone. This not only ensures longevity but also makes the surface easy to clean and maintain.
Customizability: One can choose any tile color, shape, or size to create a unique, personalized look.
Functionality: While eye-catching, it doesn't compromise on its primary purpose – a useful surface for books, beverages, and more.
Choose this table if you wish to add a touch of artistic style to your modern home.
Oriental Red Carved Wood Coffee Table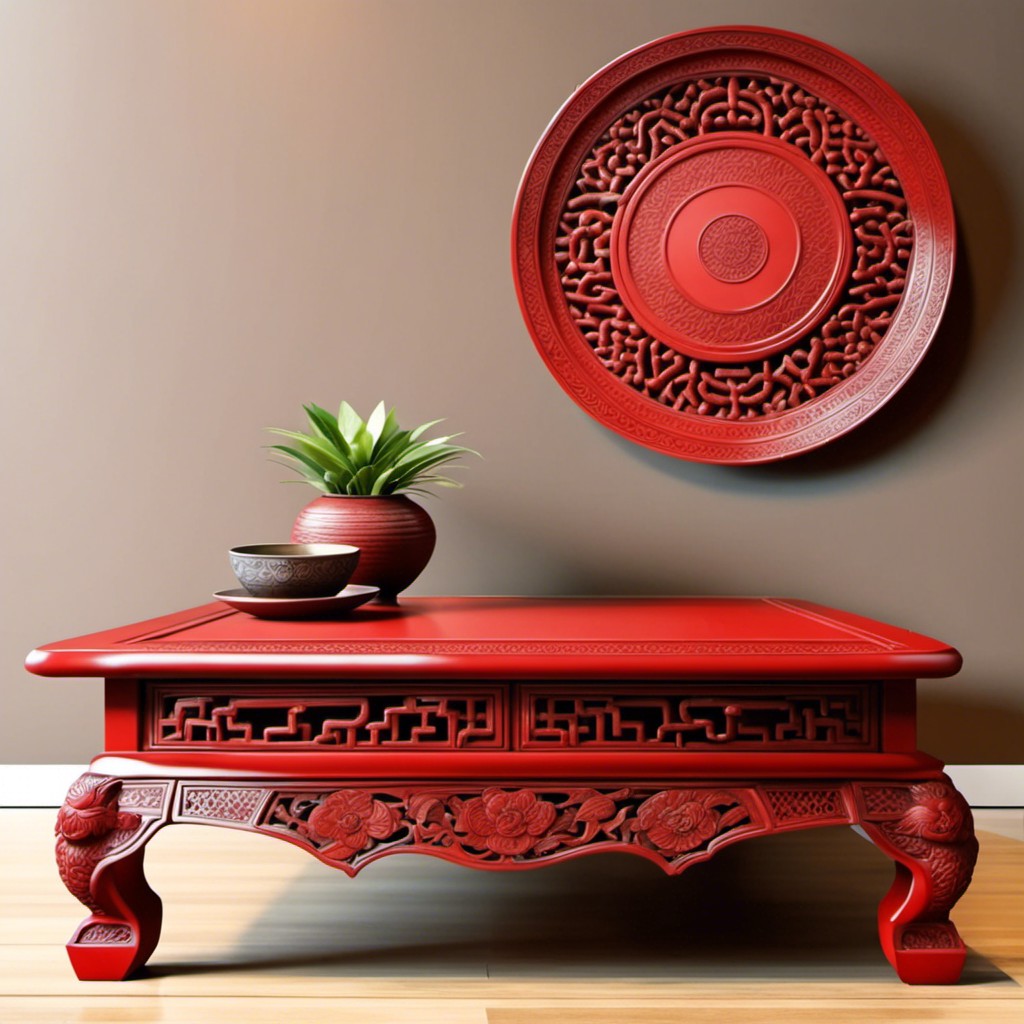 Known for their intricate detailing, these tables strike a perfect balance of sophistication and charm. They are typically constructed from hardwoods such as rosewood or mahogany, promoting longevity. The red hue is derived from a unique staining process that enhances the wood's natural beauty. It's the carvings, however, that truly set these tables apart.
Designs often portray landscapes, flora and fauna, or traditional Oriental symbols, giving each table its own distinct personality. With generous surface space, these tables function well in both small and large rooms, catering to different needs and lifestyles. Pair with neutral or earth-toned furniture to ensure the table remains the room's focal point. For an enhanced aesthetic, place it atop a light-colored rug to create a contrast with the striking red.
While they showcase intricate artistry, these tables aren't just for show. They're built to withstand daily use, making them not just a design statement, but a practical addition to your home. Remember to dust regularly using a soft cloth to retain its shine and allure.
Oriental red carved wood coffee tables offer an elegant way to infuse an Asian-inspired aesthetic into modern design, creating a unique and captivating living space.
Red and Black Bi-color Modern Coffee Table
Employing a bold contrast, this type of table anchors the room's tone utilizing its bi-color design. Its modern aesthetics can command attention while introducing an organized chaos into your living room. The sleek black portion epitomizes sophistication and elegance, defying traditional norms.
Meanwhile, its vibrant red section adds a pleasant surprise. This pop of color brings personality and offers an exciting contrast, creating a truly remarkable focal point. The bi-color design also supplies ample opportunity for complementary styling with accessories and furnishings.
Despite its unconventional color palette, functionality is not sacrificed. Many such tables come with intricate designs, offering hidden storage spaces, ideal for keeping living spaces clutter-free. Others might incorporate swivel mechanism for an additional layer of flexibility.
In essence, if you're open to bold designs and love furniture with dual-tone designs, this could be your pick. However, it's important to balance the room with subtler elements and neutral tones, to let your coffee table truly stand out.
Geometric Red Metal Wire Coffee Table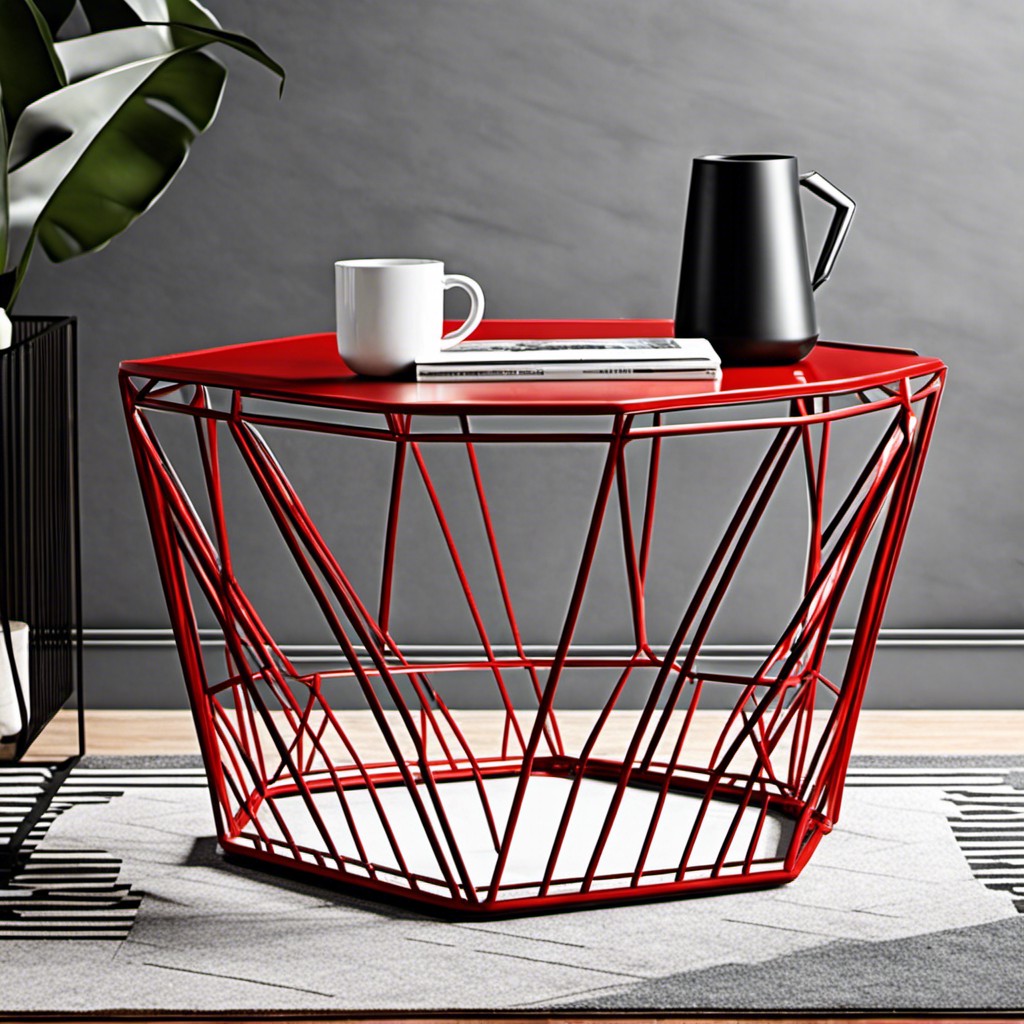 Exquisitely crafted, these tables steal the show with their unique architecture. The metal wire base, painstakingly woven into intricate geometric patterns, provides a striking contrast to the simplicity of a flat surface. Despite their complexity, their red finish ensures they deliver a pop of color, becoming a feature piece in any room.
Practicality meets aesthetics in their design. The openwork wire base not only serves as a conversation starter but allows for additional storage. Daily newspapers, remote controls, or coffee table books can easily be stored underneath, keeping the top clutter-free.
Additional points of consideration for these tables include their compatibility with other interior elements. They pair well with industrial, modern, and Scandinavian styles. Moreover, these pieces are incredibly versatile; they work equally well in a living room, office, or a studio space.
Take into account the durability and maintenance. Made from sturdy metal, these tables are long-lasting and easy to maintain, making them an ideal choice for a household with children or pets. However, due to their metal construct, they may need to be polished periodically for an enduring shine.
Lastly, remember to consider the size and scale of your room when selecting a geometric red metal wire coffee table. While it's a statement piece, it's essential for it not to overrun other elements in the space.
Keeping these points in mind, a geometric red metal wire coffee table can serve as both a functional and fashionable addition to your home.
Rustic Barnwood Coffee Table in Barn Red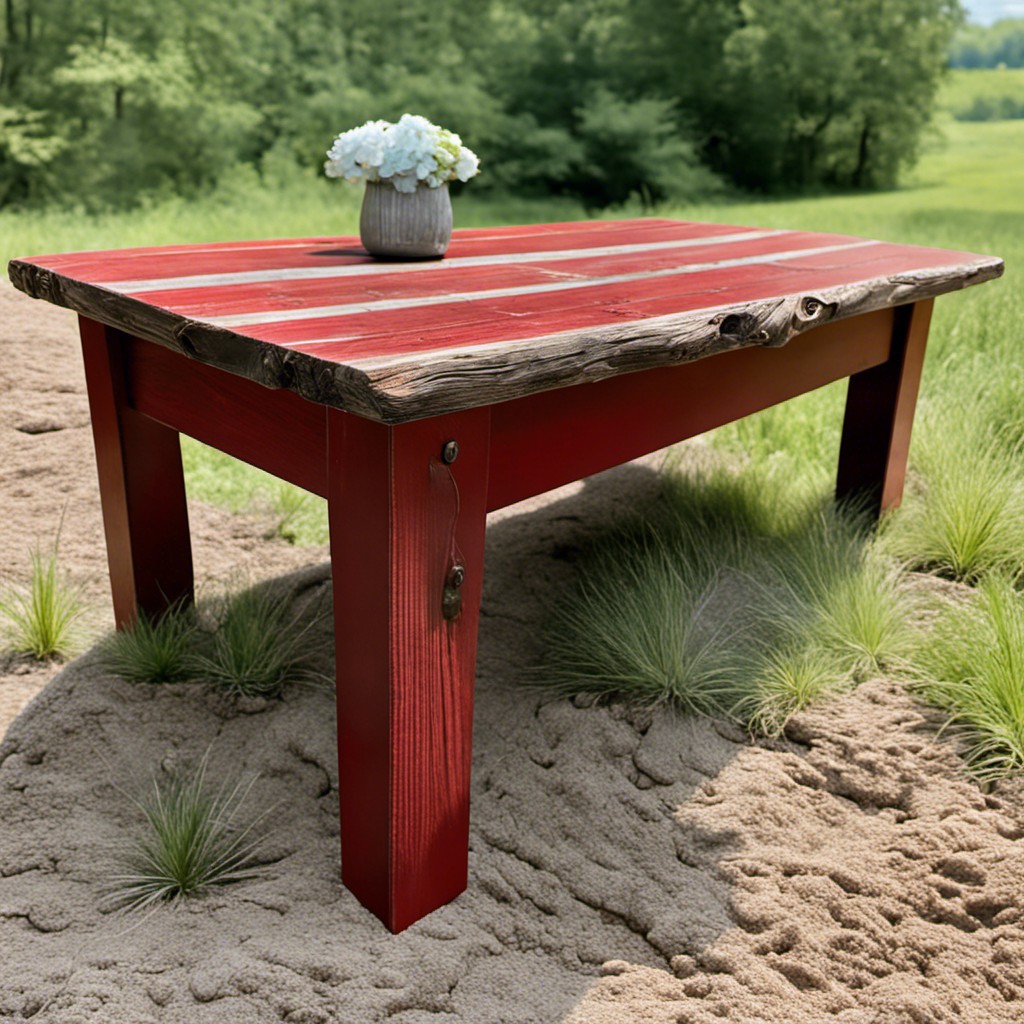 Distinguished by its authentic character, it stays true to the raw, unpolished natural aspect of barnwood. This table is all about celebrating the beauty of imperfections. A rough-hewn, deeply-weathered surface showcases the wood's natural grain, knots and genuine aged beauty. The rich, barn red hue adds a pop of color that warms up any room, creating an inviting atmosphere.
Unfinished edges further accentuate its bulldogged charm and uniqueness. Its unpretentious style tends to cause a sigh of relief amidst the prim and polished decor pieces. Adding functionality to its visual appeal, the spacious tabletop is perfect for serving trays, magazines or art pieces. It's also equipped with sturdy, formidable legs to endure the weight and time.
This handcrafted piece not only boasts the reminiscent of yesteryears but also proffers a welcoming nod to sustainable living. It repurposes old wood, thus aiding in preservation of forests. This table is a surefire attention-grabber with a tale to tell. It effortlessly infuses grace and grandeur to your living space while giving a subtle shoutout to your nature-friendly ethos.
Red Acrylic Waterfall Coffee Table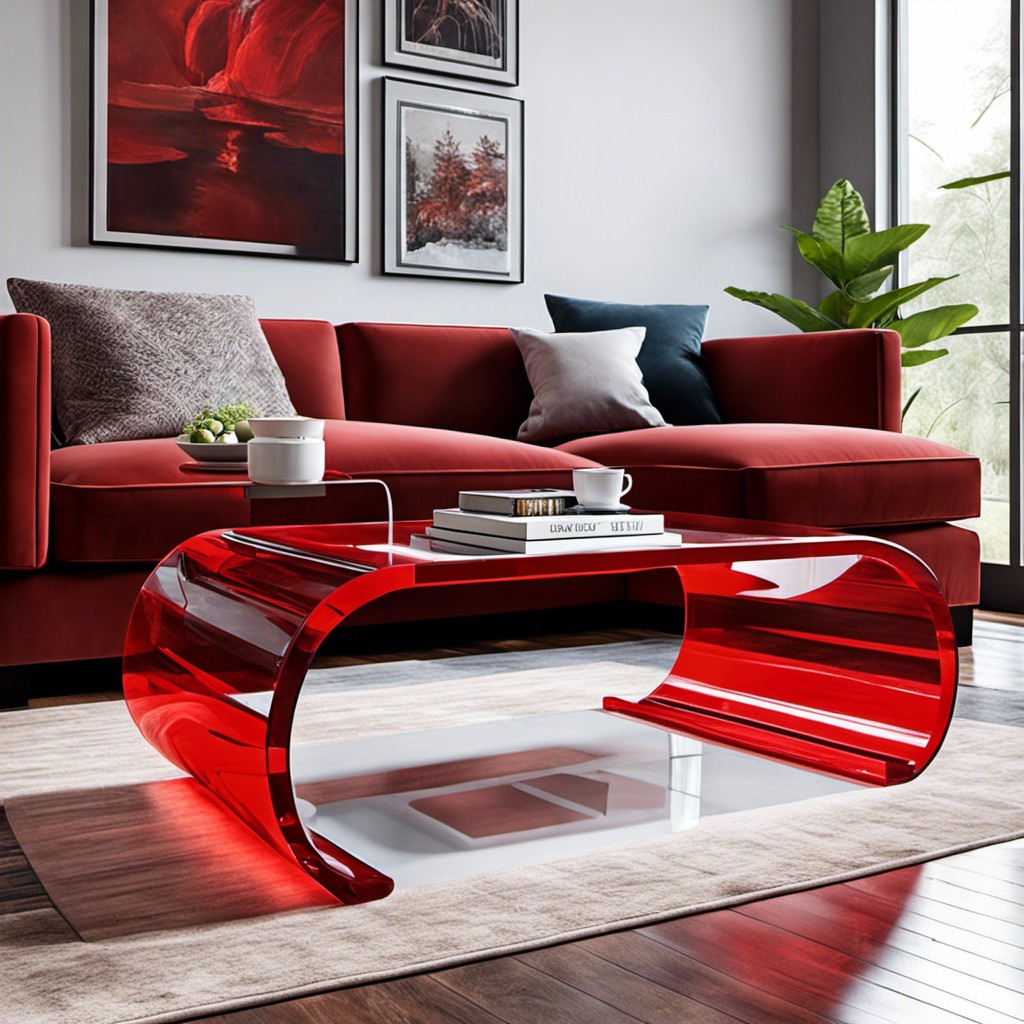 Crafted from a single sheet of acrylic, this design exudes simplicity and elegance. With curves that mimic a cascading waterfall, it seems minimalist yet dramatic – a striking visual anchor in any living space. The transparency of the material provides a lightweight appearance that doesn't overwhelm the room, while the bold red hue adds a dash of modern appeal.
Here are points capturing its essence:
Contemporary Design: With clean lines and fluid curves, this table marries function with art, blending seamlessly with modern interiors.
Lightweight Appearance: Its transparent nature, unlike traditional, bulkier tables, ensures the room feels open and spacious.
Pop of Color: The captivating red adds energy and warmth to neutral-colored spaces.
Durability: Acrylic is resistant to scratches and damage, maintaining its pristine look over time.
Easy Maintenance: Its smooth surface wipes clean easily with a damp cloth.
Mid-century Modern Red Teak Coffee Table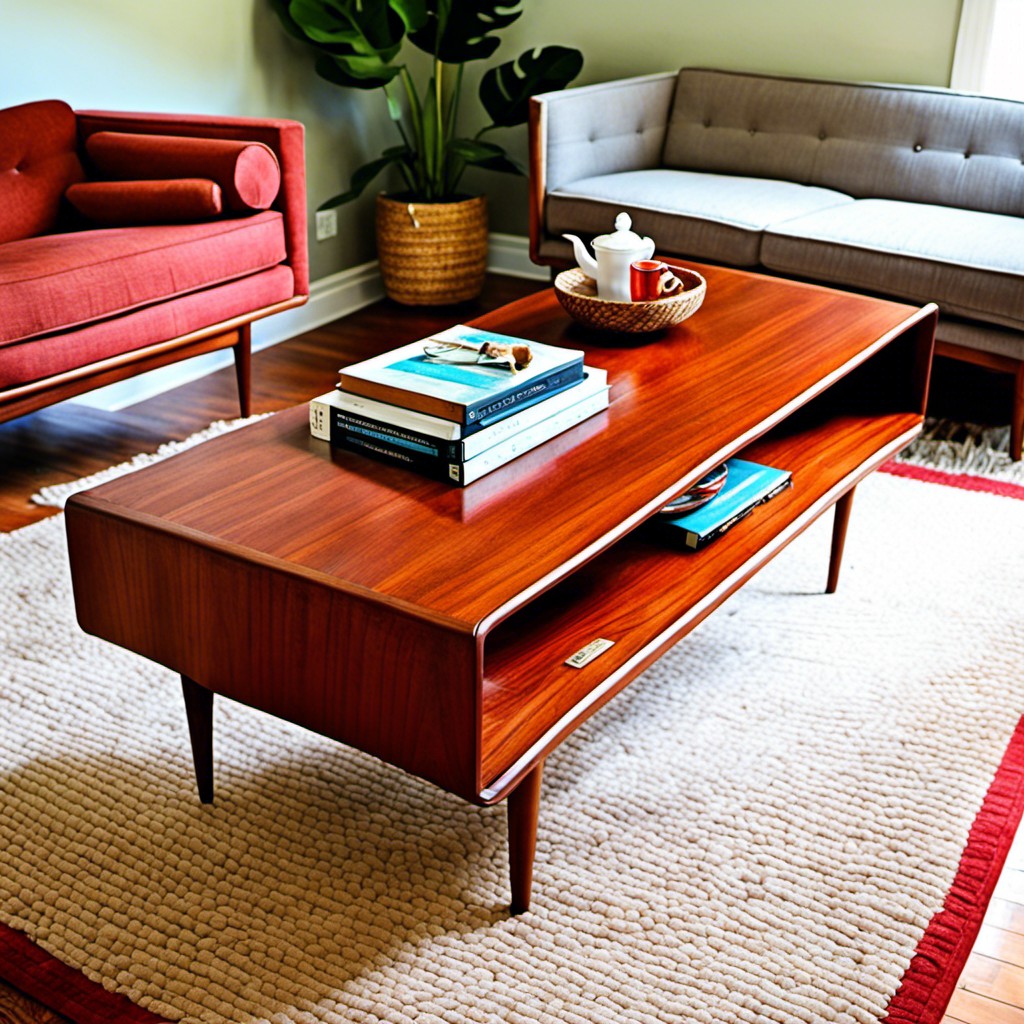 Often featuring simple, clean lines and organic shapes, this style of table draws influence from the mid-20th-century design movement. Made from teak, a hardwood known for its durability and warm, rich hues, the table is given a bold makeover with a coat of red paint, seamlessly blending classic and contemporary aesthetics.
Make sure to look for pieces with signature attributes of mid-century modern design – tapered legs, minimal embellishments and a focus on functionality. Anchor your living area with this piece to inject a dose of retro charm, while still maintaining a modern design palette.
One can easily pair it with a diverse range of sofas and chairs, thanks to its unpretentious design and vibrant hue, thus making it a flexible addition to your living area. Accentuate its presence with artwork or decor elements in complementary or contrasting colors to create a captivating visual ensemble.
This table's value transcends its functional aspects, becoming an integral part of the overall room ambiance.
Convertible Red Coffee Table to Dining Table
Envisioning a multi-functional space? This offers the answer. Sporting sleek designs and a striking red hue, convertible tables cleverly fuse versatility with contemporary charm.
Indispensable for smaller spaces, these tables are more than meets the eye. They're constructed to seamlessly transition from a low-profile coffee table to a full-size dining table. Just a swift mechanism adjustment and presto! A surprising transformation.
The pop of red adds a dramatic flair which pulls the room together, creating a splendid centerpiece. It's brilliant for minimalistic spaces, urban lofts or anyone looking to skillfully optimize their living space without compromising style and functionality. Plus, they're available in a wide array of materials, like wood, metal, or glass. Choose one that syncs with your decor's vibe.
Remember: even when being practical, style should never be a compromise.
You may also like to read: