Last updated on July 8, 2023
A sofa is a big addition to a home. Bringing it in has a lot of interior design and decor implications. Here's everything you need to know. Read on!
So, it's time for a new sofa. Your old one has seen better days, or perhaps you're tired of your current setup and fancy a change.
Let's explore how you can welcome your new sofa to your home.
Key takeaways:
Try the sofa before buying
Invest in a quality frame
Choose fabrics wisely
Measure the space before purchasing
Consider the focal point of the room to determine sofa placement
Table of Contents
Tips Before Buying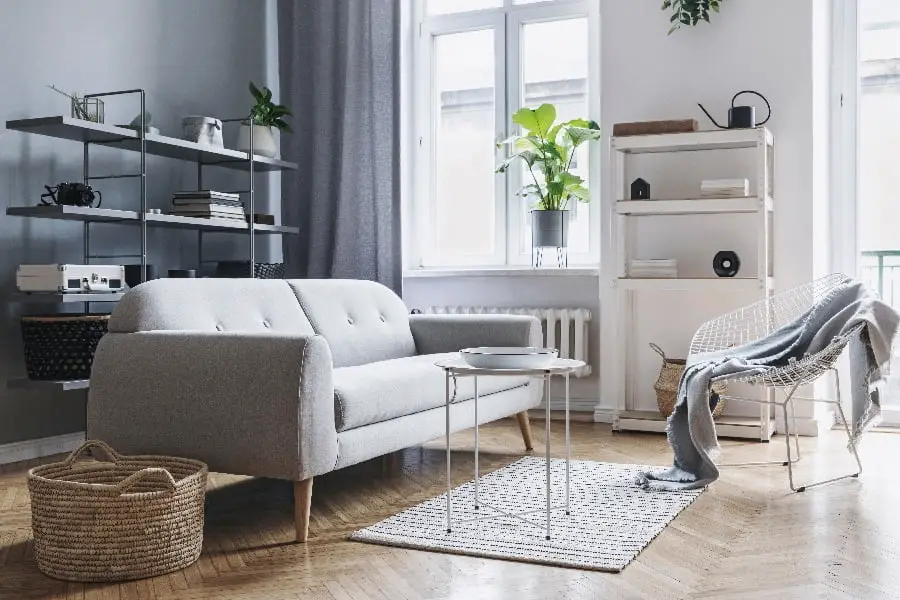 To consider before purchasing your new sofa:
Try it – Obvious to say, but you never truly know it until you sit on a sofa. It may look good and feel comfortable, but what if it's hard to escape again? A quick test tells all.
Invest in a quality frame – We highly recommend prioritizing a reasonable, muscular frame. Wood is ideal, be cautious of plasterboard and metal. 
Choose fabrics wisely – Avoid stainable fabrics like cotton if you live with children. If you live somewhere hot or sometimes nap on your sofa, avoid more complex materials, like leather.
Measure up! – Life's easiest oversight. You don't want to get your dream sofa home only to find that you can't use it for the sake of 5cm you didn't know you needed.
Where Should the Sofa Go?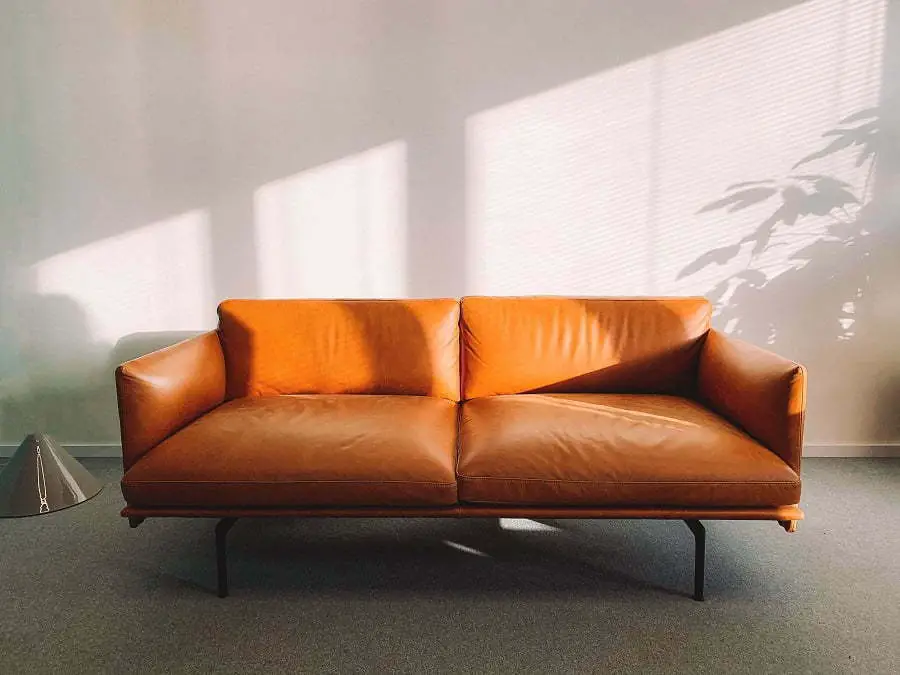 Ideally, you want your sofa to be facing the natural focal point of a room, but if you aren't sure, then you have a few choices based on preference.  
The Mantel – If your room has a mantel or fireplace, that is usually the focal point. This classic placement offers a great place to enjoy the television, read a book, or watch the fire flicker. It is best to put the back of the sofa against a wall to maximize floor space, but if you have a backless couch, you can bring them away from the walls to create multiple seating areas.
Facing the window – If you have a large window or transparent sliding doors in the room, you could make your sofa face outwards towards the natural light. If you have any view to enjoy, it can only enhance your sofa time.
Opposite another sofa – Symmetry is a crucial element of any design for larger rooms only. Ideally, using matching sofas, you can create a social area where a table can be placed in the center for drinks, games, or business documents. You could also place the two sofas at 90 degrees, which is especially practical and stylish when your focal point is in the room's opposite corner.
In front of the TV – This deserves its mention. Most of us position our sofa to have the best view of the TV. To make your new sofa at home, make sure you position your television at the right height; sit on your sofa and see if it dips or is at an awkward angle.
How to Make Your Sofa Look at Home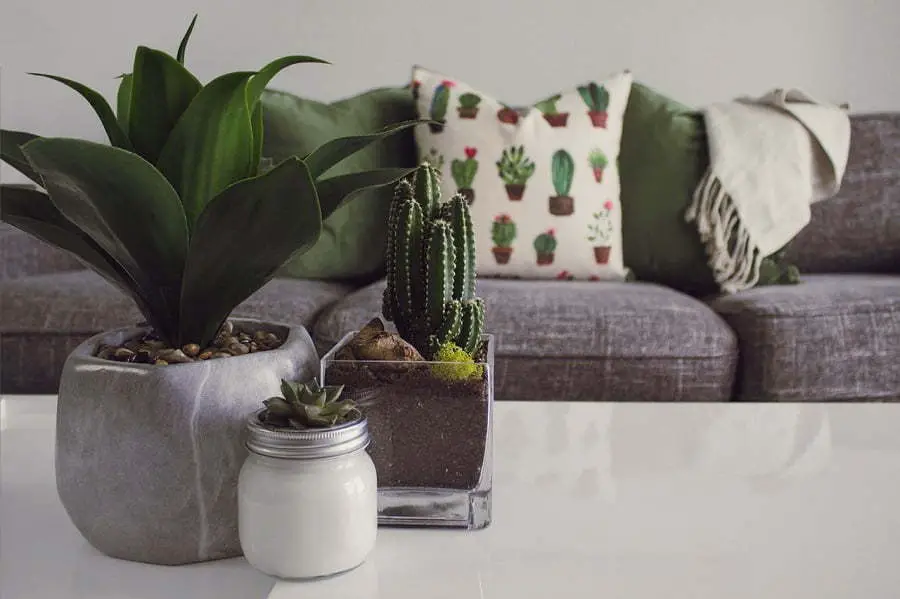 Decorating your sofa is relatively simple and highly effective. It may also be necessary, as your new sofa could look quite different from your old one.
Your sofa is the most crucial piece of furniture in the room, so choosing what to put in the space around it depends on the style of the sofa, your tastes, and your needs. The humble end table can be used to accentuate the sofa.
Moreover, it is relatively cheap and family-friendly. The color of your sofa should always suit a room, so if you've bought a bright red sofa, then keep in mind your red wallpaper/paint will probably need to go, lest your sofa blends into obscurity.
A coffee table can be used similarly, giving the sofa a buddy that holds your drinks while your sofa holds you. When picking tables, choosing colors that match your sofa is best. Suppose you have a black leather sofa; then dark woods like mahogany or walnut work perfectly. Conversely, a cream sofa looks better with a lighter wood like oak but is especially lovely with wicker furniture like chairs or cabinets. 
You have options to decorate the space your sofa faces, whether the TV, a window, or a fireplace. To sweeten the view, you can use candles, small plants, and even your favorite books as ornaments or table toppers.
How to Protect Your New Sofa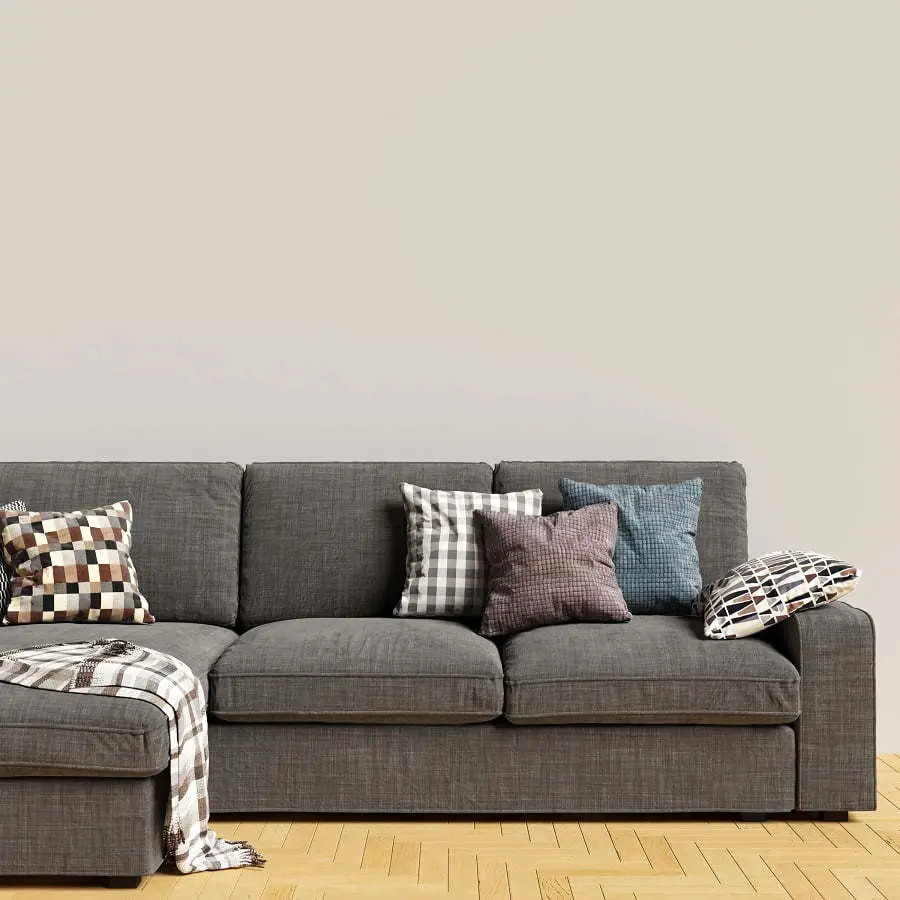 Sofas take quite the beating during their 11-year lifespan, but the last thing you want is unnecessary damage or wear.
Throws and blankets – Regardless of material, sofas eventually fade with use. You can prolong this with a throw or blanket covering your cushions or backrest. Throws also hide gaps between cushions and save them from messy spills.
Keep pets off – We love our pets, but our sofas probably don't. Cats enjoy scratching furniture, so invest in a scratching post or similar deterrent. If you must have your dog on your sofa, throws become even more ideal.
Rotate the cushions regularly – It's recommended that you rotate your cushions once every few months. Sofas get very dirty very quickly and are infamous for collecting debris. Use a vacuum every time you rotate your cushions to keep them clean. 
Have rules – More of a suggestion, but if you can avoid eating, jumping, or sleeping on your sofa, it will inevitably age better. If you have young children, these rules can save your new purchase from an awful, sticky fate.
Hopefully, this article has helped you with your new sofa saga. Remember these hints, and your new sofa will look and stay fantastic for years. 
You may also like to read: