Last updated on November 20, 2023
Adding a fireplace is one of the most popular ways of creating a focal point in the living room. While the structure achieves a magnificent look, having and maintaining one in a small home can be demanding.
That doesn't mean you cannot enjoy the blazing flakes of fire in your beloved tiny home when there are plenty of ways to make it work with a fireplace in a small house.  
Any home can incorporate fireplaces regardless of size or architectural design. For tiny houses, you have seven excellent options for delivering a warm touch to your loved ones while saving space for furniture, entertainment, and decor.
Whichever idea you choose, ensure to work with an expert through the installation process to minimize risks associated with fireplace-caused accidents. 
Some practical fireplace ideas for a small home include:
Table of Contents
Opt for Wall Gas Fireplaces
One of the significant advancements that the fireplace field has witnessed is the invention of gas fireplaces. The good thing with the development is that you can have a gas fireplace installed at nearly any spot in your home. Wall gas fireplaces are the best solution for small households seeking to save space while striving to live their warmest lives.
Other advantages of wall gas fireplaces are that they deliver continuous heat, can save close to 25% of energy, are easy to operate, and don't require much cleaning since no ashes are involved. Recently, experts have designed remote-controllable wall gas fireplaces, making them easy to work from a distance.
Go for Built-Ins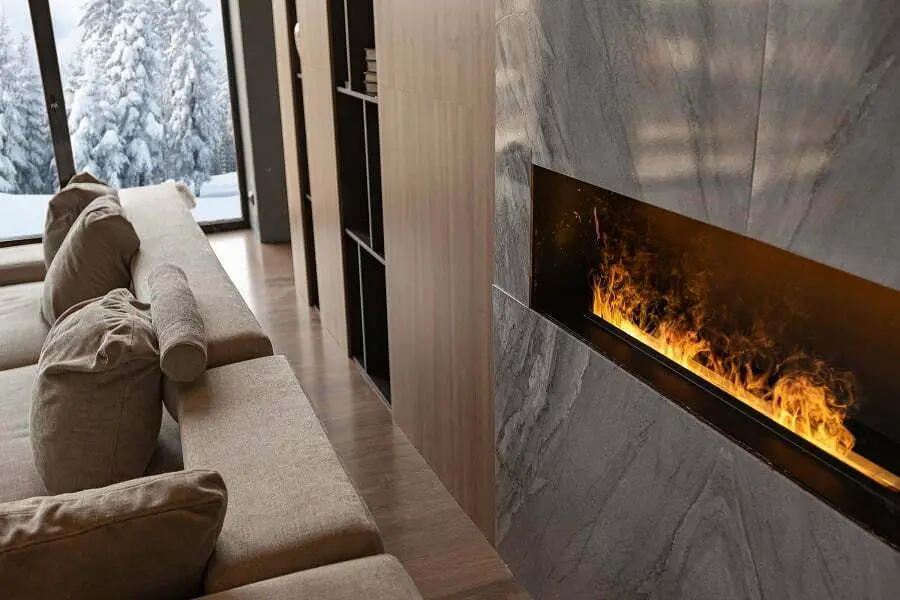 Being a tiny home, your household essentials, including the fireplace, should be focused on saving space for everything to fit in. While it might sound out of fashion, traditional built-in fireplaces can be a perfect option in such a situation.
Besides their space-saving properties, the fireplaces are more energy efficient than their counterparts since they can quickly warm up a room and its entire surroundings. In addition, built-in fireplaces come in different designs and styles to match any décor in a small house.
Invest in Free-Standing Fireplaces
As the name suggests, free-standing fireplaces aren't attached to or supported by other structures but instead stand on a relatively small base linked to a pole. If there's an excellent way that tiny homes can enjoy the warmth of fireplaces is by embracing the free-standing ones due to their space-saving features.
Furthermore, you can find them in an assortment of styles and additional features, which enable them to be effectively used as a focal point in any room. Nothing to worry about regarding the durability of free-standing fireplaces since they are made with a rigid industrial touch.
Construct Corner Mantel Fireplaces
If you have some awkward corners in your tiny home, one of the best options you can adopt is constructing a corner mantel fireplace around them. You will not only have enhanced their physical appeal but also achieve warmth for the entire room.
Additionally, corner mantel fireplaces are a great space-saving solution for tiny homes, creating a stunning focal point for the room. You can combine a corner mantel fireplace with other elements such as a TV, art display, and storage shelves for more outstanding results.
Wall Mounted Fireplaces
Did you know you can mount a fireplace, especially when you want to save space in a small home? The idea consumes space (not so much), leaving plenty of room on the surface for other essentials, such as a standing décor.
Alongside saving on space, wall-mounted fireplaces have been featured in plenty of best-selling interior design magazines for their unmatchable appeal. Even better, due to its elevated features, you will worry less about kids and pets messing with the fireplace.
Hang the Fireplace
Another ideal way small homes can embrace fireplaces into their tiny spaces is by installing hanging (suspended) fireplaces. They are suspended directly from the ceiling through a rigid pole, also serving as a chimney in some designs.
If you want a unique, space-saving idea with a variety of options to select from, the suspended fireplace is the best. However, ensure that the structure is well-secured to the roof/ceiling, as hanging the fireplace can be hazardous to those around the house if loosely attached.
Small Design Fireplaces
Some fireplaces are specially designed for tiny houses. You will likely come across them at the market when shopping for your small home. Besides their space-saving size, small fireplaces come in different styles and designs to match various small households' needs and architectural designs.
You can effortlessly incorporate them into a room without necessarily installing them into a wall. Most essential, small-design fireplaces are affordable to acquire and less demanding to install and operate.
You may also like to read: