Last updated on November 18, 2023
Because your kitchen is the heart of your home, it deserves as much attention as the other parts of your house. Remodeling your kitchen is a great way to unleash your house's full potential.
Apart from deciding on the kitchen features, you'd like to have, you also need to decide wisely on how to paint your kitchen walls. 
Remember that the wall color is the foundation of any room. Not only does it express your personality, but it also adds value to your home. If you're still new to kitchen remodeling, here are some paint ideas to inspire you. 
Table of Contents
Use a Different Color for Your Cabinets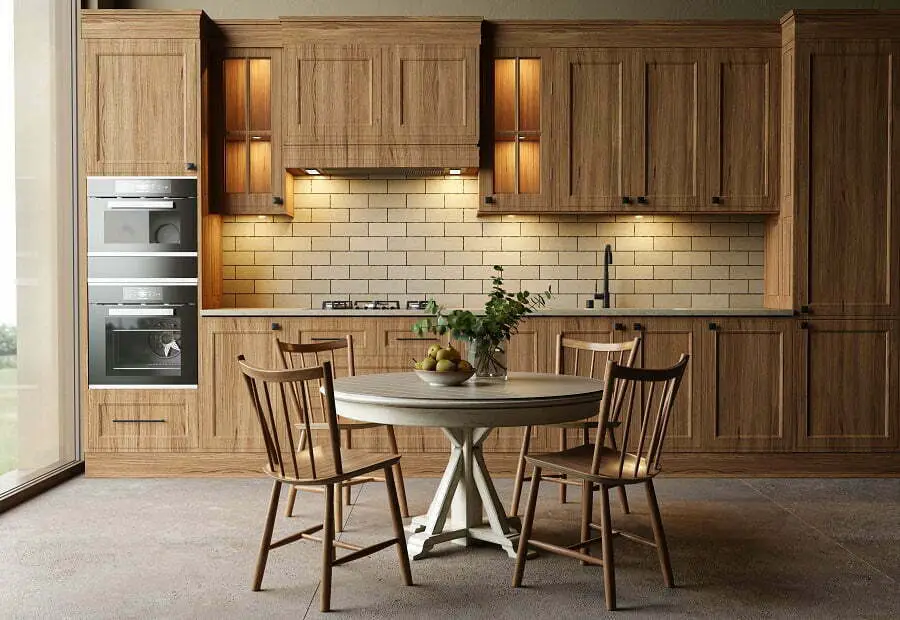 If you'd like to keep your kitchen walls white but don't want them to look too plain and flat, then painting your cabinets is a great idea. This helps to add character to the room without making it too loud and busy. You can paint it however you want, and you can expect the room to look more vibrant and appealing.
However, you should be careful with how you paint your kitchen cabinets. Since they have more exposure to humidity, you cannot use regular interior paint on them as they're more prone to wear and tear. You need to look for cabinet paint that can withstand the excess moisture to keep them looking fresh and clean for years.
Go for Neutral Colors
One of the safest ways to repaint your kitchen is by sticking with neutral colors. This allows you to guarantee a beautiful kitchen design that's not too out of this world. Neutral colors are compatible with sophisticated and classic interiors. This should be the best option if you have fewer windows around your kitchen space.
You can go with white, gray, beige, or brown to start, but there are plenty of shades and options you can choose from that'll help to make your kitchen look bright and airy. 
Try Bold Colors
If you'd like to be experimental with your kitchen area, you may want to consider using bold colors. This doesn't have to be too loud or expressive; just use the right mix of light and dark hues inside the room.
When working with bold colors, ensure that you create the perfect balance to avoid eyesores. Apart from using black, you could try painting your kitchen with navy blue, emerald green, or even magenta. Another daring idea is mixing a black-and-white palette with splashes of bright colors like red, yellow, or orange.
Consider Cool Color Schemes
A modern approach is using a cool color scheme for your kitchen. This means using a darker tone for your walls and cabinets without making them too loud and expressive. You can use dark grays, black, or pine.
For an added cool-tone effect, you may consider painting your walls and cabinets matte to match the ambiance. When you use a cool color palette in your kitchen, it's best to pair them with white for added depth. To emphasize details, you can decorate your kitchen with various accessories, such as a patterned rug or an elegant pendant lighting to occupy the empty vertical space inside the room.
Mix Contrasting Colors
Another way to experiment with your wall is mixing contrasting colors. While it's safe to stick with a solid color, it'd be more fun to use contrasting colors to add character and sophistication to your kitchen. It can also help to minimize any blank space, especially if you have a wide kitchen space.
To play with colors inside your kitchen, you can try mixing playful colors with plain ones. For example, you can mix gray and orange, pale pink and bright yellow, or black and white. However, you need to be careful with detailing a contrasting color scheme as you need to ensure that your appliances and kitchen tools balance out the rest of the room.
Play with Patterns
A great way to add character to the room is by playing with patterns. This can help prevent the room from looking too flat and boring. You can try using stripes, polka dots, or even a herringbone pattern for your walls. Just ensure that you balance your plains and patterns together to prevent the space from looking too busy.
The Takeaway
Remodeling your kitchen is always a fun project to have. With the number of paint ideas listed above, you'll surely find something that best fits your style and interior design. With the right choice and careful thinking, you can make your kitchen to stand out!
You may also like to read: