Last updated on September 30, 2023
Entry doors are the focal point of every house. You want it to look good, complement your exterior, boost energy efficiency and serve you for many years to come.
Moreover, front door replacement is one of the best home renovation projects in terms of ROI. Statistics say that new doors come with ROI as high as 74.9%, so many homeowners strive to install high-quality exterior doors to save money. But how do you choose the product that works best for your house? Keep reading to learn everything in detail!
Table of Contents
Choose the Most Efficient Slab Material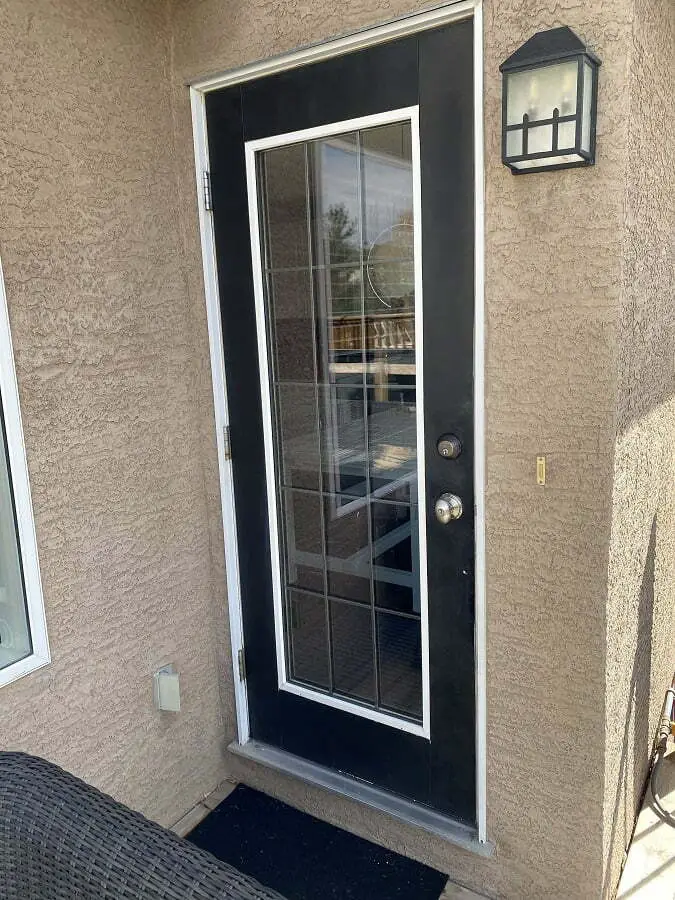 As a rule of thumb, most door experts recommend installing steel or fibreglass entry doors. The wood doors are also popular, but they are somewhat outdated since these units require more maintenance while having less energy efficiency and a higher price tag.
On the other hand, steel and fibreglass doors cost less but feature a longer life cycle, exceptional thermal performance and high security.
Choose steel doors if you are after maximum durability and security. These units also are the most affordable ones.
Go with fibreglass doors if energy efficiency is your top priority since entry doors made of fibreglass usually come with the highest energy ratings compared to units composed of other materials. Such doors typically cost 15% more than steel but less than wood.
Consider the Energy Efficiency Properties of Your New Doors
Boosting house energy efficiency is among the top reasons homeowners consider door replacement projects. Modern exterior doors increase the insulation, which means the air conditioner and heat system work less to keep the comfy temperature within your house.
But to be considered energy efficient, your doors (and windows too!) should meet NAFS and ENERGY STAR specifications. Ask your door company if their front doors meet or exceed the following energy standards:
Minimum Energy Rating of 34 and higher, depending on the customization of your new door;
Maximum U-factor W/m2∙K of 1.22 or less;
The products with such energy performance will ultimately reduce your monthly energy bill and ensure a comfortable temperature inside your house all year round. 
Solid or Glass Doors?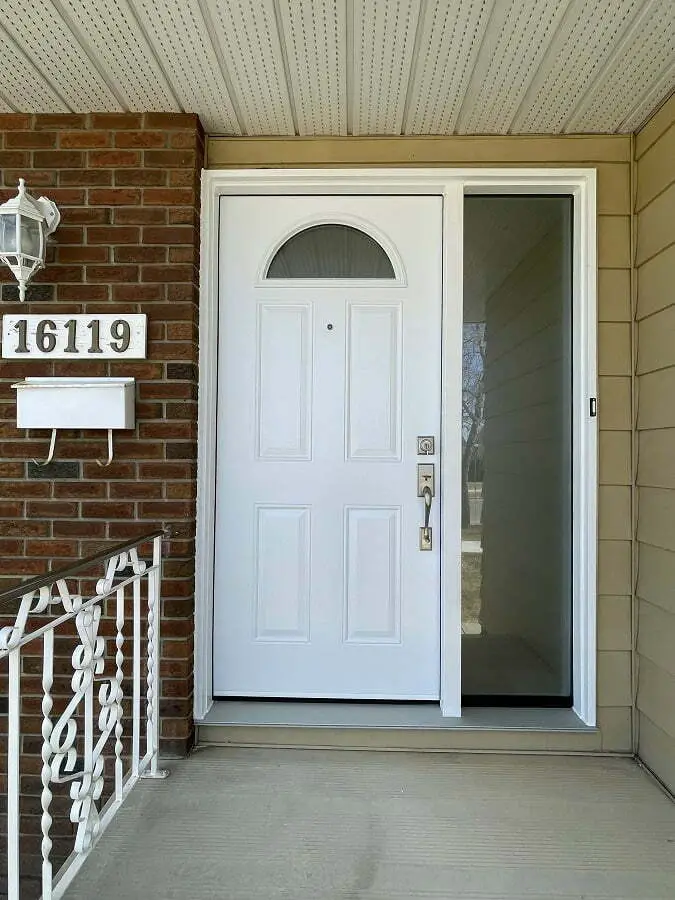 Aesthetics is key, but privacy is equally important. That is why most homeowners strive to install good-looking front doors to complement their house design and ensure a high level of privacy and security by choosing between solid and glass doors to find a perfect balance.
Solid doors have no glass panels. Therefore, these models offer your home the highest privacy and security. They are durable, energy-efficient, and require little-to-no maintenance.
Glass doors are installed to boost the aesthetics of your entryway, making it look modern and stylish. With various glass options, your front door can blend with almost any exterior, but the energy efficiency will be lower.
Overall, both choices are good, and everything boils down to your personal preferences and the current level of thermal performance of your home.
Decide on the Suitable Configuration
Single or double front doors? Units with sidelights or transoms? Or maybe every possible option mixed into a single grand project? Possibilities are endless. But the most popular choice among homeowners is still a single door that perfectly fits your rough opening.
While double doors or doors with sidelights allow for a wider opening, the installation is more complex and usually requires changes to the structure of your house. However, if you want to enlarge your front entry or install new doors with a transom for more natural light, your local door companies can definitely help with the concept. Just make sure to consult with experts before embarking on the project to avoid common mistakes.
Hire Professionals Installers
Entry door replacement is not easy. It requires experience, skills, correct measurements and tools to ensure your new doors are installed correctly and perform at their maximum.
That is why we recommend hiring a reliable door company to do the job. But how do you find one? Check their Google, HomeStar and BBB reviews to learn about their past projects. Another good idea is to ask your friends for references. Some points to keep in mind when choosing the company for the replacement project:
Your door company should be licensed and sell only Energy Star-rated products;
Only in-house installers;
Digital and regular quotes are identical;
The contract includes all the energy specifications of your doors;
Minimum 10 years warranty on product and labour;
Many completed front replacement projects similar to yours;
The Takeaway
Installing new exterior doors for your house is a great home improvement idea. It allows for more energy efficiency, increased curb appeal and long-term savings. Just keep in mind the tips provided in this post, and you are sure to find the best product to match your house design and bring maximum value.
You may also like to read: