Last updated on November 20, 2023
If it is that time of the year, and you are thinking of some major home renovations, there are several things to consider first. Have a plan and think of your budget, be prepared for any potential mistakes as well as unplanned situations. Consider it an investment because it may frequently increase the home's total market value.
If however you do not have any ideas and are thinking of ways to improve the home's exterior, read the article as we summed up some of the best designs and ideas to freshen up your home.
Table of Contents
Give It Some New Color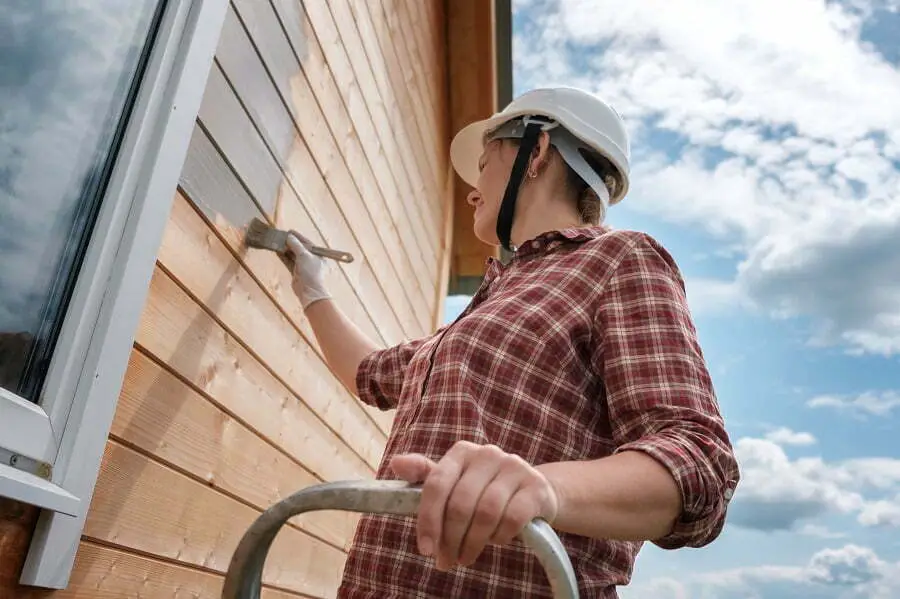 The first thing you can do to change the exterior of your home is to give it a nice paint job. It will really freshen up the overall look of the house and make it seem beautiful. A paint job can easily cover all the marks of damage done to the house because of weather conditions and time. You can always go for paint that is water-resistant and nowadays you can even buy paint that has high tolerance on temperatures, so in the case of fire, the damage will be minimal. Those are some options, however, you can always make your home look more rustic, unique, and extraordinary with some brickwork, marble, or wood. Of course, this would require a certain amount of money, but the final results will definitely make the house more valuable and look astonishing.
Give It More Space and Make a Beautiful Winter Garden
Another option is to use patio enclosures to make your house larger and more spacious, with the extra area serving as a lovely winter garden during the colder months. There are several advantages to it, one of which is keeping extra heat within the house which essentially will save you money and the costs of heating. It also provides additional soundproofing, ensuring that you are protected from the outside sounds of passing automobiles both during the day and at night.
Patio enclosures look elegant, luxurious, and classy as they give the home a more pleasant and overall enjoyable look. The quality of the design differs, but of course, you can always read more about it and make sure to inform yourself properly. There are several options and materials, but the most important bit is making sure professionals are actually putting up the patio, as a bad installation will rid you of all the previously mentioned advantages.
Imagine having a beautiful green garden with extra light and lamps, in front of your house, or at the back during Christmas and New Year's Eve. The patio enclosure can essentially be turned into whatever you need and it depends on your personal preferences. We're sure you'll find a use for the extra room you got. 
Give the Front Door a New Look and Think of the Windows
Another thing to improve your exterior design is giving the front door a fresh and new look by rendering it and repainting them. The front door is the first thing people see when they approach your home, therefore the first impression highly depends on the way the door looks.
Give it a brush and freshen it up, however, you can always keep the doors rough and rustic look and just varnish it, making it look antique and unique with all the little imperfections and cracks on it. You can put up some lights and lamps to create a more French provincial and vintage atmosphere. Add some shutters on the windows as they not only look great but are practical as well.
Adding a Veranda or Deck
This can sometimes be a costly investment; the final outcome is more than extraordinary. Verandas give every home extra value and seem outstandingly classy. Verandas are perfect for gatherings with friends during sporting or summer and are more than perfect for that alone time you crave in the morning with a cup of coffee.
Decks in the back of the house are extra space you can use for BBQ parties and even set up a little jacuzzi or pool eventually. Decks do need maintenance, especially since the wood has to be varnished regularly, but the luxury and beauty precede the costs. Some deck designs incorporate little fountains in the center, arranged in a circular pattern so that everyone may congregate around them. Others are straightforward, yet effective and attractive.
Some other new and innovative ideas are creating backyard art, making the garden look aesthetically exceptional. Sculptures, artwork on the walls, rock formations, fountains, and similar designs can make the garden look exquisite and stylish.
These are just a few of the numerous possibilities; while they will take time and money, the end result will not only increase the value of your property but also make you a proud owner.
You may also like to read: