Last updated on November 2, 2023
Explore innovative decorative door cover ideas because transforming your entrance can breathe new life into your home.
Decorative door covers can effortlessly transform your home's entrance, adding a touch of personality and style. This article provides an abundance of innovative and creative ideas to inspire your next door cover project. From seasonal themes to year-round designs, there's something for everyone. Whether you're looking for a DIY project or ready-made solutions, we've got you covered.
We'll delve into various materials, color schemes, and styles, ensuring you find the perfect door cover to match your home's aesthetic. So, get ready to explore the world of decorative door covers and enhance your home's curb appeal.
Table of Contents
Floral Wreath Door Cover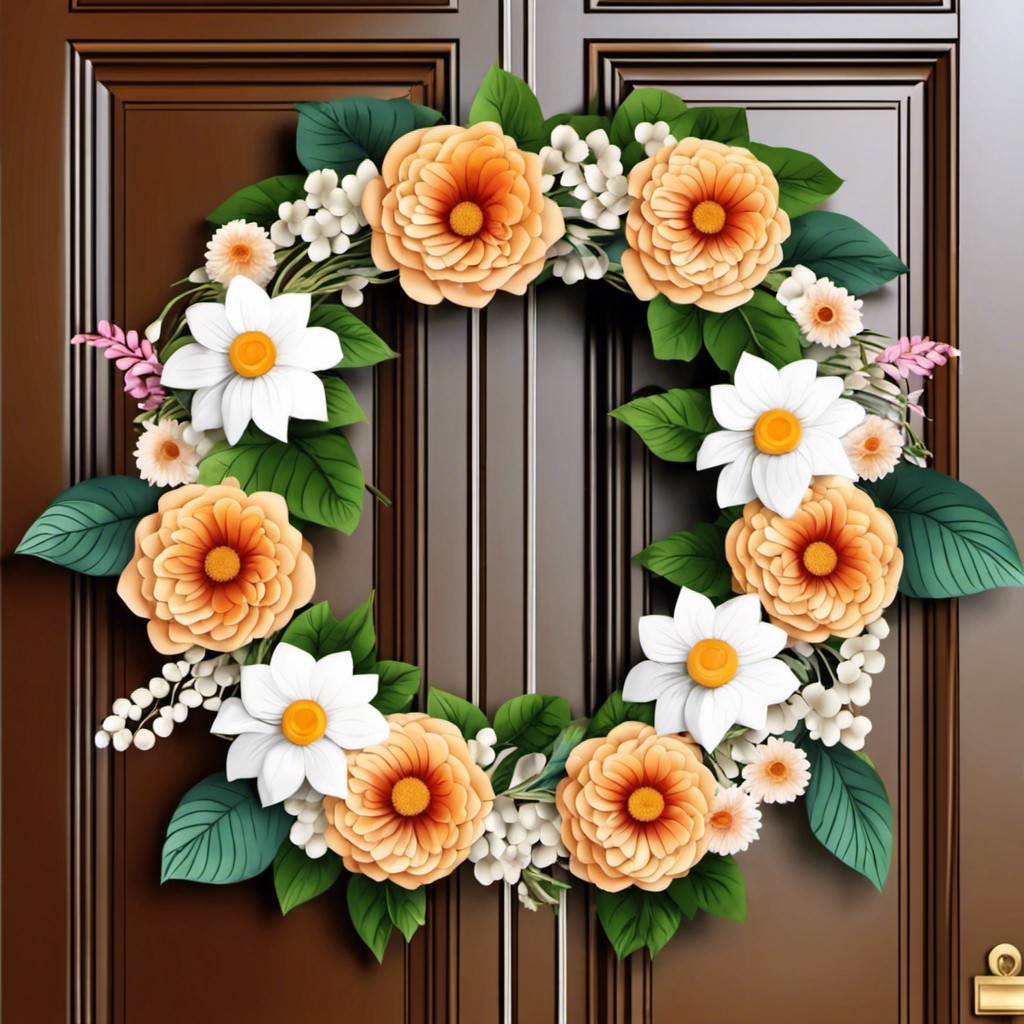 A Floral Wreath is an enchanting choice that brings life to your entrance throughout the year. No season limits its charm, and its versatility is unmatched.
With a multitude of flowers available, the selection allows for a tailored design that complements your home's aesthetics. Choose from vibrant roses, lovely daises, calming lavender, or any other blooms best suited to your taste.
Creating your customized floral wreath can serve as a fun DIY project. Opt for real flowers for an authentic aroma and feel, while faux flowers offer longevity and ease of maintenance.
Coordinate colors with the season, or stick to a palette that stays consistent year-round.
Whether rustic, modern, or a mix of styles, a wreath can blend effortlessly. Weather-treated ribbons can provide a personal touch, or small themed elements can elevate the festive spirit when needed.
A floral wreath is not only welcoming but also a window to personal creativity at your doorstep.
Halloween Themed Door Cover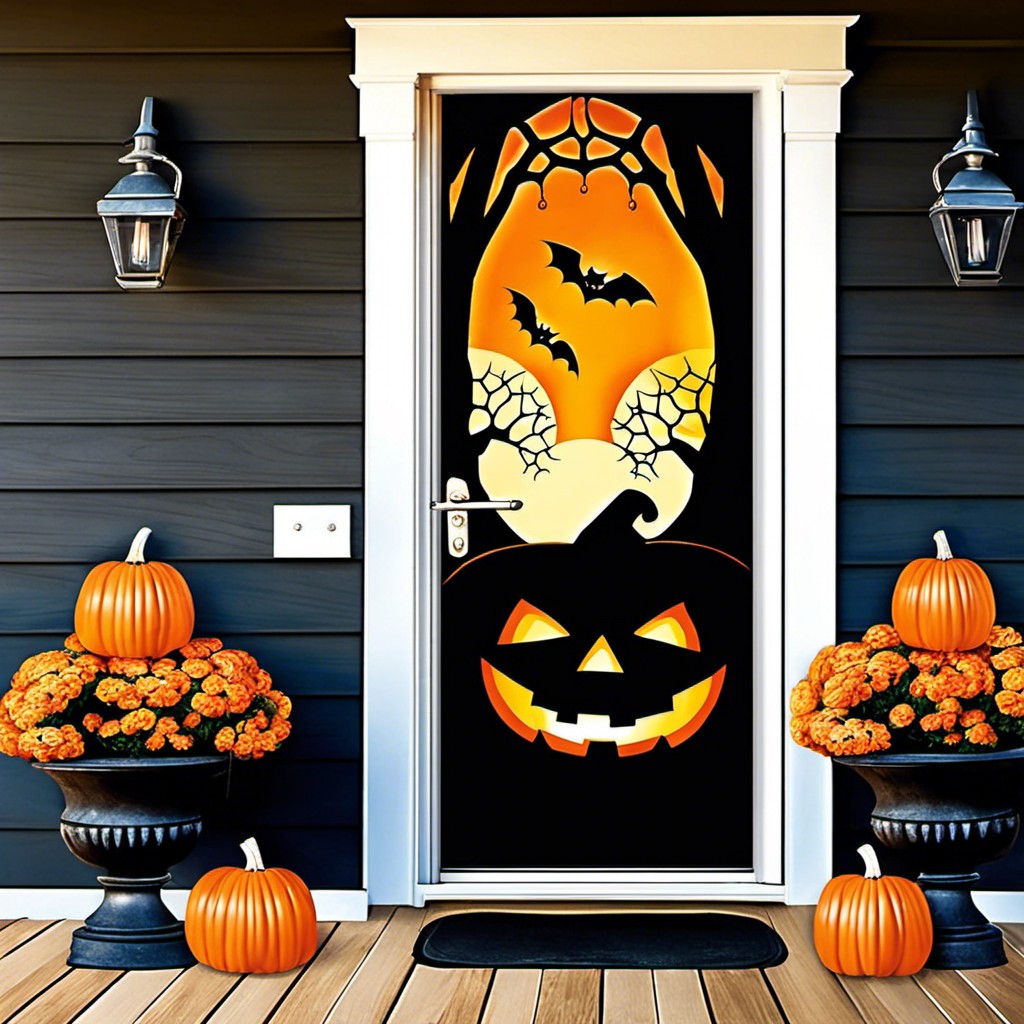 Introducing a Halloween-themed door cover can drastically transform the entrance, creating a welcoming yet spooky vibe suitable for the season. Creativity is key here, with various adorning ideas including:
Jack-o'-Lantern Inspiration: Emulating the iconic Jack-o'-Lantern, use vibrant orange material as the cover. Black cut-outs serve as eyes and a grinning mouth. This simple yet effective theme always charms.
Witch Silhouette: Utilise black fabric to create a mysterious witch silhouette against a luminous, moonlit background.
Cobweb Delight: Utilise white, gauzy fabric and intricate cobwebs crafted from yarn. A few strategic spiders add the perfect trick-or-treat finishing touch.
Ghoulish Graveyard: Opt for a monotone scheme with grey fabric, featuring shadowy tombstone silhouettes and an ominous moon overhead.
Haunted House: Achieve an eerie vibe by simulating a haunted house scene with cut-outs and strategic lighting.
Googly Monster: Offer lighthearted fun with a giant one-eyed monster, using vibrant, bold hues for a comic touch.
Remember, all designs should be weather-resistant to maintain the charm throughout the season.
Christmas Garland Door Cover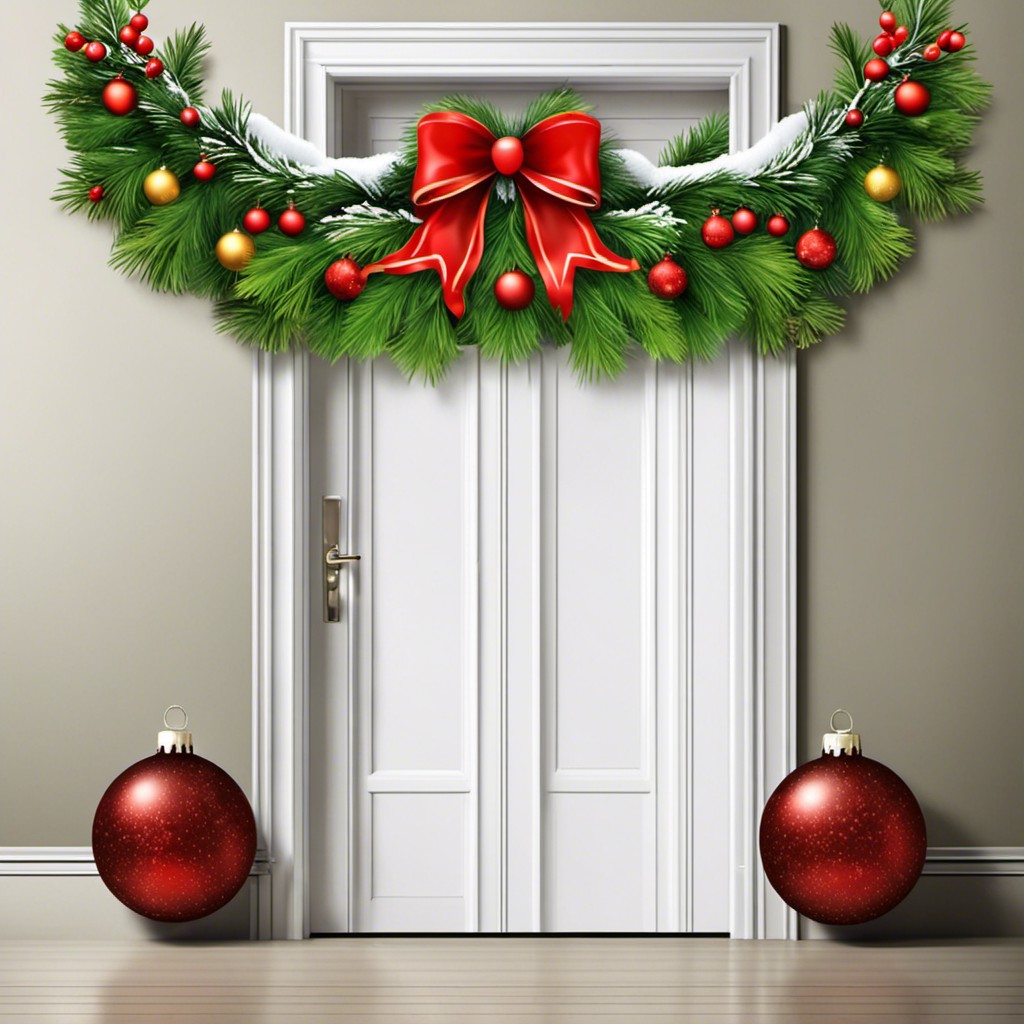 To create this festive design, you'll require garland strands – options include pine tree, holly, or eucalyptus, a bow of your choice, fairy lights (optional), and some adhesive hooks.
1. Start by measuring your door's dimensions to ensure you buy adequate garland length.
2. Place adhesive hooks around the door frame, where you plan on hanging the garland.
3. Drape the garland around the door, securing it onto the hooks.
4. If desired, wrap the garland with a strand of fairy lights for some sparkle.
5. Finalize this arrangement with a bow at the top or bottom of your door for that extra holiday cheer.
Note, if you are concerned about damage to your door, consider using a garland hanger, which adjusts to fit most doorways, and does not require any drilling or screws. On a safety note, if you decide to include lights, ensure they are suitable for outdoor use, and turn them off when you leave the house or go to bed.
Rustic Wood Panel Door Cover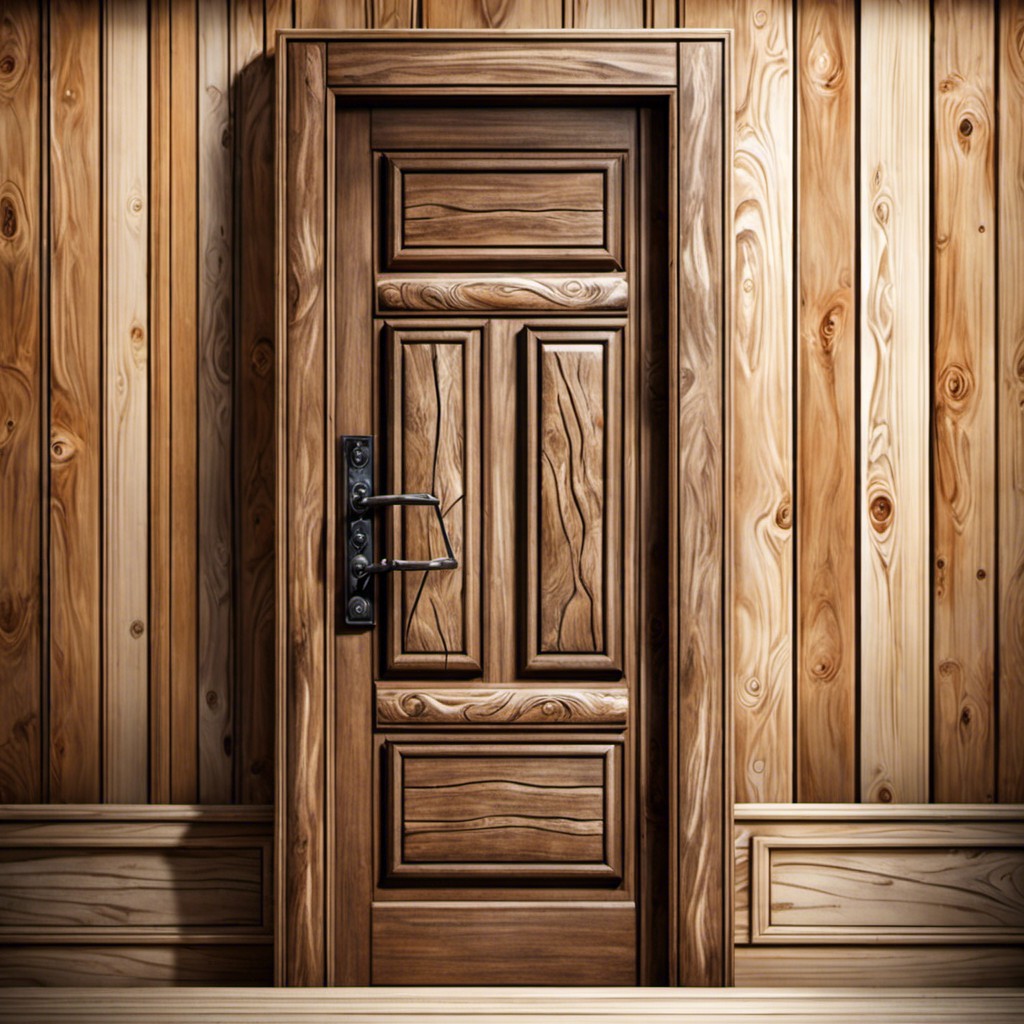 Crafting this design requires a modest set of skills and tools. Start by sourcing reclaimed wood; its weathered charm enhances the rustic allure.
The wood panels can be arranged either horizontally or vertically according to your preference, ensuring the natural wood's texture and color variations are displayed.
Incorporating wrought iron handles or accents can add to the old-world charm of the wooden setup.
It's advisable to treat the wood to protect it from pest damage and the elements, particularly if your home is situated in a region known for harsh weather conditions.
Homeowners should also consider the door's existing style and color palette before choosing the wood hues for the best overall aesthetic result.
Remember, the goal is to blend the rustic sense with the overall home style, not to overpower it.
St. Patrick's Day Shamrock Door Cover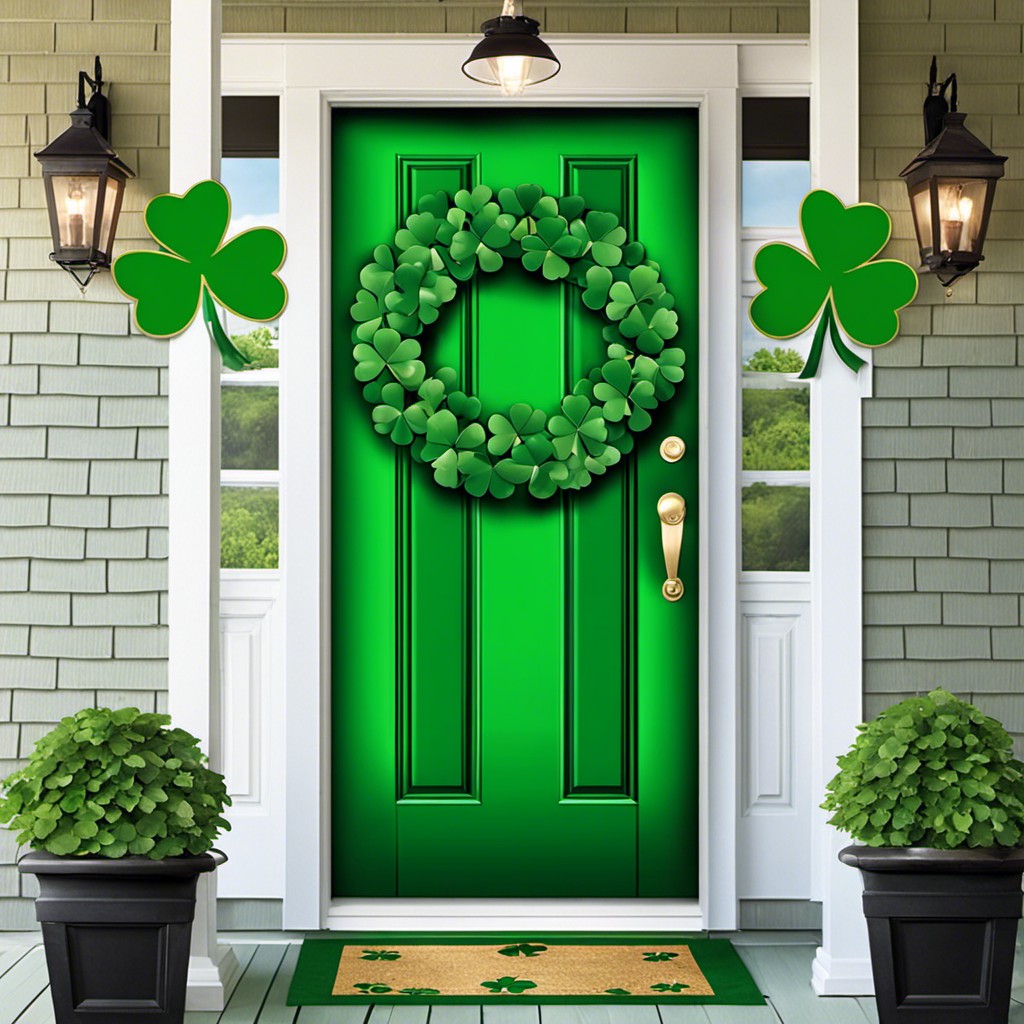 To create a truly festive entrance, consider incorporating the classic symbols of St. Patrick's Day into your door decor, namely shamrocks or four-leaf clovers.
To make it even more appealing, use various shades of green to craft an enchanting gradient effect which adds depth and visual interest.
This versatile decoration allows for plenty of creativity: felt, wood, fabric, or even recycled materials can be used to shape shamrocks.
For a more distinctive touch, embellish with sparkling glitter, festive ribbons, or add a lucky leprechaun hat to the design.
This decoration not only celebrates Irish heritage and culture but also welcomes spring with its bright and refreshing shades of green.
Plan ahead and start crafting to ensure it's ready for the mid-March celebration.
Remember, door decorations are the first impression visitors get, so make it count with a charming and fun St. Patrick's Day design.
Vintage Metal Door Cover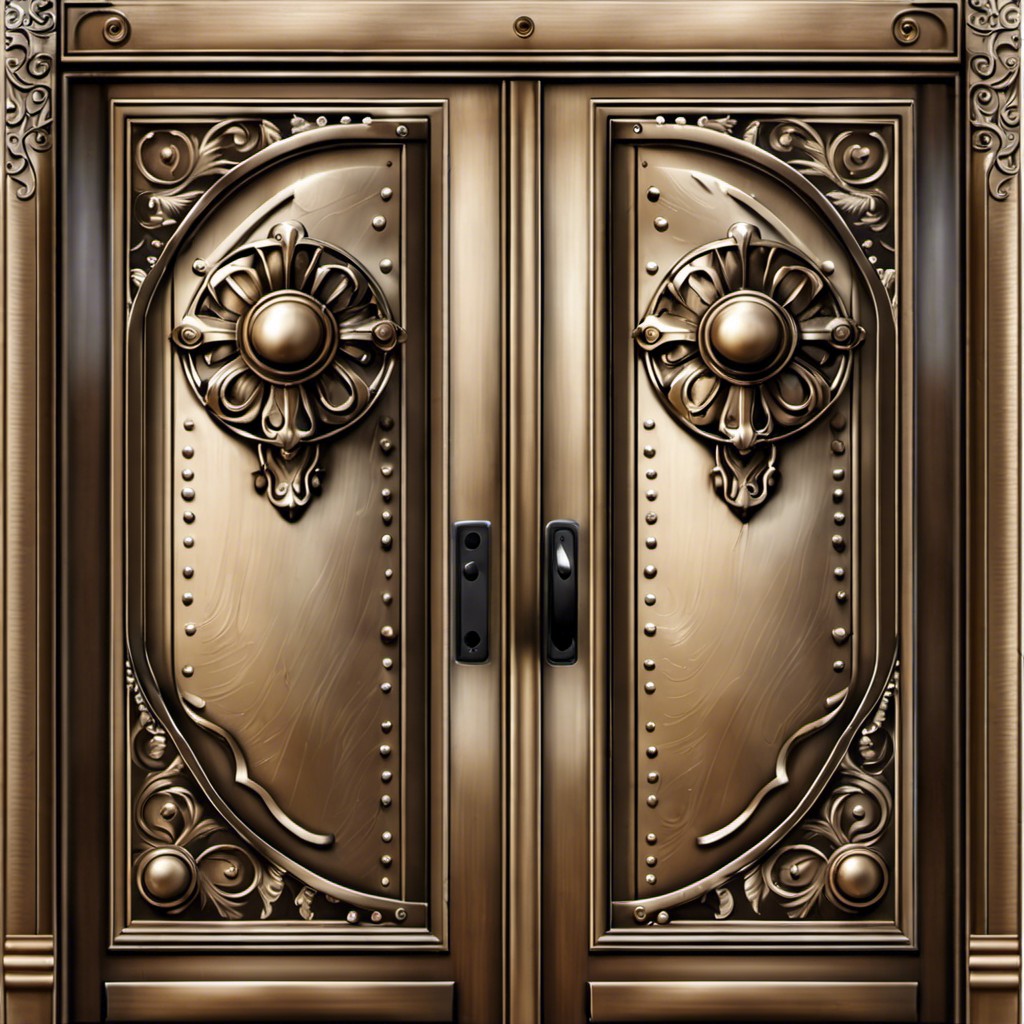 Choosing resilient materials such as metal brings an enduring classic appeal to your front door. These can be acquired from thrift stores, flea markets, or online vintage shops to add a dash of history and antiquity to your abode. The naturally weathered look of these door covers contributes a rugged charm, creating a striking contrast against a freshly painted door.
Here are few ways to use vintage metal covers:
Lettering: Select old-fashioned metal letters or numbers that have an appealing patina for an identifiable touch.
Patterned Shields: Search for metal sheets with embossed or die-cut patterns. The variety of shapes, from art deco to classic floral designs, offers countless design options.
Salvaged metal signs: These offer the benefit of already having unique designs and nostalgic advertising that can provide a fun, lively aspect to your stoop.
Every piece will have its own unique story, making your door cover a conversation starter. The low maintenance and durability are the icing on the cake for this distinctive style choice.
Fall Leaves Door Cover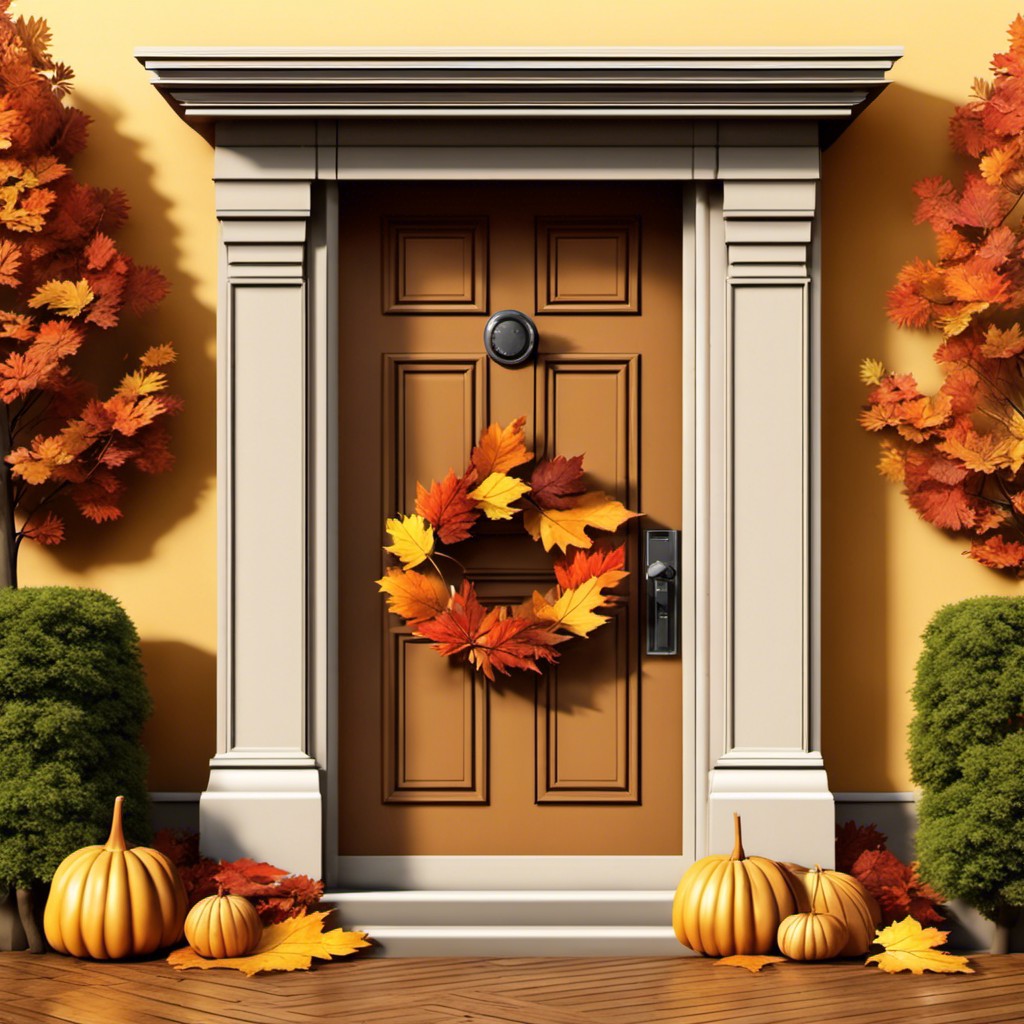 Embracing the beauty of fall's foliage for your door cover offers endless creativity. First, consider opting for vibrant artificial leaves; these are lightweight and retain their color. If you prefer natural, real leaves can be treated to preserve their natural beauty.
Designing your door cover, remember variety adds spice. Mix leaves of different colors and sizes for an eye-catching effect. This visually warm and vibrant door covering brings the splendid colors of fall to your doorstep.
Further appeal can be added by incorporating other fall elements like mini-pumpkins, gourds, or pine cones. Creatively arranging these with your leaves can create a charming representation of a fall harvest right on your door.
Do note, regardless of the materials used, ensure your door cover is weather-resistant. It keeps the elements from negatively impacting your fall-inspired door cover.
Finally, remember to secure your creation properly to the door. No, the wind should not carry off your splendid fall decoration. Use durable but door-friendly materials like adhesive hooks or magnetic strips.
Remember, the goal is to create a door cover that captures fall's beauty in a way that accentuates your home's charm and brings delight to all who pass by.
Valentine's Heart Door Cover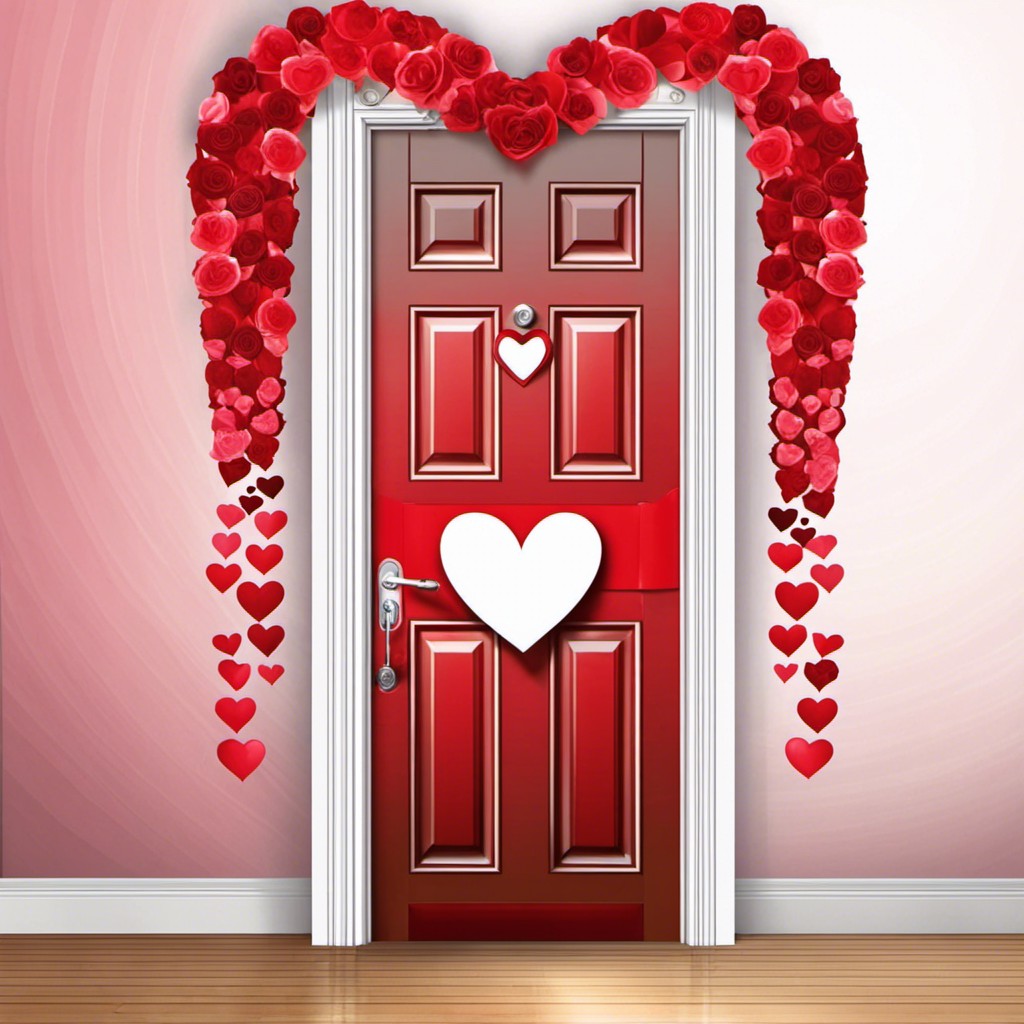 Crafting a heart-themed door cover can infuse a sense of romance and affection into your home's aesthetic during the Valentine season. Start with a heart-shaped base — choose from materials like wire, wood or even sturdy cardboard. Cover this base with your choice of fabric or paper, adding further texture and pattern that pleases the eye.
Next, come the embellishments. Faux roses or peonies can give a lush, beautiful finish, while ribbons or bows add a dash of charm. Consider stringing smaller, fabric-covered hearts together into a garland effect, pairing it with lace or burlap for a rustic look.
For a modern twist, use geometric designs. Cluster triangular or hexagonal mirrors within a heart-shaped boundary to capture light and add sparkle. Glittered hearts in varying shades of pink and red can also create a vibrant, contemporary style.
Finally, ensure securely hanging your door cover. Whether it's a simple nail, a suction hook, or a magnetic hanger, choose a method that best suits your door type and the weight of your design.
Remember, it's all about customization and personal touch – so feel free to tweak any idea to match your taste and the overall ambiance of your home.
American Flag Door Cover for July 4th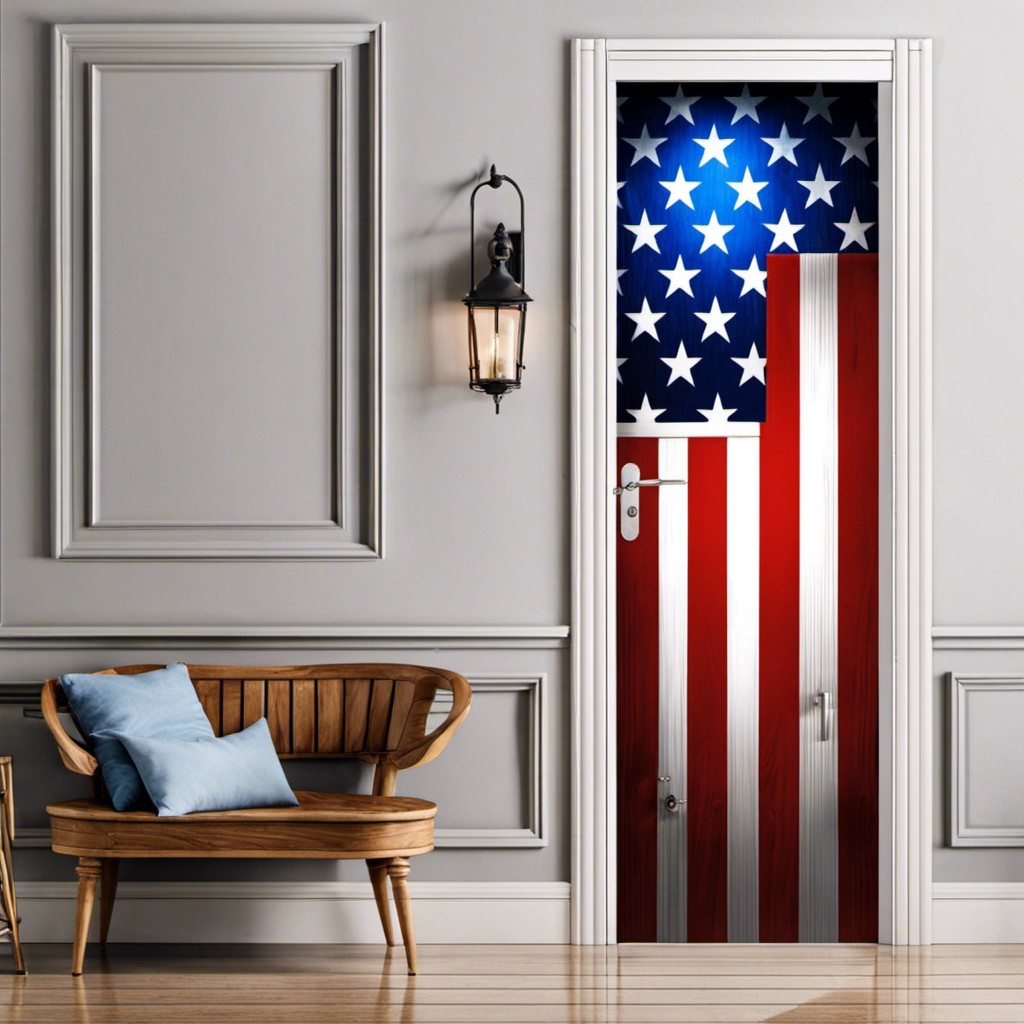 Creating a striking display of patriotic pride, this door decor features the iconic stars and stripes. It's essential to get the color scheme accurate – red, white, and blue.
Initially, measure your door to decide the size of the fabric or vinyl needed. For a somewhat rustic effect, consider gently distressing the color or using a faded fabric, but ensure it doesn't lose its vibrant appeal.
You can opt for a full door cover showcasing the flag in all its glory, or you can create a more subdued design with the flag in the door's center. Remember, the layout consists of thirteen horizontal stripes alternating red and white, and a blue rectangle in the canton bearing fifty small, white, five-pointed stars.
Another creative option is to incorporate the symbolism of the flag into other designs. For instance, a wooden door cover painted with the flag's colors, or perhaps a flag-themed wreath or garland.
This door cover will surely radiate a sense of unity and celebration during the festive period. It's a fun, engaging way to display the national colors that everyone recognises and admires. Decorative updates like these can really boost the curb appeal of your home during festive seasons.
Chalkboard Paint Door Cover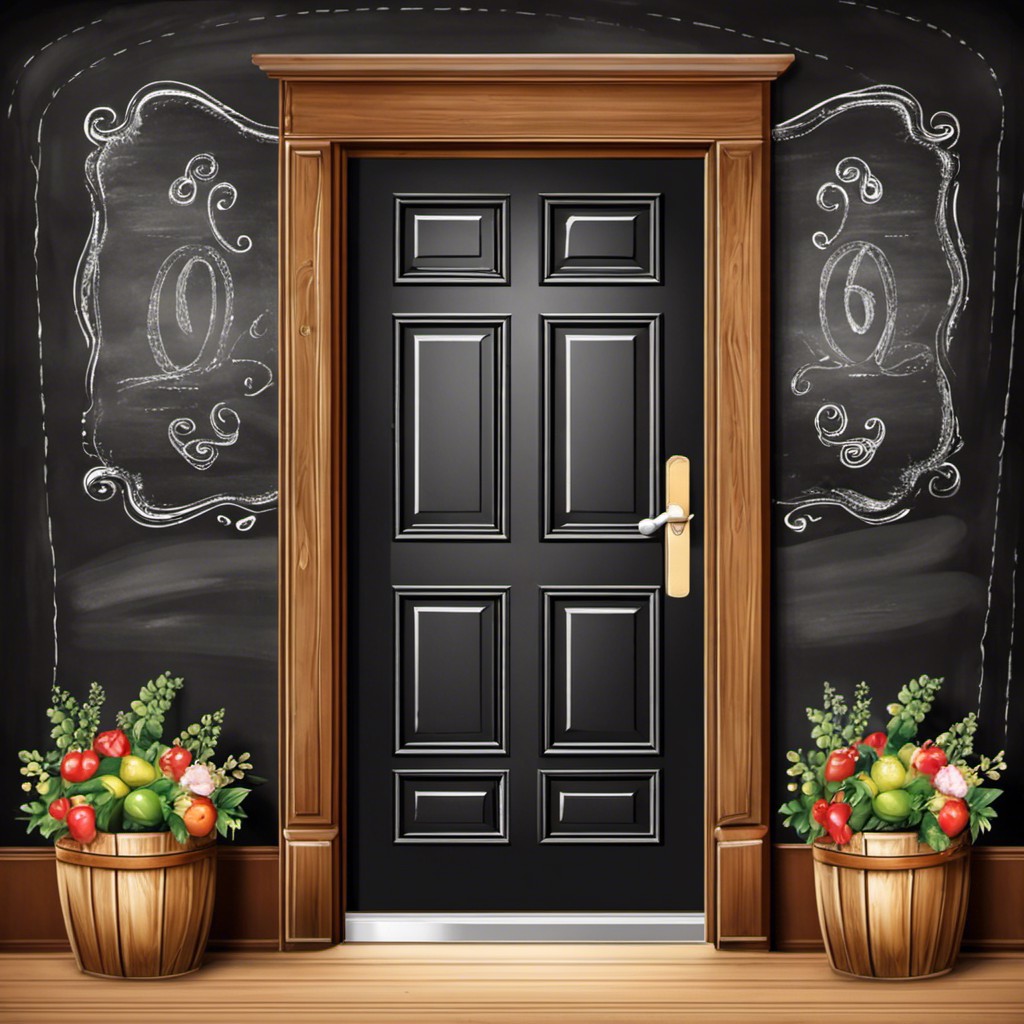 Chalkboard paint, with its matte black finish, offers an instantly recognizable and versatile way to transform your entrance. Whether you're a busy family needing a place for reminders or a creative soul wanting a canvas for art, it serves various purposes.
1. Message Center: Useful for jotting down grocery lists, reminders, or personalized greetings.
2. Guest Interaction: Friends and guests can leave messages when they visit. An unexpected form of entertainment!
3. Artistic Outlet: Sketch your daily mood or season-themed designs. It's a unique aesthetic statement.
4. Kid's Canvas: Let children express themselves in a sanctioned place – no more wall doodles!
5. Reversibility: Change your door's look with the swipe of an eraser. Want it plain again? Just erase.
6. DIY Project: The paint application process itself is simple and rewarding, making it a popular DIY project.
So, why not mix functionality with creativity and take your door from drab to fab with chalkboard paint?
Beach Scene Door Cover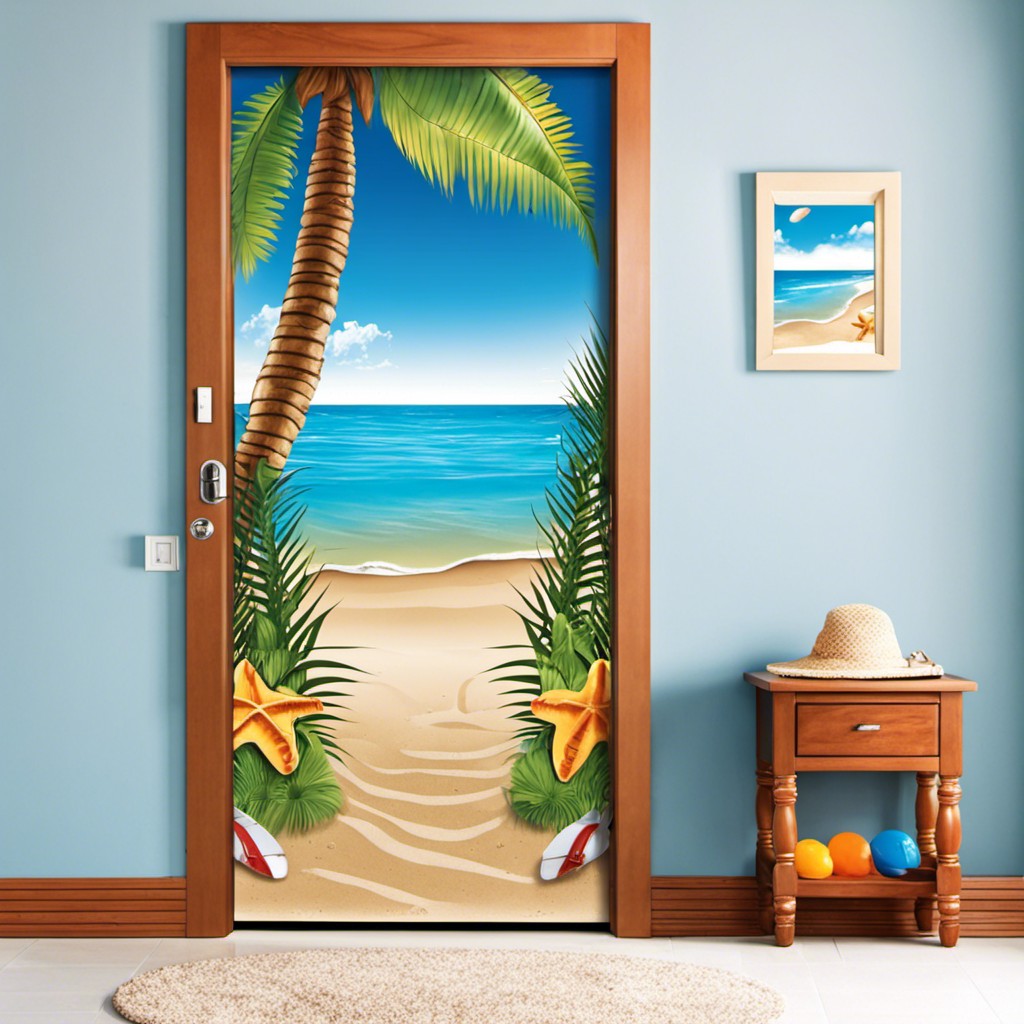 Brimming with the tranquil vibes of oceans and sandy seashores, the Beach Scene Door Cover is an excellent choice to lend your doorway a refreshing summer makeover.
Here's where to start:
1. Materials: Locate a sturdy door cover made from a weather-resistant material like vinyl. Opt for a captivating picture depicting a serene beach scene. Sand, sea, palm trees, seashells, or even a vibrant sunset can be part of the imagery.
2. Color Palette: Stick to the natural colors of a beach setting. Cool hues of blue and green representing the ocean, warm tones like beige and yellow for the sand, and maybe a dramatic splash of orange and red for the sunset.
3. Fixing: Ensure that the desired door cover fits your door perfectly and is easy to install and remove. Usually, these covers come with adhesive straps or clips for mounting.
4. Complementing Decor: Pair the beach scene door cover with matching decor elements. Welcome mats, hanging baskets, beach-themed wind chimes, or even wicker furniture can heighten the beach vibe.
5. Seasonal Use: Even though it's a beach theme, this door cover doesn't have to be restricted to the summer season. It can serve as a comforting visual escape during the chilly winter months.
Remember, the goal is to create an inviting, relaxed aesthetic that makes you feel as if every day's a vacation.
Spring Flower Door Cover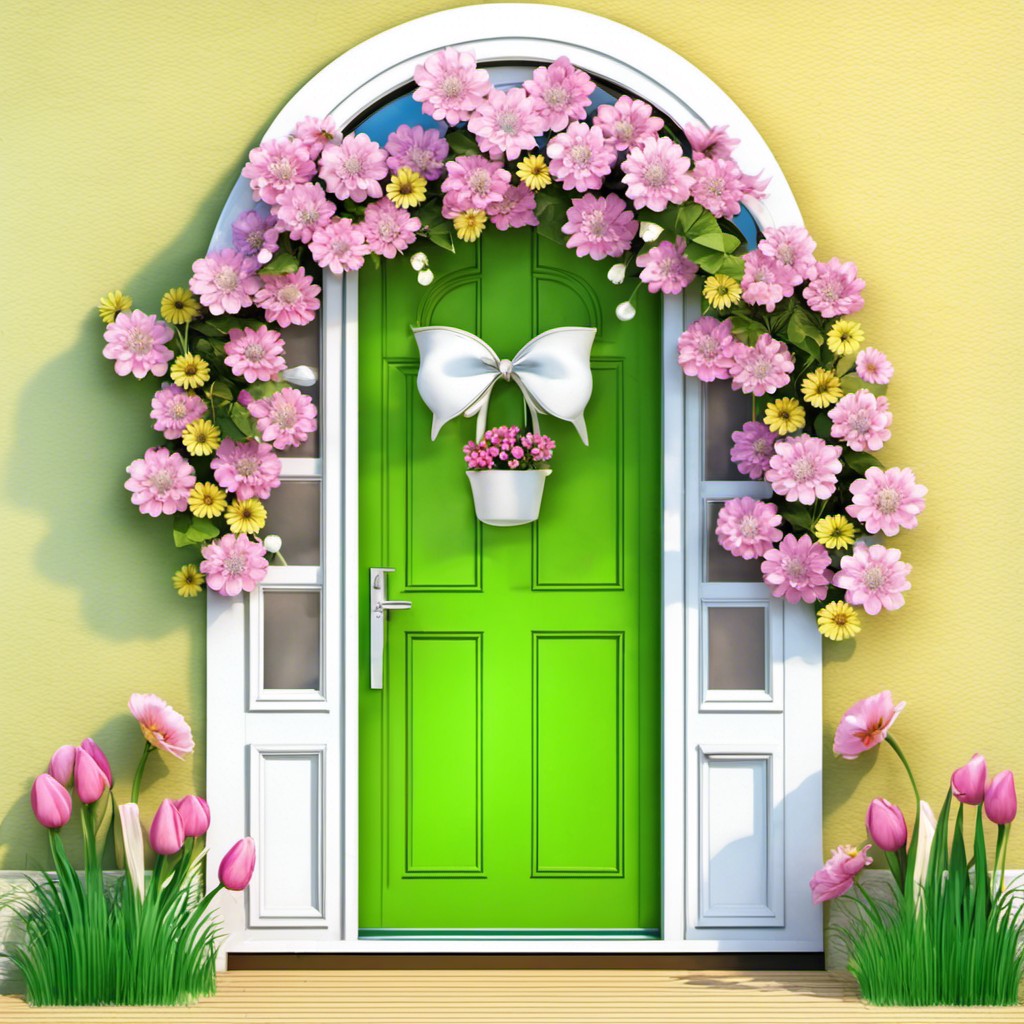 Fresh flowers epitomize spring's beauty, which is why they make a perfect inspiration for a door cover. To create a gorgeous spring-themed look, use a variety of blooming plants such as tulips, daffodils, or hydrangeas. Artificial flowers can also be a great option as they last longer and withstand changes in weather conditions.
Construct a DIY flower garland, stringing together vibrant petalled plants. Place it around your door like a traditional wreath or adorn the door from edge to edge for a breathtaking, full bloom effect. The inclusion of green foliage will add depth and give it a more natural look.
An alternative to a garland is applying decal flowers. These stick-on designs are perfect for a flat door. They're easy to apply and remove without damaging the paintwork. Tailor the design to your personal tastes, with small clusters of decals or a cascade of blossoms for an eye-catching appeal.
For an artistic twist, use stencils and paint your own flowers. Choose complimentary colors that match your home's exterior or try bright, contrasting hues for a bold pop of color. However you choose to create your floral door cover, the result is sure to be a cheerful welcome every time you return home.
Winter Snowflakes Door Cover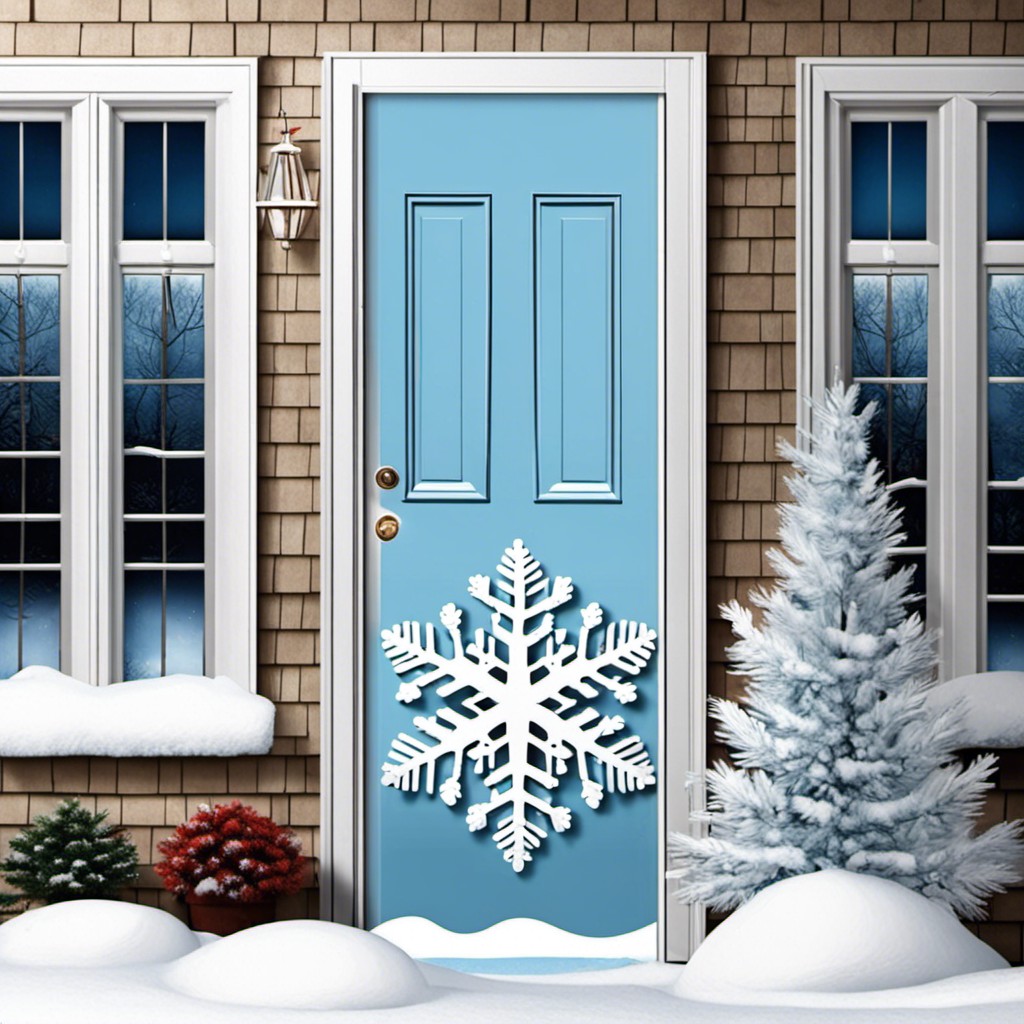 In the midst of winter, the entranceway can be transformed into a magical wonderland. Opt for a door cover adorned with differing shapes and sizes of snowflakes, ideally in a mix of silver and white to capture the essence of fresh snowfall.
1. Ensure the door cover fits well and is securely affixed to the door to avoid it from falling or flapping in the winter winds.
2. When selecting a design, consider one that features delicate snowflakes with intricate, realistic details to enhance the winter aesthetics.
3. For an added touch of sparkle, choose a door cover with glitter or sequin snowflakes. This will create a shimmering effect, especially when it catches the winter sunlight.
4. Pair your snowflake door cover with matching winter-themed decorations, such as twinkling icicle lights and frosty window decals, to promote a cohesive look.
5. Keep in mind that your winter snowflake door cover should be resistant to winter weather conditions – selecting a waterproof or snow-proof material will ensure durability throughout the season.
Custom Family Monogram Door Cover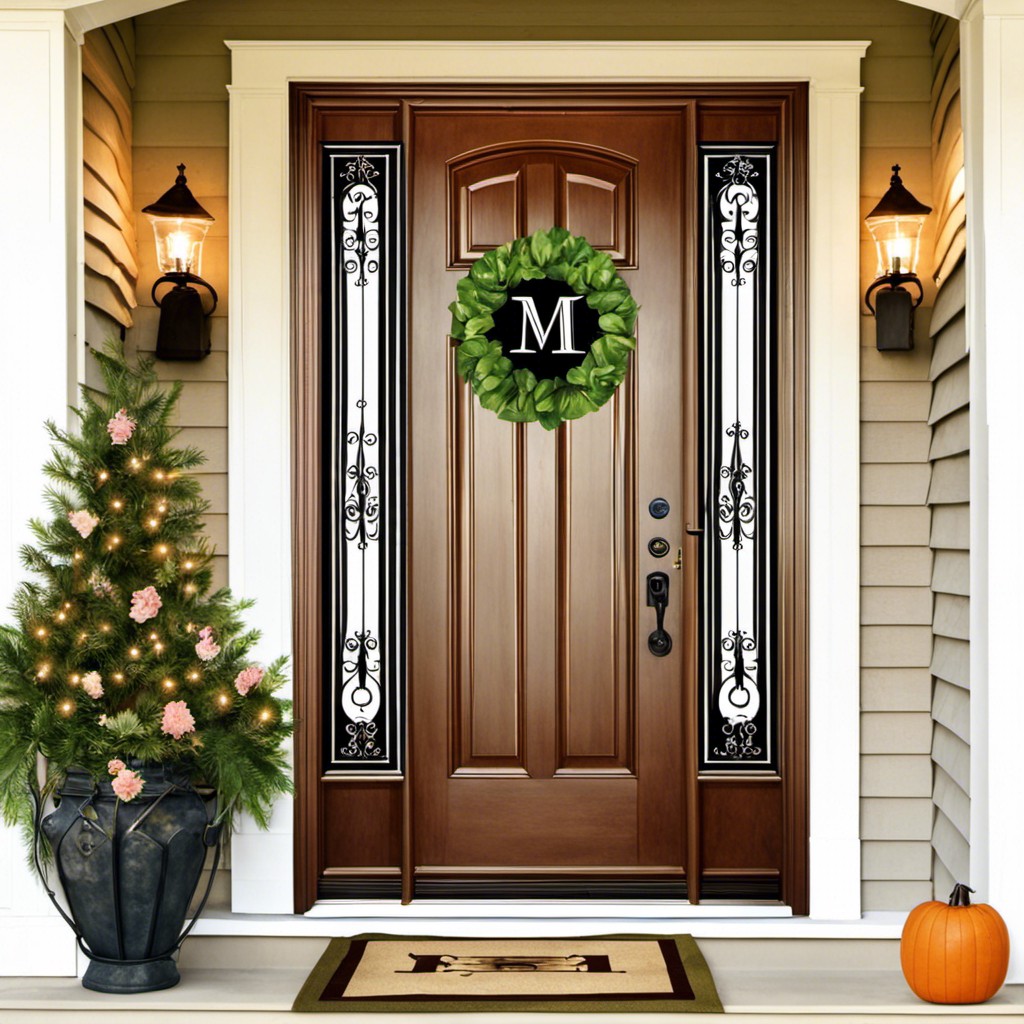 A personalized touch to home decor indeed elevates its aesthetic appeal. A custom family monogram door cover stands as a unique embodiment of this idea. This customizable piece allows you to incorporate up to three letters, usually initials of the family members. Made from materials like wood or metal, they are crafted to withstand weather conditions.
A few essentials to remember while opting for this decor piece include:
Size: Keep the door dimensions in mind. The custom monogram should neither be too small to go unnoticed nor too large to overpower the door's view.
Design: Floral, geometric, abstract – choose a design that aligns with the overall decor of your house.
Color: For an elegant look, opt for classic colors like black, white, or gold. For a more vibrant appeal, bold colors can work wonders.
Installation: Use of sturdy hardware ensures that the decor item remains secure in all weather conditions.
Remember, these custom family monogram door covers serve as the first greeting to your guests, echoing the warmth and comfort of your home even before they step inside.
Autumn Pumpkin Door Cover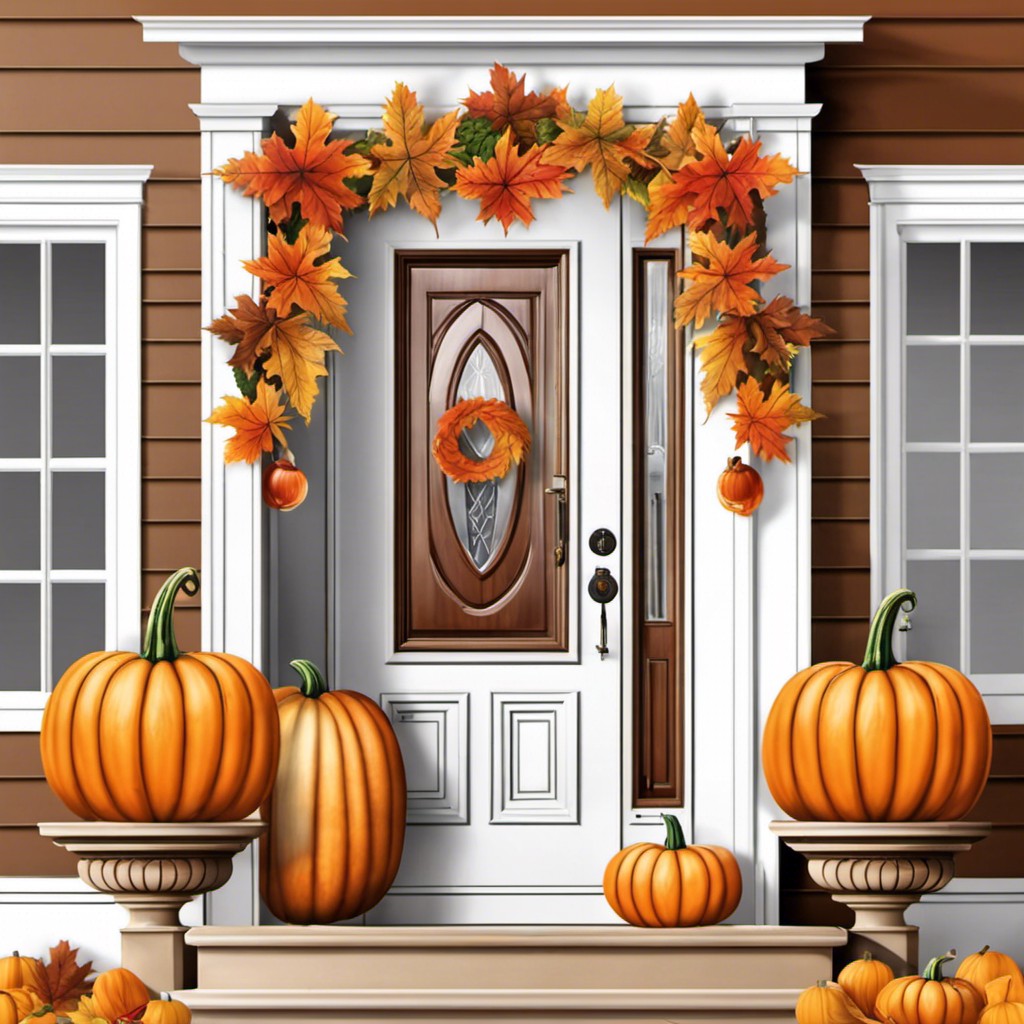 Transitioning from bright summer patterns to warm autumn shades can be a delightful change. Embody the essence of fall by incorporating the iconic pumpkin into your door decor.
1. Color Variation: Experiment with shades of orange, coupled with rustic browns and vibrant yellows, to mirror the outdoors' ever-changing hues. Add an unexpected pop of color with white or teal pumpkins.
2. Material Usage: There's a wide range of materials to choose from. A pumpkin-shaped fabric cover gives an inviting plush feeling, while a painted wooden or metal door cover lends a refined aesthetic.
3. Layered Design: Create extra depth by layering multiple pumpkin elements in varying sizes, which would bring a 3D appeal to your door and captivate attention.
4. Embellishments: Finish off with ribbons, faux fall leaves, or even small lights. Remember, a touch of sparkle can enhance the overall look without going overboard.
Decorating your door isn't just about the visual impact; it's also an opportunity to express creative flair and usher in the new season in style. With an autumn pumpkin door cover, moving to the cozy season becomes an artful affair.
Easter Bunny Door Cover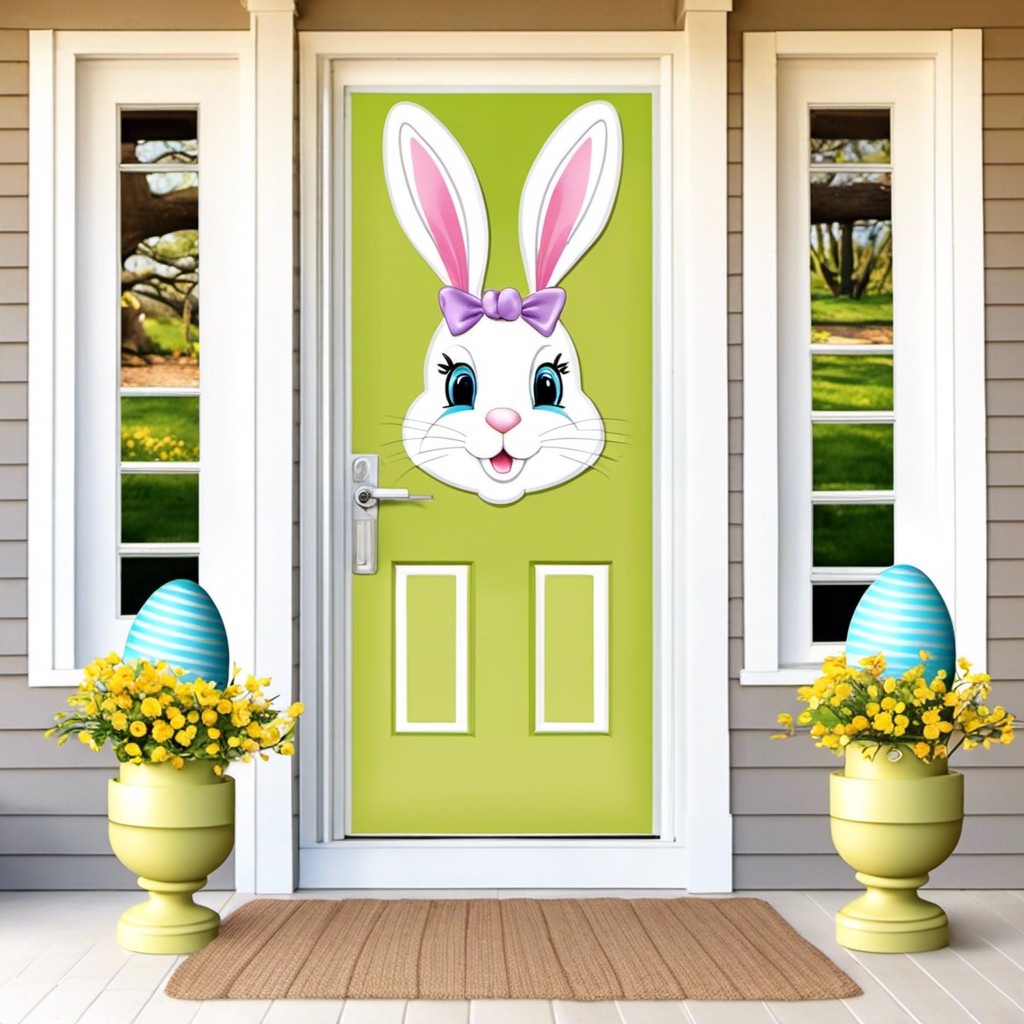 Emphasizing the fun and joyous spring season, this door cover concept invites creativity. Start with a base – opt for soft, pastel hues or a white canvas to draw the bunny. Add delightful details like cotton-ball tails or floppy ears using fabric or paper.
This design offers an opportunity to incorporate other elements of Easter and spring too. Balance your bunny with painted eggs or spring flowers at the bunny's feet. Don't forget to consider the size of the door – ensure your bunny and elements align appropriately for maximum visual appeal.
Finally, use weather-resistant materials if your door is exposed to outdoor elements. This creative project makes a charming statement that will delight your guests.
New Year's Eve Door Cover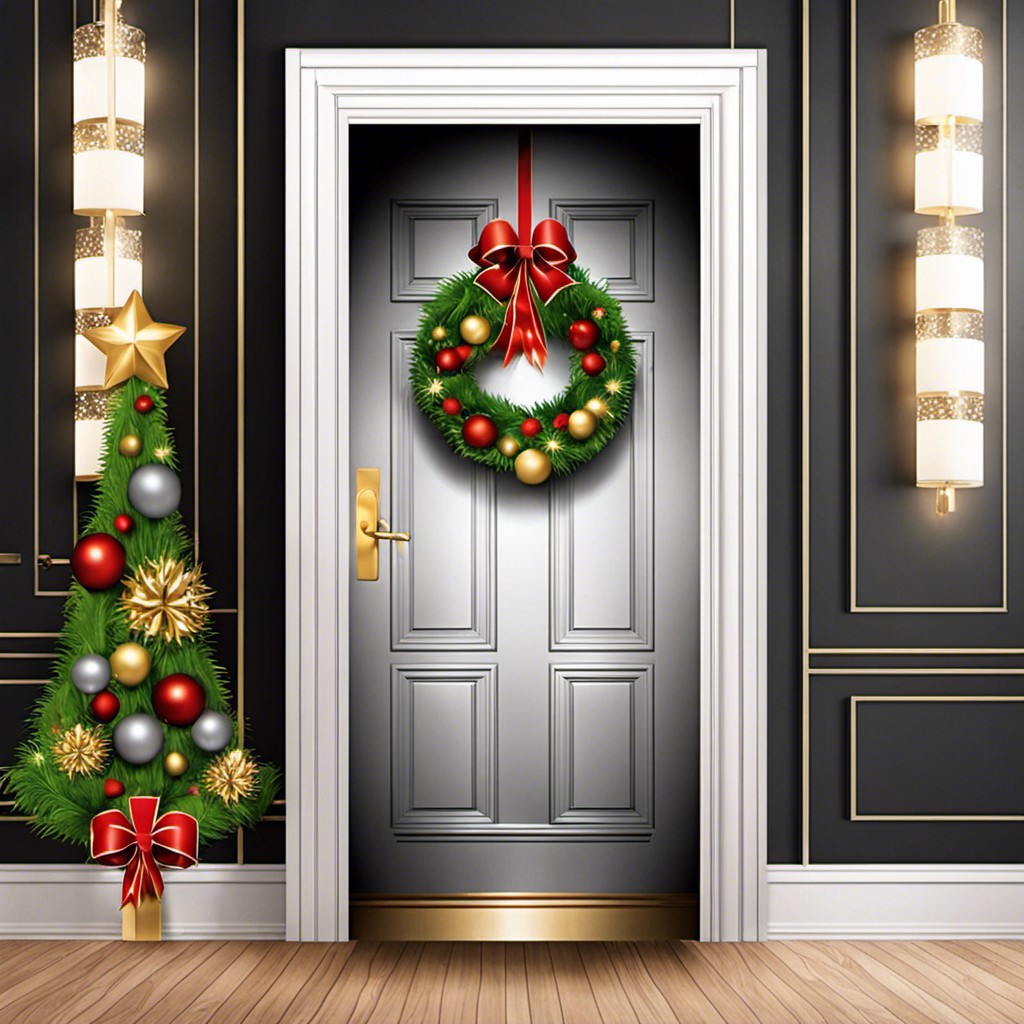 For an exciting, festive spin on decorating your entryway, consider sparkling accents and shimmering colors. Use glistening party streamers draped across the surface to mimic the effervescence of champagne. Deep blues and silvers will replicate the midnight sky while a flip sequins panel reflects the glitz of the evening.
Hang an inflatable countdown clock, replicating the Times Square tradition, encouraging cheer and suspense for visitors knocking at your door. For a more understated approach, a wreath made of noisemakers or party hats offers a delightful, amusing touch. Light projectors can also be used for animated, glowing displays of fireworks.
Remember, the aim is to amplify the joy of new beginnings with your door cover through glittering, celebratory details. Integration of traditional symbols of New Year's Eve, like champagne, clocks, or fireworks, provides a playful sense of anticipation for the year to come.
Back to School Door Cover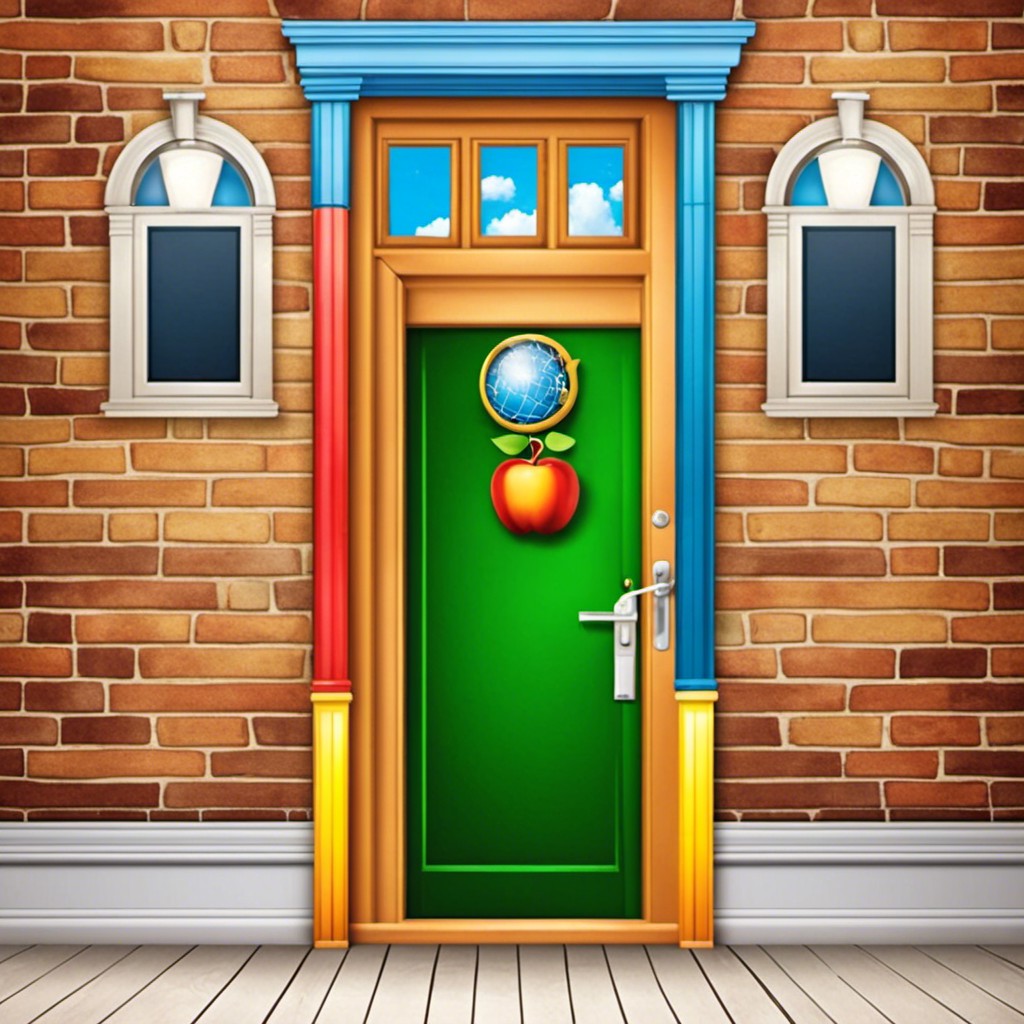 Transitioning from summer breaks back to the hustle and bustle of school can be made more exciting with a vibrant door cover! This refreshing element serves as a visual reminder of the academic year ahead, getting the kids pumped for a round of fruitful learning experiences.
Creating such a spirited atmosphere entails a blend of school-related symbols and kid-friendly aesthetics. Play around with a palette of primary colors, the basis of all color learning. Place emphasis on alphabets, numbers, or geometry shapes. Add a touch of whimsy with cartoon backpacks, playful school busses, or cute apple designs, elements that resonate with school life.
Materials for this craft project can range from fabric to paper, or even recyclable items, stimulating kids' creativity. Tailoring this project to include a little space for personalizing names or grade levels just bumps up the excitement! Engaging the children in crafting this door cover can serve dual purposes – it serves as a fun activity before school begins and enhances their excitement for the learning journey. Remember, the goal is to make going back to school an enthusiastic anticipation, and this small motif can work wonders.
Birthday Banner Door Cover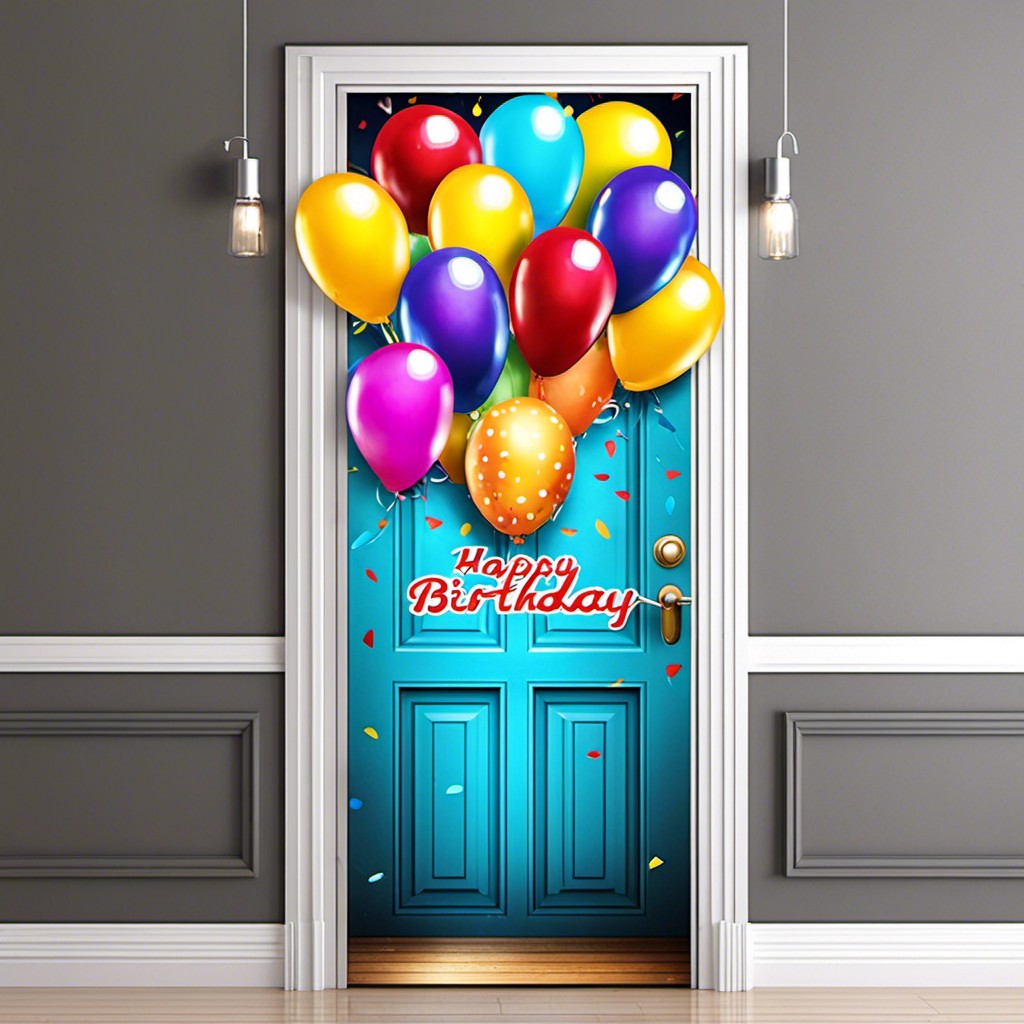 Elevate the festive spirit with this particular door cover idea. Birthday Banner Door Covers serve as the perfect surprise for the celebrant and can be personalized to any style or age.
If the celebrant has a favorite cartoon character, incorporate that into the design. Utilize bold and colorful letters to ensure the message stands out.
Remember, the choice of material is crucial, and fabrics like burlap or felt are both durable and visually appealing.
Your local craft store holds a variety of letter templates which you can use for shaping the greeting.
Do not shy away from adding balloons, ribbons, or even birthday hats to your banner for an extra celebratory touch.
With a little time and creativity, your Birthday Banner Door Cover will become a memorable piece of the birthday festivities.
Thanksgiving Turkey Door Cover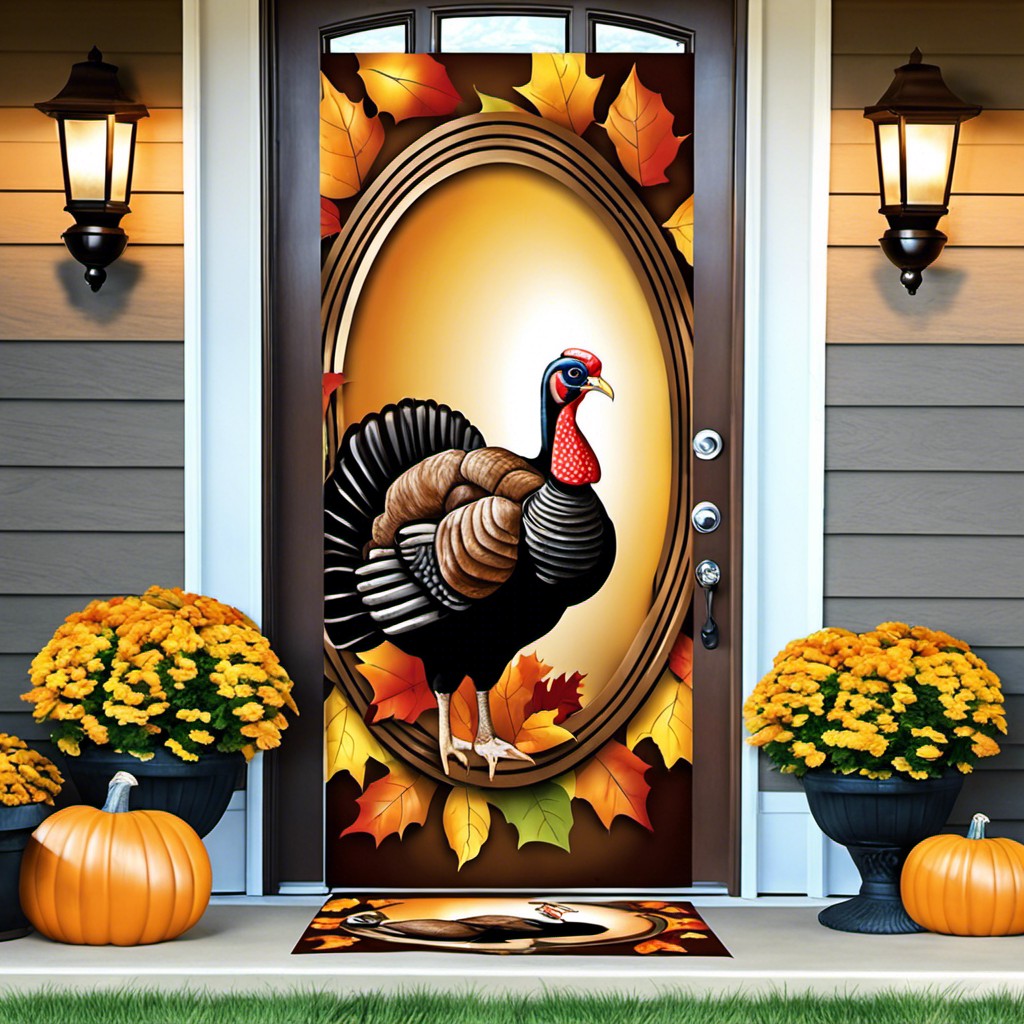 Bright colors depict the vivacity of Thanksgiving and the symbol of this holiday, the turkey, adds a warm and festive touch to any door. Below are some key points to help you create this holiday door cover.
1. Choose Realistic Colors: Consider using a palette that includes brown, yellow, and orange to resemble the real shades of a turkey. This brings an authentic feel to your door cover and, by extension, your entire decor.
2. Incorporate the Elements of Thanksgiving: Don't just focus on the turkey. Make your door cover more interesting by adding elements like autumn leaves, acorns, and pilgrim hats that signify Thanksgiving.
3. Add Texture and Dimension: Make use of textured or 3D materials to give your door cover a unique appeal. This could range from cut-out felt for the turkey's feathers to burlap for its body. These elements add an exciting depth to your decor.
4. DIY or Buy: Depending on your skill level and time availability, you may choose to create a DIY door cover or, for convenience, simply purchase a pre-made one that aligns with your aesthetics.
5. Safety: Ensure your turkey door cover is weather-resistant and securely fastened to eliminate any safety concerns.
By following these guidelines, your Thanksgiving turkey door cover will not only express the tones of the holiday season but also make a welcoming statement to any visitors.
You may also like to read: