Last updated on December 3, 2023
Unlock the potential of your grey couch because this article promises to inspire you with an array of incredible coffee table ideas that can instantly transform your living space.
Choosing the right coffee table for your grey couch can truly enhance the aesthetic appeal of your living room. The beauty of a grey couch lies in its versatility – it pairs well with almost any color and style.
Whether you're leaning towards a rustic wooden coffee table, a sleek glass design, or an eye-catching metallic piece, each can add a unique touch to your space.
This article will delve into various coffee table ideas, providing in-depth details on materials, shapes, sizes, and styles that harmonize with grey couches.
With a plethora of options to explore, you're bound to find the perfect coffee table to complement your grey couch and overall decor.
Table of Contents
Glass Top Coffee Table
Offering both functionality and style, a classy glass top coffee table allows the focus to remain on the grey couch. It doesn't obstruct the view, giving your space an open and airy feel. This type of table adds a touch of elegance without overwhelming the room.
You can explore a variety of style options – from a simple rectangular glass table for a minimalist look to an intricately designed metal and glass fusion for a more ornate feel. Play around with the base design – consider geometric shapes or sculptural forms for a contemporary appeal. Glass top tables also pair well with area rugs, allowing patterns and colors to shine through. To prevent scratches and chips, opt for tempered glass varieties.
For maintaining a glass top table, use a microfiber cloth and glass cleaner to keep it sparkling clean. Remember, fingerprints and dust may be more visible on such surfaces, so regular cleaning is essential. Despite requiring more maintenance, the clear, chic look it brings to your living room is well worth the effort.
Vintage Dark Wood Table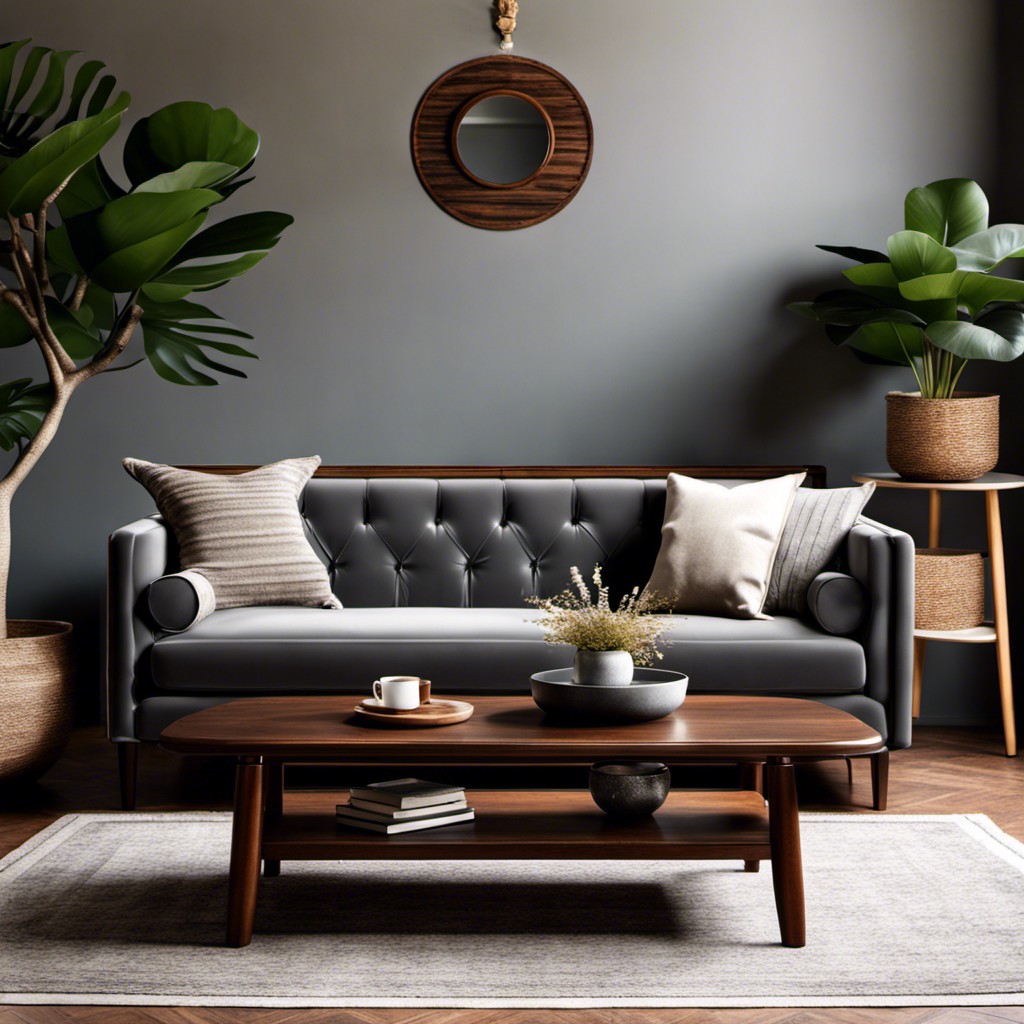 Exuding an aura of rich history and refined elegance, a vintage dark wood coffee table is a timeless choice that complements the subtle neutrality of a grey couch.
1. Deep Tones: Deep, warm tones add contrast and grounded prominence, tempering the coolness of the grey and imparting balance to the overall decor.
2. Historical touch: The intricate carvings and old-world detailing evoke a sense of history and craftsmanship, adding layers to your living room narrative.
3. Material Matters: Opt for solid woods like mahogany or walnut for long-lasting durability and a high-end, luxurious feel.
4. Size: Choose a table that aligns with the length of your sofa for visual symmetry and functional accessibility.
5. Style Fusion: Pair with modern accents for an eclectic mix, or traditional pieces for a more consistent style statement.
6. Practical Design: Consider models with drawers or a lower shelf for added utility and storage, keeping the table surface clean and ready for use.
Remember, a coffee table isn't just practical; it's a key fixture able to reinforce – or reinvent – your living area's style.
Metallic Silver Coffee Table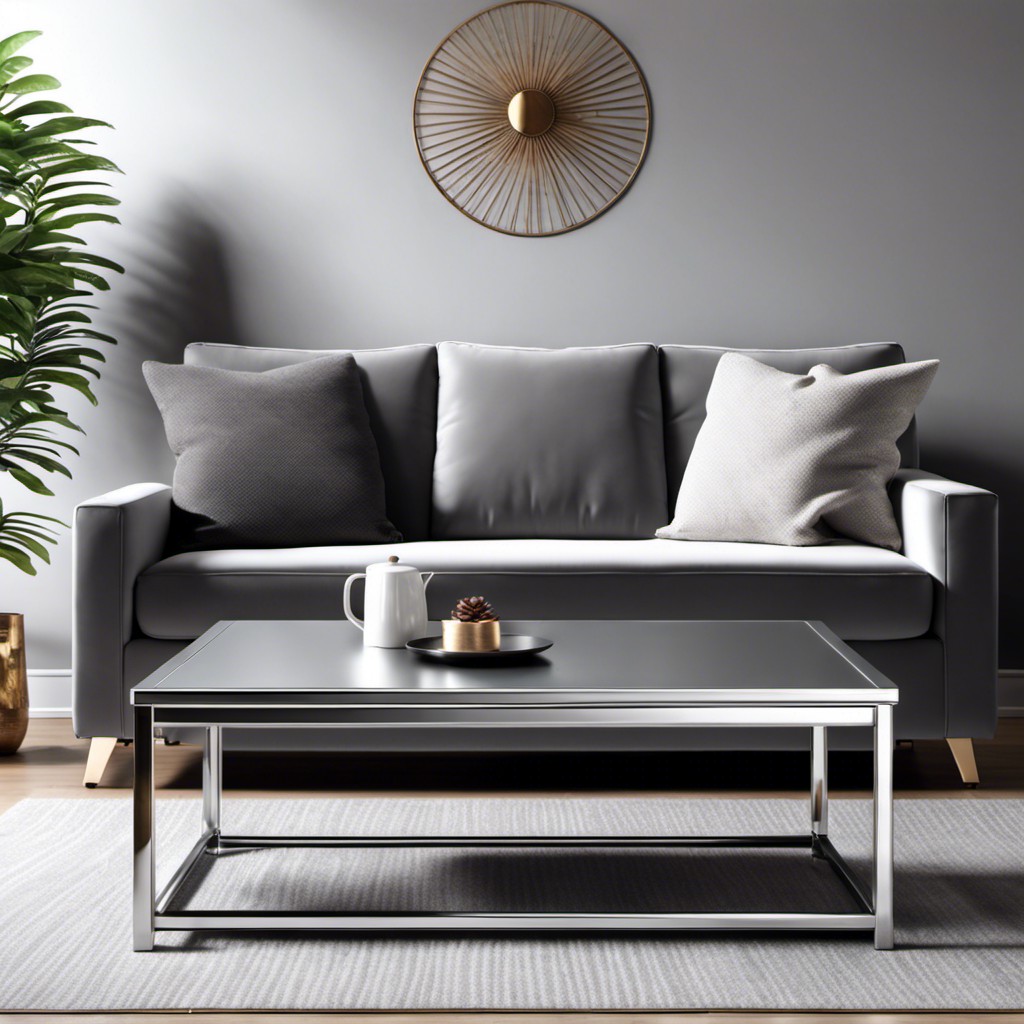 Offering sophistication and versatility, a metallic silver coffee table effortlessly complements a grey couch. This furniture piece not only acts as a functional centerpiece but also brightens the living room due to its reflective surface.
1. Enhances aesthetic appeal: The lustrous finish lends a luxurious touch, elevating the overall look of the space.
2. Reflects light: Excellent for smaller or darker rooms where extra brightness is needed.
3. Easy to maintain: Quick wipe-downs keep it sparkling clean.
4. Complementary hues: Silver and grey create a harmoniously balanced palette.
5. Diverse styles: Available in various designs – modern, traditional, or industrial, catering to your taste.
6. Durability: Made with quality materials to maintain the classic appeal over time.
7. Streamlined look: Can accommodate decorative items without appearing cluttered.
8. Versatility: Pairs well with a variety of color schemes and decor styles.
Remember, balance is key. Large seating areas work well with proportionally large tables, so select according to your space.
White Marble Coffee Table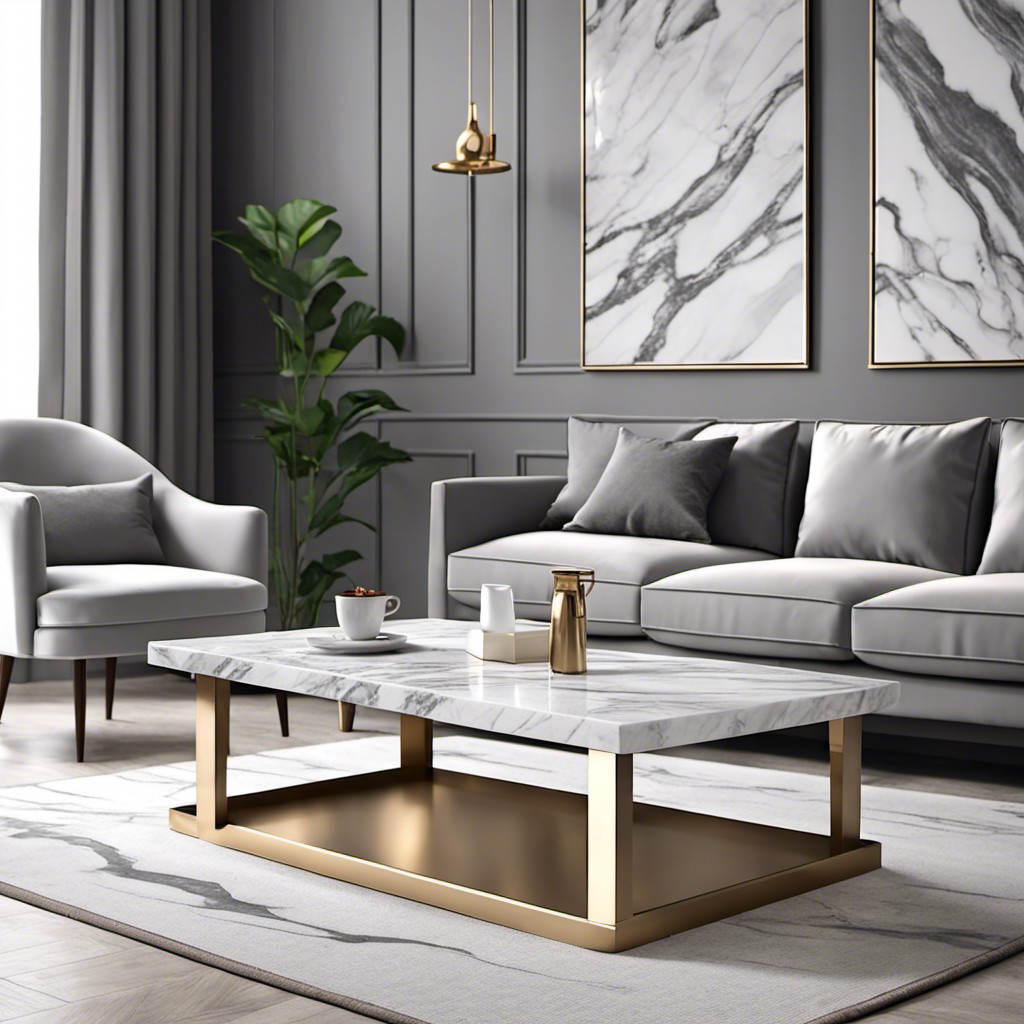 Chosen for its chic elegance, the white marble coffee table becomes a centerpiece in any living room. Its glossy surface enhances the grey tones of a couch, creating a harmonious balance.
Firstly, the natural patterns in the marble add a layer of visual interest that can't be replicated. Each piece sports its own distinctive veining.
Secondly, marble carries an inherent sophistication. When coupled with a meticulous design, say a geometric or minimalist base, it elevates the living space's charm.
Lastly, let's talk about durability. A marble surface is easy to clean and resists scratches. It also stands up well to hot items, making it a practical choice for a coffee table.
However, be mindful to avoid staining. Spills ought to be wiped promptly to maintain its pristine appeal. You might also want to consider sealing the marble periodically for added protection.
Mid-century Modern in Black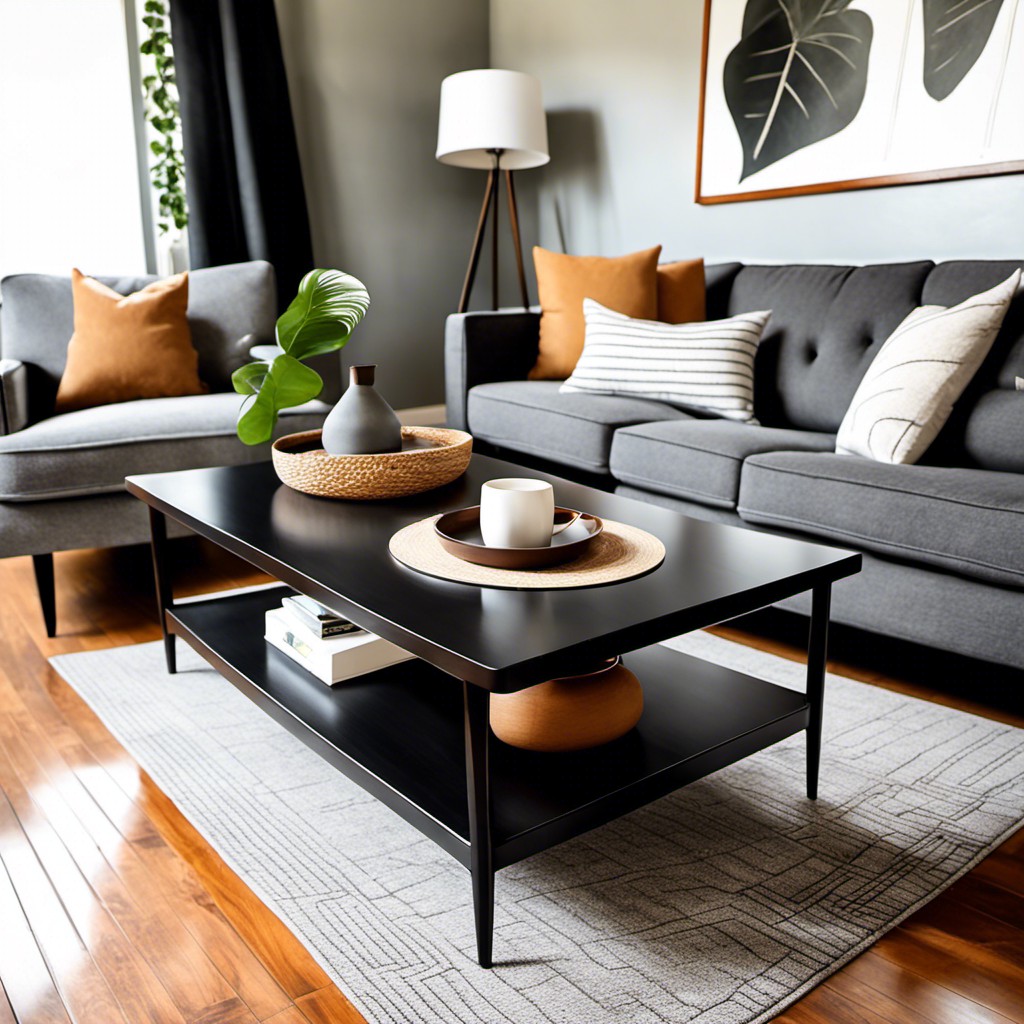 An epitome of style and function, the selection of a mid-century modern coffee table in black brings a timeless charm into your living space. With characteristics like sleek lines, organic shapes, and high-quality craftsmanship, this choice is perfect for complementing a grey couch.
1. Adds a Balance: Given its neutral hue, a black coffee table synergizes with your grey couch, establishing a harmonious visual balance.
2. Enhances Space: The clean, geometric designs synonymous with mid-century modern pieces do wonders in making a room appear more spacious and open.
3. Versatility: Its versatility allows it to blend with a variety of decor styles, making a statement without overpowering the room.
4. Durability: Made with high-quality materials and craftsmanship, these tables are built to last, ensuring you make the most of your investment.
5. Functionality: With features like drawers and compartments, these tables can offer handy storage solutions.
Industrial Style Iron Coffee Table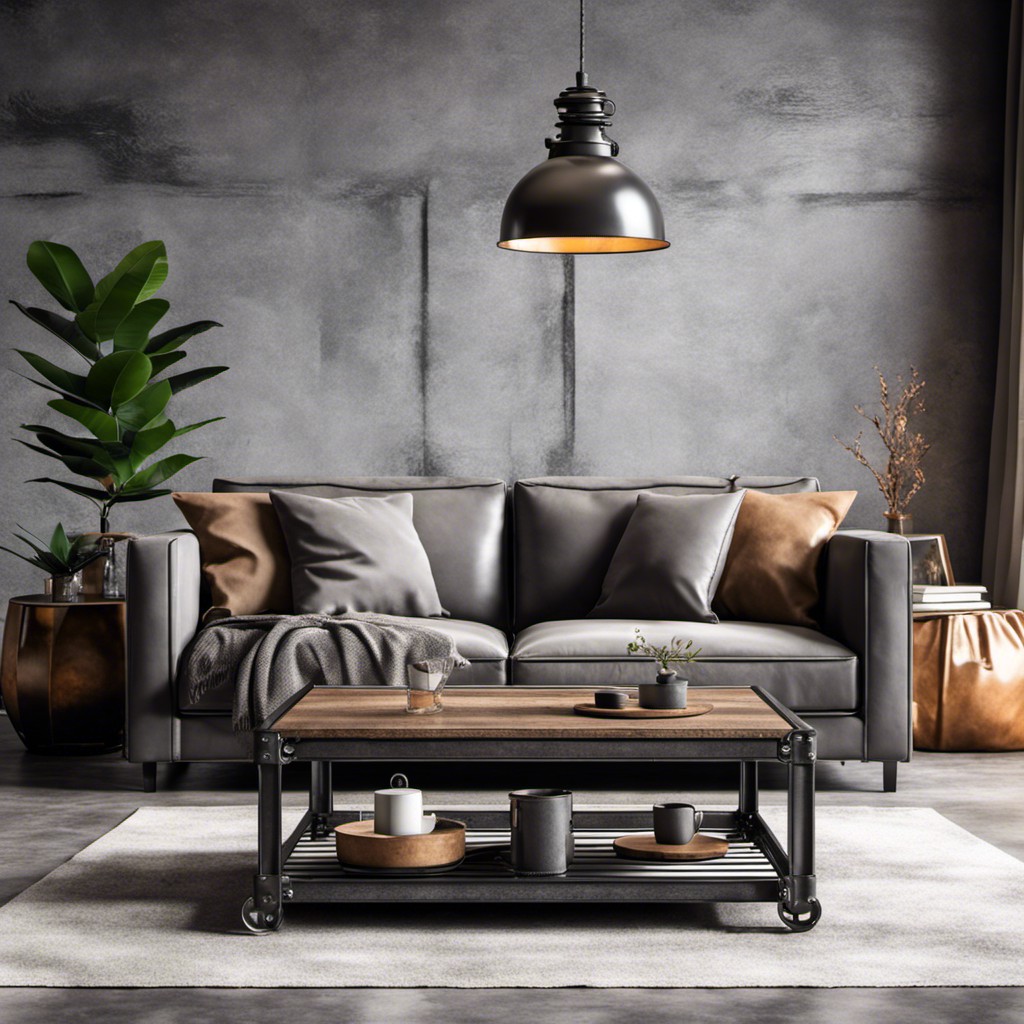 With its raw and rugged charm, the industrial style iron coffee table serves as a focal point in the living room. When paired with a grey couch, it strikes a balance between understated elegance and stark, compelling design – a delight for lovers of bold aesthetics.
1. Material: Infuses raw metals giving a sturdy structure. The wrought iron base typically complements an efficient, straightforward design.
2. Design: Features geometric shapes, sharp lines, and minimalistic patterns. Some models might even incorporate wheels for mobility and added industrial flair.
3. Functionality: Equally suited for daily use and entertaining, serving as the surface area for everything from coffee mugs to magazines.
4. Interiors: Reflects no-nonsense industrial-era layouts. Best suited for spaces that welcome an eclectic blend of simplicity and uniqueness, often accentuated by exposed brick, ductwork, or wood beams.
Remember, this table style stands out for its stark character and an embracing rawness. Mesh it creatively with your grey couch and witness a striking transformation of your living room space.
Rustic Reclaimed Wood Table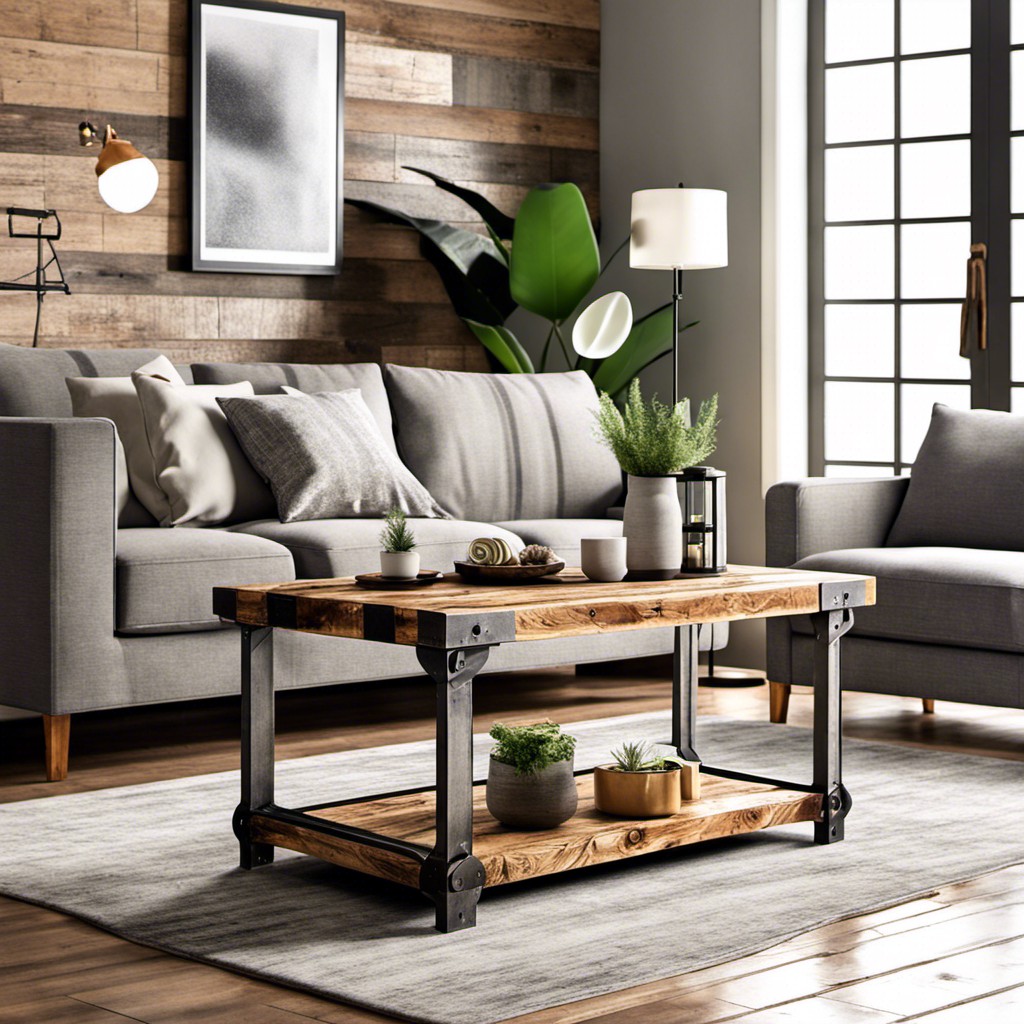 Utilizing a blend of texture and character, the reclaimed wood coffee table makes a stunning companion to your grey couch. Exuding a warm, natural ambiance, it offsets the cool tones of a grey sofa.
1. Unique character: Each piece has an individual backstory, adding depth and personality to your living room. The weathered look and unique imperfections bring an earthy charm that softens a modern space.
2. Sustainability: Opting for reclaimed wood supports sustainable living, as this material is sourced from old structures, reducing deforestation.
3. Durability: Reclaimed wood is well-aged and robust, which ensures longevity and resistance to wear and tear.
4. Versatile Mix-and-Match: It can effortlessly complement both traditional as well as contemporary décor themes due to its time-worn appeal.
5. Easy to Style: Pair it with a vintage rug or pottery to enhance the rustic aesthetic. You can also soften the look with pastel cushions or an ivory throw on the couch.
Polished Concrete Coffee Table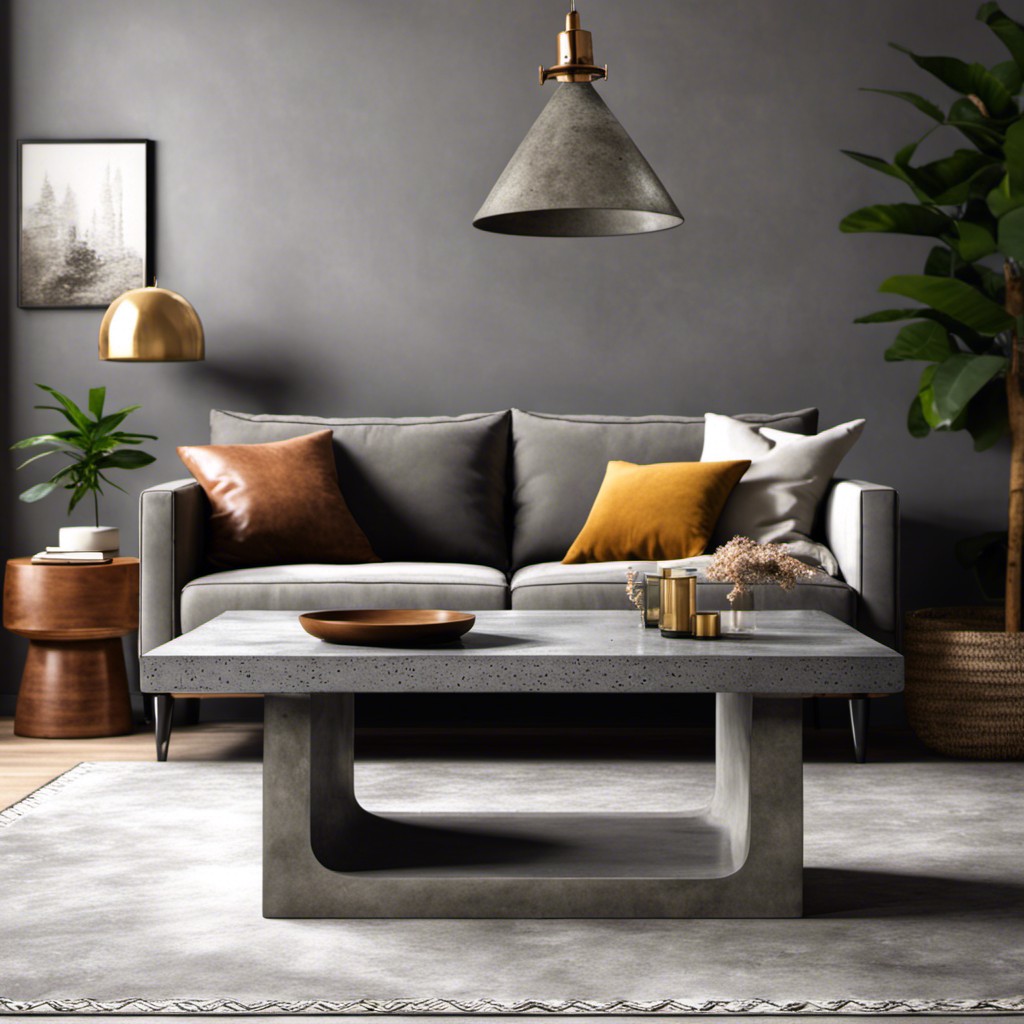 Imparting an edgy, industrial touch, a polished concrete coffee table brings an undeniable sense of sophistication to any space. Its cool grey surface encapsulates the perfect aesthetic balance to harmonize with a grey couch.
Here's what you need to know about this versatile option:
Durability: Appreciated for their robustness, these tables withstand wear and tear, making them favored in high-traffic living rooms.
Unique Patterns: Each concrete slab boasts unique textures and patterns due to the material's nature, enhancing its appeal.
Versatility: They blend seamlessly with various styles, from rustic to modern, adapting to the decor without overbearing.
Maintenance: Easy to clean and maintain, they are resistant to stains and scratches, bringing longevity.
Statement Piece: With their bold structure, they serve as a striking focal point, easily drawing attention in any room setting.
Although these elements make a polished concrete coffee table compelling, always consider the overall decor and tone of your space for a cohesive look.
Mirrored Storage Coffee Table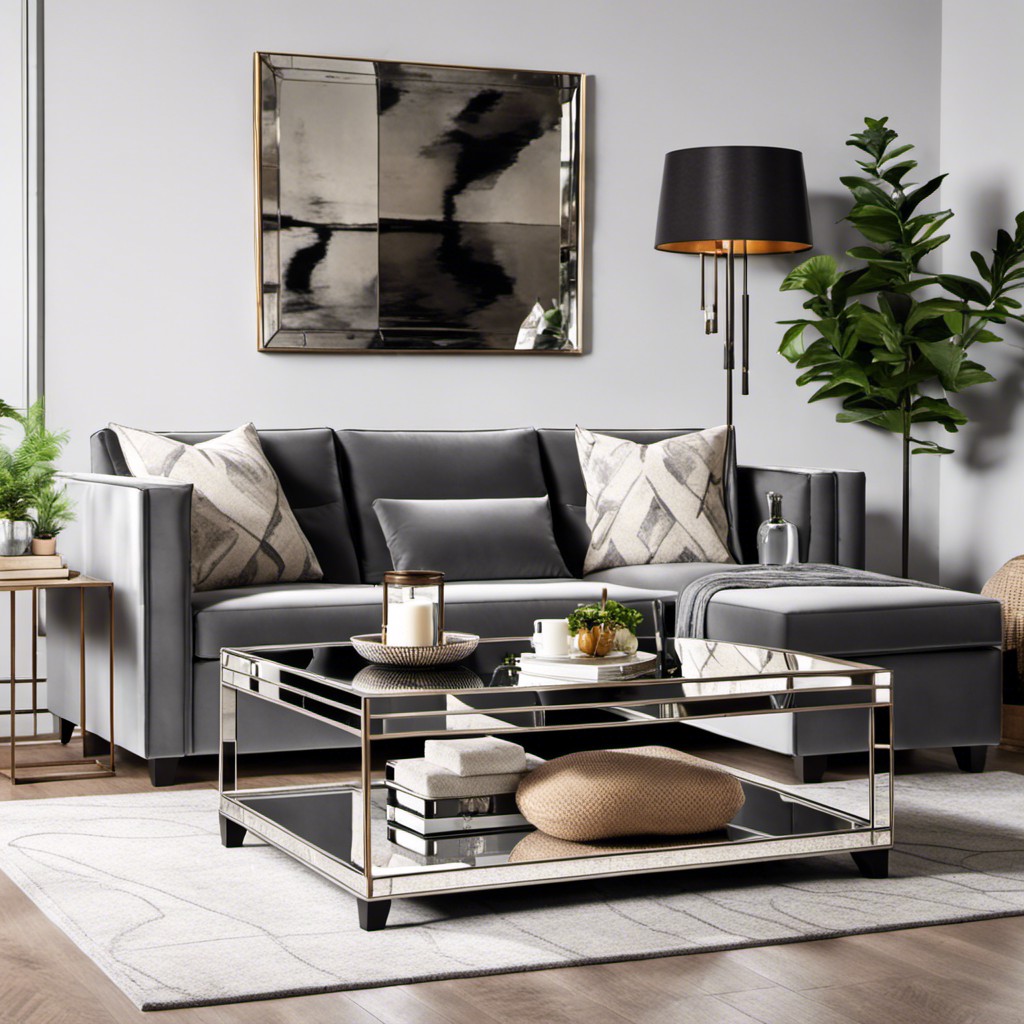 Reflecting the elegance of your living space, the mirrored coffee table also provides practical storage solutions. Its surface can add dimension and increase ambient light, making the room appear larger and more inviting. Simultaneously, the concealed compartments underneath can house remote controls, magazines, and smaller knick-knacks, keeping the surface clutter-free.
1. Dimension Addition: With mirrors reflecting your interior décor, the table essentially displays various viewpoints, adding a perception of larger space.
2. Light Amplification: This feature advantages spaces with minimal natural lighting, as the reflective surface bounces off any light, instantly brightening up your room.
3. Concealed Storage: Enables you to maintain a tidy outlook for your grey couch area, tucking away items that would normally clutter the table.
4. Versatility: Can match with multiple color palettes and design styles.
When choosing a mirrored storage coffee table, consider the size in relation to your couch, the quality of the mirrors used, and the design to ensure matching with the rest of your living space.
Scandinavian Style Wooden Table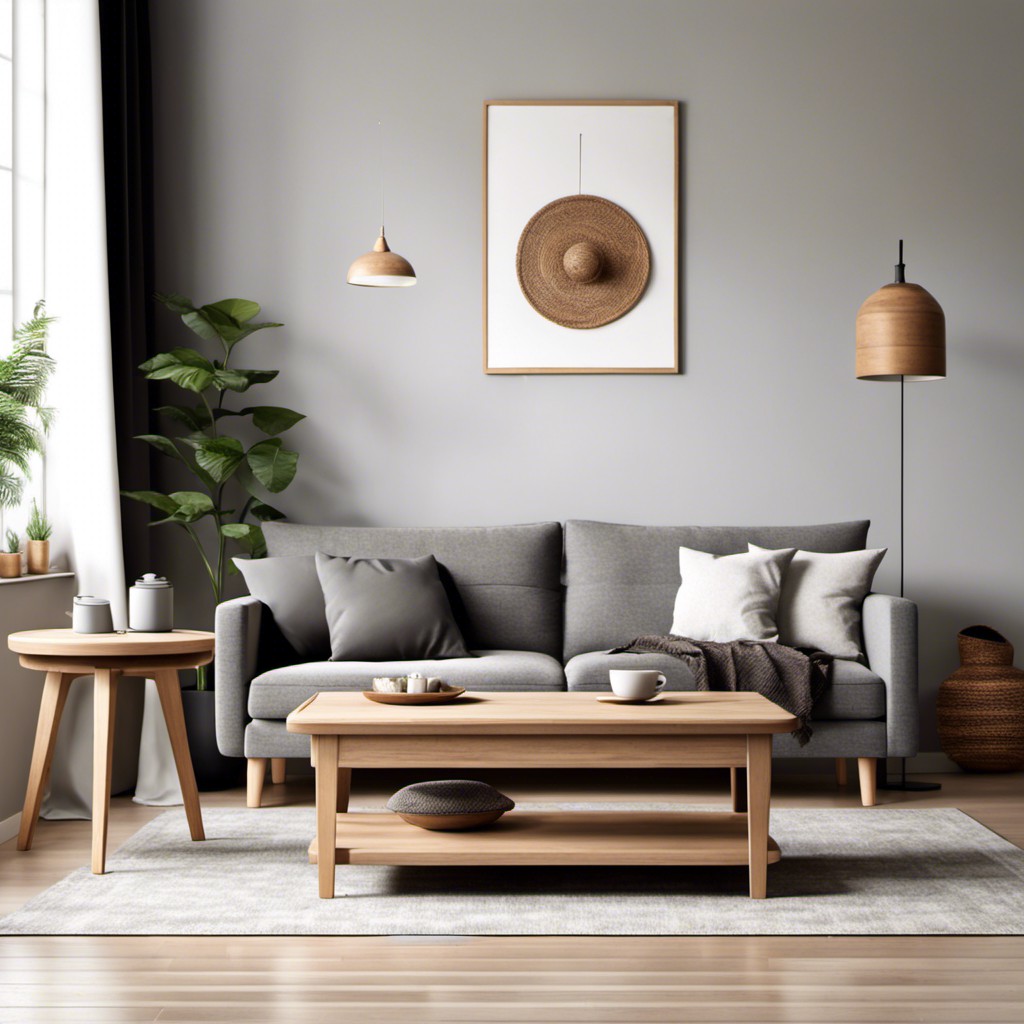 Designed with clean lines and practical simplicity, this piece is influenced by Scandinavian aesthetics. Utilizing light-colored hardwoods such as beech or pine, it brings a sense of nature indoors. The wood grain is often exposed, giving an earthy, organic feel.
1. Minimalist Design: The emphasis is on functional form, thus the design is uncomplicated yet visually appealing.
2. Light-Colored Wood: With tones like birch or pine, it brightens a room and complements a grey couch.
3. Nature-Inspired: The harmony of nature is captured by featuring the light wooden grain patterns.
4. Use of Geometric Shapes: Circular or square shaped tables are quite common, highlighting the minimalist ethos.
Remember, a Scandinavian style table is an excellent choice for those who love a mix of nature and minimalism in their living room!
Round Stone Coffee Table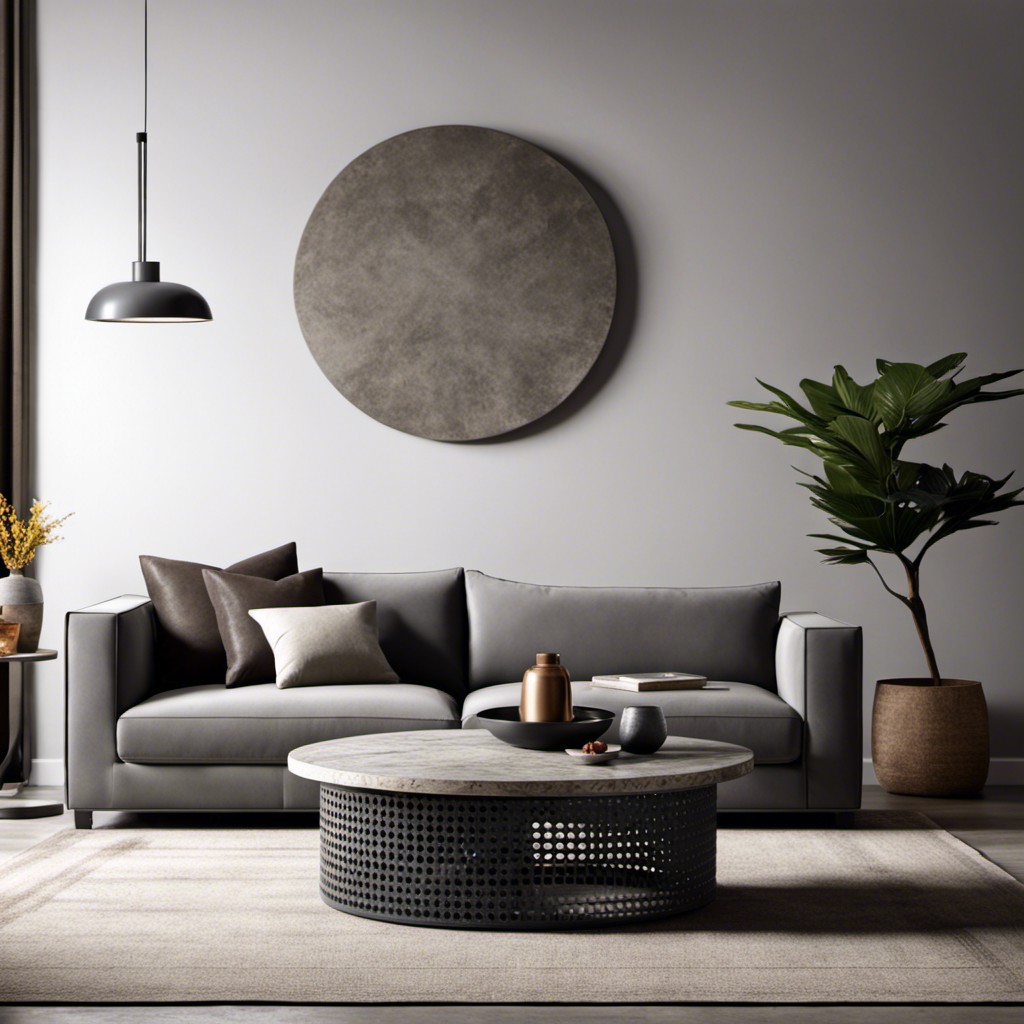 A round stone coffee table can effortlessly boost the aesthetic appeal of your living space. Its natural, earthy texture enhances a grey couch's neutral tone, creating a harmonious blend.
Furthermore, stone coffee tables are sturdy and durable, well-suited for families or homes with pets. They come in various shades and designs – from rustic slate to polished marble, offering something for every style preference.
Add a couple of art books or a chic tray, and you have a functional and striking centrepiece. As an added advantage, any scuffs or scratches can typically be sanded out, ensuring longevity.
Remember, in small spaces, going for a table with a compact radius is ideal to maintain balance and free movement.
Geometric Patterned Table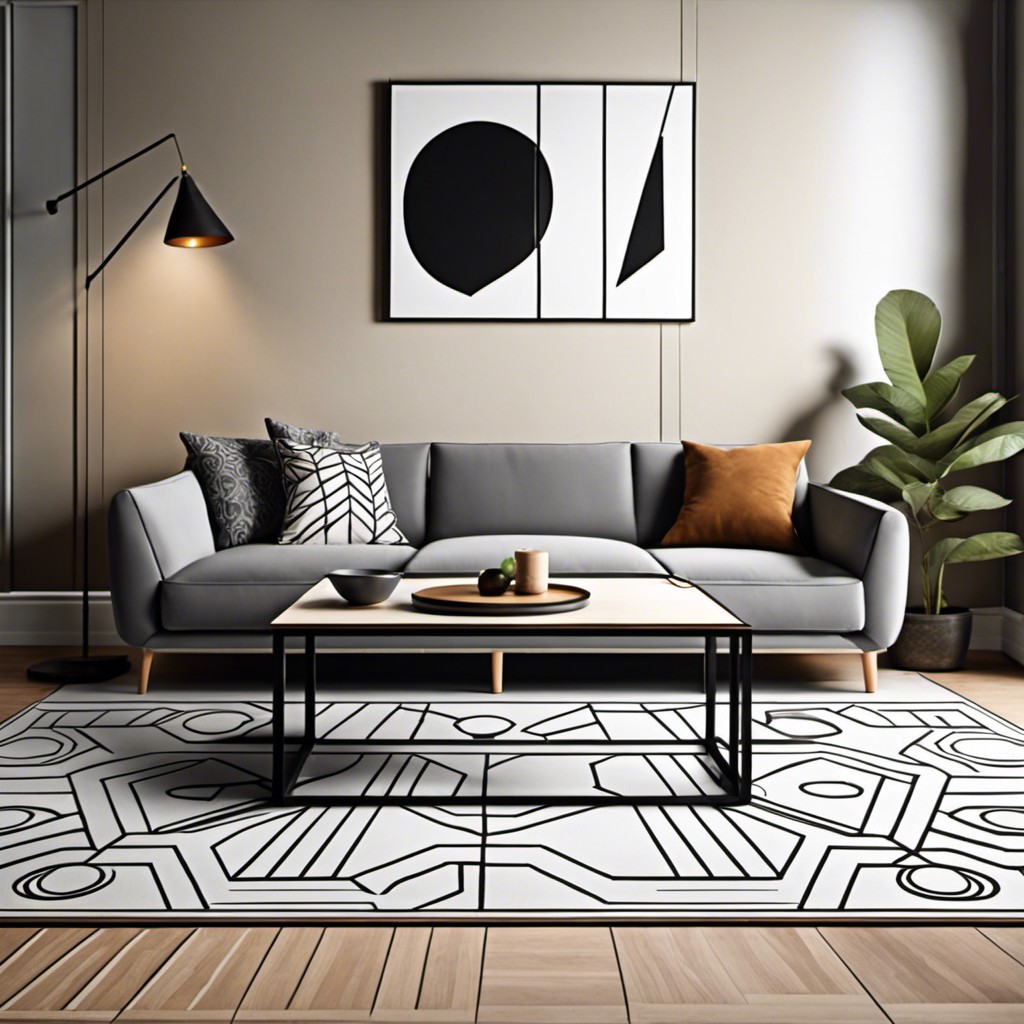 Focusing on the aesthetic appeal, a geometric patterned table can add visual intrigue to the living space. Its distinctive designs offer more than mere function. They can be wonderfully unpredictable – an infusion of shapes and lines that break up the monotony of the room.
Various materials like wood, metal, or even glass can be used, each contributing a unique feel.
Whether it's a bold, contemporary piece with angular shapes, or a more subtle table imbued with soft curves, this style can complement a grey couch by either contrasting or fitting in harmoniously. One could also play around with color here; while a muted palette would maintain the serene look, vibrant multi-color patterns can introduce character and liveliness. It's essential, though, to prevent overwhelm – keep other décor simple to let the table shine.
Maintaining a geometric table is as straightforward as any other coffee table – proper care depends on the material used. For example, a glass-top patterned table would need frequent wipe-downs to be smudge-free, while a wooden one would benefit from occasional polishing. Therefore, they are not only aesthetic centerpieces but practical ones as well.
Rattan Coffee Table for a Natural Touch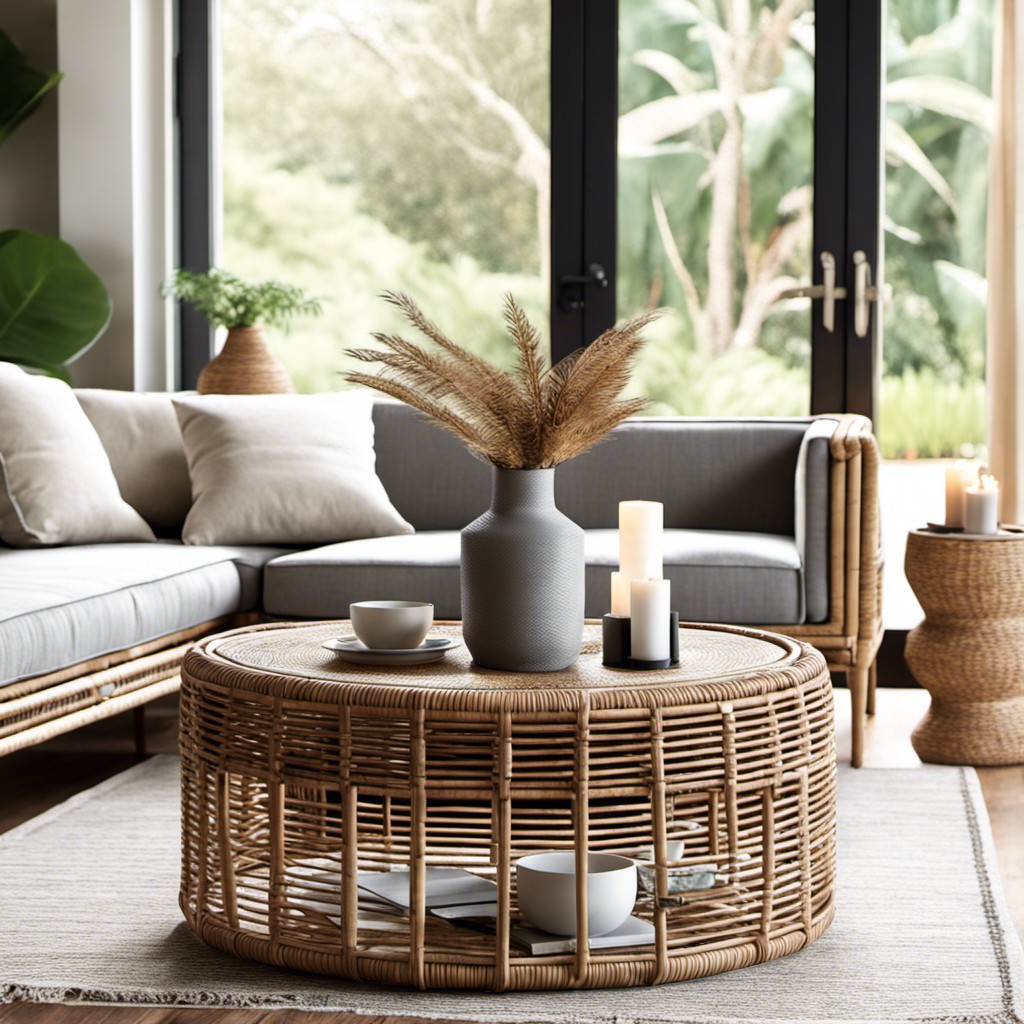 Providing an organic, earthy vibe to any room, a rattan coffee table can wonderfully complement a grey couch. Known for its lightweight and durable properties, rattan is a sustainable material that adds warmth to the grey palette.
Here are a few considerations when opting for a rattan coffee table:
Shape: Traditional round shapes provide a soft contrast to a square or rectangular couch, while more geometric-shaped rattan tables add a modern twist.
Size: Ensure the table's size is proportionate with the couch. While a small rattan table can make the area look spacious, a larger one may offer more convenience and functionality.
Decor: Pairing rattan with green plants enhances the natural theme, while adding a glass tabletop adds a touch of sophistication.
Maintenance: Rattan is easy-to-clean but needs protection from excessive sun and moisture to preserve its natural color and prevent cracking.
In essence, a rattan coffee table not only offers practicality but also injects a subtle outdoor feel, making the grey couch stand out stylishly.
Charcoal Grey Ottoman As Coffee Table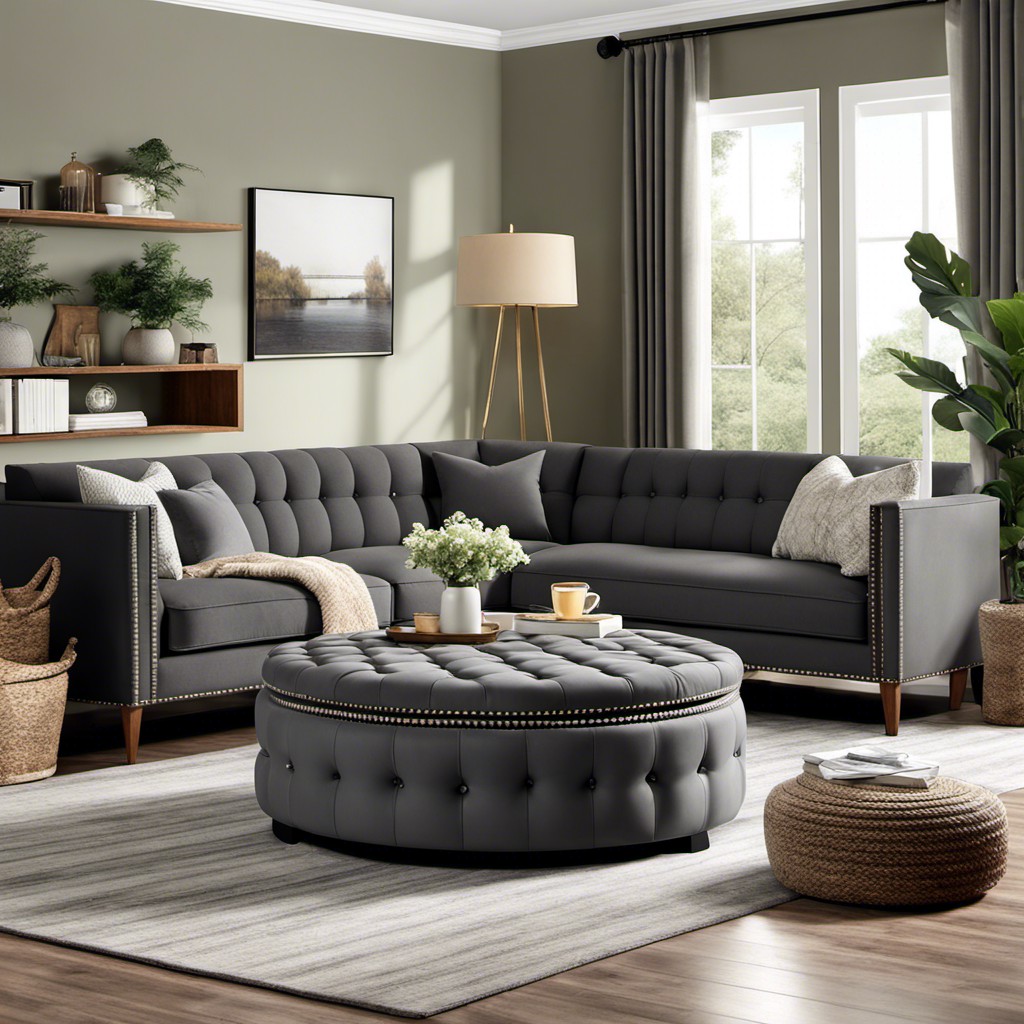 While the concept may seem unconventional, combining function and comfort leads us directly to the charcoal grey ottoman. Its inviting, plush texture transforms your living space into a cozy and comfy haven.
1. Versatile Nature: Not limited to simply serving as a footrest, it doubles as a table when a tray is placed on top. This maximizes the usage and functionality of your living space.
2. Color Advantage: Charcoal grey is an elegant and neutral color. It matches perfectly with a similarly colored couch and highlights other colors in the room.
3. Space Conscious: Ottomans are generally compact, therefore perfect for small spaces.
4. Comfort Factor: Providing additional casual seating when needed, an ottoman improves the overall comfort of your lounge area.
5. Decorative Quotient: It can also be adorned with accessories like throw pillows or knitted blankets, thus elevating its aesthetic appearance.
Remember that the choice is ultimately about your lifestyle and personal preference.
Retro-style Metal Trunk Coffee Table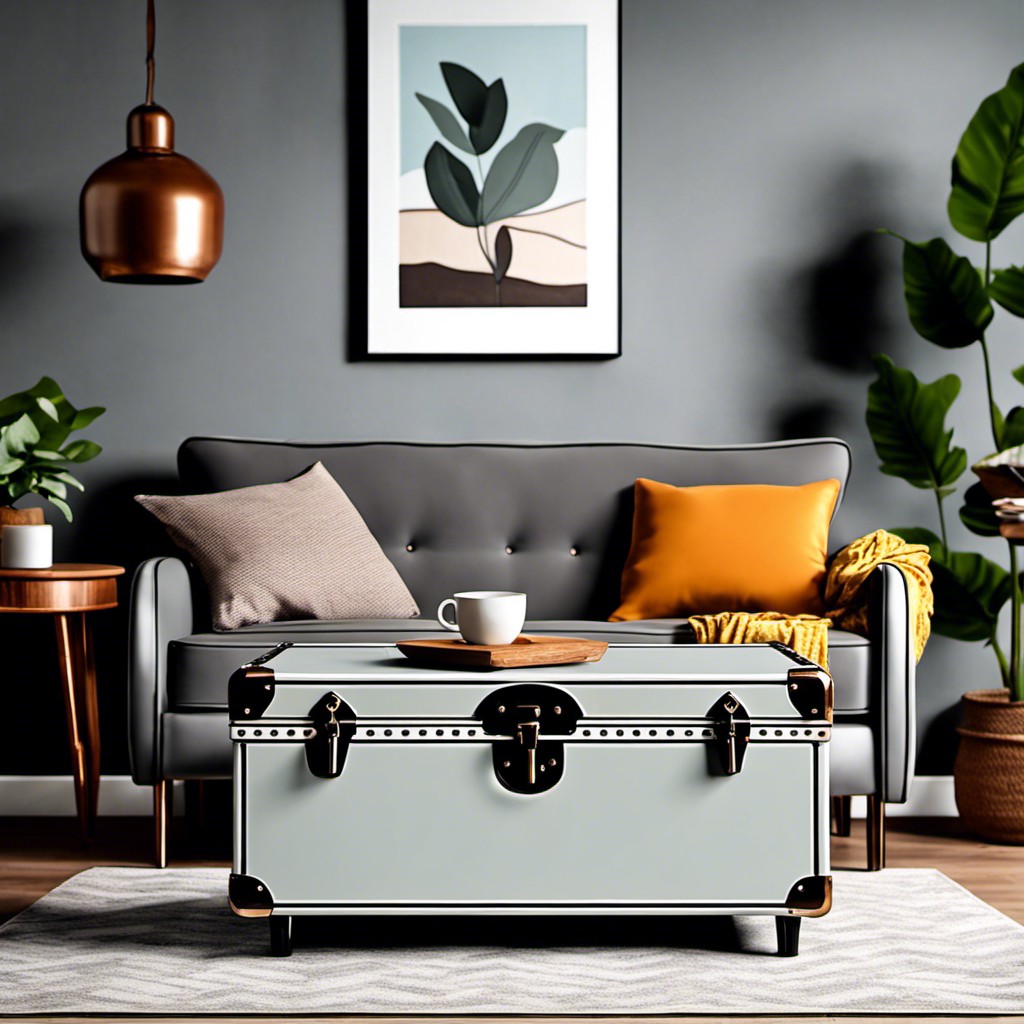 Continuing with our exploration of diverse coffee table options to pair with your grey couch, let's delve into the charm of the retro-style metal trunk. Offering an unexpected twist to typical table designs, this option brims with nostalgia and visual interest, making it a standout piece in any living space. Its vintage vibe exudes timeless elegance, providing not just a surface for your coffee mugs, but also a conversation starter.
Remember the key reasons why a retro-style metal trunk coffee table is an exciting option:
Multifunctionality – With its spacious interior, use it as both an aesthetic element and as practical storage for magazines, blankets, or board games.
Robustness – Its metal construct promises durability, ensuring that the piece lasts for many years, even with daily use.
Aesthetic – It adds a sense of history and depth, fitting perfectly into eclectic, traditional, or industrial style interiors.
Unique – The design is usually distinctive, easily breaking the monotony of more conventional coffee tables and creating a focal point in your seating arrangement.
Size – It's typically larger than average coffee tables, providing more tabletop space for decor or functional use.
These features make the metal trunk coffee table a versatile addition to your living room, harmonizing with the muted tones of a grey couch while adding a touch of one-of-a-kind retro charm.
Brushed Steel and Glass Table
The sleek profile of brushed steel provides a modern, industrial look to your living space. The cool silver tones of the steel beautifully complement a grey couch, offering a cohesive theme.
1. Industrial Aesthetic: The robust metallic texture of brushed steel lends itself well to an industrial-inspired design. This sturdy material adds a raw, edgy appeal to your space.
2. Durable: Brushed steel is known for its durability. It is resistant to scratches, stains, and rust, ensuring your table remains in prime condition for years to come.
3. Versatile: Its neutral tone makes it easy to match with other furniture pieces and color schemes. The non-reflective finish reduces fingerprints and smudges.
4. Glass Top: A glass tabletop not only adds to the elegance but also makes the room feel more spacious. The transparency allows for an unobstructed view of the brushed steel frame.
5. Maintenance: This combination is relatively easy to maintain. Simply wipe the surfaces with a damp cloth to keep it clean.
This pairing provides a unique combination of style, function, and durability – making it a worthy addition to your living room.
Minimalist Clear Acrylic Coffee Table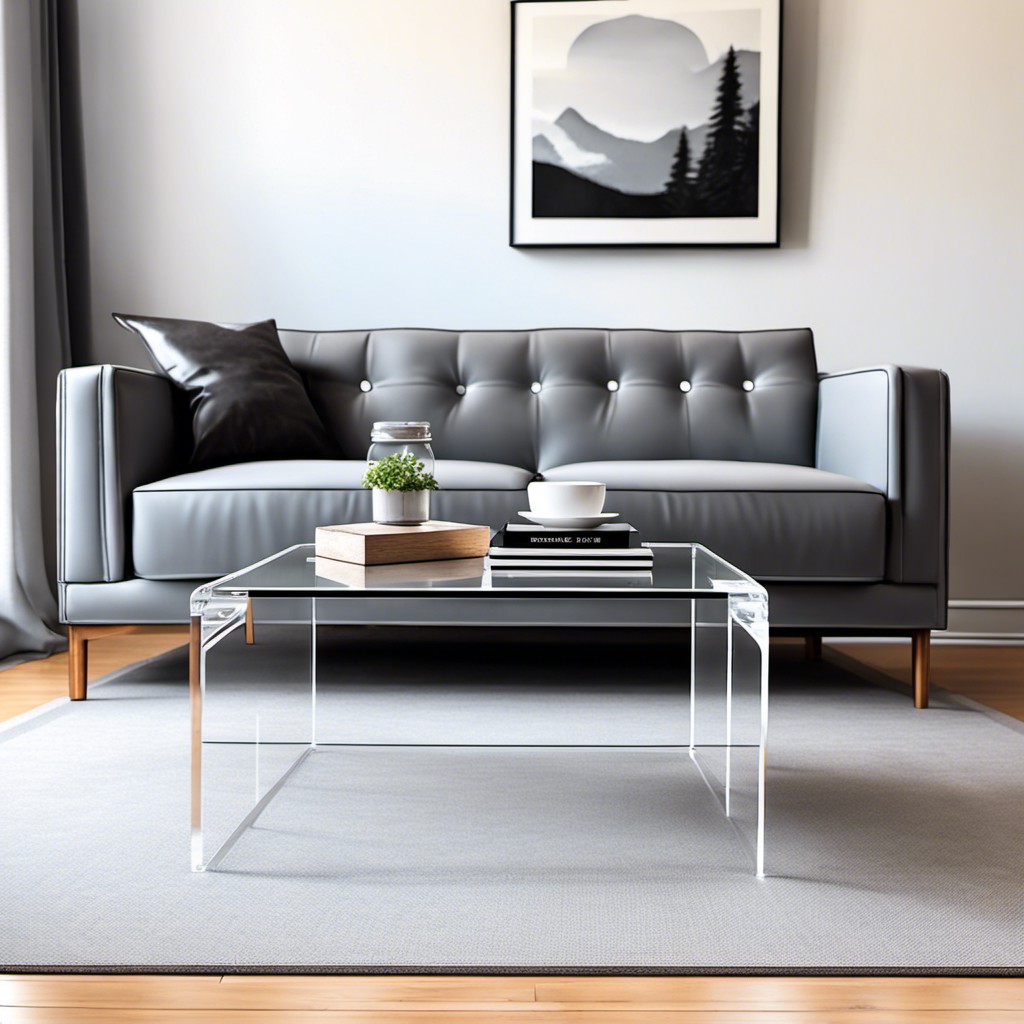 A minimalist clear acrylic table effortlessly elevates the visual aesthetics of the living room, particularly with a grey couch in the backdrop. Not only does it offer functional space for your cups of joe and books, but it also maintains a light, airy feel in the room due to its transparency. This transparent characteristic allows it to blend easily with other furniture and colors, making it a versatile addition.
From a practical aspect, it's easy to maintain. Acrylic is resistant to scratches, and cleaning it is as simple as wiping with a cloth. As it doesn't absorb colors, you need not worry about stains from accidental spills.
Nonetheless, this table is best in homes without young children. The sharp corners can make it a bit unsafe, and it's not the most sturdy type of coffee table. But in the right setting, it can be a stylish, modern choice that subtly complements your grey couch.
Two-tiered Round Gold Coffee Table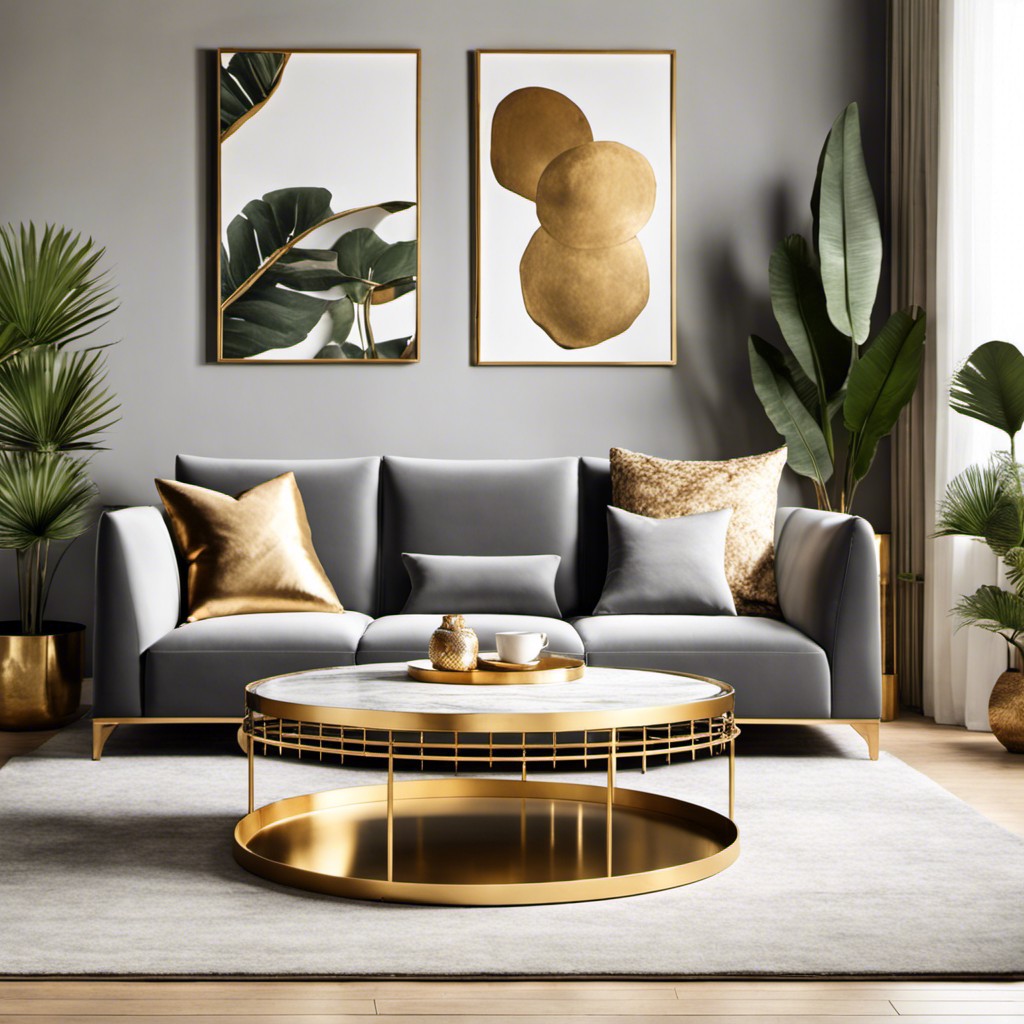 With sparkling gold finish, this stylish piece brings a dash of luxe appeal to your living space. The round shape lends itself well to a grey couch, ensuring an unobstructed traffic flow in your living room. The two-tier design adds an extra layer of functionality, providing plenty of space to arrange books or display accents.
Key Points:
1. Material: Typically constructed with stainless steel or iron, it ensures long-lasting sturdiness. The elegant gold finish creates an opulent aesthetic.
2. Shape: The round design provides a gentler contrast to the streamlined shape of a grey couch, harmoniously balancing out the space.
3. Dimensions: Always measure your available space before choosing; a one-foot distance from the couch is generally a good guideline.
4. Lower tier: The bonus space can house less commonly used items, keeping your living area clutter-free yet within reach.
5. Versatility: This type of table complements various decor styles, from chic modern to classic luxe.
Remember, you're not stuck with the factory finish; you can always customize it to fit your own flair. Whether through an additional protective coating or custom decorative elements, your table can be a completely personalized piece.
Mosaic Tiled Coffee Table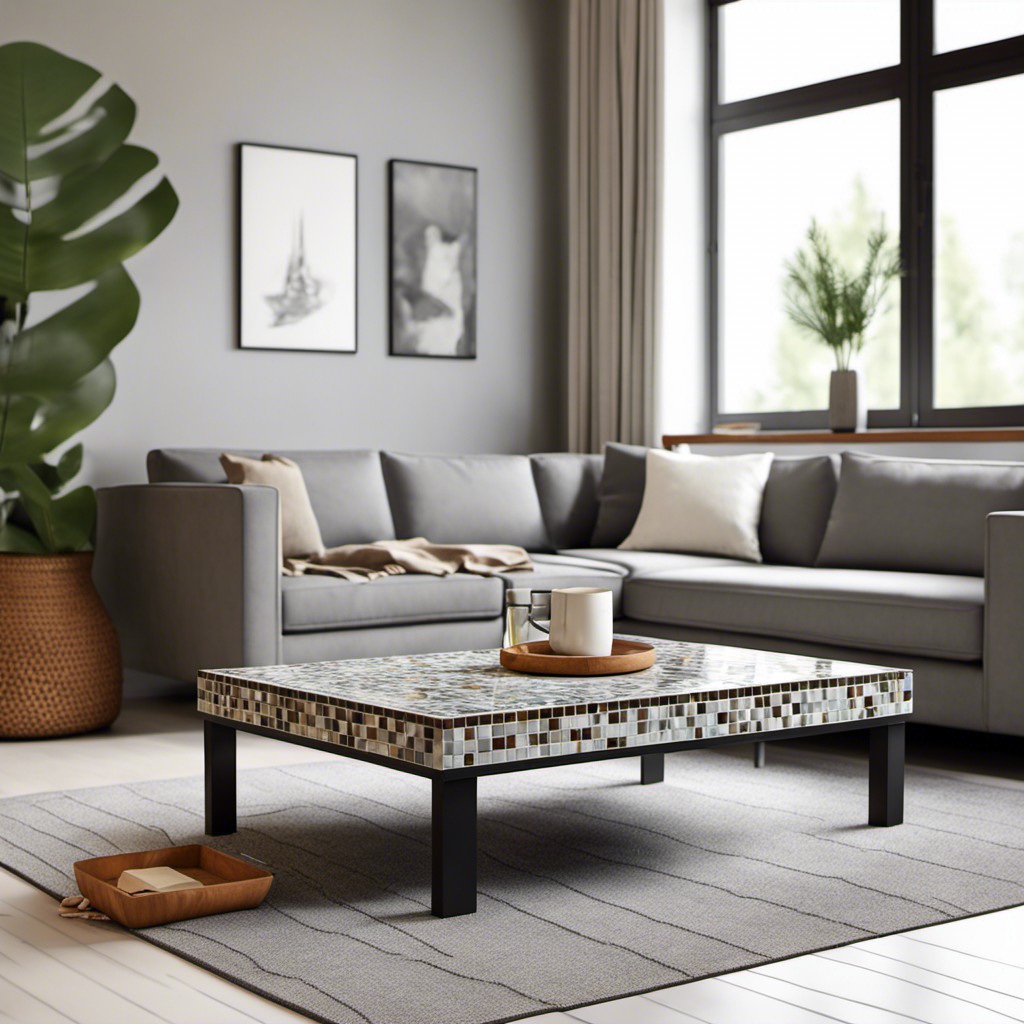 With a distinct charm and vibrant appeal, mosaic tiled coffee tables can seamlessly complement a grey couch. Each tile contributes to a unique, beautiful pattern, turning an ordinary piece into a functional work of art.
Here are key considerations:
1. Material diversity: Choose from ceramic, glass, pebbles, or other creative alternatives. Think about the space's overall aesthetics and the effect you want to achieve.
2. Colour complements: Bright hues against grey can form a striking contrast. Alternatively, sticking to monochrome tiles can retain a minimalist vibe.
3. Care and maintenance: Mosaic tables are easy to clean with a damp cloth. To maintain the shine, periodic polishing may be required.
4. Versatility: It suits various themes, from Mediterranean to modern damask, providing transition and cohesion to your décor.
5. Shape and size: Depending on room size and configuration, decide on a square, round, or rectangular mosaic table. Fit is essential to make the most of your living space.
6. Budget: It ranges from reasonably priced to high-end based on craftsmanship, tile quality, and design complexity.
Remember, the table is not just for coffee. Functionality and aesthetic appeal should go hand in hand. It's more than furniture; it's an investment in your space.
Convertible Lift-top Coffee Table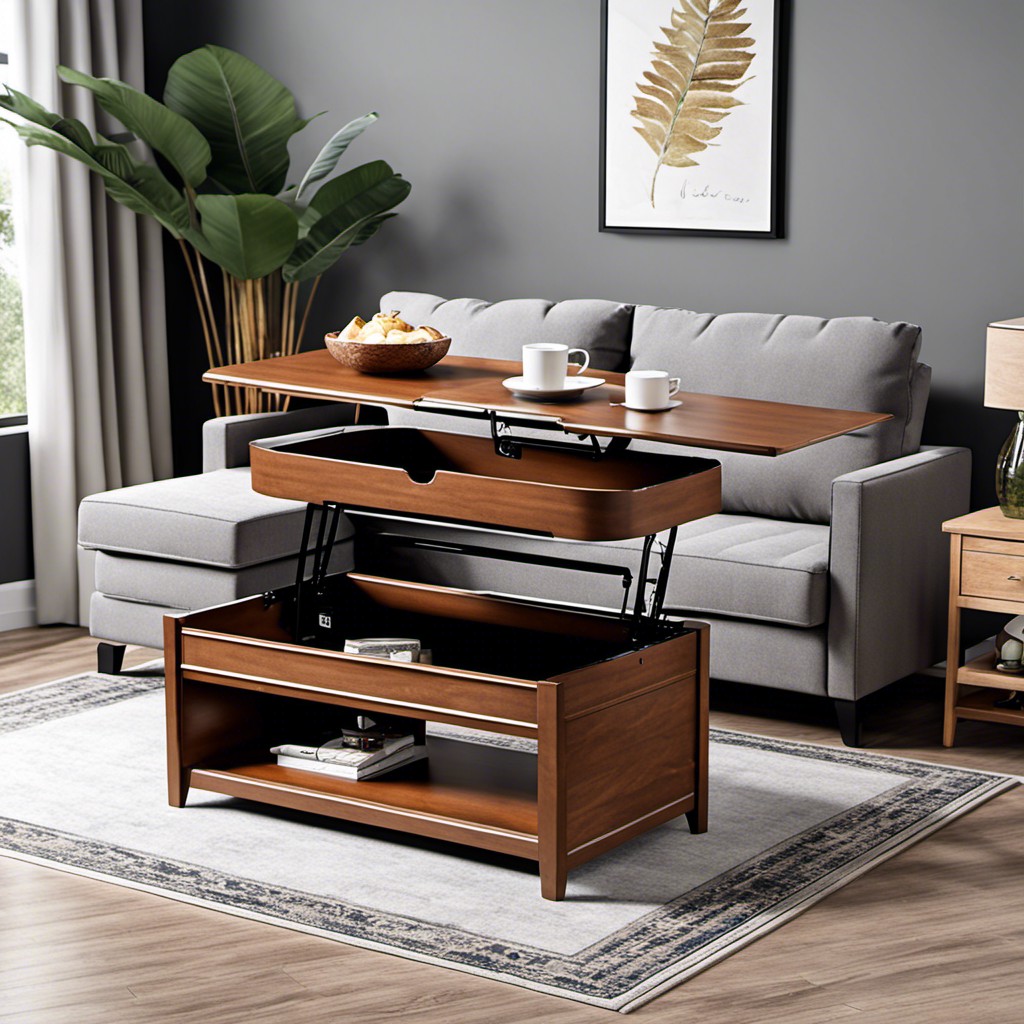 Ideal for small spaces as it serves a dual purpose. Elegantly designed with a standard coffee table structure, its top can be lifted to create a practical work surface when required. This innovative feature doubles its utility, making it perfect for eating, working, or hobbies.
When not in use, the lift-top covertly tucks away, returning the piece to its stylish original form. Match it with a grey couch to strike a balance between casual and classic decor. This type of coffee table comes in a variety of materials, including wood, metal, and glass, so there's one to complement any design scheme.
The built-in storage under the lift-top is a bonus for space-saving, a neat solution to keep things organized.
You may also like to read: