Last updated on October 30, 2023
Red and black coffee table designs are transforming living rooms because these daring combinations instantly infuse a dose of sophistication and drama into any space.
As the creator of these 20 trendy red and black coffee table designs, I sincerely hope you find them as inspiring and fun as I found joy in creating them.
Daring and dramatic, the combination of red and black in a coffee table can transform any living room into a stylish and modern space.
This article will explore numerous red and black coffee table ideas, ranging from minimalist designs to ornate statement pieces.
Whether you're seeking a bold, lacquered finish or a rustic, distressed look, the options are limitless.
With detailed descriptions and thoughtful recommendations, you'll find the perfect red and black coffee table to suit your decor.
Continue reading to uncover the potential of this dynamic duo in your living room.
Table of Contents
A Black Table With Red Accents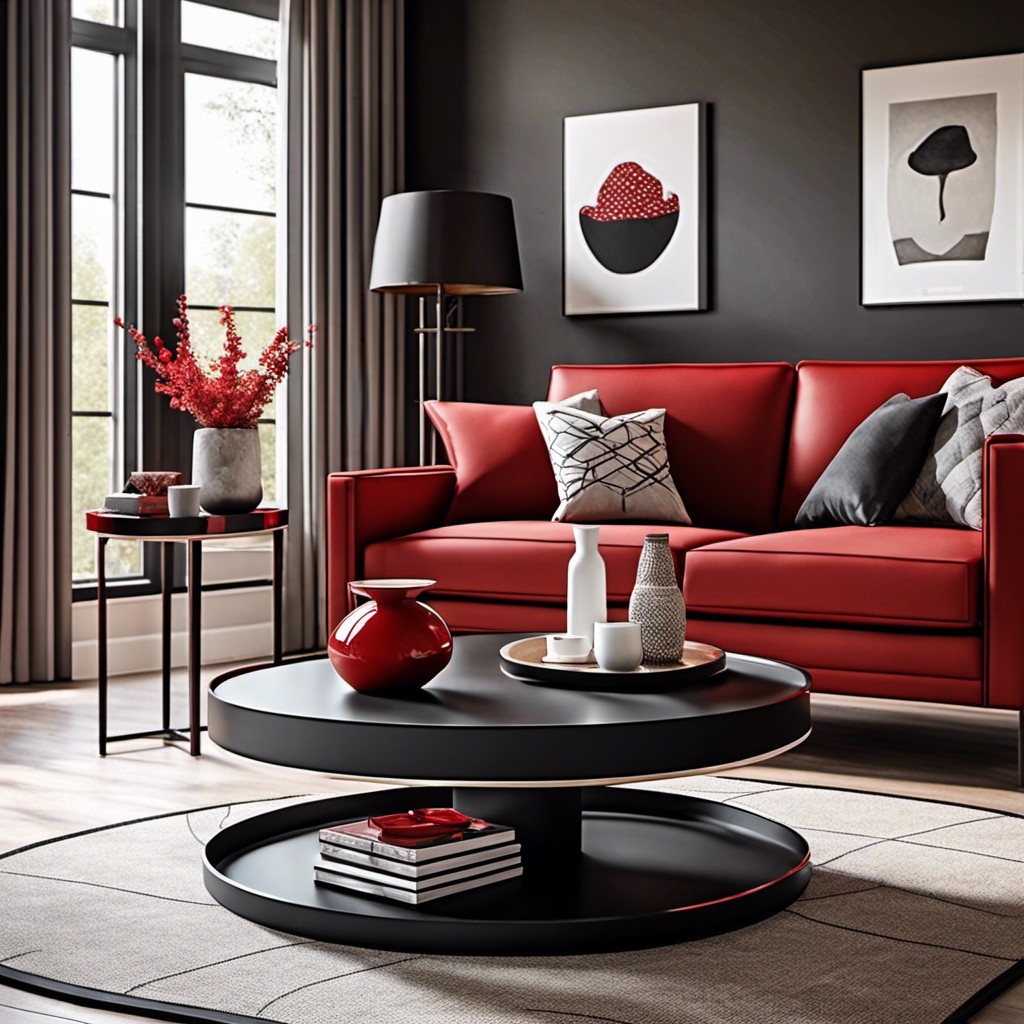 To emphasize the vibrant touch of red on a primarily black coffee table, consider options such as a cardinal red table runner or a centerpiece like a bowl or vase.
Red accents can also include red coasters or small red decorative items.
Stick to similarly toned red accents to create a cohesive look.
It's also important to consider the room decor when adding these accents.
If the surrounding decor is subtle, red accents bring a pop of color and add an aura of sophistication.
However, if the environment is vivid and full of color, these same red accents contribute to the harmony of colors and maintain the lively atmosphere.
Remember, in home decor, sometimes less is more, so don't overdo the red accents!
Experiment with different shades and shapes, and visualize how they complement the black table before making your final choice.
Dual-tone Round Tables – Half Red, Half Black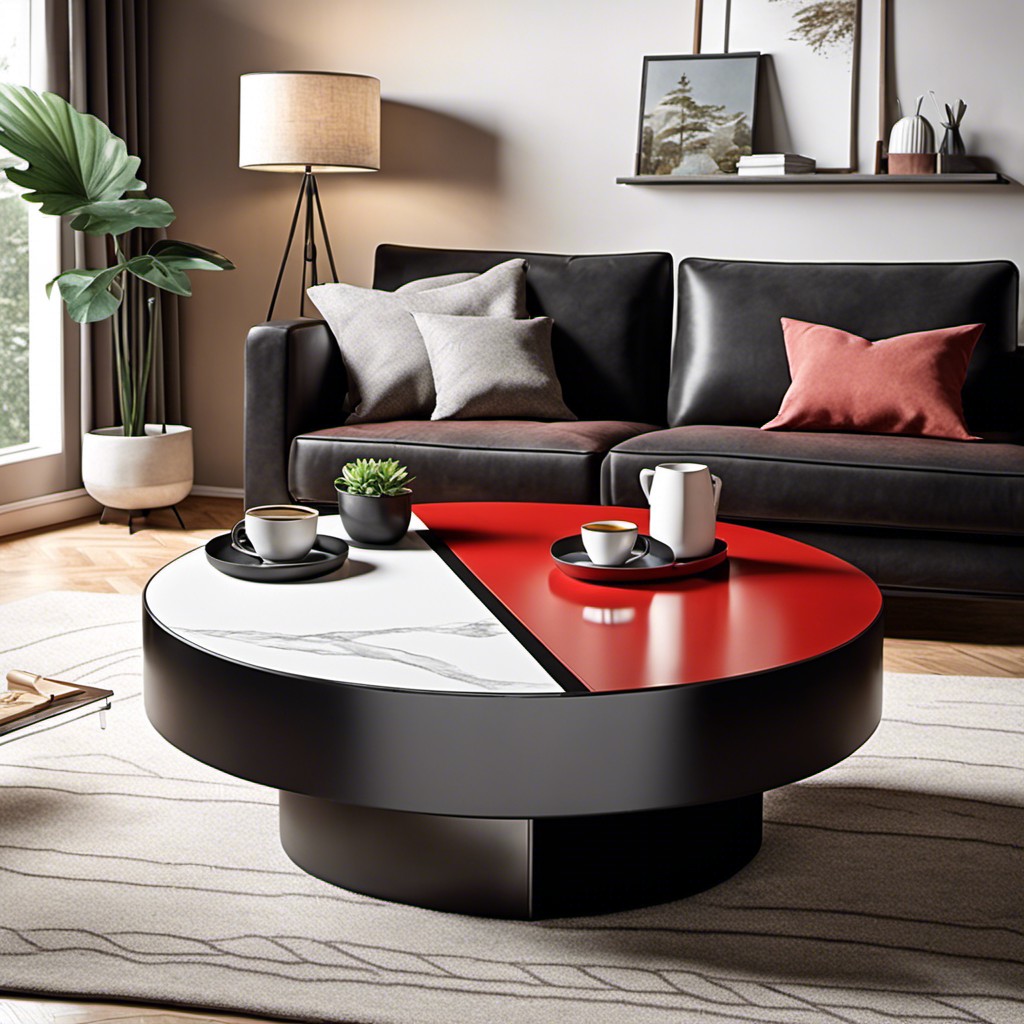 Balancing color is key in this compositional approach. The arrangement equally pits bold red against deep black, providing a visually striking piece that commands attention.
The segregation of colors, yet unity in form, is a powerful design statement that experiments with the notion of contrast.
Symmetry: The halved colors contribute to a visually harmonious alignment.
Accentuation: The bright, vivacious red adds excitement to the docile yet elegant black.
Contrast: The stark color difference promotes an interesting visual tension.
Versatility: This table can fit well in a minimalist, modern, or eclectic room setup.
Design Statement: Such a distinctive piece can be used as a central feature in your décor arrangement.
Pair it with subtle, minimalistic room accents to allow the table's unique aesthetic to shine. Harness the dual-color feature by integrating both colors elsewhere in the room subtly to tie your décor together.
Red Table With Black Glass Top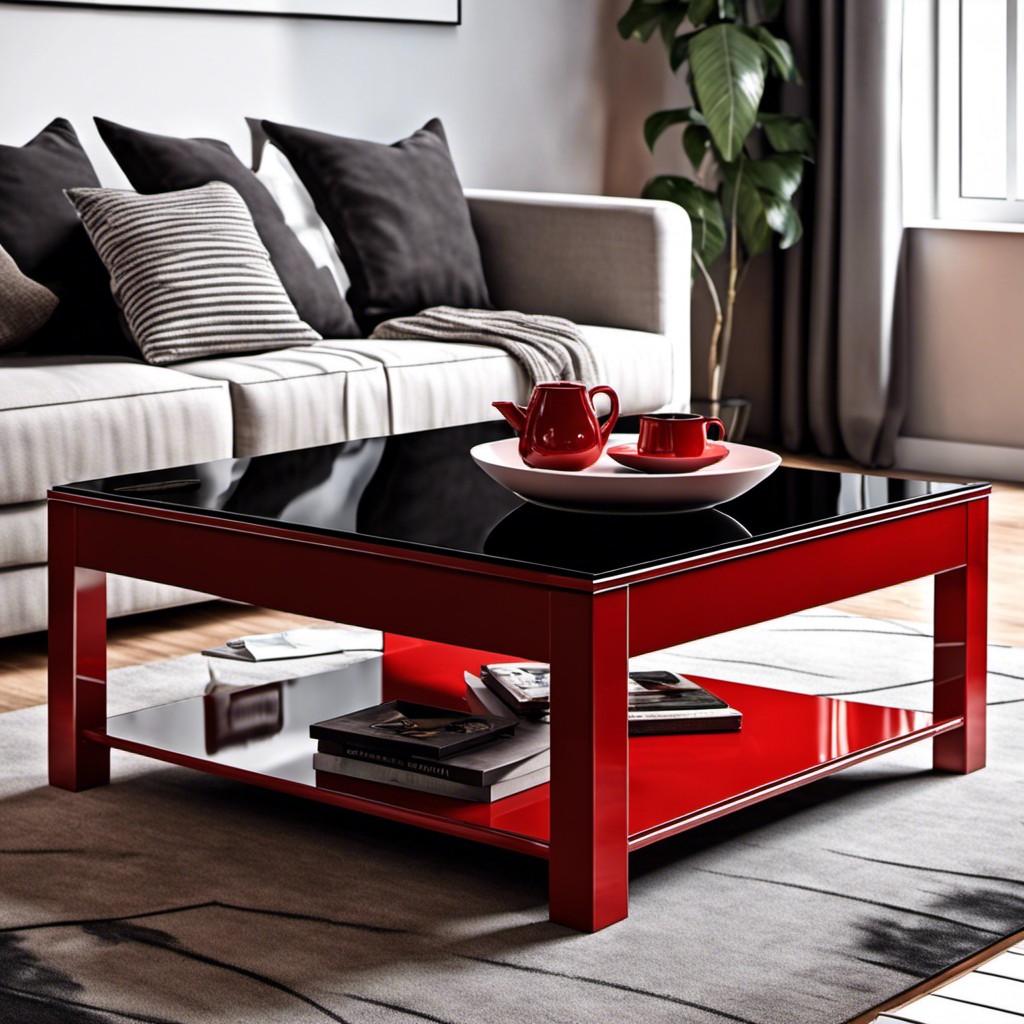 Lending a sophisticated appeal to any living space, these tables impeccably blend the passionate vibe of red and the sleek elegance of a black glass top.
A few points for consideration:
Structure: Opt for a design with a sturdy red base, offering stability to the black glass top.
Shade Selection: The choice of red hue is crucial as it will contrast sharply with the black glass.
Style Variation: A modern look can be achieved with a high gloss finish, while a matte finish might speak to a more traditional feel.
Maintenance: Ensuring the glass top remains sparklingly clear is key to maintaining the aesthetic appeal.
Room Compatibility: Consider the existing room decor. This table can be a standout centerpiece in a minimalist setting or easily blend in a vibrant, multi-colored environment.
Remember, the way you marry the red table body with the black glass top speaks volumes about your personal style.
Aim to infuse the room with character, yet maintain a balance so as not to overwhelm the space.
A Black Mainstream Table With Red Trims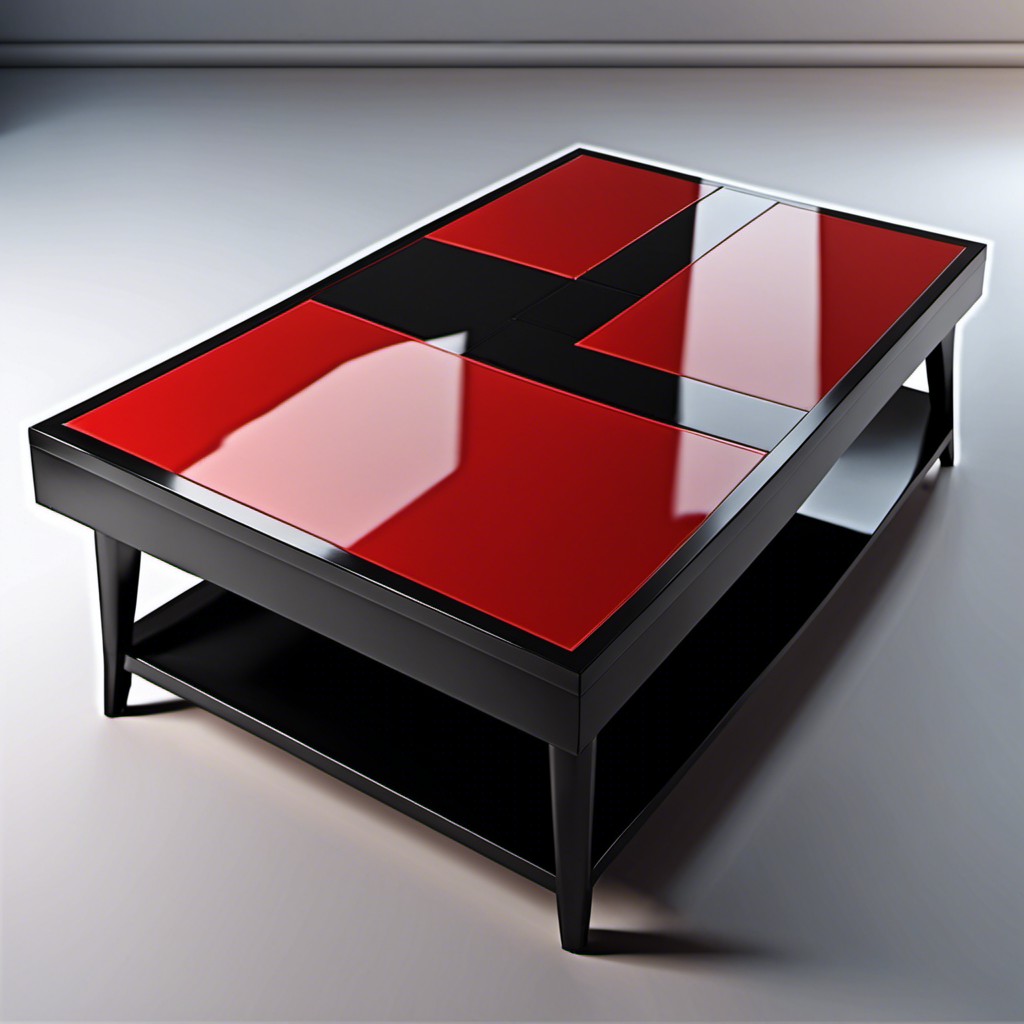 Simplicity and elegance are keystones of this design. The table's core tone of black serves not only for functionality but also manifests an aesthetic allure. Its sleek, polished finish brings a chic contemporary feel into the room.
Highlighting features in red subtly disrupts the black's monochromic impact without overwhelming the table's overall aesthetic. Such approach makes this table a versatile choice for a variety of interior designs.
Variations of red trim can range from fiery crimson to deep wine, depending on the desired contrast with the black. Thin lines to broader bands can serve the purpose, and these can be painted or added as separate pieces for a textured feel.
Finding this balance between bold and subtle can infuse the room with a dynamic energy, which is both cozy and stimulating. The strategic placement of red trims on tabletop edges, leg corners, and drawer handles can add a touch of surprising spice to an otherwise plain piece.
A Glossy Red Table With Black Metal Legs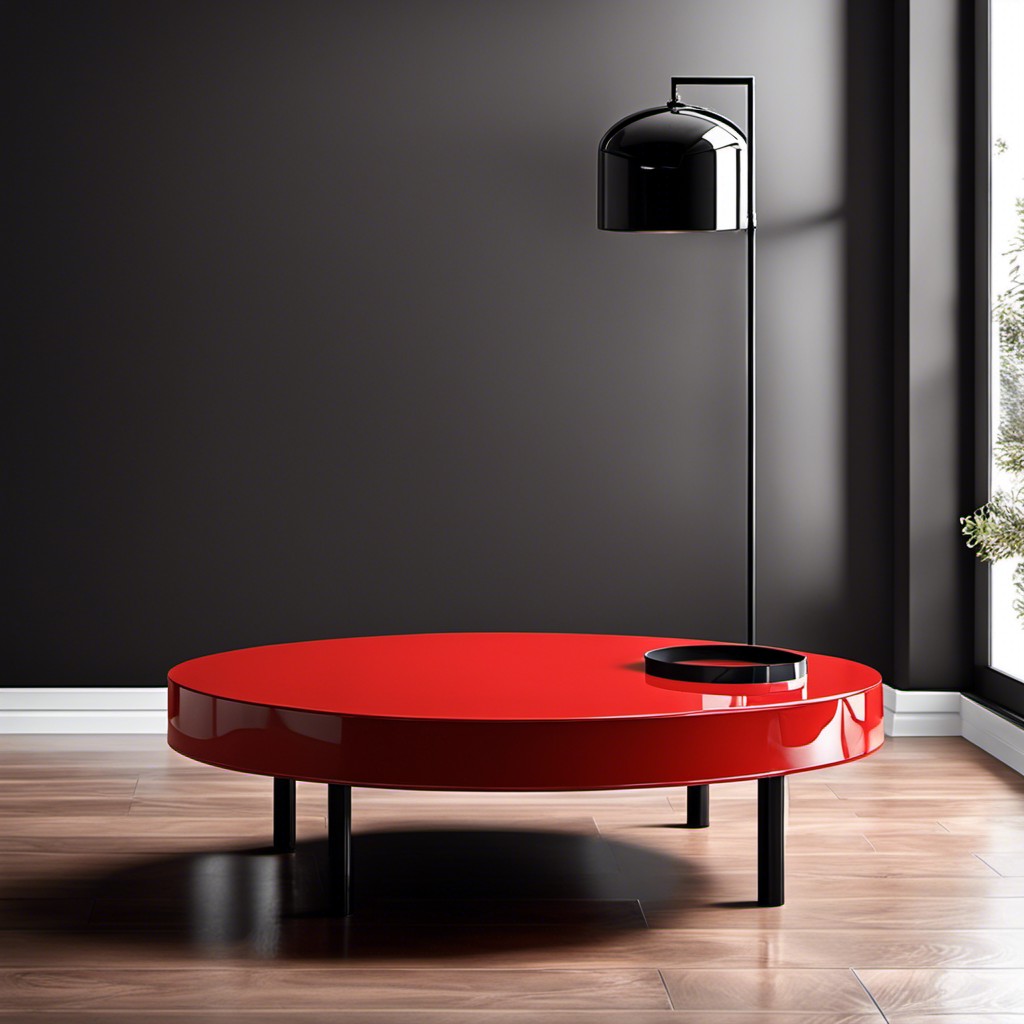 In creating a striking contrast, the glossy red top draws the eye while the sturdy black metal legs provide a solid base, exuding both resilience and modern charm.
The glossy surface gives a sleek look, and it's easy to clean–a quick wipe and it sparkles again!
Combining chic yet robust, the black metal legs are long-lasting and also add an industrial touch to the overall aesthetic.
Contrasting legs in heavy-duty metal also give the table a substantial feel, ensuring it's not just a pretty face but a functional piece of furniture in your living room.
Remember, accessorizing it is key. Consider a black tray or black coasters to keep the theme consistent.
Lastly, the blend of red and black makes it versatile, allowing it to fit multiple interior styles, from vintage to modern minimalist.
Each element—glossy red, black metal—marries functionality with design, delivering a coffee table worth talking about.
Black and Red Checkered Tabletop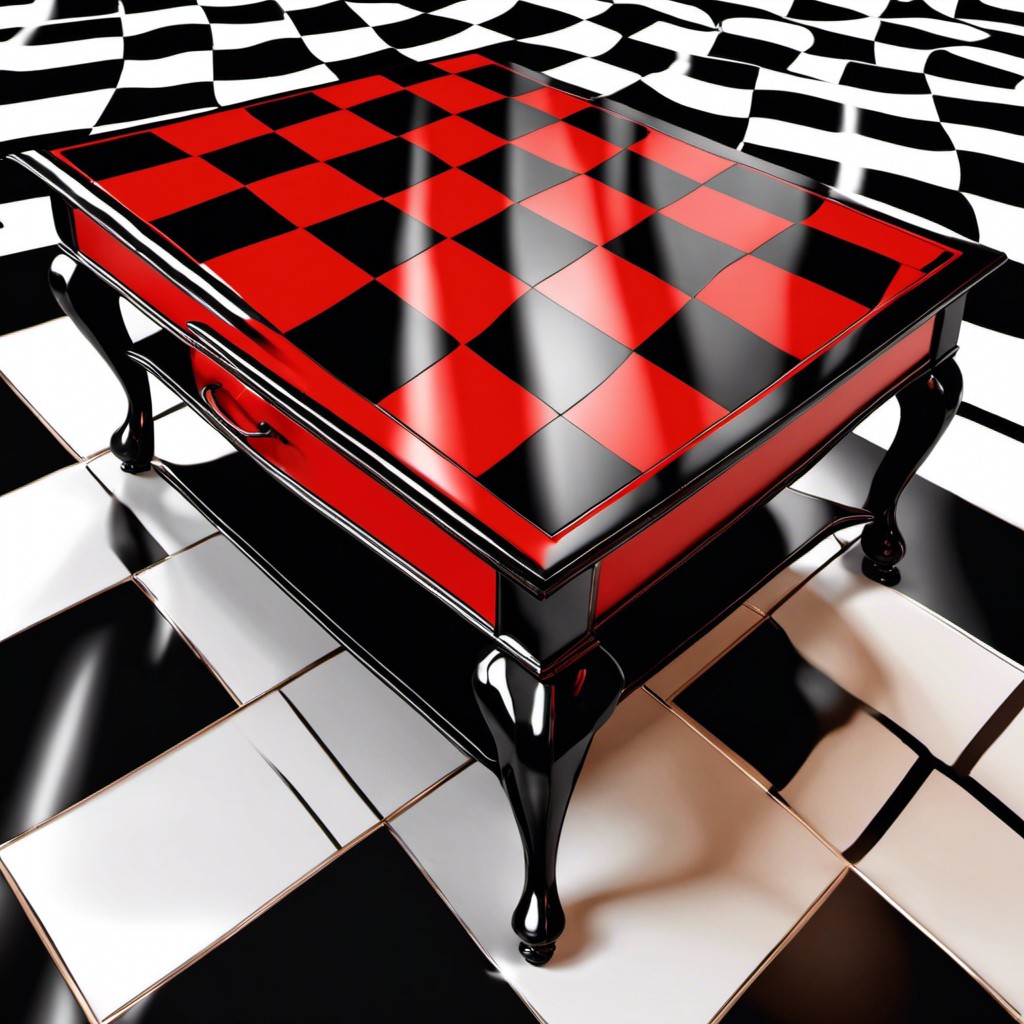 A striking fusion of both colors can be achieved with this design. Set the room alight by placing contrasting pieces, such as white or beige sofas, adjacent to this feature. Perfect for modernist interiors, the checkerboard pattern offers a dynamic visual effect.
For the intense effect, go with bold, saturated tones. However, you can soften the severity of the hue by choosing mellow, more muted shades if that better suits your aesthetics. The checkered pattern brings a sense of vitality and energy to a room – it's both visually attractive and intriguing.
Remember to balance the robust pattern with neutral tones in the surroundings. Avoid other bold patterns in the vicinity of the table to keep from overwhelming the eyes. The quintessential rule is to let this statement furniture piece be the focus of the room.
As for materials, you can go with painted wood for a rustic appeal or opt for glossy surfaces for a sleek, modern take. Keep the rest of the decor minimalist – let the table do all the talking. Integrate it with a rug underneath that complements the color scheme, adding a cohesive feel to the room.
Chesterfield-style Red and Black Leather Coffee Table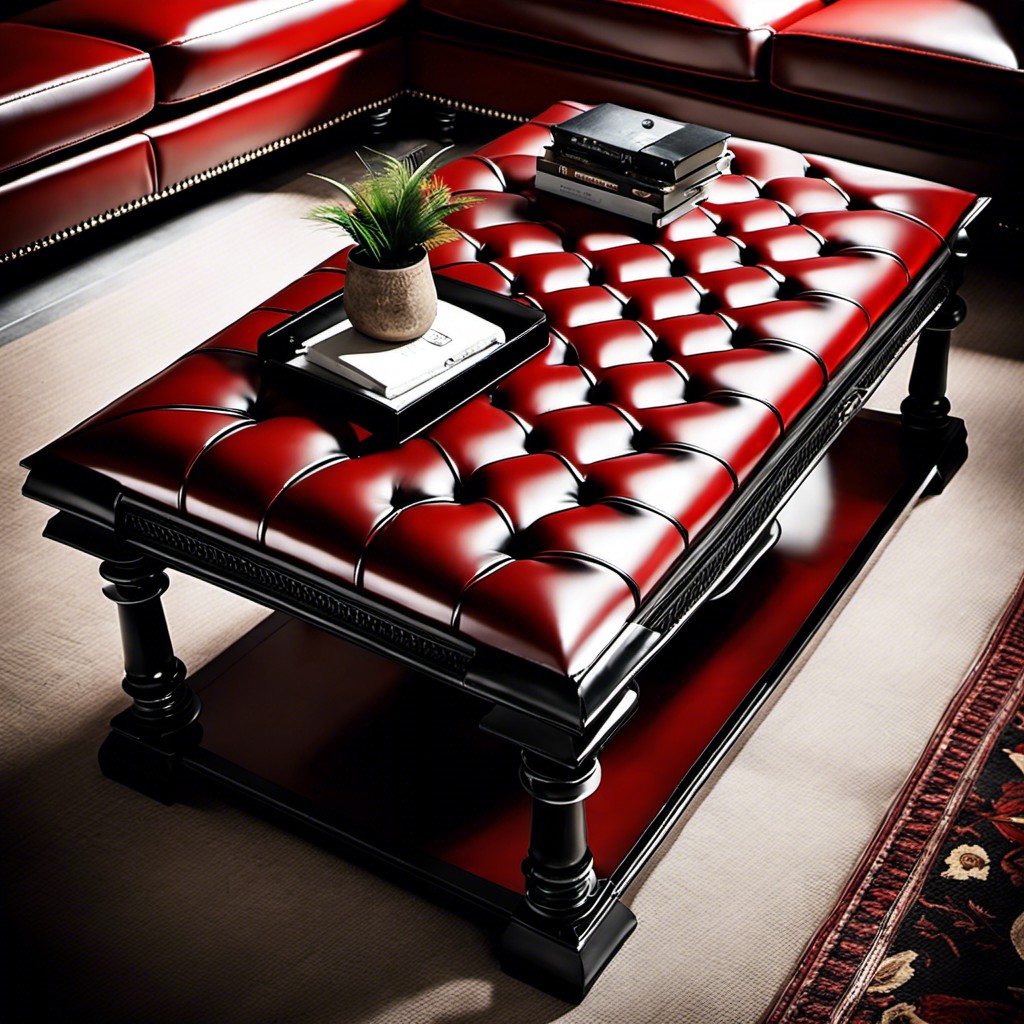 Emanating opulence and sophistication, this style exemplifies a blend of tradition and daring aesthetics. Its intricate detailing is a testament to competent craftsmanship. The vibrant red combined with the quiet calmness of black provides an underlying tone of classy drama in any space.
Primarily, it's marked by its characteristic button-tufting. What gives this piece its unique look is the deep setting of buttons in the upholstery, providing the diamond tufting pattern. This technique not only sets it apart visually but also delivers added comfort – a substantial quality in any coffee table, serving also as a footrest or occasional seating.
The leather finish, preferably in a high-quality top grain or aniline leather, presents a surface that ages beautifully over time, thus, making it a long-term investment.
While the red leather encompasses the top, the black would ideally be on the body and legs, accentuating the rich red even more. Metallic studs used along the edges provide a finishing touch, bolstering its vintage charm.
Marrying aesthetics with functionality, storage compartments are usually a part of the design, concealed artfully beneath the buttons or within the supporting structure. Rich in texture and design, this piece can serve as an exquisite focal point in your room, redefining elegance and making the space uniquely personal.
Modern-style Square Black Table With Red Drawers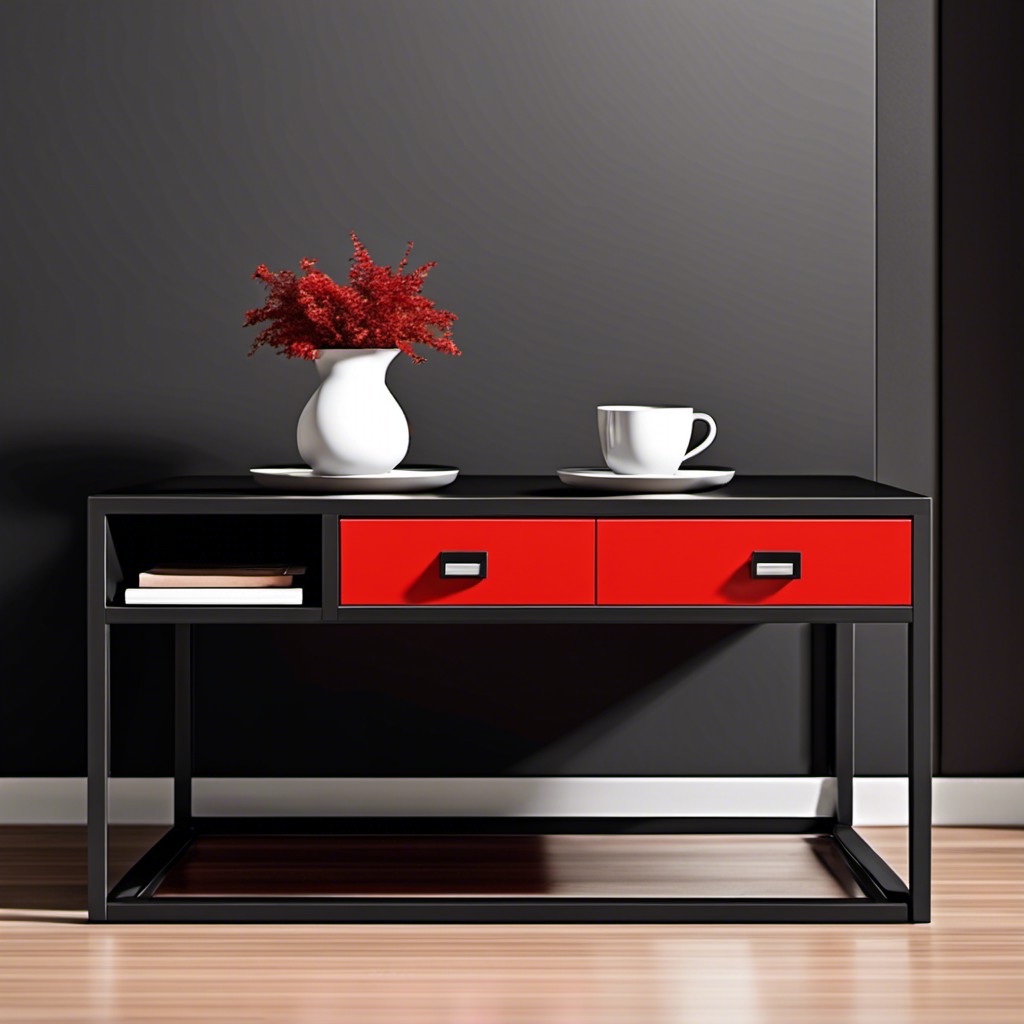 Bold in black with a hint of fiery red, this style goes beyond expectation to meet modern tastes. The square shape provides a balanced structure, perfect for those who appreciate symmetry in their decor.
The sophisticated black body doesn't just promise style, but also practicality in resisting visible stains and scratches.
The fusion of red drawers seamlessly with the black body creates a striking contrast. Such detail promotes visual interest and breaks the monotony of an all-black surface. It's indeed a great way to add a pop of color subtly.
The drawers bring an added bonus of extra storage space. These can be utilized to stash away your day-to-day items, keeping your living room neat.
Don't be afraid to add this show-stopper to your living room, it promises to modernize the space while ensuring convenience.
A Black Wrought Iron Table With a Red Mosaic Surface
This unique design harnesses the sturdy structure of wrought iron and combines it with the artistic appeal of a mosaic surface. The iron frame, painted black, lends an industrial appeal to the table. Meanwhile, the red mosaic surface breathes life into the design, capturing attention immediately.
1. Wrought Iron Frame: The black finish enhances its visual impact while improving its resistance to wear and tear.
2. Mosaic Surface: The hand-laid red mosaic tiles create a captivating pattern. This not only gives the table a vibrant pop of color, but also adds a level of charm and sophistication to the design.
3. Versatility: This table amazingly complements various décor styles, from modern to traditional. It can serve as a standout piece in minimalistic themes or a harmonious blend in more vibrant setups.
4. Durability: The use of wrought iron ensures longevity and resilience, making the table a lasting fixture in your home.
5. Customizable: Depending on personal preference, the mosaic can be arranged in different patterns, creating unique geometrical or abstract designs. The stone used in the mosaics can also vary, influencing the luminosity and texture of the finished table.
Switch up your living area aesthetic with this compelling coffee table — its versatility ensures your space's look retains a novel charm, persistently.
Black Table With Red Abstract Design
Incorporating an abstract design not only enhances the visual appeal of the table but it also serves as a lively centerpiece. Here are points to consider:
Choice of Design: Since it's abstract, options are unlimited. Geometric patterns, fluid brush strokes, or even splash-like designs – the motif can vary depending on personal preference.
Colors: While the baseline remains black, shades of red can be used for the design. A brighter tone for a stark contrast or a subdued one to sync with a more muted decor.
Degree of Abstractness: Full-surface design could be exhilarating, but if it's too much, consider having the design on one side or just the edges.
Material: Use of enamel paint can provide a shiny finish to the table. Spray paints or regular acrylics can be used as well.
Coordinates: Depending on the design, it can be paired with artsy decor or minimalist accessories for a balanced look. Remember, it's all about complementing it without overshadowing the design.
This particular table style can stimulate conversation while adding a dynamic element to your living space. The key is to make it the centerpiece without letting it overrun your decor scheme.
Futuristic Black Table With Red LED Features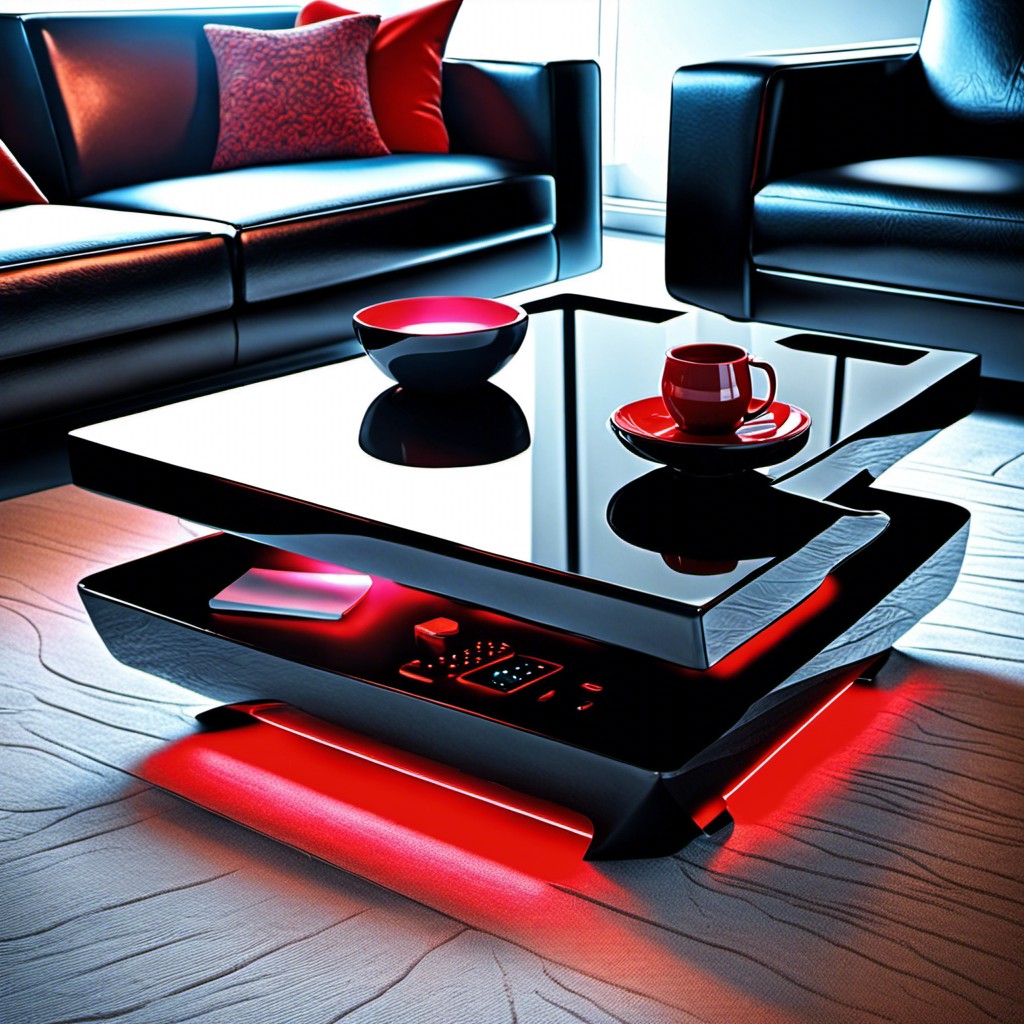 This unique design offers more than just a conversation piece, it brings a taste of the future to your living space. Its solid black body is accentuated by strategically placed LEDs, radiating with a vibrant red. This complements the black body and makes a grand statement.
Here are key points to consider:
1. LED Type: Choose from static LEDs for constant brightness or opt for programmable ones for creating light sequences and modes.
2. Power Source: Consider a table that comes with an integrated power source or battery-powered LEDs for wireless convenience.
3. Material: A high-quality plastic or metal composite body is typical for this design to ensure durability as well as sleek aesthetics.
4. Size: Depending on your room's available space, you can opt for a larger square shape or a more compact round version.
5. Additional Features: Some models come with features like light controls or integrated charging ports for added functionality.
Red Lacquered Art-deco Table With Black Legs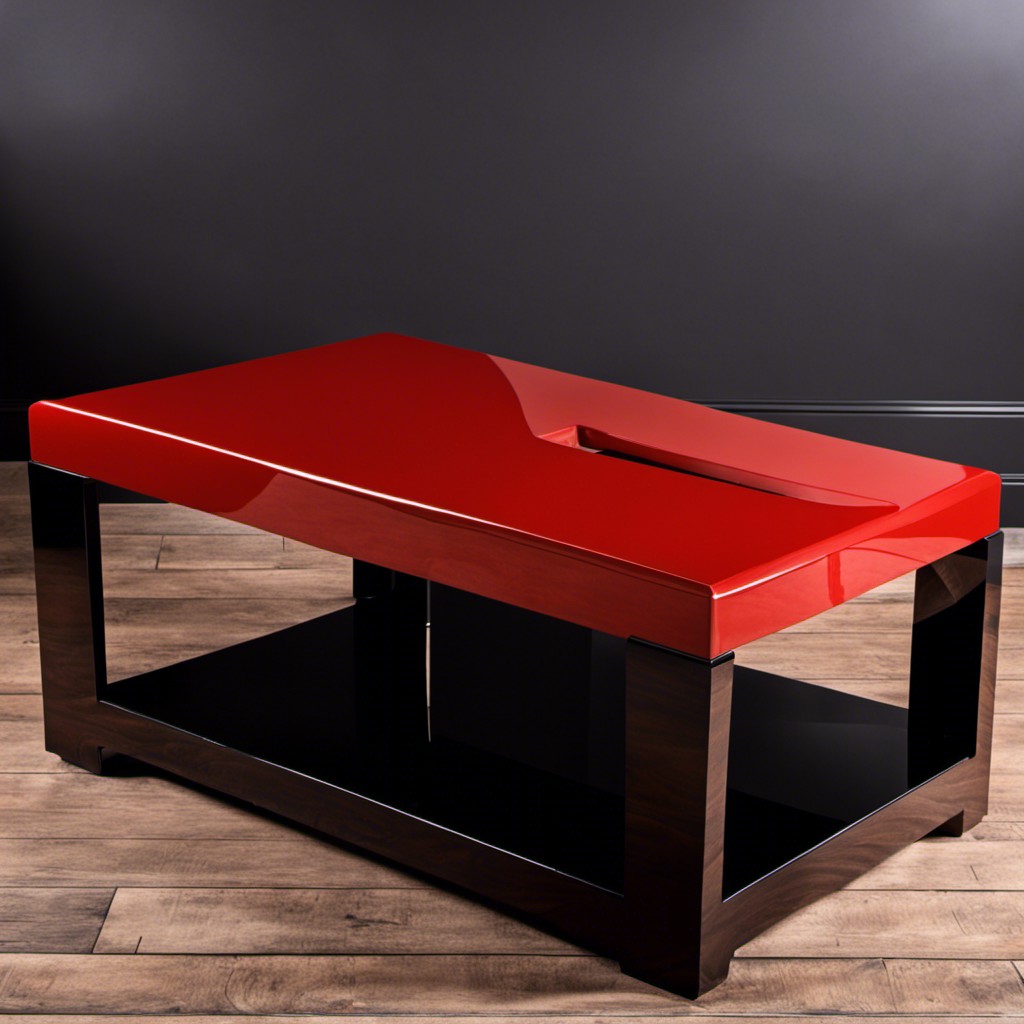 Characterized by its vibrant color and minimalist lines, this table encapsulates the boldness of Art Deco design.
The surface, coated in a lustrous red lacquer, imparts a high-gloss finish that brings out the rich hue while providing durability.
Complementary black legs, possibly fashioned from metal or dyed wood, add a stark contrast and firmly ground the piece.
Oriental influences often seen in Art Deco are echoed in this color scheme, creating an intriguing fusion of Eastern and Western aesthetics.
The understated yet strong presence of this table makes it a statement piece that can set a dynamic mood in a living room, whilst remaining functional and convenient.
From storage to display, its use is as diverse as its design.
Retro-style Black and Red Coffee Table With Chrome Embellishments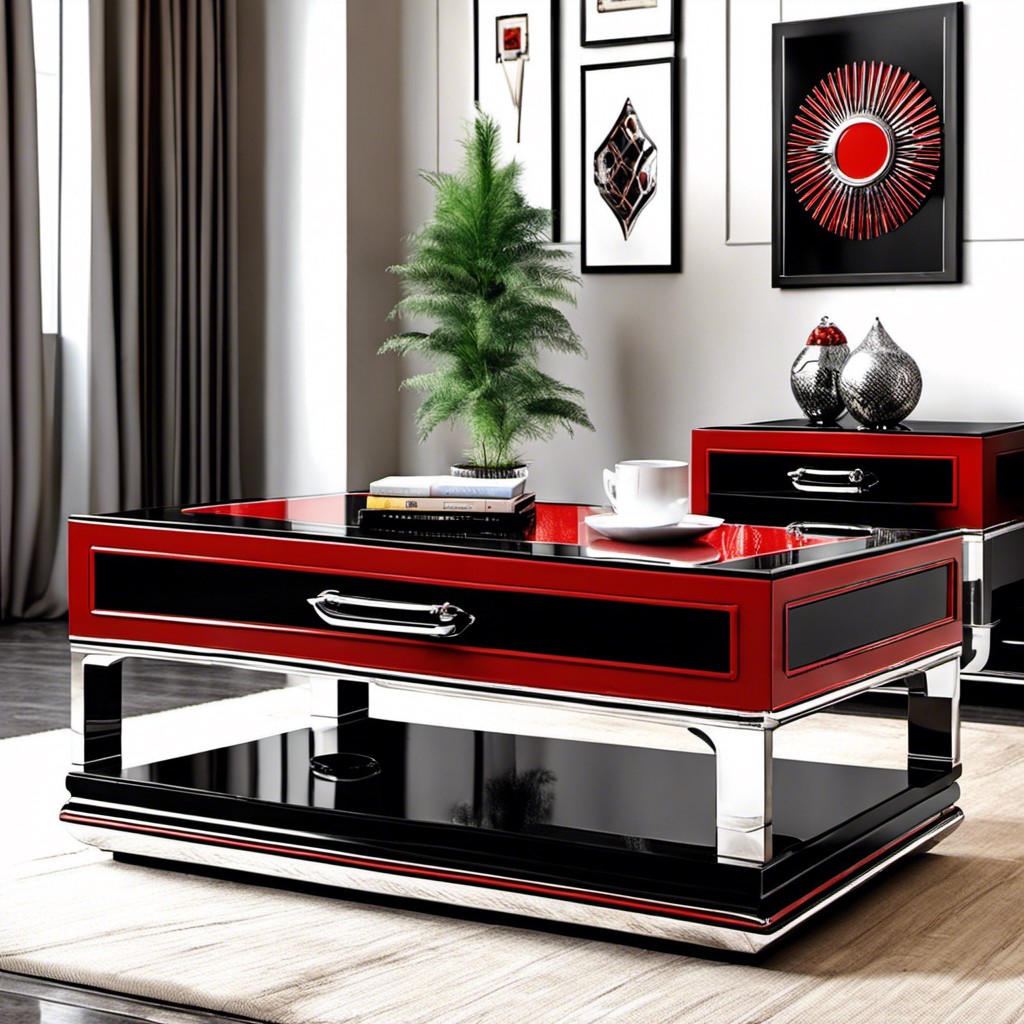 Bringing a blast from the past into the modern home, consider a feature-loaded design option exploring the beauty of chrome enhancements. In this concept, the radiant red lays a playful contrast against the depth of the black, showcasing a visually balanced dynamic.
1. Viewpoint: The design has an eye-catching nature, immediately filling the room with a unique vintage flair. The chrome embellishments add a flashy touch, creating a sense of sophistication.
2. Material: The table built from sturdy material to ensure durability. Comprehensive chrome details, based on sleek, polished metal, enhance its look further.
3. Design Elements: Upholding the retro vibe, these tables often sport a sleek, shapely design and would often have patterns or motifs reminiscent of the 60s or 70s.
4. Colour Balance: The red and black fuse together seamlessly, where the black accentuates the vibrancy of the red. With chrome details, it feels both updated and nostalgically appealing.
Embracing the nostalgia with this design makes your coffee table the conversation starter in any setting.
Black Coffee Table With Red Underneath for a Peekaboo Effect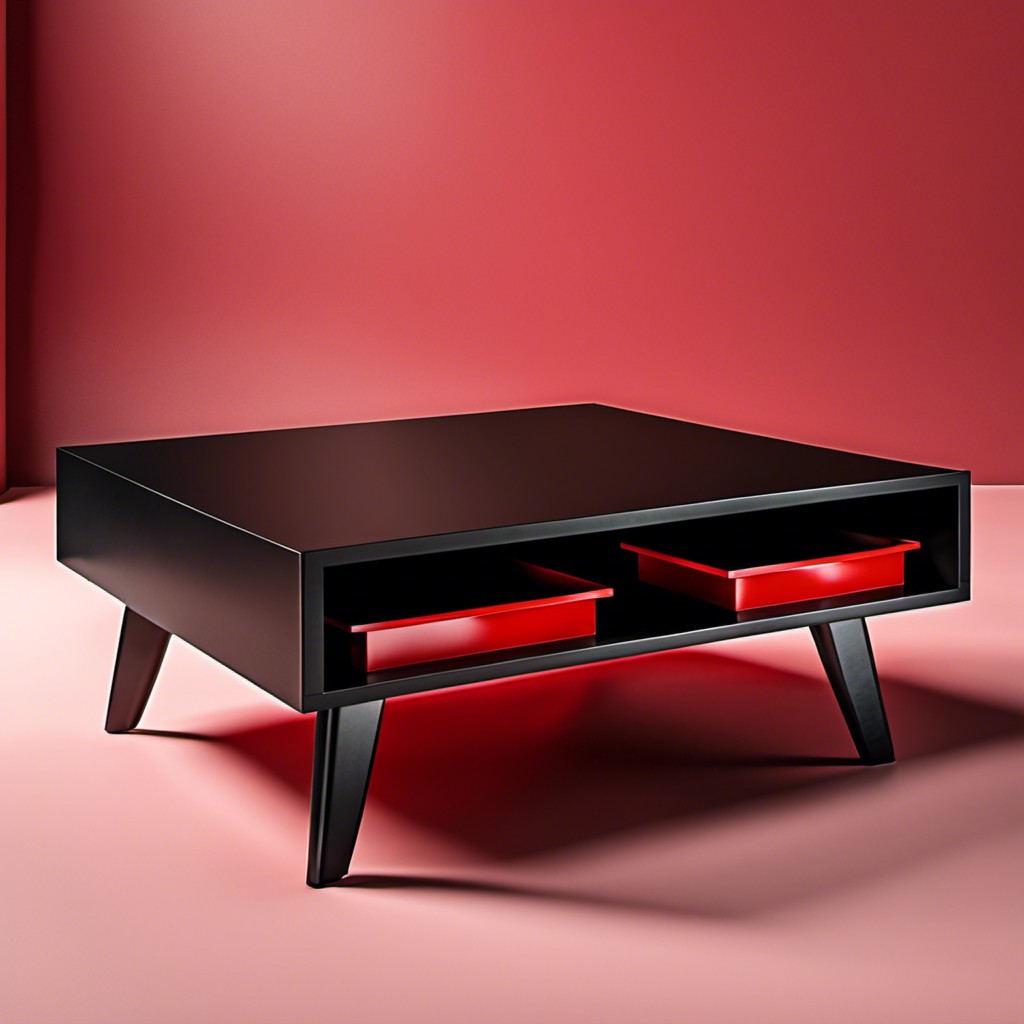 Sneak in a vibrant splash of red beneath a conventional black coffee table to surprise and delight the eye. This design concept, known as the 'peekaboo effect,' is making waves in interior design.
Here are some key points:
1. This playful twist offers a hidden burst of color only visible from certain angles or when items are moved off the table.
2. It adds depth to your décor while maintaining a predominantly classic black exterior.
3. It serves as a unique conversation starter, piquing curiosity.
4. To implement this, you don't necessarily need a new piece; existing black coffee tables can be retrofitted with a red underside.
5. The red can either be a high-gloss lacquer or matte finish, depending on preference.
6. This detail works exceptionally well in contemporary and eclectic spaces, adding an unexpected twist to a standard piece of furniture.
7. Consider pairing the table with complementary red and black accessories to maintain a cohesive color scheme.
Remember, decorating should never be boring. Brightening up subtle areas is an innovative way to create memorable and dynamic interiors.
Contemporary Round Black Coffee Table With a Red Base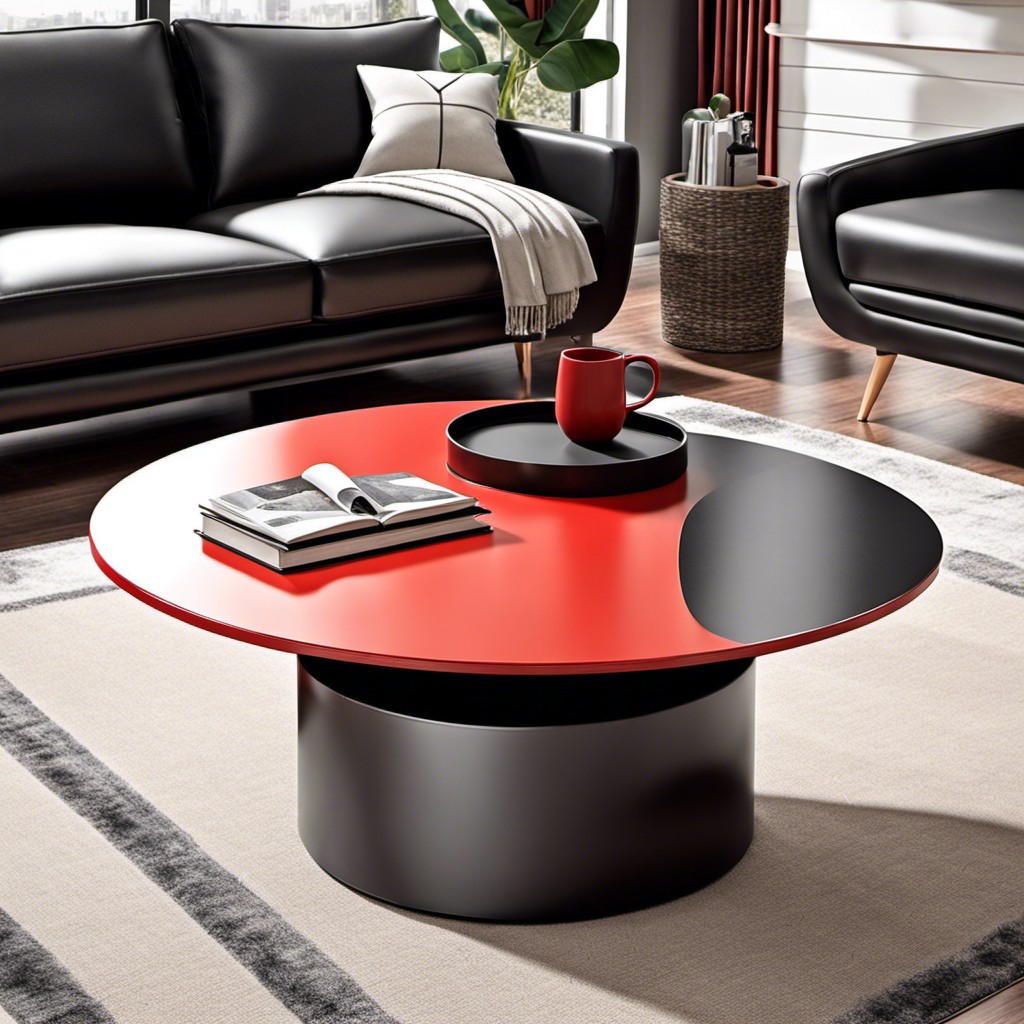 Crafted in sleek lines and a circular top, this table design offers a modernist appeal. The black tabletop, often seen in glass or high gloss finish, ensures a sophisticated and versatile look that blends seamlessly with any décor styles.
The dramatic red base is a key element in balancing form and function. Whether it's a bold red steel or a rich ruby wood, the stand-out base provides structural support while giving a pop of color to draw the eye.
With its bold color scheme, this type of table is ideal for bringing a dynamic note in monochrome or minimalist spaces. It's also excellent for breaking the ice in a room full of neutrals, creating a defining contrast that sparks conversation. Furthermore, red being an appetitive color, can stimulate enjoyable conversation during coffee breaks.
To maintain its pristine appearance, it's crucial to use appropriate cleaning solutions for the tabletop material and avoid abrasive cleaners on the vivid red base. Additionally, placing this coffee table away from direct sunlight will help preserve the vibrant color of the base for years to come.
Remember, this stylish coffee table is not just a functional furniture piece but is also a subtle expression of your adventurous taste in home décor.
Red Distressed Wood Coffee Table With Black Hardware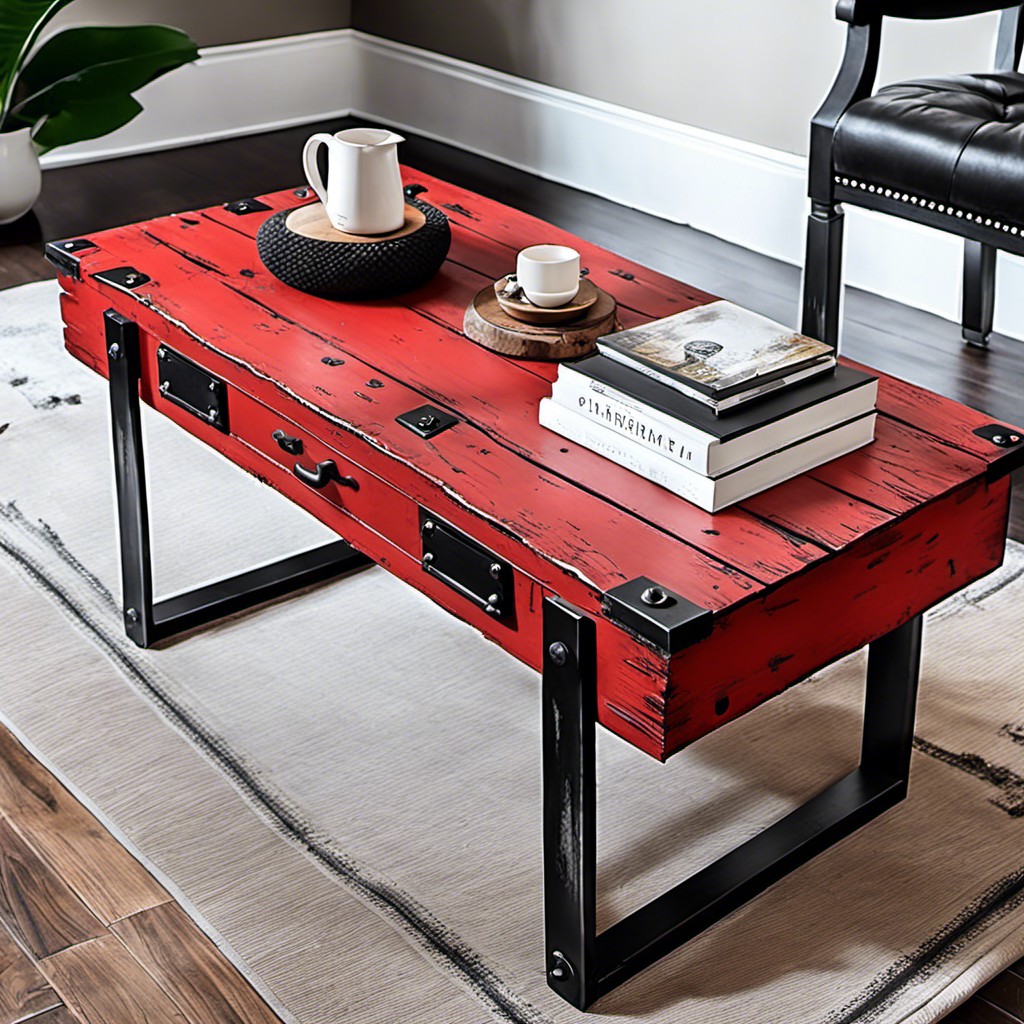 To achieve a leisurely lingering vibe in your home, the distressed wood pattern helps. The carefully chosen patches of red paint breathe life into the table. Liveliness is balanced with the austere black hardware used. By focusing on worn-out spots and edges, you'll create a time-tested antiquity sensation.
Consider the wood type. Pine or oak is often used due to their ability to wear well over time. Go for a deep, rich red. It can make for a vibrant yet cozy atmosphere. Try a matte finish to amplify the rustic look.
Remember, the black hardware shouldn't overwhelm – It acts as a strong anchor to the bold red. Drawer handles, brackets, or even nail heads would work. Have fun with it! Mix shapes and styles.
Keep the rest of your room's decor in mind. This table is daring, so balance with neutral tones or some carefully placed vintage items. It can add a fun pop of color in a farmhouse-style living room or could be the centerpiece in a minimalistic design. Don't be afraid to experiment.
Coffee Table With Balanced Red and Black Geometric Design
Balancing colors and shapes add a modern twist to your table design. A mix of crimson squares, obsidian rectangles, and the occasional triangle can create an eye-catching piece.
The juxtaposing shades of red and black form a real conversation starter. Experiment with glossy, matte, or mixed finishes. Opt for storage compartments disguised within the design for functionality.
This style marries the boldness of color blocking with the sophistication of geometric art, ensuring your central piece is not just useful, but also a visual masterpiece.
Asian-inspired Red and Black Lacquered Table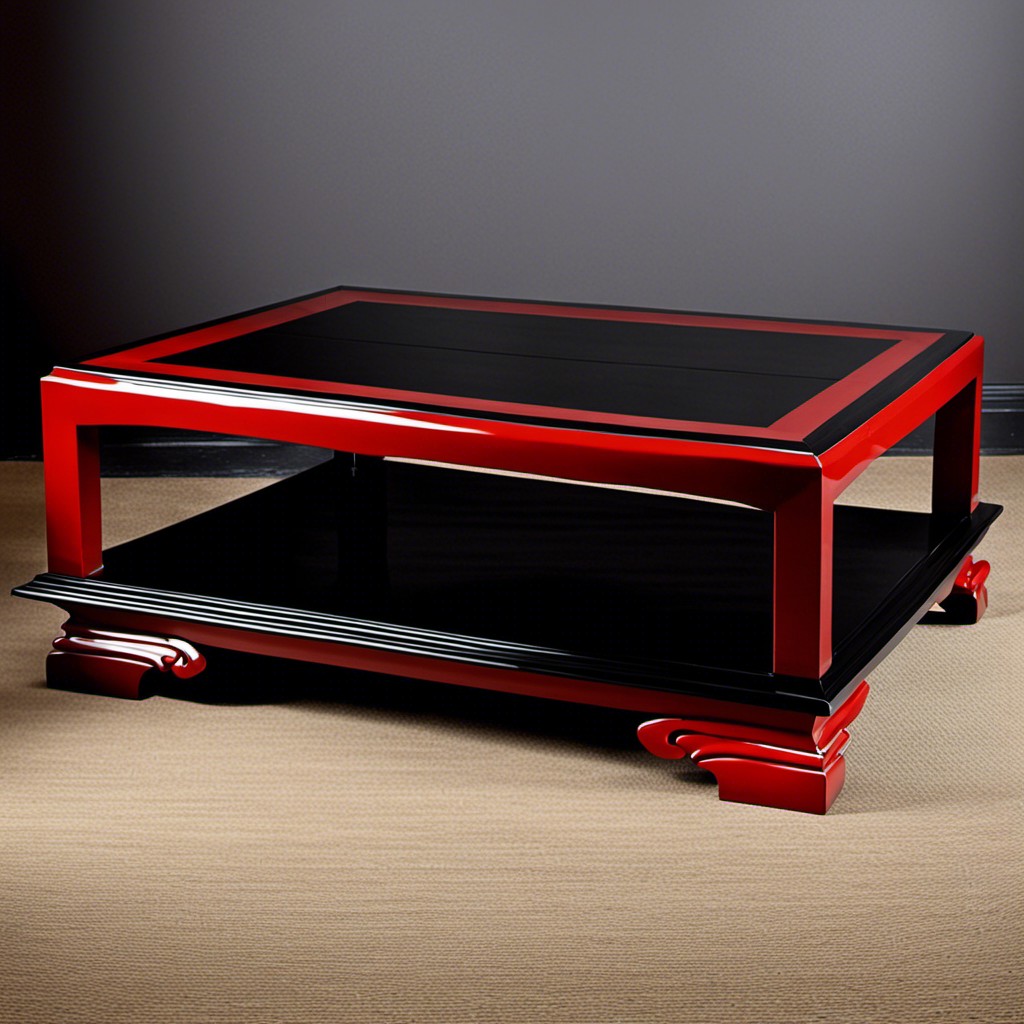 Characterized by their sleek, polished surfaces, these tables reflect the refinement and simplicity typical of Asian decor. The red, often deeper and muted, symbolizes luck and happiness in various Asian cultures. Black adds depth and highlights the intricate designs frequently seen in this style.
These tables may feature carved figures or landscapes for a touch of sophistication. Others stick to stark minimalism, using color and the lacquered shine as their only design elements.
Consider pairing these pieces with other Asian-inspired decor. Think silkscreens, bamboo plants, or porcelain accessories. Alternatively, they also stand out beautifully in a minimalist, modern room, acting as a splash of color and a conversation piece. Always remember to use a soft cloth for cleaning to preserve their lustrous finish. Direct sunlight and heat can dull this shine over time, so placement is an essential consideration when integrating these pieces into your living room.
Black Steampunk Coffee Table With Red Gear Details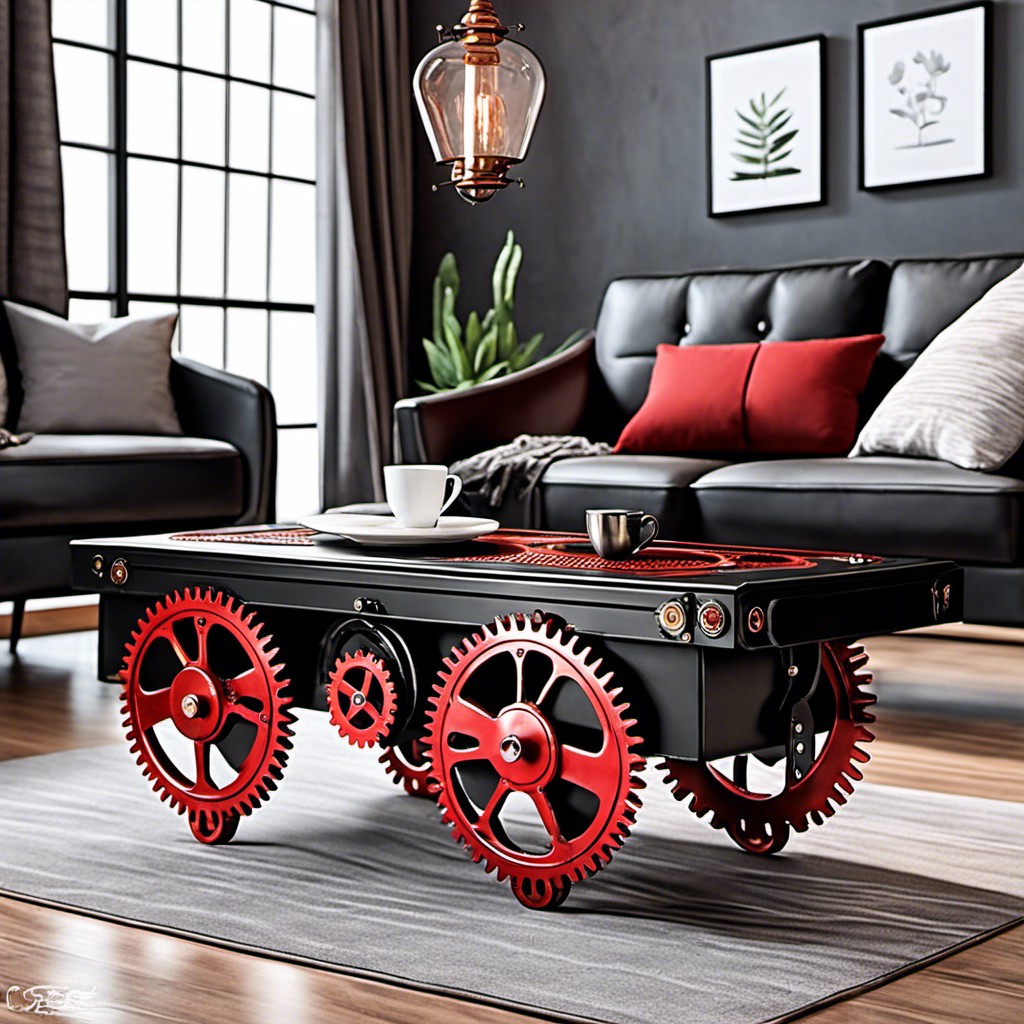 Using an industrial-themed approach, steampunk coffee tables evoke a mix of old-world charm with futuristic zest. The main focal point of these tables is often machinery-inspired elements. For a prominent and captivating look, coupling a bold black finish with red gear details is an ingenious choice.
1. Gears: The inclusion of gears, particularly in a vibrant red, give the table its characteristic steampunk appeal, offering a nod to the age of industry.
2. Material Selection: Often constructed from iron or steel, the dark veneer of a black table provides an ideal contrast to the vivid red gears, rendering a visually striking difference.
3. Aesthetic: These tables maintain a balance between the rawness of industrial age machinery and the polish of modern minimalism. Simply put, they're conversation starters.
4. Versatility: Despite its thematic specificity, a steampunk table in black complements a range of color schemes and interior styles. The red gears add a distinctive pop.
5. Function and design: Steampunk tables not only add an artistic touch but are also functional centerpieces in living spaces. The visible gears may potentially serve as storage or may house hidden compartments.
Remember, such a table enlivens a room with its dramatic aesthetics and thoughtful detail. It is an homage to the beauty of mechanics wrapped in a functional piece of furniture.
Rustic Black Table With Red Painted Stencil Details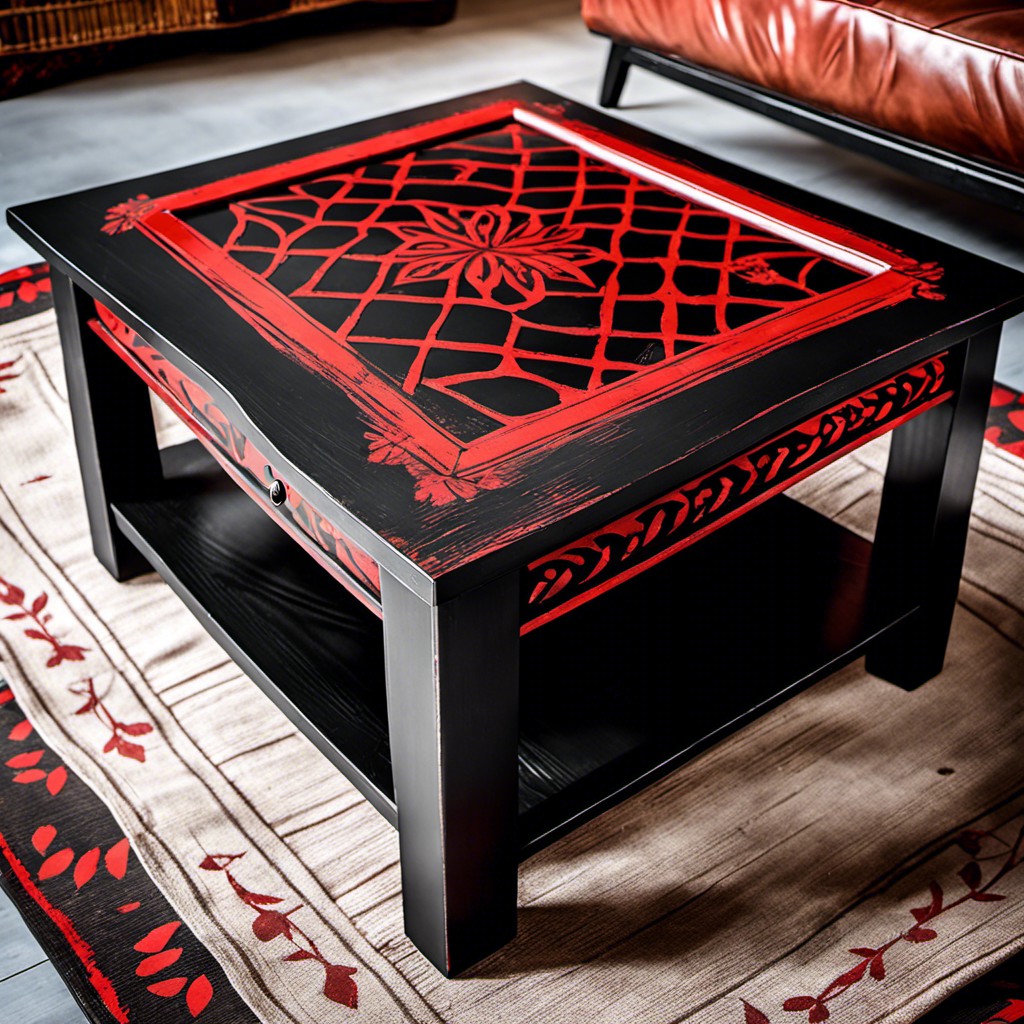 To achieve this remarkable design, start by acquiring a solid rustic table finished in black. Usual rustic features—rough edges, visible wood grain, and textured surfaces—add character. Infuse a hint of interest with a stencil of your choice: floral, abstract, or perhaps something whimsical to off-set the traditional style.
Creating the stencil pattern is an engaging DIY project. Opt for red paint in a shade that complements your surrounding decor. Crimson offers warmth, while a scarlet hue invokes excitement. Those eyeing a subdued aesthetic may consider a deeper maroon or brick tone.
Implement the stencil sporadically, or even as a border feature. This technique turns the table into a conversation piece without overwhelming the inherent rustic charm. Remember, less is often more when it comes to stenciled details. A few strategically placed red accents can make a powerful statement, bringing your unique rustic coffee table to life.
You may also like to read: