Last updated on October 30, 2023
Grey is one of the most popular color choices for kitchen interior design, as it's a great neutral that can be paired with many different colors, styles, and aesthetics. 
This color creates a fresh, calming effect, so using light grey in your kitchen is a great way to make it feel even more welcoming and home-like. Light grey kitchen cabinets, for example, can achieve a timeless look when paired with the right countertops.
Nevertheless, we have some great modern light grey kitchen ideas below, including how to pair this shade with other colors and designs, so keep reading for some helpful tips!
Table of Contents
Contrast Two Grey Tones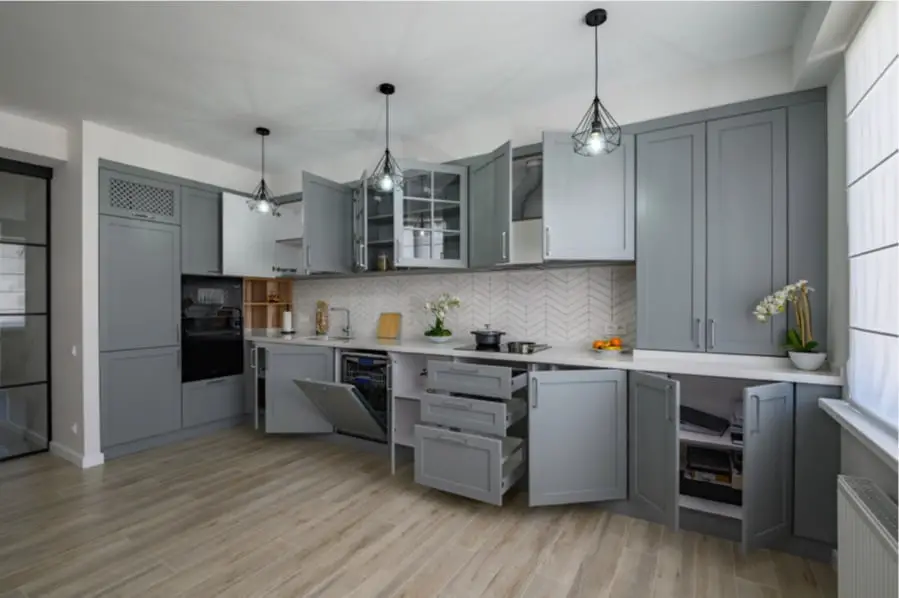 There are many different shades of light grey to choose from, and if you're not sure which one you want to use, you can combine two together and use one as an accent color.
For example, if you're installing light grey kitchen cabinets, you can use a blue-grey or slightly darker grey on your kitchen backsplash, shelving units, or the side walls of your island or peninsula.
By using the lighter grey as the base color and adding the darker shade in small areas, you can add more dimension to a room and create a more bold, modern look without overwhelming the eye with too much color. 
Add an Accent Island or Peninsula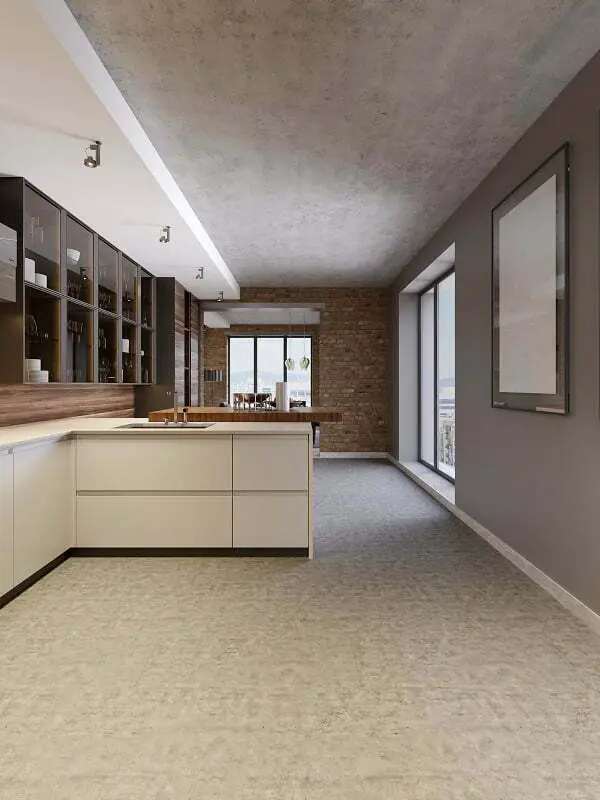 As touched on above, using an accent color in a more neutral space is a great way to add personality and brightness to a kitchen without the room feeling overstimulating.
Instead of using a different shade of grey, however, you could choose from the wide range of colors that pair well with grey. Popular colors to pair with grey include blue, red, yellow, purple, green, gold, and black, among many others.
A great way to integrate an accent color is by using one of our best light grey kitchen ideas: painting your kitchen island or peninsula in that shade.
An island is a central part of your kitchen, so painting it a brighter colour will draw the eye in and make it a more focal point. You can add your accent colour to the side walls, or you can install a coloured countertop.
Combine Grey Paint and Natural Wood
One of the reasons homeowners love a grey color scheme is that they can mix and match the shade with so many different colors and textures, such as natural wood.
If you're using a light grey shade, you can contrast it with a darker-toned wood like walnut or red oak. The neutral backdrop of the light grey paint will help bring out the warmth and texture of the wood, which will give the kitchen a more rustic feel.
To implement wood into your design, you can capitalize on kitchen high beams, wood furniture, or wood paneling on the walls. You could also focus on displaying wooden kitchen utensils like charcuterie boards, salad tossers, or centerpieces like fruit bowls and vases. 
Add Brass Details
Another one of our light grey kitchen ideas is implementing metallic detailing into a more muted color palette, which can give a room a more sophisticated and expensive look. Brass, for instance, pairs well with light grey and can be added in a number of different ways.
For example, you can add brass lining to your cabinets and emphasize their detail and structure. You could also install brass light fixtures or hang brass pots and pans on the wall.
This type of color and texture combination would look great in a Tuscan-style kitchen, where there's a large emphasis on antique cookware. Brass can also complement a modern-style kitchen quite well if you're going for a more elegant look.
Grey Cabinets and Colorful Walls
If you prefer brighter, more expressive colors for your wall paint and wallpaper, adding light grey into the mix is a good way to prevent your color scheme from being overstimulating. 
For example, a great way to balance out the bright color is to paint your wall and counter cabinets light grey while using a shade like yellow or blue for the kitchen backsplash and one or two accent walls.
A two-tone kitchen design with these types of light colors will create a warm, welcoming atmosphere in the room and will give you an opportunity to add more personality and flair to your space. 
Distress or Gloss your Cabinets
Light grey cabinets are a popular design choice due to the versatility of the color when it comes to matching aesthetics. There are a few things you can do to your light grey cabinets to fit a specific niche, such as distressing the wood and the paint.
This type of look is ideal for those who want a rustic, farmhouse, or Tuscan-style kitchen, as the distressed surface contributes to the vintage and antique influences of these aesthetics.
Homeowners using this light grey kitchen idea can have their cabinets distressed professionally, or they can use some tried and true DIY methods, such as hitting the cabinet surface with metal chains, a hammer, or a similar piece of hardware.
Install Dark Grey Countertops
If your kitchen design is fully light-grey, adding some darker shades here and there is a great way to add more dimension to the room and help certain areas stand out (check out this article for design ideas).
If you over-focus on one solid color, it can cause all the hardware and decor to blend into the background, so adding some darker, more prominent tones will help elevate the room.
For instance, if the cabinetry for your counters is light grey, installing dark grey counters, such as these countertops from Caesarstone, will add more definition and prevent the room from looking too washed out.
Integrate Pastels
There are many colors that you can pair with light grey, including pastel shades. Colors like pastel pink and yellow blend well with light grey to create a soft, peaceful feeling in a room. 
This type of color combination would be ideal for a minimalist kitchen, a style that focuses on building a calm and tranquil environment. 
You could add pastel colors by integrating them into your decor, or you can display pastel kitchen appliances such as standing mixers and toasters.
Add a Gloss Finish to Your Kitchen
Next on our list of light grey kitchen ideas is adding a gloss finish to your kitchen. To increase the clean, modern look of your light grey kitchen, consider putting a gloss sheen over your surfaces and hardware.
Some light grey gloss kitchen ideas include treating your cabinets and countertops with a light grey finish, contrasting the sheen of light grey with a bolder shade like yellow, and integrating the glossed surfaces with a more textured material look for wood paneling. 
The Takeaway
If you're having trouble with design concepts for your kitchen, try some of these light grey kitchen ideas. Take your time to choose hardware and kitchen elements that suit your personal taste, and integrate this lovely neutral shade in a way that works for you!
You may also like to read: