Last updated on November 22, 2023
Creating a patio space at home where you can spend your lazy afternoons or sip wine at night is an excellent way to make the most out of your property.
Having an outdoor living space will give you an additional location to host parties, dine with family and friends, and play with your kids. Aside from this benefit, you also increase the value of your home when you create a patio or a garden space in the backyard.
If you finally decide to create a garden space, you'll need sturdy and beautiful garden furniture. Having them is not just a necessity, they also enhance the overall look of the garden space.
Obviously, no one wants to go out and spend a lot of money on some low-quality materials. Custom metal furniture, for example, could be an excellent complement to any outdoor living space. Planning to shop for garden furniture soon? Then keep on reading to find out how to choose the ideal garden furniture for your garden space.
Table of Contents
Calculate the Amount of Outdoor Space You Have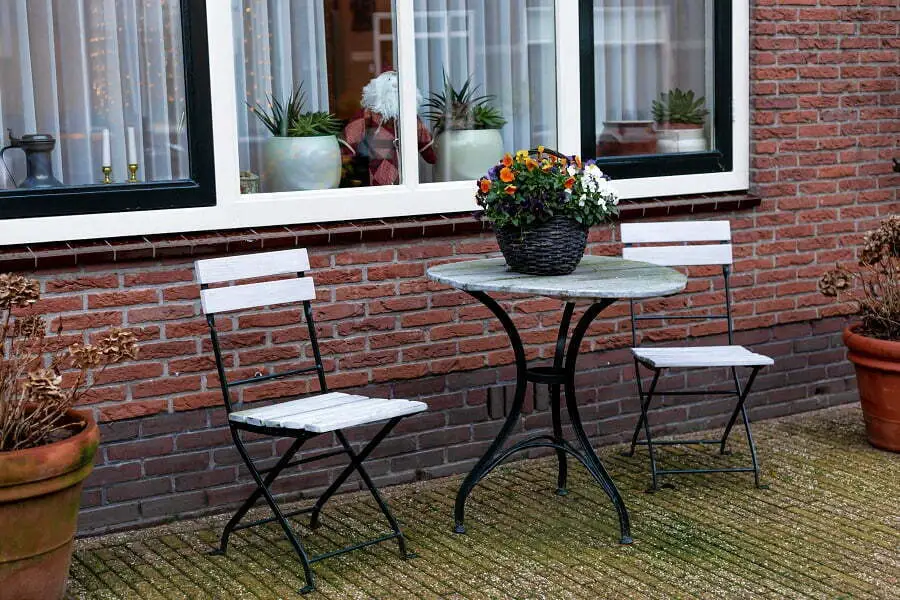 It can be difficult to know where to start when choosing the right garden furniture. With thousands of choices in types, styles, and sizes, you will probably end up overwhelmed and not buy anything at all.
To start it right, take a measurement of your accessible outdoor space before you go shopping. This is really crucial as you might end up buying furniture that is either too large or too small, which in turn, will hinder your goal of beautifying the outdoor living space. Be very particular with this step.
After that, once you've gotten your measurements in order, it's time to start exploring possibilities. The excellent thing is that there is always garden furniture that will fit any outside living space, regardless of its size.
Select Outdoor Furniture That Is Easy to Care for
Unsurprisingly, this process does not stop by just purchasing outdoor furniture. In reality, you have to take care of them for them to last. Maintenance neglect, for example, will definitely result in damage that will most likely require repair. Not to mention the fact that you may have to purchase completely new ones in the future if they can no longer be salvaged.
Ensure that this won't happen by investing in low-maintenance garden furniture. For instance, you must search for garden furniture that is made from metal, teak, and wood as they can withstand adverse weather conditions. In addition, they also save you time when it comes to cleaning.
Concentrate on the Components That You Actually Require
Sales and bundle discounts on outdoor furniture make it difficult to avoid overspending. So even if a brand is giving a 50% discount on their outdoor furniture bundles, you can politely decline the offer when there is no need to buy the item. Garden furniture shopping can be a fun activity, however, losing concentration can lead to overspending and frustration.
Evaluate what you regularly do outside when selecting furniture for your outdoor living space. Do you enjoy reading novels, for example? A day bed or patio sofa set would be best if that's your thing. Do you enjoy eating outside with your family on some occasions? There are also outdoor dining sets available.
Understanding what items you actually require and concentrating on finding them will make your search easier.
Put a Premium on Quality Over Cost
The cost of garden furniture is a serious factor. Who wouldn't want to find furniture that is within their budget? Nevertheless, while the price is crucial, you must also consider other factors. In reality, paying attention to quality assures that you will be able to utilize your new furniture for a long time, which makes it cost-effective in the long run.
Investing in low-cost garden furniture that needs repairs or replacements in the next few years, on the other hand, is costly. You end up spending more money rather than buying more expensive yet durable ones. That is why it's necessary to consider both the value and quality of your home furniture.
When shopping for garden items, rub your hand over the furniture's surfaces to see if they're smooth. When looking for well-made furniture, pay close attention to details like the quality of wood used (if you prefer wooden ones) and welding joints.
Spend hours in a store looking and checking out garden furniture. Note that these choices affect the long-term value of the investment as well as the quality of your comfort, so it helps to be cautious.
Compare
Because the garden furniture you choose for your outdoor living space is an investment, give it your best shot when making your choices. Don't buy the first piece of outdoor furniture you see. Rather, look for at least three alternatives and evaluate the advantages and disadvantages of each. This allows you to assess your options and determine which ones best suit your budget and needs.
You may also like to read: