Last updated on November 29, 2023
Coffee-colored couches are becoming a popular anchor piece in living room designs because of their versatility, sophistication, and ability to create warmth in any living space.
In crafting this piece on 20 coffee-colored couch ideas, my hope is that you, the reader, will find my unique designs as inspiring and fun to explore as I found creating them.
Embracing the warmth and elegance of a coffee-colored couch can transform your living room into a cozy and inviting space. This article delves into various ideas on how to style your space around this versatile piece of furniture. Whether you're aiming for a modern, rustic, or eclectic look, we'll guide you through color schemes, complementary furniture, and accessory choices.
We'll also provide tips on how to balance tones to achieve a harmonious aesthetic. Stay tuned for a comprehensive guide that will help you maximize the potential of your coffee-colored couch.
Table of Contents
Brown Leather Couch With White Throw Pillows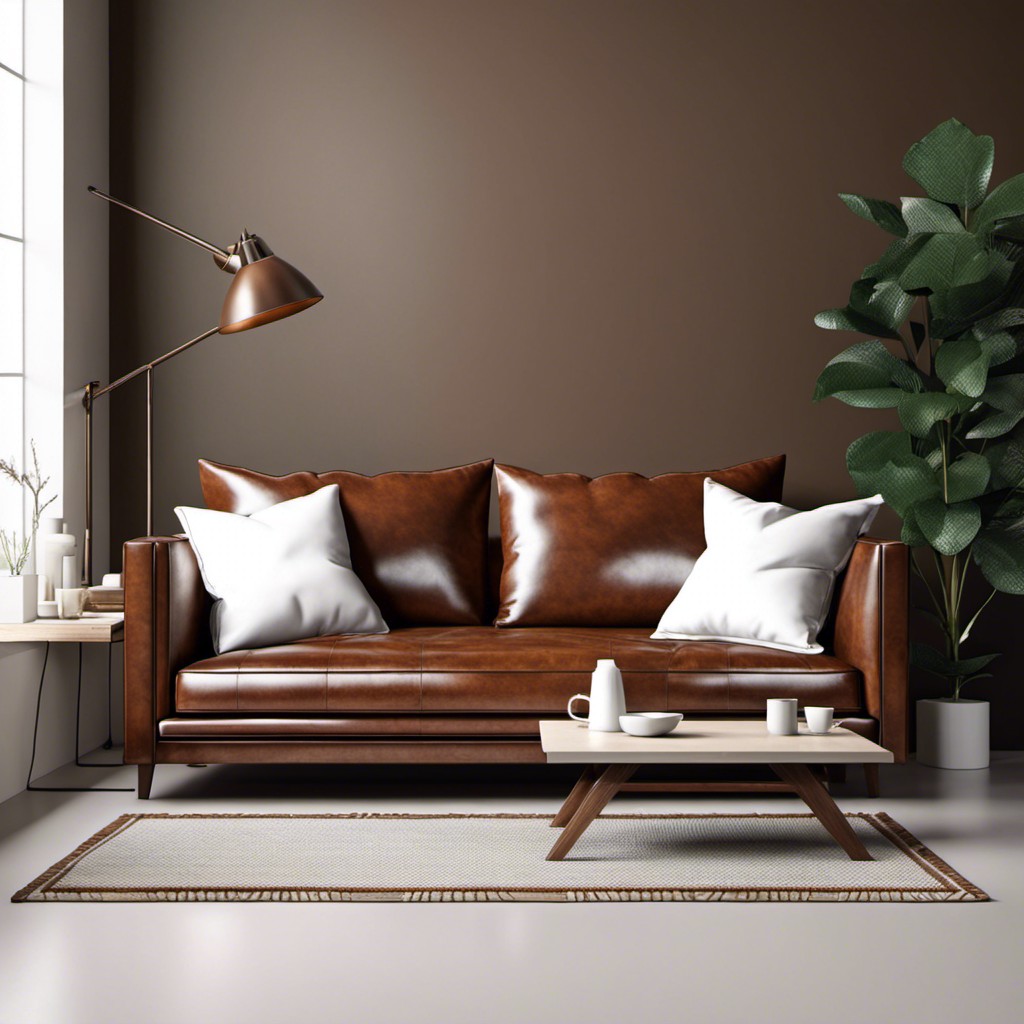 In the realm of comfort and luxury, nothing surpasses the appeal of a brown leather couch. It enhances the ambience with a rich and exquisite look. When paired with contrasting white throw pillows, its beauty is accentuated further.
1. Class and comfort: The earthy tone of brown leather provides a warm and welcoming vibe. Its robust nature offers longevity without compromising on elegance and comfort.
2. Versatile palette: The coffee hue is highly versatile and complements various color schemes. It adds depth and sophistication to bright settings.
3. White accents: Introducing white throw pillows creates an immediate visual contrast. It's a balance of softness against the sturdy leather and gives the room an inviting look.
4. Layered design: Mixing different size and textured white pillows reinstates variety without losing the aesthetic.
5. Care and maintenance: Leather is particularly easy to clean, making the couch a practical choice. Washable white pillow covers are therefore an added advantage.
Sectional Coffee-colored Couch in Living Room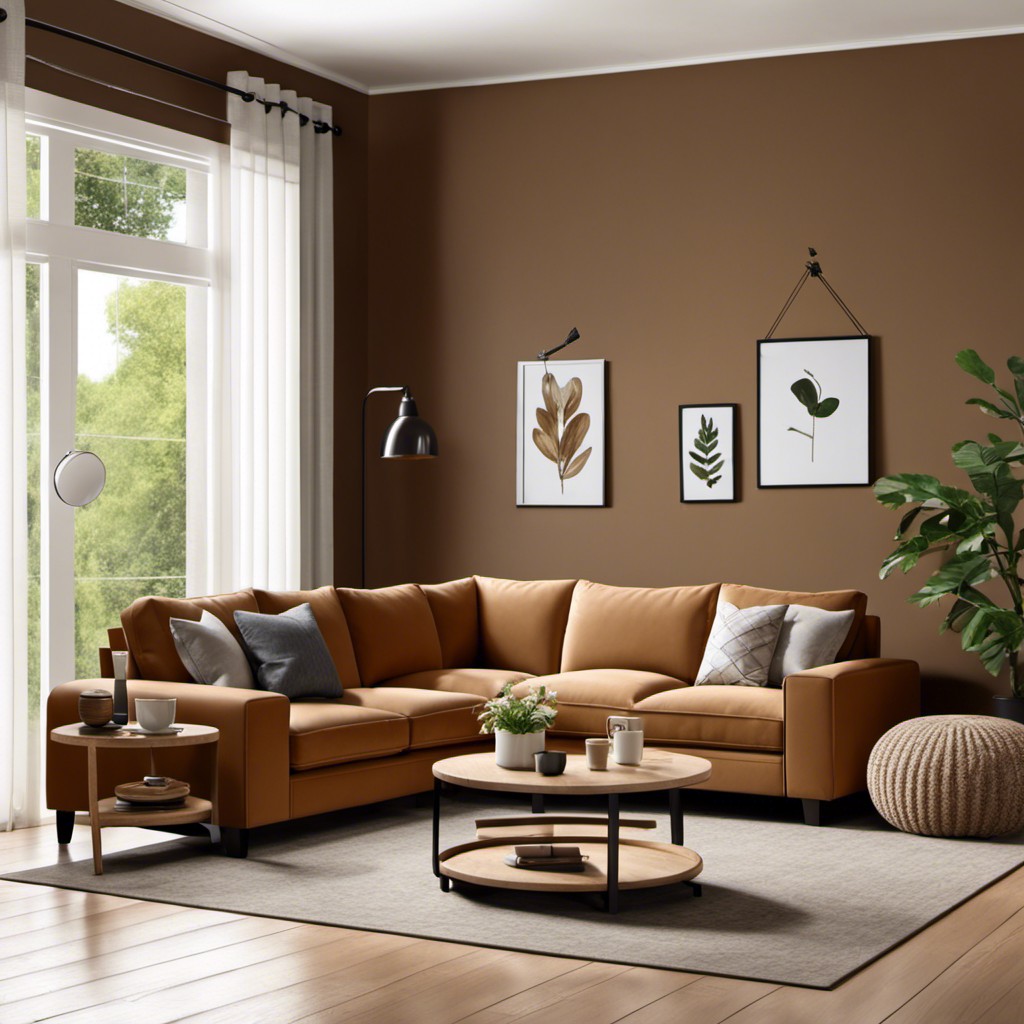 A sectional sofa offers flexibility and versatility. Implement a coffee-colored variant into your living room to add a warm, inviting ambiance. This color oozes with coziness, making it a perfect choice for spaces frequented by guests or family.
Here are some concepts to optimize your decorating around a sectional coffee-colored couch:
Compliment it with neutral shades such as creams or beiges for a balanced, harmonious theme.
Pair it with vibrant or lighter throw pillows to introduce a vivid contrast. Patterns like stripes or geometric shapes can also add visual interest.
Surround it with a light or white carpet to illuminate the living room space and create a stark difference that draws attention to your centerpiece.
Accent it with wooden or metallic coffee tables for a fine blend of rustic and modern styles.
Accompany it with green plants or flowers for an organic touch, making your living space feel alive and welcoming.
Try a lamp with a bright white light to highlight the sofa, rendering a cozy yet sufficiently lit space.
Remember, the magic lies in personalizing your space. The tips above serve merely as guidance for creating a vibrant, warm, and welcoming living room around your coffee-colored sectional couch.
A Rustic Style With Coffee-colored Suede Sofa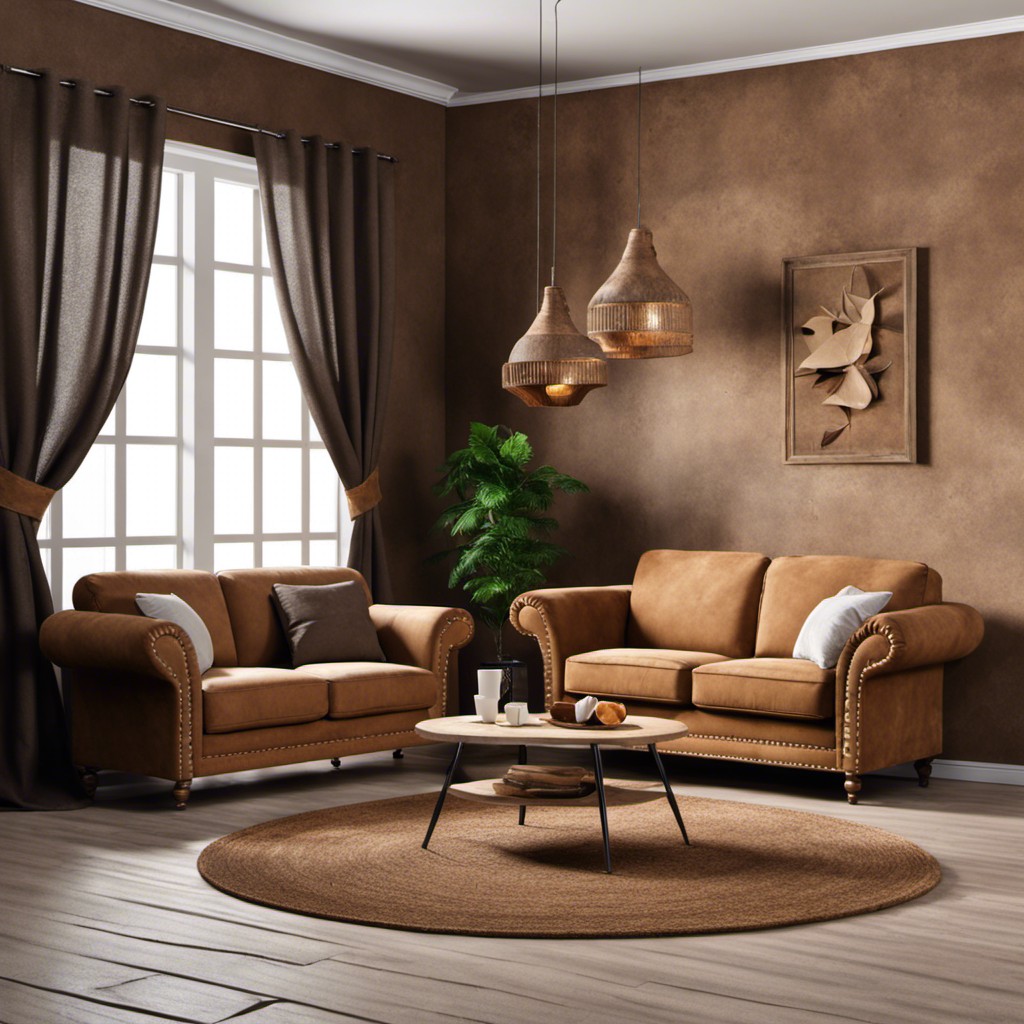 Emphasizing the rustic charm of your living space is gracefully done by adopting a coffee-colored suede sofa. That distinctive shade is perfectly balanced by the natural elements typical for the rustic style; hearty wooden details and earth-tone accessories.
Suede, as a material, already emanates a grounded, organic touch, reinforcing that rustic ambiance. Create harmony by pairing this couch with a rough, wooden coffee table, or perhaps position it atop a jute rug — textures play a key role in this theme.
Introduce more warmth with elements such as chunky knit throw blankets or cushions in shades of burnt orange or warm beige, but remember — simplicity is key when it comes to rustic style. You've added the cozy factor with the suede texture, and the warm, inviting color of the couch, so don't overdo it.
Lastly, focus on lighting to enhance the look. Opt for warm, incandescent light bulbs and emphasize natural light to ensure your coffee-colored couch and rustic space feel welcoming and homely.
Mid-century Modern Coffee-colored Couch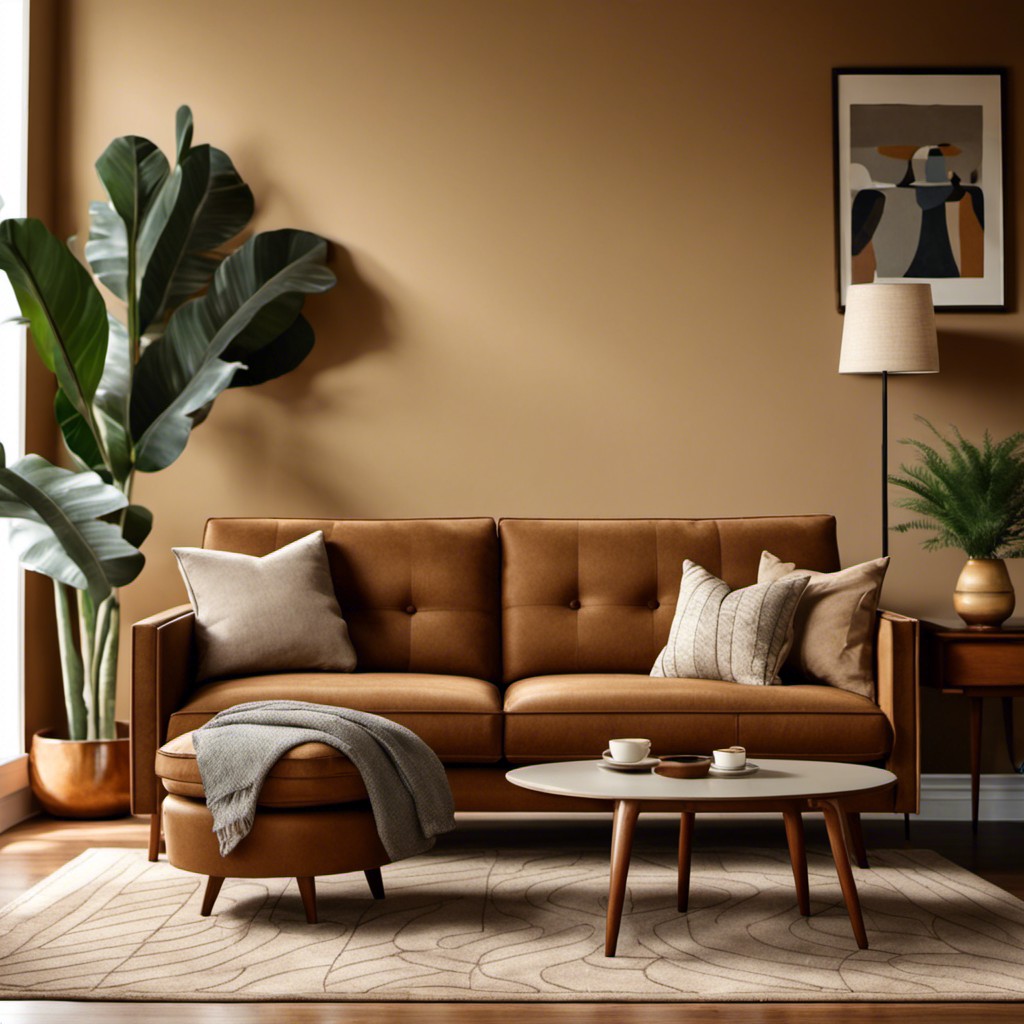 Mid-century modern design has a timeless appeal that perfectly balances form and function. This style is characterized by clean lines, gentle organic curves, and a passion for various materials. When choosing a coffee-colored couch in this aesthetic, opt for a piece that reflects these qualities.
For material, think about choosing a upholstery like leather or textured fabric, which adds warmth to the striking silhouettes of this style. Look for a couch that offers a sleek, angular profile, sometimes complementation with cylindrical wood legs in rich, dark tones.
This furniture design truly shines when it brings contrast into a room. Pair your couch with light, airy accent elements. Consider white or cream geometric rugs, metallic coffee tables, or glossy, white sideboards. Introduce pops of color with throw pillows in either vibrant or pastel hues.
Remember, this design philosophy thrives on simplicity, so avoid cluttering space with excessive embellishments. Instead, favor a select few standout pieces, as simplicity in accenting can evoke a sense of calm and unassuming elegance.
Coffee-colored Chesterfield Couch for Classic Décor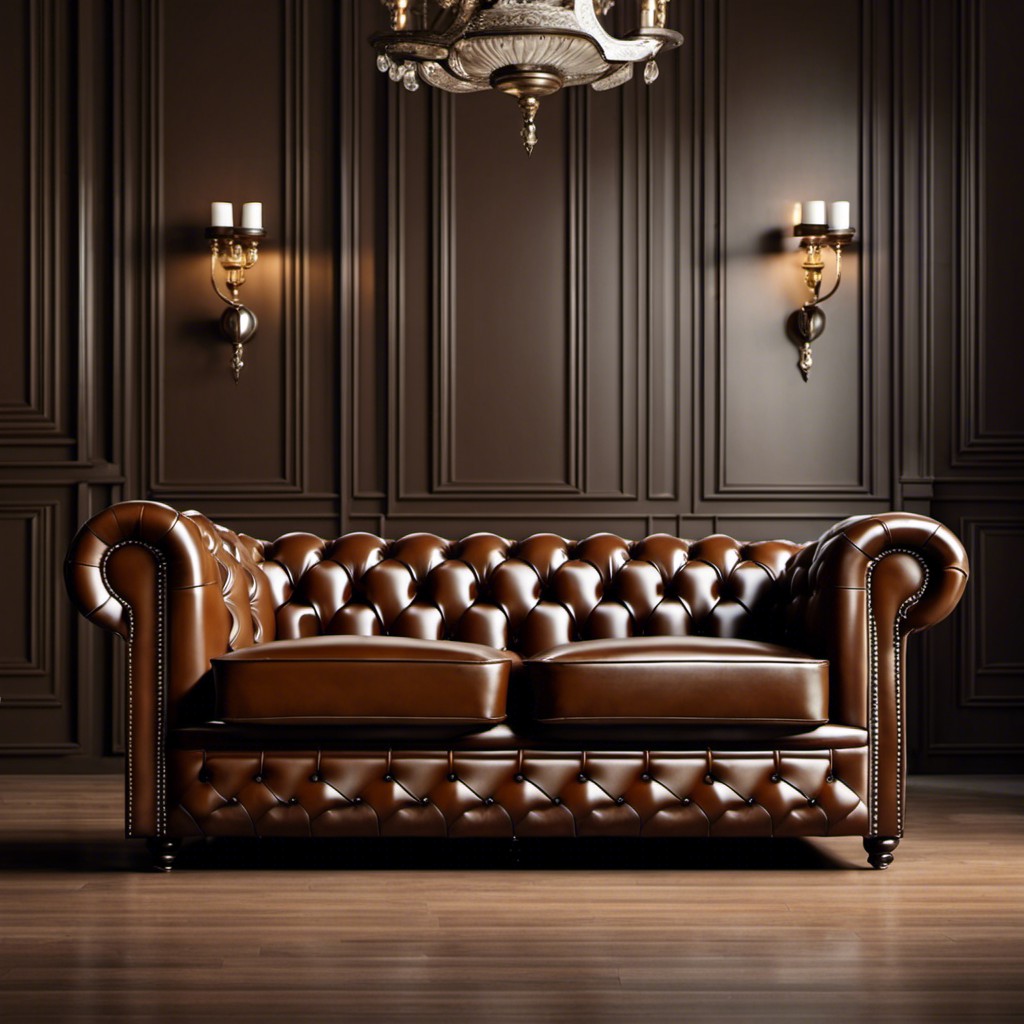 With its rich, inviting color and vintage charm, the Chesterfield serves as a timeless centerpiece in traditional settings. The deep button tufting, rolled arms, and low back all contribute to this one-of-a-kind aesthetic.
When it comes to integrating this essential piece with a classic décor, few tips come in handy.
1. Pairing it with mahogany side tables or bookcases can enhance the vintage appeal.
2. Placement against a cream or pastel-colored wall adds depth and contrast.
3. Opt for lighting that features gold accents, such as brass table lamps or chandeliers, to bring warmth and cohesion to the space.
4. Add a Persian or Oriental rug in shades of burgundy, navy, or gold to ground the room beautifully.
5. Layer the couch with pillows in vintage patterns or rich fabrics like velvet or silk. This not only provides additional comfort but ramps up the overall luxurious feel.
Remember that although the Chesterfield is a statement piece, the coffee color's versatility means it will blend comfortably into many color schemes, enhancing the charm of a classically decorated home seamlessly.
Small Coffee-colored Futon for Studio Apartments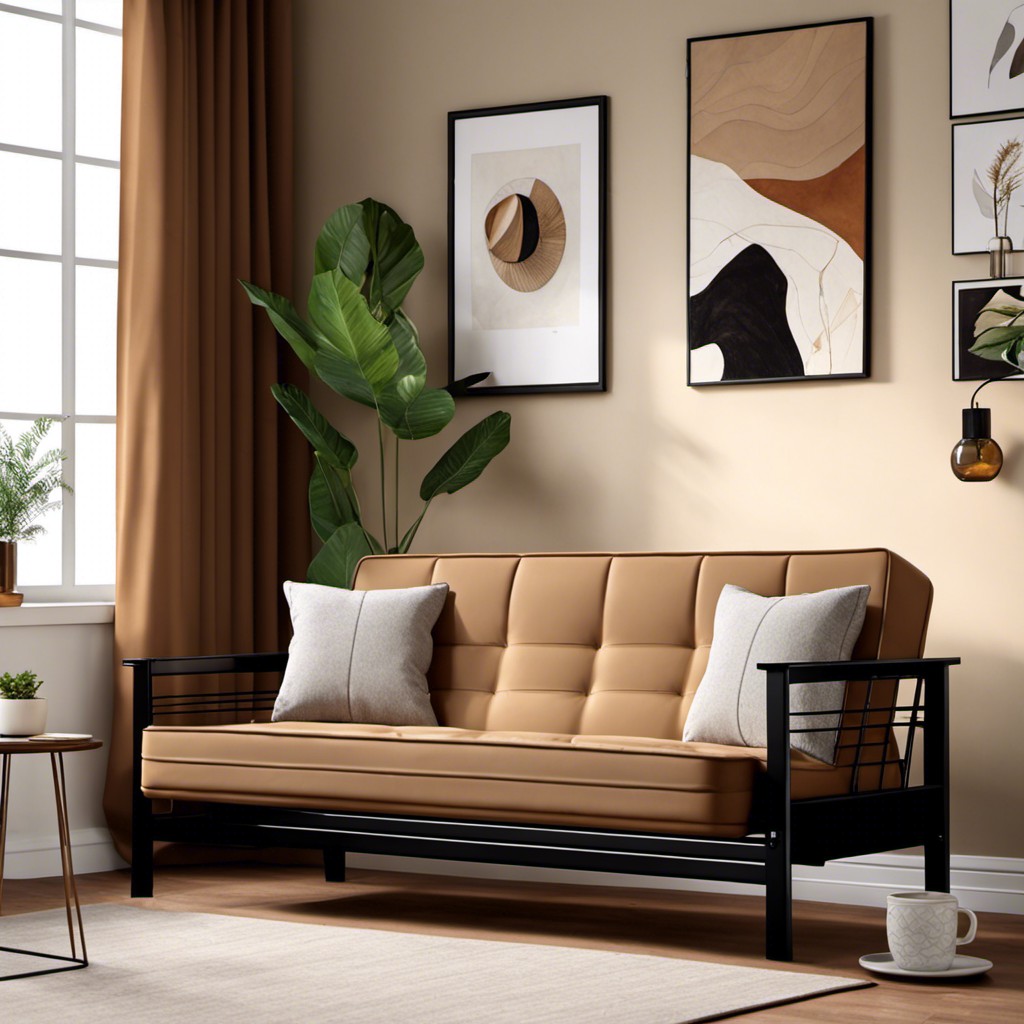 Compact, multifunctional, and fashionable – these three features encapsulate the charm of this little gem of home decor. Ideal for smaller spaces, the futon's size allows it to fit seamlessly into any design plan without overwhelming the room. Its rich coffee tone gives depth to the space, making your living area warm and inviting.
Beyond aesthetics, its practicality is another major plus. It can effortlessly be transformed into a bed, making it versatile and ideal for those unexpected guests and lazy weekends. Blend it with light surroundings for a contrast or coordinate it with dark hues for a fortified ambiance.
Silver or metallic accents such as picture frames, light fixtures, or small decor pieces can add an element of elegance and modern touch. Added storage underneath is a shrewd way to use space for studios. For a pop of color, teal blue or burnt orange cushions can be incorporated, perfectly contrasting and accentuating the coffee color.
The right throws and cushion styles can offer a complete look, ranging from chic minimalistic to Bohemian depending on the chosen accessories. With the appropriate selection, a studio apartment will radiate a spacious and organized look, bursting with character and class.
Large Coffee-colored Couch in Family Room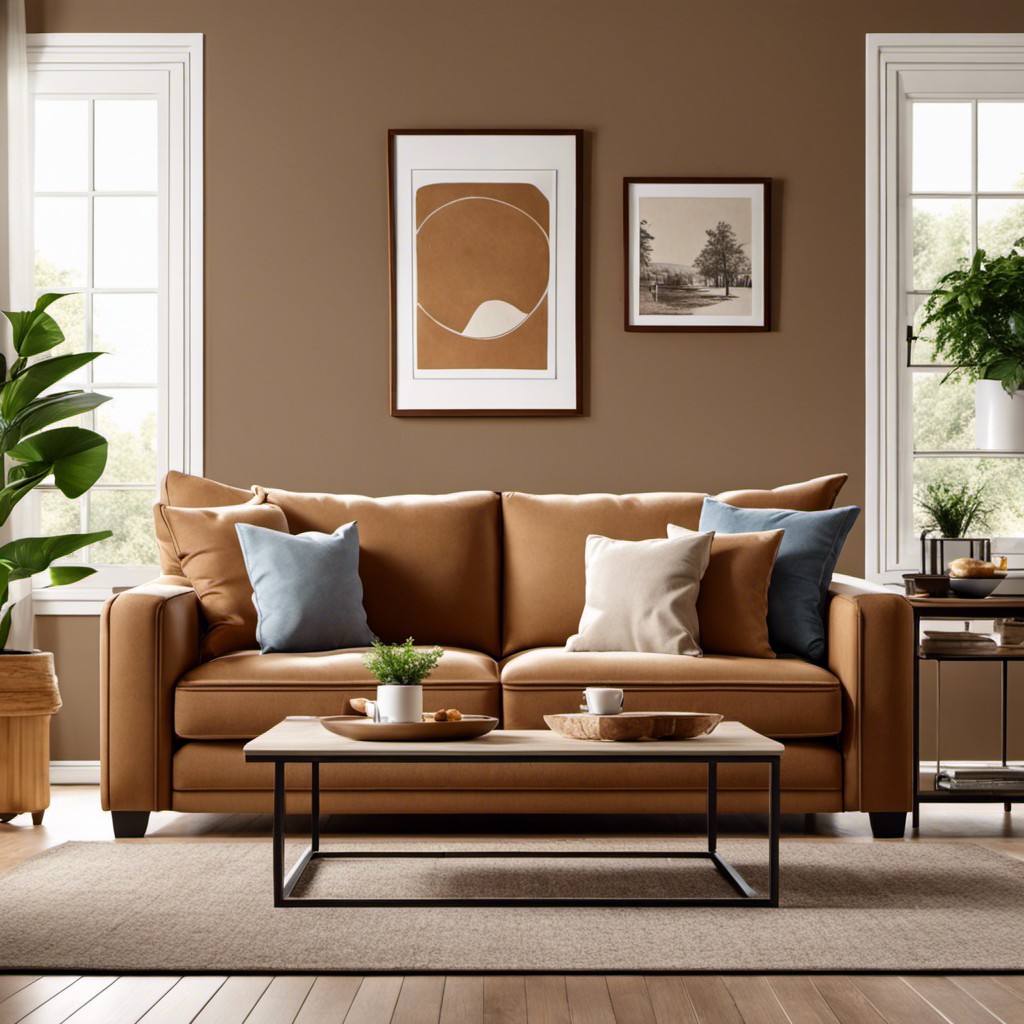 In a large family room, the commanding presence of the coffee-colored couch automatically makes it the focal point, providing ample seating for family gatherings and friendly get-togethers.
Add accessories such as patterned, vibrant cushions for a pop of color and cozy blankets for comfortable movie nights.
Complement this setup with light-toned carpet or rugs to balance the strong color of the couch.
A low coffee table can help to facilitate conversation and complete the cozy, inviting ambiance.
Incorporate a few oversized floor lamps for softer lighting and a more intimate atmosphere.
Natural elements such as indoor plants or wooden side tables can also create a serene, homely environment.
Ultimately, the aim is to create a dynamic environment with a simplistic yet innovative approach.
Coffee-colored Couch With Bohemian Style Décor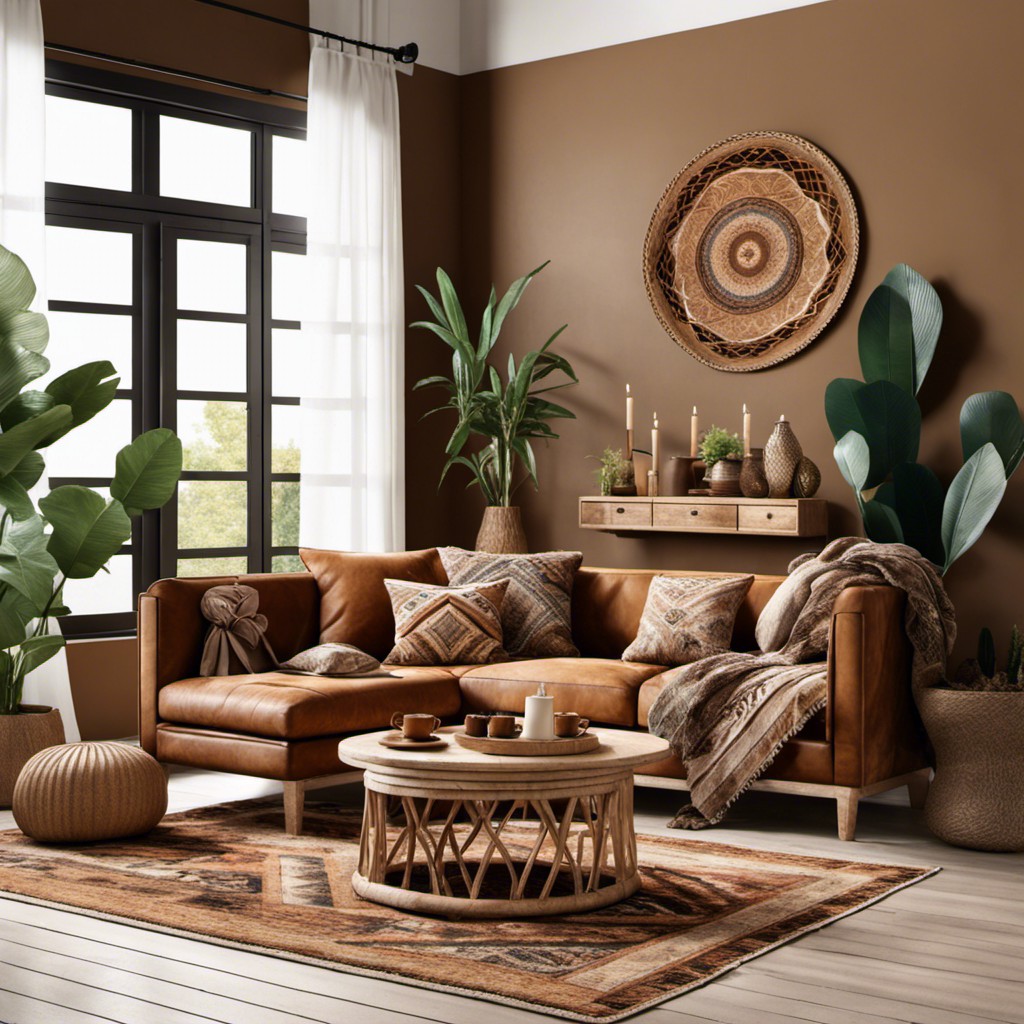 Incorporating a coffee-colored couch into a Bohemian-style interior requires a thoughtful mix of contrasting patterns and vibrant colors. Utilize multi-colored, patterned throw pillows to break up the solidity of the couch and add a pop of color. Try to use patterns such as Paisley, Ikat or Mandala that mirror the free-spirited nature of Boho style.
Surrounding the couch with plant life can create a natural, earthy atmosphere, corresponding with the Bohemian affinity towards nature. Add a chunky knitted throw blanket in a light, neutral color to enhance the couch's coziness. Remember to include an eclectic mix of textures and materials, like a rattan rug or metallic side table, to achieve an authentic Bohemian look.
Benefit from the balance by pairing the rich, deep color of the couch with lighter, brighter elements. The ultimate aim is to create a warm, welcoming, and laid-back space that exudes personality and creativity.
Pair Coffee Couch With Off-white Wall Color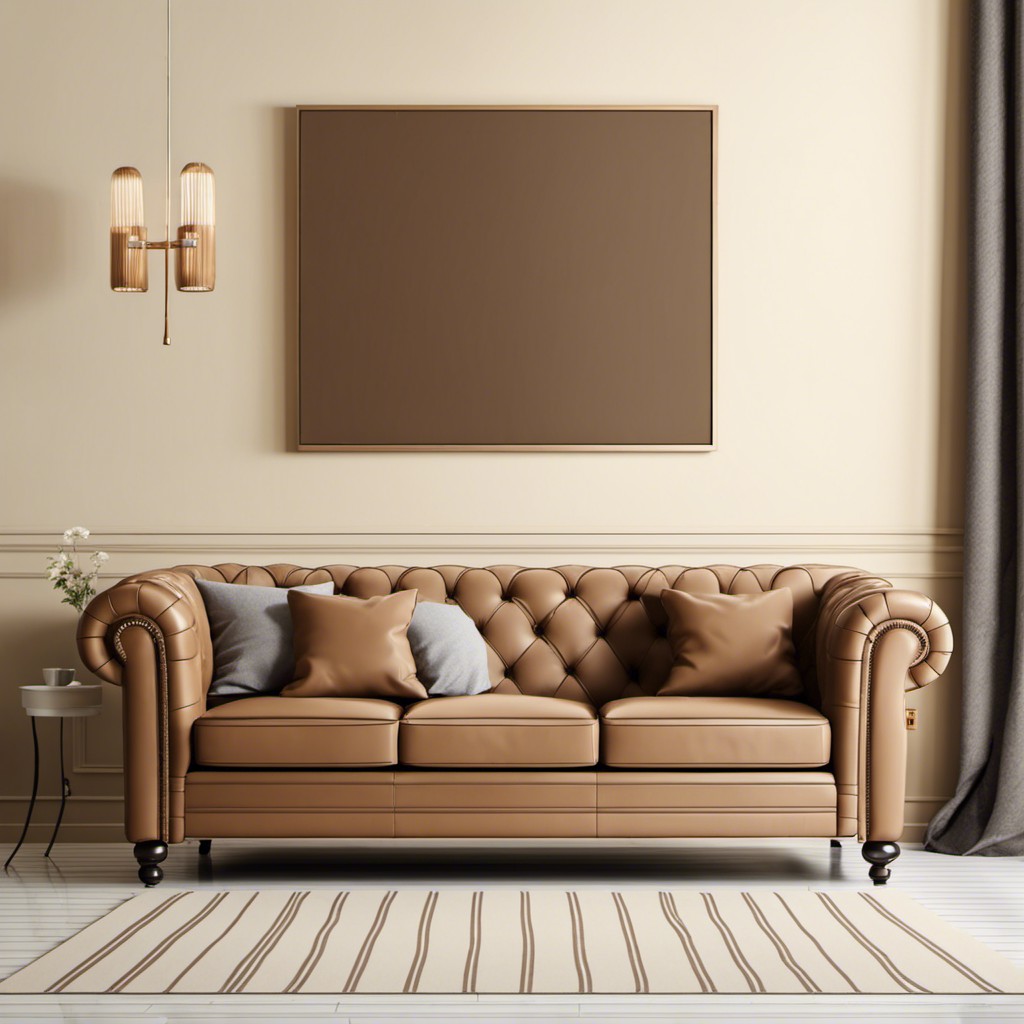 Subtly varying shades in a room can create a sense of space and harmony. An off-white wall color works wonderfully well to complement a coffee-color couch. The contrast between them isn't too stark, making your room appear warm and spacious.
Here are simple ways to make this arrangement pop:
Ensure sufficient light: Natural light emphasizes the color contrast, making the room brighter.
Use complementary decor: Use brown or cream decor items like a rug, lampshade, or a painting that ties in all the colors beautifully.
Add textures: Introduce different materials and textures like a fluffy off-white carpet or glossy finished wooden side tables, to add depth to your space.
Choose curtains wisely: Choose curtains that are in the same color family, like white or light cream.
Coffee-colored Couch With Industrial Style Living Room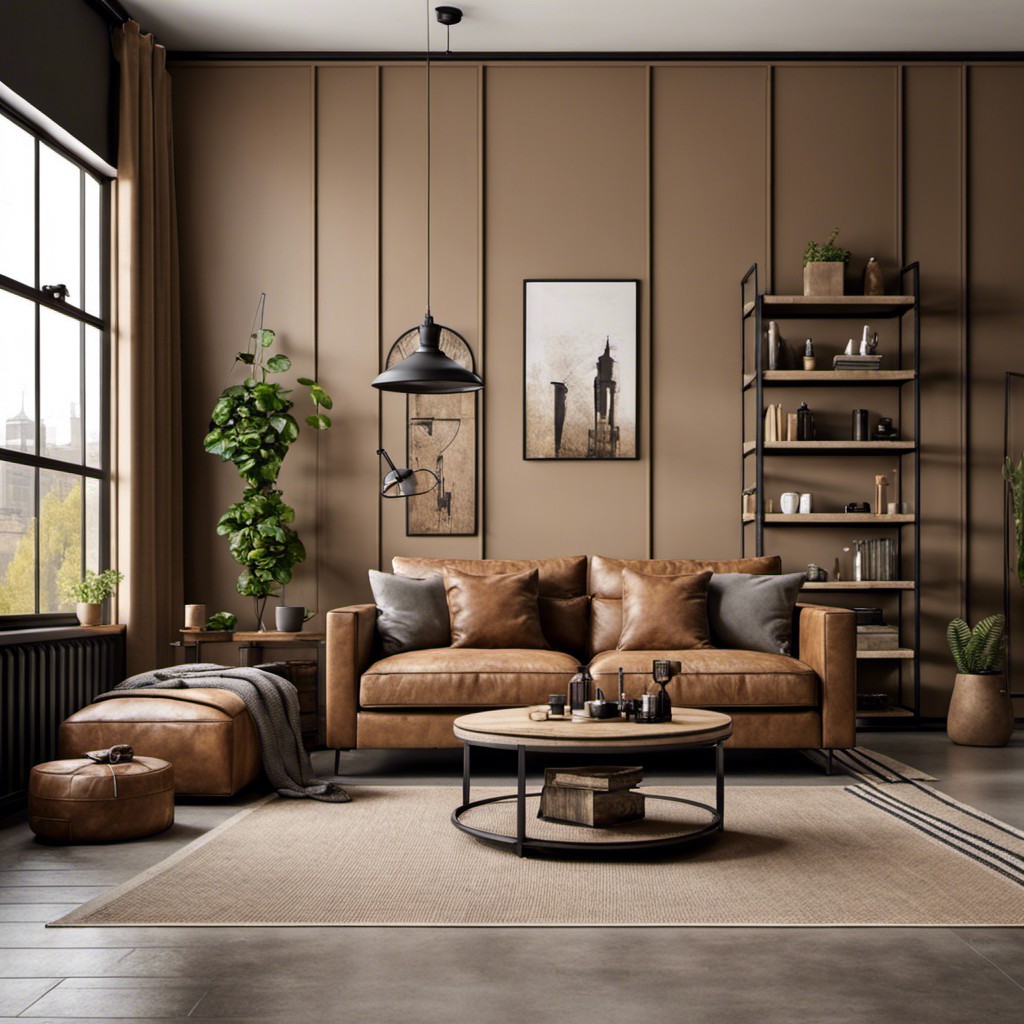 To successfully highlight an industrial style around your coffee-coloured couch, keep four principles in mind.
1. Open space: Keep the other furniture to a minimum. Open space is a distinct element in the industrial style.
2. Raw and rough: Expose the brick walls, beams, ducts and pipes, if possible. The rawness adds an authenticity to this style.
3. Neutral color scheme: Match your coffee-coloured couch with grey, white and black decor accessories. Warm, neutral tones exemplify the industrial style.
4. Metal and wood: Incorporate iron, steel, old timber and aluminum furniture to round out the look. The fusion of worn metal with distressed wood pieces is a trademark of the industrial style.
Remember, it's all about balancing an unfinished, raw look with the comfort of your cozy, coffee-coloured couch.
Velvet Coffee-colored Sofa for a Royal Look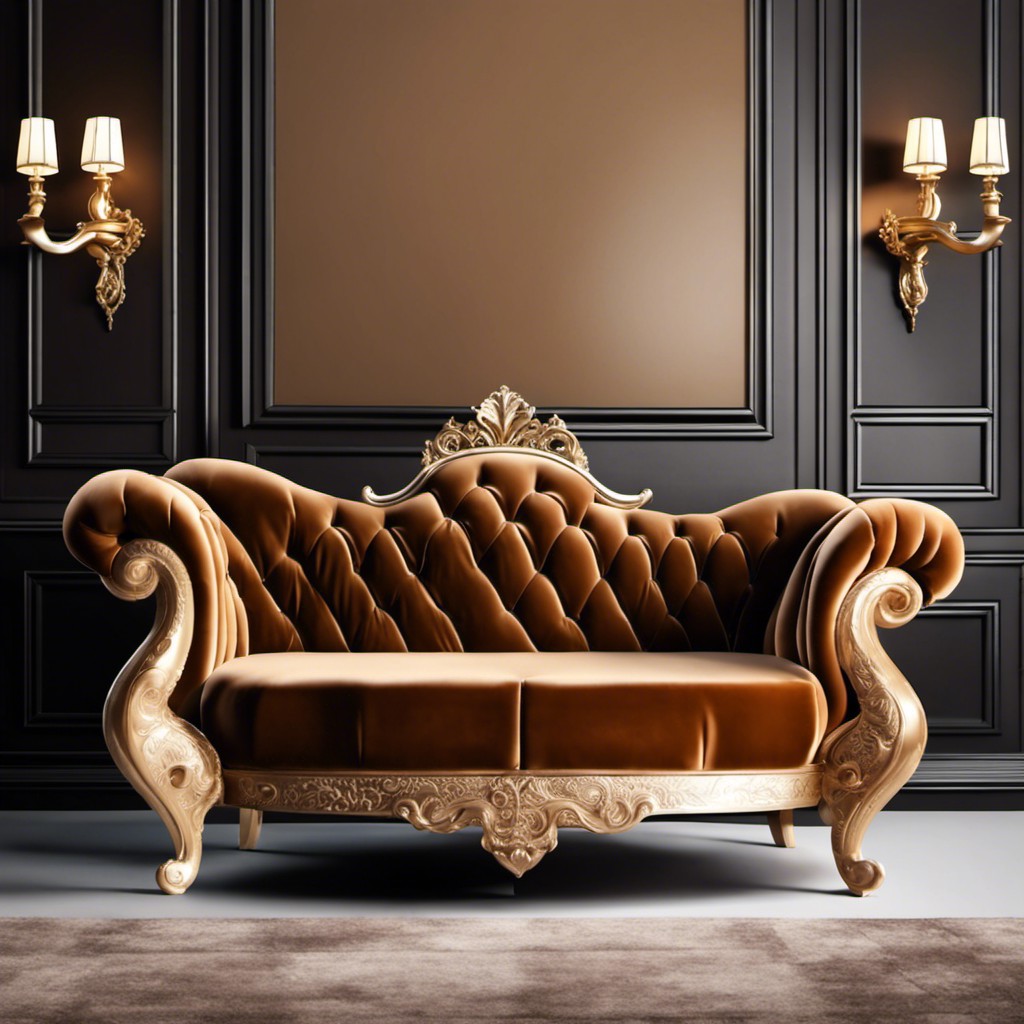 Complementing the sumptuous velvet material with the warmth of a coffee color cultivates an atmosphere of royalty.
1. Rich Lushness: The velvet texture exudes luxury and opulence, matching perfectly with the deep coffee shade—each accentuating the other's grandeur.
2. Versatility: Surprisingly versatile, this regal couch can be stylized with metallic or jewel-toned elements to enhance its splendid appeal further.
3. Accentuating Elements: Gold-rimmed tables or mirrored trays create a sophisticated royal contrast, reflecting a glamorous ambiance seamlessly.
4. Complementing Color Palette: Deep reds, golds, and creams work wonderfully with a velvet, coffee-colored sofa for an enriched décor.
5. Attention Grabber: The vibrant texture and rich coffee hue make the velvet couch a distinct focal point in the room, immediately drawing eyes with its regal elegance.
Caring for the Velvet: Though queenly in its look, velvet needs gentle care. Regular vacuuming with a brush attachment will help maintain its opulence without compromising the softness. Ensure any spills are dabbed immediately, rather than rubbed, to protect the fabric from permanent stains.
Pairing Coffee-colored Couch With Beige Rug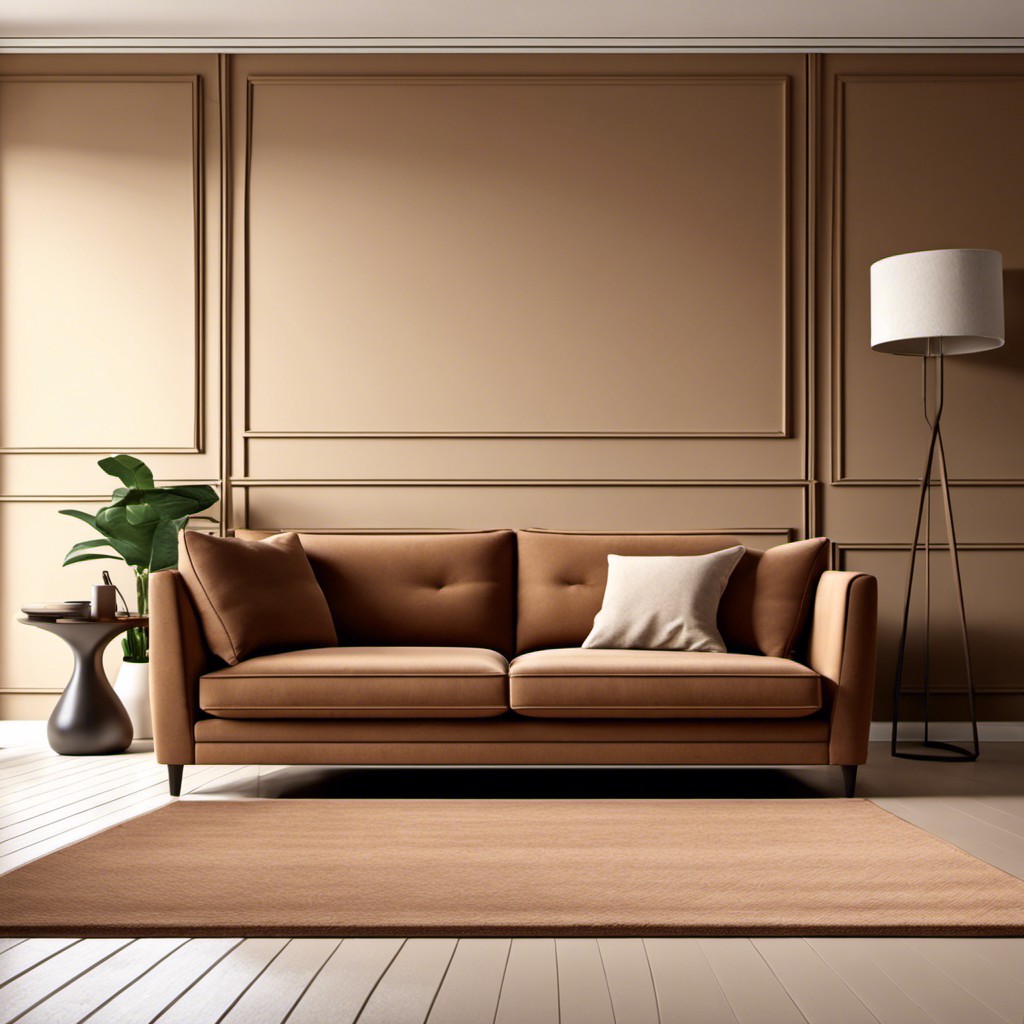 Creating harmony in interior design can be achieved by choosing the right color combination. A beige rug provides an excellent base for a coffee-colored couch for several reasons:
Complementary Colors: Beige is a lighter version of brown. These hues come from the same color family, establishing an aesthetic correlation between the couch and the rug.
Contrast: The contrast between the dark, rich couch and the light beige rug creates depth and dimension in the room.
Enables Versatility: Beige is neutral and versatile. It pairs well with a myriad of accent colors allowing for décor flexibility.
Adds Warmth: Beige and coffee colors both evoke a warm and inviting atmosphere, making the living space cozy.
Depends on Light: The brightness of the room influences the overall look. Natural light can highlight the contrast between the two pieces, creating a striking effect.
Considering these pointers can assist in achieving a balanced yet stylish look while pairing a coffee-colored couch with a beige rug.
Coffee-colored Couch With Teal Accents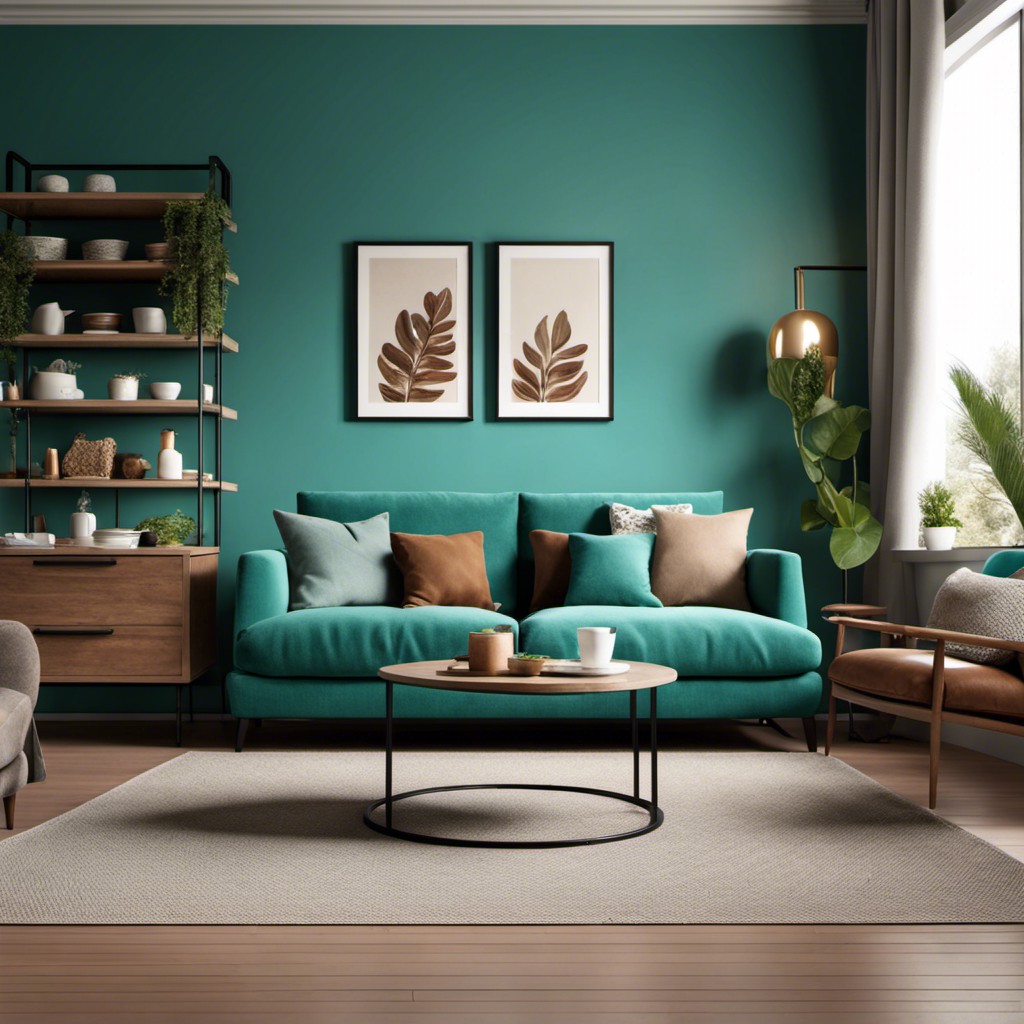 Pairing this rich, dark sofa tone with vibrant teal accents is nothing short of stunning. The color contrast creates an appealing balance that's pleasing to the eye.
Try a teal ottoman or rug as a focal point in the room. You could also opt for teal throw pillows, which would make a bold statement.
When choosing wall colors, you might consider a light teal to create a serene, yet stylish backdrop for the space.
Don't forget accessories; teal vases, lamps, or artwork will enhance this sophisticated palette, adding a touch of elegance without overpowering the room.
Just remember to incorporate some neutral elements, like a white coffee table or beige curtains, to prevent the colors from clashing.
Following these tips will help create a vibrant, yet balanced living space.
Vintage Coffee-colored Leather Couch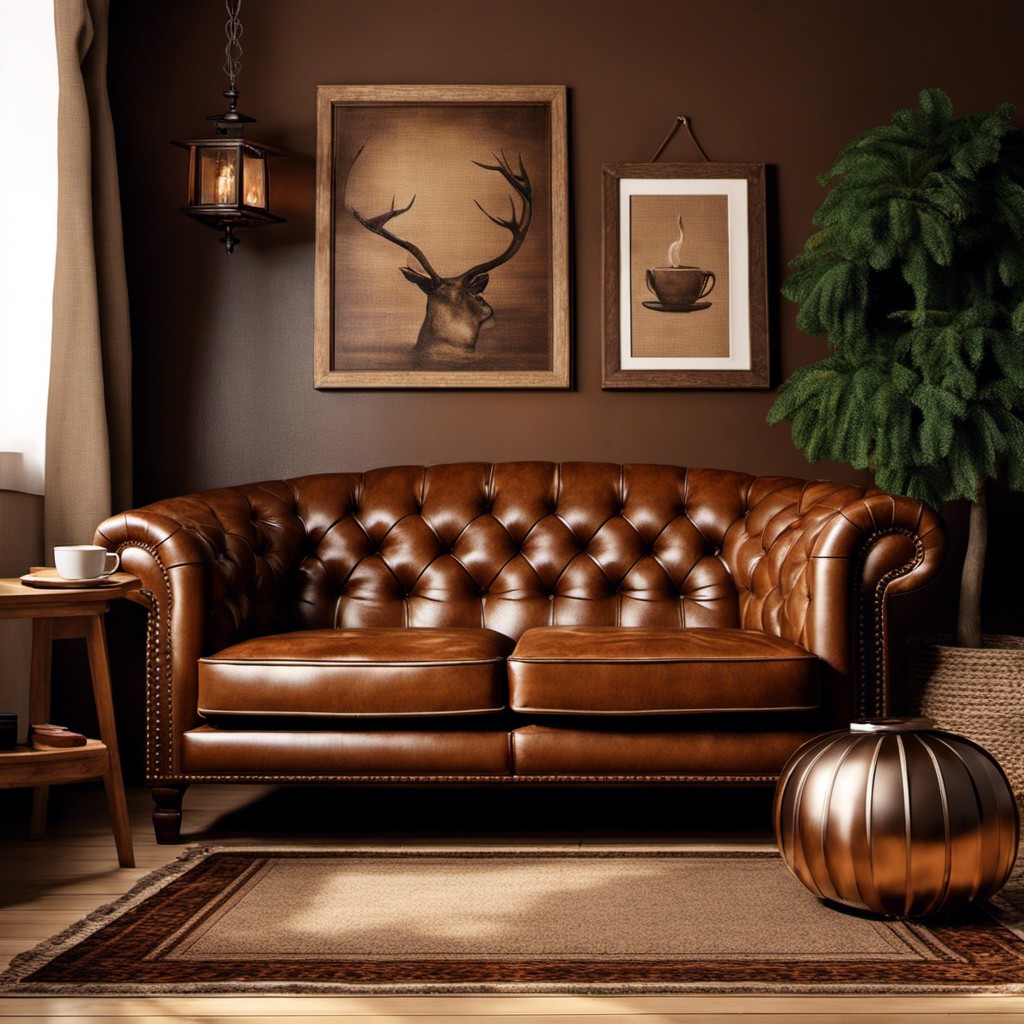 Vintage leather carries an irresistibly nostalgic charm. Emphasizing this aspect, a weathered finish can be a perfect complement to a coffee-colored leather couch. It adds depth and a retro aesthetics to your living room.
Here are some points to consider:
Surroundings: Teaming it with industrial-style furniture can bolster the robustness of a vintage look.
Pairing: Opt for warm earthy tones such as beige and muted golds to accentuate the vintage ambience.
Bright Accents: Utilize vibrant cushion colors like turquoise or sunflower yellow to create beautiful contrasts.
Texture: Layer a patchwork quilt or faux fur throw blankets to bring a cozy, inviting feel.
Remember, every vintage piece speaks a story of time. Through these simple ideas, ensure your coffee-colored leather couch becomes the timeless focal point of your home decor.
Contemporary Living Room With Coffee-colored Couch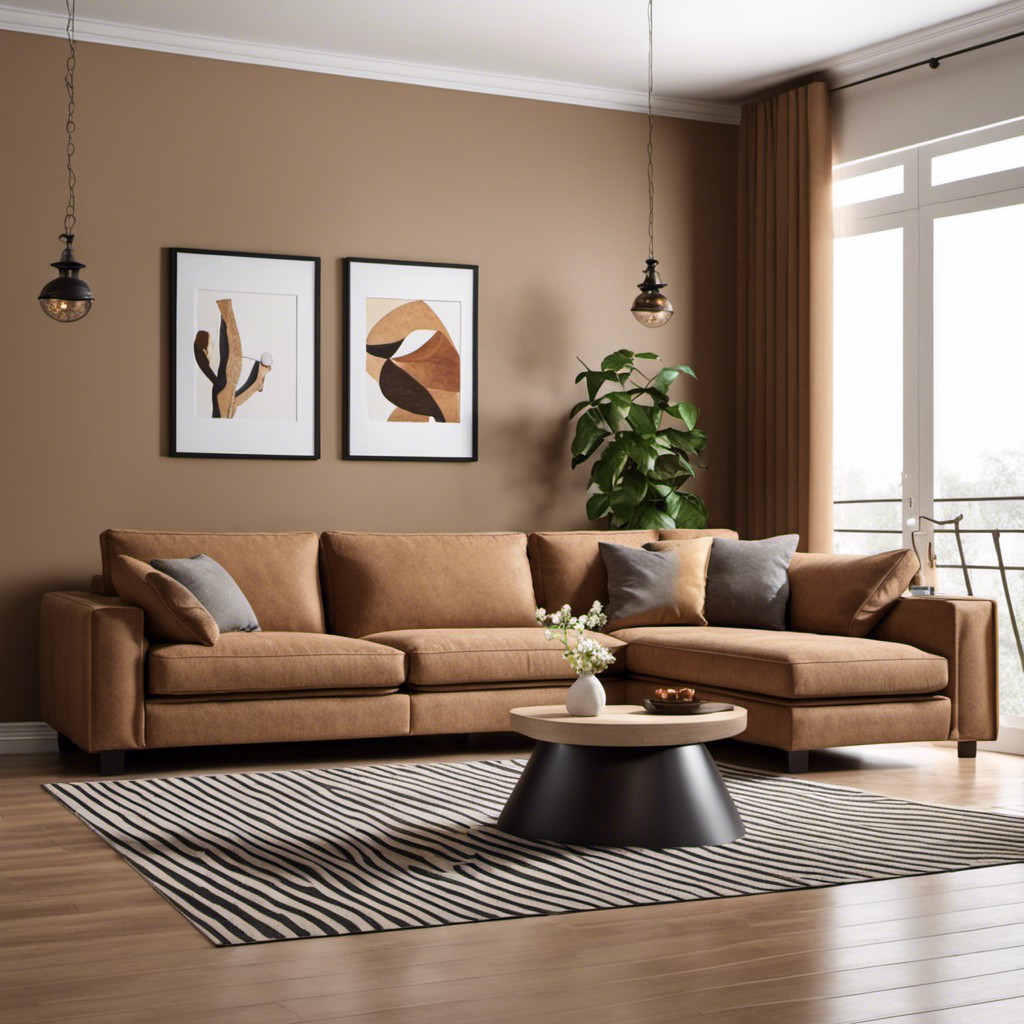 The contemporary style pairs nicely with a coffee-colored couch. It's all about maximizing comfort without compromising the sleek, modern aesthetics. Think minimalistic – sharp, clean lines and a neutral backdrop allow the couch to become a focal point.
1. Pair the couch with contrasting elements, like a white shag rug or metallic accent pieces, to balance the room's color scheme.
2. Choose furniture with simple, geometric shapes. A cubic coffee table or an oval side table would be ideal.
3. Incorporate hints of chrome or stainless steel for that quintessential contemporary feel.
4. Use abstract or geometric patterned cushions for a dynamic contrast.
5. Keep your walls light, preferably white or an off-white shade, to create a balance against the depth of the coffee-colored couch.
6. Add indoor greenery for a fresh vibe and consider a large houseplant as a secondary focal point.
7. Layer your room's lighting with a combination of direct and indirect sources. A standing arc lamp next to the couch works brilliantly.
8. Lastly, for artwork, opt for modern pieces with bold forms or strong colors to accent the neutrality of the couch.
Coffee Colored Couch With Plaid Throw Pillows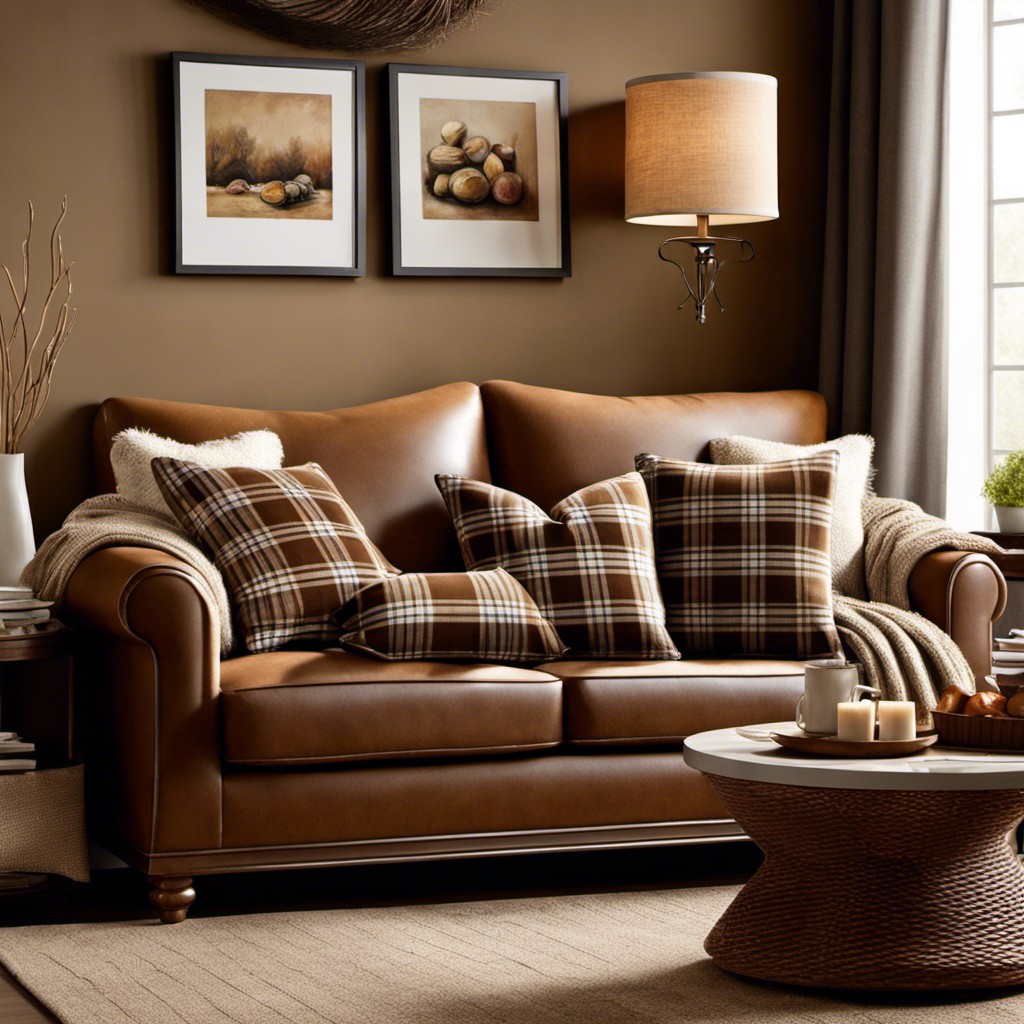 To pull off this harmonious living room arrangement, start by selecting a plaid pattern with a subtle hint of coffee brown that complements the couch. This will create a sophisticated, yet warm aesthetic.
Consider large, statement-making throw pillows, which serve as focal points. The pattern shouldn't be introverted, rather it should pop and complement the overall decor. Opt for cooler, contrasting colors in the pattern, such as blues or greens, to offset the warmth of the couch.
Layer these pillows with solid or more subtly patterned smaller pillows in shades drawn from the plaid pattern. This layering technique brings depth and dimension to your couch decor.
Remember, arrangement is key. Arrange the pillows from large to small, starting from the outer edge towards the center of the couch. This visual trick makes the couch inviting and visually balanced.
Plaid is traditionally associated with cosy, country-style interiors, but it can make a sophisticated, modern statement when used deliberately and sparingly. So, don't be afraid to implement this pairing in your decor for a stylish outcome.
Coffee-colored Couch With Cream-colored Cushions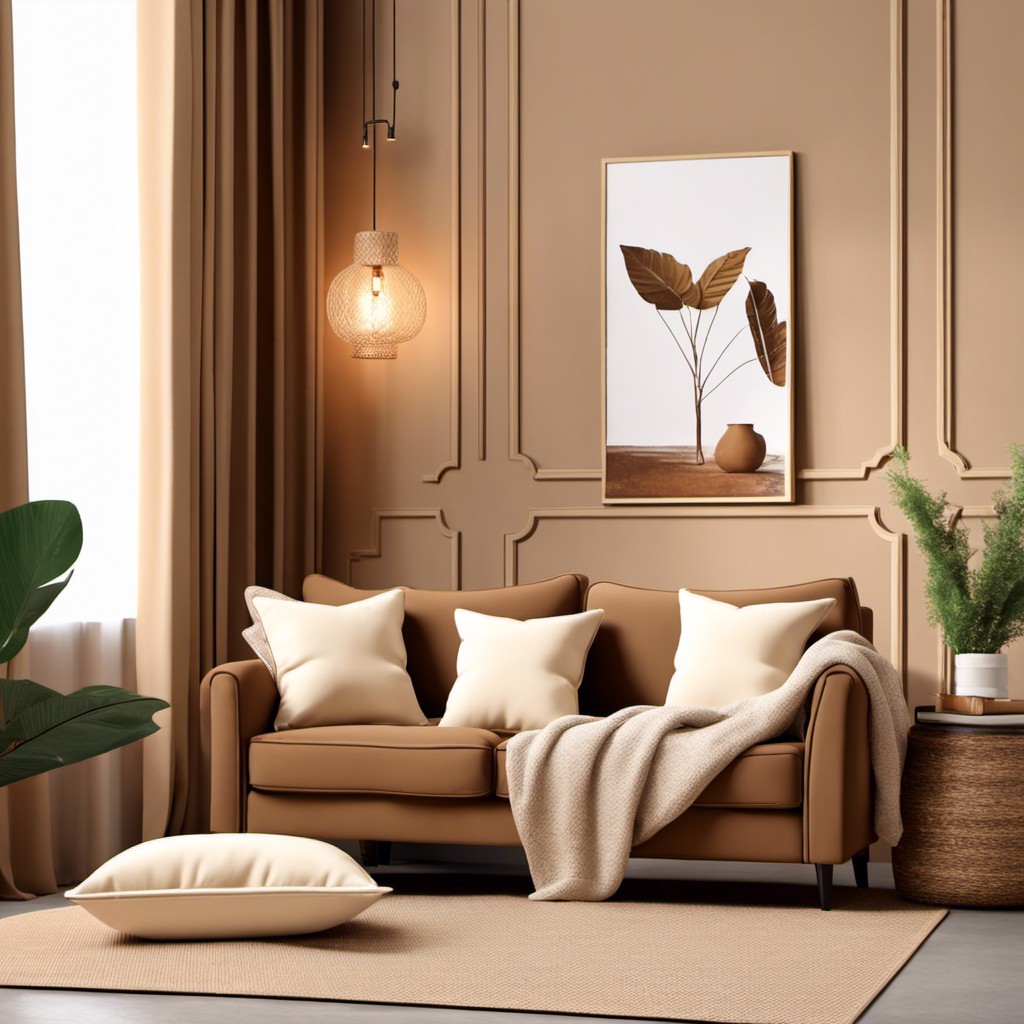 For a relaxing and inviting aesthetic, consider the addition of cream-colored cushions. This light, neutral hue creates a harmonious contrast against the darker sofa and adds a touch of refinement. Cotton or linen cushions are great for a casual look, while satin or velvet offer a more sophisticated edge.
Adding patterned cream pillows, for instance with geometric shapes or floral prints, can provide a visual interest point, without overpowering the distinctive coffee-color of the sofa. Employing a variety of cushion shapes and sizes can further enrich the texture and depth of your seating area.
If you're aiming for a warm, cozy atmosphere, a cream-colored knitted throw blanket can be the perfect companion to those cushions. Conversely, for an airy, modern living space, pairing the sofa with a cream-colored coffee table or rug can form a cohesive, stylish look.
New York Style Loft With Coffee-colored Couch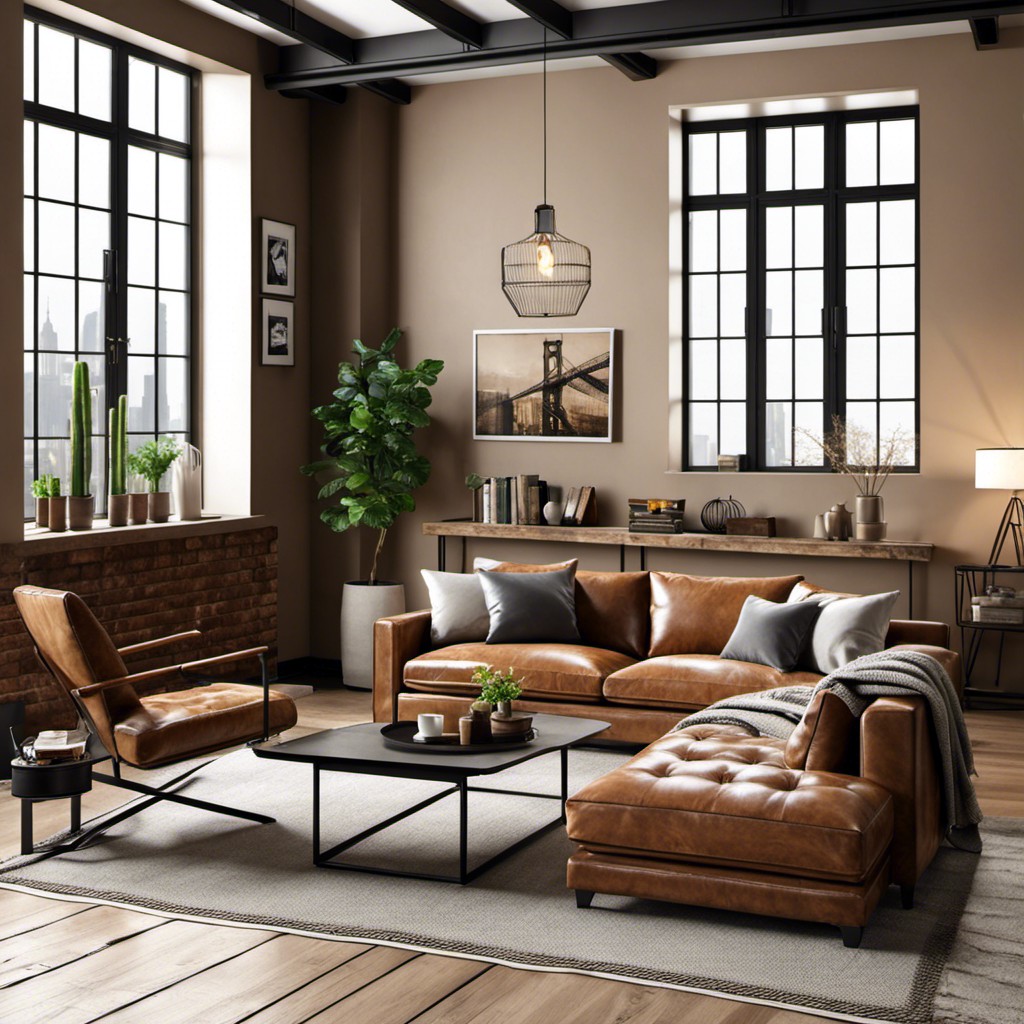 Utilizing this sophisticated couch color in a trendy loft setting is easier than one can imagine. The open floor plan typical of lofts complements the warmth of a coffee-colored couch perfectly. Natural materials, like exposed bricks and wooden beams, serve as an ideal backdrop, enhancing the couch's rich hue.
Large, expansive windows often found in lofts bring in ample natural light. This bounces off the coffee-colored upholstery, adding depth and dimension to it. Furnishings with metallic accents or an industrial touch, such as iron-framed coffee tables or reclaimed wooden side tables, ensure the aesthetics remain raw and urban.
To create a cozy corner, one could add an array of beige or cream color throw pillows or incorporate a plush rug in a lighter shade. Bold art pieces or black and white photographs would add an artistic touch. Remember, a pop of color, like a bright red or yellow ottoman or bold, patterned drapes, could serve as an exciting contrast making the coffee-colored couch stand out more notably. This harmonious blend is guaranteed to offer an ambiance that echoes the dynamic energy of the Big Apple itself.
Coffee-colored Couch With Rustic Wooden Furniture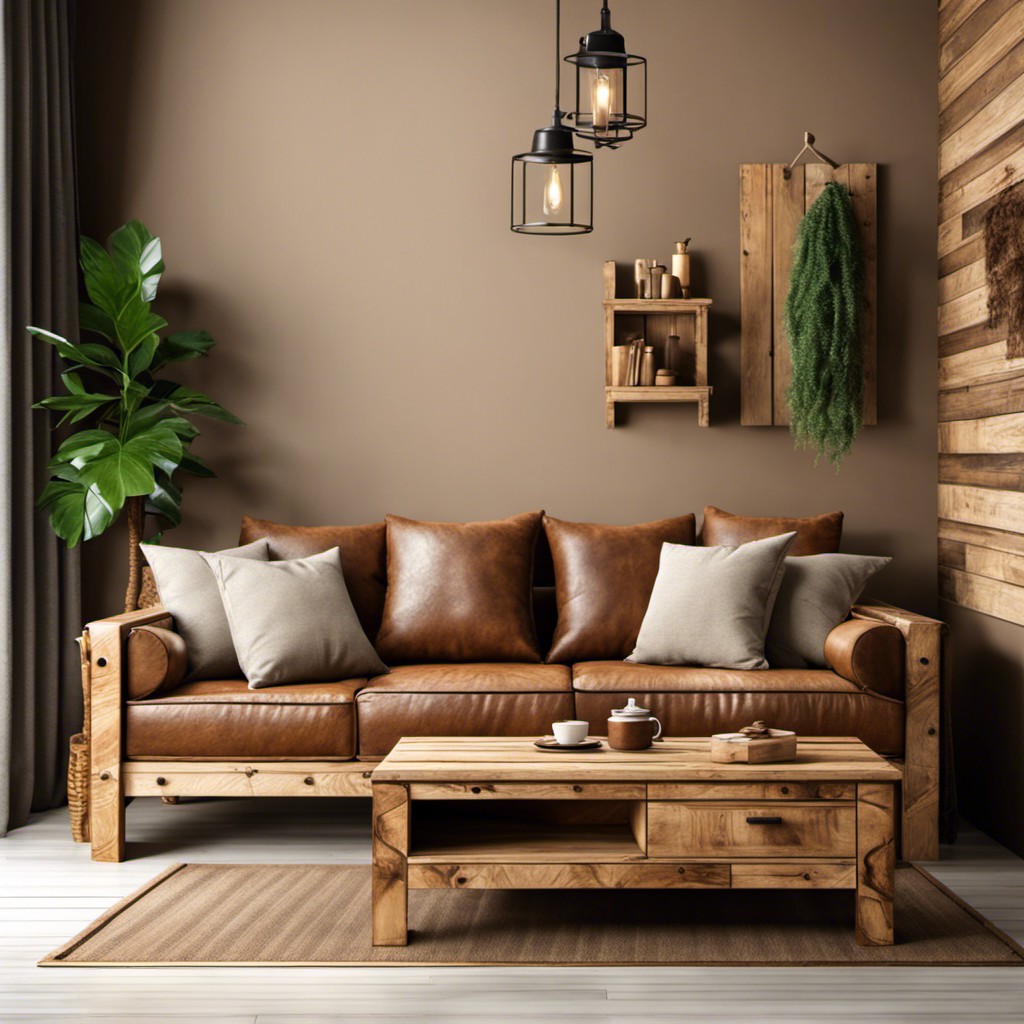 Melding a coffee-hued sofa with the earthy tones of rustic wooden furniture can bring a harmoniously warm aesthetic to your space. The deep, rich tones inherent in this furniture pairing can provide a homely feel, intended to give an inviting and comfortable atmosphere.
1. Wooden Elements: Use reclaimed wood pieces, such as a coffee table or shelves, to add depth and texture to the room. The natural, worn look of reclaimed wood perfectly complements an elegant coffee-hued couch.
2. Color Palette: Stick to earthy color schemes. Think neutrals, dark greens, and burned oranges. Use this throughout your décor to keep everything consistent and pleasing to the eye.
3. Natural Fabrics: Add linens and woolen textures in your rugs and throws. They should complement your color scheme while adding an extra layer of warmth.
4. Accessories: Wrought iron accents or bronze fixtures can add a rustic edge. Candle stands, lamps, and picture frames in these materials can tie the room together effectively.
5. Artwork: Consider classic oil paintings or landscape art, ideally with wooden frames. This can enhance the overall rustic vibe of the room.
Embrace the cozy charm of rustic interiors with your coffee-colored couch at the epicentre of your design scheme. Worthy to note, this style works exceptionally well in rooms with stone fireplaces or wooden beams.
Coffee Colored Couch, White Curtains & Plants for a Fresh Look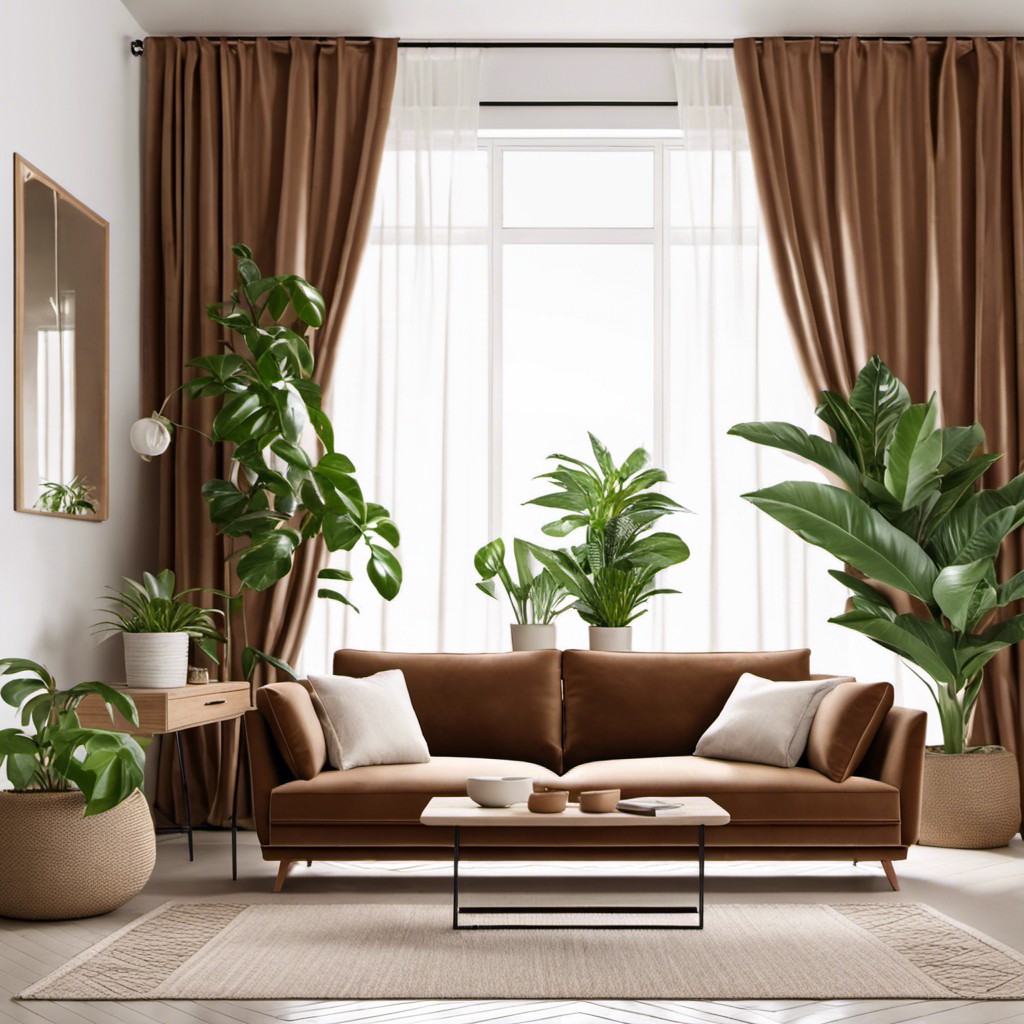 Combining crisp white curtains and lush green plants with your sofa works wonders in creating a serene, earthy atmosphere. The versatility of the coffee shade readily lends itself to this fresh aesthetic. How do we achieve this?
1. Coordination: Choose curtains that are pure white – they should create a striking contrast with the rich brown of the couch and keep the room light and airy.
2. Selection: Opt for large, leafy indoor plants. Their green hue complements the coffee-color while breathing life and energy into your space.
3. Arrangement: Space the plants around the room and possibly on a coffee table if there's one to create a harmonious pattern that's pleasing to the eye.
4. Use natural light: Emphasize freshness by ensuring your sofa and plants get ample natural light.
5. Keep clutter to a minimum: Embrace a minimalistic approach. Don't overcrowd your couch with too many accessories; let it simply stand out against the white and green background.
Remember, with this setup the aim is to create an inviting space that echoes the calm of nature infused with a burst of freshness. This blend of colors and nature-inspired components promotes a sense of tranquility and rejuvenation.
You may also like to read: