Last updated on November 10, 2023
Explore the wonders of fiberglass couch ideas because they offer an unmatched blend of durability, style, and cost-effectiveness that will breathe new life into your living spaces.
I proudly authored this article and meticulously crafted each unique design, hoping that you'll find these 20 stylish fiberglass couch ideas as inspiring and fun to explore as I found creating them.
Fiberglass furniture, particularly couches, can be a unique and modern addition to your home. These pieces offer a sleek, streamlined aesthetic that's perfect for contemporary settings, and they're also remarkably durable and easy to maintain.
This article will delve into various fiberglass couch ideas, exploring different styles, colors, and placement options. Whether you're looking to make a bold statement or seeking something more understated, you'll find an array of options here.
Stay tuned for a comprehensive guide on incorporating fiberglass couches into your home, complete with tips on care and maintenance.
Table of Contents
Modern Minimalist Fiberglass Couch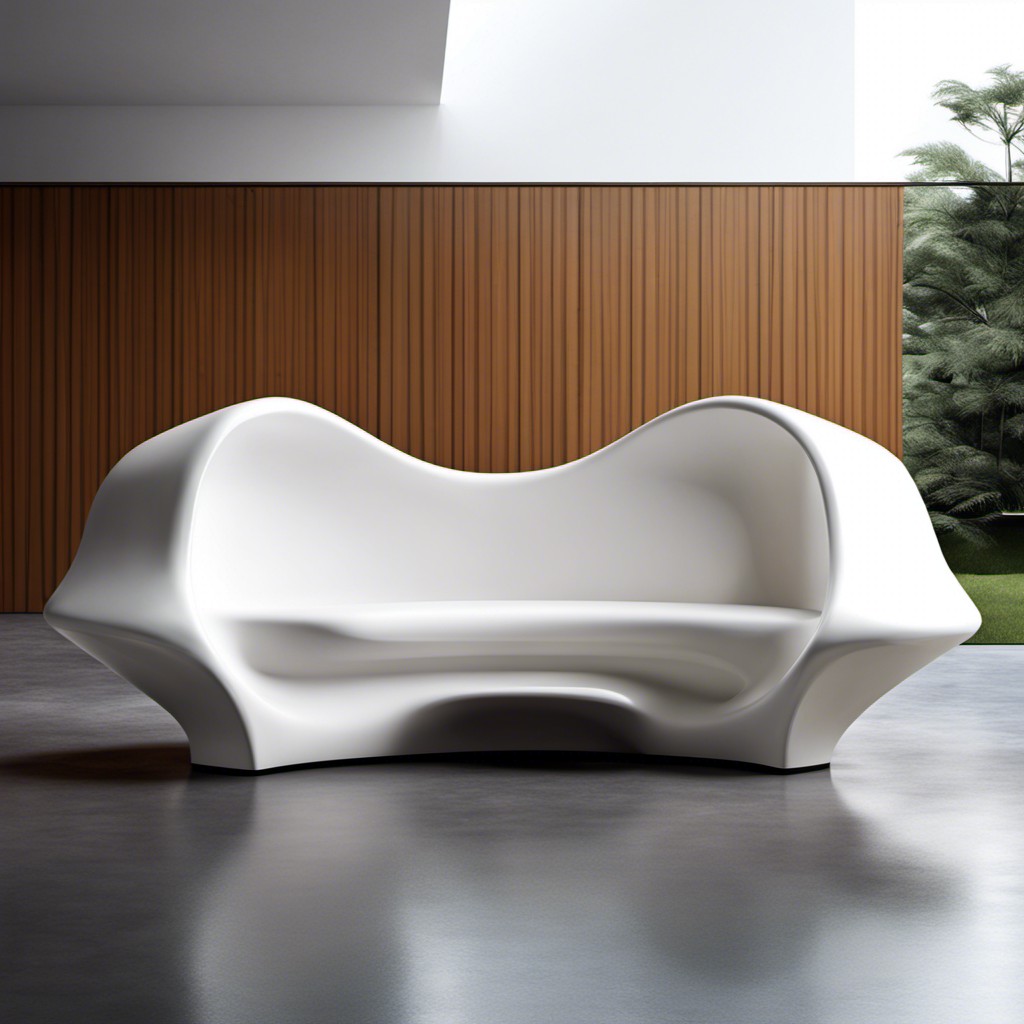 The appeal of the modern minimalist design lies in its simplicity. Its clean, geometric lines and crisp, neutral palette bring about a sense of openness and calm.
A pure painted white shell contrasts beautifully with the soft cushioning, while offering long-lasting durability. With little to no ornamentation, it easily defines a space without overpowering it.
Key concepts here include:
Simplicity: Keeping the form as basic as possible, eliminating unnecessary details.
Functionality: Ensuring it doesn't only look good but is comfortable and practical.
Neutral Palette: Sticking with calm, low-saturation colors like whites and grays that create serene spaces.
Durability: Taking advantage of fiberglass' robustness and easy maintenance.
Versatility: Having a design that can fit into various room styles and spaces.
Space Enhancement: Contributing positively to the overall feel of a space, making it appear larger and brighter.
Fiberglass Sectional Couch With Removable Cushions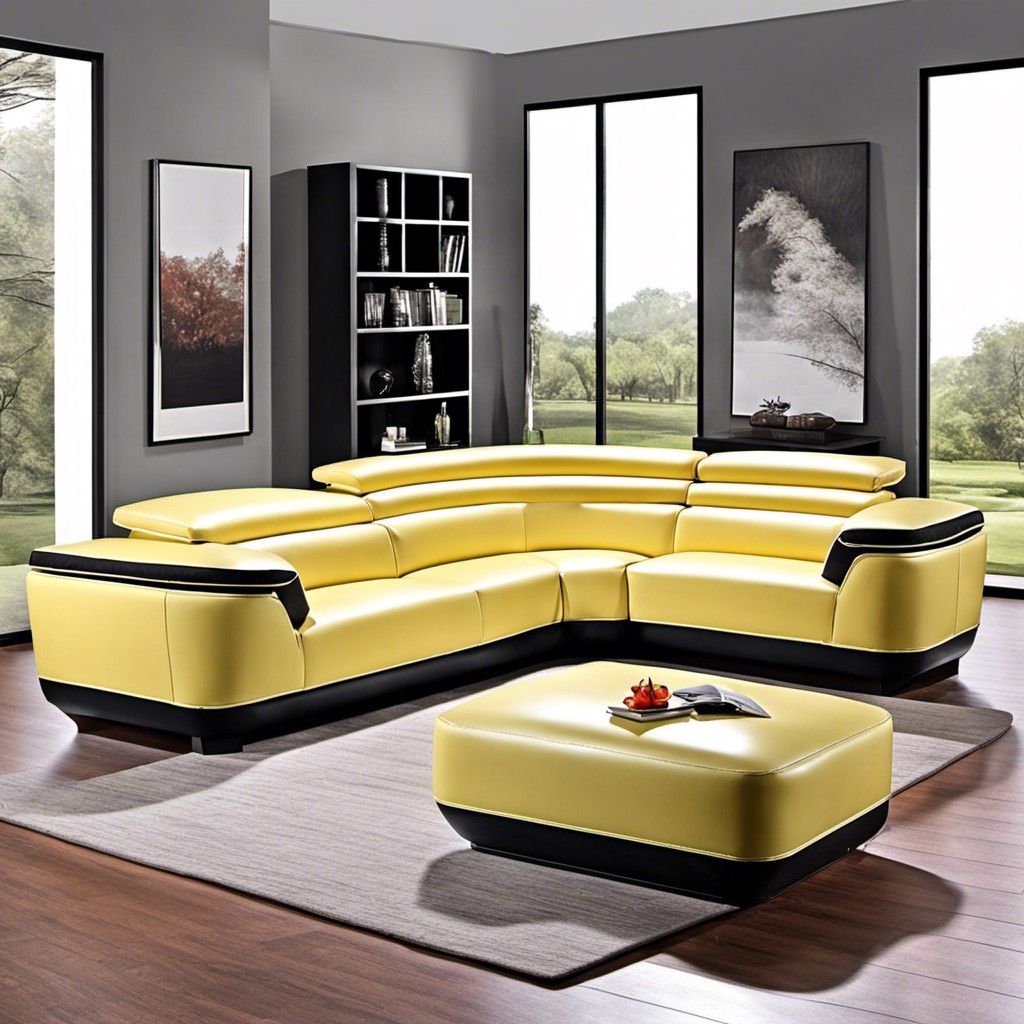 Offering a combination of functionality and style, this piece is a versatile choice for any living room. Its modular design allows for a customized seating arrangement, fitting seamlessly into corners or large open spaces. The framework, constructed from durable fiberglass, boasts a sleek, polished aesthetic in various color options.
The standout feature is undoubtedly the removable cushions, supplying comfort and ease of cleaning. You have the freedom to choose from a variety of patterns and fabrics, matching your existing decor or adding a splash of color.
Additionally, the benefit of removable cushions extends beyond aesthetics. Cleaning is simpler, and replacing individual cushions is more cost-effective than purchasing an entirely new couch. This sectional couch, in fiberglass, transcends traditional furniture, merging resilience, versatility, and contemporary design.
Retro-inspired Fiberglass Couch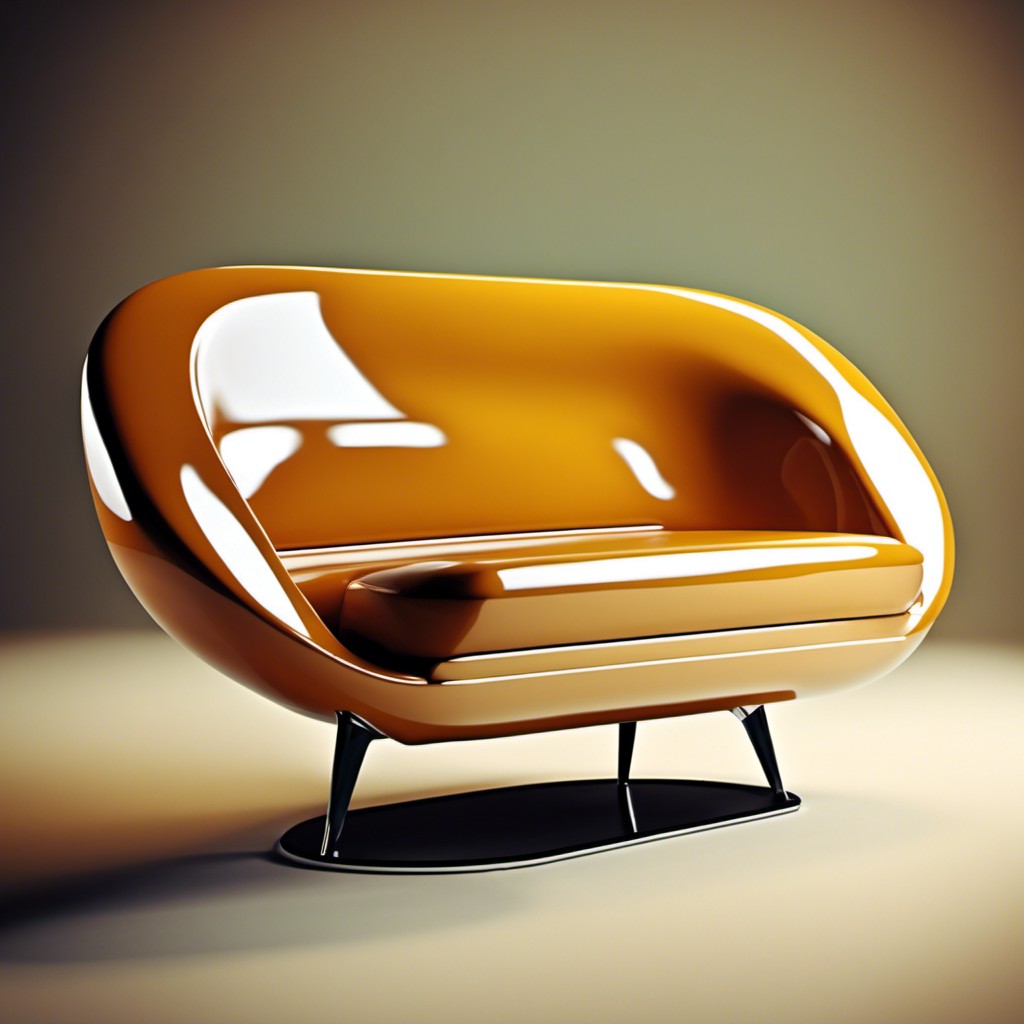 Delving into this style, one finds rich hues and round contours dominating the scene. Evocative of the mid-20th century, these pieces afford a burst of nostalgia without compromising on modern comfort. The key elements include a vivid color palette, often featuring bold primaries or pastels, seamlessly blending together.
Distinctively contoured edges contribute to the element of chic. These designs emphasize smooth lines and curves, creating a visually appealing soft silhouette rather than sharp, geometric forms. The seats often feature embedded cushioning, ensuring comfort despite the sturdy fiberglass shell. Plush, textural fabrics like velvet also offer an appealing juxtaposition against the glossy finish of the fiberglass.
Moreover, sculptural designs are a trademark of this trend, ranging from abstract, amoebic shapes to more familiar, geometric ones. They provide a visual focal point, making a stylish statement in any living space. Their compact size is perfect for smaller spaces, without sacrificing seating capacity. Additionally, the ground-hugging designs typical of this style give an illusion of spaciousness, an essential aspect in compact urban homes.
Lastly, to fully execute the retro vibe, consider mixing and matching these couches with contrasting elements like a contemporary art piece or a cutting-edge rug design. This marries the old with the new and contributes to a dynamic, modern home environment.
Futuristic Fiberglass Sofa Design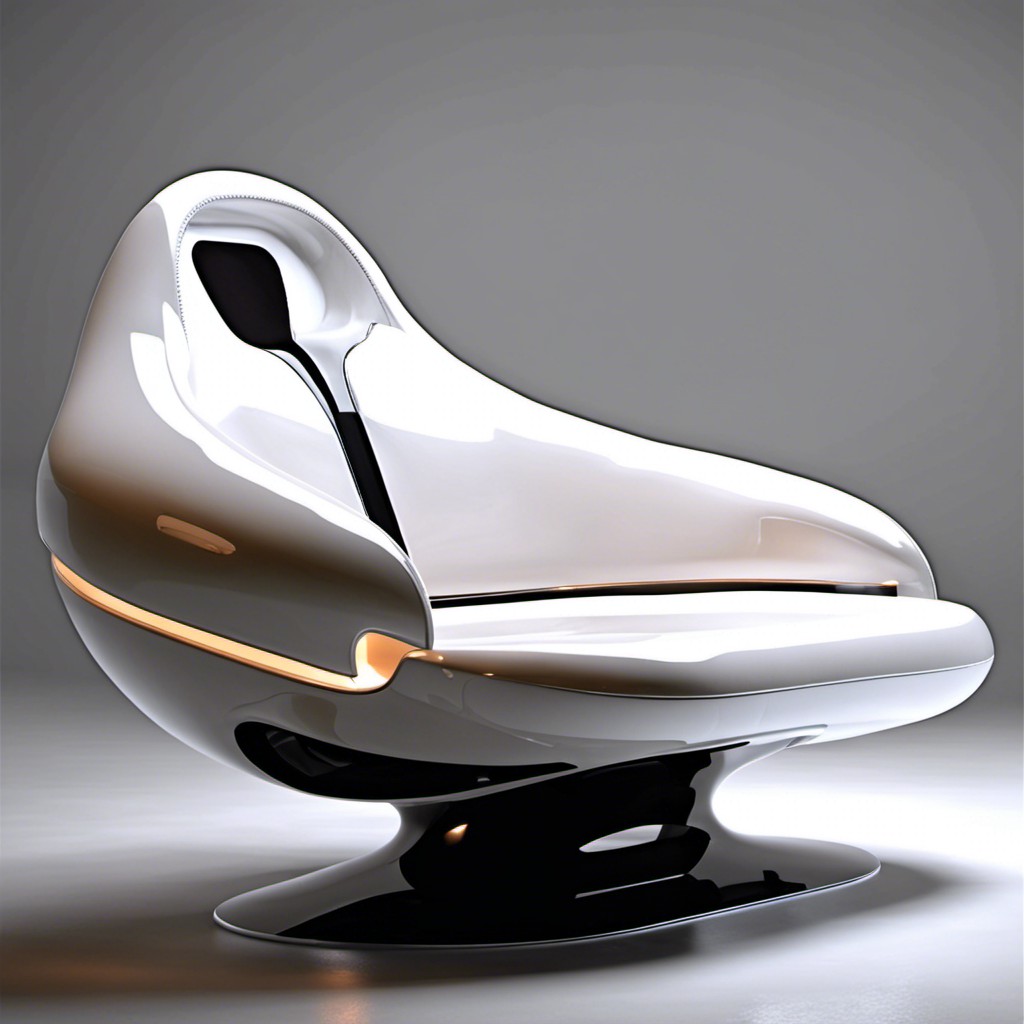 Moving away from conventional styles, these sofas can add an extraordinary touch to any living space. Their designs often flaunt sleek lines, curvilinear forms or geometric shapes, offering a taste of the future with a comfortable seating solution.
1. Material: Incorporating high-quality fiberglass, this design offers durability, sustainability, and flexibility in forms.
2. Functionality: Besides serving as a seating area, some may have built-in features like lighting and charging ports.
3. Colors: Often they are presented in monochromatic shades, or in metallic colors to enhance the futuristic vibe.
4. Pillow Choices: Cushions and pillows used can be in contrasting colors, or have LED features for a truly out-of-this-world look.
5. Room Placement: These sofas can transform any room into an avant-garde space, making them a focal point in a living area or a conversation starter in a corporate setting.
6. Customization: Designers offer made-to-order options, allowing a client to have a piece that fits their preferences and space.
7. Comfort: Despite the avant-garde style, the comfort is not compromised. The seating area can be contoured for body alignment, providing ergonomic support.
8. Maintenance: Thanks to fiberglass, these sofas are easy to clean and maintain. Their durability ensures a long lifespan.
Fiberglass Outdoor Patio Couch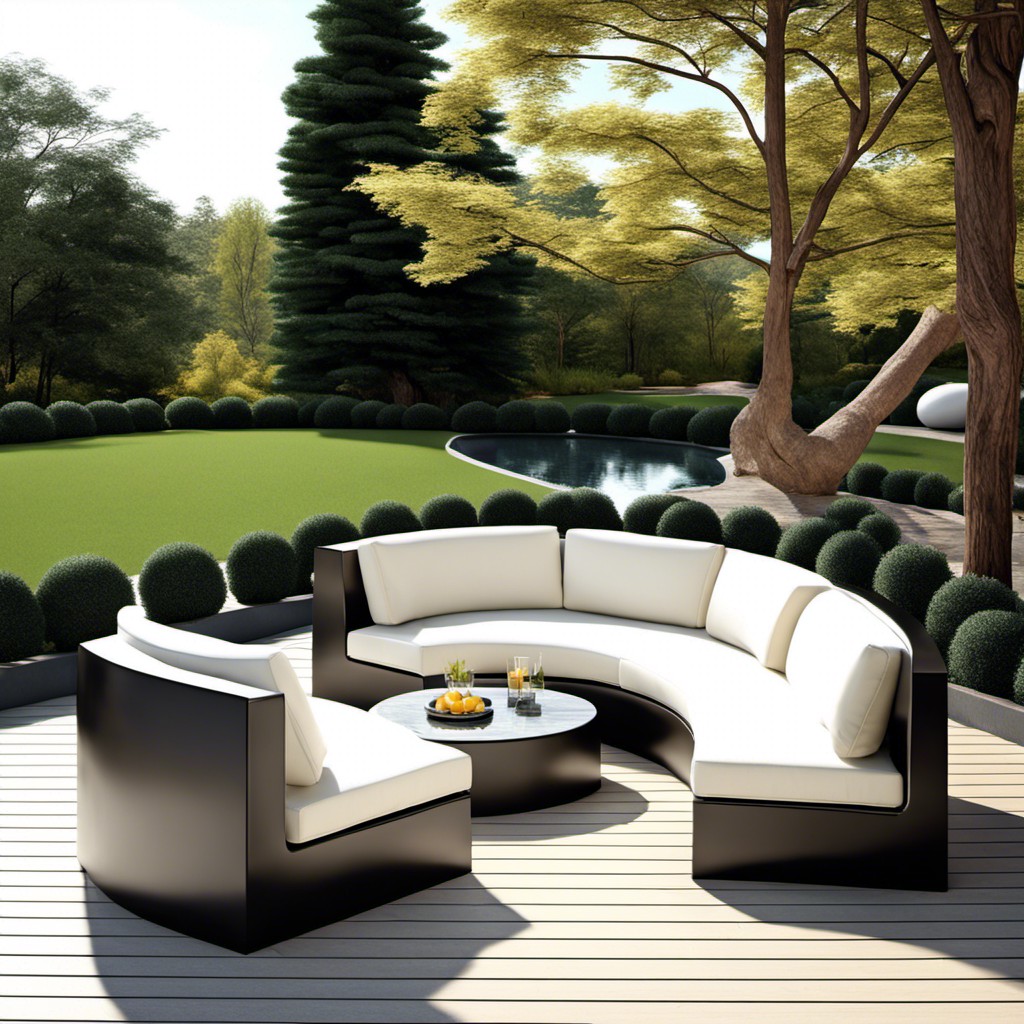 A perfect investment for those seeking durability and style, these patio couches offer a unique blend of resilience, weather resistance, and aesthetic appeal. Their unrivaled strength comes from the dense nature of fiberglass, which resists wear and tear, promising longevity even in harsh weather conditions.
Furthermore, these couches come outfitted with weather-resistant cushions adding a layer of comfort and inviting appearance. Choices range from neutral tones to playful, vibrant hues, which create eye-catching contrasts or harmonious schemes with the surrounding outdoor backdrop.
Additionally, these couches demonstrate fuss-free maintenance, often requiring nothing more than a quick wipe with a damp cloth to keep them looking fresh and new. This makes them an effortless choice for homeowners wanting to prioritize relaxation over upkeep during their patio downtime.
Incorporating fiberglass couches in the outdoor area immediately enhances the functionality and visually appealing aspect of the space, whether it is for family gatherings or quiet afternoon lounging. If an element of drama is what you're after, opt for designs that encapsulate sharp lines and head-turning shapes. Their sleek, contemporary form gives the patio an elegant and modern edge while also guaranteeing user comfort.
Fiberglass Couch With Built-in Shelves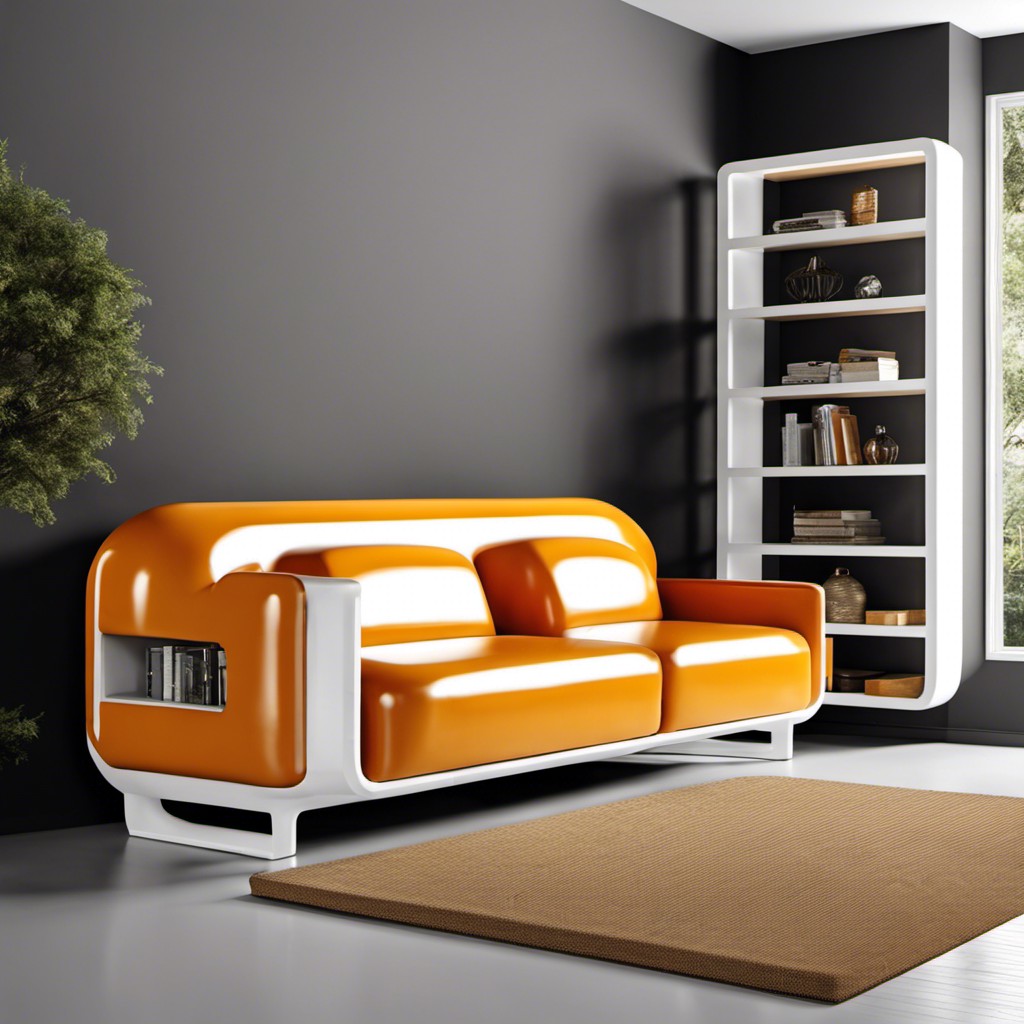 Equipped with integrated shelving units, this couch serves a dual purpose. It provides comfortable seating while adding extra storage space discreetly.
Its versatile design not only lends aesthetic appeal but also serves as a practical solution for those seeking to maximize space use.
Great for storing books, remote controls, or decorative items, the built-in shelving brings convenience within arm's reach, eliminating the need for additional tables or storage units.
Ultimately, the couch's design fosters an organized, clutter-free living space, ideal for minimalist decor or compact living quarters.
Moreover, the shelving, like the couch itself, is made of durable fiberglass, creating a cohesive, streamlined look.
The design options can range technologically sleek to charmingly rustic, offering a variety of choices to suit varied tastes and decor styles.
Boat-shaped Fiberglass Couch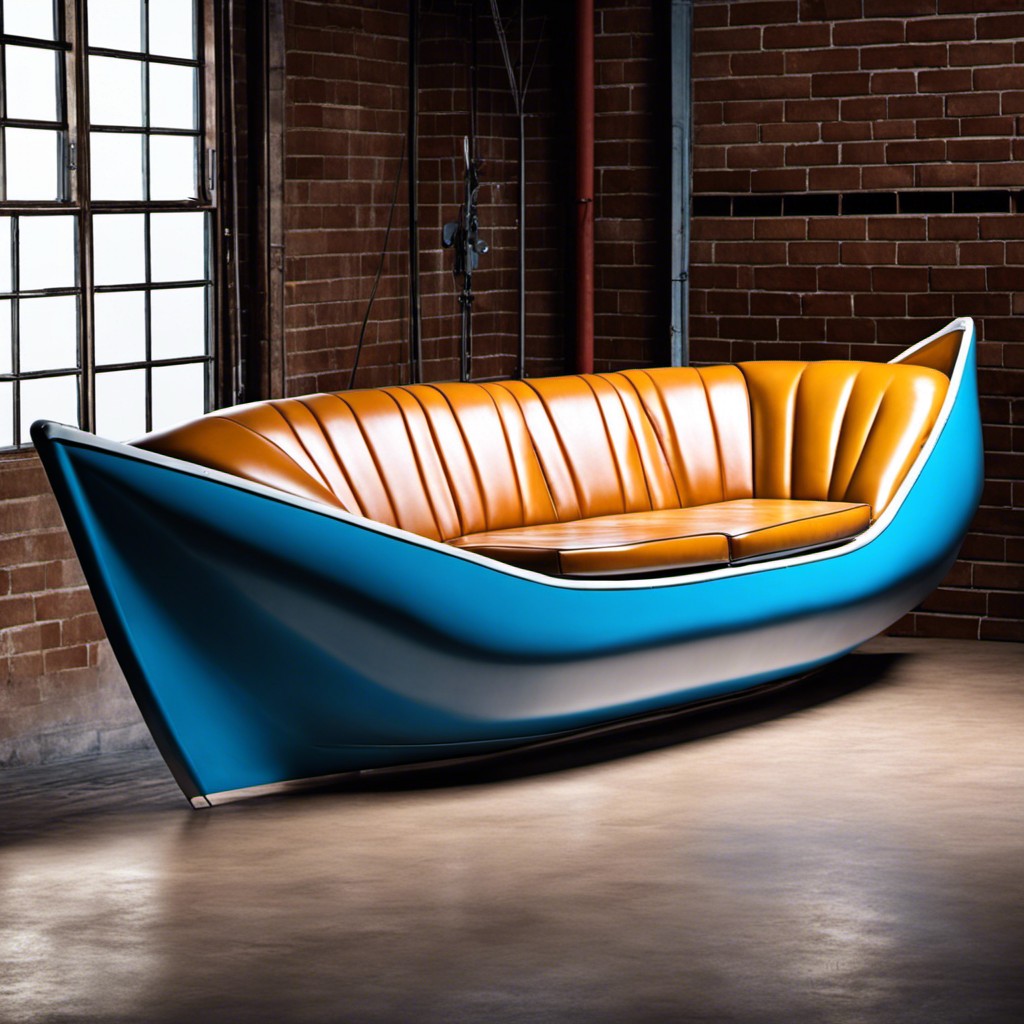 A boat-shaped couch is an ingenious spin on the traditional couch design, where the contours of the fiberglass mold resemble the structure of a boat. This style is an excellent conversation starter and adds unique character to a living space.
Some of its defining features include:
Unique Design: The boat-like structure, complete with rounded edges, provides an intriguing visual effect.
Durability: The strength of fiberglass ensures the couch maintains its shape over time, resisting wear and tear.
Comfort: Despite its unconventional form, the boat-shaped couch is designed with comfort in mind, often featuring plush, deep-seating cushions.
Unconventional: This style is particularly appealing to those who enjoy non-traditional furniture pieces that make a statement.
Versatility: Boat-shaped couches aren't limited to indoor use. Their fiberglass construction makes them great outdoor options, too, given the material's resistance to weather conditions.
When styled appropriately, a boat-shaped couch can become the focal point of the room, transforming the ordinary into extraordinary with its distinct, marine-inspired design.
Vibrantly Colored Fiberglass Loveseat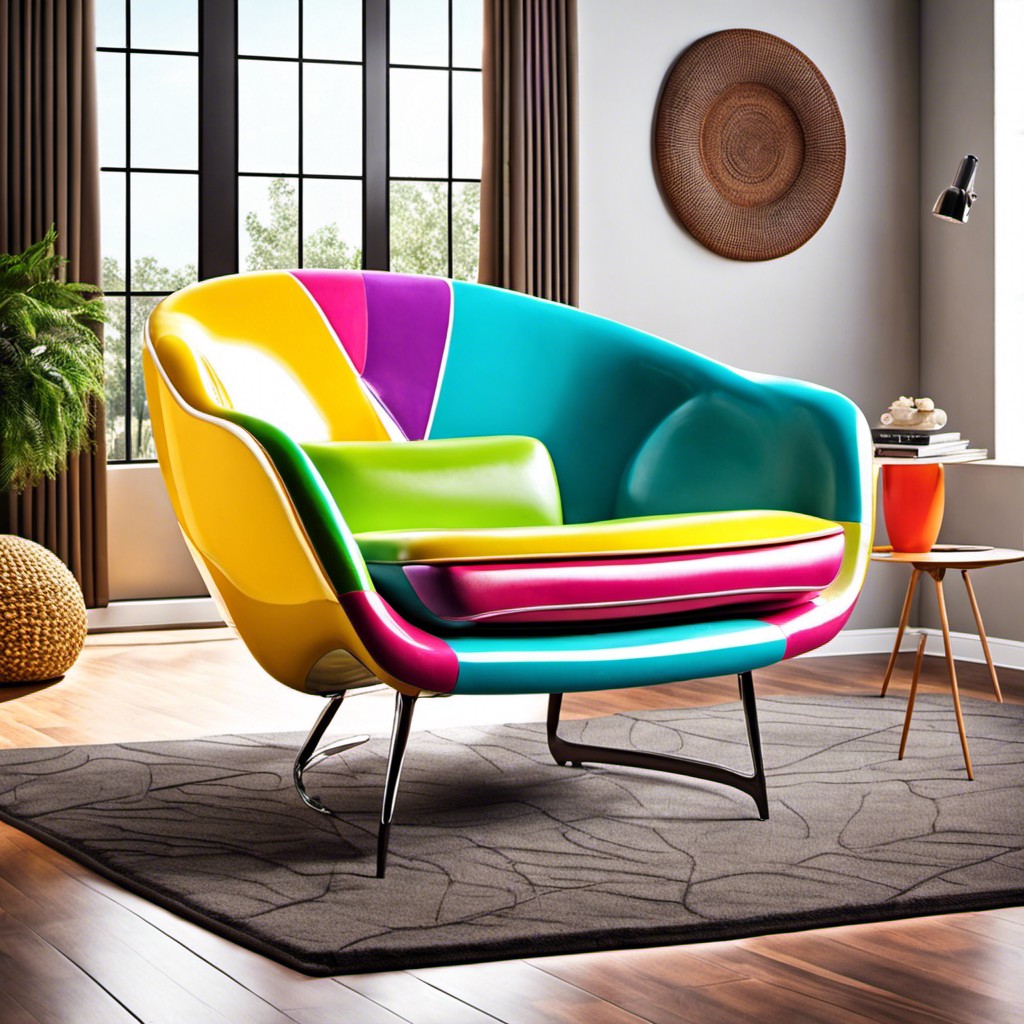 Offering a pop of color, this loveseat model breaks away from the typical neutral palette. Bright hues not only lift the ambiance but also create an attention-stealing centerpiece. From vivid reds to eye-catching yellows, the range of options is extensive.
Fiberglass as a material complements the striking color, providing robustness and an astounding look. Unlike a fabric sofa that can fade over time, a fiberglass couch maintains its vibrancy and texture for years, making it a cost-effective addition to your living space.
Moreover, it pairs wonderfully with various decor styles, be it a crisp white modern setting or a rustic decor scheme with wooden accents. It's an excellent piece for those who love to experiment with decor and make bold statements.
Besides its visual appeal, the loveseat size is ideal for compact spaces or for creating a cozy seating area. And with the right upholstery, comfort is assured, ensuring an equal measure of style and functionality. Bring your ideas to life with this kind of loveseat for an unexpected, vibrant twist to your decor.
Floating Fiberglass Couch Design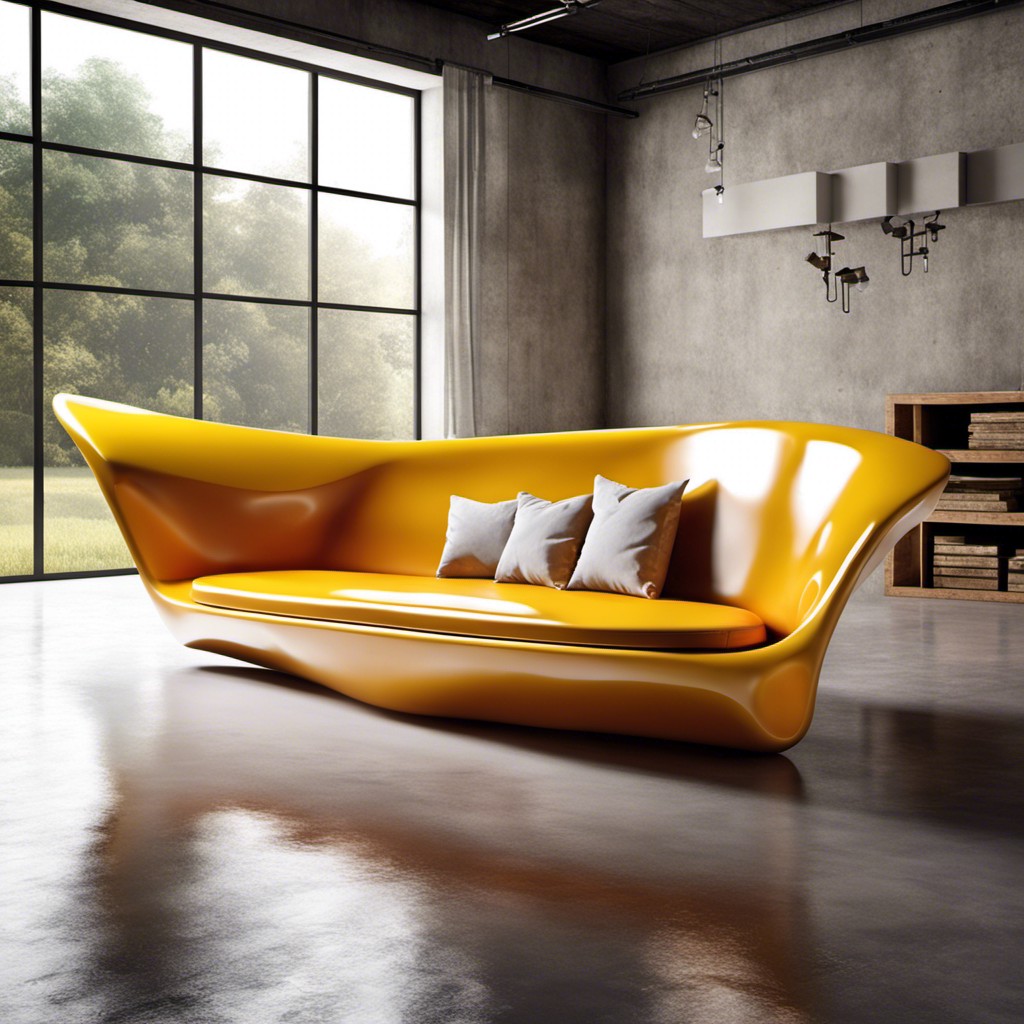 Embracing innovation, this design showcases the elegance and uniqueness that stems from creatively restructuring traditional perceptions. The beauty of a floating couch lies in its potential to make a room seem larger and more open.
Here are some highlights of this captivating concept:
1. Visual Enhancement: It creates an illusion of extra space. Its suspended design offers a sleek, clutter-free look enhancing minimalistic home decor.
2. Unique Aesthetic: It proffers futuristic appeal, breaking from convention. It brings a sense of the unexpected, perfect for those looking to take design risks.
3. Accommodates Cleaning: Keeps the floor underneath accessible, making it easier to clean without moving the couch.
4. Sturdy and Durable: Though seeming delicate, floating couches are as resilient as typical ones. Fiberglass ensures strength, ready to withstand daily wear.
5. Customizable Height: Most designs are adjustable and can be altered to suit homeowner's comfort and whims.
Remember, a floating fiberglass couch is more than furniture–it's a conversation piece.
Transparent Fiberglass Couch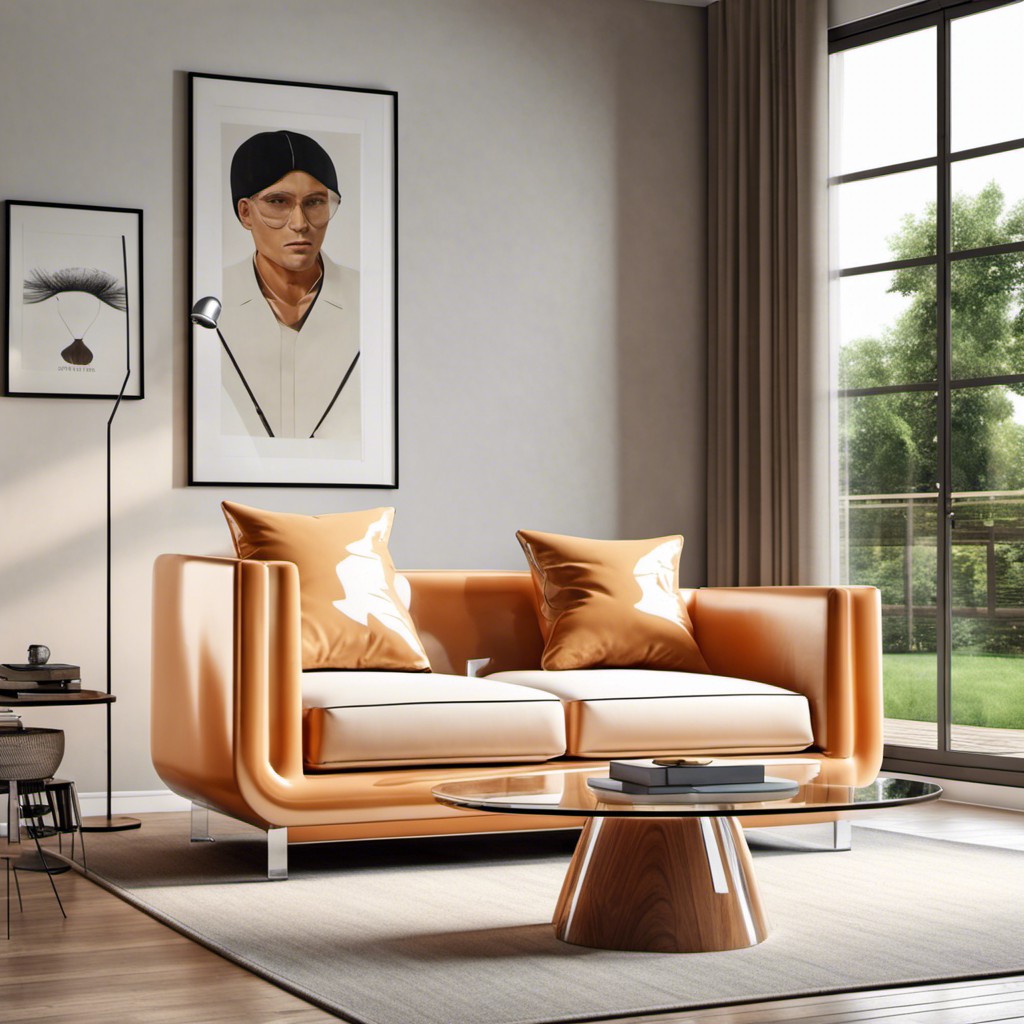 Imbuing any space with a sense of lightness and modernity, the transparent design is a remarkable feature. Unobstructed views through the furniture veer it away from becoming a heavy centerpiece. This design facilitates a seamless blending with any color scheme or decor style. An artist's innovation, this design uses specially-treated fiberglass that maintains its structural robustness while achieving clearness.
The couch is a masterpiece of minimalism, eschewing opulence for simplicity. The cushions, usually a contrasting or complimentary color, offer visual relief while serving to identify seating positions. Placing LED lights underneath could create a distinctive effect, making it appear to glow. For maximum impact, placement in spaces with ample natural light is advised as it dazzlingly refracts light, adding a magical aura.
By their nature, transparent couches are conversation starters, unique and intriguing. However, maintaining them involves regular cleaning to keep them crystal clear. Moreover, special care provisions might need to be enforced, such as reducing contact with sharp objects to prevent scuffs.
With a transparent fiberglass couch, one purchases not just a piece of furniture, but a lifestyle choice that opens up the room in ways traditional couches can't. It artistically combines the modern transparency aesthetic with the time-tested robustness of fiberglass.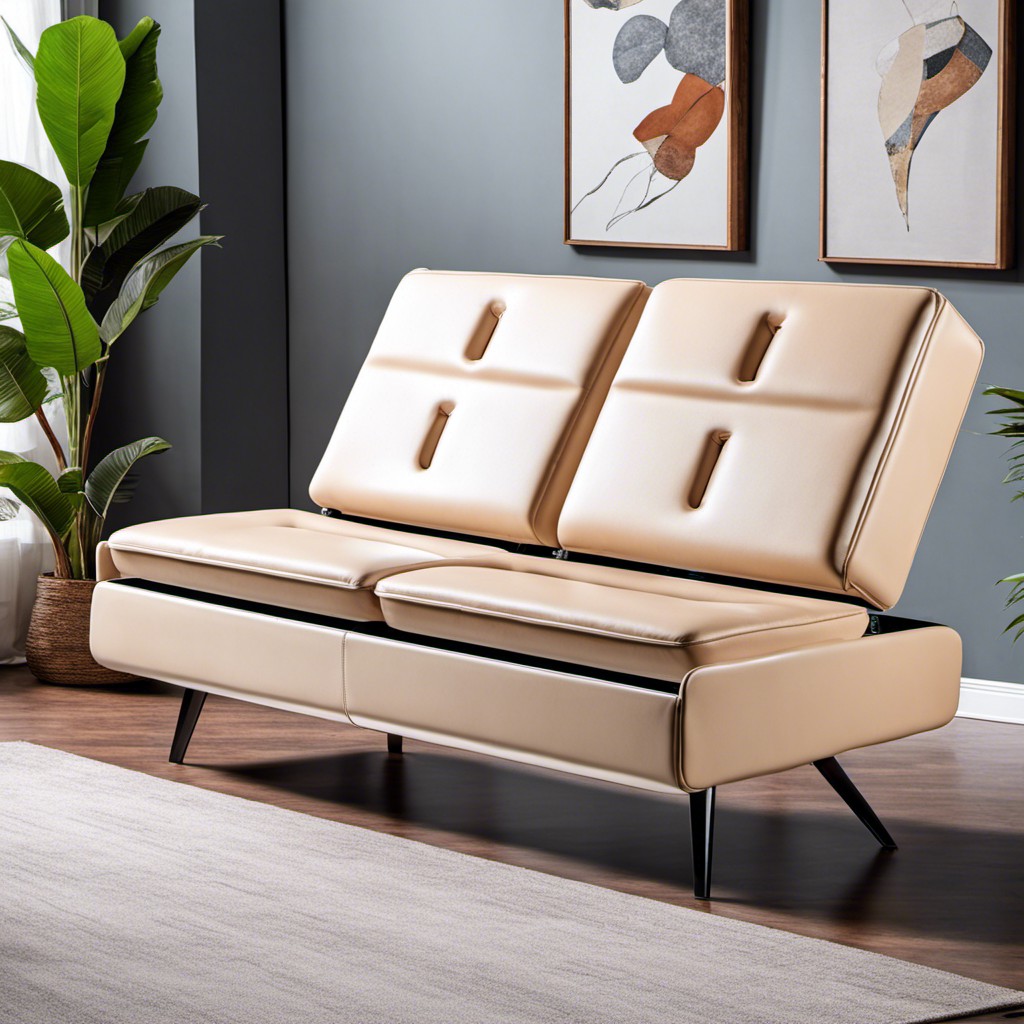 These stylish pieces provide ample storage without compromising aesthetic appeal. Various designs cater to your specific needs – some come with sizable compartments under the seat while others incorporate drawers or shelves in their bases.
Ideal for small spaces or minimalistic decor, they help keep your living area tidy by offering a place to store your throws, remote controls, and reading materials.
Streamlined designs meld seamlessly into the couch structure, adding functionality without sacrificing style. To access your items, simply lift the seat or pull out a drawer.
The incorporation of storage spaces into such furnishings has truly amplified couch design scope. Not to mention, guests will likely be none the wiser of the hidden storage within your couch, adding an element of surprise to your living room furniture.
Eco-friendly Fiberglass Couch With Sustainable Fabric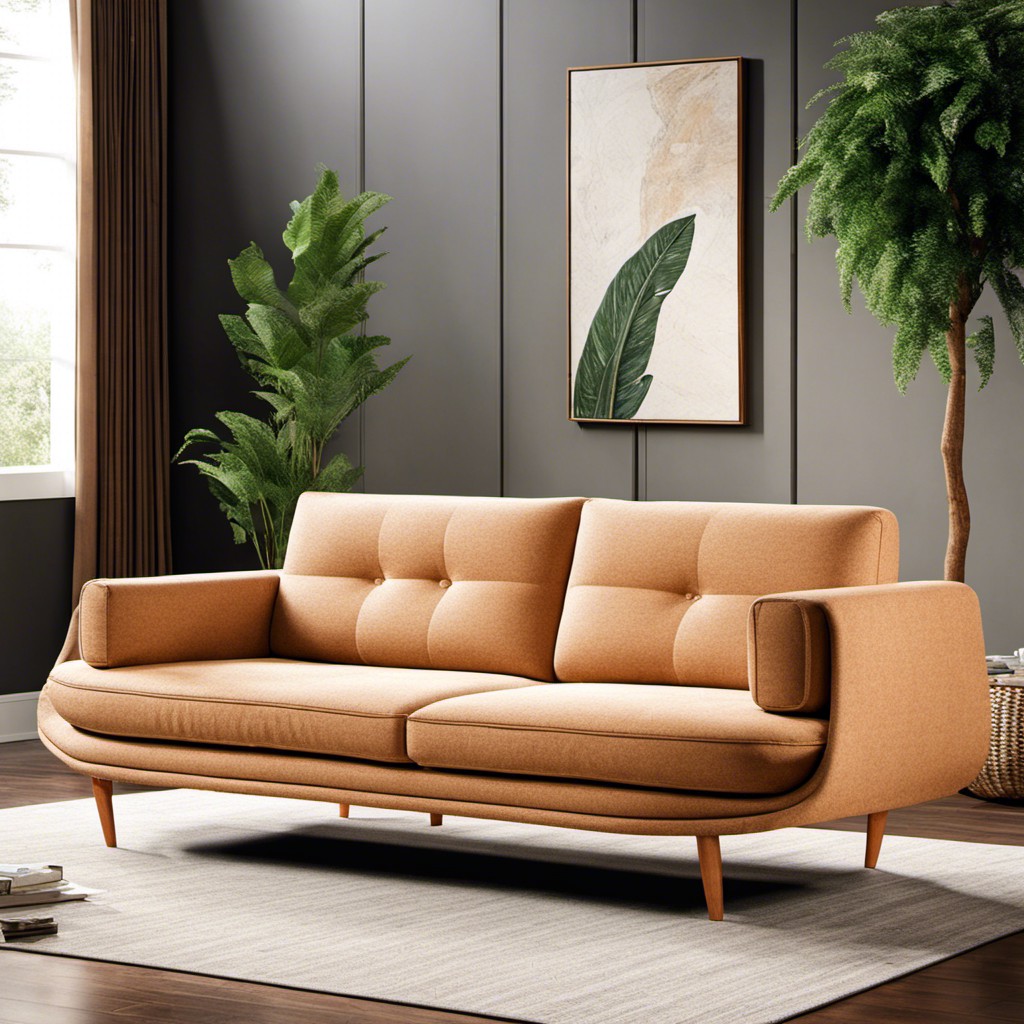 Focusing on sustainability brings a wealth of positive implications, both for your home and the environment at large. These conscientious couch designs incorporate elements that aim to reduce the ecological footprint they leave behind.
Crafted from recyclable fiberglass structures, these excellent pieces of furniture are made to fulfill durability needs while treading lightly on the earth. The strength and longevity of fiberglass ensure less wastage, leading to fewer landfill contributions.
Meanwhile, the fabric on these couches is sourced from responsible and sustainable origins. Some options include organic cotton, hemp, or recycled polyester that promises the same comfort and style without compromising the planet's resources.
In addition, these sustainable materials often come with certifications for their environmentally friendly manufacturing processes. These certifications ensure that the respective fibres have met strict criteria concerning water use, toxicity, energy usage during production, and more.
Furthermore, these eco-friendly couch designs often feature replaceable parts—this extends the lifespan of your couch, negating the need to buy an entirely new piece when certain sections wear out.
Choosing an eco-friendly fiberglass couch armed with sustainable fabric therefore not only provides your living space with a touch of modern chic but also supports a healthier planet for future generations.
Industrial Style Fiberglass Couch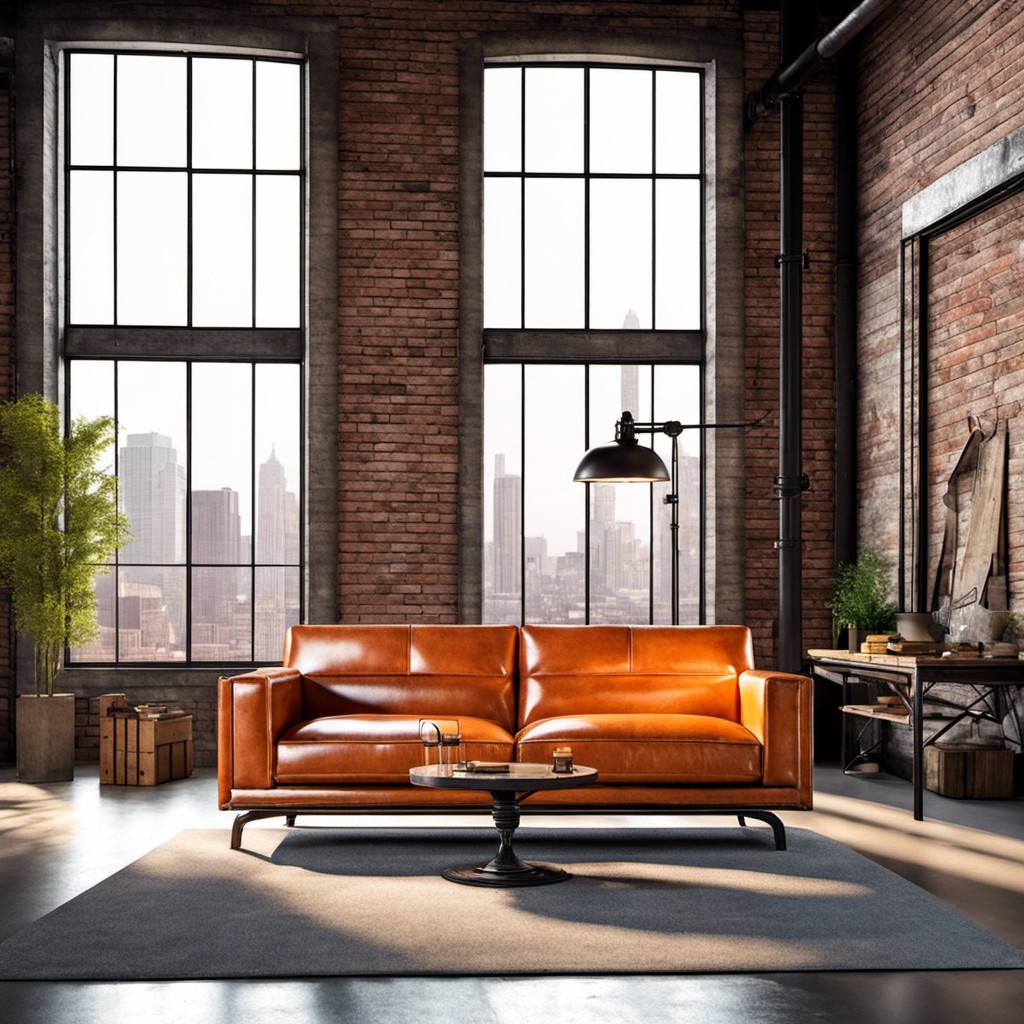 This style is all about showcasing the raw, unfinished aspects of a piece. With its exposed hardware and sharp, straight lines, the industrial-styled couch is stripped back for a maximum impact. Fiberglass, a versatile and durable material, enhances this look with its glossy sheen and potential for intricate shaping.
Key characteristics:
1. Authentic: Resembles warehouse or factory elements.
2. Durable: Fiberglass material ensures long-lasting quality.
3. Color Scheme: Typically in neutral, earthy tones like black, grey, or brown.
4. Bold Details: Exposed seams, rivets, and visible mechanics.
5. Metal Accents: Often paired with steel, iron or nickel enhancements.
6. Simple Lines: Boasts practical, straightforward design.
Opting for comfortable cushions in contrasting materials like leather or textured fabric can soften the industrial feel, making the couch comfortable for daily use while maintaining its visually impactful aesthetic.
Compact Fiberglass Couch for Small Spaces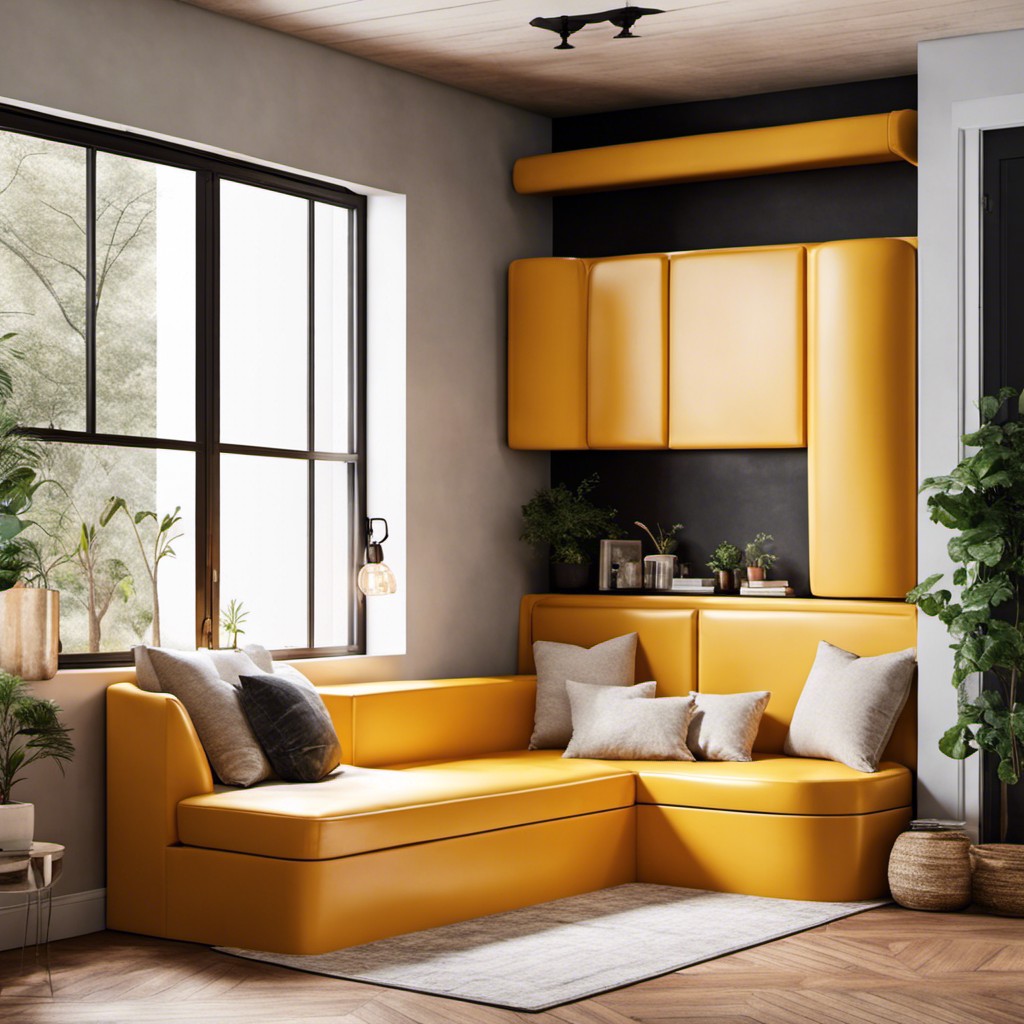 Seizing the potential in compact living spaces demands thoughtful furnishing. When every square foot counts, a sleek, streamlined sofa made of fiberglass proves to be an excellent fit. It's not only visually lightweight but remarkably robust – ideal for a living room where dueling functions are at play. The ease of cleaning this material further simplifies maintenance in a bustling, minimal-floorplan home.
Match it to your decorating style by selecting the right cushions. Opt for vibrant, patterned fabrics to introduce color without overwhelming the space or go for neutral shades to maintain a serene atmospheric vibe. Avoid oversized or overly plump cushions which can make the couch look disproportionately large.
Consider a compact fiberglass couch integrated with additional features such as built-in side tables or hidden storage compartments, providing further functionality without imposing on your precious space.
Fiberglass Fold-out Sleeper Sofa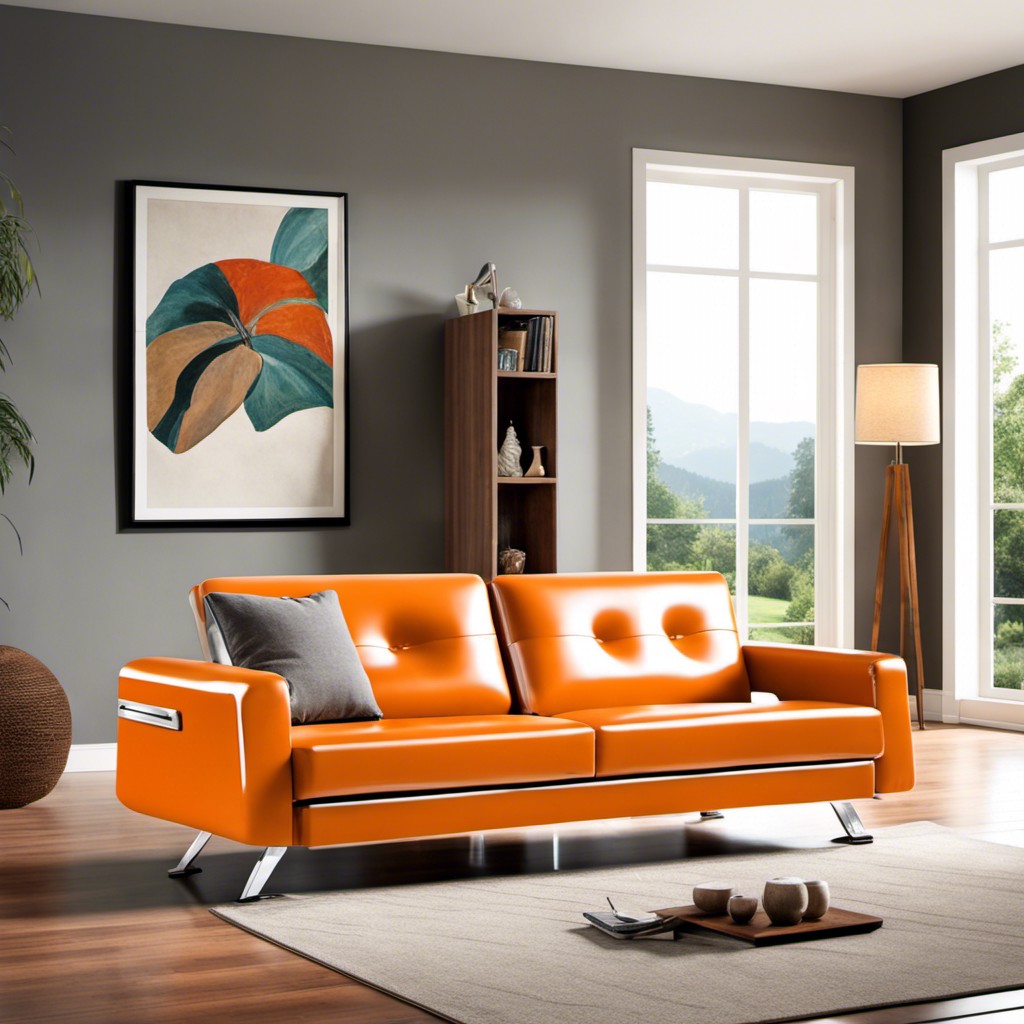 Perfect for those with limited space or frequent overnight guests, these models cleverly convert a daytime couch into a comfortable bed. The streamlined design of fiberglass offers endurance while saving room, letting the furniture piece blend seamlessly with other decor. Practicality doesn't mean sacrificing style; these sofas can be customized with a variety of fabric options to match your aesthetic.
1. Space-saving: Caters to small apartments or studios without compromising on comfort or functionality.
2. Convertible Design: Simple fold-out mechanism lets you switch from a daytime couch to an overnight bed effortlessly.
3. Durability: Fiberglass provides strong, sturdy support that lasts longer than traditional materials.
4. Customization: Available in numerous colors and fabrics to coordinate with your living space.
5. Practicality: Ideal solution for households that frequently host guests or for those living in compact spaces.
6. Easy Maintenance: The smooth surface of fiberglass allows for easy cleaning and low maintenance.
7. Versatility: Can be combined with other pieces of furniture for a cohesive room design.
Kid-friendly Fiberglass Couch With Washable Cushions
Balancing style and practicality is crucial, especially in homes with children. This concept shines in designs where durable fiberglass frames pair with washable cushions. The non-porous property of fiberglass prevents liquid spills from seeping in, making it easy to clean and maintain. Meanwhile, washable cushions are the dream of every parent. Accidental spills, dirt, and stains can be simply machine-washed away.
Here are keys to maximizing this set-up:
1. Opt for dark or patterned cushion covers to disguise light stains.
2. In case of a liquid spill, remove the cushion cover promptly and blot the spill instead of wiping to avoid spreading the stain.
3. Regular vacuuming can help maintain cushion freshness and avoid dust build-up.
4. Rotate the cushions periodically to even out wear.
With these points into consideration, living rooms can remain stylish without constant worry over potential messes. The significant durability of fiberglass paired with the convenience of washable cushions is a design decision that is set to stand the test of active family living.
Curved Fiberglass Couch for a Modern Look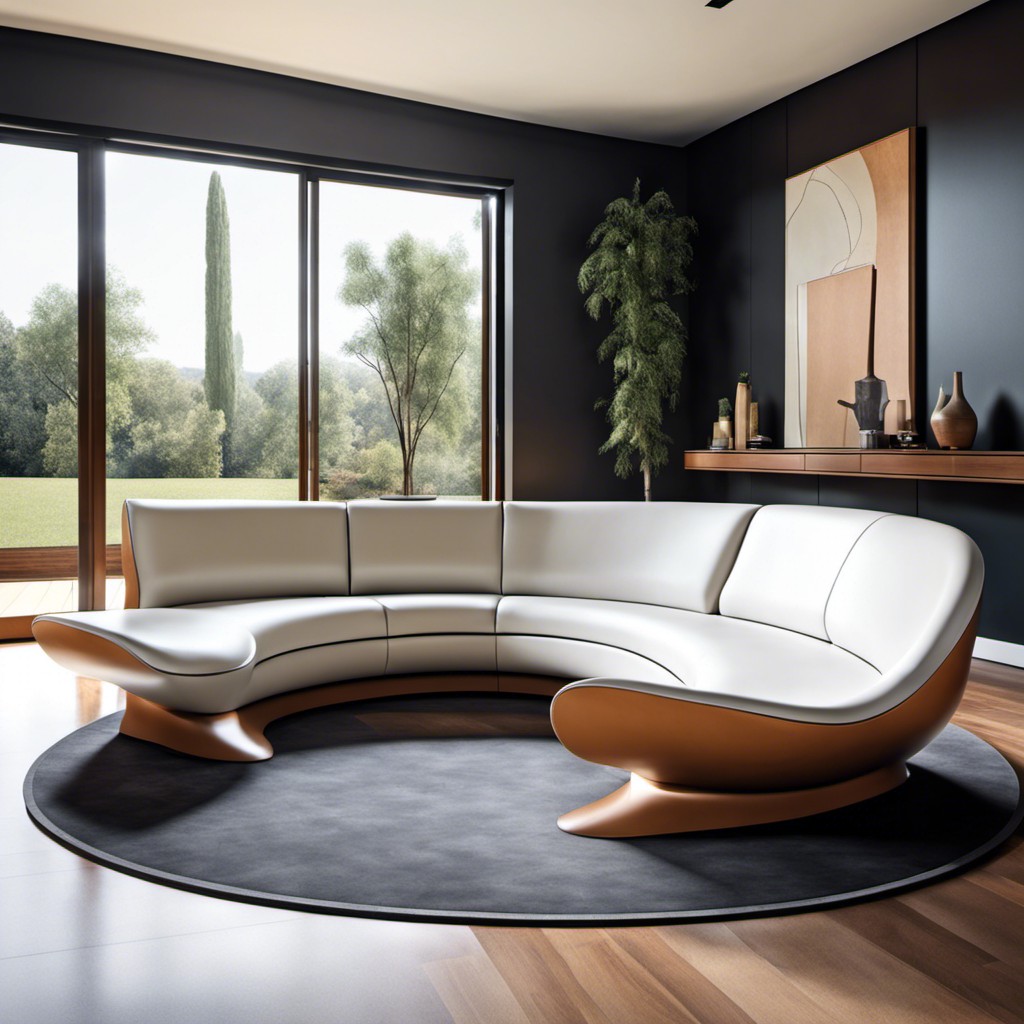 Adopting a curved silhouette can significantly enhance the modern appeal of your interior design. The sleek, sinuous lines of these couches echo the current trend towards fluidity and movement. Frequently designed with a monochromatic color scheme, this style embodies sophistication and simplicity.
Consider the following points when incorporating this design element:
Placement: Position them as focal points in a room to highlight architectural features or enhance the flow in open-concept spaces.
Scale and Proportions: Size matters; they can define a space, but ensure it doesn't overwhelm the room. Opt for a size that complements the proportions of the rest of the decor.
Color Scheme: Select a color that blends seamlessly with your interior palette. Neutral shades like white or dark hued ones like black or blue, possibly with metallic accents, work well for a chic, modern finish.
Coordinating Pieces: Pair with rounded side tables or curved area rugs to echo the shape and tie the room together.
Materials: Enhancing the couch with luxurious upholstery or unique textures can enhance the contemporary appeal.
Remember, the incorporation of such styles should subtly attract attention while still maintaining harmony within your space.
Custom-made Fiberglass Couch Matching Room Decor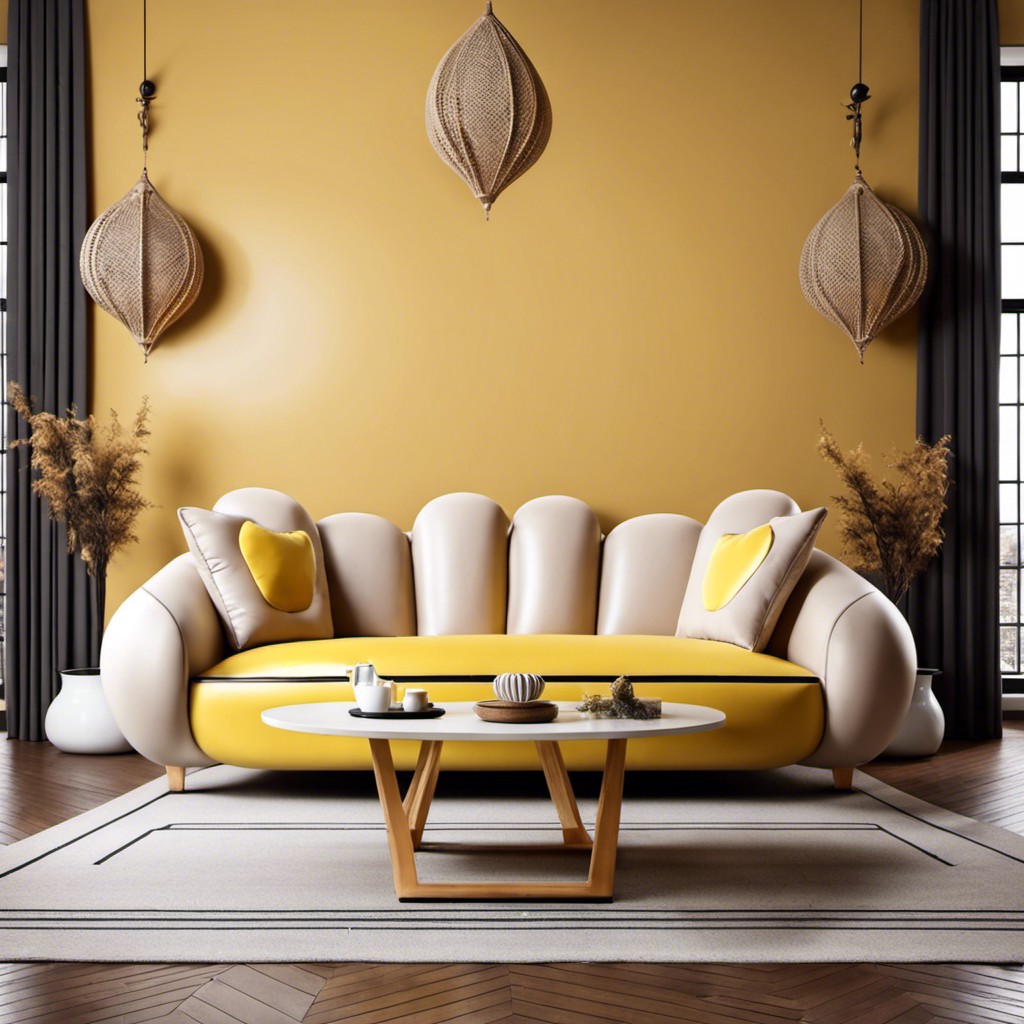 Customization allows you to get a perfect fit for your space. First, it mirrors your unique style, infusing a personalized touch that shows in every detail. This can range from hand-selected fabrics, selected to seamlessly integrate with the current decor, to tailored dimensions fitting your room precisely.
Second, there's exciting choices with color. No longer limited to standard shades, let your imagination run free. Opt for vibrant hues to make a bold statement or subdued tones for a more understated elegance.
Lastly, consider the shape – a square, rectangular, or an organic silhouette can dramatically modify the aesthetics, while ensuring the couch doesn't exceed the space constraints. Customizing a fiberglass couch adds a unique centerpiece that truly captures your personality and complements the room décor.
Modular Fiberglass Couch Set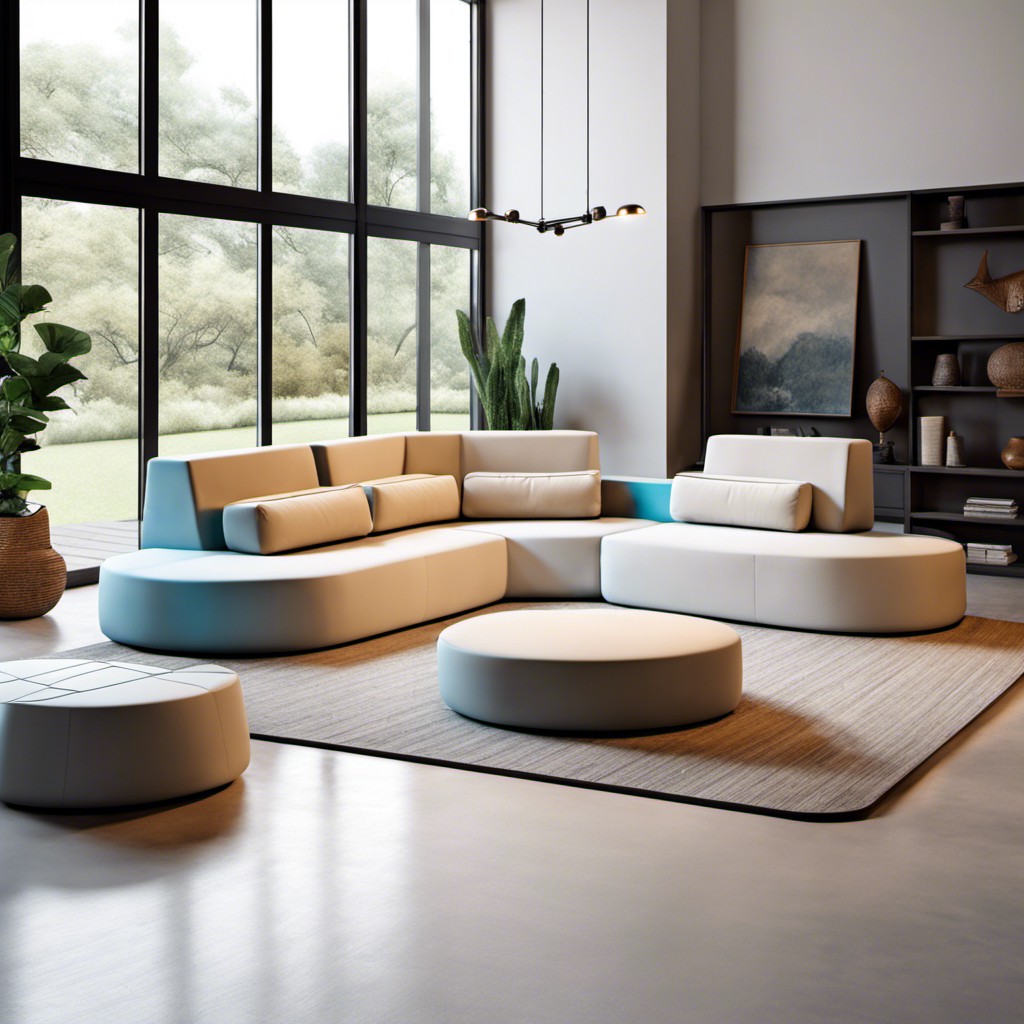 Versatile and stylish, these couch sets offer endless possibilities for your living space. Adaptable, they can be reconfigured to suit your ever-changing needs and preferences. Whether you require more space for entertaining guests, or need a cozy corner to curl up with a good book, these sets can be adjusted with ease.
In terms of aesthetics, a range of color and fabric choices are available to perfectly blend with your interiors. This ensures a harmonious visual flow within your living space. Additionally, the robust build of fiberglass promises durability. Consequently, these sets seamlessly combine functionality with style, offering the best of both worlds for your living space.
Maintenance ease is another asset. Fiberglass, being a stain and water-resistant material, makes for an easy-to-clean couch. It allows you to enjoy your furniture without the constant worry of spills and stains. The added convenience of removable and washable cushions can further simplify your cleaning routines.
Finally, consider the health and comfort benefits. Fiberglass couches, unlike their counterparts, do not harbor allergens such as dust mites, making them an excellent choice for those with allergy concerns. Additionally, given that these couches can be rearranged to suit individual comfort levels, they cater to a superior lounging experience.
Ergonomic Fiberglass Couch for Optimal Comfort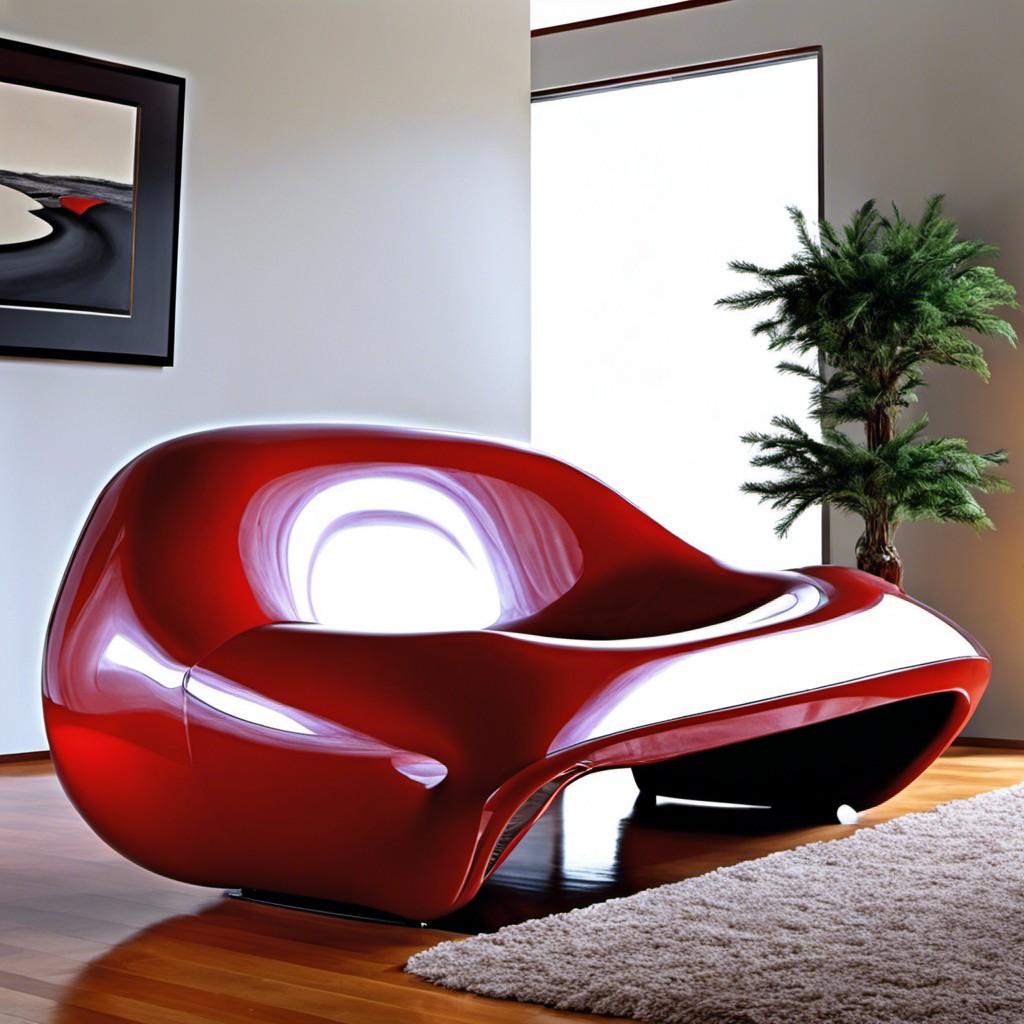 Positioned thoughtfully in living areas, these couches offer relief to the back and neck by keeping their natural posture intact, making them ideal for prolonged seating. Their design aids in maintaining the curvature of your spine and the proper alignment of your body, certainly a boon for those with chronic back issues.
Key features include:
1. Adaptive Fiberglass Structure: Although rigid by nature, the shape is to enhance body support.
2. Lumbar Support: Extra attention is given to lumbar support to relieve strain on the lower back.
3. Adjustable seating: Depending on the design, some come with adjustable seat depth that caters to people of varying heights.
4. High-Density Cushioning: Even distribution of weight helps to reduce pressure points.
5. Healthy Angles: The backrest and seat are angled to support natural body posture.
Incorporating an ergonomic fiberglass couch in your home not only adds a contemporary touch but significantly boosts comfort, creating a seating experience that marries aesthetics with wellness.
You may also like to read: