Last updated on October 30, 2023
Explore unique boucle sectional ideas because they provide a blend of comfort, elegance, and unmatched texture, immediately elevating the aesthetic appeal of your living room.
Boucle sectionals are the epitome of chic and comfort, making them a popular choice for home decorators. This article dives into various innovative and stylish ways to incorporate boucle sectionals into your space.
Whether you're looking to create a cozy reading nook or a sophisticated living room, you'll find a plethora of ideas here. From choosing the right color and style to pairing it with complementary furniture and accessories, this comprehensive guide covers it all.
Stay tuned to explore how you can transform your home with a boucle sectional.
Table of Contents
Classic White Boucle Sectional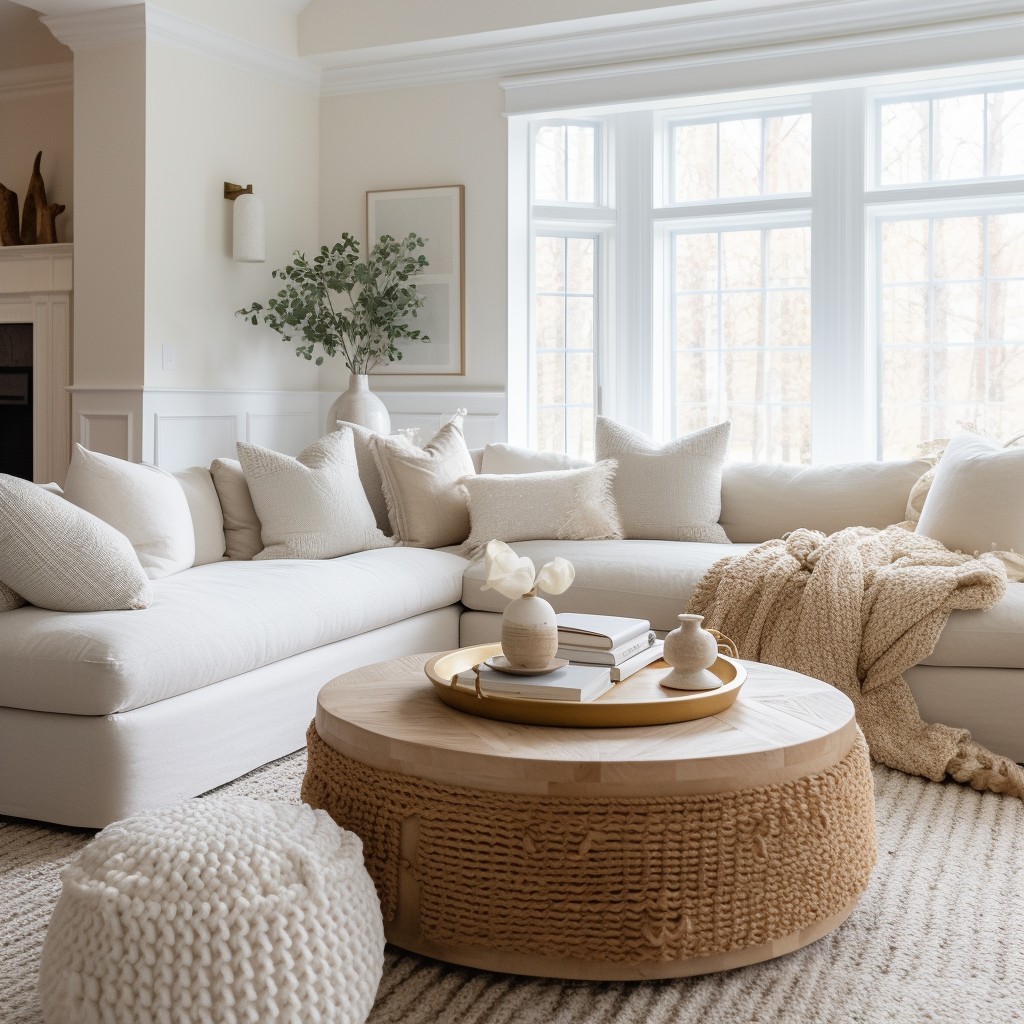 Maintaining its timeless appeal, the classic white variant effortlessly embodies elegance and sophistication. It's a versatile choice — fitting seamlessly into a variety of decor settings from minimalistic to luxurious. The pristine white fabric is not only visually pleasing but also highlights the unique texture of boucle.
Here are a few pointers for understanding this style:
Complements: Its neutral tone pairs well with bold colors in accent pillows or soft furnishings.
Versatility: Ideal for both casual and formal spaces and can be mixed with both modern and vintage decors.
Maintenance: Regular care is required to keep the white fabric spotless.
Styling: Can be punctuated with a statement coffee table or surrounded by vibrant artwork to offset the white.
Standout Feature: Its boucle fabric, known for its looped yarns, gives it a distinct, tactile appeal.
Comfortable Oversized Boucle Sectional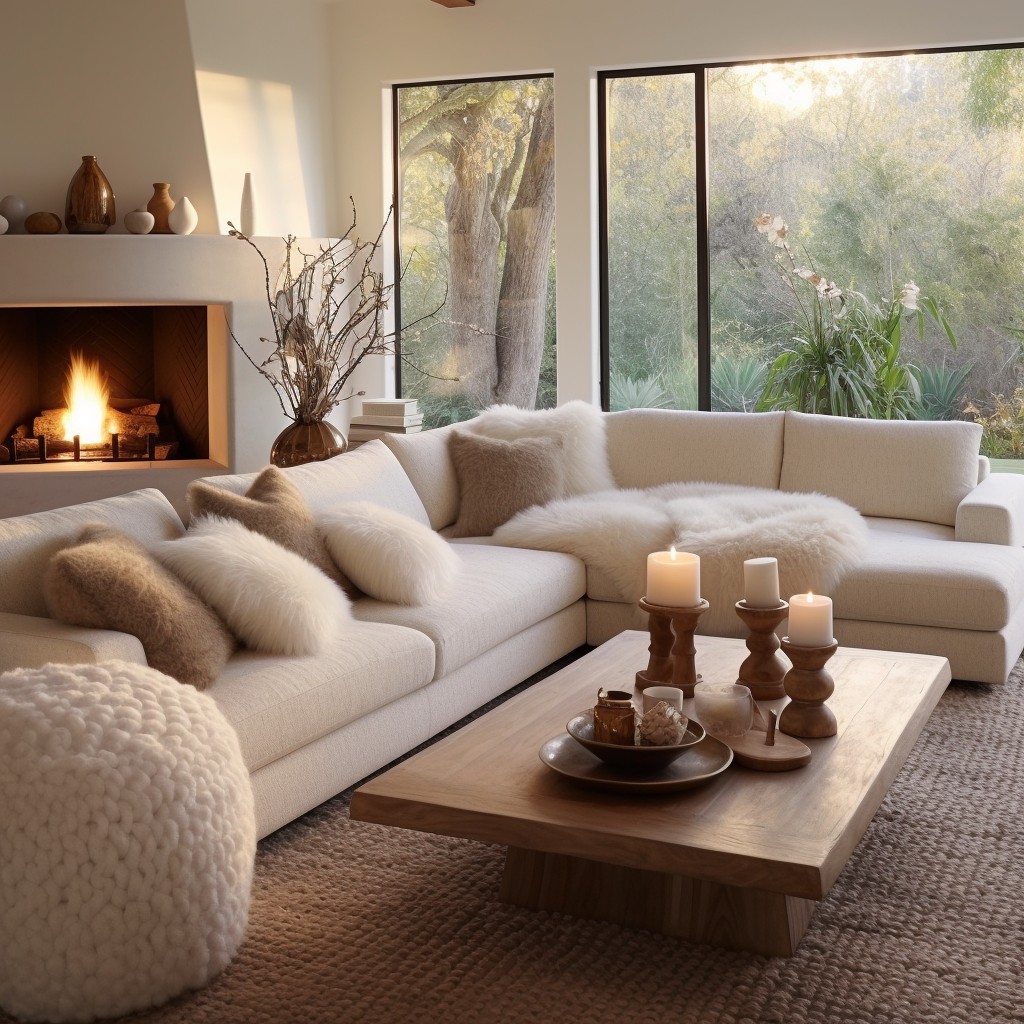 The beauty of an oversized version lies in its ability to invite relaxation and ease. Imagine sinking into ample cushioning after a long day, lost within dimensions that go beyond standard size limitations. Enhanced with luxurious boucle fabric, the texture becomes an additional inviting aspect, as the unique loops create soft, tactile interest.
This type of sectional, besides adding a touch of elegance, also serves as a functional centerpiece in spacious rooms. Its size allows for ample seating space, making it perfect for social events or family gatherings. Plus, the generous proportions often provide additional depth, perfect for those who prefer lounging or sleeping on the sofa.
Regardless of its considerable size, an oversized boucle sectional doesn't have to overpower a room. Keeping color palettes neutral, selecting streamlined designs, and positioning the sectional correctly can ensure balance and harmony within the space. Versatile and tremendous, it's an ideal pick for those valuing both comfort and aesthetics.
Boucle Sectional With Polished Steel Legs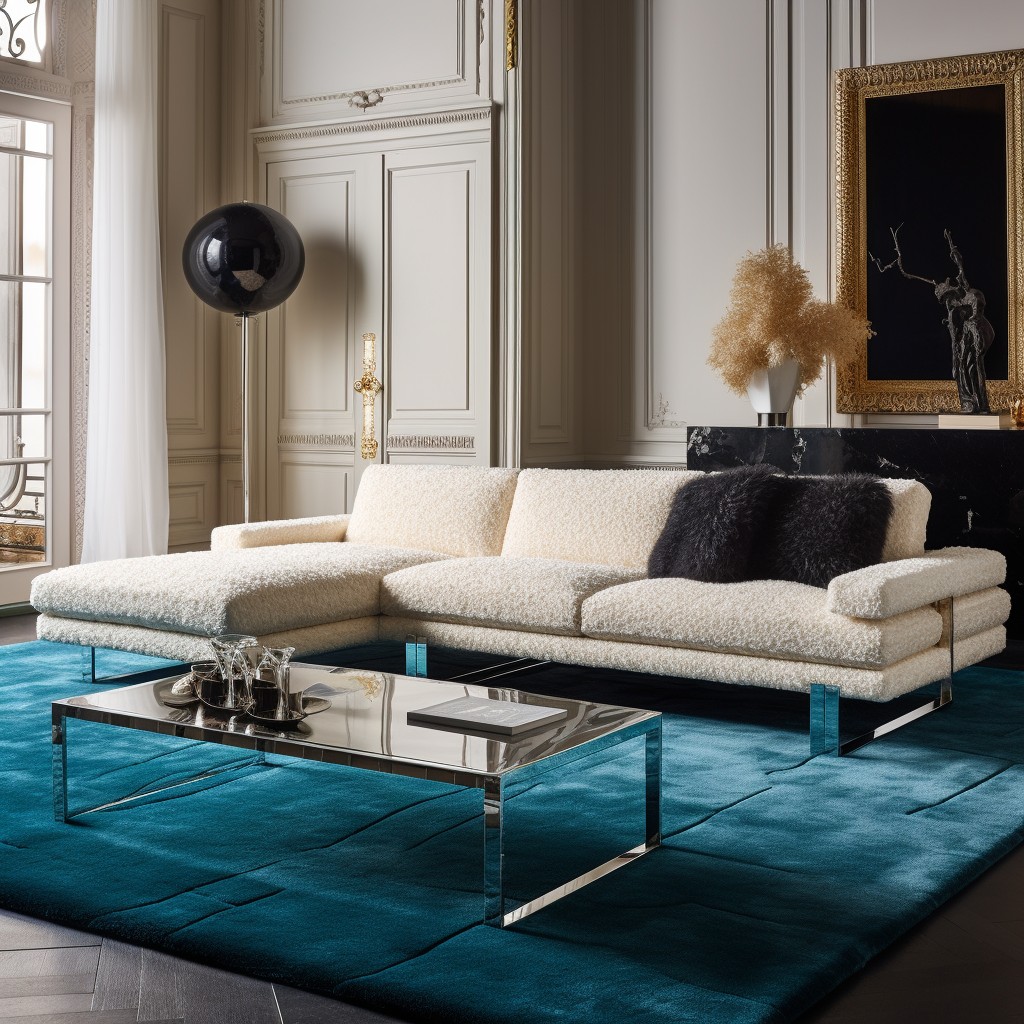 Polished steel legs bring a modern edge to the soft, textured boucle fabric. For an eye-catching contrast, consider opting for a lighter-colored boucle. This combination not only lends a chic minimalistic appeal but also provides durable support for everyday use.
Steel legs can be crafted in various designs – from slender and sleek to geometric patterns. They require little maintenance, and their shine complements the cozy look of the boucle material. This choice balances comfort with cleanliness, and the resilience of steel ensures the stability of the sectional.
Do note, the hardness of the legs might not be suitable for soft flooring surfaces.
Modular Boucle Fabric Sectional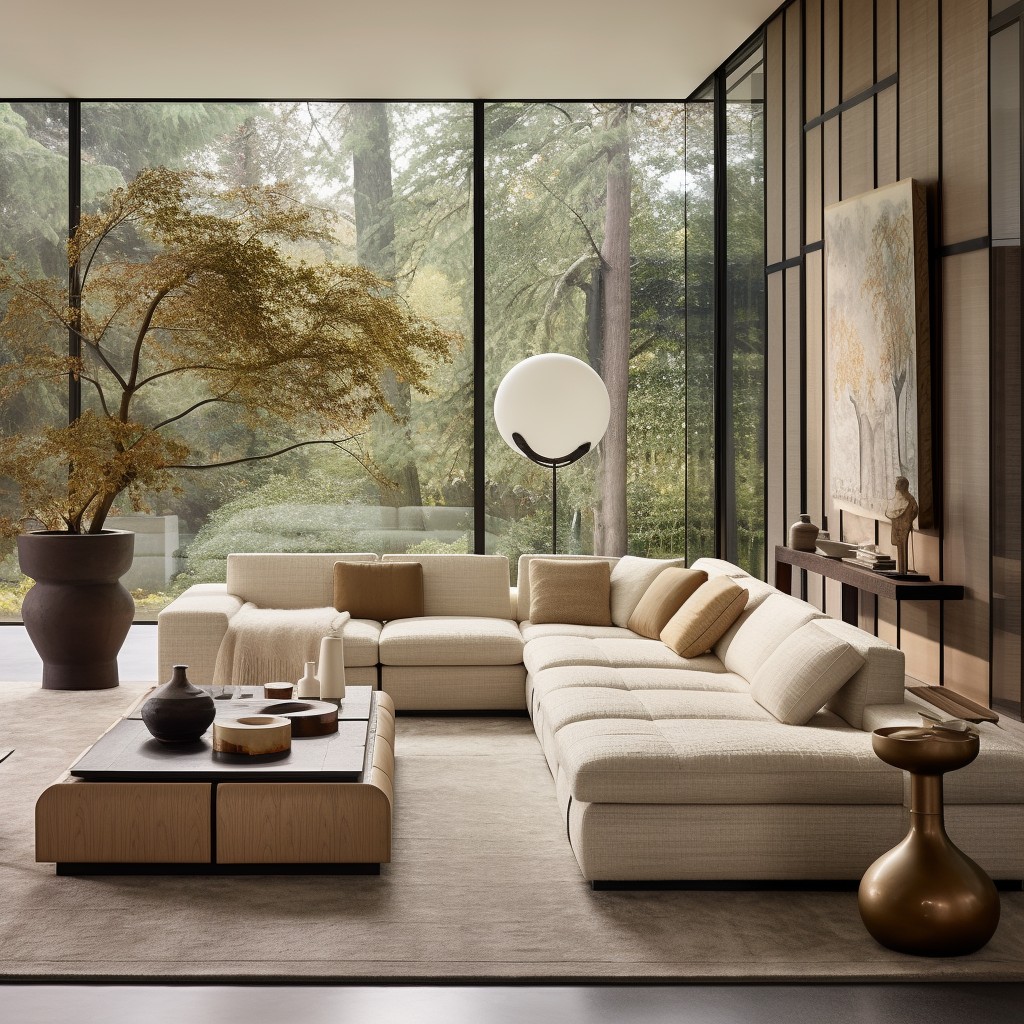 Stepping outside the traditional realm, modular designs deliver versatility and adaptation perfectly. Changeable and reconfigurable, these pieces easily conform to your living space's layout and functionality needs.
Coupled with boucle fabric — plush, textural, and luxurious — they elevate your room's aesthetics while enhancing comfort.
Some modular boucle sectionals even encompass storage modules, keeping your space uncluttered and organized.
Consider supplementing these with patterned throw pillows or cozy blankets for an effortless style upgrade.
With various possibilities for customization, a modular boucle sectional truly embodies the "tailored to fit" ideology.
Boucle Sectional With Chaise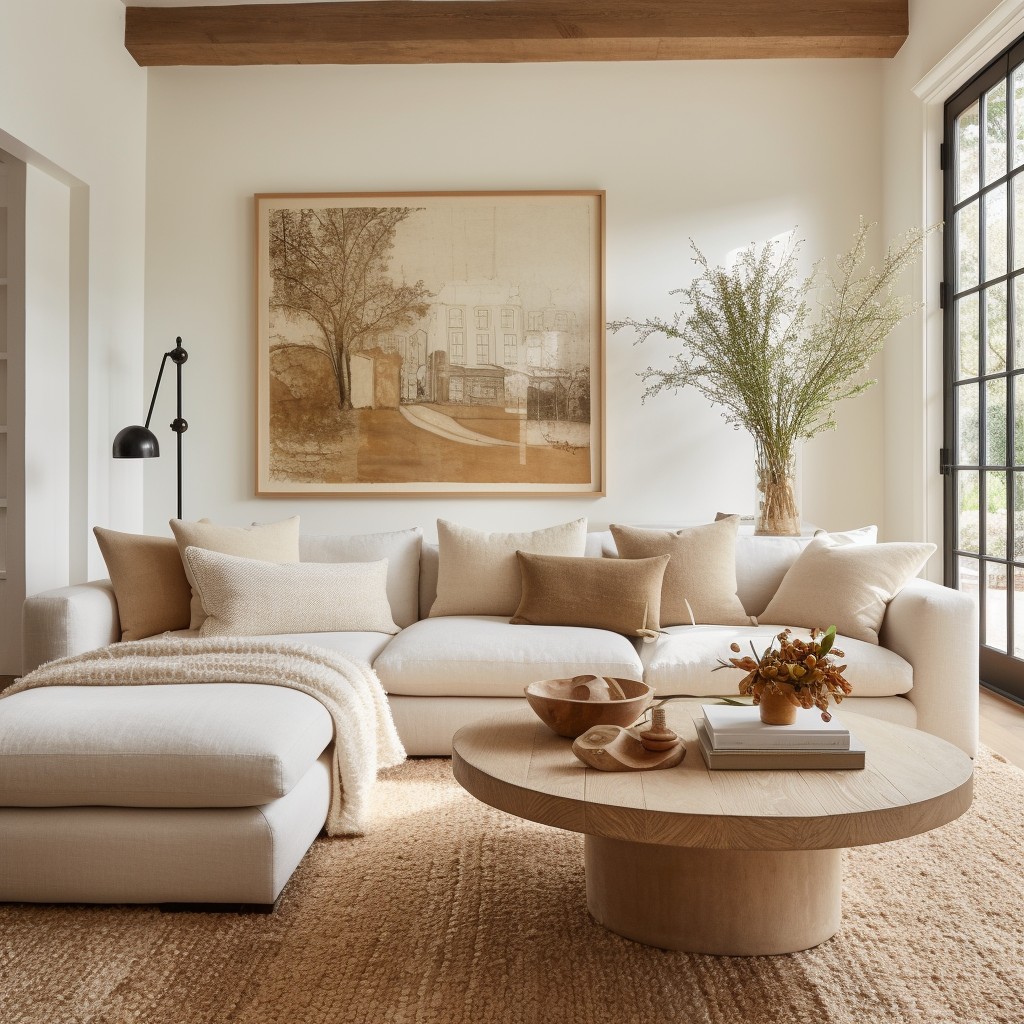 An excellent choice for those who enjoy stretching out after a long day, a chaise is an attractive and practical feature. Offering function and form, the extended lounge area provides a space for relaxation, while the boucle fabric contributes a rich texture and aesthetic appeal.
Here a few points to note –
An ideal lounging solution: The additional foot space in the chaise section allows for comfortable lounging, reading, or even taking short afternoon naps.
Elevates room's appearance: This design delivers a sophisticated touch, and the unique texture of the boucle fabric adds an element of luxury to the room.
Versatile placement: Depending on the room layout, the chaise can be positioned on the right or left side of the sectional, offering flexibility in arrangement.
Resilient material: Boucle fabric is known for its durability and stain resistance, making it a suitable choice for homes with children or pets.
Easy maintenance: A simple vacuum and spot clean routine are often enough to keep your boucle chaise sectional looking fresh.
Cream-colored Boucle Sectional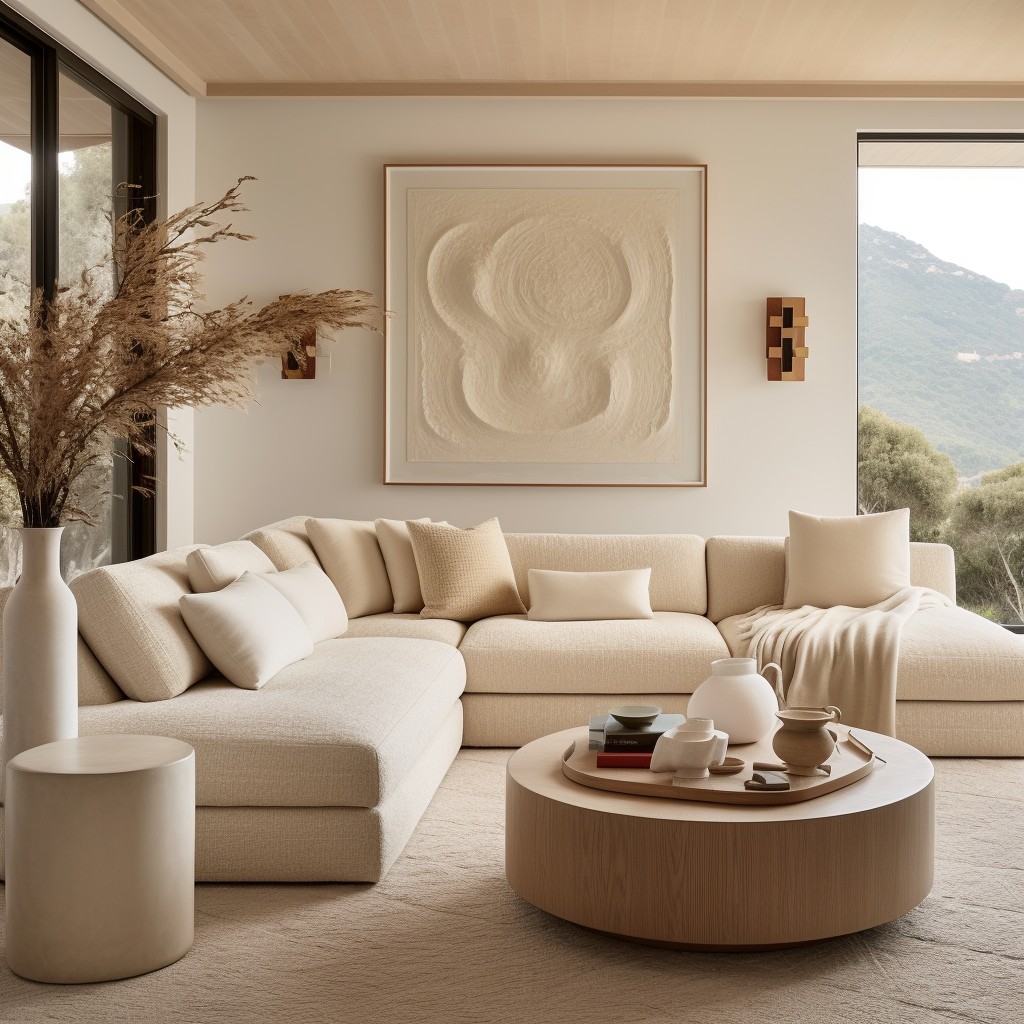 Artfully inviting and endlessly versatile, these models offer an understated aesthetic appeal that harmonizes with a wide array of home decor styles.
The light cream hue provides a versatile base, easily balancing out vibrant decorative accents or blending with a neutral palette.
This style often features soft, plump cushions delivering a cozy feel, ideal for creating a relaxing space to unwind after a long day.
Pair it with a dark wood coffee table for some visual contrast or add throw pillows with bold patterns to break the monotonous color.
With this design, maintaining an inviting, yet sophisticated look becomes a breeze.
Ease of maintenance is another winning feature, bolstered by the fact the fabric is both durable and stain-resisting.
The cream-colored boucle sectional is the ultimate blend of functionality and style, ready-made for both entertaining and relaxation.
Mid-century Modern Boucle Sectional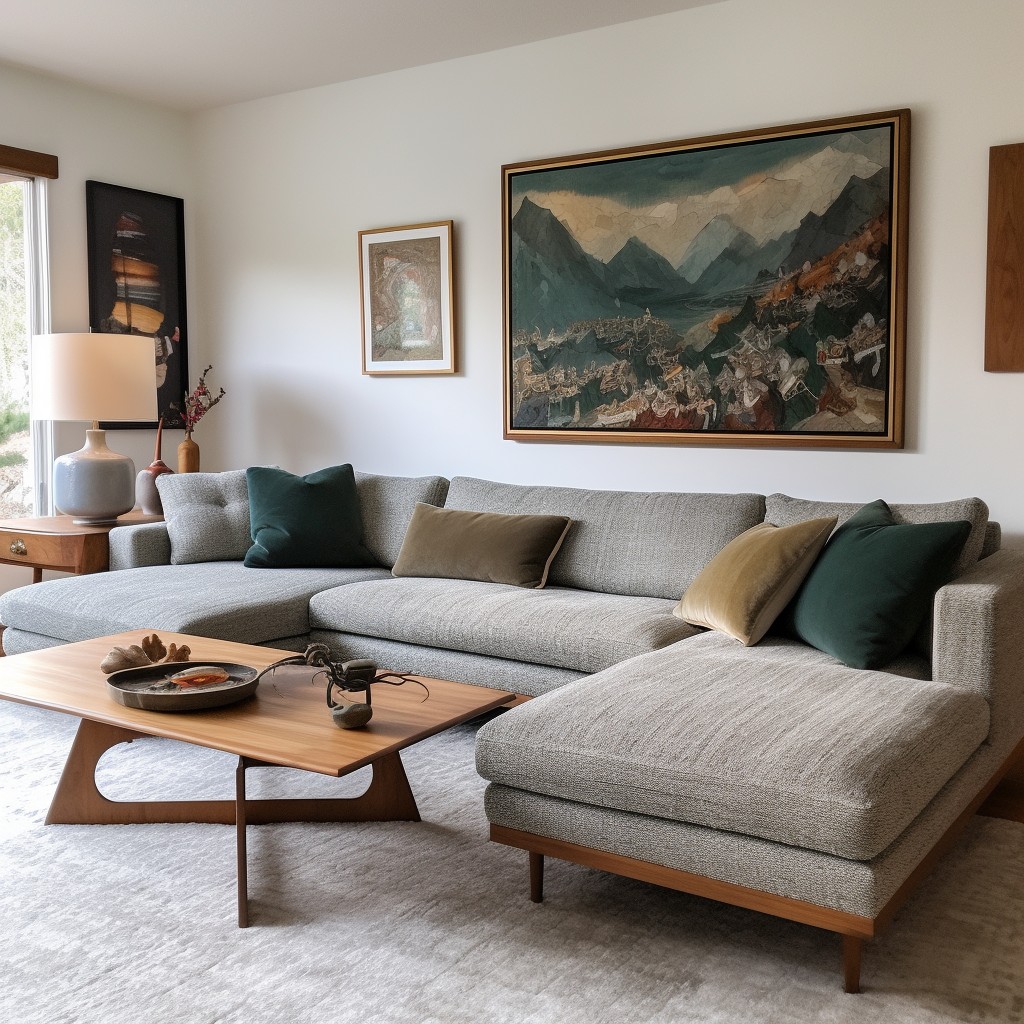 With clean lines, tapered wooden legs, and a minimalist charm, this style truly embodies the ethos of elegance and simplicity characteristic to mid-century designs.
The boucle fabric lends a unique textural richness, elevating the aesthetic appeal while ensuring your comfort is uncompromised.
The commonly observed neutrals, like off-white and tan hues, beautifully complement the furniture style, adding to its timeless appeal.
Options include both straight and curved forms, catering to different spatial needs and aesthetic preferences.
Additionally, this furniture item often comes with durable construction and resilient upholstery, promising longevity.
Perfect for creating a statement or blending into more subtle interiors, it holds the versatility necessary to enhance various decor themes.
Boucle Sectional With Wooden Frame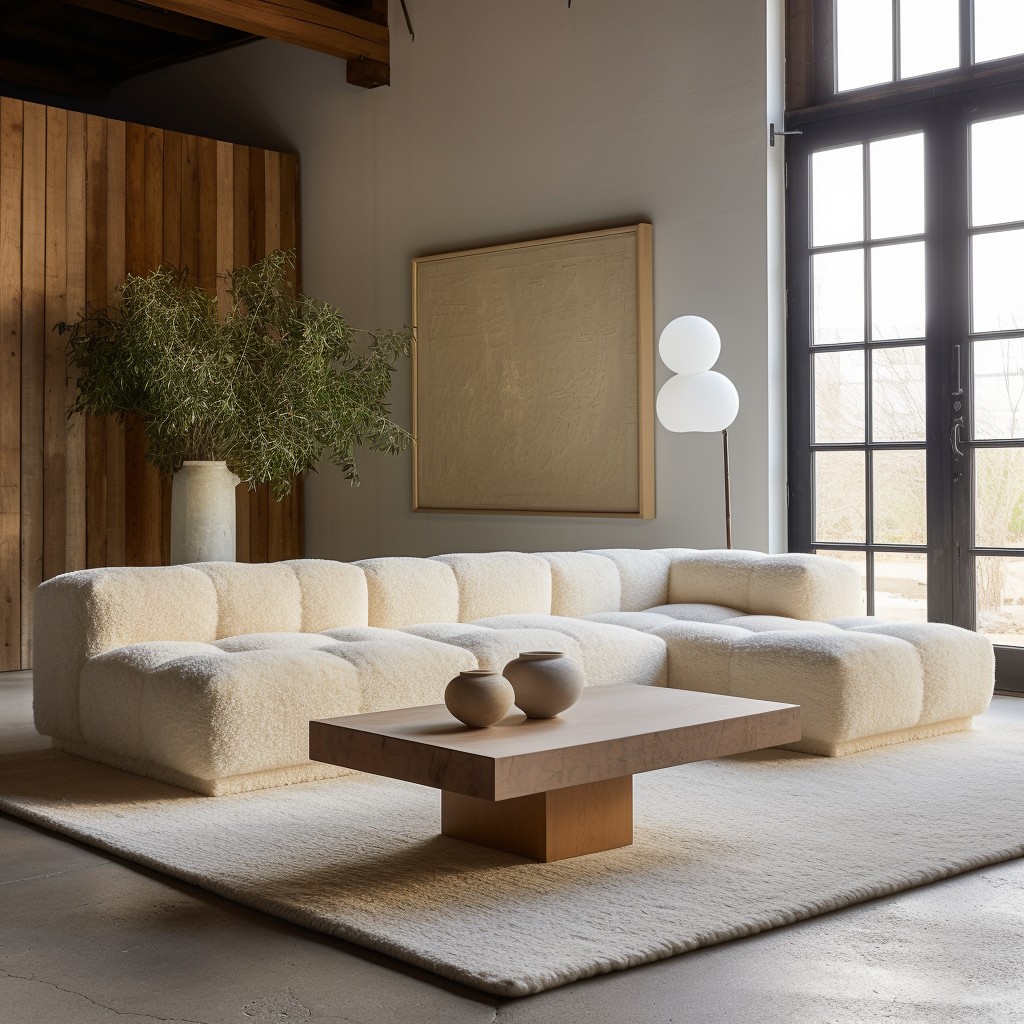 Boasting an exquisite blend of class and comfort, this design makes a unique statement in any living room. The wooden frame provides sturdy support, ensuring that the sectional will last in your home for years to come, while the bouclé fabric gives a desirable touch of soft luxury. The earthy tone of the wood harmonises beautifully with the texture-rich bouclé, making this choice perfect for a relaxing and cosy space.
1. Durable – The robust wooden frame offers longevity and robustness, outlasting other materials.
2. Comfort – Soft bouclé fabric acts as a comfortable spot for relaxation and conversations.
3. Versatile – The neutral wood frame complements a variety of colour schemes and design styles.
4. Easy maintenance – With removable and washable bouclé cover, the upkeep is simplified.
5. Eco-friendly – Wood is an eco-conscious choice, minimising the environmental impact.
With these features in mind, it's clear that a wooden frame bouclé sectional can add charm and functionality to any home. It's a tried-and-true blend of style and comfort that speaks to modern trends, while harking back to classic design principles.
Black Boucle Fabric Sectional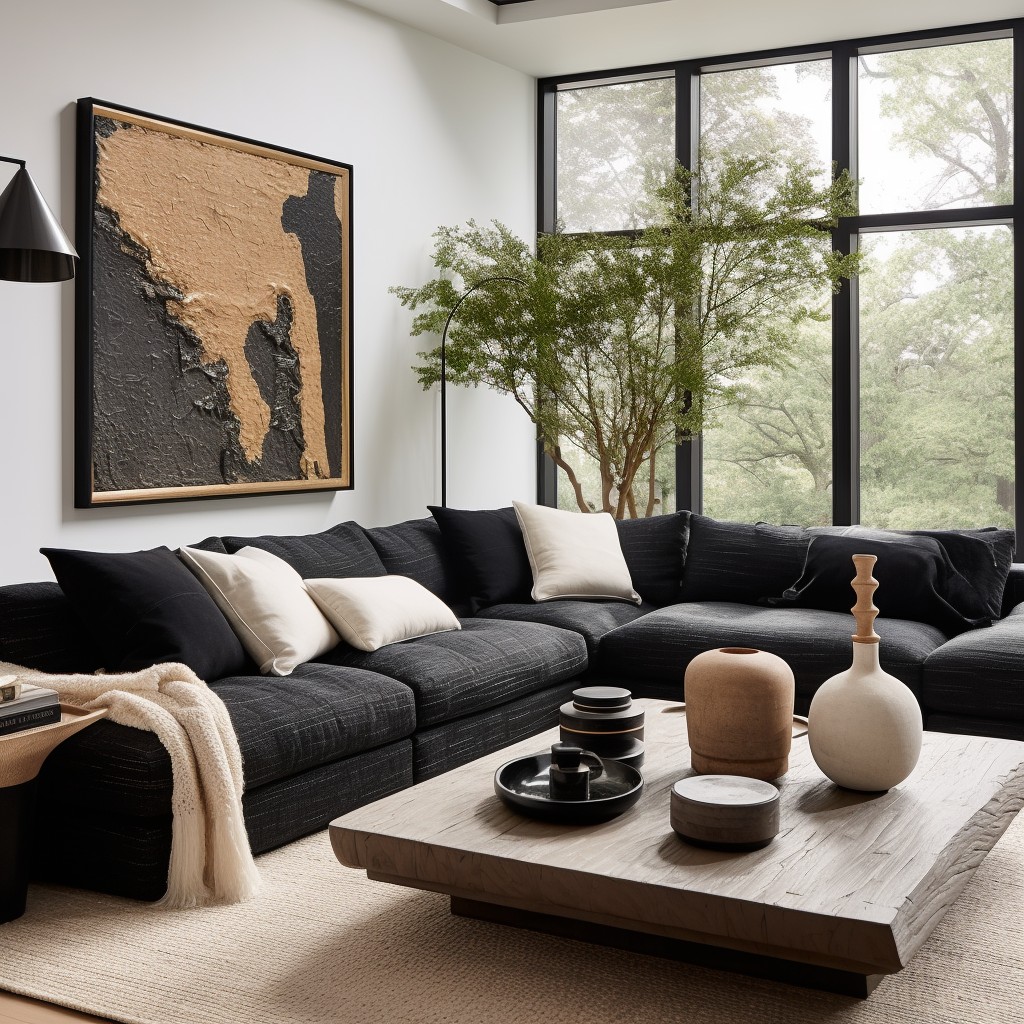 A bold choice indeed, this option is all about making a statement. The rich, deep black of the boucle fabric provides a striking contrast against lighter room decors. This sectional showcases elegance while bringing a modern aesthetic to any space.
Featuring durable boucle fabric, known for its looped and curly texture, it offers both an enticing tactile sensation and visual appeal. Its inviting plushiness invites relaxation and ensures a comfortable seating experience.
In terms of style and design, its clean-lined and streamlined silhouette complements modern, minimalist homes perfectly. Additionally, the black hue can seamlessly blend with a monochrome theme or act as an eye-catching focal point in a colorful room.
Maintenance is equally important as appearance. Being black, it does a good job at hiding stains and marks, making it a practical choice. While the boucle fabric requires regular brushing to maintain its fluffy look, it's worth the effort considering the aesthetic charm and sophistication it provides.
Choose complimenting accessories like metallic or white pillows and throws to highlight its beauty. Incorporate decor elements with contrasting textures, such as a smooth marble table or a sleek metal floor lamp, to create an interesting juxtaposition in your space.
Boucle Sectional With Storage Ottoman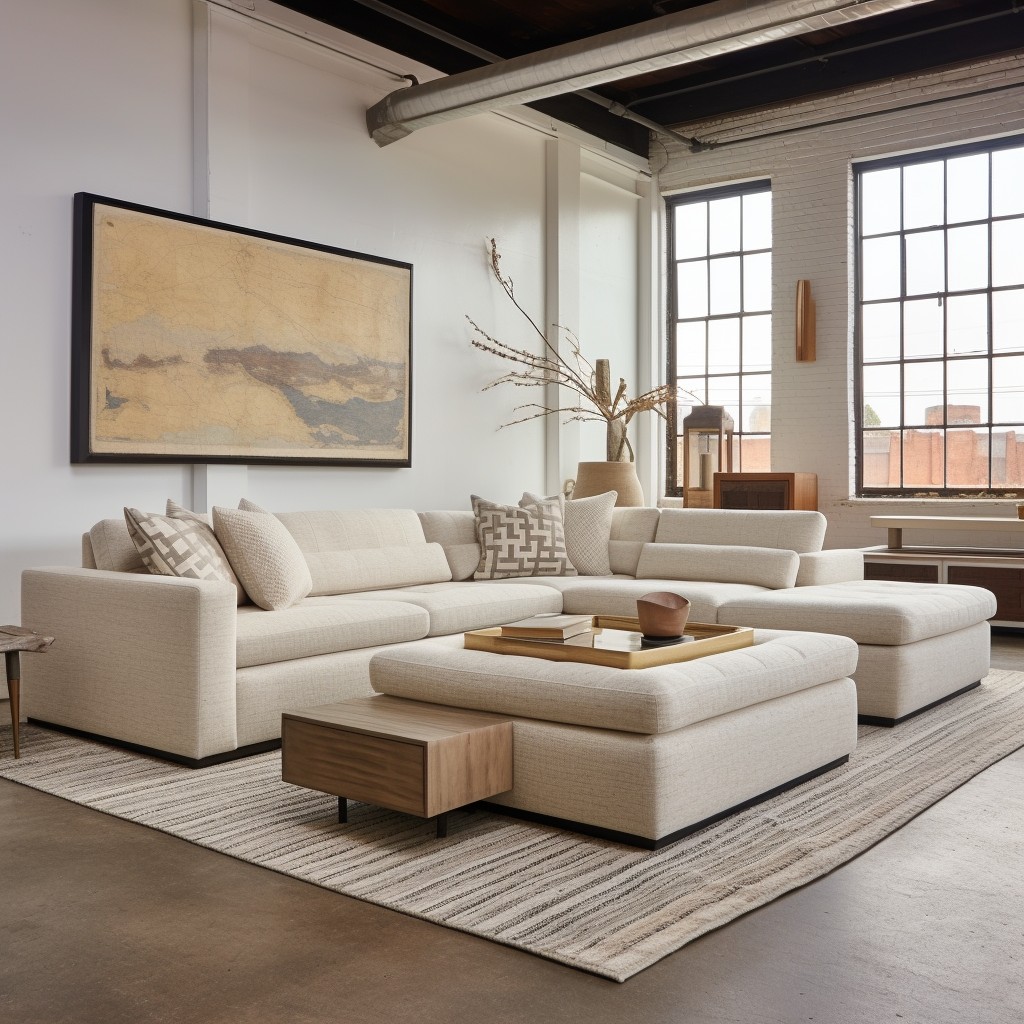 Incorporating a storage ottoman with a boucle sectional not only enhances the functionality of your space but also adds a blissful touch of aesthetics. With an eye to detail, these well-crafted pieces radiate sheer elegance while promising optimal comfort.
1. Space-Saver: A bonus storage space under the ottoman adds an extra place to stow away throws, magazines, remotes or even children's toys, keeping your living area neat.
2. Versatility: The ottoman can act as an extra seat, footrest, or can hold a tray to become a coffee table.
3. Coordinated Look: The matching fabric and design of the sectional and ottoman bring a harmonious, polished look to any room.
4. Easy Care: Boucle fabric, known for its durability and comfort, is relatively easy to care for and maintain.
5. Design Element: The textural richness of boucle adds a layer of sophistication, making your sectional with ottoman a centerpiece of attraction.
Remember, such furniture pieces can be tailored to fit your room size, taste, and style, providing a custom-made solution to all your furnishing needs.
Boucle Sectional With Tufted Details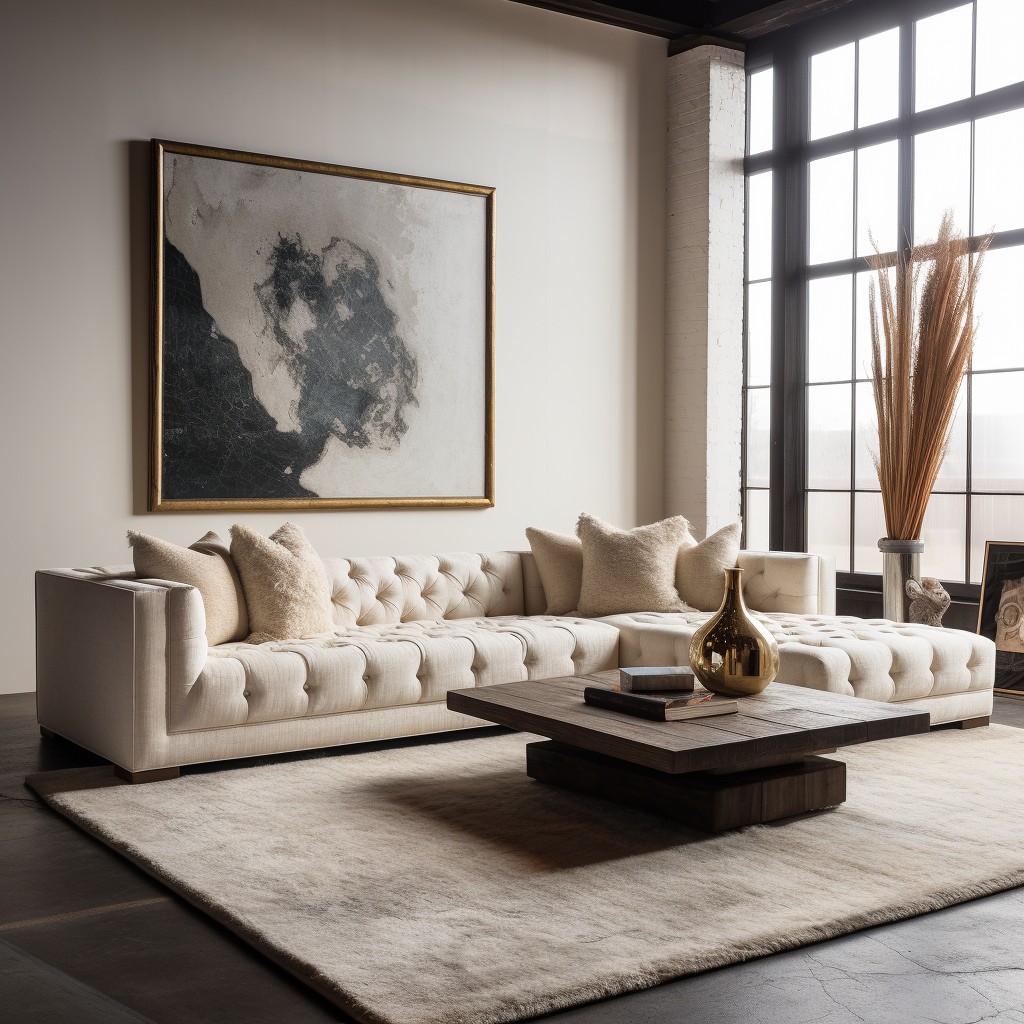 Tufting creates an eye-catching aesthetic that pairs well with the unique texture of boucle fabric. This union takes the design of sectionals up several notches in terms of elegance and sophistication. Tufts, either deep or shallow, give the seating a classic charm that exudes luxury.
1. Sense of Elegance: Intricately tufted boucle sectionals are inherently chic — they'll impart a sense of elegance in any living room.
2. Classic yet Modern: The combination of traditional tufting method with modern boucle fabric strikes a perfect balance between old-world charm and contemporary style.
3. Comfort Factor: Tufted boucle sectionals aren't just about looks. The added tufting offers a firm yet comfortable seating, ideal for long lounging sessions.
4. Versatility: They are versatile and suit a range of décor themes, from minimalistic and modern to vintage and classical.
5. Maintenance: The tufted details may require a bit more upkeep, as debris can get stuck in between the tufts. But a simple vacuum attachment helps keep the sectional clean, maintaining its exquisite appearance.
6. Unique Piece: As a standout furniture piece, a tufted boucle sectional will serve as a fruitful conversation starter at your next gathering.
Whether you choose a tufted boucle sectional in bright, bold colors or stick with neutral shades, it's sure to create a statement in your living space.
Boucle Sectional With Adjustable Backrest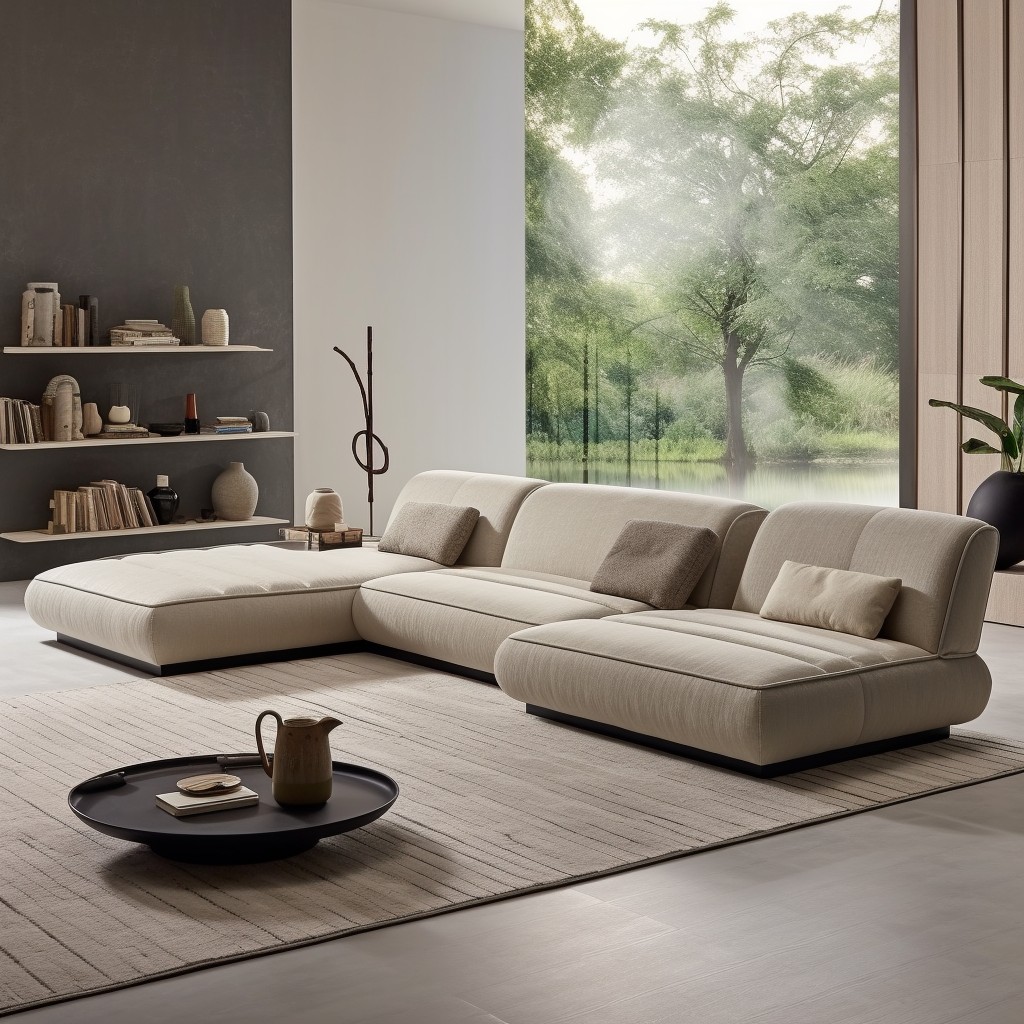 Adjustable backrests offer an avenue for user customizations that are key to achieving personal comfort. This feature allows you to easily transition from upright seating to laid back lounging, accommodating various activities such as reading a book or watching television.
The tasteful integration of this functionality with a boucle fabric contributes to the sectional's overall aesthetic. Its rich texture not only enhances the feel but also adds a dash of visual interest, harmonising with a spectrum of interior styles.
In terms of durability, boucle is known for its resilience, adding a higher degree of longevity to the furniture piece. This makes your sectional not just a design statement, but also a practical, long-lasting investment.
Remember, the right positioning of the piece greatly influences the flow of your space. It's best placed in a spacious room where its features can be fully utilised. Available in a variety of sizes, finding the right fit for your space isn't a massive task.
In a nutshell, an adjustable backrest boucle sectional combines comfort, style, and practicality, enhancing living spaces while meeting diverse seating and lounging needs.
Corner Boucle Sectional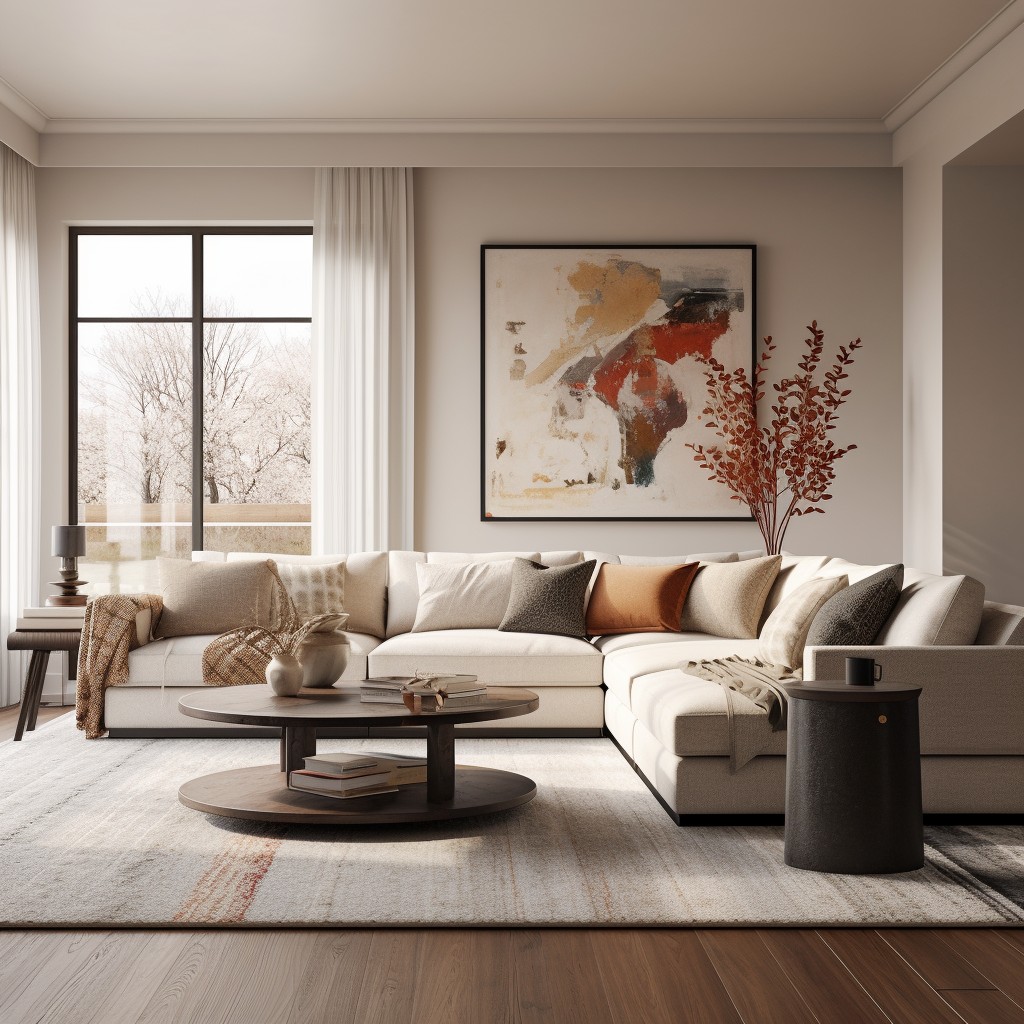 If space is a constraint, this design is an excellent choice. It fits seamlessly into corners, making smarter use of your living area.
The L-shaped configuration adds functionality and creates cozy seating areas without crowding the room. Even in larger spaces, it can help to define the conversation area.
Opt for versions with high-density foam padding for superior comfort. For additional sophistication, consider models with removable cushion covers – practical and stylish.
Features like sturdy wood frames and stain-resistant fabric will ensure the sectional stands the test of time.
Boucle Sectional With Removable Cushions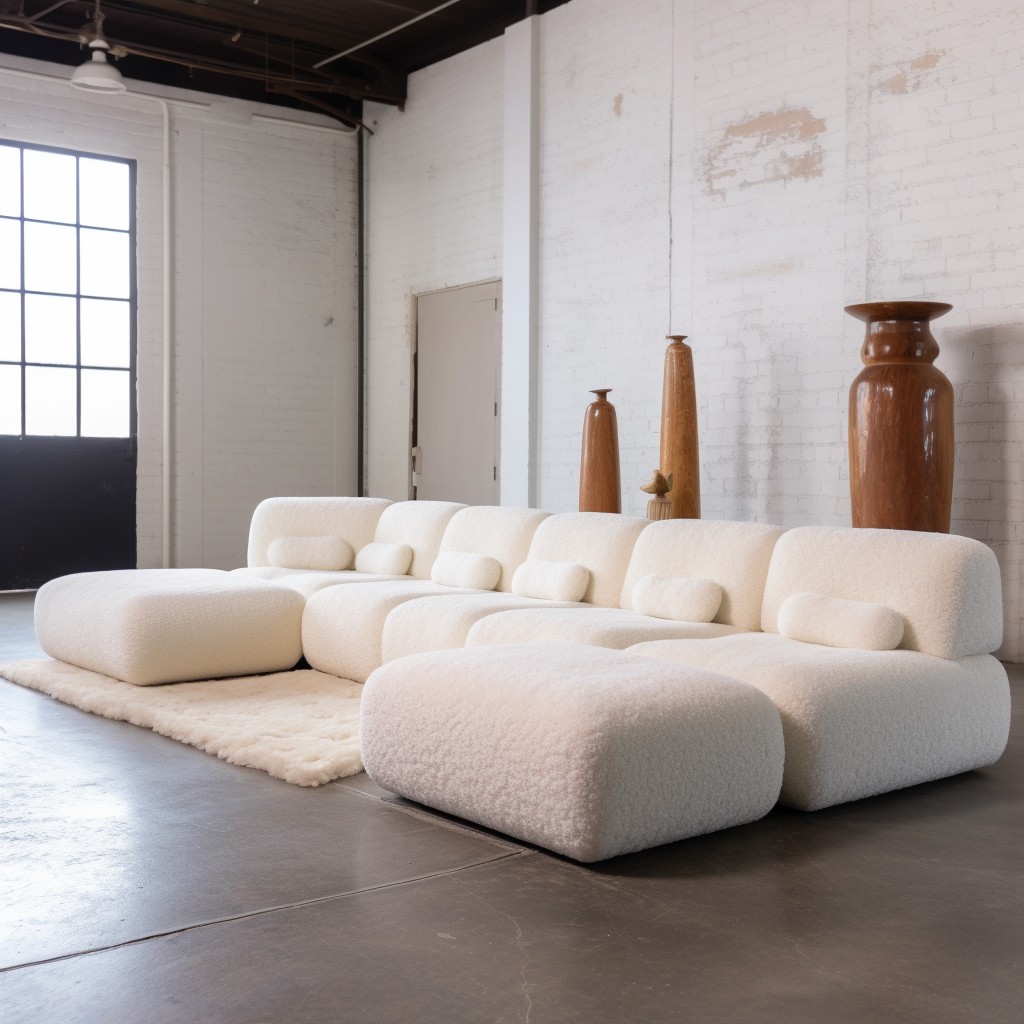 For ease of cleaning and maintenance, this design is a standout choice. In homes with children or pets, accidental spills and stains are a commonplace, making these a lifesaver.
Remove the cushions to easily vacuum hidden crumbs or clean deeper stains without disturbing the sectional's form. They also offer customization, enabling you to change the cushion arrangement for ultimate comfort.
Choose thick foam fillings for firm support or down-filled options for a plush seat. Battle wear and tear by simply replacing cushions instead of the whole sectional.
For a personal touch, add decorative throw cushions that can be exchanged with changing seasons or moods. Trust this practical, versatile option to keep your living room both chic and user-friendly.
Compact Apartment-sized Boucle Sectional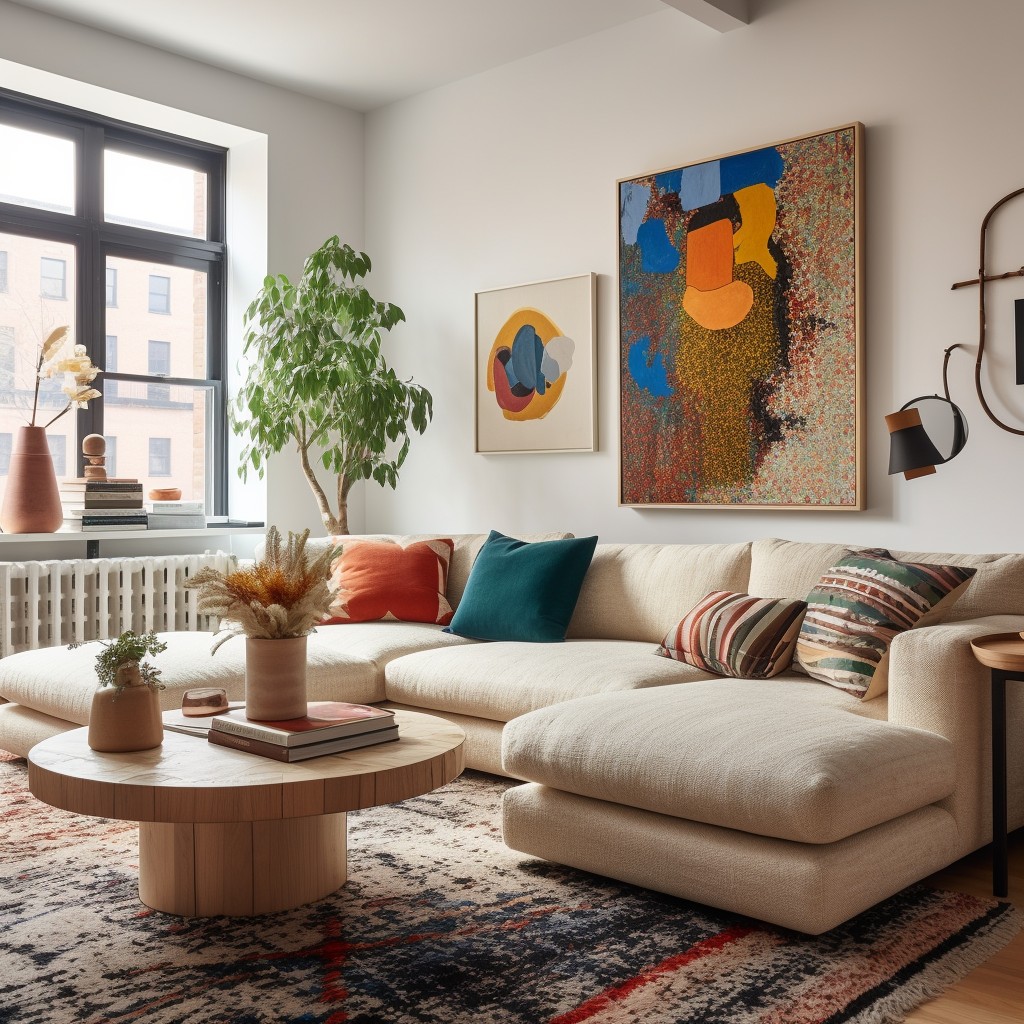 While city life has its charms, apartment living often requires thoughtful consideration regarding furniture size. Opting for an apartment-friendly boucle sectional can make all the difference.
Managing your space smartly is key. A compact boucle sectional, designed with smaller proportions, fits perfectly without overwhelming your living area. It provides enough seating space and brings a touch of elegance.
Choose a version with low-profile design if you're dealing with low ceilings. This approach will create an illusion of height, making your room appear larger.
Opt for tighter back cushions and clean lines. These features will add sleekness and prevent your space from feeling cluttered.
Storage compartments are a bonus. These built-in spaces can neatly stow away throws, cushions, or board games, keeping your room tidy and chic.
Floating furniture, such as sectionals with lifted legs, lets light circulate underneath. This sparks a sense of spaciousness, crucial for smaller rooms.
A neutral color palette for your sectional can also add a spacious feel, while bright accent pillows can bring a pop of color and express your personal style.
Although compact in size, expressing a big style in a small space has never been easier. The boucle's soft and luxurious texture elevates the smallest places into chic, cozy havens.
Lavish Boucle Sectional With Matching Ottoman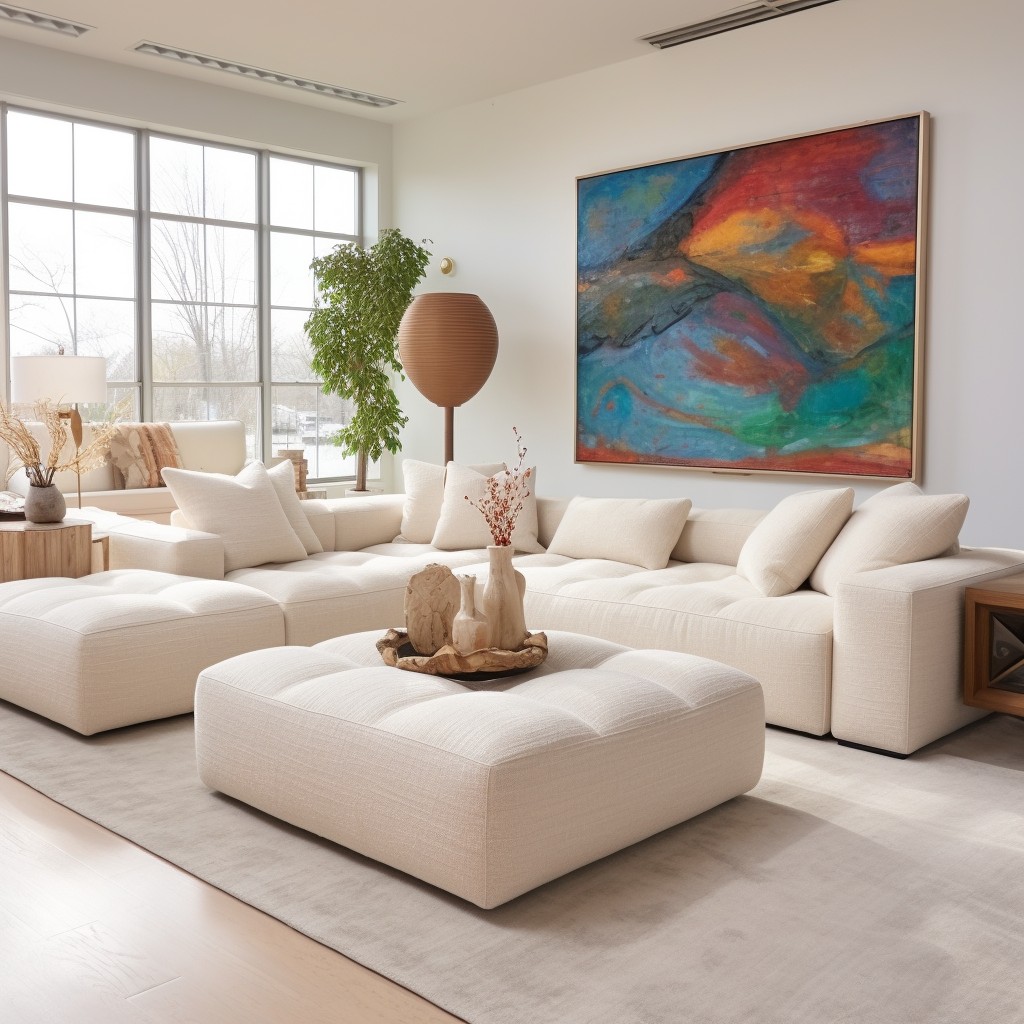 Along with its undeniable opulence, this set provides heightened comfort and functionality. The key aspect is the matching ottoman, serving as a footrest, additional seating, or a makeshift coffee table.
1. Premium Materials: Crafted using high-quality boucle fabric, the sectional and ottoman are lavish yet durable.
2. Spacious Seating: The generous size of the sectional provides ample sitting area perfect for entertaining guests.
3. Versatile Ottoman: The equal in style, comfort, and fabric to the sectional, the ottoman has varied uses.
4. Comfort-focused Design: Deep seating, thick cushioning, and armrests optimize relaxation.
5. Color Coordination: Available in various shades, it easily becomes a centerpiece, complementing any color scheme.
6. Easy Maintenance: Removable and washable cushion covers make upkeep straightforward and convenient.
This option balances luxury, comfort, and functionality, proving that a practical living room setup does not have to compromise on style.
Minimalistic Scandinavian Style Boucle Sectional
For a distinct, clean look, you can't go wrong with a Scandinavian style boucle sectional. Its design ethos centers around functionality, simplicity, and beauty. The key features often consist of a streamlined silhouette, neutral color palettes, and minimal ornamentation, letting the tactile, comfy boucle fabric take the center stage.
This design blends well with various interior styles for its versatile aesthetic. Its uncluttered nature exudes sophistication, making the room appear airy, bright, and inviting. The use of natural wooden legs often seen in these models adds an organic touch, creating a sense of harmony and balance.
Furthermore, the focus on functionality implies practicality. You could find options with built-in storage or convertible models that can help you save space whilst maintaining style. It's an ideal choice if you're aiming for that chic, effortless charm with a sense of peace and tranquility in your living space.
Boucle Sectional With Metal Accents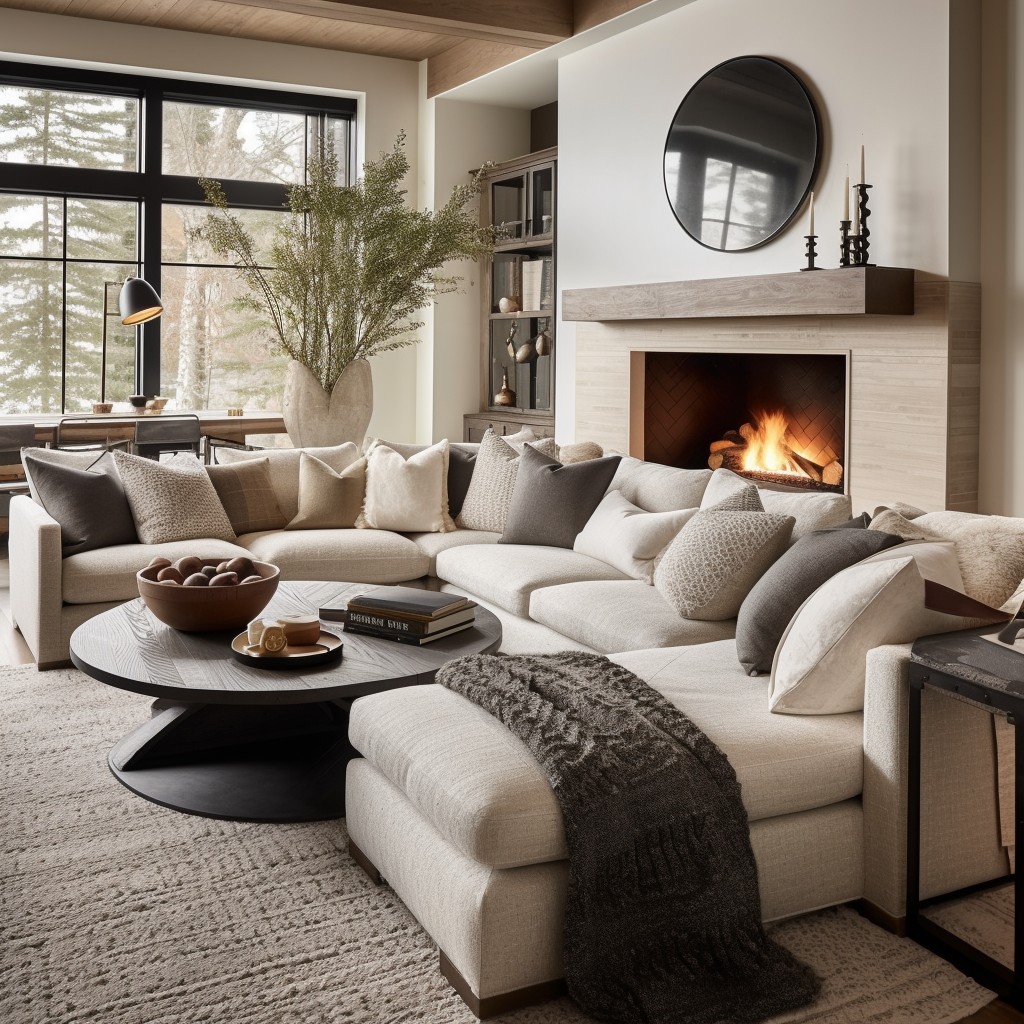 With robust metal accents providing both ornamentation and structural support, this style embodies a harmonious blend of aesthetics and function. Metallic details, whether in a brushed stainless steel or a gleaming brass finish, lend an industrial chic flair that beautifully contrasts the plush, textural allure of the boucle fabric.
Key points include:
For a sophisticated, modern twist, opt for a cool-toned boucle sectional with silver or chrome metal accents.
Warm gold or brass accents couldn't be more at home on a cream or beige boucle sectional for an enchanted blend of comfort and class.
Remember, the maintenance needs for the metal accents – dust and clean regularly to keep them looking their best.
Don't forget about the strength and durability metal accents add to the overall construction of the sofa.
Last but not least, embrace the versatility of these metallic details – they can easily match with other metal elements in your room, whether that's a sleek floor lamp, a contemporary coffee table, or a minimalist wall art piece.
Eco-friendly Boucle Sectional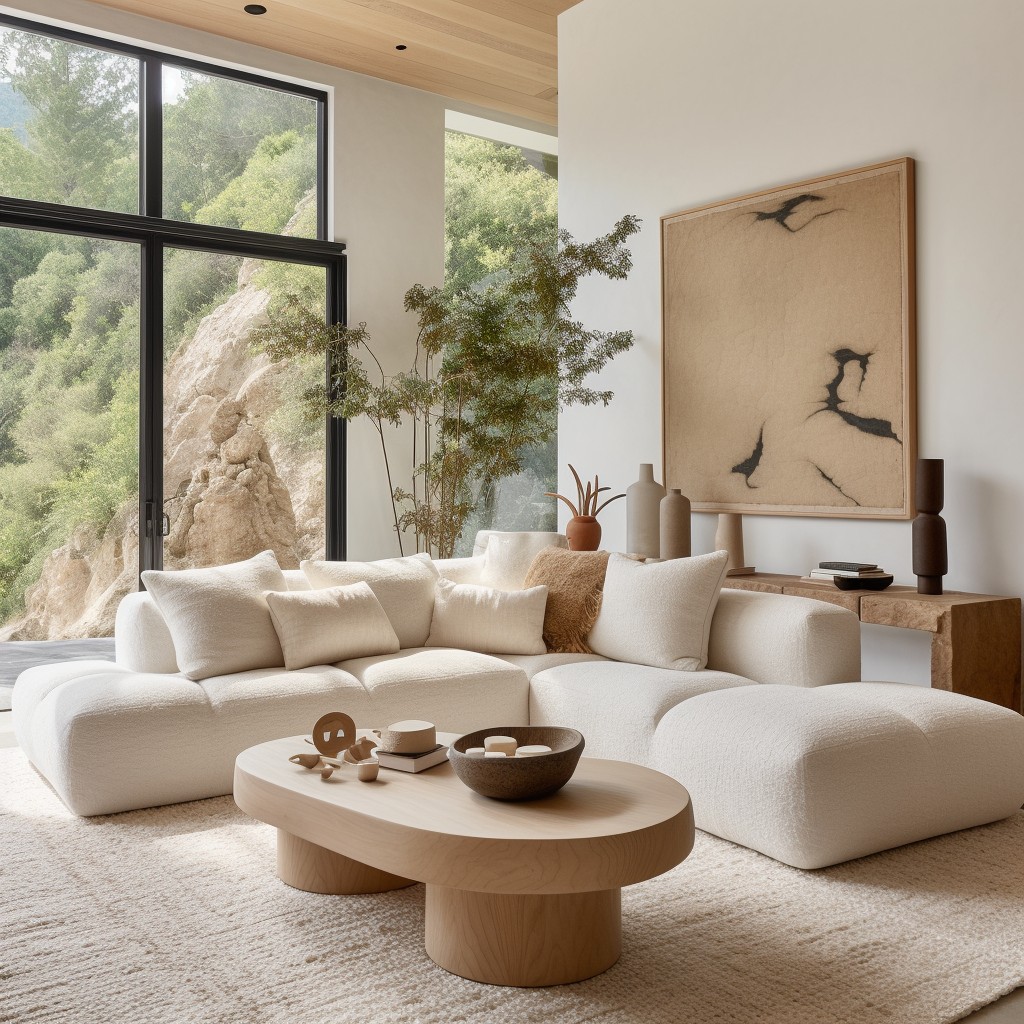 Reverence for the environment has morphed into a paramount factor influencing our home decor decisions. With this profound shift in preference, the eco-friendly boucle sectional is making waves in the interior design sphere.
Crafted explicitly from sustainably sourced materials, these plush statement pieces deliver inviting comfort without compromising on your ecological sensibilities. They typically incorporate organic cotton or recycled fabrics, ensuring reduced environmental impact while maintaining the coveted cozy texture of boucle.
Furthermore, manufacturers often employ natural dyes to achieve the charming hues of these sectionals, keeping any harsh chemicals out of the picture. Woody frames constructed with responsibly-harvested timber or recycled wood innately contribute to the treasure trove of eco-conscious traits.
To assure the purity of their green-initiatives, some brands provide certifications like GreenGuard or CertiPUR-US, testifying the low emission rates and lack of harmful substances in their sectionals.
Undoubtedly, choosing an eco-friendly boucle sectional allows you to revel in luxurious comfort, all while making a positive stride for planet Earth.
Curved Boucle Sectional for Contemporary Interiors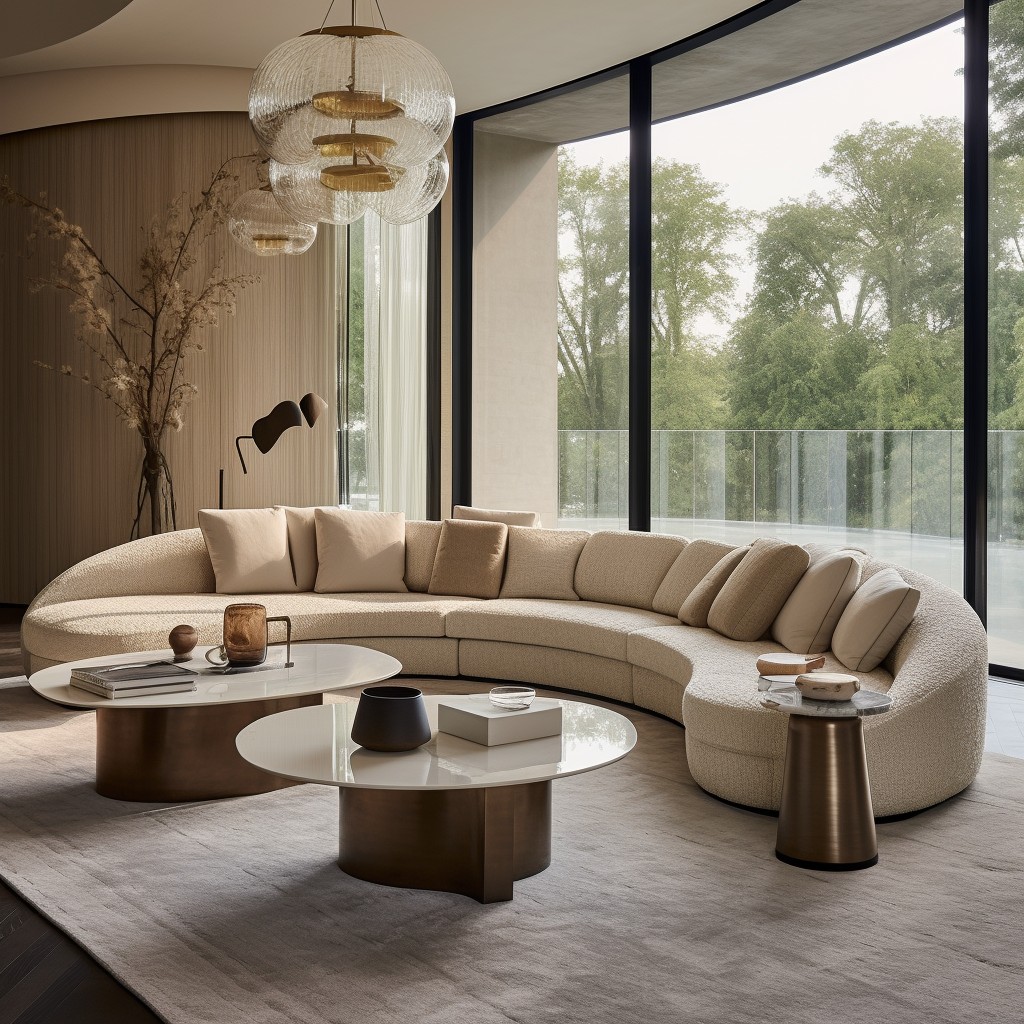 Adding a dash of sophistication to modern interiors, the curved design comes with a host of advantages. It not only enhances room aesthetics but also promotes conversation by encouraging a circular seating arrangement. Perfect for both large and intimate spaces, it removes the rigidity of traditional alignments, introducing a fluid and organic layout.
The boucle fabric adds comfort and texture, making the seated feel cocooned in a cozy nest. Robust and resilient, it is suitable for heavy use, retaining its look and feel even with prolonged sitting. A touch of grandeur with practical advantages, it creates an inviting focal point that melds with other elements in the room.
Accompany it with round or oval coffee tables for a harmonious look, while patterned, plush rugs could add the needed contrast and vibrancy. To introduce color, consider playful throw pillows or statement-making wall art. Utilizing contrasting textures and shapes will help create a balance that's visually appealing.
Remember to strategically place lighting to enhance its curves and form. Choose a combination of floor lamps, table lamps, and pendant lights to create layers of illumination, adding depth and emphasis to the curved boucle sectional. This configuration results in an engaging, contemporary setup that marries form, function, and ergonomics.
You may also like to read: