Last updated on September 29, 2023
Are you planning to renovate your kitchen? Your kitchen is undoubtedly one of the essential rooms in your home, so it's a good idea to make the most of the space you have. After all, you want to love the room where you cook and enjoy your meals.
Most homeowners don't know how to approach a kitchen renovation. Perhaps you have the budget for a renovation, but you don't exactly know what you would like to do to transform your kitchen. Or maybe you have a few ideas, but you are not yet ready to start a serious project.
No matter what your situation is, you may be looking for some inspiration. Here are seven stylish renovation ideas for your kitchen:
Table of Contents
Decide on a Color Palette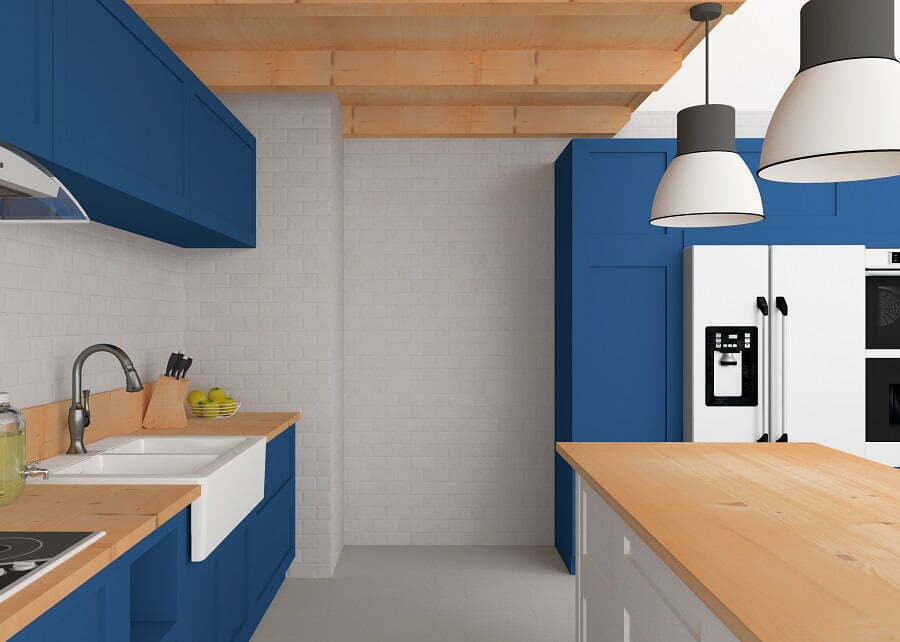 Deciding on a color palette is a good approach when it comes to planning a renovation project. Chances are that you are tired of the colors currently used in your kitchen's decor. During the renovation, you want to refresh the room's look.
Think of some colors that you like. Go online to examine pictures of beautiful kitchens. See if you notice a trend in the colors used to decorate them. Choosing at least two or three colors that complement each other will help you if you want to upgrade your floor, your cabinets, your countertops, your backsplash, and everything in between.
Get Those Luxurious Countertops You Have Always Wanted
Have you always dreamt of having granite or quartz countertops in your kitchen? Perhaps the time has come to make this dream come true. Countertops made from natural stone are a big investment, but they are durable and don't require a lot of maintenance.
On top of looking amazing, they can increase the value of your home. Of course, you can settle for laminate countertops, which are more affordable. Nonetheless, they still make a strong statement in your new decor.
Upgrade Your Kitchen Plumbing Fixtures
New countertops often go along with new kitchen plumbing fixtures. If you want to replace your faucet and your sink, try to purchase both of them at the same time to make sure they match together. You don't want to get a faucet with two separate handles, only to realize there is one single hole to connect it to your sink.
Avoid installing these new fixtures yourself. Calling a plumber is the best way to ensure your new sink and faucet will be installed properly. While you're at it, you should also ask your plumber to inspect your kitchen plumbing to make sure everything is in order.
Install a New Floor That Will Stand the Test of Time
Maybe all you want to do is get a new floor installed in your kitchen. Or perhaps getting a new floor will only be the first step in a complete kitchen makeover. What matters is that you should carefully consider your different flooring options. It's easy to see that wall-to-wall carpet is not a great option for a kitchen.
Do you know which type of flooring should you choose? Stone tiles, hardwood, vinyl, or laminate flooring could all be good options. Your kitchen floor should be durable, easy to maintain, and able to withstand spills, humidity, and water damage.
Take the Time You Need to Shop for New Appliances
A kitchen renovation is a perfect occasion to upgrade your appliances. It's best to take the time you need to shop for a new stove, refrigerator, or dishwasher. You don't want to be forced to pick one quickly because your old one suddenly stopped working.
As you shop for appliances, don't simply choose them based on their looks. Search for Energy Star certified appliances that will help you save some money on your electricity bills. Above all, get that new refrigerator before you upgrade your cabinets, so you won't end up with a brand-new appliance that is way too large for your freshly renovated layout.
Change and Upgrade Your Cabinets
Changing and upgrading your cabinets is not simply about achieving a pleasant look in your kitchen. This part of the renovation project is also about functionality, and it can allow you to reclaim some wasted space.
Consider the size and layout you want, along with the materials and the color of your new cabinets. If you require some inspiration, look for photos online, or speak with a kitchen cabinet expert at your local home renovation store to ask for their advice.
Create Different Ambiances with the Right Lighting
Finally, the final touch to your kitchen renovation could be a few different lighting options that will make it easy for you to create different ambiances. For example, think about track lighting to illuminate the space, under cabinet lighting to help you focus on your cooking tasks, and a beautiful chandelier to set the mood while you eat or entertain some guests.
You may also like to read: