Last updated on November 23, 2023
Understanding who will take used furniture for free can be an enormous relief because it not only eases the burden of disposal but also gives a second life to items in a sustainable way.
Donating used furniture not only helps declutter your space but also supports charitable causes. Numerous organizations willingly accept used furniture donations and often provide free pick-up services, saving you both time and effort.
This article will guide you through various options, including charities, non-profit organizations, and online platforms, that take used furniture for free. You'll discover how to schedule a pick-up, prepare your furniture for donation, and even how to receive a tax deduction for your generous contribution.
Dive in to explore the best options for your used furniture.
Key takeaways:
Several charities offer free furniture pickup services.
Goodwill and Salvation Army accept and pick up furniture donations.
Habitat for Humanity and AMVETS collect furniture for their programs.
The Furniture Bank and The Arc support vulnerable populations with donated furniture.
PickUpMyDonation.com and Furniture Bank Network help schedule pickups.
Table of Contents
Charities Offering Free Furniture Pickup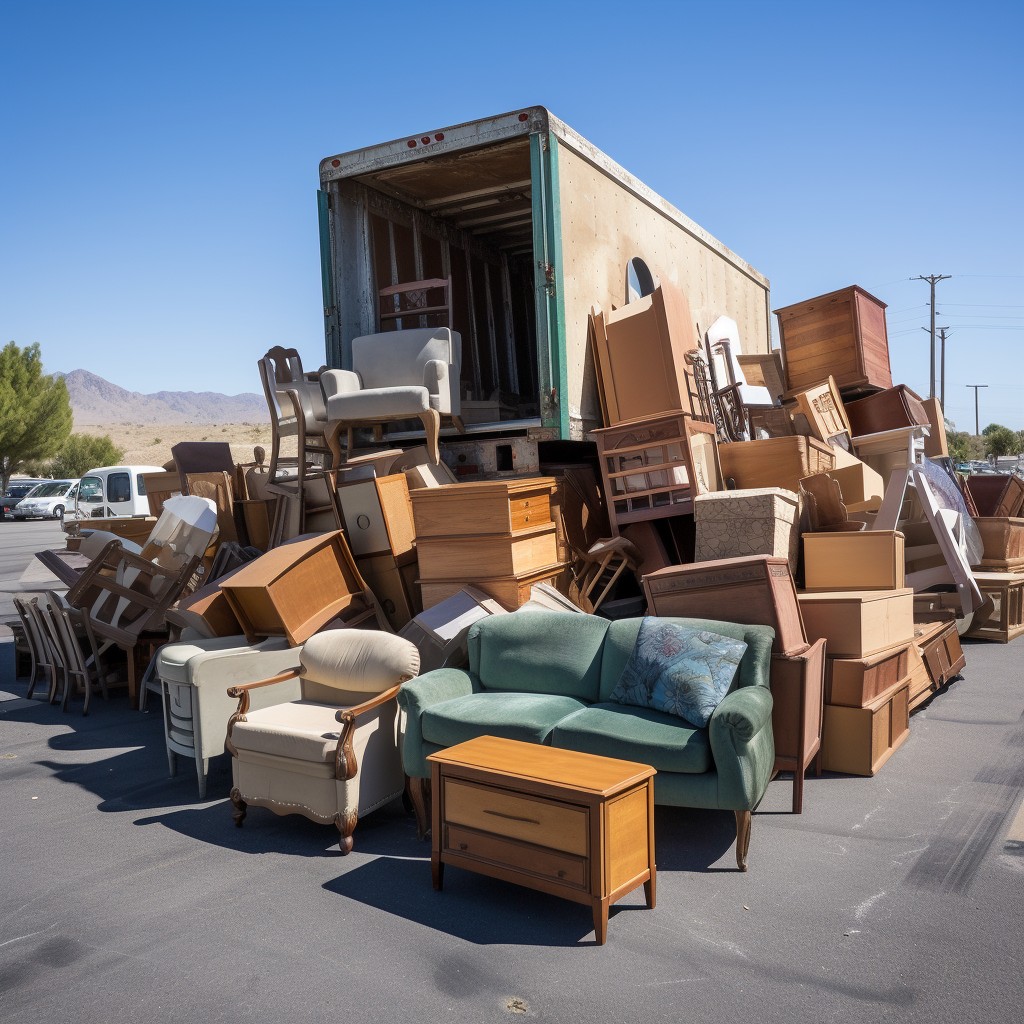 Several charities willingly collect used furniture at no cost. Leading the pack, Goodwill and Salvation Army not only accept furniture donations but also provide pickup services for sizable pieces.
Habitat for Humanity, an organization committed to building homes, runs ReStores nationwide where they collect and sell donated furniture to fund their projects.
American Veterans (AMVETS) collects donations to support our heroes, while the Furniture Bank provides essentials to families overcoming homelessness.
The Arc supports individuals with intellectual and developmental disabilities through contributions.
PickUpMyDonation.com is another platform that can be used for scheduling pickups with local charities. The Furniture Bank Network is a useful tool for finding local furniture banks that arrange pickups.
In each case, it is vital to contact these organizations directly to ensure pickup services are available in your area.
Goodwill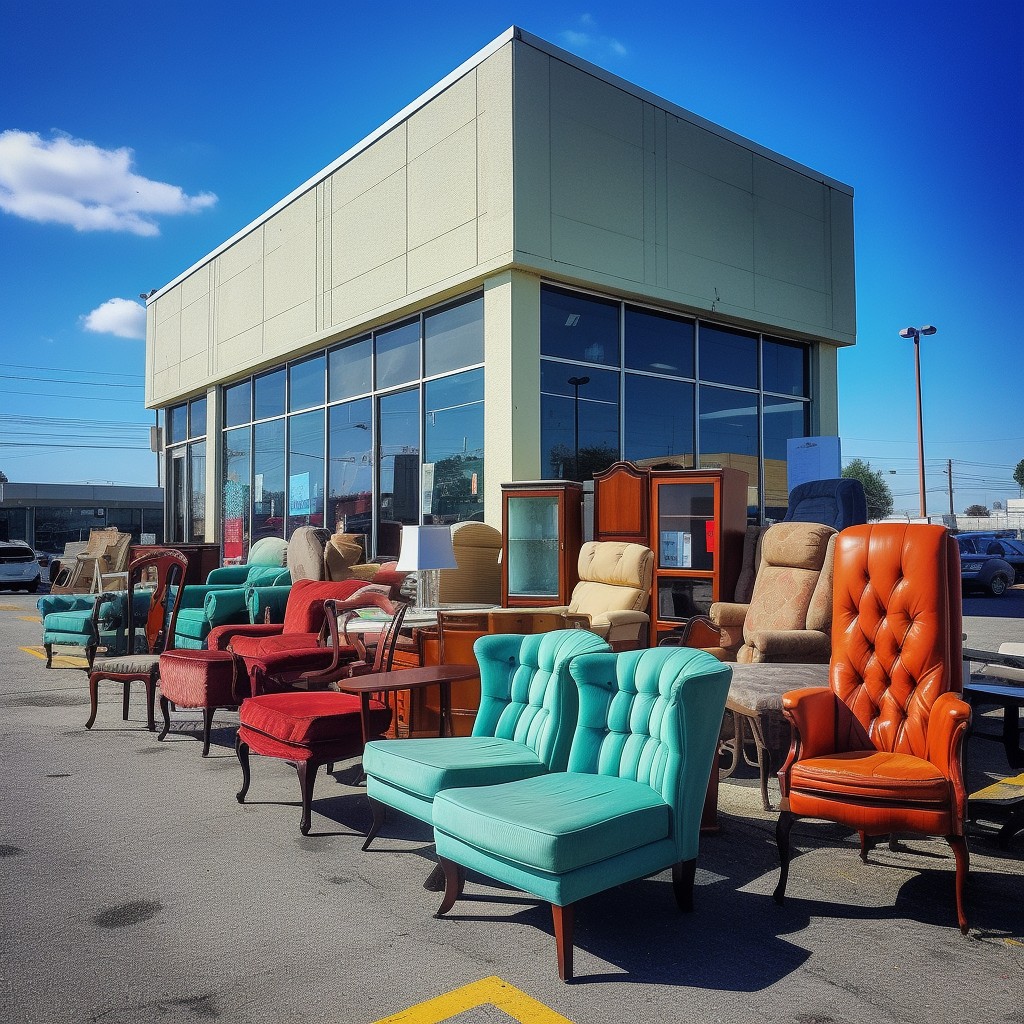 Famed for its commendable social programs, Goodwill accepts used furniture which gets sold in their stores. Proceeds from these sales support job training and placement programs for people facing challenges to finding employment.
They welcome a wide array of furniture items, ranging from desks and chairs to bookcases and dining sets, they do however, refuse items like mattresses and box springs for sanitary reasons.
One key benefit of donating to Goodwill is the availability of a free pickup service for heavy items, saving donors the hustle of transportation. However, the service isn't automatic; you have to request it, and it's offered only for sizable donations and at the discretion of the local store. It's advisable to call your nearby Goodwill store before arranging for a pickup.
The Goodwill's dedication to uplifting underprivileged communities makes it a noble choice for decluttering your home. You are not just getting rid of unwanted furniture; you're also aiding valuable social initiatives.
Salvation Army
Undeniably one of the most recognized names in non-profit organizations, the Salvation Army offers free furniture pickup for larger items. One significant advantage of this organization is its widespread presence, offering this service in many U.S. cities. This well-established charity specializes in furniture that will be used in their thrift stores, which ultimately serves as a funding source for their Adult Rehabilitation Centers.
From sofas and beds to dining sets, they welcome a variety of furniture styles, as long as it's in sellable condition. To organize a pickup, visit their comprehensive online scheduler or call their dedicated number.
Habitat for Humanity
Famous for constructing affordable homes, Habitat for Humanity also runs ReStores. These nonprofit home improvement stores receive donated furniture, reselling it to the public at a fraction of the original cost. Proceeds go towards their mission of building homes for people in need.
To donate, simply visit the Habitat for Humanity website and follow the prompts to schedule a pick-up. Notably, each local Habitat ReStore sets their guidelines, so contact your nearest store about acceptable donations. Chances are they are more than ready to take that gently-used sofa off your hands. As an added bonus, your donation is tax-deductible.
AMVETS (American Veterans)
AMVETS readily accepts gently used furniture donations and offers a convenient pickup service for larger items.
This organization, dedicated to supporting veterans and their families, uses your donations to fund programming and services.
Furniture is either sold in thrift stores to raise funds or distributed directly to veterans in need.
Visit their website to schedule a pickup.
Just make sure your furniture is in good, salable condition before contacting them; items should be free from stains, rips, tears, pet damage, or excessive wear.
Remember, your donations help to provide vital support and resources for those who have served the country bravely.
The Furniture Bank
Established in 1998, The Furniture Bank provides an incredible service by reconnecting unwanted furnishings with those in need. Their mission revolves around leading the effort in making empty houses homes.
The central part of their operation is to recycle gently used home goods donated by the community. Donations are then distributed to homeless families, victims of fire or natural disasters, veterans in crisis, and many other people in need.
You can schedule a pickup service for your used furniture, with a tax receipt provided. Before arranging a pickup, reviewing their 'Items We Accept' page on the website is essential. It provides clear guidelines on the state your furniture should be in, maintaining both health and safety regulations for the next user.
The Arc
The Arc is a substantial nationwide non-profit organization devoted to aiding individuals with intellectual and developmental disabilities. It offers a free furniture pickup service, which often helps to fund support programs for the disabled community they serve.
To arrange a pickup, simply visit the organization's website and fill out their online donation form. They require furniture to be in good condition, and certain items such as mattresses and box springs may not be accepted. Always cross-check their web portal for an updated list of what they can receive.
A positive note is that donations made to The Arc are usually tax-deductible.
PickUpMyDonation.com
PickUpMyDonation.com offers a convenient online form to schedule pickup services. This platform operates by connecting donors with local nonprofits needing furniture in kind.
The website is user-friendly and allows you to enter your zip code in order to find the nearest charitable organization that utilizes their service. It also screens out ineligible donations, meaning only items in good condition are accepted, preventing the inconvenience of mismatches between donors and recipients.
Additionally, note that this service may not be available in all areas, availability is subject to the presence of participating recipients in any given locality.
Furniture Bank Network
The Furniture Bank Network is a noteworthy mention. It's a collection of numerous independent furniture banks spread throughout the country. They offer free pickups, aiding individuals looking to declutter or renovating their homes.
To begin with, not only do they accept furniture in good condition, but they also take houseware, kitchen items, electronics, and appliances. They encourage donations of gently-used items that can be given a second life in another home.
One phenomenal aspect is their aim to support families in need, particularly those recovering from crises such as domestic violence or homelessness. Your donated furniture could be the ticket to setting up a comfortable living space for these families.
Arranging a pickup is relatively straightforward from their website, where you can find your closest Furniture Bank. Simply fill out the forms provided and await their prompt response.
In all, through this avenue, you're not just ridding your home of used furniture but also contributing towards a meaningful cause.
Other Organizations That Accept Furniture Donations
Apart from the well-known charities, numerous other organizations take used furniture for free.
The first is LoadUp, a professional junk removal company that offers eco-friendly furniture removal, recycles, and donates furniture to local charities.
Similarly, Savers, a global thrift retailer, also accepts used furniture. However, they are selective in their intake and only accept items in good, saleable condition.
There's also Hour Children, a non-profit geared towards helping formerly incarcerated women and their children. They gladly receive gently used furniture for their shops.
Lastly, GreenDrop turns lightly used clothing and household items into funds for great American charities. This company goes a step further by converting your old furniture into funds which support multiple charities. They handle the pickup and selling, and the charity of your choice reaps the financial benefits.
Hence, considering these organizations not only declutters your home, but also aids in supporting diverse causes.
LoadUp
LoadUp offers an eco-friendly approach to used furniture removal. This company, servicing over 170 locations in the United States, streamlines the donation process, providing an online platform where donors can schedule and track pickups. Its unique feature is the focus on recycling or repurposing, ensuring that collected furniture finds a new home or is disposed of in a manner that minimizes environmental impact.
Keep in mind, while pickup services are usually free, certain items might incur a small fee. When donating to LoadUp, ensure that your furniture is in usable condition, as this company serves as a bridge between donors and those in need, saving items from landfills and supporting local communities.
Savers
As a global thrift retailer, Savers offers a unique twist to donating used furniture. Instead of going directly to those in need, furniture donations are sold in their stores. The profits generated form these sales are then given to local nonprofits selected by each Savers location, thereby extending the reach of your donation to support community programs beyond immediate material assistance.
To donate your used furniture to Savers, you can drop it off at their retail stores yourself during business hours. You'll want to ensure your furniture is in sellable condition and meets their acceptance criteria, since unsellable articles increase their operational costs and dilute your contribution's impact.
Pro-tip: Savers also provides a receipt, allowing your donations to be tax-deductible.
Hour Children
Located in New York City, Hour Children is an honorable choice for your furniture donations. Dedicated to supporting incarcerated and formerly incarcerated women and their children, this organization depends on donations to provide for these families.
In terms of donated furniture, the organization accepts gently used items that are structurally sound and free of stains or odors. Any bed frames, mattresses, sofas, and tables donated help create a homely and comfortable environment for beneficiaries, aiding in their journey to living self-sufficiently.
All donations to Hour Children are tax-deductible – be sure to obtain a receipt for filing purposes. It's also worth noting that they organize pickups for larger donations, ensuring your charitable process is as effortless as possible, aligning with your level of convenience.
GreenDrop
With a commitment to transforming lives for the better, GreenDrop takes used furniture donations, converting them into funds that fuel charitable missions.
The organization collaborates with several well-known charities such as the American Red Cross, the National Federation of the Blind, and the Military Order of the Purple Heart.
Furniture donation with GreenDrop entails either pickup service or drop-off at their various locations.
Preferred items include coffee tables, dressers, and bookshelves, but remember, all items should be in good condition, free of any heavy stains or extensive damage.
When your donations are sold, the proceeds benefit these outstanding causes, making your old furniture a tool to effect positive societal change.
Understanding What Furniture Donations Are Typically Accepted
To help ensure a donation is usable and beneficial, most organizations maintain certain standards of quality. As a general rule, items ought to be clean, functioning, and in reasonable condition. Furniture with significant damage, such as broken items or those with extensive wear and tear, is often declined.
Upholstered items and mattresses should be free from rips, stains, odors, pet hair, and bugs. Dishes and other kitchen items should be clean and in working order. Electronics are usually accepted if they're functioning properly.
Typically, accepted items include sofas, beds, tables, chairs, dressers, and bookcases. Some organizations also accept appliances, entertainment centers, and outdoor furniture. However, there might be restrictions based on size, weight, and safety regulations.
Remember, restrictions can vary by organization, so it's always best to reach out to the specific group to verify what items they can accept.
What Condition Should Your Donation Be In?
The condition of the donated items is quite crucial. It's important to remember that the furniture you're giving away will be used by someone else. Therefore, ensure its functional and presentable.
Here are some tips:
1. Free from stains, rips, or noticeable wear. Furniture that looks thoroughly used may not be accepted.
2. Functional: Every part should work as intended, including drawers, doors, and legs.
3. Clean: Before donating, give a thorough clean to the furniture, as it will be directly used by someone else.
4. No pests: Ensure the furniture has no bugs or other pests.
5. No significant cosmetic damage: While some minor scratches and dents can be acceptable, severe damages may not be accepted.
So, before scheduling your pickup, evaluate your furniture to ensure it meets these conditions.
Are Donations Tax-deductible?
Yes, a large number of charities provide tax-deductible receipts for your generosity. You can reduce tax liability by claiming the fair market value of the furniture you donated.
Be aware, each organization may operate differently, so it's crucial to confirm this service and understand their processes. Keeping a detailed donation record, with listed items and their estimated value, can make this process easier when tax season arrives.
It's also recommended to snap some photos of your donated items as further evidence of your contribution. For donations above $500, IRS Form 8283 is required. If unsure, consult with a tax advisor to maximize your benefits properly.
How Donations Help Communities
When you donate furniture, you're making a significant difference in several ways. Firstly, your donation helps to provide low-cost items to individuals and families in need, improving their living conditions.
Secondly, many charities employ individuals with barriers to employment. Your donation supports job training and placement programs for these individuals, aiding them in gaining valuable work experience and improved financial stability.
Thirdly, donating prevents unnecessary waste. Instead of going to the landfill, your furniture can be put to good use, promoting a more sustainable and environmentally-friendly community.
Moreover, monies generated from the sale of donated furniture often fund various community programs, supporting everything from shelters for the homeless to resources for individuals battling addiction. Predominantly, your furniture donation has a ripple effect, enhancing lives, nurturing communities, and conserving the environment.
How to Schedule Your Donation Pickup
Scheduling a pickup for your furniture donation is relatively straightforward. Here are some points to address during this process:
1. Identify the Organization: First, choose a charity or organization where you want to donate. Each organization has its own procedure for pickups.
2. Contact: Reach out to the chosen organization via their website or customer service hotline.
3. Pickup Details: You'll usually need to provide some basic information like your location and the quantity/type of furniture you're donating.
4. Preferred Date: Depending on the organization, you may be able to select your preferred pickup date. Keep in mind that some organizations may have pickup schedules and routes, which could affect availability.
5. Instructions for Pickup: Often, you'll be instructed to leave the furniture in a particular location, like your driveway or curb.
Remember, prior to scheduling, ensure that your furniture meets the organization's donation standards.
Ensuring Donations Are Acceptable
To ensure a smooth donation process, adhere to a few essential guidelines. First, make sure your furniture is in good condition. Non-profit organizations typically won't accept items that are torn, stained, or significantly worn. If it's not a piece of furniture you'd feel comfortable giving to a friend, it's probably not suitable for donation.
Additionally, certain items, such as mattresses and box springs, may be prohibited due to hygiene concerns. Likewise, large items that are difficult to transport, like pianos or large wall units, may not be acceptable.
It is recommended to consult the charity's guidelines or contact them directly for specifics on what they will or won't accept. Also, keep in mind the organization's mission and who they serve. Items related to their purpose or useful to their clients will be more likely accepted. For example, a children's charity may appreciate donations of kid-friendly furniture.
Lastly, ensure the items are clean. Wipe down surfaces and vacuum out drawers. This saves time and resources for the accepting organization and makes your donation more valuable.
Tips for Donating Furniture
When preparing your furniture for donation, it's important to consider a few practical tips:
1. Clean and Repair: Before donating, ensure your furniture is clean and in good repair. Minor scratches are generally acceptable, but organizations cannot typically accept items with major damage.
2. Check For Structural Damage: Ensure that all parts are intact and that the furniture is structurally sound. Items with missing parts or compromised structure aren't ideal for donation.
3. Upholstery Cleaning: For sofas and armchairs, you may need to give them a light clean. Removable covers should be washed and stains suitably treated.
4. Dismantling: For large items, dismantle them if possible. Not only does this make the pieces easier to transport, but it can also help ensure that nothing is damaged during the pickup.
5. Take Measurements: Have the exact measurements of your items handy. This will help organizations decide if they can accept and manage your donation.
6. Photos: Take good quality photos of your items. This not only helps in case of any disputes, but organizations might also use these photos to decide if they can take your donation.
7. Declare Any History of Pests: If your home has ever had bedbugs or other pests, be upfront about it. It's a health risk to pass these onto another household.
How Donations Are Tax Deductible
To claim a tax deduction for furniture donation, vehicle-for-good must be an IRS-approved 501(c)(3) organization. Such a donation will be classified under Schedule A of the IRS Form 1040 as an itemized deduction.
After donating, always get a tax receipt – it should include the charity name, description of donated items, and the estimated fair market value. It's worth noting that it's the donor's responsibility to determine the item's fair market value.
Keep in mind, as well, that regulations may require an appraisal for high-value donations. Always consult with a tax adviser if in doubt.
FAQ
Who will pick up donations for free in Georgia?
In Georgia, organizations like Abba House, American Kidney Fund, Circle of Hope, Habitat for Humanity of Athens, the Salvation Army, and Vietnam Veterans of America, among others, offer free pick-ups for donated items and provide tax deduction receipts.
How do I donate clothes to charity?
To donate clothes to charity, you can drop off your items at any Charity Retail Ireland Member clothing bank, found in various locations such as local centres or car parks, at any time.
Which organizations in California provide free pick-up services for furniture donations?
Organizations in California providing free pick-up services for furniture donations include the Salvation Army, Goodwill, Habitat for Humanity ReStores, and Vietnam Veterans of America.
Is there a way to donate used furniture to animal shelters?
Yes, some animal shelters accept used furniture donations, but it's recommended to call and check their specific policies before donating.
What are the conditions for Goodwill accepting used furniture?
Goodwill accepts used furniture in good condition with no stains, tears, or excessive wear.
You may also like to read: