Last updated on October 13, 2023
Embarking on a quest for vintage wooden furniture becomes more exciting because this article dissects the best places to find these timeless pieces.
Locating authentic old wooden furniture can be a thrilling hunt. This type of furniture adds a unique charm and character to your home.
Several places offer a variety of vintage wooden pieces, including antique stores, thrift shops, online marketplaces like eBay and Etsy, and even local garage sales.
Each venue has its own advantages, from the wide range of options online to the thrill of stumbling upon a hidden gem at a local sale.
This article will guide you through the best places to find old wooden furniture, what to look for when making a purchase, and how to restore and care for your vintage finds.
Stay tuned for all the details!
Key takeaways:
Etsy: Wide range of vintage wooden furniture, check ratings and reviews.
eBay: Specify search terms, evaluate seller ratings and description.
One Kings Lane: Well-curated, high-resolution images, competitive prices.
Jayson Home: Unique, handcrafted wooden furniture, customized options available.
Rejuvenation: Old wooden furniture with historical design, detailed descriptions, and care resources.
Table of Contents
Buying Old Wooden Furniture From Etsy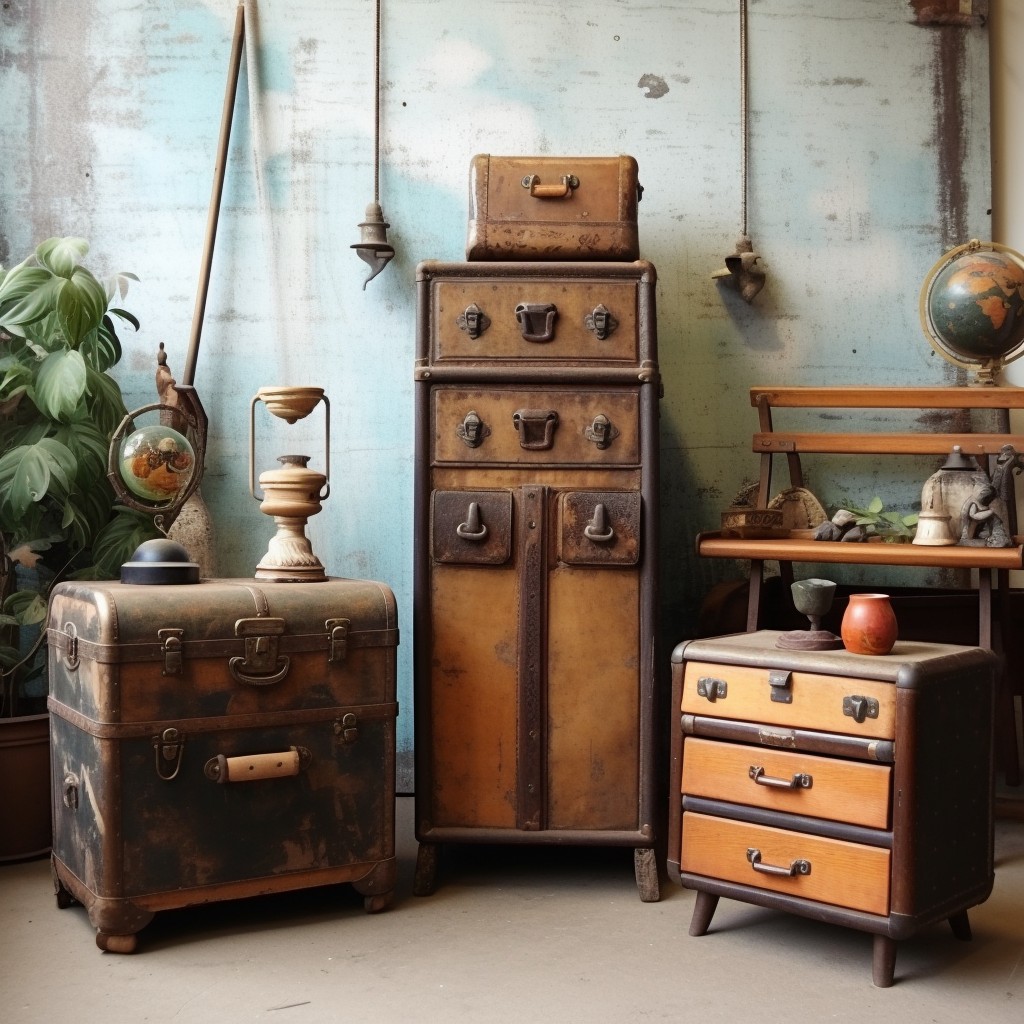 Etsy offers a splendid assortment of vintage and antique wooden furniture. As an online marketplace for individual sellers, you'll find a wide range of pieces from different time periods and styles.
A quick tip: always check the ratings and reviews of the seller before making a purchase.
To navigate through the vast selection, consider starting your search by specifying the type of item such as 'mid-century wooden chair', or a style you prefer, like 'Victorian wooden table'. Preview the photos thoroughly to evaluate the item's condition.
Be sure to read the description carefully for information about its origin, age, and any potential damages or modifications.
Remember, shipping for larger items can be costly, so consider using the 'Shop Location' filter to find sellers in your local area. Depending on the location and size of the item, some sellers offer pick-up options.
Lastly, get in touch with the seller if you have specific questions about a piece. They're usually happy to provide extra details.
Guide to Purchasing Old Wooden Furniture On EBay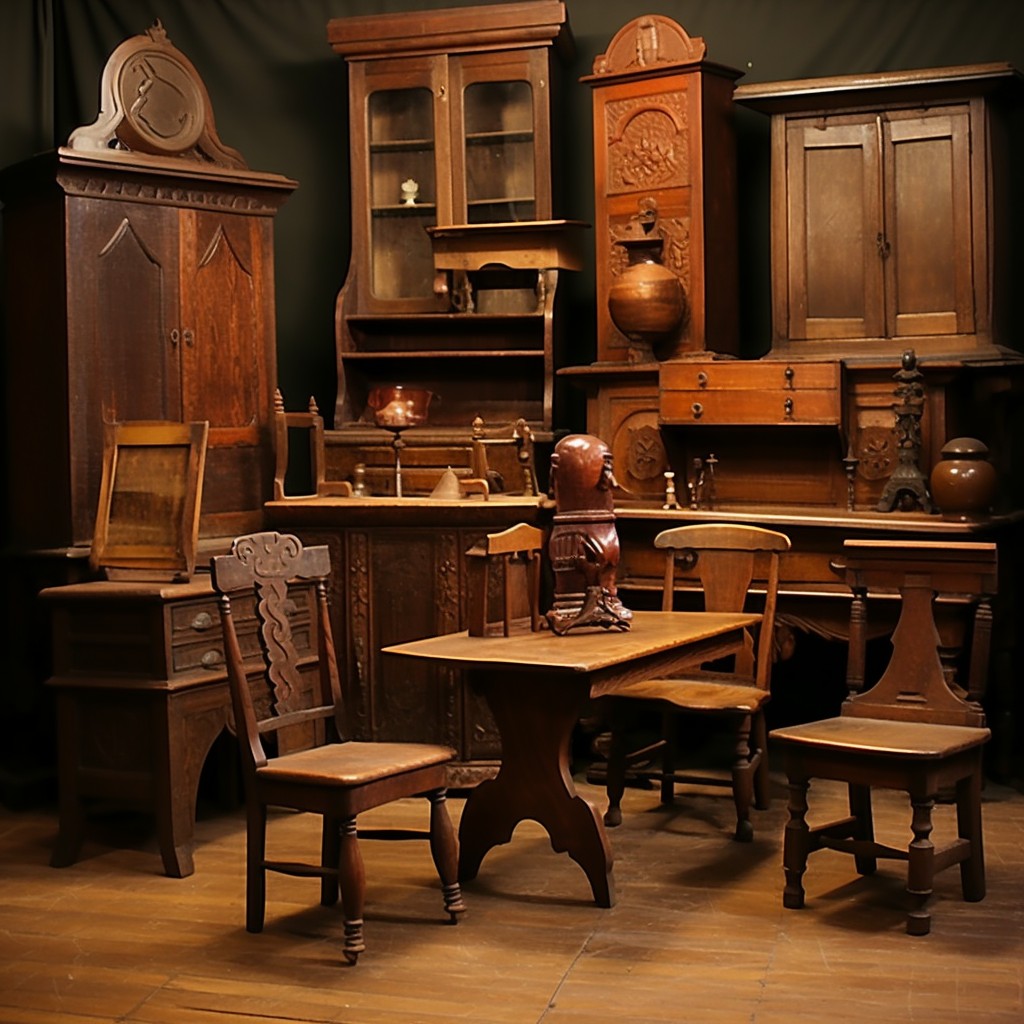 Exploring eBay offers a remarkable chance to tap into a world of unique and vintage wooden furniture. Here are a few important procedures;
1. Initiate your hunt by utilizing the search function. Use specific terms like "vintage oak chair" or "antique wooden tables" to hone your results.
2. Critically evaluate the seller. Check their ratings and read reviews from previous buyers. This gives a clear idea of their credibility and product quality.
3. Examine the item description prudently. Make sure the pieces are genuinely old, verify their condition, age, style, and any potential defects.
4. Pay attention to the delivery details. Does the seller ship to your location? What are the shipping costs?
5. Before making a purchase, contact the seller if you have any inquiries, are unsure about something, or require additional images.
Remember, eBay offers buyer protection that guarantees a refund if the product is not as described. Happy hunting!
One Kings Lane for Antique Wooden Furniture
Well-curated and vast, One Kings Lane offers an ever-changing array of classic wooden pieces. From intricately hand-carved dressers to colonial-era side tables, this reputed platform is a treasure trove for furniture enthusiasts. Showcasing unique and diverse styles, it invites shoppers to unearth a wealth of historic charm.
Not only aesthetic pieces are available here, but also solid, sturdy furniture that promises a robust lifespan. The carefully evaluated condition of every item ensures value and quality.
The platform is user-friendly, with precise descriptions and high-resolution images, reducing the risk of misunderstandings or unexpected surprises upon delivery. A point worth noting is the competitive price range, appealing to a wide array of budgets.
Lastly, this marketplace is conscious about preserving the charm and rarity of traditional craftsmanship, playing its part in encouraging the patronage of antique wooden furniture and, ultimately, supporting the cause of sustainability.
Remember, while new trends may come and go, there's always a timeless appeal for vintage wooden furniture – and you might just find your perfect piece at One Kings Lane.
Jayson Home Wooden Furniture Range
Jayson Home offers an extensive collection of unique wooden pieces. They excel in providing furniture that merges the rustic appeal of old wood with contemporary designs.
You can find everything from antique dressers, wardrobes, to intricately carved occasional tables.
Their furniture stands out for its quality, as most pieces are handcrafted and elaborately detailed. This creates a distinctive character, further accentuated by the natural aging and wear of wood.
Moreover, Jayson Home also offers customized options. If you can't find exactly what you need, they can modify existing designs or create new ones according to your preferences.
Hence, Jayson Home is a reliable resource for furnishing your home with one-of-a-kind wooden pieces that imbue a sense of warmth, comfort, and history.
Rejuvenation: A Source for Old Wooden Furniture
With an eye on historical design, Rejuvenation excels in providing beautifully crafted wooden furniture with a timeworn charm. Shoppers can find a variety of old wooden furniture from classic tables to vintage dressers, all curated with attention to character and durability.
Highlighted points to remember:
Rejuvenation offers a broad assortment of old wooden furniture pieces, making it simple for buyers to find the ideal item to meet their specific needs.
Each furniture piece exhibits the durability and quality seen in older construction techniques, ensuring they stand the test of time.
Rejuvenation's platform allows users to navigate with ease. Filter options by period, design, price, and dimensions.
They provide detailed descriptions and histories for each piece, allowing you to understand the item's provenance and original function.
Note, Rejuvenation also offers resources on furniture care, to help maintain the longevity of your purchased items.
Before buying any furniture it's wise to inspect the photos provided, and read the reviews to help make an informed decision.
Purchasing Antique Wooden Furniture From 1stdibs
1stdibs, a reputable online marketplace, offers an extensive collection of antique wooden furniture. From Louis XVI-style French armoires to mid-century modern teak sideboards, this platform hosts a considerable variety to meet diverse tastes.
The furniture is meticulously curated and authenticated, providing assurance on each piece's quality and integrity. With pieces hailing from different epochs and parts of the world, 1stdibs presents an excellent opportunity for those seeking uniqueness and authenticity.
Users can explore the broad assortment by style, period, or origin, easing the process of locating desired pieces. Each listing provides detailed information about the item, including materials, condition, dimensions, and provenance.
Buyers should pay attention to factors like shipping costs and delivery time to ensure a smooth transaction. And don't be afraid to communicate with the sellers, who are usually experts on the history and care of the pieces they offer. With these principles in mind, 1stdibs can be a treasure trove for antique wooden furniture enthusiasts.
Old Plank: A Go-to for Old Wooden Furniture
Old Plank offers an array of antique wooden furniture, ranging from rustic farmhouse tables to exquisite French armoires. Their large inventory spans multiple eras and styles, ensuring customers find a piece that complements their existing décor.
All items undergo careful restoration to maintain their historical accuracy while ensuring they are functional for daily use. Additionally, their detailed online catalog provides comprehensive information on each piece, including the origin, era, and materials used.
This platform prides itself on its commitment to quality and authenticity, making it a favored stop for discerning wooden furniture enthusiasts.
Modern Antiquarian: Variety of Wooden Furniture
At Modern Antiquarian, a wealth of variety awaits. This platform showcases multiple styles, periods, and origins, making it a treasure trove for enthusiasts. Here, you can find furnitures ranging from rustic farmhouse tables to ornate Rococo-style armoires.
Distinct features from European to Asian craftsmanship are evident in their collection. Navigate their catalogue by periods, styles, or regions for a seamless shopping experience. Notably, their in-depth item descriptions provide insights into each piece's history, ensuring you're not just buying a piece of furniture, but a slice of history.
Pay attention to the condition of each item; an "as is" label, may indicate minor repairs or restorations may be necessary. As with any antique purchase, keep an eye out for secure shipping options to protect your treasures during transit.
Buying From Everything But The House for Old Wooden Furniture
Everything But The House (EBTH) is an online auction website catering to a broad variety of antique and vintage items, including a rich assortment of old wooden furniture. From weathered desks to century-old armchairs, the selection can satisfy diverse tastes.
Buyers are privy to detailed descriptions and plentiful high-resolution images, allowing them to assess the furniture's condition closely.
The bidding process is straightforward. Each item starts at $1 with no reserve, stoking competitive bidding, and allowing the opportunity to secure unique pieces at potentially bargain prices.
Pay attention to the auction closing times and the posted pick-up dates if your bid is successful, since EBTH does not typically offer shipping.
Caveat: Like most auctions, items are sold 'as is'. Carefully scrutinize each photograph and read all provided information. If available, use the 'Ask a Question' feature for additional details. This platform allows you to own a piece of history without physically visiting an auction house.
Mid Century Mobler's Selection of Old Wooden Furniture
Located in both San Francisco and Los Angeles, Mid Century Mobler specializes in vintage furniture, particularly from Denmark and Sweden. Their collection includes a myriad of wooden items, from larger pieces like dining tables and sideboards to smaller, unique such as footstools and magazine racks.
Noteworthy is their collection of teak and rosewood furniture, marked by lasting durability and distinctive grain patterns. The site makes it easy to browse by specific categories, ensuring you can pinpoint your desired piece efficiently. Pricing, while reflective of the items' quality and history, varies widely, accommodating a range of budgets.
Many pieces feature minimalist, mid-century design aesthetics characteristic of Scandinavian craftsmanship. This design emphasis can perfectly complement a variety of contemporary interior styles, from urban industrial to cozy rustic. Furthermore, Mid Century Mobler offers nationwide shipping, making these vintage gems accessible no matter your location.
Counsel On Recovering and Restoring Old Wooden Furniture
In the quest for antique furniture, items that have taken a bit of a beating can often be the most rewarding. These pieces may require a little extra attention, but with the right techniques, their beauty will be revealed once more.
Start by evaluating the condition. Look for signs of insect damage, rot, or significant water damage. Standard wear and tear can add to character, but severe damage will require professional intervention.
Next, consider the finish. A simply weathered piece may just need a gentle clean with mild soap and water. However, if the finish is severely damaged, it might need stripping and re-varnishing.
Remember that refinishing can decrease the value of some antiques. If you're unsure whether to proceed, it's best to consult a professional restorer.
Speaking of professionals, don't rule them out entirely. Items with sentimental or monetary value may benefit from expert treatment.
Last, follow the advice 'less is more'. Often antique pieces don't need extensive work. A thorough clean, a bit of polish, and they're ready to go.
Old wooden furniture acquisition can be very fulfilling, especially when knowing how to recover and restore them properly.
FAQ
What are old pieces of furniture called?
Old pieces of furniture that are more than 100 years old are called antiques.
Does old furniture have value?
Old furniture can indeed have value, particularly if it boasts a unique design, exceptional craftsmanship, or is considered an antique.
How can one authenticate the age and origin of old wooden furniture?
Authenticating the age and origin of old wooden furniture can be accomplished by examining style details, joinery methods, hardware used, types of wood or veneers, and any noticeable markings or labels.
What are some reputable sources to purchase vintage wooden furniture?
Reputable sources to purchase vintage wooden furniture include flea markets, antique stores, online platforms like Etsy and eBay, and auctions organized by firms like Sotheby's and Christie's.
How can one maintain and care for old wooden furniture to preserve its value?
To maintain and preserve the value of old wooden furniture, regularly dust and polish it, avoid exposure to extreme temperatures and moisture, and use coasters or padding to prevent surface damages such as scratches or watermarks.
You may also like to read: